16. Tamarack Tiny House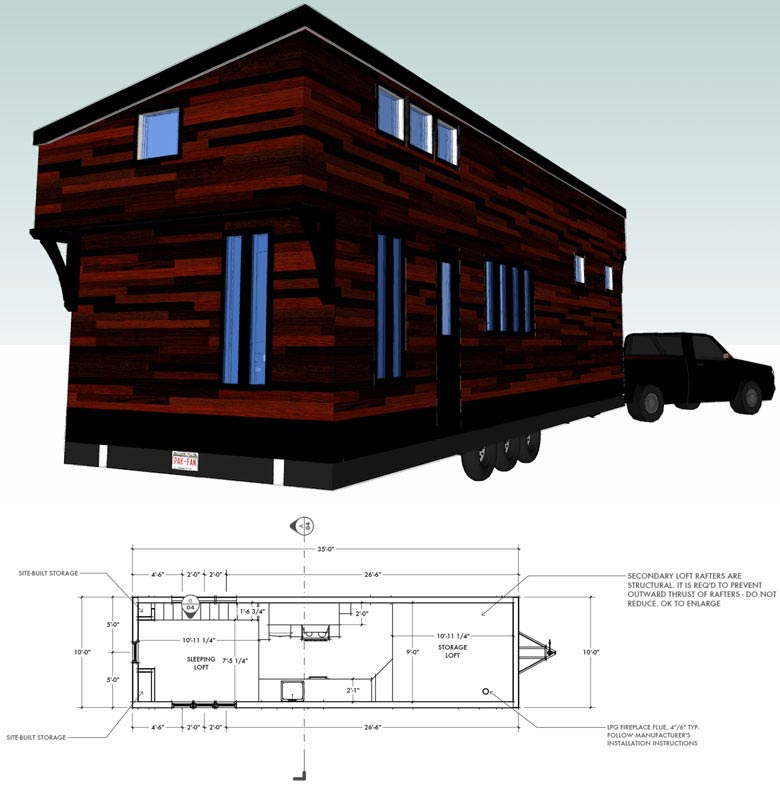 Get Floor Plans to Build This Tiny House
One more 320 sq ft plus loft space floor plan of a mobile tiny house. Once in a while, some of us get that wanderlust or an urge to get out of a rut and see new places and meet new people. Buying a fancy trailer may cost you a lot more. With this custom tiny plan, you have a chance to make it just for you.
Either you are a digital nomad or retiree, this small home plan can be the solution for your new exciting adventure.
17. Tern Island Tiny House on Trailer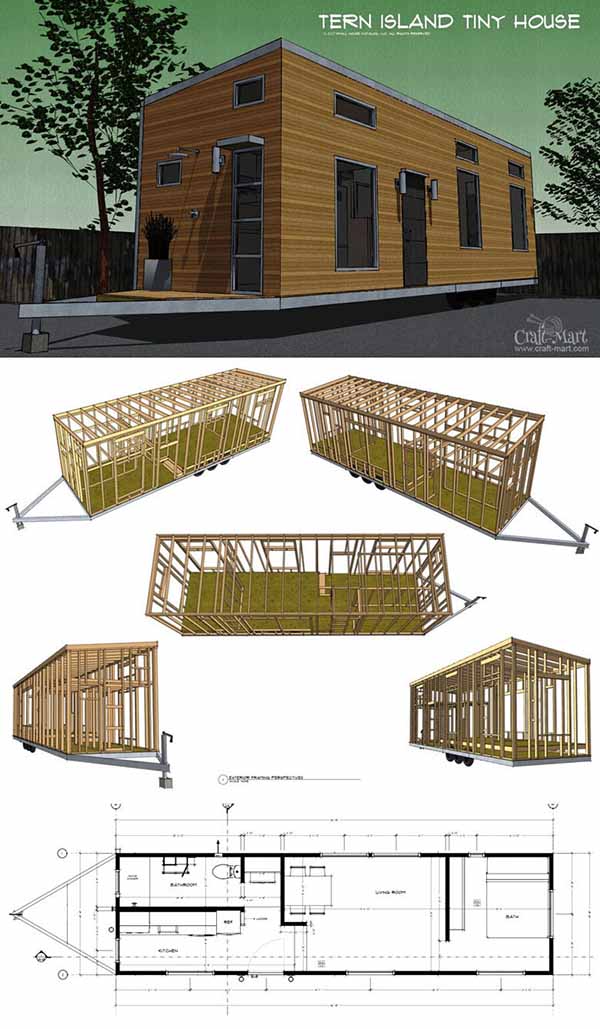 Get Floor Plans to Build This Tiny House
Out of all small mobile house floor plans, this one has a private master bedroom and two lofts. The estimated cost to build is around $15-20,000. The exterior of this trailer home looks sort of boxy as if it was made by IKEA. On the other hand, you may just want to go and get all the furniture from IKEA for this baby to complement the outside style. You don't want your couch and dining table to cost more than this mobile tiny house, right?
18. Moschata Tiny House On Wheels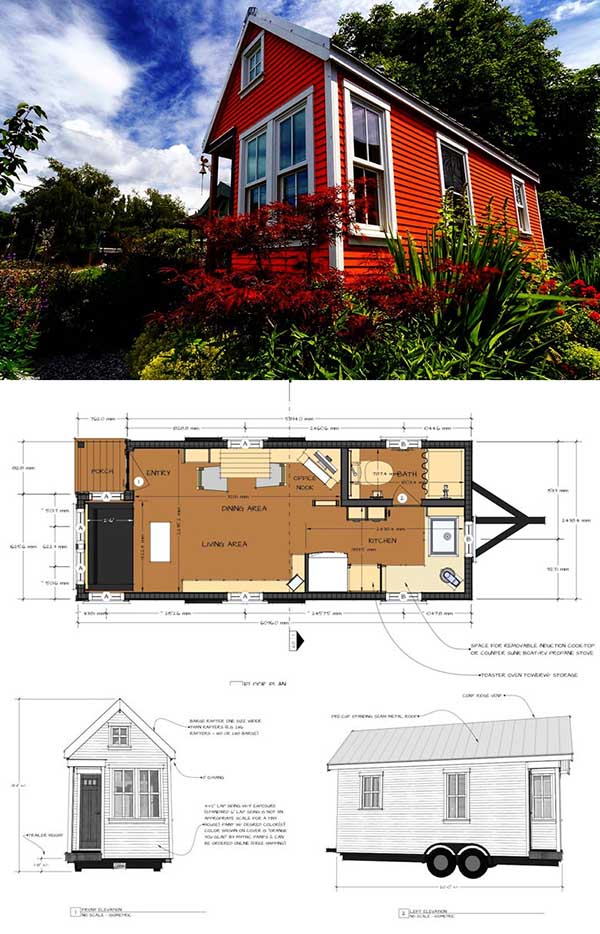 Source
It doesn't look like your typical trailer and with only 160 sq/ft of livable space (plus 2 lofts), this is the real house on wheels. Save around $17,000 to have enough money to build this baby and hook it up to your truck to make the whole country your neighborhood.
This small home plan shows 2 chairs, so you definitely can invite at least one friend over for tea with biscuits or even have a business meeting!
19. Round Tiny House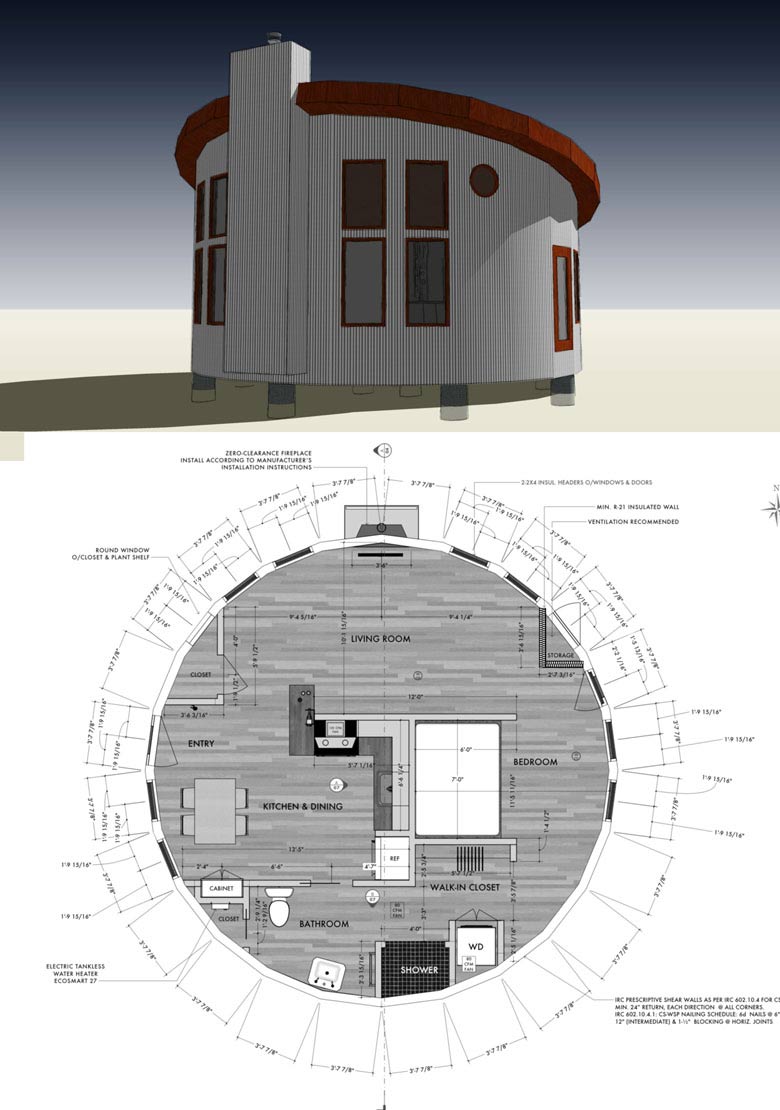 Get Floor Plans to Build This Tiny House
Some people like living in extreme conditions and the roundhouse can provide excellent wind resistance. Plus, it is more economical to heat because of the smaller surface of the outer walls comparing with more common rectangle tiny home layouts.
Will you be able to put a very large flatscreen TV on the curved wall? Let's find out as some flat screens are curved nowadays!
20. Cozy Cottage Plan

Get Floor Plans to Build This Tiny House
This cozy cottage has a full bath, a fireplace, a kitchen, and even the option for adding the second bedroom! The architect masterfully used perfect design proportions to create an impression of a larger house. The simple yet elegant use of space and building materials keeps construction costs of this micro home pretty low.
The kitchen is spacious enough to include a dishwasher and a large range with an oven and even a stackable washer and dryer. For cozy winter evenings, a small fireplace is tucked nicely in the corner of the living room.
If you do not need a high ceiling in the great room there is an option for a full loft over the whole ground floor or just over the bathroom and kitchen with a cathedral ceiling over the great room. You can't go wrong with this house plan if you are on the market for something simple and traditional.
21. "Sunrise Catcher" Small Cabin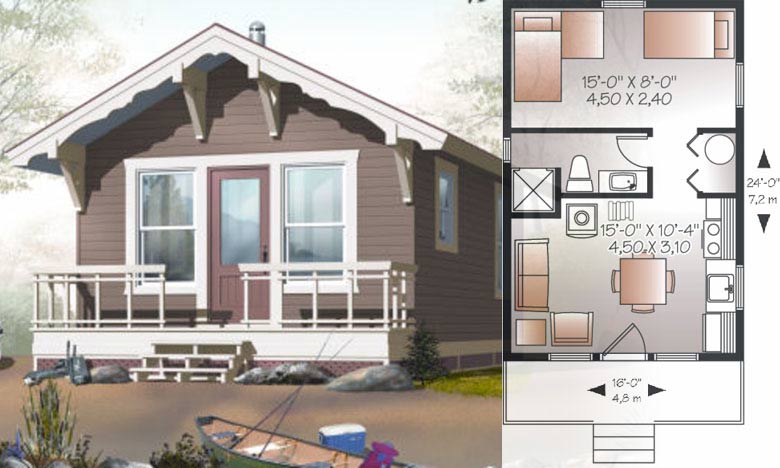 Get Floor Plans to Build This Tiny House
Imagine your lazy mornings with a cup of coffee on this porch! This is a truly tiny house plan under 400 sq/ft (384, to be precise). A perfect starter house for a small family or a single adult.
Add a small vertical garden and flower beds and you will be enjoying your life a lot more than most Americans with huge mortgages and credit card debts.