Whether you are a beginner or have been crocheting for some time, having nice and easy-to-understand conversion chart for crochet hooks can be a huge time-saver. Therefore, we are always facing a dilemma about which size crochet hook to use for a project.
What size crochet hook to use?
First of all, an easy solution is to read the yarn label. The majority of yarn labels are listing:
the weight of yarn (from 0 LACE to 7 JUMBO);
the recommended crochet hook size and knitting needles size;
gauge (number of stitches and rows done with single crochet for 10″ x 10″ square).
Mystery solved, right?
Do you have to use the crochet hook size that is indicated on the yarn label?
Although the yarn labels are very helpful to give you guidance, for some types of yarn, I would recommend using a smaller hook size to achieve better results.
On the contrary, for JUMBO yarn you may go a few crochet hook sizes up to achieve a trendy bulky blanket look. With this in mind, check out a free pattern for our popular EASY BULKY BLANKET.
Why do you need a Conversion Chart for Crochet Hook Sizes?
Nowadays, learning knitting and crochet skills online makes things much easier no matter where you live in the world. At the same time, many crochet enthusiasts find hooks sizes to be very confusing. As a matter of fact, many countries have completely different size systems for hooks and needles.
With this in mind, our charts would help you to pick the right size crochet hook for your project. For this reason, we try to demystify the whole world of crochet hook sizes and make it as easy as possible.
Easy Conversion Chart for Crochet Hooks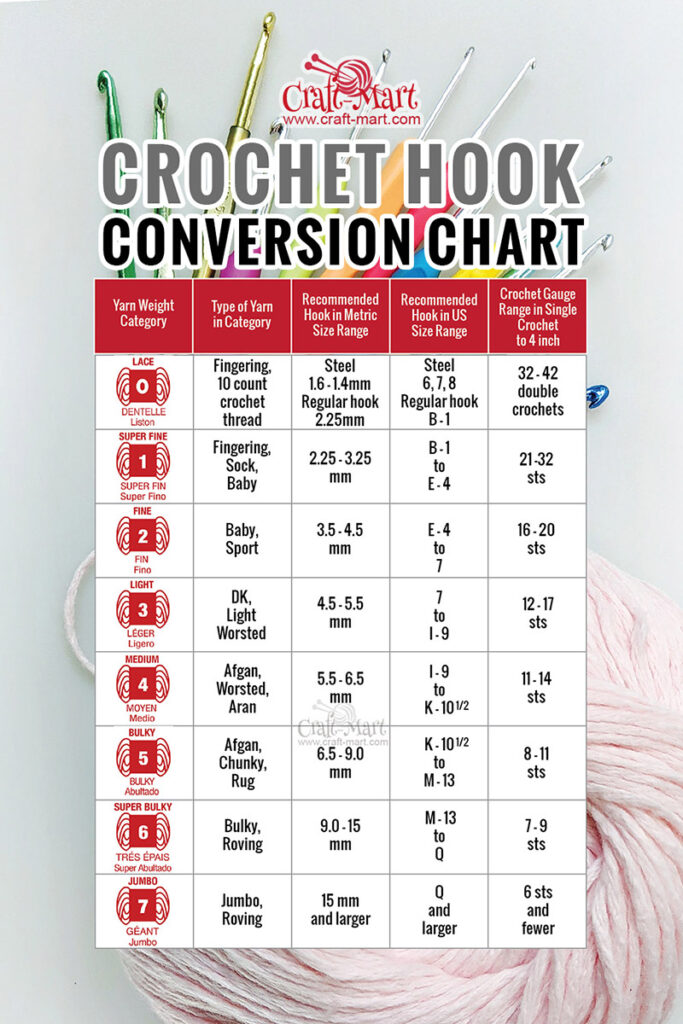 In order to pick the best crochet hooks for beginners, you'll need to decide on what kind of projects you'll be doing. A point often overlooked, when you are ordering a crochet hook set, you need to know if it will have the right hooks for your scarf or blanket.
Consequently, our charts with crochet hook sizes and yarn showing the amount of yarn needed for each particular project will come in handy.
How do you know what size crochet hook to use?
Generally speaking, crochet hooks come in different sizes, which are measured in millimeters (UK) and have a corresponding size represented in letters and numbers (US). For example, a 4 mm crochet hook is the same as G-6 crochet hook (see chart below).
Sometimes, you'll see both labels printed on the crochet hook – millimeters and letters/numbers. As an illustration, it is most common for metal crochet hooks such as Boye crochet hooks.
What is the most popular crochet hook size?
Most of the patterns are written for light and medium weight yarn. Consequently, make sure you have G6 (4mm) and H8 (5 mm) crochet hooks in your possession as these are the most popular crochet hooks to use.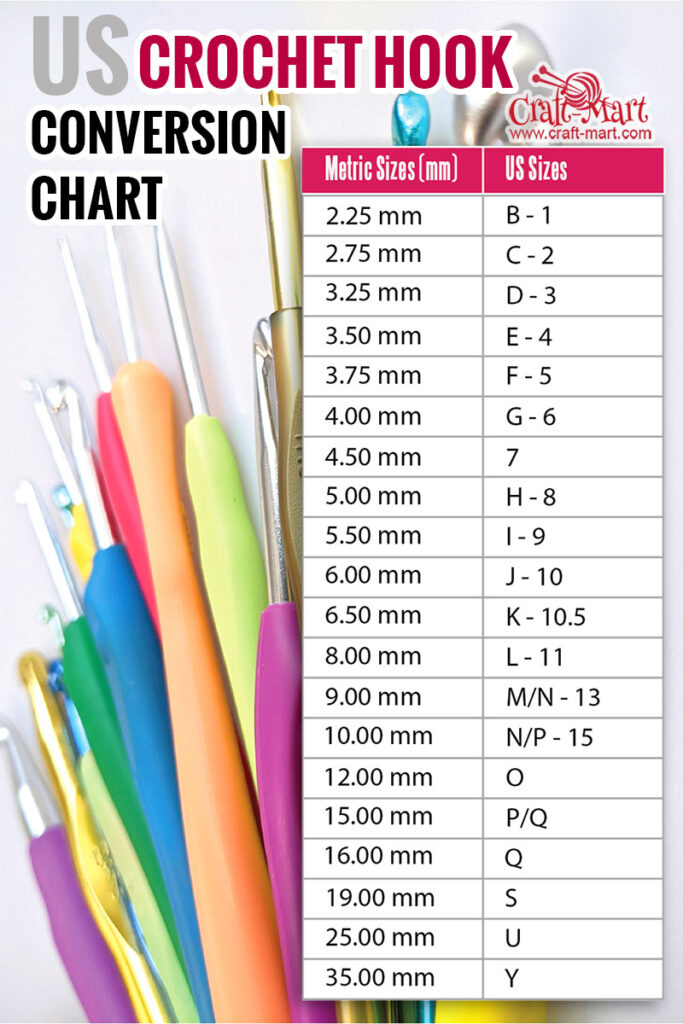 If you'll look at the popular conversion chart for crochet hooks, you'll see that US hook sizes could be confusing since they can be represented by both letters or numbers. What's the solution? Learn to think in millimeters when dealing with crochet hooks sizes!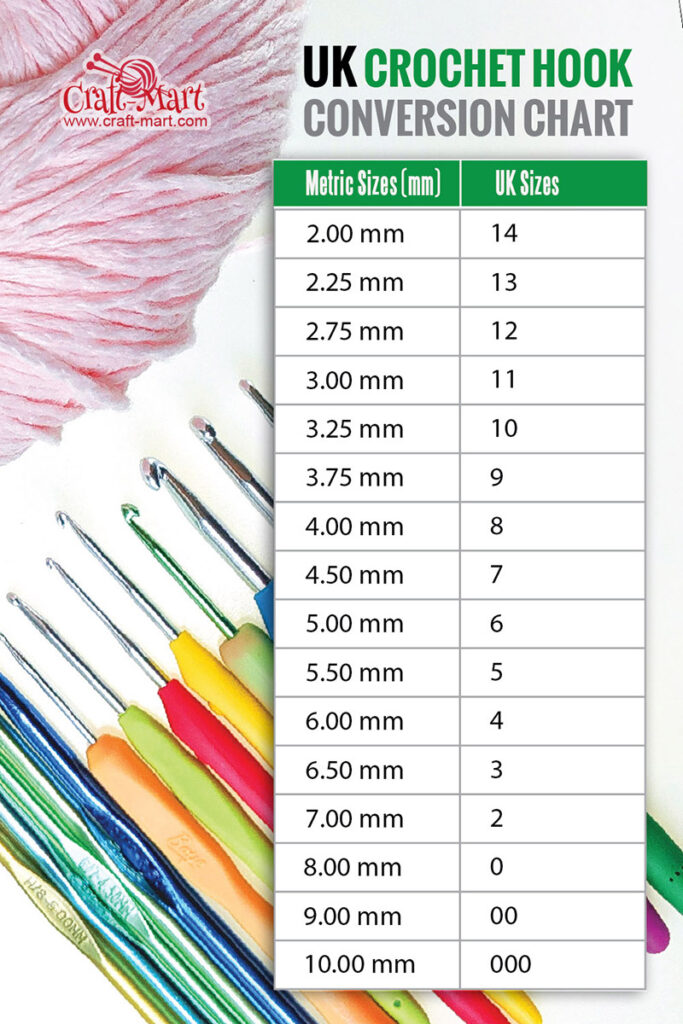 For many US crocheters, the metric system may seem to be hard to understand. In reality, it is the most precise and perfect fit for crochet hooks sizes.
With this in mind, check out this conversion chart for crochet hooks below – it will help you to pick the right crochet hooks and needles for your next pattern.
For example, if the pattern you picked is written in UK terms and uses millimeters, you can convert the hook/needle size to the US terms to see if you already have it in your crochet hook set.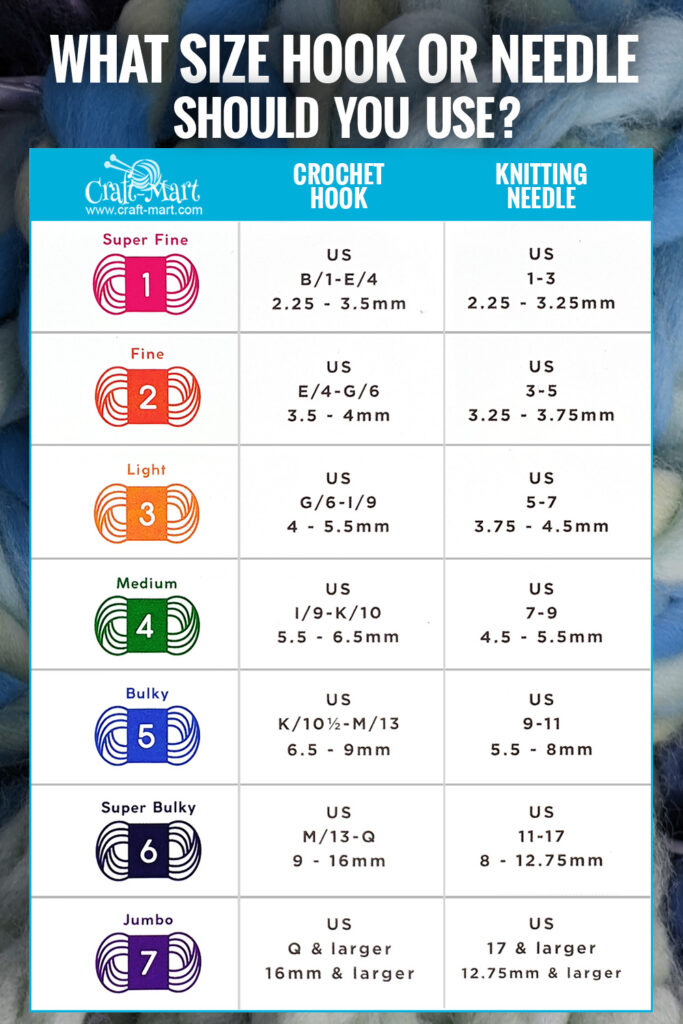 How much yarn do I need to crochet a blanket?
Sometimes, when you are shopping at the store or online, it is hard to decide how much yarn you would need to complete a project. There is nothing worse to run out of yarn in the middle of your project!
Below is a very useful chart that will help you estimate how much yarn to buy so you can start and finish your project. As you can see, it varies greatly based on the weight of yarn.
The first thing to remember, always buy or order slightly more yarn than your best estimate. Accordingly, your personal style of crocheting will determine if you may need more (or less) yarn than specified by the pattern.
Most importantly, it is better to have some leftover yarn than run out of yarn when you are almost done. Consequently, you can always use your leftovers for a small project such as a festive pom-pom garland.
With this in mind, check out our helpful chart of blanket sizes – it will help you to decide how much yarn to get for your next project.
How much Yarn Do I Need for a Project?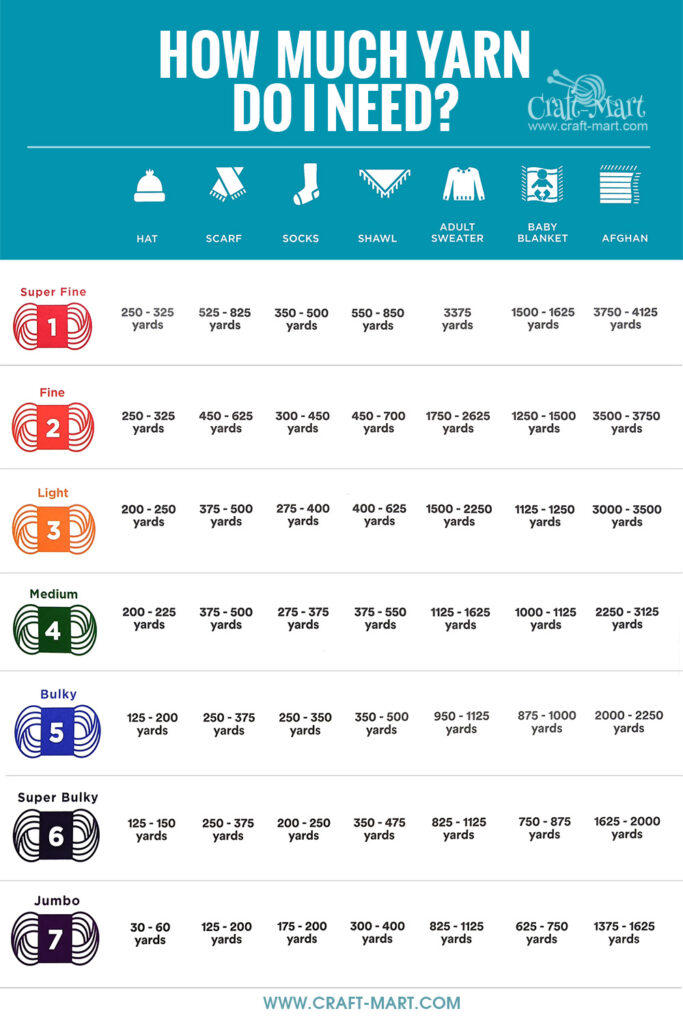 As a result, we hope you'll find our conversion charts for crochet hooks useful and will never be perplexed again! Significantly, you should always remember that these are just suggestions. So, you can always go a crochet hook size up or down.
As a matter of fact, try first what you already have in your crochet hook set. Sometimes, your favorite hook is all you need to achieve nice-looking crochet stitches.
Looking for FREE CROCHET PATTERNS?
In that case, check out our patterns for infinity scarfs, baby blankets, and throws which come with a list of materials and suggested crochet hooks to use: