Not everyone would agree with the idea of getting a prefab tiny house since they are supposed to look cheap and often plain ugly. On the other hand, custom tiny houses can be a lot more expensive and longer to build. Well, while these statements are true in most cases, there are still a few options for getting a high-quality and really sharp-looking prefab instead of going "custom" path.
By the same token, custom tiny houses are not always going to break your bank. We have a few examples of floorplans that you may request to be customized at a very reasonable cost and then build your precious tiny home close to the cost of the prefab or even lower.
With more small and tiny house designs coming out recently, there is still a shortage of floorplans available for purchase for people who'd prefer a DIY approach. Luckily, a company called Den Outdoors started producing modern and affordable floorplans of small homes, cabins, and even tiny cabin kits that are getting super popular in the US.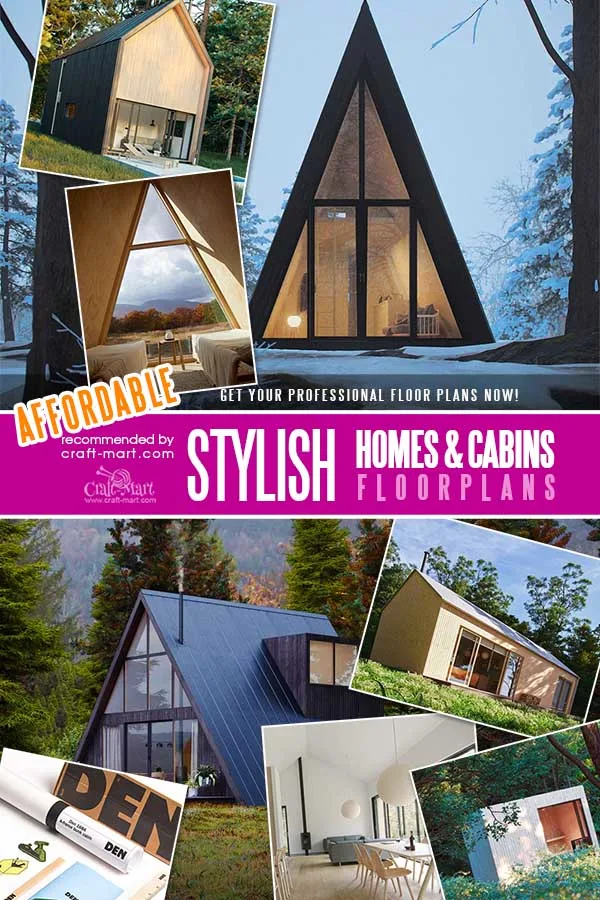 One of the most important questions everyone is asking before considering buying a floorplan is the cost to build a cabin. , It is impossible to give a precise estimate, especially when lumber prices went up 170% in some regions in a matter of weeks. However, the average cost per foot is approximately $153 which may vary greatly depending on the area where you live. Read more here to find out how you may save money on construction.
Prefab log cabin kits are very affordable and not too hard to assemble. Ordering is easy and safe. Stop dreaming and take a look – such a project can be fun for the whole family! Inexpensive prefabricated tiny cabin kits like these can be a great way for your family to get a vacation home without breaking the bank. These cute log cabin kits include French-style double doors.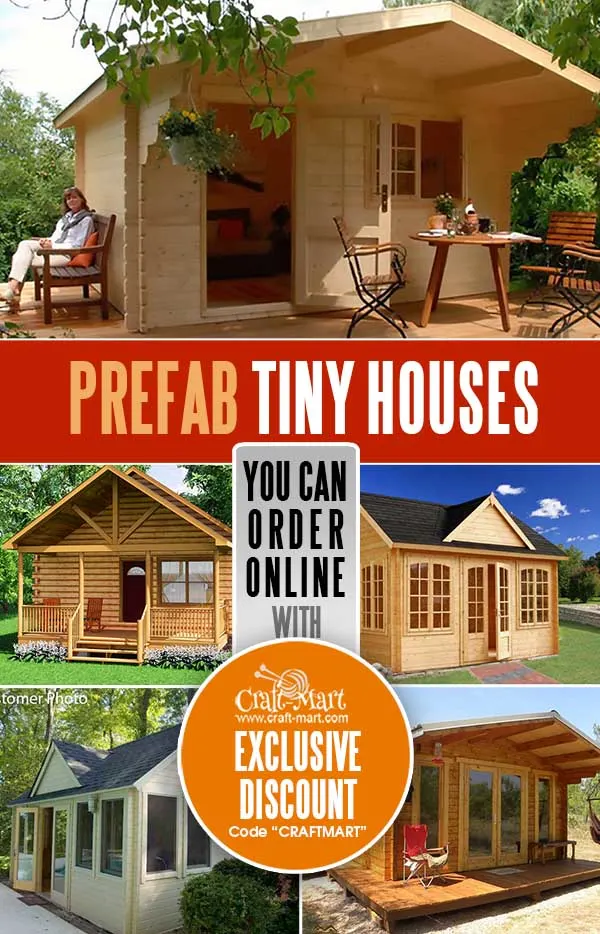 What are the pros and cons of owning a tiny house?
Reduced cost of living;
Less space to maintain and clean;
Greener living;
It is more affordable;
The initial housing cost is less;
May eliminate mortgage costs;
It can move with you (tiny house trailer);
Can be extremely energy-efficient;
A prefab tiny house can be a great art studio, a retreat, or an escape place in case of emergency
While lofts can't compete with full-size rooms, they are great for additional space that can be used for sleeping, storage, play space for kids, etc.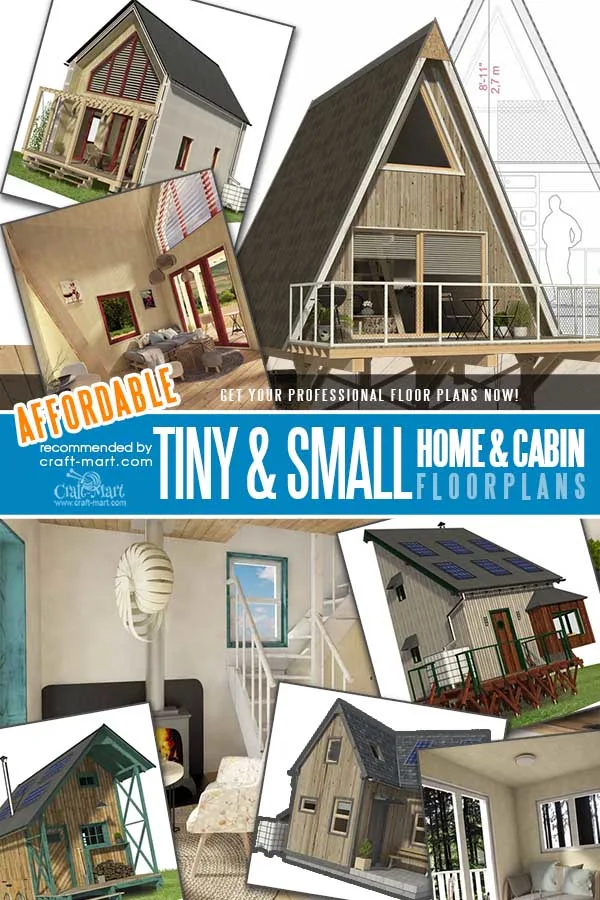 While getting all the needed building permits is one of the major problems, the main obstacle that we frequently see is a lack of unique cabin and tiny house plans for DIYers in the US. Large house plans aggregator websites still feature mainly plans for homes larger than 600 sq. ft.
The collection of cabin plans with lofts here is truly remarkable and designed for DIYers with moderate building experience.
Many of you have probably heard that A-frame cabins are a beautiful standard of American architecture. A-frame homes have a few advantages over more common traditional home types. We'll look into some of these advantages in detail at the end of this post.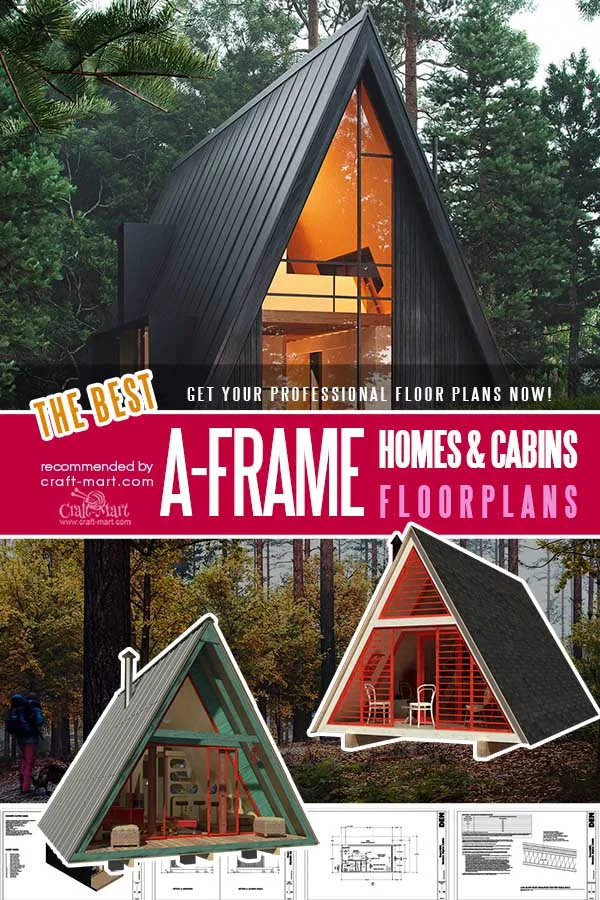 Most of the plans for small A-frame homes are very simple. However, we all know that if you're building a home, you'll have to make adjustments right away or, at least, be sure that these adjustments can be easily made during the building process. More people realize that having a smaller home means also smaller expenses and property taxes. Use your saved money for traveling or other things you always wanted to do. Small house plans = more savings and opportunities!
A-Frame tiny house has a lot of benefits. Get more information here.
What are these Granny Pods?
These are not just cheap modular homes but the ones that have everything suited for living on the ground level. What you need is something similar to assisted living apartments like a stand-alone tiny house that you can put in your backyard. Grandma or grandpa would definitely appreciate the quiet time, privacy, and the chance to be protected from the dangers of seasonal flu.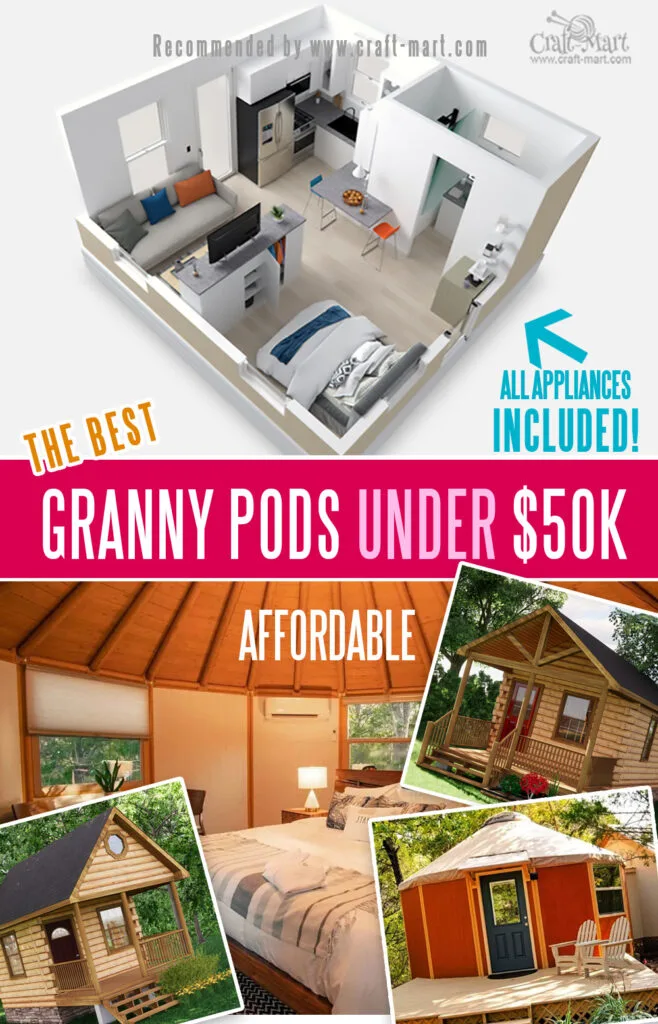 Where to buy Granny Pods?
Judging by astronomical real estate prices in some areas, many of you would be skeptical thinking that affordable small homes are a thing of the past. Read here about a few options that can work out for people even with a very modest budget.
This super-modern tiny house can be transported to any US, Canada, or EU location. Installation takes only a few days. No need for connecting this house to sewer, water, and power systems – the house is totally self-sufficient! The printer robot can print the walls, roof, and floor of the 400-square-foot model in about eight hours. Naturally, human workers have to add the windows, doors, plumbing, and electrical systems.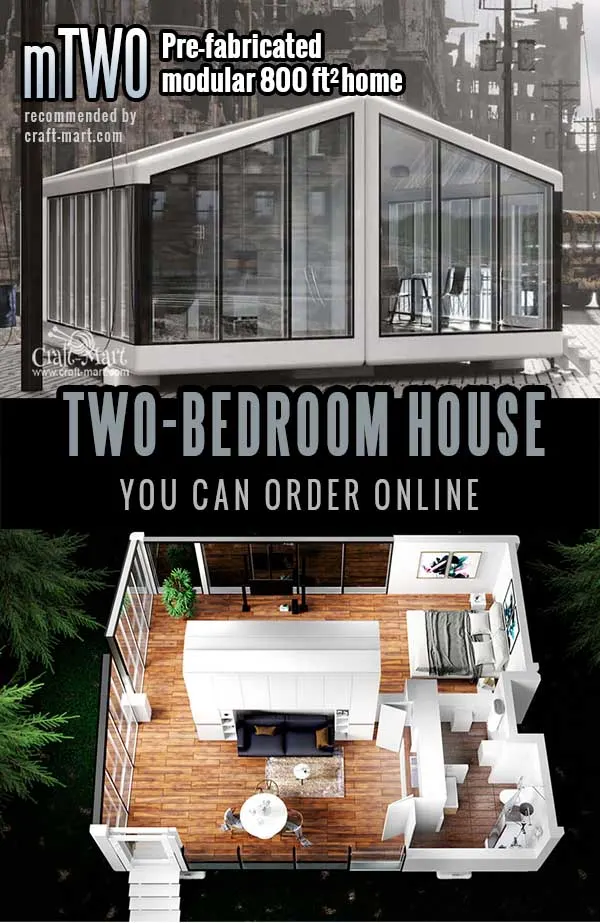 This Mobile Prefab Tiny Home is modular and is wide enough to fit on a truck bed, making its delivery across the globe just a breeze. Though the home is ultra-compact, it looks very spacious and feels very spacious, and comes with all of the necessities, except furnishings.
Tiny living without utility bills!
The tiny house module uses only ecologically clean solar energy for all occupants' needs; from climate control (heating and cooling) to water generation; same with air quality and oxygen control. The house itself also produces electricity for all household appliances. so it means you can live completely off the grid, with zero utility bills!
Building your own tiny house can be a challenge and the results are often not pretty. Let professionals design perfect tiny living spaces so you can live in comfort!
These prefab homes can be delivered to any country
Prefab Tiny Homes like this one can be set up in one to two days anywhere – just make sure to have a piece of land before ordering one! For these amazing tiny homes, customers can select different options. An autonomous option that includes solar panels, batteries, inverters, and an independent water supply, plus you can control all these appliances and power systems via smartphone.
Tiny homes with panoramic views
Both tiny house models feature elegant interior designs with plenty of natural light. Enjoy its elegant interior in any climate zone! Keep searching for your perfect tiny house plan or take an action and get one of these prefab tiny homes!
Look at this amazing collection of a few dozens of really cute tiny house plans well under 1,000 sq. ft.! Browse through the examples of the genius use of space, organization hacks, and smart design. Do they look weird or are they unique and one-of-a-kind? It's hard to tell because each of us has a unique taste. Find the best small plan for you!
We really like these "Earth-Roofed" tiny homes! You can order these prefab Tiny Homes from anywhere! Modular "Hobbit hole" units can be interconnected creating super energy-efficient habitats. You may build your future tiny house really quickly the way you want in virtually any country using this patented system!
Now you can live in your Hobbit dream house for real! Bio-Friendly modules can be connected creating small but spacious not-so-tiny units. You may do your tiny house planning on a completely new level!
The DUO57 is a durable structure that packs a ton of smart functionality into the tiny floor plan. Yes, this tiny cute house can be off-grid and well hidden from civilization. Getting a beautiful tiny house is more realistic than you think! More awesome projects are created each year with more young designers interested in the minimalist style of living. Take a look at MADi, FLEXSE, KOTO, Avrame, and more tiny house models!
Classy Tiny Homes can be affordable
These A-frame homes are just gorgeous! Small house architecture is getting more attention nowadays. Professional designers worked out solutions for virtually any budget. Beautiful tiny homes inspired by Scandinavian architecture. These tiny homes are designed for cold weather conditions. They are beautifully crafted and perfect for a home office, studio, or even a small B&B. Built-in folding furniture helps with extra living space.
Manufactured in the EU, all Avrame models are very affordable and easy to assemble. A-Frame models have a lot of benefits. Read about exciting options if you are looking for something that your local tiny home builders are not offering.
Inspired by Finnish grill houses and saunas, these tiny house modules were designed for cold weather conditions such as strong winds with snow and ice. The modules can be arranged into clusters for building larger size homes.
Why would you want to live in this shipping container when you can have that gorgeous A-frame tiny house? Seriously!
This tiny house was designed and manufactured in Italy. It can be assembled in one day! One single module of roughly 300 SQ FT can be extended to 600 SQ FT and beyond. Prefab Tiny Homes like this one are available to order online and can be delivered to the USA.
Stylish tiny house module designed for harsh weather conditions such as freezing winds with snow and ice. The modules can be combined into clusters producing larger size dwellings. The design was inspired by Finnish grill houses and saunas.
Isn't it time to start living more simply? Too many distractions from different gadgets – they steal our time minute by minute… A smaller house means fewer problems, fewer expenses for everything from electricity to repair bills for things you rarely need! Get your tiny house plan – it is time to start living for yourself!
Our updated tiny house builders directory covers mostly the US and Canada with 25+ listings of tiny home builders and designers in the EU and other parts of the World. Get helpful advice on how to select the best tiny home builder in your area. Choose among hundreds of tiny house plans and get yourself your new home!
If you are a Tiny House Builder and want to be featured in our directory simply use our contact form to submit a request. We also encourage all Tiny House Builders to create or join Affiliate (referral) programs. This way you'll be able to get thousands of more visitors and some potential buyers from high-traffic blogs like this one.