More and more people are really interested in tiny house floor plans nowadays.
Why there is so much interest in floor plans of tiny houses all of a sudden?
For many young singles and empty-nesters, it makes perfect sense to save money and be more mobile. Although two-bedroom tiny house floor plans are not very common, you can easily find plenty of designs with a loft or flexible design that allows for tiny house expansion by connecting two tiny houses together.
Get a piece of land for a small garden and you may live on a 3-4 times smaller budget. There is even an opportunity to earn extra money with a rental program that distributes free prefab tiny houses to qualified individuals. Read about it here.
Besides saving a lot of money, downsizing is truly the best way of organizing your stuff and de-clutter. Minimalism as a movement among the younger generation is definitely picking up steam.
To make easier your own tiny house planning, we collected a few dozens of really cute tiny house plans well under 1,000 sqft to show that these micro dwellings are amazing examples of the genius use of space, organization hacks, and smart design. Do they look weird or are they unique and one-of-a-kind? You decide!
*A large number of minimalists are interested in small house floor plans or tiny house trailers that they can assemble on the cheap. Here is a list of 17 best trailer homes on wheels a lot of young and older people managed to build on a very tight budget from $12K & up.
*Looking for DIY log cabin kits?
Here are 17 small log cabins and micro homes for any taste.
1. Tiny House Floor Plan: Tudor Cottage from a Fairy Tale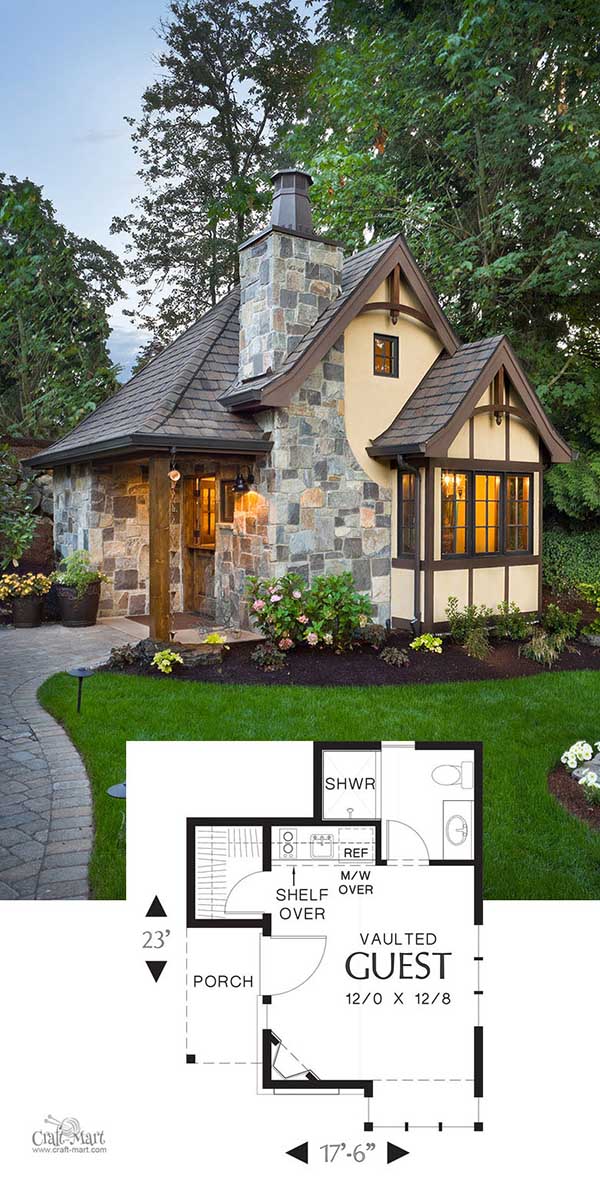 Get Floor Plans to Build This Tiny House
Just look at this 300 sq. ft. Tudor cottage plan and facade. It's a promise of a fairytale-style life! This adorable thing even has a walk-in closet! As an added bonus, the plan can be customized.
If you don't want to build it for yourself, you can consider it for your in-laws or as a guest house. They don't have to suffer staying in one of your spare rooms or a hotel during visits.
Another idea would be to use this tiny cottage as a stand-alone home office or art studio. It could be a very nice addition to your existing real estate. Your real estate agent may give you some ideas on how to build it, so it will increase your property value.
2. Cozy Santa Barbara Tiny House Plan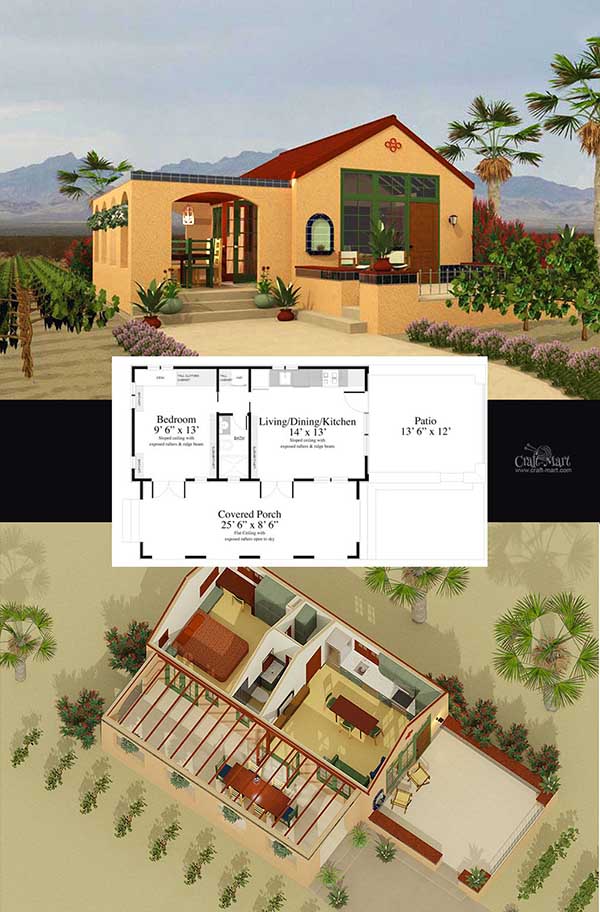 To Build This House Get Tiny House Plans here
For enthusiasts of the "porch living" lifestyle, The Santa Barbara tiny house plan offers the perfect combination of functionality and aesthetical beauty. You simply can't go wrong with this design: a full kitchen, a bedroom, a separate bathroom, and a large outdoor dining patio large enough to host dinner parties for 6-8 people.
If the cost of the construction is your main concern then order a prefab tiny house. Otherwise, this is one of those adorable small homes that you will be able to use for entertaining guests.
If you'll decide to build this house, ask your local real estate agent what kind of customization needs to be done for improving your real estate resale value.

Build This Tiny House – get the plans!
Not everyone wants to build something traditional or classic. This tiny house plan has a clean and modern minimalistic design that is aesthetically pleasing and easy to build. In fact, out of all tiny home layouts, this one speaks to the younger generation of artistically-inclined freelancers.
In case you may need some extra space, adding a loft is possible. The plan is extremely clean with a square main room which has plenty of natural light coming through a huge corner window. Simply perfect for an art or crafts studio.
4. Enchanted Cottage Floor Plan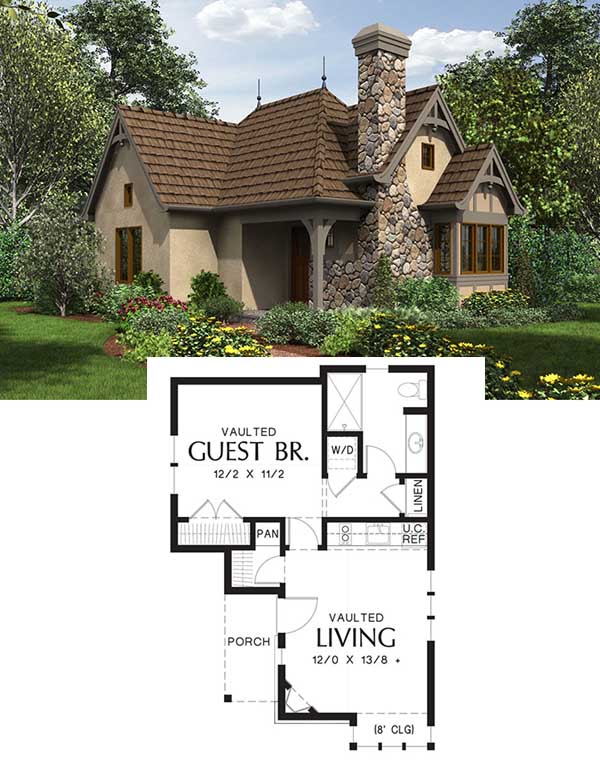 Get the plans to Build This Tiny House
Here is another tiny fairytale cottage that has all the features for happy living. As a matter of fact, the floor plan is not that tiny with a total living area of 544 sq/ft. In Japan, such square footage would be spacious enough to raise a family with 2 kids. Indeed, in the Netherlands, a windmill tiny house was enough for a family with 13 kids (in the previous century, we must mention).
This is a real "real estate" charmer!
Need some clear step-by-step instructions? Check out these cabin plans!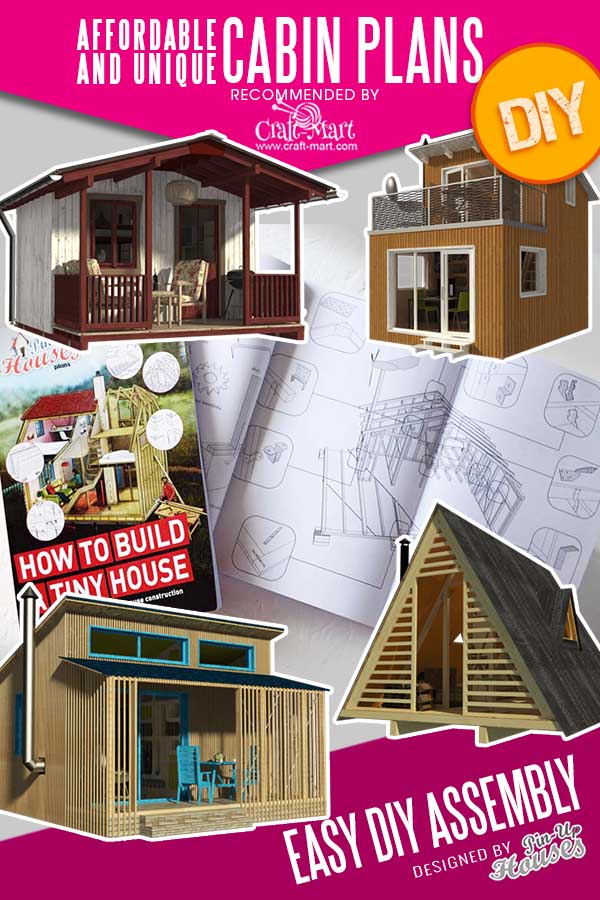 5. Tiny House "American Gothic"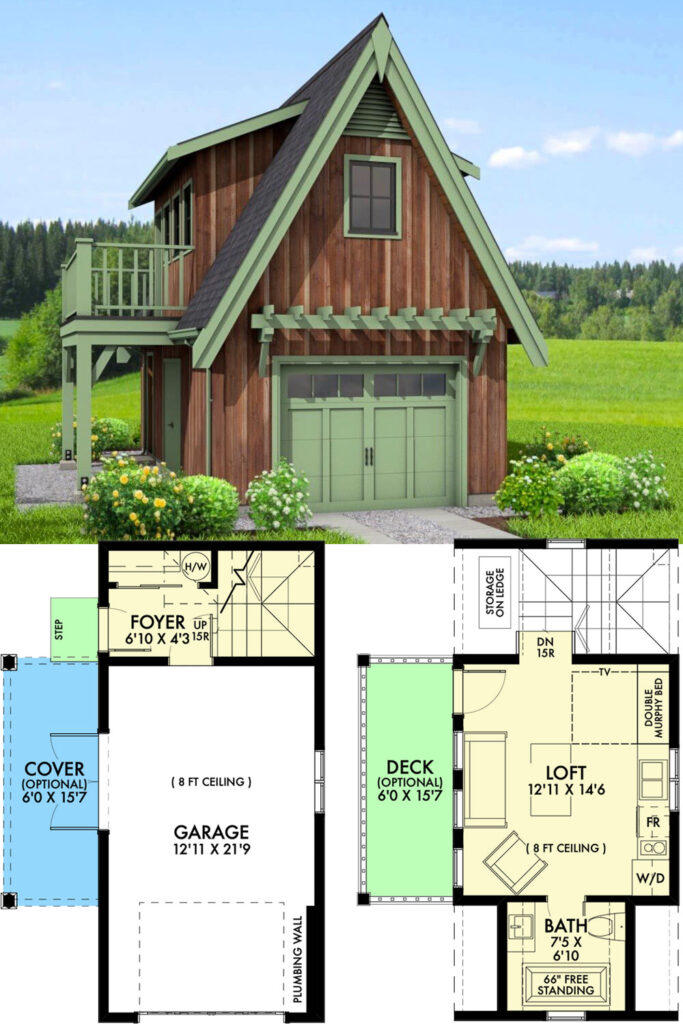 Get Floor Plans to Build This Tiny House
This little American Gothic Revival house is not only for those of you who are crazy about Halloween. The biggest advantage of building a Gothic tiny house would be standing out from all other "generic" small homes. Imagine how easy it will be to give directions to friends or a delivery person. They will never miss it and even if they did, your neighbors will know for sure how to guide them in the right direction.
In reality, this small house plan is simple and logical. The spacious 393 sq ft cottage is just a tad smaller than a classic 400 sqft average tiny home. As a result, this extra footage will not allow you to host 8-person dinners inside but the deck may definitely help to do so. Oh, and don't forget the garage!
6. Classic and Elegant Santa Cruz Tiny House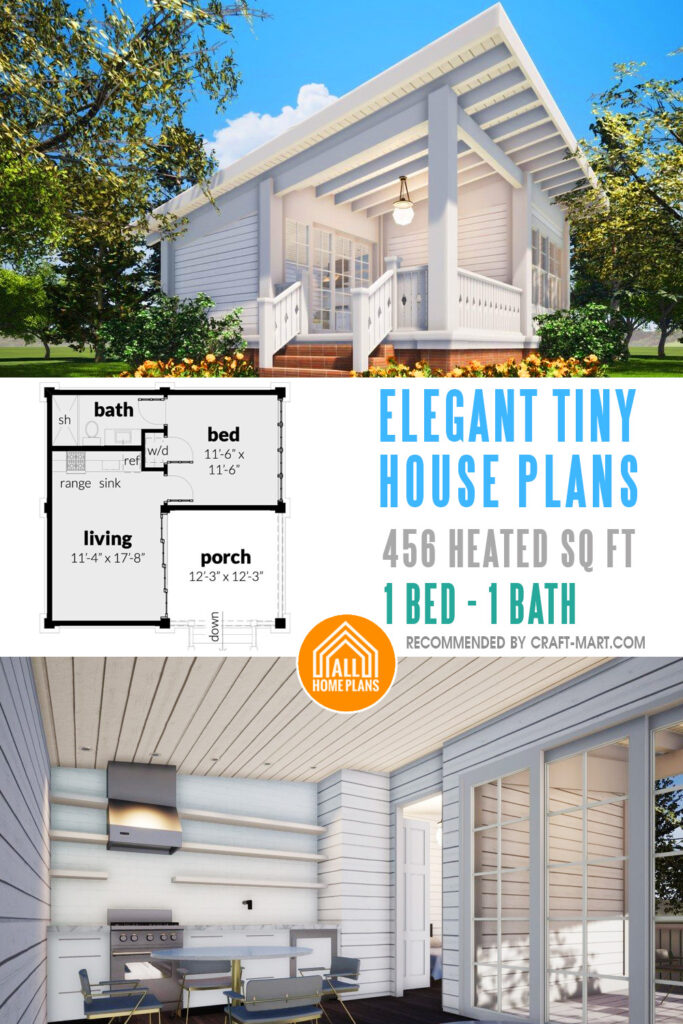 Get Floor Plans to Build This Cute Micro House
Santa Cruz is another gorgeous example of a little 456-square-foot house that is classy and functional. A spacious living room has an exit to a covered porch to enjoy warm Southern nights.
In general, all you need is a 1,000 sq/ft piece of land to build this beauty. It can be a perfect guest house, a get-away retreat, or a she-shed.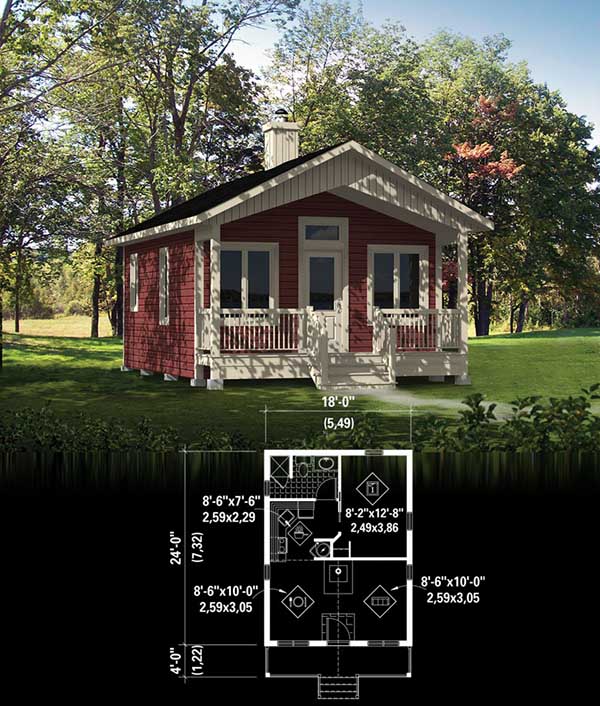 Get Floor Plans to Build This Tiny House
As an illustration, here is one more plan for those who are seeking a simpler life with less stress and obligations. It is just a bit larger than 400 sq/ft to be really comfortable for one or two people who are tired of the rat race lifestyle.
In fact, everything in this house plan and design is logical and proportional. Therefore, if you need more storage room then consider putting up a shed or look for a bigger plan with built-in closets and a loft.
8. Extendable "Starter" Micro Home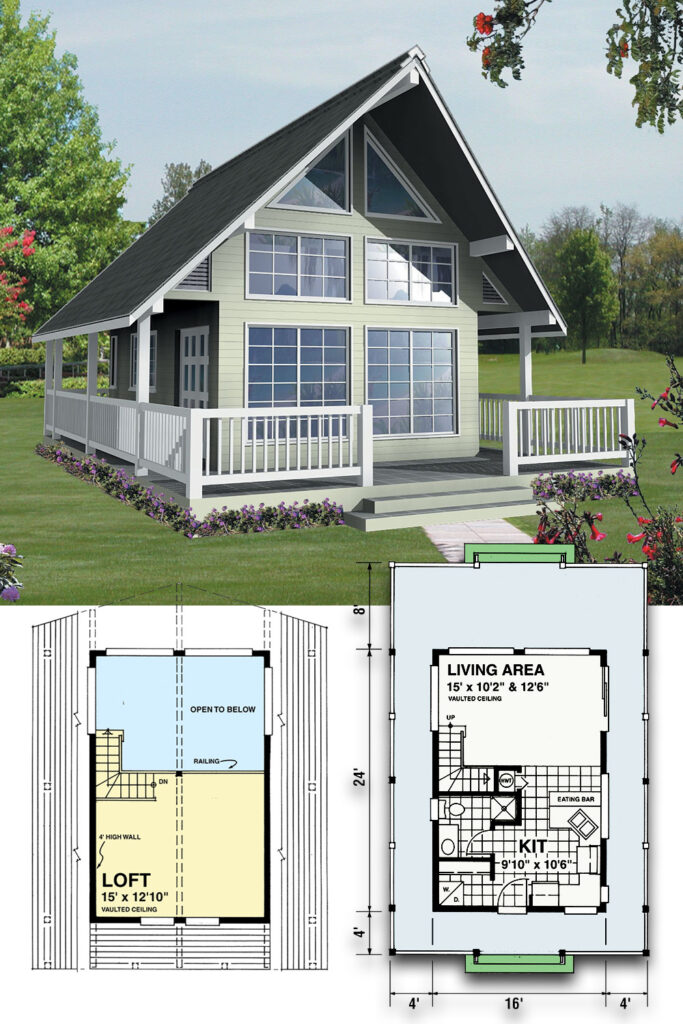 Get Floor Plans to Build This Tiny House
What a great idea for a growing family! As an illustration, here is a really nice and flexible concept of urban modular homes that can be grouped together into clusters. Consequently, it is perfect for a younger crowd that wants to be close to city life.
In fact, the Starter Home floorplan is only 582 sq/ft and can be yours for a mere $50,000+ (without land). Despite its tiny size, it feels larger due to some special architectural features like skylights in the living room, a number of large mirrors, and a 10′-high ceiling on the second floor.
Young couples can easily add or buy more adjacent units as their family grows.
9. Tiny Bungalow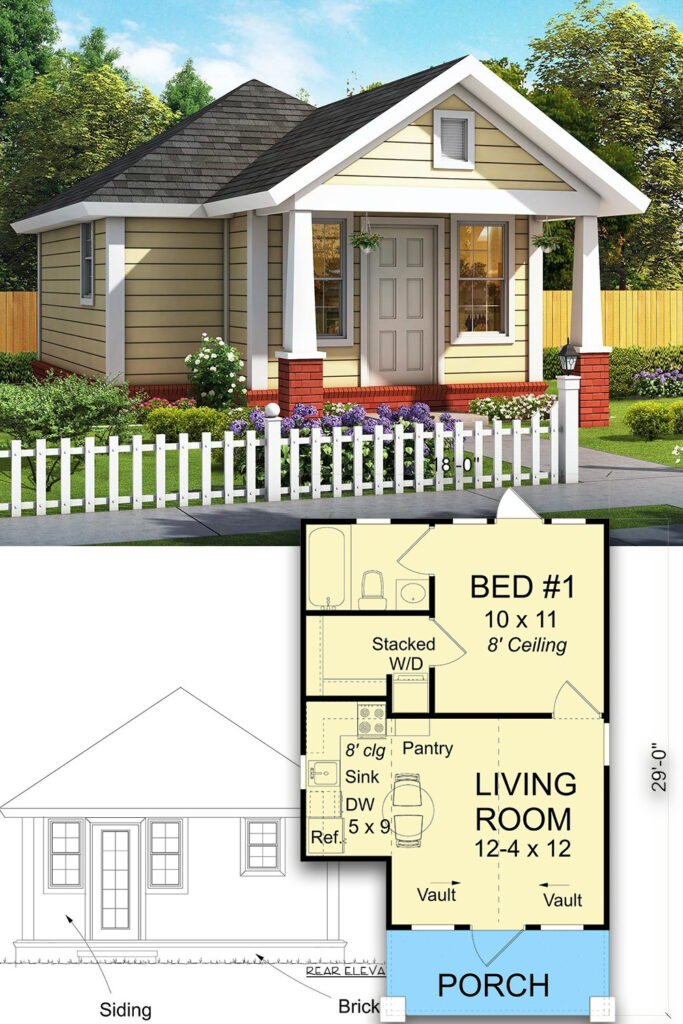 Get Floor Plans to Build This Tiny House
If you simply need something simple for suburbia, go with this plan for a small bungalow with a loft. If a loft is not what you want, a high cathedral ceiling is an option.
This home has an abundance of light and all conveniences of modern life such as a dishwasher, microwave, and full-size range with an oven. For a hot climate, you can easily add a modern silent mini-split air conditioner with remote control. It also can serve as a heater for colder months.
This house is not designed to be portable. If you wish to spend some extra money, you can dig a basement and put this house over it. To do so, you may need to work with an architect or engineer licensed in your state to get approval from the building department. Make sure to check all the legal aspects for tiny house dwellings in your state.
10. Cute Tiny Cottage "Summer Spot"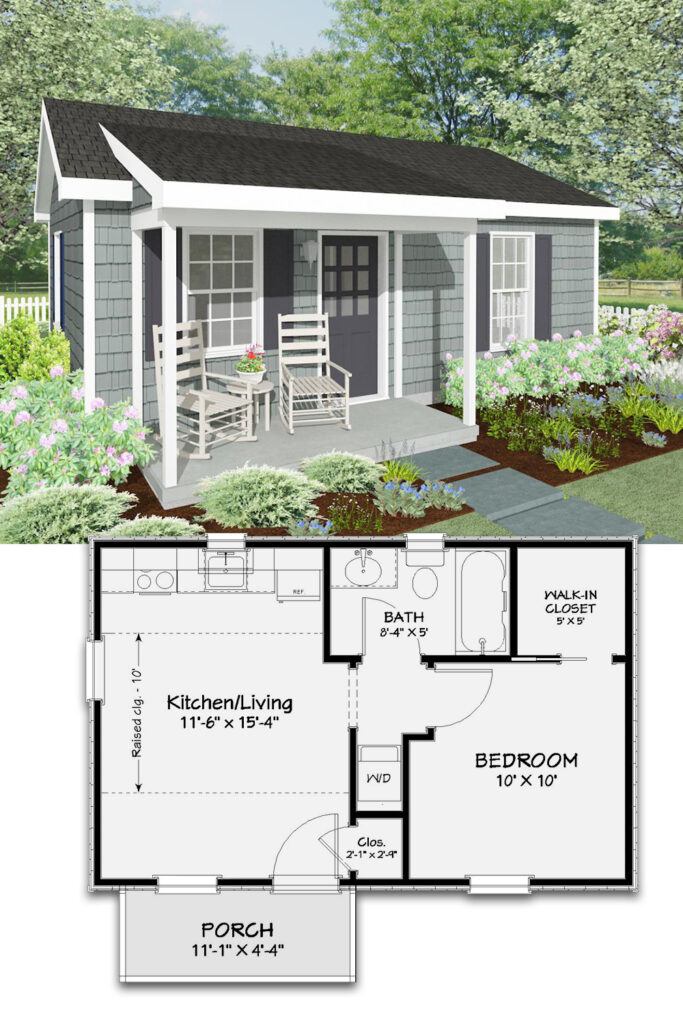 Get Floor Plans to Build This Tiny House
Look how adorable this little gem is! This 400 sq/ft cottage is calling your name!
The open concept kitchen has plenty of space and light. Furthermore, you can go out to have your breakfast on a deck, use a bar stool, or eat at the dining table in the living room. Simply a small personal space paradise! Trees in full bloom, flowers galore, and birds chirping – what else would you want? Just get these tiny house plans and start building!
11. Little Cottage "Aspen"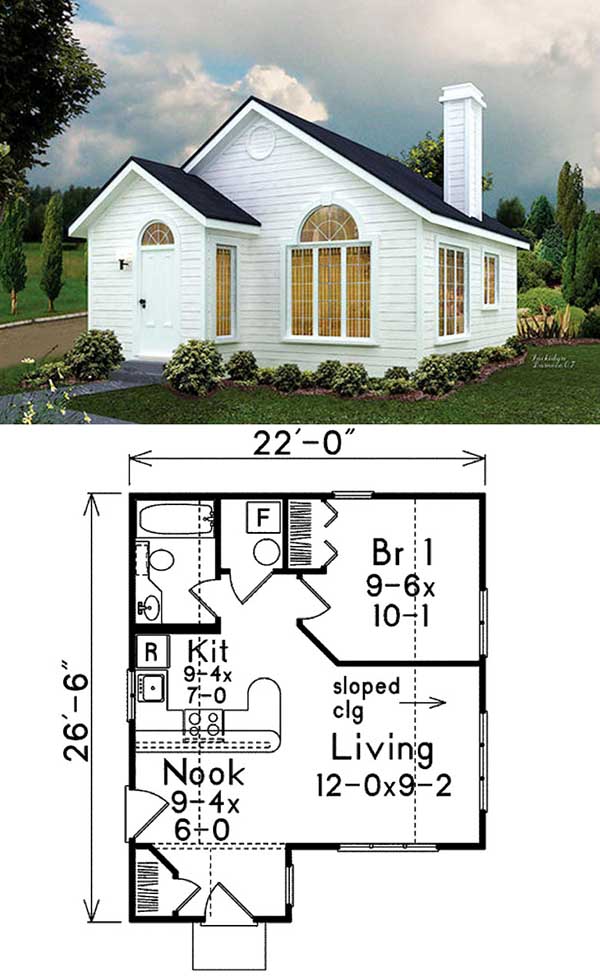 Get Floor Plans to Build This Tiny House
A super cozy and spacious 527 sq/ft cottage can be a starter or retirement home for singles or couples. Furthermore, it makes a perfect vacation home or get-away retreat you were dreaming to build for a while. Altogether, it has two closets and an open concept kitchen with a spacious living area and breakfast/dining nook.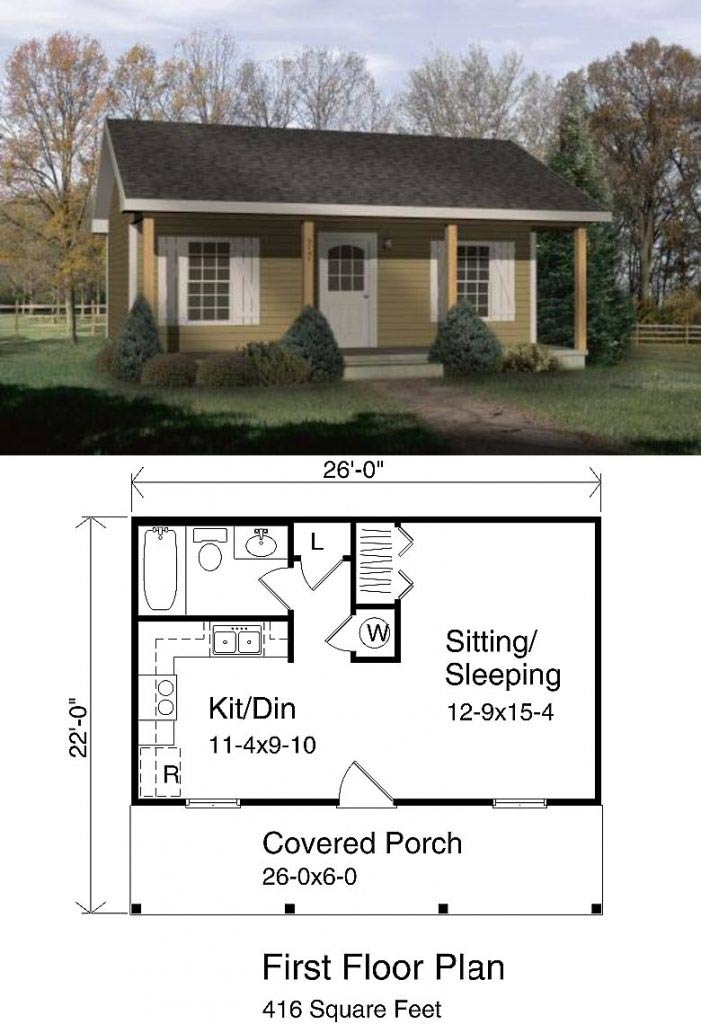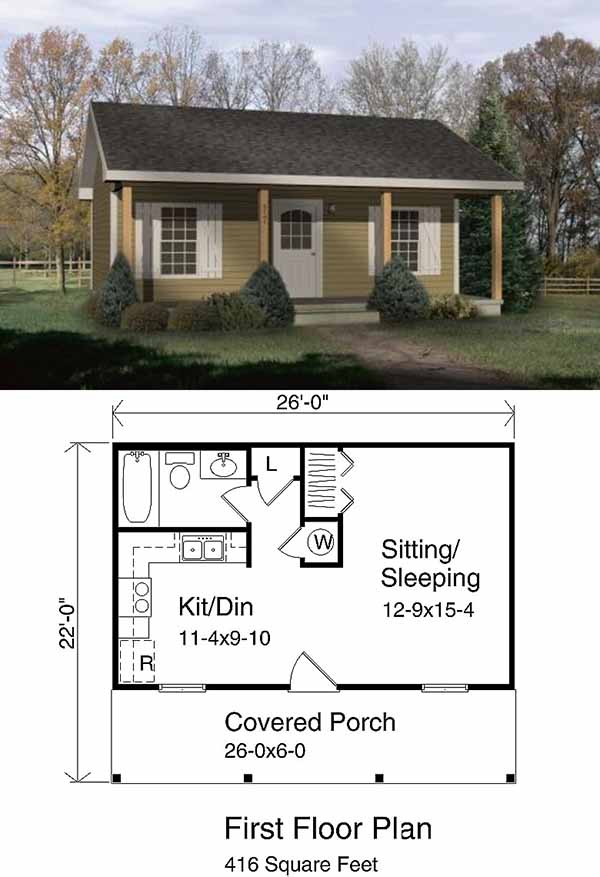 As a matter of fact, this is one of the most simple tiny plans around. Great for saving money on things that a single person doesn't really need. A simple 416 sq/ft plan for a simple living can be your perfect first step towards homeownership and a minimalistic lifestyle.
13. Tiny Holland Cottage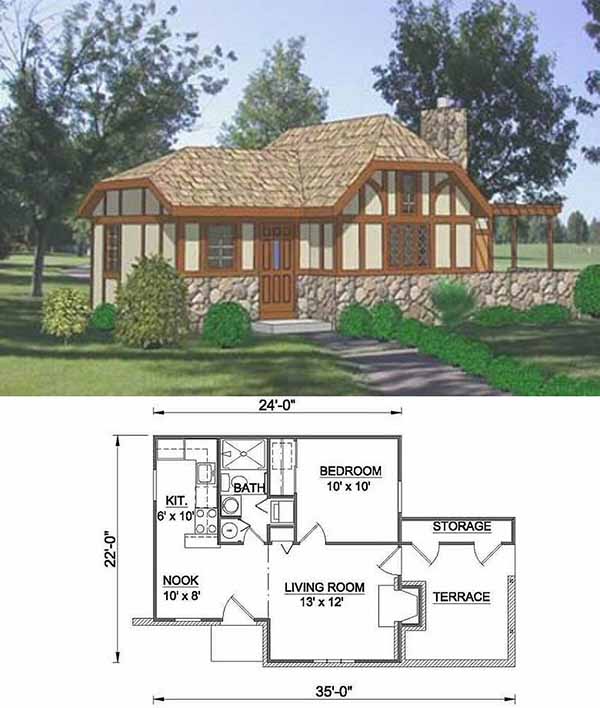 Get Floor Plans to Build This Tiny House
How can one blame you if you want to live in style? In fact, here is your chance to build a perfect architectural masterpiece for a fraction of what your neighbors would pay for their 4,000 sq/ft mansions.
As a result, with 484 sq/ft of total area, you have 9 times less space to clean and repair! Furthermore, you will definitely save on property taxes…
On the positive side, for cold months it has a fireplace and for hot summertime, you can add an affordable silent mini-split air conditioner with remote control.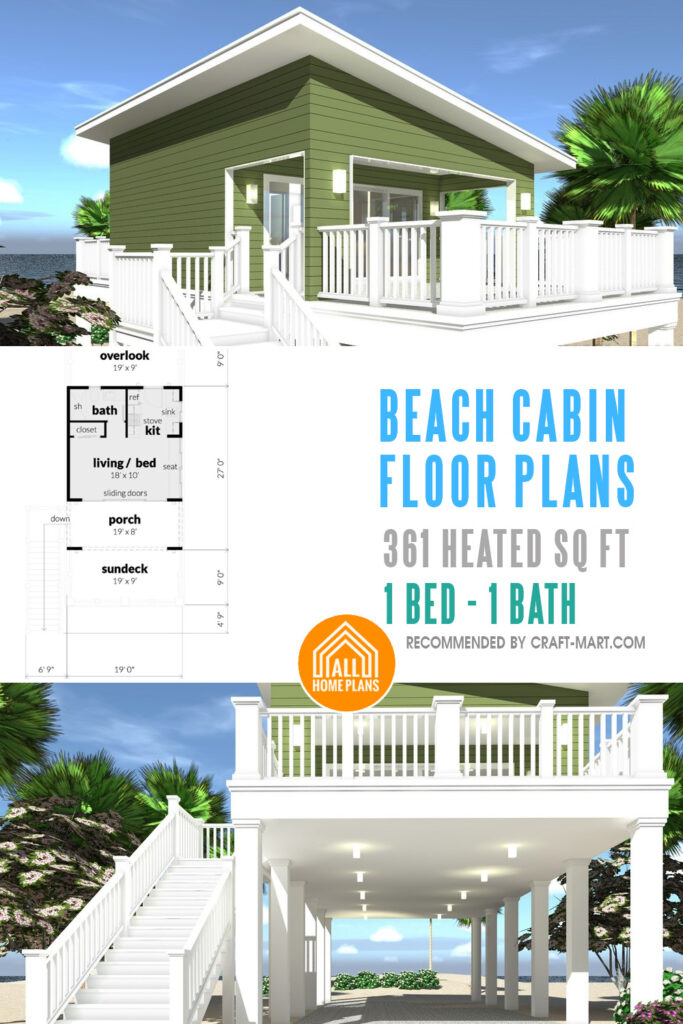 Are you dreaming about a perfect tiny getaway? In general, for warm California or Arizona climates, this tiny house plan is simply perfect. Designed to reflect the architectural aesthetics of the 1930s and based on projects for the rich and famous, this house is almost a work of art.
In brief, this tiny house has a small kitchen, a bathroom, and a kitchen/living/dining area that opens to an outdoor dining porch and a patio. On the ground level, you have a carport that can be transformed into a workshop or whatever you need.
15. The Bohemian Mobile Tiny House
(formerly FREE)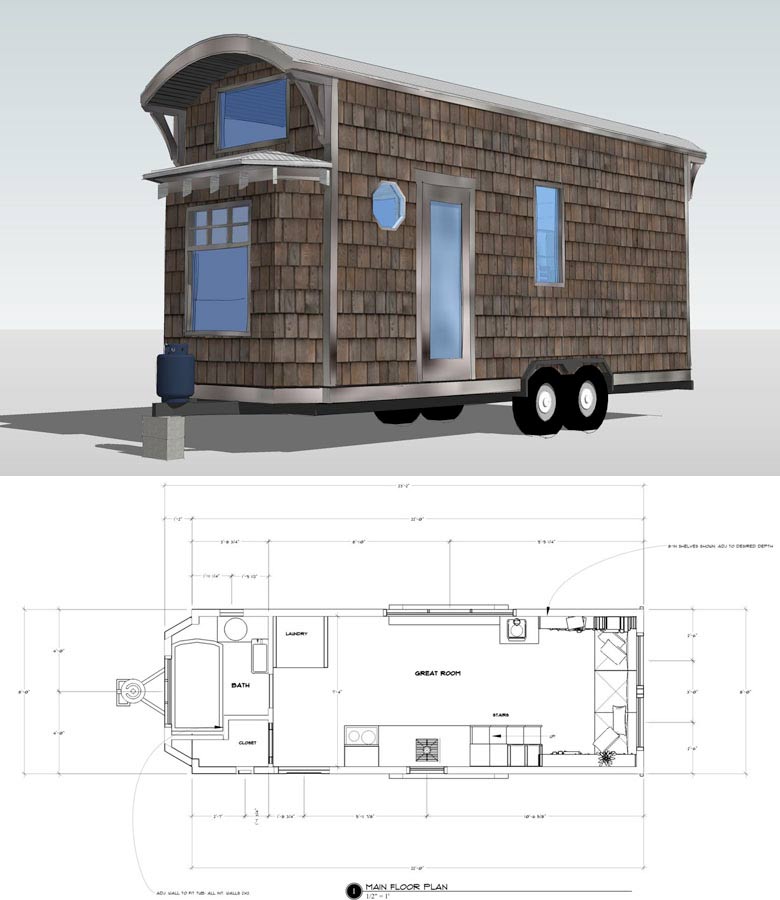 How to Build This Tiny House
Get Floorplans
If mobility and shingles are what you are after, then The Bohemian trailer house plan deserves your attention. This mobile tiny home was originally designed to fulfill the specific needs of one client. Consequently, a lot of people loved it as well for some reason (perhaps, shingles?).
Anyway, where else would you get a 200 sq/ft tiny house on wheels for $15,000? Don't forget to ask for that BOHO octagonal window by the entrance door and a loft. Perfect for crafty people that go from town to town selling their stuff at fairgrounds or anybody who wants to move around frequently.
16. Tamarack Tiny House
(formerly FREE)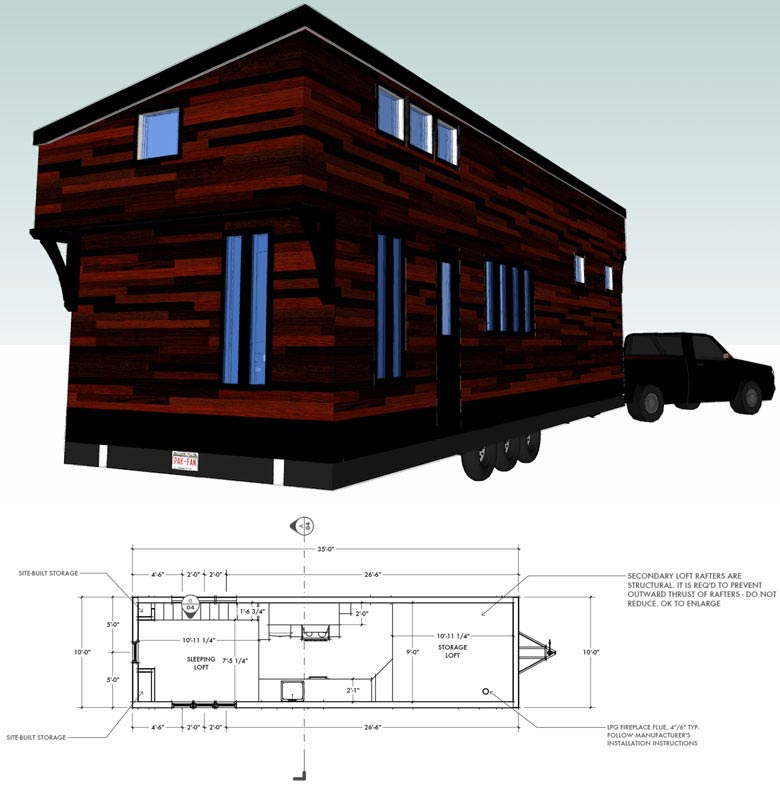 Get Floor Plans to Build This Tiny House
Here is one more 320 sq ft plus loft space floor plan of a mobile tiny house. Once in a while, some of us get that wanderlust or an urge to get out of a rut and see new places and meet new people. As a result, buying a fancy trailer may cost you a lot more. With this custom tiny plan, you have a chance to make it just for you.
Whether you are a digital nomad or retiree, this small home plan can be the solution for your new exciting adventure.
17. Tern Island Tiny House on Trailer
(formerly FREE)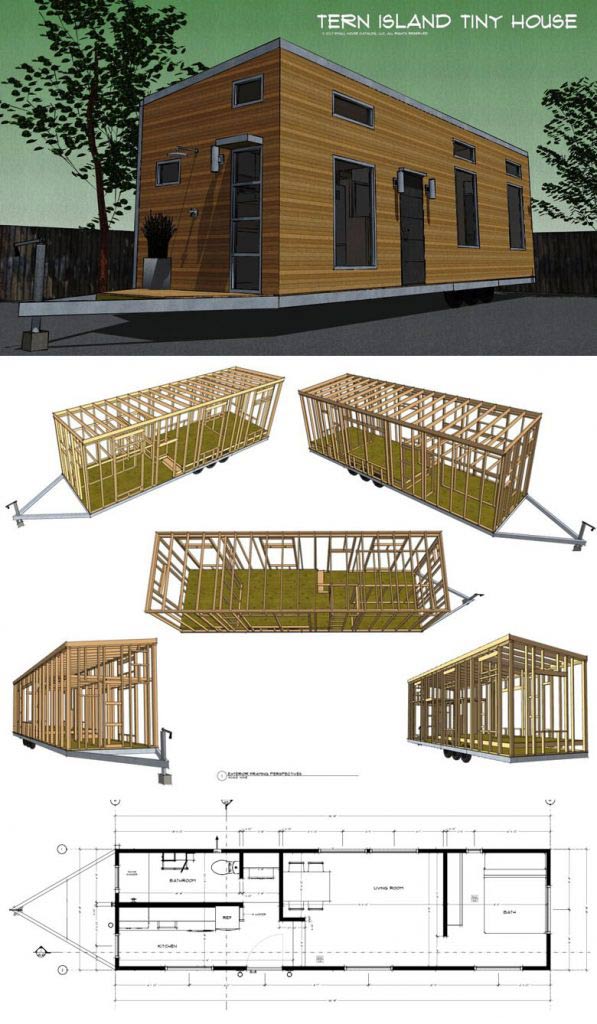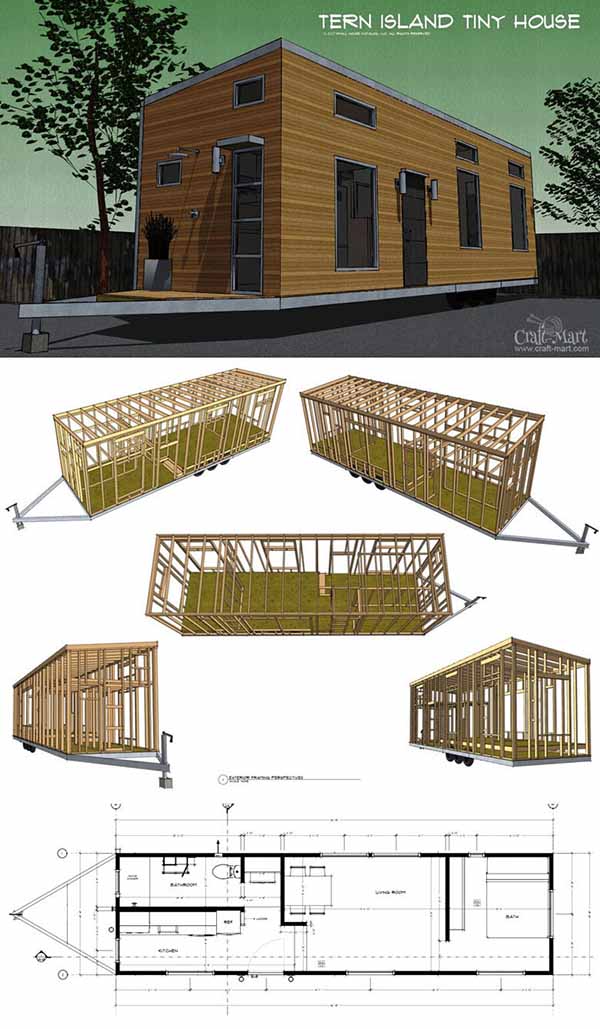 Get Floor Plans to Build This Tiny House
Out of all small mobile house floor plans, this one has a private master bedroom and two lofts. The estimated cost to build is around $15-20,000.
As can be seen, the exterior of this trailer home looks sort of boxy as if it was made by IKEA. On the other hand, you may just want to go and get all the furniture from IKEA for this baby to complement the exterior style. You don't want your couch and dining table to cost more than this mobile tiny house, right?
18. Moschata Tiny House On Wheels
(formerly FREE)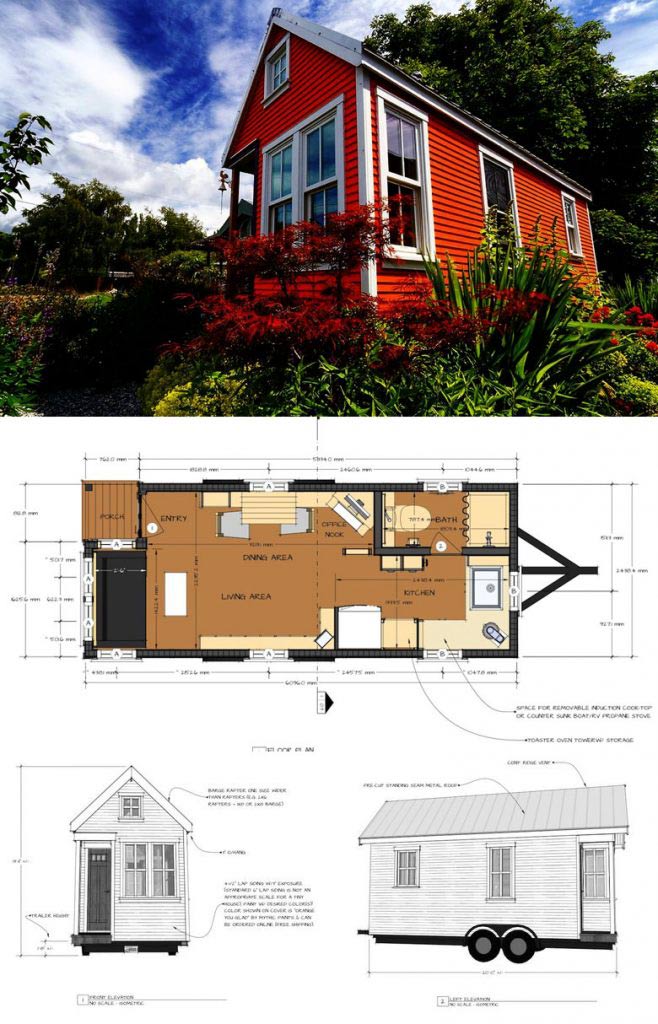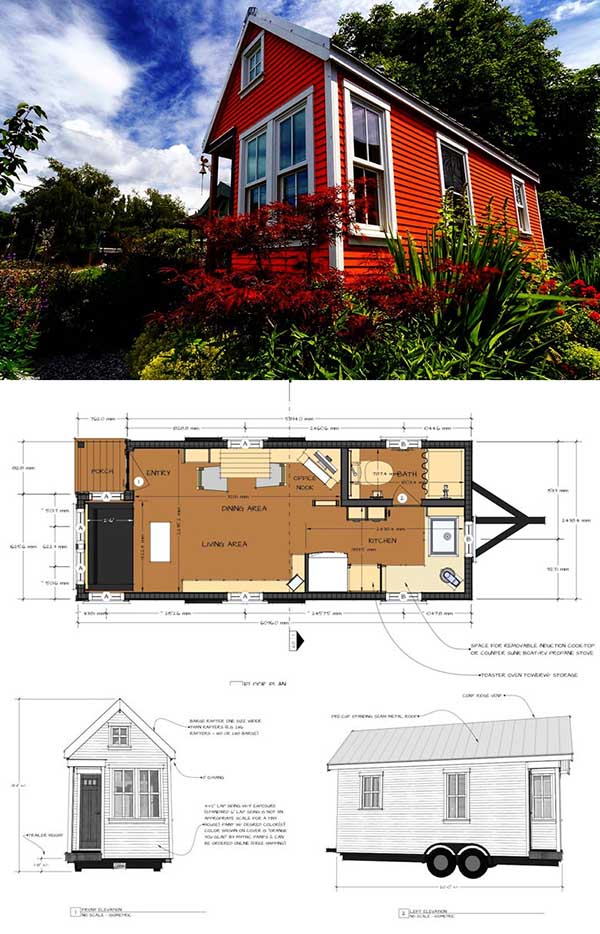 First of all, It doesn't look like your typical trailer. In fact, with only 160 sq/ft of livable space (plus 2 lofts), this is the real house on wheels. In essence, save around $17,000 to have enough money to build this baby and hook it up to your truck to make the whole country your neighborhood.
This small home plan shows 2 chairs, so you definitely can invite at least one friend over for tea with biscuits or even have a business meeting!
19. Round Tiny House Plans
(formerly FREE)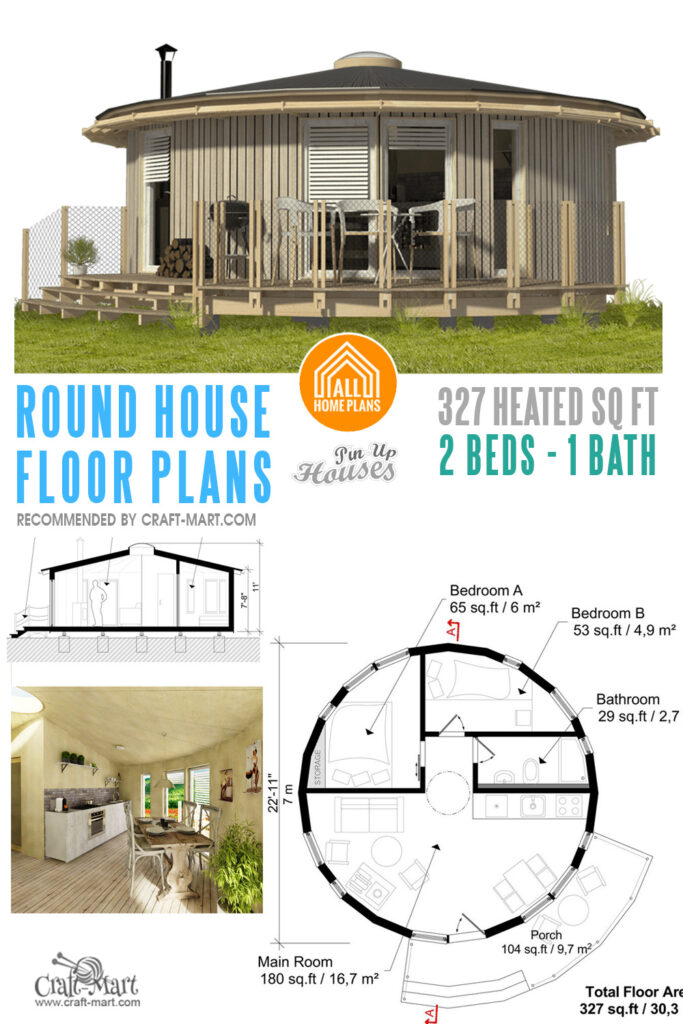 Get Floor Plans to Build This Tiny House
Some people like living in extreme conditions. In that case, the roundhouse can provide excellent wind resistance. Furthermore, it is more economical to heat because of the smaller surface of the outer walls compared with more common rectangular tiny home layouts.
Will you be able to put a very large flatscreen TV on the curved wall? As a matter of fact, some flat screens are curved nowadays!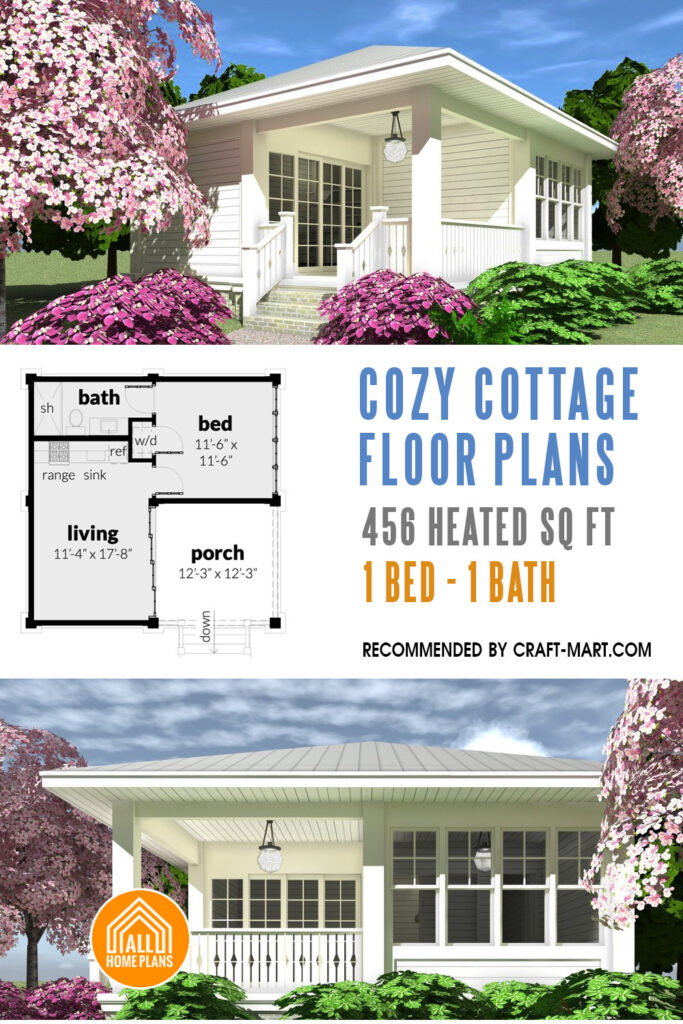 Get Floor Plans to Build This Tiny House
This cozy cottage has a nice bathroom, a kitchen, and even the option of having your meals on a sizable deck! The architect masterfully used perfect design proportions to create an impression of a larger house.
The simple yet elegant use of space and building materials keeps the construction costs of this micro home pretty low.
In fact, the kitchen is small but spacious enough to include a dishwasher and a large range with an oven. For cozy winter evenings, a small fireplace can be tucked nicely in the corner of the living room.
If you do not need a high ceiling in the great room there is an option for a full loft over the whole ground floor or just over the bathroom and kitchen with a cathedral ceiling over the great room. You can't go wrong with this house plan if you are on the market for something simple and traditional.
21. "Sunrise Catcher" Small Cabin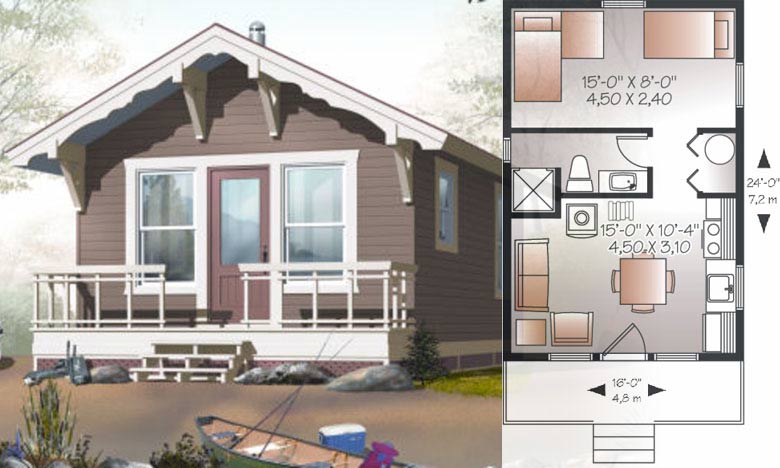 Get Floor Plans to Build This Tiny House
Imagine your lazy mornings with a cup of coffee on this porch! This is a truly tiny house plan under 400 sq/ft (384, to be precise). All things considered, it is a perfect starter house for a small family or a single adult.
Moreover, you can add a small vertical garden and flower beds and you will be enjoying your life a lot more than most Americans with huge mortgages and credit card debts.
22. "Sonoma" – Writer's Dream Retreat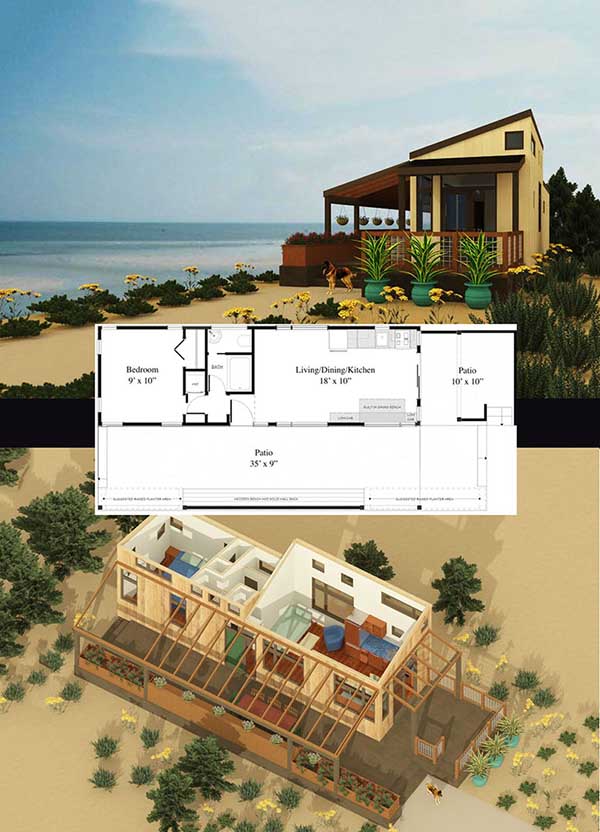 Get Floor Plans to Build This Tiny House
The Sonoma is a little 500-square-foot house designed by The Homestead Partners for California or other states with a warm climate. You may dream about building this tiny place on the beach but it would be a lot more economical to find a small lot near the lake instead.
In general, for much hotter inland regions, an air conditioner is a must. Don't even think about large traditional AC units or noisy window boxes. All Southern Europe uses silent and effective mini-splits that can be controlled and programmed by a remote or mobile phone.
In fact, the Sonoma micro home plan is not that tiny. This 500 sq. ft. home is large enough for a small family.
23. Really Tiny Rustic House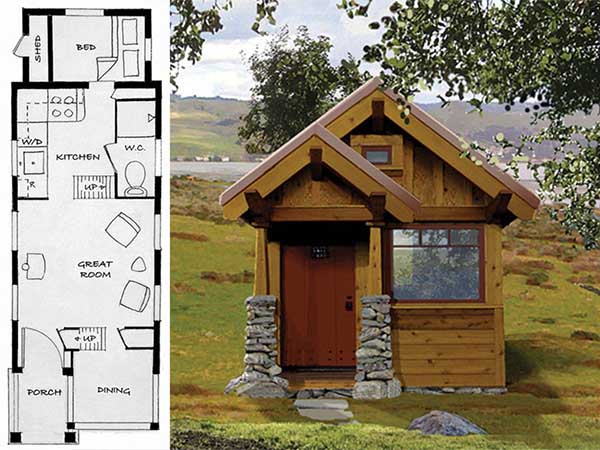 With less than 300 sqft, this cute cabin plan has it all for a young couple: one bedroom, one bathroom, a nice kitchen, a living room, and even a separate dining area! There is no garage though, but who cares?
We all know that scooters are much cooler than clunky cars. If Italians can fit a family of 5 on one scooter then for a young couple it will be more than enough! In general, 2 bikes will do just fine, too!
If you can imagine yourself buying and riding Vespa then just grab this tiny house plan and be done with it!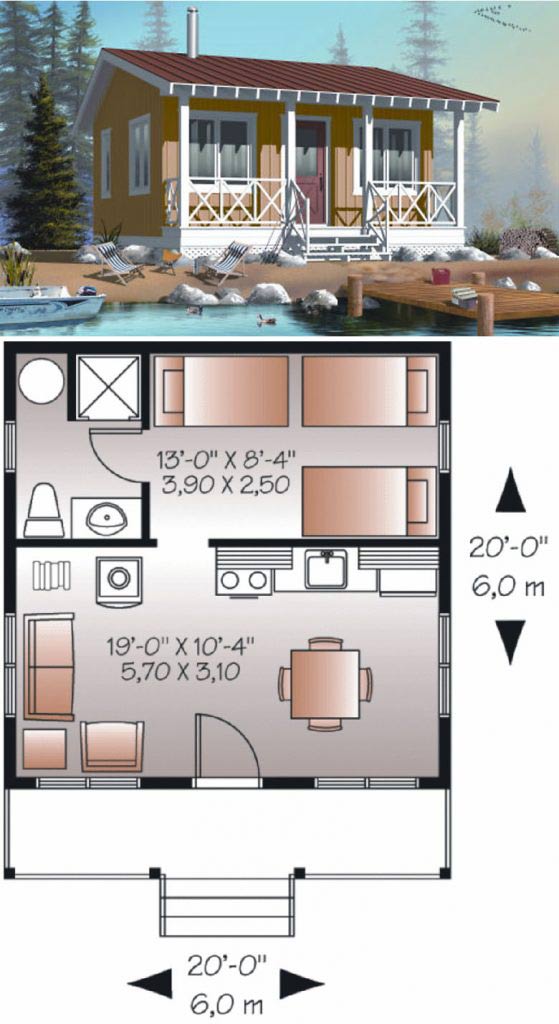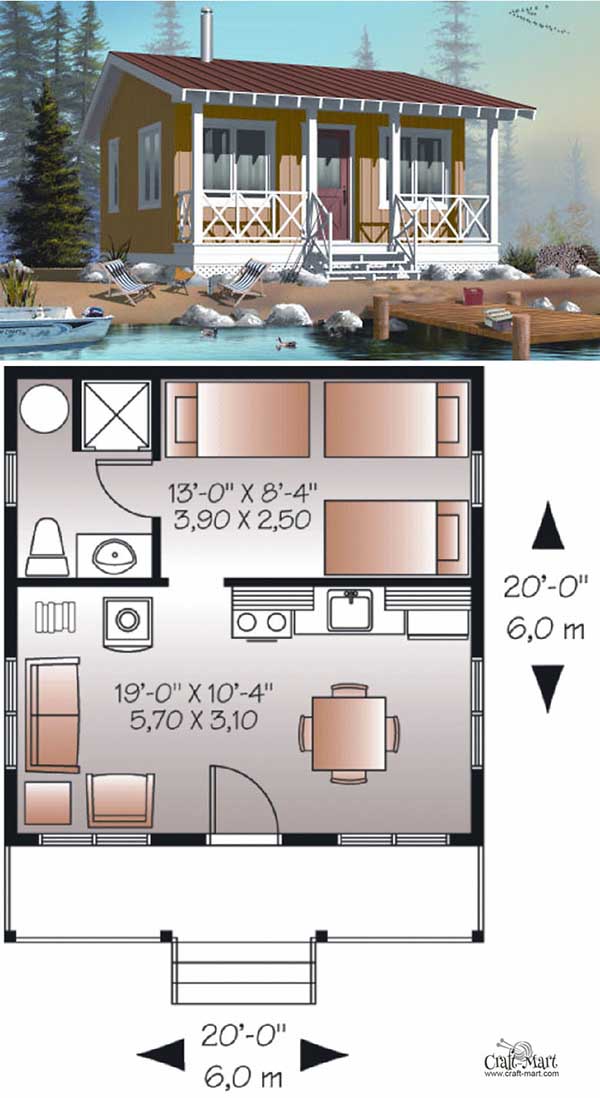 Get Floor Plans to Build This Tiny House
If you want simplicity and functionality under one roof then go with this 400 sqft cabin.
As can be seen, this plan is one large 20 ft x 20 ft square, so converting it into the trailer will not, probably, work. On the other hand, look at this huge porch! This house needs to be far away from highways and city noises for you to enjoy nature sitting in a rocking chair on the deck.
25. "Garden Cutie" Tiny House Plan with an Alcove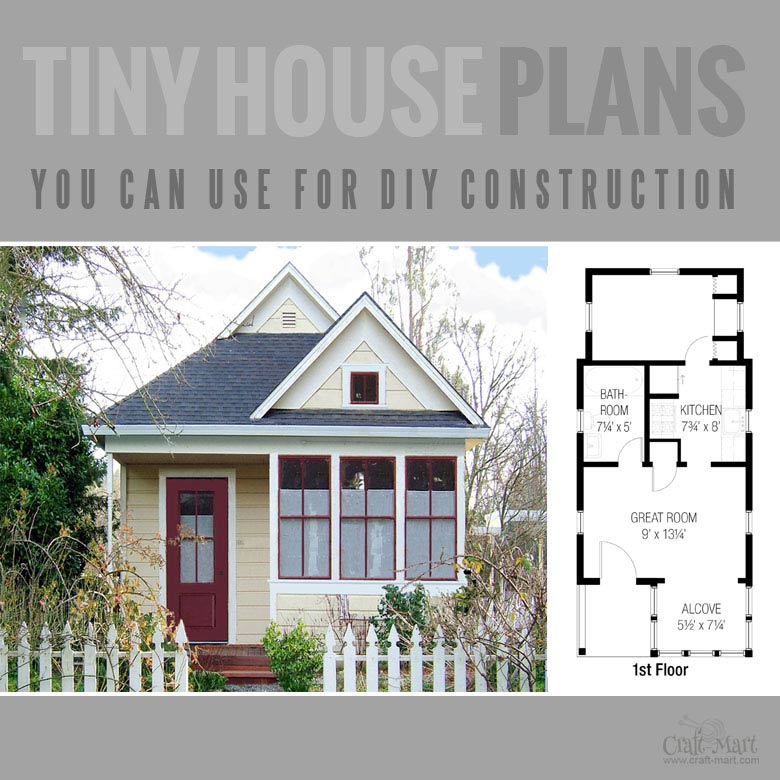 See those three windows on the right part of the facade? This is an alcove area large enough to fit a queen-size bed. Here is your American dream for a fraction of the price! This tiny home is calling your name …
In brief, life is too short: stop spending most of it paying off huge mortgages and property taxes!
26. Tiny "Moderna" Minimalistic House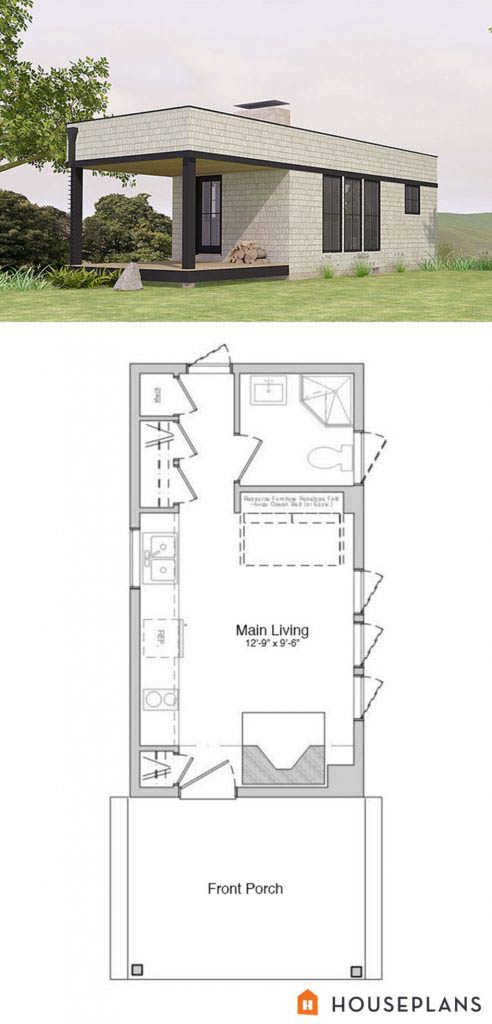 Get Floor Plans to Build This Tiny House
Living in a minimalistic place like this house of 312 sq/ft will require some major decluttering. Basically, you will live in your kitchen and there is no space for the second person. The fireplace is nice but a flat roof is underused.
How about making a sun deck there or a partially covered terrace with stairs outside? As a result, you can put a few planters with herbs or flowers there as well.
Another crazy idea would be making a part of the roof a hot tub or at least a reservoir for collecting rainwater for a garden and flushing a toilet.
27. Sago 670 sq. ft. Plan
(formerly FREE)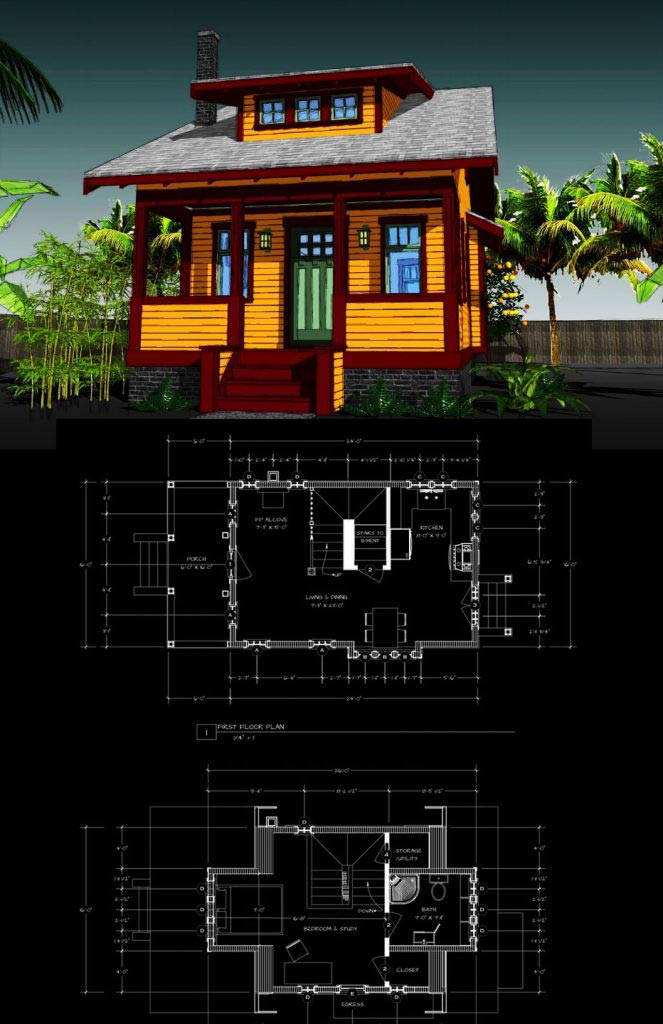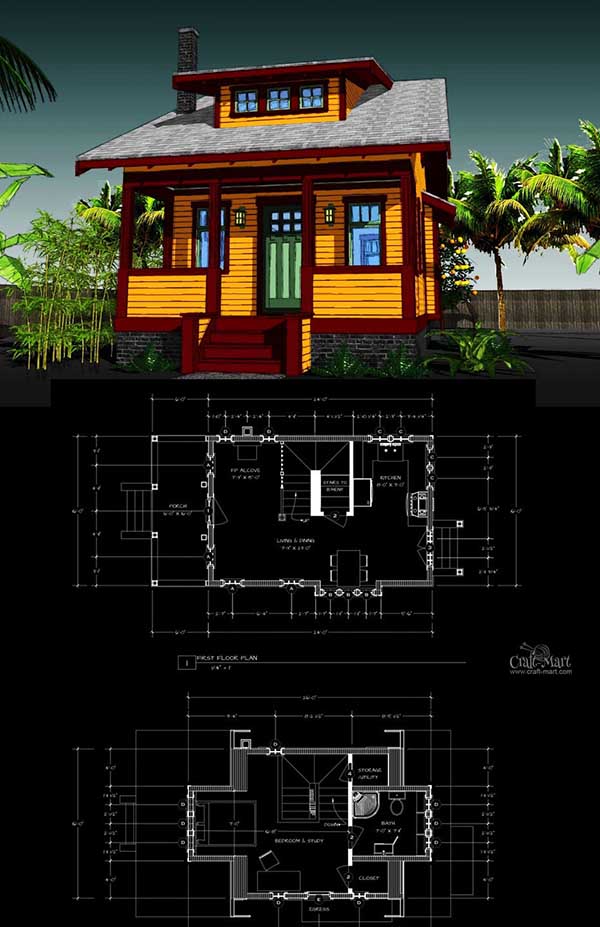 Get Floor Plans to Build This Tiny House

Sago model is one of the larger tiny traditional homes but still falls into the affordable starter house category plan is designed to accommodate a family of 2 since there is only one bedroom on the 2nd floor. In fact, for many families renting apartments with the same square footage (670 sqft), this tiny house will be the first step towards homeownership.
---
Where can one find Free Tiny Home Plans?
Well, the time of free stuff is rapidly going away. Many designers stopped offering these plans for free and now sell them.
Please, keep in mind that most of the time these FREE plans come without any material lists or details. On pretty rare occasions, these plans are good enough for beginners to follow them. We hear that only a tiny percentage of DIYers end up using them.
The reasons for this are rather simple:
1 – very limited selection of designs,
2 – it takes time and money to fix mistakes caused by incomplete plans,
3 – no support or help with modifications.
If you really still want to get free detailed plans that can actually be used for building a tiny house, there are only a few options left.
The first one would be a Quartz Tiny House by Ana White – your best bet;
Another is overly popular Tiny House Design free plans that are great to get you started but lack a few important details;
Browse these plans and see if they have enough information for you. If you feel confused, get a PDF edition of this book – it really helps to expand your understanding of what will be involved and what options you have!
Final thoughts
Useful detailed plans cost time and require skills to produce and support;
Free plans will not save you money if you don't know what you are doing;
First of all, you need to have a clear picture of what is involved in construction and what kind of plans, materials, and tools will be required;
Second, get enrolled in one of the tiny house construction workshops or at least buy a book with clear step-by-step instructions;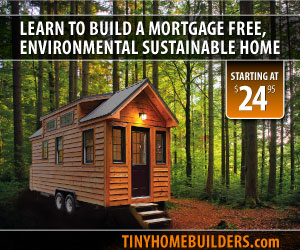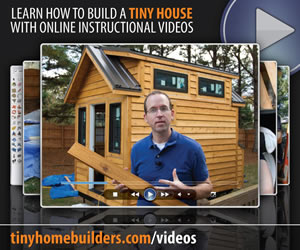 ---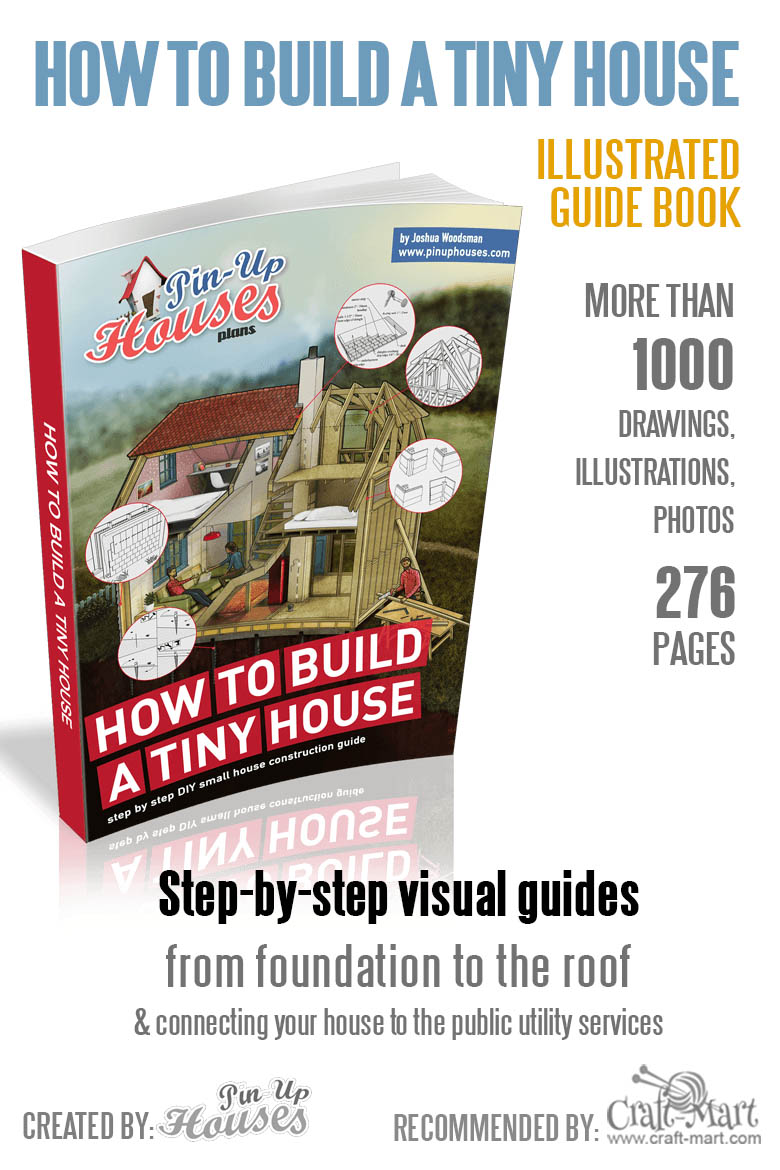 Don't be discouraged if these floor plans for the tiny house of your dreams are not what you are looking for. Besides US-made small homes, there are a few options to order inexpensive quality tiny home kits from the EU that are very easy to assemble. Take a look here at a few amazing tiny home plans from Italy and Estonia!
Check out our new tiny home builders directory with more than 100 listings of tiny house builders around the World!
Do you need more tiny or small house floor plans?
Check out our new collections of building plans for sheds, cabins, and tiny homes below!
Have you heard of Yurts?
Find out why so many people in the US are getting yurts and why yurts are more economical than tiny homes.
Interested in small rustic home plans?