Stylish prefab tiny homes review (Avrame, MADi homes, and more…)
When you hear that "Prefab Tiny Houses" are available to order online and in addition to that they are also surprisingly affordable, what comes to mind? You would probably visualize a crude structure made out of plywood, kind of an oversized chicken coop for humans, right?
C'mon people! This is not the American dream! We love discounts and good deals but we also need at least some elegance and sleek design!
If you don't care about design, style, etc. jump to the container tiny prefabs post. For the rest of you, here is our growing collection of prefabricated houses designed by tiny home builders with style.
Tiny Living in a Dream House (Avrame review)
Avrame, as this Estonian Tiny House Builder calls them, can be assembled anywhere really fast and affordable. Going off-grid is not a problem – you will see plenty of solar panels options for energy-independence. What sets this company apart is the quality of everything. These prefabricated cottages are designed to be modular, efficient, beautiful, and elegantly modern.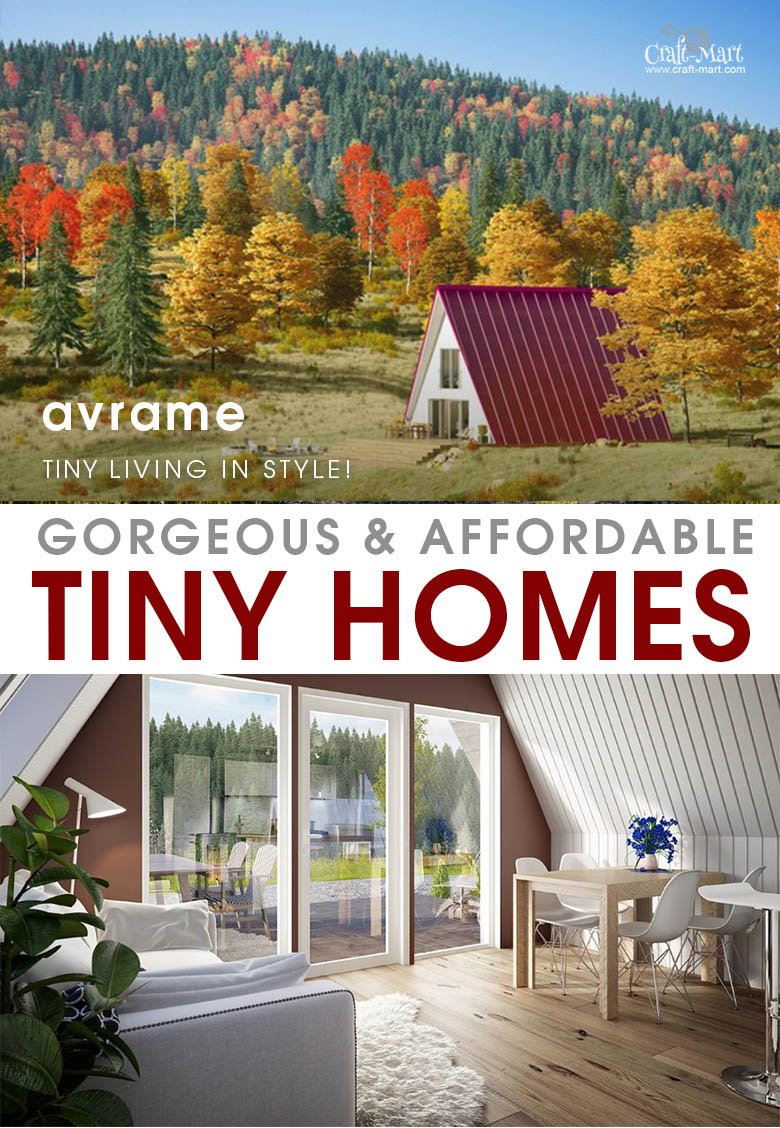 Can you order Avrame prefab tiny houses to be shipped to the US?
The company ships all the models as kits worldwide. For US and Canadian customers, there is no reason to worry about dealing with a foreign EU company – you can order your cabin kit from
AvrameUSA
that is the American branch located in Salt Lake City, UT. Each kit includes detailed instructions, so literally, anyone can do the assembly work. Most smaller and medium models can be assembled by a team of two.
Here is a review of a few basic steps for getting your own Avrame Duo or Solo tiny house:
Find and purchase a piece of land where you will be able to build Avrame house model that you have chosen.
Make sure that there is no local restriction on building a small house on your property.
Estimated time: 2-6 weeks
Contact Avrame to work on customizing your chosen model. Hire a local architect to complete the planning application. Sign contracts with both.
Estimated time: 2-6 weeks
Your customized house kit will be produced by Avrame. Upon completion, it will be shipped directly to the building site.
Estimated time: 6-8 weeks
DIY time! If you want it done faster, then hire contractors to assemble the kit and hook up all the utilities.
Estimated time: 4-10 weeks
Time for IKEA furniture to be delivered! Assemble all the pieces and have a housewarming party!!!
Estimated time: 1-2 weeks
Remember, you can add to the length of your house at any time. As your family grows or your needs change, simply make your home larger…
Look at this plan.
SOLO 57 Tiny Prefab House
This picture looks perfect! This small house can serve as a guest house, retreat, she-shed, or even sauna.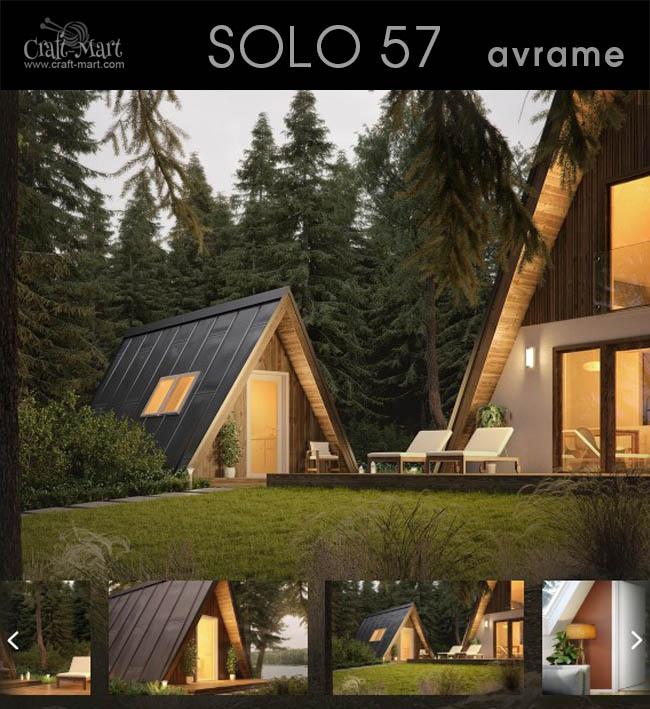 DUO 57 Tiny House Model
The DUO57 is a durable structure that packs a ton of smart functionality into this tiny floorplan. Yes, it can be off-grid and well-hidden from civilization. A perfect modern cabin in the woods!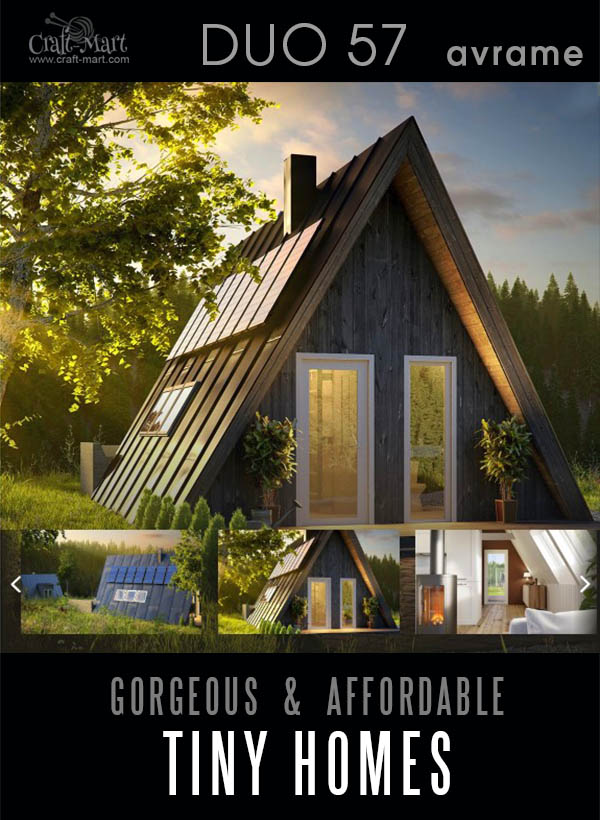 TRIO 57 Prefab Tiny House
Take a look at another Avrame model home for "off the grid" living anywhere on the planet. Just perfect for a ski chalet, a writer's retreat, or a digital nomad …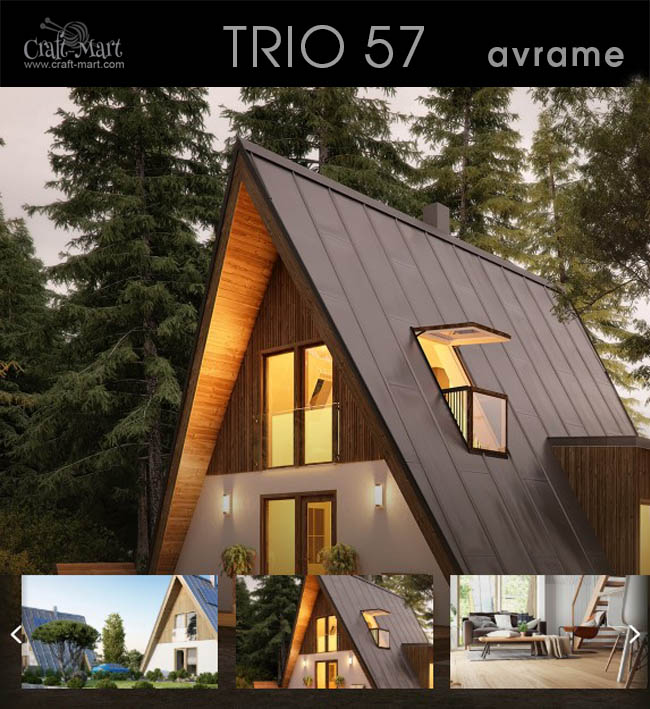 If you are interested in Avrame Duo or other models but still would like to have more information, please read these
Avrame reviews
. (
1
,
2
)
MADi home – an extendable prefab tiny house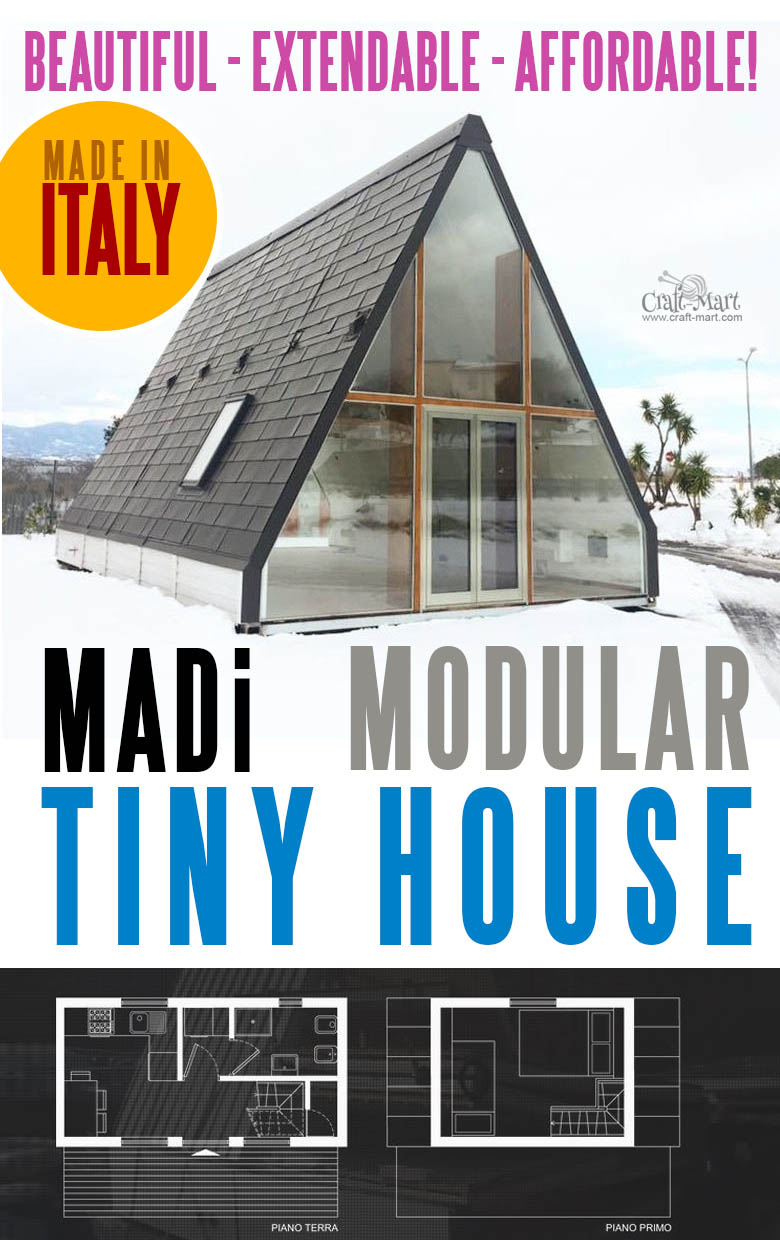 A-Frame House plans always look sharp especially when designed by skillful Italian architects such as Renato Vidal. His main task was to create a foldable prefab tiny house that is easy to erect in one day or so.
The resulting MADi tiny home model can be "unfolded" to provide an affordable and high-quality living space quickly and easily. It is also very durable, earthquake resistant, and aesthetically pleasing.
Besides being foldable, MADi homes are modular as well. One single module of roughly 300 SQ FT can easily be extended to 600 SQ FT and beyond. Look how quickly it can be assembled! Simply genius!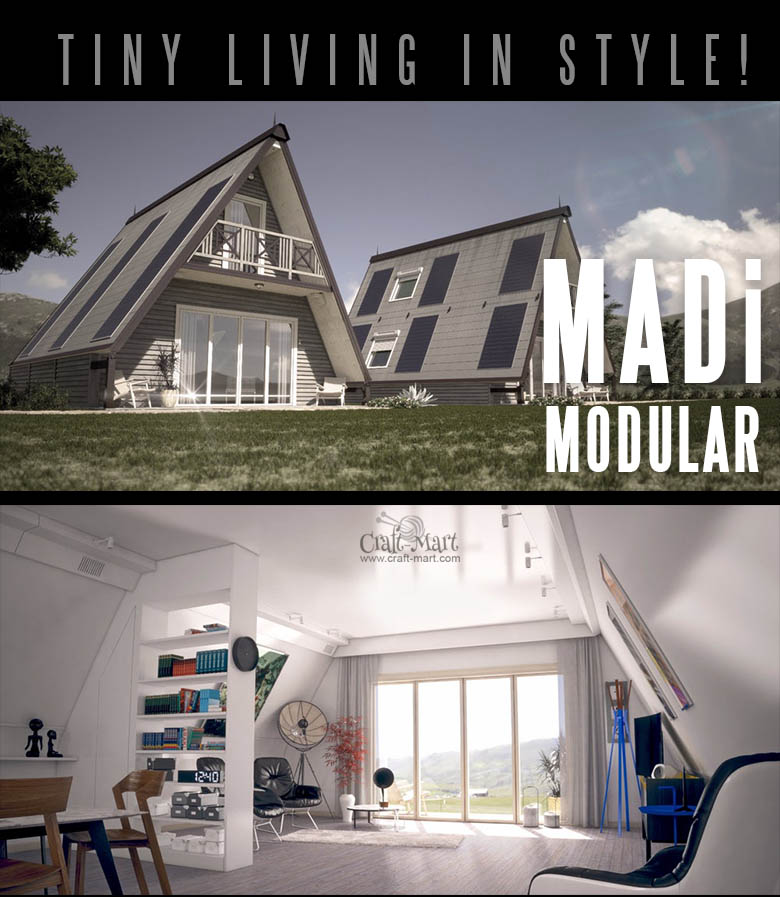 We are very impressed with this particular MADi home design. Note how spacious this open floor plan feels! Seismic stability is a huge plus, especially in earthquake-prone mountain areas of Italy.
A multi-purpose modular prefab tiny house – FLEXSE
Photos by Ekaterina Titenko
Finnish grill houses or saunas are no particularly famous for their architectural beauty. The FLEXSE project with its name derived from "FLEXible ellipSE", shows that in the right hands anything can be turned into an architectural masterpiece.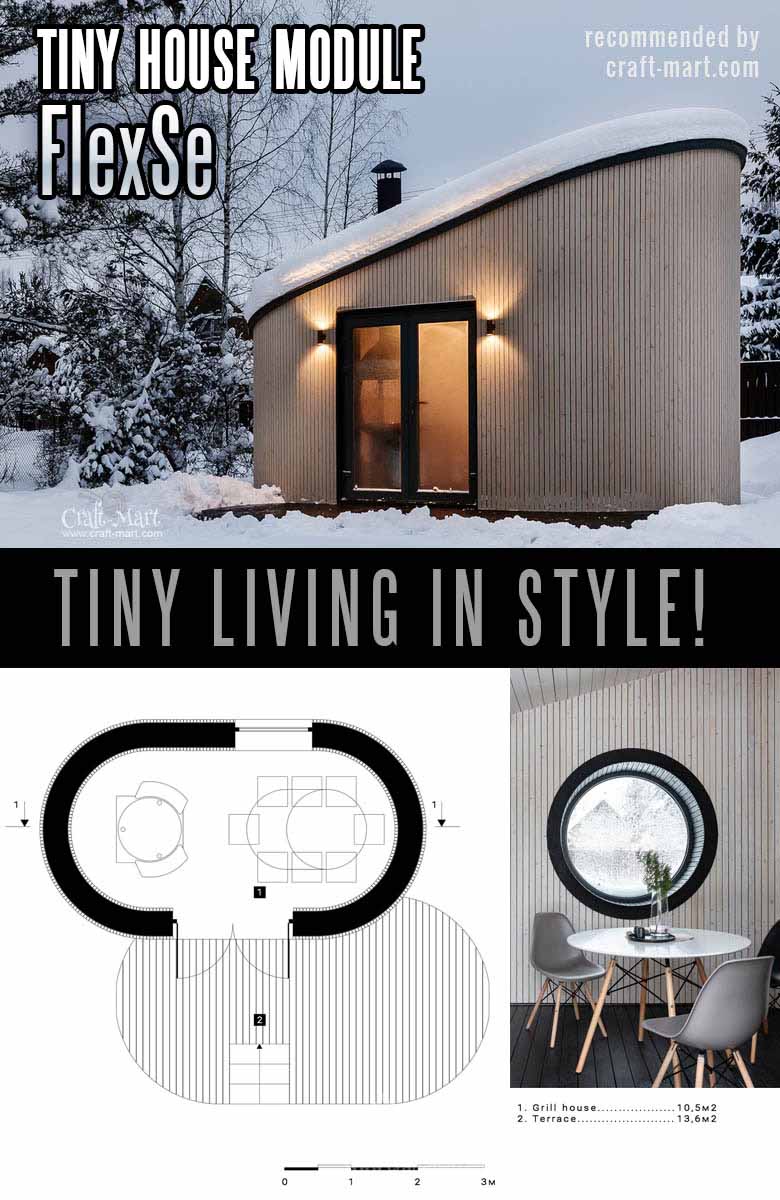 St. Petersburg–based studio SA Lab created a module designed for harsh weather conditions such as freezing winds with snow and ice. The oval-shaped plan helps with aerodynamics providing structural stability during strong winds.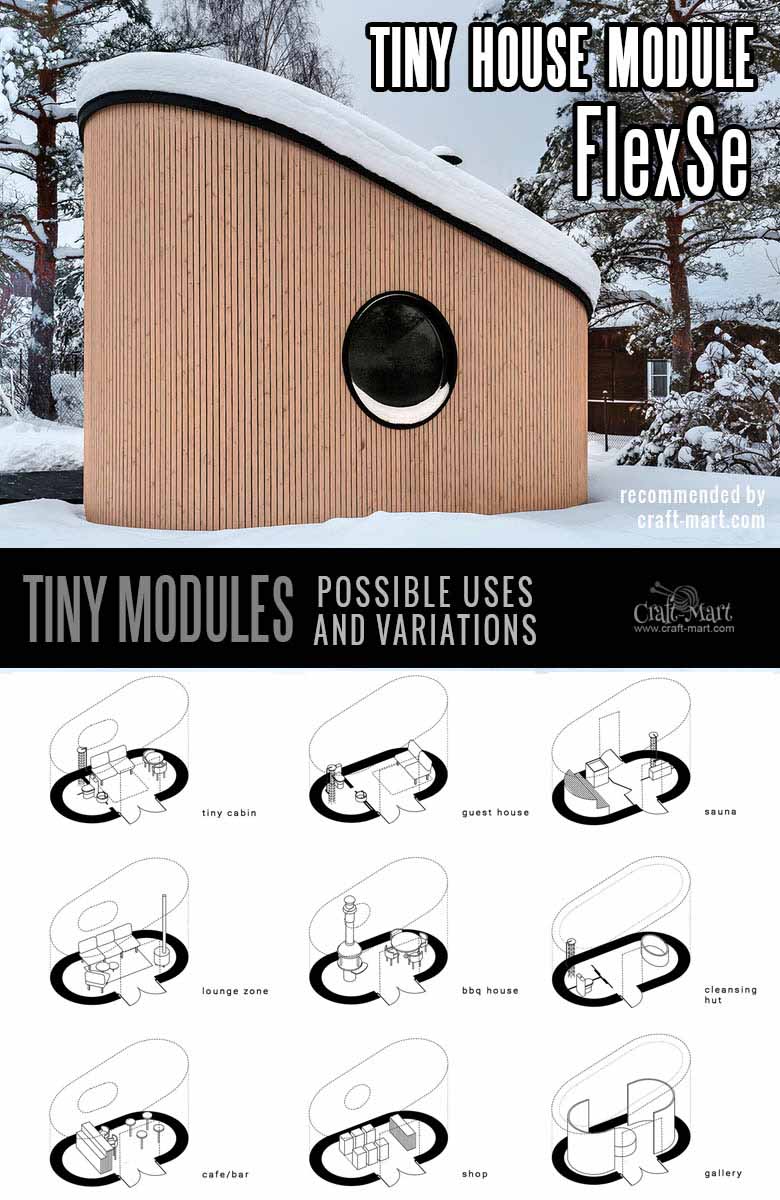 The first order came the customer wanted a grill house (called grillikota in Finland). The building team didn't have a lot of time before the start of the winter season. Surprisingly, it took less time than planned to finish the whole project.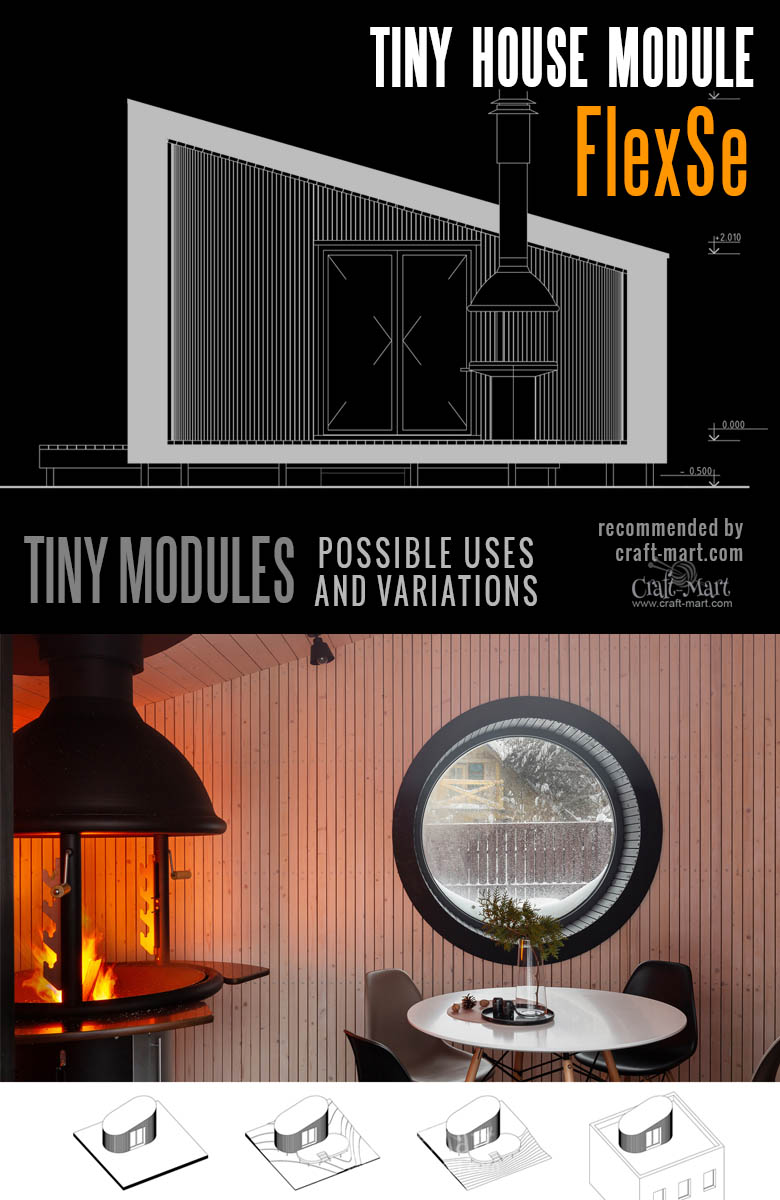 The resulting structure of 258 SQ FT somewhat resembles the Noah's Arch-looking Kamppi Chapel of Silence in downtown Helsinki, by K2S Architects that hired a team of former shipbuilders.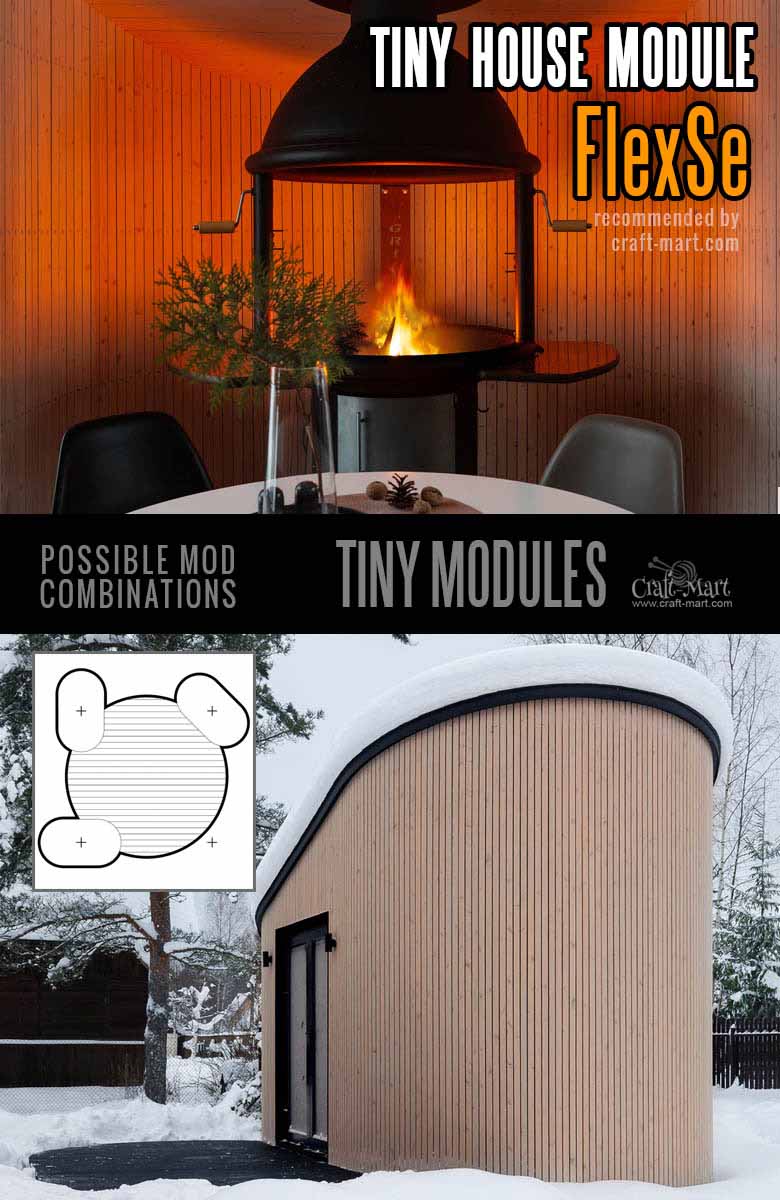 The main distinctive feature of this project is in its universal appearance suitable for countryside, suburbs or even city centers. Naturally, the modules can be combined into clusters producing larger size dwellings. Of course, this Northern wooden style is not appropriate for much warmer regions where the main problems are not harsh freezing winds.
Tiny Country house – D.O.M.+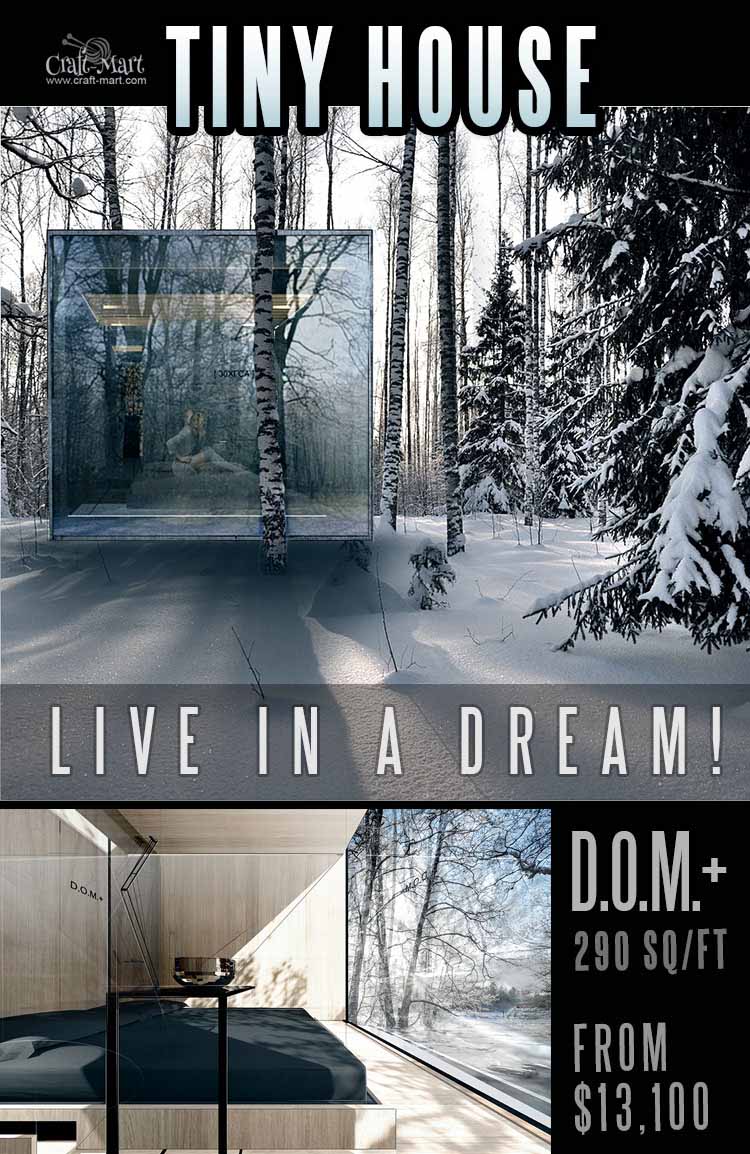 For people who desire simplicity, a Russian architect G. Nasedkin designed a series of homes connected with nature. Despite its expensive appearance, this model will cost you only as much as 3 trips to the US-based emergency room (US avg. cost is $4,000 per visit with no insurance)!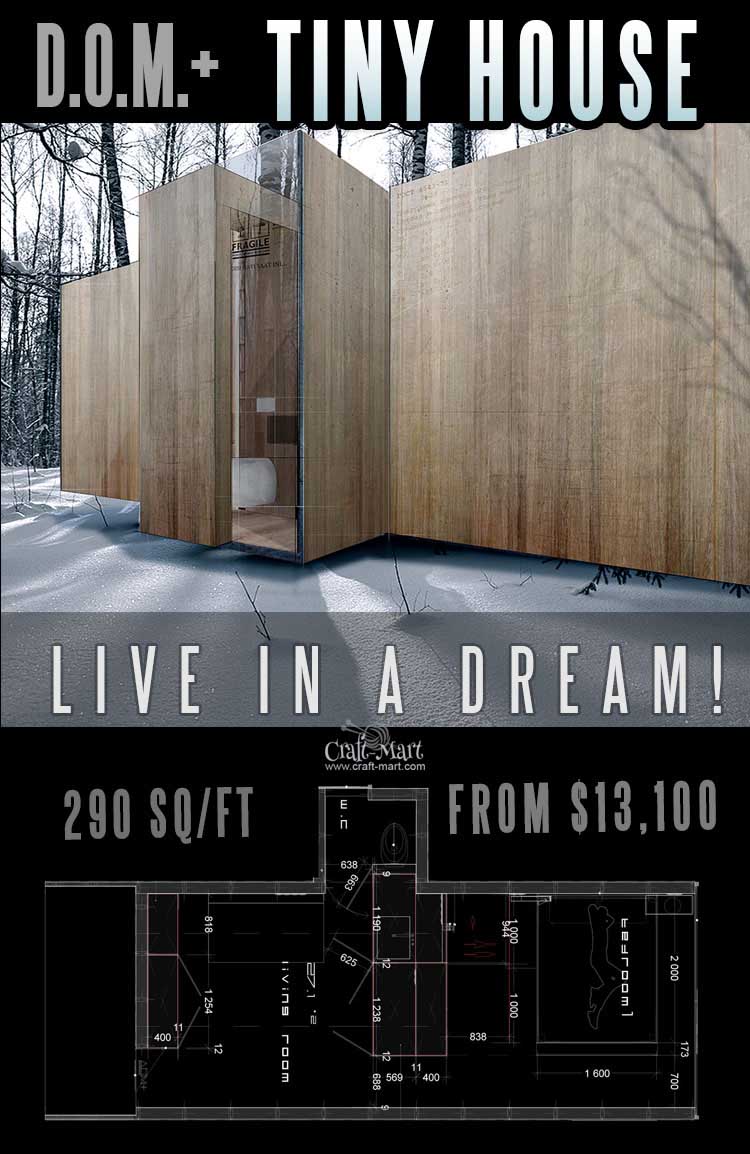 The architect has thought through all the interior and exterior design details. The house is an ideal candidate for Scandinavian minimalism lovers. The construction company guarantees a 35 days completion (appliances and plumbing fixtures are not included).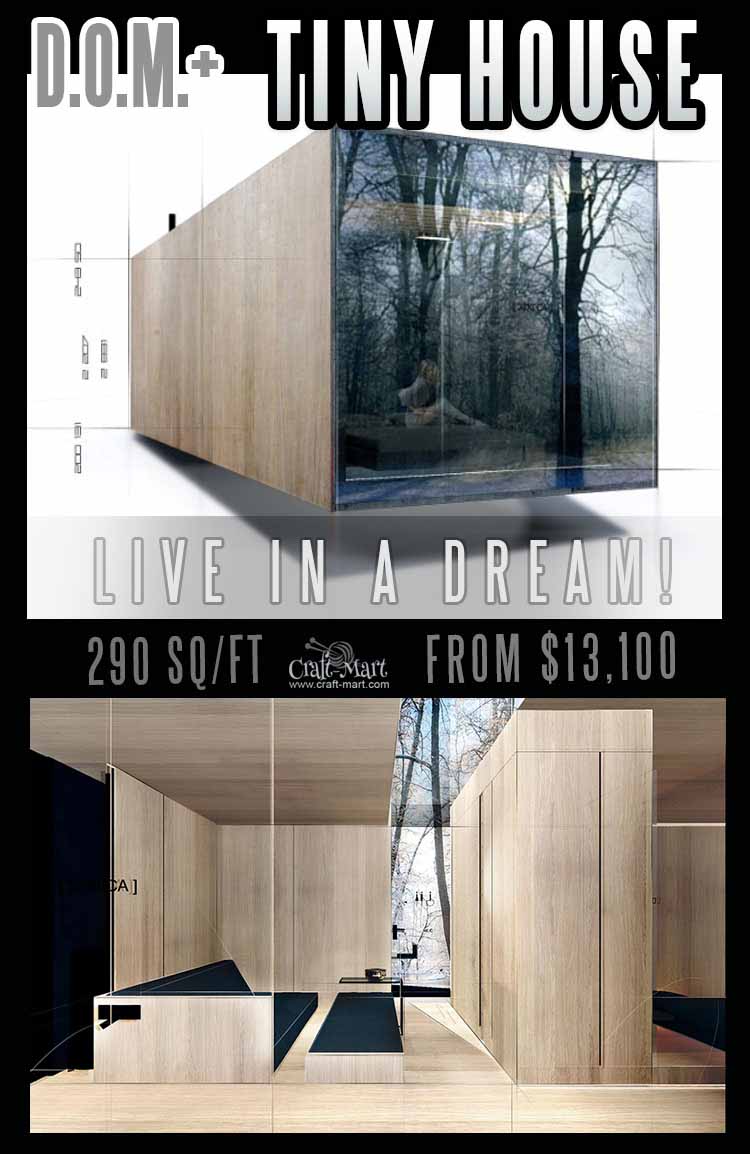 Photos by KOTO Design
The MUUTAMA cabin by KOTO design (UK), is a beautifully crafted tiny home perfect for a retreat, home office, studio or even a rental unit. MUUTAMA model is a part of the KOTO's prefab tiny house system consisting of the three modules: Pari (161 sq ft), Muutama (275 sq ft) и Ystava (430 sq ft).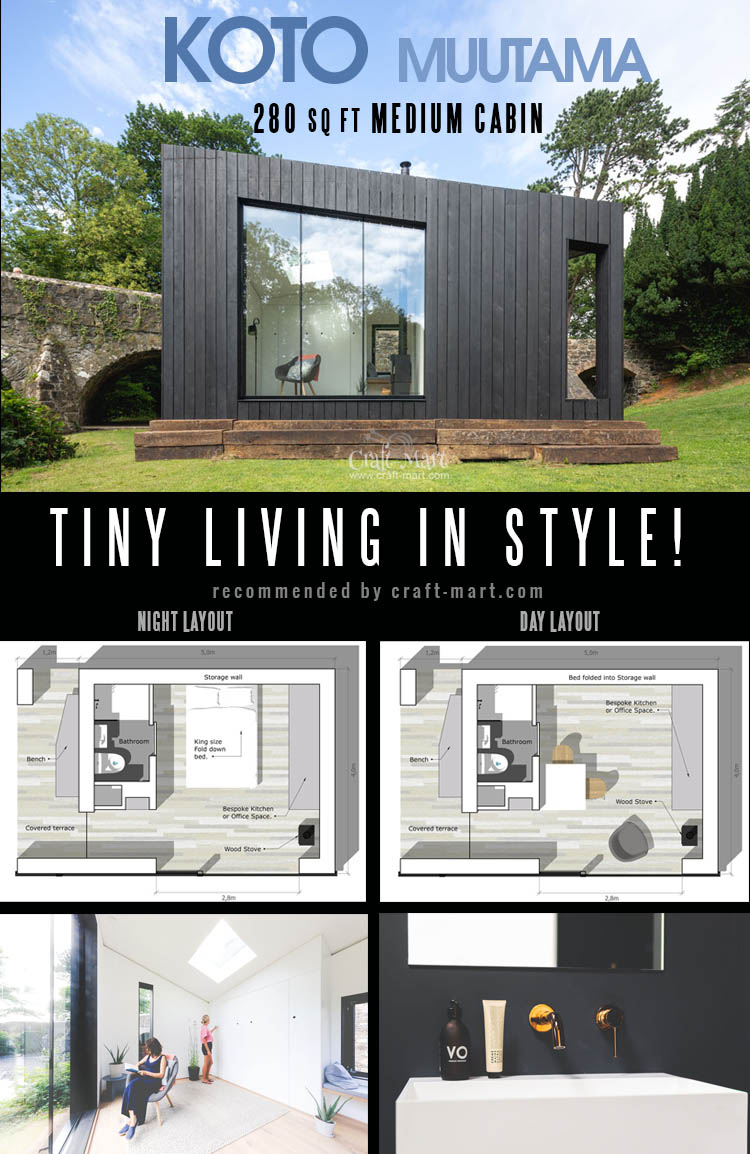 Naturally, all three models can be combined into flexible clusters suitable for any purposes including private residencies, motels, offices, etc. The Muutama itself is simply perfect as a country house. The minimalistic Scandinavian style comes from the authors' fondness of the modern Norwegian architectural style.
The interior is super simple and functional. Folding furniture like the kitchen table and night bed is helping with extra living space.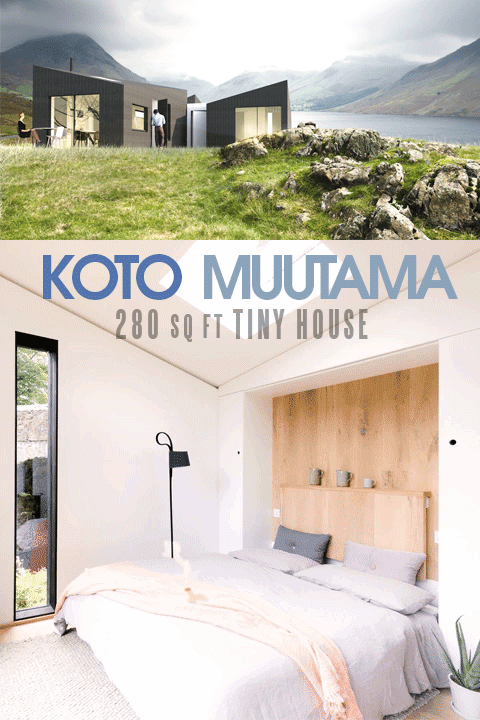 At the time of writing, only a few units were built in the UK. As we've mentioned before, don't be afraid to ask the designers about building these beautiful tiny homes across the pond – they might be able to sell you their technical drawings and even find a good builder in the US for a reasonable price.
Villa Sogno Shipping Container Home
With 800 ft², 2 bedrooms/1 bathroom, Villa Sogno features a nice open floor plan with high ceilings. Plenty of natural light is coming through a number of large windows and glass doors which makes this house feel really spacious. With so much square footage (800 sq.ft.) there is no need for a loft as this tiny house is roughly the size of a small 2 BD apartment.
Green Box also offers 160 and 320 sq ft units that can easily be moved to alternate locations.
Combining modern elements of an open floor plan with high ceilings and large windows ensures that you will never feel claustrophobic in this space.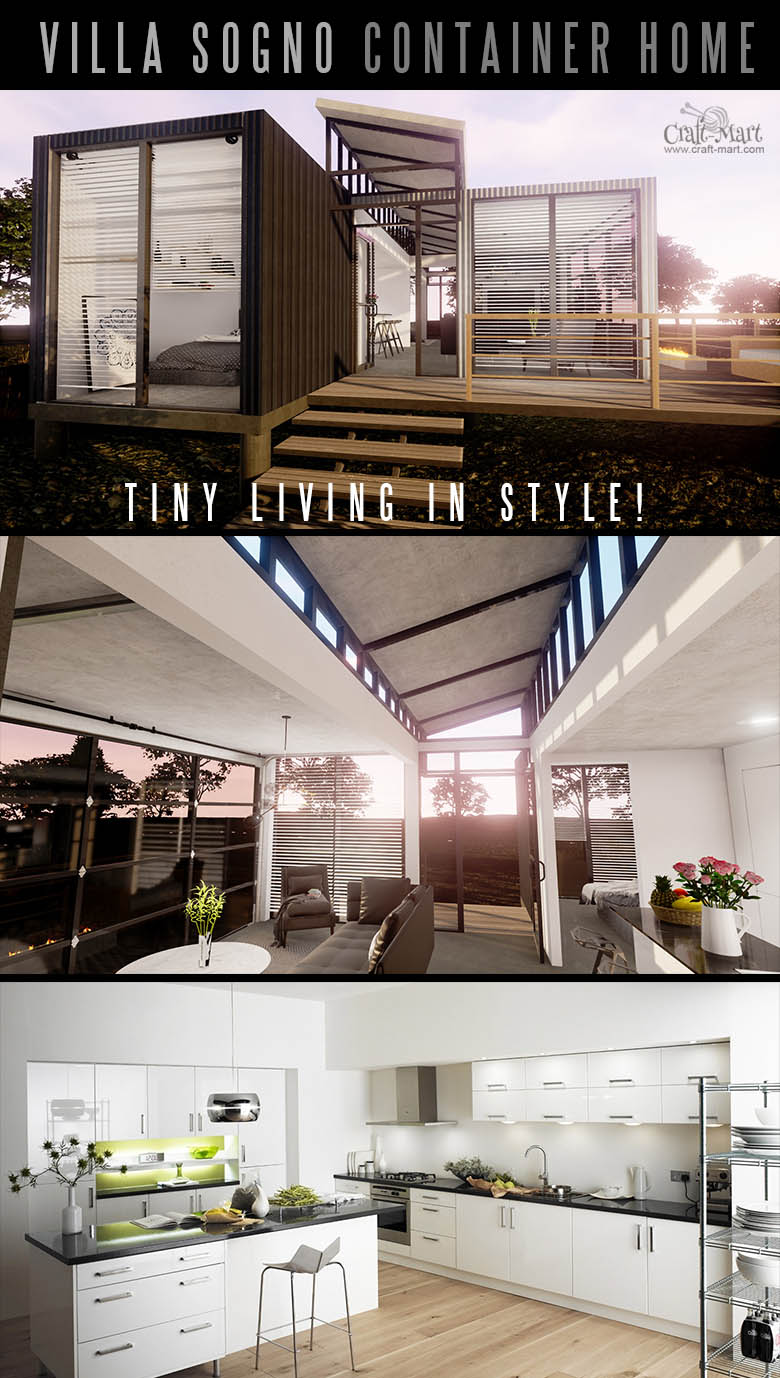 Green Box points out that shipping containers are much more durable than traditional stick-built homes. They also make sure that the insulation of each container house is up to standard.
These shipping containers are designed to carry up to 350 tons and stack up to 9 containers high. There is comfort knowing that these homes will withstand even the toughest elements of nature.
We currently build and sell container homes in the Asheville area. If you have a parcel, no problem – we can create your dream home to your specifications. We are happy to build outside of the Asheville area as well… The most significant way to save on a new build is to figure out the design and build-out prior to construction.
Virtual Tour of Modern 800 Sq Ft Shipping Container Home
Lighthouse is a Mobile Office Space made with Structural Insulated Panels
Why would you need a mobile tiny office space? Those who work at home and have kids will tell you why…
The Lighthouse project by KnowHow Shop, an architectural company, was completed in 2017. The whole idea was to have a tiny office space that can be easily moved from its current location in Highland Park (Los Angeles) to another location, if necessary.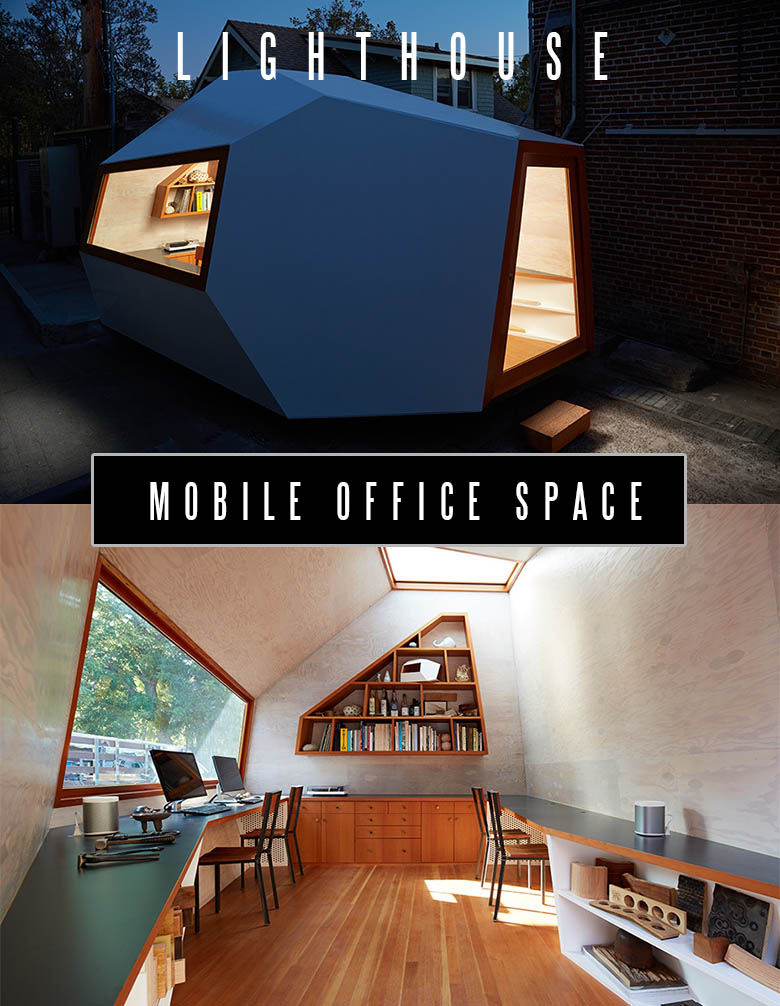 Two architects (Kagan Taylor and Justin Rice) built this oddly-shaped structure in their own backyard. The shape is actually very practical – it can handle numerous California earthquakes much better than most of the traditional homes. Another advantage is in its resistance to infamous Santa Ana winds and other possible elements.
The walls and are really well insulated for hot Los Angeles summers. The skylight (that looks awesome in the photos) can create a bit of an overheating problem during sunny days even in the wintertime.
What's the solution? Double-pane glass and mini-split air conditioning/heating unit can really help with creating a perfect workspace climate.
Lighthouse is a micro-building designed and built like a piece of furniture. We discarded typical details and assemblies in favor of new methods of construction from the ground up. – KnowHow Shop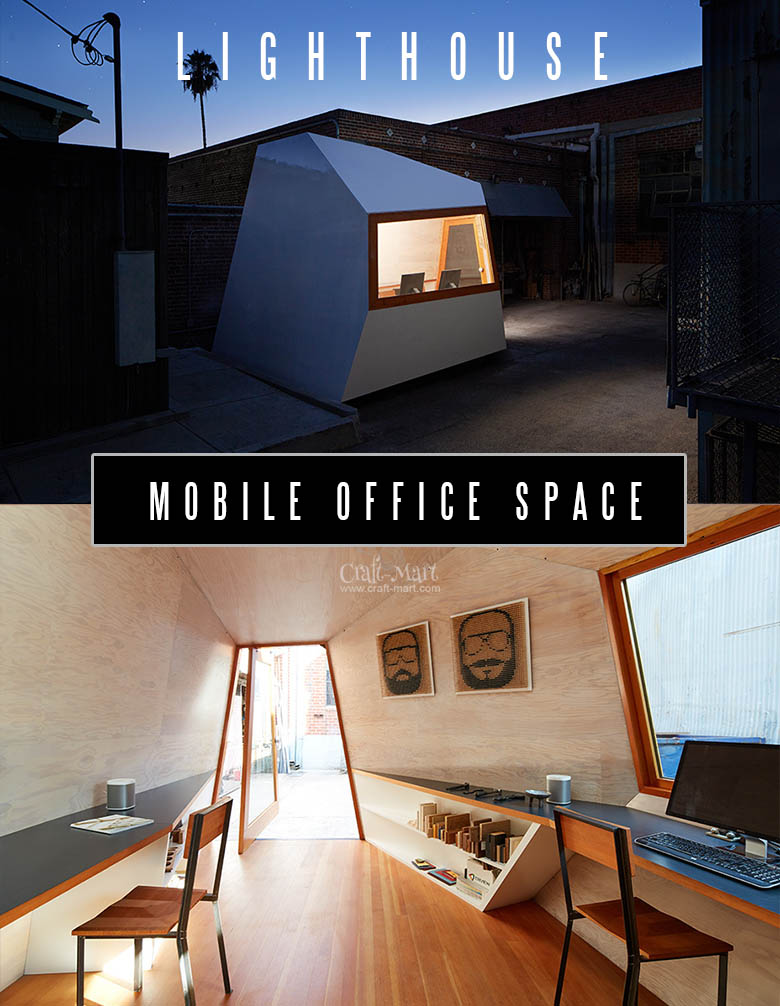 The pod is built on industrial casters similar to the ones used for roll-out dumpsters. Although it doesn't allow the structure to be towed, the office can be moved locally around tight urban areas where new traditional construction isn't possible.
The cost of construction was around $50,000 – not exactly the cheapest option but reasonable for the high-priced California real estate market. The Lighthouse office is currently used by KnowHow Shop to showcase the design and functionality of the structure.
Not that tiny inside…
The abundance of natural light illuminates the interior, making it seem much larger than it really is. This can be noticed even from looking at the photos.
We were surprised by the difference in perceived space from the outside vs. the inside. From within our office feels much larger than it looks from outside, and it is something that most visitors comment on immediately.
SlowCabins Tiny House Is a Secret Retreat with a Twist
Here is the promised twist – all the guests won't find televisions, phones, or an Internet connection! Cruel? Yes, but how else would you show people what they are losing by staring into the digital screens 24/7? When was the last time you were actually sitting with the beer bottle, glass of wine, or a cup of tea by the fire and listening to the birds?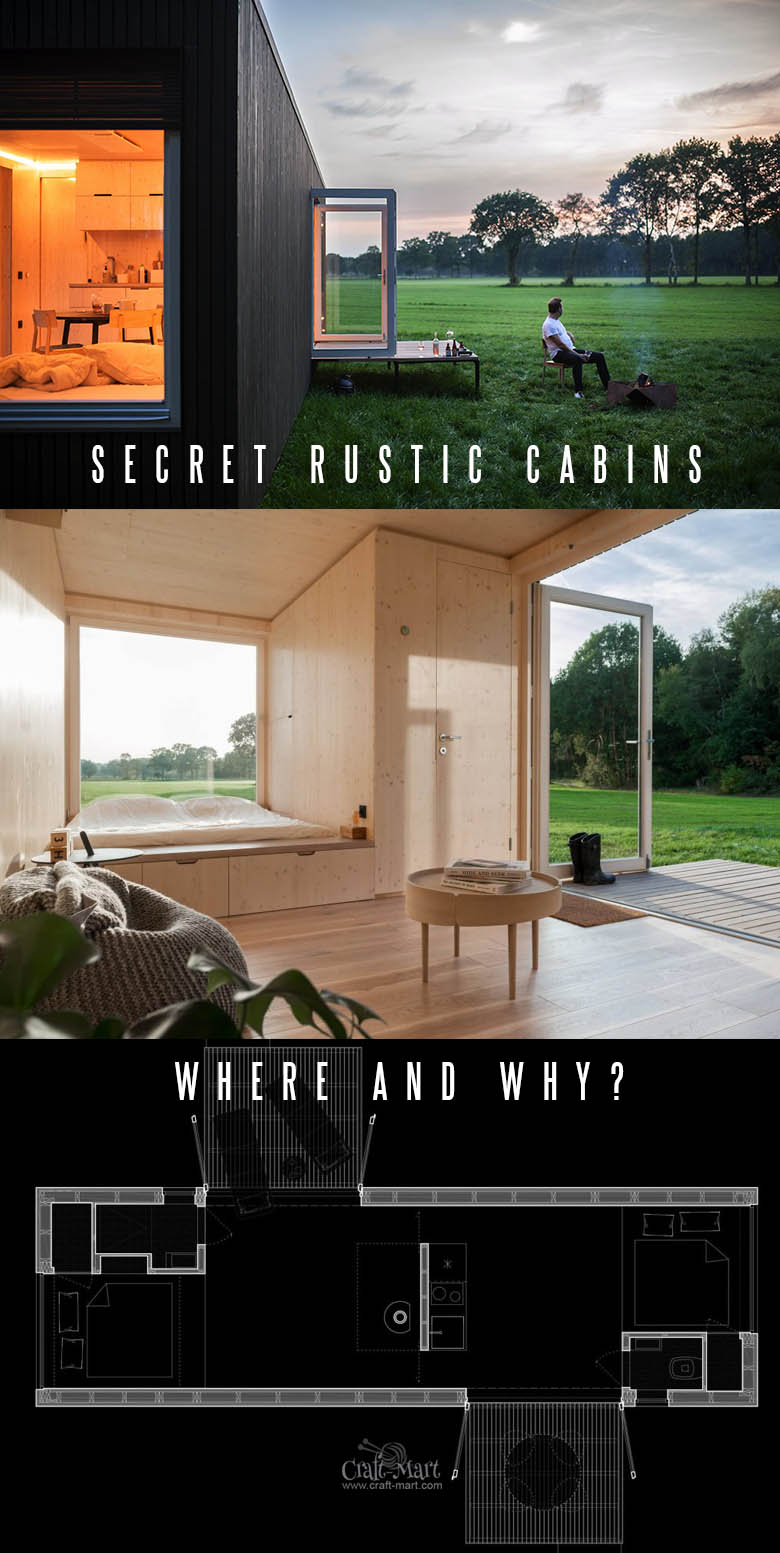 Belgium-based Slow Cabins is trying hard to remind a portion of the human population how life was before computers and cell phones. The company's secret cabins are rustic and pared down with only the essentials (beer, firewood, matches, and whatever else the guy on the picture has lined up on the deck).
The location of the cabin remains a secret and is revealed only when you are ready to travel to your destination.
In addition to that, upon arrival, guests will find spring water for drinking, a fully charged battery, and a full tank of rainwater (for cooking, cleaning up, and showering).
There is one thing that may bother a few purists that expect no electronic devices present inside.
In the spirit of true European modernity, there's even a smart panel display that details guests' energy usage to encourage minimal electricity consumption during their stay.
What? Smart panel display?
We thought that the whole idea was to get rid of all electronics with displays…
For super lazy and /or helpless customers the company can deliver "slow food delicacy" baskets for breakfast and dinner. No hunting for your own food is required. This should be encouraging a lot of city-raised people…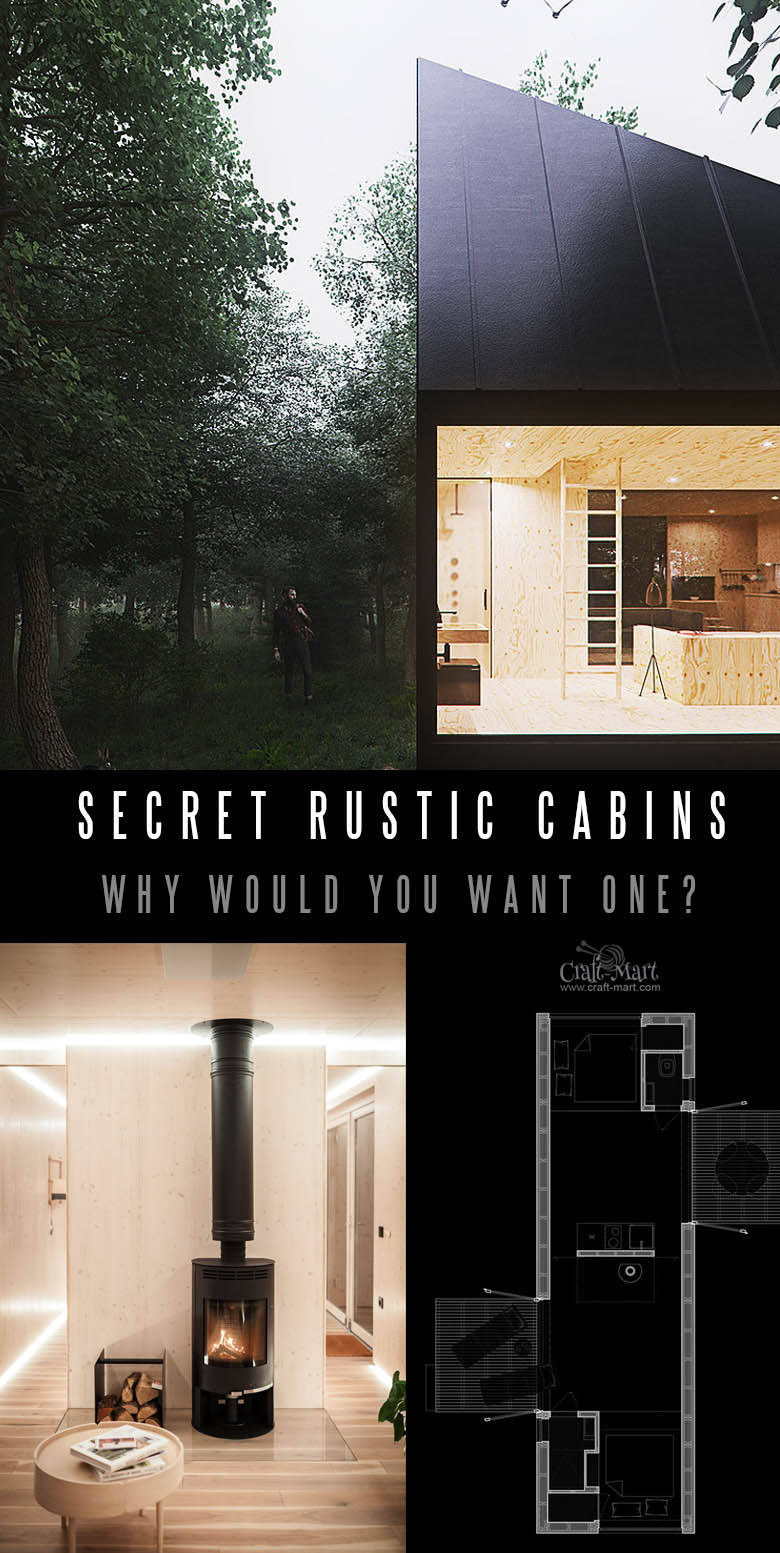 For now, cabins are located near major metropolitan areas, which isn't surprising given the urban-based, cubicle-bound demographic. However, as technology continues to touch every aspect of our lives, it seems inevitable that this concept will spread much, much farther.
If you didn't like the idea of an electronic devices moratorium, check out this post about high-tech tiny houses (also prefabricated).
Vipp Shelter tiny prefab as a precise industrial-era appliance
VIPP, a Danish company that has been working with steel since 1939, came up with this captivation design. Have you ever seen these beautiful trash bins?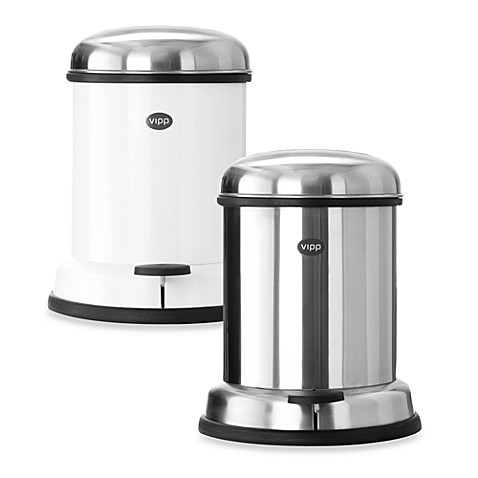 Now, imagine a 50,000-pound container house built with glass and steel – and the same level of craftsmanship. It's truly "a plug-and-play getaway."
VIPP has chosen everything from the bedsheets to the toilet brush, and it is all included in the package. The specifications are top of the line, from the coolest kitchen, electric radiant concrete floors, and 10 inches of insulation. All sounds good but… Is it a house? Can this stunning appliance feel like home?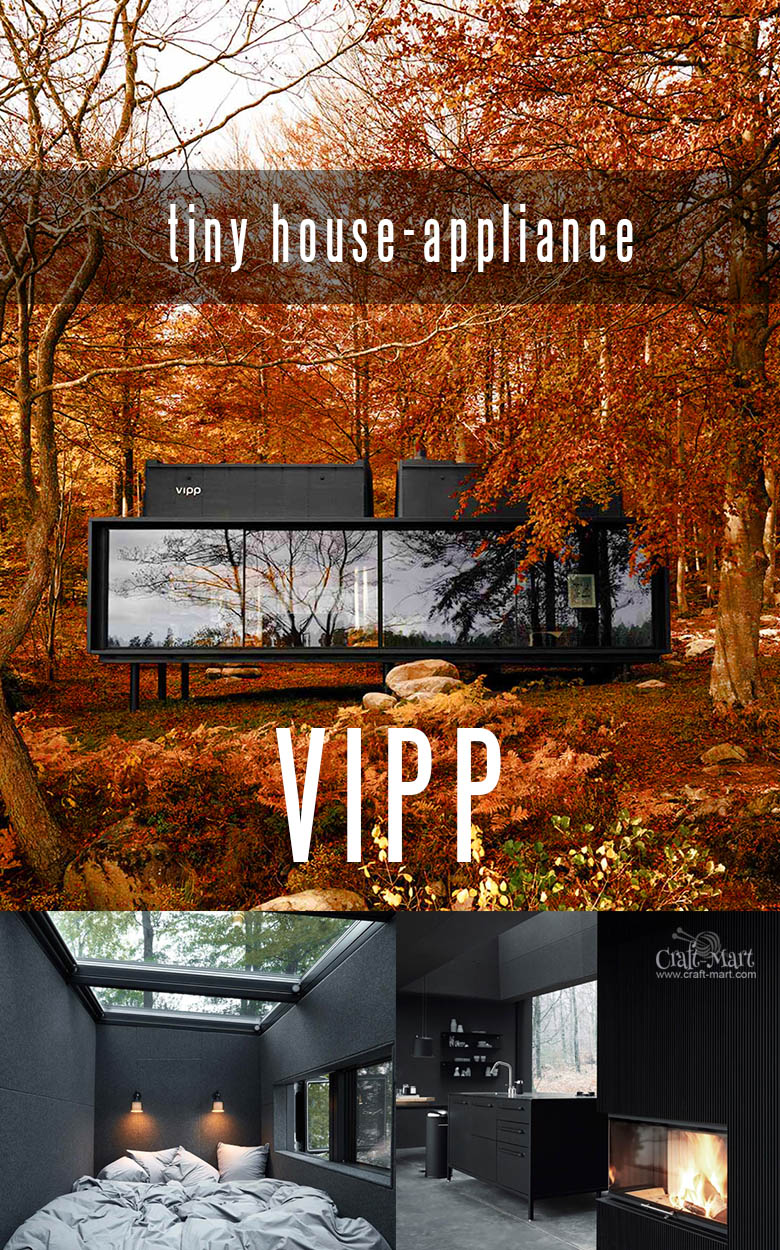 The designer Morten Bo Jensen, explains:
The biggest difference between this getaway compared to anything else on the market is the fact that I am not an architect. The shelter is conceived more like a product than a piece of architecture that melds seamlessly with its surrounding. We didn't start with a piece of land on which we customized a house taking into consideration the natural surroundings.
There is plenty of amazing architectural details out there, but we wanted to conceive something different: an escape in the form of an object designed down to last detail, where the only choice left to the customer is where to put it.
You can see that there is a huge difference between VIPP's design approach and all other companies that were listed above. Which one would you prefer? Make a note that the VIPP ticket price of $US 585,000 is not that "tiny" at all.
Take a VIPP Tiny House-Appliance Tour

Tiny modular house
An Italian architect Giuseppe Mecca designed this modern module house with simplicity and elegance in mind. The interior spaces are designed to offer maximum flexibility. The kitchen and the bathroom are located on opposite sides of the module.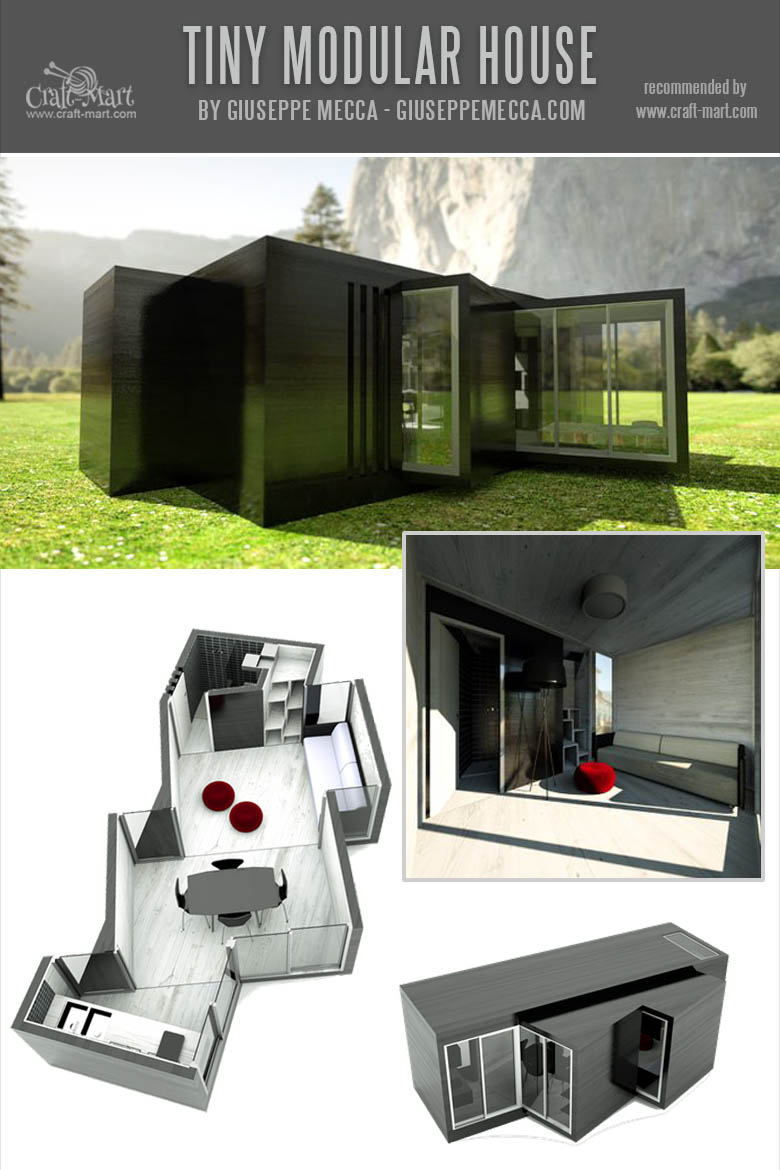 The angled orientation of the central part of the module creates some interesting options for multiple module combinations.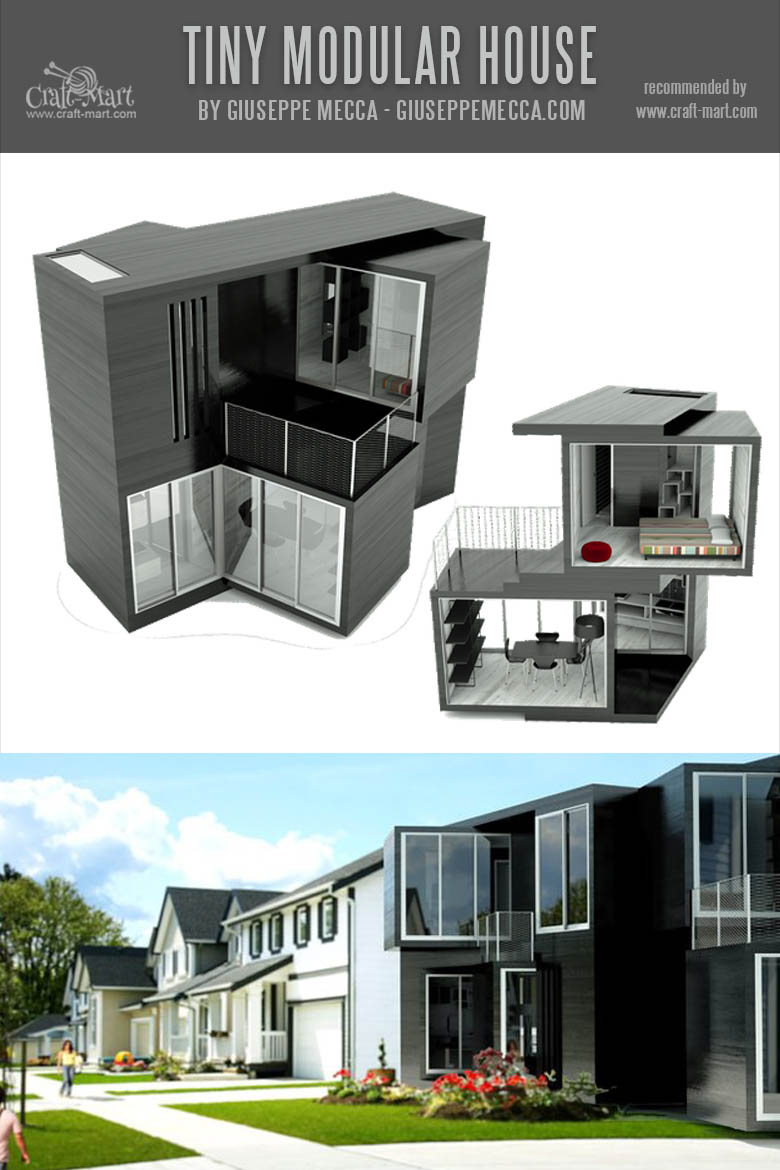 Each module can be configured for internal and external lifestyles. The interior spaces can be divided or combined to create a single living/sleeping area. When needed loggias or terraces can be added to each module creating outside additional spaces.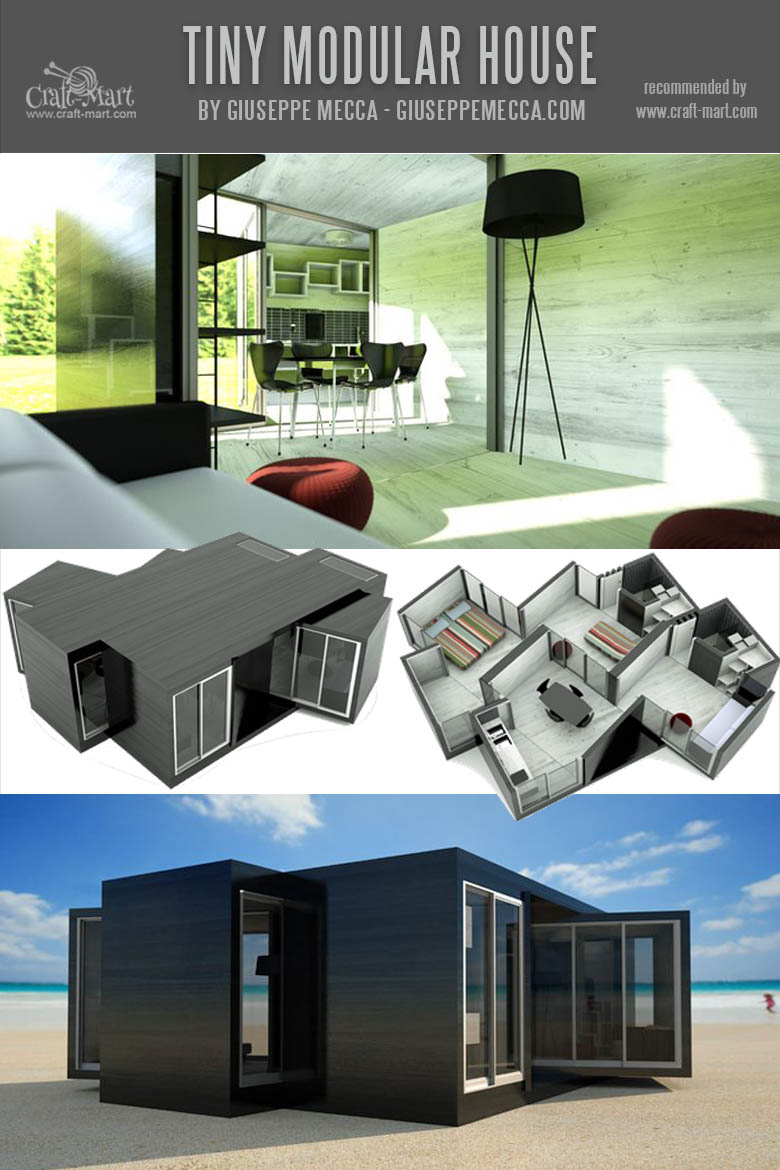 It's always a good idea to learn as much as possible about the subject before investing your hard-earned money into the house construction project. We came across this excellent guide that will help beginners to get a grasp of the major tasks related to the process of building a tiny house or a cabin.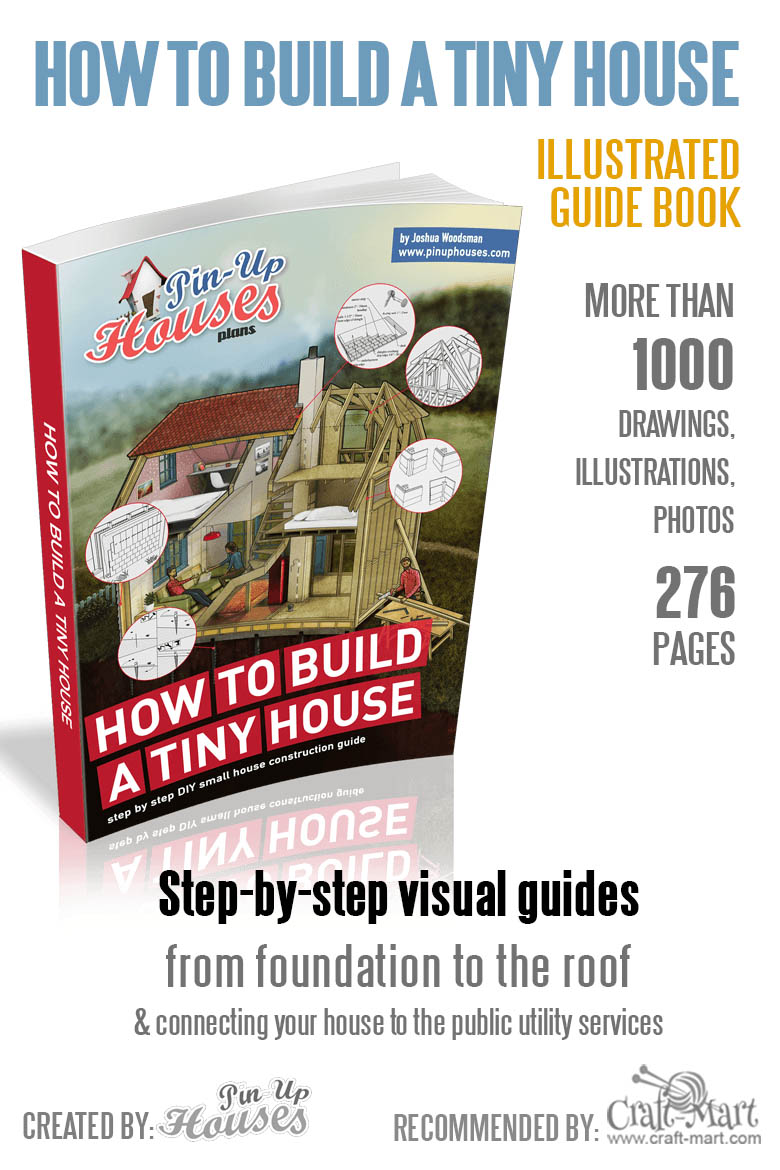 This Tiny House Construction Book teaches you:
How to plan correctly all the construction stages;
How to choose the most suitable material for building your small house;
All step-by-step processes from foundation to the roof including connecting your house to public utilities;
How to fix things in your small house;
How to understand the basic tiny house typology;
Find more interesting tiny and micro house plans on these pages: