How much can an entry-level tiny house trailer cost?
We are talking about only one type of small homes here – tiny houses on wheels.  Right away most of the people will start comparing them with RVs and mobile homes but there are a few major differences between these three.
Living in an RV feels like you're living in an RV encapsulated inside non-breathing walls made out of plastic.
RVs can cost between $10,000 and $300,000 (A median sale price for a home in the US is around $232,000 as of July 2018)
Living in a mobile home can be pretty close to tiny house living if they are built from the same quality materials. The only difference would be that mobile homes are larger than tiny homes and thus can't be towed by a truck that can easily tow a tiny house trailer.
Price range for the tiny houses on wheels and mobile homes is comparable: from $35,000 to $100,000 depending on the level of customization.
As you can see, it's possible to find really cheap used RV for $10K-$15K in a really desperate situation. However, we all want to live the American dream and tow a real house with a rocking chair on a porch behind our monster trucks. How tiny this home could be is not really a question but it must be a real thing!
So, how much for this tiny dream?
A very rough estimate for a 16′ to 20′ long starter trailer house is around $30K with the following break down:
$25,000 for quality building materials;
$10,000 for appliances.
Can you save on materials? Sure, and many do. In addition, many tiny home builders offer different solutions where they can ship you prefab kits and instructions on how to put everything together. Plenty of choices for any type of budget.
So, what are the reasons some people would choose to simplify their lives and pick tiny living?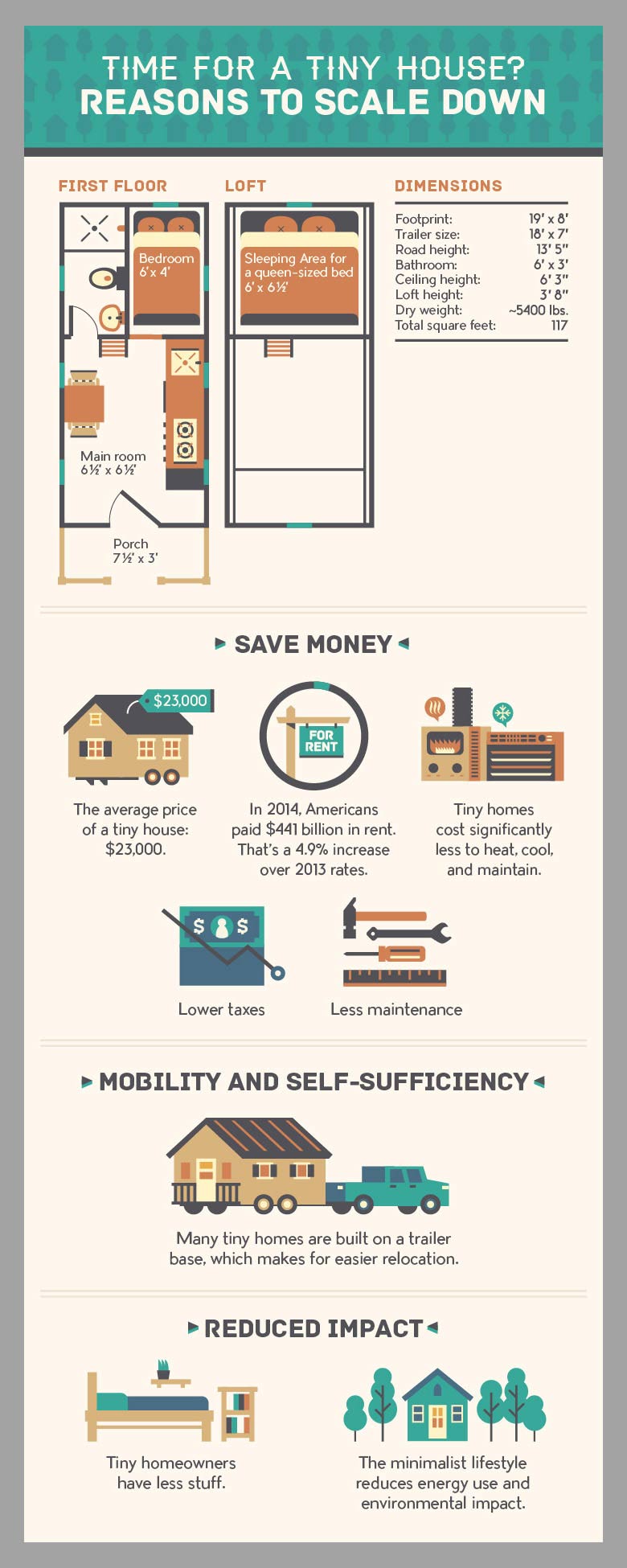 Source
1. Tiny House Trailer – Wind River Bungalow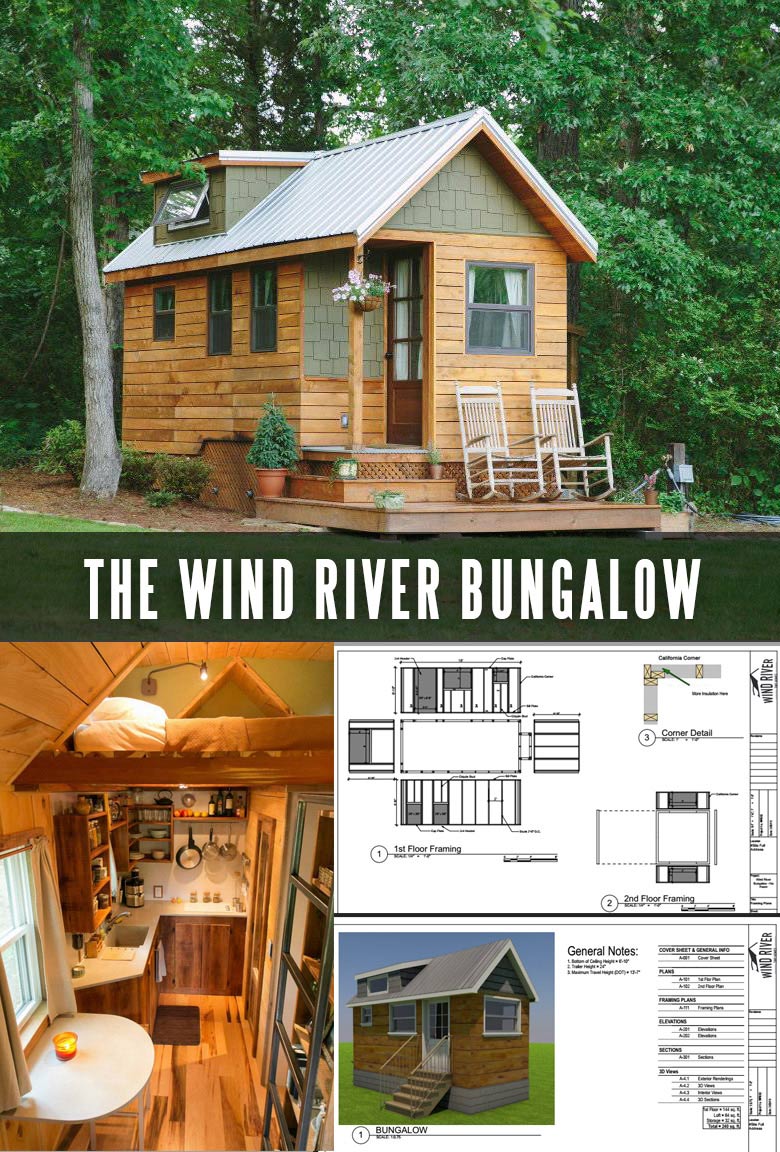 ---
For tiny home enthusiasts, living within driving distance from Chattanooga, TN, The Wind River Bungalow Co. is a good choice for a few reasons.  The company supports the DIY mindset, which helps people to save money on things they can do themselves. Wind River can provide you with a shell at any stage of completion based on customer's preference.
If you have access to cheap or free building materials and know how to do everything by yourself then just go ahead and buy a set of building plans for around $150.
Here is an example of what else can be done with your small home project.
*The estimates below are based on a 24′ x 8.5′ x 13.5′ bumper-pull tiny house shell with the "standard" finishes:
1. The Guru shell (for the most experienced DIYers)- $18,500
You will get a fully dried-in exterior (ZIP system, OSB sheathing, and finished metal roof) – minus the window and doors.
2. The Pro Shell (For those who feel confident dealing with electrical, plumbing, and all interior finishes on their own)- $29,500
Includes the above plus completely finished exterior with painted LP smartside siding, vinyl windows, and a painted fiberglass door. The inside is a blank canvas for you to complete.
3. The Expert Shell (electrical & plumbing included, you'll handle all the interior finishes, plus cabinets, and fixtures)- $35,200
This option includes everything in the Pro Shell plus roughed-in electrical wiring, plumbing, and closed-cell spray foam insulation.
4. The Enthusiast Shell (You'll have to do the cabinets, storage, and fixtures) – $42,500
Includes everything in The Expert Shell as well as wall and ceiling coverings (pine tongue and groove) and finished floor (3/4″ oak hardwood).
2. The Vantage by Tiny Heirloom
Created by the stars of the HGTV series Tiny Luxury, this amazing tiny home trailer shows an incredible level of craftsmanship.  Tiny Vantage is unbelievably cozy and spacious at the same time due to elegant wooden interior combined with huge panoramic windows that help to bring marvelous outdoors in. Even in the smallest 16′ variation, it looks impressive.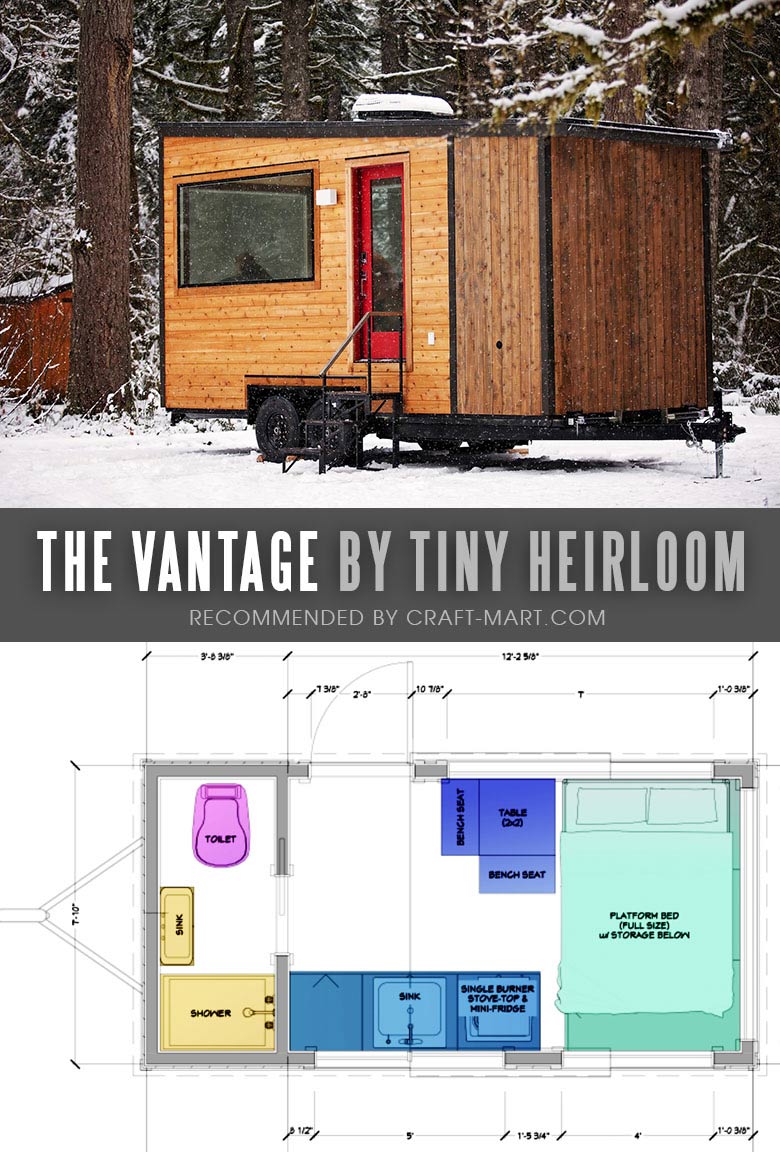 Tiny Luxury team members really know what they are doing!
For budget-minded "tiny house" customers they have a few DIY options:
We know that many aspiring tiny house owners have a strong do-it-yourself mentality, that's why we're excited to start taking orders on "The Perfect DIY Shell" – a jump-start on your journey to building your very own tiny house. With these tiny house shells, we'll take care of the trailer, wall & roof framing and sheathing, as well as the first layer of weatherproofing. Then you'll take over from there and use your creativity and personal touch to finish up your tiny house just the way you like. If you would rather us take care of the exterior, windows, and door, our finished exterior kit is going to be the best fit!
DIY Tiny Home Shell Pricing Examples
18 FT $15,000
22 FT $17,000
26 FT $19,000
What's Included
Your Choice of Tiny Home Plan from our Options (2 roof styles, 4 lengths)
Tiny Home Trailer
Framing – Kiln Dried Dimensional Lumber, CDX Plywood on Walls & Roof
1 Loft – 8 Foot Loft with 1" x 6" Tongue and Groove Pine Flooring
Worry-Free Protection – Air and Water Barrier DuPont Tyvek HomeWrap on walls
3. The Craftsman by Tiny Heirloom
---
The Craftsman tiny house model is for the customers with a strong feeling of nostalgia. Craftsman houses are uniquely American. They began to appear around 1905 in Southern California and now are becoming popular again, charming home buyers with intricate wooden details.
4. The Emerald by Tiny Heirloom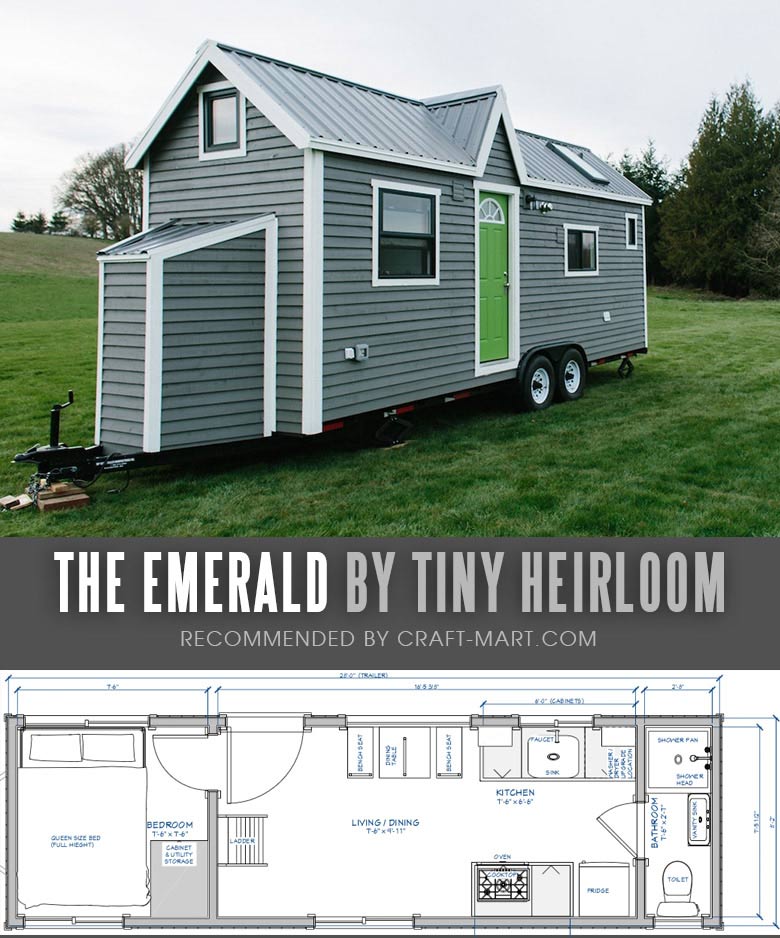 ---
Although The Emerald seems to be larger than the previous models from Tiny Heirloom, it will never hurt to ask the building crew what can be done to lower the cost. It looks like a real Craftsman home but still, you may easily take it on the road.
5. Open Concept Modern Tiny House with FREE Detailed Plans and Instructional Videos by Ana White
Ana White is a prominent DIY guru and tiny house builder from Alaska.  Her detailed plans and instructions are amazing! This tiny house is built on a trailer 24′ long and 8'6″ wide. Because of roof overhangs, this tiny house is slightly wider than allowed by the Alaska state regulations. A special permit is required to transport it in Alaska. These regulations vary by state, so check your local rules and don't forget about the places where you are planning to move in the future.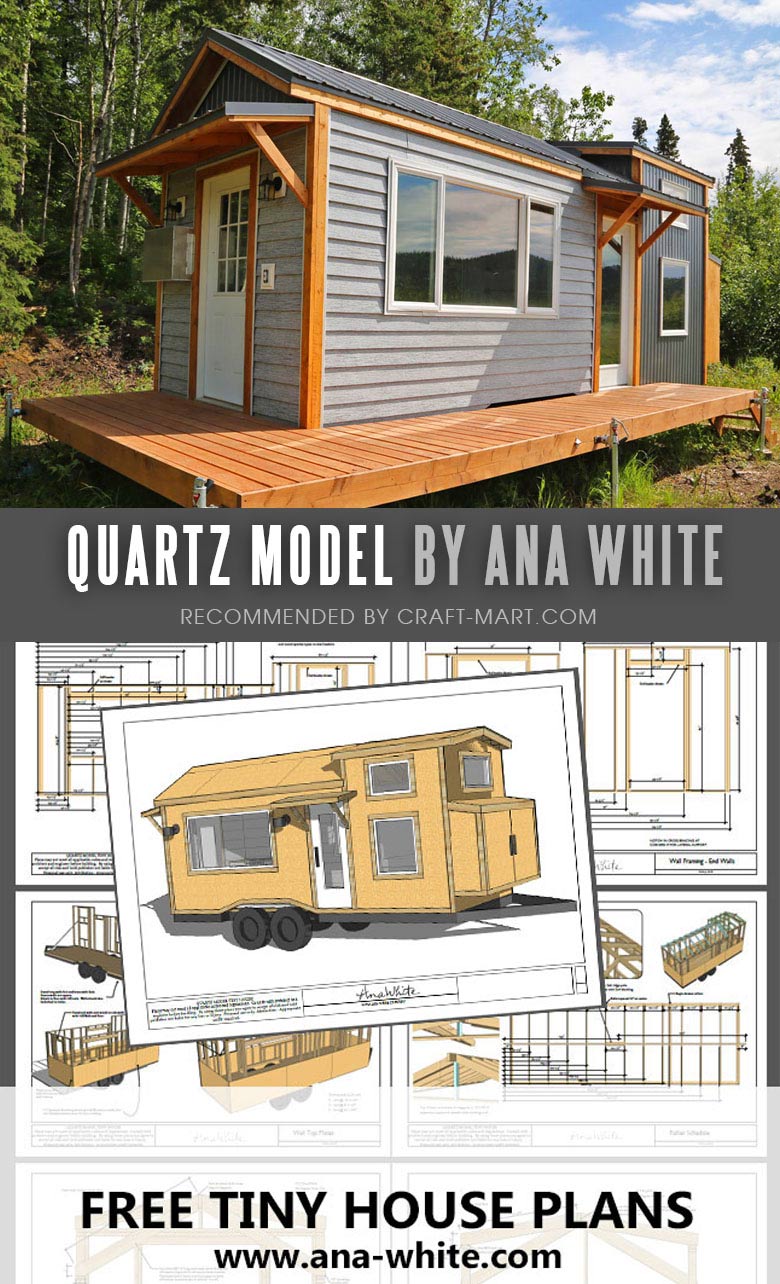 ---
Source and free plans download
Though Ana's house looks small from the outside, she mentions that it can easily fit 6 or more adults inside without any issues.
---
Ana wanted to keep inside space open and uncluttered (you may notice the use of shelves instead of kitchen cabinets), with practical furnishings that are adjustable for multiple uses. White paint and Large windows help as well, giving plenty of natural and reflected light. Looking at the interior pictures, this house doesn't seem to be that tiny at all.
---
Building a Tiny House by Ana White – 28 How-To Videos
Ana did a marvelous job with her tiny home plans and 28 instructional videos. If you are on a really tight budget, here is your chance to learn how to do a lot of things on your own and save a bunch of money.
6. Simple Living by Tiny Home Builders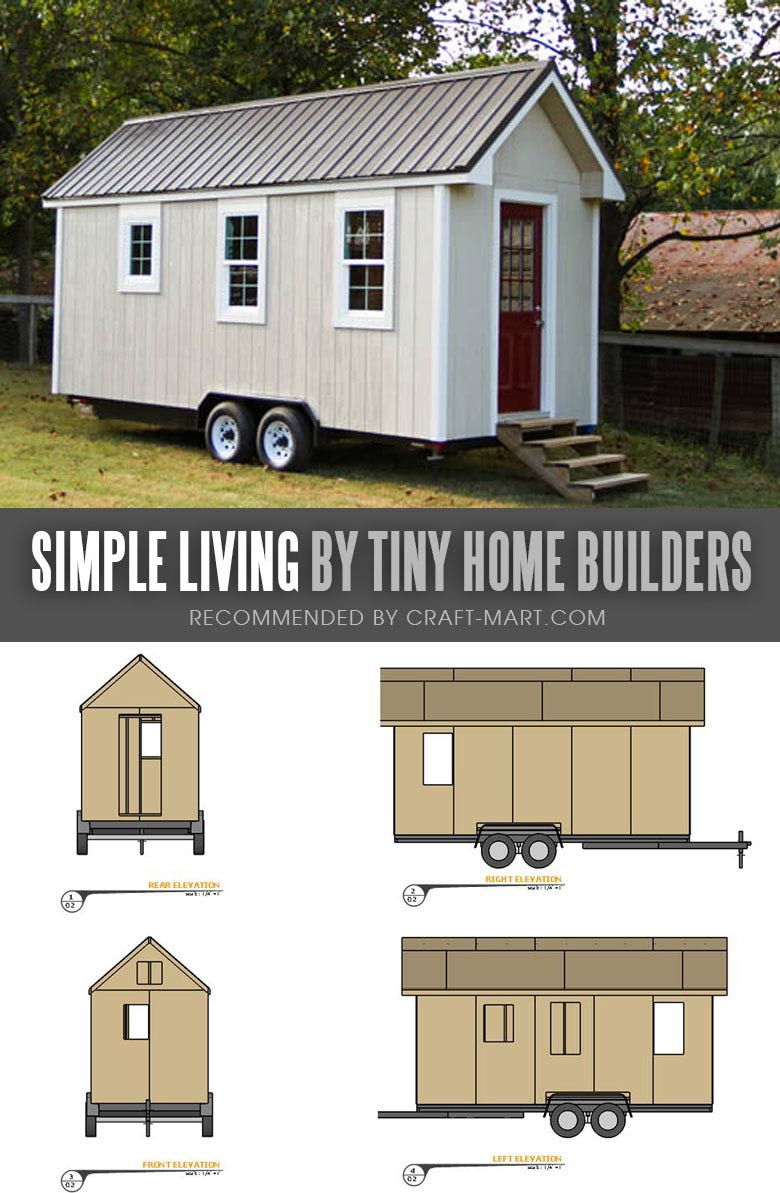 ---
Get the detailed plans for one of the simplest and least expensive tiny homes to build. Enroll in How to Build a Tiny House eWorkshop or buy the book and you'll be surprised how much money you can save on tiny house construction if you know what you are doing!
7. Tiny Living by Tiny Home Builders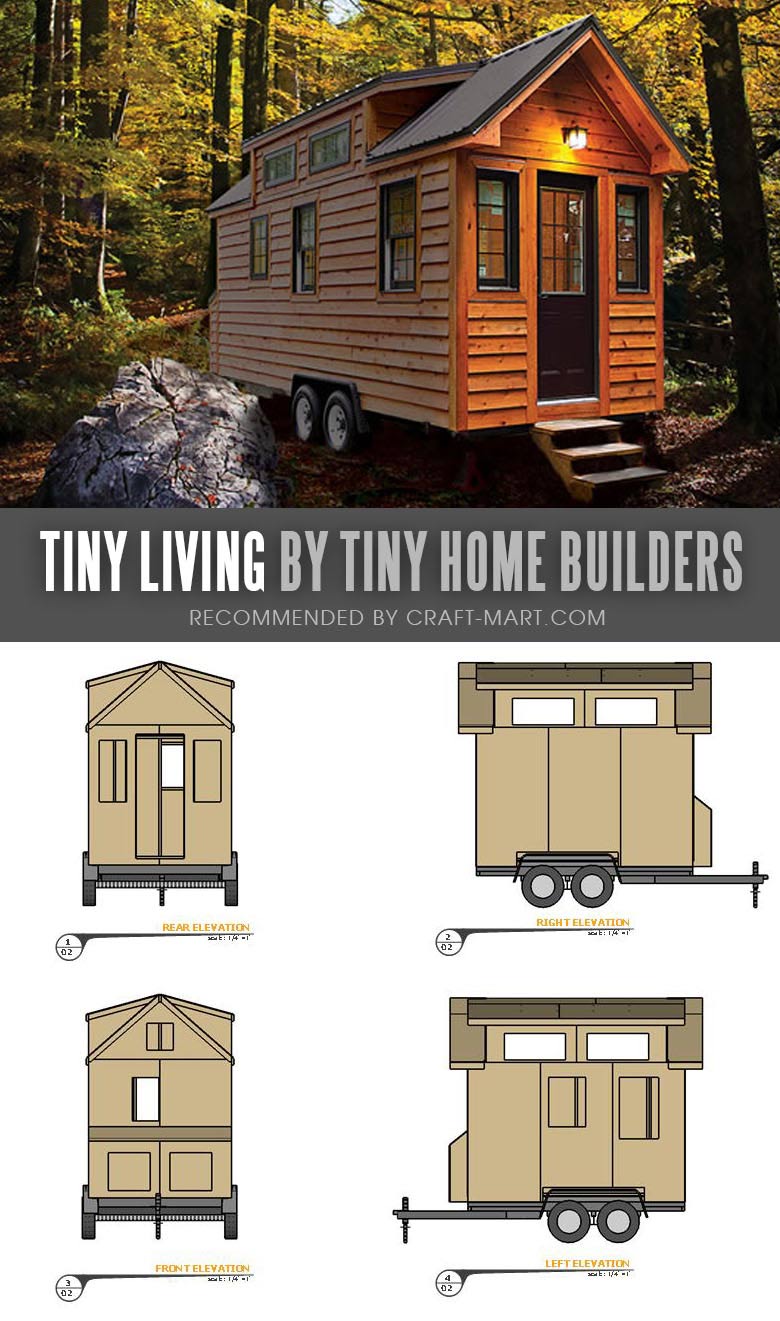 ---
The next tiny house model Tiny Living has Features a large family room with vaulted ceilings and large dormers on either side of the room.
8. Tiny Studio by Tiny Home Builders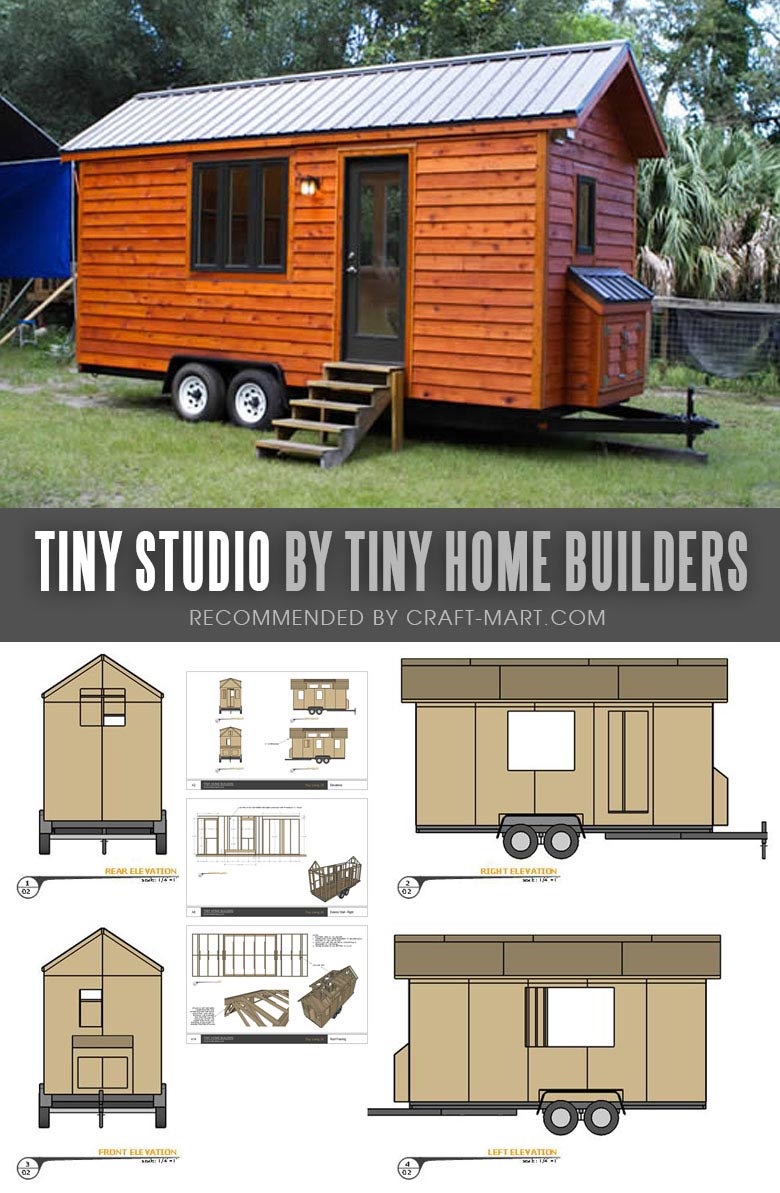 ---
Get the detailed plans for one of the simplest and least expensive tiny homes to build. Enroll in How to Build a Tiny House eWorkshop or buy the book and you'll be surprised how much money you can save on tiny house construction if you know what you are doing!
9. Retirement by Tiny Home Builders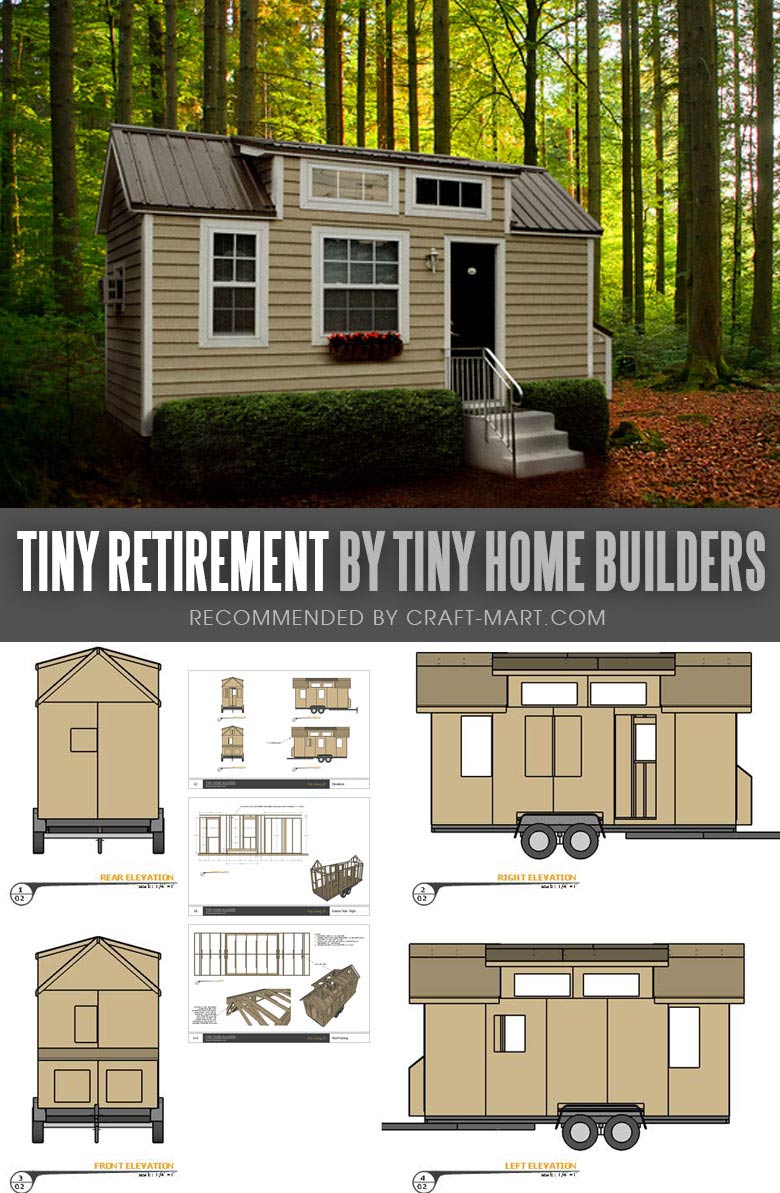 ---
Get the detailed plans for Tiny Retirement. Hundreds of tiny home owners taught themselves how to build their homes by enrolling in How to Build a Tiny House eWorkshop.
Not sure?  Buy the book and learn how easy it is!
10. MiniMotives Tiny House on Wheels by Macy Miller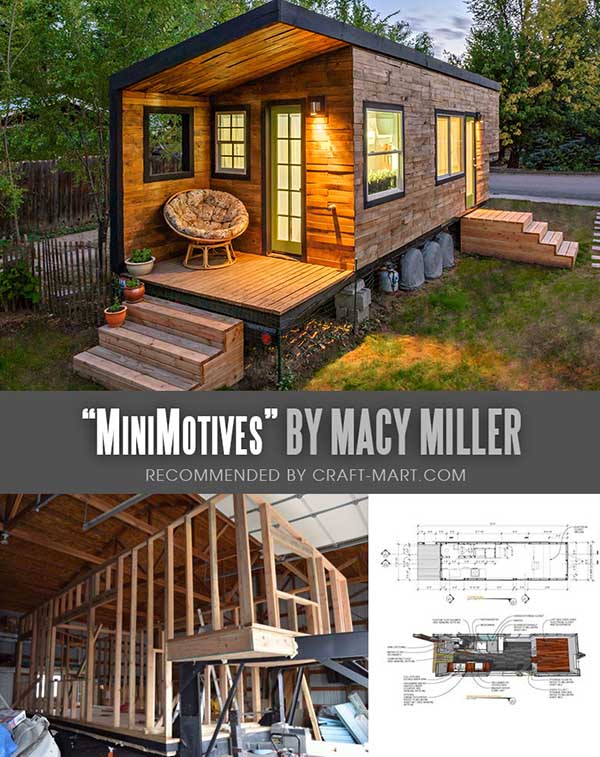 ---
Macy designed and built this tiny ~200 sq. ft. house with some help from her friends without hiring an architect or professional builders. It took 18 months up to the point when it was possible to move in and 6 more months to put the finishing touches. Amazingly, Macy spent a mere $13,643.31 including all additions and renovations. You can see the detailed budget on here blog.
To reduce building expenses, she began to ask around at a few local construction sites for excess materials. She managed to find all the wood needed for only $300 from one site that had over-ordered. The same strategy worked out even better when she was given the windows by another construction company that ordered more than they needed. The boards from old shipping pallets from a farm nearby and a floor dealer worked well for siding.
Macy's tiny home turned out to be big enough for 4 people and a dog.
The composting state-of-the-art toilet was the most expensive part of the tiny house biting a $2,000 chunk out $12,000 of the original budget. Utilities, like gas, electric, and water, range from about $8.00 a month in the summer to about $50.00 in the winter. A rent for an empty lot where the house is currently located is $200 a month.
This project shows that with enough motivation and some creativity anyone can become a homeowner spending one half of what American pay for a new car.
Paying $200 for Macy's detailed drawings is well worth the price if you would like to replicate what she has managed to accomplish.

11. "Don Vardo" Tiny Wagon-House by Katy Anderson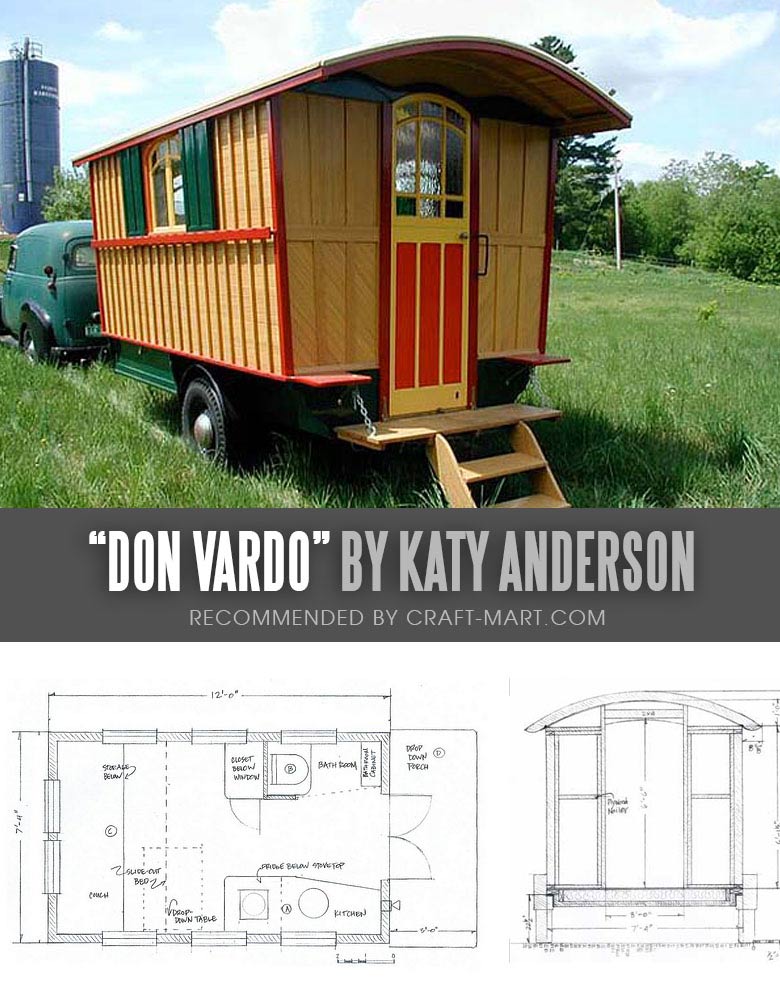 ---
Buy "Don Vardo" floor plans and get more information here
The Don Vardo tiny house is a great starter tiny house project, perfect for a detached office, guest quarters, or a weekend get-away or hide-away.  It's beautifully designed and inviting space with a dreamy arched ceiling, though many will find it better for occasional use than as a full-time residence
12. "hOMe" – a modern tiny house on wheels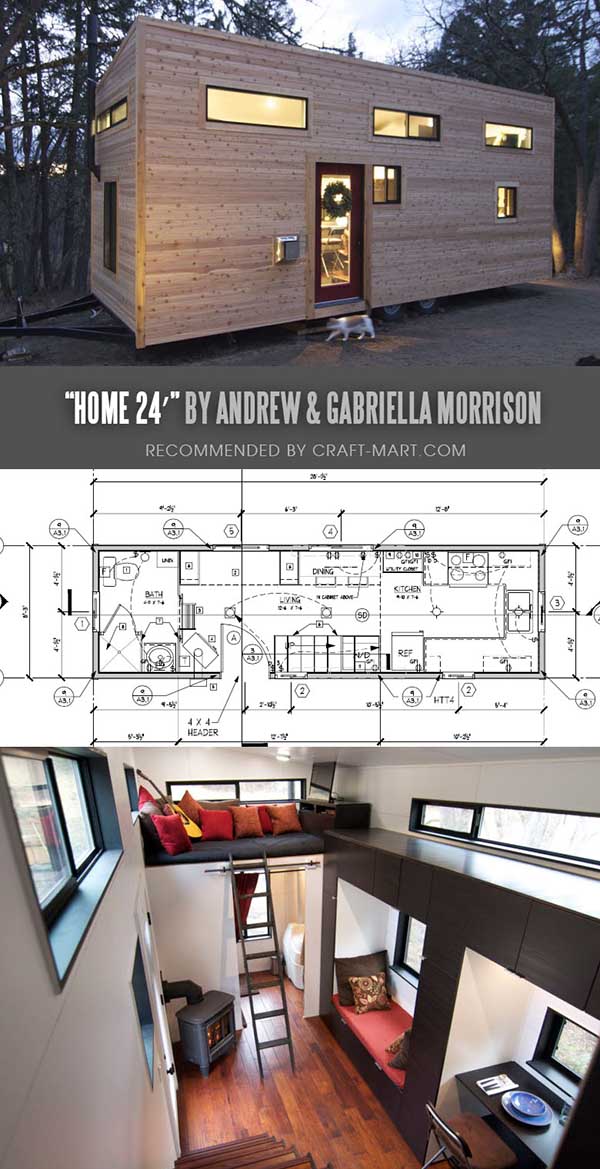 ---
Get detailed plans and instructions on how to build "hOMe"
Andrew and his wife, Gabriella are the creators of "hOMe", the 207 SF (+110 SF in lofts) modern tiny house on wheels. They live and work in hOMe full time, off-grid, and debt-free. With that extra time and money, they travel and enjoy time together as a family.
Although it's a tiny house, the Morrisons hOMe features a fully equipped kitchen, a 3/4 bath, and a full staircase to get up to the bedroom loft.
The Morrisons spent around $33,000 to build their house, furniture and appliances included.
"I have been a professional builder for roughly 20 years and I can tell you from experience that paying someone to build your house will likely double the total cost," A. Morrison said.
13. Terraform One – 250 sq ft Modern Tiny Home on Wheels
---
Terraform is simply a perfect home for a couple or even a small family who wants to live the tiny house life, but doesn't give up on all the comforts of a larger home. The home was designed with the first time DIYer in mind with an extremely flexible interior that can be customized to fit your needs.
The house is super-easy to assemble and the shell of T1 can be done in 2 days. Just watch this short video below.
Terraform Tiny House Time Laps Video
14. Miterbox – A Modern Retreat or Minimalist Flat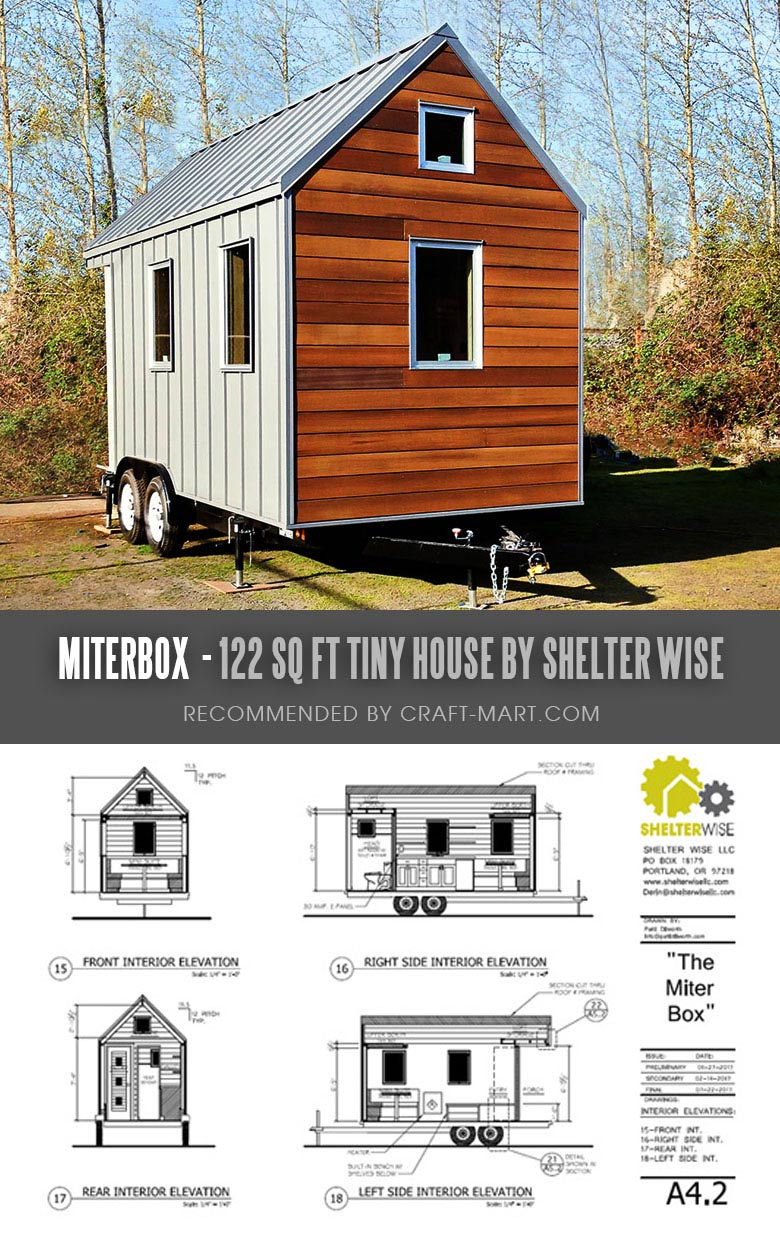 ---
Buy plans for this tiny home here
The original Miterbox model was constructed spending only $22,000 (on materials). It's a very compact house, with 122 square feet on the main floor plus a sleeping loft of 28 sq. ft. Its simplicity, clean lines, and sharp contrast are a modern twist on classic childhood drawings of a house.
The name was inspired by the carpenter's miter box. The design gives extra attention to details,  features intersecting lines, and precise symbiosis of warm wood and cool metal.
15. Young Man Builds $24K Tiny House + Winter Living Experience & Tour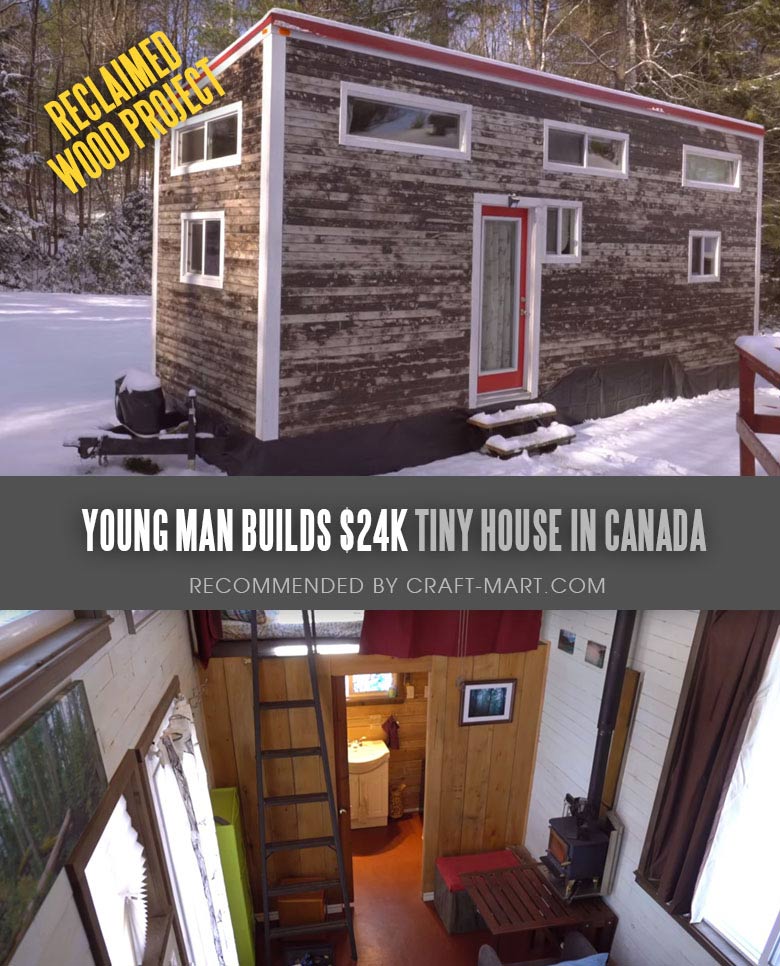 ---
Spending around $24K to build this tiny house may still seem a bit much for some but, keep in mind, that it includes the cost of a new custom trailer, new lumber, as well as the rent this young lad paid for the building space.
He and his girlfriend lived in the tiny home for a year and a half in Stouffville, Ontario (near Toronto) at an RV park where they legally parked their tiny house year round and spent approximately $300/month on rent and $100/month on utilities.
16. Living in a Tiny House Heated with Free Solar Power in Canada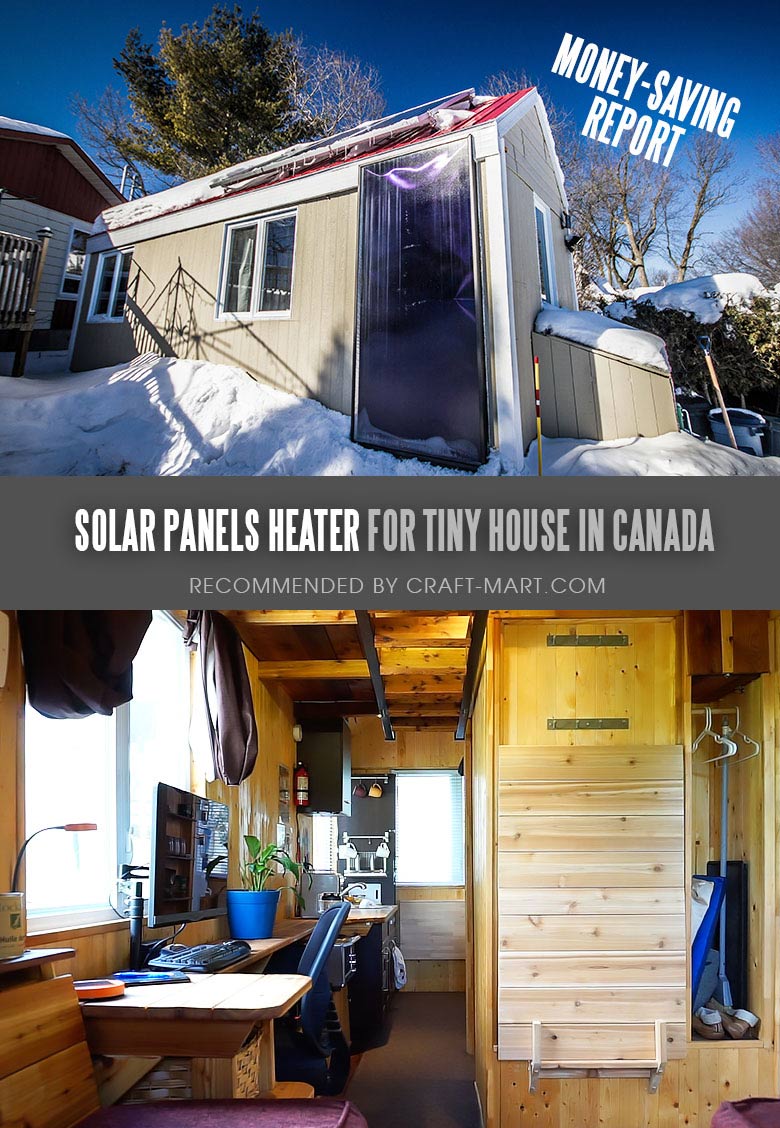 ---
Gabriel Parent-Leblanc built his tiny house to prove it was possible to live in a tiny house year-round in a northern climate using solar panels for heating. 2 years later, he not only proved it to be true but can also brag about having the smallest heating bill in his area. During cold winter months, he spends only $100 on heat, thanks to his solar air heater panel.
Every digital nomad would appreciate a large monitor! Though the house can be tiny, skimping on computer equipment is not an option, right?
Gabriel built his own tiny house with the help of friends. After that, he started the first tiny house company in Quebec, Canada: Habitations MicroÉvolution: http://www.habitationsmicro.com/
17. Single Mother Builds a Tiny House Trailer to Create a Retirement plan
As her two kids were coming of age, Michelle "MJ" Boyle suddenly realized that she had no plan for retirement. Michelle decided to build a tiny house so she can have an affordable place to live without a mortgage.
$35,000 and 15 months later, her first tiny home with an adorable name "My Tiny Empty Nest" was completed. What a great concept for retirees!