More and more people are really interested in tiny house floor plans nowadays.
Why there is so much interest in floor plans of tiny houses all of a sudden?
For many young singles and empty-nesters, it makes perfect sense to save money and be more mobile. Although two bedroom tiny house floor plans are not very common, you can easily find plenty of designs with a loft or flexible design that allows for tiny house expansion by connecting two tiny houses together.
Get a piece of land for a small garden and you may live on a 3-4 times smaller budget. There is even an opportunity to earn extra money with a rental program that distributes free prefab tiny houses to qualified individuals. Read about it here.
Besides saving a lot of money, downsizing is truly the best way of organizing your stuff and de-clutter. Minimalism as a movement among the younger generation is definitely picking up steam.
To make easier your own tiny house planning, we collected a few dozens of really cute tiny house plans well under 1,000 sqft to show that these micro dwellings are amazing examples of the genius use of space, organization hacks, and smart design. Do they look weird or are they unique and one-of-a-kind? You decide!
*A large number of minimalists are interested in small house floor plans or tiny house trailers that they can assemble on the cheap. Here is a list of 17 best trailer homes on wheels a lot of young and older people managed to build on a very tight budget from $12K & up.
*Looking for DIY log cabin kits?
Here are 17 small log cabins and micro homes for any taste.
1. Tiny Tudor Cottage from a Fairy Tale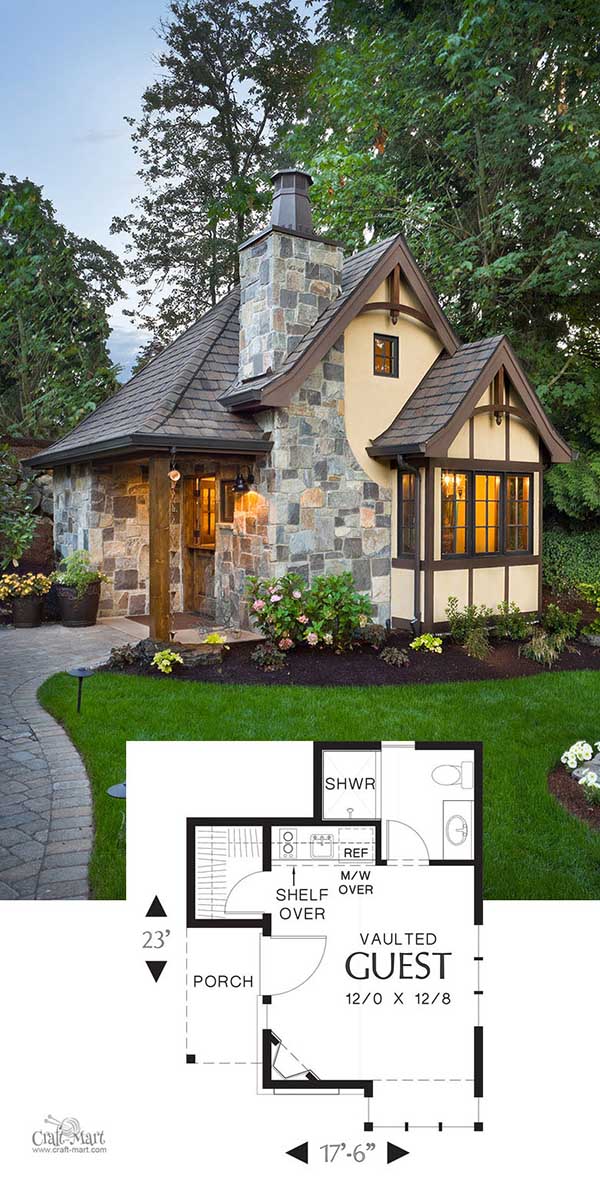 Get Floor Plans to Build This Tiny House
Just look at this 300 sq. ft. Tudor cottage plan and facade. It's a promise of a fairytale-style life! This adorable thing even has a walk-in closet! As an added bonus, the plan can be customized.
If you don't want to build it for yourself, you can consider it for your in-laws or as a guest house. They don't have to suffer staying in one of your rooms or a hotel during visits.
Another idea would be using this tiny cottage as a stand-alone home office or art studio. It could be a very nice addition to your existing real estate. Your real estate agent may give you some ideas on how to build it, so it will increase your property value.
2. Cozy Santa Barbara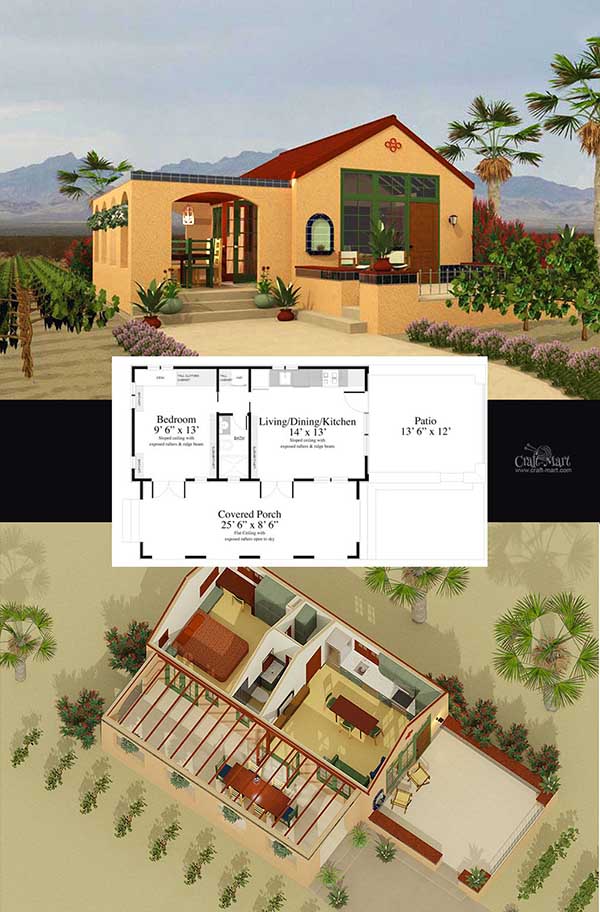 To Build This House Get Tiny House Plans here
For enthusiasts of the "porch living" lifestyle, The Santa Barbara tiny house plan offers the perfect combination of functionality and aesthetical beauty. You simply can't go wrong with this design: a full kitchen, a bedroom, a separate bathroom, and a large outdoor dining patio large enough to host dinner parties for 6-8 people.
If the cost of the construction is your main concern then order a prefab tiny house. Otherwise, this is one of those adorable small homes that you will be able to use for entertaining guests.
If you'll decide to build this house, ask your local real estate agent what kind of customization needs to be done for improving your real estate resale value.
3. Tiny Modern Aesthetic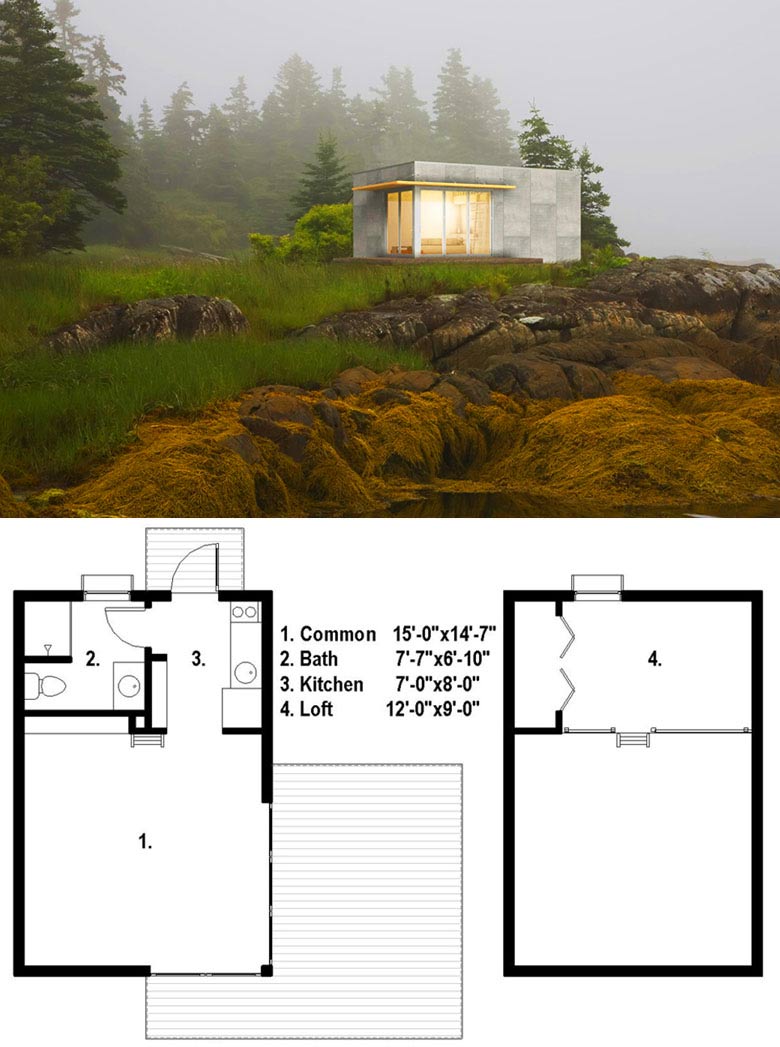 How to Build This Tiny House
Not everyone wants to build something traditional or classic. This tiny house plan has a clean and modern minimalistic design that is aesthetically pleasing and easy to build. Out of all tiny home layouts, this one speaks to the younger generation of artistically-inclined freelancers.
In case you may need some extra space, adding a loft is possible. The plan is extremely clean with a square main room which has plenty of natural light coming through a huge corner window. Simply perfect for an art or crafts studio.
4. Enchanted Cottage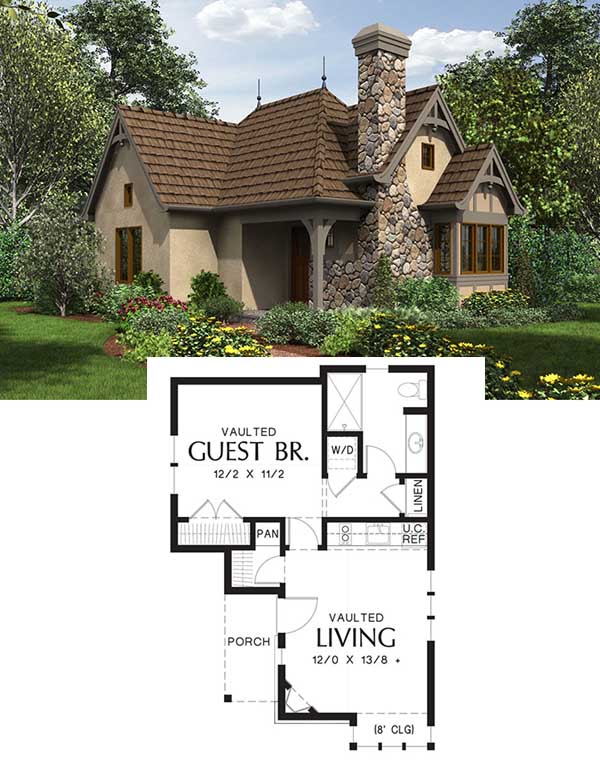 How to Build This Tiny House
Here is another tiny fairytale cottage that has all the features for happy living. The floor plan is not that tiny with a total living area of 544 sq/ft. In Japan, such square footage would be spacious enough to raise a family with 2 kids. In the Netherlands, a windmill tiny house was enough for a family with 13 kids (in the previous century, we must mention).
This is a real "real estate" charmer!
Need some clear step-by-step instructions? Check out these cabin plans!