Small cabin plans are a hot commodity. Many of us are dreaming about building a custom tiny house with our own hands while looking for a pretty simple project that would be easy to handle.
Small and simple cabin plans with a loft and a porch for vacation purposes are getting ahead of hunting cabin plans with the number of hunters decreasing each year.
We have collected pretty unique cabin plans ranging from tiny to small in size with detailed architectural drawings that also include a list of materials used. The cost to build a tiny house or a cabin is based on the actual experience of the authors of these simple cabin plans.
*See our collection of Super-popular and Best-Selling cabin floorplans designed by PinUp Houses.
1. Two-story Small Cabin Plans "Kathy"
Total floor area: 355 ft²
Loft: 194 ft²
Porch: 97 ft²
DIY building cost: $24,800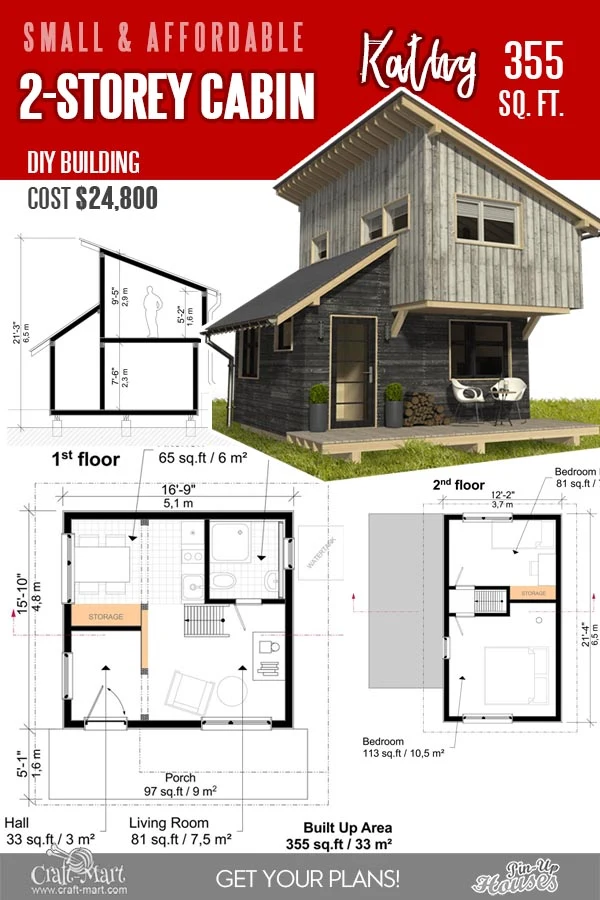 Get these cabin plans here
If you are not afraid of steep stairs, this small cabin will not disappoint you in everything else. We know, US residents are used to entering directly into the living room while Kathy's floorplan offers a small mudroom for taking off your coats and dirty shoes. It is actually a nice feature for such a tiny cabin!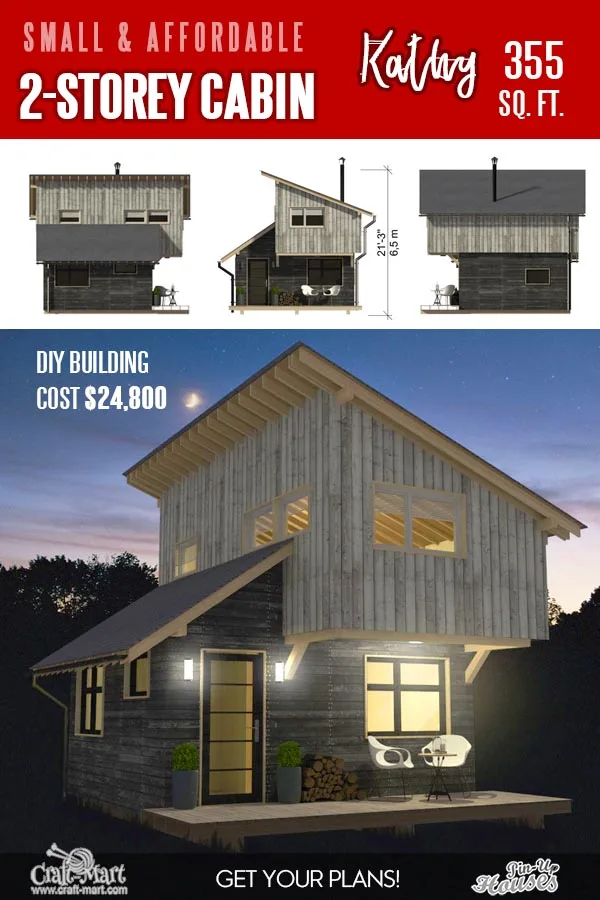 The fairy-tale-ish whimsical cabin facades have lots of character. One small suggestion for improving the lighting situation in the kitchen would be adding a window on the wall by the stove. Otherwise, Kathy is an adorable custom tiny house that your neighbors will definitely be talking about.
Get Kathy cabin plans here
2. Small Modern Eco-Cabin Plans with a Loft "Nova"
Total floor area: 524 ft²
Loft: 124 ft²
Porch: 105 ft²
DIY building cost: $36,800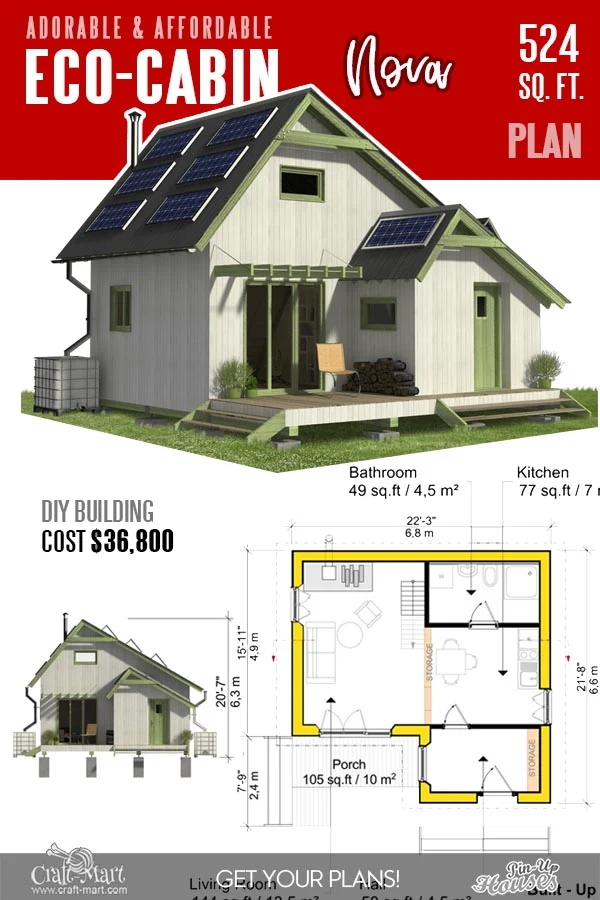 Eco-friendly green living often means a small carbon footprint and Eco-Cabin Nova is indeed small. It is obvious that a one-bedroom house can be much greener than 10 bedrooms mansion. Unlike many larger homes plans, these small cabin floor plans with a loft feature a useful foyer/storage room leading to the dining area. At the same time, the living room is connected to a 105 sq. ft. porch via double doors.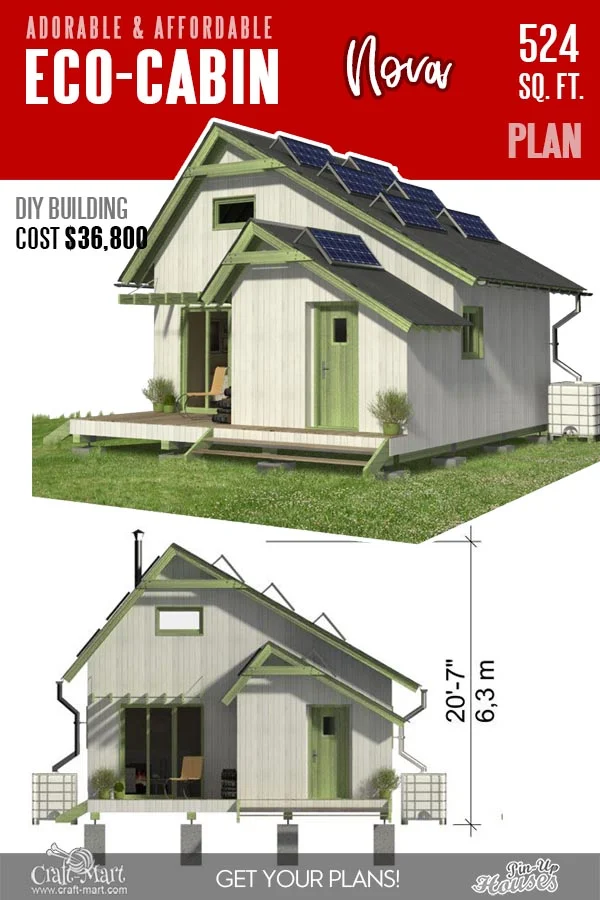 The upstairs space is large enough for a perfect bedroom or an office. The porch area can be easily extended to the left side of the house. Many cabin plans with a wrap-around porch have a roof cover. Nova's design will allow extending the existing roof over the porch creating a nice shelter from the elements. What can be better than drinking a cup of hot coffee on your porch with a morning newspaper or whatever device you're getting your news from?
Get Nova floor plans here
3. Rustic Granny Pod Plans "Layla"
Total floor area: 373 ft²
Loft: 72 ft²
Porch: 98 ft²
DIY building cost: $31,200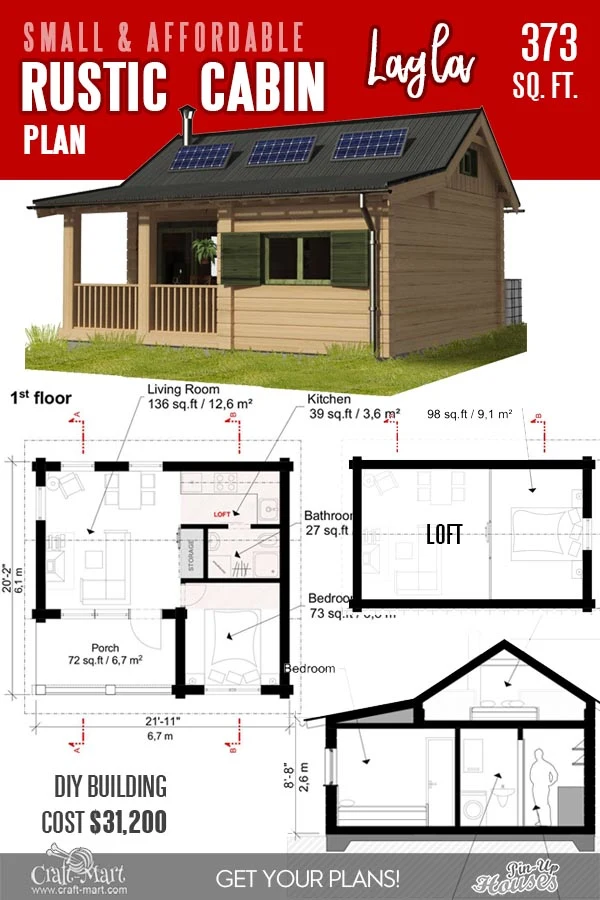 Layla is one of the most traditional-looking small granny pods plans with a loft and a porch. The loft can be used for storage. Most importantly for the elderly, the main bedroom is on the ground floor. Since the porch is barely large enough for a couple of rocking chairs, it would be a good idea to extend it a bit wrapping around the living room. Yes, and don't forget about a place for a rocking chair on the porch!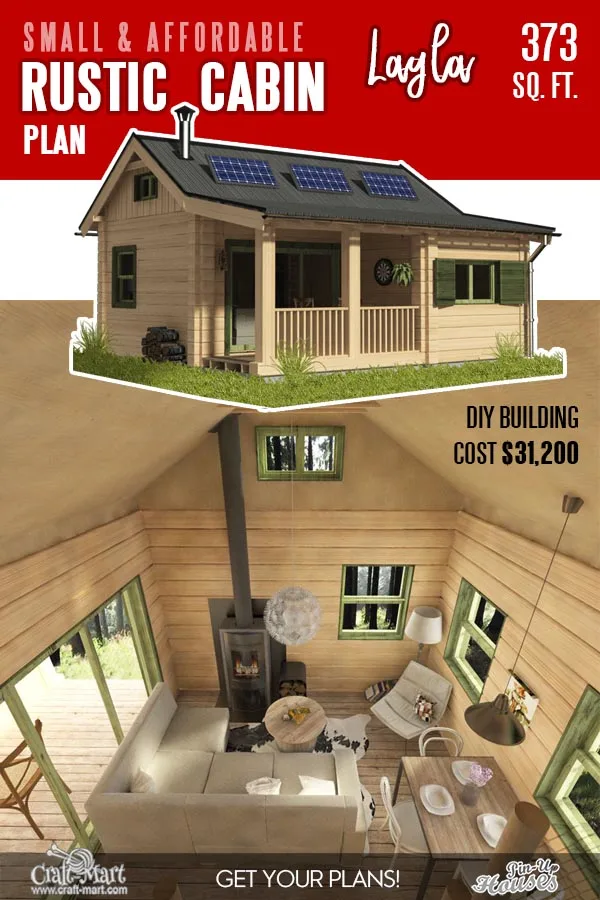 As with many other floor plans, our suggestion would be to add a window on the kitchen wall above the sink. Washing dishes while looking at the neighbor's cat chasing a squirrel makes this mundane process much more exciting.
Get rustic cabin plans "Layla" here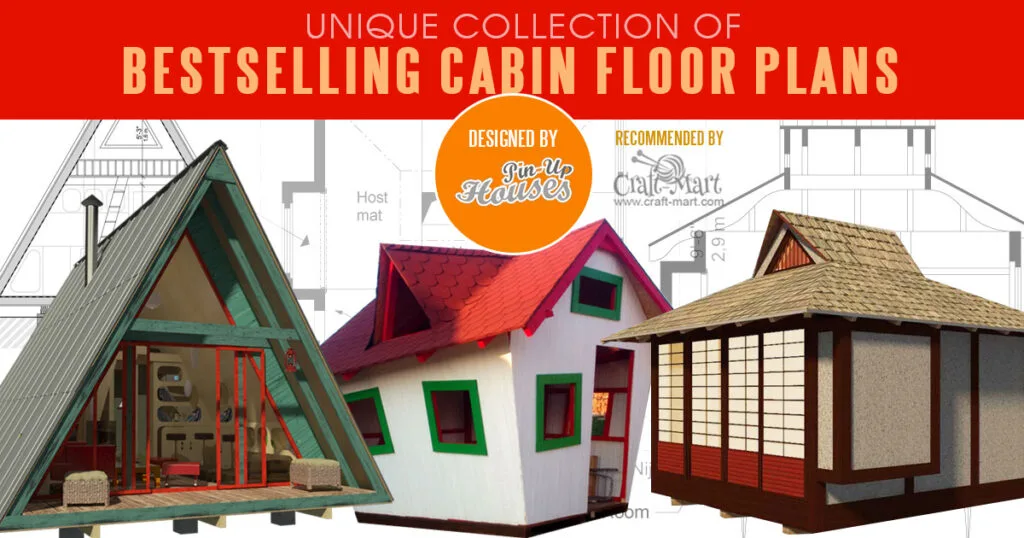 4. Country Cabin Plans "Chloe"
Total floor area: 278 ft²
Loft: 64 ft²
Porch: 75 ft²
DIY building cost: $12,200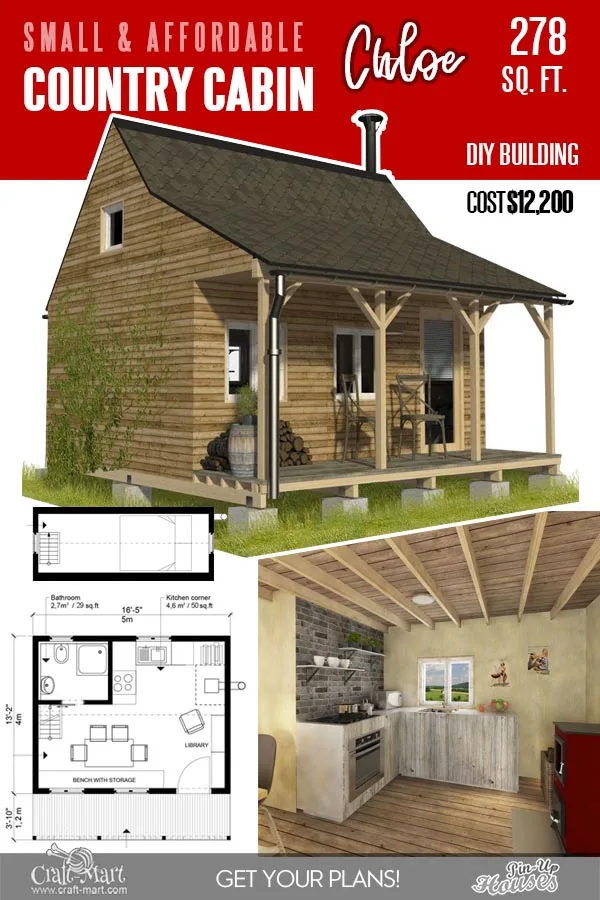 Tiny cabin plans are usually simple and lack conveniences. Sure, Chloe is simple enough to build with your own hands but it sports all modern life utilities like a kitchen with the window above the sink, for starters! Add a full bathroom facility, dining for four people, the covered porch… Checkmarks against almost every imaginable feature except the laundry room. Guess what? You can wash and dry your clothes as your grandparents used to…
… or get this tiny washing machine for your tiny cabin!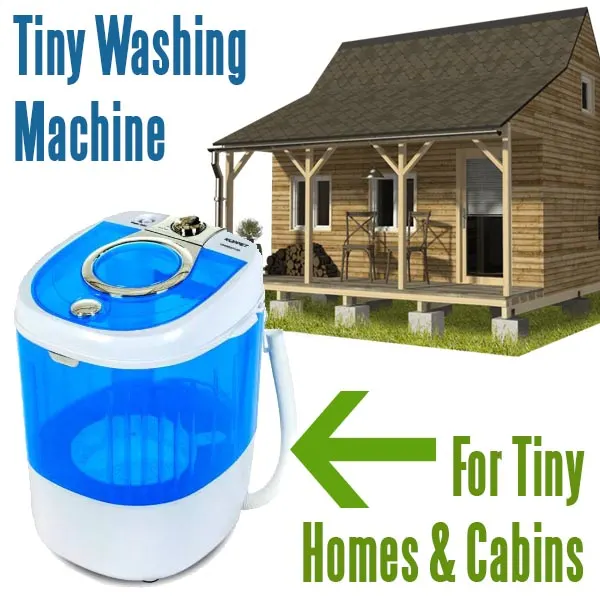 5. Small Simple Cabin or Granny Pod Plans "Abigail"
Total floor area: 506 ft²
Porch: 86 ft²
DIY building cost: $26,500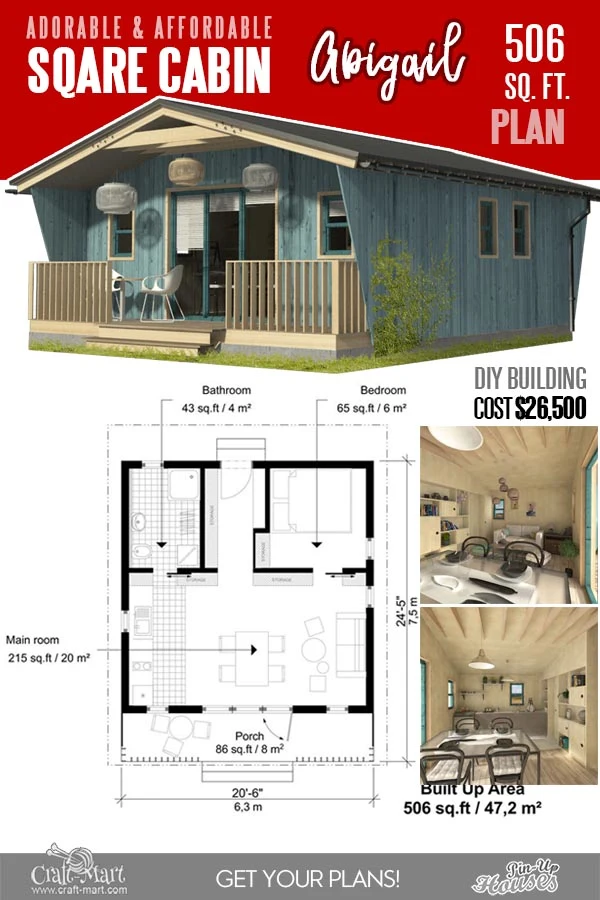 If you want something simple and square here is your plan "Abigail". Unlike many other small cabin floor plans, Abigail has a really cool feature – a walk-in pantry which is perfect for a granny pod! Well, it's actually the back entrance too but the main functionality of this space is storage with plenty of shelves. The plan also has some space-saving features like sliding bathroom and bedroom doors.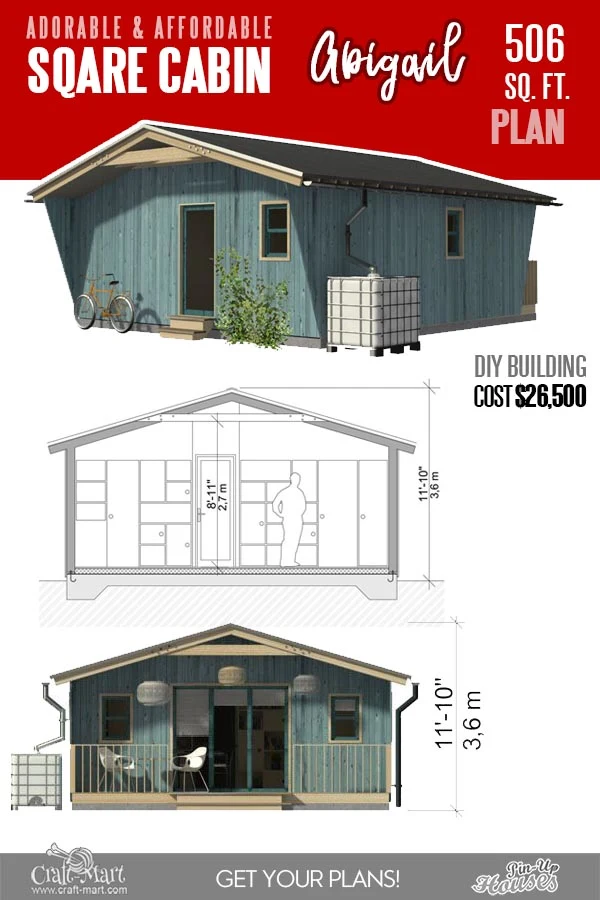 A pretty narrow covered porch can be extended a couple of feet forward creating a more comfortable space for outdoor meals. Overall, Abigail would be the easiest for DIY beginners who would want the design without any tricky angles.
Get Abigail granny pod floor plans here
6. Small Modern Cabin Plans "Samantha"
Total floor area: 618 ft²
Porch: 280 ft²
DIY building cost: $24,500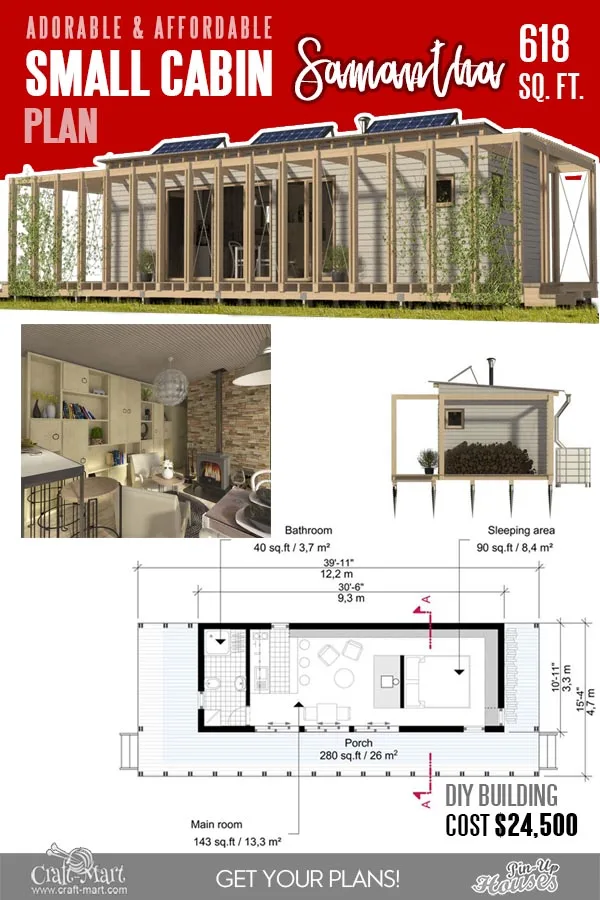 The very first impression of these small cabin floor plans is that Samantha is some kind of a variation of the popular shipping container house plan. Yes, the floor plan looks elongated and the layout is somewhat standard for container homes but Samantha is almost 3 ft wider and 30 ft long. Standard containers come in sizes of 8 ft x 20 ft or 8 ft x 40 ft.
Right away you'd notice the benefits of having a wider floor plan – more space everywhere. A pretty impressive 280 sq ft porch provides plenty of room for hosting and entertaining at least a dozen of your friends.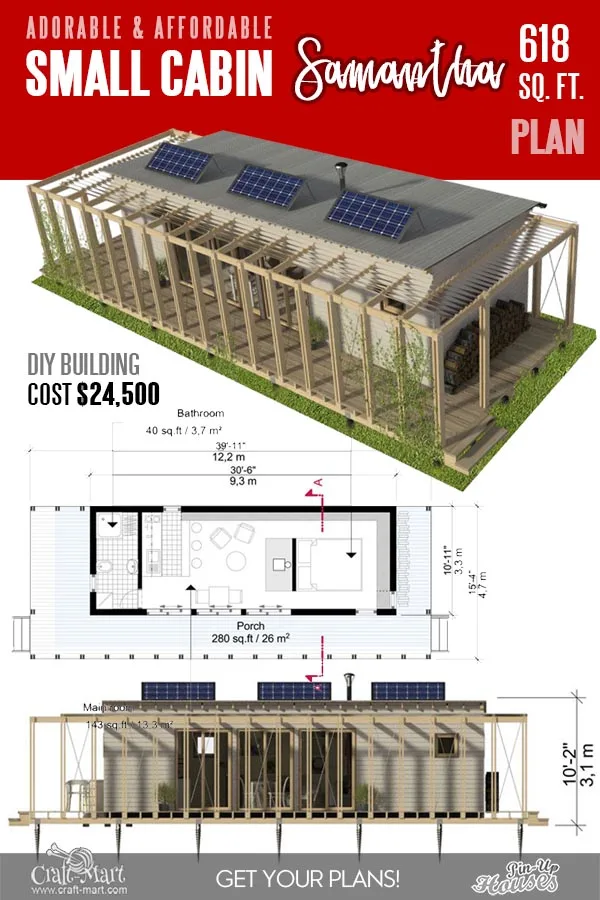 The simplicity of this small modern cabin plan suggests that it can be easily expanded in many different ways. You may add a gable roof to have a loft and more storage space. Extending the roof over the entrance or the whole frontal part of the porch would be a good idea as well. This cabin is a perfect candidate to be used as a granny pod. With only $24,500 estimate building cost, you may have your perfect granny pod right here!
Get this cabin's floor plans here
7. Cabin Building Plans "Donna"
Total floor area: 720 ft²
Porch: 280 ft²
DIY building cost: $20,900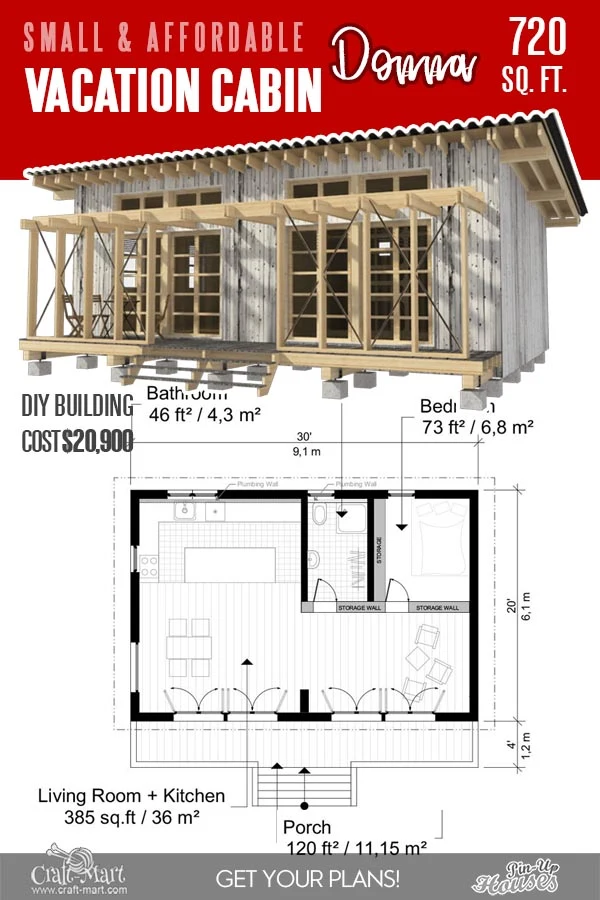 Well, you can exactly call this cabin plan "tiny" as it is under 400 sq. ft. You can see four chairs in the dining area but there is only one bedroom… Changing the roof configuration in order to add a sleeping loft may seriously add up to the cost, so consider a futon like this one to replace a couple of armchairs suggested by the designer.
Since the front wall has a gazillion of french doors that can be opened to the patio, the living/dining area is absolutely perfect for your "open-air" lazy vacation meals.
Get your perfect vacation cabin plan here
8. Garden Cabin Building Plans "Gina"
Total floor area: 201 ft²
Porch: 61 ft²
DIY building cost: $1,160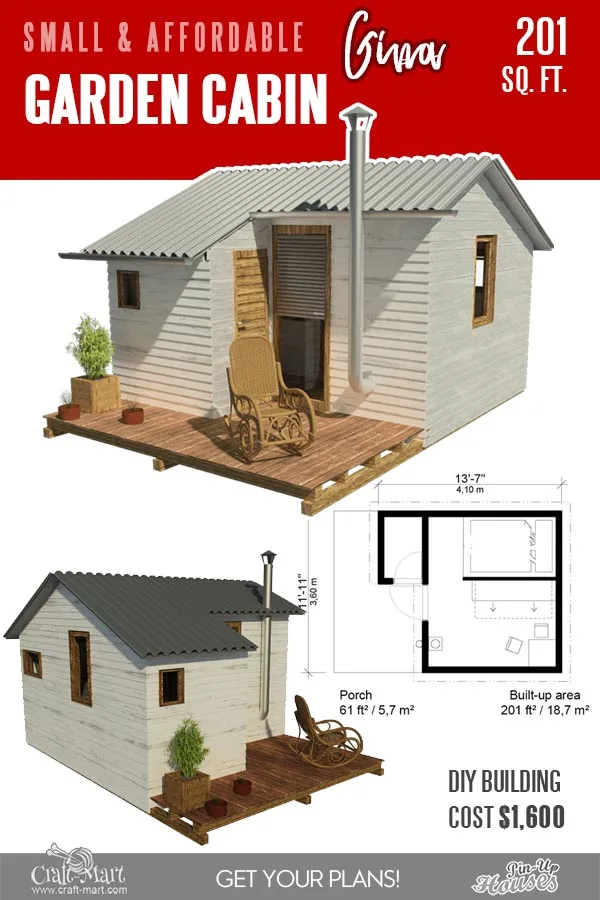 If you get too distracted inside your own home it's time to build your garden cabin! What can be better than build your own tiny cabin ('she-shed or man cave') with a tiny porch where you'll be able to relax, take a nap, and collect your thoughts?
For those of us who work from home, this place may serve as a home office or art studio. You can be a lot more productive working here without noisy kids fighting over toys every 15 seconds.
Garden cabin plans are waiting for you here
9. Beach Cabin Floor Plans "Cheryl"
Total floor area: 153 ft²
Porch: 46 ft²
DIY building cost: $1,900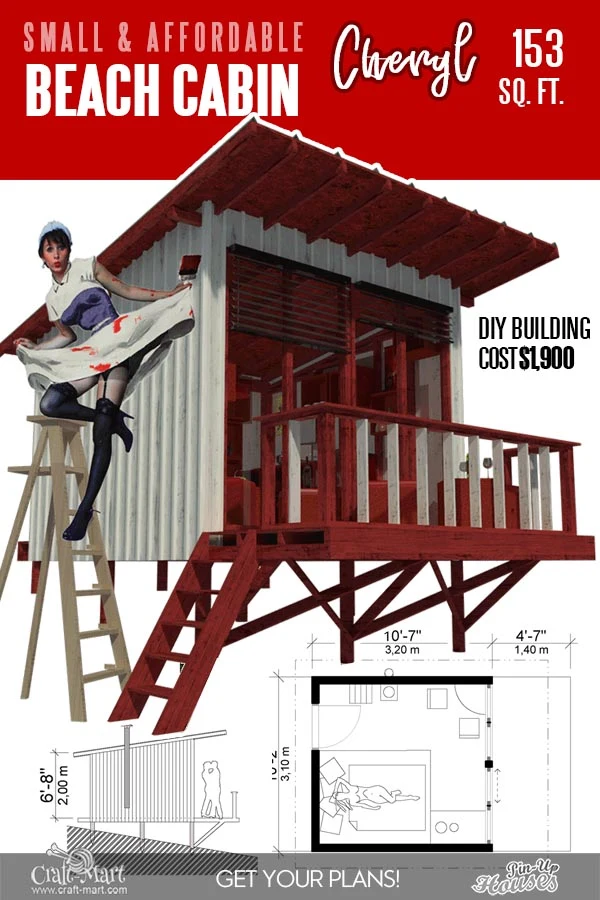 Imagine, you fell off the boat and ended up on a remote uninhabited island with a perfect beach – sort of like Tom Hanks in Cast Away. Would it be cool to build a beach cabin there? Here is your chance to get your cabin plans, so you'll be ready for this upcoming adventure.
This small cabin "Cheryl" with the front porch is named after one of the most famous pin-up girls Cheryl Rae Tiegs. The design of the interior would be up to you since there are no inside walls or major appliances on the drawings. A concept is super simple – a square 10 ft x 10 ft plan and the angled roof. Easy to remember when you'll be on that island.
Be ready for your beach cabin! Get your floor plans now!
10. Tiny Pentagon Cabin Plans with a Big Loft "Ann"
Total floor area: 329 ft²
Ground floor: 122 ft²
Loft: 165 ft²
Porch: 43 ft²
DIY building cost: $1,350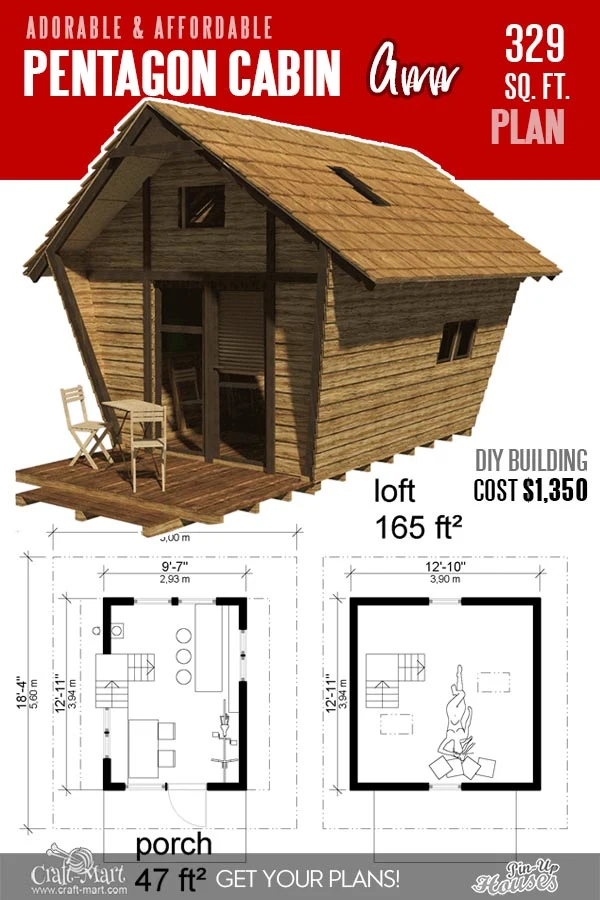 No, these Pentagon small cabin plans were not created for a secret military hideaway in the tropical forest. Well, you may confuse a relaxing figure on the loft with one of the special ops resting after a hard mission but we can assure you this is just a regular cabin!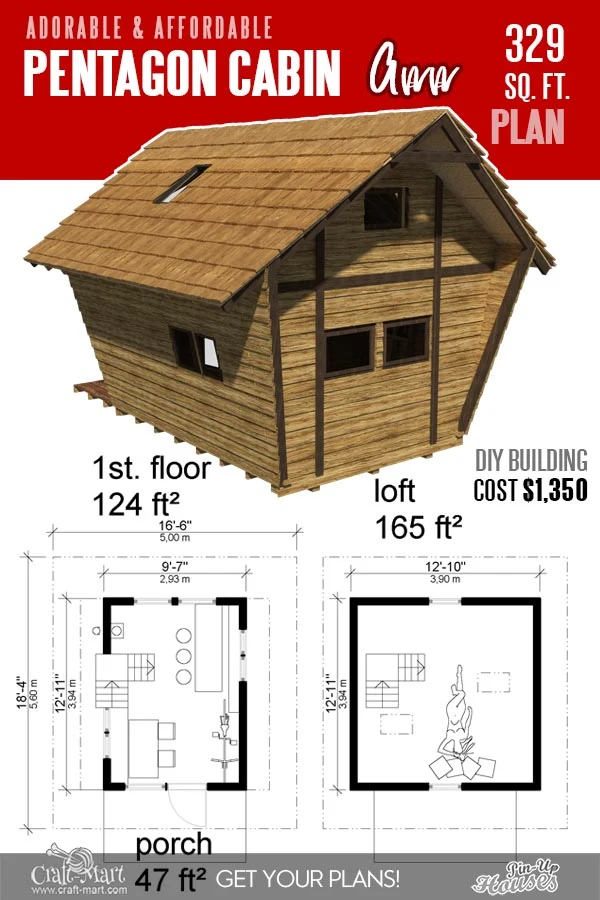 Actually, not that regular – the loft is larger than the ground floor! This is all due to a pentagon-shaped facade. The cabin looks very cozy from inside and outside. Its slanted walls may confuse some DIY beginners but we'd encourage this little challenge. For a mere $1,350 this "lofty" cabin would be a good choice for practicing your building and woodworking skills.
Get your Pentagon cabin plans here!
Total floor area: 239 ft²
Ground floor: 122 ft²
Loft: 117 ft²
Porch: 96 ft²
DIY building cost: $1,390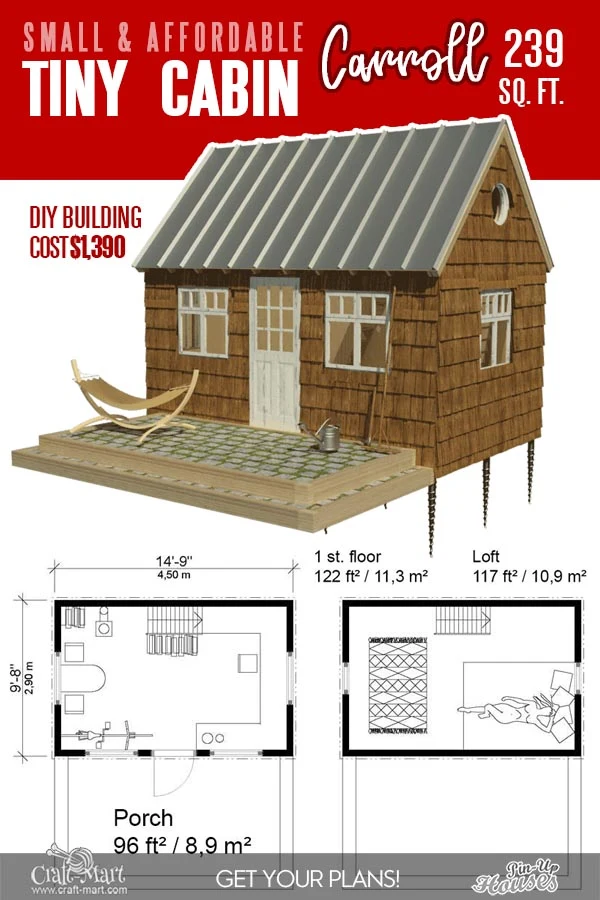 Out of all simple cabin plans, the Carroll manages to squeeze in a lot of features into such a tiny package. For DIY addicts looking for small cabin plans with loft and porch, this traditional-looking tiny cabin with a gabled roof can be the answer.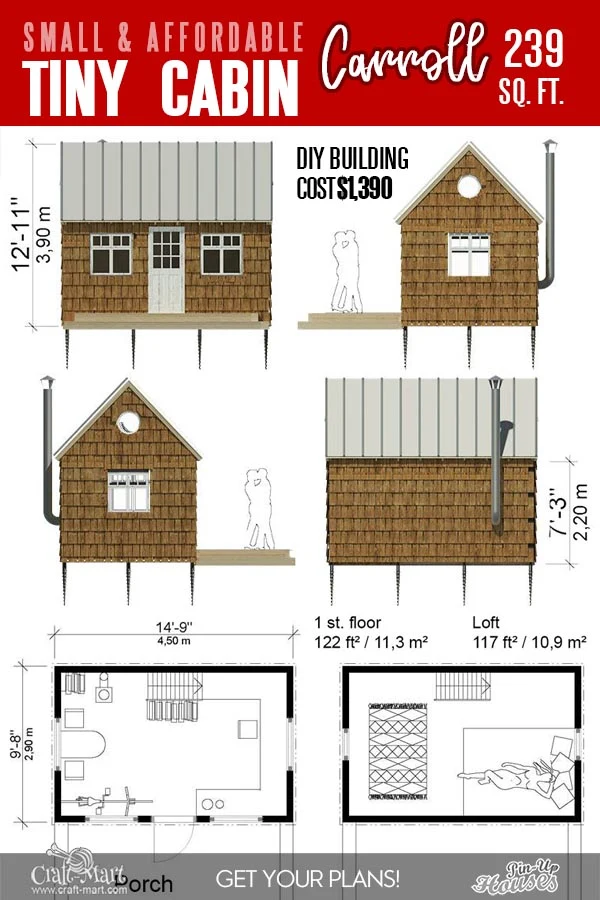 With only $1,390 cost to build, you can add a small bathroom with a portable sink and toilet combo like this one. Check it out. You can get it for around $150 – a very small price to pay for not having to go at night to an outhouse risking your life to nocturnal animals.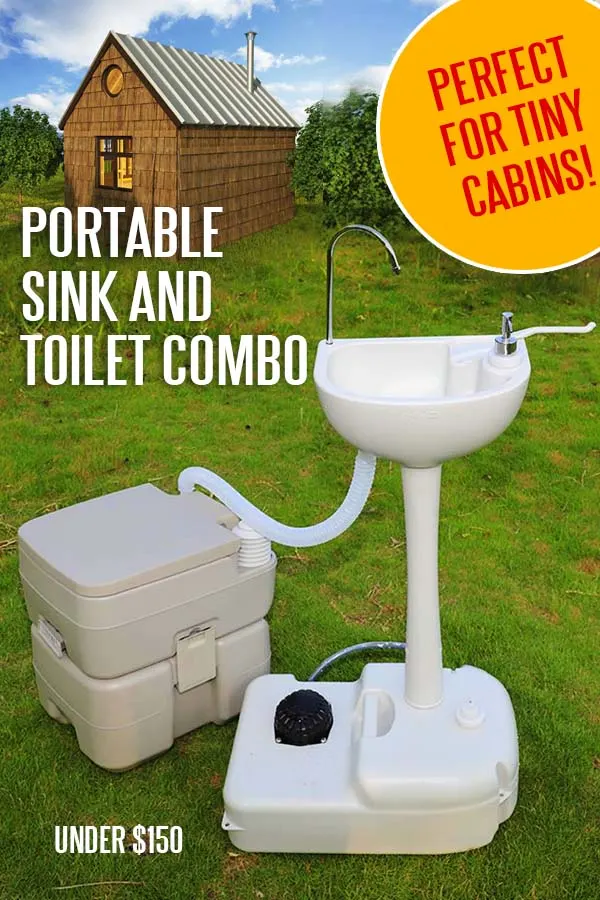 How about a few additional improvements: the porch can be wrapped around the cabin: the front door needs at least a 4 ft x 4 ft cover from the snow and the rain. Get these tiny cabin plans
12. Simple Cabin Plans "Bettie"
Total floor area: 121 ft²
Ground floor: 68 ft²
Porch: 53 ft²
DIY building cost: $930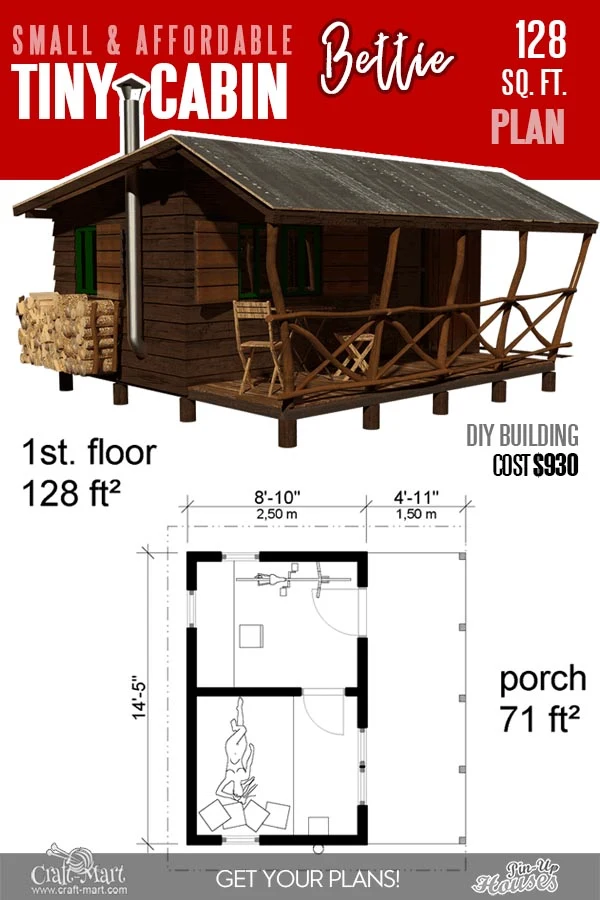 Imagine yourself inside this typical Canadian cabin far away from civilization listening to mosquitoes circling around your bed at night. This rustic treasure is among the most popular small cabin plans and tiny house designs. It comes with detailed instructions on how to build it for under $1,000. Mosquitoes come free.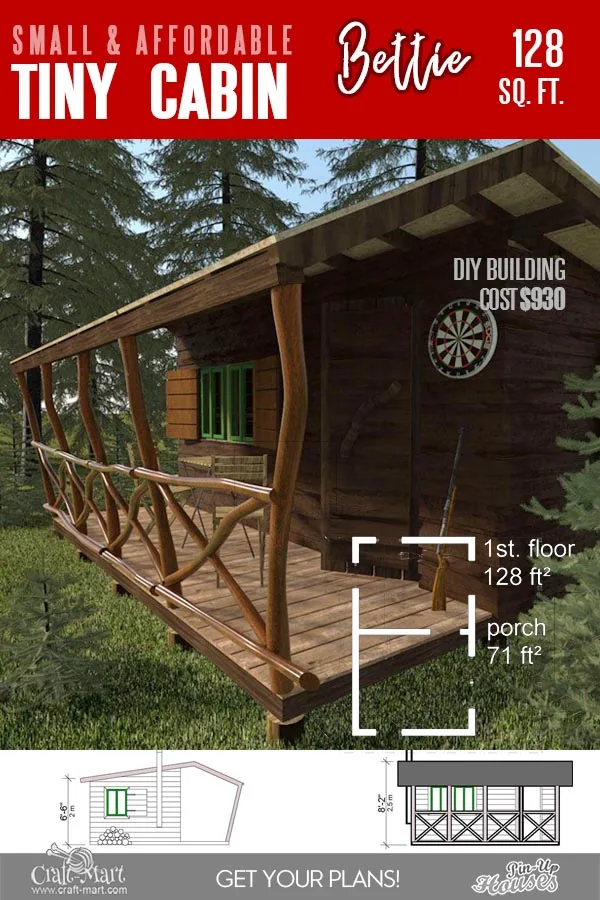 The front porch is fully covered creating nice protection from the elements. On the other hand, you are not protected if you have to go to a bathroom/outhouse… Of course, you may get that portable sink and toilet combo but you'll have to dedicate a part of the porch for a bathroom.
Some say that Bettie is a good example of hunting cabin plans but, of course, you can also use this rustic tiny cabin as a garden shed or a sauna.
13. Camping Cabin Plans with a Loft "Marion"
Total floor area: 173 ft²
Ground floor: 84 ft²
Loft: 89 ft²
Porch: 46 ft²
DIY building cost: $890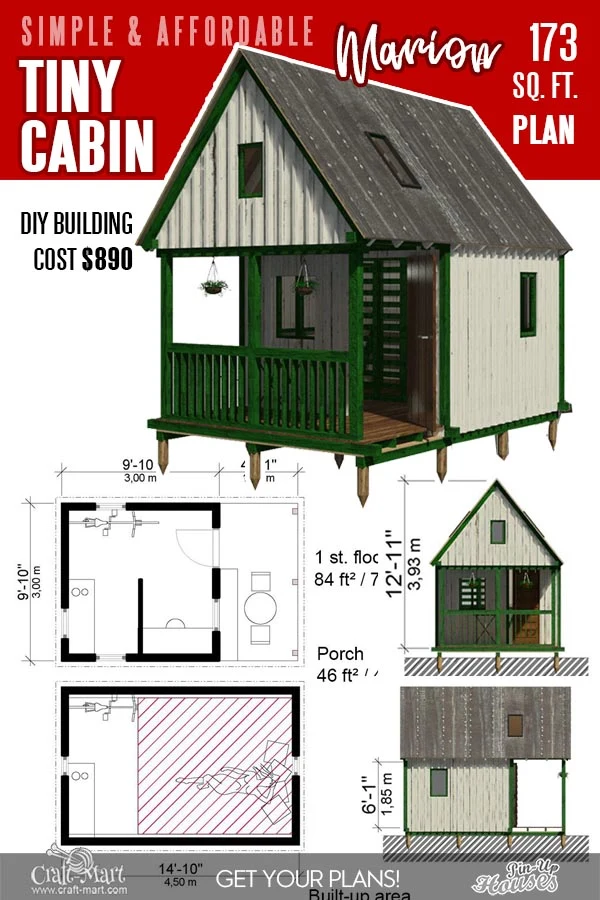 A very cute and tiny cabin Marion is a perfect project for DIY beginners. Its symmetrical design with a gable roof gives it a look of a small but fully functional house. The loft is accessible via a ladder.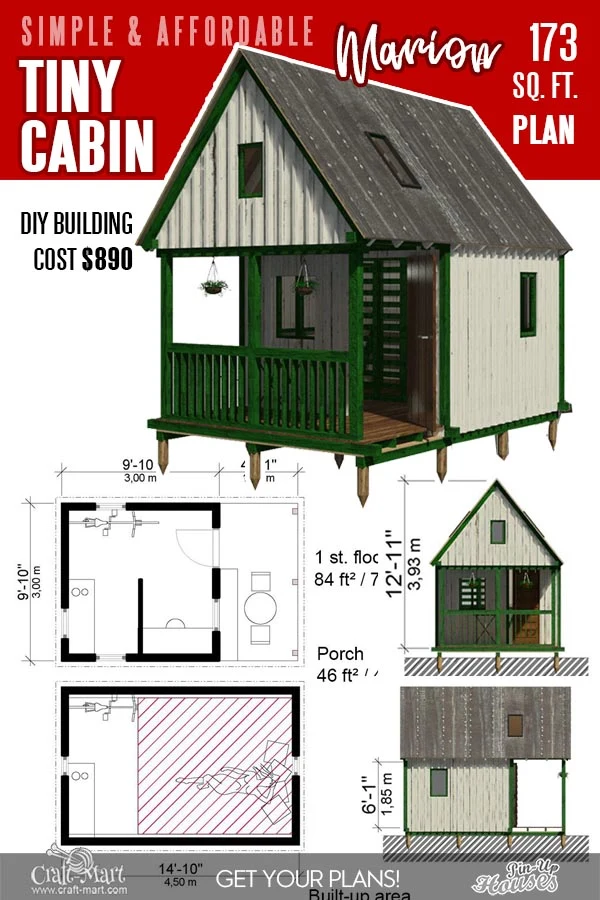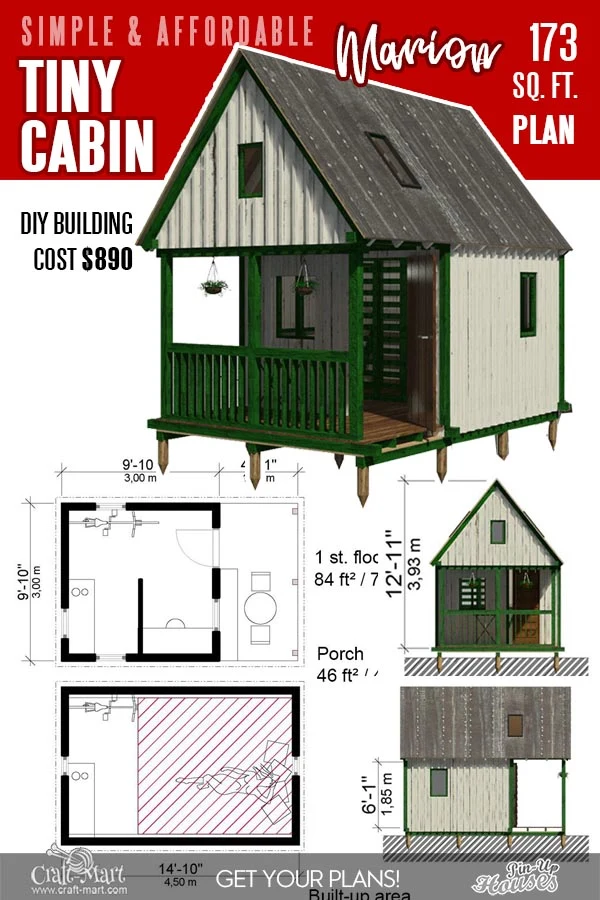 For some mysterious reason, this cabin which has neither a laundry room nor a bathroom is very popular among Americans. Our guess is that simple cabin plans like Marion are super easy to build for beginners. Below is one of the actual projects completed by one of the brave DIY people.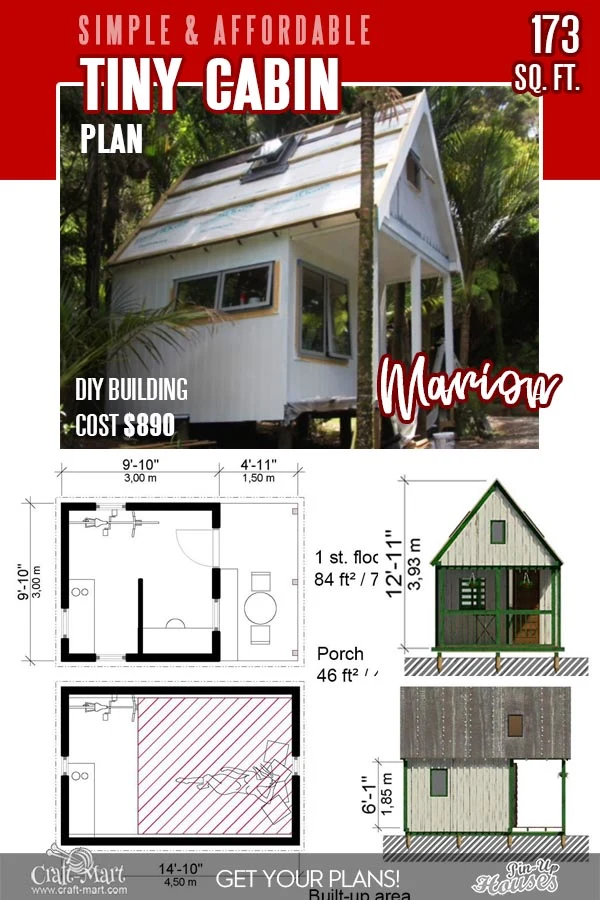 For such a small DIY building cost it's a crime not to try your building skills on this cute tiny cabin! Get your Marion cabin plans now and start building your future!
If, after looking at all these small cabin floor plans, you are still not sure which one to pick, take a look at this book with NINE small cabin plans!
For only $190.00 you'll get 400 pages with 590 illustrations explaining how to build each of the 9 cabins listed below. (Tiny cabin Marion floor plan is included)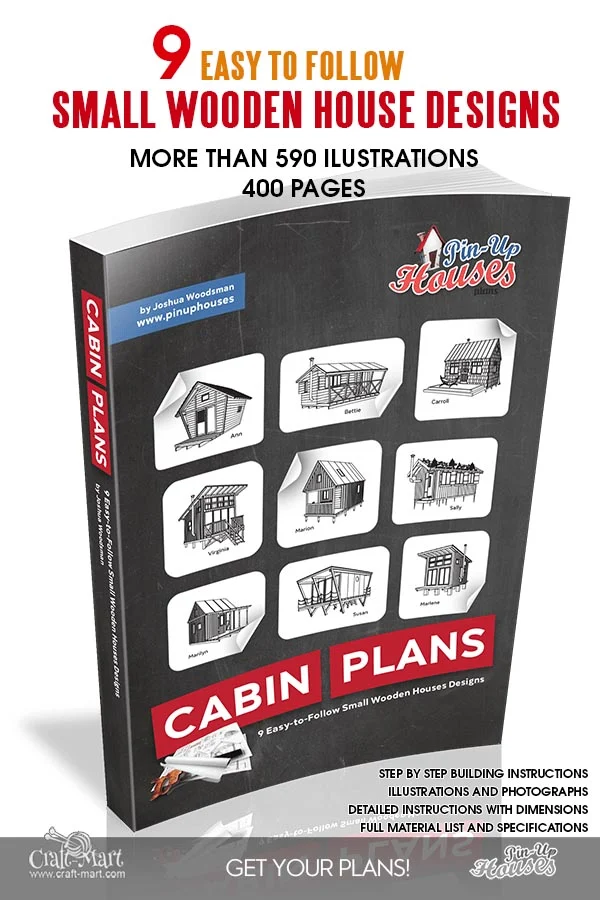 These 9 easy to follow small wooden house plans include:
Easy to understand construction plans;
Step by step building instructions;
Functional layout with effective space solutions;
Beautiful stylish design;
Illustrations and photographs;
Detailed instructions with dimensions;
Full material list and specifications;
Here is the list of 9 plans included in this book:
Get this book with 9 small cabin plans here