About crochet triangle scarf pattern
One of the easiest beginners' crochet patterns is a crochet triangle scarf. If you plan to learn the basics of crochet, try this free crochet pattern.
You may also like this crochet triangular scarf (free pattern) – a perfect accessory for warm weather:
Capri Summer Crochet Triangle Scarf – FREE CROCHET PATTERN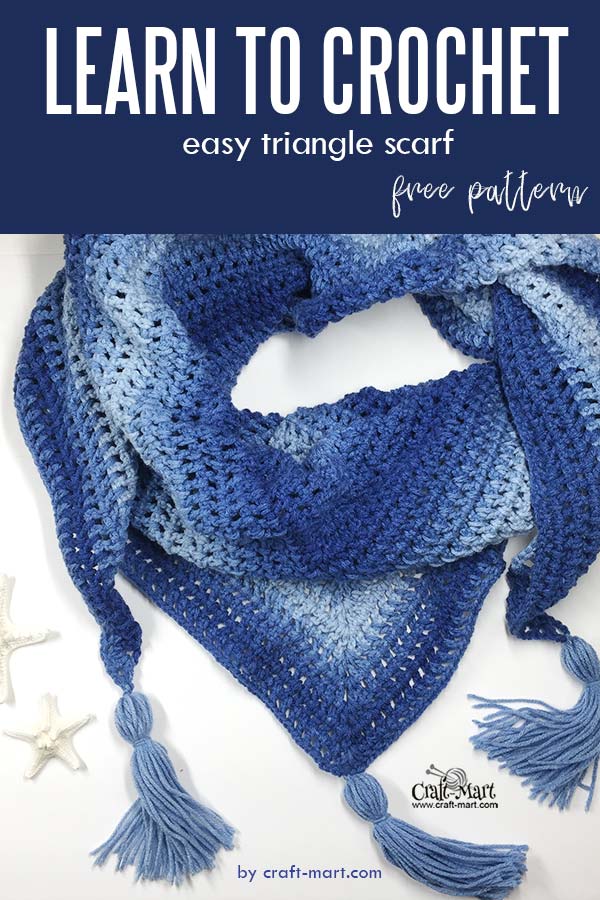 Of course, I love the feeling of a brand new skein of yarn and a hook in my hand – it is the same excitement you may have in front of a blank canvas overwhelmed with artistic inspiration. I really wanted to create a free pattern for beginners' crochet scarf that is so easy that anyone can do it.
What yarn to use for this triangle scarf
As a matter of fact, I've already worked with Red Heart Ombre Yarn on this free triangular scarf knitting pattern:
How to Knit a Triangle Shawl for Beginners (free triangle shawl knitting pattern)
Not to mention, it is a versatile yarn with beautiful gradient color transitions that are perfect for a shawl or a triangle scarf. Even if you make a mistake, you can undo your crochet piece without fear that your yarn will lose its texture and start splitting.
This time I've chosen a different shade of the same yarn and it was perfect. I love the colors of True Blue Red Heart Ombre Yarn! First of all, the navy color and different shades of blue are so perfect for summer. Second, color moves from dark to light and back to dark again giving your scarf dimension without the need to change skeins.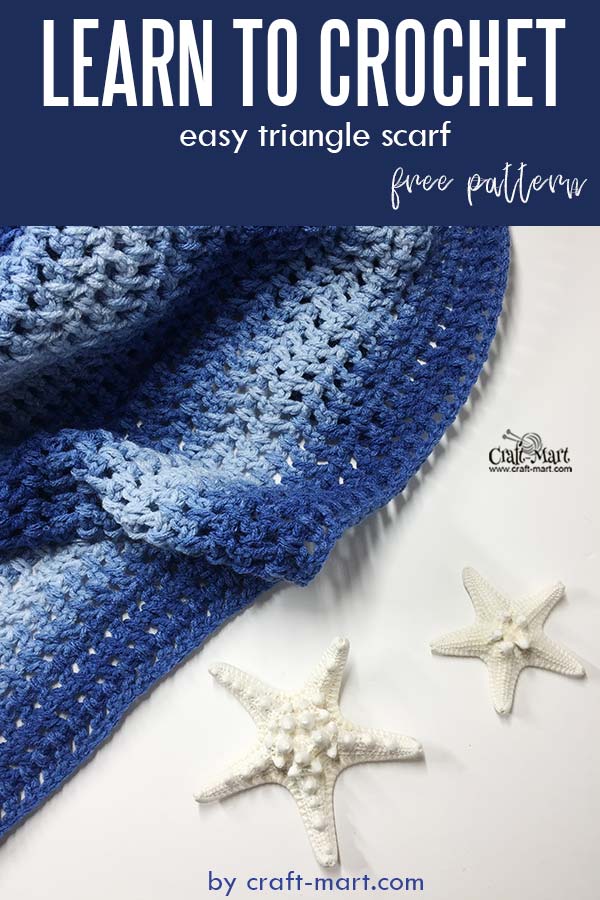 Most importantly, this blue yarn pairs well with white. If you are not a fan of blue, there are 17 more colors to choose from. Red Heart Super Saver Ombre Yarn comes in a generous skein that is bigger than regular Super Saver yarn.
Can you make basic double crochet and treble crochet stitches and chain? With this in mind, try this beautiful project to crochet a triangular scarf.
You'll be making your crochet stitches into chain spaces which is also much easier for beginners than finding a particular stitch. Consequently, the pattern creates perfect airy modern lace that is a distinguishable characteristic of this crochet scarf.
To crochet this scarf, you'll start in the middle neck part from which your triangle will grow. You'll do easy increases on all three corners of the scarf by crocheting several stitches into the same stitch.
Watch a VIDEO TUTORIAL for this crochet triangle scarf:
Materials
Abbreviations
ch – chain
ch-sp – chain space
dc – double crochet
tr – treble crochet
Free pattern for a crochet triangle scarf
For the foundation chain, ch 6.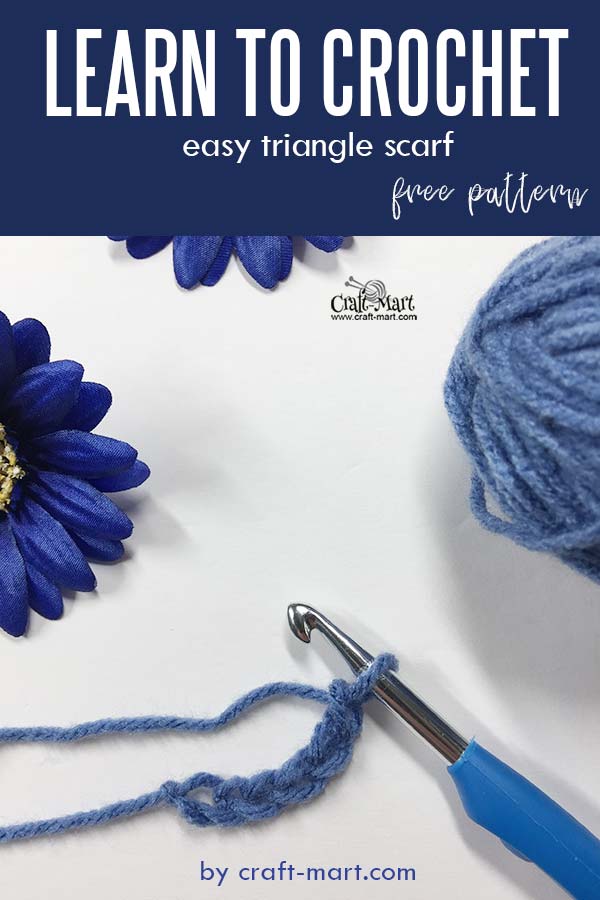 Row 1
Make dc into 6th ch from the hook (basically, into 1st ch of your foundation chain); ch 1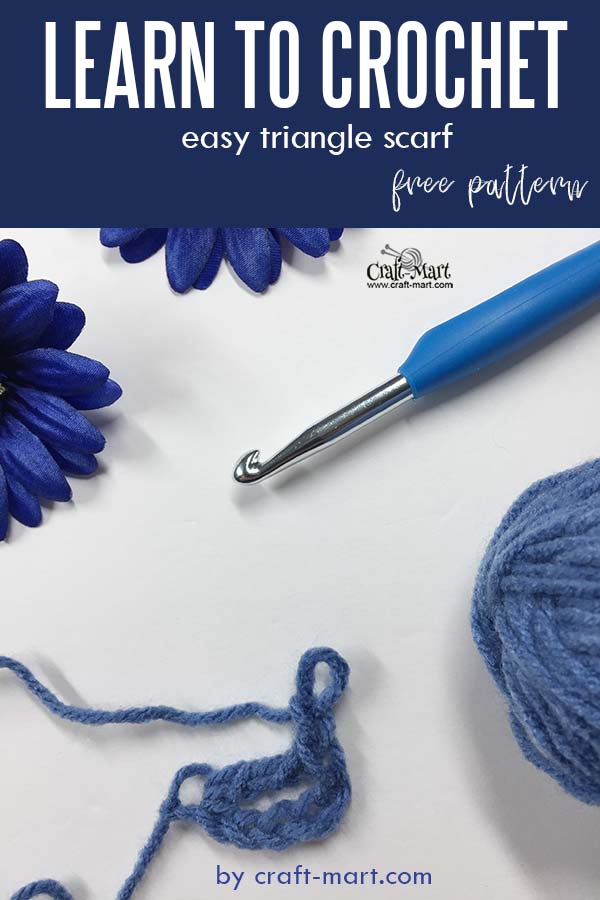 Continue to make dc and ch1 into the same ch: dc ch1 4 times (this is the top part of the triangle;
then another dc+ch1, then a final tr into the same ch.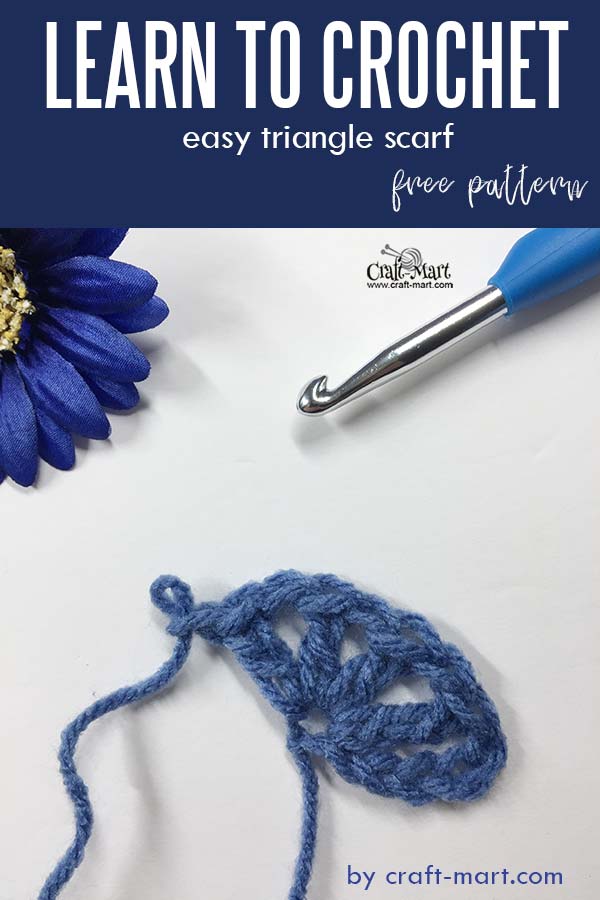 In the end, you should have 8 posts (2 tr + 6 dc) and 7 ch-sp. Your triangle is formed.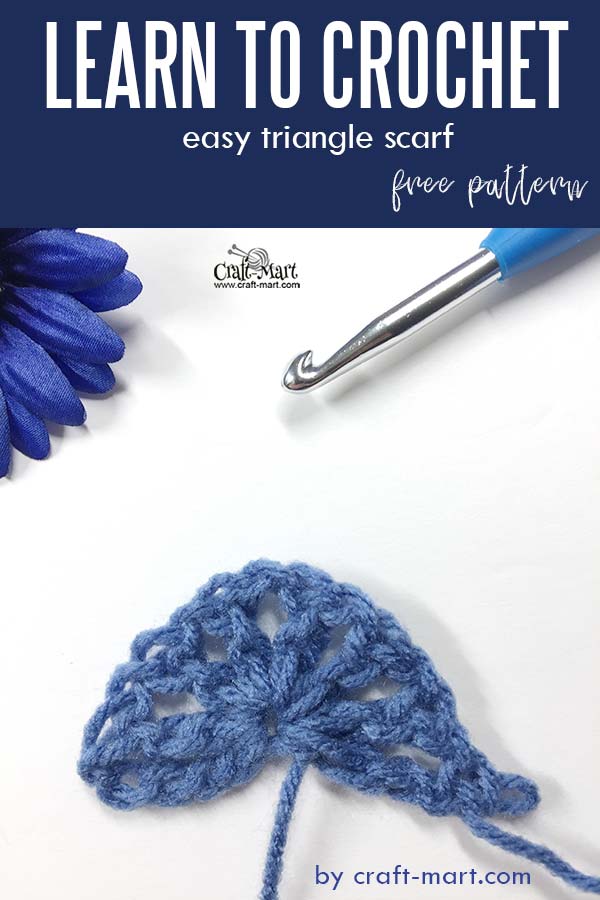 Row 2
At the beginning of each row, ch 5 (this represents 1st tr + ch1); dc into the same stitch; ch1+dc into ch-sp.
From now on, in each row, you'll be crocheting 4dc + 3 ch1 into the middle chain space. You'll make 2 stitches in the same stitch in both corners: tr+ch1+dc. For the rest of the row, you'll crochet dc+ch1 in each ch-sp. Generally speaking, it's pretty easy.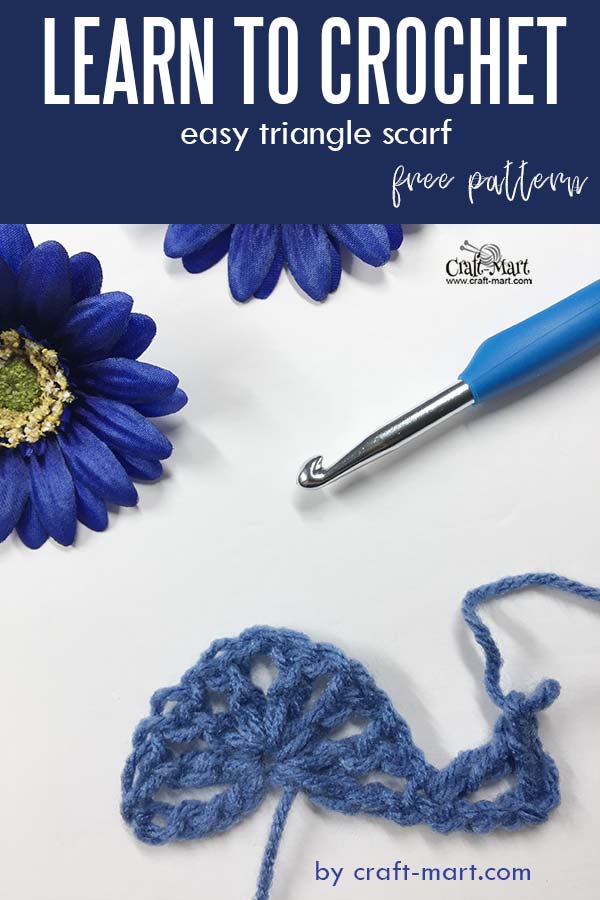 At the end of row 2, your crochet triangle scarf should look like that:
It is a good idea to put a stitch marker into the middle ch-sp on the top of the triangle so you don't miss it and don't forget to crochet 4dc+3ch into the same ch-sp. Here, the tip of the crochet hook is pointing to this top ch-sp.
Most importantly, for a few rows, count your posts on both sides to make sure the count is the same and your triangle is perfect. You don't want to end up with a lob-sided scarf at the end.
After a few rows, you'll get a hang of it. For the rest of your project, you'll be crocheting 4dc + 3 ch1 into the middle chain space. You'll make 2 stitches in the same stitch in both corners: tr+ch1+dc. For the middle of the row (both sides of the triangle, you'll crochet dc+ch1 in each ch-sp.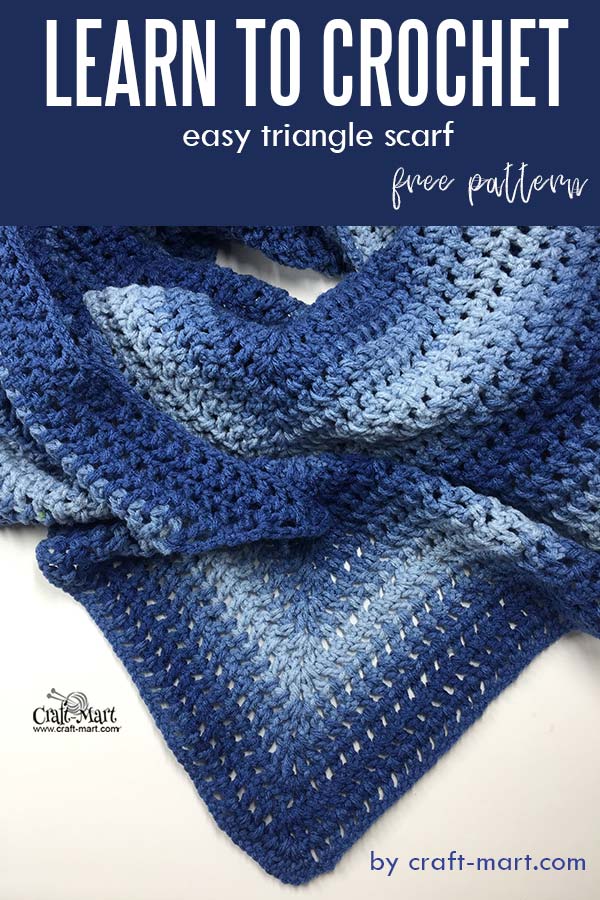 When you see that you are approaching the end of your 2nd skein, I suggest making your tassels first, before finishing the scarf itself.
Consequently, you can be sure you have enough yarn for your embellishments. Just find the other end of the yarn and make the tassels. I've wrapped yarn 30 times to make each tassel. It's important to count, so all three tassels look the same.
Afterward, you can continue with the scarf until you use up all the yarn. It will minimize your leftovers and you can be assured that you won't run out of yarn in the middle of 3rd tassel.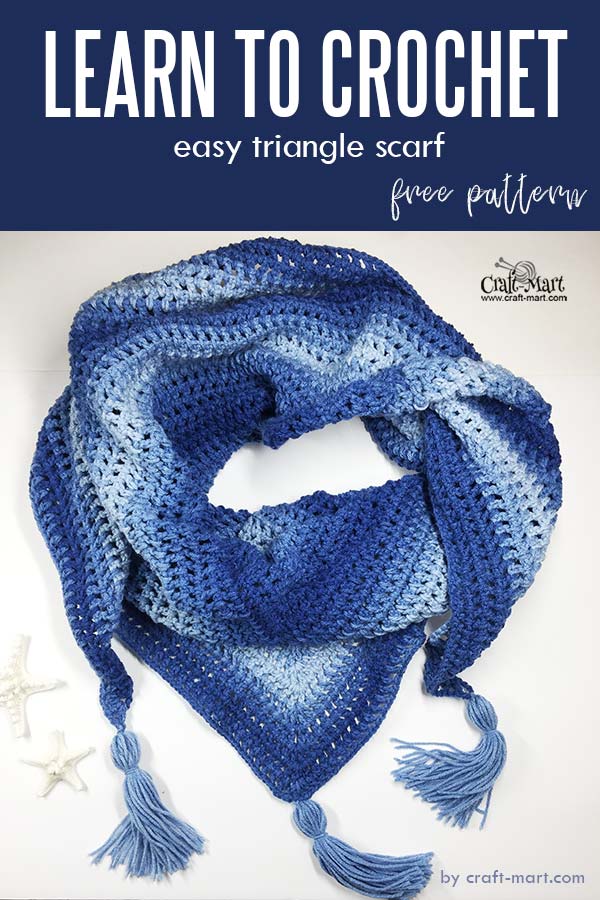 All things considered, it is a fun and easy crochet triangle scarf pattern that you'll enjoy. Finally, save this free pattern and add a few other beginners' crochet scarves to your collection of patterns to try: