It is very easy to learn how to knit a triangle shawl for beginners with a free pattern provided by Red Heart. Furthermore, you will find a step-by-step tutorial, a FREE PDF pattern download, and a very detailed video. This gives you excellent guidelines both on the yarn label and on the website.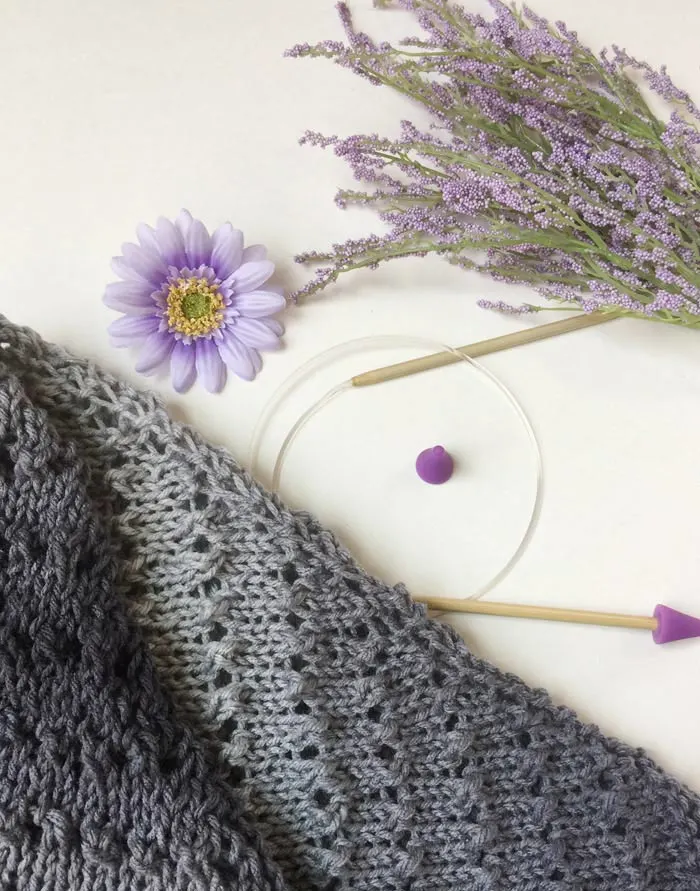 I was glad to find a free triangle shawl knitting pattern. Consequently, I gave it a try with a Red Heart Super Saver Ombre yarn. Love those gradient changes of color from light gray to dark!
As it often happens, this yarn by Red Heart captured my attention with its beautiful ombre gradient color. As you sometimes see with mandala-style yarns, colors don't change gradually but rather abruptly.
That's not the case with this yarn. Using it to knit a triangle shawl is a pleasure. As a matter of fact, soft gradients gently definie your projects while you are knitting or crocheting.
As a passionate crafter on a quick errand to Walmart, I can't miss the yarn aisle. It is fun to check for bargains, sales, and clearance items, as well as new yarns. At the store, there were several options available but my favorite was Anthracite with beautiful arrays of soft grays.
On the Red Heart website, you can find 12 colors (all with an ombre effect) that will satisfy any taste. Most importantly, the price was right, so it was hard to pass. So, I gave this free triangle shawl knitting pattern a try. Consequently, here is an honest review.
If you are not a fan of shawls or haven't picked up knitting as your craft of choice, it will work for an infinity scarf as well. Whether you are knitting or crocheting, the yarn is a delight to work with.
What do I love about this yarn used to knit a triangle shawl for beginners?
It comes in beautiful colors;
The gradient ombre effect makes it unique;
It doesn't pile much;
1 skein is enough for a knitted triangle shawl – we all love one-skein projects;
A FREE PATTERN is on the label or you can download and print a FREE PDF PATTERN;
The Red Heart website has an excellent video tutorial and a FREE PDF download for this easy-knit triangle shawl;
It is a quick lace shawl knitting pattern – perfect for beginners (skill level easy);
All you need to know to finish this simple knitted shawl is how to knit and purl (and knit two together);
It uses simple garter and stockinette stitches for the body of the shawl;
It makes an excellent DIY knitting project to master your skills and create a beautiful gift for Christmas or a birthday (even on a tight budget).

Materials
As I already had 2 bamboo circular needles in my possession, I used them with endcaps
. It seems more logical as you just knit using 2 long needles with end caps.
It is a little easier, in my opinion, to work on this project and hold a large number of stitches on your needles, as your lace shawl gets bigger. I'm also a firm believer that you should make it work with materials and knitting tools you already have rather than buying new ones.
I used 2 circular needles – Takumi Bamboo Circular Knitting Needles 48″-Size 8/5mm
Clover Point Protectors or Endcaps (to keep your work safe when you take a break) – love those nifty caps!
You can use any other medium-weight (4) yarn – approximately 485 yards (440 m) for this project.
A tip for stitch markers: you can use those little plastic circles that come with mechanical toothbrush replacement heads – as they come in different colors. It is a practical way to upcycle them for this easy shawl knitting pattern, as you definitely need to mark your center, for even increases.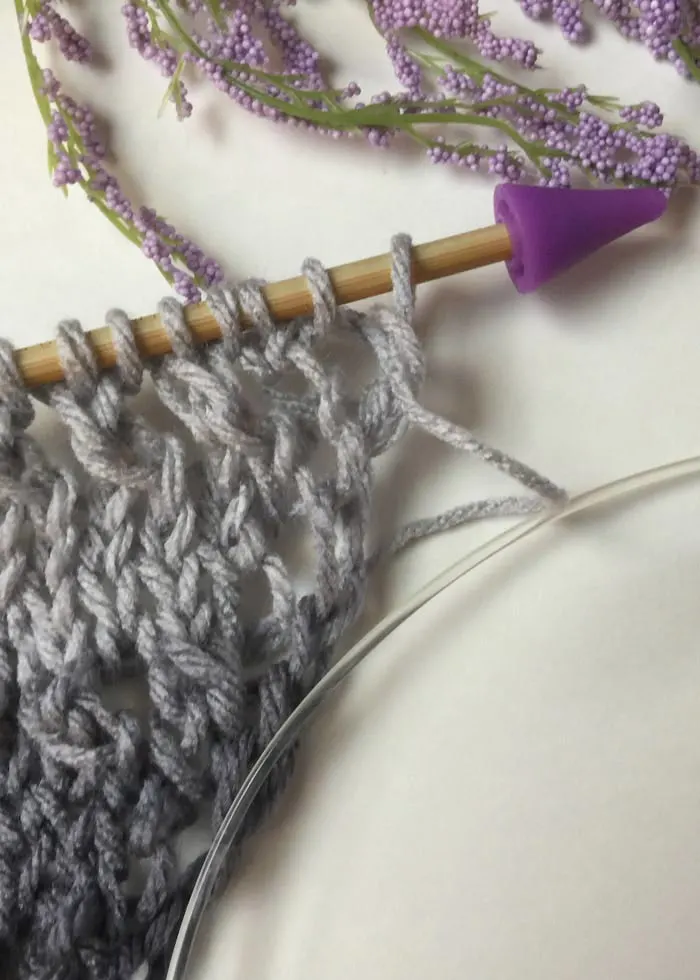 How to knit a triangle shawl for beginners?
This quick and easy knit shawl is worked from the middle of the back by casting 5 stitches. You will make the increases on the right side of your knitting on both sides from the middle stitch that marks the centerline of the triangle. It is 'the spine', in the pattern.
You simply do a 'yarn over' on the 'right side' of your knitting and purl that stitch on the wrong side. This way you increase evenly by 4 stitches every other row, forming a perfect triangle.
How to work the lacy knitted rows?
What gives this knitted shawl pattern a visual interest are the rows of knitted eyelets that break the monotony of classic stockinette knitting. They are very easy: alternating yarn over stitches and 2 stitches knitted together will create that visual effect (without an increase of stitches).
It is a little tricky, as you also have to do your normal increases in the middle and the sides of your knitted triangular shawl. So pay attention while knitting the lace row, especially at the beginning, in the middle, and at the end of the row.
Video Tutorial for a FREE Triangle Shawl Knitting Pattern
Watch this very detailed video tutorial to fully understand the structure of the shawl and how to knit a triangle shawl for beginners:
You'll be able to master this free easy shawl knitting pattern at no time! Excellent tutorial!
What are the measurements of the finished knitted shawl triangle?
According to the pattern, the finished knitted triangle shawl measures 72″ (183 cm) at the widest point and 24″ (61 cm) at the longest (in the middle).
I took the liberty to modify my shawl a little by adding more lacy rows and fewer stockinette stitch rows in between them. I had a total of 17 eyelet lace rows divided by 4 rows of stockinette stitches (instead of 6 in the pattern).
The final measurements were as follows: 72″ was the longest side of the triangle and the middle measured 32″. I had a tail of 25″ left after binding off, not bad!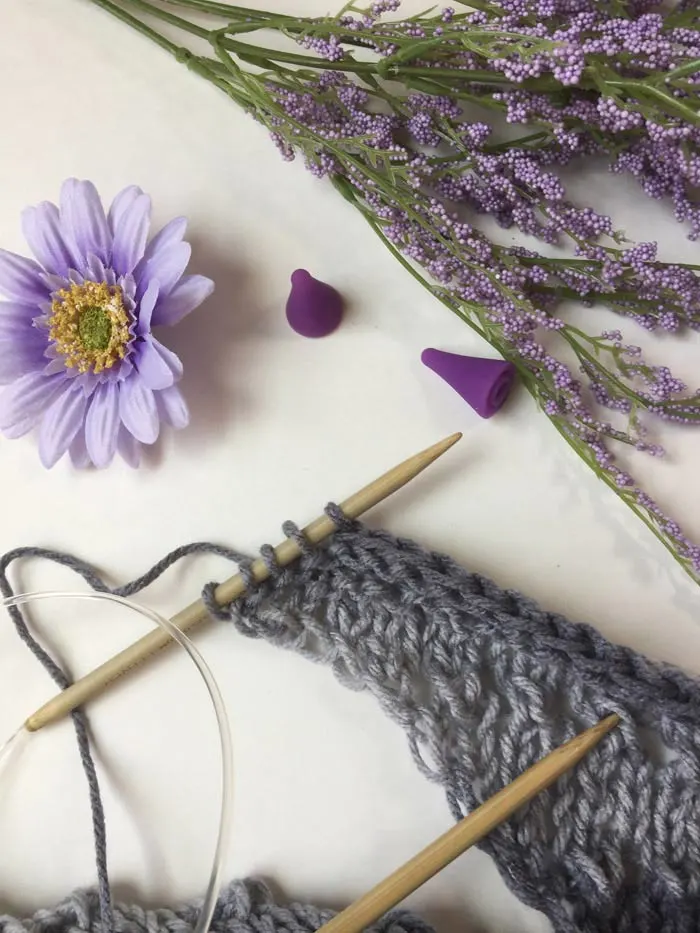 How to avoid mistakes while knitting this triangle knitted shawl pattern?
Make a sample swatch after watching the video. I would suggest making a little sample swatch. As a result you can really understand the architecture of this shawl and master the increases. At that point, you can also decide if you really like how this shawl knitting pattern turns out.
Make sure your knitting is not too tight as it will mess up the shawl edges.
Practice the lace rows before you start your garment. Consequently, it will ensure you don't make any mistakes in the middle of your work. A few little unnoticeable mistakes are OK as they make your work really handmade vs machine-knitted.
Start binding off when you still have enough yarn left. I made the mistake of cutting it too close. I was afraid to run out of yarn before finishing my project! It is better to have a smaller shawl and a bigger yarn ball left than undoing already knitted rows. Make sure you have enough yarn to bind off your triangular shawl.
Don't forget to add a few garter stitches at the end – otherwise, your shawl edges may curl.
How can you modify the triangle shawl knitting pattern?
If you'd rather make a knitted shawl wrap, you can just decide on its desired width and knit it straight, without any increases. The same pattern of alternating lace and stockinette stitches will work beautifully and you can bind off when you almost are out of yarn.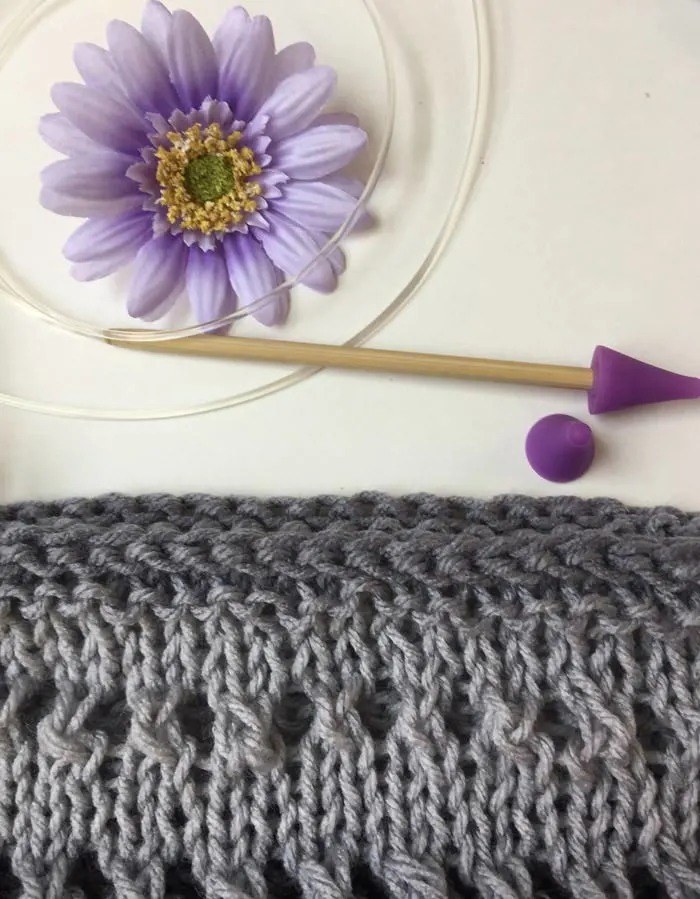 Would you recommend this knit triangle shawl pattern to a friend?
I really enjoyed this free nitting pattern and the nice ombre stripes of the finished shawl. At the same time, I wish the yarn was a little softer.
You will love this great knitted prayer shawl pattern. I'm definitely recommending this easy pattern and the Red Heart ombre yarn for your next project.
It knits easily and beautifully. You can create a classic triangular knitted shawl to keep your shoulders warm during chilly fall and winter nights.
Happy knitting (and crocheting)!
Enjoyed learning how to knit a triangle shawl for beginners? You may also like our other posts with free patterns:
Treble Crochet Stitch Tutorial
CAPRI SUMMER CROCHET TRIANGLE SCARF – FREE CROCHET PATTERN
BEST CROCHET BABY BLANKETS FOR BEGINNERS