Check out our collection of these very popular and affordable unique small house plans from a group of professional architects and designers – "Pin-Up Houses" from the Czech Republic. They did a remarkable job of designing and then building almost all of their tiny homes.
In hard economic times, many of our visitors look for plans for small houses under 1000 sq ft. A-frame shed plans are also in demand because they are so easy and economical to build.
*All the estimates are based on the actual building costs before 2020.
137 sq. ft. DIY building cost $450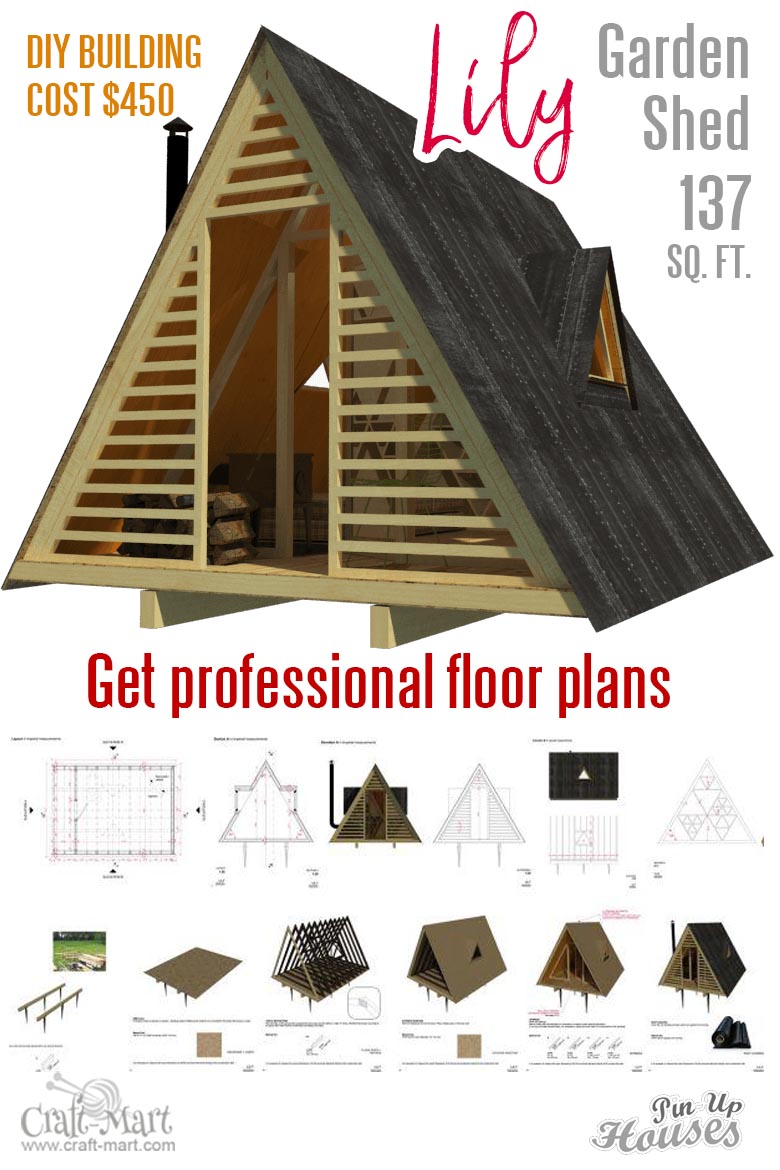 You can't deny that this is a sharp-looking A-frame shed. We know it because Lily's plans are #3 on the bestsellers' list. Among affordable small house plans, DIY sheds are often popular as a practice project before attempting to construct a real small or tiny house.
Can this A-frame shed plan be transformed into a tiny house? Not really but it can be used as a cabin to spend a few nights "camping" in the wilderness.
Working on these tiny A-frame shed plans can also be a good teaching project for kids that would like to have their own space. Don't you want them to learn something useful instead of staring at their mobile phones for the whole day?
Get this or a similar A-frame house kit floor plan here!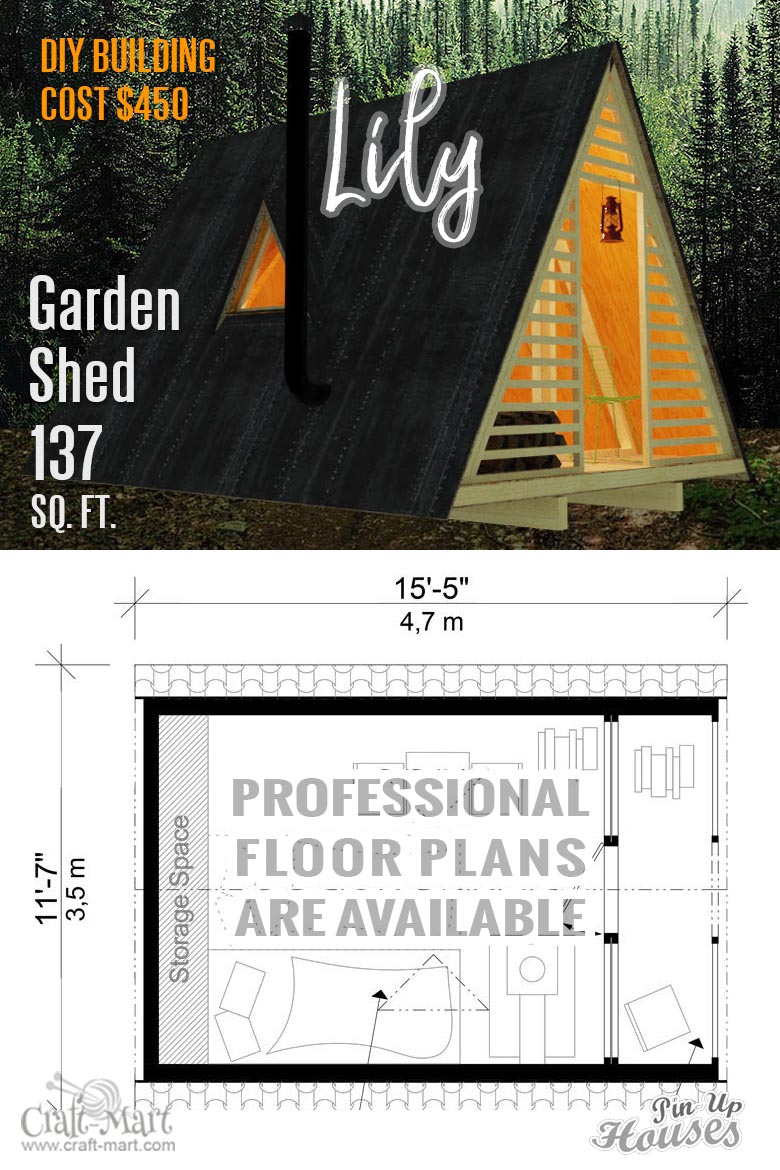 If you like camping under a tent, but also like to be in a cozy and warm environment at the same time, the A-frame shed plan combines both. The floor framing concept assures that the structure does not accumulate any humidity from the ground.
This leaves tents far behind these A-frame shed plans in the competition for the best candidate for the perfect garden house or a small cabin in the woods. Get the plans here.
23 sq. ft. – DIY building cost $350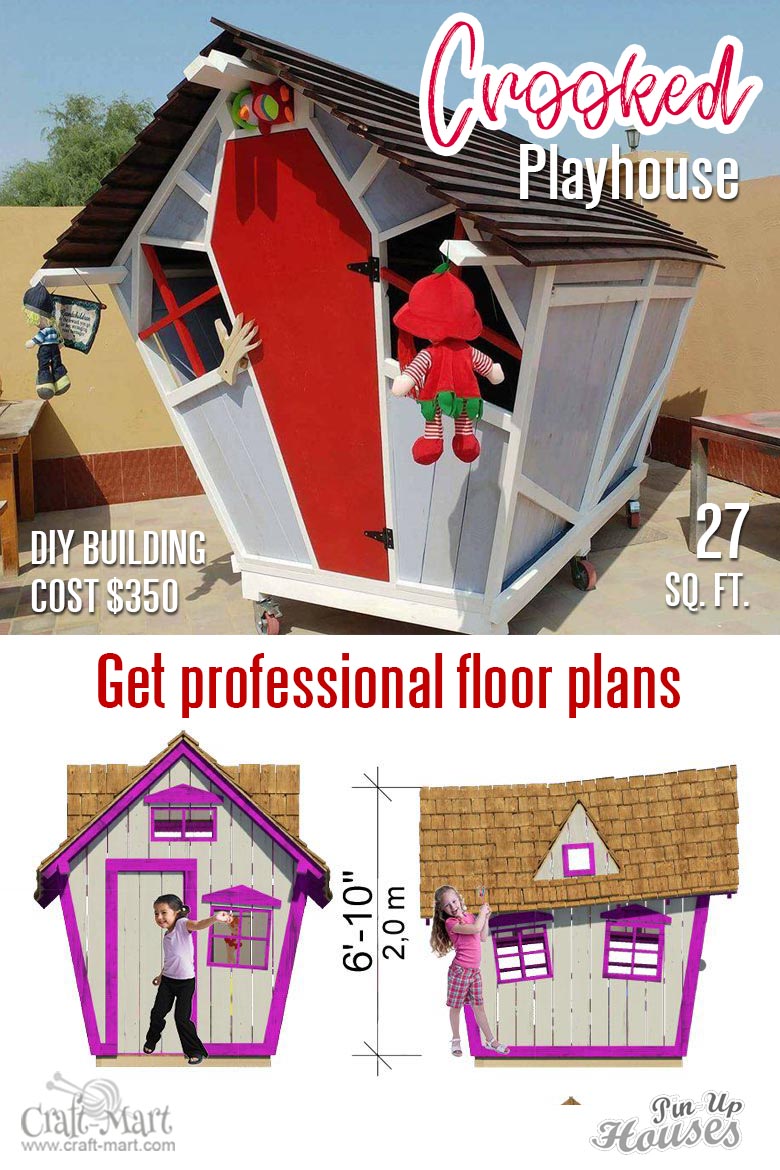 Of course, many of us are tempted to buy prefab playhouse kits tempted by the concept of saving time and money. These DIY crooked playhouse plans offer you more than a cookie-cutter flimsy structure that all your neighbors have. Choose any colors and decorations for your small house design and, of course, involve your kids in this process!
Paint your crooked playhouse!
You can go with any wall color creating a bright contrast with the door and window frames. These very affordable playhouse plans have a complete list of the materials that you'll need. You also may ask the authors (professional architects) any questions before or after getting the plans.
This whimsical playhouse is a unique project for the whole family that will allow your creativity (and your kids' creativity) to run freely.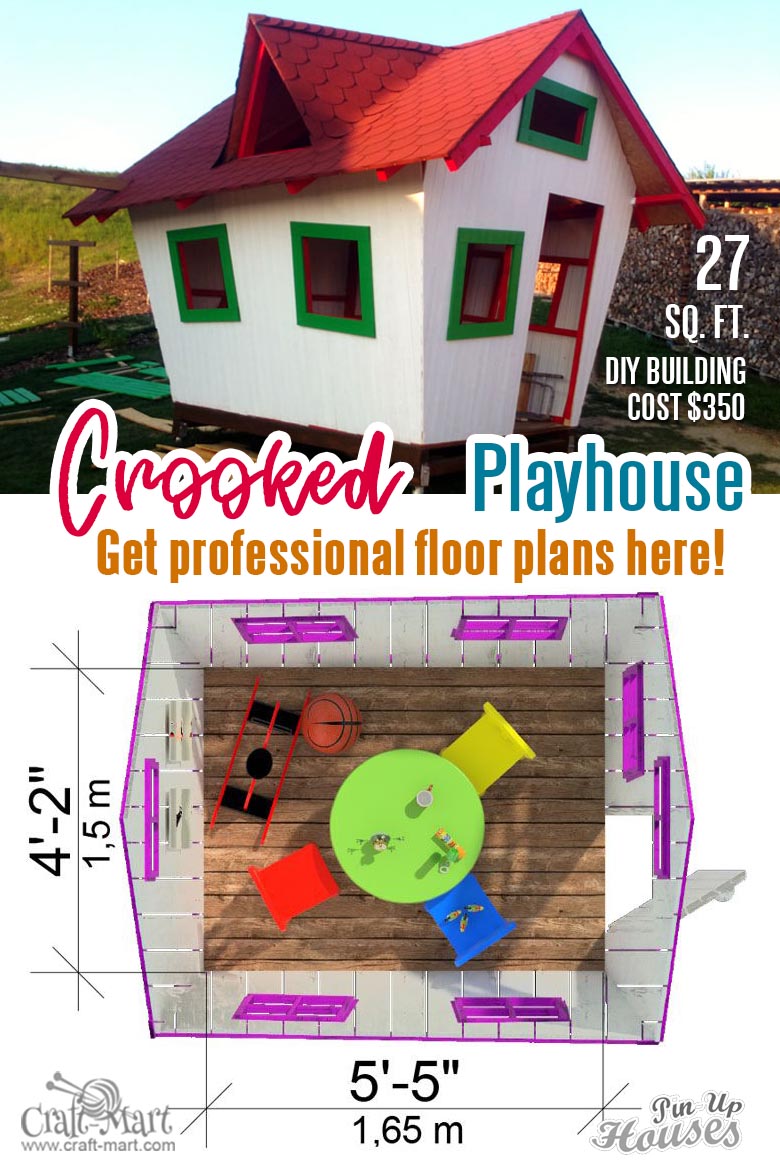 Let's take a look inside. The interior of the crooked playhouse looks larger because the walls are leaning outwards – quite opposite to the previous A-frame shed plans we just looked at. Didn't you always want to have a small house with a loft? If, for some weird reason you didn't then ask your kids just to make sure…
Yes, since you are going to take on this project, build a loft with a ladder or a rope to train youngsters the way we were taught how to climb on anything. Put some modular foam pads on the floor to prevent injuries if kids fall down. If you have a lot of kids, plan on adding two lofts. Gils will love having friends over for a tea party (shown in the picture above) and everyone will enjoy the lofts!
Here is the summary: get these plans here and build this fun and very crooked playhouse with 2 lofts!
3. "Alexis" – A-Frame Small House Plans With a Loft
DIY building cost $11,500
207 sq. ft. Ground floor + 54 sq ft loft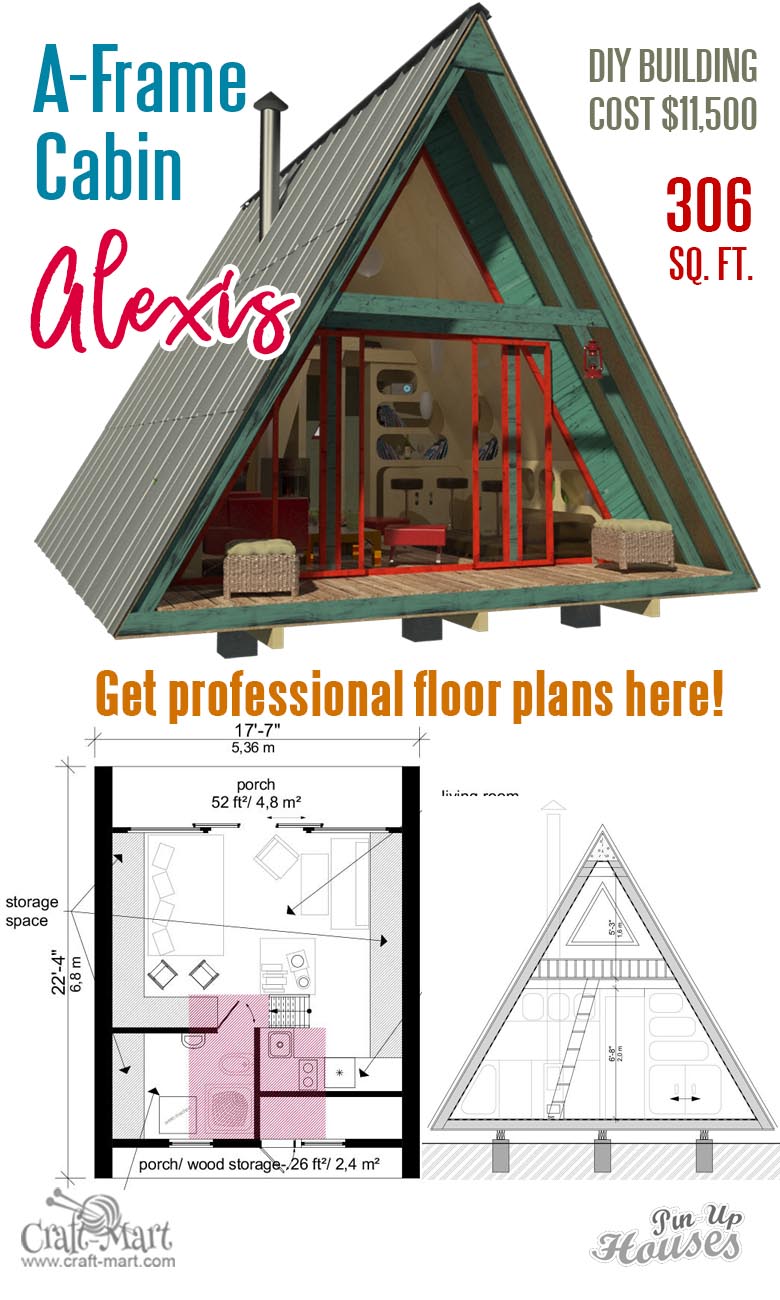 Get plans for A-frame house Alexis
Sitting at #2 position in the bestsellers' list, A-frame tiny home plans Alexis is around 300 Sq. Ft. What does it mean? It means that it is a TINY A-frame-shaped house that is fine for one person to actually live in it. It's not much larger than the first A-frame shed yet it's spacious enough for having a mini-kitchen and a bathroom on the first floor.
The Roof Notes
The slanted roof walls provide a "homey" cozy feeling. With a low estimated DIY construction cost of $11,500, this is a really nice option for young singles to own their very first real estate property that they actually built with their own hands.
With more friendly tiny homes communities sprouting in many areas, (for example, Austin, TX) this house can be a lot of fun to build and live in.
Did you notice the sleeping loft, by any chance? It means that the downstairs space is more usable for daytime activities. Don't forget about the small but functional porch as well. These DIY house plans under 1000 sq. ft. with a loft are well worth their price considering you may consult the architect through email or website in case of any construction questions.
Get Alexis A-frame house plans in PDF format here
4. "Marlene" Small Beach House Floor Plans
DIY building cost $10,100
Marlene – out of many small house plans under 1000 sq. ft., this design stands out by its simplicity and low estimated construction cost of $10,100. Even if you don't have a stretch of a nice beach, this nostalgic-looking structure is asking for you to build it! Perhaps, this is one of the reasons why so many customers order this particular plan (it is #5 on the bestsellers list).
What you may notice right away in this small house design rendering is the second-floor row of windows. It can mean only one thing – the possibility of the loft! And to confirm this guess, the plan shows a stair leading to this loft right above the entrance.
This small cottage is not stingy in providing plenty of natural light through two glass double doors leading to the porch. The living space is very well-lit and you can invite the outside in by opening both entrance doors.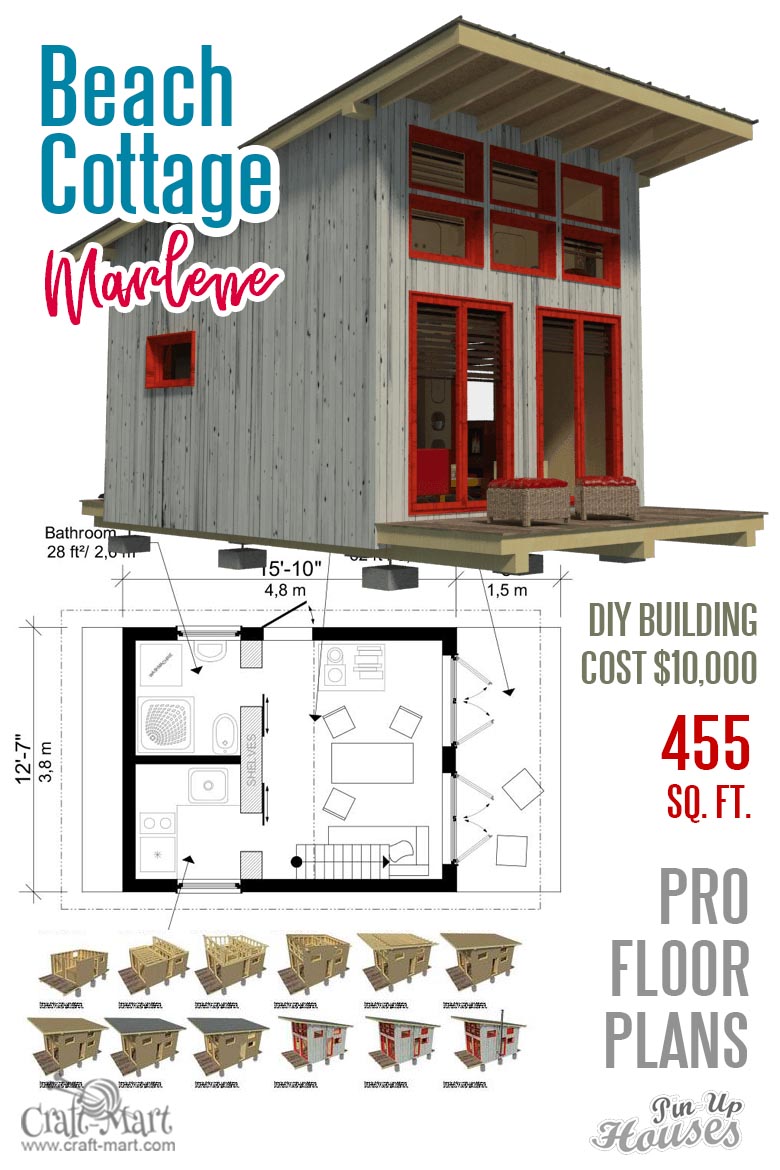 What a perfect and affordable small beach house design! One problem still remains – the beach… How about a hot tub instead? Just imagine the great parties you can have by combining this tiny house with great outdoor space!
Still not convinced? Then keep saving money for another 20+ years for the beach house of your dreams while others will be splashing and laughing in their hot tubs in front of their cute Marlene cabins!
Marlene is one of the most popular small beach house plans (with a loft) also featuring a spacious front porch.
It has a timber frame structure with a shed roof. It stands flat on foundation concrete footing. Almost 40% of the 1st floor is occupied by the kitchen and the bathroom.
If you are a fan of an open floor layout then you can move the stairs to the opposite side and have the kitchen open with a continuous flow along the wall. The kitchen sink moves to the window, which makes sense because you'd want natural light when washing the dishes.
Plus, looking through the window outside is a bit more fun than staring at the wall.
Besides these minor tweaks, these small house plans are well-designed and offer outstanding value!
If you have any doubts, just ask the creators any questions here.
78,6 sq. ft. DIY building cost $1,900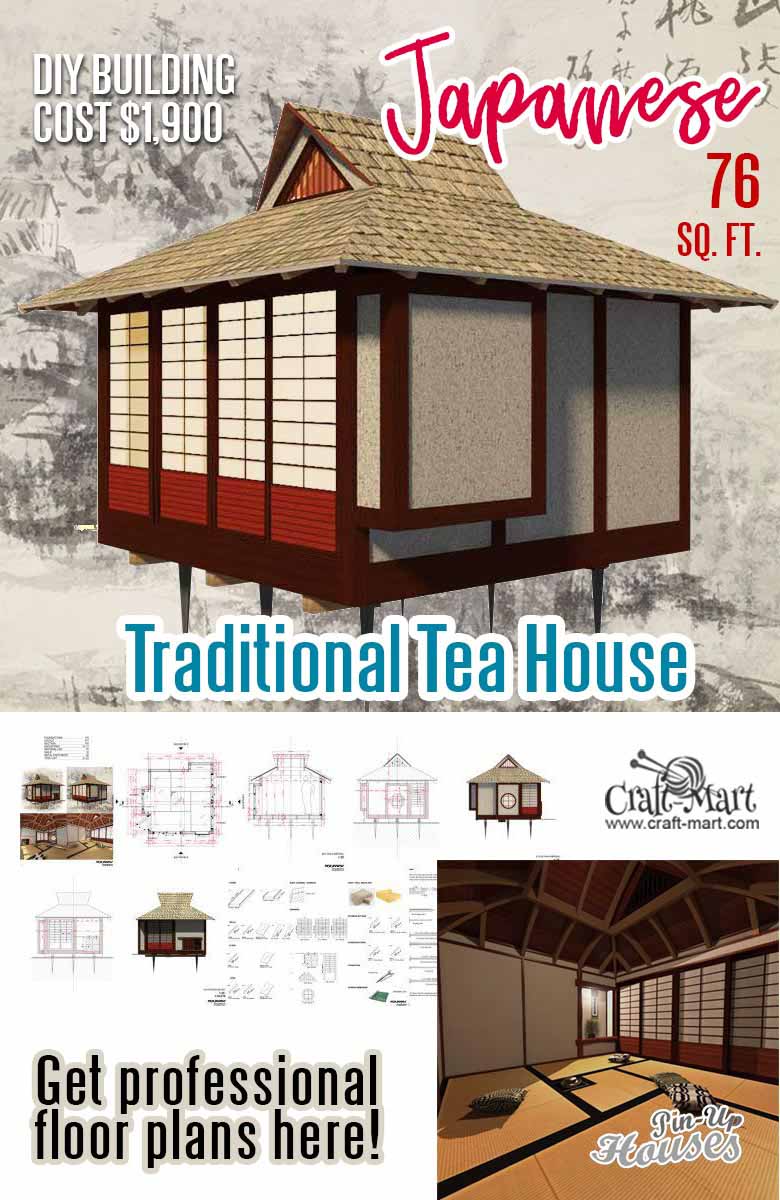 Whether you are a green tea connoisseur or just love tiny houses, when you see this cuteness offered at this price there is no reason to resist! We all have rough days at work or at home, right? We need a place to be alone just to get our sanity back or meditate. Your house is full of noise, kids are fighting and screaming, TV is on, etc…
You are looking at the solution! Get these unique Japanese small house floor plans and start enjoying your quiet time again! This can be a perfect she-shed or even a man-cave that is tastefully integrated into your backyard.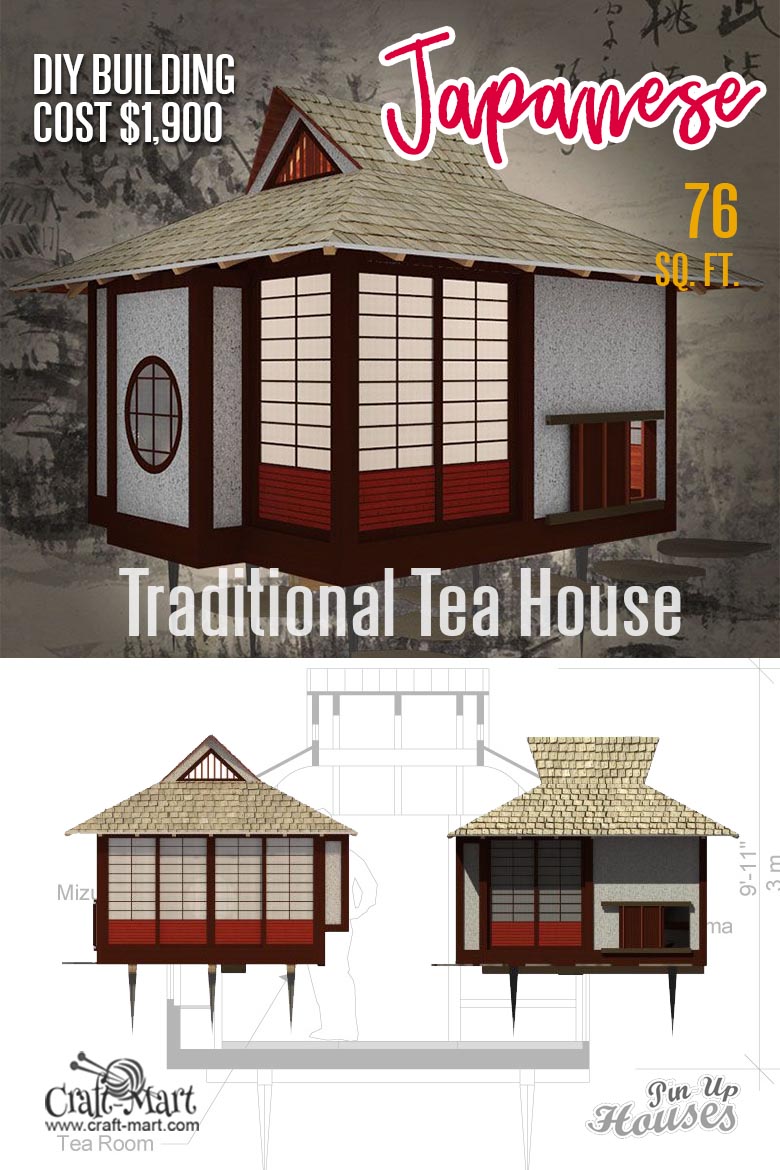 Most importantly, 76 sq. ft. will provide you with enough room to have a quiet talk with a friend over a cup of tea while your kids are going crazy at home. If you are a coffee person and don't drink tea, there here is always time for trying something new.
Just get a tea set and a few bags of Matcha, Sencha, or even the legendary Ashitaba tea that helps lose weight and prolongs life. Check out this amazing Ashitaba story.
It would be a nice first step. Now get the plans and build this Japanese Tea House! You'll need a proper place to drink your fancy Japanese teas, right?
You easily can build your own traditional Zen oasis in no time. The plans provide everything you need. The team from PinUp Houses (they actually designed this amazing tea house) can help you through the construction process.
DIY building cost $3,100
121 sq. ft. + 50 sq. ft. loft + 30,8 sq. ft porch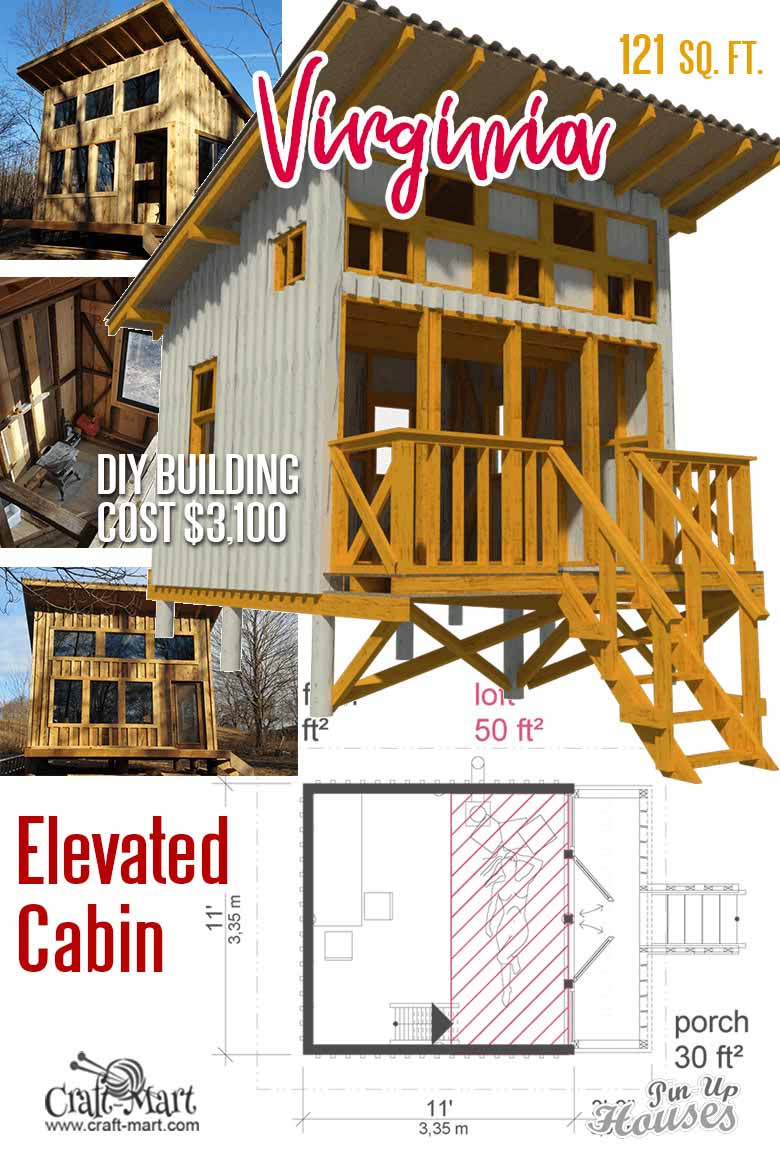 "Virginia" is a super-simple set of floor plans for a 202 sq. ft. one-bedroom cabin with a loft and a porch. The "elevated" design is what sets it apart from other tiny house plans on the market. Can this elevated design work for any flood-prone areas? We doubt it because you need to take into account other things like strong winds or mudslides but it can work for some areas with occasional high water.
In short, plan on building it on high grounds and far from the common paths of hurricanes.
This cabin with a loft is pretty basic. The loft is nearly one-third of the whole square footage and there is no provision for the conveniences like a toilet, a sink, or a kitchen. Hence, a highly affordable cost of construction – $3,100 and also a high position on the bestsellers list (#6).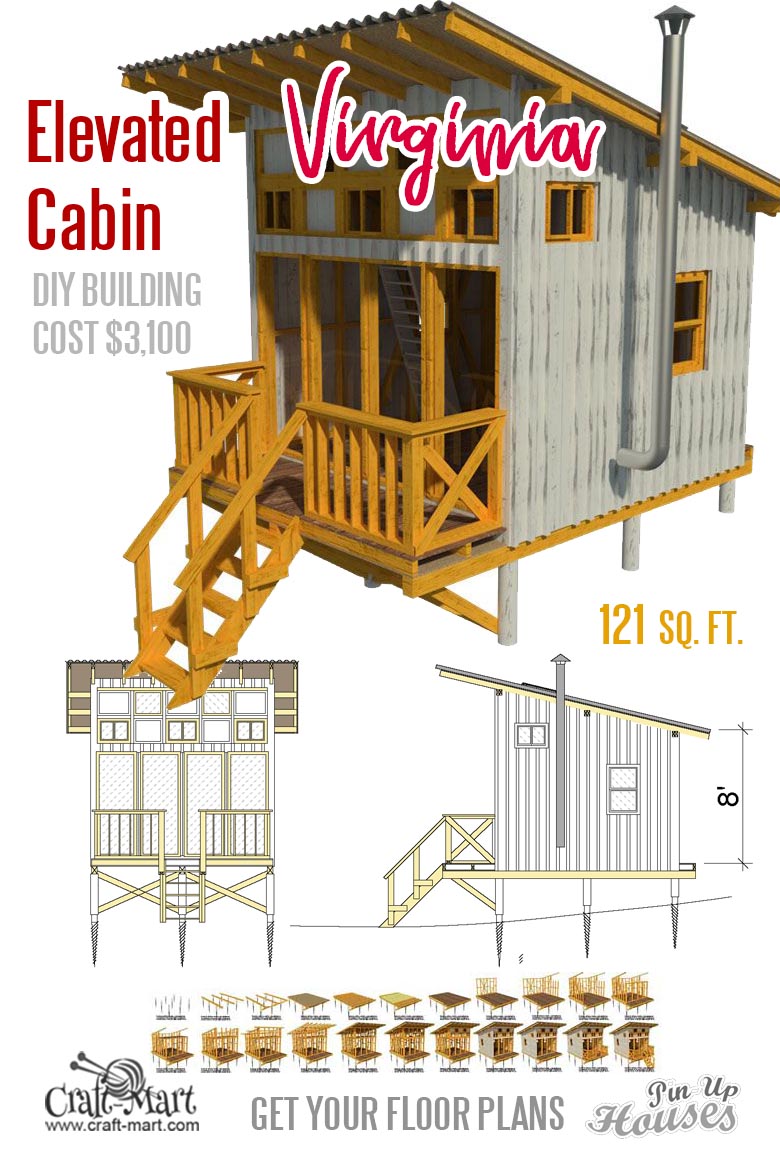 To figure out how much would be adding a toilet with a mini-sink you'll need to conduct your own research. A top-of-the-line composting toilet could be easy to install but may cost around $2,000. But before you'll empty your bank account to get this marvelous contraption how about getting one of the portable sink and toilet combos like this one?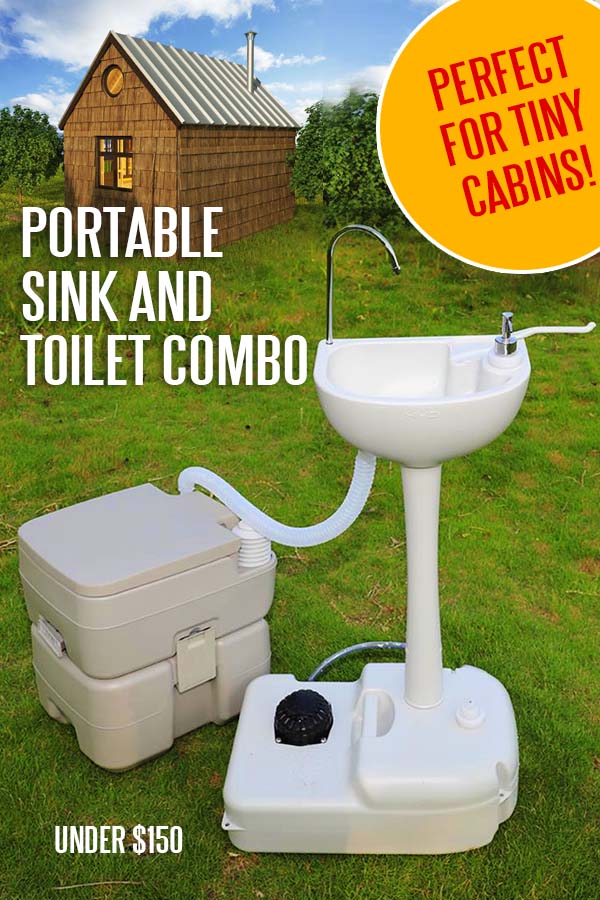 Think of this cabin with a loft as a starter shell for a summer hunting or fishing cabin, for example.
At any rate, you have a place to sleep and protect yourself from the elements. Meanwhile, you have enough space on the main floor for a small kitchenette, stove, table, and a couple of chairs. What else do you need for $3,100 total? A toilet with a sink? We solved this one already…
Get Virginia cabin plans here.
DIY building cost $35,000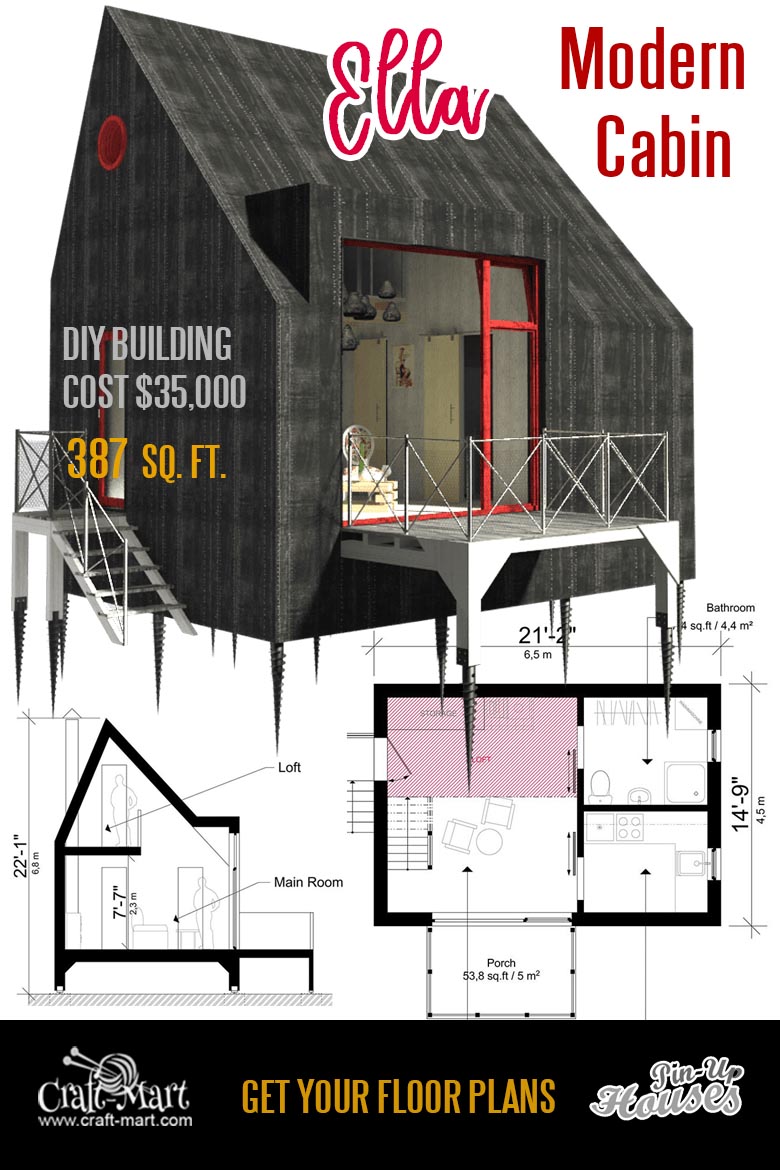 Square Footage:
Total Area 387 sq.ft.
Ground floor 246 sq.ft.
Loft 168sq.ft.
Porch 54 sq.ft.
'Ella" is designed to look like a Cool Modern Cabin from the inside out. The lower level has a spacious living area and a tiny kitchen with a sliding door. Our advice would be to make this door wider, so it can be opened to the full width of the kitchen. The bathroom door can be moved up to the outer wall in this case. There is no reason to have submarine-type compartments if you are building your own tiny house.
Heat Insulation
The loft can be used either as an office or a bedroom considering it has good ventilation. To do so, you'll need at least a couple of windows on opposite sides of this tiny cabin. For a hot climate, a mini-split Air Conditioning unit is a must, especially if you'd keep the "Black" exterior design scheme. Even if you place a few solar panels on the roof, the rest of the black surface has the potential for overheating during hot summers.
Naturally, in wintertime, the black wall and the roof will be helping to reduce your heating expenses. Just plan on providing sufficient layers of insulation during the construction.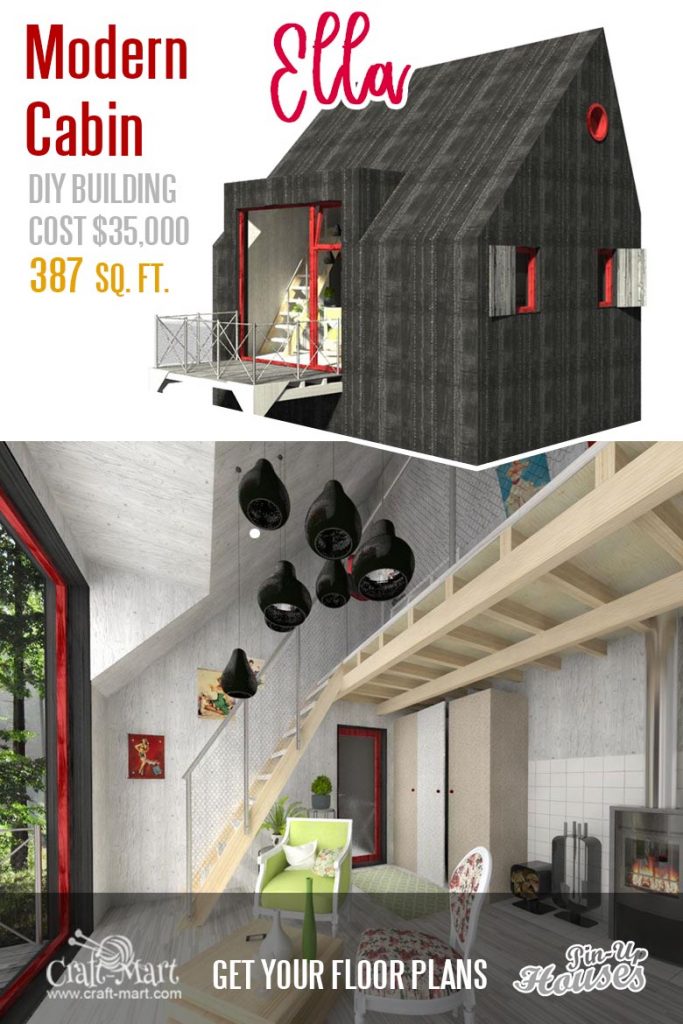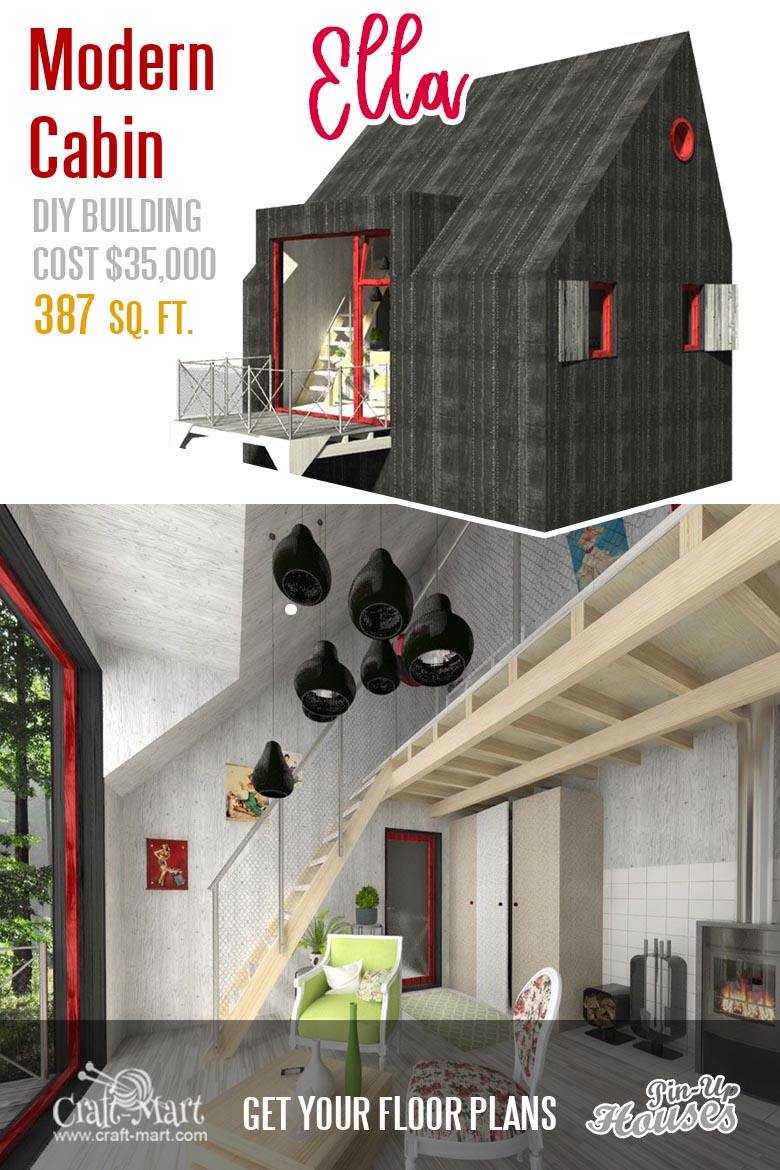 Overall, a Modern cabin Ella deserves high marks for design and attention to detail. Its porch can be covered with a simple roof or by adding a sunshade of your choice, for example. We'd only add one more remark in regards to the black exterior finish.
Asphalt Sheets Alternative
Although asphalt sheets used in the initial exterior design are very common and widely used in construction, there is one interesting alternative to it called Shou Sugi Ban (???). This remarkable technique originated in Japan in the 18th century primarily as a way to treat cedar siding to make it weatherproof. The technique itself involves charring a wood surface to render it a deep charcoal-black color with a simple hand-held torch.
It has become popular recently as a treatment for modern exteriors and some indoor furnishings. Why not consider using this eco-clean technique on the exterior of this beautiful modern cabin?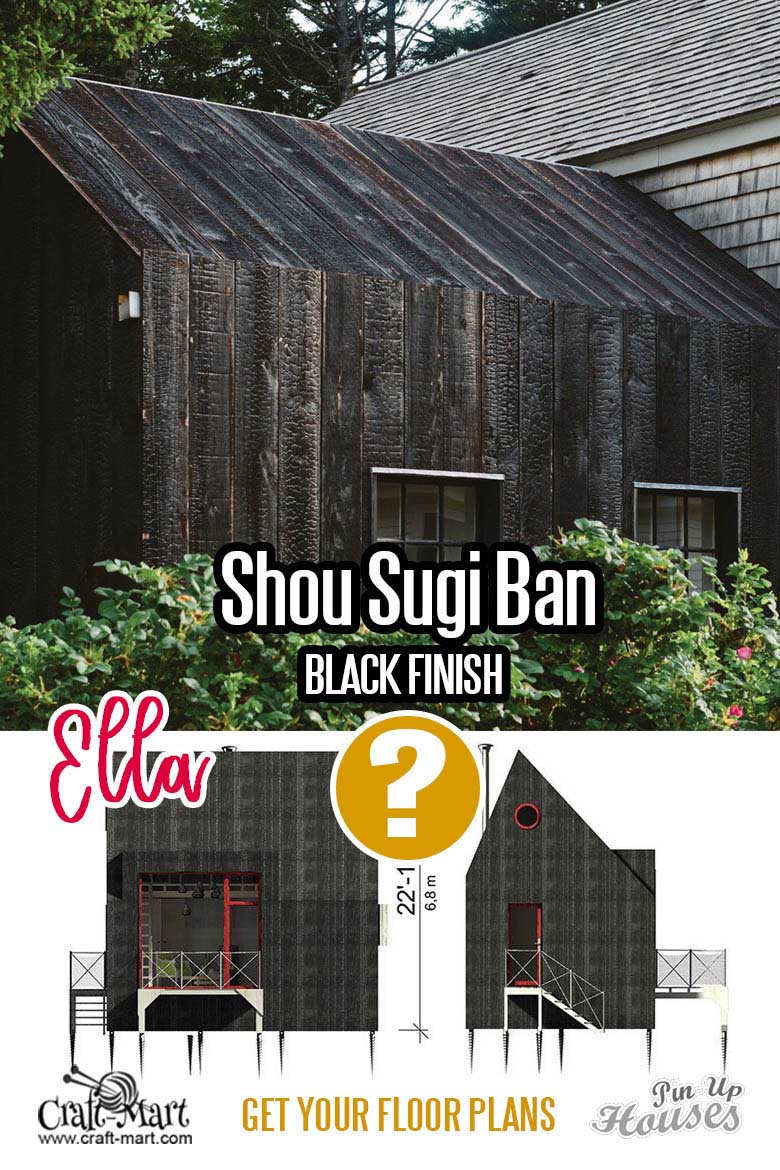 If you want a small house plan with a loft then consider getting Ella (get it here)!
DIY building cost $470 – 53 sq.ft.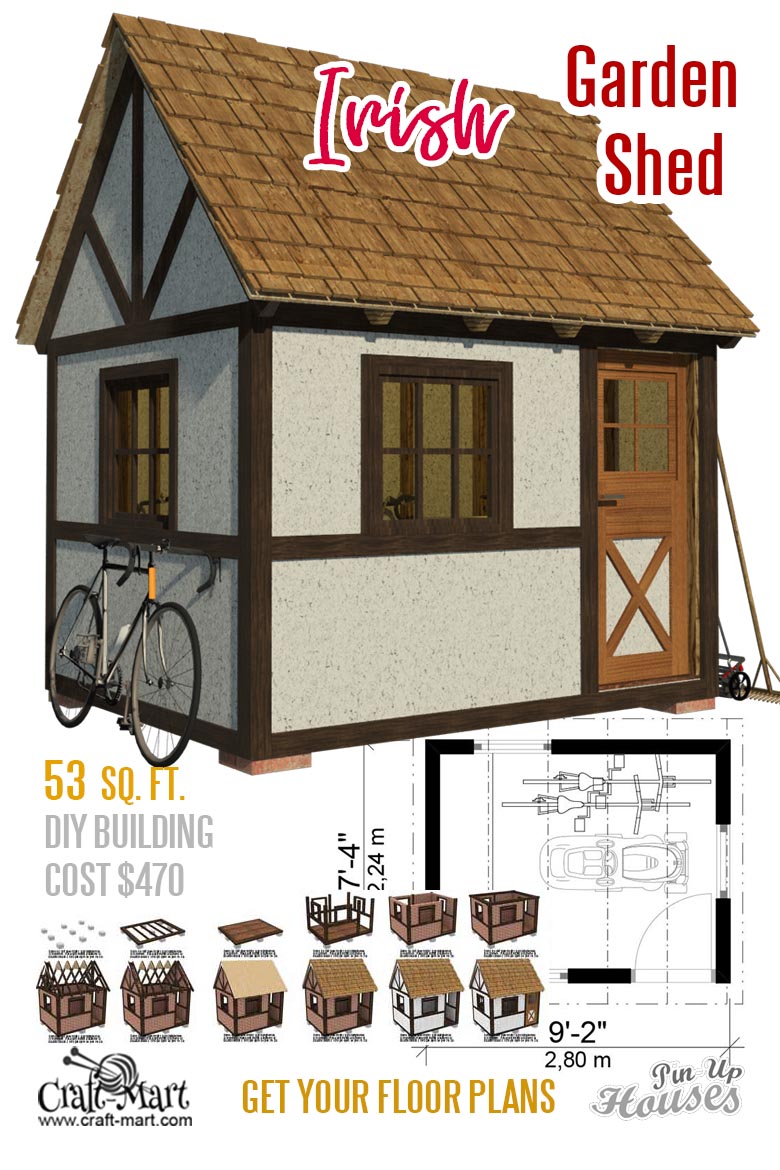 Don't you see how adorable this tiny wooden garden shed is? If you are of Irish descent or just a fan of St. Patric's day – this is a treat for you! Going back to your Irish roots for only $470 (plus $79 for the plans) is a steal!
For this price, you can do the whole Irish village of playhouses, sheds, and Irish breakfast tea houses. It has a simple rectangular single room layout with a door in the corner and three windows.
Sounds too basic?
Well, the great artist of the 20th century Salvador Dali built his dream house studio from a series of primitive fishermen's huts turning it into an architectural masterpiece.
Now it's your turn to create something for the History (and your garden tools)!
DIY building cost $63, 600
Square Footage:
Total 960 sq. ft.
Ground floor 409 sq. ft.
Loft 302 sq. ft.
Porch 290 sq. ft.
A-frame small house plan named Emma is technically a not-so-tiny house sporting almost 750 sq. ft. of the combined living area. Emma belongs to a very popular category of small house plans under 1000 sq. ft.
Although the building costs may seem pretty high, this small house design was made for accommodating a family, not a single individual like in all previous cases. The porch is spacious and the roof is large for hosting a large number of solar panels.
It is not by any measure a luxury unit. At the same time, it is a very cozy small house really well-designed for modern living.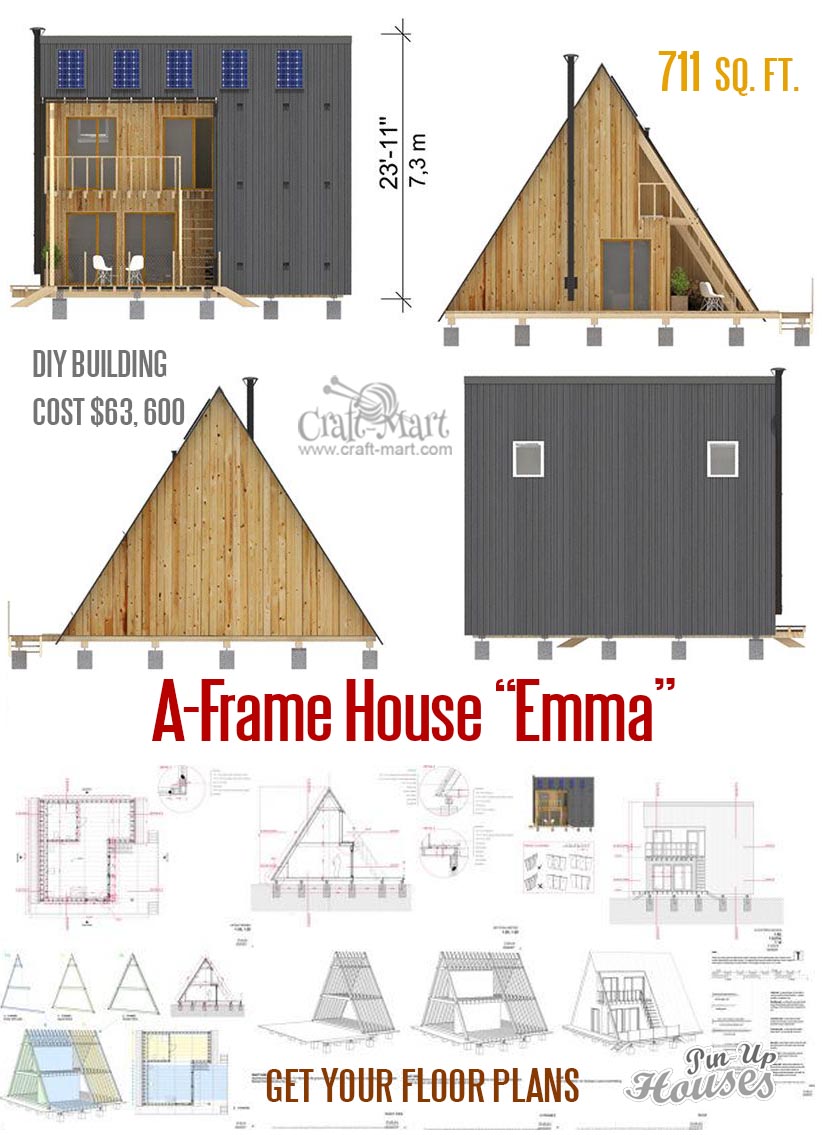 In conclusion, it's worth reminding that A-frame house plans and designs are not only aesthetically pleasing but also are rather sturdy in comparison with straight wall houses. Would you like to relax on the porch located in the seismic area and feel safe? Then the A-Frame house plan should be your choice!
Get Emma A-Frame house plans with a loft here
10. "Mia" Small House Plans with a Loft Bedroom
DIY building cost $8,200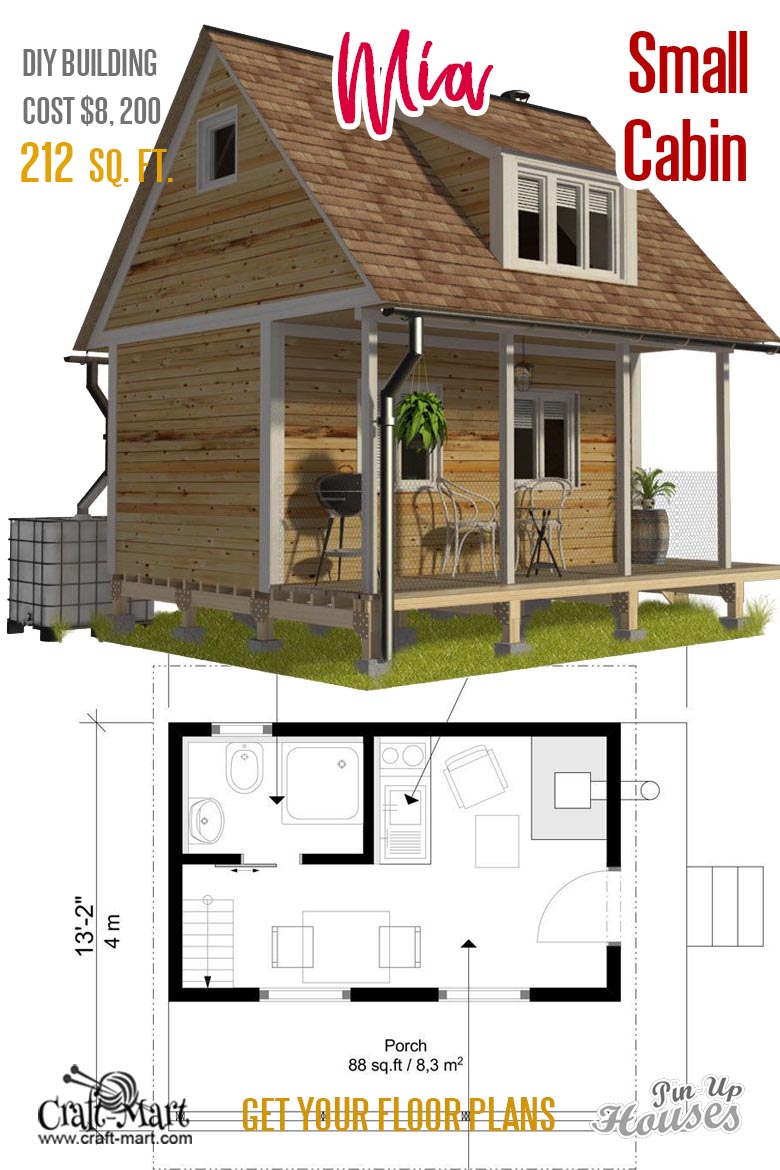 Porch 88 sq. ft. + Loft 160 sq. ft.
Mia small house plan with loft features two rooms and a bathroom. The upstairs loft has an extra space added by a dormer to provide more room for some additional storage. The ground floor area divides the space between the porch, the main room with the kitchen, and the bathroom. The porch is covered by the continuation of the roof. Optionally, the porch or a part of it can be converted into a winter garden.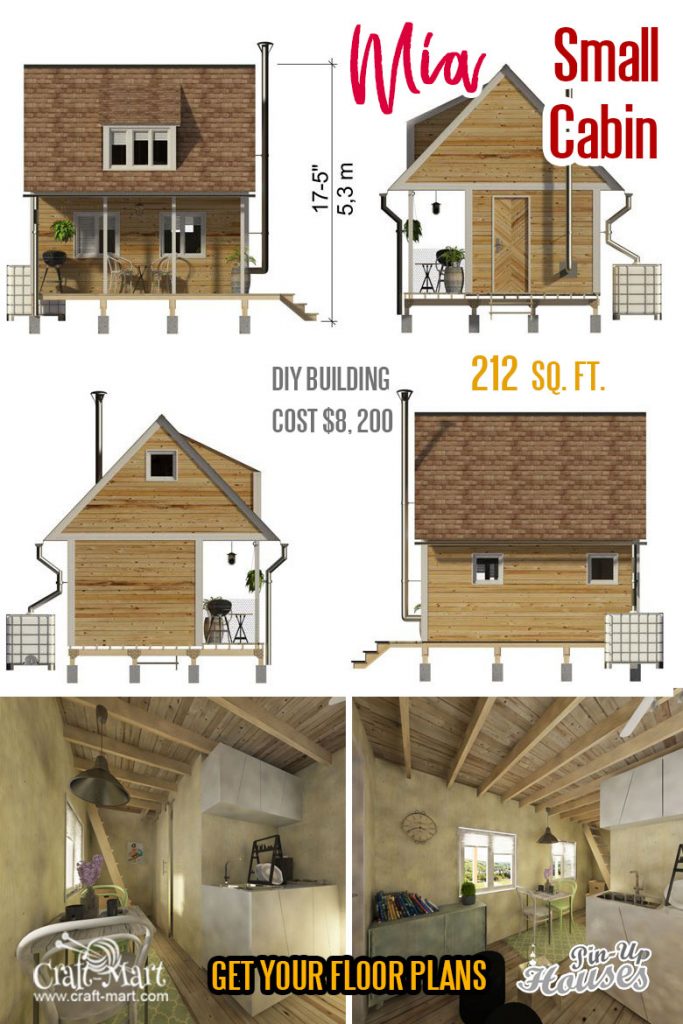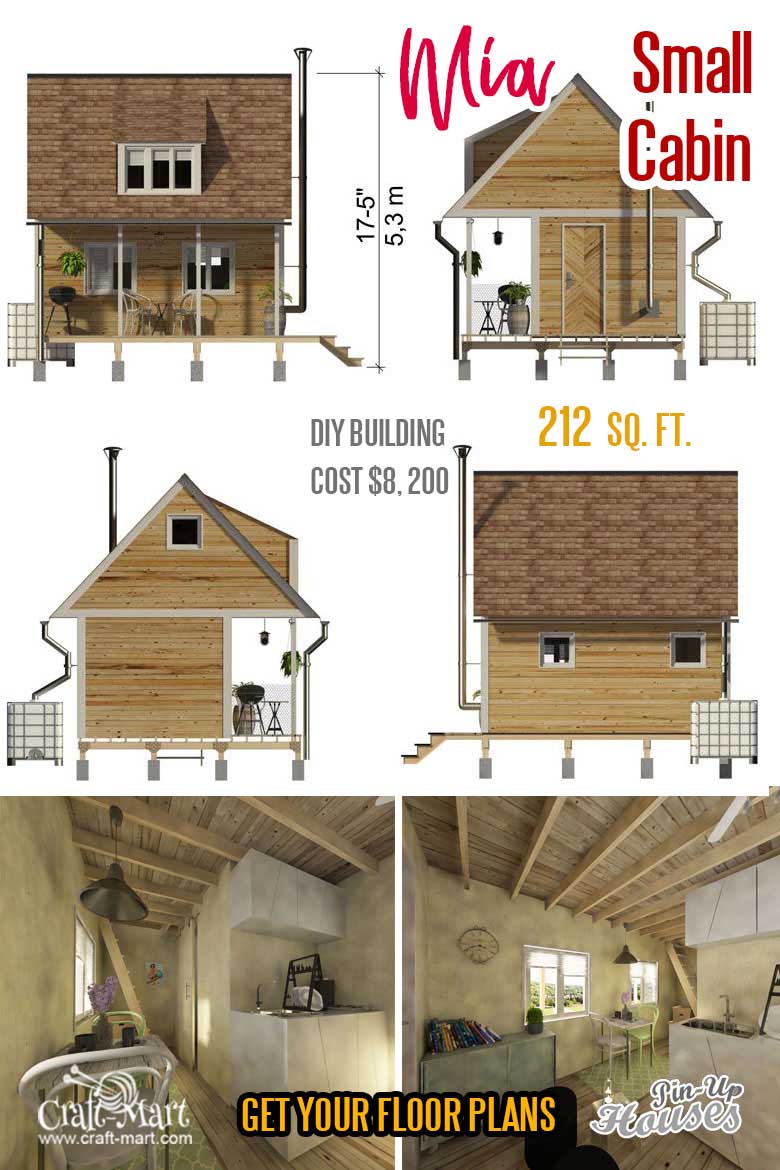 Mia tiny home is an example of a traditional small house design. Not everyone likes modern styles and often there are multiple municipal restrictions on what can be built and what color schemes can be used for the exterior.
If you live in one of these "highly restrictive" areas, make sure that you will not break any local laws before shelling out your hard-earned cash (DIY building cost $8,200)! If all turns out to be OK, get your plans here!
11. "Sheena" Contemporary Small House
DIY building cost $21,300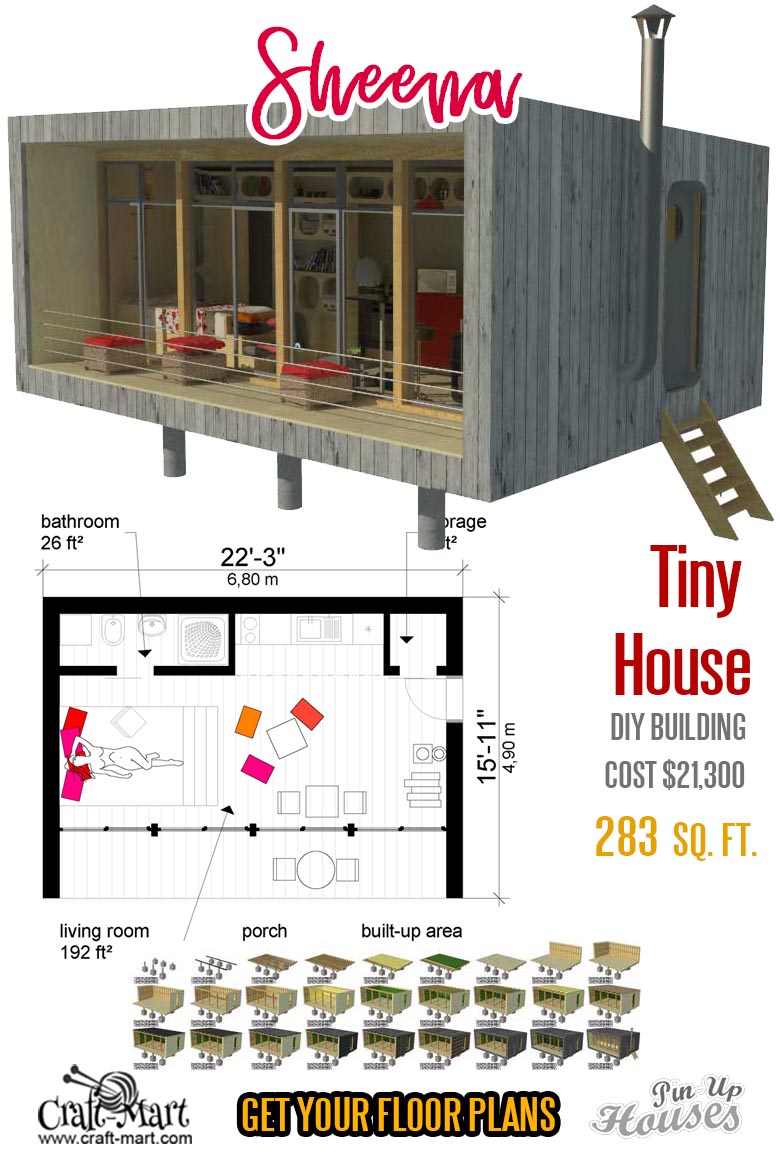 Square Footage:
Total floor area 354 sq. ft.
Ground floor (inside area) 283 sq. ft.
Porch 71 sq. ft.
One may say that Sheena elevated tiny house plan looks quite similar to a shipping container. First question: would you like to live in a shipping container? If yes, then there are plenty of options to get one even from an online Juggernaut that starts with "Ama" and ends with "zon"…
If you are not a shipping container house fan then explore this tiny house plan. In short, this is a studio apartment that was ripped out of the apartment building and placed in the wilderness or wherever you are allowed to place it without breaking any local laws.
The floor plan is really simple and doesn't need any explanations. The glass wall seems pretty cool. Don't forget to count in an expense for really good curtains and blinds or all the neighbors will be posting videos of your daily routines.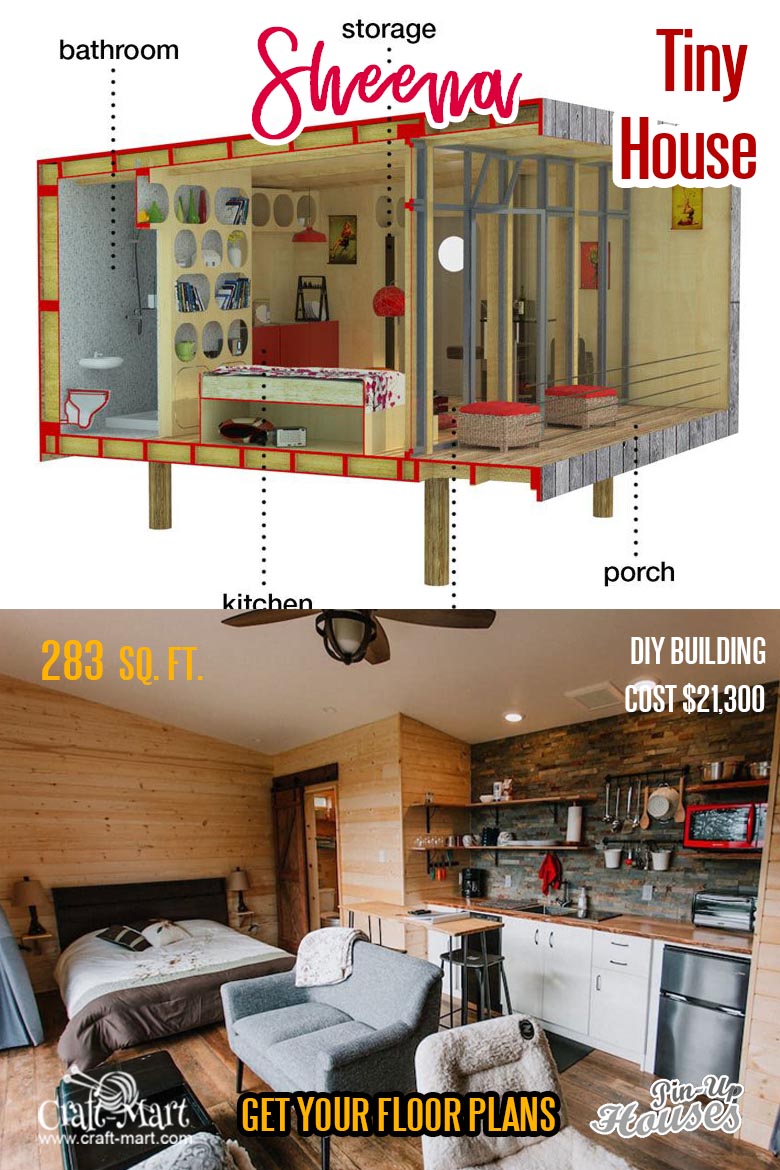 Why would you want to get these house plans? Imagine that you are a young artist, photographer, or food blogger. This house will give you more than enough natural light.
It's always a good idea to learn as much as possible about the subject before investing any sizable amount of money into the project. Here is an excellent guide that will help the beginner to get a grasp of the main tasks related to the process of building your own small house or cabin.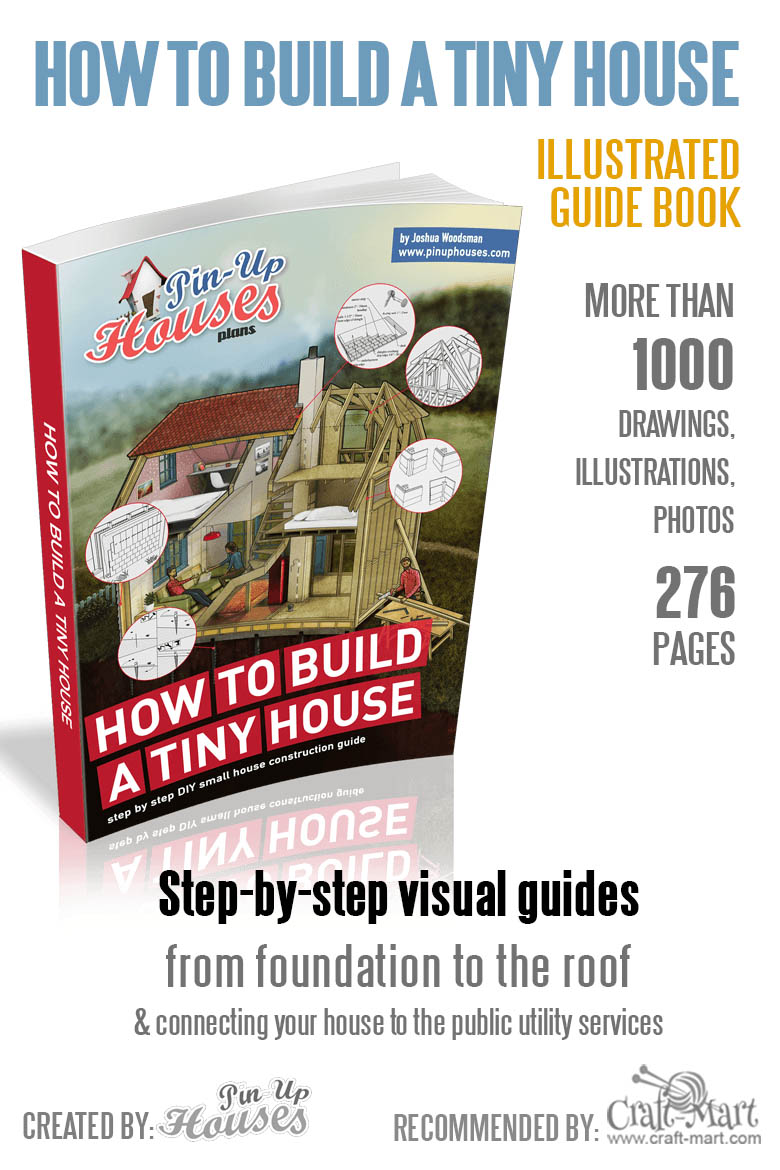 This Tiny House Construction Guide will Teach You:
All step-by-step processes from foundation to the roof including connecting your house to public utilities;
How to choose the most suitable material for building your small house;
Simple ways of fixing things in your small house;
The basics of tiny house typology;
How to plan correctly and go through all the construction stages;
Did you like this collection of unique small house plans? See more small plans and designs here.
Besides house plans under 1000 sq. ft. are you interested in buying a small rustic house plan designed by a reputable architectural firm from the USA? Take a look at these 11 affordable small homes
New: Stylish prefab and custom shipping container homes from 15 containerized home builders! Take a look!