Why bother with getting one of these DIY shed plans when you can easily buy one of the prefab sheds from dozens of different places in your neighborhood? The answer is simple: saving money and getting something that your local shed dealer doesn't offer.
Yes, prefabricated sheds have a few advantages. They are often easy to assemble and do not require any skills or power tools to be installed. At the same time, you often get low-quality lumber that is crooked or has holes drilled at the wrong places. Buying a high-quality shed kit and hiring a professional to install it may cost a lot, even for the basic garden shed.
Consequently, that's why there is such a tremendous interest in the DIY wooden shed plans. You get clear step-by-step instructions with the material list and then the rest is up to you. Even beginners often report pretty good results by building their own wooden sheds while spending only a fraction of what prefab sheds usually cost.
As an added bonus, you'll have the satisfaction of building something with your own hands. Most importantly, you'll get a custom shed that you simply can't buy as a prefab.
Shed Guest House Plans Joyce
DIY building cost $5,800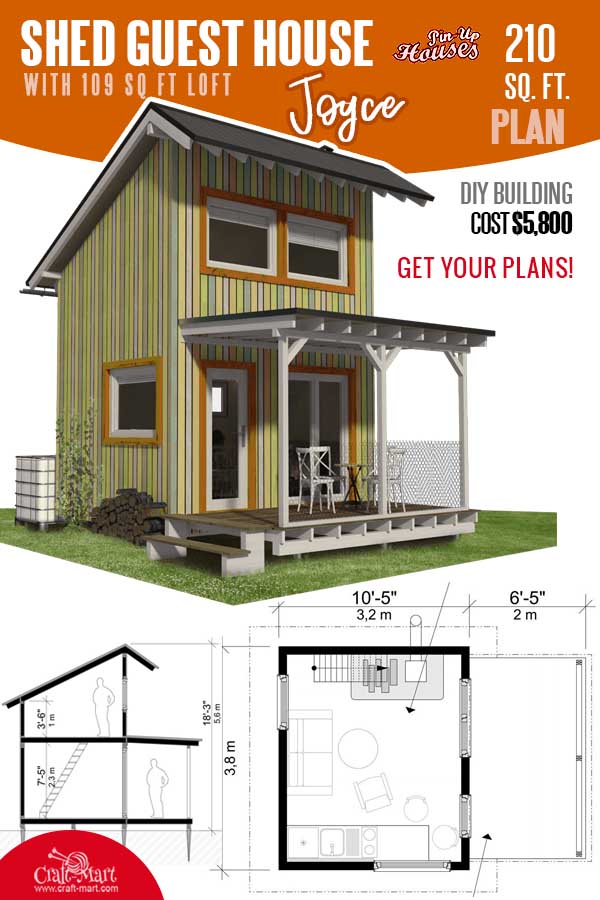 Get these DIY shed plans here
This 210 sq ft wooden shed plan is not typical and deserves some attention from people looking for something more than a simple shed for storing junk. Without a bathroom, it can't be used as a granny pod. Though for occasional guests who may want some privacy, it may work beautifully.
Garden Storage Shed Plans Tina
DIY building cost $3,600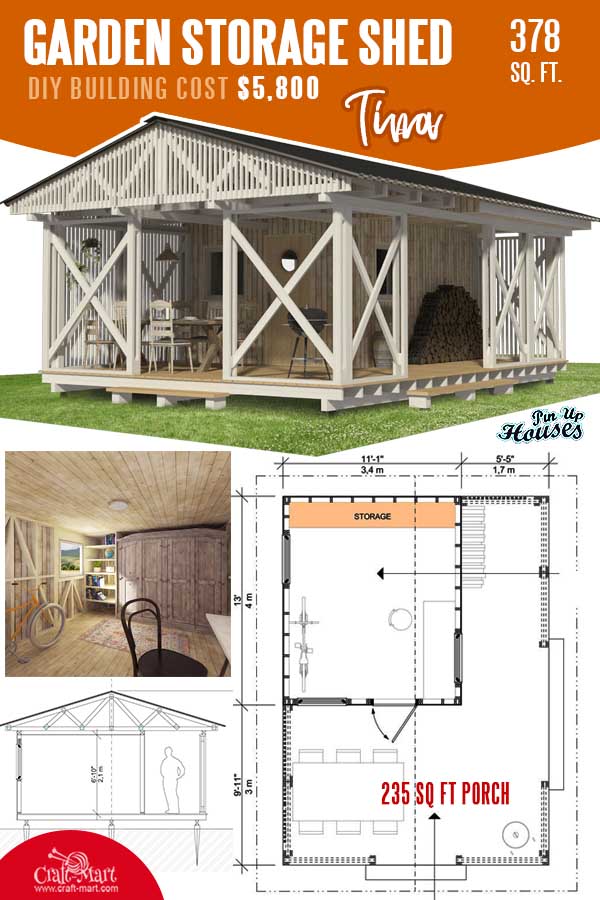 Get these DIY shed plans here
Even if you need very basic wood shed plans, this design is worth considering. A nice summer kitchen with plenty of storage space can be very useful for a family, especially in a time when we have "stay at home" orders, for example. The porch is just outstanding. Imagine the heavenly smell of flowers from the garden while you enjoy al-fresco dining on a quiet summer night… Nice! And it can be yours…
Small Crooked Shed Ivy
DIY building cost: $500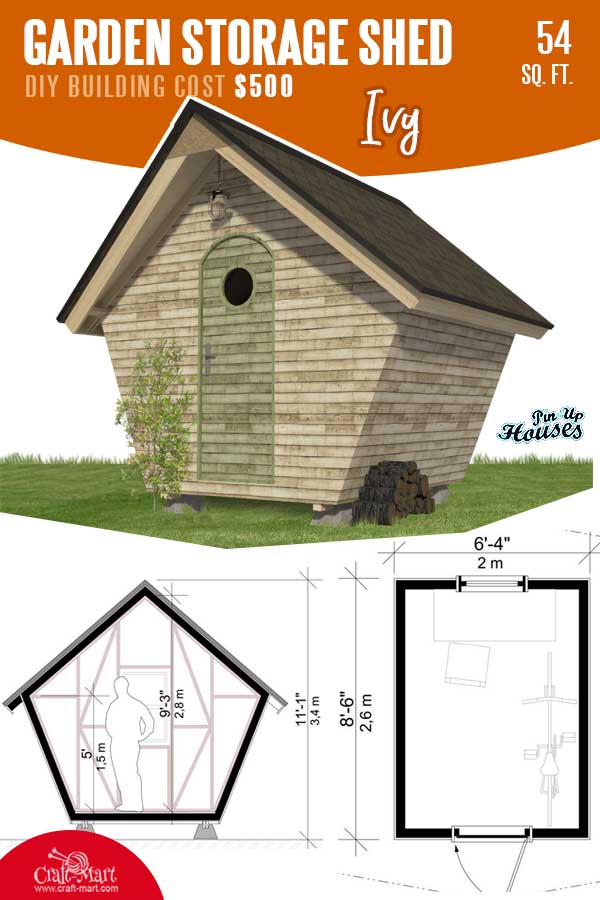 Get these crooked shed plans here
Yes, this is actually a giant birdhouse that you can use to store your bike, lawnmower, and other stuff. With a couple more windows, it may serve as a playhouse for kids. You may extend the roof on the back and use this part as a woodshed.
Outward leaning walls create a pretty spacious interior. After all, the upscaling of the birdhouse may not be a bad idea…
Garden Shed Plans Amelia
DIY building cost: $1200

Get these inexpensive wooden shed plans here
Simple, elegant, and really affordable garden shed plan Amelia would be a good project for the father-son team. Such a nice place can be used for many things and even converted to a granny pod with the addition of a bathroom. Porch cove also can be extended.
Gambrel Roof 8×10 Shed Plans Sonja
DIY building cost: $650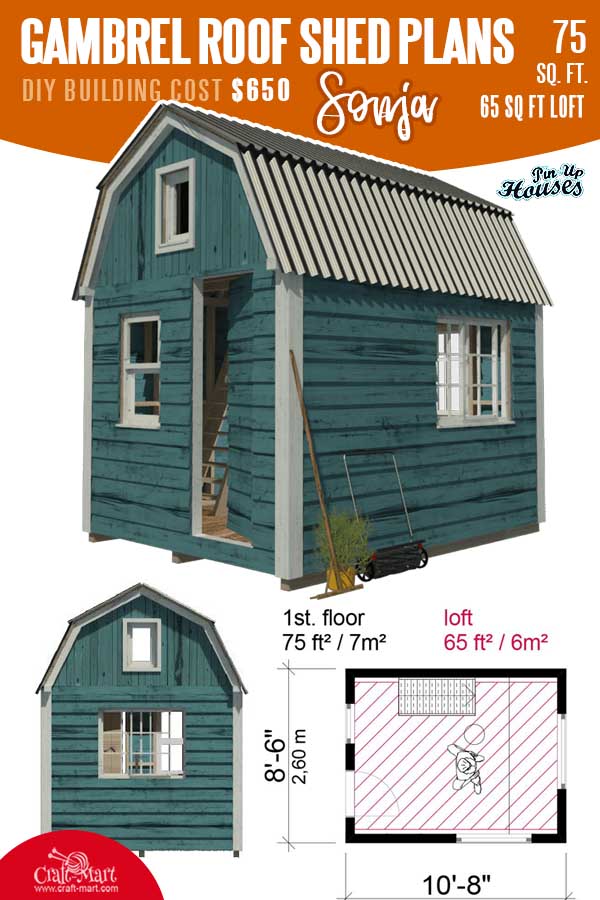 Check out these simple 8'x10′ shed plans here
We don't usually see a lot of gambrel shed plans. In case you are wondering, the gambrel roof is a type of roof with two slopes on each side, the upper being less steep than the lower. This shed is really tiny yet it has a loft for extra storage space.
It has a simple symmetrical design with a gambrel roof. The main entrance on the side of one wall leads directly to the central ground floor space. It is entirely up to you how you will use it.
If you are looking for classic storage 8×10 shed plans, this is the one you should get!
Green Roof Shed Plans Sally
DIY building cost $1,400

Buy these affordable DIY shed plans here
Wooden shed plans don't have to be boring and this shed is a perfect example of a dual-purpose space. The roof can be your garden bed where you can grow chia plants, for example… Remember those annoying Chi-Chi-Chi-Chia commercials? Now you can have your very own huge Chia pet. Chia seeds provide many health benefits.
The wooden shed's interior design is very straightforward and effective. Space is divided into two rooms. The first of them is bigger and you enter it directly through the main entrance on side of the cabin. A little kitchenette and a fireplace are located here to create a warm and cozy atmosphere for this space. The second room is probably large enough to fit a tiny bathroom if you turn the bed and move it by the window.
Small Garden Shed Plans Marilyn
DIY building cost: $850

Get these wooden shed plans here
Marilyn was the very first wooden shed that the author of the plan constructed single-handedly without anyone's help! It's sort of a mix of a cabin and a shed with a front porch. Who would not love a cabin with a front porch, right? You don't have to settle for primitive storage shed plans if you can have such a lovely shed-cabin combination and a place to practice guitar!
Victorian Shed Plans Lynda
DIY building cost: $940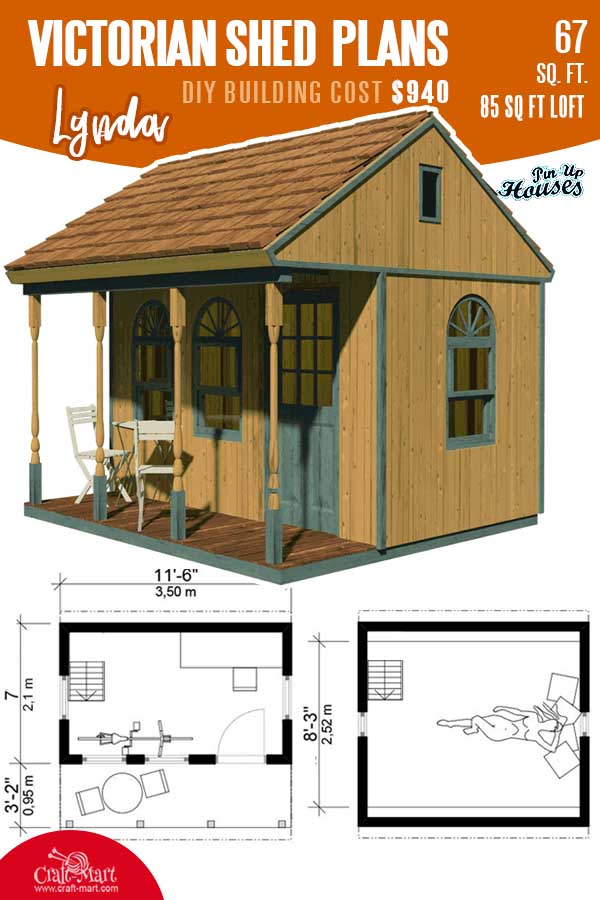 Get these DIY shed plans here
The look of these Victorian-style wooden shed plans gives you the impression that this shed could be converted to a granny pod. Unfortunately, with only 67 Sq Ft on the first floor, it is way too small. If you really like this design, the architect can upscale it to the desired size. Just go here and ask him.
Lean-to Shed Plans Joi
DIY building cost $180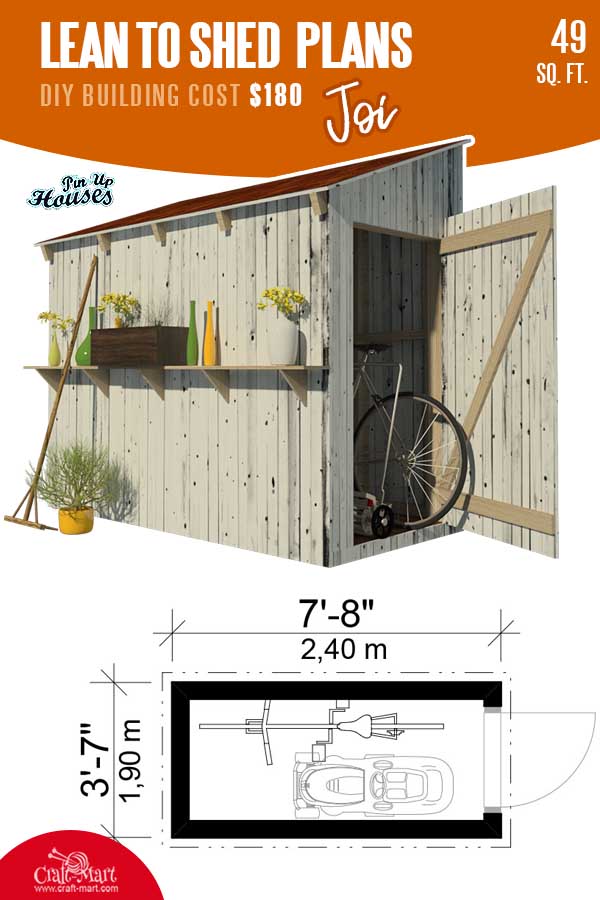 Get these wooden shed plans here
If you have enough outer wall space then lean-to-shed plans can definitely save you some money in comparison with stand-alone wooden sheds. Wooden lean-to-shed Joi is the smallest and probably most adorable. It's perfect for keeping garden tools and other non-garden equipment as shown in the drawing.
A-Frame 12×16 Shed Plans Lily
DIY cost to build $450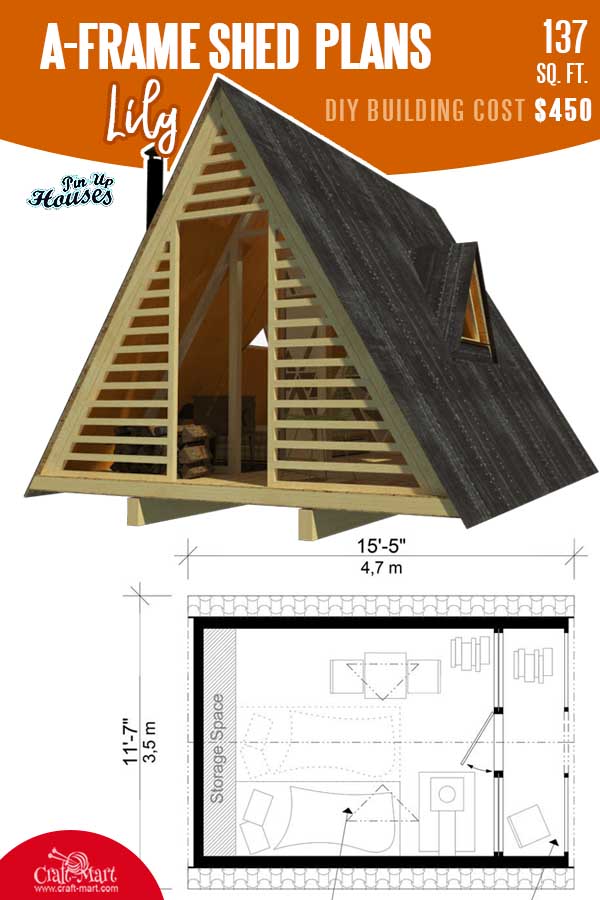 Get these extremely popular A-Frame shed plans here
Wooden sheds are usually not objects of interest for designers or architects. One may argue that A-frame shed plans are not practical since you can't efficiently utilize the space. Yes, this is true if you have a lot of garden tools and other things to store. However, these 12×16 A-frame DIY shed plans are among the top best-sellers in the sheds and tiny cabin categories.
Working on these tiny A-frame shed plans can also be a good teaching project for kids that would like to have their own space. Don't you want them to learn something useful instead of staring at their mobile phones for the whole day?
Get this A-frame shed plan here!
Small Backyard Shed Kylie
Cost to build: $5,400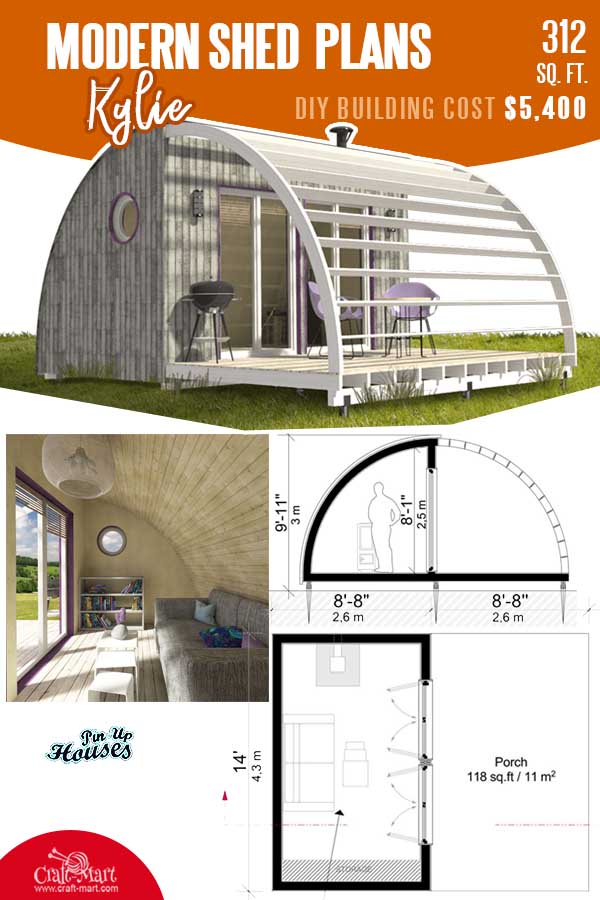 Get these elegant wooden shed plans here
Out of all backyard wooden sheds, this one is our favorite! The semi-circled roof and pergola would be somewhat challenging to build but the final result is well worth the trouble! You can turn it into a perfect she-shed or a mancave.
These are definitely not just storage shed plans but something close to a tiny cabin where you can do couch meditations or crafting activities such as crochet or knitting since there is no wall space to hang a lot of garden tools.
The pergola's shape is suggesting some kind of a climbing rose or a grapevine. The outside design is pretty cool. The inside usage is somewhat limited by the rounded ceiling, so make sure to increase the height if you are taller than average.
Working Shed Plans Bebe
DIY building cost: $650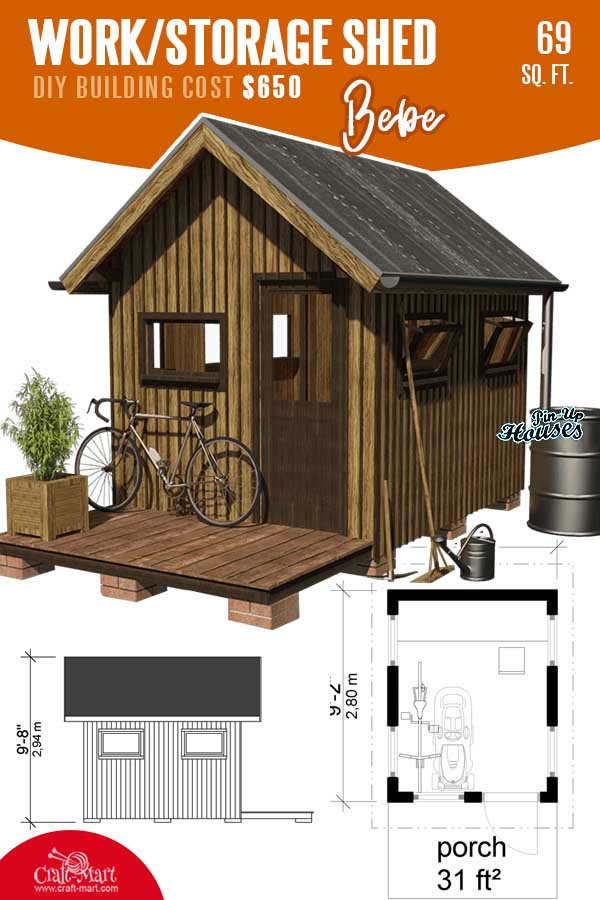 Get these shed plans here
These simple shed plans feature a symmetrical gable roof, a little front porch with an entrance door and window, and a set of two windows on the side walls. It looks like a typical cute house or cabin. No cover over the porch can be easily corrected with the roof extension.
Garden Tool Shed Plans Mary
DIY building cost: $230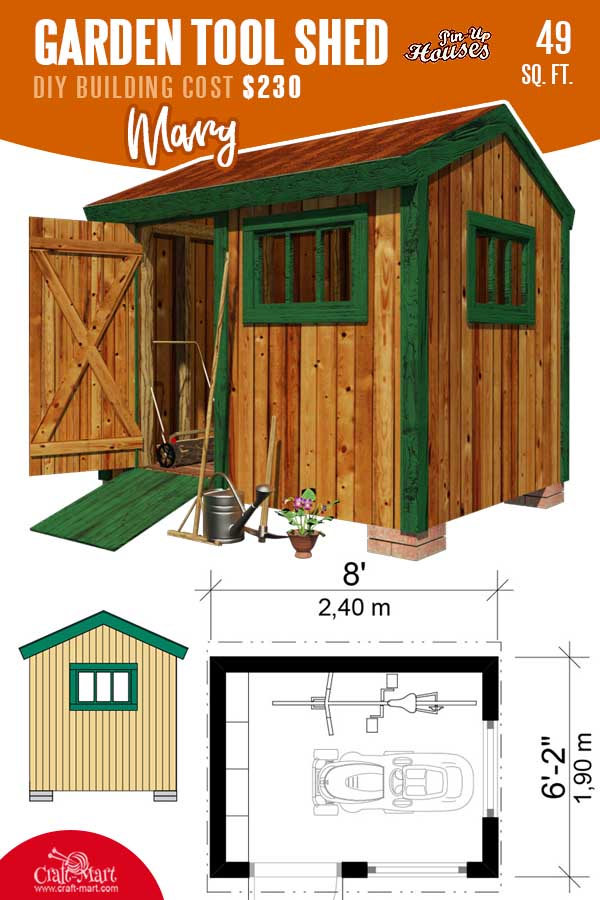 Get these shed plans here
Wooden garden tool shed with a gable roof Mary is one of the smallest wooden shed plans around. It would definitely make a very useful addition to your garden. It's super simple to build and can make a fun DIY project for the whole family.
Get your kids involved and they'll have a place to store their bikes while you enjoy a mess-free backyard.
Are you interested in more floorplans for tiny houses? Check out our collection to find the tiny house of your dreams: