How to figure out the size of your crochet blanket?
Many crocheters are looking for correct blanket sizes so they can make their creations fit a certain purpose. Let's say you are looking for exact measurements for a baby blanket or a throw. Our crochet blanket sizes chart was made for a quick size reference.
The chart includes many popular blanket sizes such as lovey, stroller blanket, receiving blanket, baby blanket, and other sizes for babies and toddlers. Consequently, it can be used for both crochet and knitted blankets.
Most importantly, when you're ready to start a project, a chart like that would help to find out how big your finished blanket should be and how much yarn to get.
What should be the size of your crochet baby blanket?
When you start looking for a correct blanket size chart online, it may become confusing quickly as certain blankets are listed with slightly different measurements. This is true, especially for baby blankets.
Keep in mind, that you shouldn't strive to be exact to the last millimeter. Crochet is a form of art and certain variations are acceptable.
The baby will appreciate the softness of handmade beauty even if you are off an inch or two. Consequently, don't sweat it too much if your baby blanket is 35″ x 37″ – no one will notice…
Check out these free patterns for crochet baby blanket:
The chart also includes adult blanket sizes – small and large throws, lapghans, and other common blankets for the bedroom. Throws and lapghans are among the most popular crochet projects so now you can double-check your project size and make adjustments, if necessary.
Check out these free patterns for crochet throws and bigger blankets: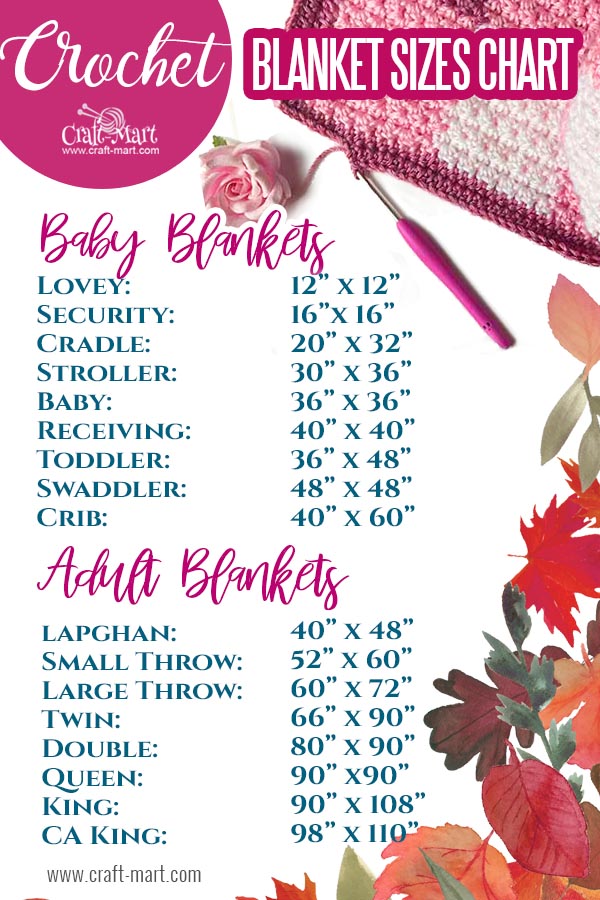 How to adjust your pattern to make it a certain size?
Keep in mind, blankets are very easy to adjust in size. To calculate the adjusted measurements, you need to know the stitch multiple of the pattern.
We always recommend starting any project with a practice swatch. Not only it will let you test your tension but also see how many foundation chains you would need for your project.
The chart below makes it easy to find the exact size for your next crochet or knitted blanket.
Before getting started, however, consider whether or not you want to add a border or edging to your blanket. If so, work it around your gauge swatch to see the edge measurements and subtract that from your blanket measurements on all four sides.
Crochet Baby Blanket Sizes
Crochet Blanket Sizes For Babies
| | |
| --- | --- |
| Lovey | 12" x 12" |
| Security | 16"x 16" |
| Cradle | 20" x 32" |
| Stroller | 30" x 36" |
| Baby | 36" x 36" |
| Receiving | 40" x 40" |
| Toddler | 36" x 48" |
| Swaddler | 48" x 48" |
| Crib | 40" x 60" |
Other Crochet Blanket Sizes
Adult Crochet Blanket Sizes Chart
| | |
| --- | --- |
| Lapghan | 40" x 48" |
| Small Throw | 52" x 60" |
| Large Throw | 60" x 72" |
| Twin | 66" x 90" |
| Double | 80" x 90" |
| Queen | 90" x90" |
| King | 90" x 108" |
| CA King | 98" x 110" |
How to calculate a number of chains for your crochet blanket
The crochet blanket yarn calculator below makes it easy to estimate how many foundation chains you would need for your project.
Note, that calculating the amount of yarn for your blanket project requires a number of chains in your practice swatch, the width measurement for your practice swatch, and the width of the blanket you are going to knit or crochet.
Most importantly, always round up to the biggest number that fits the number of multiples for your blanket.