If you are a creative person and always loved art but were intimidated to try painting with acrylics, fear no more. We've collected easy acrylic painting ideas for beginners on canvas and paper for you to try and enjoy, as they are so simple and easy.
While painting with acrylics can be complicated at first glance, don't be afraid to start working on your own masterpiece. Furthermore, step-by-step tutorials and detailed video lessons will simplify painting on canvas for you.
Abstract painting ideas are the first choice for many as it is less complicated than painting sunflowers or creating a galaxy painting. With this in mind, we present the easiest ideas first so you can grow your 'artistic wings' before painting sunsets.
In case you need more encouragement, get this best-selling "How to paint" book and this amazing acrylic paint set to see how easy and exciting painting can be…
To try the exciting easy acrylic painting ideas for beginners on canvas in this post, get this perfect 60-color acrylic paint set from Arteza!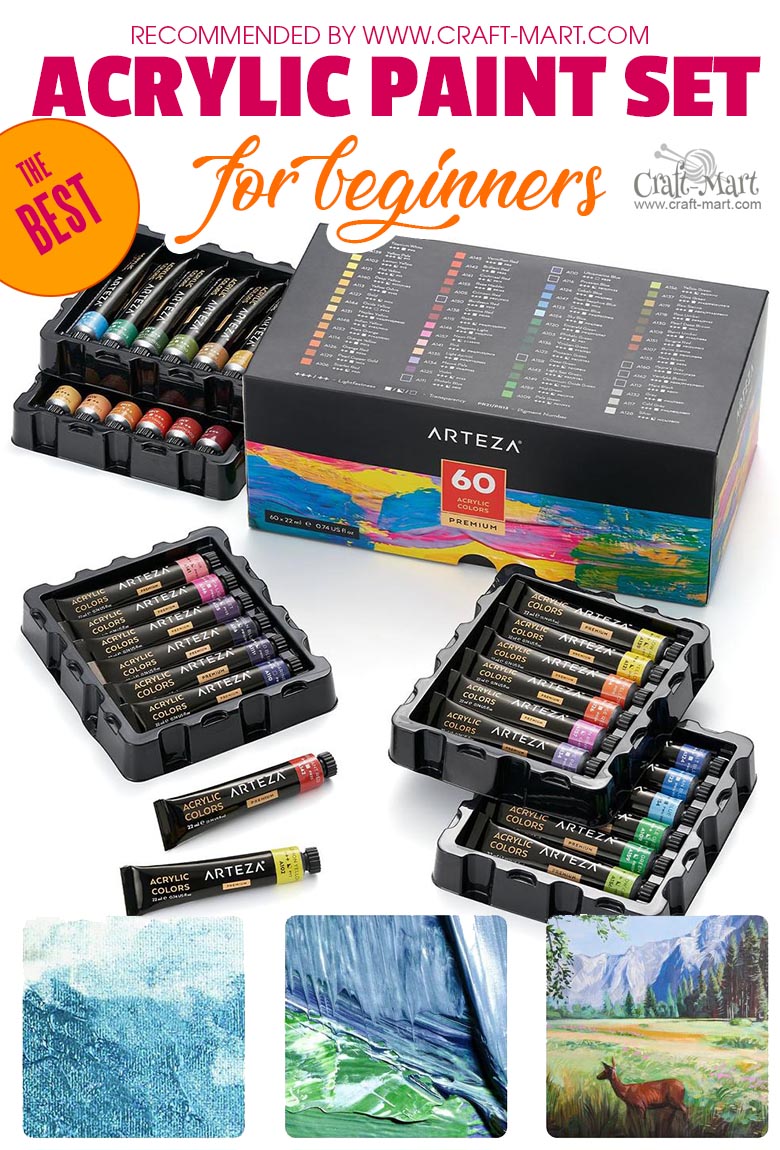 1. Abstract Painting on Black Background
Among all simple painting ideas, this may be the easiest, even for an absolute beginner. After watching a very short video on Pinterest, you'll be able to grasp the idea, get a black canvas, and try creating your own painting.
Keep in mind, that every color looks brighter on a black background. You can't go wrong with this technique but be very selective with a color palette. Even with simple ideas, 90% of your success in painting with acrylics lies in a balanced and well-thought color scheme.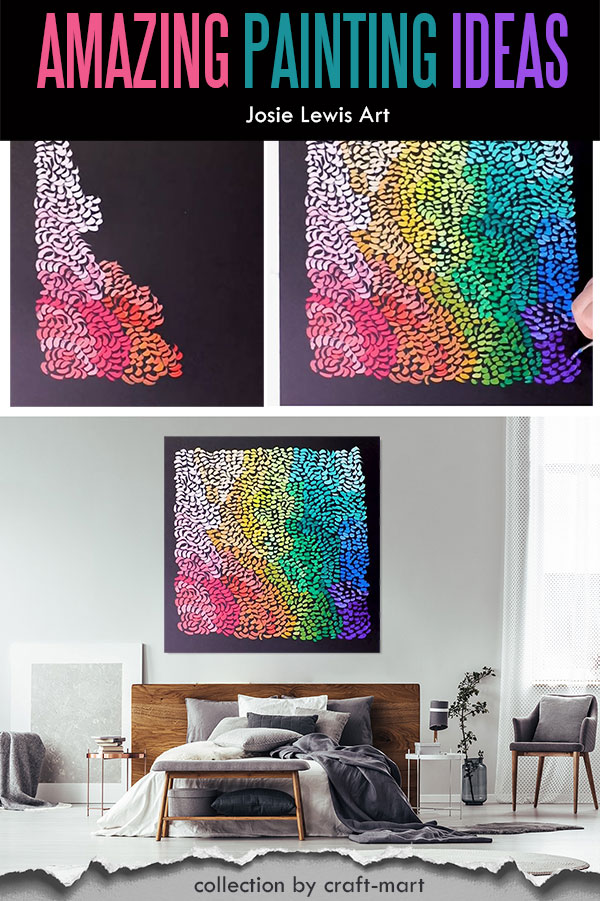 Source: Pinterest
2. Simple Dot Painting Designs
So, if you are teaching kids to appreciate art, this can be your next easy kid painting. Dots can be used for mandalas and rock painting, but they are also working great for easy canvas paintings.
In fact, you can use mandala dot tools or just paintbrushes for these arrays of colorful dots. Moreover, the detailed step-by-step tutorial will help you master this easy painting idea.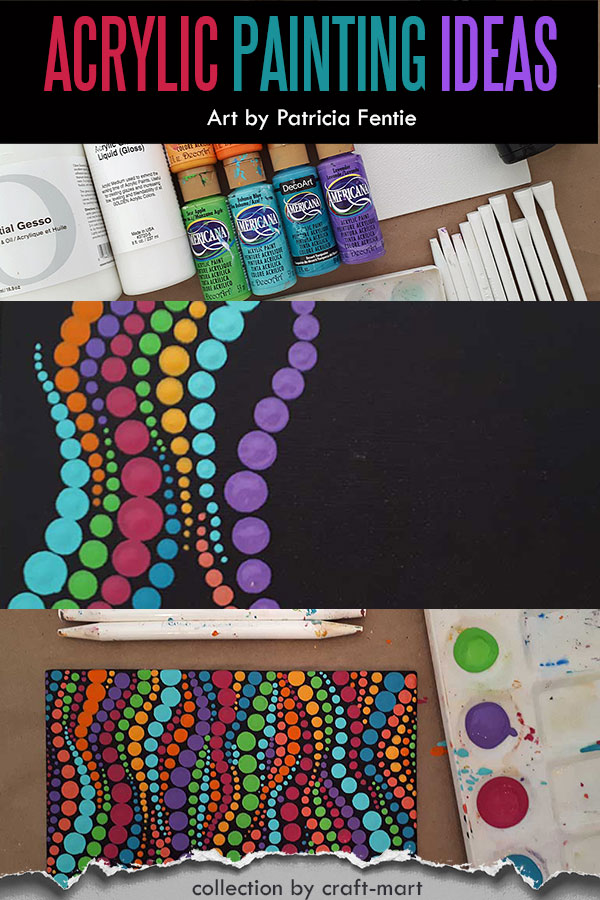 Source: patriciafentie.com
3. Abstract Painting Ideas
Even after looking at step-by-step images for this easy abstract painting idea, you'll get inspiration for your own abstract art piece. As a matter of fact, you won't even need brushes – fluid acrylics are spread by Catalyst Wedge (you can use a palette knife as well).
To clarify, leaving some white canvas around the edges will add freshness to this modern DIY painting.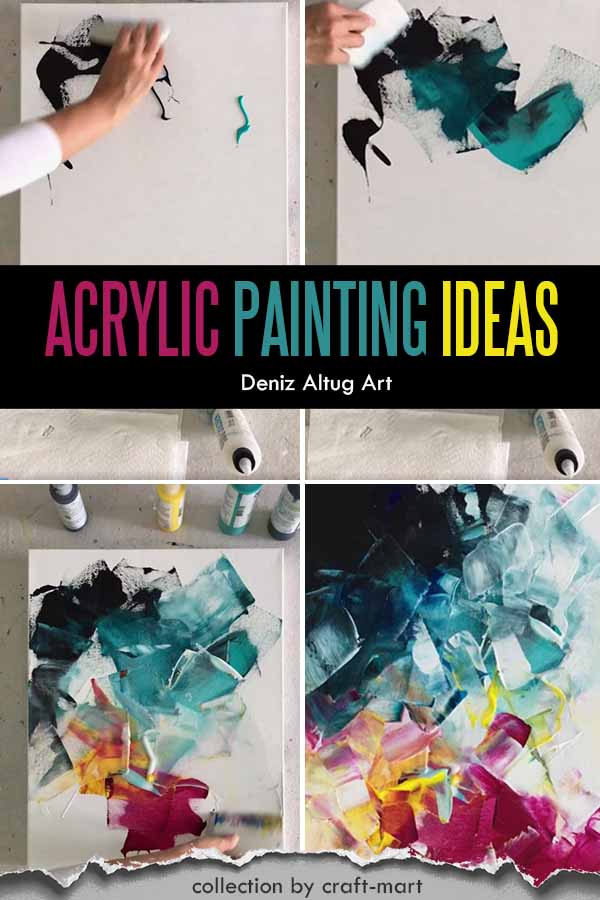 Source: Pinterest
4. Acrylic Pouring and Gold Leaf
If you are already familiar with Acrylic Pouring techniques, the next step would be to add a gold leaf for an extra 'wow' factor. Gold Leaf will make your canvas look like a million-dollar art piece on a thrift-store budget.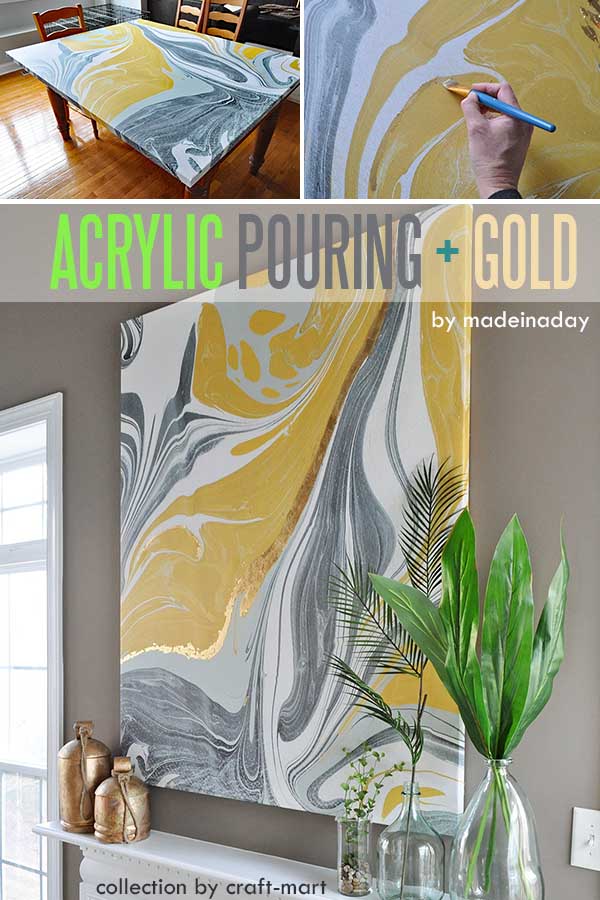 5. Three Easy Black and White Modern Canvas Paintings
Black and white artworks are extremely popular for modern interiors. Learn these simple painting techniques and create three masterpieces for your walls.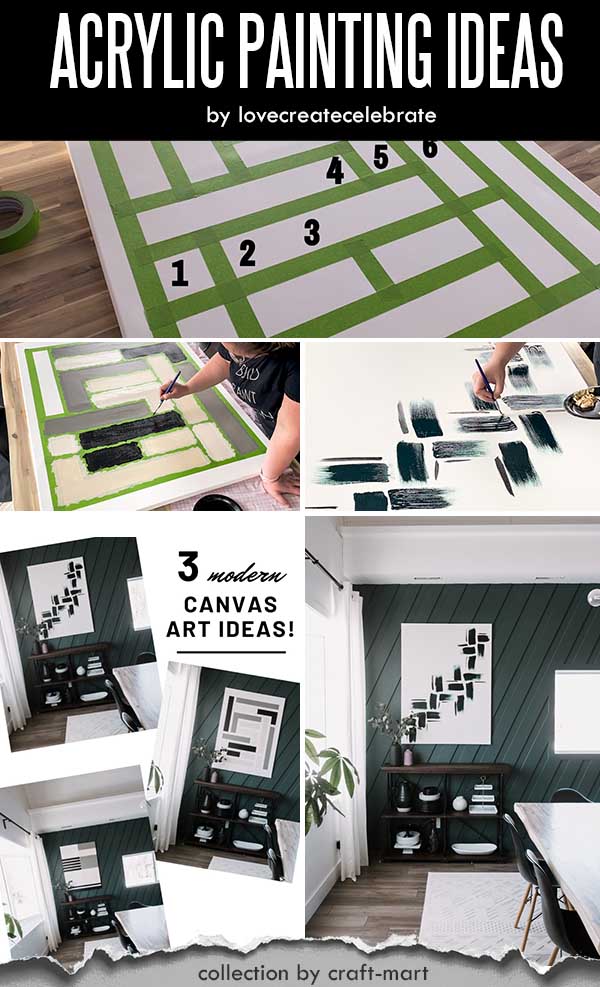 Source: lovecreatecelebrate.com
6. DIY Abstract Art Tutorial (step-by-step)
This easy painting idea is so simple that it can be a perfect 'kid & me' canvas lesson. You would need a canvas, acrylics, and water for this abstract art.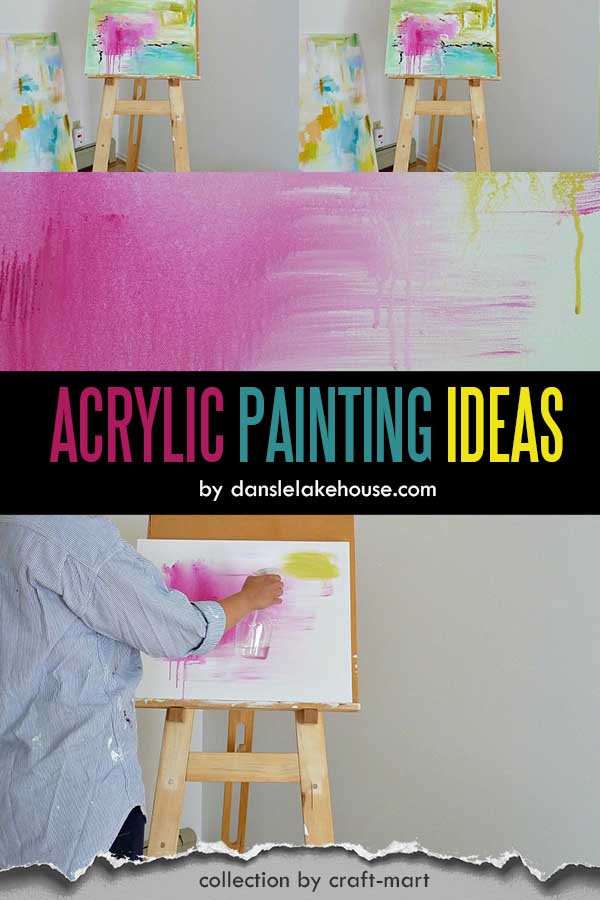 7. 30-minute DIY Abstract Artwork
Do you have 30 minutes to spare in your busy day? In this case, a 30-minute painting depicting a seascape is an easy idea for you to try.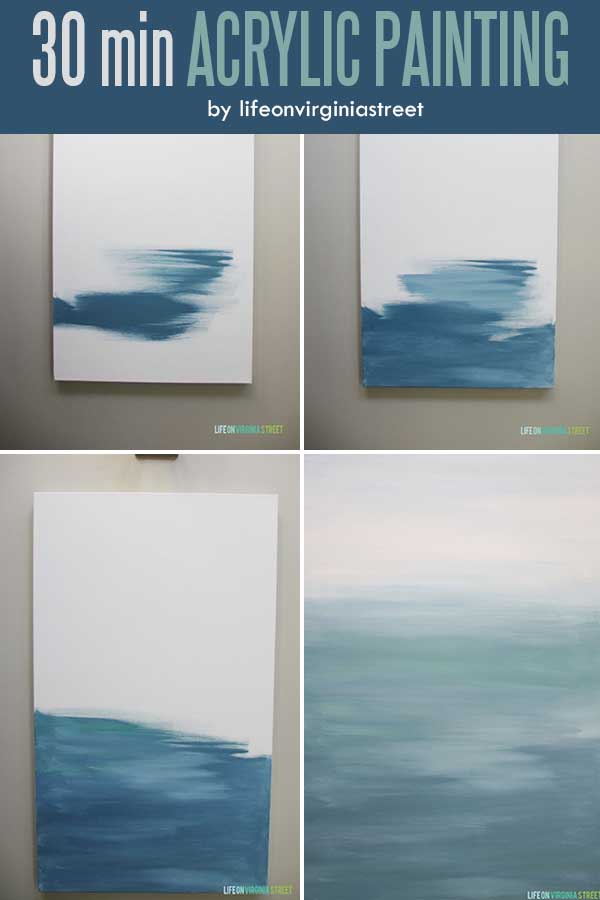 Source: lifeonvirginiastreet.com
8. DIY Modern Coastal Art
Modern coastal art is a must for decorating a lake house or a beach get-a-way. In fact, you don't have to spend thousands of dollars when you can follow this step-by-step tutorial for beginners.
As a result, create stunning wall art for your home.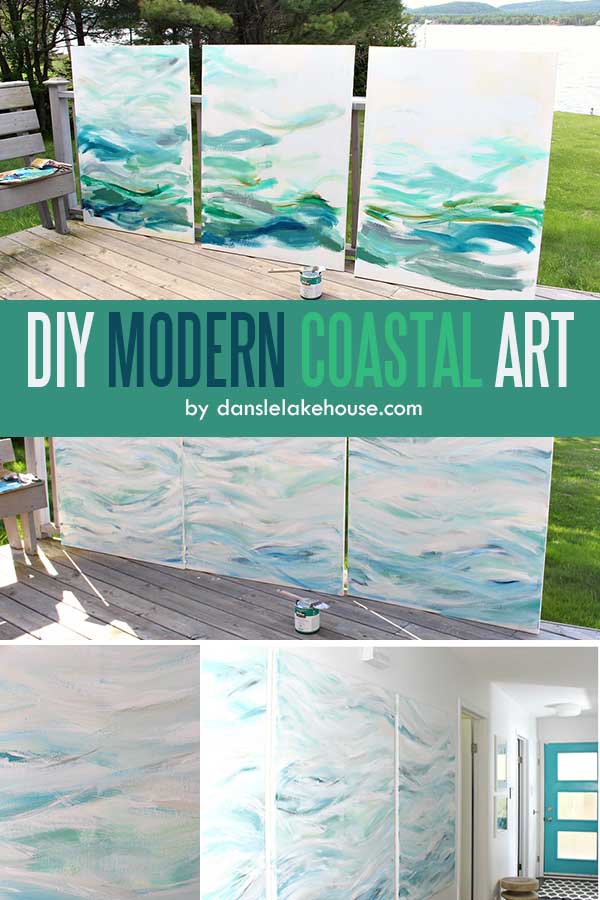 See more easy painting ideas on the next page