During tough economic times, tiny houses and cabins with a loft become a very attractive affordable option for people living on a limited income. While lofts often can't compete with full-size rooms, they provide enough space for comfortable living, storage, etc. for singles, couples, and even small families.
Is building a cabin with a loft always a good plan? Considering that getting all the needed permits is not a problem, the main obstacle that we frequently see is a lack of unique tiny home and cabin plans for DIY enthusiasts in the US.
Huge home plans aggregator websites still feature mostly plans for houses larger than 600 sq. ft.
The collection of cabin plans with lofts below is truly unique and designed for DIY builders with moderate building experience.
Elevated Beach Cabin with a Loft "Eva"
DIY cost to build $55,500
Built-Up Area: 640 ft²
Loft: 208 ft²
Porch: 175 ft²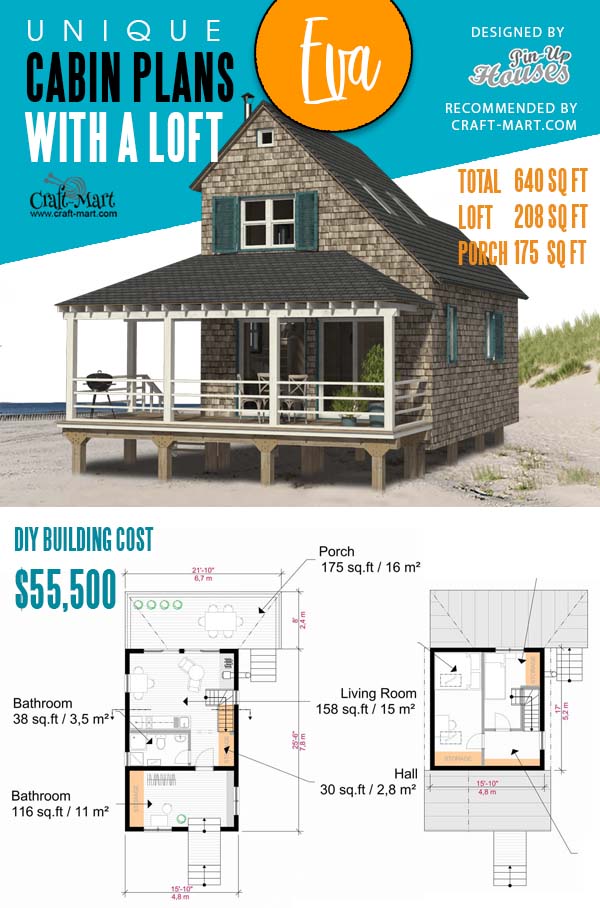 Designed for small cabin high-rollers, the Eva cabin has almost all imaginable features and enough space to accommodate a family of four. Well, the $55K budget seems quite significant, especially during an economic downturn, but at the same time, this cabin can easily serve as the main residence if you'll have to downsize.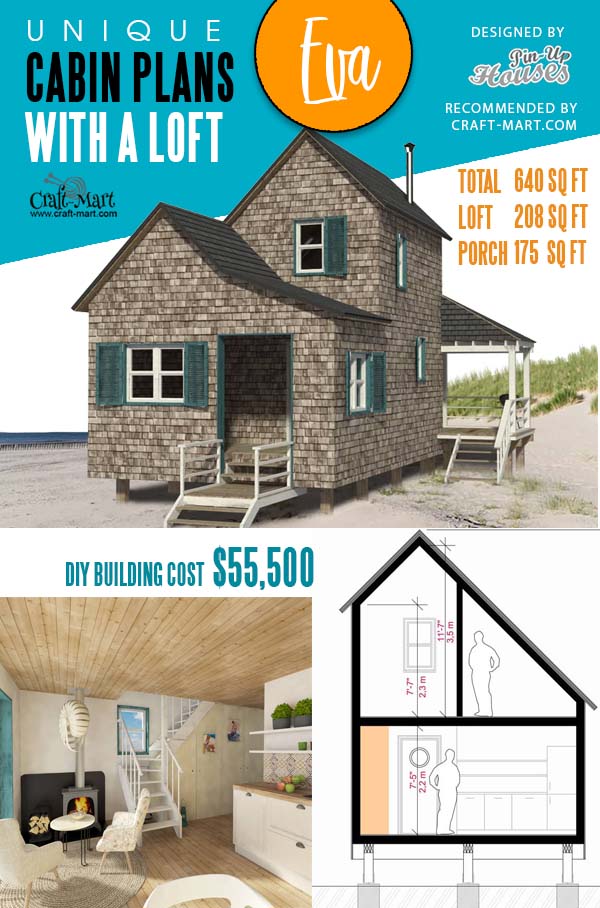 For this size of a house, we'd suggest slightly larger kitchen counters and replacing a shower with a small bathtub. The large porch with a solid cover is a big plus.
The living room may benefit from a larger side window to allow more light as it always makes a small space look larger. It is important in this case as the main entrance light source is located under the porch cover.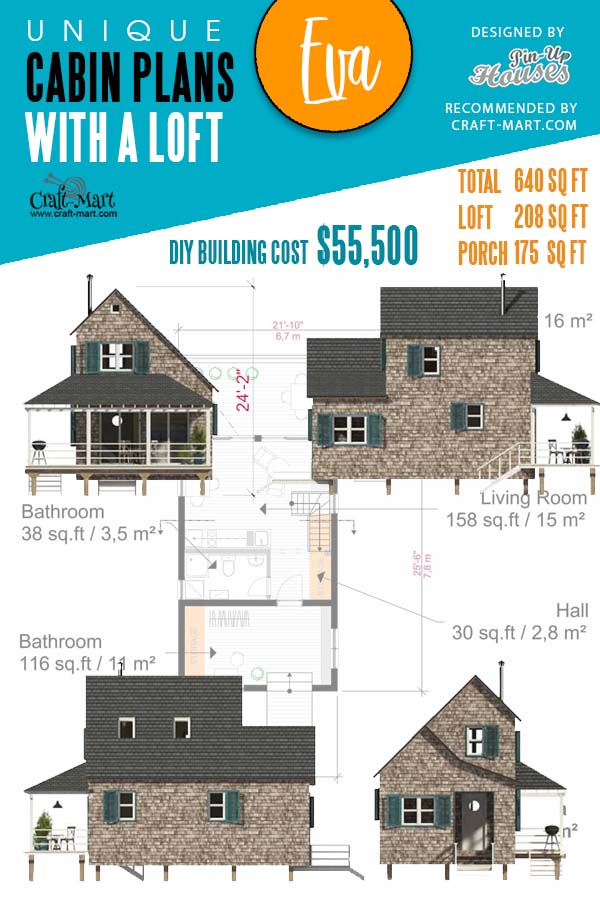 Sporting well over 800 SQ FT in total square footage, this cabin with a loft has a nice layout and plenty of storage space. Can it be improved? Of course, but it is a great starting point if you're serious about going the next step beyond building a tiny cabin for a quick weekend getaway.
A-Frame Cabin Plans with a Loft "Ruby"
DIY building costs $34, 000
Built-Up Area: 530 ft²
Loft: 140 ft²
Porch: 145 ft²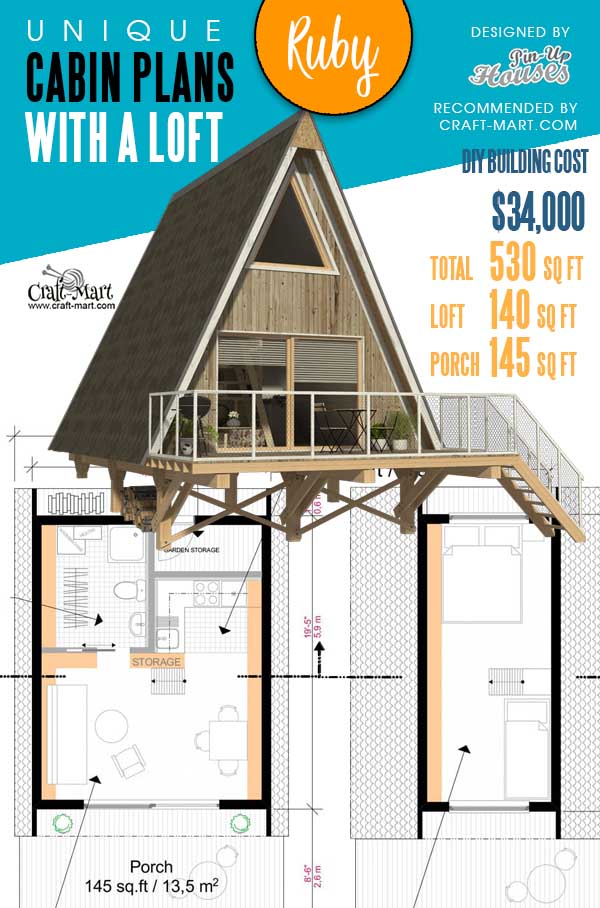 A-frame cabin floor plans always attract attention and Ruby is not an exception. Its elegant and simple design is easy to understand. The sizable porch is a nice bonus addition to the 530 sq ft of covered area.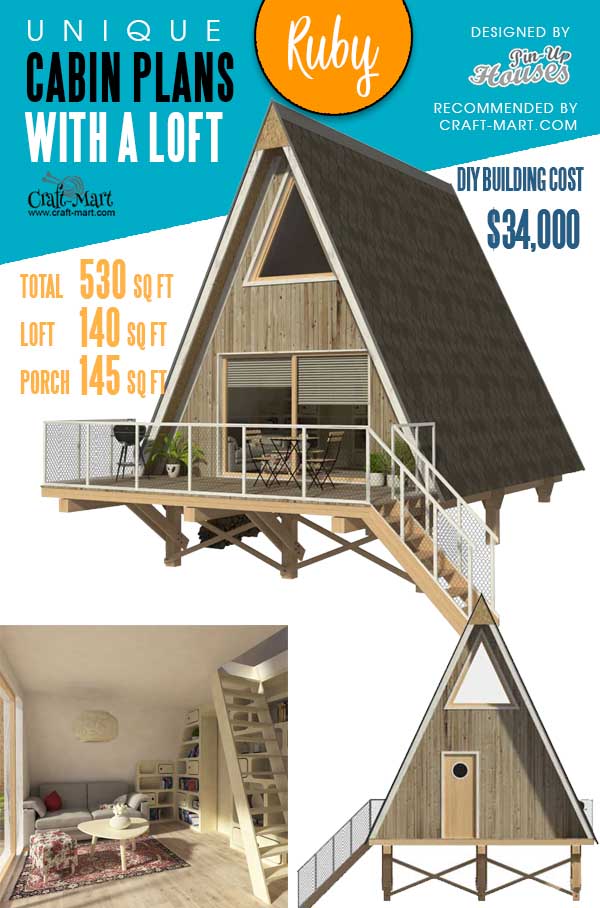 Depending on the climate zone, you may want to extend the roof over the porch to protect it from snow, rain, or scorching sunlight. As a lot of homeowners now prefer to spend time outdoors on their patio, having a well-planned space is a great bonus.
Tiny Cabin Plans with Porch "Harper"
DIY building costs $15,400
Built-Up Area: 323 ft²
Porch: 94 ft²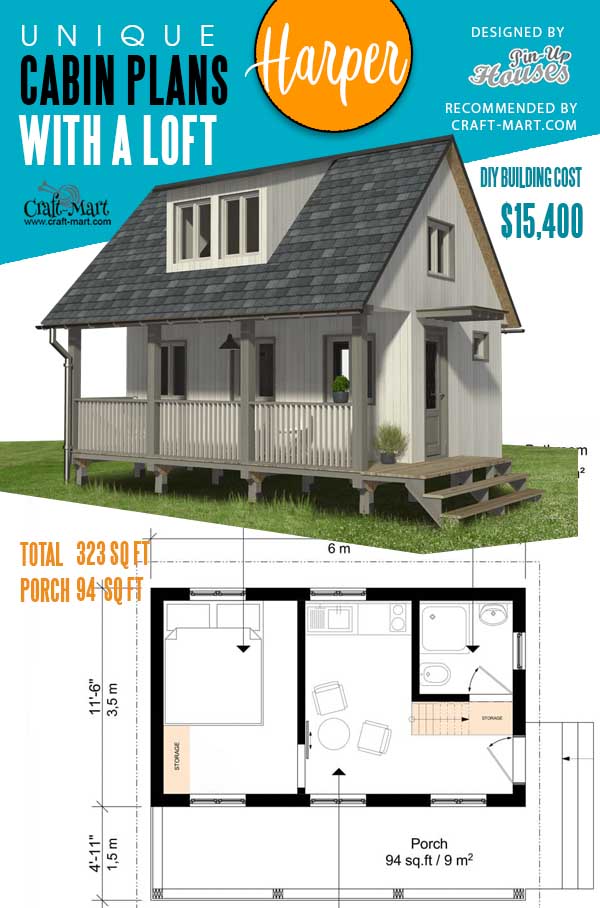 This cabin has a covered porch and a roof over the entrance door – what else can you dream of? Of course, the loft is pretty big judging by the cross-section drawing. The whole 323 sq ft house design is pretty solid, so it looks actually larger than the 530 sq ft A-frame cabin above.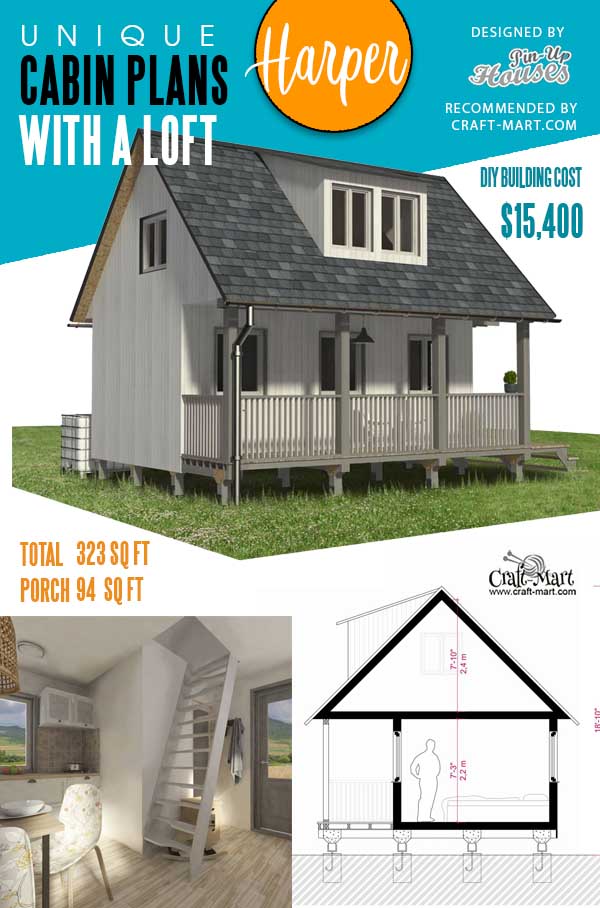 Small Cabin Plan with Porch (Harper) is a minimal traditional DIY tiny cottage. The addition of a loft and porch make it perfect for a small family or a couple of empty-nesters.
You can also use it as a summer vacation cabin as it offers enough space for staying in while it's raining. You can even host a BBQ party on the porch!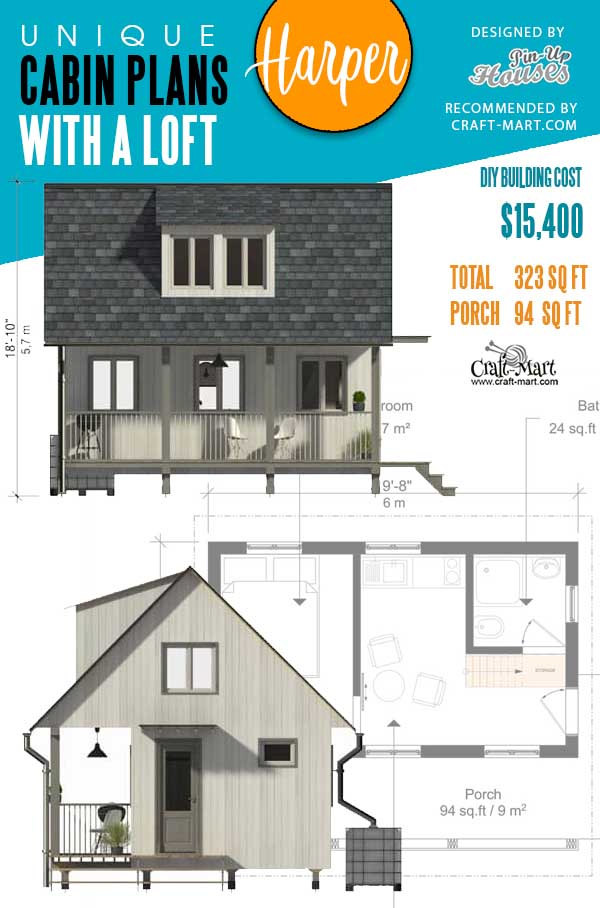 Plus, the design of this DIY house plan is aimed to protect you spending too much on expensive utilities through our eco-friendly living solutions.
Get these tiny cabin plans here
Scandinavian Cabin Plans "Maja"
DIY Building cost $28,600
Built-Up Area: 298 ft²
Loft: 140 ft²
Porch: 47 ft²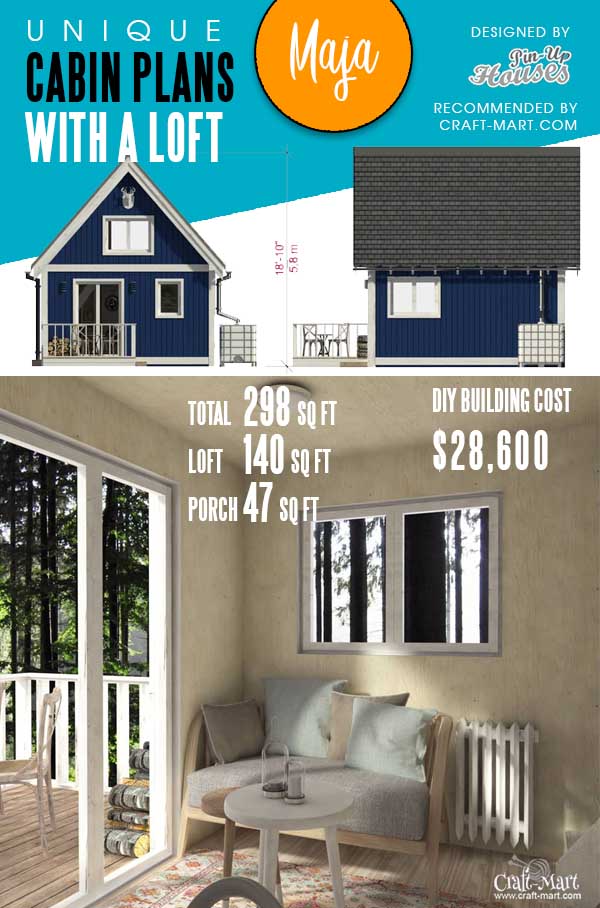 Simplicity is what the Scandinavian style is all about. This cabin is pretty small yet it may accommodate up to 4 people staying comfortably for a few nights.
Getting full-size beds for the loft would not be a good idea if you worry about bumping your head on the rafters.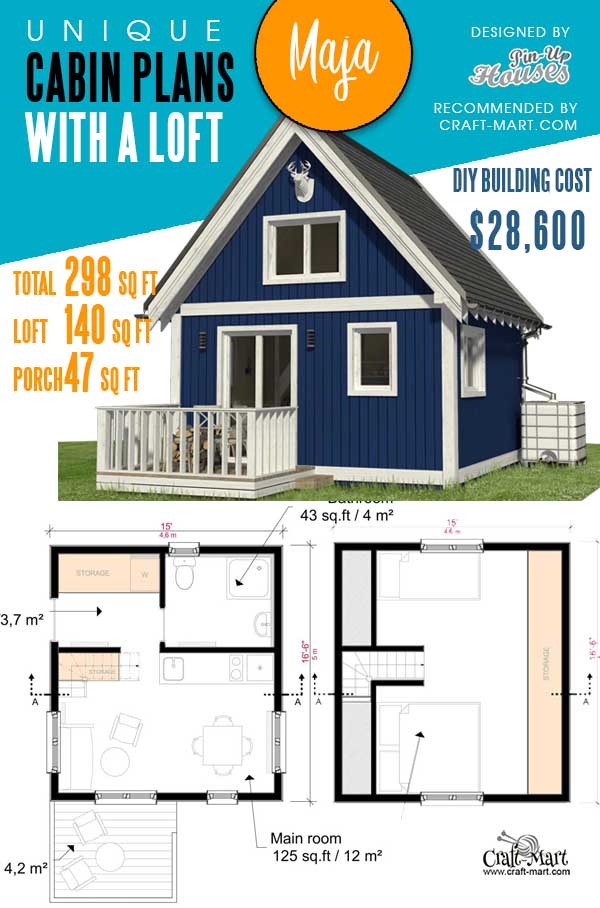 Luckily, IKEA has plenty of Scandinavian furniture that you can easily fit into this tiny cabin or any tiny space.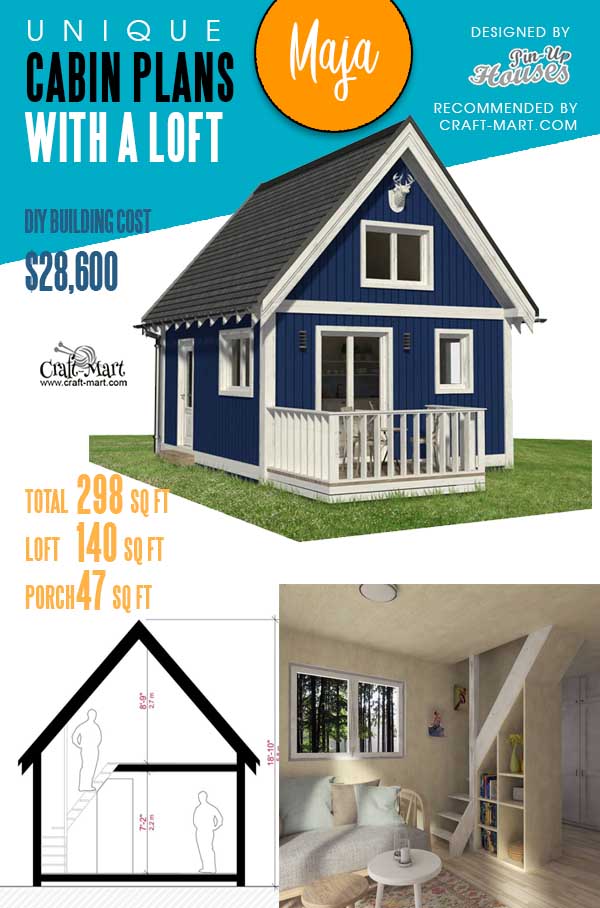 As always, we'd suggest adding some kind of cover over the porch. Sunshine and rain can easily interrupt your star gazing on the porch. So ask the author of this plan to adjust the design within budget – he will not charge you an arm and a leg, like a lot of architects may do. Consequently, you'll have peace of mind planning your perfect porch party.
Get Maja cabin plans here
Small Gambrel Roof House Plans "Sofia"
DIY Building costs $19,600
Total floor area: 367 ft²
1st floor: 190 ft²
Loft: 177 ft²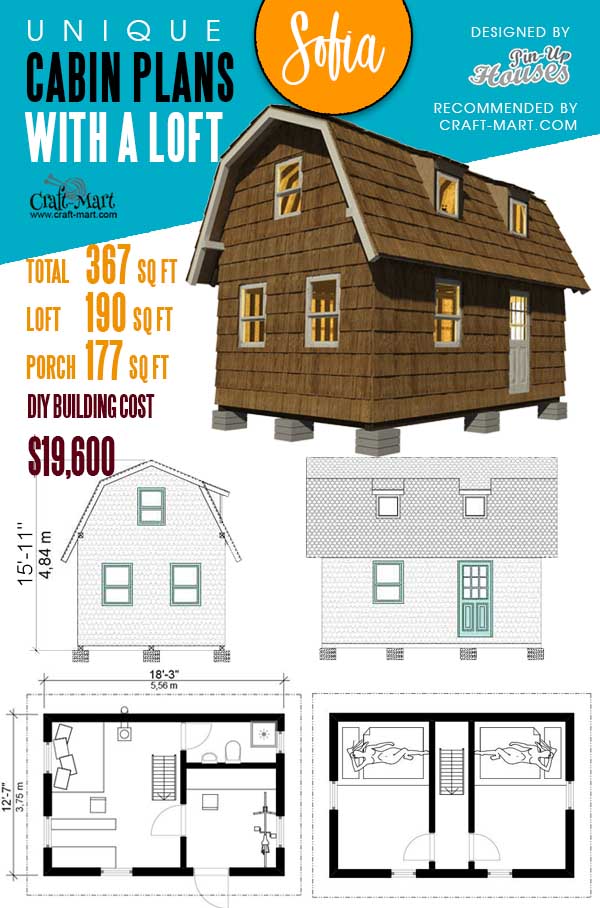 Out of all the small cabins with lofts, Sofia is the largest in this collection. If you adore shingles and a super-rustic look, this plan is definitely for you.
The gambrel roof helps with creating 2 very spacious bedrooms in the loft. The living room on the ground level is also spacious with three windows bringing plenty of daylight in. A small kitchenette can be made a bit larger along the wall.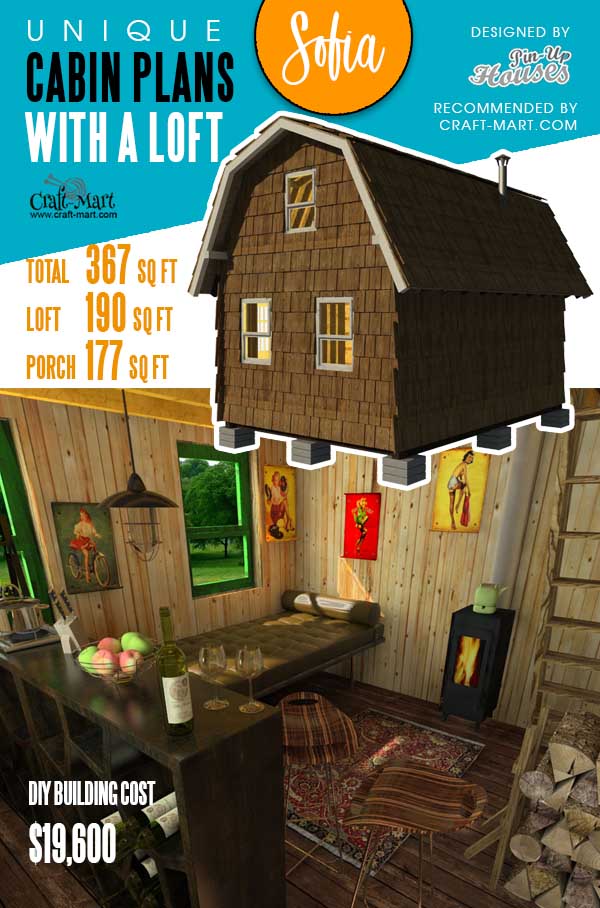 The storage/mudroom room is a huge plus. It's always nice to have a place for rainboots and garden clogs, so having it may definitely help with keeping the living space tidy.
Cabin Plans on Stilts "Hailey"
DIY Building cost $28,800
Built-Up Area: 316 ft²
Loft: 316 ft²
Porch: 86 ft²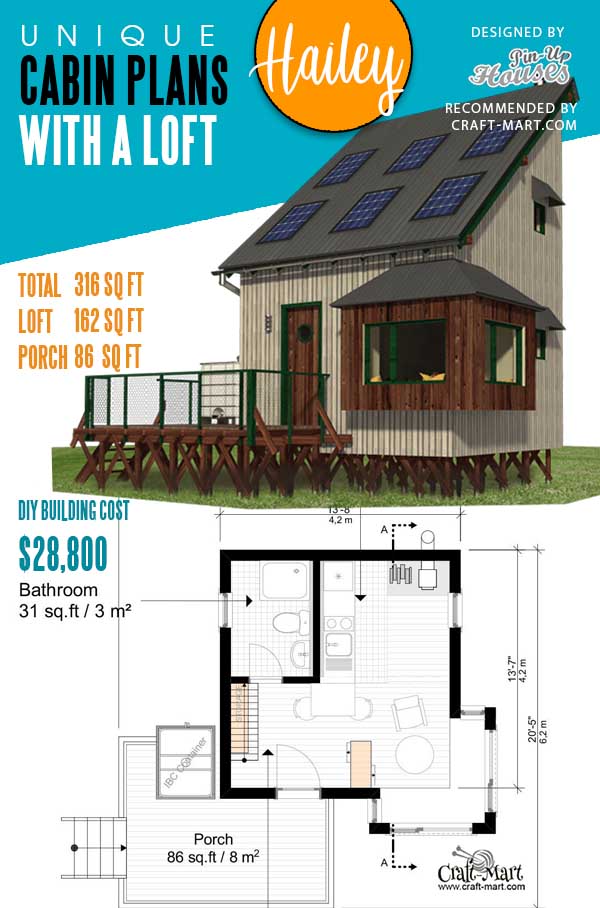 Not all cabins with lofts have to be rustic or have traditional-looking roofs. Here is a perfect example of how a steep roof can solve a few problems: cleaning itself from heavy snow loads, providing enough space for solar panels, and creating more headroom in the loft.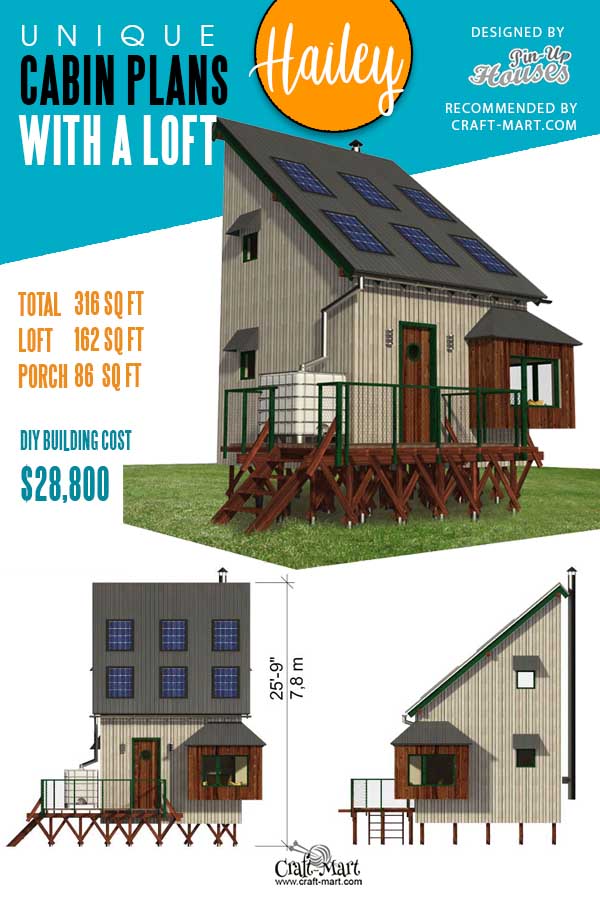 Right away you notice a breakfast/dinner nook with very sizable windows bringing lots of light. Just this feature alone makes this cabin plan worth considering if you plan to build your dream tiny house.
With some tweaks, Hailey definitely may serve as a starting point for designing your perfect small cabin with a loft where you can stand without bending and don't have to crawl on all fours to your bed.
Small Modern House Plans "Janet"
DIY Building cost $34,800
Built-Up Area: 445 ft²
Loft: 162 ft²
Porch: 86 ft²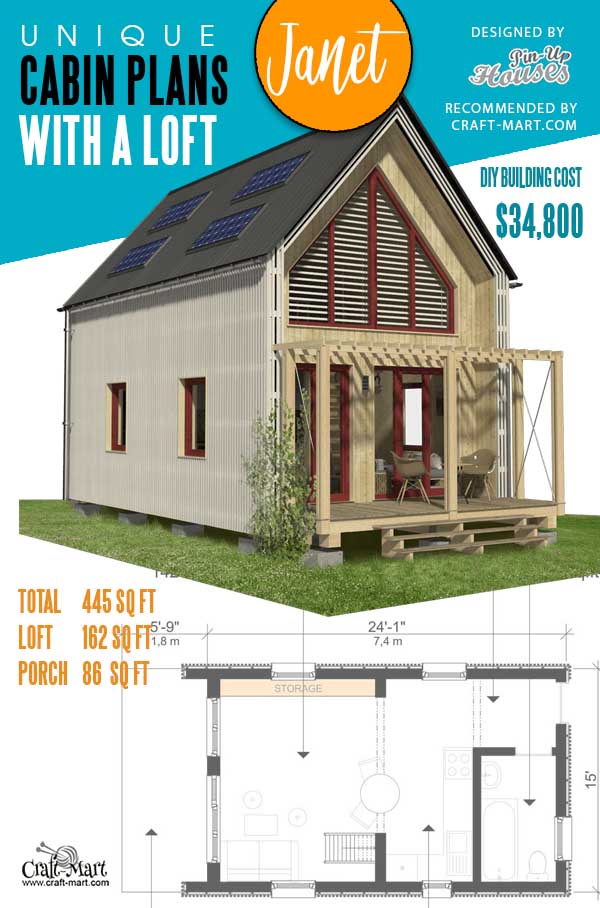 Small cabin Janet offers a nice clean design with a cathedral ceiling over the living space and a full-height loft above the kitchen and bathroom. The cabin is not super tiny, especially taking into consideration its total square footage of more than 600 SQ FT.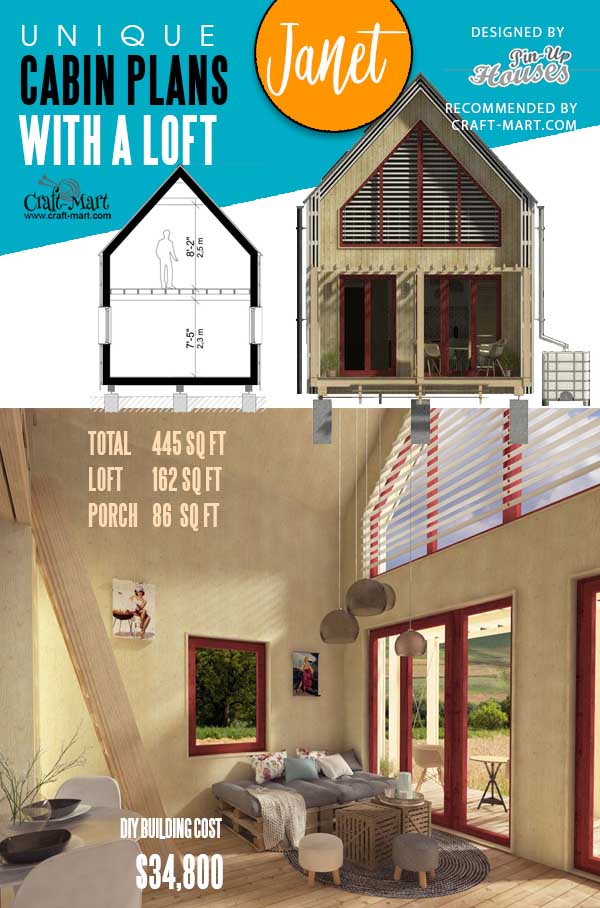 One thing that can be improved is the design of stairs leading to the loft. You personally may be in perfect shape but steep climbing is not fun after a certain age.
Why not position the steps along the full length of the living room wall and use the space under the steps for storage? Having some sturdy rails may also help, especially if you have younger kids staying in the cabin. Safety first, right?
Overall, this is an excellent modern-looking cabin. If not now, then when? Don't delay and build your dream tiny house.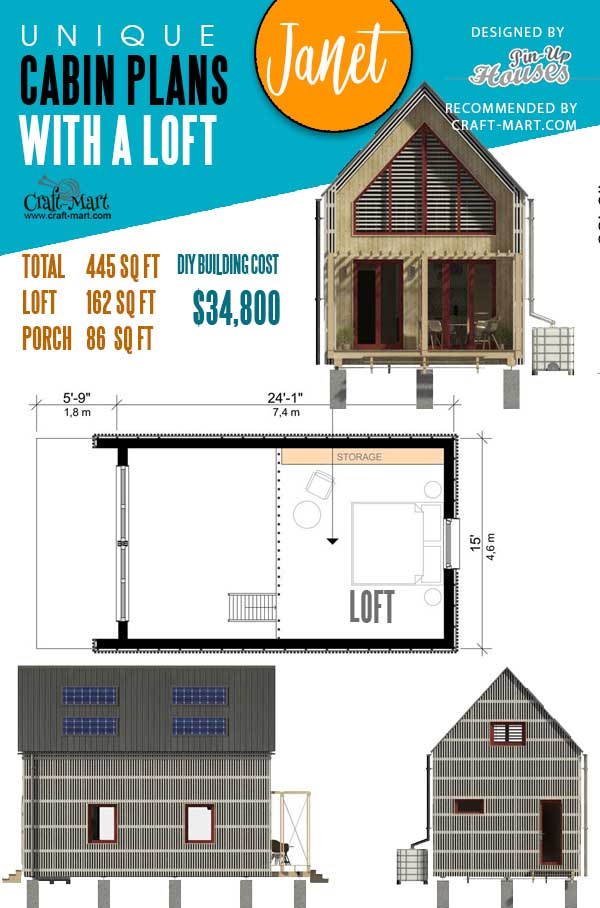 Tiny Cabin Plans with a loft "Debra"
DIY Building costs $16,400
Built-Up Area: 351 ft²
Loft: 98 ft²
Porch: 110 ft²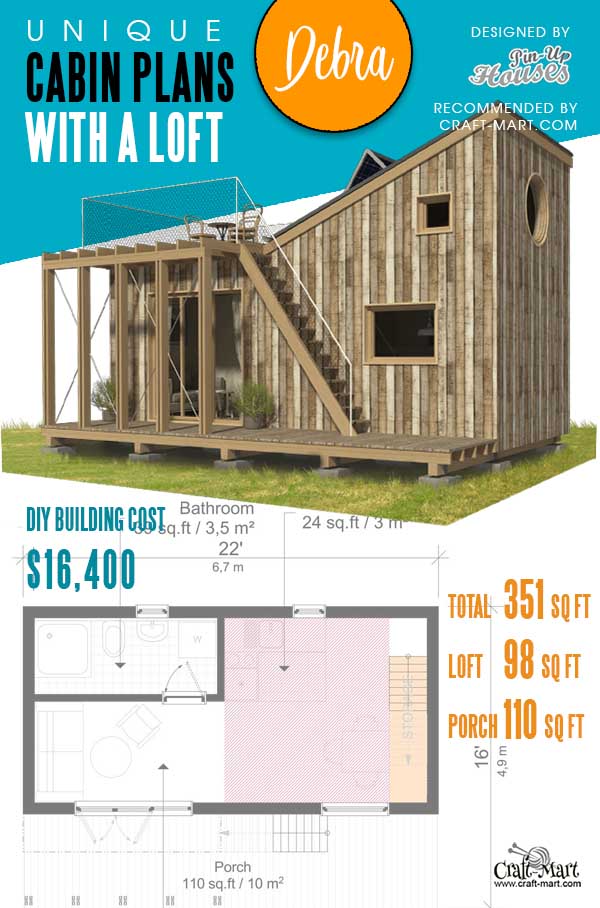 For those folks who can't afford stylish cabin Janet, here is something twice less expensive. You don't have to sacrifice much space – this cabin with a lof is almost as big as Janet's.
Perhaps, you are building a lake cabin and want to enjoy the view from the top deck. This floor plan may be perfect for that and is unique and rustic from top to bottom!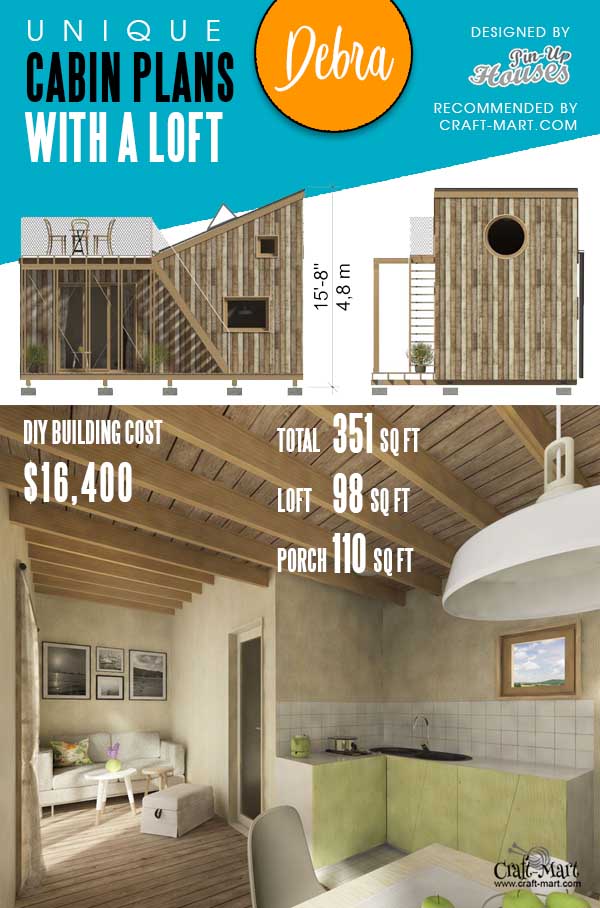 Yes, the loft is kind of a crawling type with a steep ladder leading to it from the kitchen. But what is making up for the tiny loft is a gorgeous rooftop terrace!
It's not just for drinking a cup of coffee. Put a light pergola and use it as an occasional sleeping space during warm summer nights. Or put a BBQ there and grill something delicious.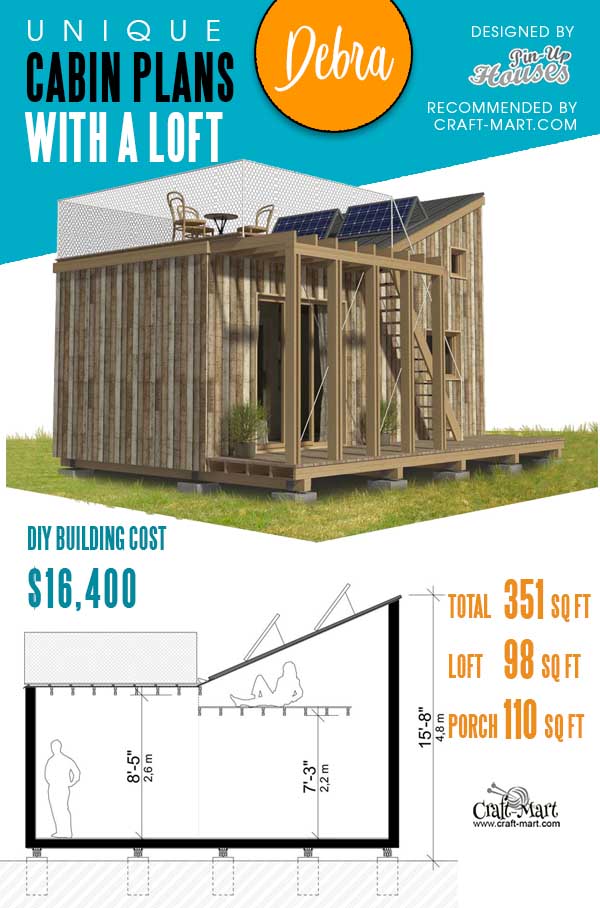 Another option would be raising the roof over the loft 2-3 FT making the loft more usable. You'll have to decide if the increased cost will be worth the convenience.
Two Bedroom Tiny House Plans "Magdalene"
DIY Building costs $14,500
Built-Up Area: 258 ft²
1st. floor: 173 ft²
Loft: 140 ft²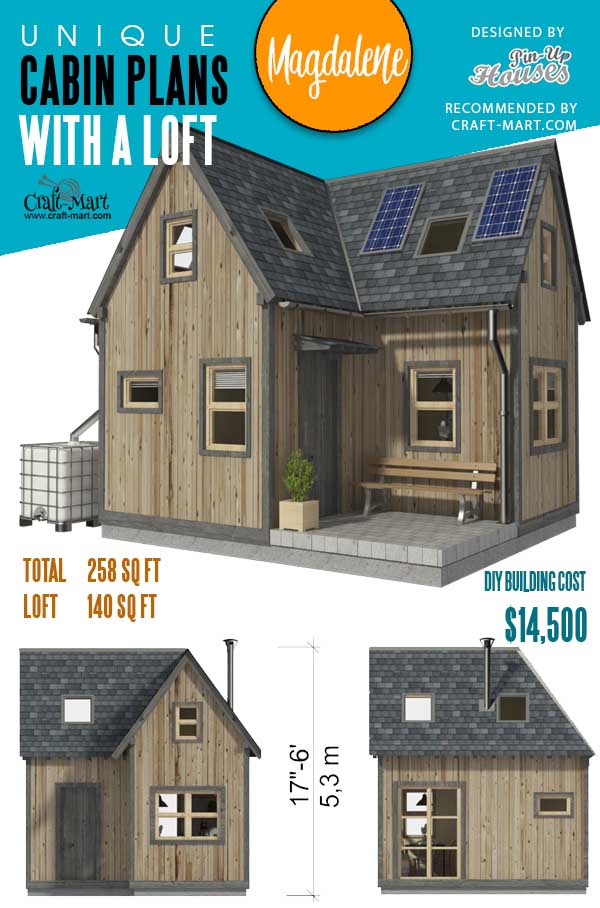 The most adorable charming cabin Magdalene is also one of the most affordable. With quite modest square footage, it surprisingly has everything you may dream of. Most importantly, it also looks very cute.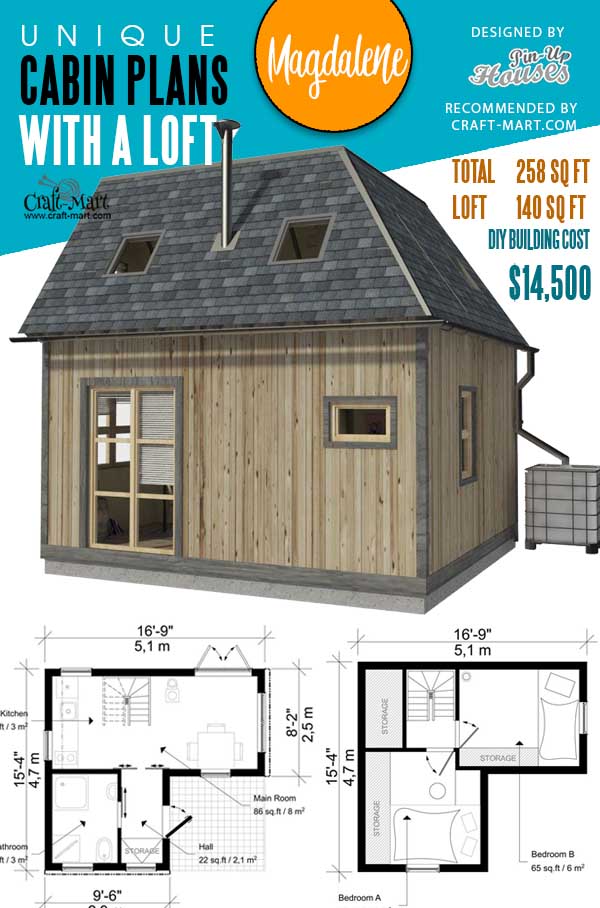 It even has a very nice staircase that many of the more expensive cabins don't offer. The plan is well-organized providing almost no wasted space.
Two tiny loft bedrooms have enough headroom to be used comfortably without crawling or bending.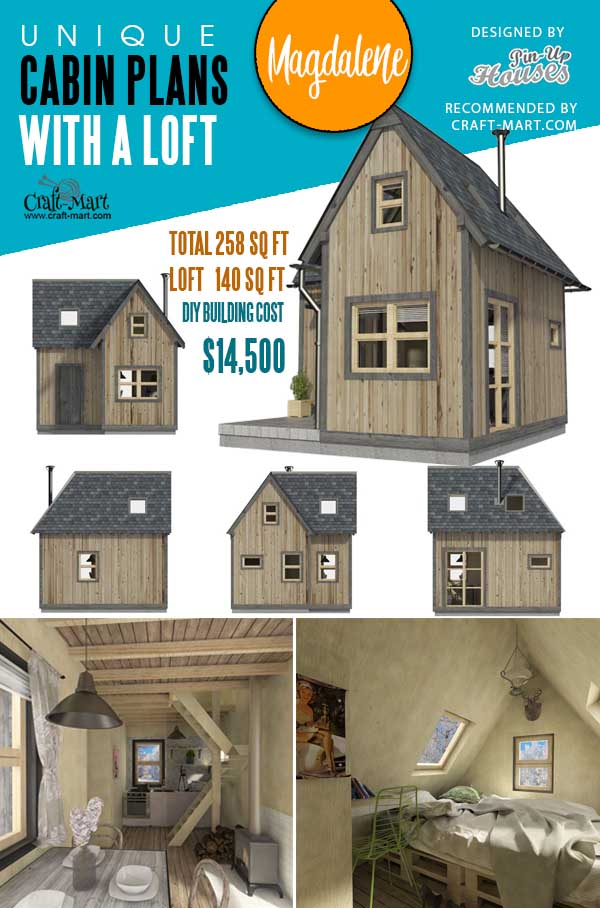 Overall these cabin plans well deserve high marks. With a total building cost of $14,500, you will be losing money if you don't build it!
Get Magdalene cabin plans here
One Bedroom Cottage Plans "Shirley"
DIY Building cost $26,800
Total Floor Area: 256 ft²
Loft: 137ft²
Porch: 8 ft²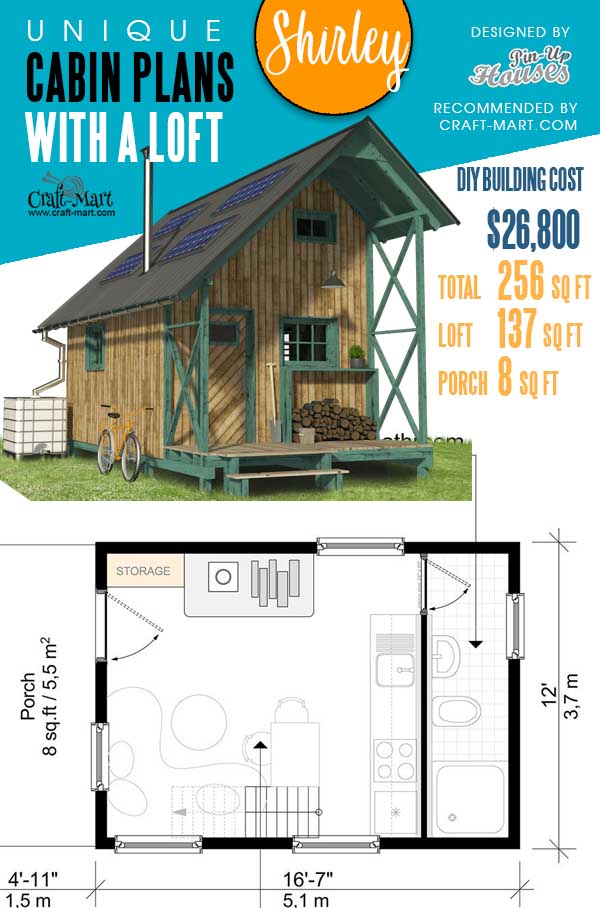 Here is another example of a simple cabin with a super-clean design. Just imagine it as a rustic cabin in the woods or your perfect getaway place.
A higher cost to build is a bit surprising considering the same square footage. The corrugated roofing sheets used in this design are adding to the cost but should not be $11K for sure.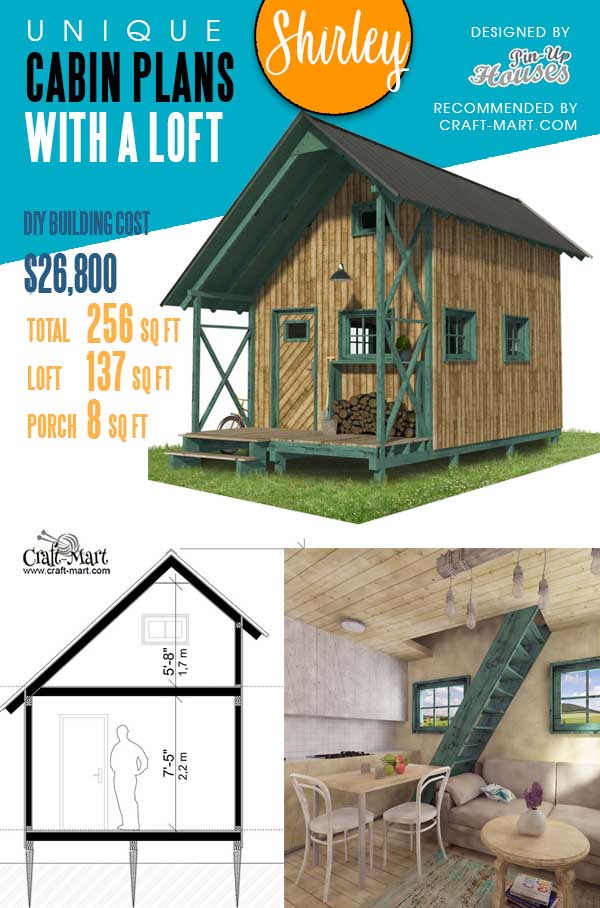 One-bedroom cabin Shirley provides more space in each room while Magdalen's rooms are smaller.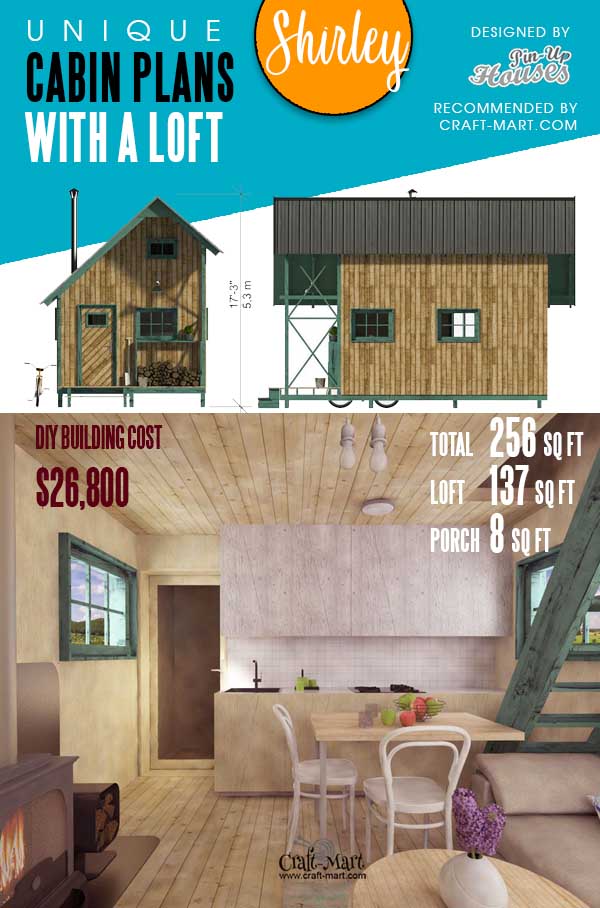 Shirley is great for singles or couples that are dreaming about building something simple with their own hands. There are no tricky corners or calculations that may mess up the whole structure. Just a great easy-to-understand floorplan and elevations for DIY enthusiasts!
Dreaming about building your own Tiny House? Get more information about TINY HOMES and CABINS: