Recently, more and more people started to investigate various ways how to build a tiny house. While some simply are looking for free blueprints for the most economical and cheap houses to build, others are more concerned with designing a good-looking and functional tiny home the right way from the start.
First of all, for DIYers with a very tight budget, the most obvious choice is to find a free tiny house of cabin blueprints and then get the cheapest building materials. This is definitely one of the most common ways of building a tiny home with your own hands that you may find on the internet.
While a number of DIYers manage to save money, other less experienced ones often get stuck with a bunch of problems.
The book "How to Build a Tiny House Step-by-Step" which we are going to review here, is directed toward DIY beginners. It explains in a clear way the basics of the construction process.
Would you learn absolutely everything and would be able to build a tiny house after reading it? The purpose of this book is to provide an overview of many different ways of building your future house. It is not a step-by-step guide for constructing a particular model.
However, once you have read this tiny house book, it will be much easier for you to select one of the dozens and dozens of detailed floorplans that the author of this book has on his website.
Most of the floorplans are really affordable plus many of them regularly go on sale.
My Story Section
The author, a young architect Joshua Woodsman from Prague is telling his story of searching for a unique direction in designing a tiny home or a cabin that can be highly affordable and easy to build.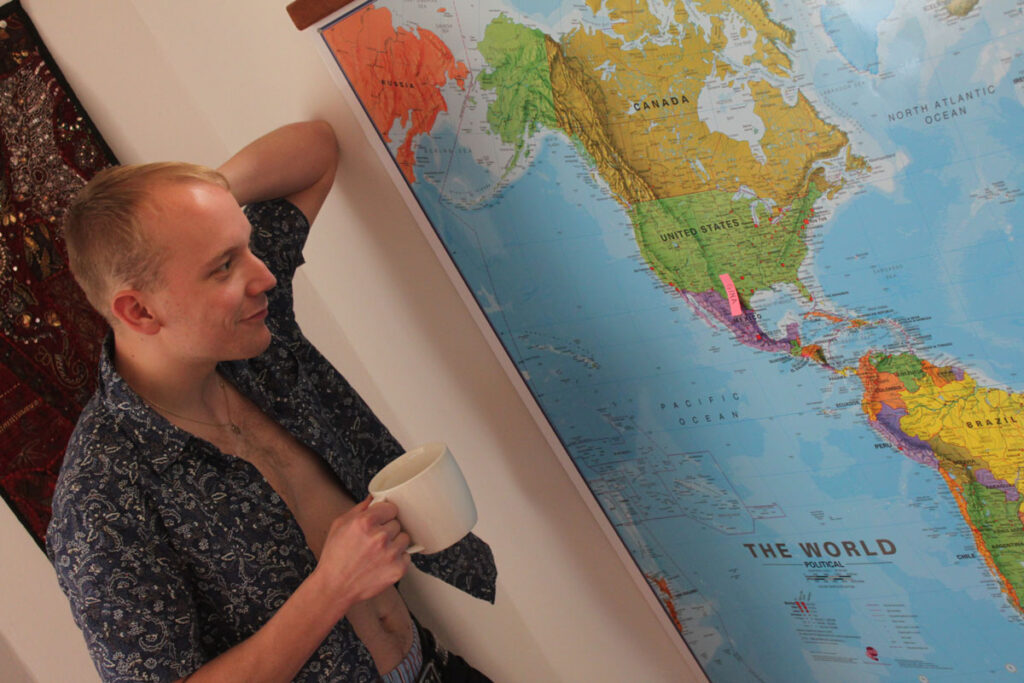 He explains why his tiny home floorplans and designs have become extremely popular all over the World. With the high availability of global materials such as corrugated metal, plywood, bituminous sheet, and plastic it's very easy to follow the proposed designs virtually in any country.
His simple and ergonomic tiny house plans and cabins designs allow basically anyone to build a highly functional living space. Most importantly, you will avoid the unnecessary complexity of the contemporary projects currently dominating the industry.
At the end of the introductory part of his How to build a tiny house step by step manual, Joshua gives a rather compelling list of "Seven reasons to live in a small house".
Of course, not all people are interested in building a tiny house. Many are wishing to learn how to build a shed from scratch or construct a playhouse, for example. Not to worry – Joshua has plenty of designs of all sorts of cabins, sheds, and very popular playhouses in his collection.
Tiny House Typology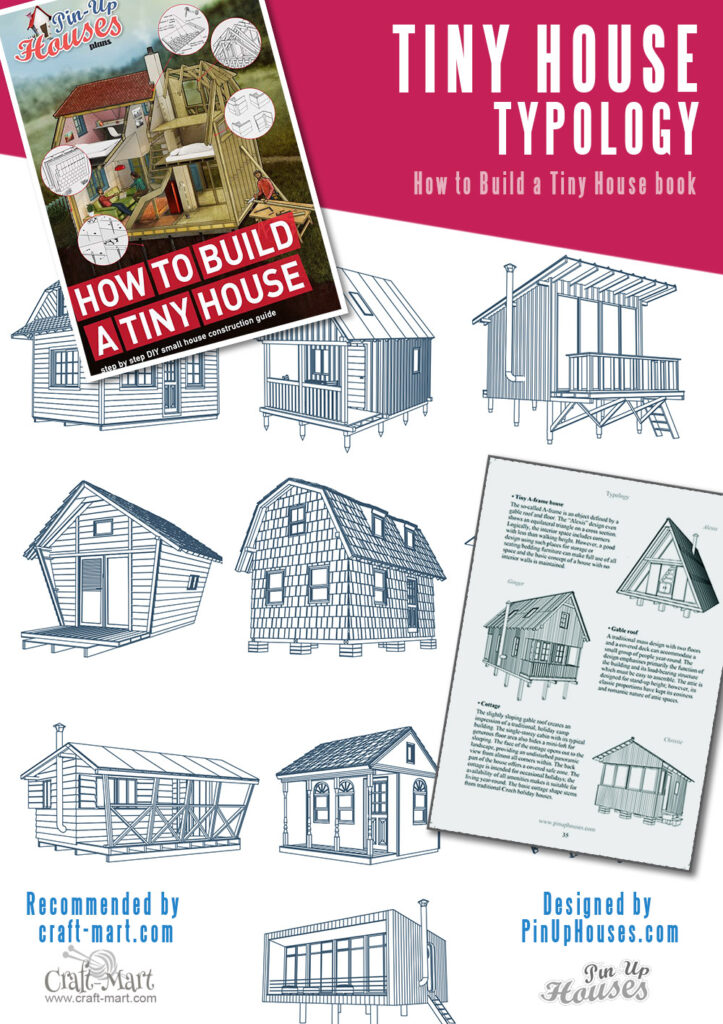 In this section, you'll find out what are the major types of tiny houses, cabins, and sheds. You will learn the difference between Hip, Gable, and Gambrel Roofs.
In addition, you will get familiar with many other types of tiny structures like A-Frame houses or cottages, for example.
Furthermore, the book covers even different types of sheds. In addition to tiny houses and cottages, architect Joshua also shows a few interesting types of playhouses that are truly unique and extremely popular in many countries.
Although it's not covered in the book, Joshua makes it easy to choose the right tiny house floorplan by providing answers to the most common question such as "How much would it cost to build a tiny house?"
Each floorplan has an estimate based on the real-life experience of this professional tiny house designer and the multitude of his customers from different countries.
Get this tiny house book here!
Before You Build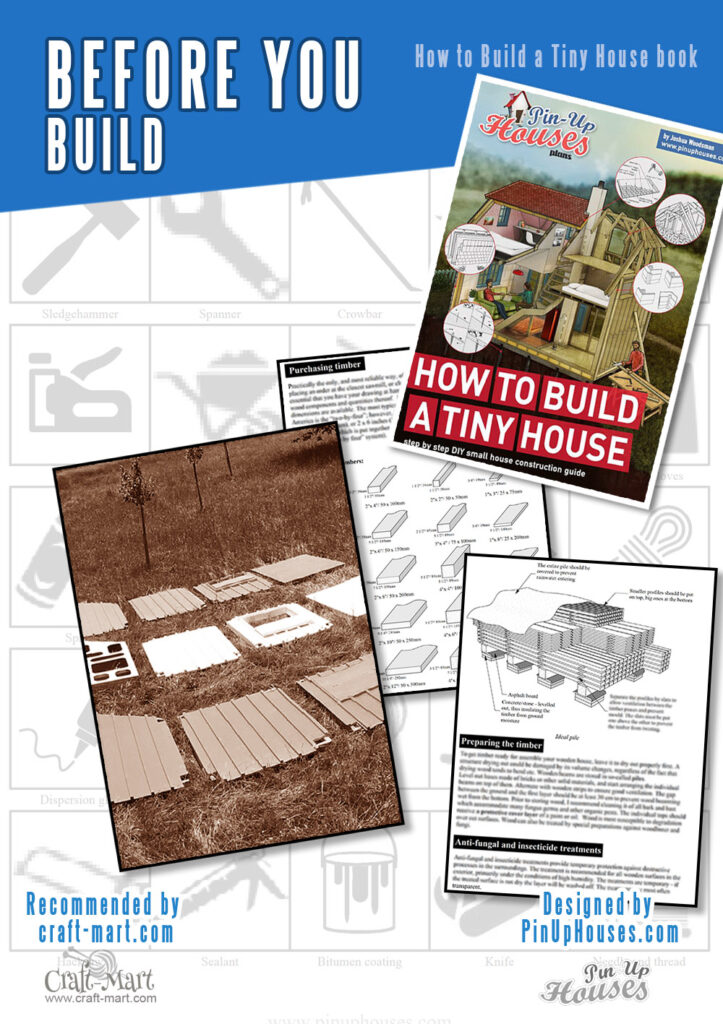 In the next section "Before You Build", you'll learn the basics of purchasing timber. Although in some parts of the world timber may come in different dimensions, Joshua shows how to solve these types of problems.
American DIYers should not worry at all – all the plans have material lists with the most commonly used timber in the US.
In hard economic times, many of us would definitely prefer the cheapest house to build. While saving on some building materials would be totally fine, the structure integrity takes priority over savings. Joshua explains why it's not always wise to use the cheapest options.
Besides building materials, you will need tools, and, of course, quality ones. Sacrificing tools quality over the price is a gamble and may lead to some problems later on. The recommendations in the book are short but thorough, listing all the tools needed.
Next, our tiny house designer Joshua explains how to properly prepare the timber by drying it and treating it with anti-fungal and insecticide solutions.
Tiny House Book: Connections Chapter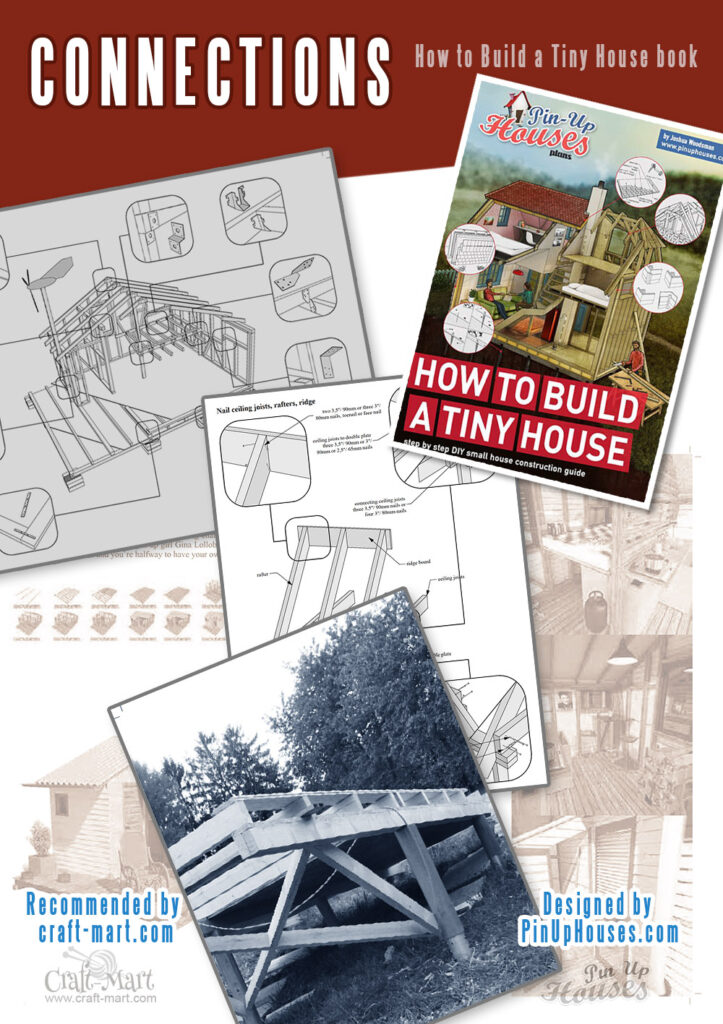 Now, when your timber is drying, it's time to learn how you will be able to connect it together. In this very detailed and perfectly illustrated chapter, Joshua shows how and where you should use metal fasteners, nails, and carpentry joints.
Tiny House Foundations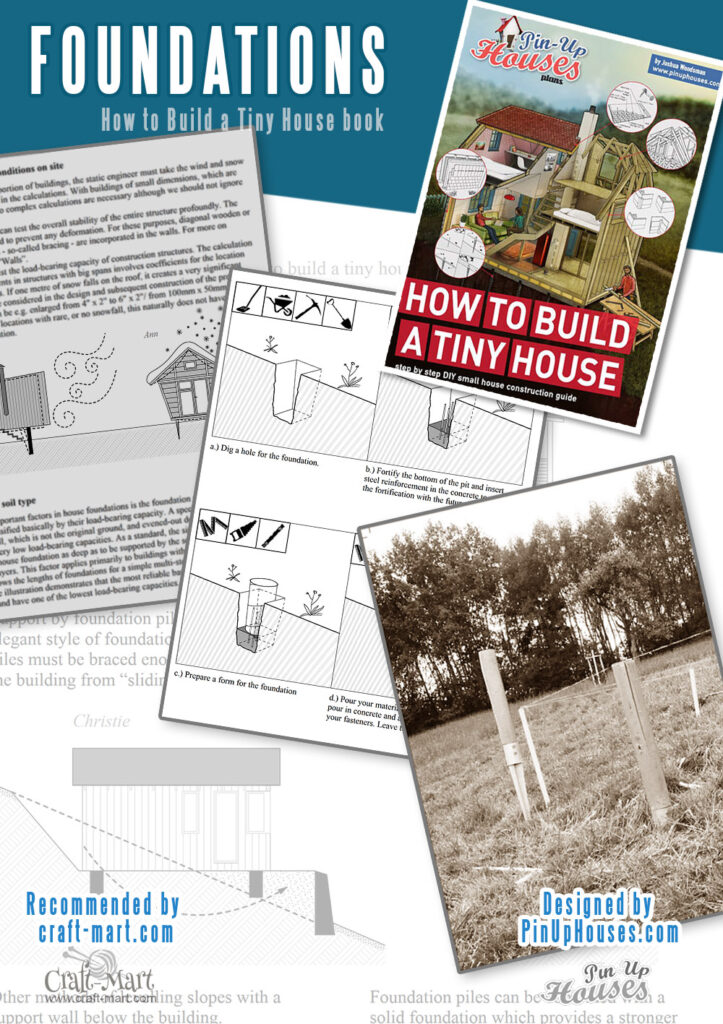 We all know that with a badly laid out foundation your tiny house may end up crooked and often not livable. This is why these first steps are extremely important.
In like manner, our tiny house designer Joshua points out all possible pitfalls and problems. Most importantly, he gives very clear instructions and there is plenty of drawings and photographs.
This section focuses on a variety of factors that may determine your particular foundation type. The book clearly describes all possible kinds of foundations are highlights the main advantages and disadvantages.
Equally important, a large number of illustrations definitely helps with understanding the required correct steps at this important stage of building a tiny house.
Tiny House Book: Flooring Section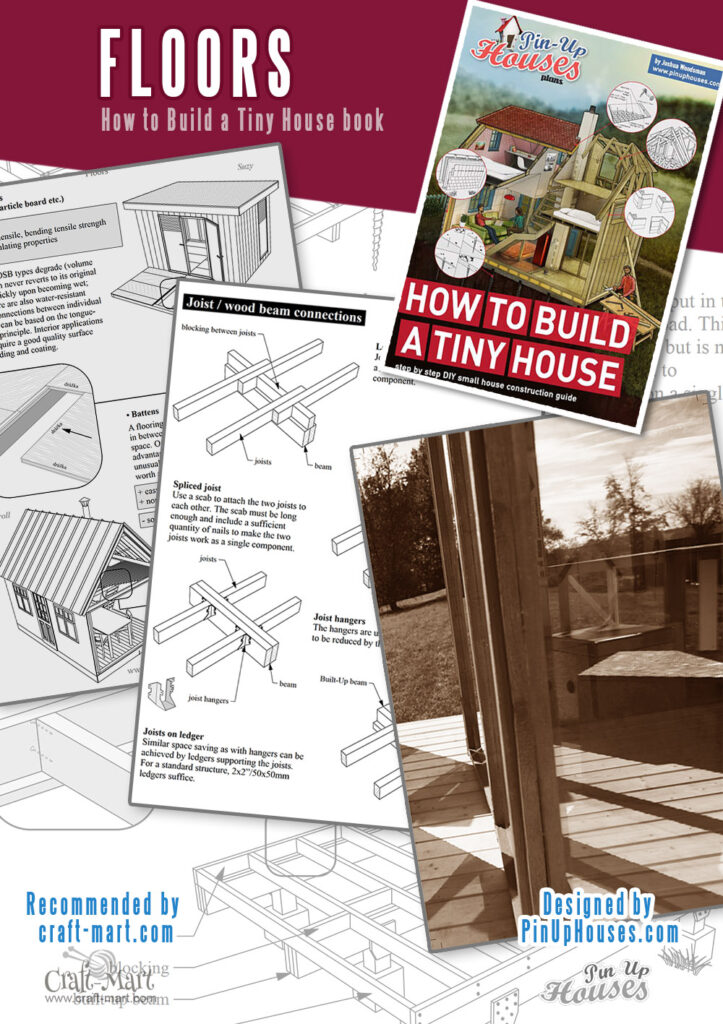 As in the previous chapter, there are many drawings showing how exactly the floor should be laid out. It is making this step easier to plan while avoiding common mistakes.
The book explains eight types of beams suitable for building a tiny house as well as major methods of connecting them together.
This section also covers hydro insulation and ventilation. The flooring section continues with an extensive overview of various floor types. You'll get familiar with simple boards, plywood, blocks, netting, clay, and carpets.
The description of possible floor finishes with an explanation of their advantages and disadvantages concludes the flooring chapter.
Tiny House Walls Section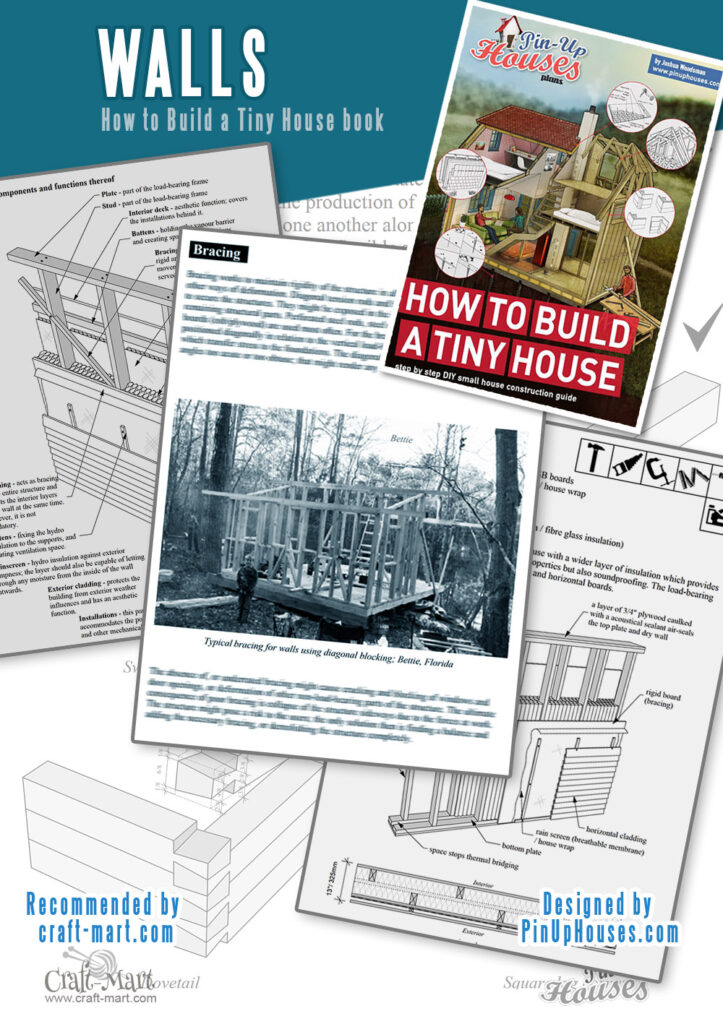 This chapter is a pretty good summary of the basic construction principles. It mentions various types of walls, with emphasis on wooden tiny homes.
You'll learn a very quick method of building two-by-four wooden frame structures and erecting them without the use of heavy lifting machinery. This technique could be a real help to people who are looking for cheap houses to build. Obviously, hiring or renting heavy lifting machinery can be quite expensive.
Like other sections, a tiny house walls chapter is showing a number of different bracing techniques. It describes thermal insulation, wall structures, types of siding, and even the use of recycled materials.
This is one of the largest chapters with plenty of drawings, comments, and photographs of live projects.
Additionally, it covers straw wall construction and log cabin structures. There are numerous illustrations and explanations for siding.
For example, you will learn why wooden shingles are not the best choice of siding in some cases. In addition, you will understand why corrugated metal should be used in spite of a higher initial cost.
Tiny House Book: Roof Structure Section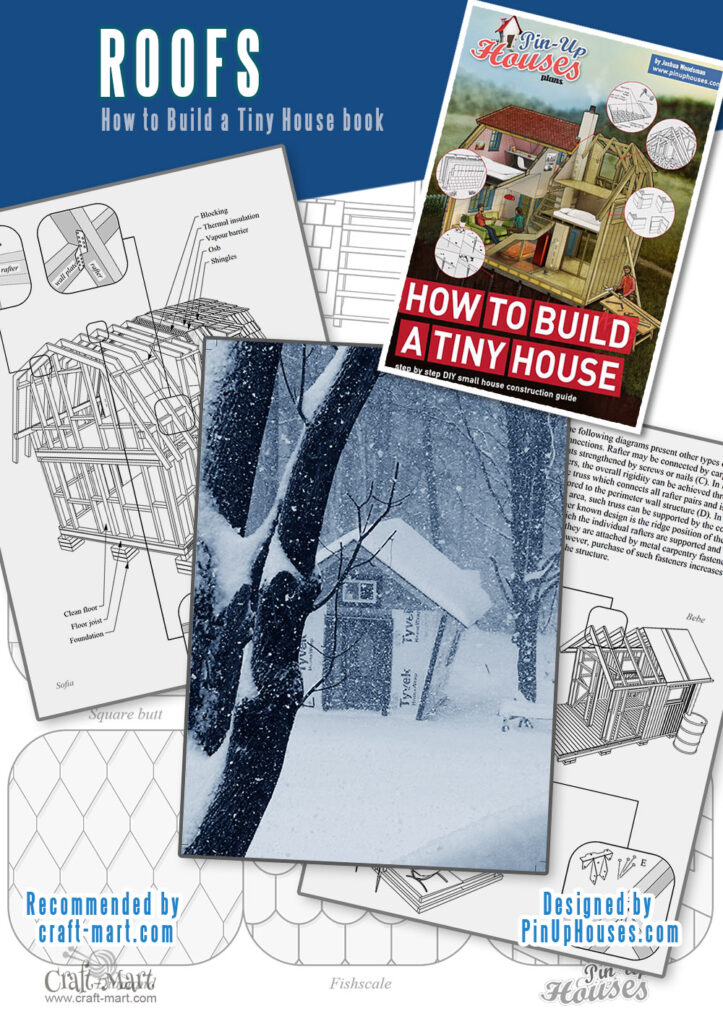 We all remember that saying about having the roof over the head. But only a few of us know the most important parts of the roof truss systems: the wall beams, purlins, beams, rafters, tie beams, straps, and various types of braces.
This chapter explains why the roof truss must be stable lengthwise as well as crosswise.
Tiny house designer Joshua continues with an overview of major types of roof shapes: gable, gambrel, shed, and hip roofs. Excellent 3-d and 2-d drawings show not only how these roofs are constructed but also their behavior in different weather conditions.
A 23-page overview of materials used for roof covers concludes this important section. Practically, it covers everything from corrugated metal, asphalt, and wooden shingles up to green and fabric roofs.
Get this tiny house book here!
Tiny House Book: Windows & Doors Chapter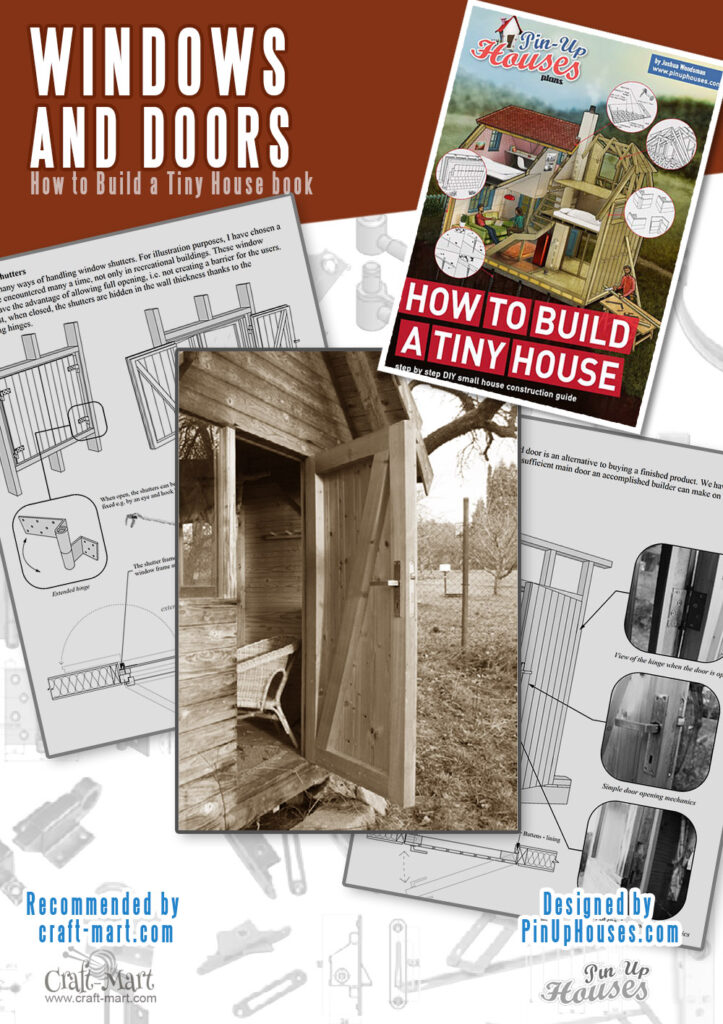 Joshua shows the most common types of windows and doors and a few ways of installing them. For hardcore DIYers, a few pages are dedicated to self-made doors and windows.
Tiny House Stairs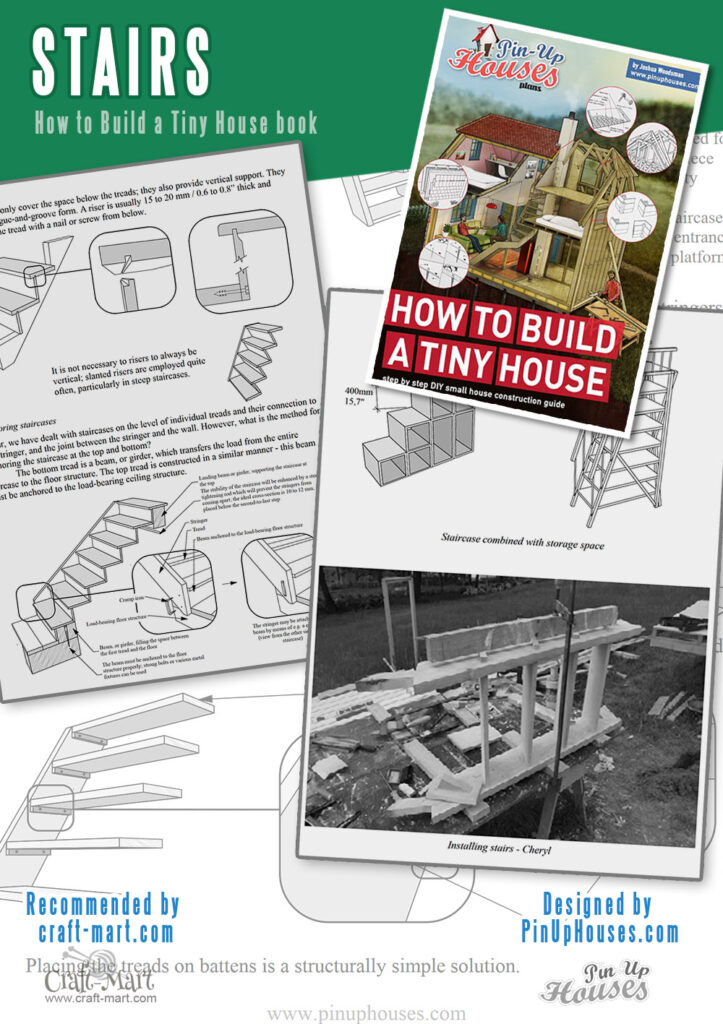 For tiny houses, stairs usually carry a number of functions. These details are often neglected in the traditional large homes where saving space is not a problem.
You will be surprised how much you can learn about staircases, their structural system, and space-saving designs.
Space Saving in Tiny Homes
This pretty interesting and informative section of a dozen pages is actually dedicated to conserving even more space. You will learn about designing custom foldable furniture that is truly multi-functional.
Heating and Sewerage
In order to choose the right type of heating, you'll have to know more than your individual needs and preferences. Most importantly, you'll have to know the options that exist in the area where you are building your tiny house.
For example, not every location is suitable for solid fuel supply. Also, you have to check if your house is a candidate for certain renewable power sources.
This chapter also focuses on the most common solutions and rather unusual ones for wastewater treatment. Sewer takes the waste from the toilet, bathroom, and kitchen away from the building where it can be handled in various ways.
Tiny House Book: Water Section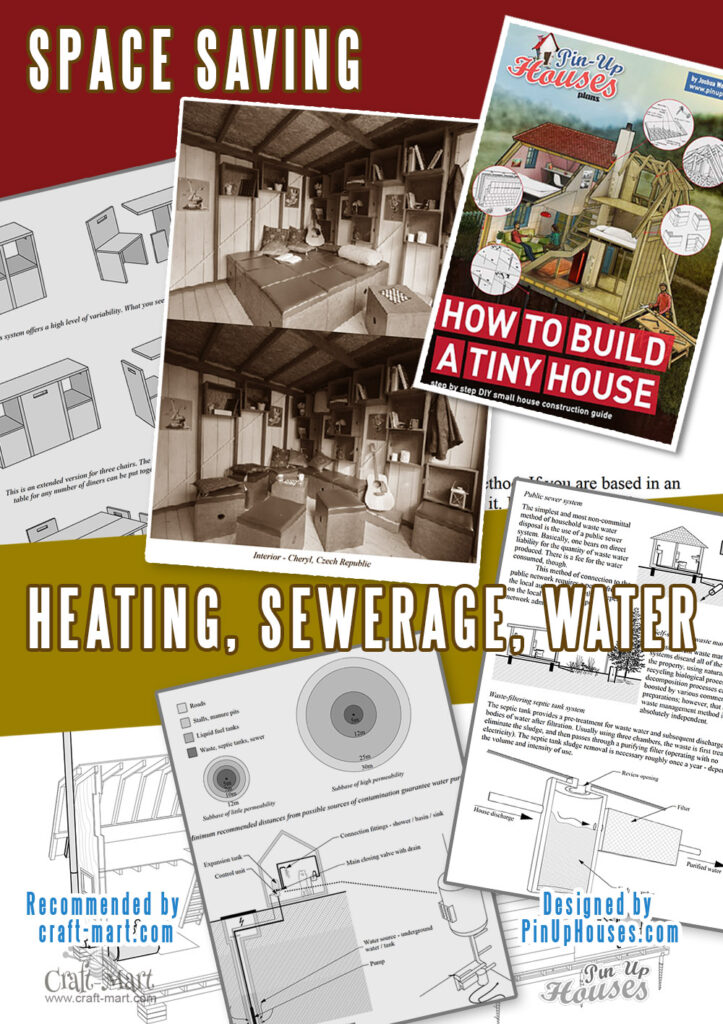 A good and reliable drinking water source is one of the most important requirements for human dwellings. This chapter will give you a summary of the basic water sources such as wells, springs, municipal water sources, desalination, and rainwater collection, to name a few.
The book explores pumps and water heating as well.
Get this tiny house step-by-step construction guide here!
Building Defects Section
Defects and various imperfections are always present in every construction project; it would be wise to consider them in advance.
Good quality design and, primarily, detailed planning and execution of the tiny house project may reduce building defects to the minimum. Joshua pinpoints the most common mistakes and places that usually require extra attention during the building process.
Tiny House Book: The Conclusion Chapter
Tiny house designer Joshua spent over 18 months writing his "How to Build a Tiny House" book. He used not only his personal experience but tons of feedback from numerous customers from all over the world.
The best part of his effort is that he himself gained a lot of building experience before and during the process of writing.
This is a huge plus for DIY beginners. Unfortunately, there are too many "how to build a tiny house" books written by people that do not have such hands-on experience.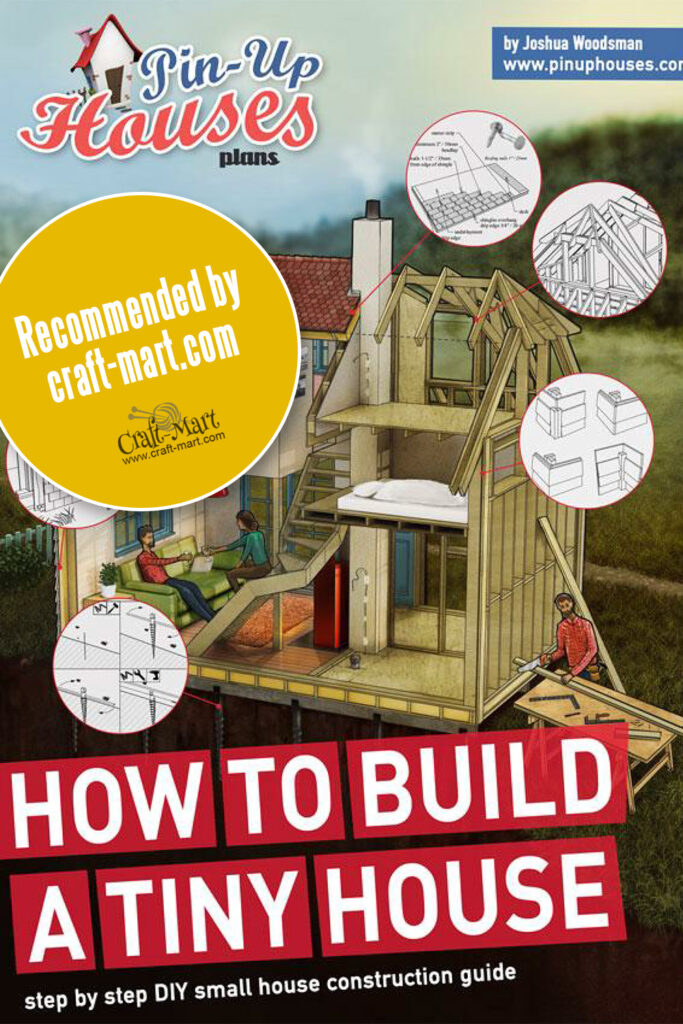 Our opinion
Learning from the person who went through the tiny house-building process multiple times is the best way to avoid confusion and mistakes. In rare cases, when you'll get confused or will need help with a tiny house or shed modification, Joshua is always eager to help via email.
Just bear in mind that excessive help requests take too much time from his work.
His approach to designing small structures is rather unique. Furthermore, we all need to thank him for providing such a valuable alternative to mostly faceless or badly designed floorplans.
Plus, keep in mind that large architectural firms are mostly interested in selling medium and large floorplans. On the opposite, Joshua is providing truly unique and interesting tiny structures projects. Virtually anyone with a pair of hands can build these tiny homes.
Is anything missing in this book?
You will not find in this book a couple of sections – electrical and plumbing. Why? The goal of this book is to provide a general overview of the construction process from an architectural point of view for different types of tiny houses.
The author intentionally didn't want to dive into electrical and plumbing. It is hard to cover these two subjects in short chapters. For example, working with electricity should be left to professional electricians. So, it would be wise to hire an electrician and you should not do the wiring yourself.
Below you'll find a few top-ranked guides on plumbing and wiring that we highly recommend. However, before spending your time and money on these, get the "How to build a tiny house step-by-step" book first. Then you'll decide if you'll be able to handle the project.
Complementary Books
Black & Decker The Complete Guide to Wiring
Updated 7th Edition: Current with 2017-2020 Electrical Codes
Black & Decker The Complete Guide to Plumbing
Updated 7th Edition: Completely Updated to Current Codes