There's nothing quite like choosing and creating a space that's all your own. When you're browsing through affordable A-frame tiny house plans of your dreams, some plans seem to be almost perfect. However, we all know that if you're building a home with your partner, you'll have to make adjustments right away or, at least, be sure that these adjustments can be easily made during the building process.
Luckily, most of the plans for small A-frame homes are very simple. A-frame cabins are a beautiful standard of American architecture and they have a few advantages over more common traditional home types. We'll look into some of these advantages in detail at the end of this post.
If you're looking for a unique layout that maximizes natural light and features your property's gorgeous views, then an A-frame house might be a good choice.
But are these A-Frame cabins easy to build?
Yes, they are! One of the reasons people love A-frame home plans is that they are easily scalable, which means their size can easily be adjusted to accommodate each owner's needs and they are easy to extend later as well. Having fewer walls means that construction can move more quickly and, in some cases, medium and small A-frame homes may even cost less to build.
Six of these small and tiny A-frame house plans come from a group of professional architects and designers – "Pin-Up House" located in the EU. All construction estimates are based on the actual building costs.
Another half-a-dozen A-frame plans are created by DEN Outdoors – a new company based in the N.East of the US. They provided an estimated building cost of $153 per SQ FT that may greatly vary from region to region.
1. Modern A-Frame Small House "Rebecca"
DIY cost to build $57, 000
Total: 971 sq. ft.
Loft: 304 sq.ft
Porch: 126 sq.ft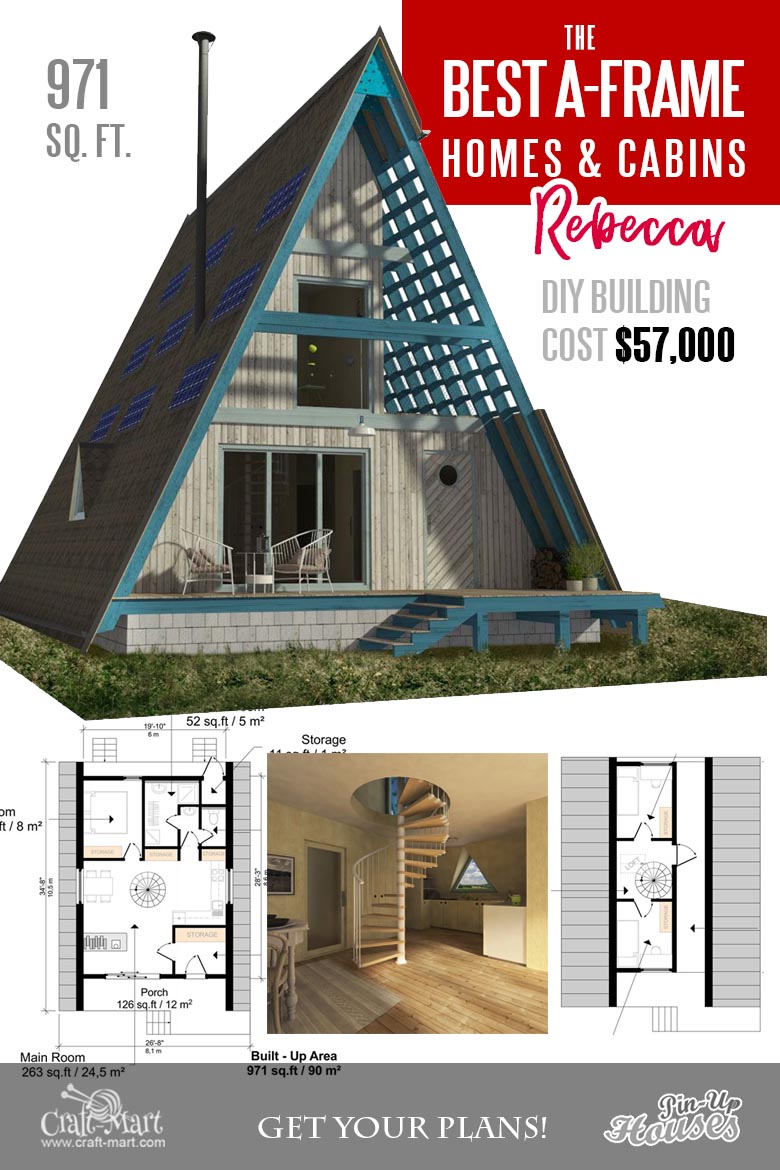 This 3-bedroom A-frame house plan (900+ square feet) looks really cool with its unique pergola-covered 2nd-floor terrace. Is it that practical? Probably not that much but it surely gives this A-frame a character. The ground floor features a pretty sizable for this plan foyer with storage for clothes and shoes. For warmer climates, it would be not important to have it as a separate room.
The first impression of the interior renderings is a lack of natural light. Small triangular windows a definitely cute but are more appropriate for the second floor. Both the kitchen and the living room would benefit from much wider windows.
The second floor has two symmetrical bedrooms of similar sizes. At least one of them can be enlarged by expanding into the terrace which is way too narrow for social gatherings or other activities.
Rebecca is one of the newest plans for A-frame houses created for a bit colder regions of the EU and the USA.
Get more details on A-frame house "Rebecca" here.
2. A-Frame tiny house plans "Dolores"
DIY cost to build $7, 400
Total: 183 sq. ft.
Loft: 41 sq.ft
Porch: 51 sq.ft
Who doesn't like cute and tiny A-Frames like the one below? Building your own tiny A-frame cabin is a useful skill but it can also be a lot of fun. This is why this very set of plans is on the top of the A-frame bestsellers list.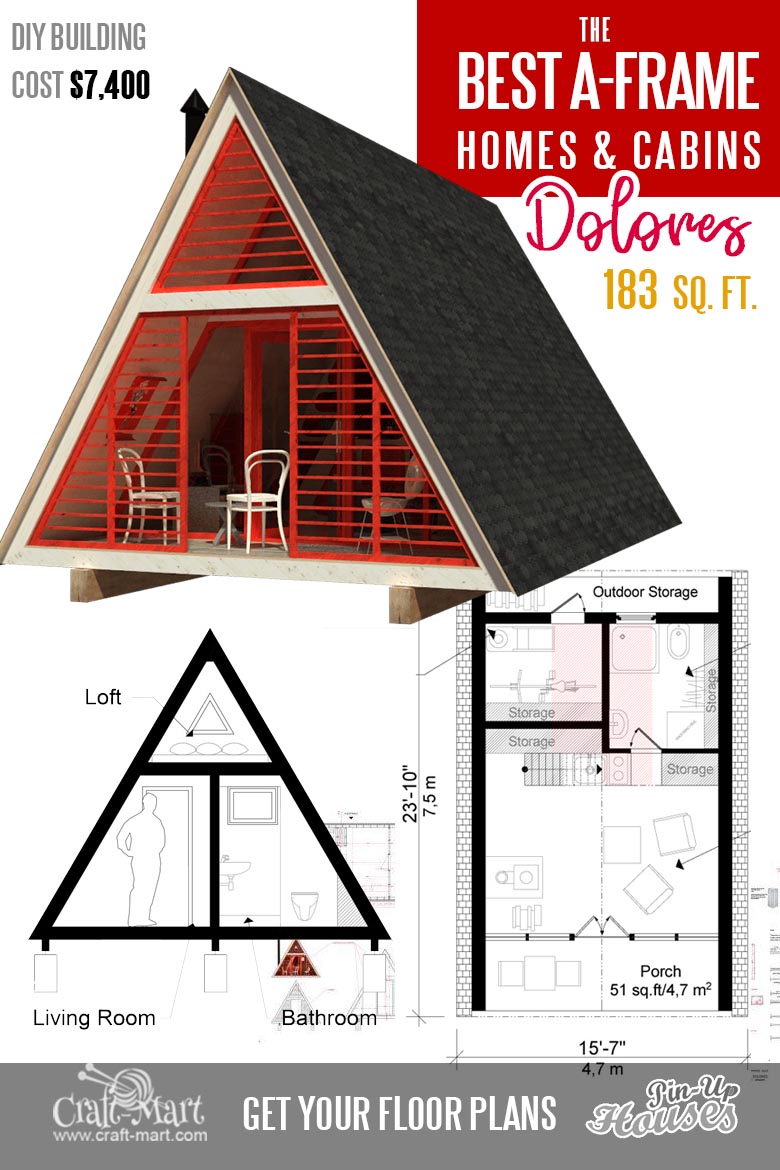 Extremely affordable and aesthetically gorgeous, this set of A-frame tiny cabin plans is inviting you finally to get off your couch and build something practical that you and your family will enjoy for years to come.
The floor plan is so simple that it doesn't need any explanation. The only thing that comes to mind would be extending the roof over the porch 1-2 feet in case you'd want to sit there during the rain or have some shade on a hot sunny day. Planning on having some extra protection from the elements wouldn't blow your budget.
Perhaps, another idea would be having an additional window on one of the sides of the roof. Having more natural light never hurts plus the room will look less gloomy in the winter.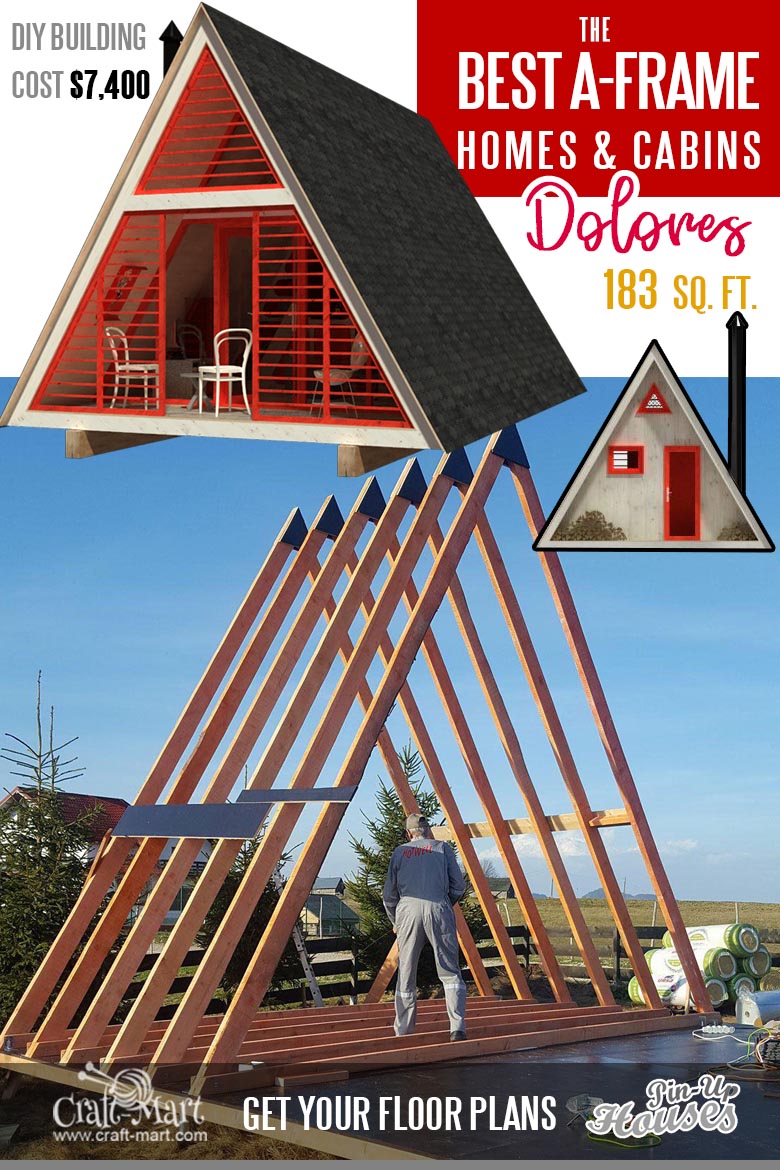 The main advantage of A-frame floor plans is their simplicity. It is easy to erect and becomes very sturdy once finished. Building a pyramid would be the safest for seismically active areas but can become a lot more challenging project.
Get these A-frame cabin plans here
DIY cost to build $25,704
196 sq ft. (14′ length x 14′ width)

From Den Outdoors comes an A-frame design that quickly became one of the most popular among DIY enthusiasts. With its large floor-to-ceiling front facade window with french doors, these A-frame cabin plans are easy to understand and implement even for a complete DIY beginner.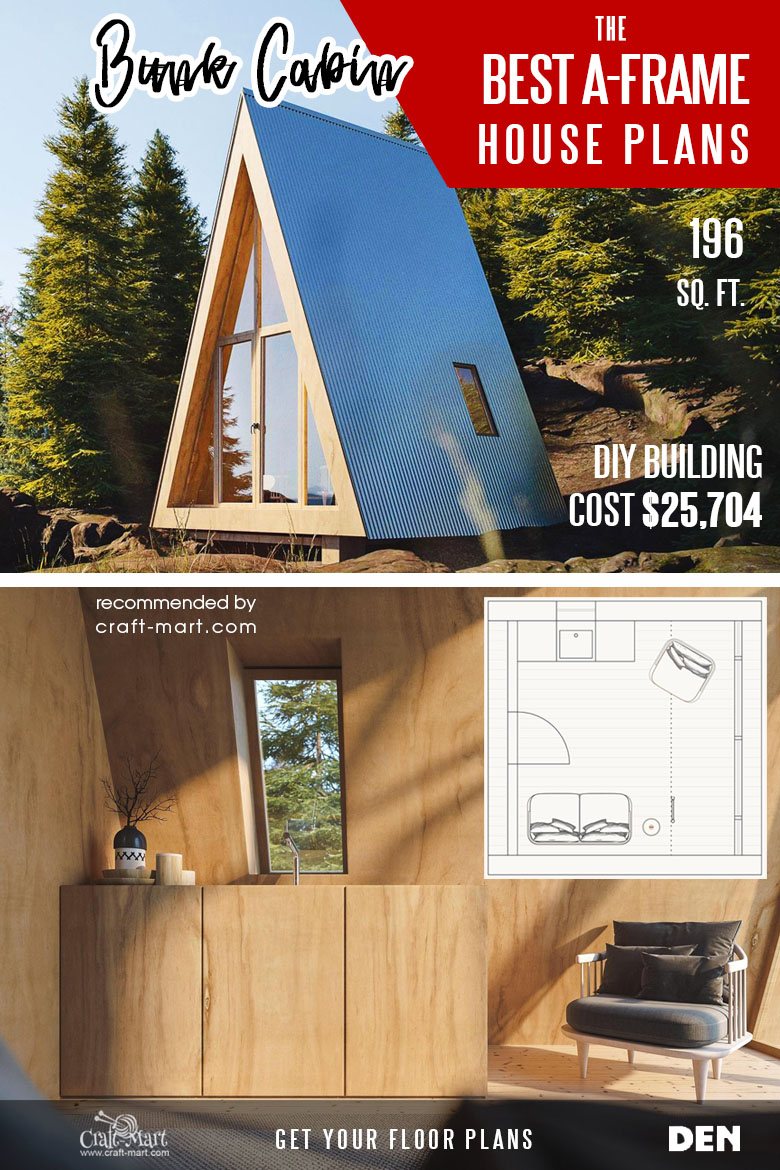 An optional kitchenette can be added on the back as well as a tiny bathroom (not shown). A small sleeping loft has enough space for 2 people while the ground level provides plenty of room for daily activities.
If you are interested in this cabin find a piece of land first, get all the permits, and then purchase these plans like a number of other DIYers did!
4. A-Frame small house "Evelyn"
DIY cost to build $59, 400
Ground floor: 947 sq ft
Loft: 372 ft² / 34,4 m²
Porch: 86 ft² / 8 m²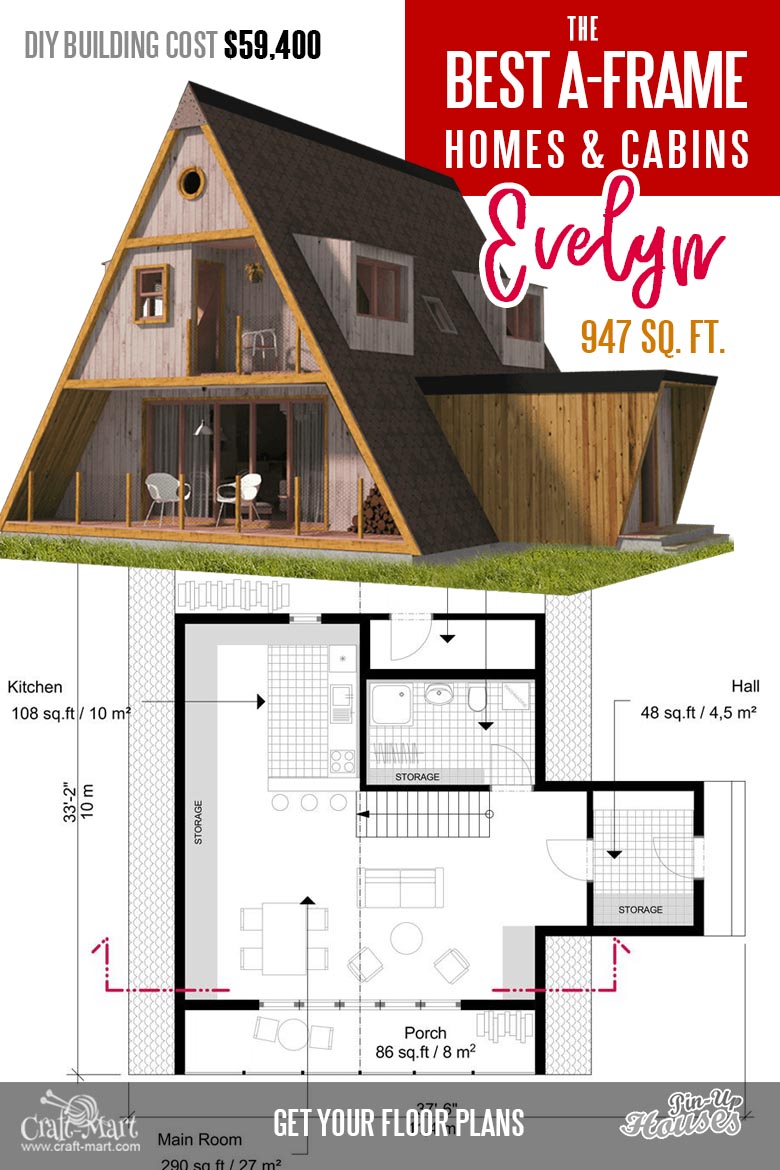 A small A-frame home Evelyn (900 square feet) has enough space for a family of four. If you really want a very effective way of living that allows for a number of ecological solutions then this A-frame style house plan may work for you. The house is designed to have three floors. All common facilities and the living area in on the ground level.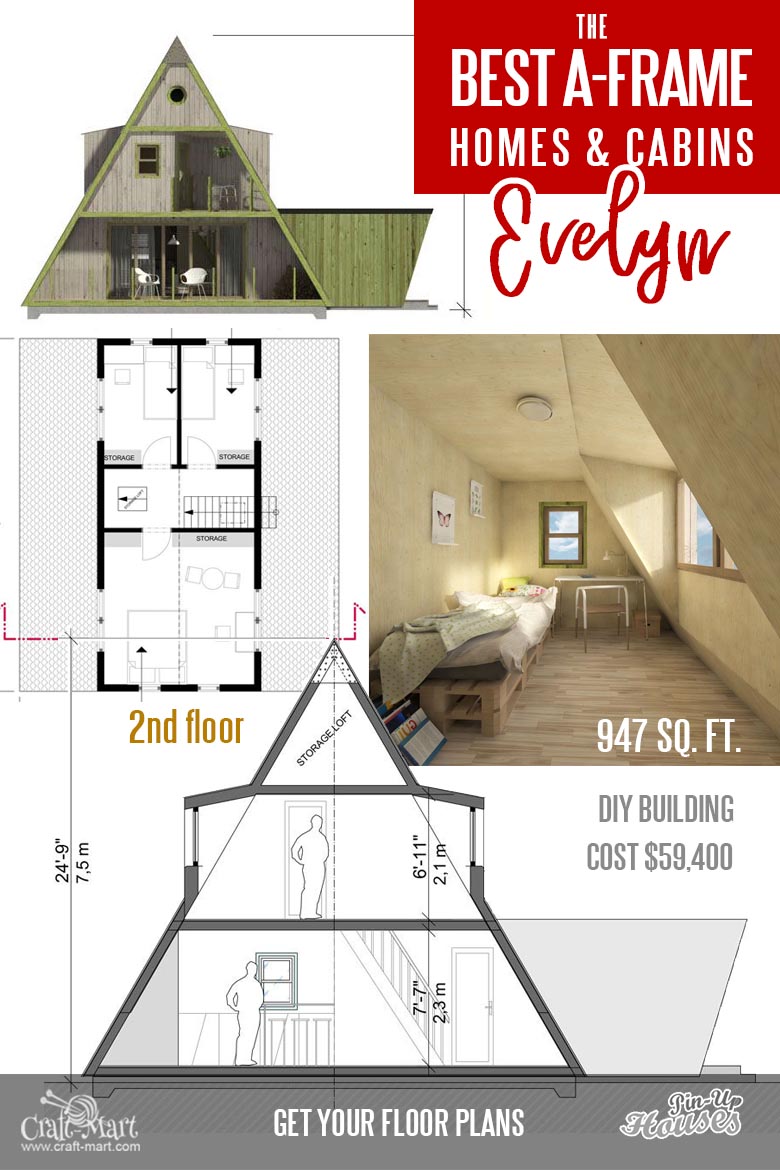 The second floor is designed for one large bedroom and two smaller ones, divided only by the staircase. Each floor may also have an outdoor area show as a porch on the ground level and a tiny balcony on the 2nd floor. Of course, in case you don't need that many bedrooms, you may eliminate the bedroom above the living room. Put a large window in the plans for a frame house – Evelyn 2nd floor above the porch and enjoy a huge living space full of light and air!
DIY cost to build $41,310
Ground floor: 270 sq. ft.
This cabin is very similar to the Bunk Cabin but it has one important addition – the bathroom! Although having a composting toilet and a sink would be enough for a number of people, some would also want a shower as well. Get water to your cabin and install a small shower on the opposite side of the bathroom.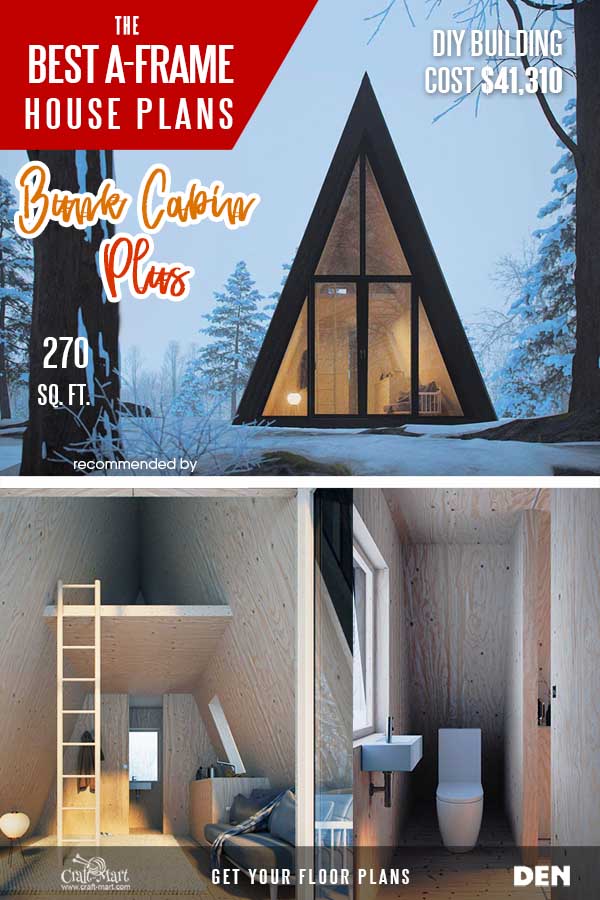 With a loft extended above the bathroom, you can move it towards the back and enjoy your high-ceiling living room during the day. With a bathroom addition, your cabin can easily fit up to 4 people.
Start building your perfect vacation A-frame cabin!