There's nothing quite like choosing and creating a space that's all your own. When you're browsing through affordable A-frame tiny house plans of your dreams, some plans seem to be almost perfect. However, we all know that if you're building a home with your partner, you'll have to make adjustments right away or, at least, be sure that these adjustments can be easily made during the building process.
Luckily, most of the plans for small A-frame homes are very simple. A-frame cabins are a beautiful standard of American architecture and they have a few advantages over more common traditional home types. We'll look into some of these advantages in detail at the end of this post.
If you're looking for a unique layout that maximizes natural light and features your property's gorgeous views, then an A-frame house might be a good choice.
But are these A-Frame cabins easy to build?
Yes, they are! One of the reasons people love A-frame home plans is that they are easily scalable, which means their size can easily be adjusted to accommodate each owner's needs and they are easy to extend later as well. Having fewer walls means that construction can move more quickly and, in some cases, medium and small A-frame homes may even cost less to build.
Six of these small and tiny A-frame house plans come from a group of professional architects and designers – "Pin-Up House" located in the EU. All construction estimates are based on the actual building costs.
Another half-a-dozen A-frame plans are created by DEN Outdoors – a new company based in the N.East of the US. They provided an estimated building cost of $153 per SQ FT that may greatly vary from region to region.
1. Modern A-Frame Small House "Rebecca"
DIY cost to build $57, 000
Total: 971 sq. ft.
Loft: 304 sq.ft
Porch: 126 sq.ft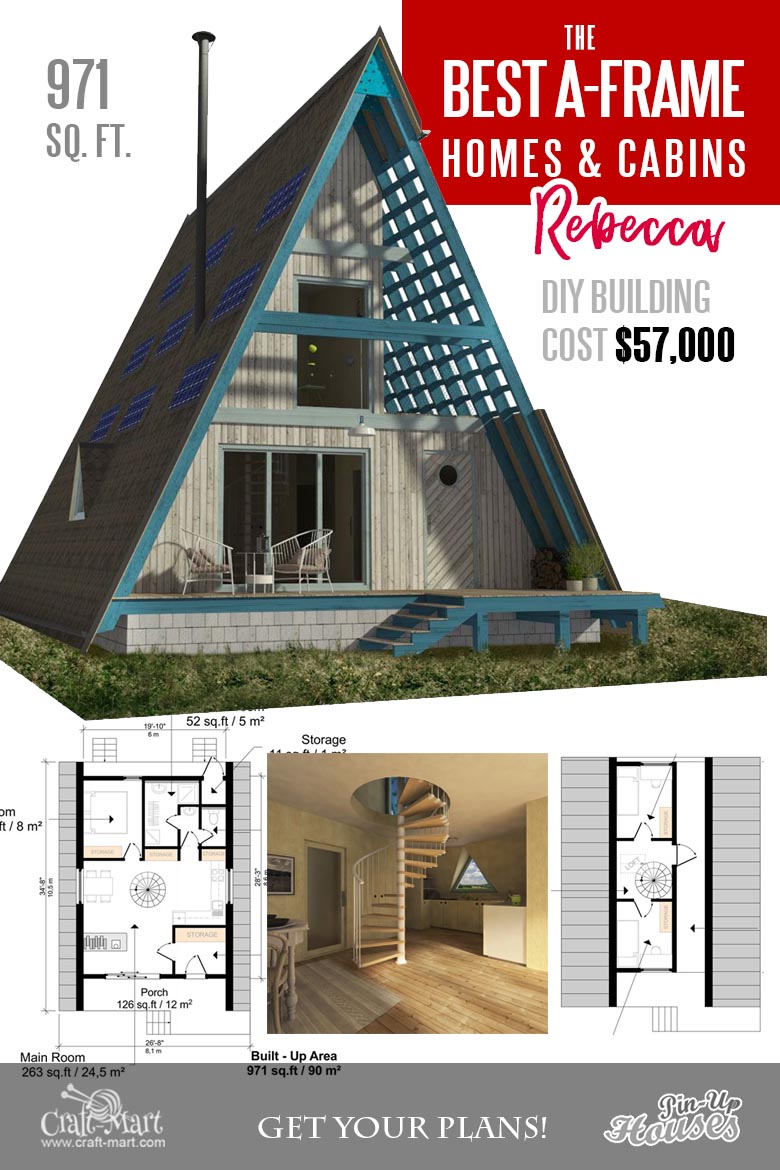 This 3-bedroom A-frame house plan (900+ square feet) looks really cool with its unique pergola-covered 2nd-floor terrace. Is it that practical? Probably not that much but it surely gives this A-frame a character. The ground floor features a pretty sizable for this plan foyer with storage for clothes and shoes. For warmer climates, it would be not important to have it as a separate room.
The first impression of the interior renderings is a lack of natural light. Small triangular windows a definitely cute but are more appropriate for the second floor. Both the kitchen and the living room would benefit from much wider windows.
The second floor has two symmetrical bedrooms of similar sizes. At least one of them can be enlarged by expanding into the terrace which is way too narrow for social gatherings or other activities.
Rebecca is one of the newest plans for A-frame houses created for a bit colder regions of the EU and the USA.
Get more details on A-frame house "Rebecca" here.
2. A-Frame tiny house plans "Dolores"
DIY cost to build $7, 400
Total: 183 sq. ft.
Loft: 41 sq.ft
Porch: 51 sq.ft
Who doesn't like cute and tiny A-Frames like the one below? Building your own tiny A-frame cabin is a useful skill but it can also be a lot of fun. This is why this very set of plans is on the top of the A-frame bestsellers list.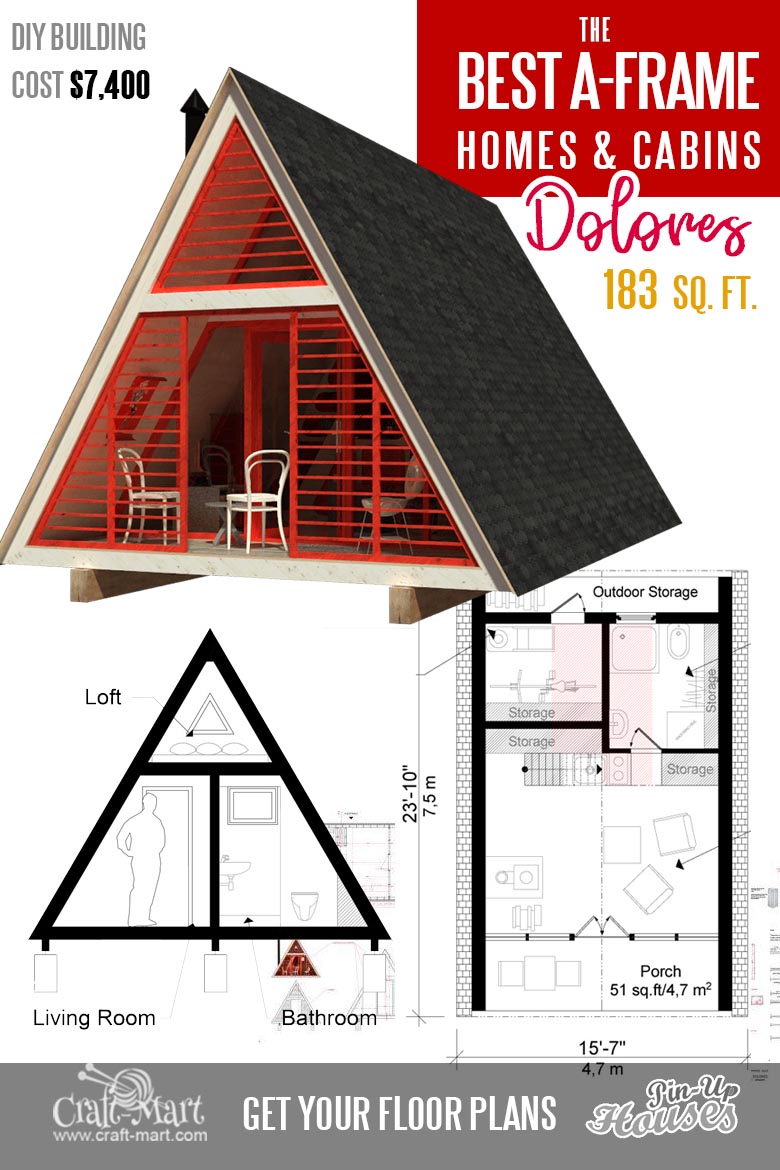 Extremely affordable and aesthetically gorgeous, this set of A-frame tiny cabin plans is inviting you finally to get off your couch and build something practical that you and your family will enjoy for years to come.
The floor plan is so simple that it doesn't need any explanation. The only thing that comes to mind would be extending the roof over the porch 1-2 feet in case you'd want to sit there during the rain or have some shade on a hot sunny day. Planning on having some extra protection from the elements wouldn't blow your budget.
Perhaps, another idea would be having an additional window on one of the sides of the roof. Having more natural light never hurts plus the room will look less gloomy in the winter.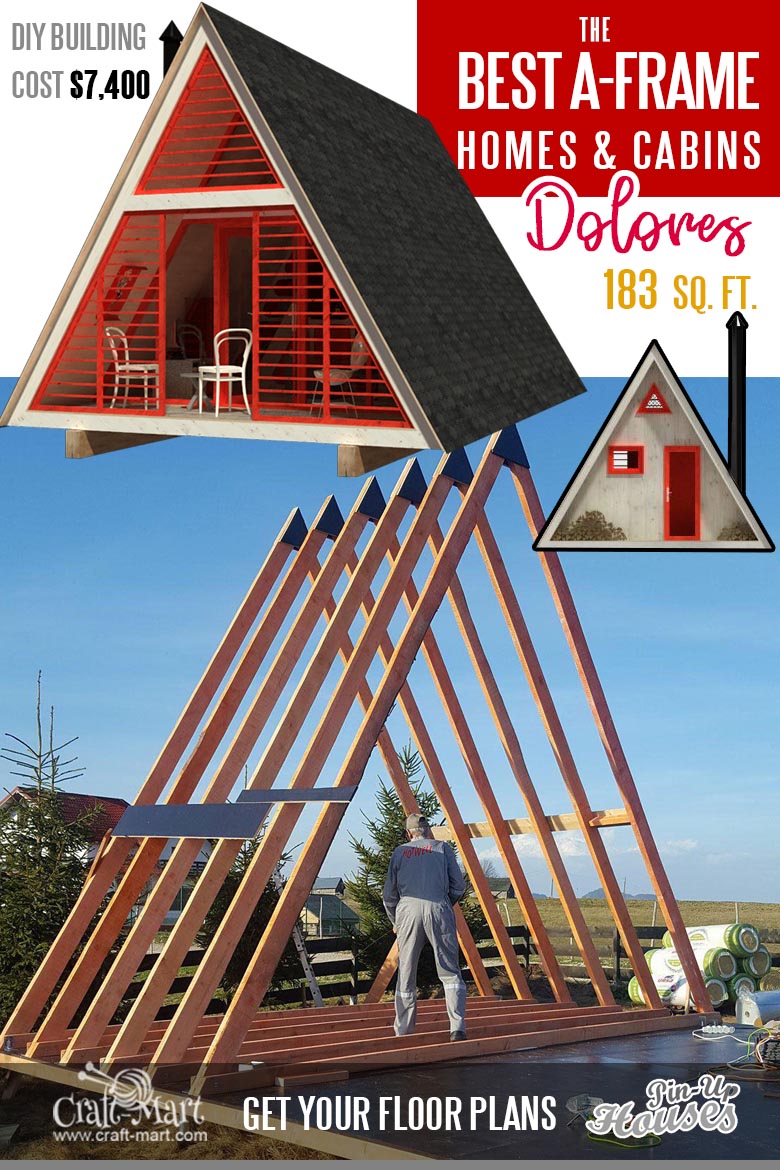 The main advantage of A-frame floor plans is their simplicity. It is easy to erect and becomes very sturdy once finished. Building a pyramid would be the safest for seismically active areas but can become a lot more challenging project.
Get these A-frame cabin plans here
DIY cost to build $25,704
196 sq ft. (14′ length x 14′ width)

From Den Outdoors comes an A-frame design that quickly became one of the most popular among DIY enthusiasts. With its large floor-to-ceiling front facade window with french doors, these A-frame cabin plans are easy to understand and implement even for a complete DIY beginner.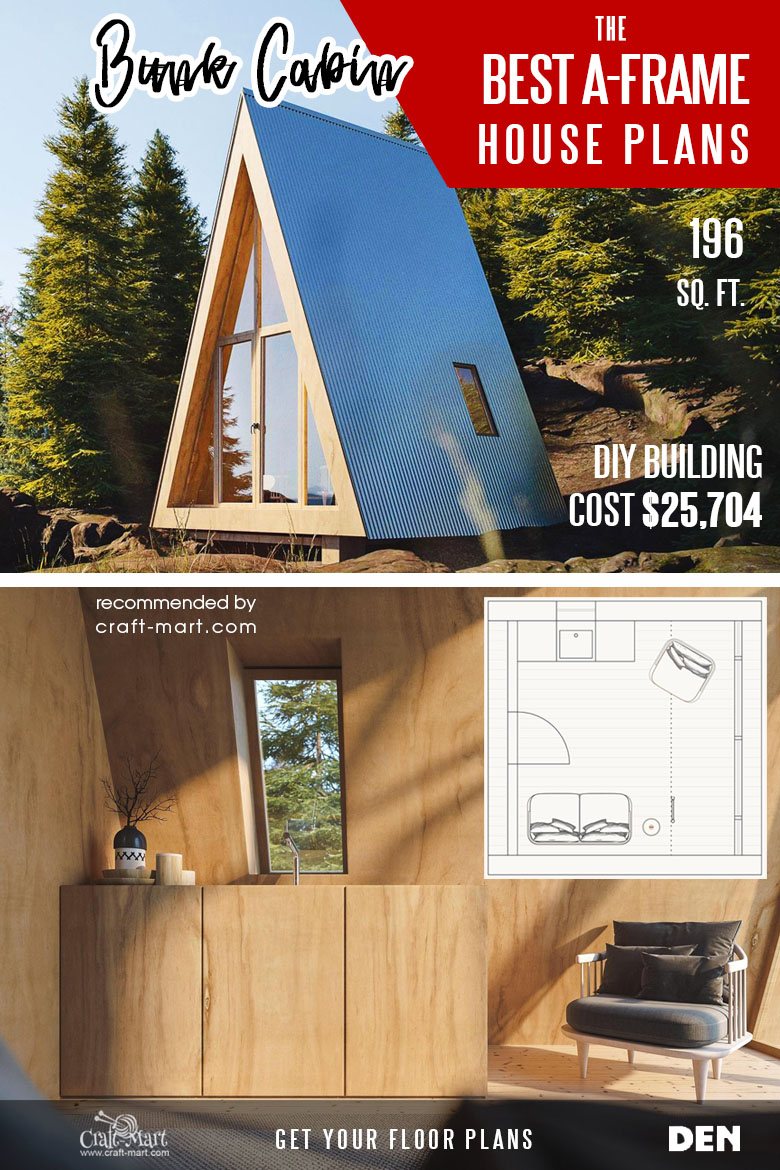 An optional kitchenette can be added on the back as well as a tiny bathroom (not shown). A small sleeping loft has enough space for 2 people while the ground level provides plenty of room for daily activities.
If you are interested in this cabin find a piece of land first, get all the permits, and then purchase these plans like a number of other DIYers did!
4. A-Frame small house "Evelyn"
DIY cost to build $59, 400
Ground floor: 947 sq ft
Loft: 372 ft² / 34,4 m²
Porch: 86 ft² / 8 m²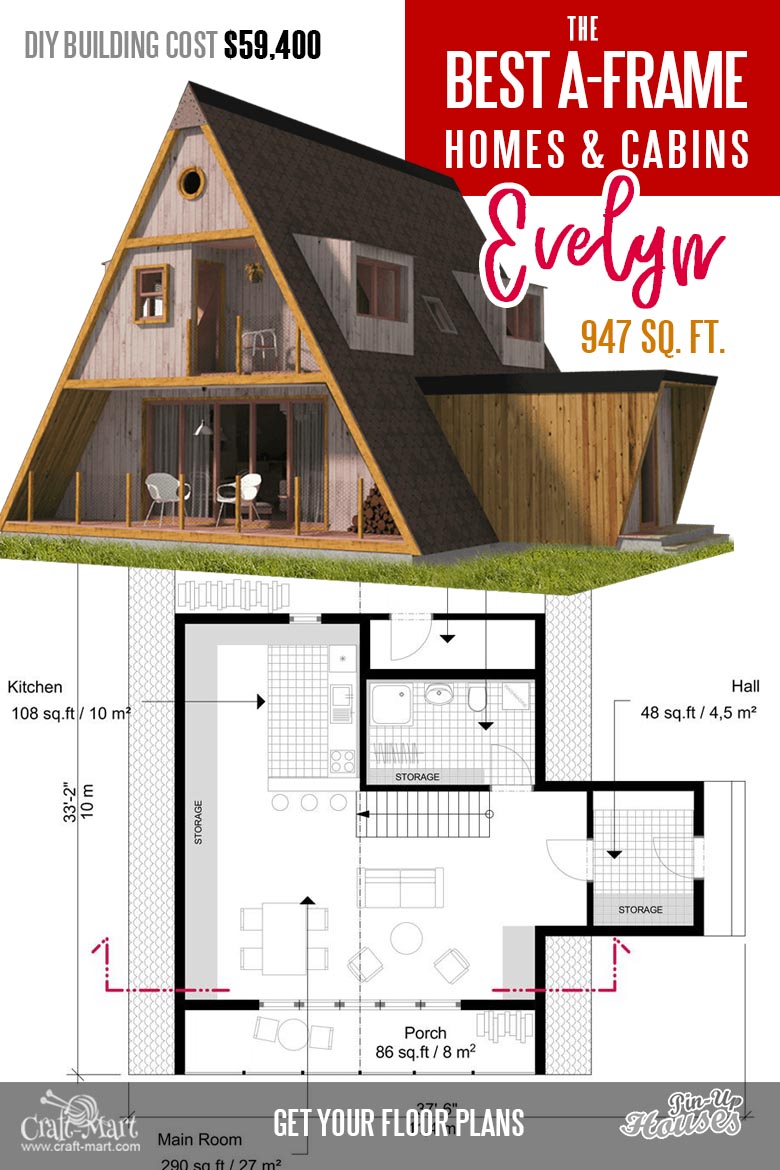 A small A-frame home Evelyn (900 square feet) has enough space for a family of four. If you really want a very effective way of living that allows for a number of ecological solutions then this A-frame style house plan may work for you. The house is designed to have three floors. All common facilities and the living area in on the ground level.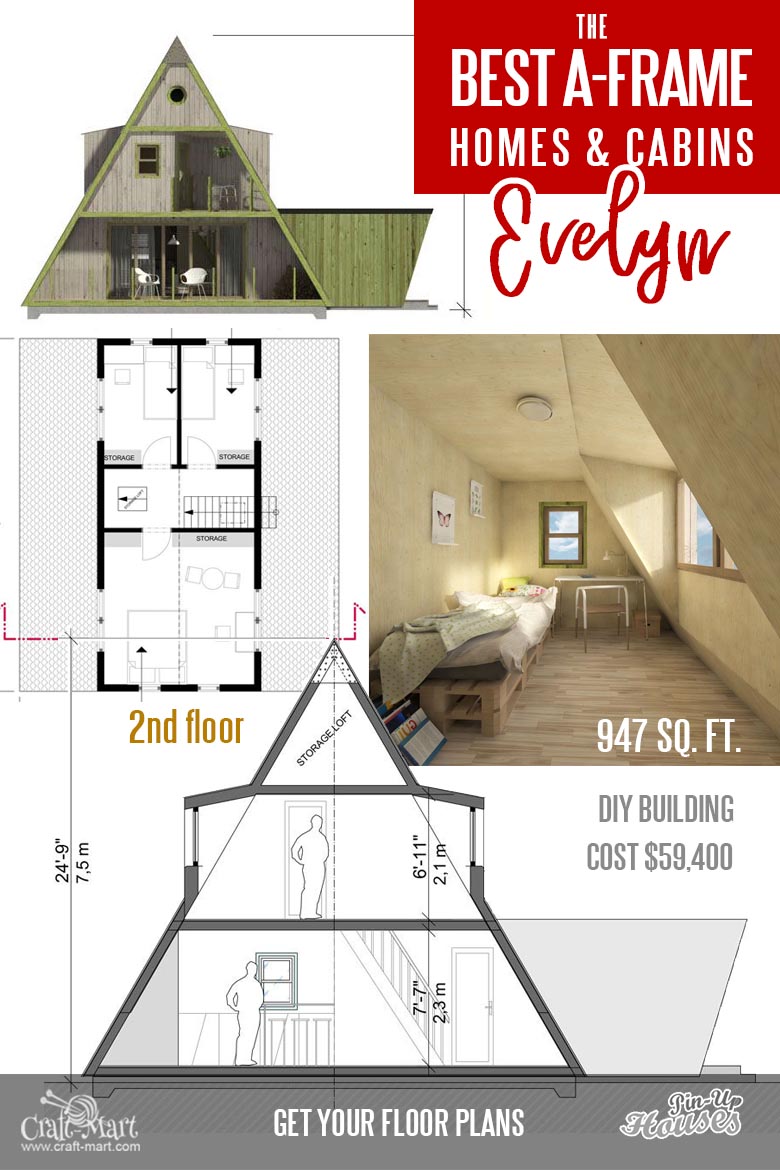 The second floor is designed for one large bedroom and two smaller ones, divided only by the staircase. Each floor may also have an outdoor area show as a porch on the ground level and a tiny balcony on the 2nd floor. Of course, in case you don't need that many bedrooms, you may eliminate the bedroom above the living room. Put a large window in the plans for a frame house – Evelyn 2nd floor above the porch and enjoy a huge living space full of light and air!
DIY cost to build $41,310
Ground floor: 270 sq. ft.
This cabin is very similar to the Bunk Cabin but it has one important addition – the bathroom! Although having a composting toilet and a sink would be enough for a number of people, some would also want a shower as well. Get water to your cabin and install a small shower on the opposite side of the bathroom.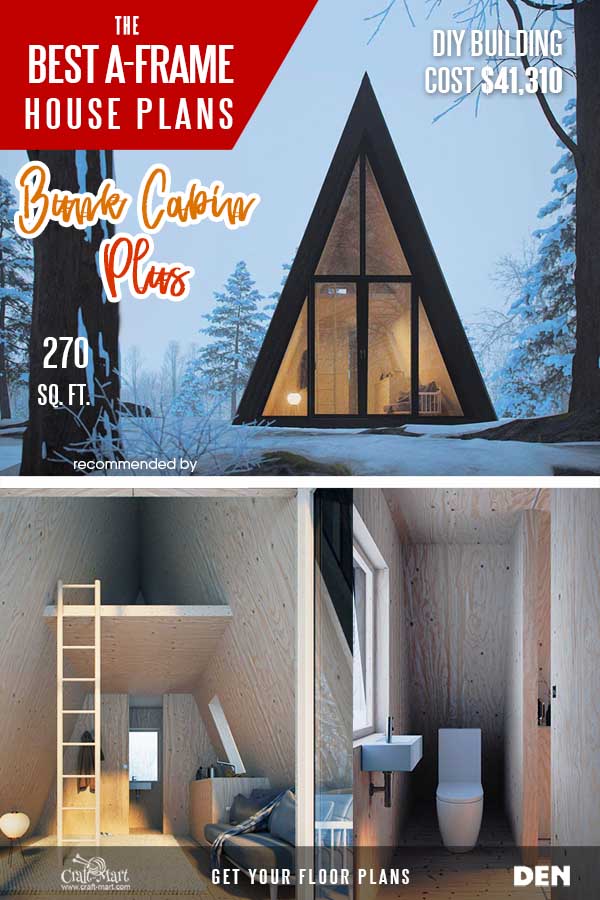 With a loft extended above the bathroom, you can move it towards the back and enjoy your high-ceiling living room during the day. With a bathroom addition, your cabin can easily fit up to 4 people.
Start building your perfect vacation A-frame cabin!
6. A-Frame tiny house plans "Alexis"
DIY cost to build $11,500
Ground floor: 207 sq. ft.
Loft: 54 sq ft
A-frame tiny house Alexis is under 300 Sq. Ft. which means that it is a TINY A-frame-shaped house that is fine for one person to actually live in it. It's just a bit larger than the most popular on our list A-frame cabin "Dolores" yet it's spacious enough for having a mini-kitchen and a bathroom on the first floor.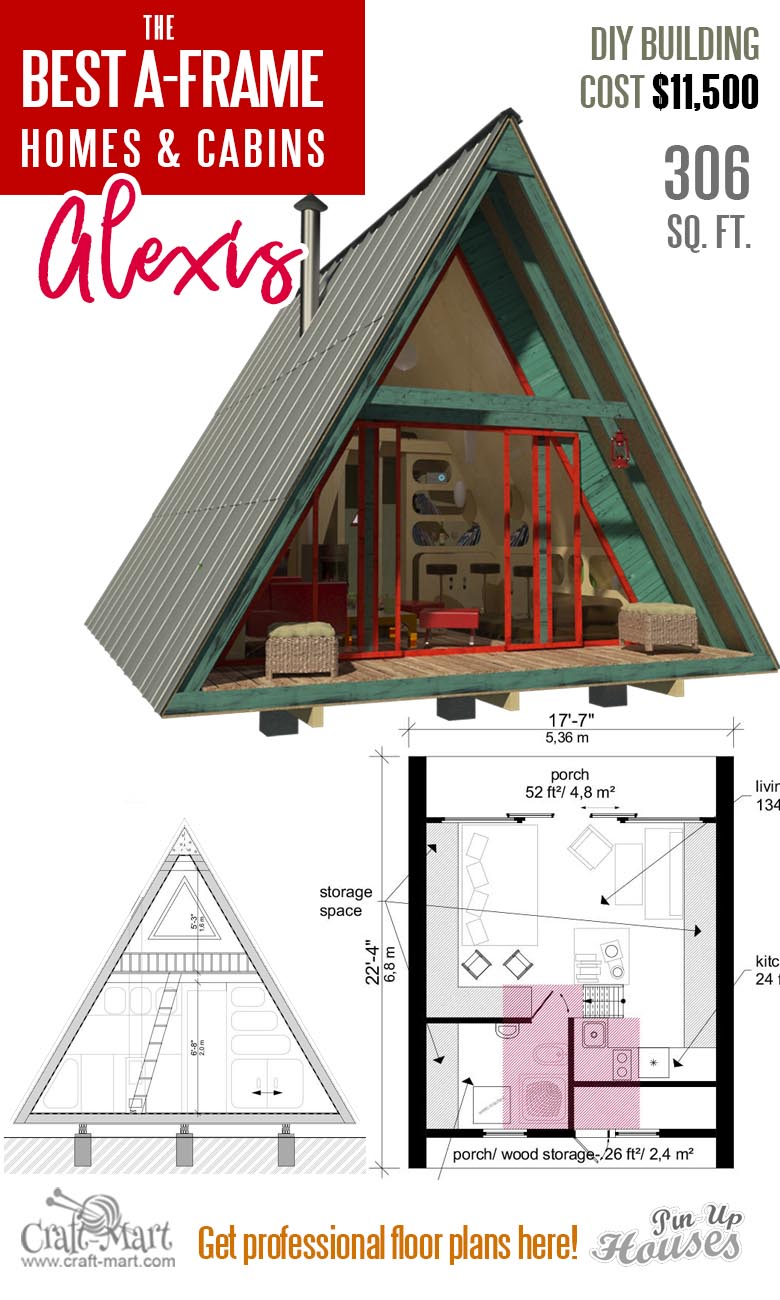 Get Alexis small house floor plans
The slanted roof walls provide a "homey" cozy feeling. With a pretty low construction cost of $11,500, this is a really nice option for people on a budget. With more tiny homes-friendly communities sprouting in many areas, (for example, Austin, TX) this house can be a lot of fun to build and live in.
Did you notice the sleeping loft, by any chance? It means that the downstairs space is more usable for daytime activities. Don't forget about the small but functional porch as well. "Alexis" like other small house plans under 1000 sq. ft. with a loft is well worth their price. This is why this plan sells much better than some larger ones.
Get Alexis A-frame house plans in PDF format here
DIY cost to build $328,338
Ground floor: 2146 sq. ft.
This a real 3-bedroom house with 2 bathrooms. With huge windows and glass doors, you always will have an abundance of natural light.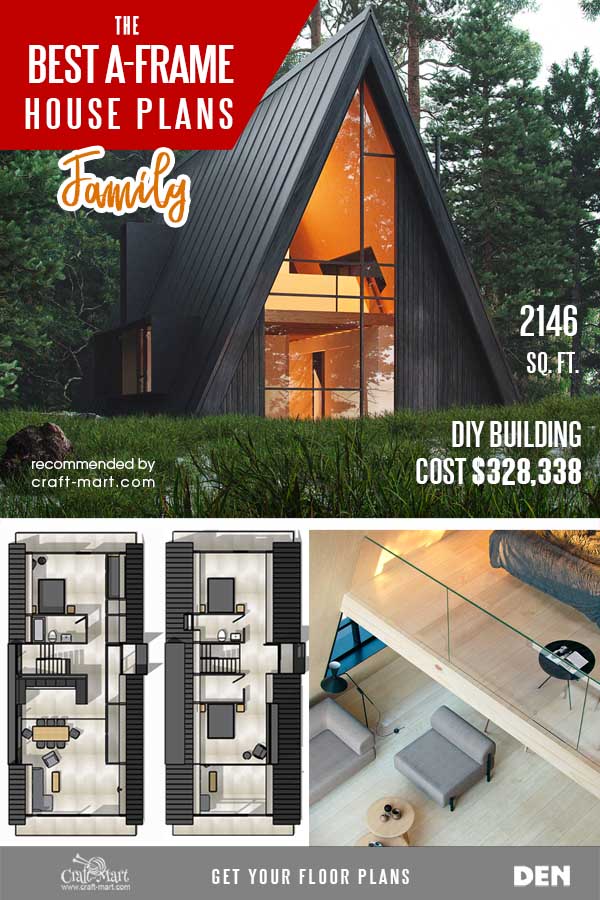 All 3 bedrooms are pretty similar in size and are very spacious. The stairs leading to the 2nd level are not very steep and easy to use. The overall design of the house is modern and elegant. A steep metal roof is easy to maintain to keep your house dry, especially if it rains a lot in your area.
Considering the affordable cost of these A-frame house plans (almost 2 times cheaper than any plan with similar square footage), we highly recommend going with it.
Get your house plans for this stylish A-frame here
8. An A-Frame small house with a Loft and a Deck
From $589
1st Floor:480 sq. ft
2nd Floor:138 sq. ft.
This model has a lot of positive features like a cathedral ceiling in the living room, and a spacious deck with a cover above the entrance, for example. Get this A-frame plan here.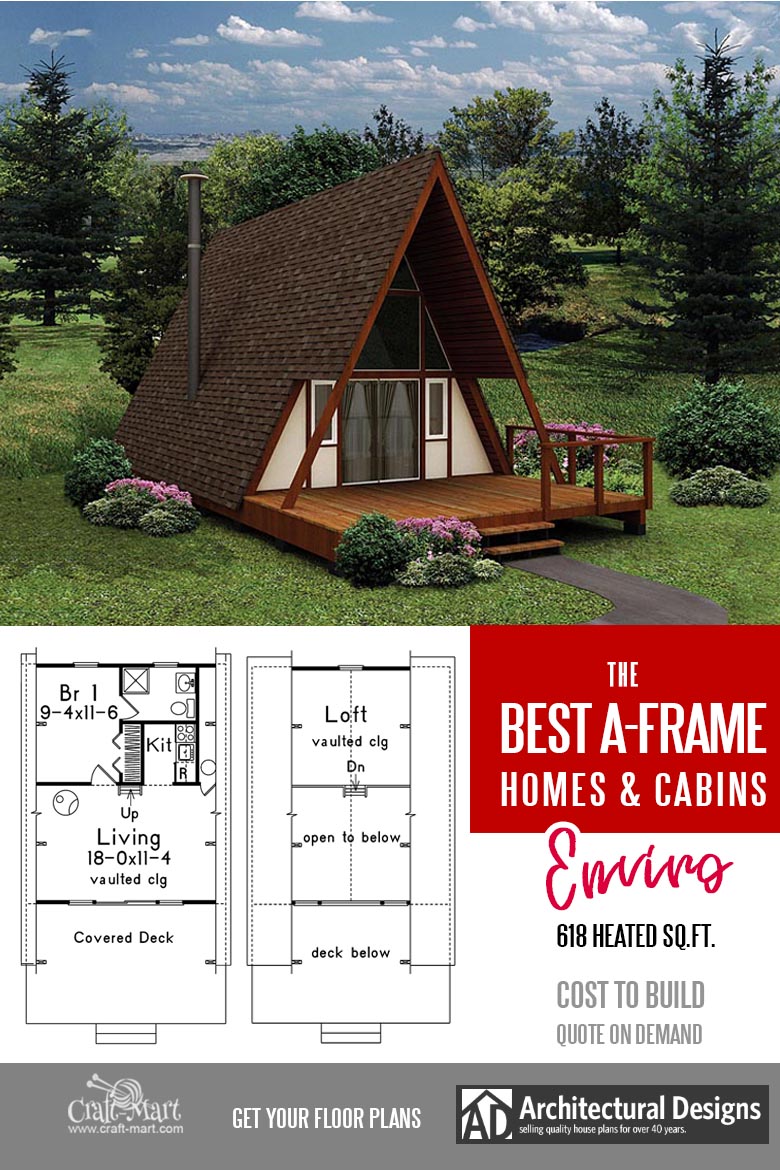 The main drawback is its tiny kitchen. Can you make some space on the opposite side where the built-in closet takes now the whole wall and move the fridge there? At least you'll get some horizontal counter to prepare your food.
A steep ladder leading to the sleeping loft is not a problem for most people. One small problem would be a trip to the bathroom from this sleeping loft through the bedroom on the first floor. Make an additional sliding door entrance through the kitchen. We think it will be a nice solution, don't you? Get this A-frame plan here.
DIY cost to build $153,000
Total Area 1000 sq. ft.
This A-frame house is designed to accommodate 4 people plus 1-2 occasional guests. Typical A-frame homes are normally not famous for their large sleeping lofts but this house is different – the master bedroom upstairs is super-spacious.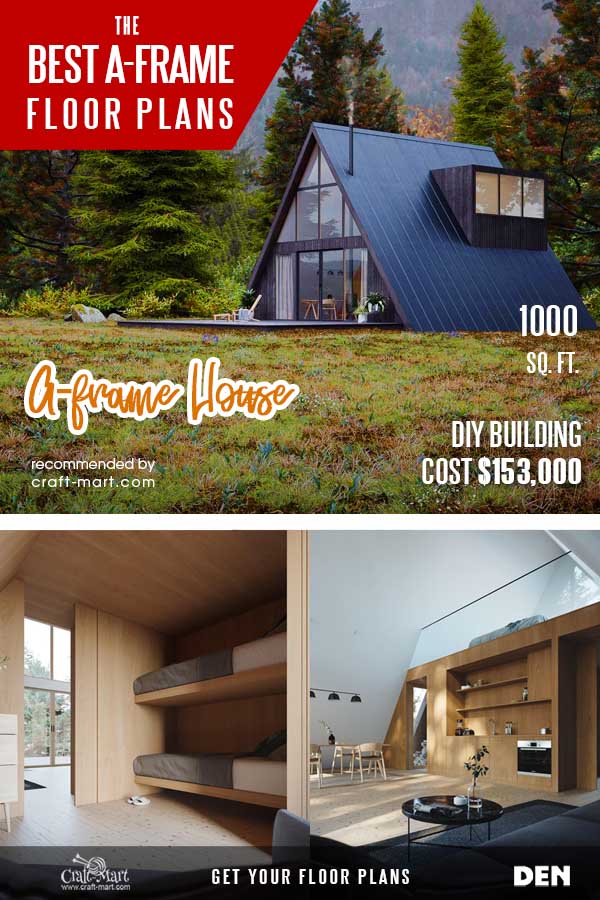 The smaller bedroom on the main floor has 2 bunk beds for kids, guests, or other family members. You also will be happy with a full kitchen, spa bathroom, and even a convertible space perfect for a laundry nook.
The front deck extends the living room providing plenty of space for parties and other activities.
Get these nice A-frame house plans here
10. Tiny A-Frame house plans "Megan"
DIY cost to build $33,400
Total Area 488 sq. ft.
1st. floor 370 sq. ft.
Loft 161 sq. ft.
Porch 54 sq. ft.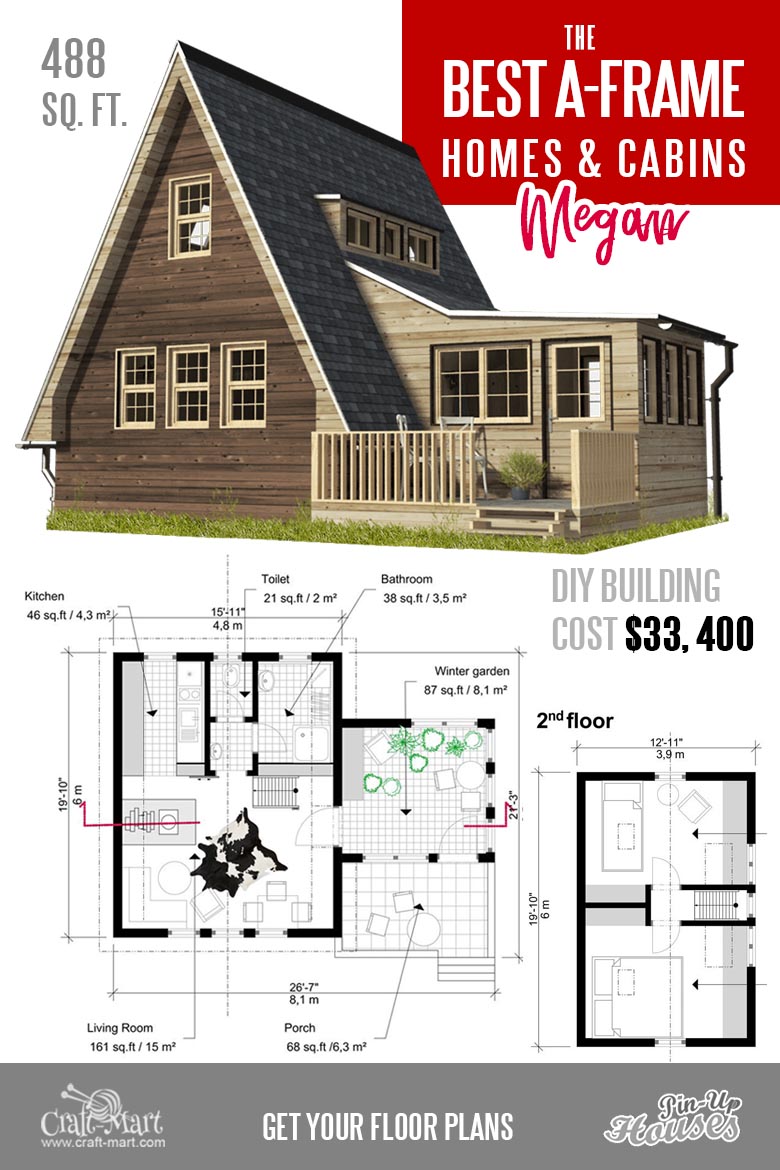 Not many plans for an A-frame house include winter gardens. Imagine yourself drinking a cup of English tea there… The ground-level layout is simple. The stairs to the second floor are a bit steep for going down half-asleep in the middle of the night.
In the US, most people would consider this to be an almost tiny vacation home for two but by European standards, the square footage of this floor plan is plentiful for a family of three. It would be interesting to hear what people from Japan think of it, considering that some of them are comfortable sleeping in capsule hotels like this.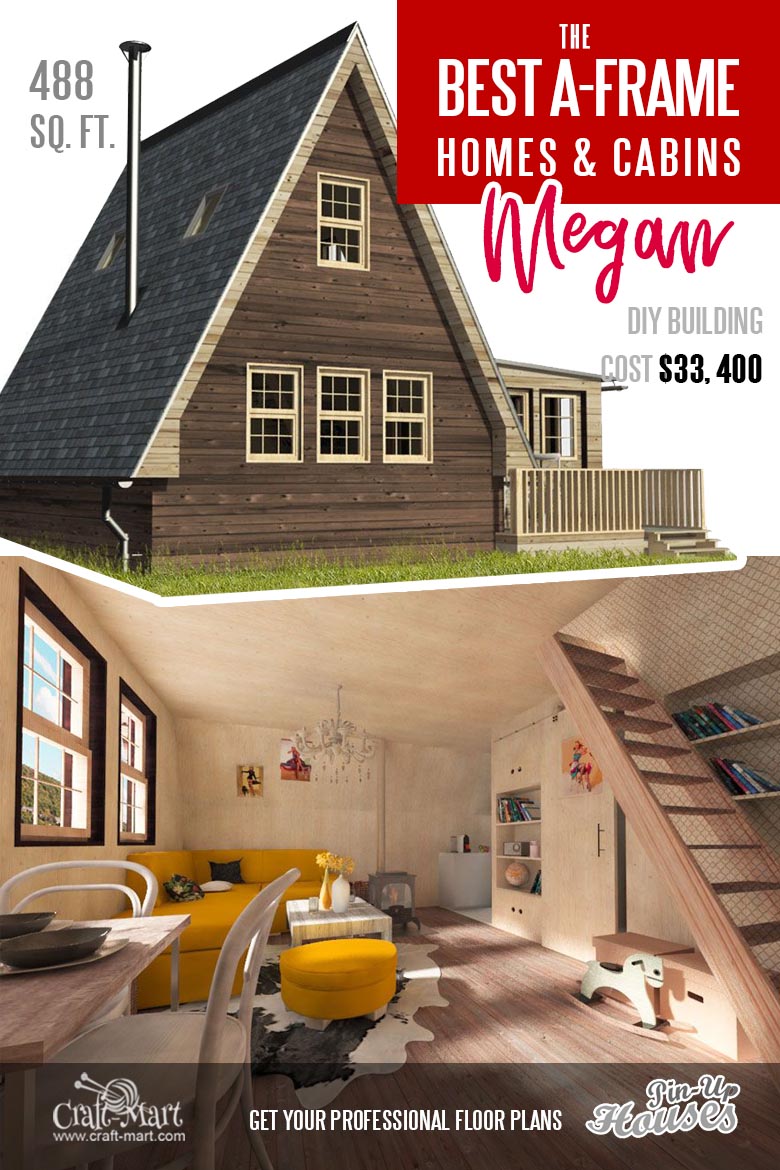 These plans for an A-frame house offer pretty efficient use of space. The building cost is very low considering the impressive look and square footage. This small A-frame house may be a good solution for a relaxing retirement dwelling for empty-nesters or a comfortable vacation cottage.
Get these A-frame tiny house plans
Cost to build $122,400
800 sq ft. (28′ length x 24′ width)
Downsizing is not always easy but this A-frame house may help you with this tough decision. It offers a spacious living/kitchen area connected to a large deck through a couple of French doors.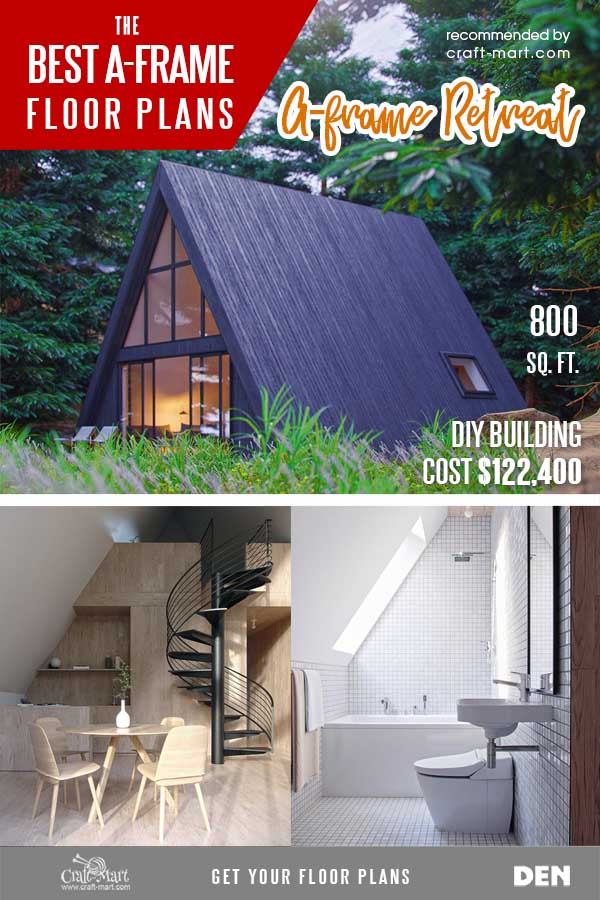 A sharp-looking modern spiral staircase is definitely an eye-catching feature and definitely worth its price. The bedroom on the loft is large and has plenty of light and headroom.
You'll have your own retreat to unwind – just imagine taking a bath while looking at a beautiful sunset.
Get these A-frame house plans here.
12. Fantastic A-Frame small house with a balcony
From $889
1,224 SQ FT
3 Beds,1 Bath, 2 Stories
These plans for the A-frame house are still showing roughly the same layout of both floors. With plenty of windows, its 2-story high living area should have amazing natural light. What a perfect place for a retired couple! Get this plan here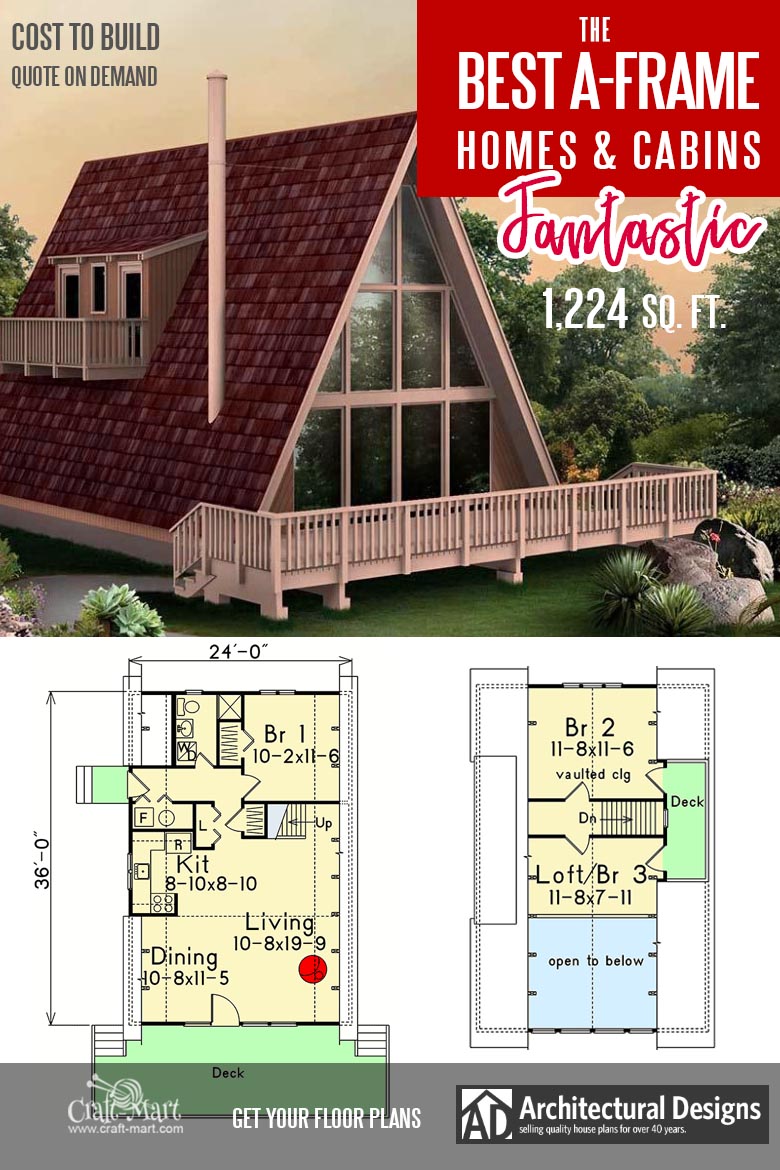 Can this plan be improved? Depending on one's needs and habits a lot of modifications can be done. For example, why not add a small toilet with a mini sink to the second floor? There is an empty space above the furnace and water heater exactly for this purpose. A number of buyers are also worried about having a bathtub. With this square footage, this A-frame home plan can easily get a larger bathroom on the first floor.
In any case, look at this floor plan as a general suggestion but don't plan on butchering the whole layout – it may cost too much to customize. Stay with small modifications or if you really need to, find another plan.
Cost to build $63,495
415 sq ft. (28′ length x 14′ width)
Although a 415 SQ FT house is considered to be "tiny" you have enough space not only for a small kitchen but also for a master bedroom downstairs. Consequently, you and your friends can feel comfortable spending a few days enjoying nature.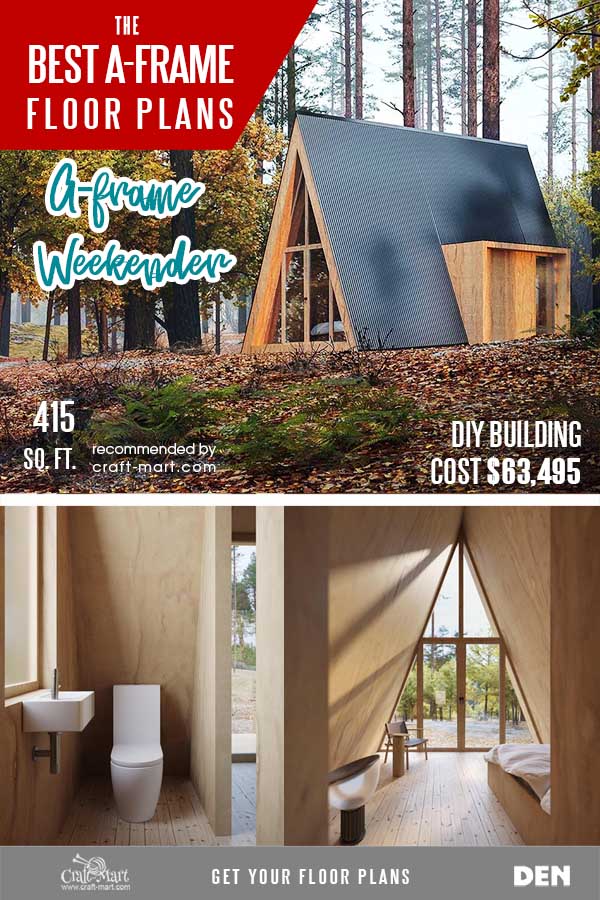 This A-frame design could be too big for some of the DIY beginners, so be ready to hire professional help.
Can your cost to build be reduced in this case? Your best bet would be to substitute more expensive building materials for cheaper alternatives. You can also search for less expensive standard appliances and fixtures.
Keep in mind, that the estimated cost to build is not true for many regions where you may still find much cheaper lumber and affordable construction labor.
This cabin can be used as a granny pod as well. It is a single-level dwelling that is perfect for elderly parents.
Get your Weekender A-frame cabin plans here!
14. A-Frame Shed Plans "Lily"
DIY cost to build $450
137 sq. ft.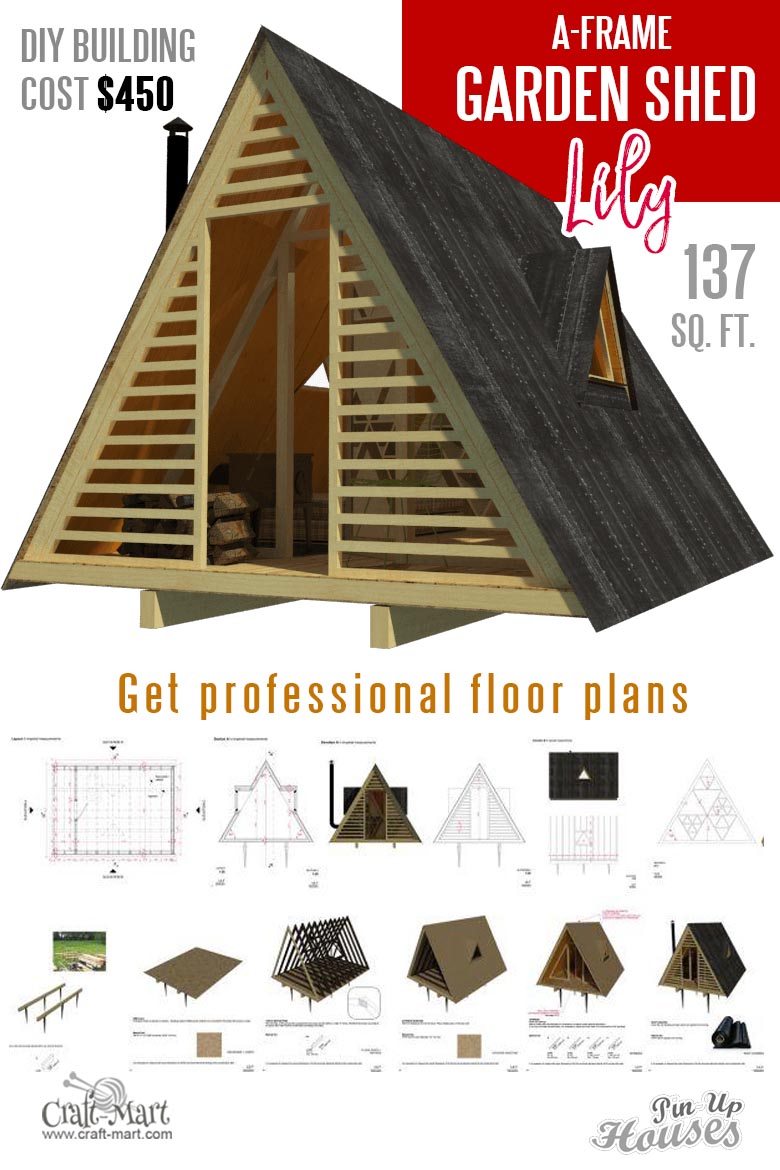 Garden sheds are usually not objects of interest for designers or architects. One may argue that A-frame shed plans are not practical since you can't efficiently utilize the space. Yes, this is true is you have a lot of garden tools and other things to store. On the other hand, DIY sheds are often popular as a practice project before attempting to construct a really small or tiny house.
Working on these tiny A-frame shed plans can also be a good teaching project for kids that would like to have their own space. Don't you want them to learn something useful instead of staring at their mobile phones for the whole day?
Get this A-frame shed plan here!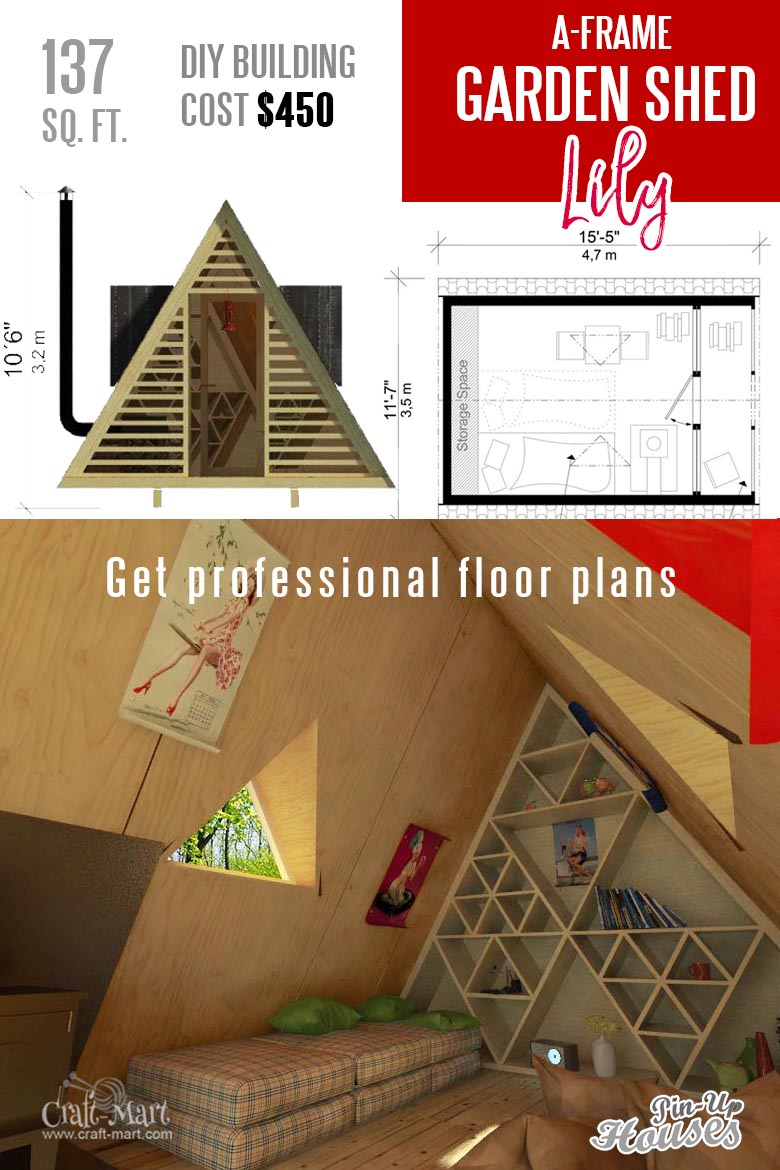 If you like camping under a tent, but also like to be in a cozy and warm environment at the same time, the A-frame shed plan combines both. The floor framing concept assures that the structure does not accumulate any humidity from the ground.
Can this A-frame shed plan be transformed into a tiny house? Not really but it can be used as a cabin to spend a few nights "camping" in the wilderness of your own yard.
Get these A-frame shed plans here.
15. A-Frame Small House "Emma"
DIY cost to build $63, 600
Total 960 sq. ft.
Ground floor 409 sq. ft.
Loft 302 sq. ft.
Porch 290 sq. ft.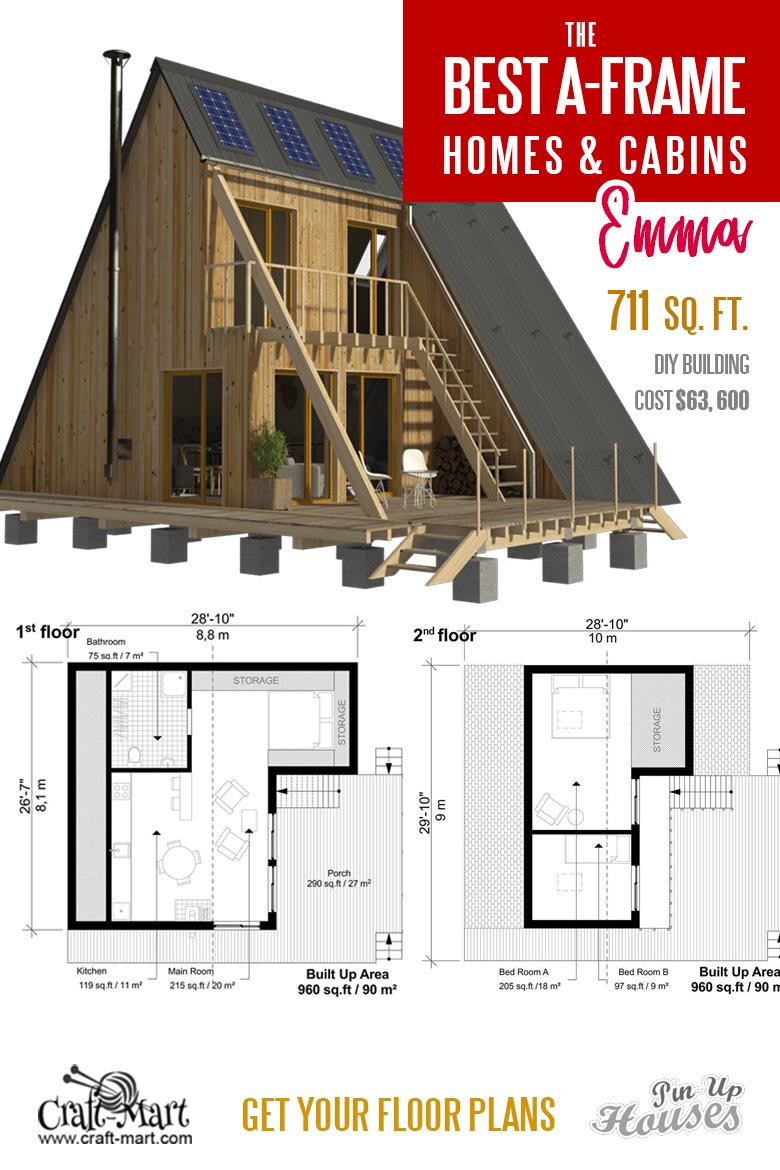 Emma is technically a not-so-tiny house sporting almost 750 sq. ft. of combined living area. Emma belongs to a very popular category of plans for A-frame houses under 1000 sq. ft. Although the square footage of this unusual A-frame house is lower than that of Evelyn (number 2 on our list, the building costs are a bit higher.
Overall, this small house looks like a cabin made for accommodating up to five people for a few days. The porch is spacious and the roof is large for hosting a large number of solar panels.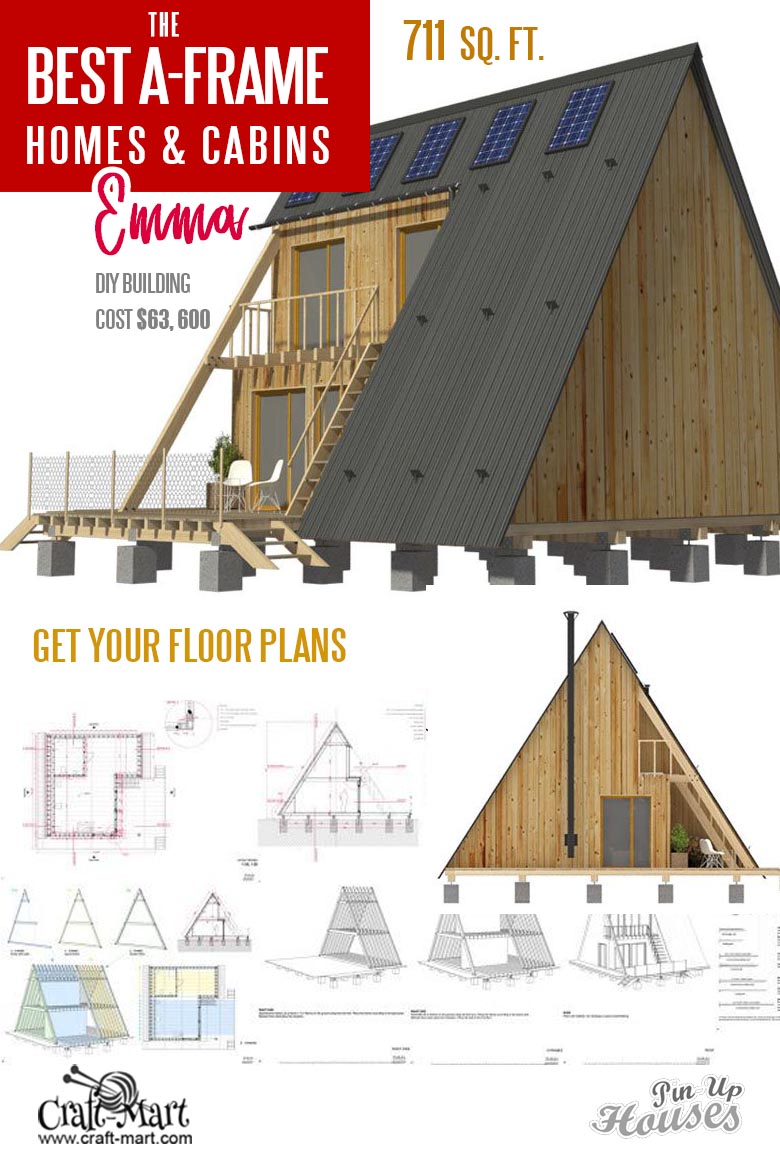 Plans for A-Frame Small House Emma
It is not by any measure a luxury unit. It's just a summertime cabin. Having to access both upper bedrooms via external stairs and having no toilet on the second floor tells us that living there for long periods of time and in cold seasons would be tough.
Get Emma A-Frame small house plans with a loft here
What are the benefits of having an A-frame house?
A few of the main benefits:
Small and tiny A-frame houses are easy to build;
The construction cost of small and tiny A-frame cabins is usually less than of traditional homes;
The slanted roof is "self-cleaning" – everything from snow to tree leaves slides down;
More spacious looking interiors due to high cathedral ceilings;
A-frame houses are more seismically sound;
You can see that in some cases plans for A-frame houses may work really well to your benefit – it all depends on your short-term and long-term goals.
Are there any drawbacks to living in the A-frame house?
Unfortunately, there are also a few cons to having an A-frame home:
It has ~ 20% more exterior surface – more building materials and more insulation material;
Almost all the exterior surface is the roof which is more expensive to maintain in the long run;
Interior decorating can be tricky – even placing a flat-screen TV is a challenge;
Fewer options for conventional storage space like built-in closets;
Resale value might not be great in some areas;
Before you'll get discouraged by all these drawbacks, let's see if there are any solutions for dealing with them.
The larger exterior surface, unfortunately, cannot be reduced. Just make to insulate your A-frame house roof really well.
To avoid fixing the large slanted roof too often, use more durable materials like corrugated metal sheets instead of cheap asphalt shingles. Your larger initial investment can save you a lot on future expensive roof repairs.
Slanted ceiling problem. Design and build custom cabinets and shelves on one or both sides of the interior along with the slanted ceiling.
You probably noticed that a number of plans for A-frame houses in our list had conventional built-in closets attached to the internal walls. Yes, you will not be able to place them wherever you'd want but this is also true with many non-A-frame house floor plans.
Building an A-frame house with the purpose of reselling it in the near future should be done only if there are other A-frame homes in the area. Check with your real estate broker if any of these homes were recently sold and make your decision after that.
Even if you expect to live in your A-frame house for the rest of your life, you never know what will happen. It's best to plan ahead and know how an A-frame house will perform on the market should you need to sell it one day.
Are the plans for A-frame houses becoming more popular nowadays?
Yes, there is a newly developed interest in small A-frame homes and cabins. This type of home first made an appearance in American architecture in the 1930s when architect R.M. Schindler designed a lakeside cabin for a client in California. The new trend didn't take off until 1955 when an A-frame house designed by Andrew Geller popped up in the seaside village of Sagaponack, NY.
Jack Gorst of Architect's Newspaper writes:
Geller is best known for his freelance iconic mid-century beach house architecture along the coasts of New York, New Jersey, and Connecticut. His 1955 Elizabeth Reese House, built-in Sagaponack, New York, was widely publicized and is credited with propelling the A-frame structure into mainstream American culture.
A-frame houses are now a popular style of vacation home located near nature. Beach homes, ski chalets, and mountain cabins frequently feature the A-frame style because they are often likened to the shape of a tent, which allows homeowners to feel like they're "camping" even when they are indoors.
If you are a fan of A-Frame tiny homes and small cabin plans try this wonderful book:
by Ben Rahn

Here is an excellent guide that will help the beginner to get a grasp of the main tasks related to the process of building your very own A-frame small house or cabin.