Many granny pods and tiny log cabins are deceivingly simple. Too often you may come across some reviews of small log cabin kits for sale like this one: "This cabin kit is a rip-off! I can get all the lumber locally for half the price!"
Well, in many cases it's actually true – local lumber is usually cheap. What they always forget to mention is what comes next after getting a pile of cheap lumber.
You'd need a detailed plan of the structure you're going to build;
An expensive set of power tools;
A place to set up your wood workshop;
You'd have to purchase doors and windows;
Buy hardware;
Spend time on making the needed measurements, cuts, drilling holes, etc.
Even if you have a set of power tools and some experience, you know pretty well that doing projects from scratch can take forever. Doing tongues and grooves on a router table is fun but is not a 5-minute project. In short, it's theoretically possible to save some money if you have the tools, the skills, and time to spend.
Are these log cabins easy to assemble?
For the rest of us, who don't wish to buy crude oil to make our own gasoline to save a few bucks, assembling prefab log cabins with a friend or family members looks like a fun weekend project well worth the money.
If you liked assembling Lego sets in your childhood then putting together a tiny cabin kit should be a rather similar task.
This is why we are reviewing here a few prefab log cabins that virtually anyone with a set of basic tools and some experience can assemble in just a few days. All these tiny log cabins and other structures are manufactured either in Finland or Germany.
Every year customers from all over the world purchase tens of thousands of these high-quality quick-assembly cabin kits. Only recently these cabins became available for US and Canadian customers.
*Exclusive Small Log Cabin Kits Discounts for Craft-Mart visitors
Due to a very high interest in cheap granny pods and log cabin kits for sale, Craft-Mart just worked out an exclusive deal with one of the leading EU log cabin manufacturers "BZB Cabins and Outdoors" for Craft-Mart.com visitors only. To get these discounts simply order go to BZB's website and enter the discount code during checkout.
For cabins and saunas provide $75 OFF discount code – CRAFTMART
This coupon has no expiration

*If you have any questions you may also contact "BZB Cabins and Outdoors" directly through this form and mention these codes to reserve your discount.
**Please, note that Craft-Mart.com does NOT sell these cabins. All inquiries should be sent to the manufacturer "BZB Cabins and Outdoors".
Square Footage: 209
Priced under: $8,700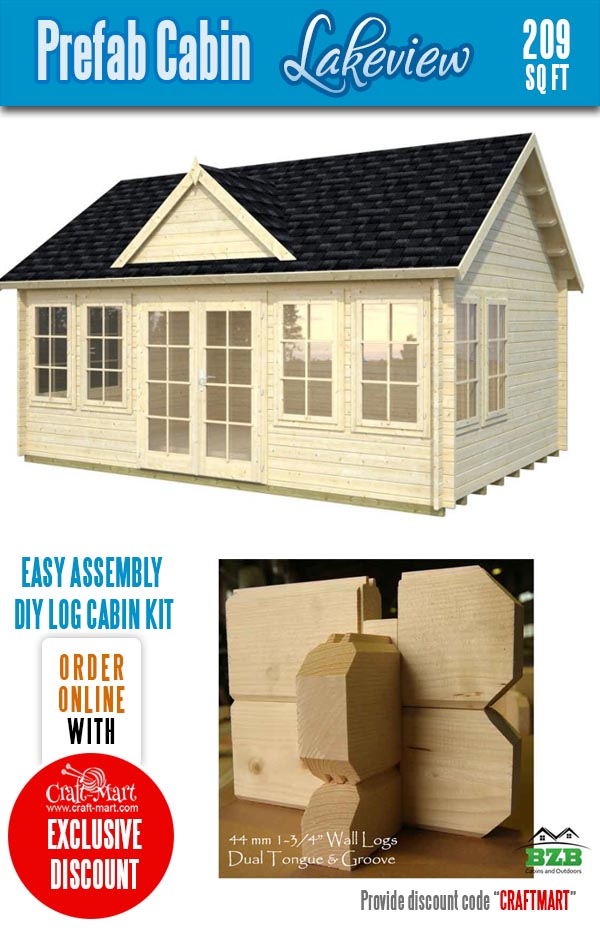 With almost half of the wall space occupied by windows, this elegant wooden log cabin "Lakeview" is by far one of the most popular tiny cabins in the warmer parts of the US. Nice 1 3/4″ thick double tongue and groove walls can insulate against the cold. The double-pane windows and glass doors are also helpful in conserving the heat.
However, if you live too close to the North Pole or Equator, small log cabin kits such as Lakeview may need some additional layers of insulation and, perhaps, a mini-split AC/Heating system.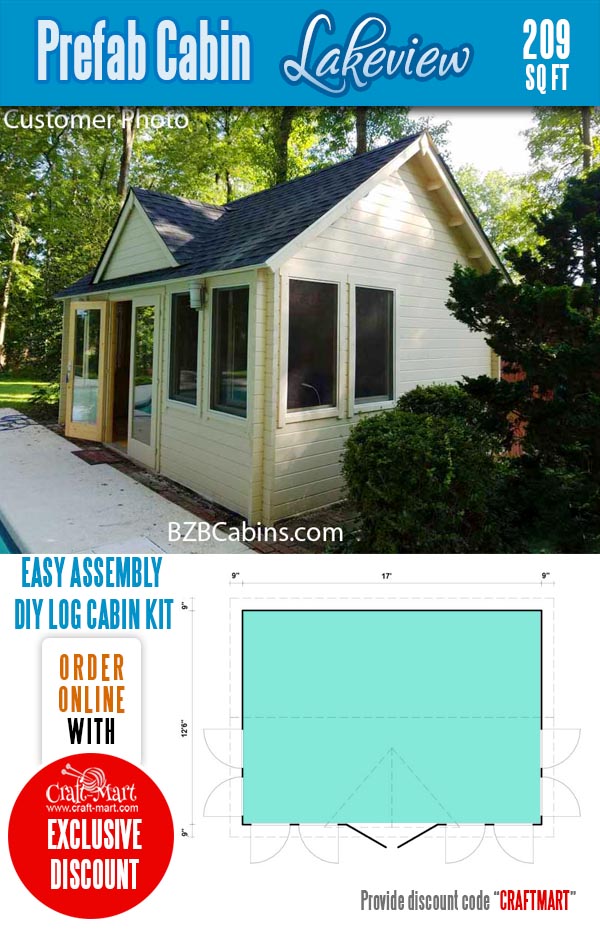 It takes on average three to four days for 2 adults to assemble tiny log cabin kits of the same size as the Lakeview pavilion. With its pretty sizable space, you may easily fit a work desk with a couple of chairs for your hobbies along with a futon for well-deserved afternoon 'me-time. The dense and durable Nordic Spruce logs will provide an easy way of hanging the shelves and cabinets for your tools and other things. Overall, it's a very nice medium-size DIY project.
Square Footage: 204
Priced under: $9,850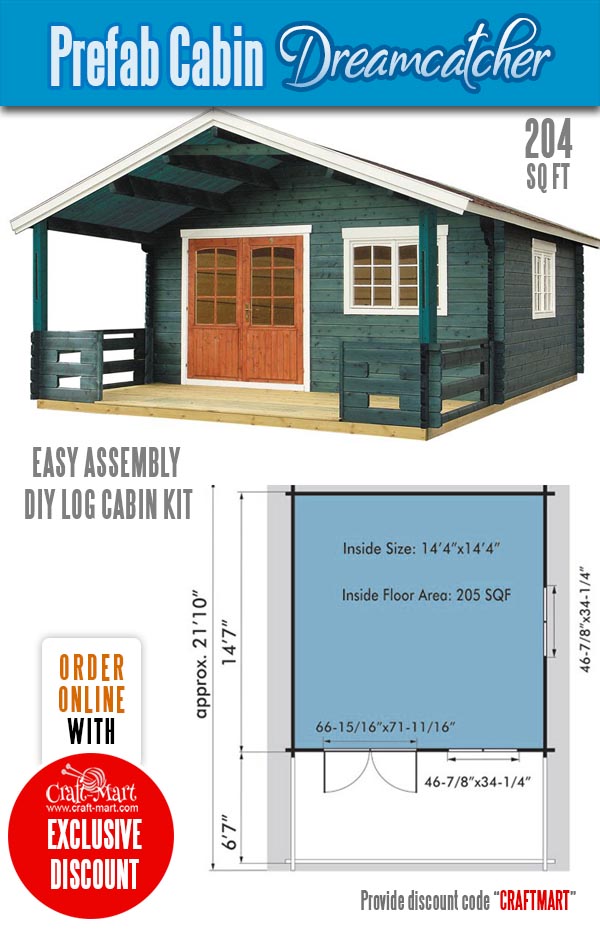 "Dreamcatcher" tiny cabin wraps you around with its inviting porch – a perfect place for a cup of herbal tea or something a bit stronger for a night of better sleep. The actual interior for "dreaming" is big enough for a futon and a small table with 2 chairs, just like in the previous model.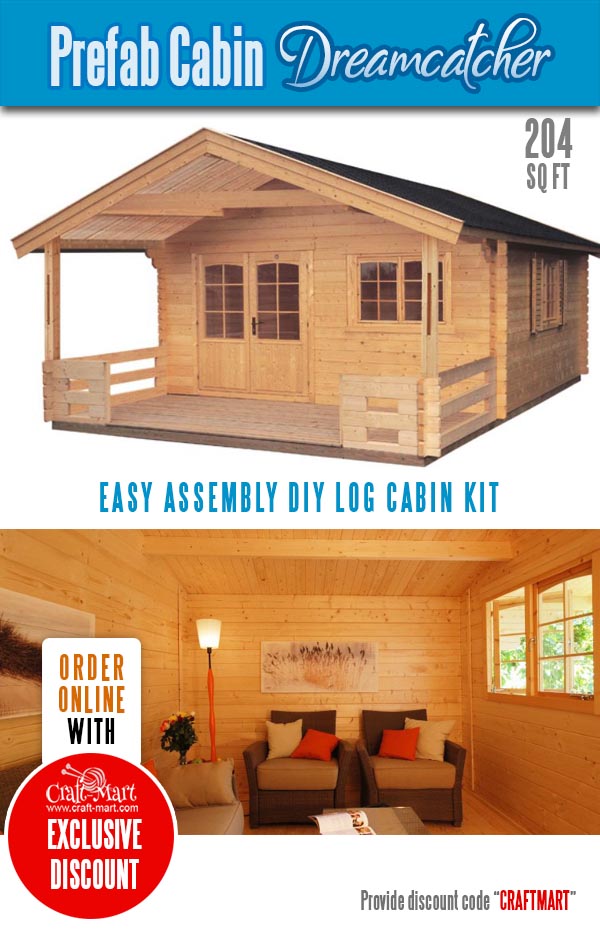 The porch is nicely covered by the extended roof creating a perfect opportunity for installing mosquito screens or a lattice for additional privacy.
What if you have a crazy idea to use this cabin as a tiny home? Is square footage of 204 Sq Ft enough for comfortable tiny-style activities? Before you scream "NO!" read this about one apartment in Paris, France: "There's an 86-square-foot apartment complete with a bed, kitchen, bathroom, table and chairs, closet, bathroom, and storage space."
After that "Dreamcatcher" looks like a pretty attractive option for raising a family of three with a tiny dog or a goldfish.
Click here for more information about this cabin
Square Footage: 70
Priced under: $5,500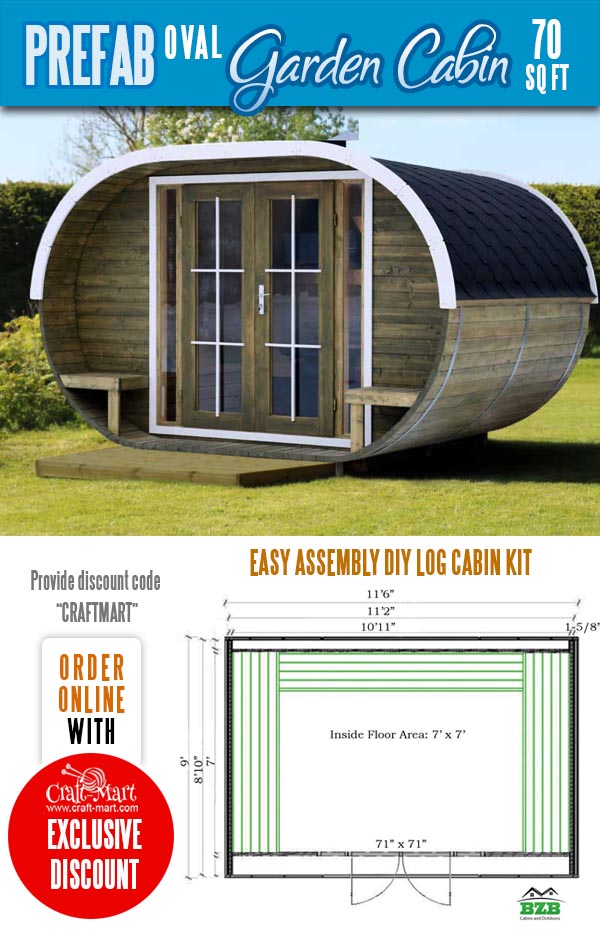 Sometimes cabins come in odd shapes and this cabin is an excellent example of non-conventional space. For traditionalists, the oval cabin would be an eyesore. For environmentalists, this fantastic structure offers a tiny footprint – literally, only 40 Sq Ft!
What are the benefits of building this unusual cabin? The whole construction is pretty sturdy and should be able to withstand strong winds and moderate earthquakes better than the traditional square log cabins – a big plus for some areas!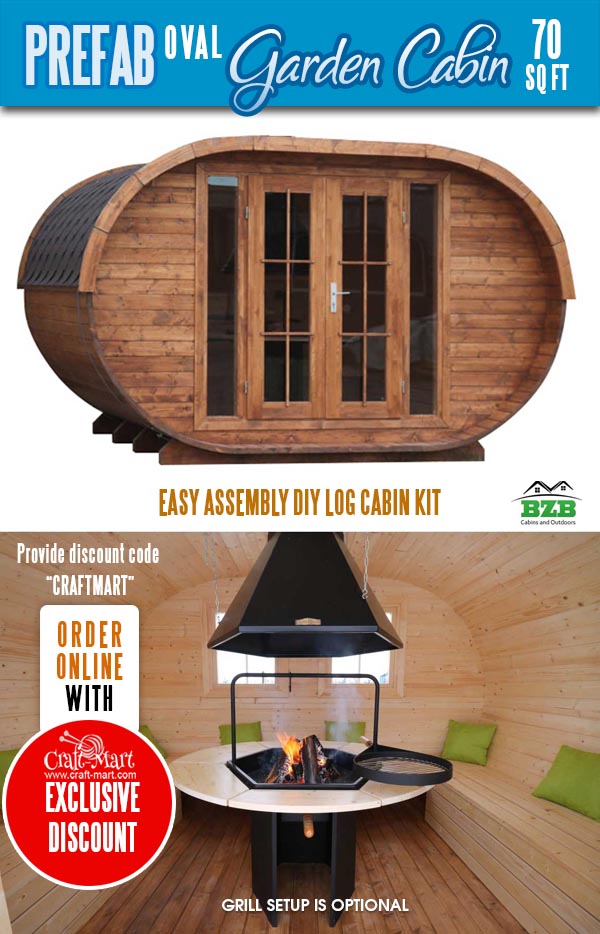 Now, the main question – Why would you build this oval cabin? Imagine having a BBQ dinner inside this cabin on a chilly day on your own land far away from all the troubles… The built-in benches come pretty handy, don't you agree? Can it be used as a sauna? Of course, but with some modifications. You may look at the sauna model here to see what needs to be modified.
Square Footage: 152
Priced under: $6,400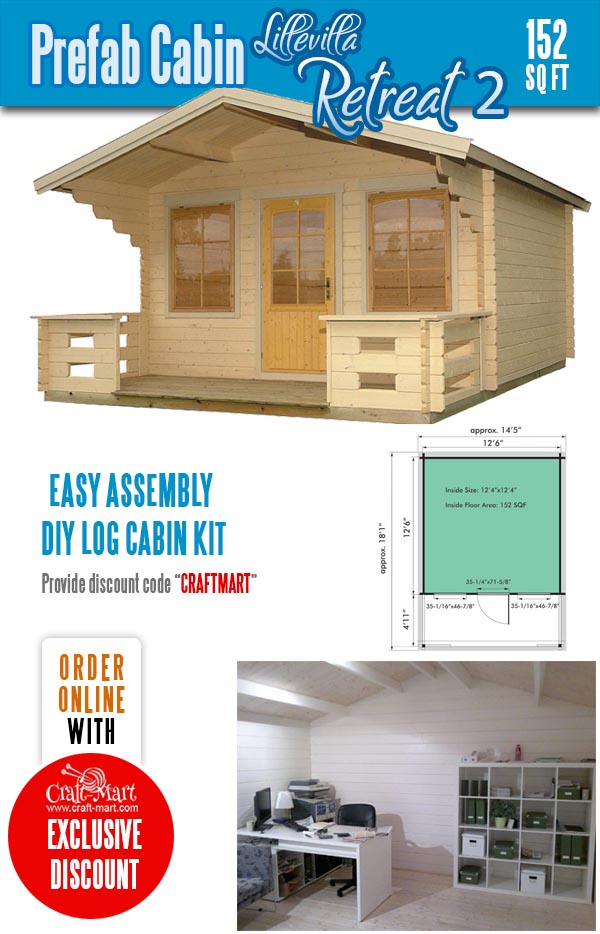 Made in Finland and Germany, the "Lillevilla" series tiny log cabins were among the best-selling cabins in the EU for a number of years. Guess what? Now the US customers can also order this DIY tiny log cabin kit from the warehouse located right here in the States!
Can you go wrong with this one? More than 100,000 "Lillevilla" (see below) and "Lillevilla Retreat 2" cabins are sold every year worldwide… It looks like customers love it. On the other hand, some people dream of living in shipping containers, so, no pressure – just follow your dreams.
The Best Log Cabin Kit (Granny Pod Kit) – "Lillevilla"
Square Footage: 292
Priced under: $16,900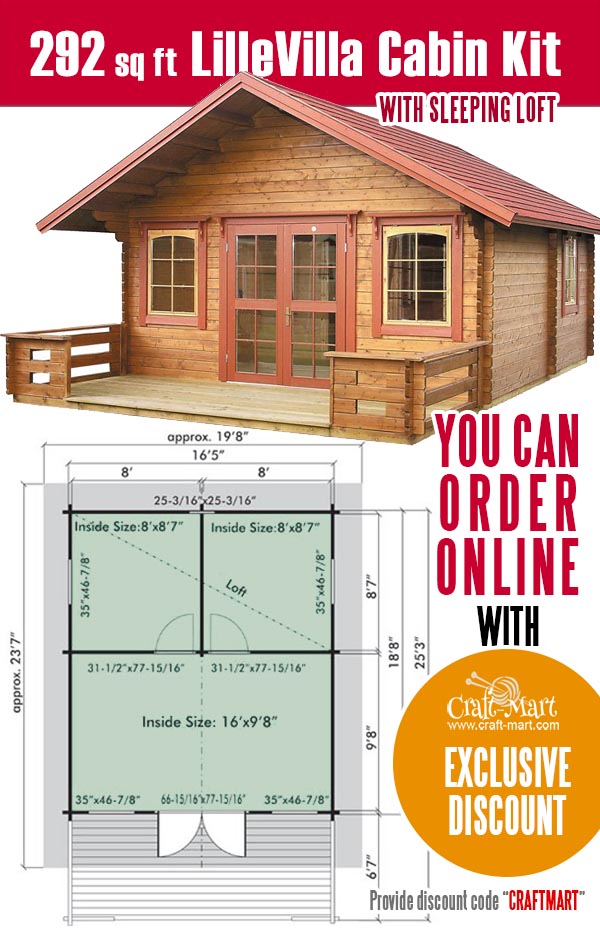 The "Lillevilla" cabin looks like a larger version of the "Dreamcatcher" model. Three rooms and a loft give enough space for using it as a weekend property or even for a permanent living if this cabin will be used as a granny pod.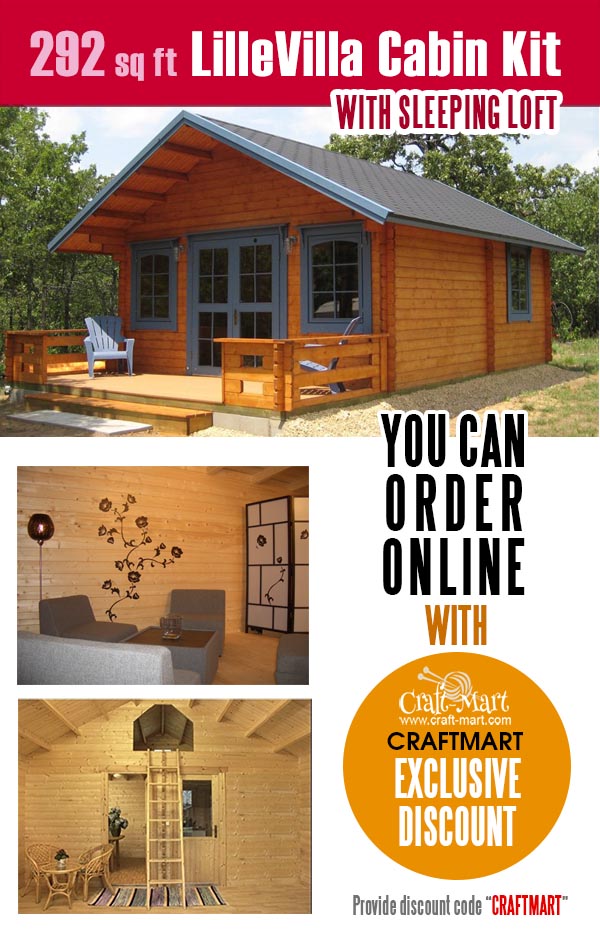 As we have mentioned above, close to 100,000 people Worldwide buy log cabins "Lillevilla" and "Lillevilla Retreat 2" making them the most popular wooden log cabins in this collection. With such an outstanding selling record, it's hard not to investigate this cabin and compare it with what local US cabin companies offer in a similar price range. Remember, "Lillevilla" and other models reviewed here are made in Finland and Germany and ready for DIY assembly.
Find out more about this granny pod kit here
Square Footage: 212
Priced under: $14,250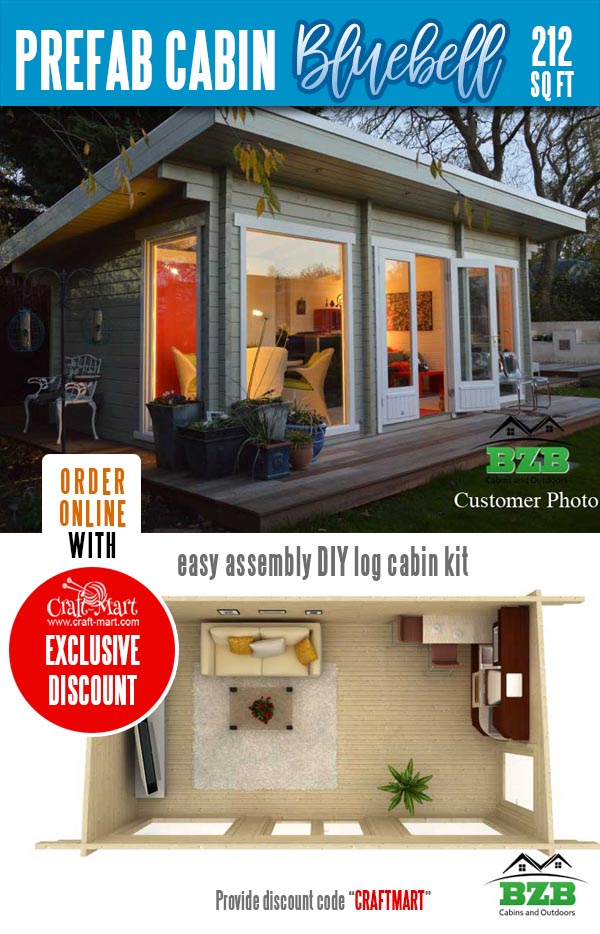 Sometimes your very own home becomes too noisy and you need a place to collect your thoughts or simply handle your home-based business without kids yelling around and dogs barking during important calls. Here is the solution to all your problems – the Bluebell office-cabin! You can have all your business Zoom meetings here and even get a cup of cappuccino while relaxing on the deck.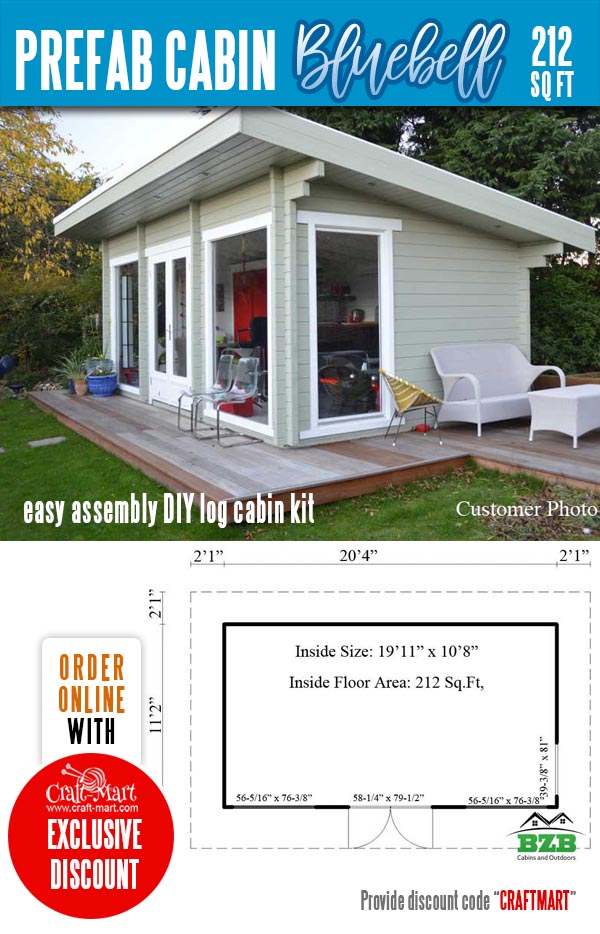 If it doesn't feel like office space, put a few nicely framed charts and motivational posters. With plenty of natural light coming from huge windows you'll dramatically increase your productivity by shooting emails at incredible speed. A couple of pictures above show how one of the customers who purchased the Bluebell prefab cabin kit created a perfect home office. You can easily do the same!
Square Footage: 233
Priced under: $9,950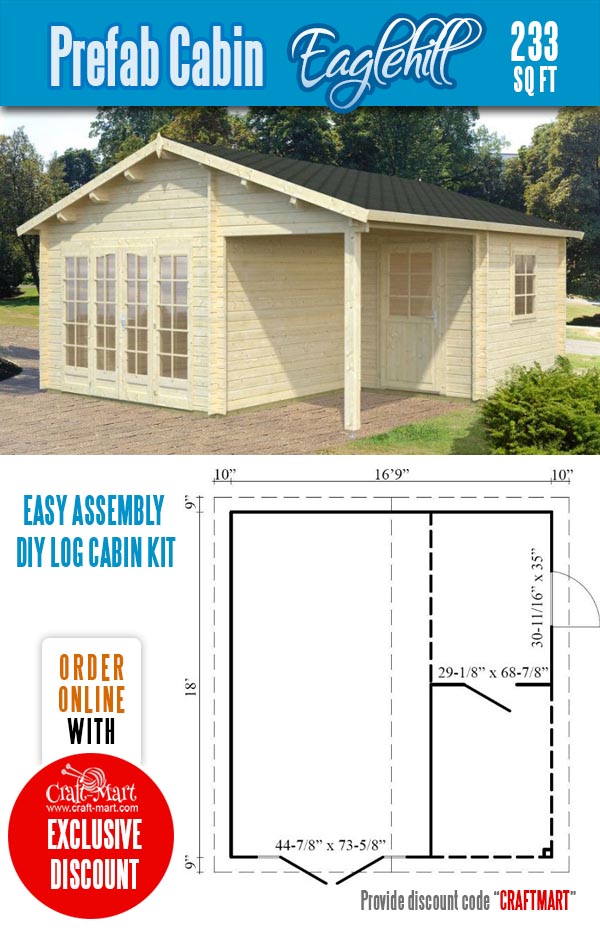 The tiny cabin Eaglehill has one great feature – french doors that provide a fair amount of light for the whole interior. Adding a couple more windows on other walls may help with a lack of natural light near the back wall. The cabin can be used for pretty much all imaginable activities: as a fishing cabin, a pool house, or a perfect she-shed.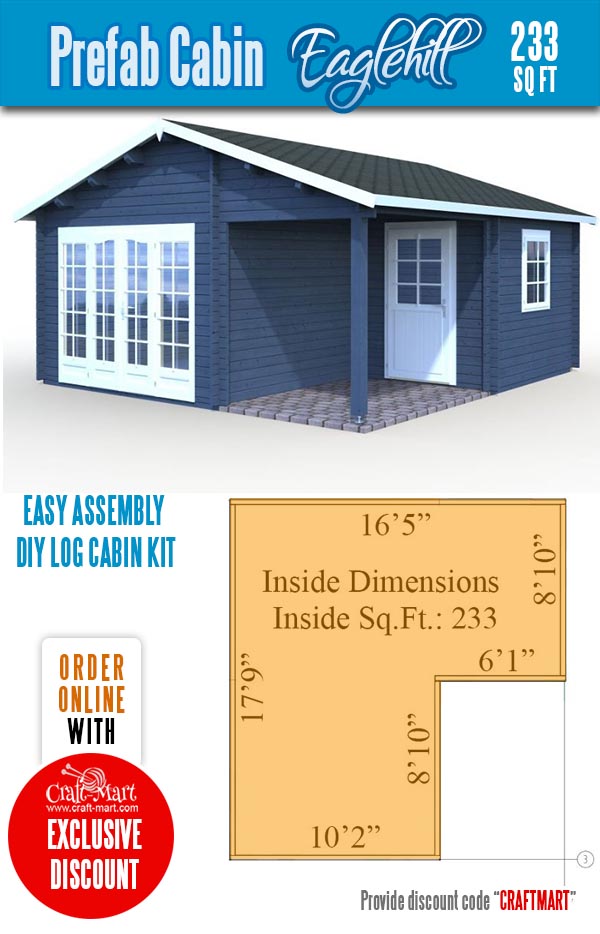 If the budget allows, a small bathroom and a kitchenette can be added to the back. The cabin kit itself is one of the easiest to assemble and usually takes 3-4 days for 2 adults to complete.
Priced under: $8,650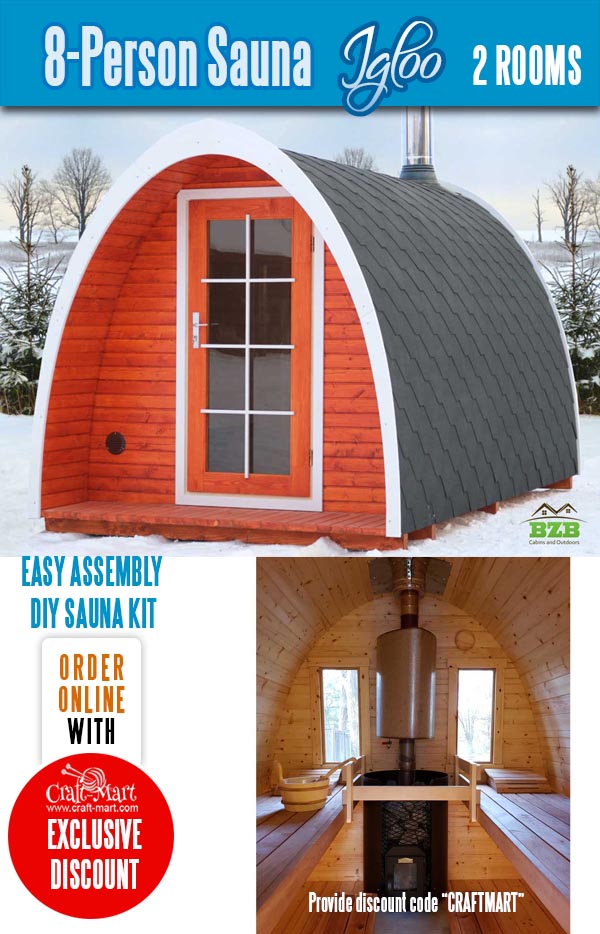 What Northern country is famous for its saunas? Finland! This Igloo Sauna is made by Finnish craftsmen that know exactly what they are doing. For Florida or Houston area residents, for example, building a Finnish sauna may sound ridiculous – for them, it feels just sauna outside for half of a year. For the rest of us unlucky ones without such marvelous weather, good folks from Finland hand-crafted this 2-room sauna.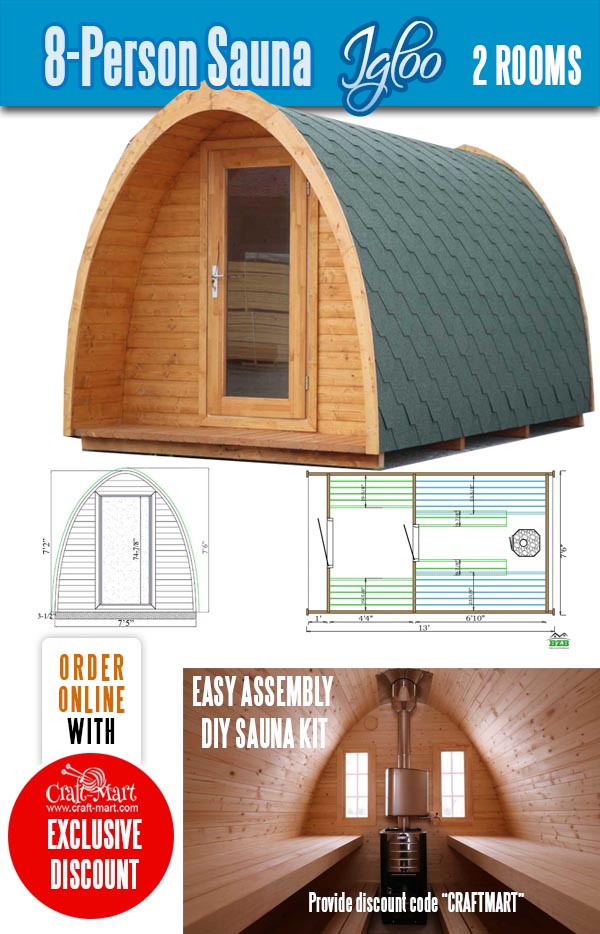 Can you get a sauna locally cheaper? Of course, there are plenty of choices for barrel-looking saunas almost as twice as cheap. What's the difference between them and this Finnish sauna?
Their units are mostly 2-person saunas while this Finnish sauna can accommodate 8 people;
Cheaper saunas are smaller in size and have only one room while this Finnish sauna has 2 rooms;
These cheap saunas do not have roofing protection while this Finnish one has asphalt shingles over the whole roof;
Tiny Log Cabin Kit – "Echo Valley"
Square Footage: 167
Priced under: $8,680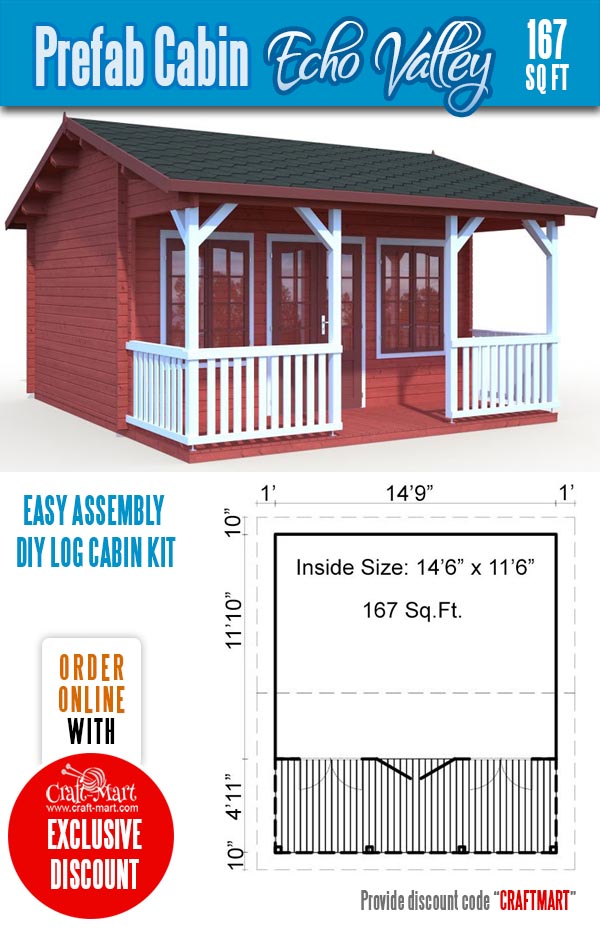 For some reason, this tiny log cabin whispers "pottery shop". I any case, potting flowers there or restoring antique dolls would work as well as making mugs out of clay. It also can be used as a she-shed but definitely, not for storing shovels and pitchforks – it's too beautiful for that.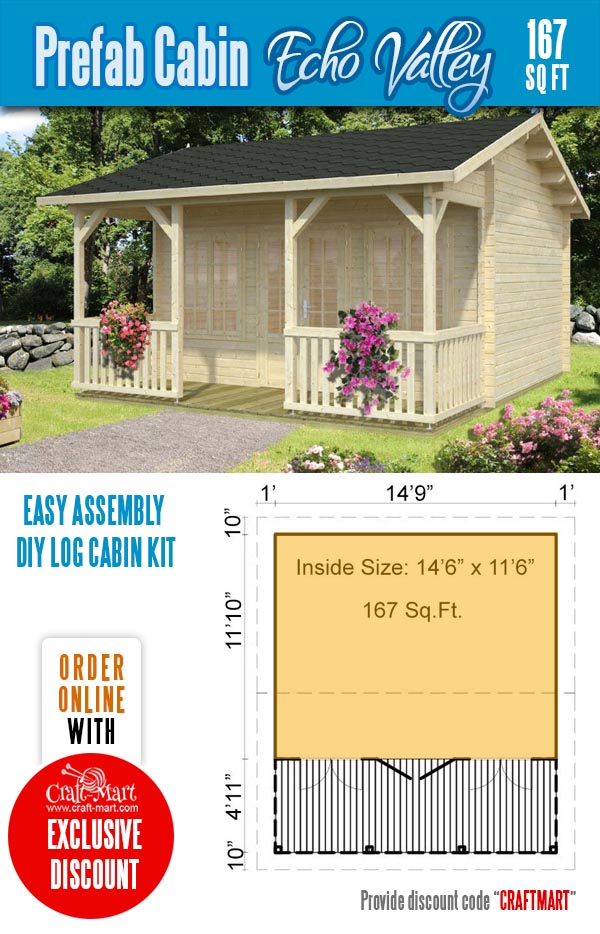 Jokes aside, this cute cabin is asking to be adopted by your garden. Just imagine how you can decorate this gorgeous porch with climbing fragrant roses!
Square Footage: 93
Priced under: $7,560
Some people love hobbit-style tiny homes and this hut is somewhere in-between traditional cabins and fairy tale-looking ones. Only tiny hobbits would be able to live in 93 Sq Ft home, so we are going to suggest using this hut as a smokehouse only.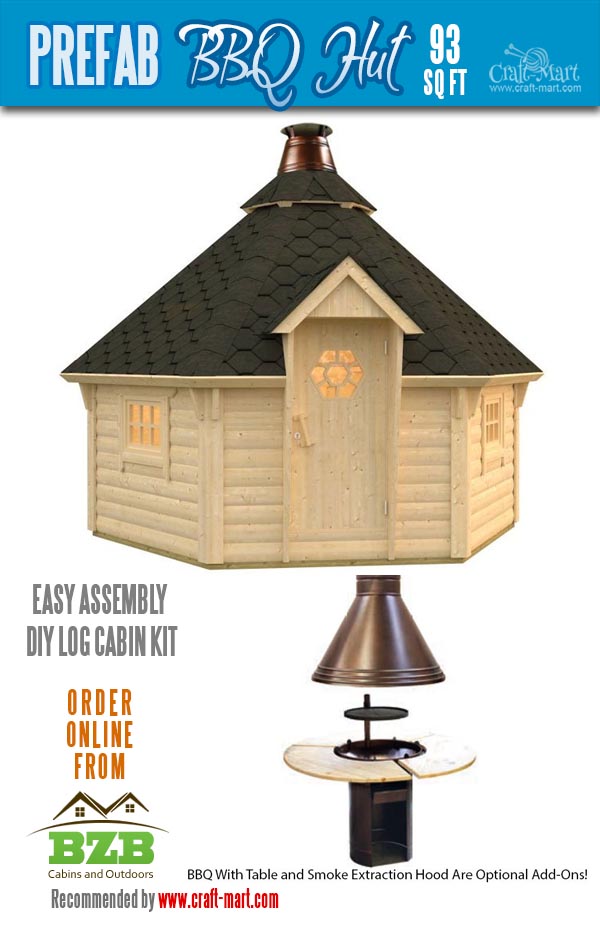 It is almost as cute as the previous she-shed cabin so that it can work as a man-cave as well. He will be grilling inside, and she will be beautifying the exterior landscaping with exotic flowers. Two birds with one stone!
Are you still thinking that this is not a good deal? Check out a bit larger version (129 sq ft) of the same grill hut on Lowes website – it's almost $24,000! We think that $7,560 looks a little better.
Small Granny Pod Kit – "Meadowlane"
Square Footage: 233
Priced under: $11,800

This is a budget version of a big "Lillevilla" cabin. Just a bit smaller, still with 3 rooms but without a loft. The price is almost 30% less, so take a plunge and contact the manufacturer. This is one of the most affordable granny pod kits!
Tiny Log Cabin Kit – "Mooncliff"
Square Footage: 164
Priced under: $7,890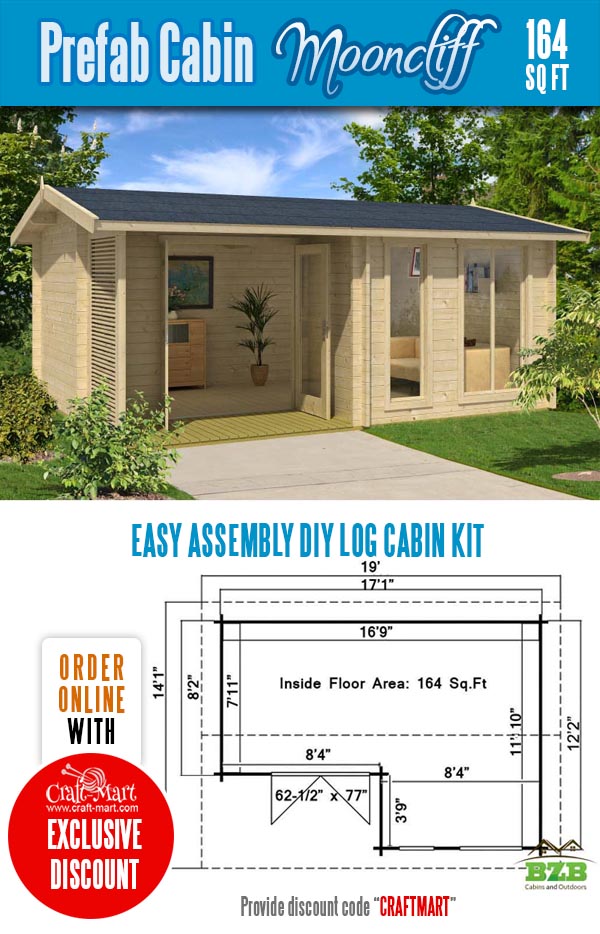 Large windows and an inviting porch make this cabin super cozy. If you are intended to use it as a guest house, be warned – guests will not want to leave! This is one of the most elegant contemporary DIY log cabin kits in this collection.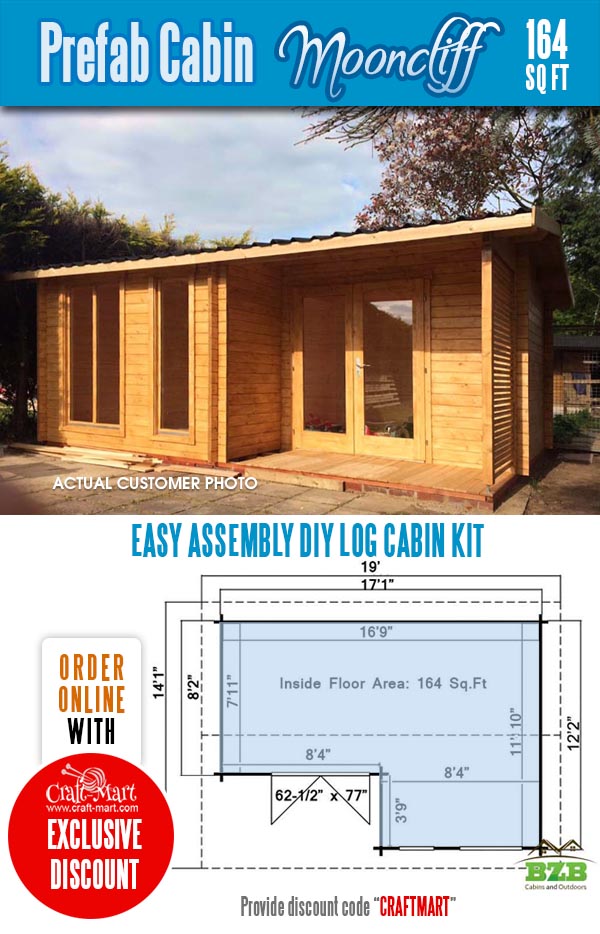 Pool House Kit – "Pinecrest"
Square Footage: 123
Priced under: $6,250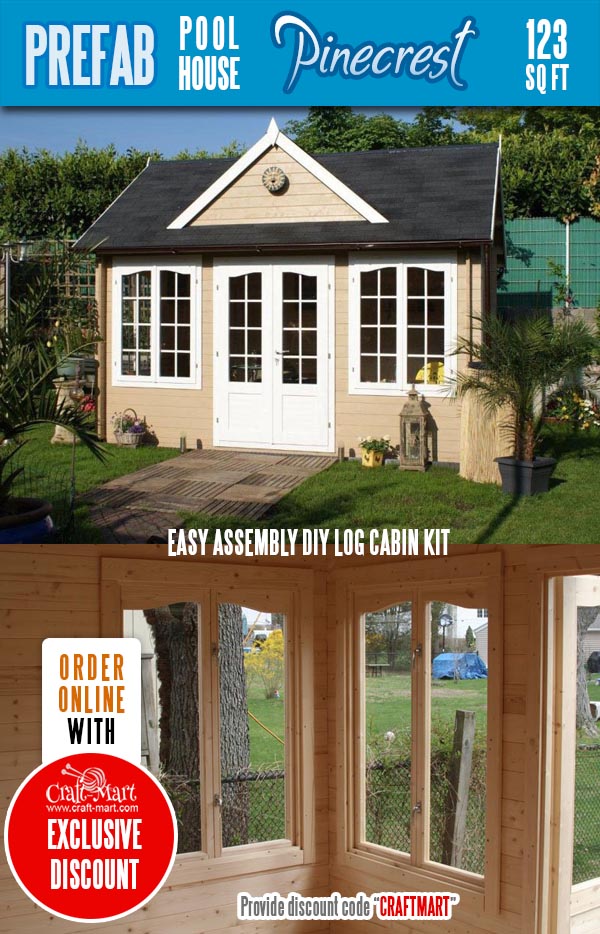 You absolutely do not have to have a pool in order to get this pool house! You may call it a Tea House or whatever you'd like. Add a touch of elegance to your beautiful garden! Invite your friends to have a tea party with biscuits or host a craft party.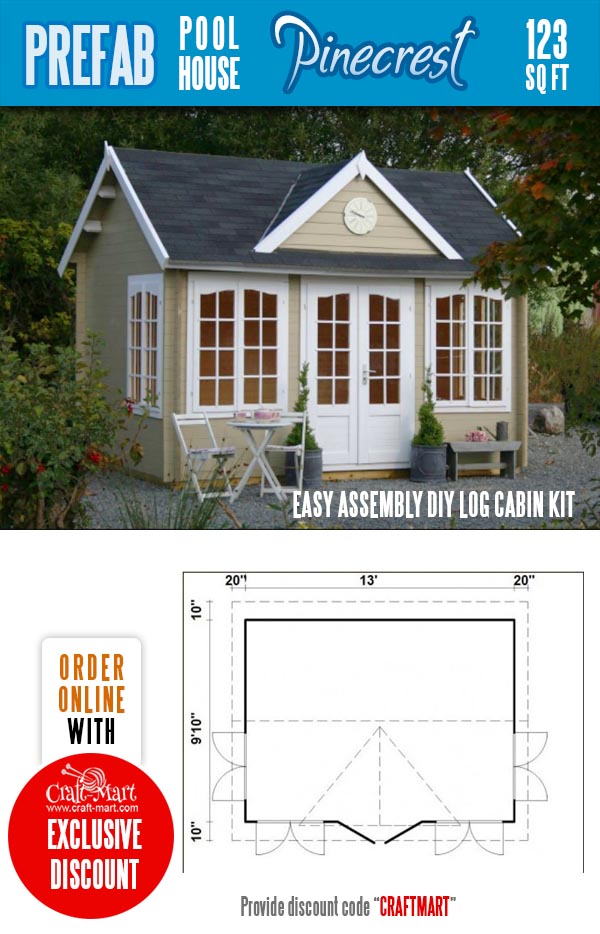 Soon you'll be treated like royalty in your circles. Is it worth $6,250 (log cabin cost)? You decide!
Small Log Cabin – "Starlight"
Square Footage: 237
Priced under: $17,900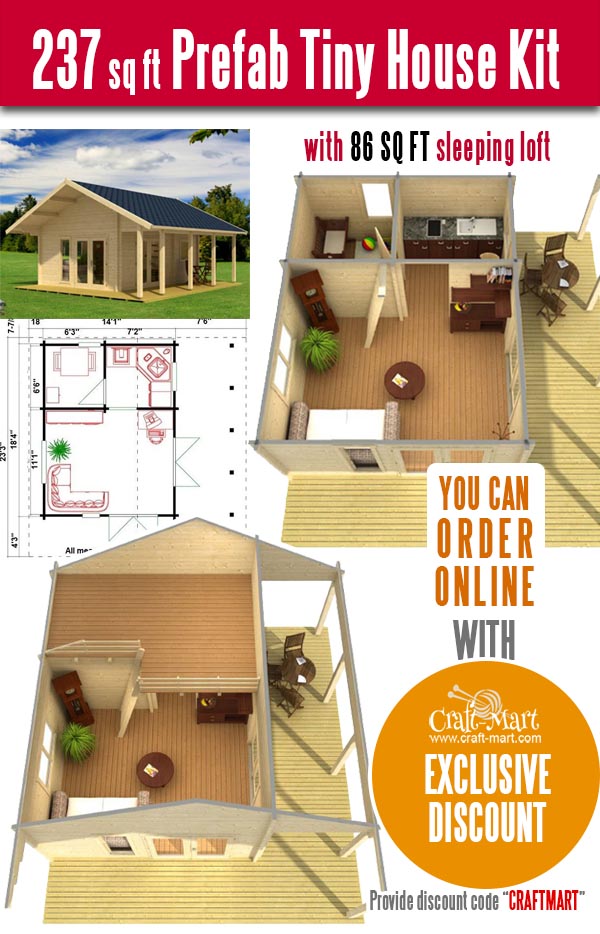 This tiny 3-room cabin with a loft is smaller than the big "Lillevilla" of 292 Sq Ft but costs $1,000 more! Why is that? The roof of the "Starlight" is stretching over not only the gable side but also over the large porch on the right side. Thus, the inside area is smaller but the total square footage is greater. The mystery is solved! If you spend a lot of time on your porch, then get the "Starlight."
Get Craft-Mart Exclusive Discount on BZB products by submitting this form!
Craft-Mart worked out this exclusive deal with "BZB Cabins and Outdoors" for Craft-Mart.com visitors only!
To receive an exclusive discount of $75, please, either mention "CRAFTMART" discount code to "BZB Cabins and Outdoors" representative or submit the form below.
*Your email address will NOT be used for spamming.
---
In case you are looking for something more unique, here is our special collection of US-made wooden yurt kits that you can assemble in 3-5 days.
---
Out of many people who would want to buy log cabins, a growing percentage of handy folks end up building their own unique tiny cabins. Here is a pretty unusual collection of small rustic cabin plans and granny pod plans that come with detailed step-by-step assembly instructions and building costs. Many plans are very interesting and surprisingly affordable. Also, check out the amazing advantages of building round homes.