Why would you go with a small 740 sq ft house plan?
Until very recent times, working at home was pretty rare. Nowadays, having a home office or a workshop has become the norm. Is it possible in 750 Sq Ft House Plans?
With all of this, you'd expect new house plans to increase in size to accommodate this new workspace requirement. And indeed, a number of house plans feature exactly these work-at-home additions.
On the other hand, we have rising and volatile construction materials costs, insane real estate price increases in many regions, and raising energy costs. All of these things are pushing new home buyers to consider new homes with much smaller square footage such as 750 Sq Ft house plans.
Rising mortgage rates, high inflation, low existing inventory and elevated home prices contributed to housing affordability falling to its lowest point since the Great Recession in the second quarter of 2022.

ROSE QUINT – National Association of Home Builders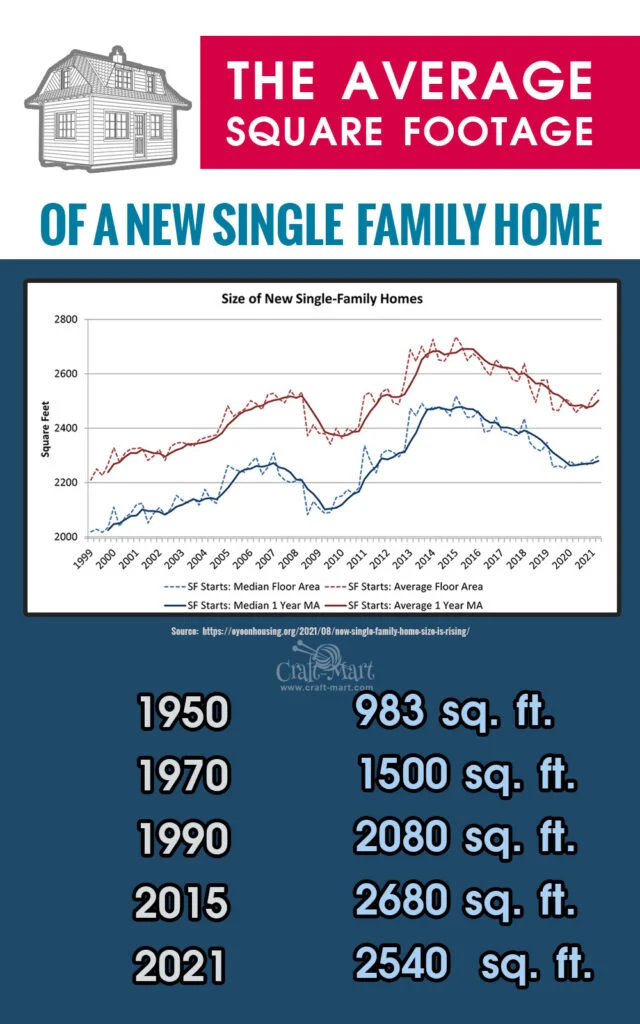 The chart above shows the effect of the previous financial crisis of 2008. It resulted in a short-term 2.5-3% decrease in the square footage of an average new single-family house. However, since 2015 the downward trend is clearly visible.
The main reasons to consider small efficient house plans
To combat rising costs of energy and other utility bills more people are looking for small energy efficient house plans;
Young families often cannot afford large houses;
Empty-nesters on a fixed income simply can't keep up with growing property taxes, energy costs, and constant expenses for repairing appliances and property.
The logic is simple. Our grandparents managed to raise their families in less than 1000 sq. ft. homes. We and our children certainly will be able to survive in 2,000 square feet of space as well.
Are 750 sq ft house plans big enough for raising families?
It may come as a shock to most Americans, but the answer is "Of course!". In other Western countries families of 3 or even 4 often live in tiny homes or apartments.
For example, in Spain and Italy people spend much more time outside socializing with friends and neighbors. It used to be like this in the US but now we don't even know who lives across the street…
Sure, in these 800 or 750 square feet house plans you're not going to find a massive master suite or a huge kitchen. But what you lose in square footage, you gain with other things like more affordable mortgage payments and utility bills.
Actual size: 748 sq. ft. | Ground floor: 393 sq. ft. | Loft: 388 sq. ft. | Porch: 182 sq. ft.
Estimated DIY cost to build: $41,000-$45,000
Among 750-square feet house plans, Dagmar has one of the smallest footprints. This compact two-story, two-bedroom house plan may accommodate small families of 2 or 3 members.
Its modern-traditional style comes with a gable roof, a covered porch, and a balcony. As a result, it is perfect for enjoyable living in many climate zones.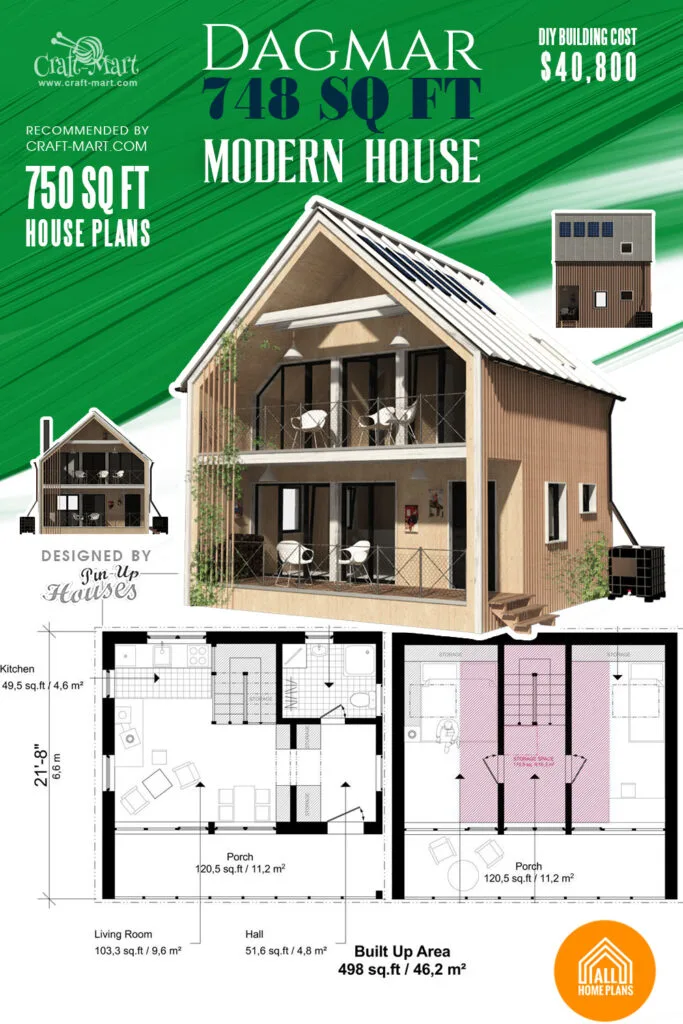 Naturally, small energy-efficient homes like Dagmar can be used as a small family all-year-round home or as a vacation cottage. It has a style that perfectly blends into practically any environment, from big cities to villages to forests.
This 750 sq. ft. house plan is quickly becoming the most popular solution for people with a small budget.
The ground floor has a combination kitchen-living area, an entry hall or a mudroom, and a bathroom. In fact, young families may want to increase the bathroom size and replace the shower with a bathtub.
You can accomplish it by taking the needed space from the entry hall and moving the bathroom entrance from the side of the stairs.
If needed, you may easily rearrange the second floor as well. For example, instead of 2 closed rooms of similar size and a hallway between them, we can create one large closed bedroom and open space on the opposite side.
You can use this space as an office. As a result, you may even put a small bathroom right above the main bathroom on the ground floor.
So, if your main question is: "Can you build a house for 50K or less?", the answer is "Yes".
Actual size: 740 sq. ft. | Ground floor: 579 sq. ft. | Loft: 187 sq. ft.
Estimated DIY cost to build: $60,000-$65,000
This Japanese style almost 750 sq. ft. house plan combines minimalistic modern design and traditional Japanese style just like another best-selling design – the Japanese Tea House.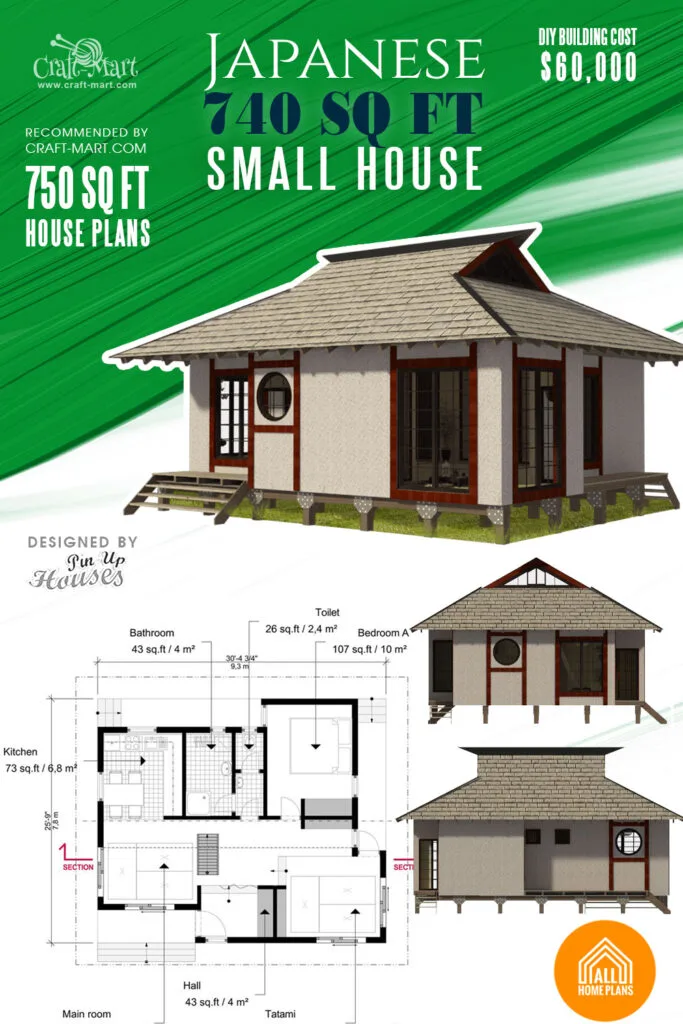 Although at the first glance the design looks to be a single-story, there is a 187 sq ft room on the second level. The second floor is accessible via a pretty steep stairway.
Obviously, this may not be perfect for older people but you can always contact the architect to create a better solution.
The ground floor has a provision for 1 closed bedroom and two open sleeping spots with tatami. You can easily redesign the bathroom to accommodate a bathtub if you don't need a European-style separate toilet.
Actual size: 738 sq. ft. | Ground floor: 432 sq. ft. | Loft: 306 sq. ft. | Porch: 187 sq. ft.
Estimated DIY cost to build: $59,500-$64,000
Charlotte is a rather simple traditional cabin with a floor plan just a little short of 750 sq. ft. of total area. A sizable 187 sq. ft. covered front porch makes it perfect for a lakeshore location.
You can modify the layout of the ground floor if you're not happy with the bathroom size or the location of the entrance door, for example.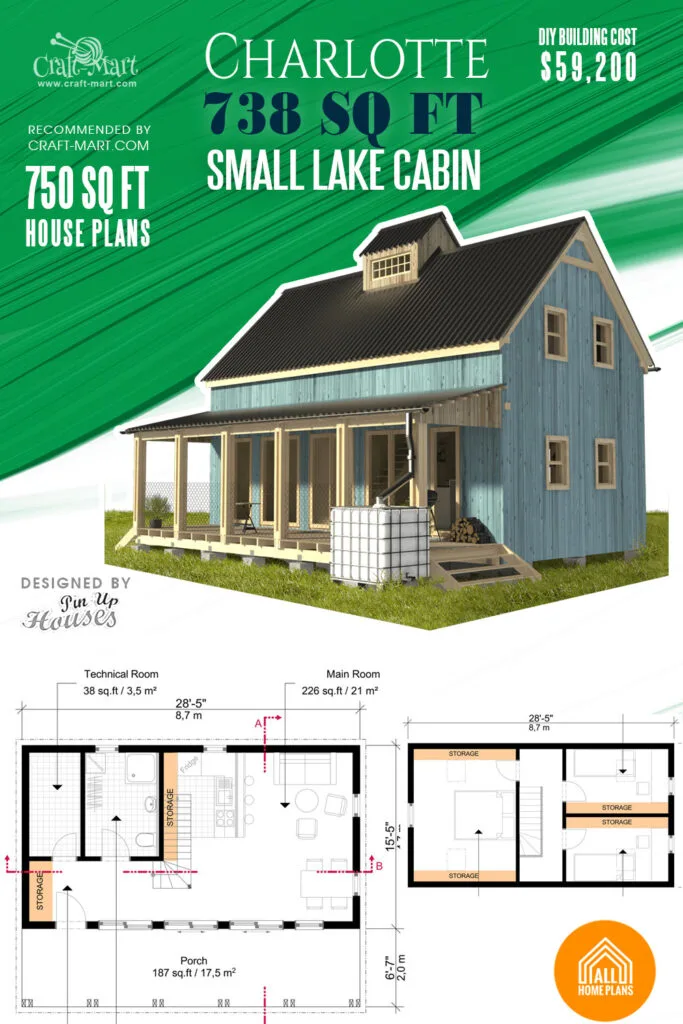 There is one thing you may consider changing before proceeding with construction. We'd suggest increasing the height of all walls to at least 2 feet if not more.
The existing height makes it pretty hard for adults to enter the second floor without hitting their heads on a ceiling. Currently, moving around in any of the upper-floor bedrooms with all the beams sticking out of the very low ceiling seems like a pretty dangerous task.
On the other hand, if Charlotte's "country" design is not your cup of tea and you think that a DIY building cost of $60K would be too much, investigate prefab homes under 50K.
However, you may not get the same square footage plus due to high demand. Consequently, your wait could be as long as a year or even more.
Actual size: 728 sq. ft. | Porch: 807 sq. ft.
Estimated DIY cost to build: $58,500-$64,000
Not everyone would want to live in a two-story house. In hot climate zones, top floors get very hot and seniors often prefer small single-level homes without stairs. Furthermore, one-story structures, in general, are safer in active seismic regions.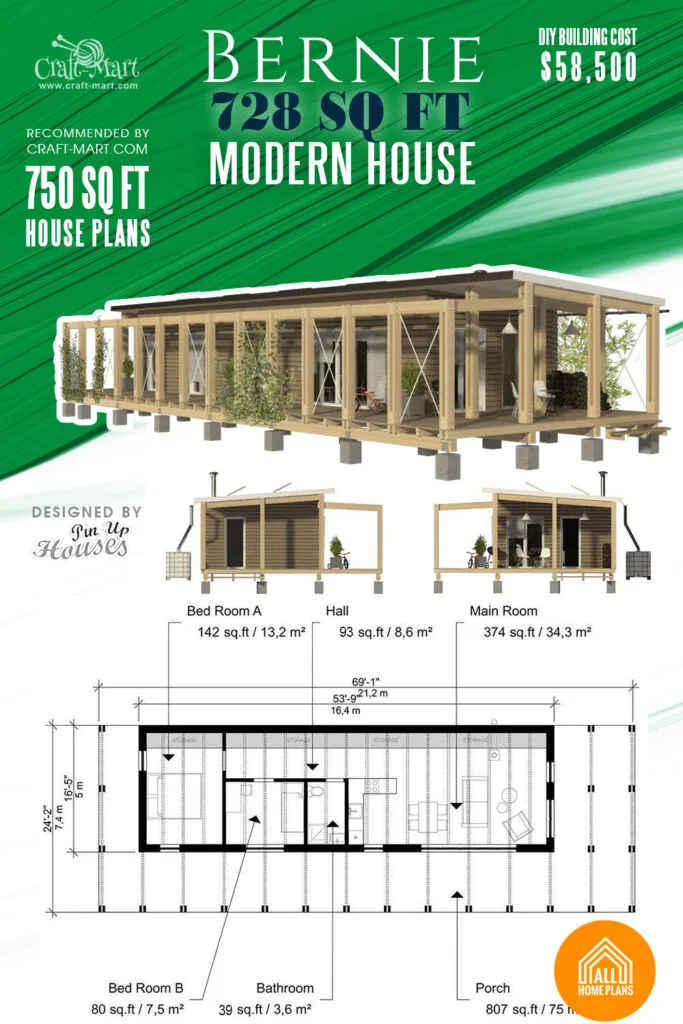 From a quick glance at the floorplans, it looks like Bernie is an 807 sq. ft. porch that comes with a small 728 sq. ft. single-story 2-bedroom house. Roughly half of the house is the living/kitchen area. In fact, you can extend it to the wrapped-around porch for outdoor dining, parties, BBQ cooking, or watching sunsets.
Actual size: 726 sq. ft. | Ground floor: 510 sq. ft. | Loft: 240 sq. ft. | Porch: 113 sq. ft.
Estimated DIY cost to build: $47,000-$51,000
For flat roof lovers, this 726 sq. ft. cabin offers a pretty compact solution around $50K in estimated building cost. Yes, it doesn't look like a place for permanent living but if some can live in shipping containers then why not in this cabin?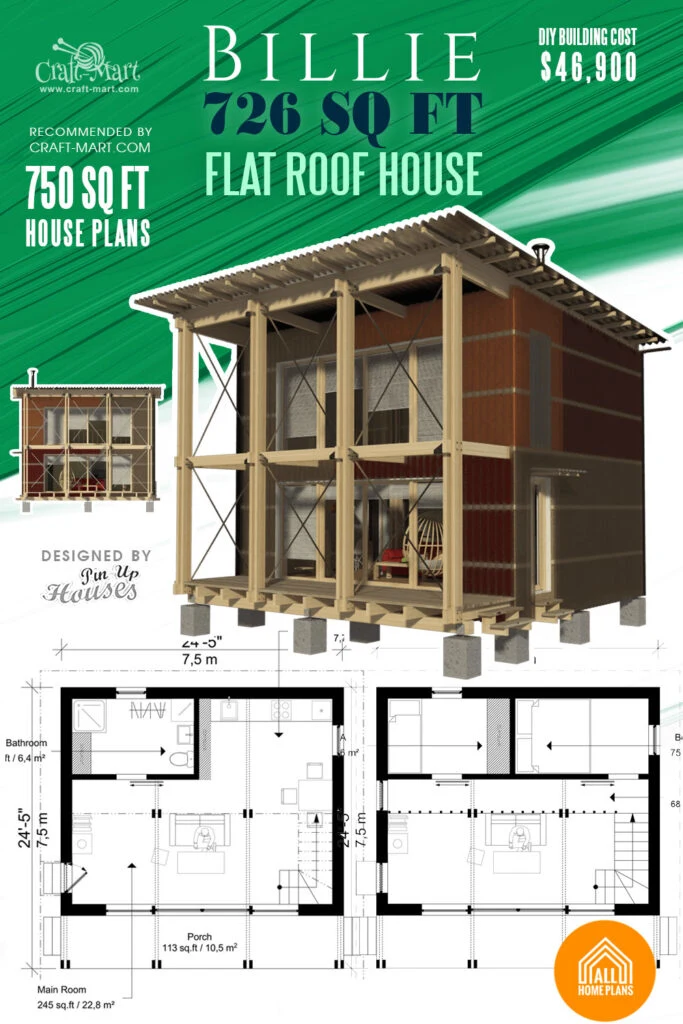 If you really like the simplicity of this particular flat-roof design, here is one of the options that may help this 750 Sq Ft house plan to become more practical for longer-term living.
Let's start from the ground floor. First of all, switching places between the kitchen and the bathroom will create a visually larger kitchen/living area. Reorganizing the internal bathroom setup is not a big problem since it's spacious enough to move things around.
Secondly, one of the original bedrooms on the top floor seems to be too small to accommodate a double bed. The most obvious solution would be extending the wall to the edge of the landing and moving the entrance door from the middle part of the landing.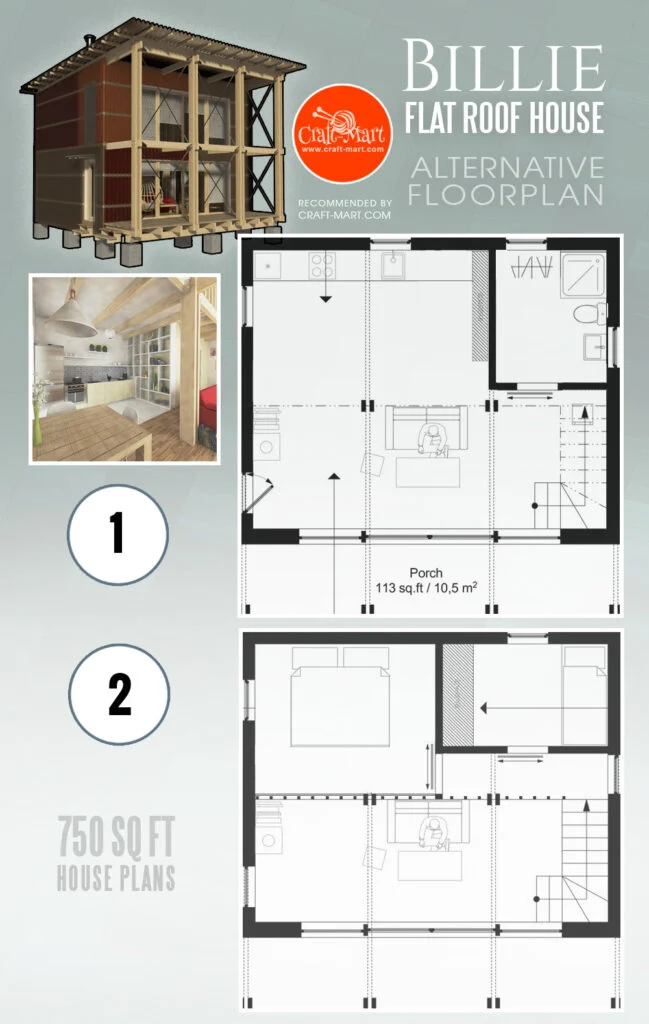 Furthermore, why not make this new wall out of glass? Imagine watching beautiful sunrises directly from your bed.
Singles or even couples may not need this wall at all. As a result, these simple floor plan modifications will add at least 40-50 sq. ft. of useful space to the main bedroom.
Additionally, you'll have a larger kitchen/dining area on the ground floor without moving any of the outer walls and very close to the original budget.
Actual size: 738 sq. ft. | Ground floor: 409 sq. ft. | Loft: 302 sq. ft. | Porch: 290 sq. ft.
Estimated DIY cost to build: $56,600-$61,000
With A-frame houses, you always get a few benefits and a few drawbacks that are not typical for other home types. For example, they are slightly more economical to build but larger roofs may cost more to maintain and repair.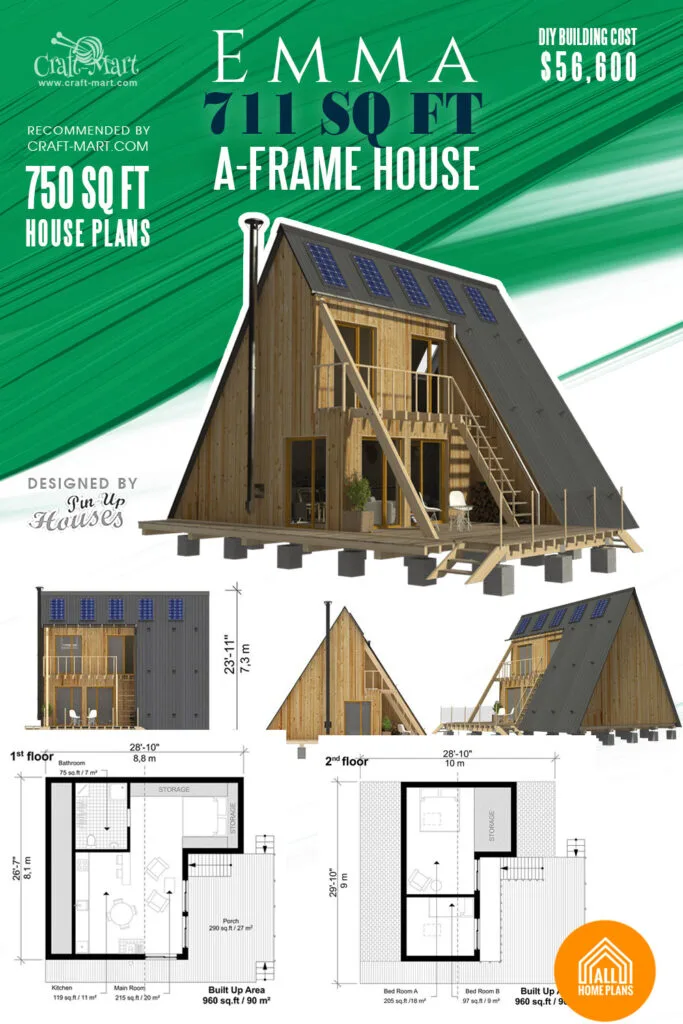 In this case, the proposed design provides roughly 750 sq. ft. of living space. A-frame house Emma eliminates almost a quarter of the roof in order to open up access to the main floor and two bedrooms located on the second level.
While for some of us who live in a warm dry climate it may work just fine, not too many people in rainy portions of the country would be excited about this design.
Imagine yourself going down the stairs in the middle of a rainy night to use the bathroom on the first floor… Now, how can you fix this?
Firstly, extend the roof to the edge of the deck.
Secondly, move the stairs under this extended roof.
Thirdly, add a roof cover over the walkway to both upper bedrooms.
You may see these changes in the drawing below.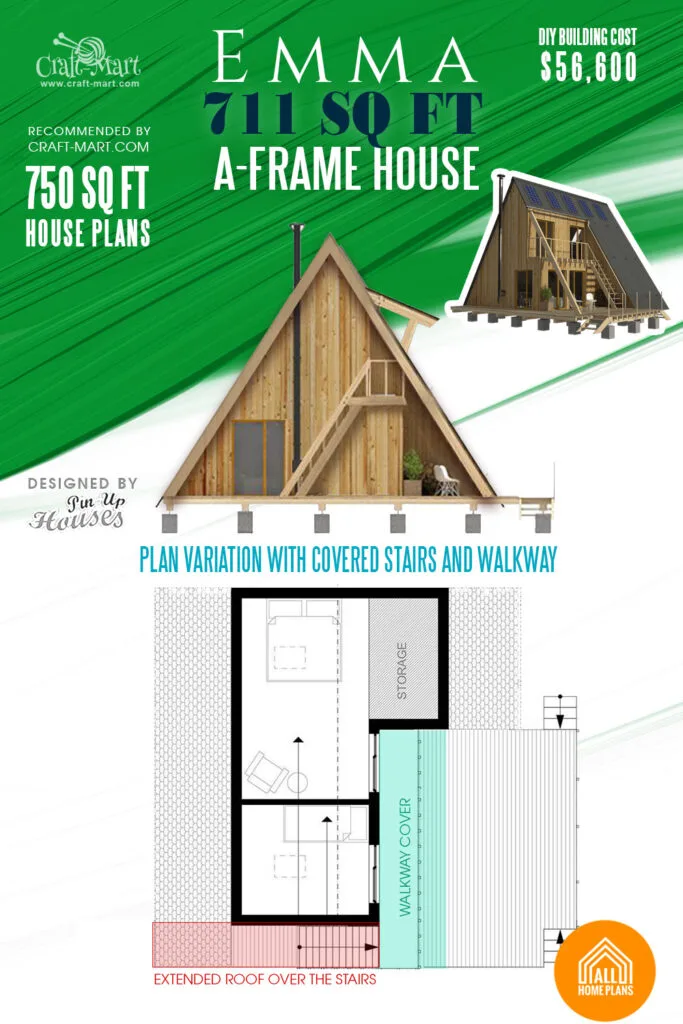 Depending on your needs, you may add a tiny bathroom and windows upstairs to increase the porch size or the length of the whole house. Architects very often receive requests for custom adjustments, so don't hesitate to contact the author and ask for changes.
Making your 750 sq ft house plans truly energy-efficient
We all know that just downsizing a house plan doesn't automatically make it energy-efficient. Traditional building materials and methods cannot provide enough quality and efficiency for the required energy-saving tasks.
Luckily, a number of technologies are available for constructing energy-efficient homes. For example, popular Structural Insulated Panels (SIPs) are often used for walls, floors, and roofs. Another and even more affordable option would be a ThermoBuild system that may cut your energy bill up to 80%.
Other advantages of small energy-efficient house plans
If you're still on the fence regarding smaller homes, here are a few things to consider. Perhaps, you are thinking about purchasing a house to rent it out.
You may be in a difficult financial situation and consider selling your place to become a renter.
Buying vs. Renting
Buying
In good economic times, everything seems rosy. So, when you apply for a loan to buy the largest house you can afford, the bank often lures you with incredibly low-interest rates.
Right away you get a fake title of a proud homeowner even though in reality the bank owns it and you may lose your house very easily if you miss a few payments.
If this is the case, what's the difference between paying a mortgage for the house that the bank owns and renting it?
A big one is that you may sell your property for a profit if the real estate market goes up.
You may also do some renovations and upgrades which may increase the value of your house.
You can definitely rent your place out and get some residual income this way.
On the other hand, if the economy goes down and real estate prices fall, you'll be stuck with a bunch of problems.
Your renters may lose their income and stop paying rent. In many areas, it's really hard to evict renters and it may take months.
You also may get in a tough financial situation and be late with your mortgage payment.
In case you'll need to relocate to a different state you may lose a lot of money by selling your house for less than you've paid.
Renting
For those who don't have enough money or simply don't wish to deal with homeownership responsibilities, renting seems to be a good solution.
Until recent times, not too many buyers were interested in 750 Sq Ft house plans. The US crowd got so used to living large on borrowed money.
Often, many Tiny House communities are considered to be undesirable neighborhoods. The common opinion was that may lower the property values of the adjacent "normal" communities.
Many of these tiny homes were initially built by people who realized one obvious thing. Getting their very own tiny places for cash was the only way out of a vicious debt cycle.
Besides being free from a huge mortgage burden, these tiny house owners also feel good that their homes. They have much smaller footprints and consume less energy not to mention smaller property taxes.
Small house plans – new opportunities for real estate investors
Problem: Big business controls real estate prices and rent.
In dire economic times, big businesses take full advantage of distressed property owners. They buy thousands of foreclosed homes and small shops expanding their monopolies and controlling the cost of rent and services.
Naturally, small real estate investors can't compete with multi-million or billion-dollar corporations. All the best properties usually get swept off the market by the big guys.
Solution: Small energy-efficient house plans
Small and Tiny House movements are the natural and time-proven ways of resolving such situations. So, instead of trying to acquire a few large houses or apartment homes, investors are starting to build small and tiny houses.
Often, the whole cost of building such a house is comparable to or close to a downpayment for a large property.
Although the rent of these small homes would be smaller than the rent of the traditional larger ones, it's almost pure profit. No need to pay off sizable mortgages, more infrequent problems with maintenance (fewer things that can break), and smaller payments for home insurance and property taxes.
In addition to all of this, many such small or tiny houses are often used for short-term vacations to be rented out through Airbnb. This partially solves the problem with vacant rental properties that are frequent in some areas.
Regretfully, a bad economy tends to create a lot more homeless people although there are plenty of vacant properties in the country for everyone.
In summary, tiny or small (under 750 Sq Ft house plans) may create a more stable cash flow for real estate investors during economic downturns. Furthermore, small houses are also more affordable for renters or buyers.