Small and tiny home plans often don't look like the creations of architects. The seemingly easy modern ways of converting any boxy structure into a living space have produced a whole array of look-alike houses that would have given heart attacks to many famous architects of the past.
Yes, small home architecture is hardly the subject of prestigious architectural design competitions but still worth a magic touch of professionals. Below are a few small home and granny pod plans that were designed by a group of professional architects and designers from the EU.
1. Tiny Round Home Plans with a Loft – Eleanor
Ground floor: 280 ft² + Loft: 86 ft²
Cost to build: $20, 300
Home plans regular price: $490.00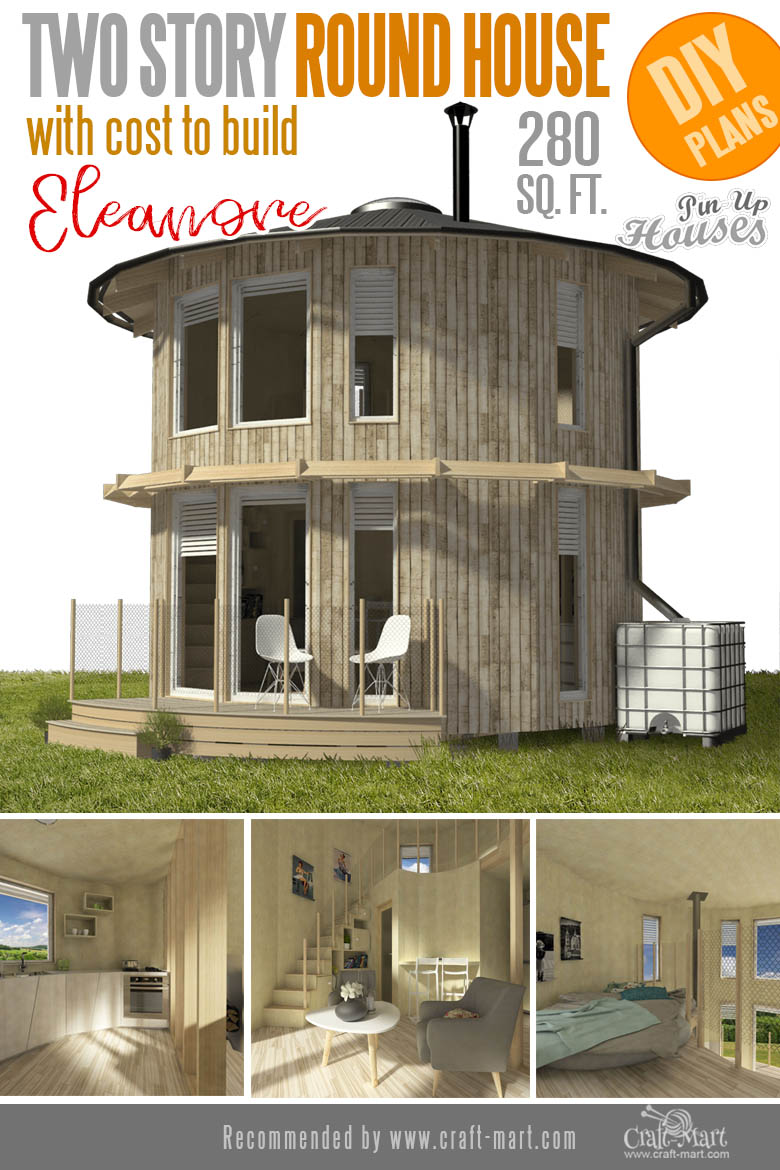 This adorable round home can be the best thing for DIY addicts that have an urge to design every last piece of furniture in their dwelling. Tiny circular houses can be tricky to furnish with standard pieces. On the other hand, this 280 ft² house is so small that you'll need only a few things to make.
On the ground floor, you will find the living room adjacent to the kitchen area, and the bathroom occupying roughly a quarter of the whole ground level.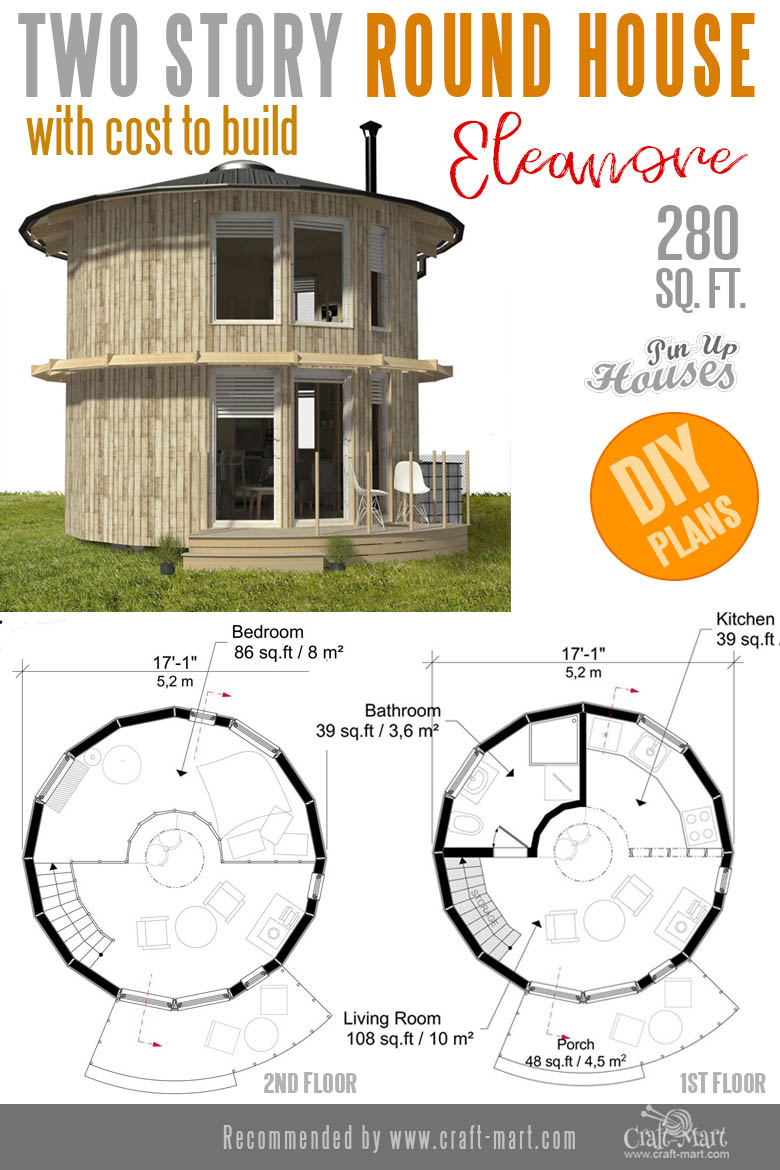 Alongside the curved wall, the stairs lead to the sleeping loft. It's not clear what's the maximum bed size can you have upstairs. The awkward bed access can be eliminated if you'll decide to extend the 2nd level floor over the curved central part.
With plenty of windows, high ceilings, and round interior walls, this round house can be fun not only to live in but to build as well!
Get tiny roundhouse floor plans here
2. Tiny Home Plans – Zoe
Ground floor: 265 ft²
Cost to build: $18, 700
Home plans regular price: $390.00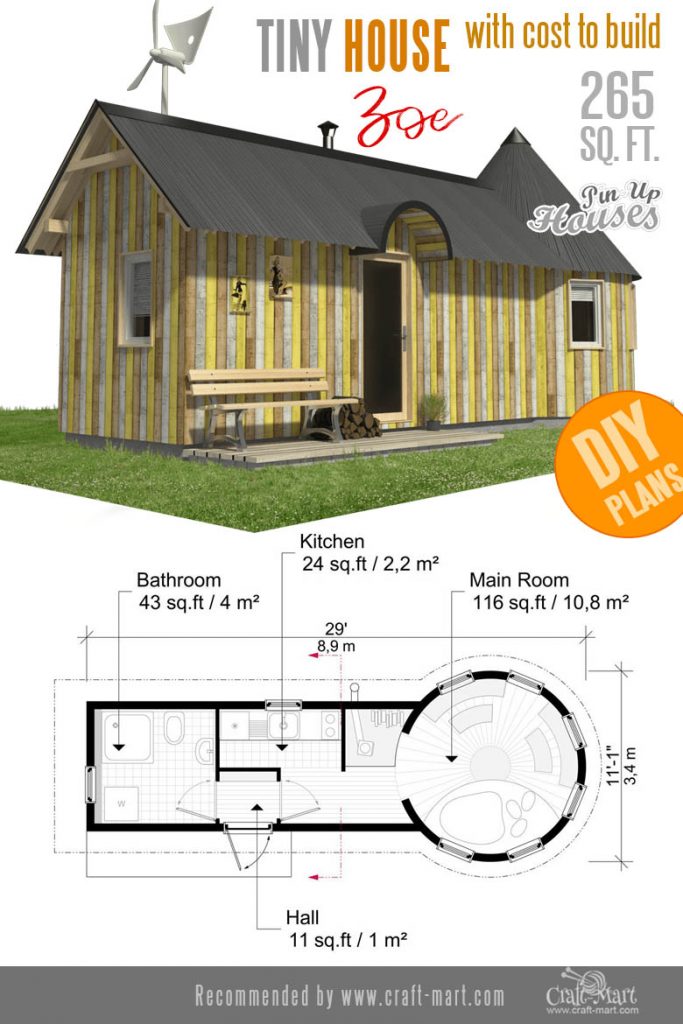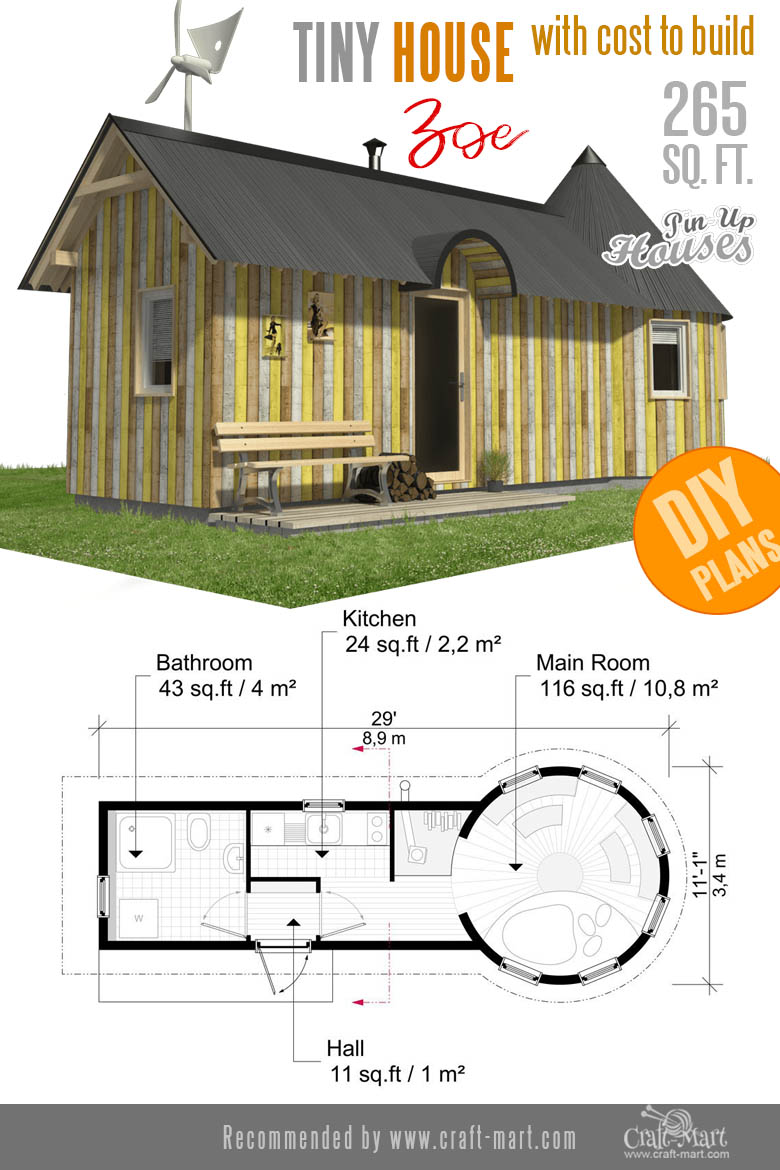 The exterior of this tiny home resembles a few things at once:
the medieval towers of French castles like the famous city of Carcassone, for example;
the conical whimsical houses in Southern Italy called "Trulli";
the medieval royal tents;
If tiny house plans like this one will not inspire you to get up from the couch and start building right away then at least you may include a few travel destinations to Italy and France to see how it was done a few hundred years ago.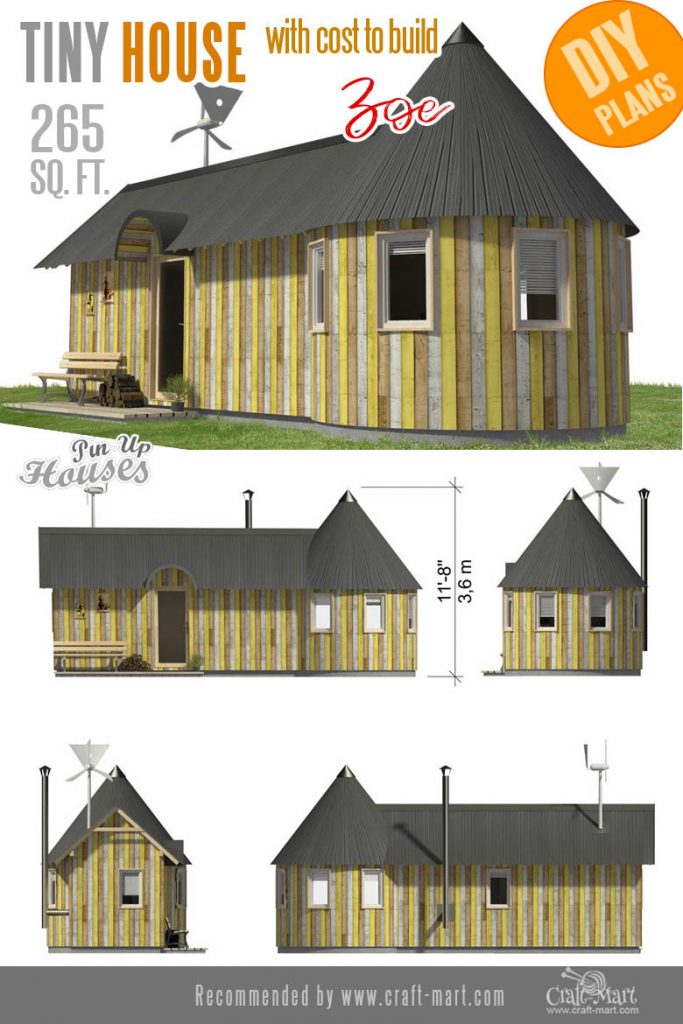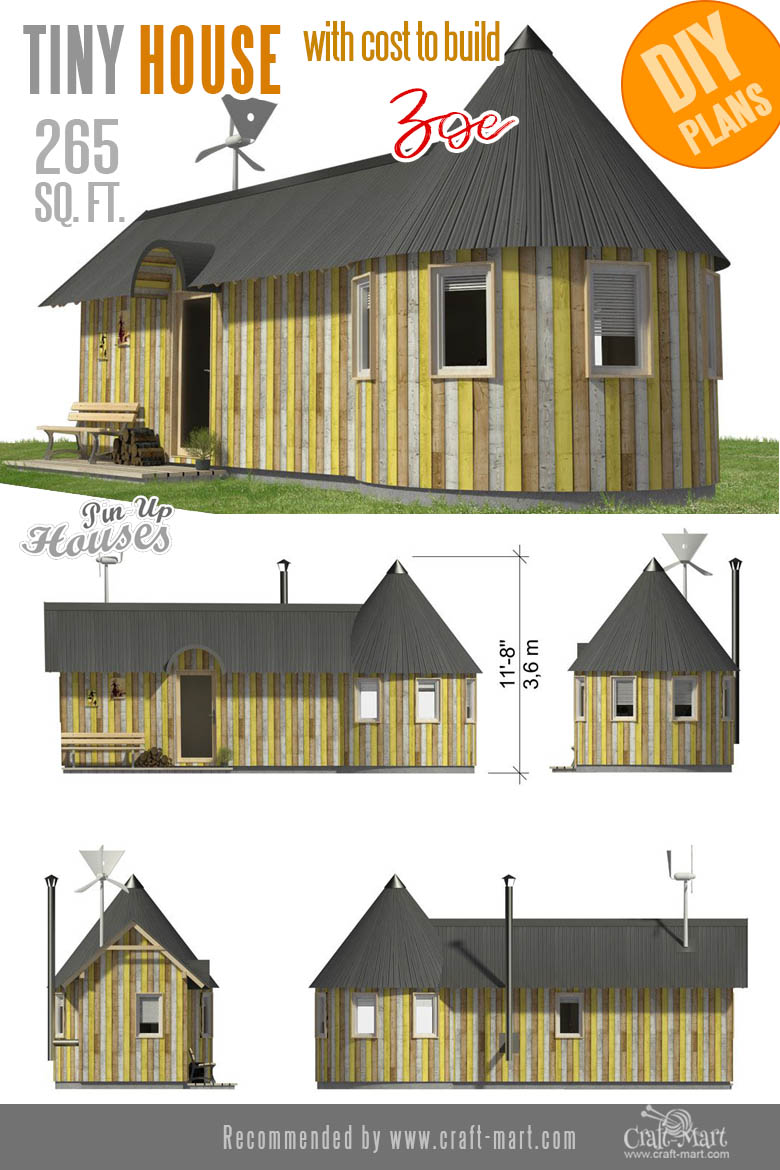 The truly unique feature of this tiny home is its round living room. The cone-shaped high ceiling and panoramic windows create a perfect space for many kinds of activities.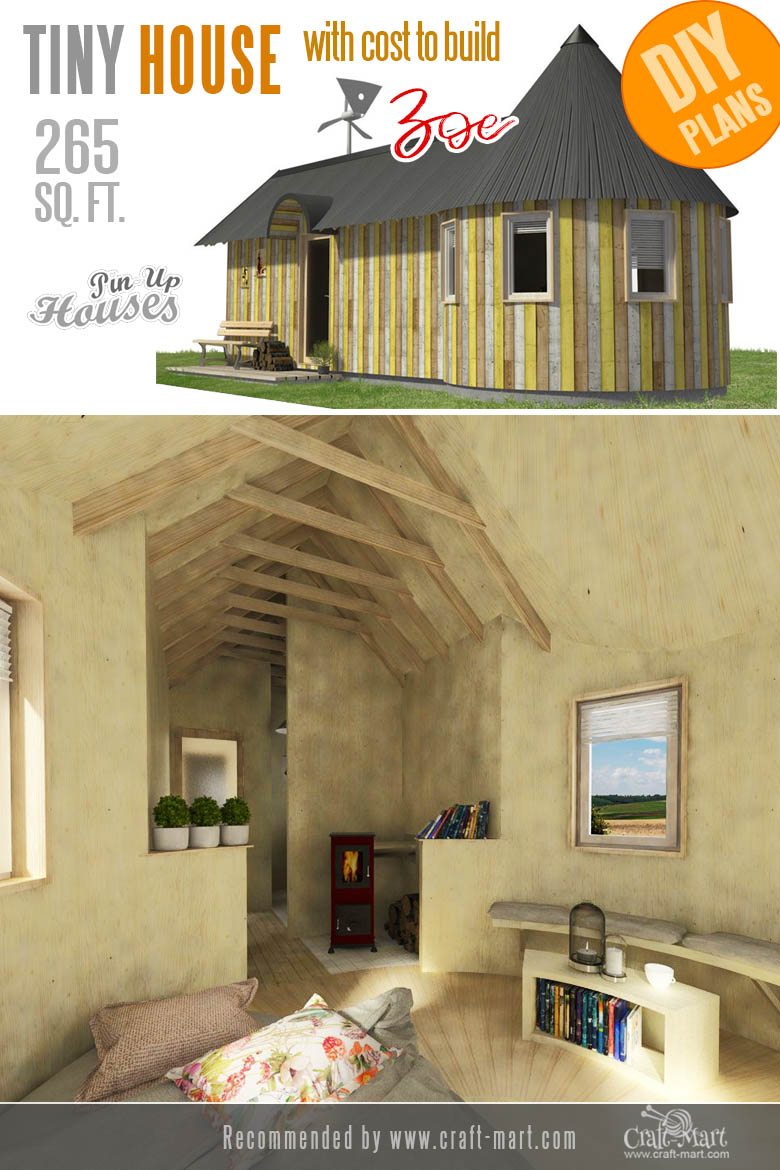 Oh, no! There is no space for a king-size bed as most Americans are now accustomed to! Well, go to the mentioned earlier Carcassonne castle and see that even medieval nobles used to sleep on pretty modest beds like the ones that parents buy for their pre-teens nowadays … One-story cabins like this one may serve as granny pods if you are looking for one.
Get tiny house Zoe floor plans here
Ground floor: 936 ft² + Loft: 328 ft²
Cost to build: $49, 800
Home plans regular price: $790.00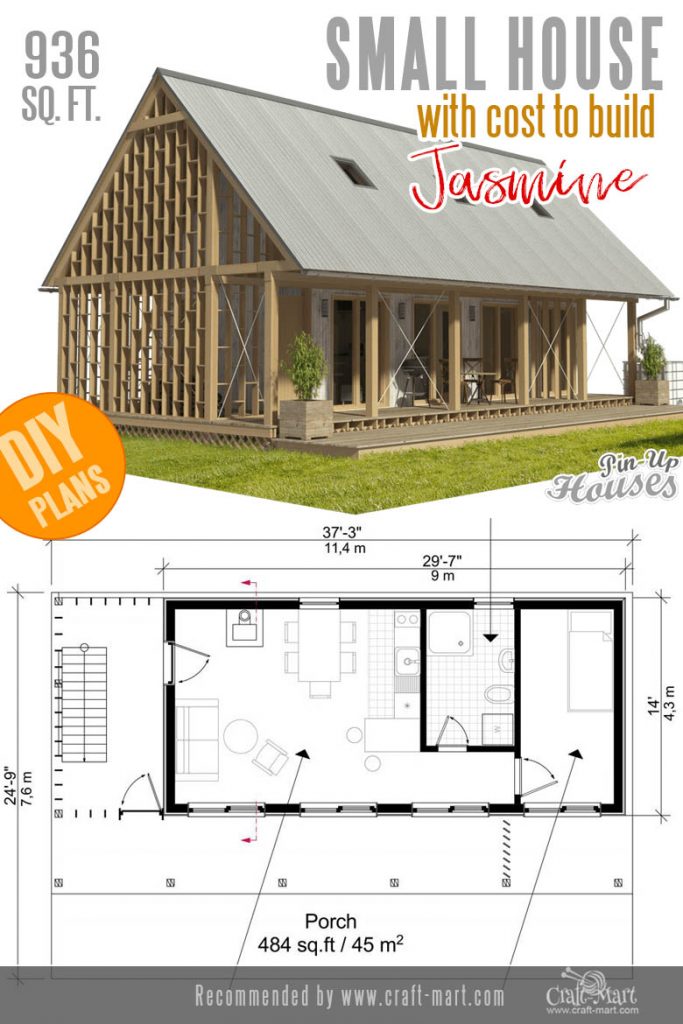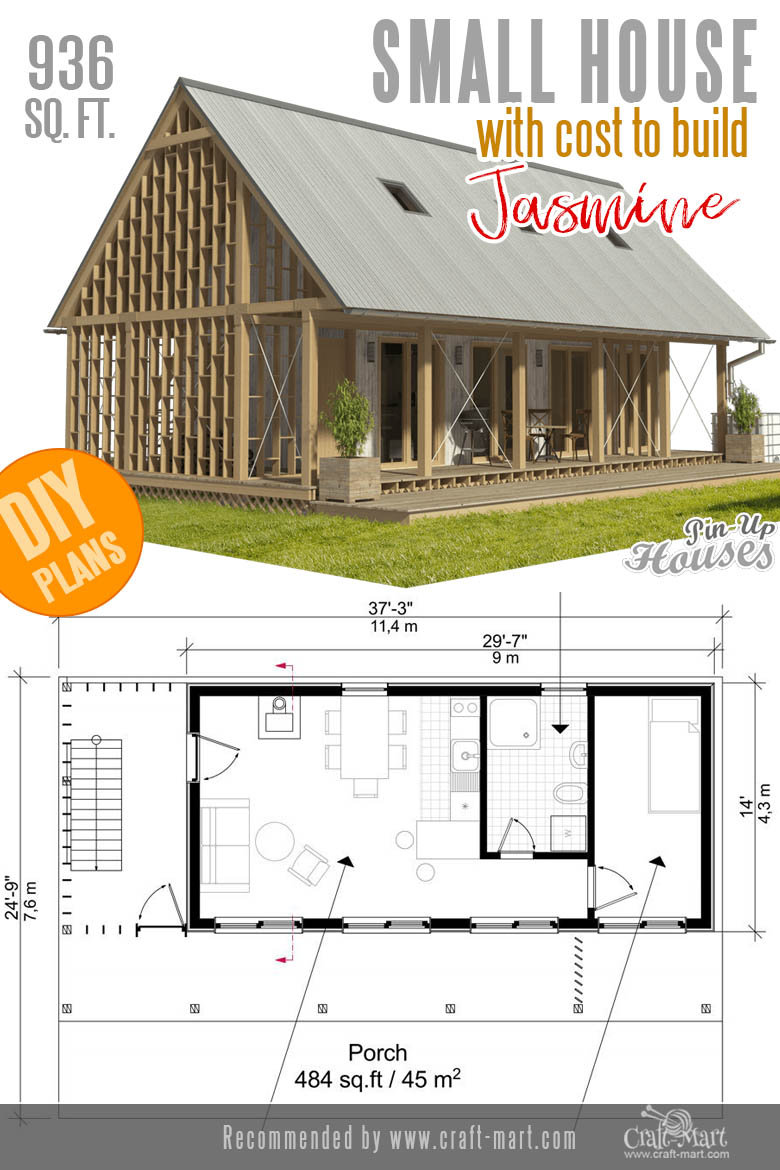 Small homes like Jasmine are always appealing to the public due to their simple classic looks – they remind a bit of small modern farmhouse plans. Sporting almost a thousand square feet it is designed for a small family. One exterior design feature – the external staircase helps with eliminating some space loss inside the house.
There is a thing with elongated small home plans that makes them a lot more usable – making the main entrance somewhere in the middle of the longer side. Jasmine's floor plan is a bit raw, especially in regards to the second floor. Of course, making the stairs on the longer side would require modifying the roof but would provide a lot more usable space upstairs.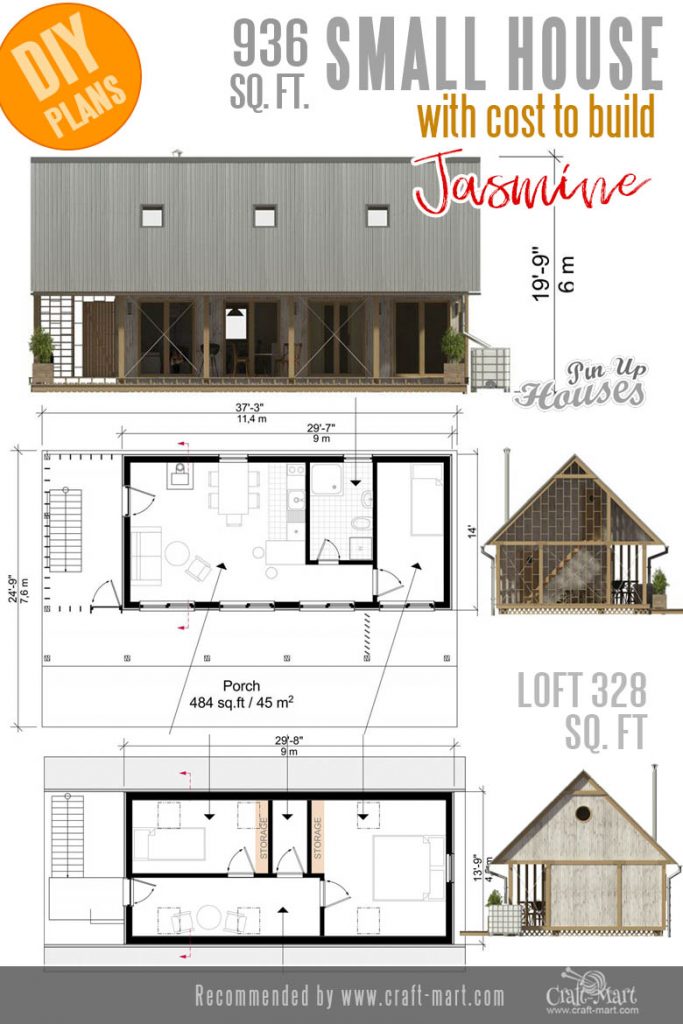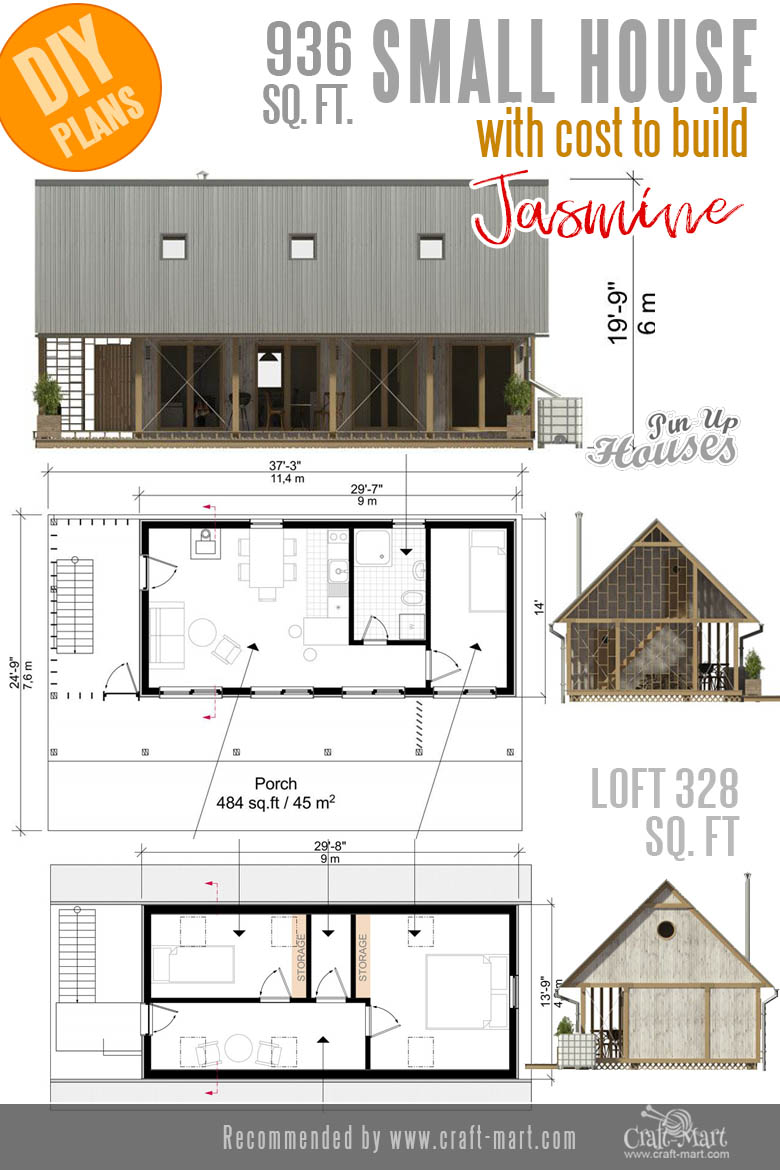 Relocating the main bathroom upstairs would also make sense since no sane person would want to take the stairs to the bathroom in the middle of the night. Another not-so-pleasant scenario during wintertime would be taking a shower before going to bed and then taking the outside stairs…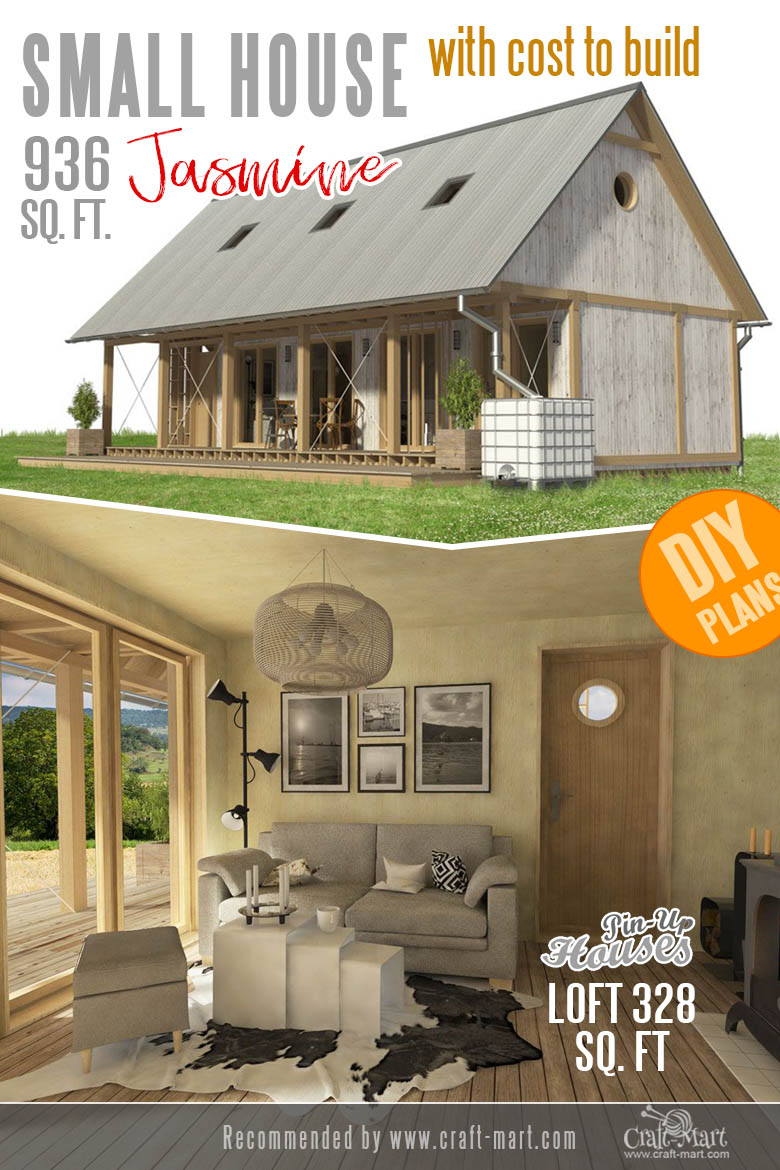 Having a small 1/2 bath downstairs and the full one on the 2nd floor would be more logical. Anyway, this plan is workable and can be improved if you like the general design idea.
Get small house Jasmine floor plans here
Ground floor: 354 ft² + Loft: 124 ft²
Cost to build: $29, 800
Home plans regular price: $590.00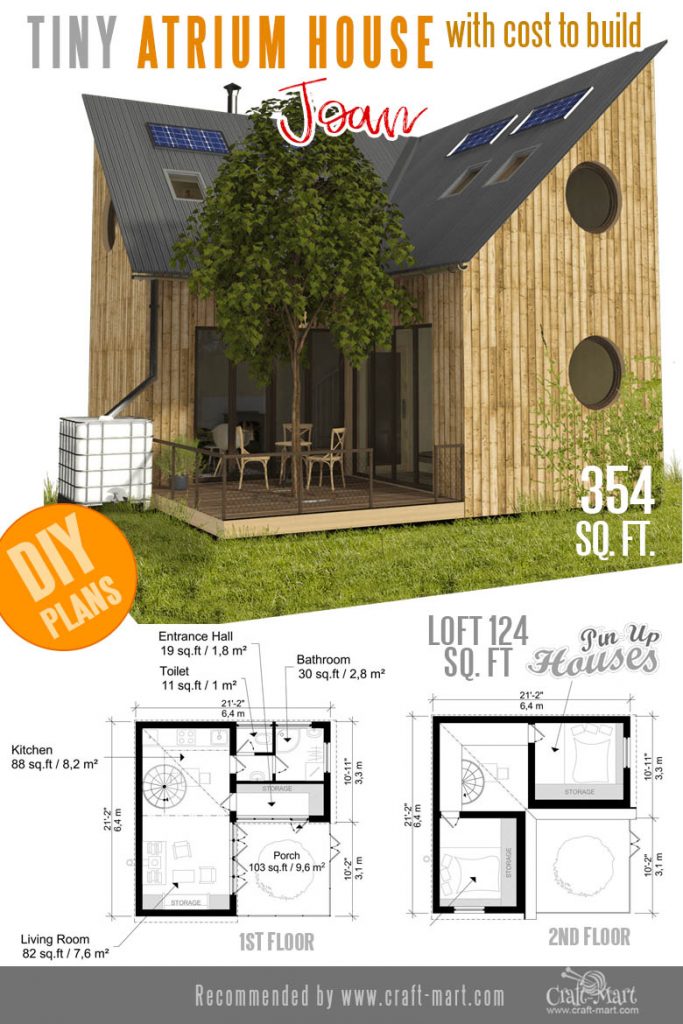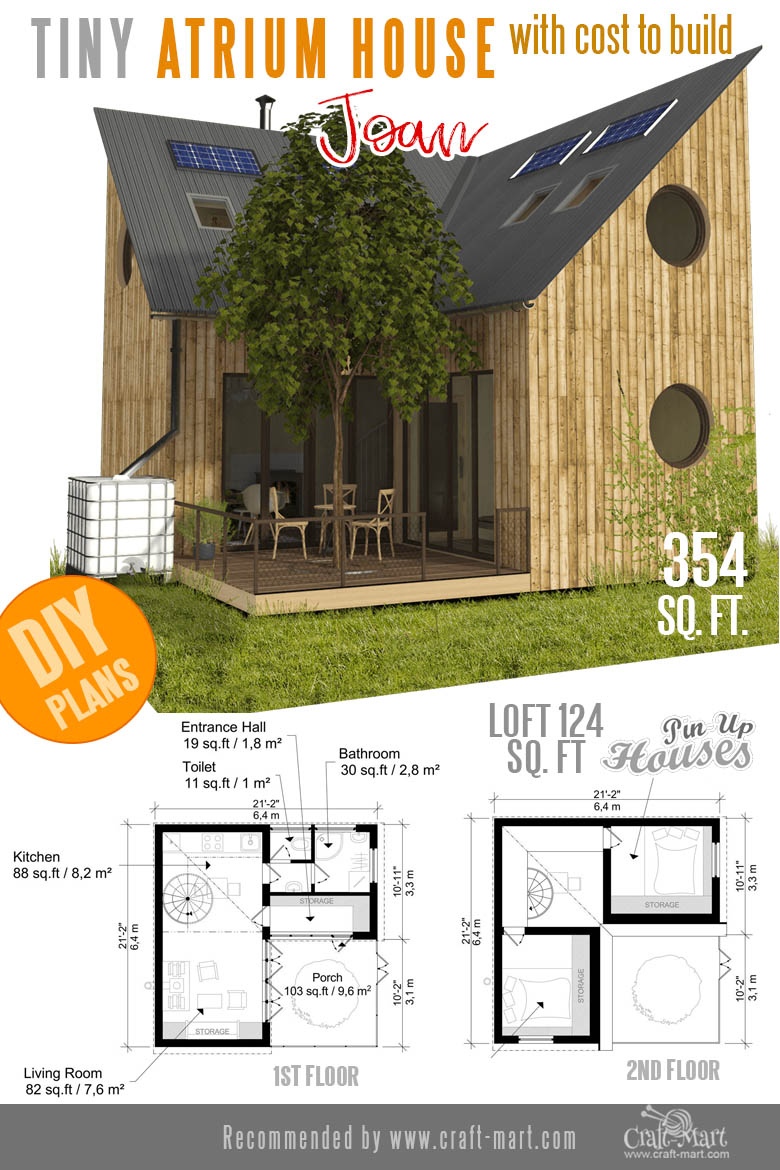 Out of unusual small home plans, this one has a very special place. The Atrium House got its name from the open space over the kitchen where the spiral staircase is located. It's very compact and has very little to complain about.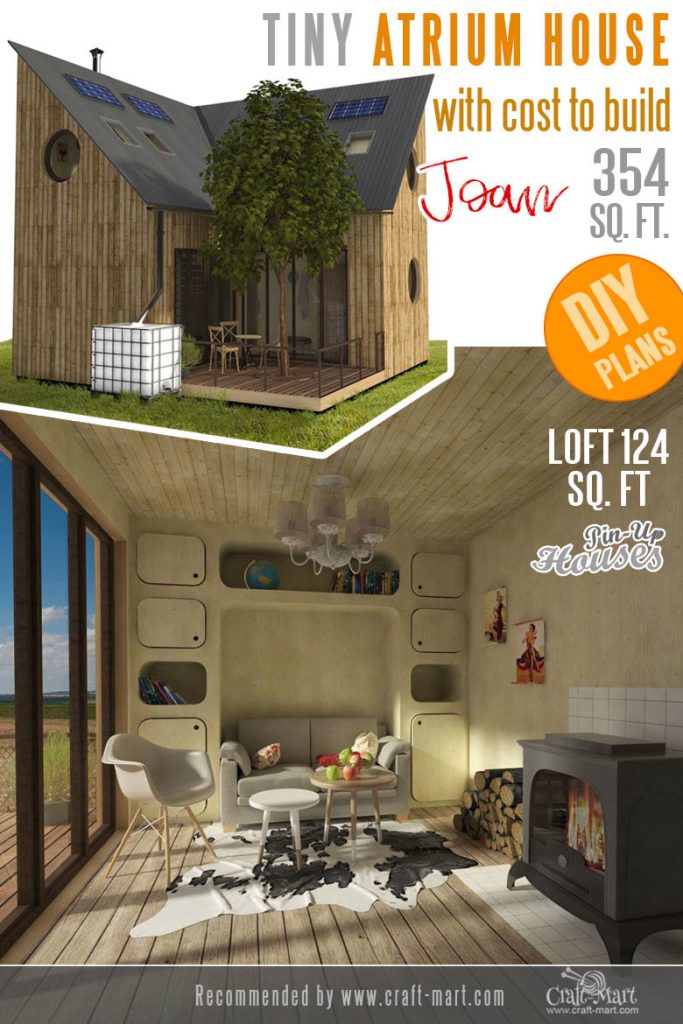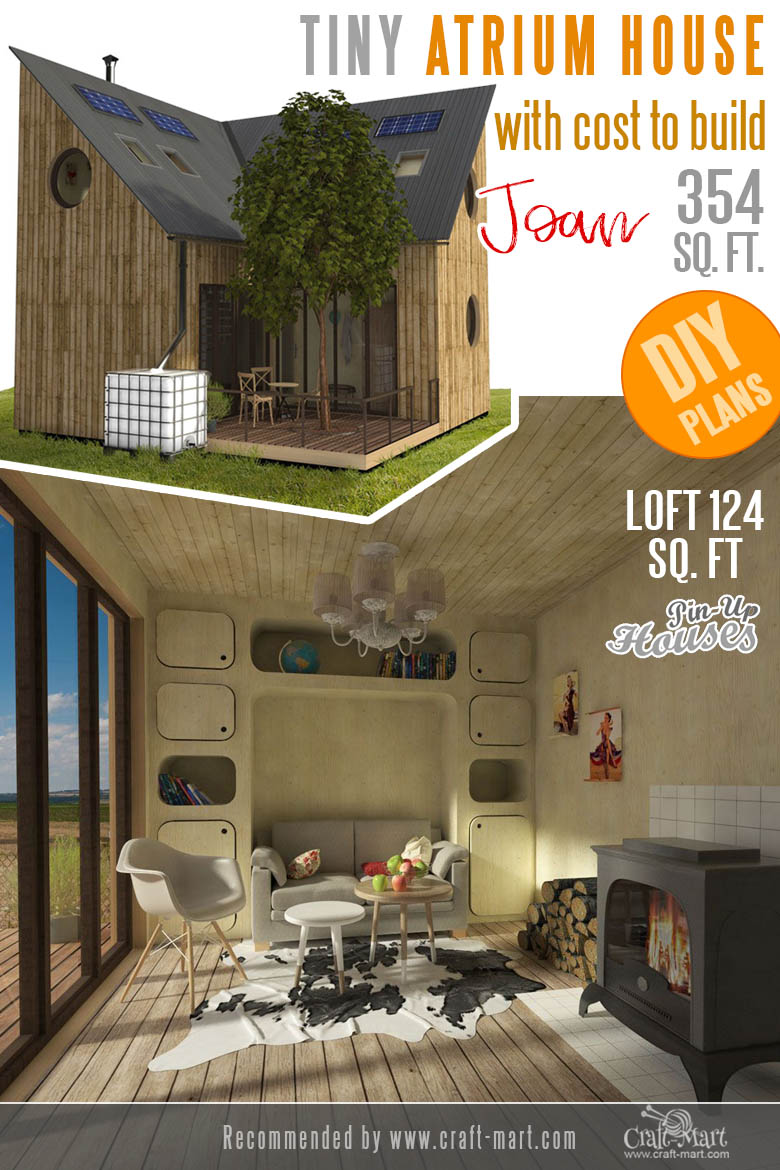 For sure, many of you may decide to cover the deck and put a mosquito screen creating a perfect extended living/dining area. The proposed tree in the middle is a bit questionable – it may grow into something big that you'll not be able to manage in a few years.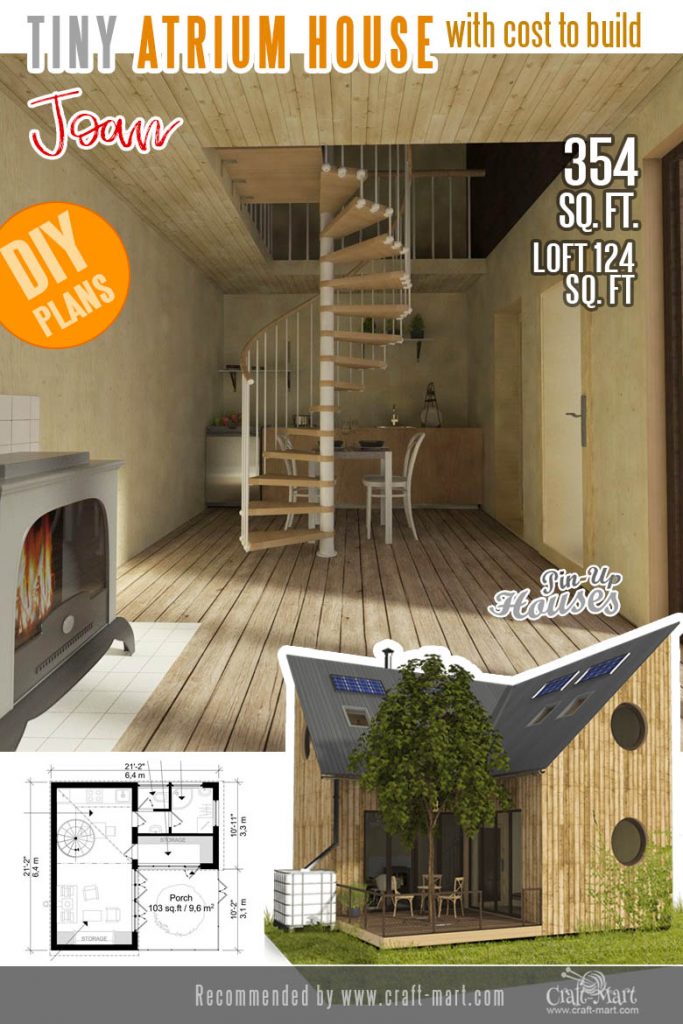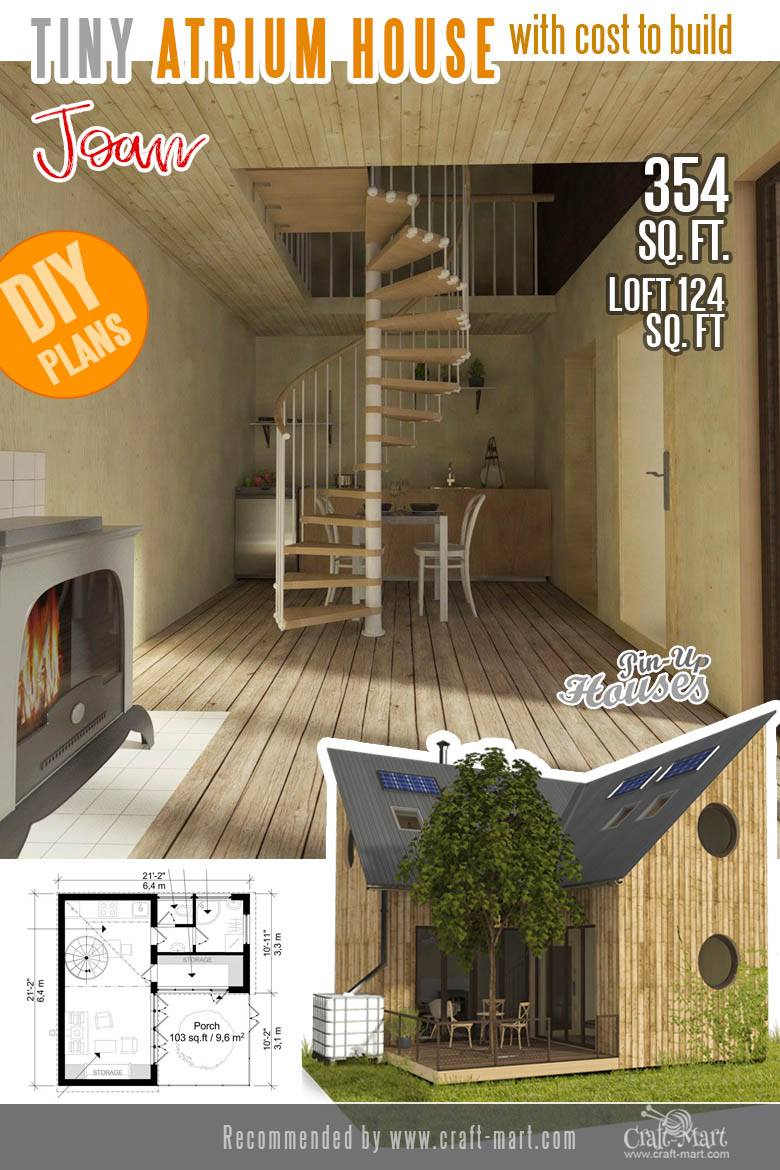 The main entrance to the ground level is through a small foyer (hall) that is standard for many EU homes. It helps with balancing that temperature differences, reducing the noise, and also functions as a mudroom. The open-plan kitchen, connected together with the living room, has an entrance to the bathroom and toilet.
With the stairs in the main area, you access the first floor and its two bedrooms.
Get small atrium house floor plans here
Ground floor: 355 ft² + Loft: 110 ft²
Cost to build: $25, 800
Home plans regular price: $590.00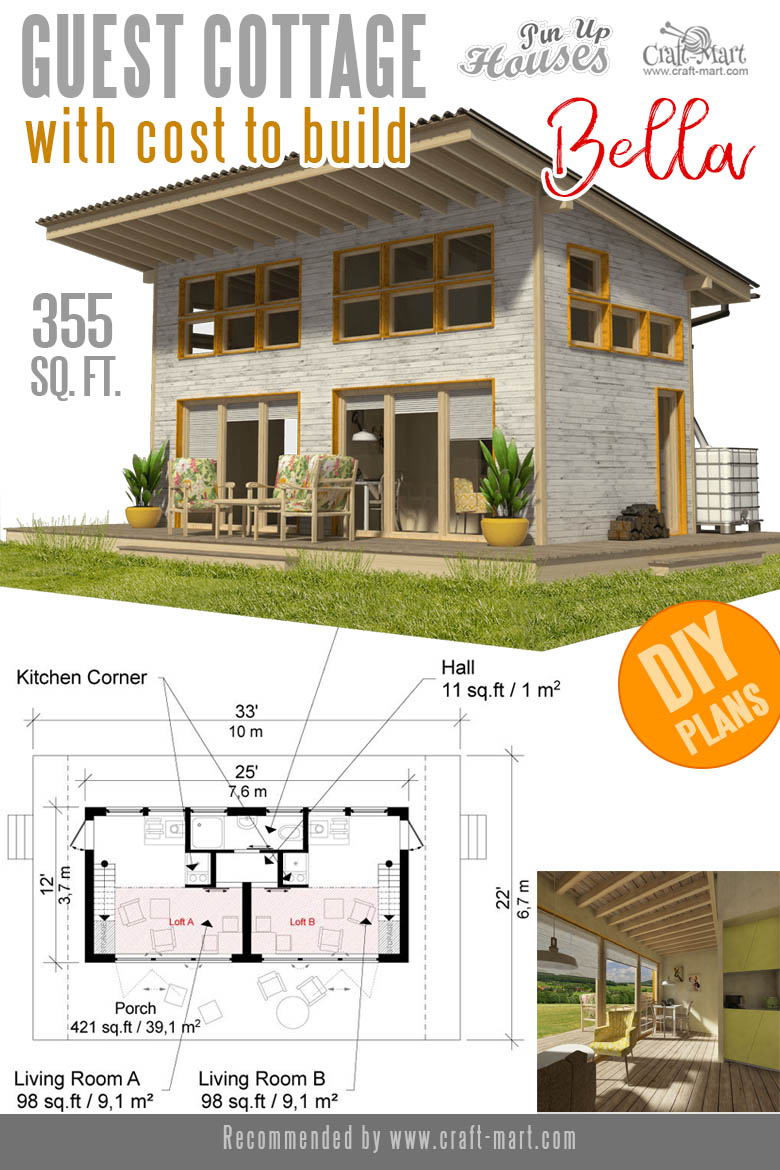 Bella is simply a duplex cabin – two tiny units jammed together while sharing a bathroom. One of the possible scenarios would be the accommodation of two generations of the same family – parents with one or two teens or two groups of friends.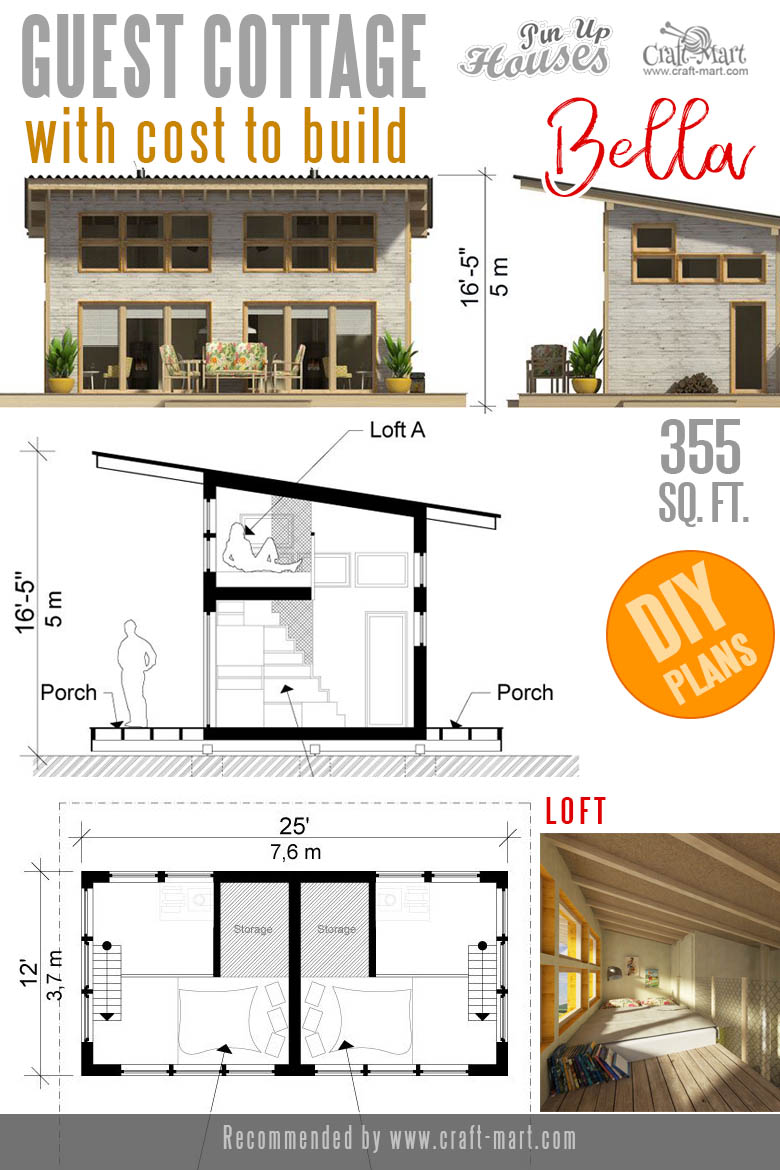 The cabin is clearly designed for a short stay because sharing a bathroom for more than two or three days is not the best proposition for the majority of city residents. On the other hand, the camping crowd would be totally fine with this setup.
How often do we often forget that having a toilet and running water inside our homes is already a luxury in comparison with what people have in some parts of the World…
Get small cottage Bella floor plans here
Ground floor: 312 ft² + porch: 118 ft²
Cost to build: $5, 400
Home plans regular price: $129.00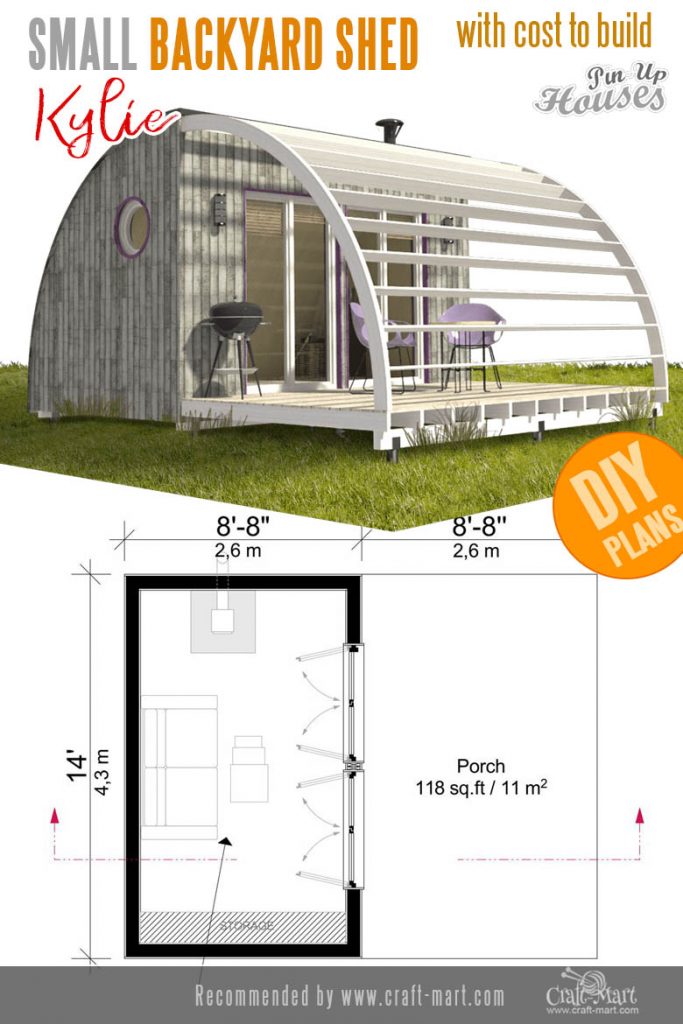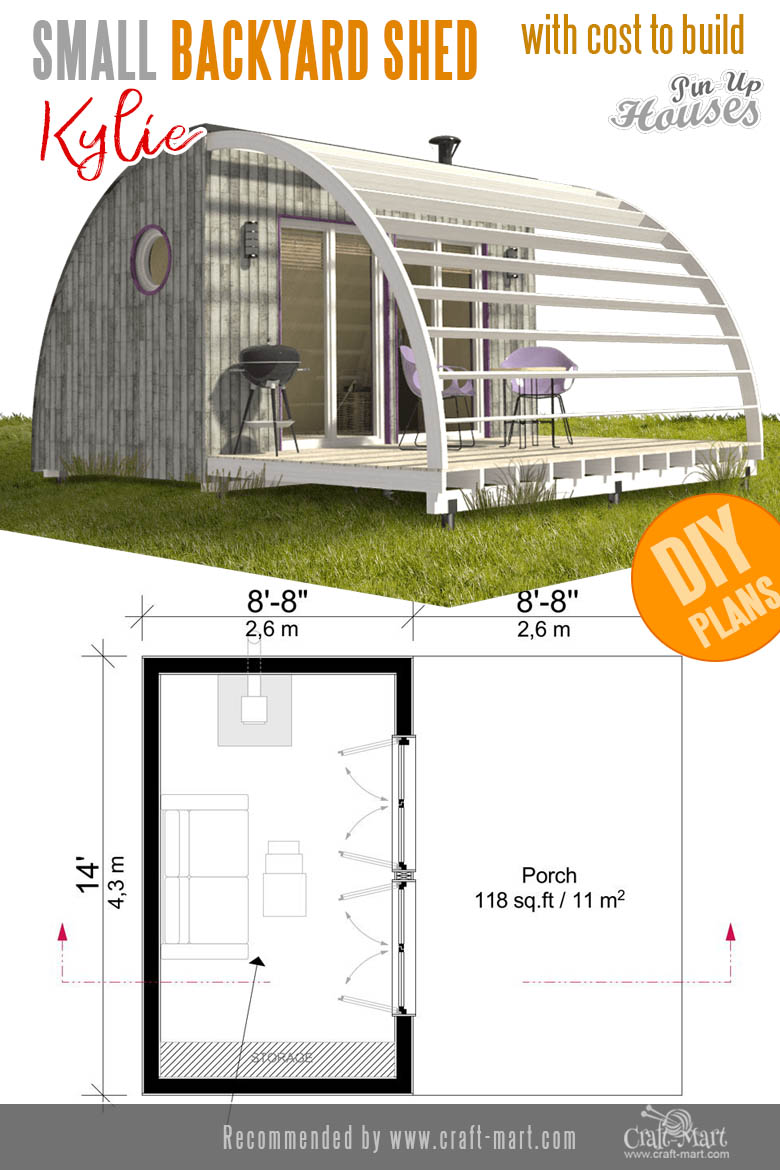 Out of all backyard sheds, this one is our favorite! Yes, the semi-circled roof and pergola would be challenging to build but the final result is well worth the trouble!
The shed is clearly designed for something like couch meditations or crafting activities as crochet or knitting since there is no wall space to hang a lot of garden tools. The pergola's shape is suggesting some kind of a cover over itself.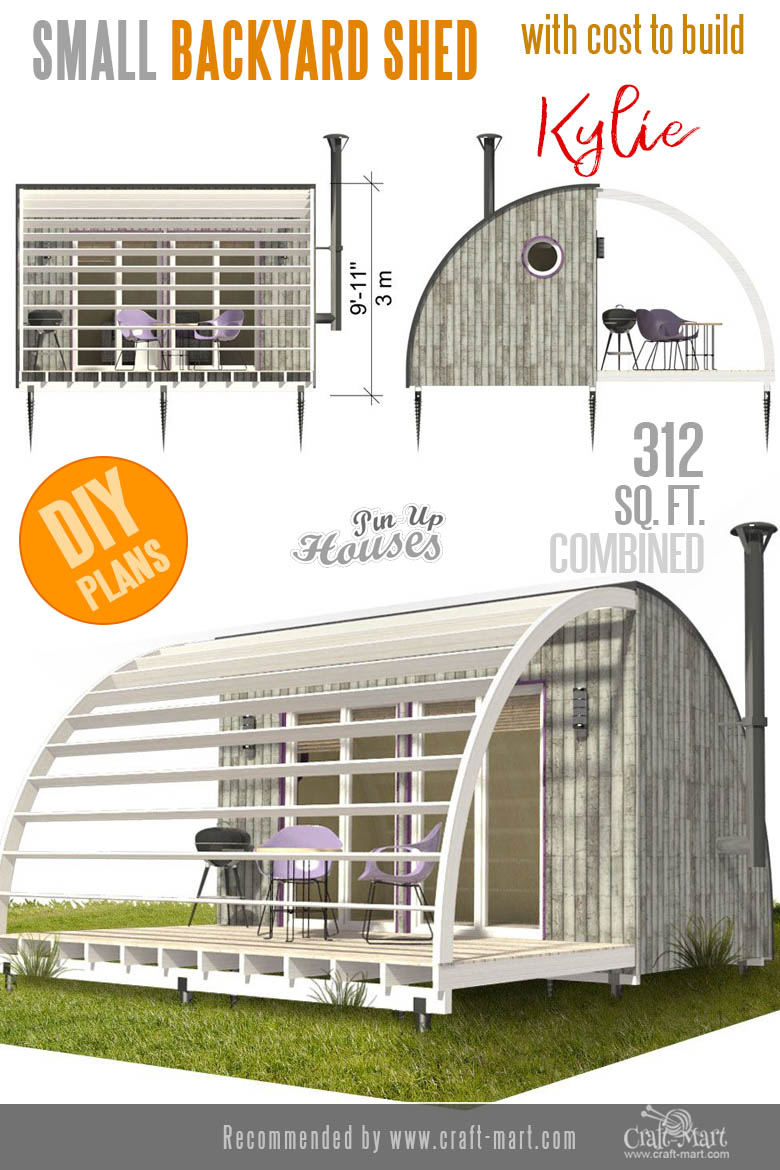 The outside design is pretty cool. The inside usage is somewhat limited by the rounded ceiling, so make sure to increase the height if you are taller than average.
Ground floor: 431 ft² + Loft: 145 ft²
Cost to build: $30, 400
Home plans regular price: $690.00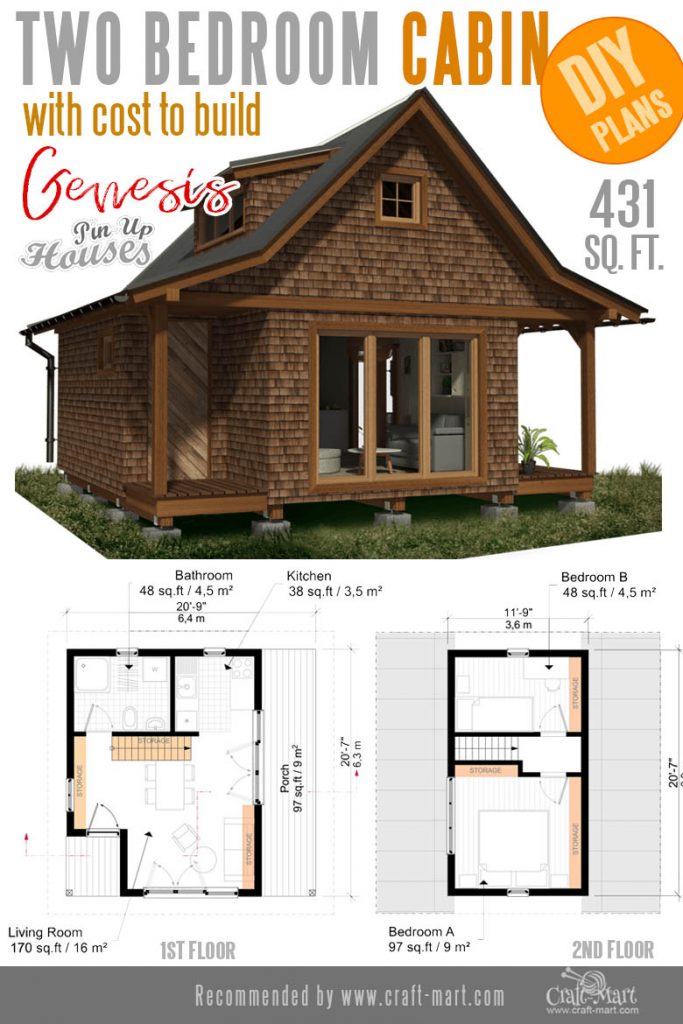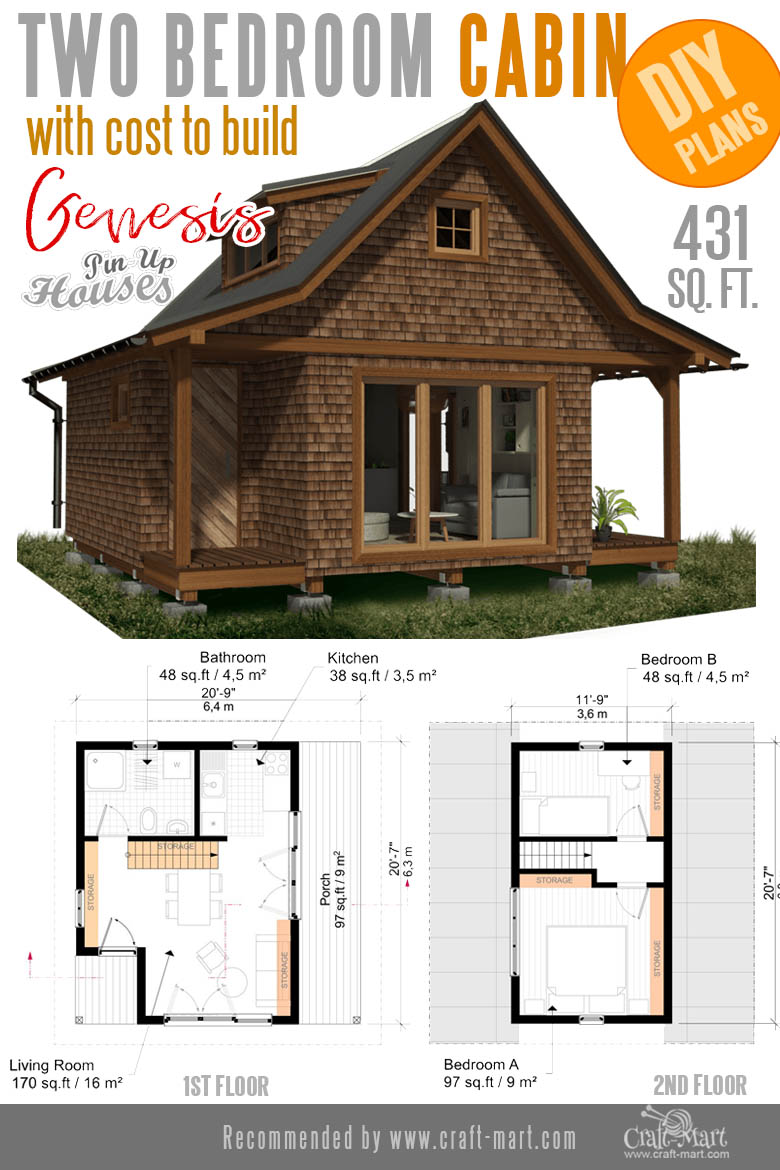 Genesis has a definitive whimsical look for attracting some attention. The gabled roof creates a charming image of a fairy-tale house. The plan is logical and has almost no wasted space.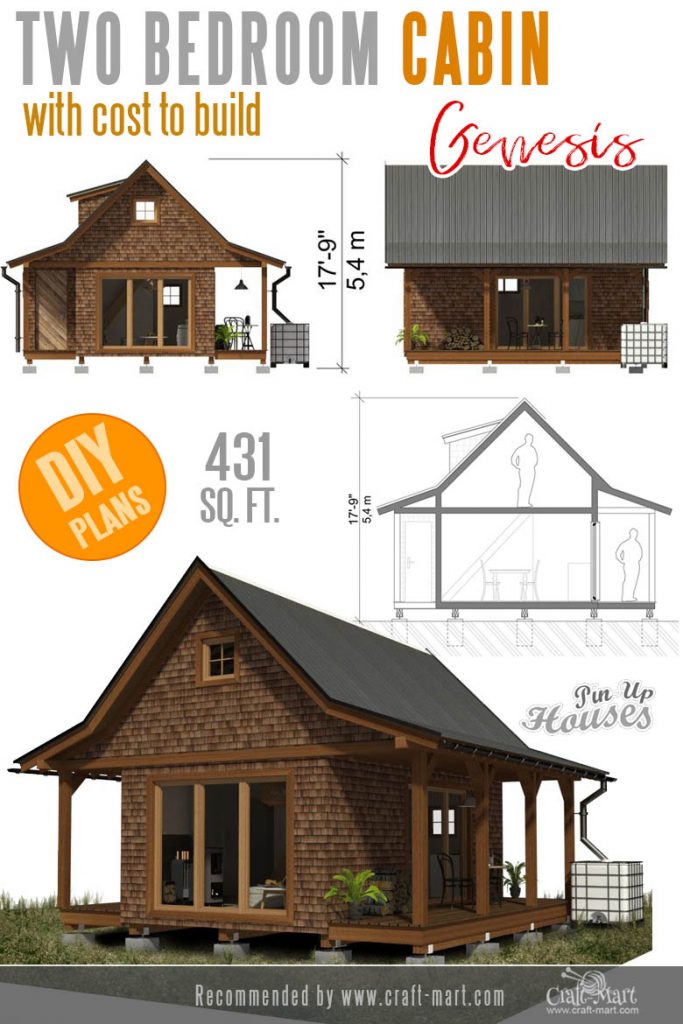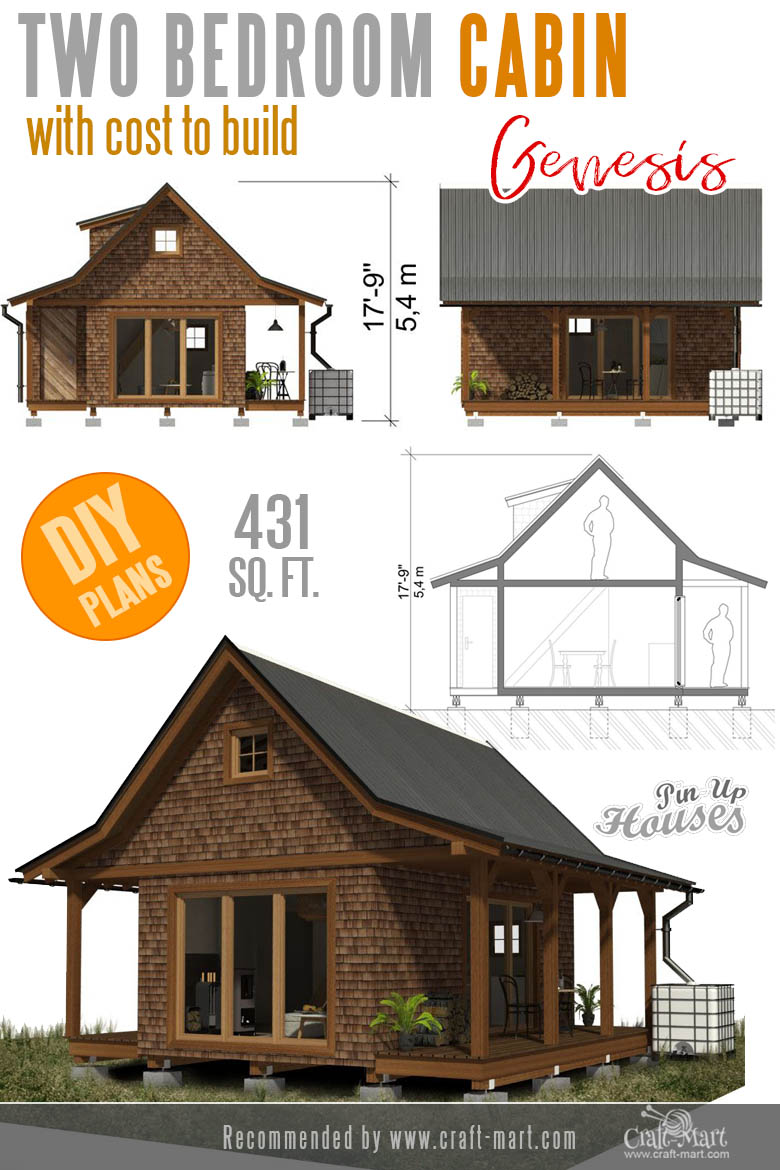 The only suggestion would be converting its small front porch into a foyer/mudroom. Other than this everything else is designed pretty well.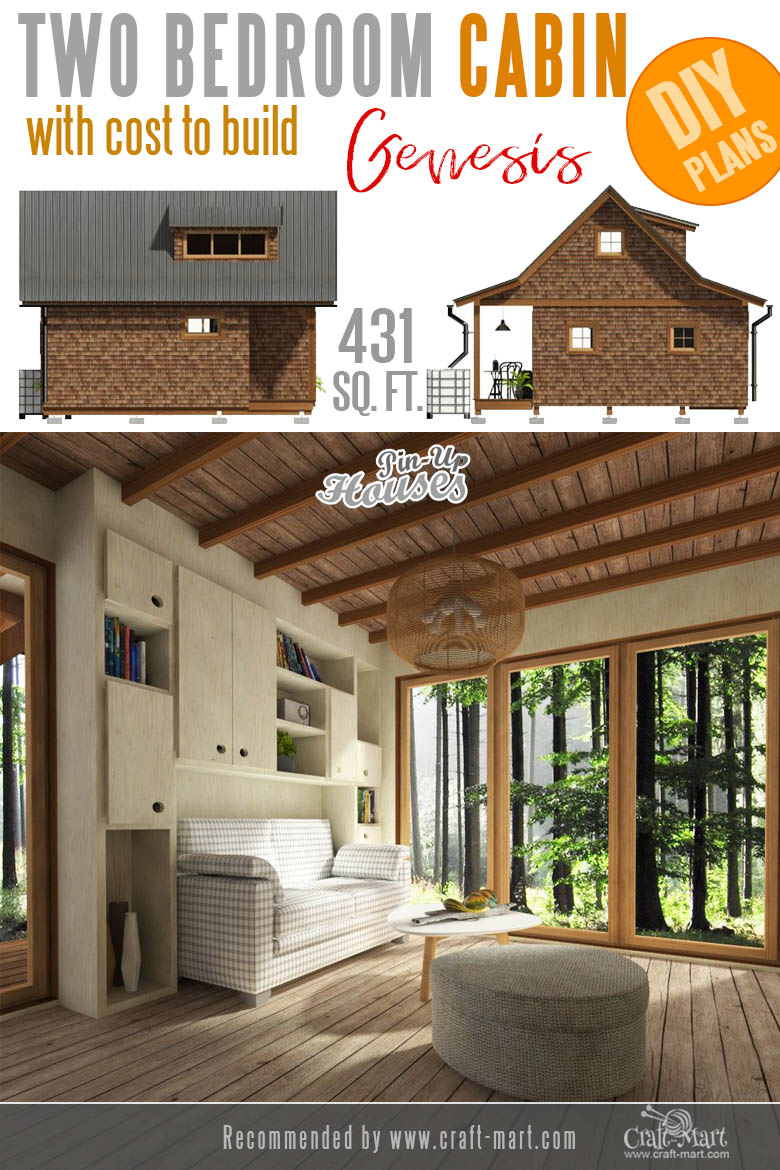 Ground floor: 233 ft² + Loft: 124 ft²
Cost to build: $23, 800
Home plans regular price: $490.00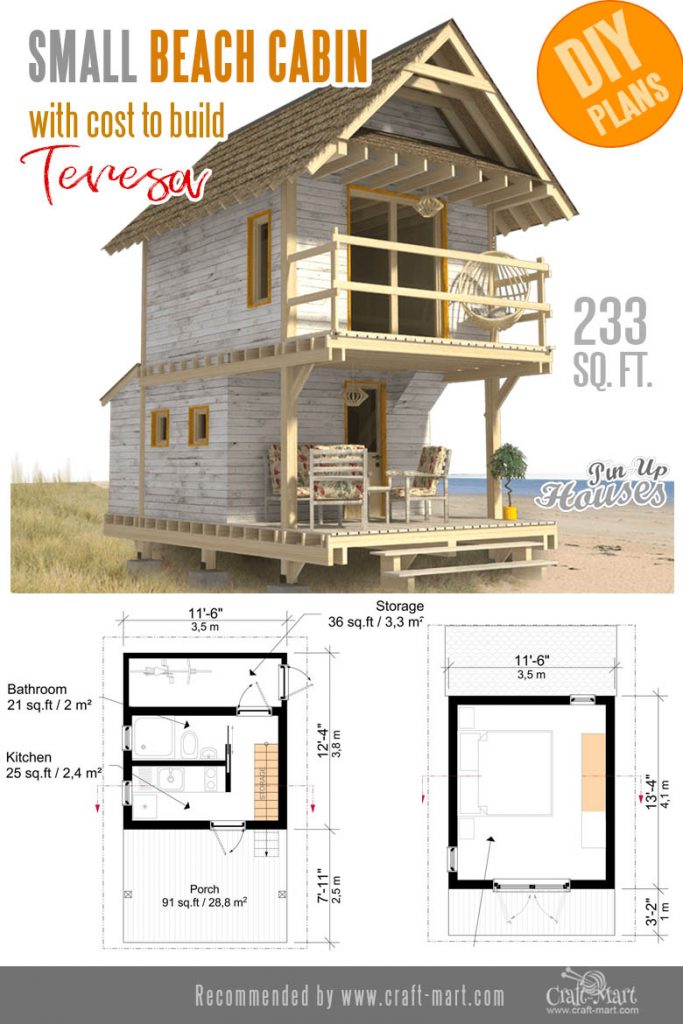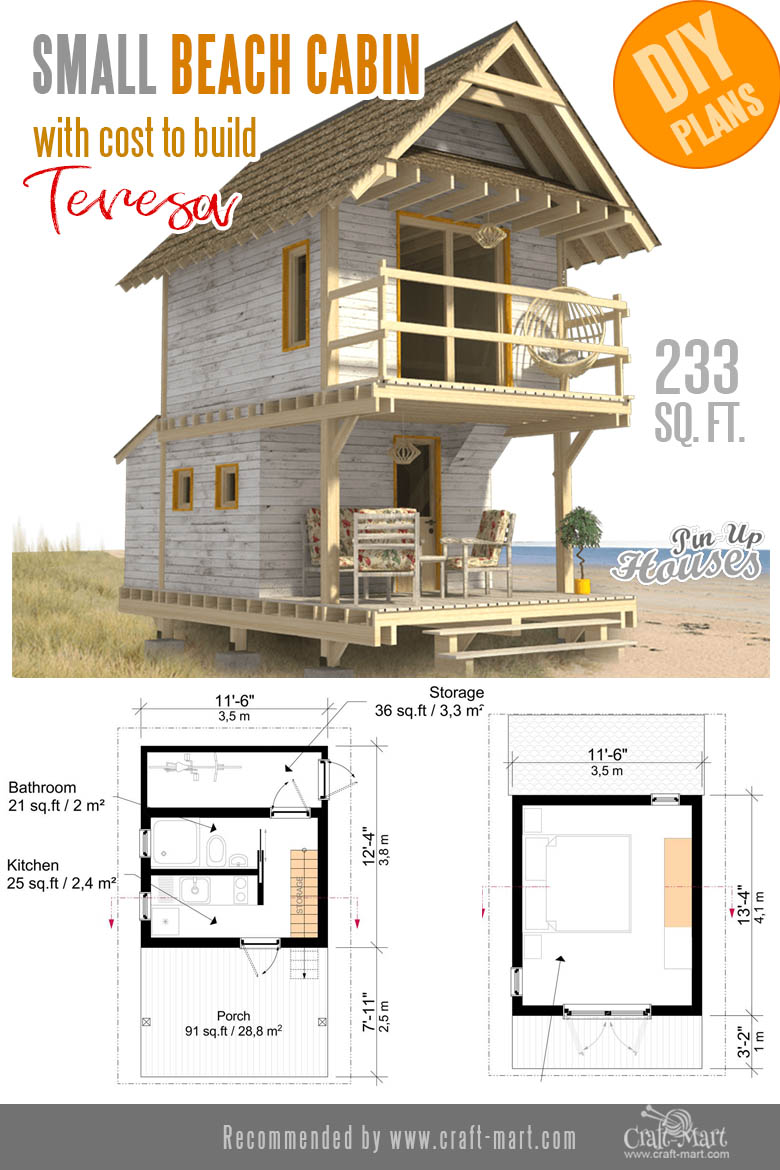 This small beach cabin definitely has a character! If you have your own beach here is your chance to make a statement!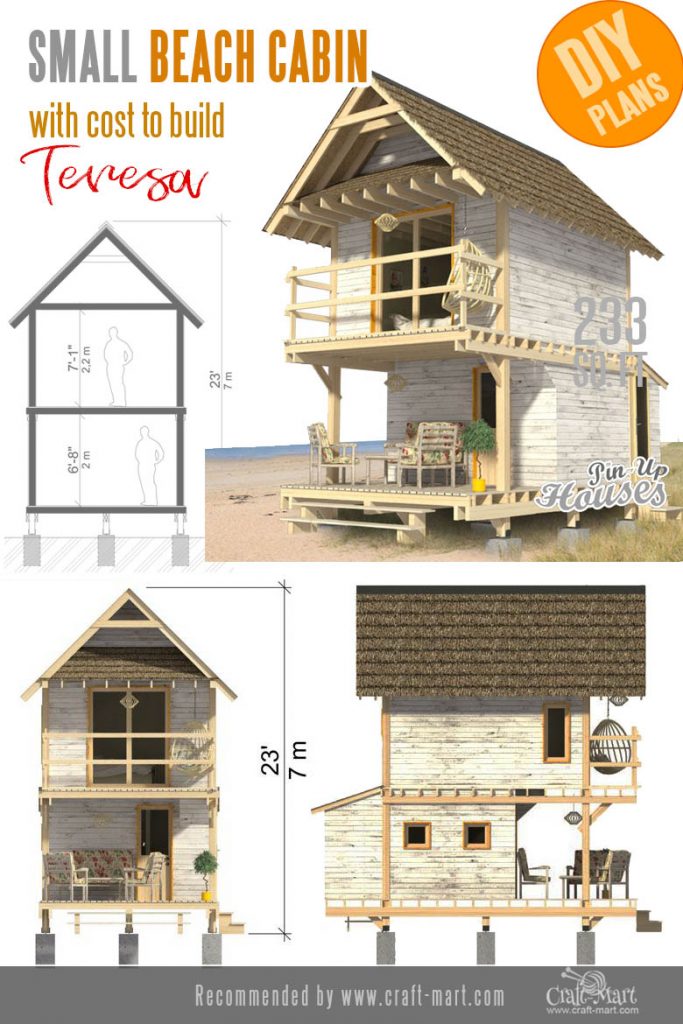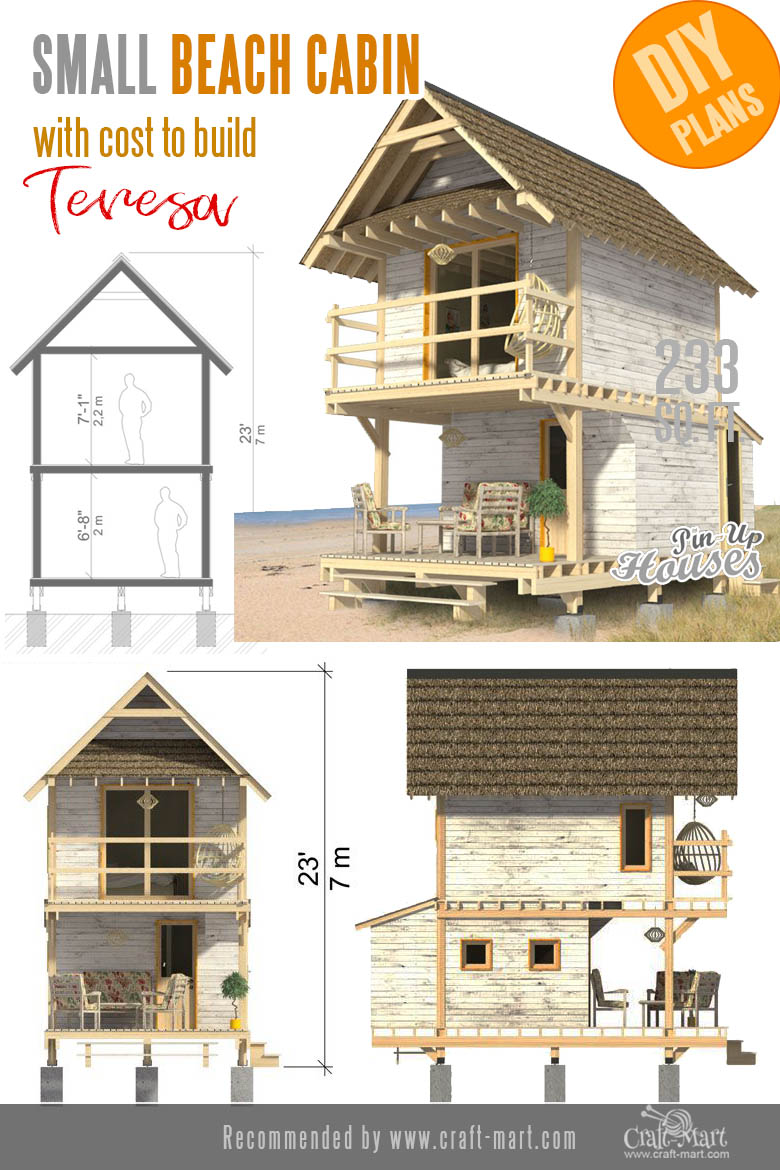 The cabin provides all the necessities like a toilet, shower, kitchenette, etc. for a young couple. While not the most economical plan, Teresa cabin is definitely one of the cutest!
Ground floor: 986 ft² + porch: 483 ft²
Cost to build: $69, 000
Home plans regular price: $790.00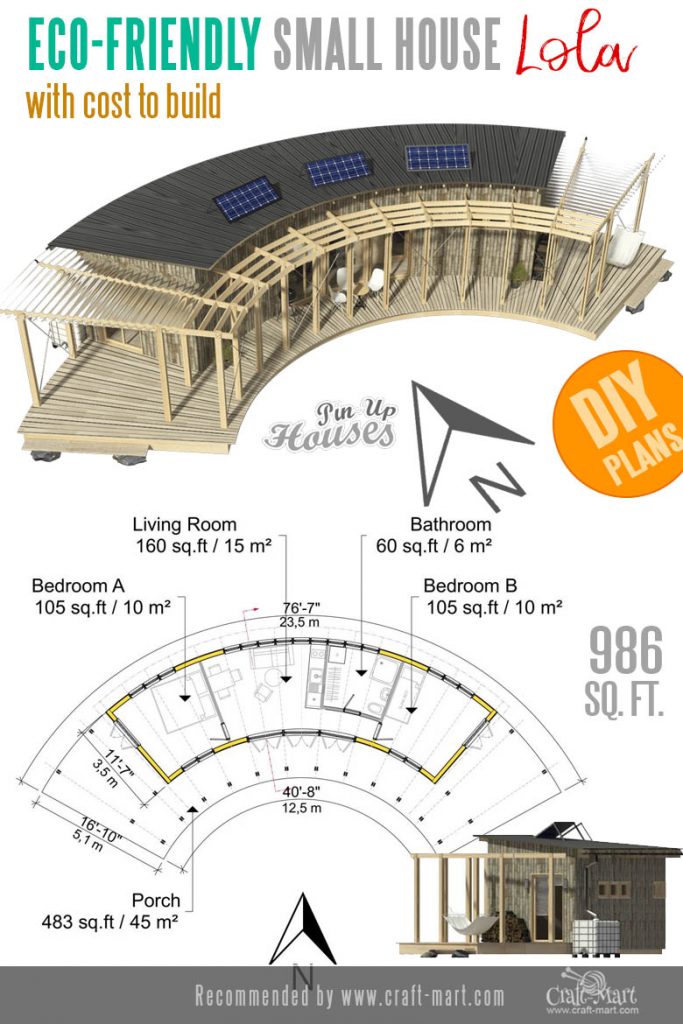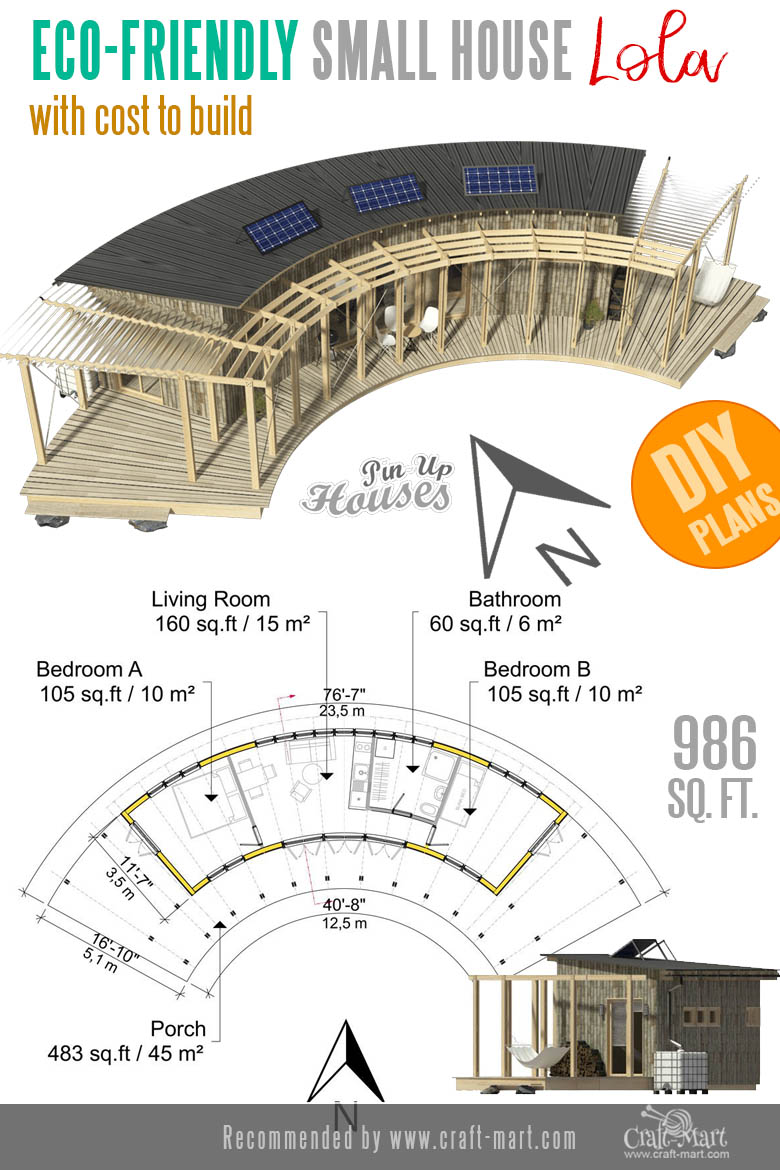 For Earthship home enthusiasts, this Eco-Friendly design and layout should look familiar. Just put a moisture barrier with a dirt layer up to the roof from the Northside and you'll get a typical Earthship home that accumulates heat during the day and cold during the night…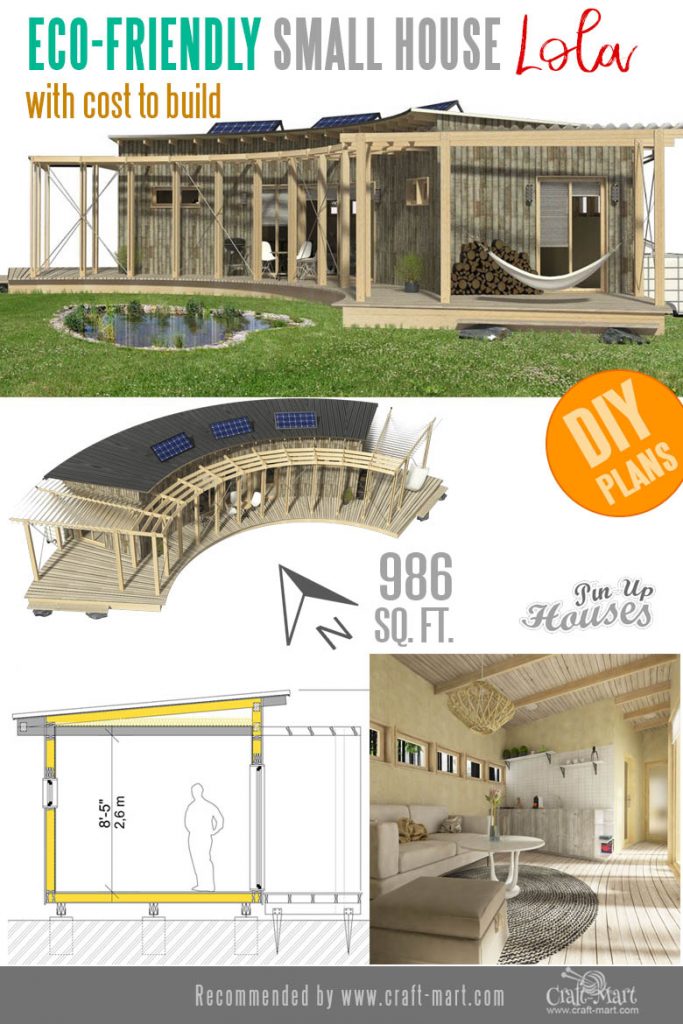 For a bit less involved project the dirt layer can be substituted by a thick Northern wall made out of rocks, concrete blocks, bricks, or whatever is cheaper in your area.
Without that "heat and cold accumulating mass" your house will be benefiting from the suggested "North to South" orientation – it will be too hot during the day and cold at night. Just keep this in mind if you're planning to go for this cool small house plan.
Get small eco-house floor plans here
10. Modern Tiny Home Plans – Lydia
Ground floor: 105 ft² + porch: 45 ft²
Cost to build: $7, 400
Home plans regular price: $190.00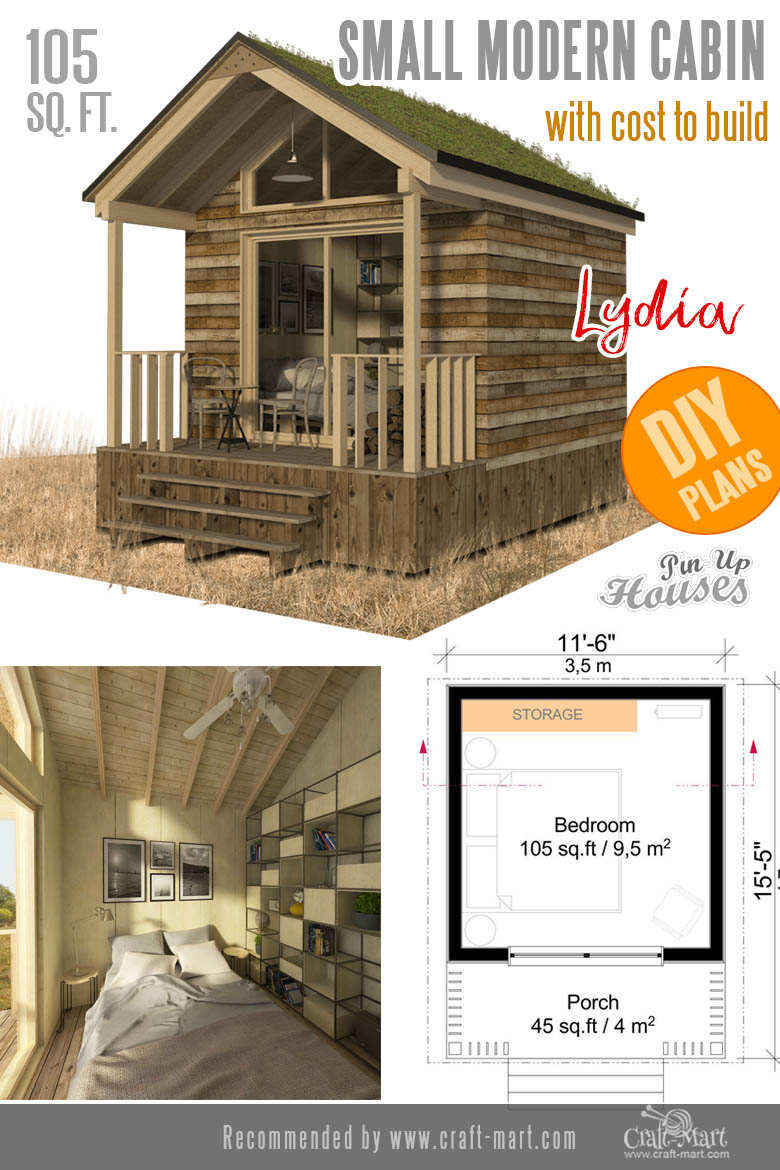 This small cabin is actually a bedroom with a porch! Perfect for using as a shed in your garden. Adding a window or skylight may help if you'll decide to use it as an art studio.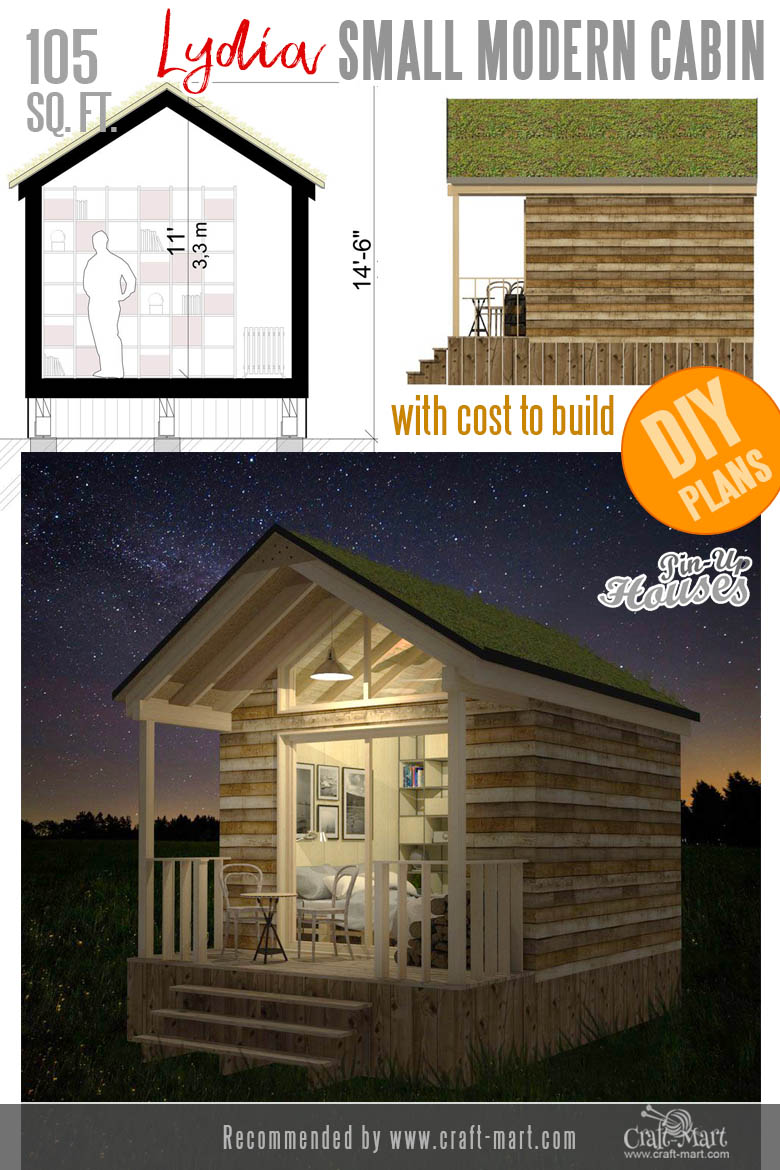 Ground floor: 430 ft² + porch: 119 ft²
Cost to build: $29, 300
Home plans regular price: $390.00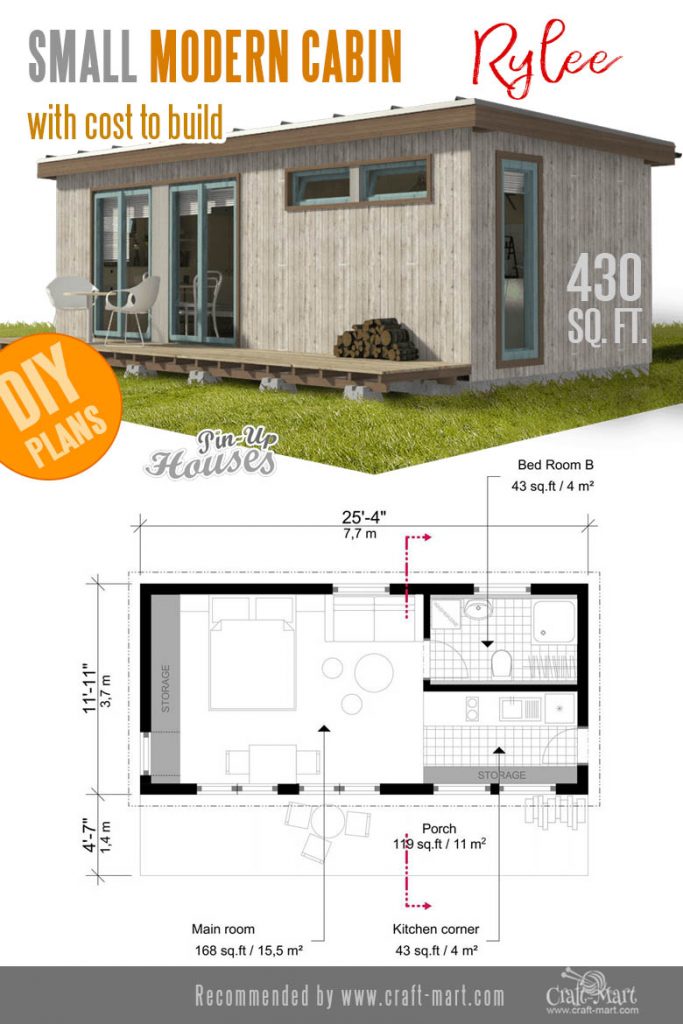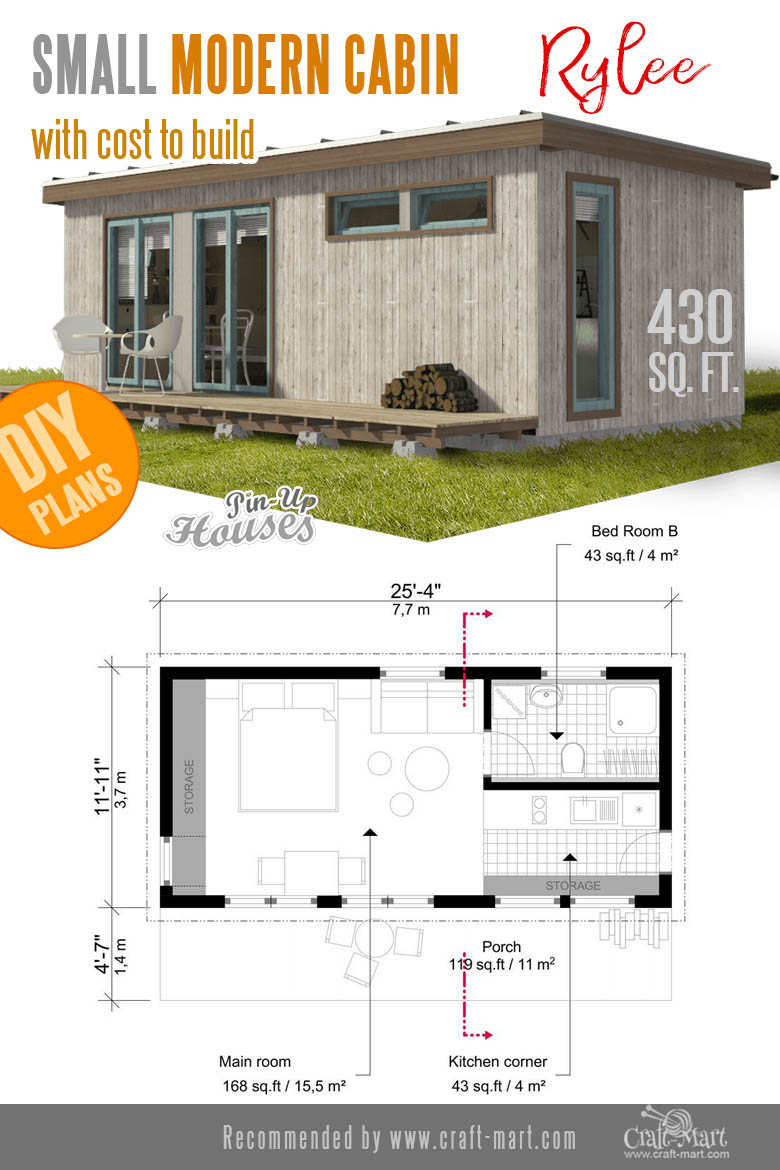 Just a bit larger than 400 sq. ft. this small home plan features all the basic necessities. The only suggestion would be to move the kitchen counters to the outer wall to use the light from the windows and make those windows larger. This cabin is a perfect example of a simple granny pod that more and more people are looking for.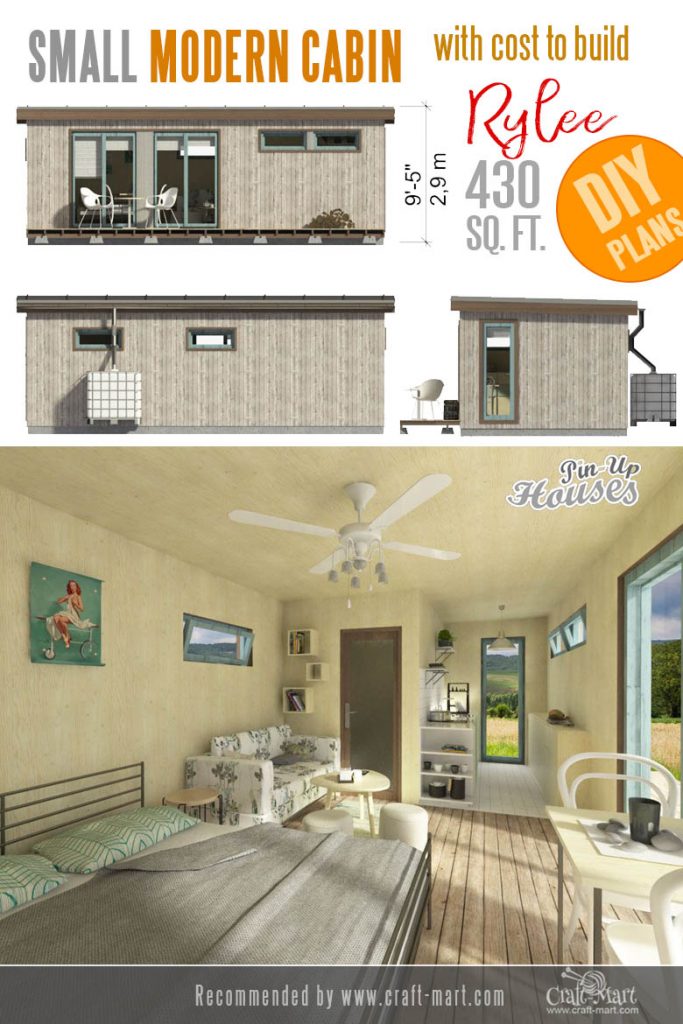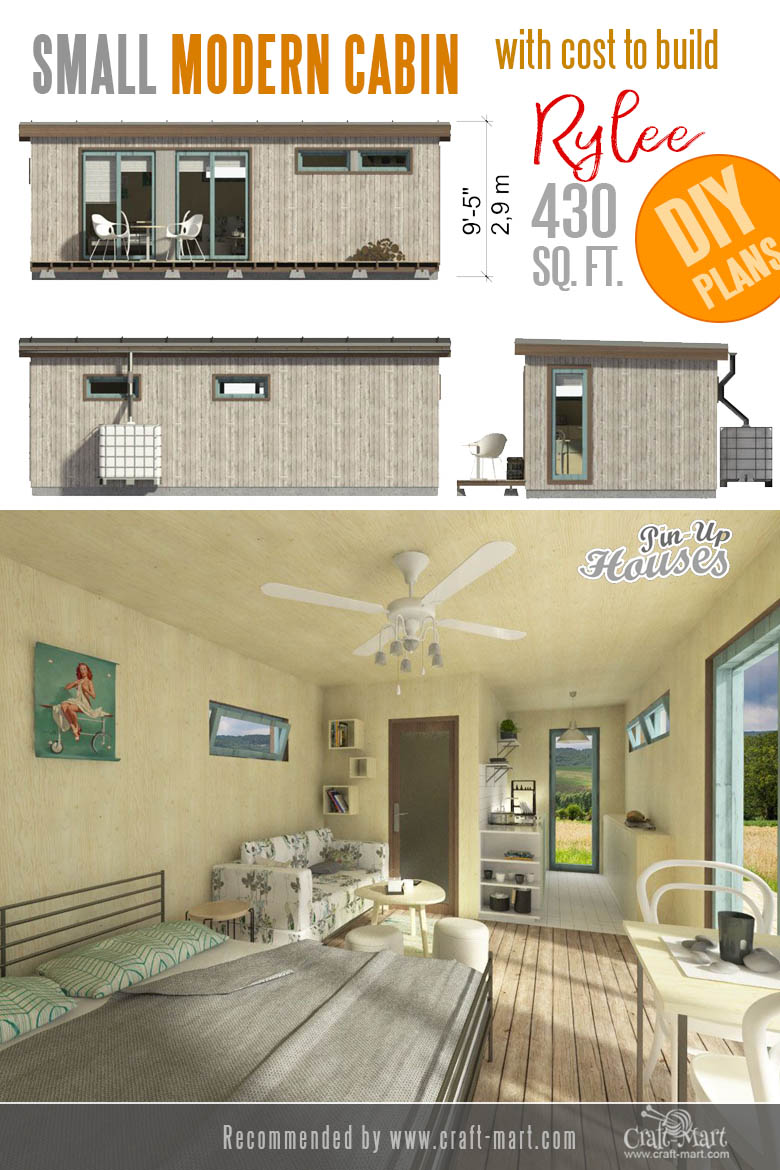 A small stove or a mini-split AC/Heater would be another thing to consider. Otherwise, this cabin would be hard to live in during the cold and hot seasons. So, if you're in need of basic granny pods plans, consider this model.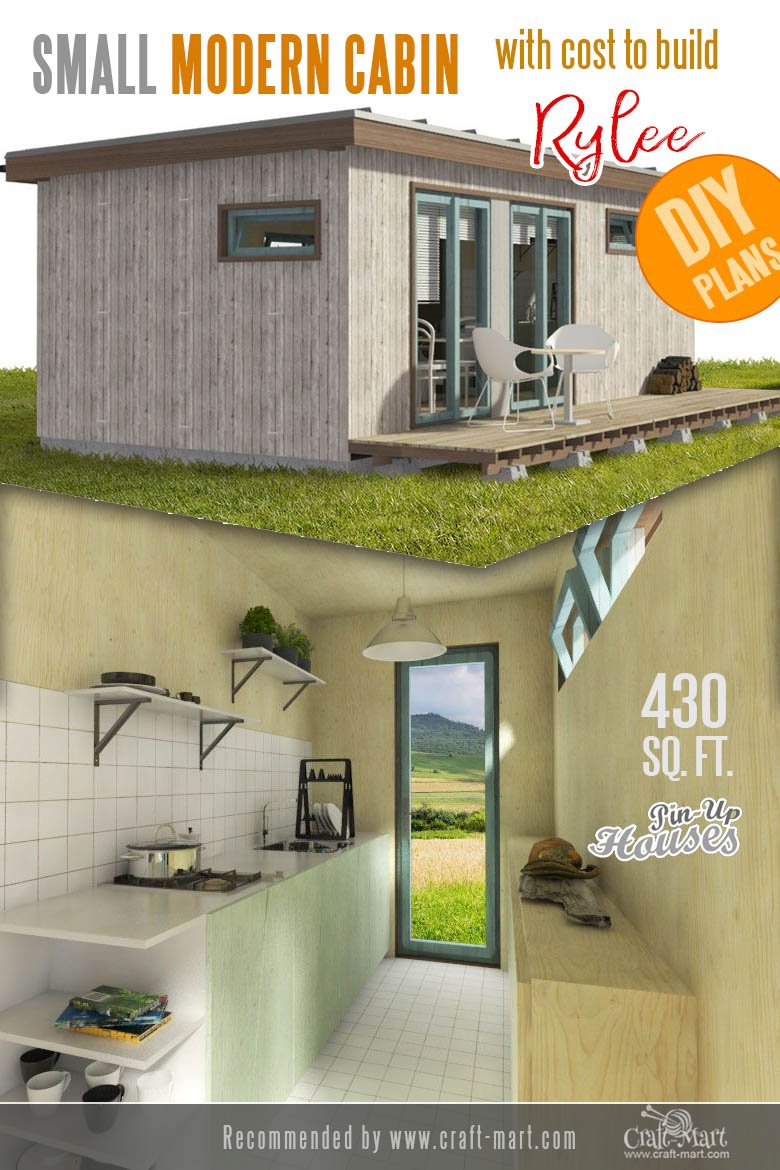 Ground floor: 295 ft² + porch: 50 ft²
Cost to build: $19, 300
Home plans regular price: $390.00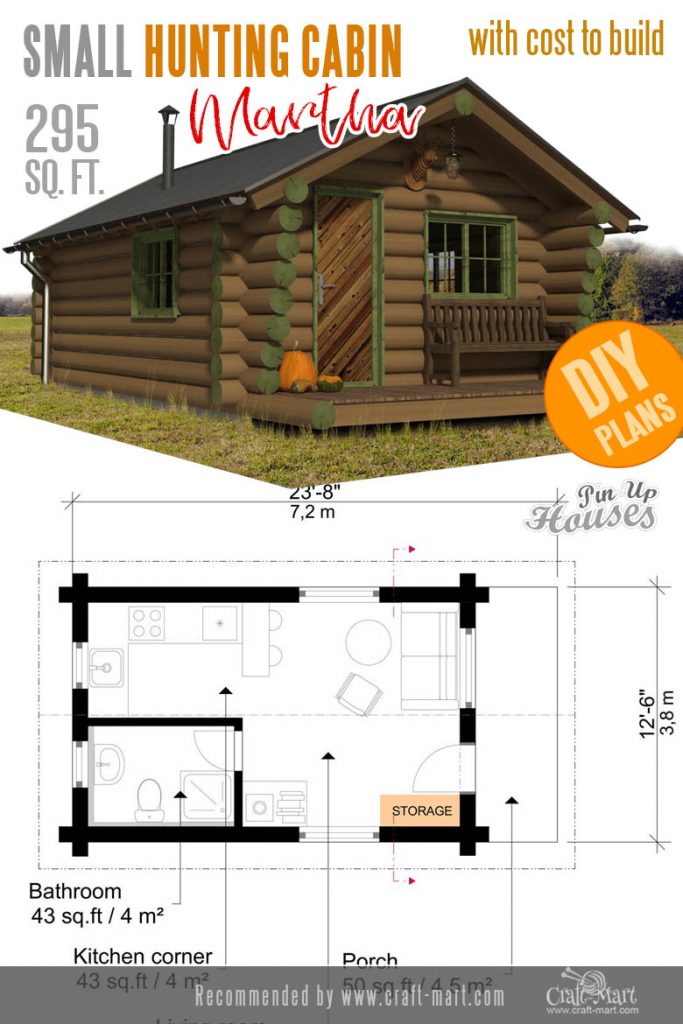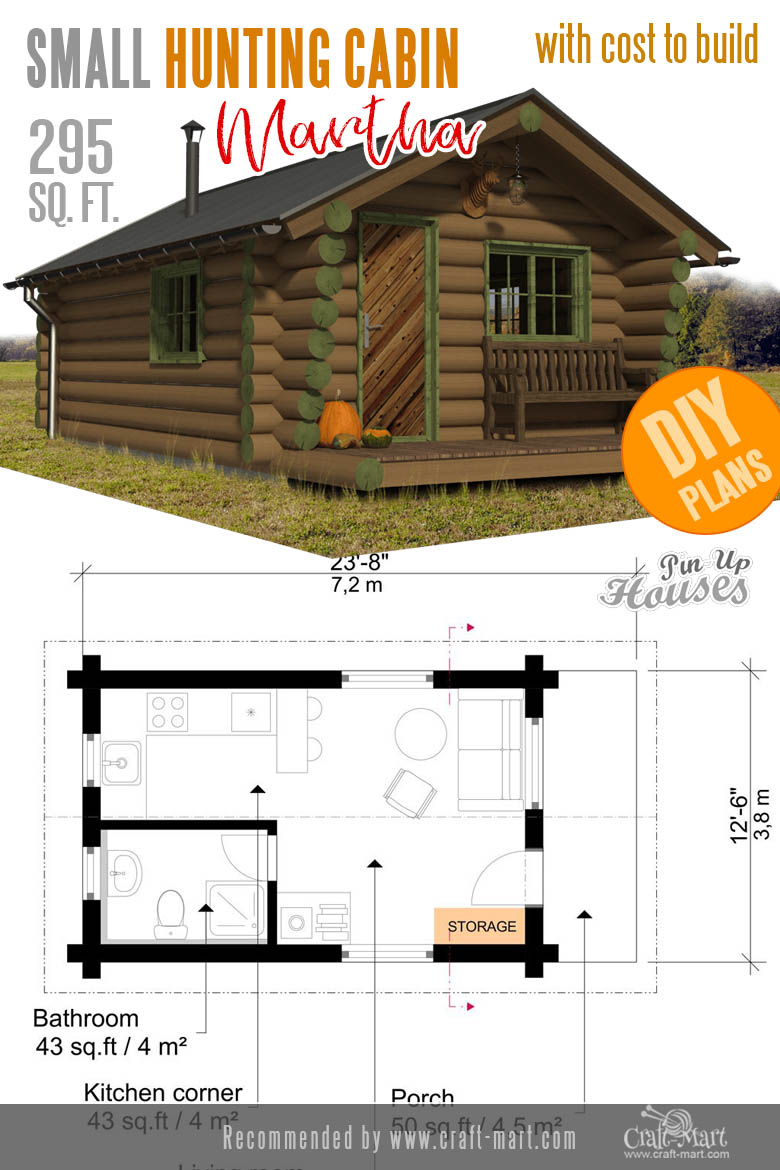 Log cabins like Martha is a pretty solid investment for the regions with harsh winters. Just the smell of the wooden logs is worth considering going with this plan.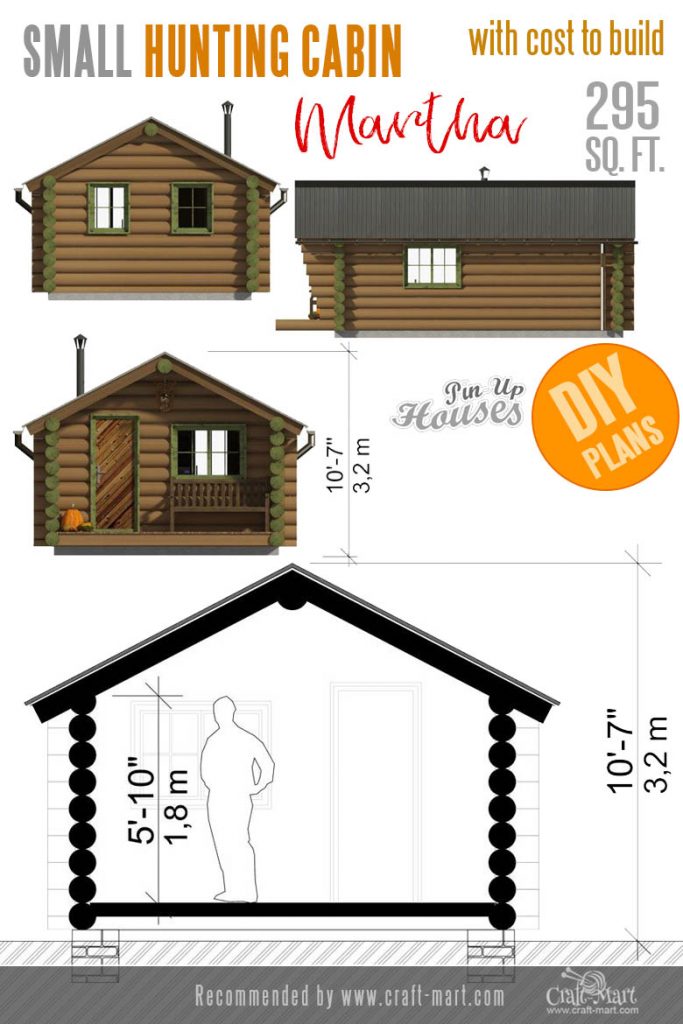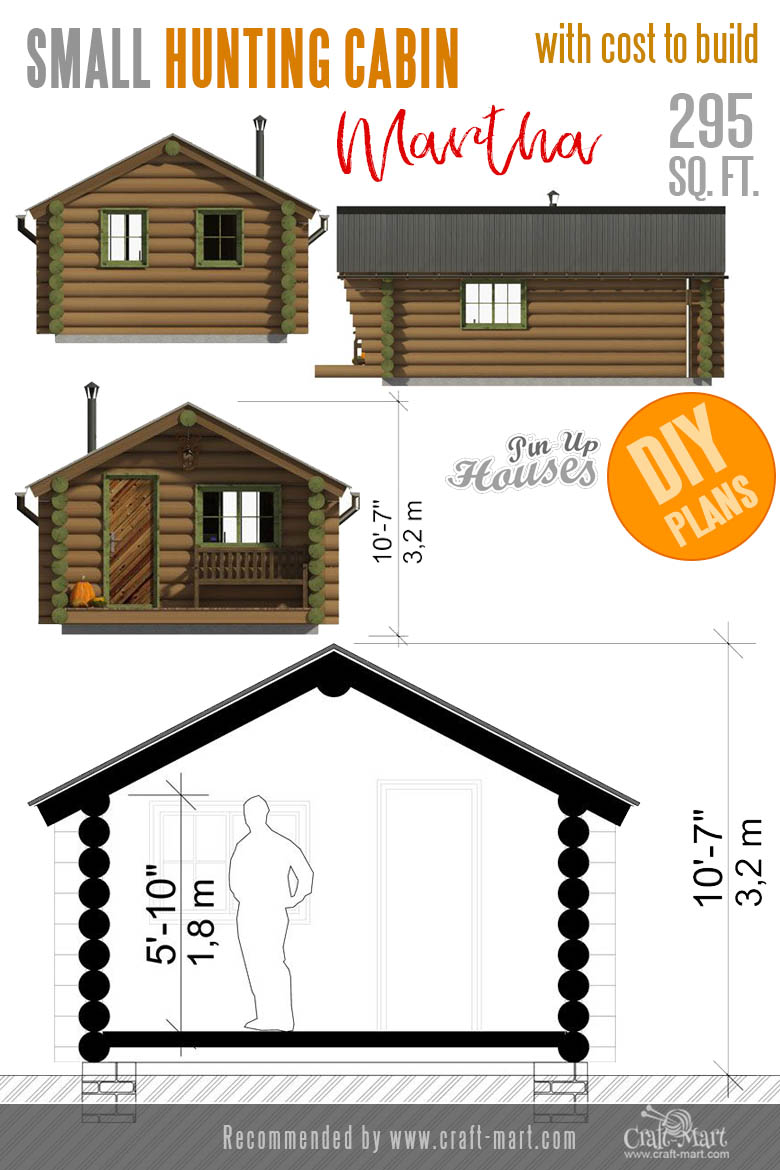 This super simple and functional layout is very similar to the previous floor plan but well within a tiny house square footage guidelines.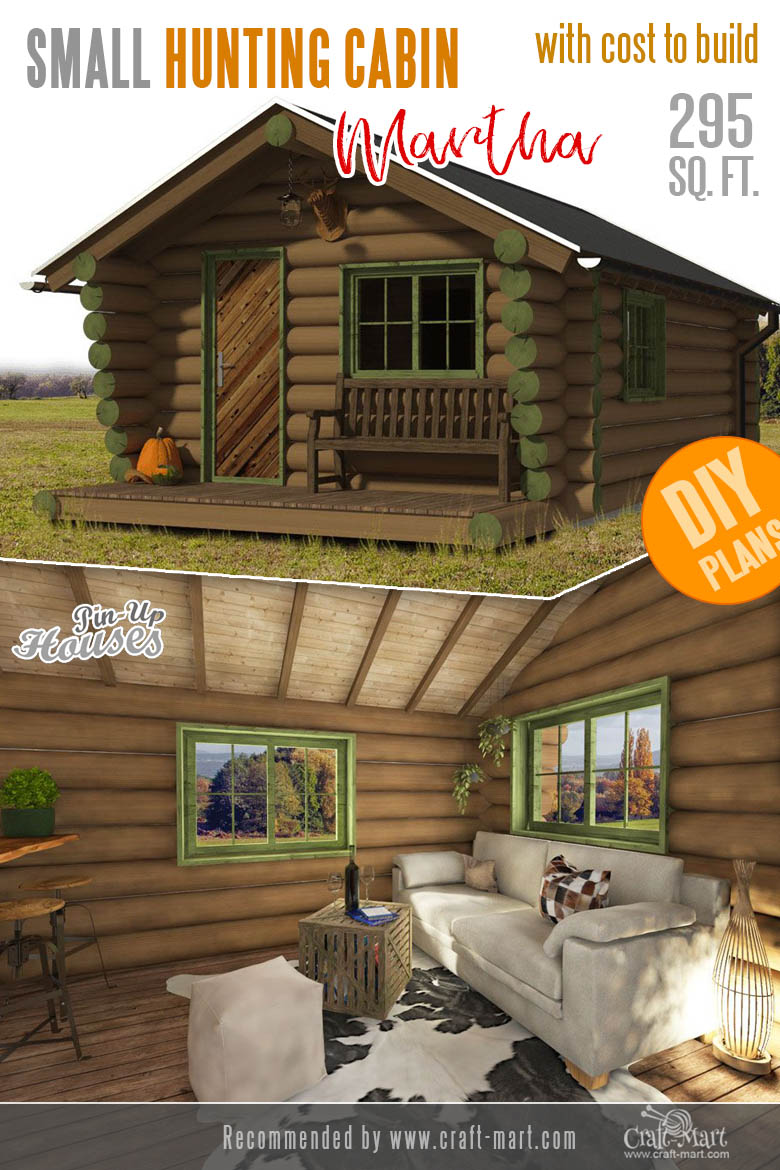 Ground floor: 264 ft² + Loft: 65 ft²
Cost to build: $22,700
Home plans regular price: $390.00
Small cabin Karen is easy to build. A tiny sleeping loft makes the main room more functional during meals and activities.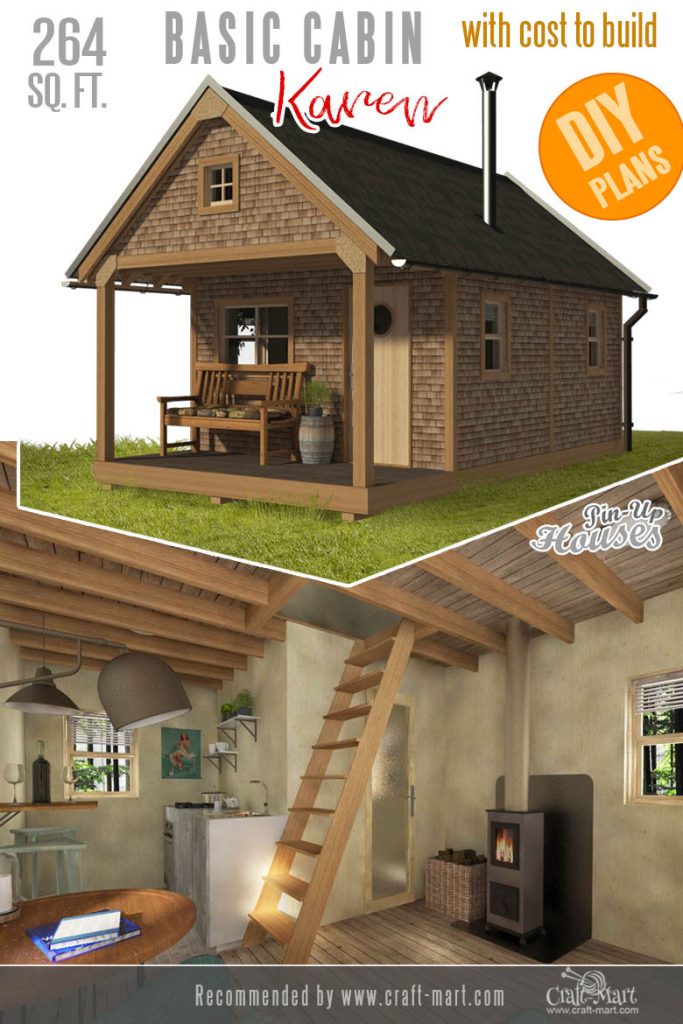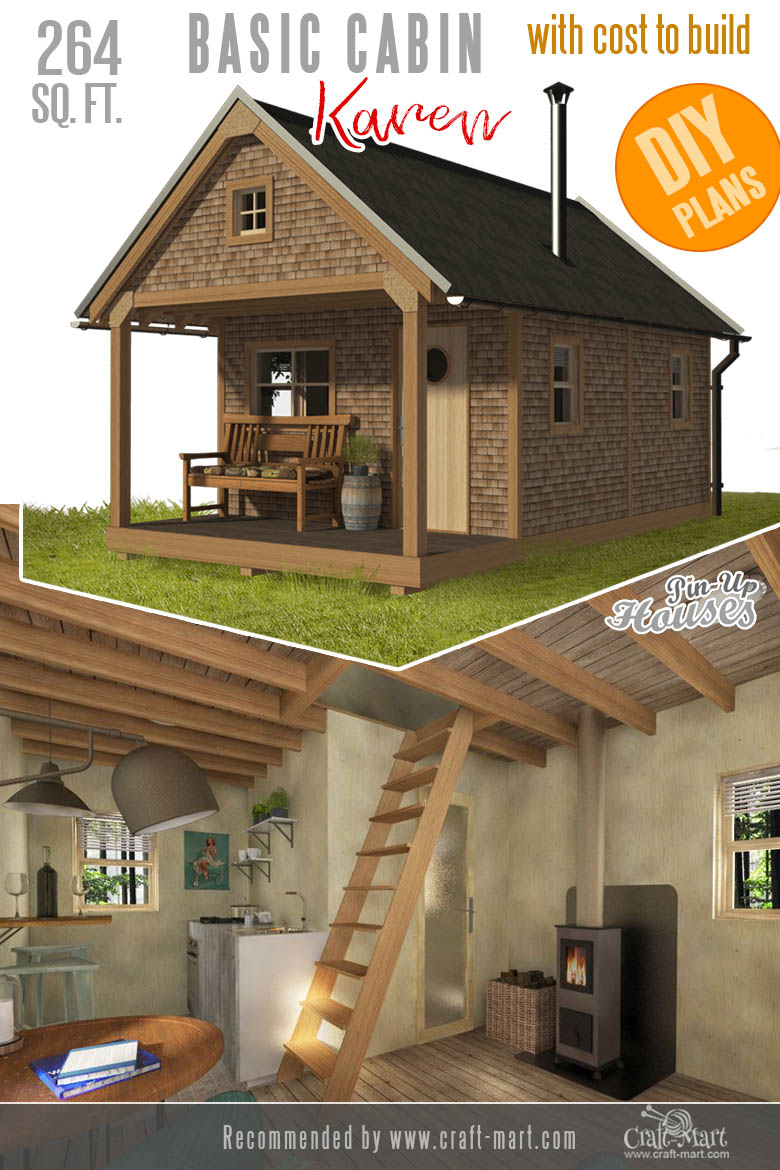 The stove will keep the house cozy around the Christmas season. Rather pretty design and clear floor plans.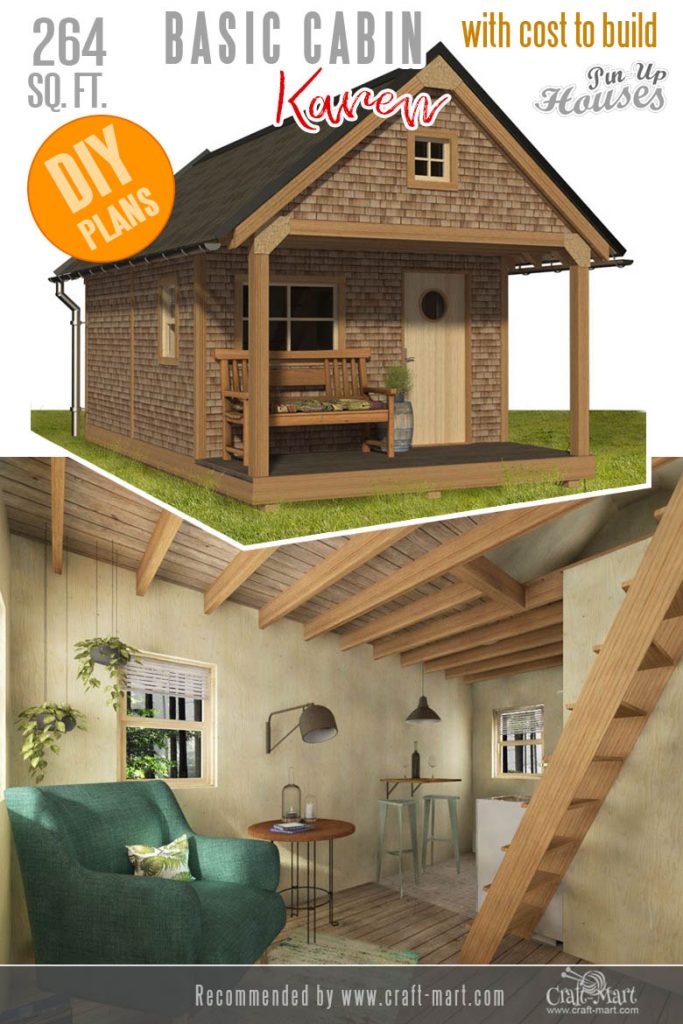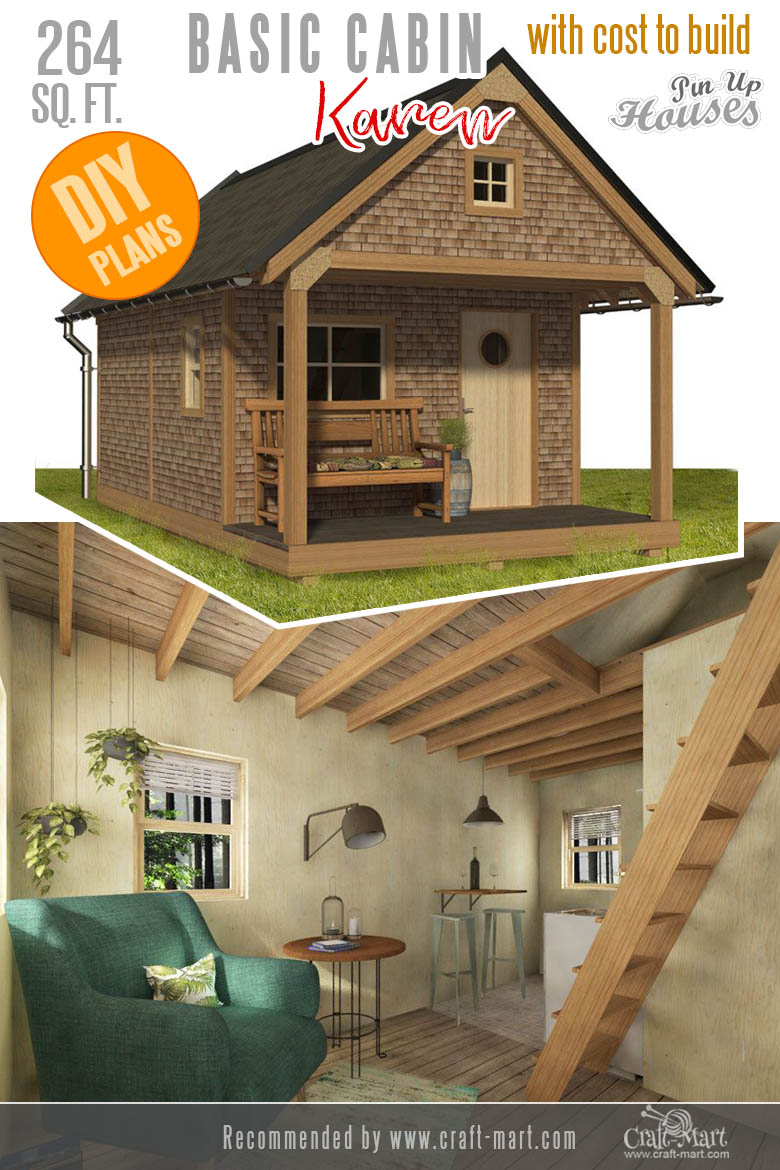 Can you imagine yourself reading a book on the porch?
Ground floor: 290 ft² + Loft: 237 ft²
Cost to build: $32, 200
Home plans regular price: $590.00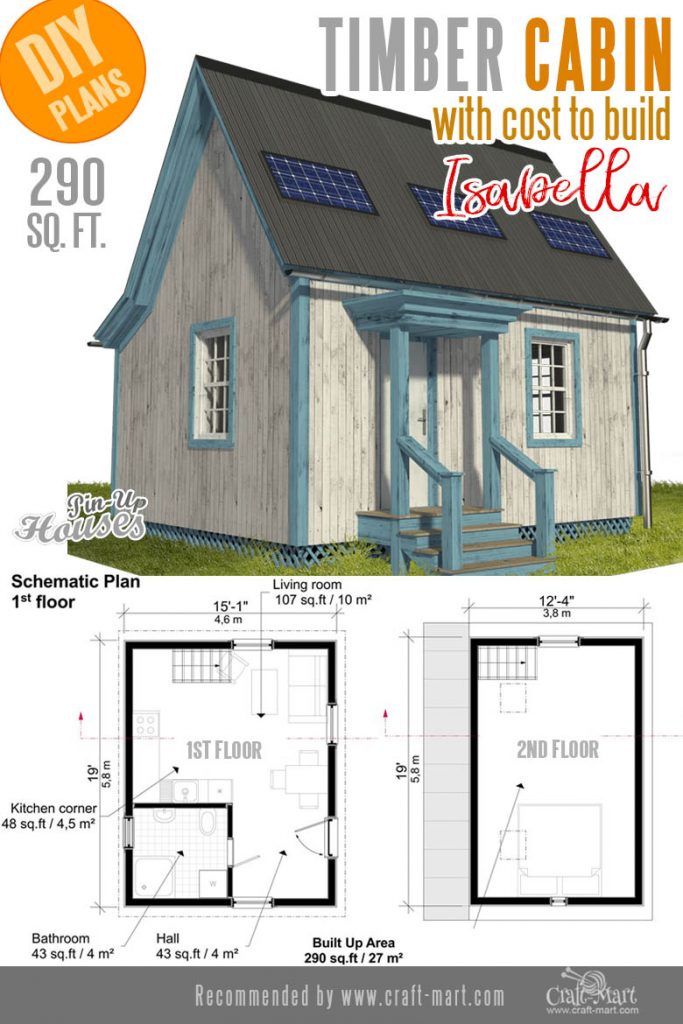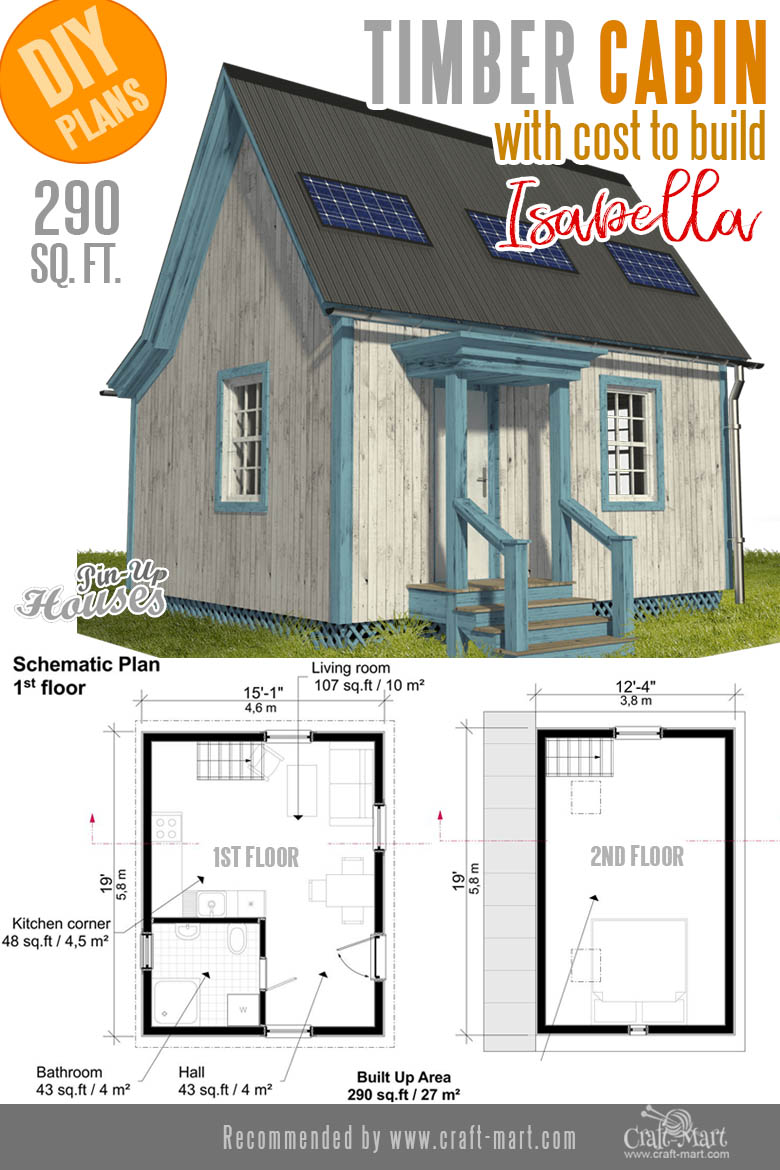 With its truly tiny ground floor plan, Isabella provides plenty of room upstairs. The sleeping 2nd floor is pretty spacious.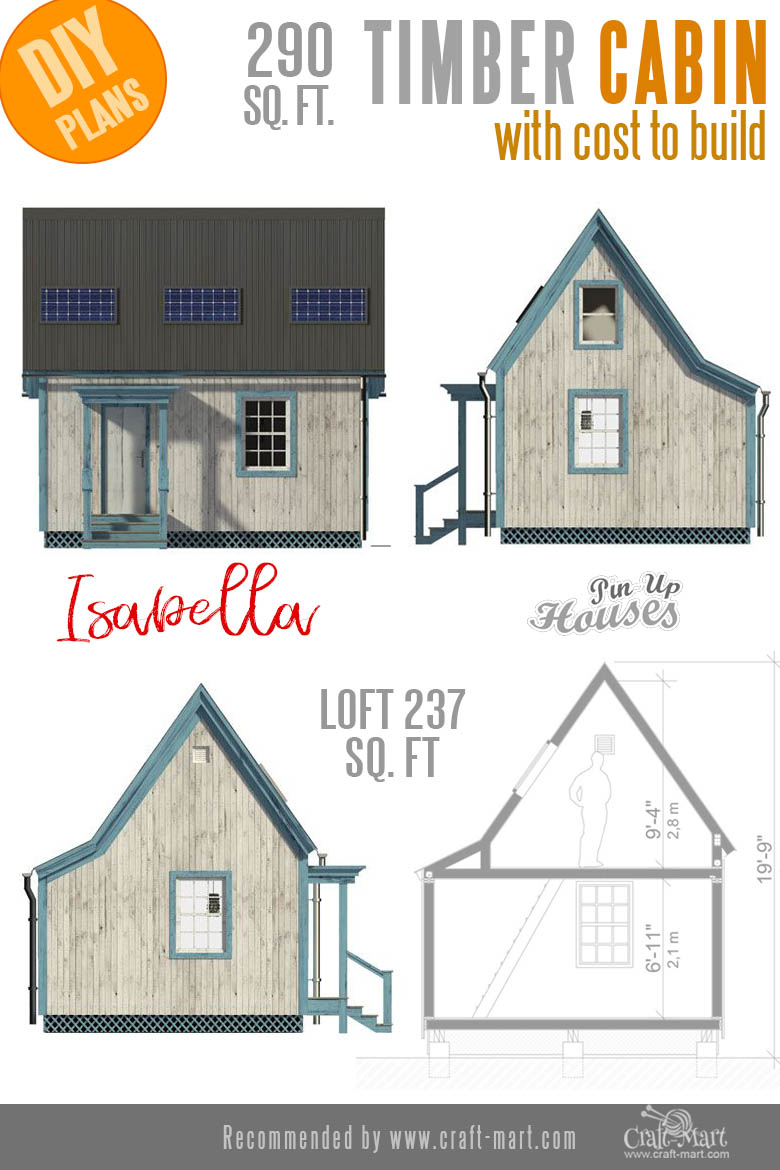 A steep ladder to the 2nd floor could be a challenge for some folks but the cross-section shows that there is room for making it less dangerous.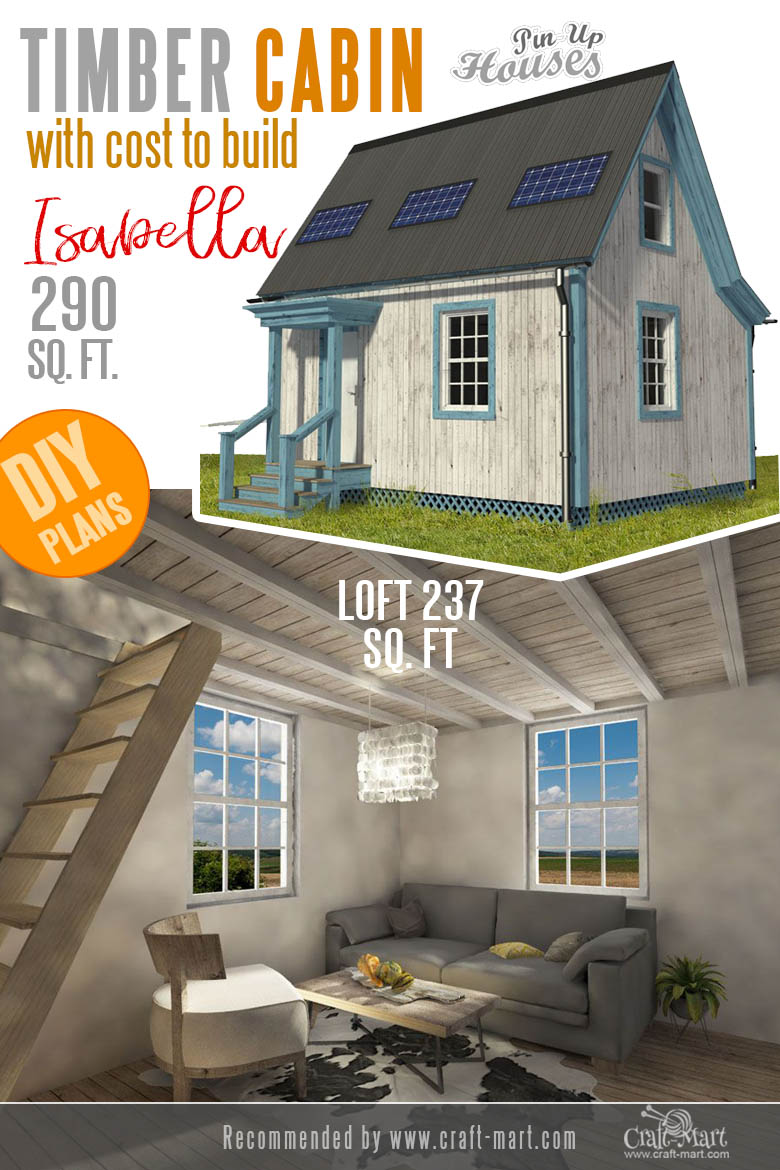 The steep gable roof shows that Isabella is suitable for the snowy areas.
Ground floor: 445 ft² + Loft: 271 ft²
Cost to build: $29, 200
Home plans regular price: $690.00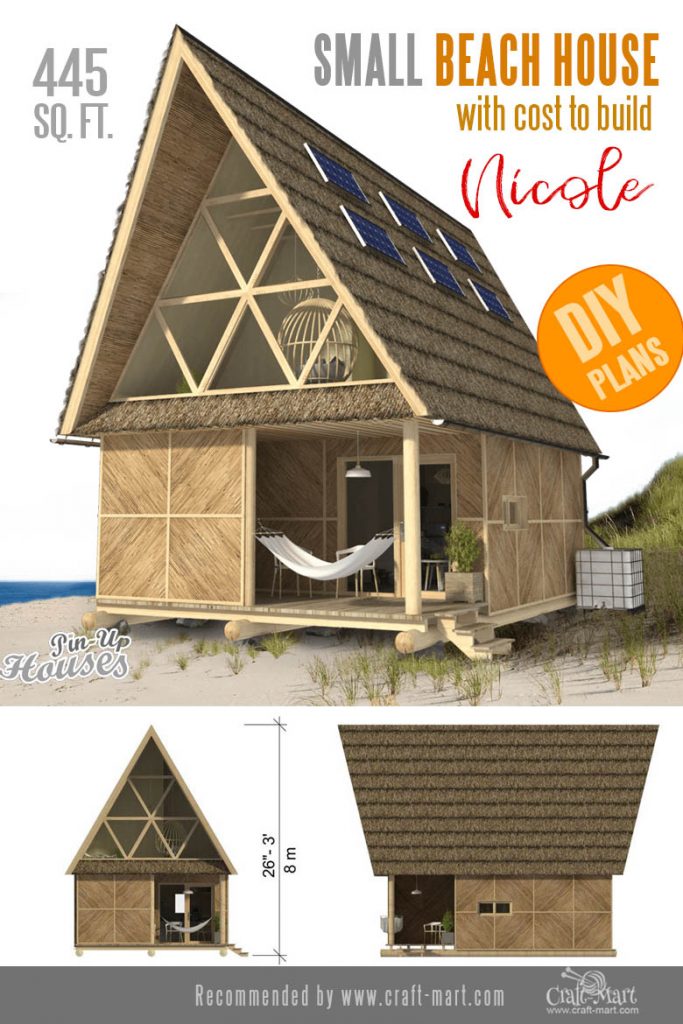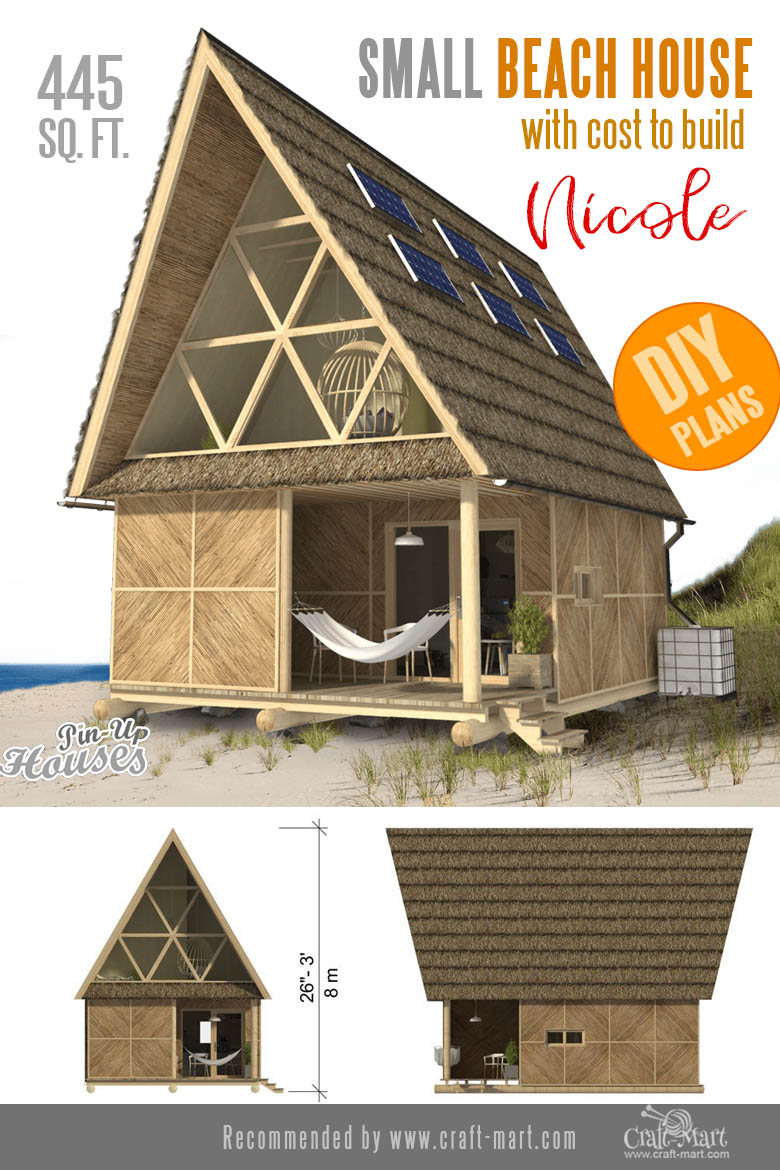 Do you have a piece of land on one of the Caribbean islands? Here is a very nice vacation house with two bedrooms located in the loft.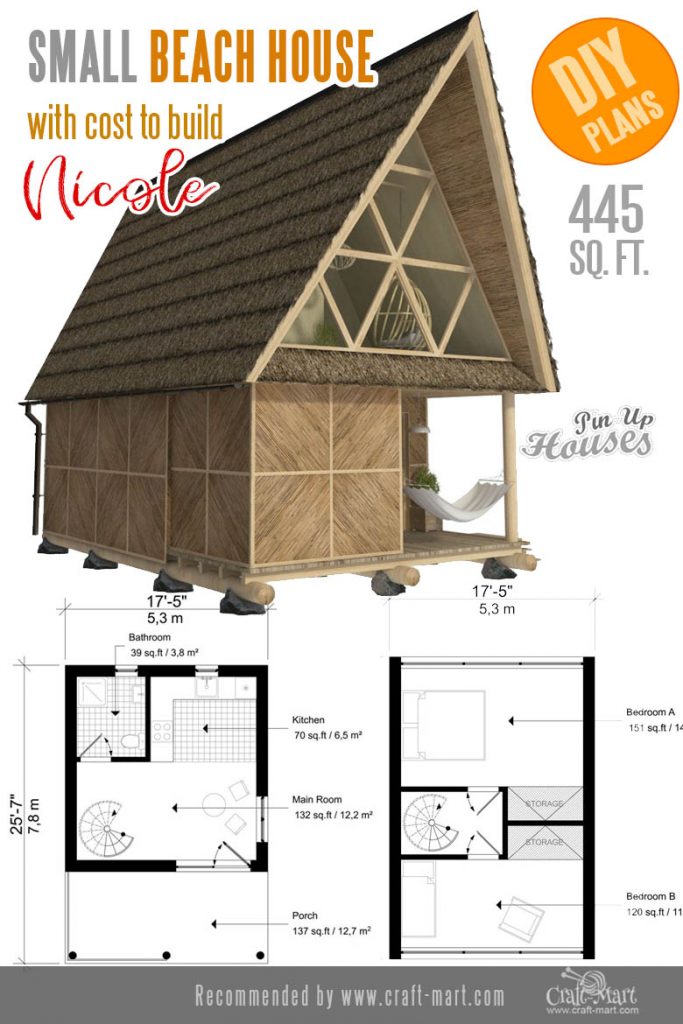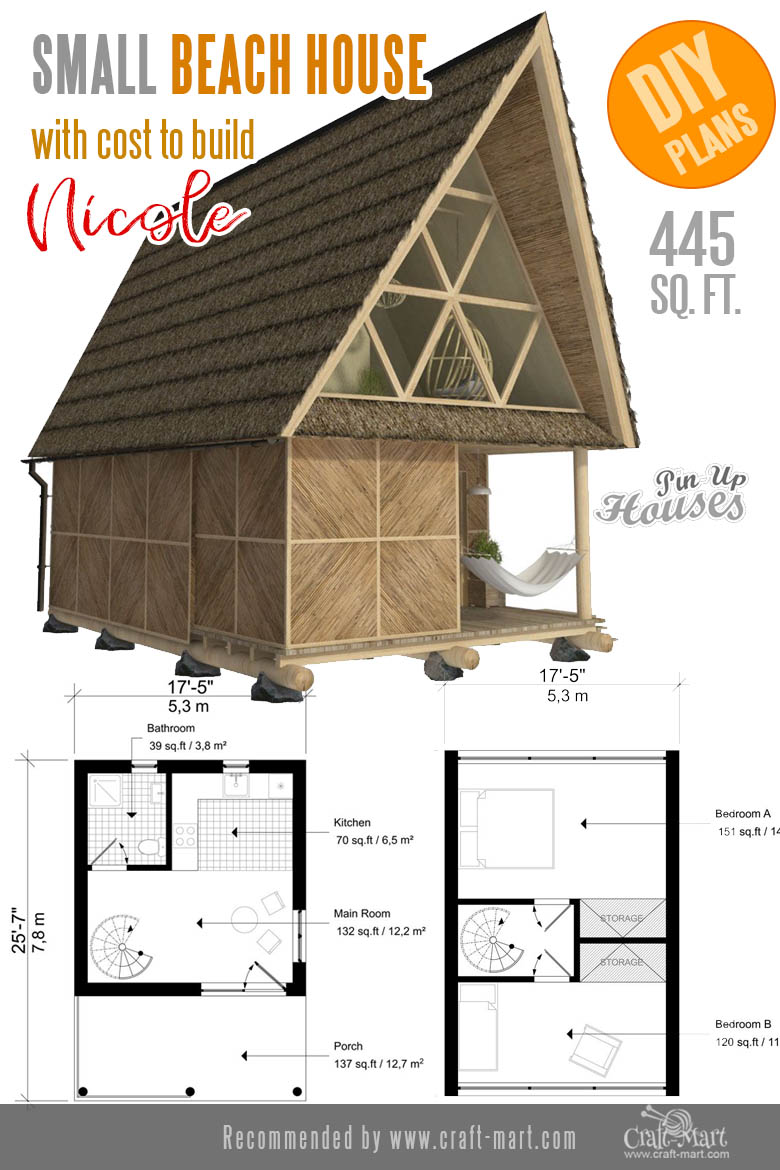 If you like the stylish facade you are not alone – this is a showpiece of your good taste! You simply can't build something dreadful on your beach, can you?
Even if your piece of land is far from the actual beach this house is pretty cool to build in subtropical and tropical zones. Don't do it in Alaska!
Ground floor: 625 ft² + Loft: 306 ft²
Cost to build: $45, 800
Home plans regular price: $590.00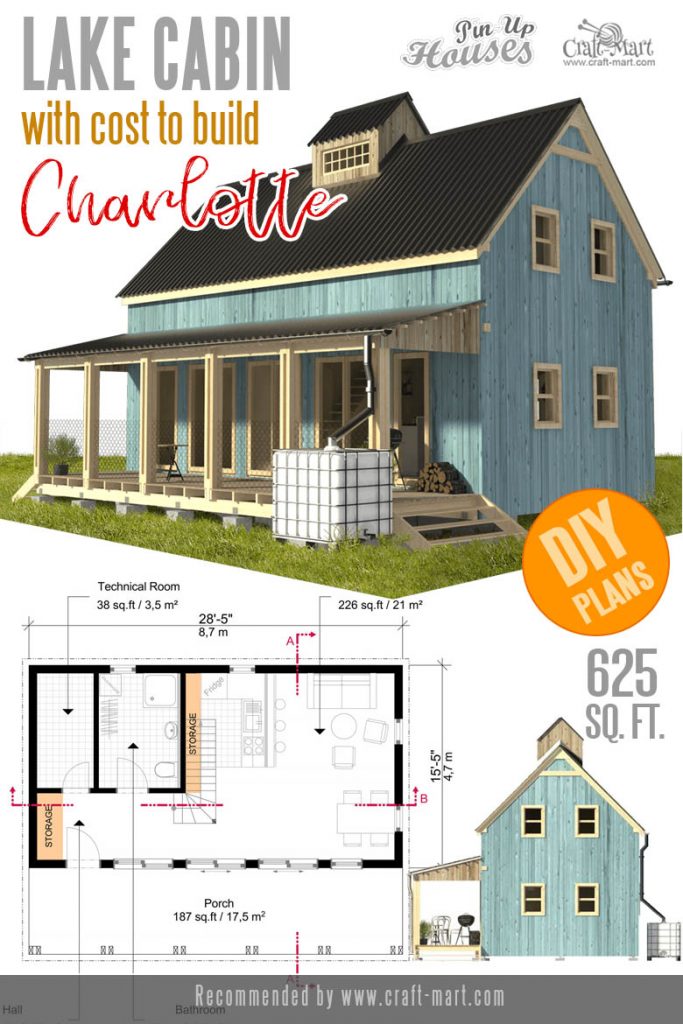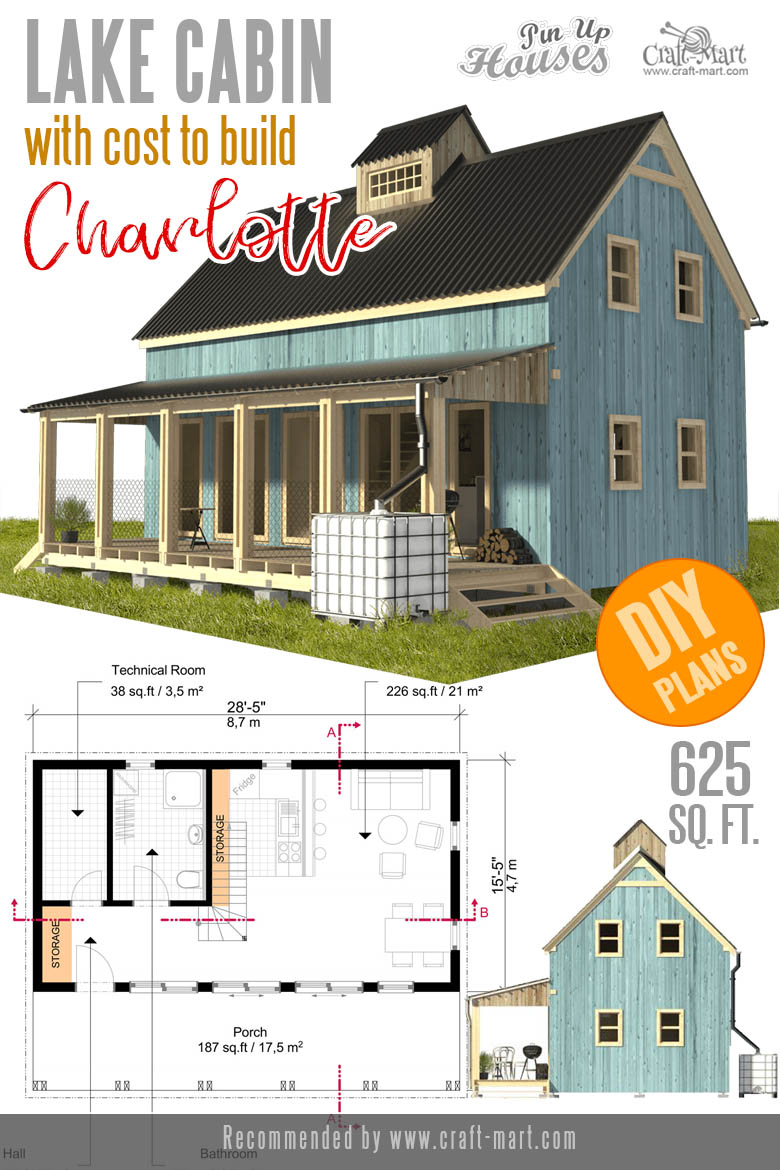 We all love farmhouses, barns, rustic cabins… This lake cabin has something from all of these things combined together.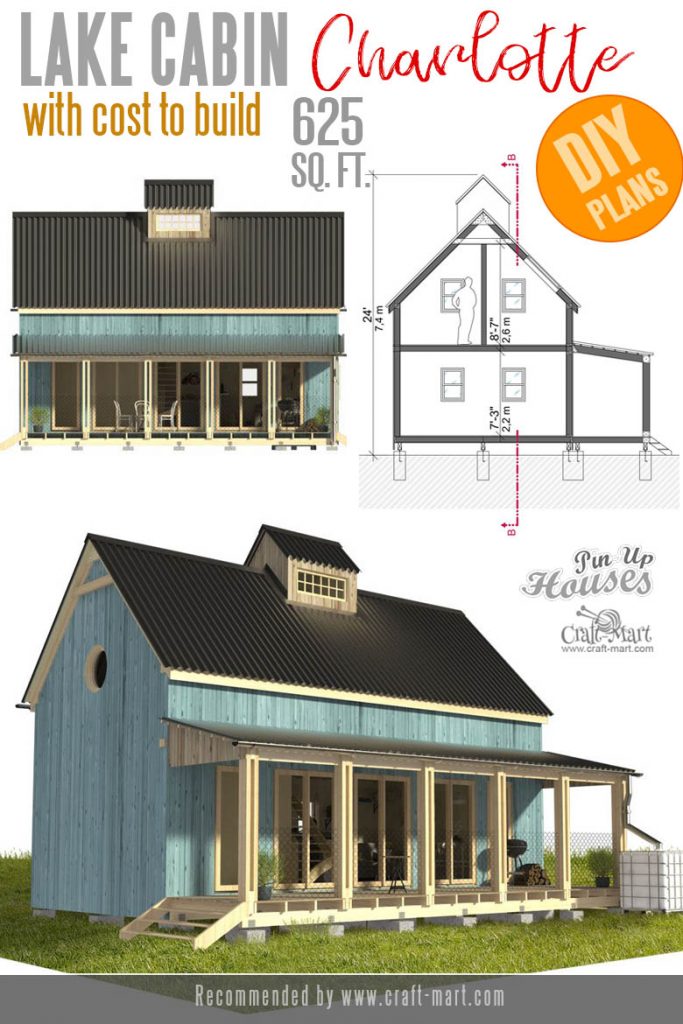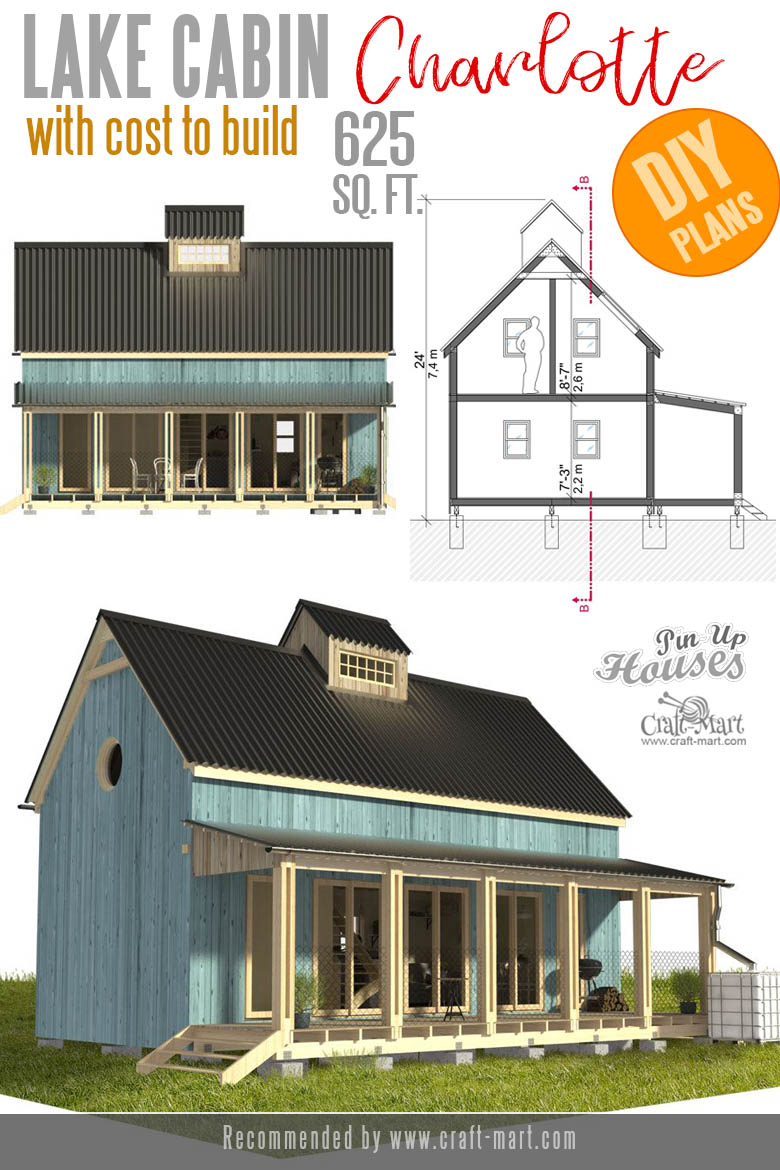 The open-plan kitchen has a counter overlooking the sitting area. On the upper floor, there are three spacious bedrooms situated, one master bedroom and two smaller ones.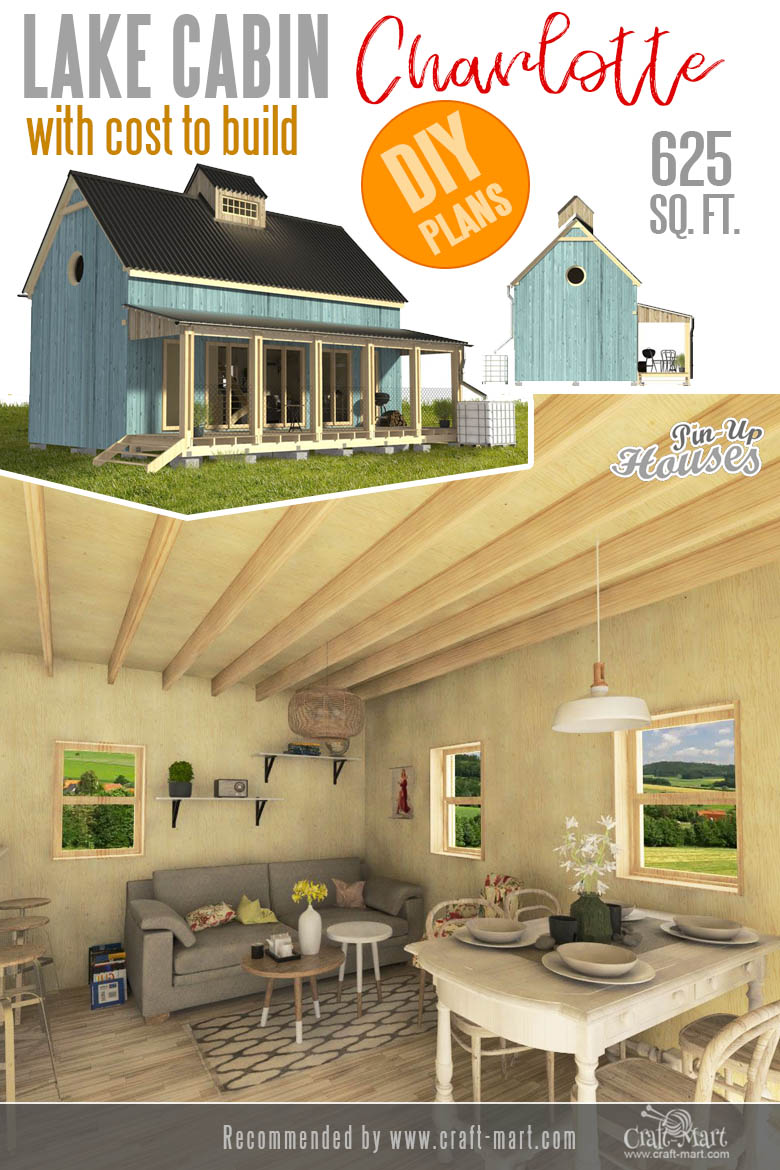 Get Charlotte cabin plans here
Take a look at other interesting tiny and small house plans on these pages:
This excellent guide will help the beginner to get a grasp of the main tasks related to the process of building your own small house or cabin.