We should ask ourselves why people are looking for small farmhouse plans and especially rustic ones?
The simplest explanation would be that the crowd is just following the current trend. We don't think that this is that simple.
Trends are often based on the desires of different groups looking for a certain lifestyle. So, the popularity of small farmhouse floor plans in rustic style shows that more and more people would like to return to their roots, simplify their life, and forget about the noise and hustle of the busy cities…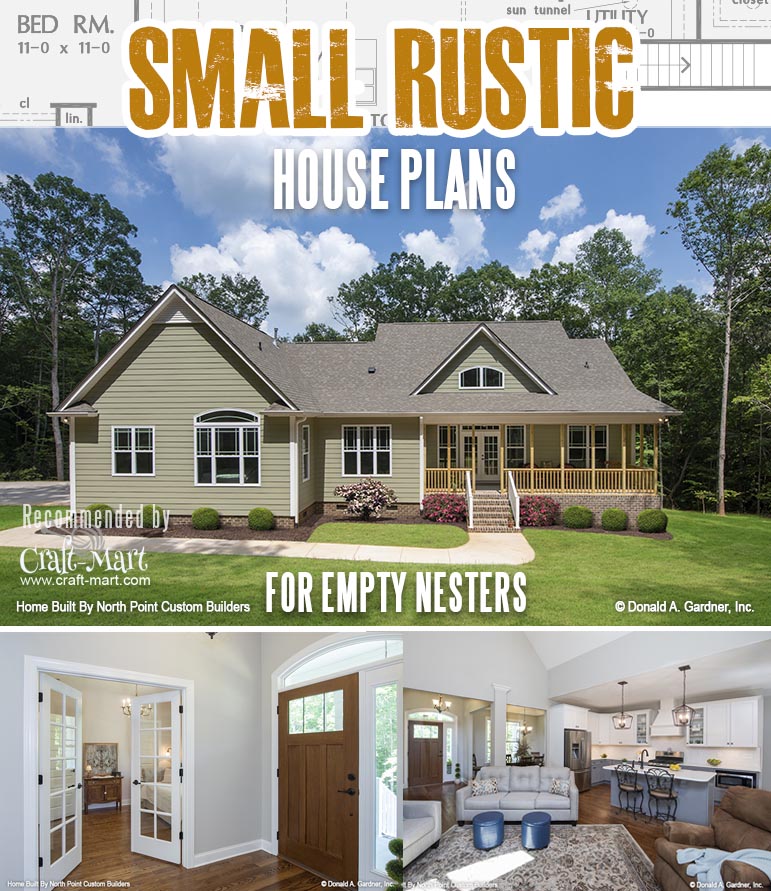 How can you find a rustic home plan that blends into the natural and historic beauty of your land?
For inspiring homeowners, the size of the lot presents some challenges. Even if you find a perfect small farmhouse plan it may not fit into your narrow lot or some small parts of the design may not be up to your taste. In these cases, the vast majority of the rustic home plans here can be easily customized.
Don't be tempted to create your own rustic house plan if you can't find anything to your liking.
Believe us, it is a lot more challenging than you'd think. We've seen plenty of amateur farmhouse floor plans for empty nesters that are completely unlivable.
As with your car, you wouldn't attempt to design one from scratch unless you have special training. The same goes for your home, which is a lot more expensive than the car and, most likely, is the biggest investment of your life.
Why gamble with your largest investment?
Just go with the plan that fits your lifestyle and is designed by a professional architect! Most importantly, before making your final decision, spend some time doing your research, looking at many different plans, and talking to your local builders. That initial planning will save you lots of money and headache in the future.
*If the plans on this page are a bit too large for you we have a collection of a lot more affordable and smaller floor plans for rustic homes in farmhouse style.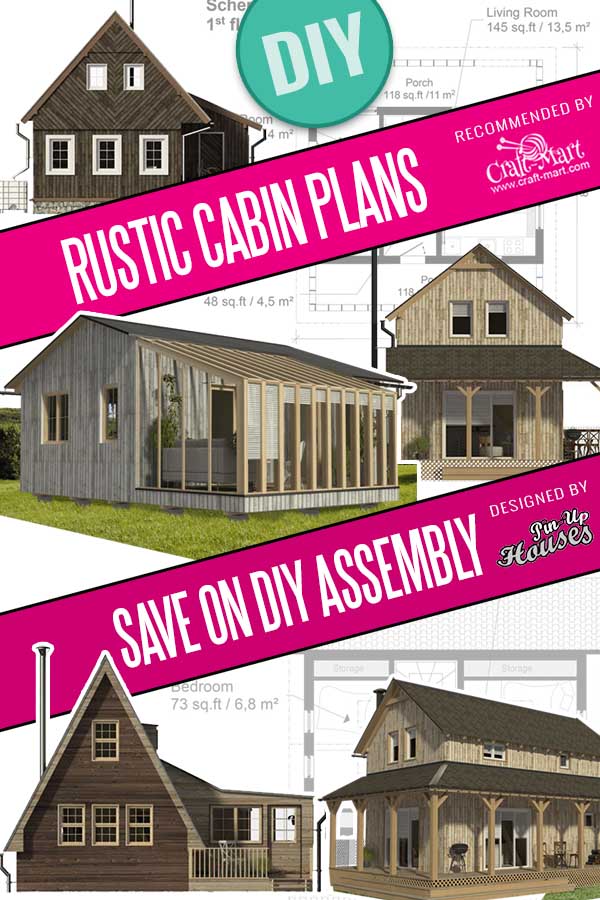 Finished Square Footage
1st Floor:373 Sq. Ft.
2nd Floor:495 Sq. Ft.
Unfinished Square Footage
Garage/Storage:356 Sq. Ft.
Porch:37 Sq. Ft.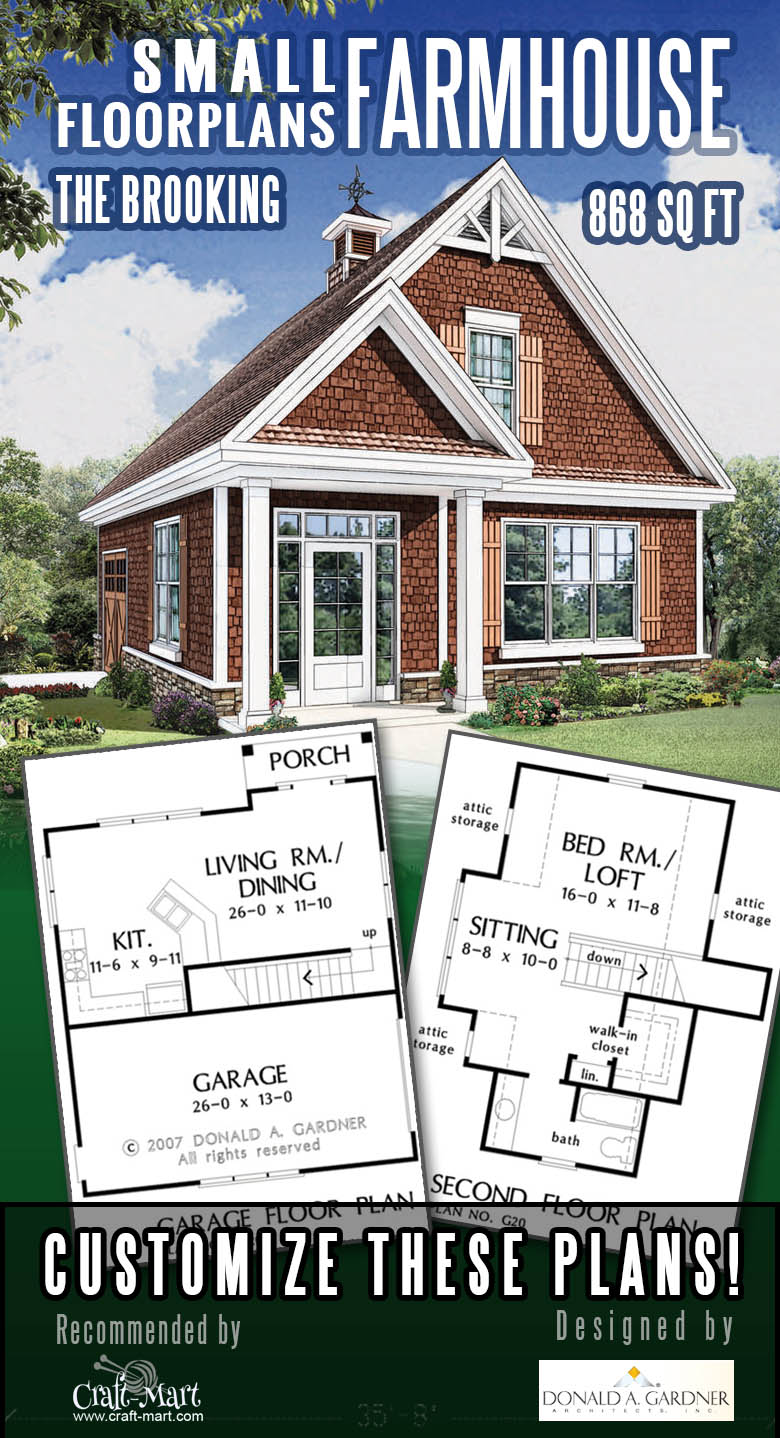 Among all rustic house plans for empty nesters, this one stands out as one of the most affordable and charming small farmhouse plans for seniors or simply budget-minded couples. Though this modest house is under 900 sq.ft, the large windows are designed to provide plenty of natural light. With this modern farmhouse, you'll be saving on electricity bills while enjoying the light and open interior.
Although this house has a small footprint, it may not be in the list of house plans for narrow lots since its foundation measures at 26′ 8″ x 34′ 2″. Though it makes a great rustic house plan for empty nesters and people aiming for simplicity who don't want to maintain a large abode and spend all their time cleaning and organizing.
View details of this home plan here
---
Can this plan be adjusted for a narrow lot ( less than 20 ft)?
Not likely because there is no room to cut anything.
Consider this plan to be a detached garage apartment or a fancy country cabin. The whole design is tastefully done leaving not too much for criticism. If you are a fan of tiny house movement, this rustic charmer will feel pretty close to a tiny home.
For small lots and even smaller budgets, this rustic home plan is a perfect choice.
Finished Square Footage
Unfinished Square Footage
Garage/Storage:615 Sq. Ft.
Bonus Room:417 Sq. Ft.
Porch – Front:213 Sq. Ft.
Porch – Rear:260 Sq. Ft.
Patio:479 Sq. Ft.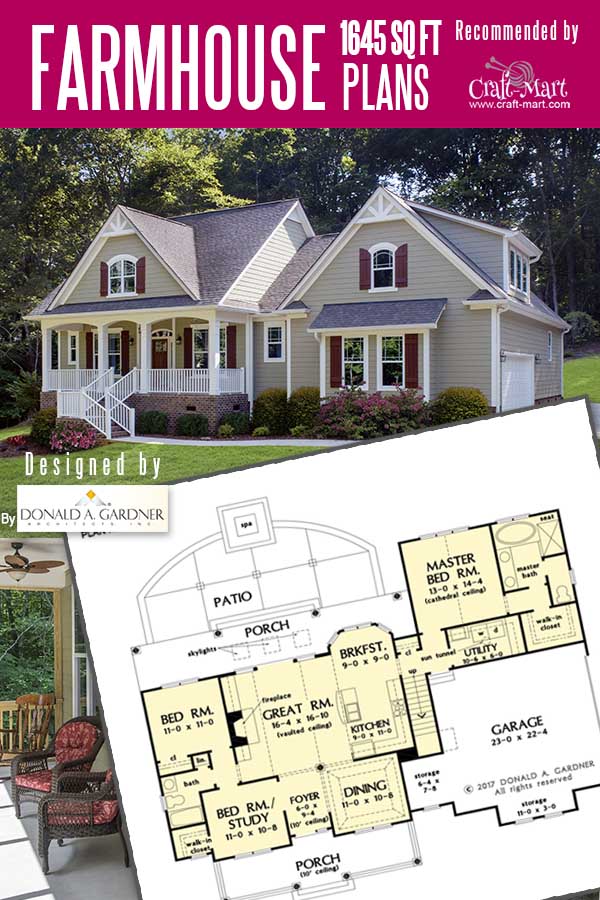 This modern farmhouse has a perfect layout with a master suite tucked away for privacy while close to the laundry room and the kitchen. A classic front porch is pretty spacious and the back porch is even more impressive considering the adjacent patio.
The open floor plan creates an easy flow for everyday family functions and meals. Two additional rooms can be used for children, guests, or crafts and hobbies.
The only suggestion would be dedicating some space in a foyer for hanging coats and storing boots as a mudroom is on the list of many modern homebuyers. It could be a shallow built-in closed in the study room wall, perhaps. It is easy to forget that not all people live in the perfect climate zones without snow and mud.
This rustic house plan is a perfect choice for small families or seniors who'd like either to downsize or have a separate country home with a beautiful garden and a relaxing porch to enjoy the view.
View details of this house plan here
---
Finished Square Footage
Unfinished Square Footage
Bonus Room:297 Sq. Ft.
Porch:156 Sq. Ft.
Garage/Storage:501 Sq. Ft.
Deck:94 Sq. Ft.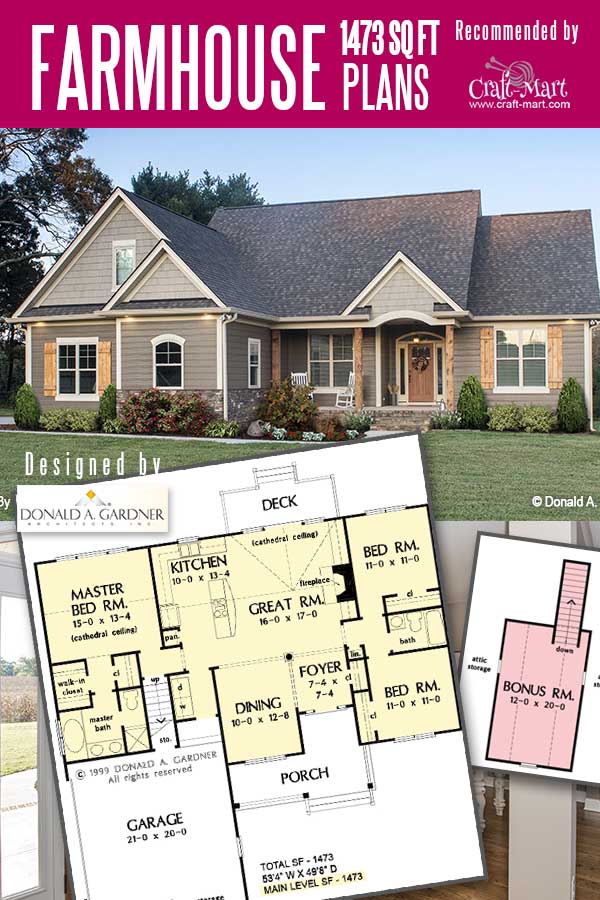 This is a variation of the previous home plan with the layout reversed from left to right with the garage and a separate master suite occupying the left side of the home plan. Make a note, this rustic home plan is a bit smaller in total square footage and not so generous with both front and back porches.
Still, the layout is great and look at what we have in the foyer – a built-in closet as if the designers have heard our suggestion for the previous home plan!
Click for more information about this rustic farmhouse plan
This Craftsman-style house plan looks more compact but is still too wide for narrow lots. The exterior finishing materials with elegant colors and sophisticated array of materials create a very stylish modern farmhouse look.
This practical design makes sense for those who are looking for the most economical 3 bedrooms rustic floor plan. Keep in mind, the 3-bedroom house is still the most sought-after floor plan, after all.
A big plus is that a cathedral ceiling spans the great room and kitchen, expanding both rooms vertically and make the interior feel much bigger. The same cathedral ceiling caps are in the master bedroom for an added sense of space.
A bonus room is accessible near the master suite. It offers options for a home office, storage, or craft room.
Suggestions
Our first suggestion would be to generously extend the back porch. For the practicality, you need space for a BBQ and a small table for two to enjoy candlelight dinner or a morning cup of coffee.
The second suggestion – extend foyer 2-3 feet towards the front. You can make some kind of extended cover over the front porch steps that will help with protecting the door from the bouncing raindrops and merciless sunshine that weathers even the sturdy solid wood doors. We learned it the hard way with our last house …
---
Finished Square Footage
1st Floor:1150 Sq. Ft.
2nd Floor:470 Sq. Ft.
Unfinished Square Footage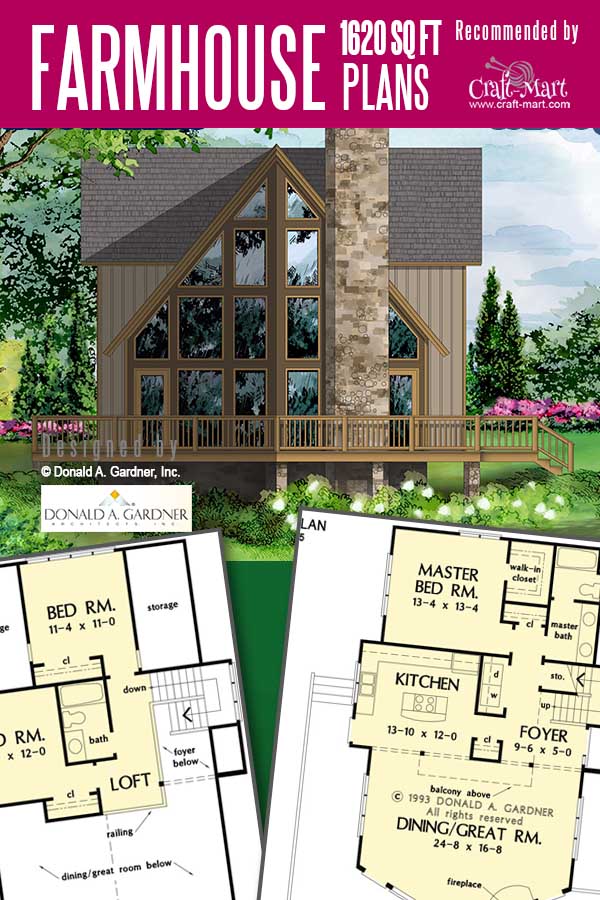 The key feature of this rustic home plan is a stunning, 2-story high wall of windows. If you are not a nocturnal type then this would be the ideal vacation home for you. Love this facade that is reminiscent of a tall ship and the windows reflecting the great outdoors!
The dining/great room and kitchen blend together creating a magnificent space for entertaining guests or family gatherings. An open loft upstairs leads to two bedrooms with large windows, a bathroom, and plenty of storage space.
Out of many affordable home plans with loft, this one definitely stands out. For a nature-loving person, this spacious plan makes a lot of sense. It will let you enjoy your piece of land and forget about anything else.
View details of this house plan here
---
Finished Square Footage
1st Floor:1027 Sq. Ft.
2nd Floor:580 Sq. Ft.
Unfinished Square Footage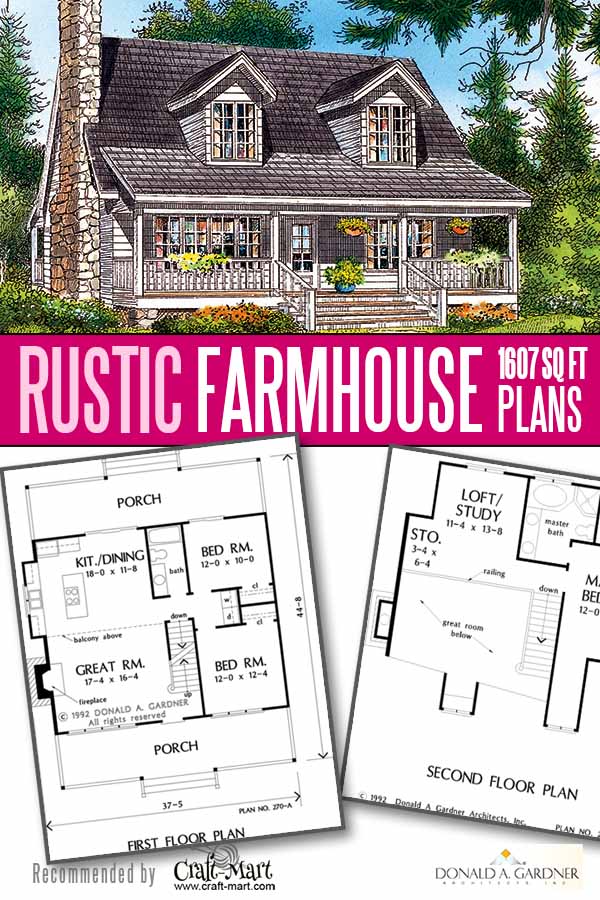 Some people love cathedral ceilings, some are more comfortable in man-caves, and some can't get enough of wrap-around porches. With two covered porches, this small rustic farmhouse plan has answered almost all your porch-sitting prayers.
The great room with cathedral ceiling and a generous loft with a study area, allow for spacious living in this economical rustic fairy-tale charmer. This home plan features a central island in the kitchen and a dining area that opens to the great room.
Two bedrooms with a full bath complete the first floor. They create a perfect place for overnight guests or visiting grandchildren.
If you take a look upstairs, the master suite with a walk-in closet and bath (with whirlpool tub and shower) and a spacious loft (great for a home office) create a private sanctuary.
Our suggestion – get a piece of land and build this rustic cutie.
Click for more information about this home plan
---
Finished Square Footage
1st Floor:1002 Sq. Ft.
2nd Floor:336 Sq. Ft.
Unfinished Square Footage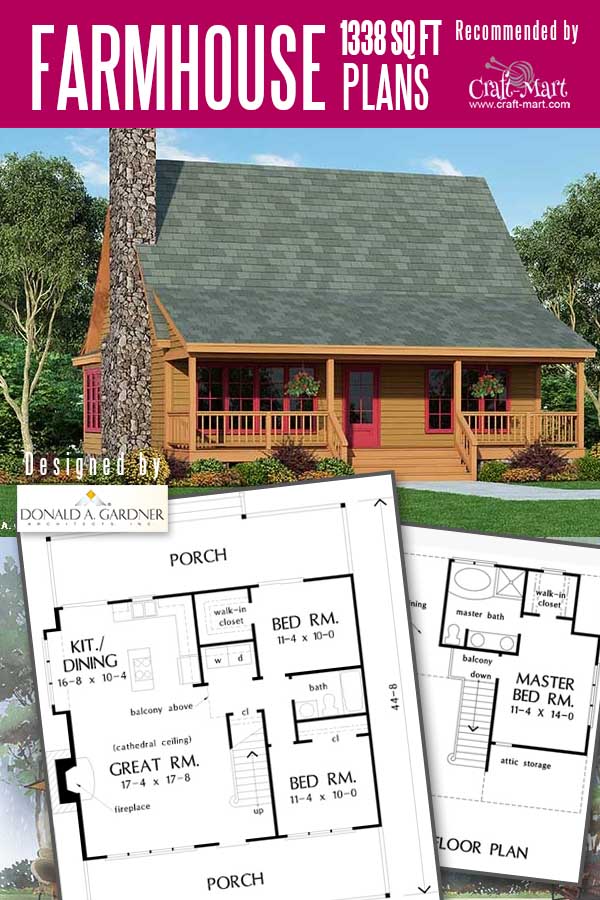 Wait a minute! Isn't this plan the same as the previous two-porch fairy-tale charmer? Well, this is what happens when you eliminate the loft and open up the ceiling over the kitchen area as well.
While many of us are fond of lofts, the idea here was that all porch-loving outdoorsy people may also be fans of open spaces with high ceilings. In any case, here is a "loftless" variation of the previous rustic plan with slightly smaller 1st-floor bedrooms and added space for washer and dryer plus a walk-in closet for one of the bedrooms.
Though you may consider picking a different color scheme for your facade to make this house fit better into your modern farmhouse style dream. It is an easy fix – just find your perfect shade of gray with bold black trim.
Oh, yes – the name is different too. It's The Shady Grove instead of poetic The Laurel.
Click for more information about this home plan
Finished Square Footage
Unfinished Square Footage
Bonus Room:549 Sq. Ft.
Porch:150 Sq. Ft.
Garage/Storage:655 Sq. Ft.
Deck:289 Sq. Ft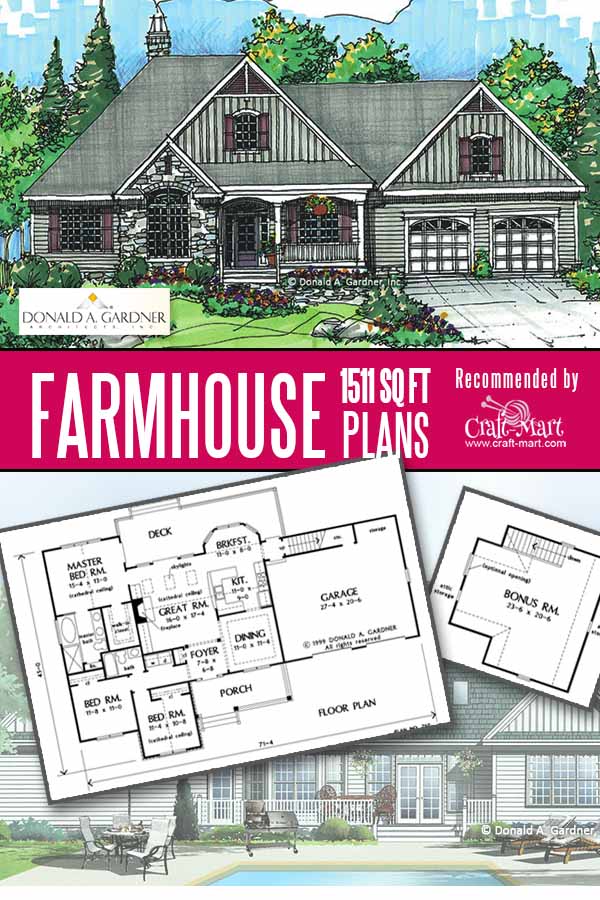 With only 1511 SQ TF of total square footage, this farmhouse plan gives you the impression of a serious piece of real estate. The stretched facade with striking gables and interesting woodwork and stone venire creates a very stylish image.
The layout is pretty standard with a modern open floor plan in the middle and isolated bedrooms around it. A great room with cathedral ceilings, fireplace, convenient built-ins, a trio of skylights, and access to the rear deck could easily make this rustic floor plan one of your favorites.
Click for more information about this home plan
---
Finished Square Footage
Unfinished Square Footage
Garage/Storage:536 Sq. Ft.
Porch – Front:149 Sq. Ft.
Porch – Rear:173 Sq. Ft.
Patio:300 Sq. Ft.
Bonus Room:300 Sq. Ft.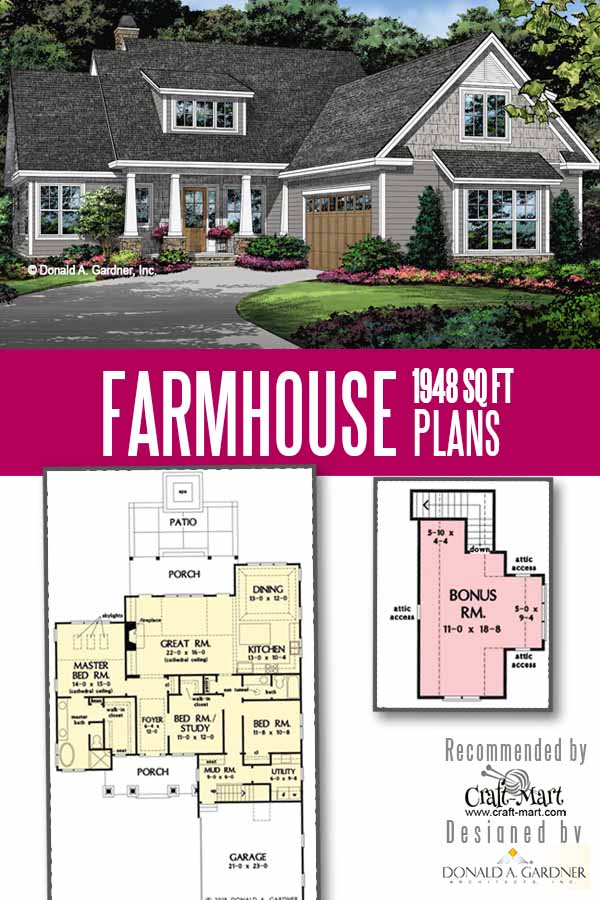 The rendering of the facade looks gorgeous! The large extended window section of the garage wall is a huge plus. The great room with kitchen and dining connected to the back porch is very convenient for the country living.
But the coolest feature is that you can be soaking in a fancy freestanding bathtub in your master bathroom and while enjoying a sunset through a window. Well, unless the builders would install a privacy glass which would kill all the fun…
Among some other great features that are worth mentioning are the cathedral ceilings in the great room and master bedroom, a separate mudroom, and skylights.
All of these features combined with generous 1946 sq.ft. of living space put this house plan among the leading contenders for building it on the most beautiful piece of land that you can get.
Click for more information about this home plan
---
Finished Square Footage
Unfinished Square Footage
Garage/Storage:898 Sq. Ft.
Other Storage:302 Sq. Ft.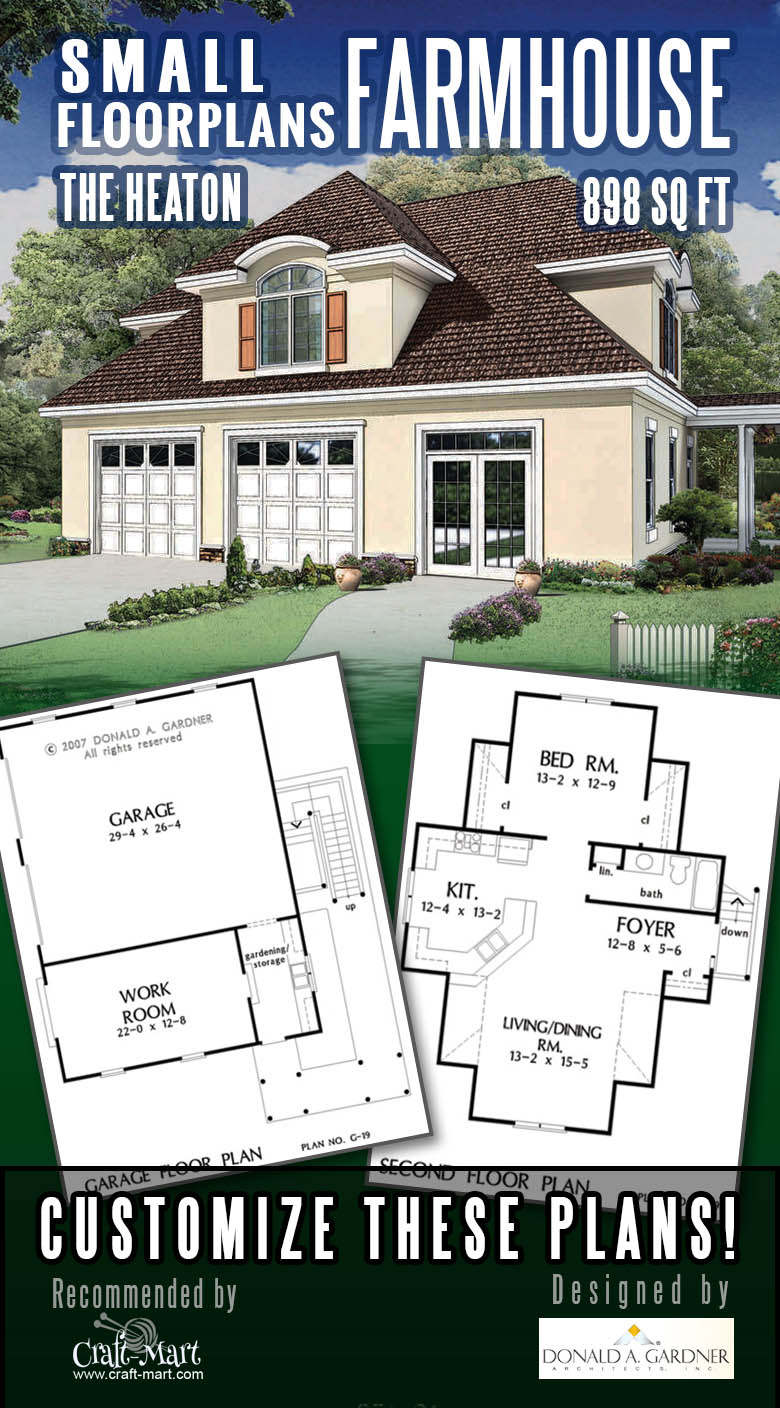 OK, this plan doesn't look that rustic but it is modern and compact to satisfy your simplicity yearning. It may be the perfect place if you want a separate workroom and a place to park cars, for a change.
What's the advantage of this model?
The two-car garage, of course!
What's the main drawback?
You'll be living alone above your precious two-car garage in a small 900 sq.ft. one-bedroom unit.
Still interested in this home plan?
Then look at the workroom – isn't it nice? For a single automotive enthusiast or a lonely woodworker, this rustic small house plan makes a lot of sense. It may even be a great house plan for a couple of empty-nesters that don't mind climbing the stairs to stay fit and trim.
Click for more information about this home plan
---
Finished Square Footage
Unfinished Square Footage
Bonus Room:417 Sq. Ft.
Garage/Storage:615 Sq. Ft.
Patio:479 Sq. Ft.
Porch – Front:213 Sq. Ft.
Porch – Rear:260 Sq. Ft.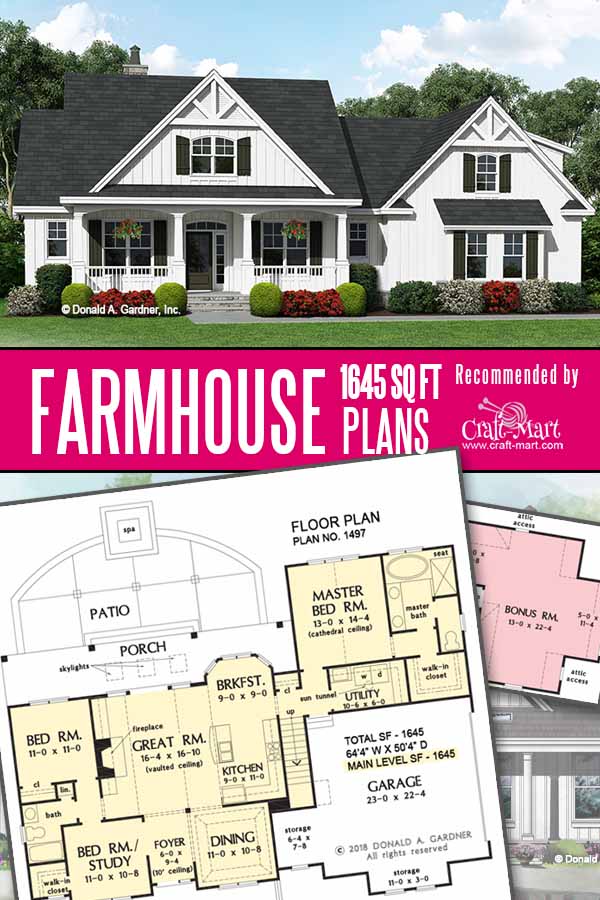 If you scrolled down this far you probably already forgot about 'The Sawyer' floor plan. Guess what? This is exactly the same floor plan but the designer decided to give you all a different choice of the facade finishing and details.
For this rustic facade, they have boldly decided to go with a vertical siding instead of the horizontal as with The Sawyer. Do you see the difference? This is one of the characteristic features of the modern farmhouse architectural style and the white and gray color scheme completes the look.
Now we put you in front of the dilemma – which house plan do I want?
Our suggestion is simple – talk to your spouse and decide which features are the most important to you both…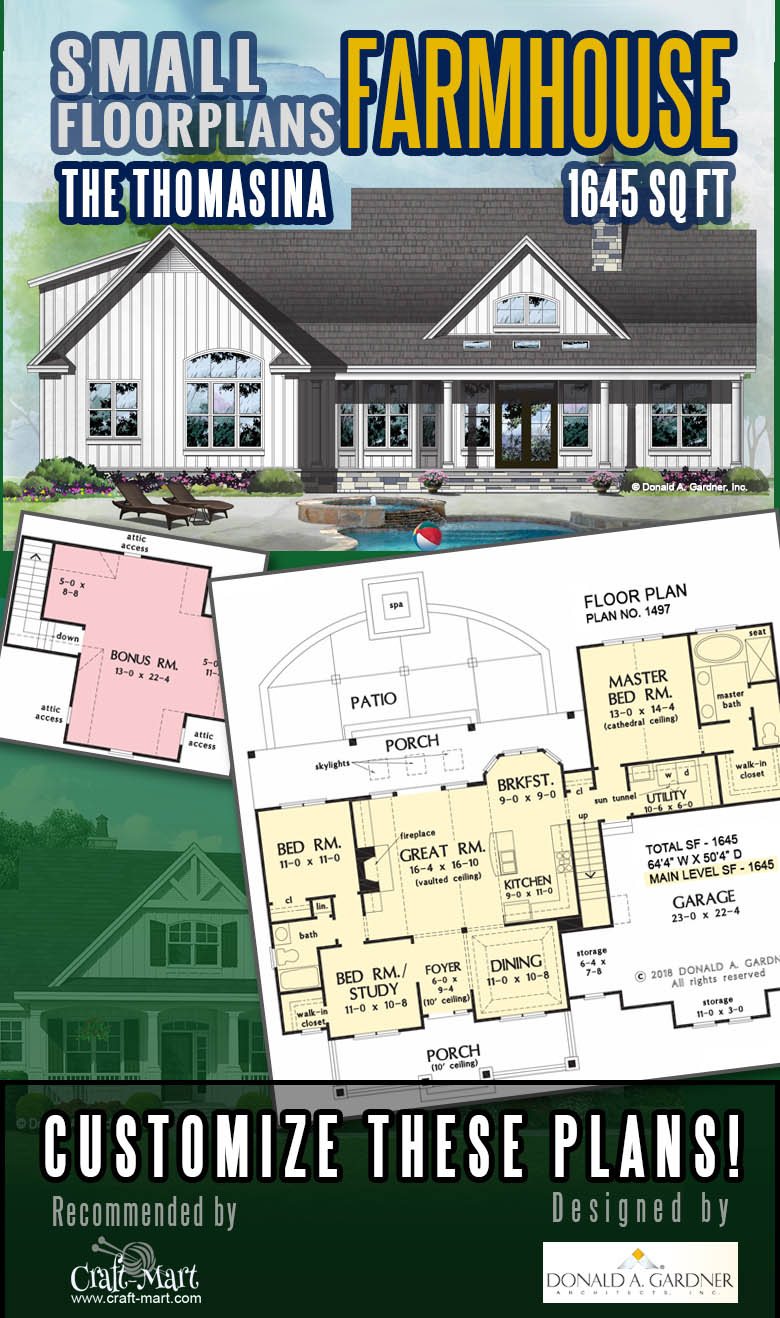 Well, this vertical siding gives the house that coveted modern farmhouse look…
Click for more information about this home plan
---
Finished Square Footage
Unfinished Square Footage
Bonus Room:389 Sq. Ft.
Porch:87 Sq. Ft.
Deck:255 Sq. Ft.
Garage/Storage:507 Sq. Ft.
The plan's name "The Colthorpe" and the exterior definitely whisper sophistication. Columns accent the dining room, while built-ins add to the functionality of the great room. The kitchen features a convenient pass-thru that makes serving dinner a breeze. Wide French doors erase the border between inside and outside thus enlarging the breakfast area.
From sidelights to clerestories, this home's full of light.
View details of this home plan here
---
What makes a home plan rustic?
Of course, besides the interior decorations and furniture, rustic farmhouse plans have plenty of natural materials in a rough form used for the construction itself.
What are the main architectural elements of the modern farmhouse?
While nostalgia is the main driving force behind the popularity of the rustic home style, there are certain elements that became iconic for the modern farmhouse. Whether you are building a new home or renovating an old one, it is important to incorporate these details to give your home that cozy rustic look:
wrap around porch
open floor plan
lots of exposed beams and wooden elements
shutters
clever combinations of different finishing materials and textures (including shingles, metal, wood, and brick)
… and barn doors!
For more rustic house plans with wrap around porch click here.