As barndominiums become more popular as an affordable housing solution, more people are looking for barndominium floor plans and designs.
What is a Barndominium?
In short, barndominium house plans are a type of country house with a design that has been strongly influenced by barn style, details, and layout. This style is different from the farmhouse design that has been really popular but is slowly fading away. Most barndominiums are very easy to build, and the process usually takes less time in comparison with conventional houses or farmhouses.
What are the typical features of a Barndominium?
The typical features that you can often see in barndominium design are:
simple open floorplans including barn conversions
metal framework
exposed wooden beams
gambrel roof
rustic aesthetics
wood fireplaces
repurposing of old wood
wrap-around porches and big outdoor kitchens/living spaces
barn doors that connect interior and exterior
Since the traditional structure of barndominiums is often made out of metal, there are also a few advantages over traditional farmhouses.
What are the advantages of barndominium designs?
Metal-framed barndominium can withstand fires without quickly collapsing, even though extremely high temperatures and fire may deform the metal.
The metal structure is lighter than the wooden one. Therefore, an assembly process is less labor-intensive when compared to traditional homes.
The metal structure of a barndominium will never be damaged by pests. Your frame will always be in good condition, as bugs won't be able to chew through it.
No structural rot. When it comes to your home, you don't want to deal with mold. A metal structure eliminates such issues providing a longer lifespan for the house.
As metal is sturdier than wood, it can withstand stronger winds and even earthquakes.
Lower insurance costs – with a barndominium built of metal you may get much better rates from your insurance provider.
Where can I find Barndominium pictures and floor plans?
Besides just searching for barndominium photos, you can find an extensive collection of just barndominium floor plans on the Architectural Designs website. With 74 floor plans (and growing!) this collection provides a good starting point to figure out what you like and don't like.
In addition, contact some of your local builders. They will provide you with additional information on local requirements as well as building costs for your exact area.
How much does it really cost to build a Barndominium?
When comparing the building costs of a traditional home vs a barndominium, you'll find that barndominiums may be quite efficient for a budget-minded homeowner.
For example, a 2,000 sq. ft. house may cost approximately $145 a square foot to build. Keep in mind that these figures vary greatly based on the exact locality and the current housing market.
Certain building materials shortages can create short-term bubbles while driving the cost of new construction up.
In comparison, a local barndominium builder can offer premium features including a metal frame, upgraded windows, and wooden beams for the interior while the cost per square foot will be from $95-$140. Given these points and a variety of choices for finishing materials, local costs vary greatly from builder to builder.
Watch a 10-minute video where Josh Helm of Texas Best Construction goes into details of building a Barndominium. Their YouTube channel has a plethora of information on the actual process of building a barndominium, pictures of actual barndominium homes, and great design ideas.
How to find a Barndominium builder near me?
Whether you are looking for a local builder who can build a barndominium or a specialized builder, BarndominiumLife.com compiled a great directory of local builders by state.
It is a great starting point if you are just learning about this trend and deciding if a barndominium is for you. As with any house design, it is very personal and should reflect your preferences and family lifestyle.
Dreaming of building your Dream Home? Check out these collections of floor plans and kits to help you make your choice:
1. Tiny Barndominium Floor Plan
This Tiny Barndominium floor plan is a delight for your eyes and your pocket. Tiny meets Farmhouse as vertical siding and a big barn door give this barndominium design a rustic vibe.
The main floor is completely open and doesn't have any interior walls taking an open concept to the extreme. Most importantly, it makes a living room/kitchen area one great functioning space, even with 1,000 sq. ft. of total living space.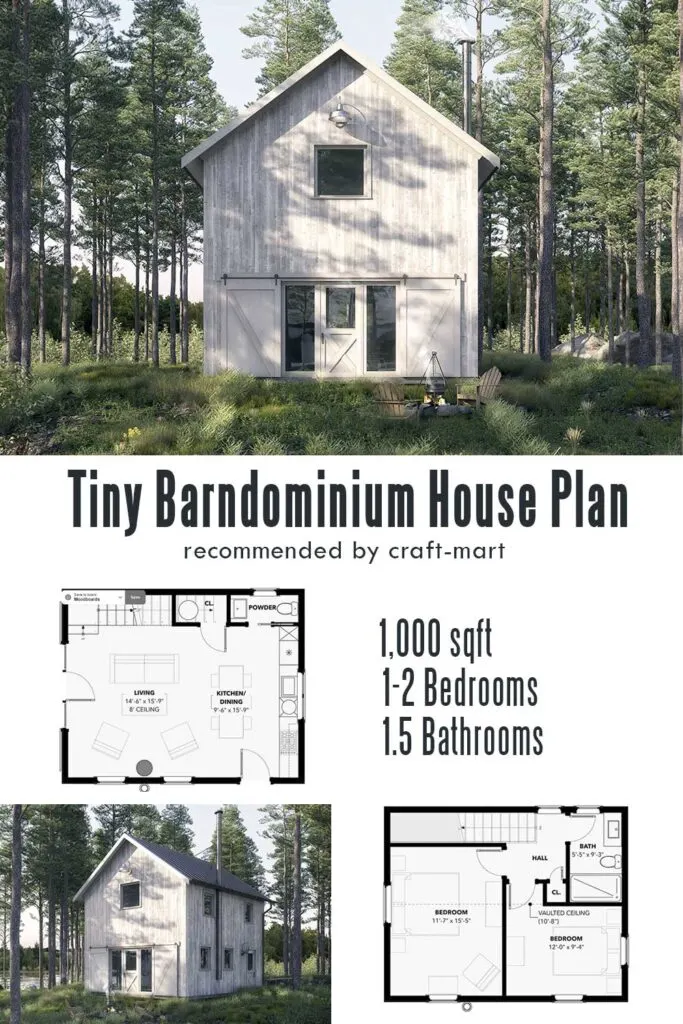 The convenience of the small powder room on the first floor makes it suitable for entertaining guests. You can even improve the functionality of this space by adding a spacious terrace.
Upstairs you'll find two bedrooms with hall storage and a decent size full bathroom. Though sharing a bathroom may not be ideal, it is perfectly suitable for a small family with one child.
2. Cozy Budget-Friendly Barndominium Cottage
Are you on a tight budget but want to build a cozy and efficient house for your family? This barndominium design may be just right for you.
With 1,000 sq. ft. of heated space, 2 bedrooms, and 1.5 baths you can live comfortably in this cozy cottage reminiscent of simpler times. It also has been designed suitable for wheelchair access featuring zero-step entry and the main floor bathroom.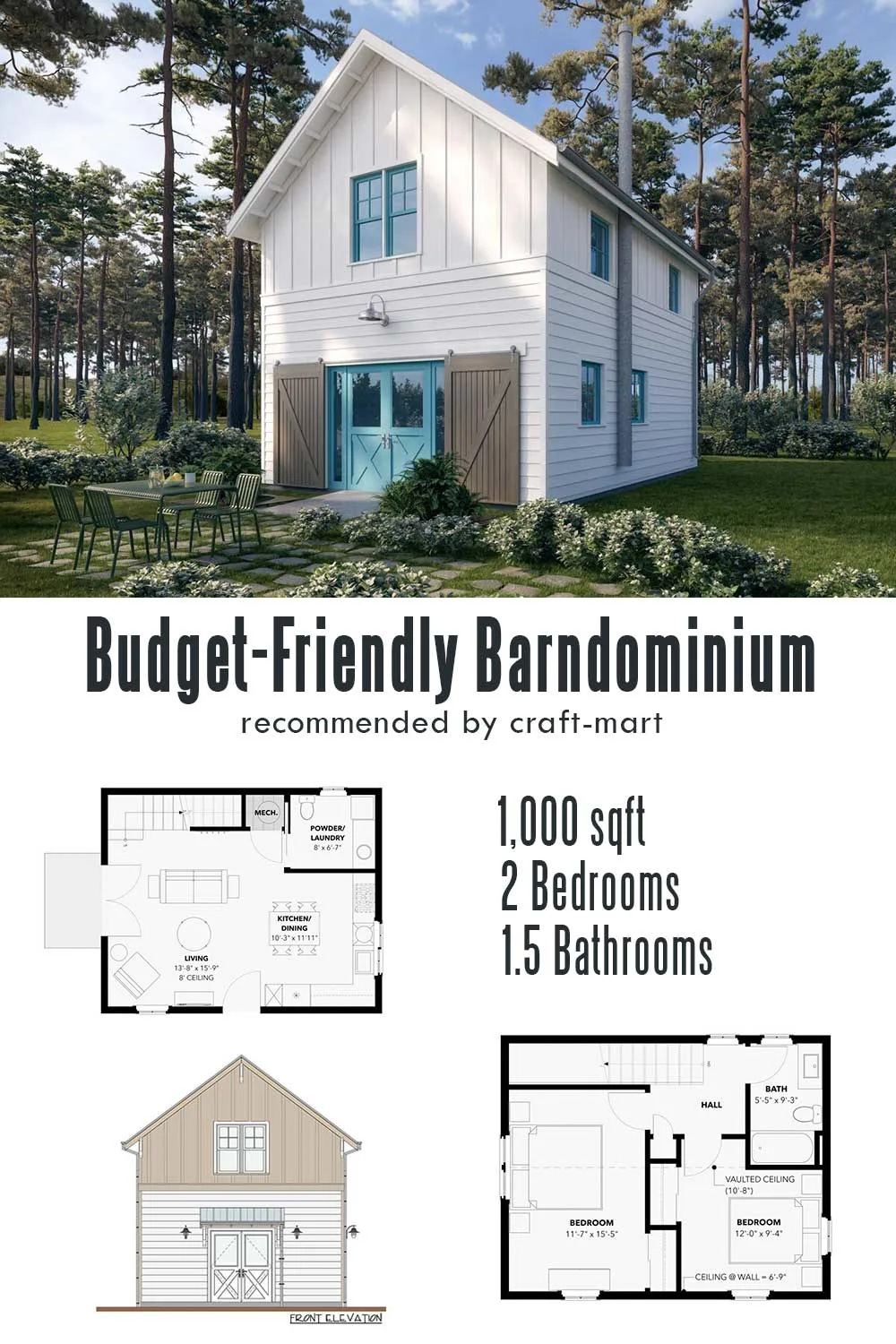 The L-shaped kitchen provides plenty of storage and countertop space for any meal prep. The open floor plan is perfect for family interaction and entertaining guests.
The two bedrooms upstairs are quite spacious featuring build-in closets, vaulted ceilings, and plenty of natural light. The second level has also a full bath accessible from both bedrooms.
With a simple rectangular plan and cozy exterior featuring an iconic barndoor, this barndominium cottage is a winner for a budget-minded homeowner.
Get a floorplan for this Barndominium Cottage HERE!
3. Barndominium with a Massive Workshop and an Apartment Above
Have you heard of a 'shouse'? It is a play on words and a combination of shop and house (shouse) which gives a crafty person a place to work and live under one roof. This barndominium with the shop is a great idea!
If you decide to build this floorplan, you'll get a massive workshop on the main level and the functional living space above. The shop area comes in at over 3,000 square feet which is great for anyone who works in their shop/garage/shed daily.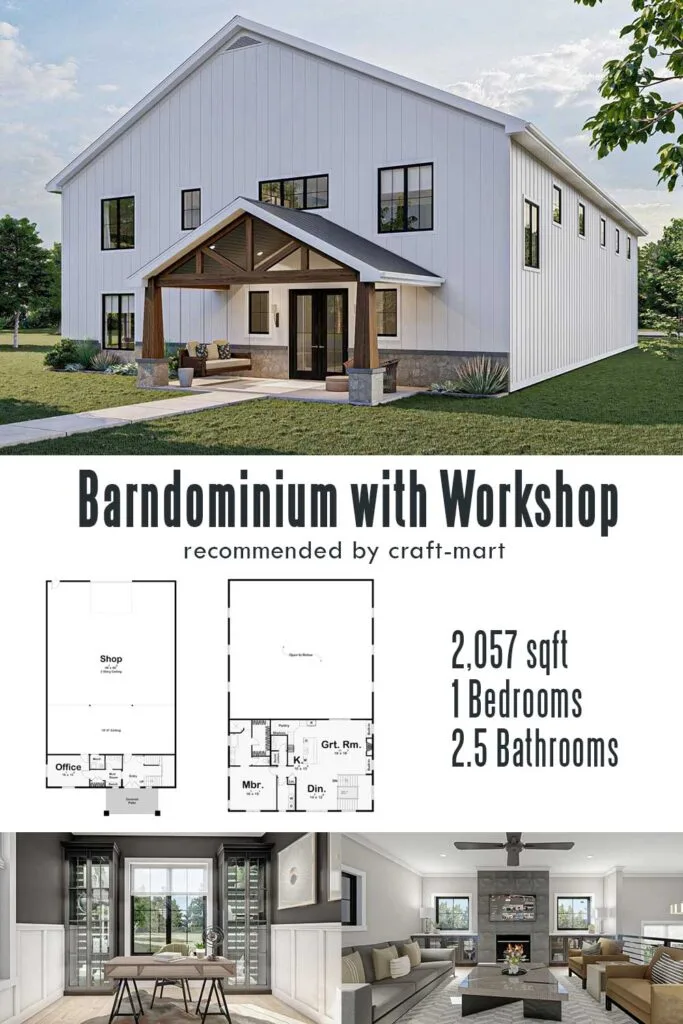 Sometimes, you may need a bigger work area than living quarters, depending on your type of work. This barndominium design idea addresses this need perfectly. Most importantly, your commute to work takes 1 minute!
Consequently, when you have finished all your projects for the day and go upstairs, you can unwind in a cozy spacious apartment with a full kitchen and a great room warmed up by a fireplace. The Master bedroom becomes your sanctuary with a large walk-in closet, dual vanity, and a soaking tub.
4. Barn-style Garage with Vaulted Loft Above
This country barn-style garage is as stylish as it is functional. 36′ x 36′ space provides enough room for several vehicles, while board and batten siding and a metal roof give it a modern barndominium look.
With barn doors on both sides, you have double access points for extra functionality. The upstairs vaulted loft gives plenty of space for storage making it a great country workshop.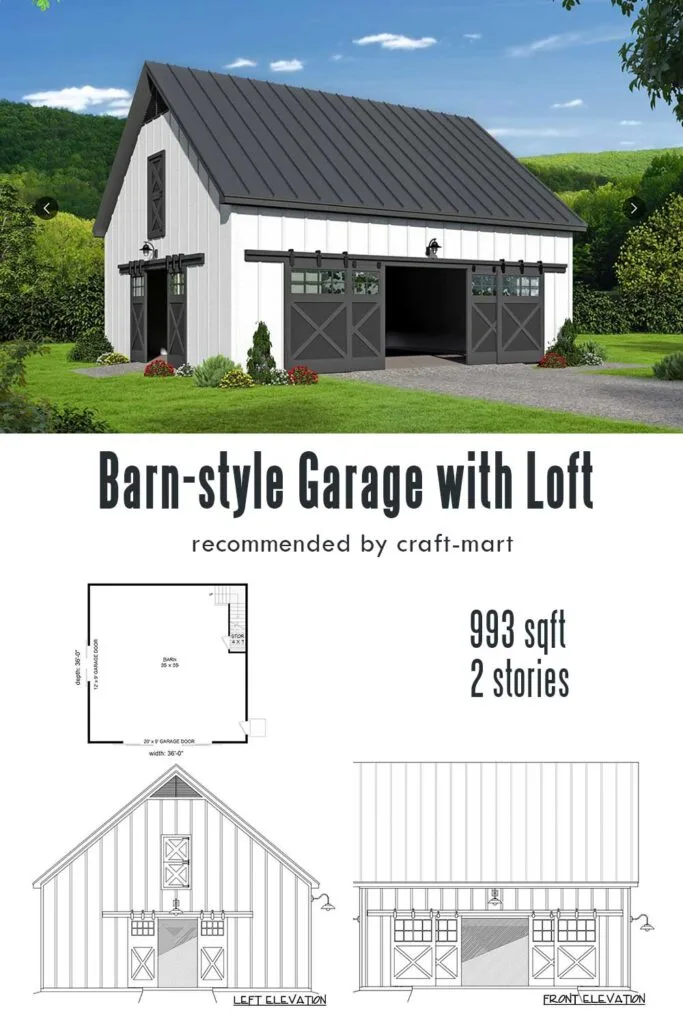 5. Charming Farmhouse Barndominium with 2 Bedrooms
This spacious barndominium features a 3-car garage and spacious living quarters, giving you the best of both worlds. With craftsman details in the exterior and rustic stone accents, this unique farmhouse-barndominium style dwelling has lots of curb appeal.
Love the idea of a mudroom with a bench and plenty of storage located just by the entrance from the spacious garage. It is a great feature if you live in the country.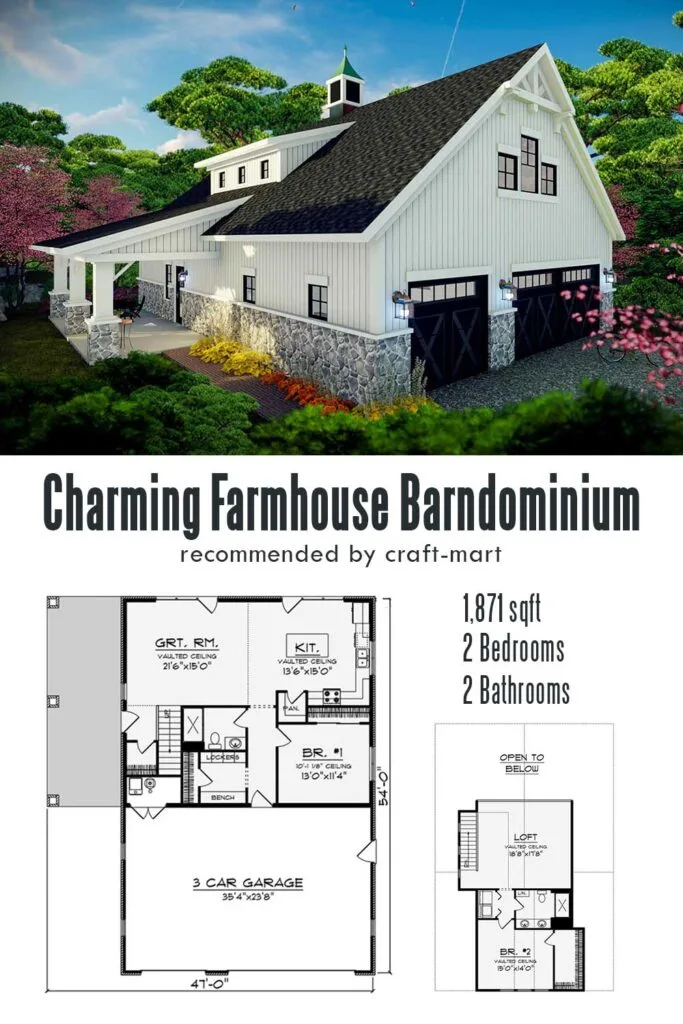 You'd enjoy the light and airy space of the ground floor living area with vaulted ceiling and open concept barndominium interior. The main floor bedroom has access to a full-size bathroom and features a built-in closet.
If you walk upstairs, you'll find a second bedroom, full bath, laundry, and a large lofted space overlooking the living area below which is perfect for a study or home office.