6. Modern Barndominium with Wrap-Around Deck
Among all barndominium houses featured here, this is our favorite design. With over 2,000 sq. ft. of living space, 3-4 bedrooms, and a huge deck this house will fit any lifestyle.
Furthermore, it may even be too big for some people, so check our collection of small and tiny house plans and kits:
This featured modern barndominium floor plan has an upside-down layout with bedrooms on the ground level and the living space and kitchen on the upper level with access to a huge deck.
Consequently, you may consider this barndominium design if you have a great view you want to enjoy or family members with disabilities who will benefit from the ground floor bedroom.
To further emphasize the pros of this design, it provides plenty of natural light for the upstairs living-dining room and kitchen area. After all, it is not blocked by the extensive deck railing as it is modern and transparent.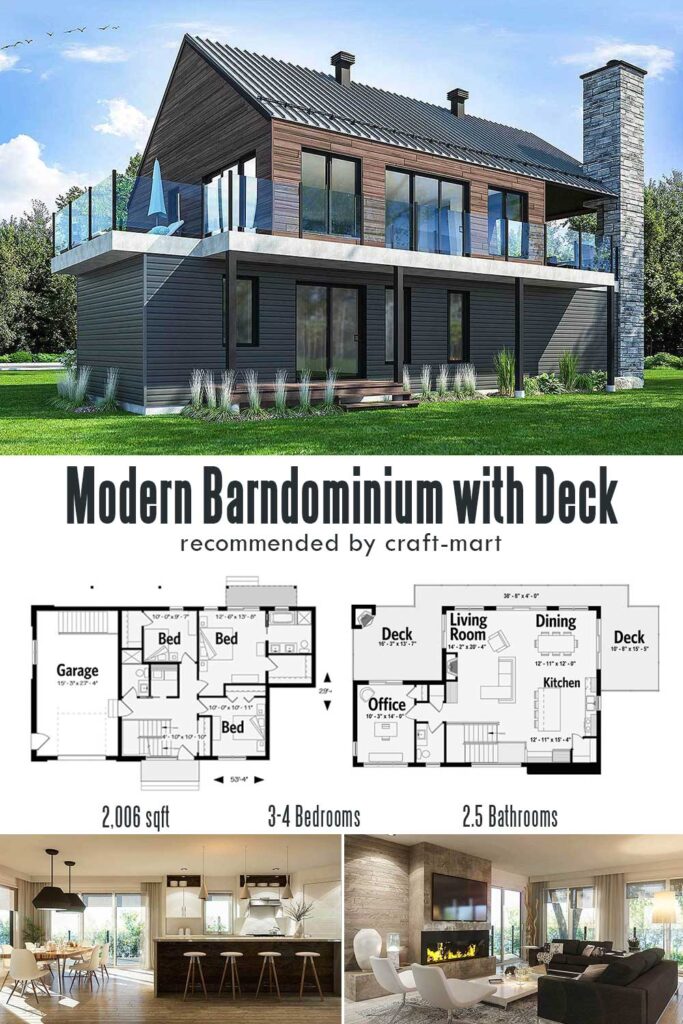 Equally important, this floor plan provides plenty of opportunities for enjoying the great outdoors, including a fireplace on the upper deck, off the office.
The ground level features 3 bedrooms, laundry, and a 1-car garage. This may be too small for some families but you can easily add a carport or build a barndominium garage featured above!
In summary, if you are building a house on a piece of land that has great views of the lake or mountains, this barndominium floor plan is for you.
Get this modern barndominium floor plan HERE!
7. 1-Bedroom Barndominium with 3-Car Garage
This barndominium design is inspired by rustic farmhouse style and has an emphasis on creating a great workplace. Consequently, with space for a 3-car garage on the ground floor, you can create any type of workshop there.
Equally important, you have an efficient workspace with a minimal commute of walking downstairs. In addition, open space and exposed beams add barndominium charm to the whole design.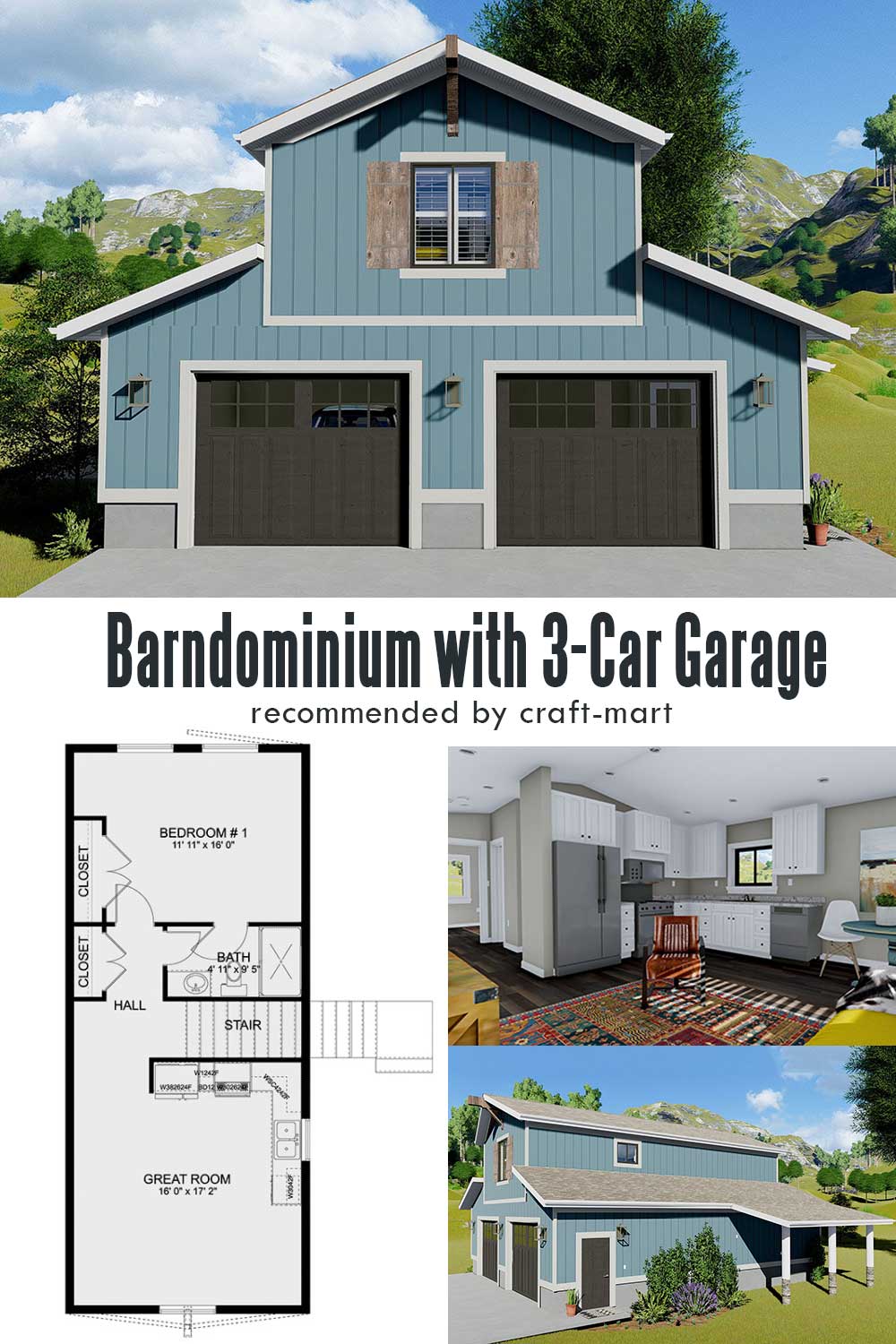 The living space upstairs has a simple yet functional layout. A great room with an L-shaped kitchen and vaulted ceiling is spacious enough for comfortable living.
The bedroom suite offers a full bathroom and 2 built-in closets. Overall, this is an efficient plan for a single work-minded person or a couple without kids.
Get this 1-bedroom barndominium floor plan here!
8. Modern Barndominium Apartment
First of all, this barndominium design has lots of curb appeal with light board and batten siding, wood shutters, and a sliding barn door. The combination of light siding and wooden accents makes it both rustic and modern-looking.
Second, the ground floor 2-car garage and a workshop space crate a great opportunity for DIYers and woodworkers at heart. Most importantly, the workshop has access to the covered patio through the sliding barn door if you need to put the finishing touches on your projects outside.
You can't find a more perfect setting!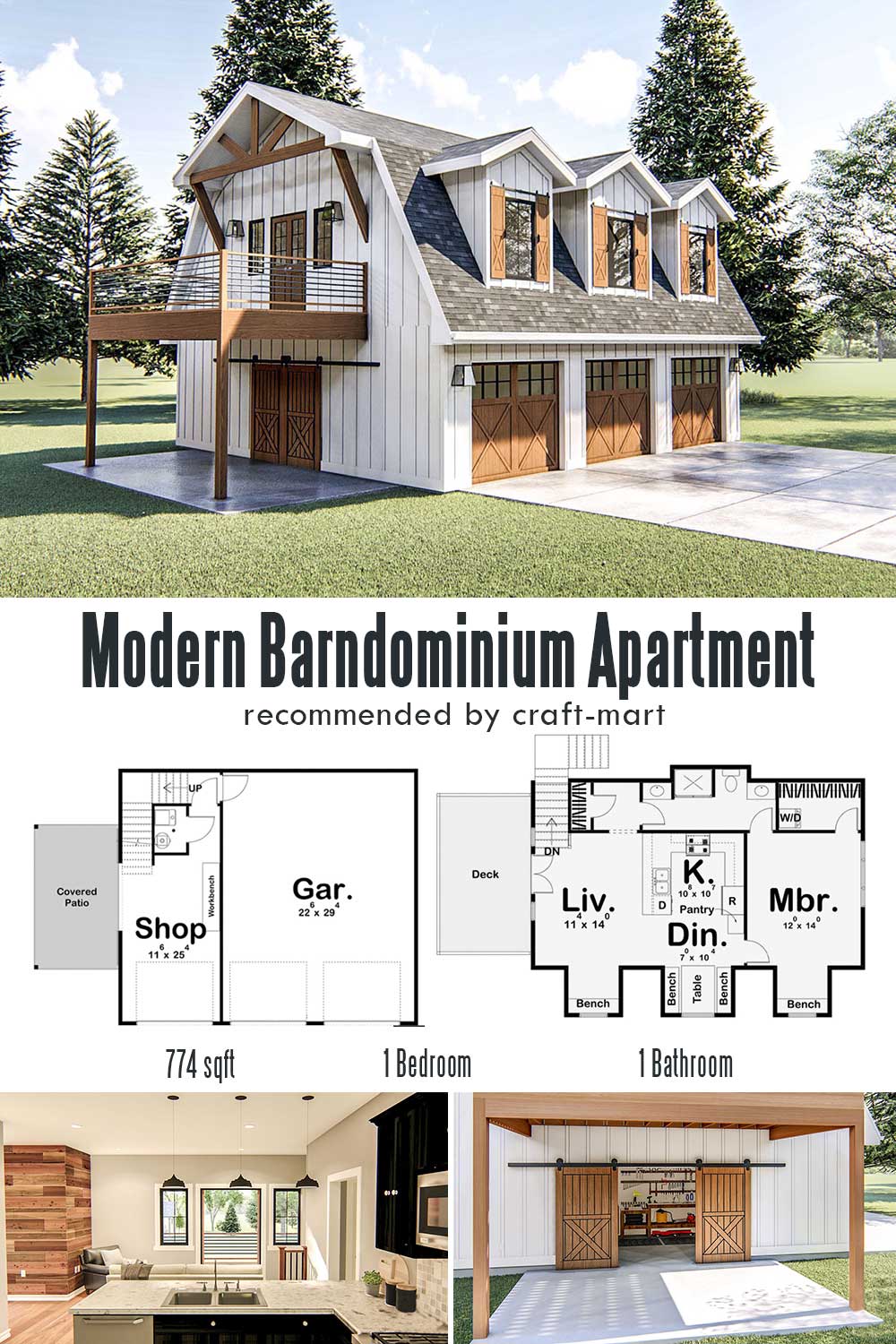 The upstairs floorplan is efficient and simple. It features a living-dining room and kitchen combination with access to a large deck for alfresco dining. The built-in window benches give the space a country charm and add cozy touches to the whole living space.
As can be seen on the upstairs floorplan, the bedroom with a relatively spacious closet has a cozy reading nook bench as well.
In summary, this efficient modest 1-bedroom barndominium apartment provides plenty of space to live, work, and enjoy life with 774 sq. ft. of living space, 2 stories, and a 2-car garage with a workshop.
Get this 1-BR barndominium floor plan here!
9. Modern Barndominium House Plan with Two Bedroom Suites
This spacious modern barndominium has plenty of space for your grown-up 'toys' on the ground level featuring 2 garages with space for 6 cars (or cars and boats!). You can even use the foyer with an interior window for gazing over your prized collection.
Equally important, the second level gives plenty of space and privacy for comfortable country living. The main suite and junior suite are separated by a well-planned living area with access to a big deck.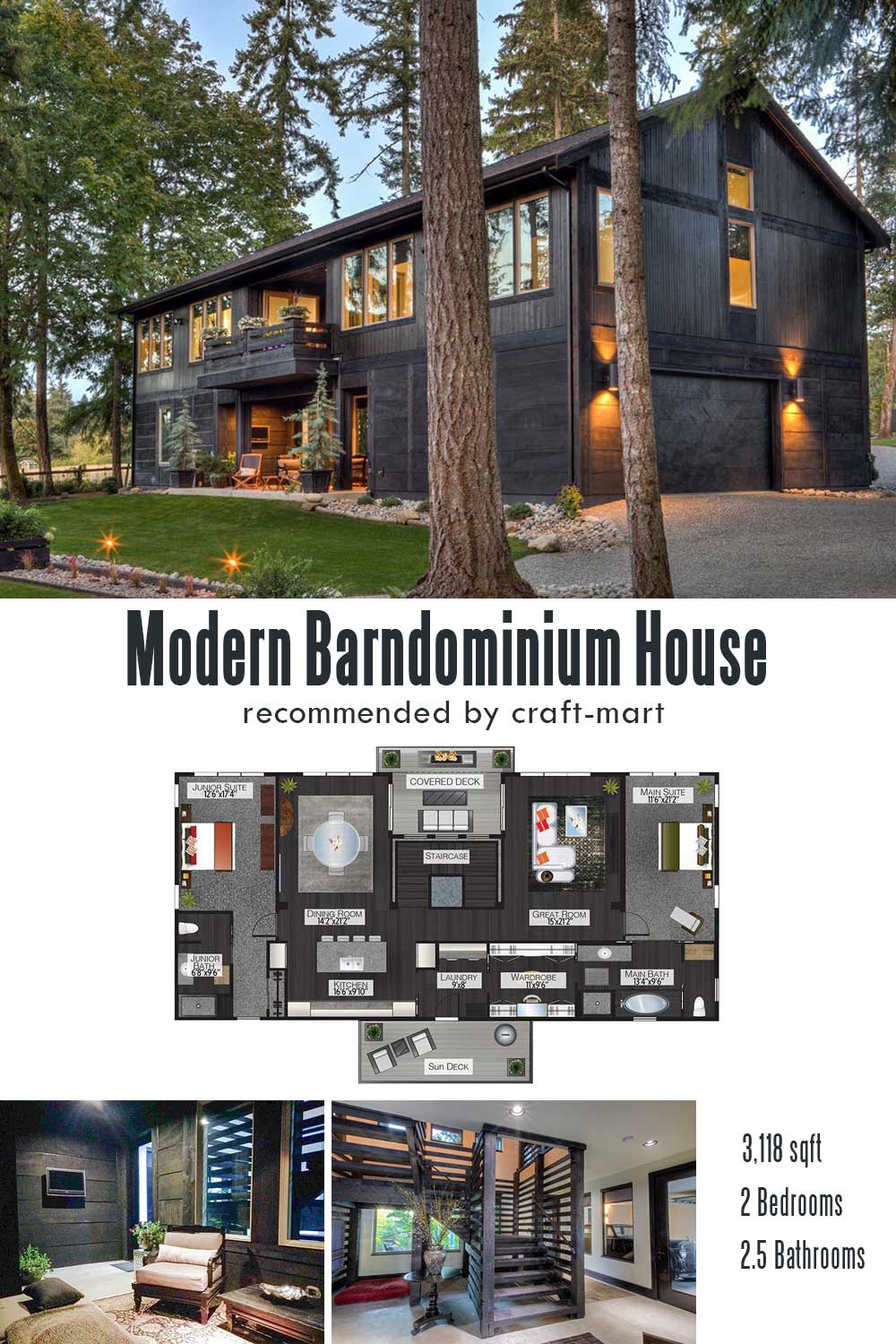 In conclusion, if you have young adults still living at home and a love for cars, this 3,118 sq. ft. barndominium floor plan is for you. The black accents make this design an epitome of modern barndominium charm with a touch of sophistication.
10. Garage Apartment Plan with Barndominium Styling
Modern American style meets Barndominium in this 1-bedroom over garage apartment with plenty of space for small farm equipment, garage, and workshop on the ground level.
The light exterior adds charm with light wooden accents, exposed roof beams, and board and batten siding. Notably, the garage space is separated into a 2-car garage and 1-car space which creates an opportunity for a workshop with the convenience of the ground floor bathroom.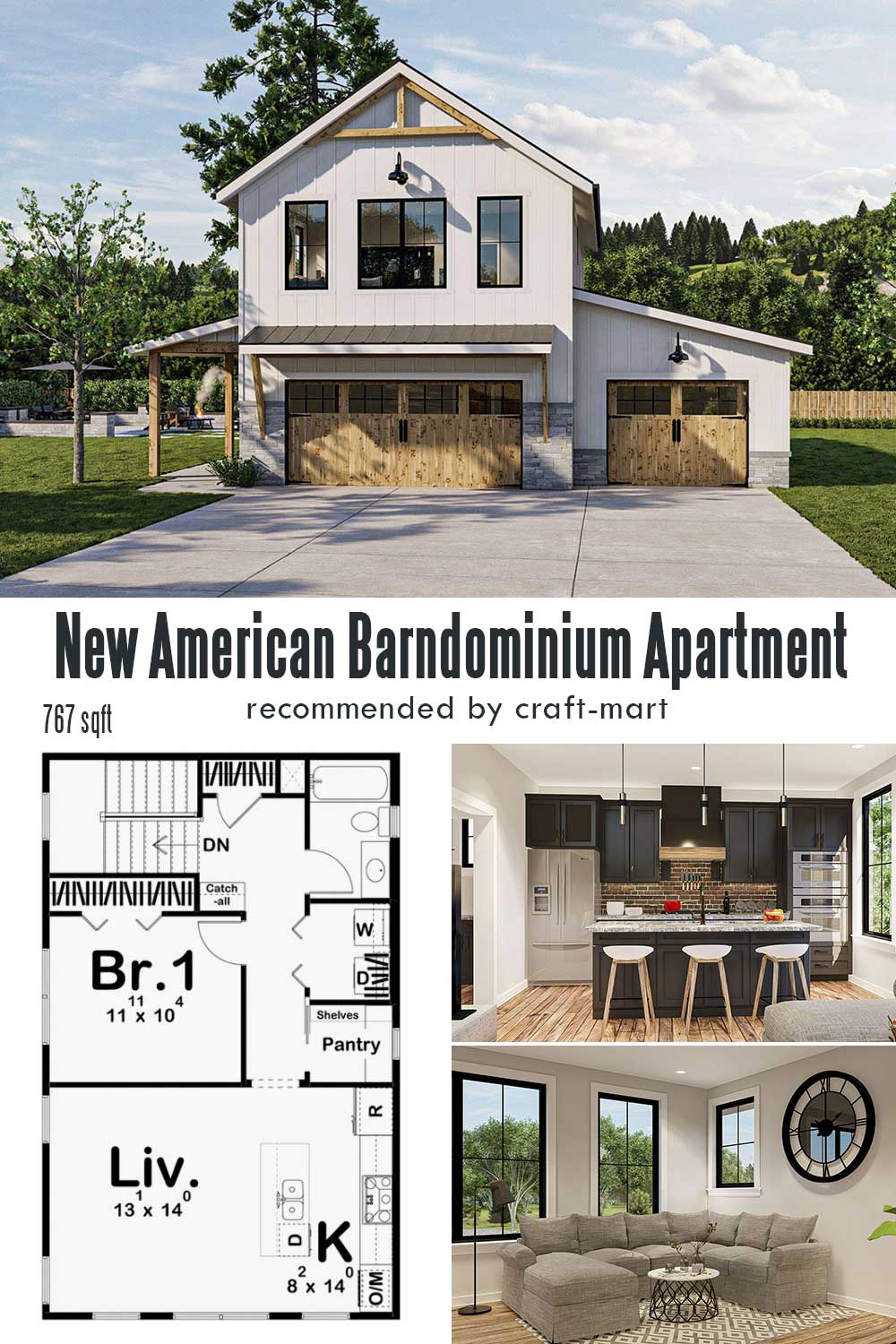 An open concept of the living and kitchen area upstairs comes with plenty of storage, a separate pantry (crucial for country living), and a decent size bedroom.
In conclusion, this comfortable barndominium apartment will suit a single person or a young couple as a starter country home.
Are you looking for a more spacious farmhouse floor plan? Check out this collection to find your dream home: