What is crochet mesh crochet stitch?
Crochet mesh stitch is a beginner-friendly stitch that creates an open, airy fabric that is quick and easy to work. It is usually a combination of chain stitches and basic crochet stitches (such as single crochet – sc) where the pattern is created by skipping stitches of the row below.
How do you make a mesh stitch in crochet?
There are different types of mesh stitches:
simple crochet mesh stitch
diamond (or honeycomb) mesh stitch
For a simple mesh stitch, refer to our modern scarf tutorial pattern. It is done using treble crochet stitches and creates a wonderful light fabric.
Using the same stitch, you can crochet a light cotton throw – also a free pattern on our website. It is a unique summer pattern that you'll enjoy.
How do you make a diamond mesh stitch?
Diamond mesh stitch is pretty easy and requires that you know chain and single crochet stitches. It creates light and airy fabric that is perfect for light summer wraps, beach cover-ups, and other warm-weather accessories.
As we are crocheting a triangle summer wrap in this written pattern and will be increasing on both sides, we'll be also using treble crochet stitches.
If you are not familiar with treble crochet, check our free tutorial.
What is the best stitch for a lightweight summer shawl?
It is obvious that for summer crochet patterns you'll want to use the stitch that is not yarn-heavy and creates an open and breezy pattern. Lace stitches and mesh stitches are perfect to crochet a light shawl, summer cape, or cardigan.
Do you have any other summer shawl crochet patterns?
Yes, we have a few lightweight summer patterns that you may love – they are all free:
Easy Summer Shawl Mesh Crochet Pattern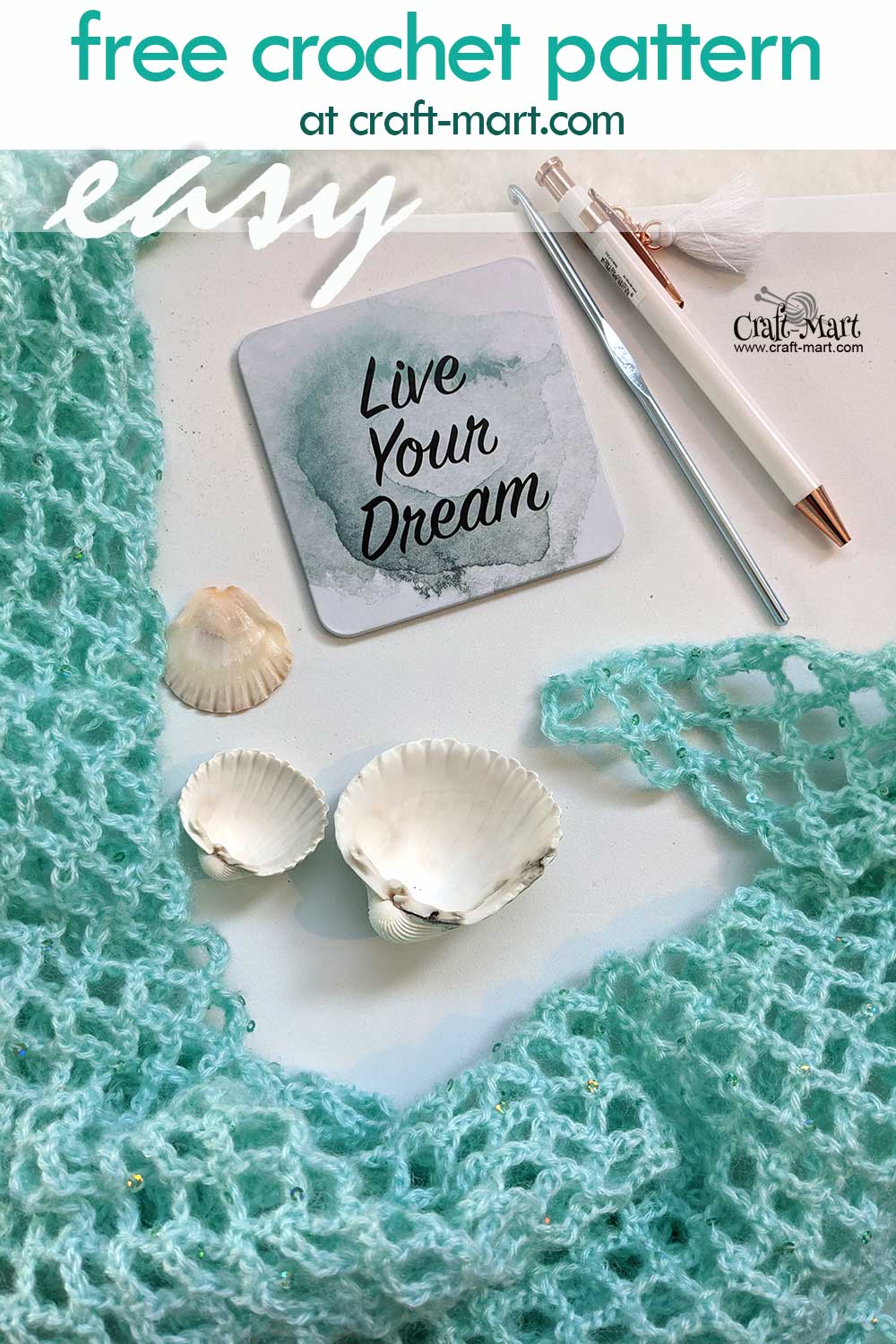 To emphasize, this simple crochet mesh stitch pattern is worked from the bottom corner up. Most importantly, it is very easy to understand and master after you finish the first couple of rows.
Abbreviations
(according to Craft Yarn Council standard crochet abbreviations)
ch – chain stitch
tr – treble crochet
ch-sp – chain space
sc – single crochet
st – stitch
Materials
It is a fine yarn (2) and a 3.5 mm / E-4 crochet hook is recommended on the yarn label. I've used a small size crochet hook as it makes the mesh stitch look better, in my opinion.
If you can't find this particular yarn, just look for any fine (lace) (#2) yarn, 70 g / 2.5 oz, approximately 314 m / 344 yards.
With this in mind, I definitely recommend doing a practice swatch for this mesh pattern and finding the hook that works best for you.
It is an easy 1-skein pattern, so you can stop when you ran out of yarn (or almost run out of yarn). Crochet mesh stitch is not yarn-heavy, so your triangle scarf will be a perfect size with just one skein of yarn.
Crochet Mesh Stitch Tutorial
In the beginning, chain 5 (ch 5). Pretty easy, right? No counting stitches for a lengthy foundation chain here!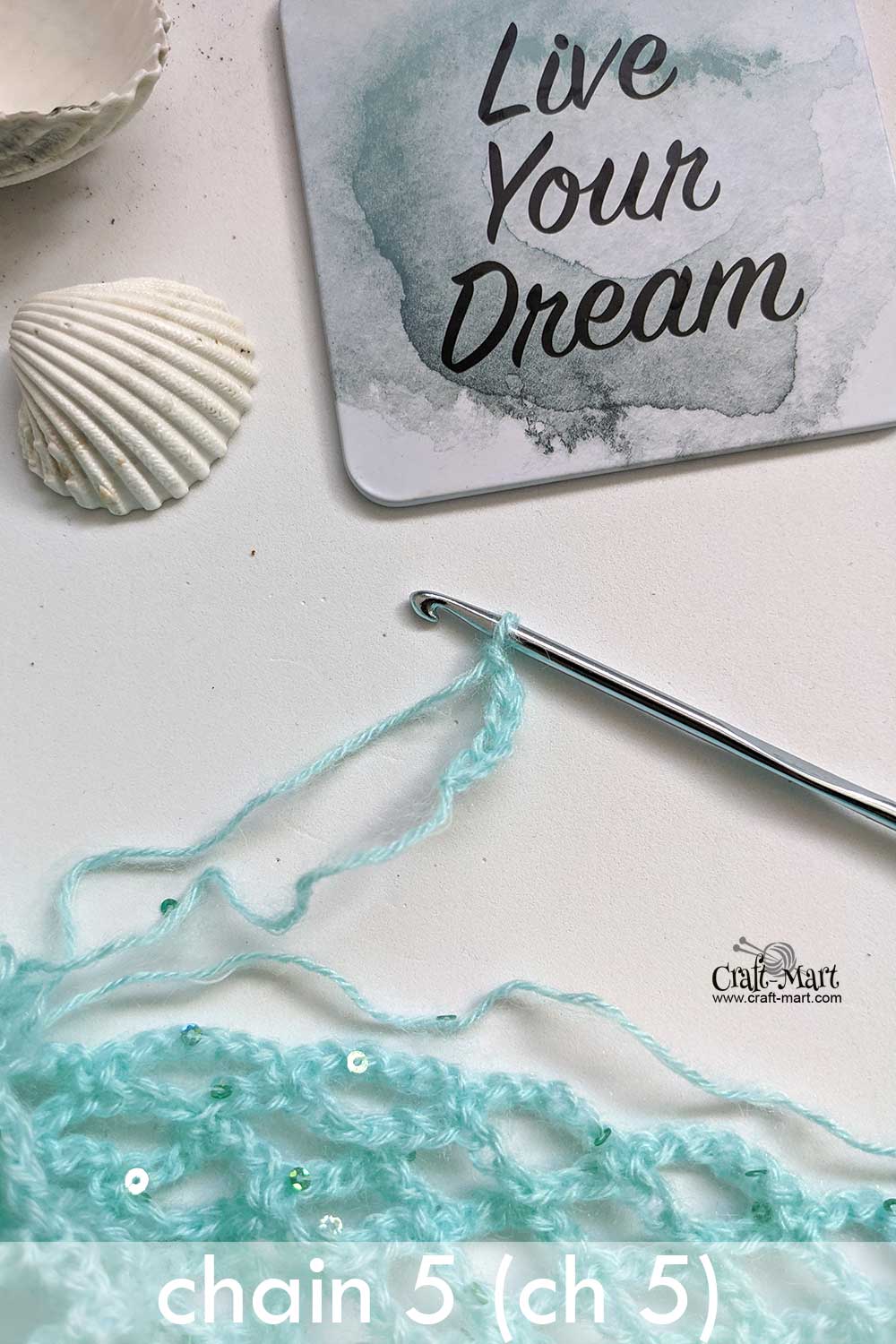 Row 1
Now all the fun begins! First of all, we'll create the bottom corner triangle. Treble crochet (tr) into the 5th chain from the hook (the last one). Then chain 5 (ch 5). And lastly, do 2 treble crochet stitches (2 tr) into the same chain.
This describes the first two steps of the crochet mesh tutorial below. You've just created the first foundation triangle with 2 tr stitches on both sides and ch 5 on the top.
Row 2
In row 2, we'll create two more triangles (refer to steps 3, 4, and 5 below for the visual step-by-step instructions).
Chain 4 (Ch 4), then tr into the first stitch. Ch 4 represents the 1st tr of the triangle, so at the beginning of each row, you'll always have 2 treble stitches (ch 4 and tr).
Next, Ch 5, then single crochet (sc) into 3rd ch of 5 ch below (the first triangle of row 2 is completed).
To continue, ch 5 again. Crochet 2 tr into the last stitch of the previous row (the second triangle of row 2 is completed).
Row 3 (and all the rows)
Row 3 and all the rows for this mesh pattern are done in a similar manner – you'll have 3 triangles after you complete row 3.
You'll have 4 triangles after you complete row 4.
As a result of making single crochet stitches in the middle of each chain 5, you'll see that 'diamond pattern' will start to appear.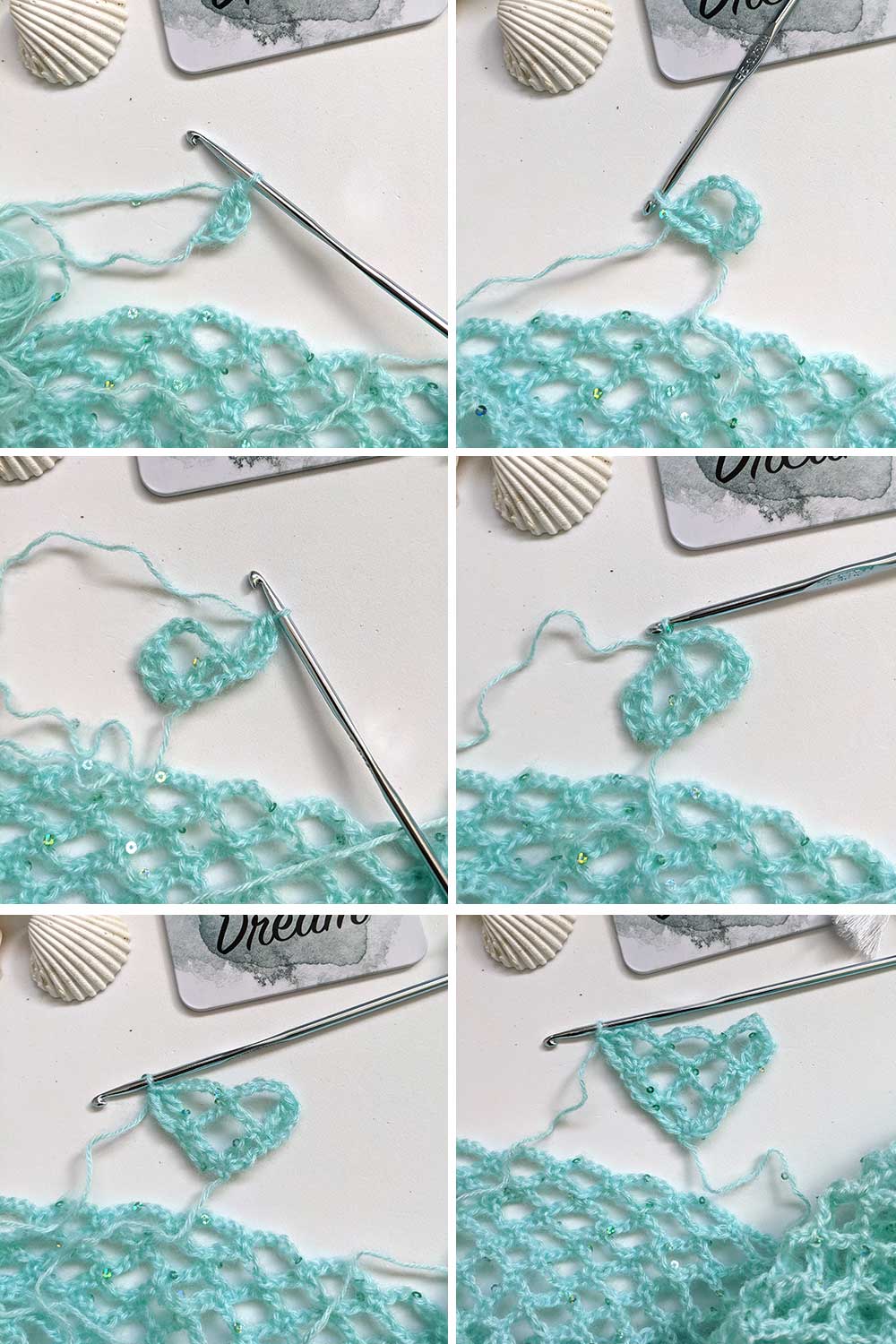 After row 3 you are 'home free', so to speak! As a matter of fact, from now on you will be mostly doing ch 5 and sc into the 3rd ch below to create this wonderful breezy mesh pattern.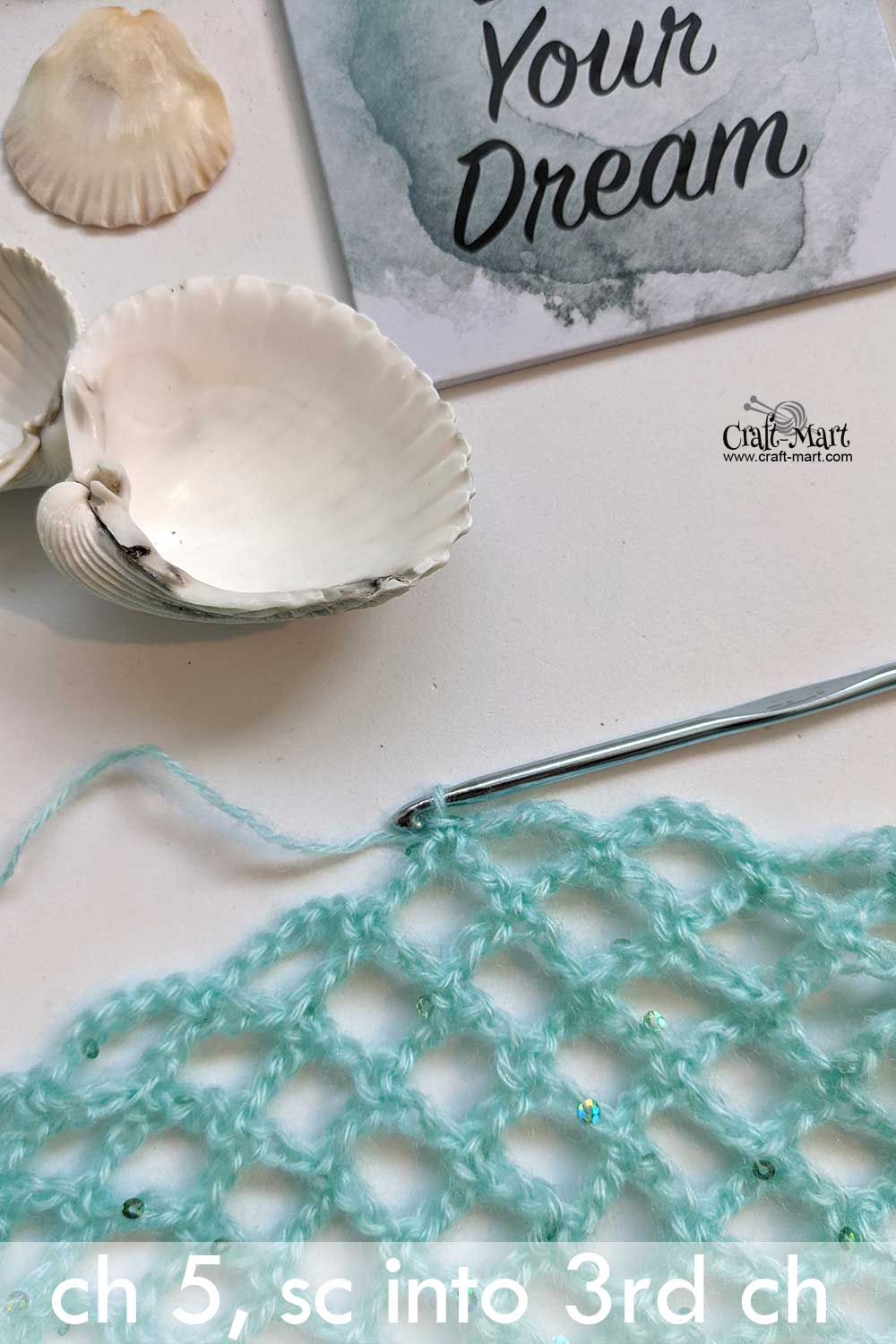 Just make sure that your chains are all the same and single crochet stitches are tight enough to form the diamond mesh pattern.
Some crochet mesh tutorials will use a single crochet stitch into chain space (ch-sp) – not the chain itself. I've noticed that this creates a messier fabric.
Consequently, you'll have much more uniform mesh if you anchor your single crochet directly into the 3rd chain (which is exactly in the middle of ch 5).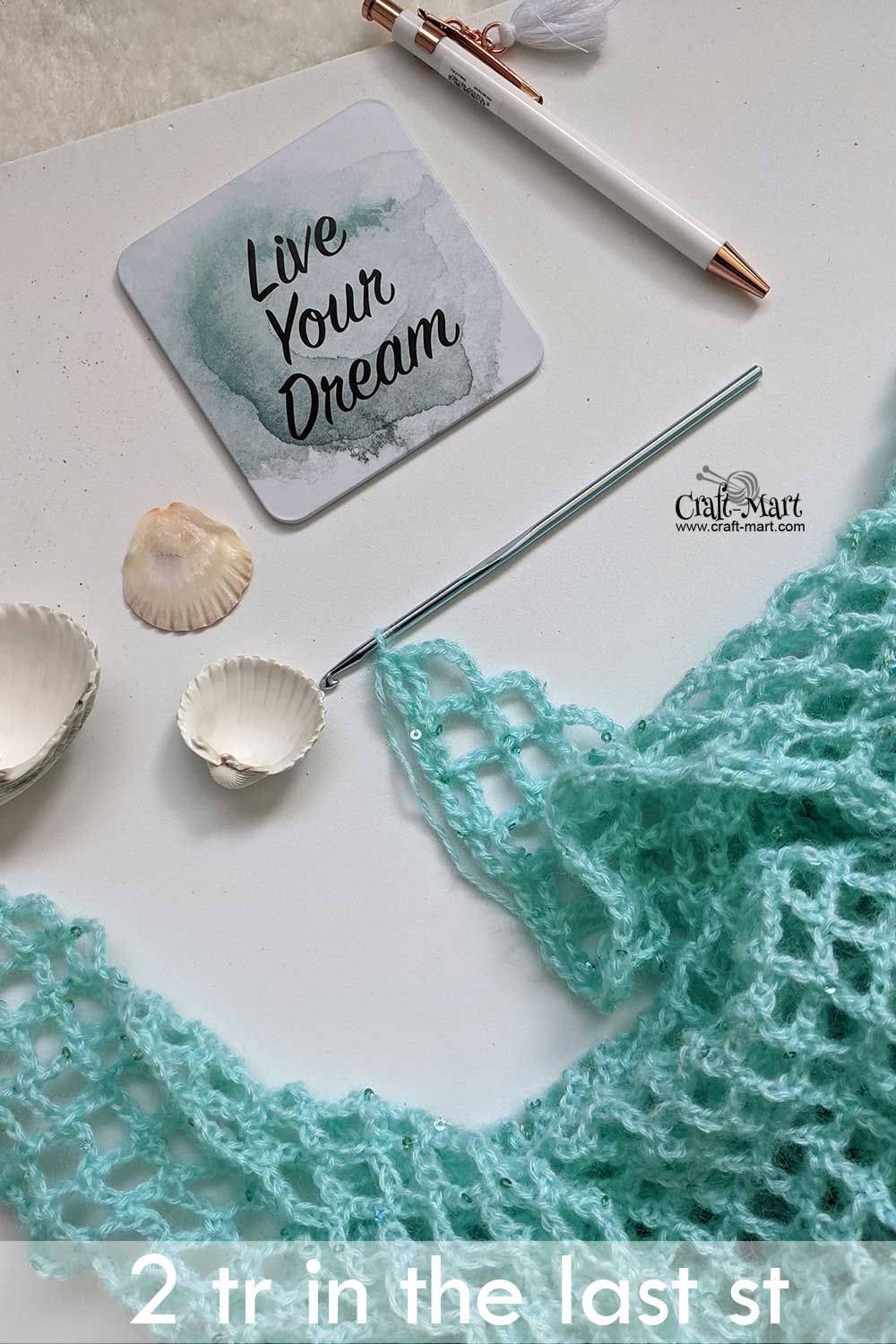 Identically, you'll always end each row with 2 tr st into the last stitch of the previous row. As troubleshooting advice, make sure your trebles are the same length and form a straight line for the whole wrap.
Furthermore, I love the little sequins that add sparkle to this yarn! It makes your summer shawl so romantic – perfect for a night out or a walk on the beach at sunset.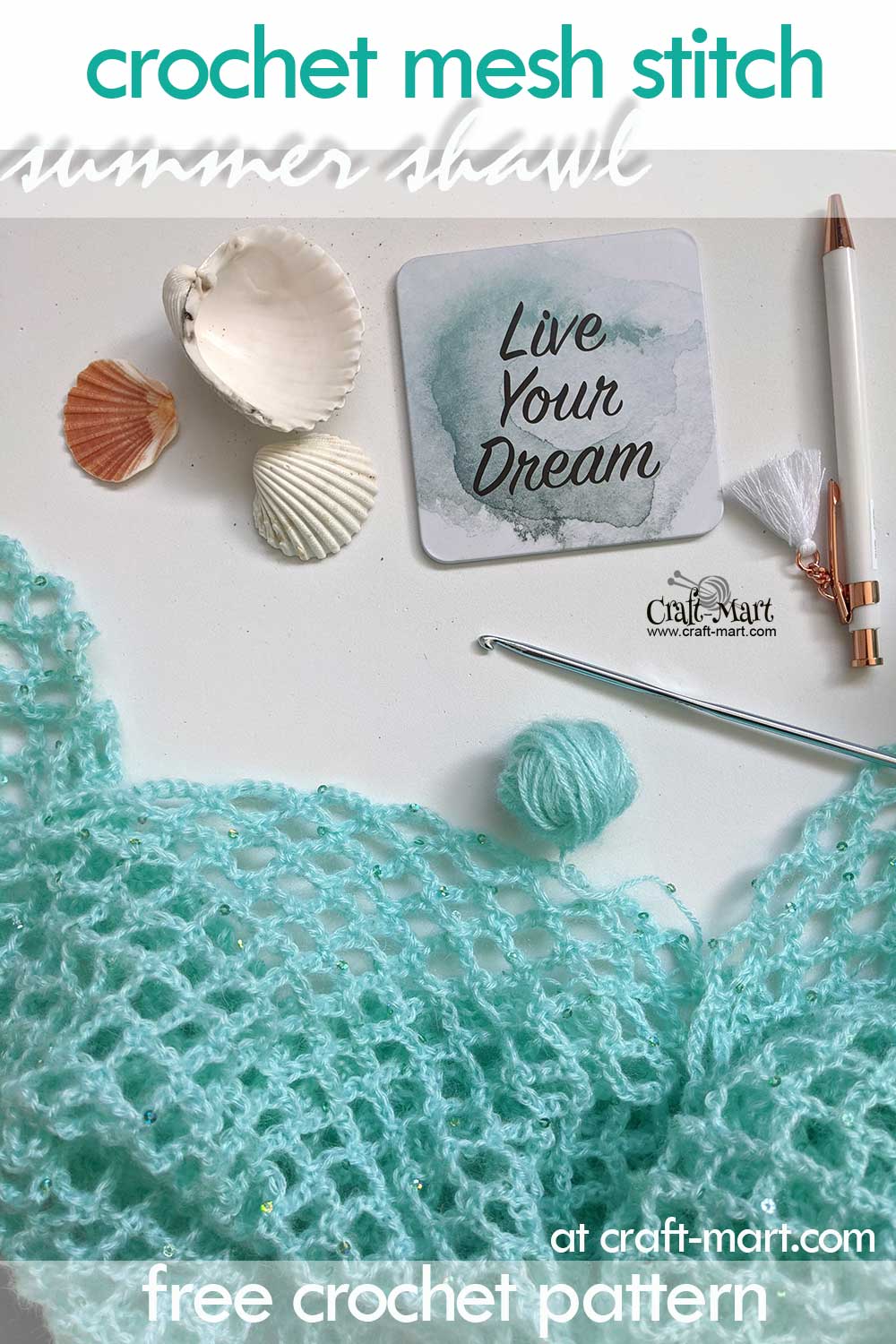 As an illustration, this little ball of yarn is how much leftover yarn I had when the shawl was completed. You can skip the last row and create three simple tassels as the finishing touches for your project.
Enjoy this FREE PATTERN and post your projects on Pinterest to show how they turned out.
We love seeing your creations!