Are you looking for easy crochet projects for spring and summer? While you may think that crochet and knitting crafts are less popular in these warmer seasons, think again.
Spring and summer months are the best time for crochet and yarn arts enthusiasts:
all yarn is on sale so all your summer crochet projects are budget-friendly;
there are plenty of great finds in the clearance and sale isles;
you can crochet a beach cover-up – one of many perfect summer crochet items;
work on your crochet project during a long flight or a car ride as it saves you from boredom;
life slows down after Christmas and Easter making it a great time to work on spring and summer crochet patterns and hand-made gifts for next season;
there are lots of baby showers in spring and summer and hand-made crochet baby blankets make a great gift!
Are you looking for a quick hand-made present idea for someone in your life? Use one of many free crochet patterns for spring featured here for your next crochet project.
We have curated a great round-up of the best easy crochet projects for spring and summer, including breezy tops for the beach, cozy shawls for starry nights, and clever picnic blankets for your next family outing.
And the best thing?
All these spring and summer crochet patterns are free so get ready to spread your creative wings!
Easy Crochet Infinity Scarf
If you are looking for a fast crochet scarf, this infinity scarf crochet pattern is for you! Most importantly, you'll learn how to make a warm scarf which is a basic life skill.
How do you crochet an infinity scarf for beginners? After picking your yarn, crochet hook, and free pattern, practice the stitch for the scarf to see if you like the results.
Infinity scarf is a quick one-skein project, so after all the prep work you can crochet it in 1-2 evenings.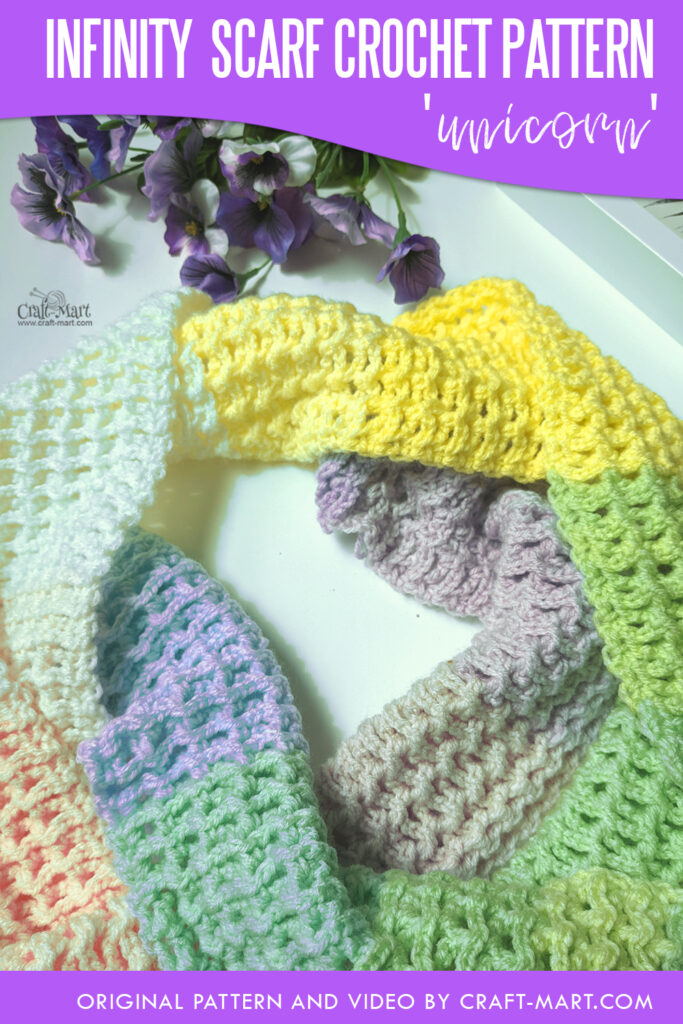 Source: Infinity Scarf Crochet Pattern: Spring Unicorn by craft-mart
Crochet this mesh stitch summer wrap to enjoy a perfect day at the beach. Inspired by the fisherman's net, this beginner crochet project is a breeze!
Diamond mesh stitch is very easy and requires knowledge of basic crochet stitches. It creates light and airy fabric that is perfect for light summer accessories.
Enjoy this free wrap crochet pattern and crochet your creation using any lace yarn. To add some sparkle to this wrap, I've used: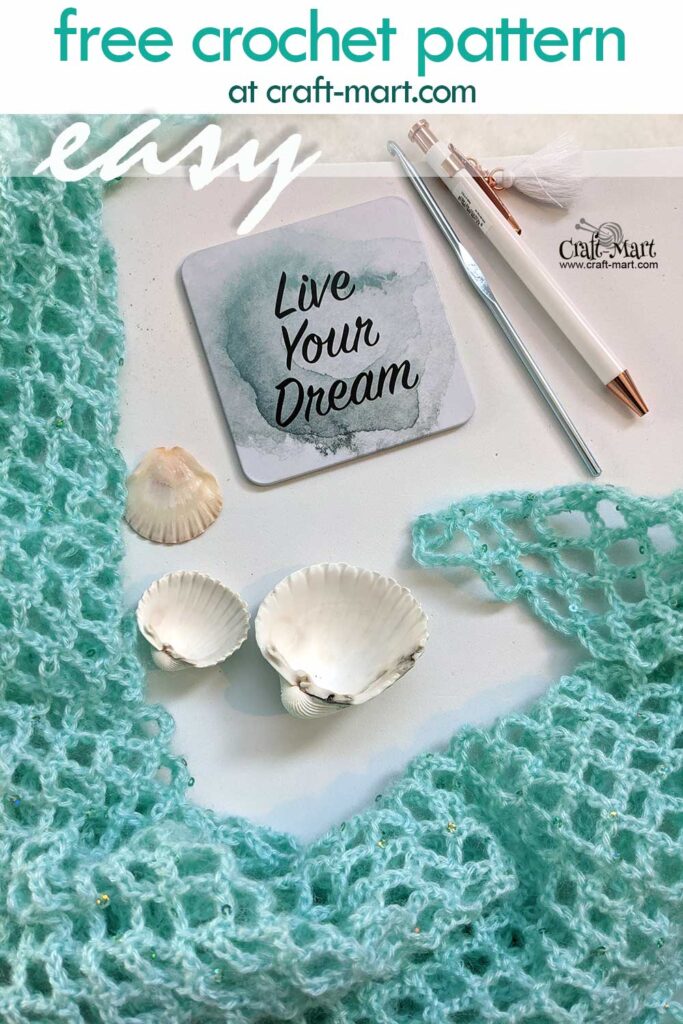 Source: Crochet Mesh Stitch Summer Wrap by craft-mart
Summer Crochet Idea: Picnic Blanket
How clever is this idea! This handy and beautiful crochet blanket by Mamainastitch doubles as a 'carry everything' bag.
With a step-by-step tutorial and free crochet pattern, it is so easy to crochet. Make it now and enjoy it all summer – you can take it to the beach, an afternoon picnic, or an outdoor concert.
The pattern requires 2 balls of Mandala yarn and is so easy to crochet in the round with mostly double-crochet stitches. You can download a free pattern and order a kit from the LionBrand website.
I especially like that you'll leave all the sand at the beach, as it has holes on the bottom. All moms will appreciate this simple touch for easy cleanup!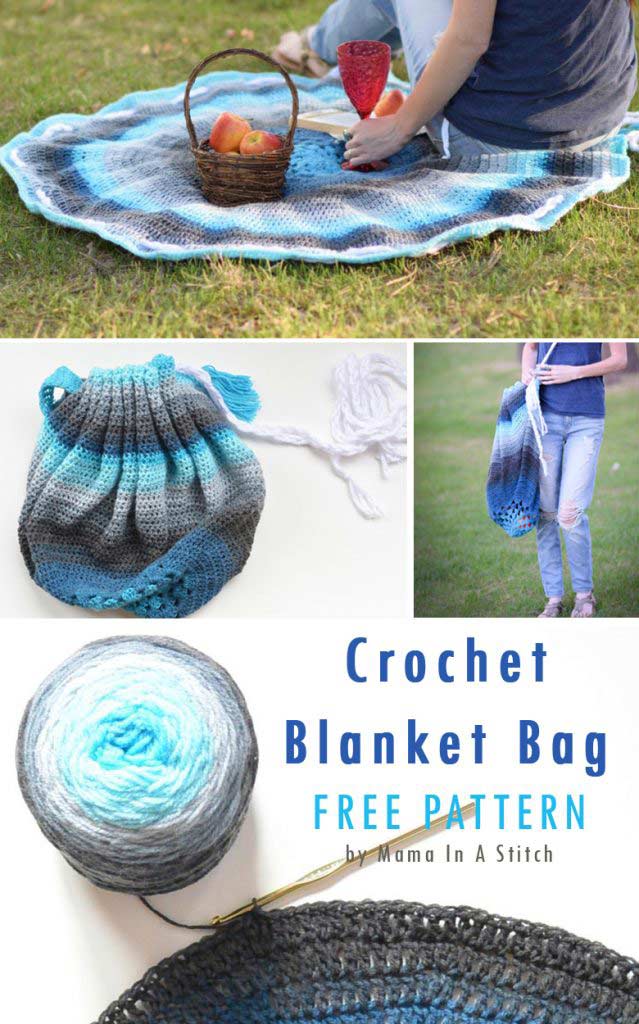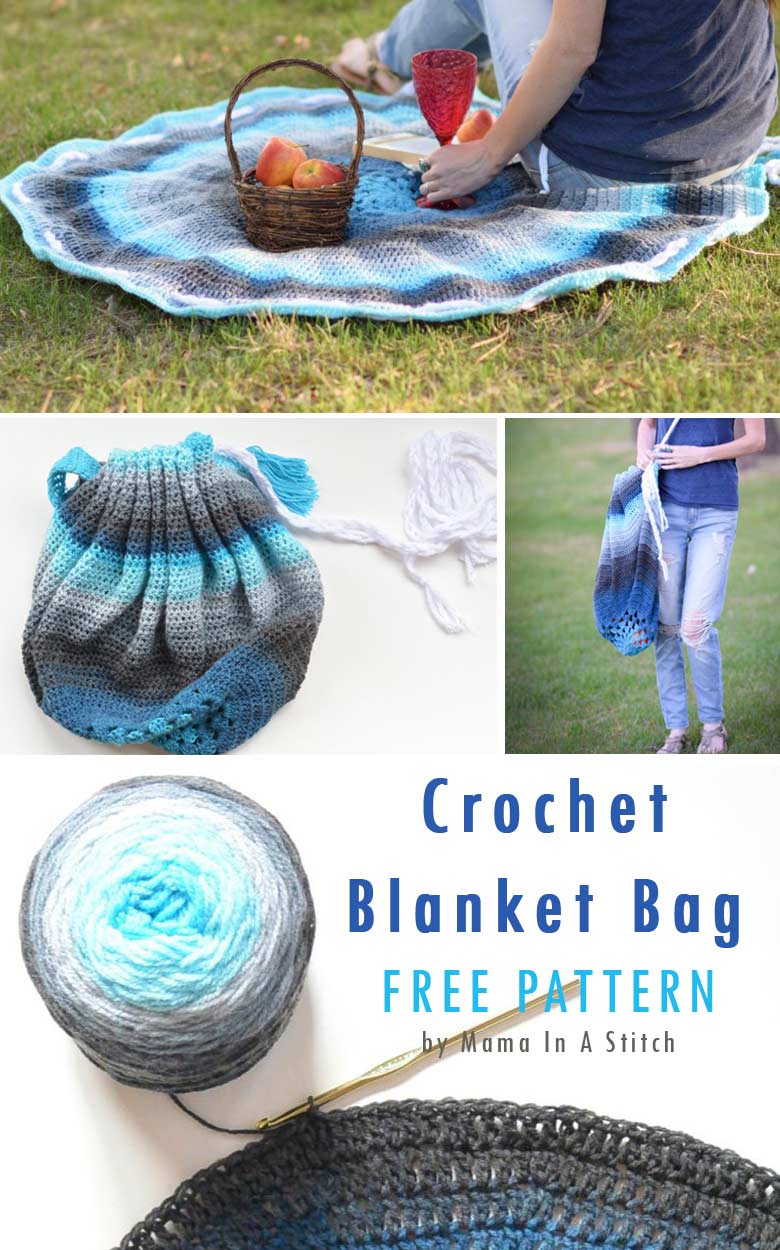 Easy cotton crochet shrug may not be on your list if you are a beginner looking for spring crochet ideas. Most importantly, it is one of the easiest spring crochet projects.
In fact, you'll be using just basic crochet stitches: chain, single crochet, and double crochet. Furthermore, cotton yarn is my favorite to work with. To summarize, it is versatile, durable, and soft.
You'd love working with cotton as it comes in so many lovely summer colors! Crocheted in white, this easy cardigan will complement any summer dress.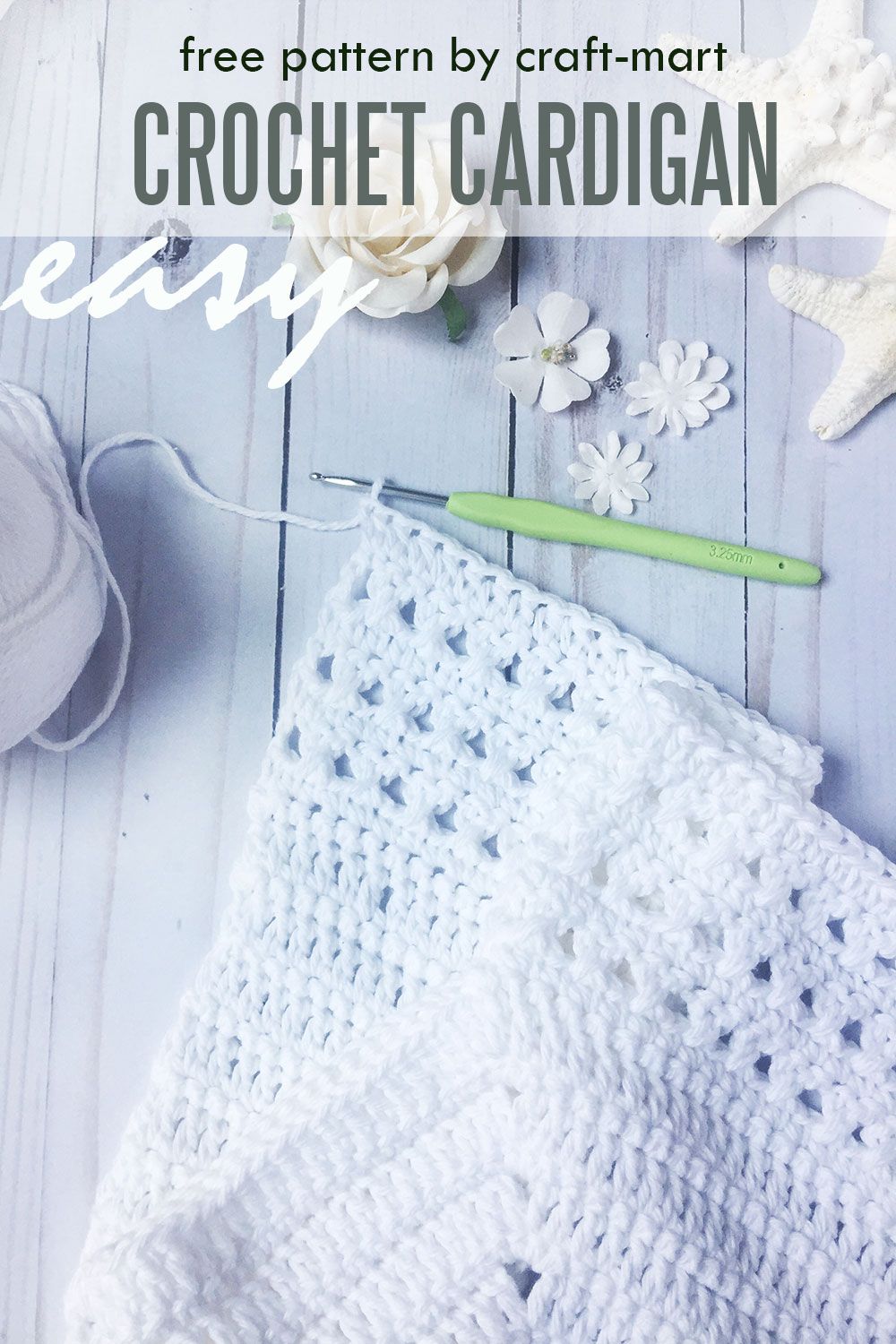 Free Crochet Scarf Pattern Using Mandala Yarn
This next crochet project by LittleMonkeys is an easy-breezy cowl also created with Mandala yarn. Most importantly, this versatile yarn is available in many colors designed to brighten up your wardrobe.
A lovely modern cowl with an ombre effect was crocheted using bean stitch and 1 full cake of Lion Brand Mandala (shown in 'Genie') and is easy to create following a free pattern. Lovely colors for cool spring days or chilly northern summer nights!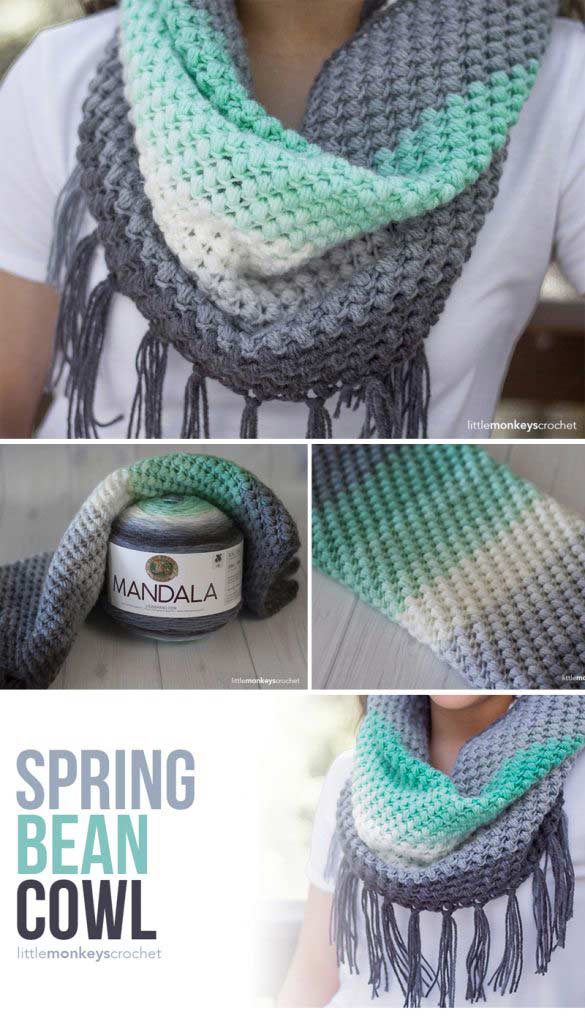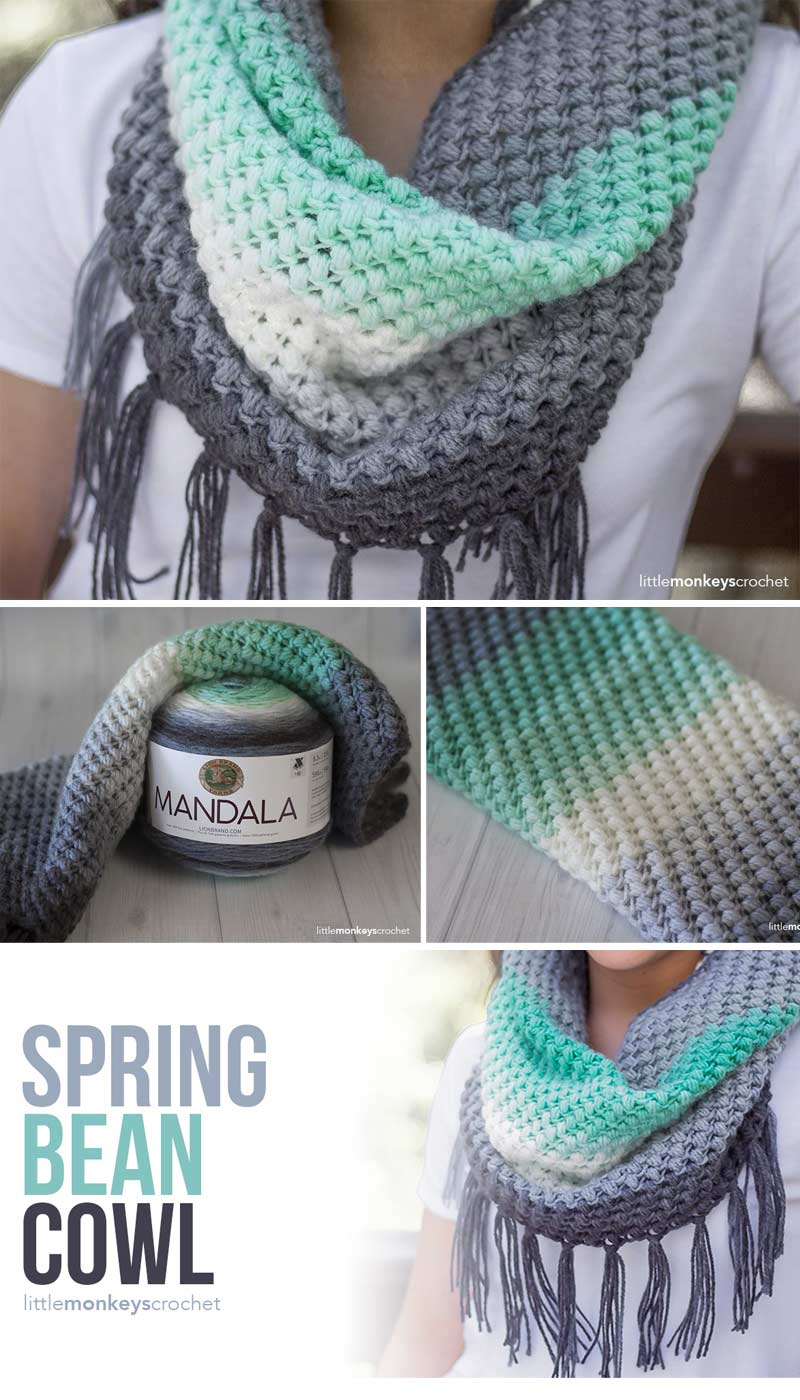 Source: littlemonkeyscrochet.com
Point often overlooked, one of the easiest beginners' crochet projects is a triangle scarf. Consequently, if you plan to learn the basics of crochet, try this free crochet pattern. You'll love the colors of True Blue Red Heart Ombre Yarn!
First of all, the navy color and different shades of blue are so perfect for summer. Second, color moves from dark to light and back to dark again giving your scarf dimension without the need to change skeins.
Another key point is that we have a video tutorial for this stitch. With this in mind, you can master it in no time!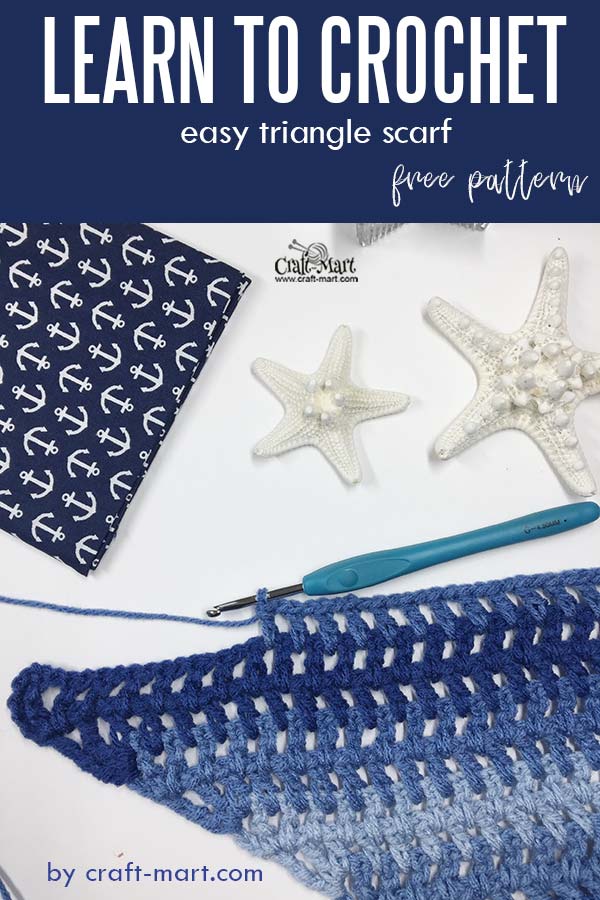 "Dawn To Dusk" One Skein Crochet Scarf Pattern
To continue our love affair with Lion Brand Mandala yarn, we present another wonderful FREE PATTERN of 'Dawn To Dusk' Scarf designed by talented Jess of Make & Do Crew.
To emphasize, what do we love about this pattern? It uses one skein and can be made in any (or every) gorgeous shade of Mandala yarn.
Don't forget to check the order of the colors in your Mandala skein to decide if you want to pull your yarn from the center of the cake or the outside.
Looking for a perfect gift for a friend's birthday? It is such a quick and easy crochet project to make on a budget for only $5-$8 following simple instructions, a clear diagram, and a great video tutorial. Enjoy!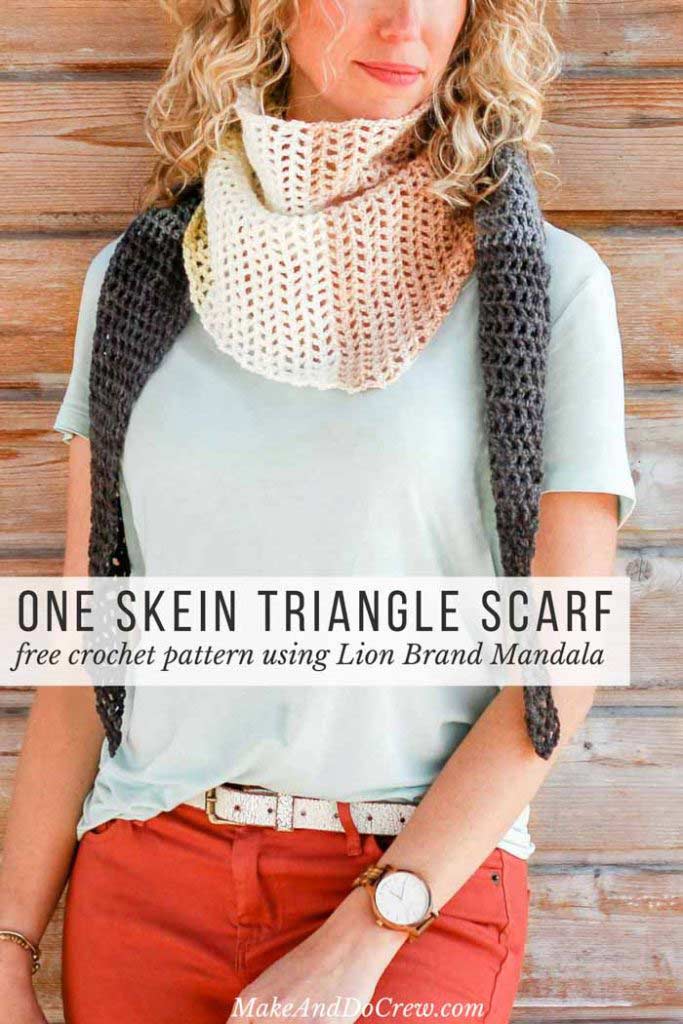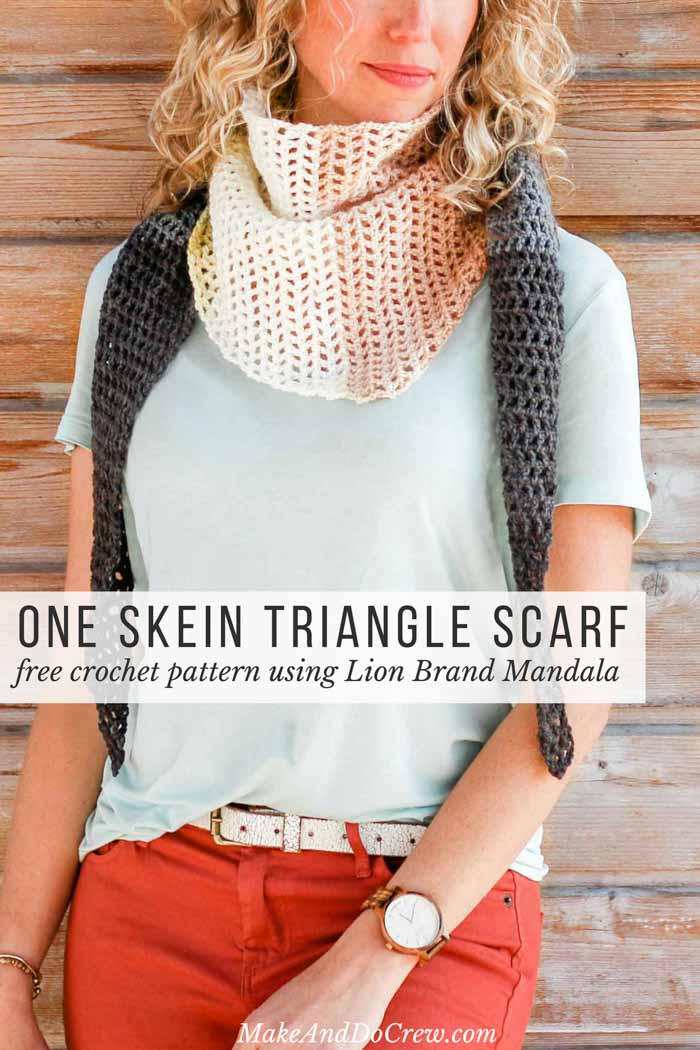 Easy Crochet Spring Pattern: Isle Wave Wrap
The Isle Wave crochet wrap designed by Krista of RescuedPawDesigns is perfect to cozy up in and stay warm on a cool spring morning! Measuring 14″ wide and 76″ long as a finished project, it is almost big enough to be considered a crochet blanket wrap pattern or a lap blanket.
With a simple half double crochet stitch repeat, this intermediate-level easy spring crochet project is a breeze. Lion Brand put it into a helpful kit with all 4 skeins of Vanna's Choice yarn that you'll use to crochet this wrap and a free written pattern download.
Video tutorial on the designer's website makes it even easier to grasp for all visual learners.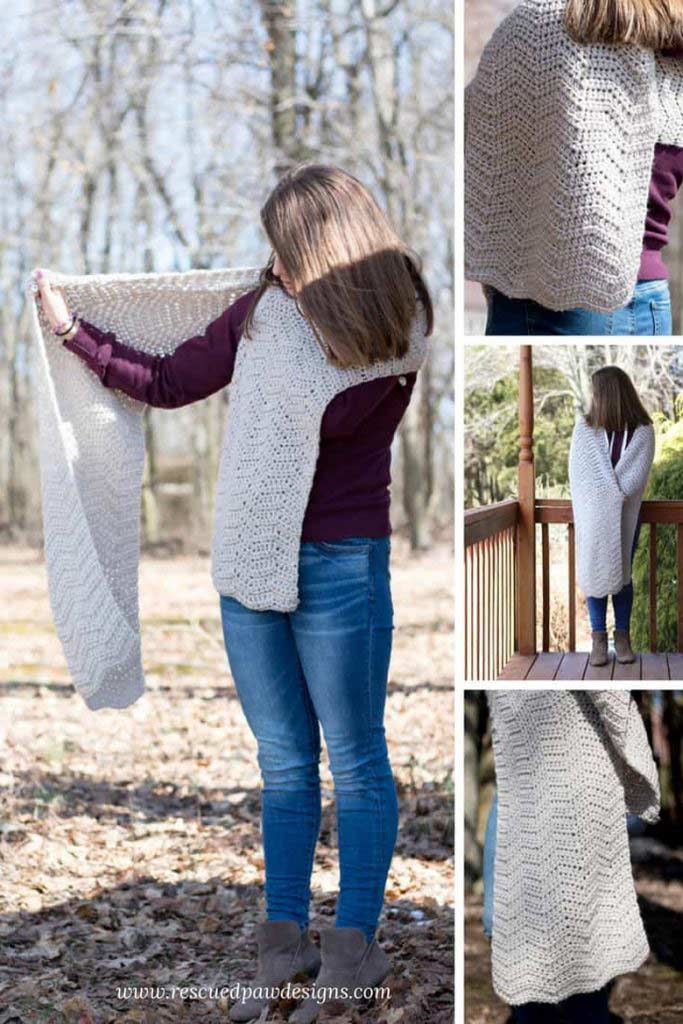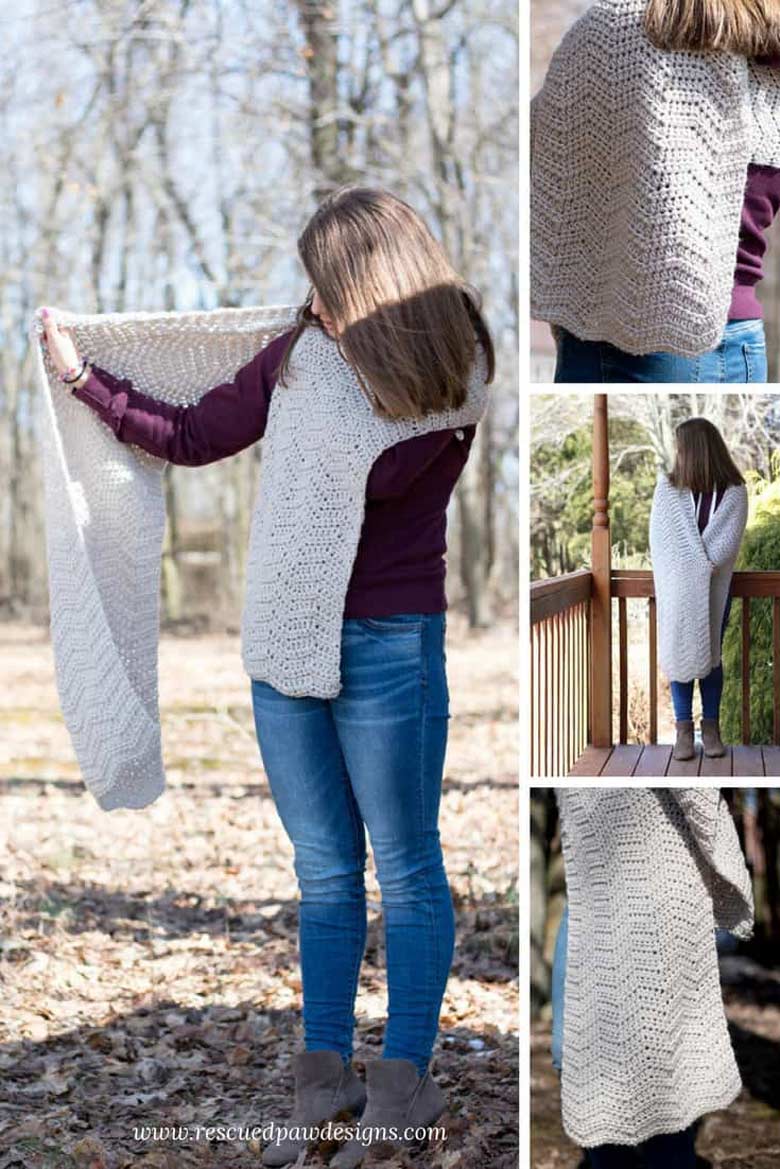 Crochet Cherry Blossom Poncho in Cotton Bamboo Yarn
This is one of the free crochet spring patterns that looks sophisticated but is so easy to create using single crochet & double crochet stitches. Accordingly, it is a perfect topper or layering piece for a spring or summer outfit – lightweight to keep your skin breathing when the sun is out, yet warm enough for a romantic stroll on the beach.
Lion Brand kit has all the yarn you'd need (4-6 skeins, depending on the size, of Cotton Bamboo Yarn in Cherry Blossom) and it is a bargain with a free pattern download.
At the same time, Ashleigh, a great designer behind Sewrella.com, has a FREE PATTERN of this Ava Fringed Poncho on her blog, step-by-step instructions, and a very helpful video tutorial so you can finish this easy crochet project with confidence.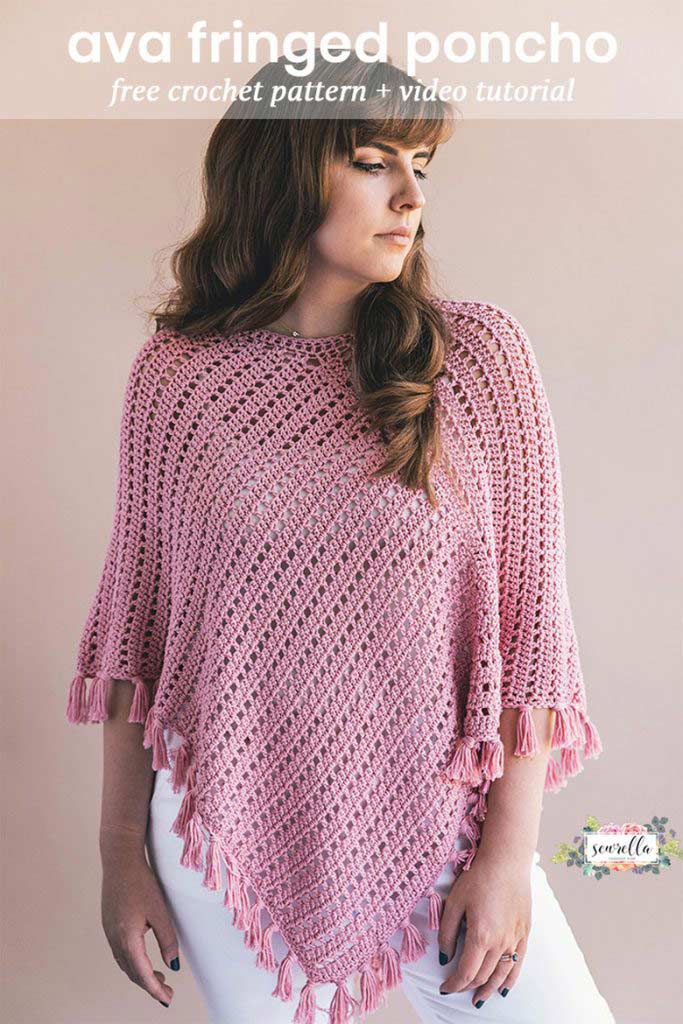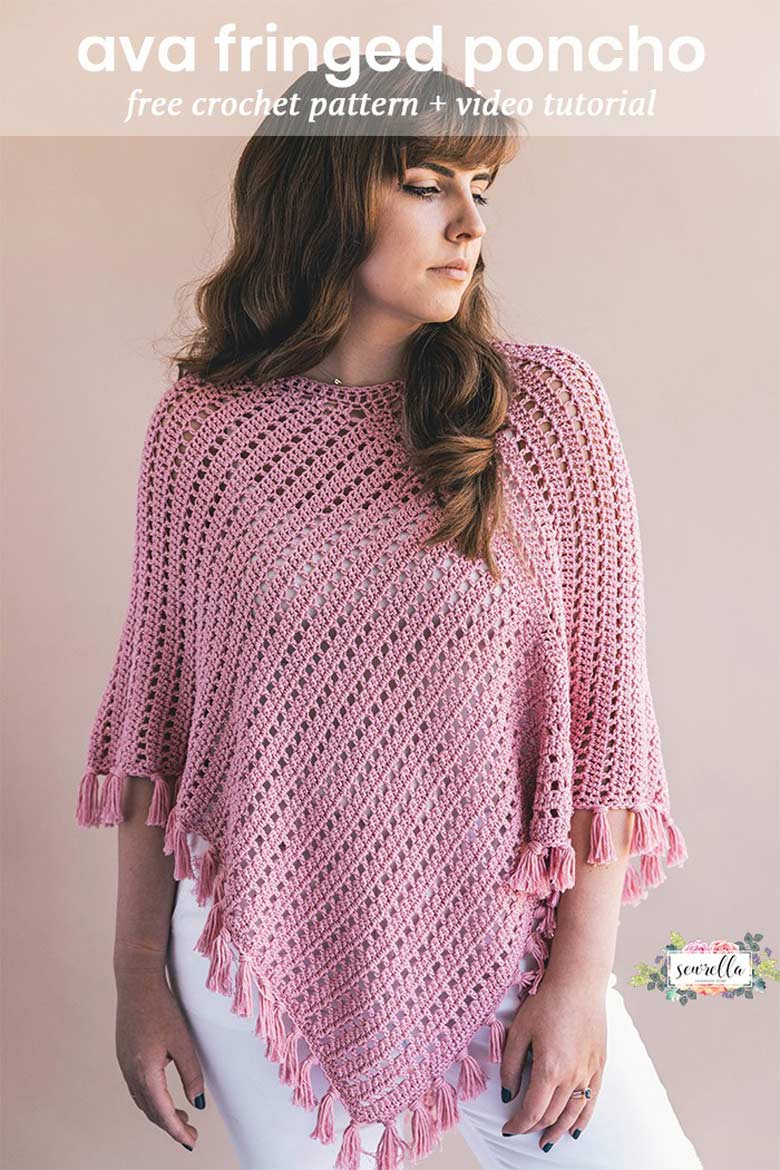 A Touch of Alpaca Pink Cowl
Rejoice if you are a beginner just learning to crochet and looking for crochet patterns for spring! This beautiful pink cowl is eye candy and a bargain to crochet using only 2 balls of Touch of Alpaca yarn in Blush.
Check out this Crochet Kit – Saugerties Cowl that has everything you need, including a FREE PDF CROCHET PATTERN. Using crochet hook size H-8 (5 mm) and 2 skeins of the softest yarn you can create this masterpiece with just chain and double crochet stitches combined in a cluster.
To summarize, it is definitely worth a try among all other crochet spring patterns.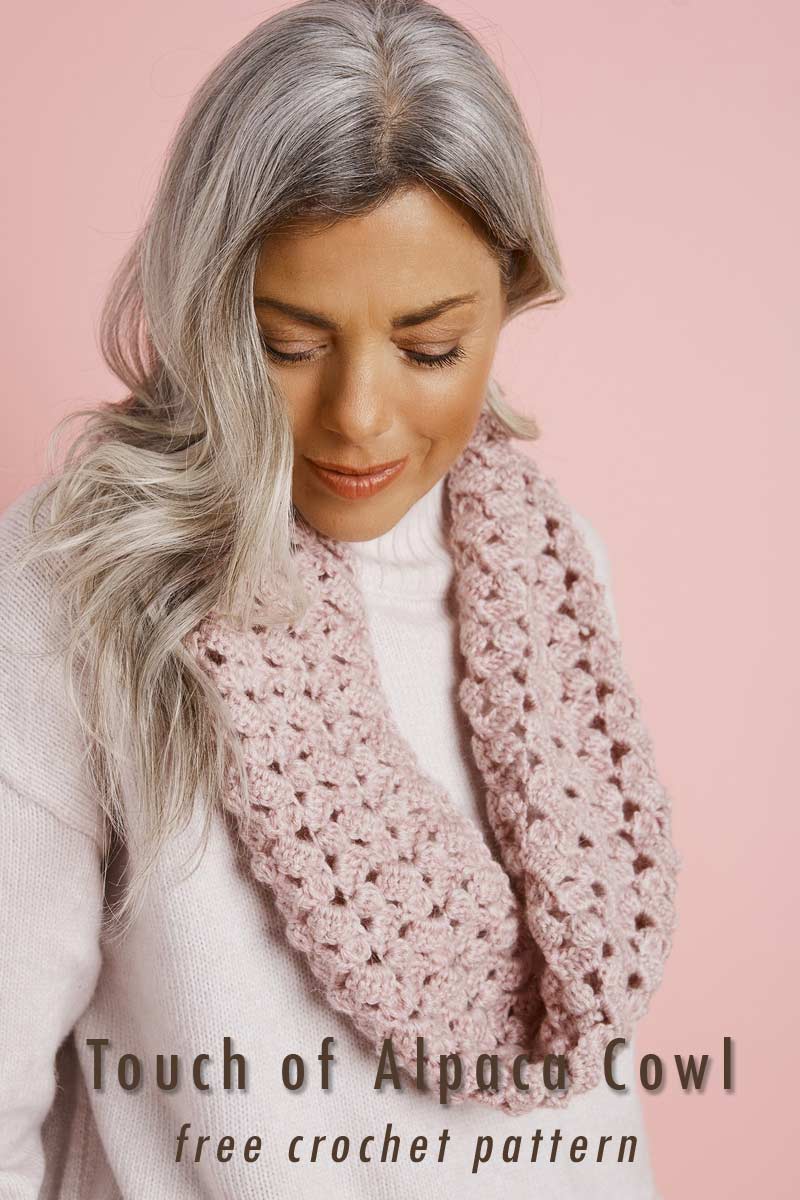 Beach Cover-Up Tunic
With skill level easy+ (free crochet pattern for beginners), this colorful beach cover-up can become your next fun and easy crochet project. What makes this breezy crochet wearable look so fresh? White, navy blue, and green colors are so perfect for summer!
This cold-shoulder, openwork crochet cover-up is a must-have piece for your next beach outing, lazy summer days by the pool, or next vacation. The Lion Brand crochet kit includes a FREE PATTERN download and 6 balls of 24/7 Cotton® Yarn.
It is a breeze to crochet using U.S. size F-5 (U.K. Size 9) 3.75 mm hook and a free written pattern. Enjoy your perfect cotton crochet creation!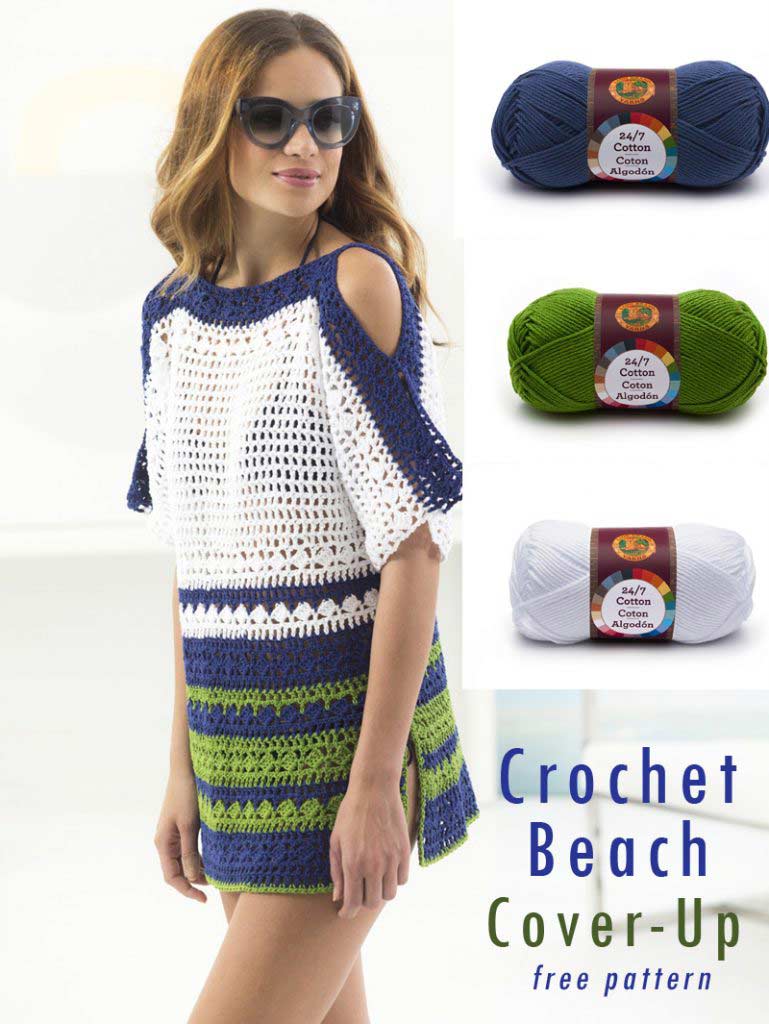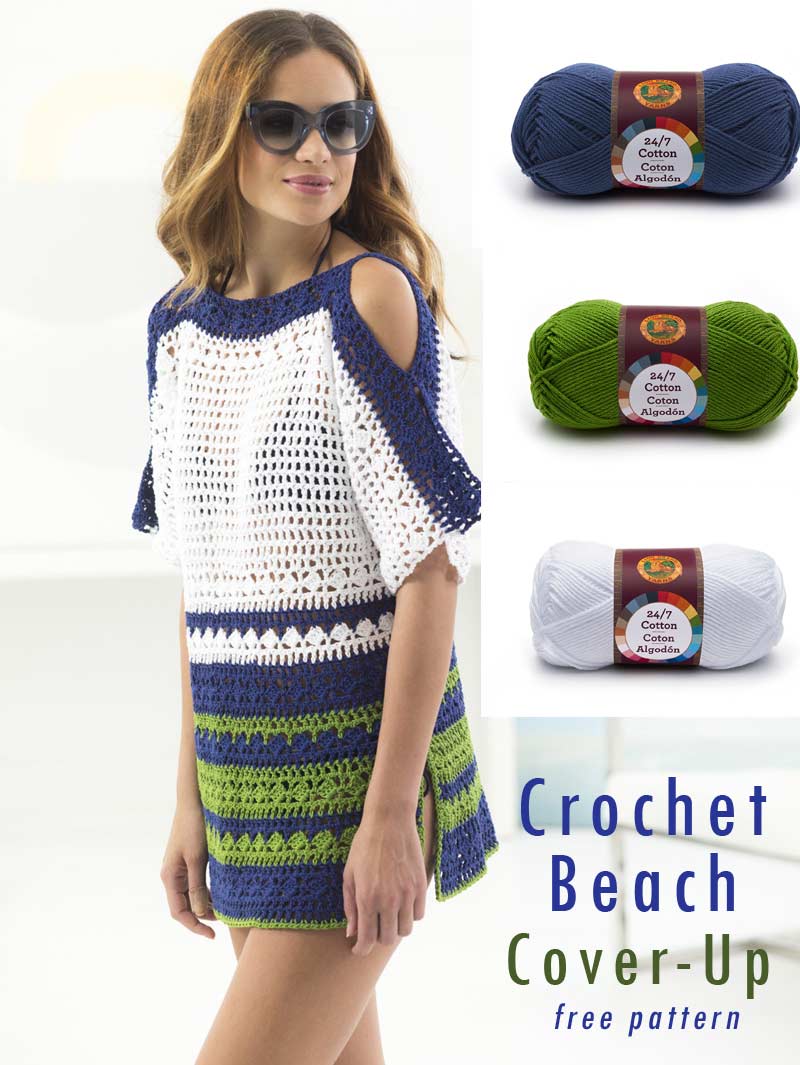 Source: Beach Cover-Up (crochet)
If you are looking for a one-skein spring crochet project, we have an interesting pattern for you. While a lacy stitch may appear complicated at a first glance, in reality, it is not.
In essence, it is a quick FREE PATTERN with a pretty lacy stitch that is easy to learn. In this example, you'll use 1 skein of Lion Brand Mandala Sparkle Yarn in Draco.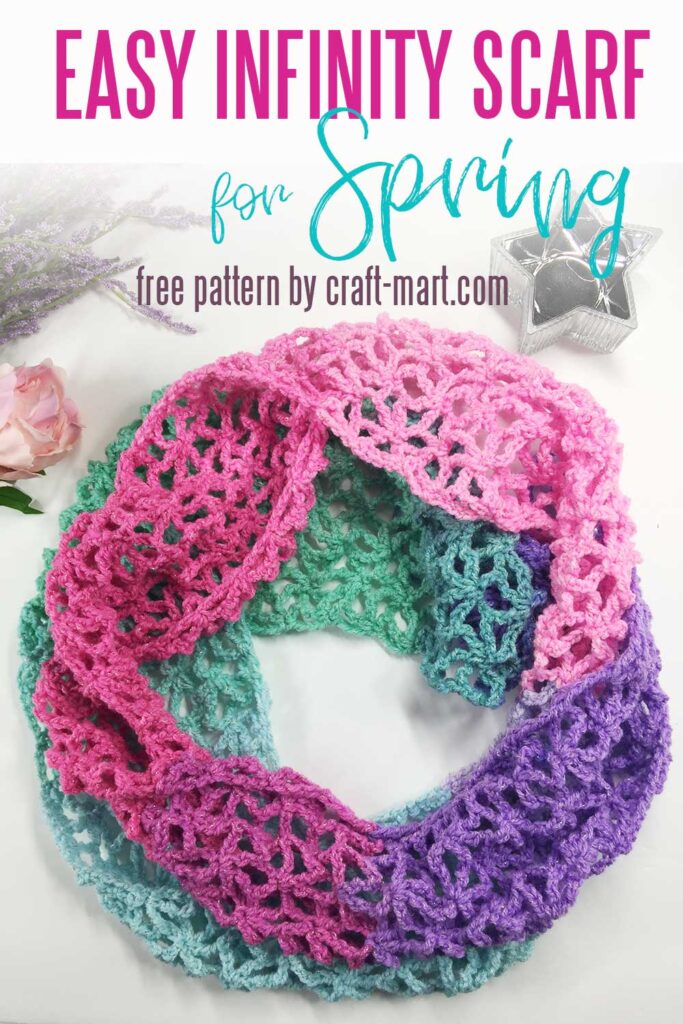 Light and Airy DIY Crochet Summer Poncho
This versatile crocheted poncho will be so fun to make and wear on your next summer vacation or getaway! What an easy way to update your summer wardrobe with this practical crochet project that looks so sophisticated yet is fun and quick to crochet.
Designed by talented Jessica behind the website MamaInAStitch, this Casablanca Summer Poncho is as delightful as it is easy to crochet (even for beginners) with a free pattern, detailed photos, and easy-to-follow instructions on how to assemble this wearable piece of DIY yarn art.
This easy crochet project requires a US Size L 8.0 mm crochet hook and 4 Skeins Lion Brand Heartland Yarn in Acadia color and is available as a kit from the Lion brand. Definitely worth trying!
So, grab a good cup of coffee, follow this easy crochet pattern, and create something for yourself! You deserve it!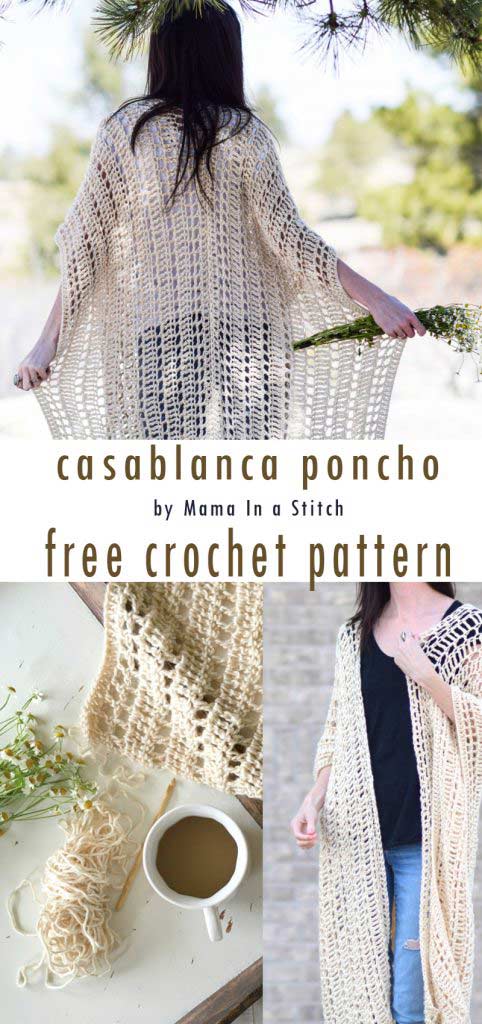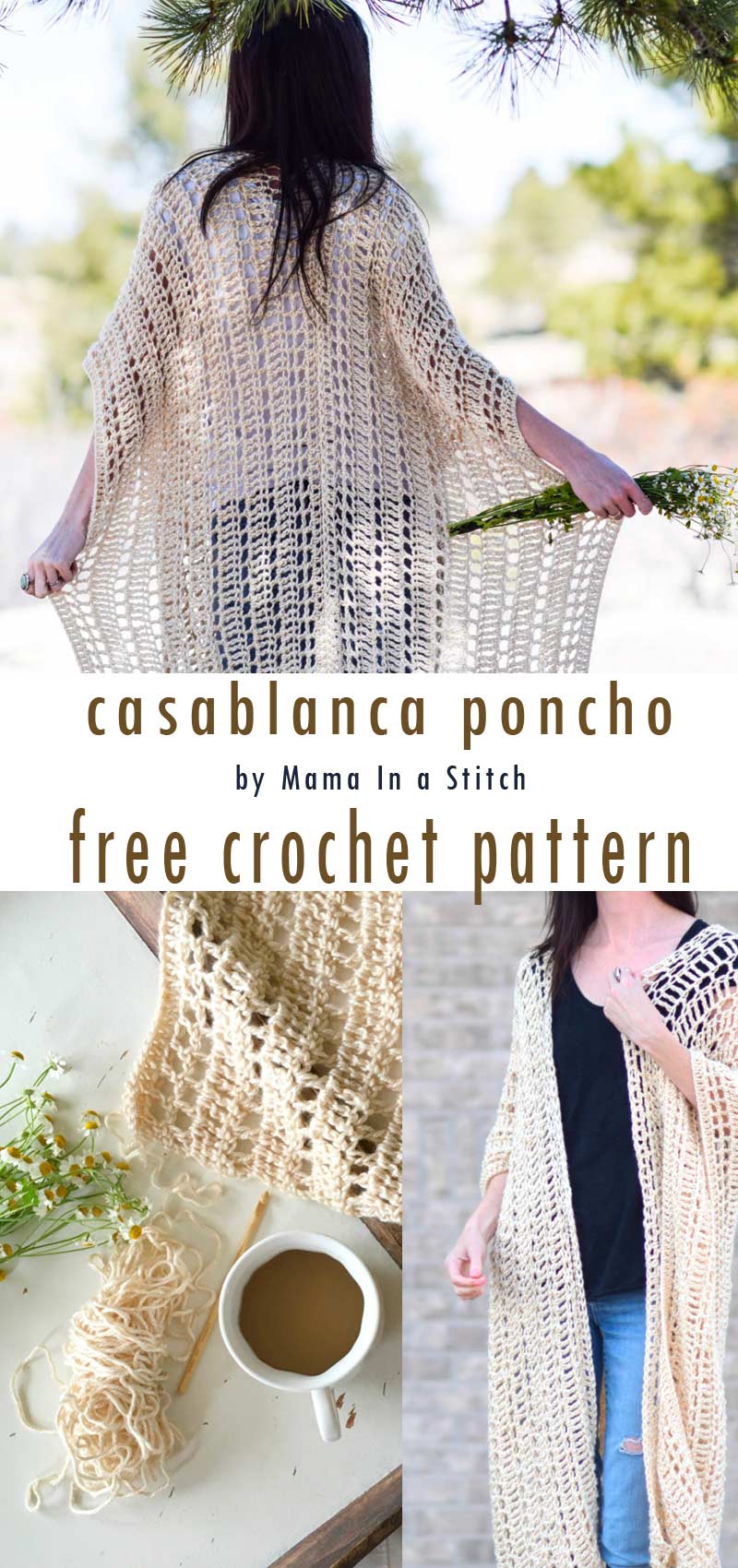 Source: Casablanca Crochet Poncho
Crochet Velvet Ribbed Cowl
Crochet this easy and elegant ribbed cowl using soft and luxurious velvet yarn in sophisticated "dusty pink" color! Though it may be hard to find an easy crochet project for a new line of velvet yarns, this easy-to-crochet cowl is a winner.
Most importantly, velvet yarn feels incredible when it is close to your skin – no scratchy feeling here. If you can do a crochet slip stitch and single crochet, you can complete this easy crochet project.
Created by AllAbout Ami, you can find FREE CROCHET PATTERN here and a helpful KIT – Velvet Ribbed Cowl (with 2 balls of Vel-Lux Yarn) created by Lion Brand among their popular crochet kits.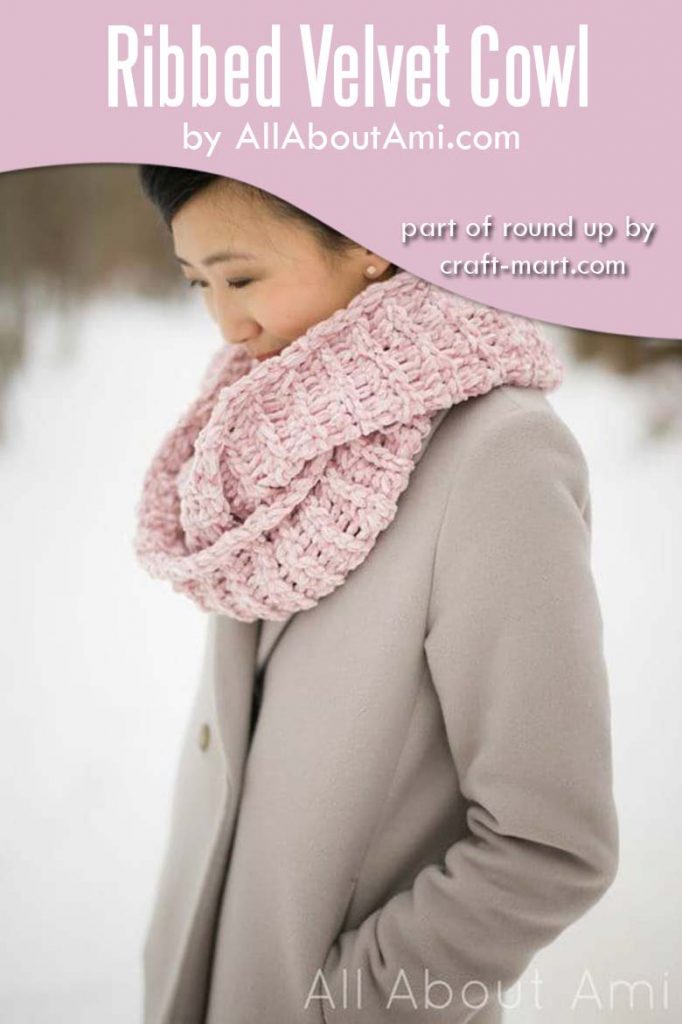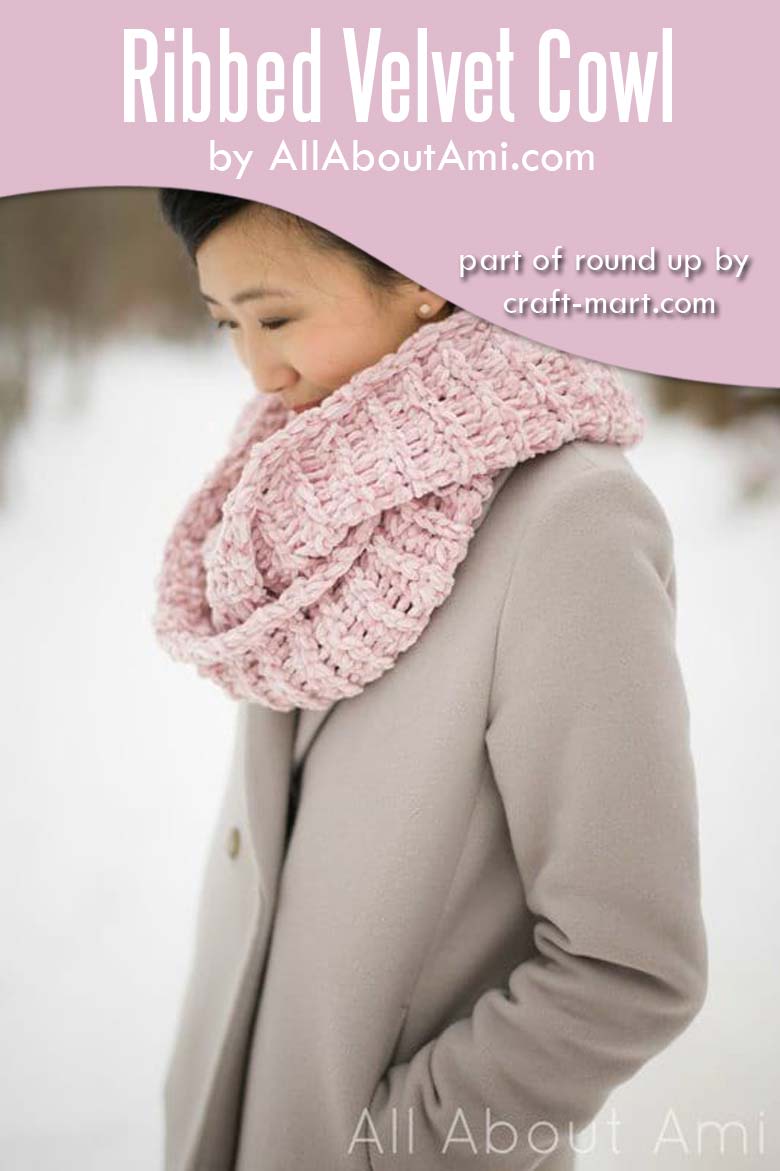 Source: Crochet Velvet Ribbed Cowl
It is a quick and easy project to crochet for those beautiful spring days to keep you warm and cozy. You can even wear it on the head on those early spring days to keep your ears warm!
Capri Summer Scarf by Craft-Mart.com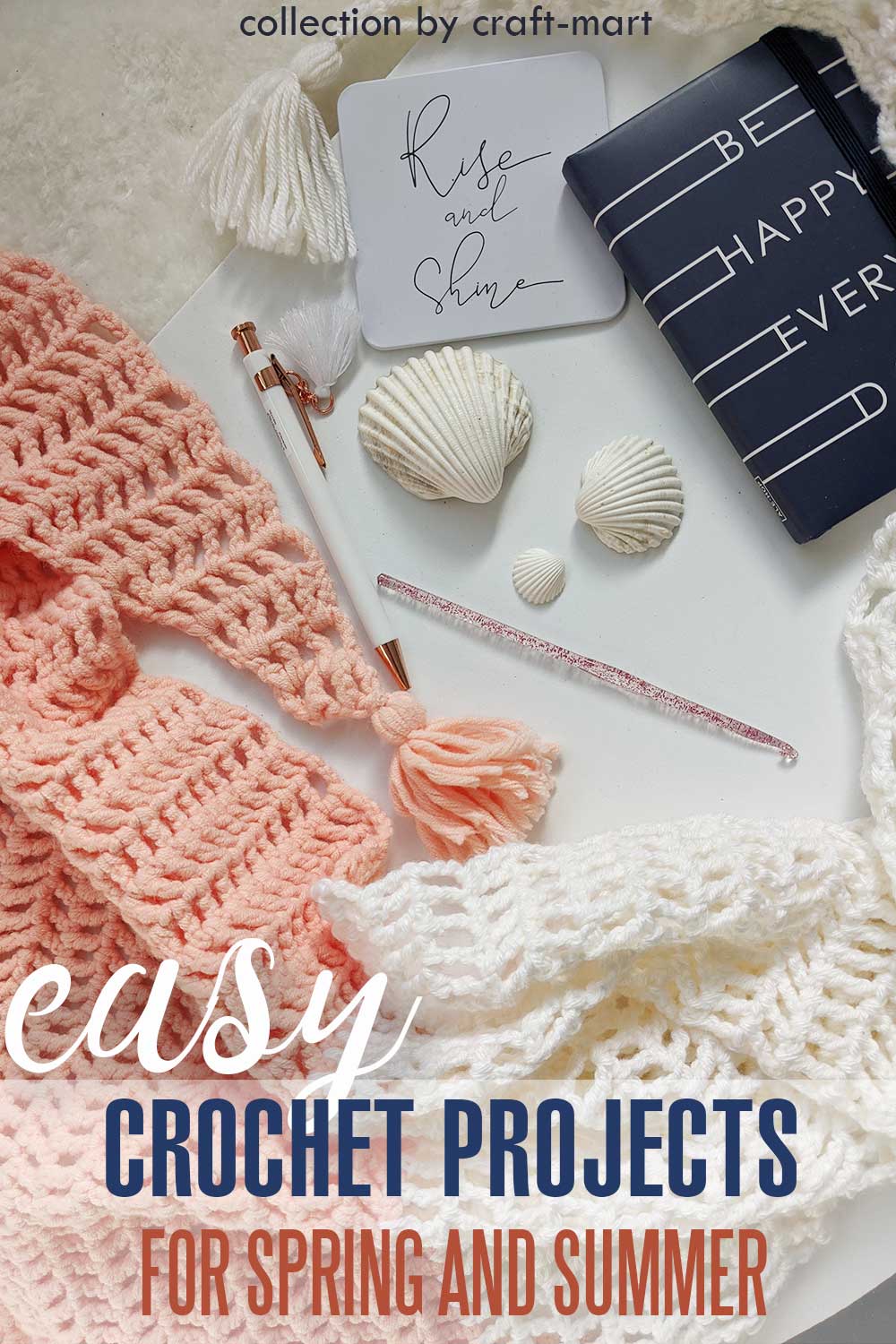 Are you looking for a free pattern for a quick and easy crochet triangle scarf? We have exactly that: a free pattern and an easy-to-follow step-by-step tutorial to help you finish your easy crochet project just in time for your next travel adventure.
Summer crochet style is fresh and breezy – the colors are so bright and warm – just an absolute delight and the cotton or light yarns are so soft! You can choose from a variety of yarns for your lightweight crochet scarf, including cotton.
It will make all your creations so breathable – perfect for extra protection from the sun or fresh sea breeze.
This Capri Summer Crochet Triangle Scarf is all that and more – you can practice and master treble crochet (in US terms) which creates a slightly taller stitch and makes this scarf wonderfully light.
Perfect and easy crochet project for your dream summer trip!
Tendril Crochet Shawl by AnnieDesignCrochet
This elegant asymmetrical shawl is a fun project for summer! In fact, the stitch is very easy yet it creates a sophisticated accessory you can use.
For my project, I used 2 skeins of Egyptian cotton (100 g each) and crocheted the shawl with 2 strands of yarn and a 1.25 mm crochet hook. It was enough for the shawl.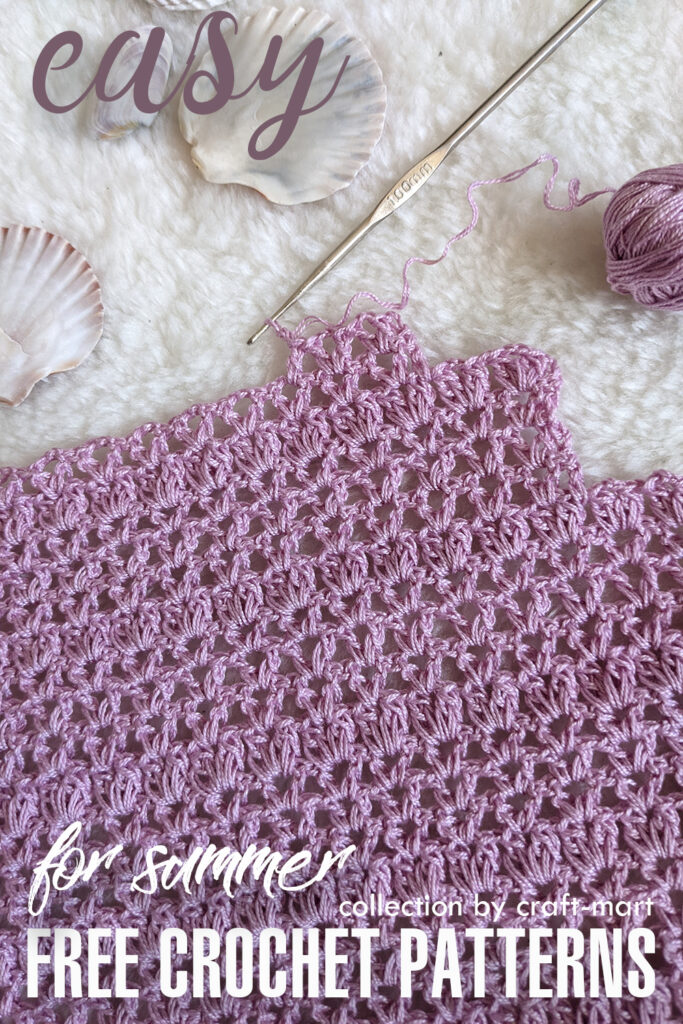 Here are some more crochet projects for you: