If you are looking for landscaping ideas for your front yard on a budget, we've collected an amazing array of clever yet simple solutions to make your home beautiful. As you know, curb appeal is important not only when you are planning to sell your house.
1. Modern front yard landscaping on a budget
When your house has a sizable front yard, it makes sense to use crushed rocks for a pathway and plant drought-tolerant perennials. This simple landscaping idea will assure that your landscaping will be low-maintenance.
Likewise, mid-size rocks look marvelous when placed among the meandering pathways, shady trees, and blooming nepeta, euphorbia, and lavender.
For example, perennials don't need to be replanted as they'll keep blooming year after year. Most importantly, you'll save money as you won't be throwing them away on planting annuals for your DIY landscaping.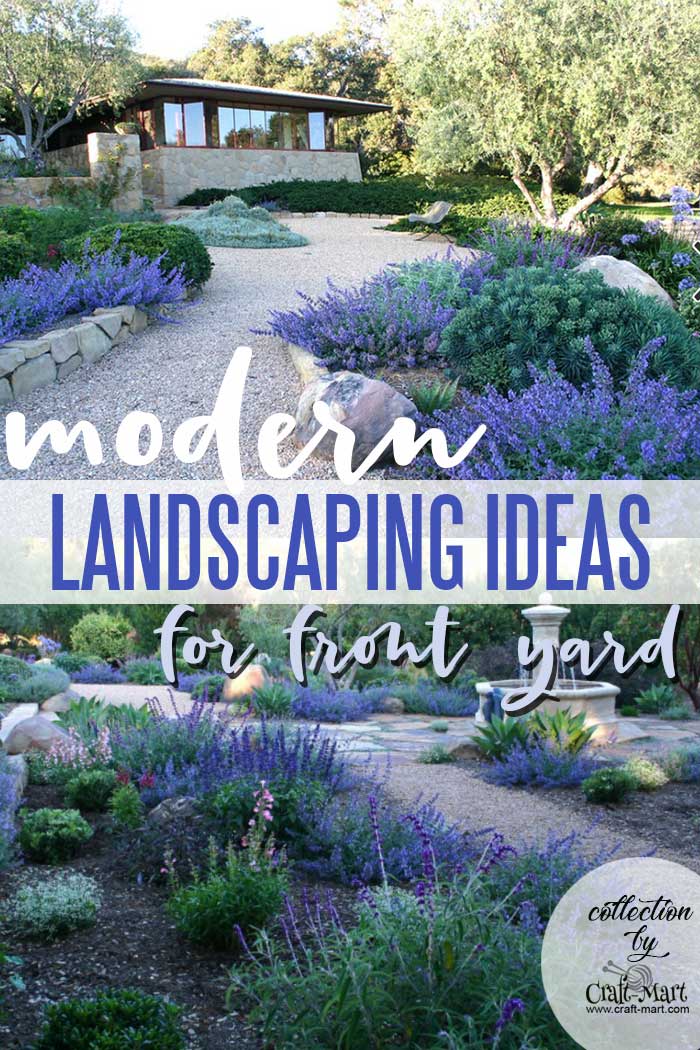 Source: Contemporary Landscape by Montecito Landscape
2. Contemporary drought-tolerant front yard
This large front yard is a marvelous example of the creative use of design elements while creating a drought-tolerant landscape in full sun. Obviously, you will not be moving the lawn here as the whole front yard is filled with rocks and gravel which is a big plus for some homeowners.
What is great about this full sun landscaping idea? It is absolutely perfect for areas where rainwater is a scarce commodity.
First of all, a large metal box filled with large drought-tolerant plants adds instant curb appeal while keeping it low maintenance. Second, a simple modern water fountain is always an eye-pleaser. Furthermore, it allows you to water your plants with ease while serving as a decorative item.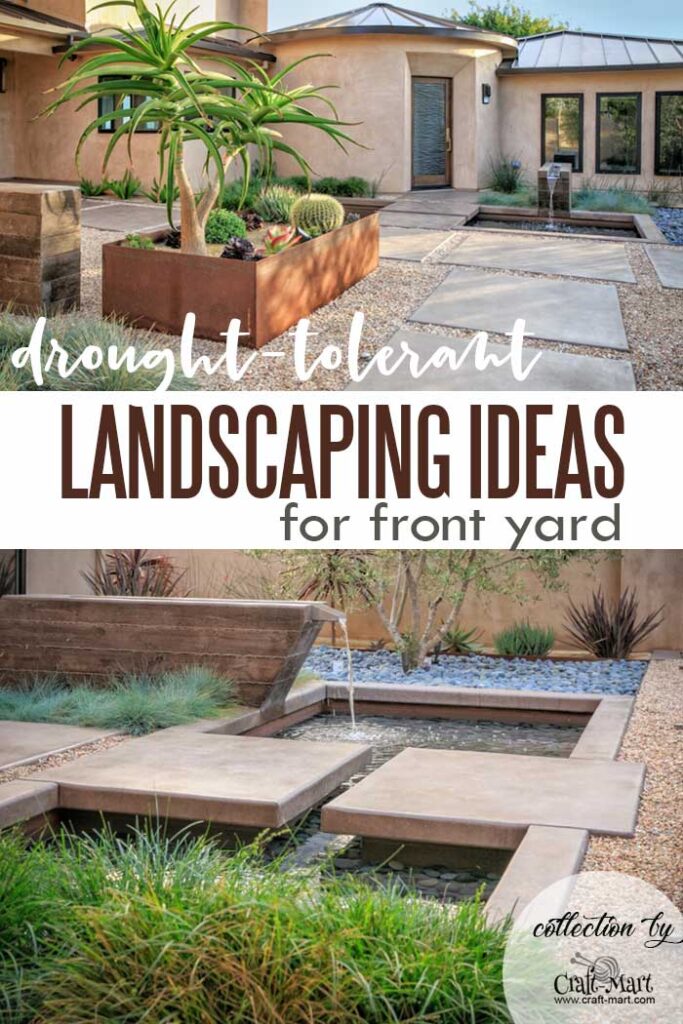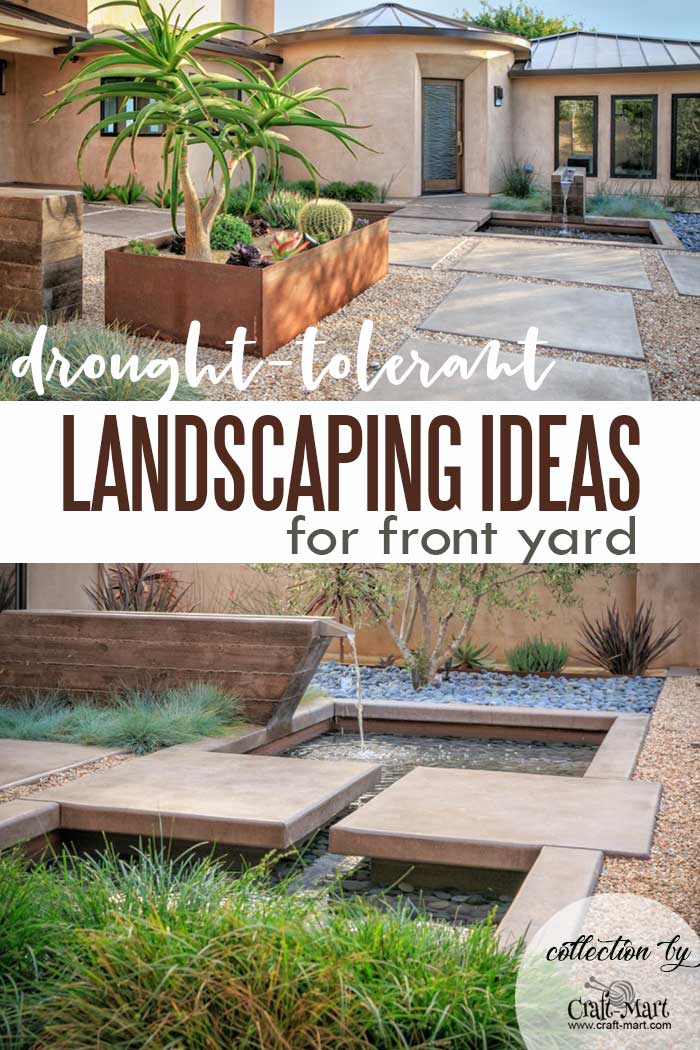 Source: Contemporary drought-tolerant front yard by Grounded
3. Traditional landscaping ideas for the front of the house with rocks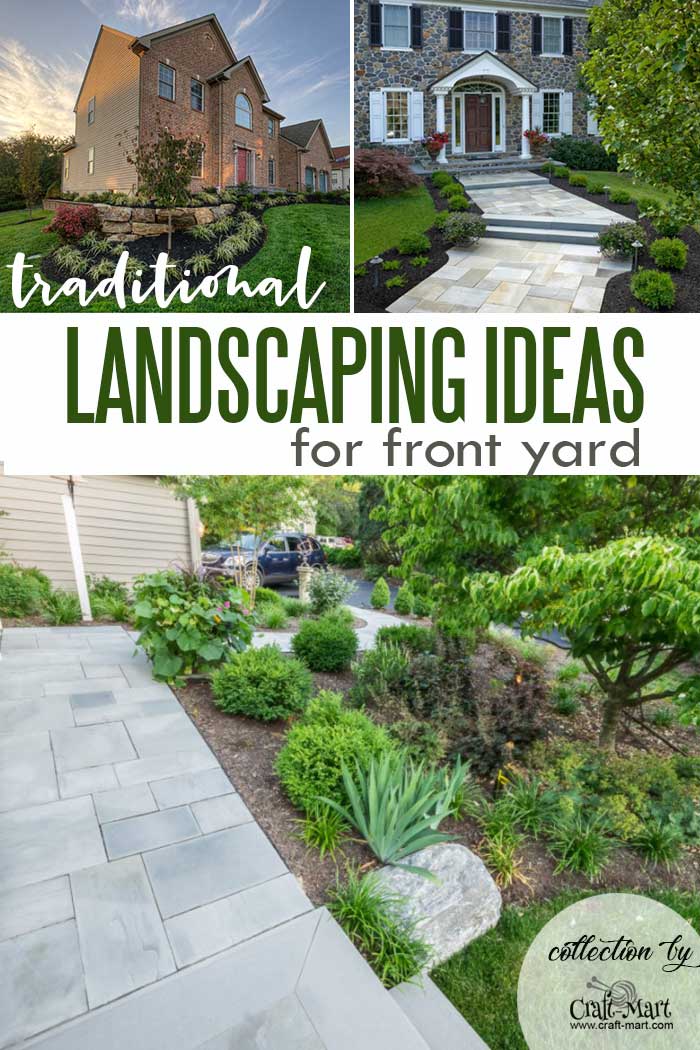 Source: Natural Flagstone Walkway
What if you have a traditional house and are looking for budget-friendly landscaping ideas? You can use boulder retainer walls, some flagstone pathways, and grass areas with berms for the traditional yet modern landscape.
Large rocks add instant texture and visual interest to your landscape while helping with weed control and keeping soil and mulch in place.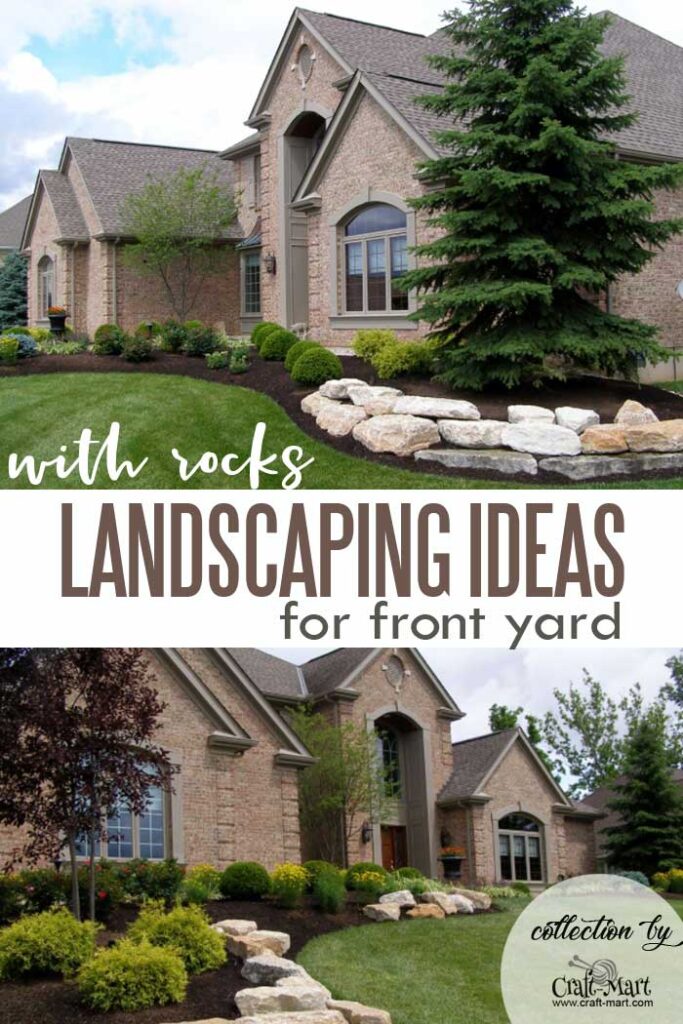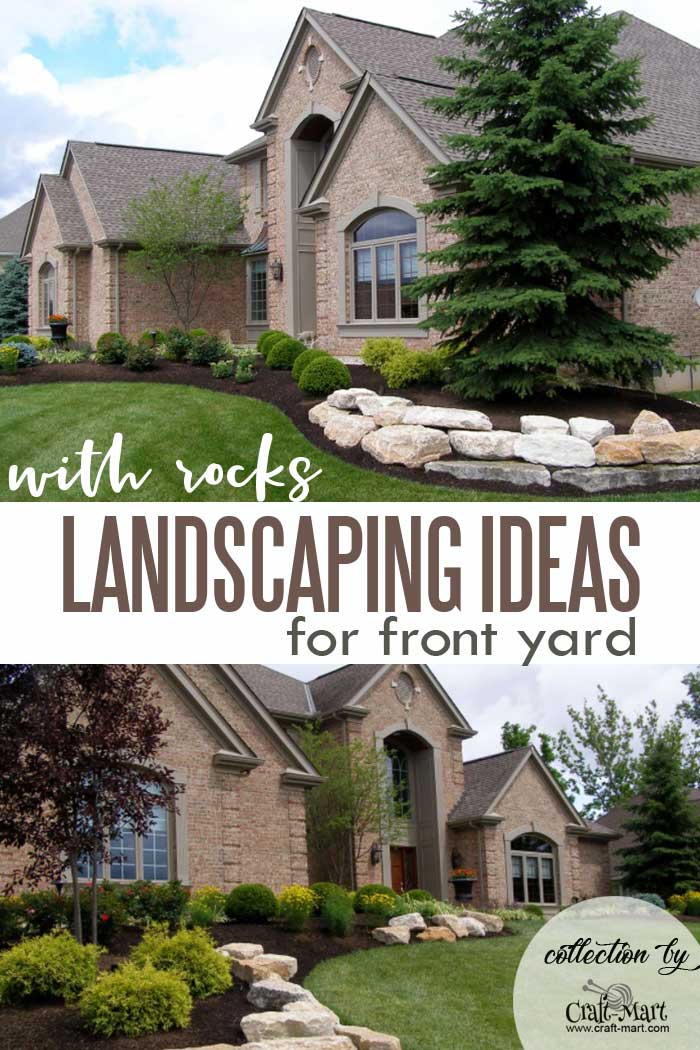 Source: Traditional front yard landscaping in Cincinnati
Berms are an easy DIY landscaping idea on a budget for the front lawn. Just pick a few bags of mulch, a bag or two of potting soil, and a few perennials at your local garden center.
Even if you are an inexperienced gardener, it will only take an hour or so to finish this project and instantly add curb appeal to your home. Perennials, such as grass, evergreen bushes, and roses, are a better choice in the long run. Consequently, you won't be throwing money away to buy annuals yearly and waste time planting them.
4. Farmhouse landscaping ideas for the front of the house
Simple landscaping ideas may be the most budget-friendly and the prettiest. As an illustration, check out these pictures of farmhouse-style landscape ideas for the front yard.
Are you a fan of Farmhouse style? Check out these ideas:
In this case, a less formal style of landscaping will feature lots of green grass, shady trees that are native to the area, and an occasional flower bed under the tree.
For instance, perennials planted in the partial sun will provide blooms that multiply yearly. Most importantly, you plant them once and enjoy marvelous flowers for many seasons.
A paved meandering trail surrounded by splashes of greens and blooming irises is a good example of an easy landscaping idea on a budget. This front yard doesn't require a lot of costly maintenance or weekly lawn mowing while providing lots of lush greens and blooms.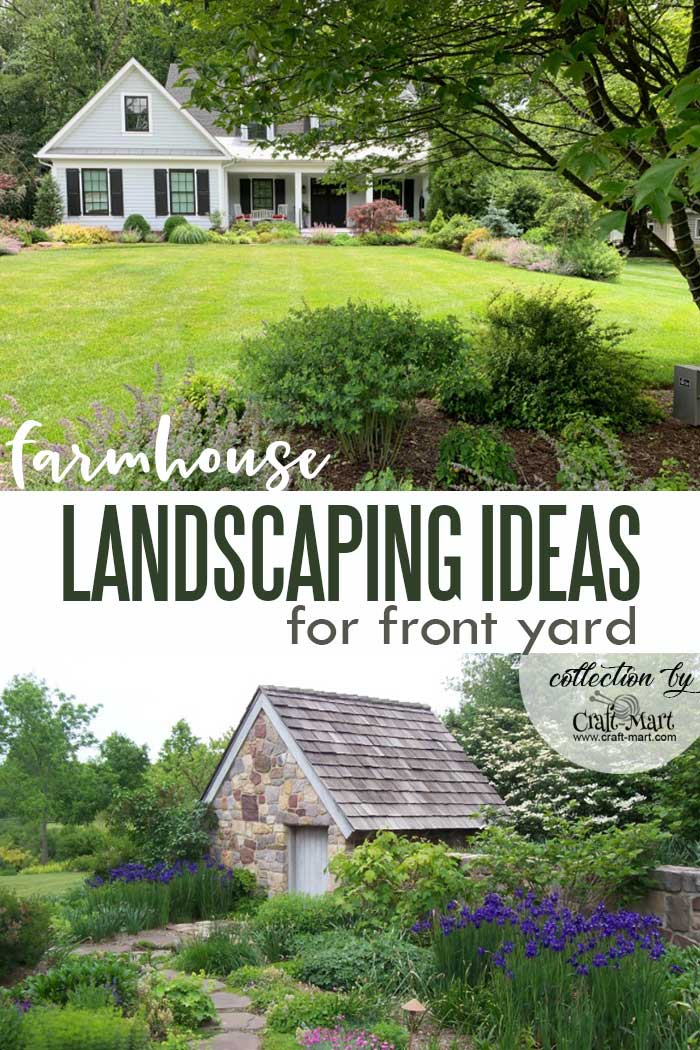 Source: Mid-sized farmhouse drought-tolerant and partial sun front yard
Source: Traditional side yard garden path in Philadelphia
5. Low-maintenance front yard
Are you looking for landscaping ideas for your front yard on a budget?
What if you have a small sloped front yard with almost no privacy? This example demonstrates the clever use of landscaping to solve the natural drawbacks of this particular front yard.
Colorful drought-tolerant trees and plants were used strategically to block the views from a busy street to create some privacy for the homeowners. Furthermore, concrete blocks from the house renovation were repurposed to create a seating area.
This front yard is a beautiful example of modern low-water consumption, low-maintenance landscaping without looking like your grandma's succulent garden. To summarise, a contrast of greens and splashes of color enhances the simplicity of the design.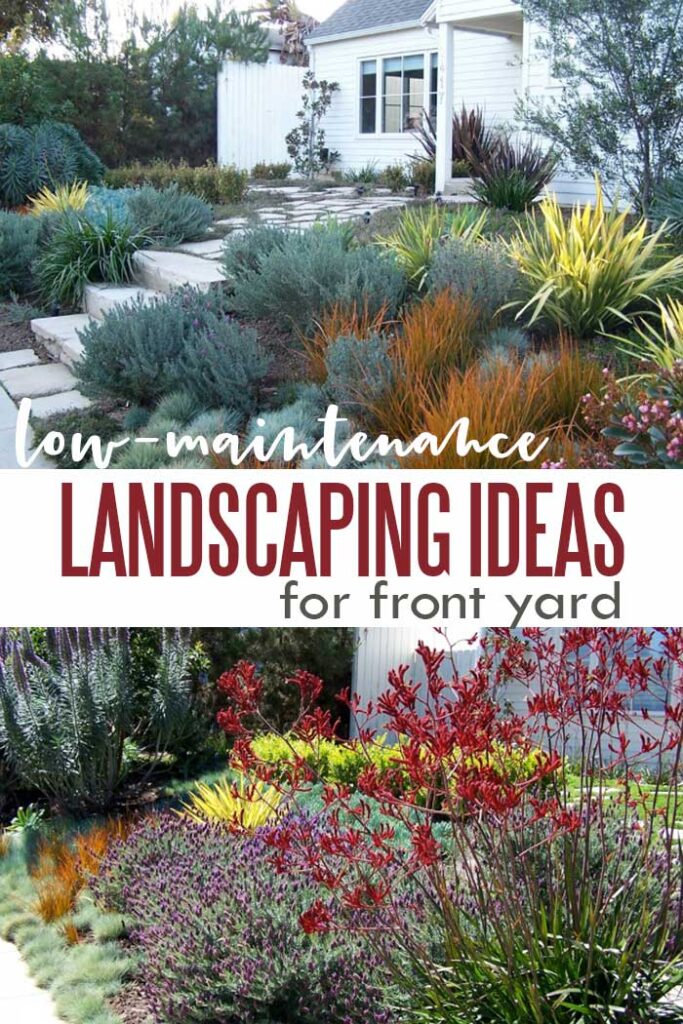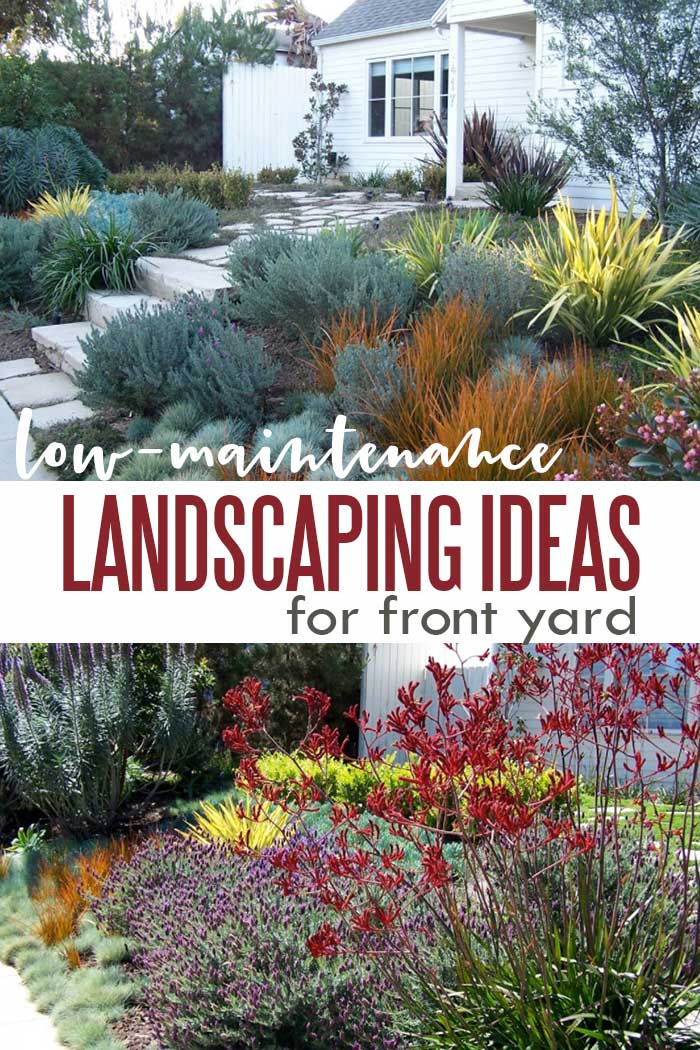 Source: Small front yard landscaping by BE Landscape Design, CA
6. Simple front yard landscaping
If you have a very modern house it is equally important to create a landscape that organically enhances the architectural style of your dwelling. Generally speaking, you want to create a delicate dialogue between the house and the landscape elements.
Surprisingly, this will emphasize the beauty and originality of both.
Using crushed rocks (or marble in that case), metal bunting, tall grass, and succulents create an interplay of textures, shapes, and colors. Equally important, using native grasses and heat-tolerant hardy plants cuts water consumption and maintenance while providing year-long color.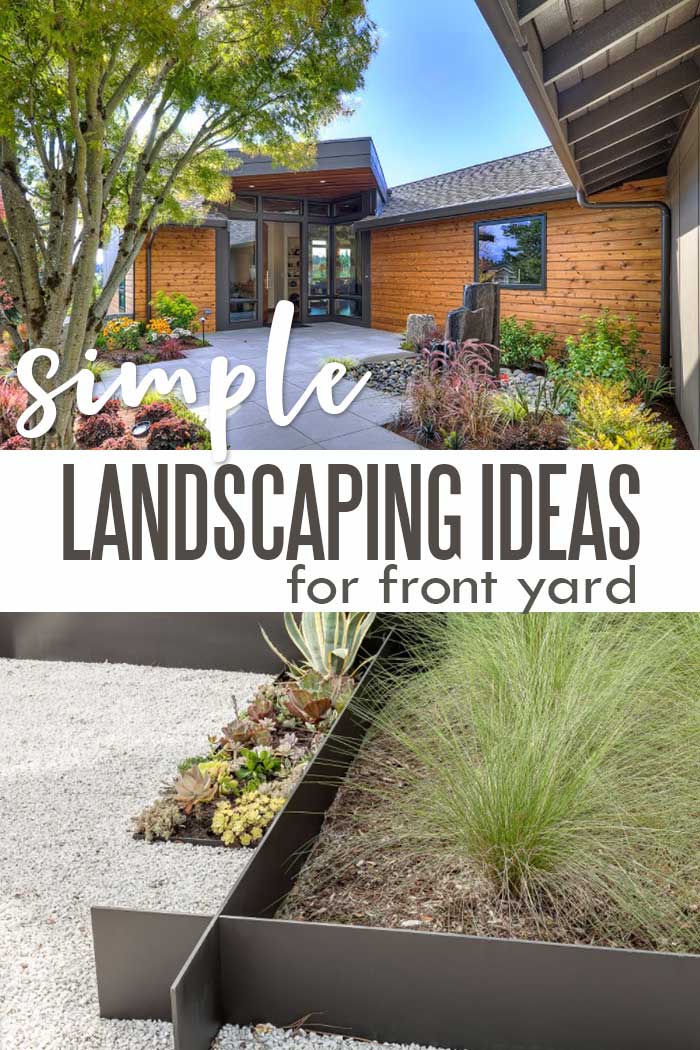 Source: Modern Landscape by Tri-Scapes Landscaping
Source: Modern Landscaping by Exterior Worlds Landscaping & Design
In summary, the front of your house a not only the calling card of your house but also the representation of the whole neighborhood. When visitors see the front yard landscaping that is practical and well-maintained, it creates a good impression.
Furthermore, landscaping ideas for the front yard on a budget will enhance the property values in your neighborhood.
Are you looking for more outdoor projects for your home? Check out these ideas: