It is very important to create a welcoming and safe atmosphere when you are evaluating backyard patio lighting ideas to create your dream outdoor space. We browsed through hundreds of outdoor design ideas to come up with the collection of the 30+ stunning backyard designs and outdoor patio lighting ideas so you can find your inspiration for the next DIY project to turn your dwelling into a dream home.
Working with layers of light is as important for your outdoor space as it is for your interior design as proper lighting will allow you to use your backyard patio and outdoor space to its fullest. Whether you are enjoying a fun backyard BBQ party with friends or watching shooting stars by the fire with the family, backyard lighting makes your space both relaxing and safe.
1. Ceiling patio lighting ideas will work magic for a small backyard patio
You can enjoy your patio during the day, as the pergola provides nice shade for an afternoon retreat, and by night – simple string lights give ample amount of light for a family al fresco dining. Simple garden flowers, DIY shelves for greenery, and comfortable outdoor furniture with comfy cushions are a nice touch for extra coziness.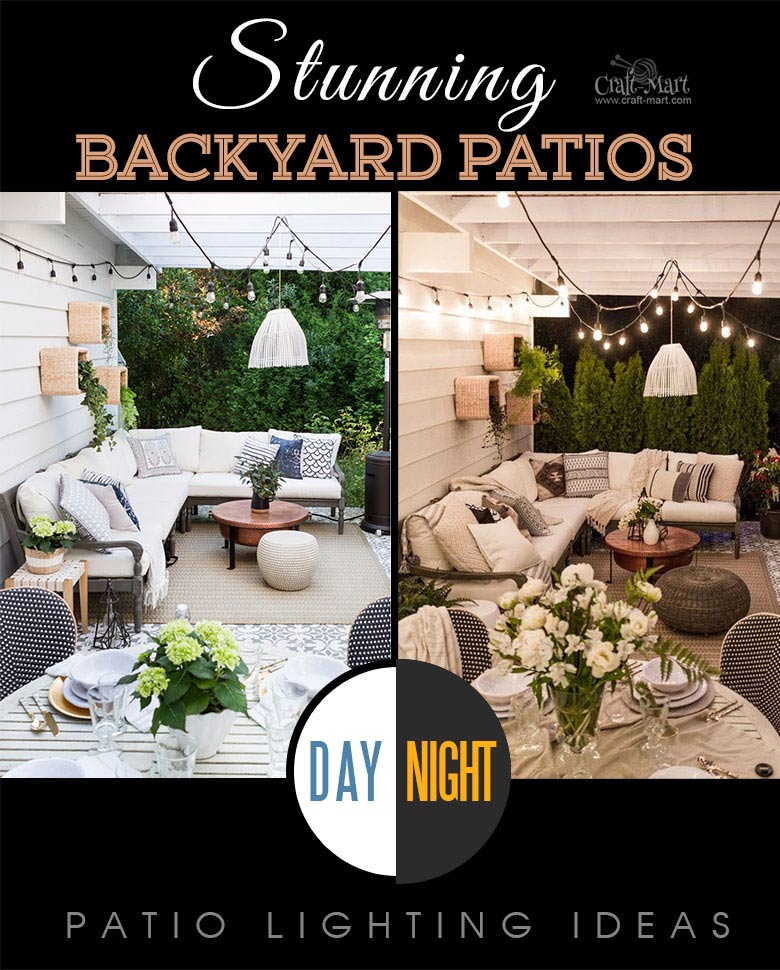 ---
2. Arched wooden pergolas with outdoor string lights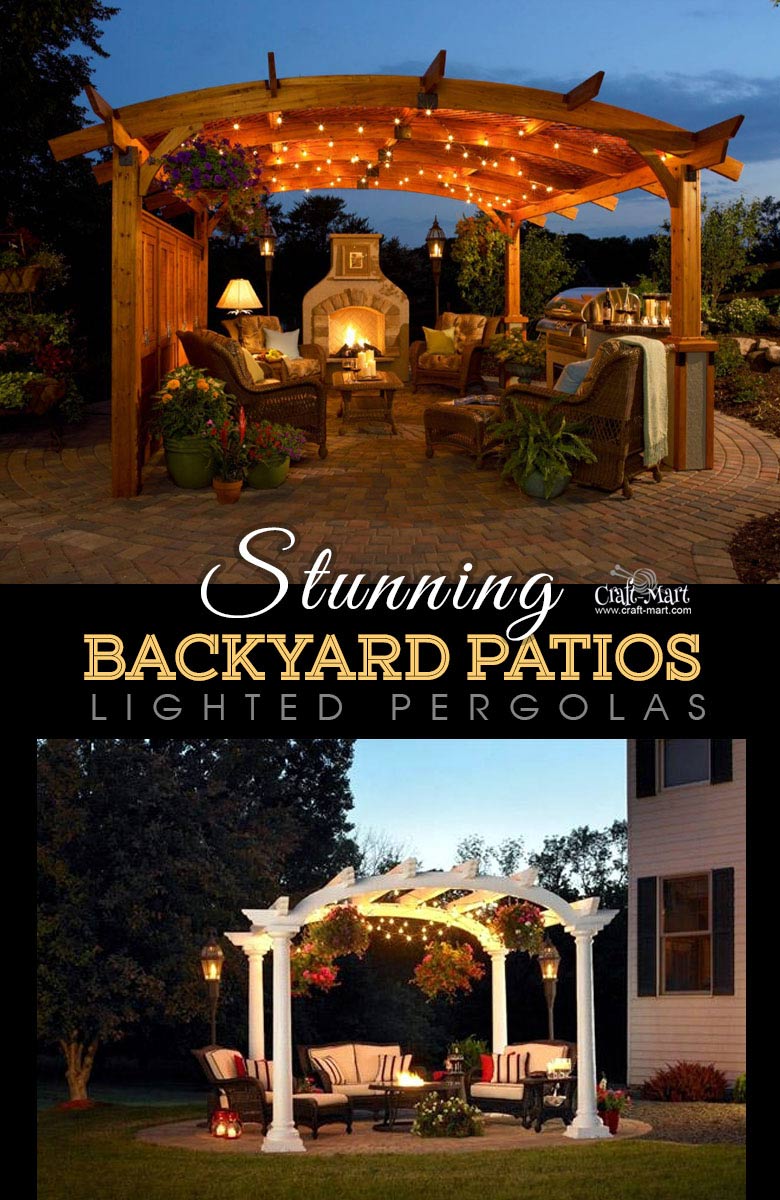 ---
3. Small backyard patio with lights and outdoor kitchen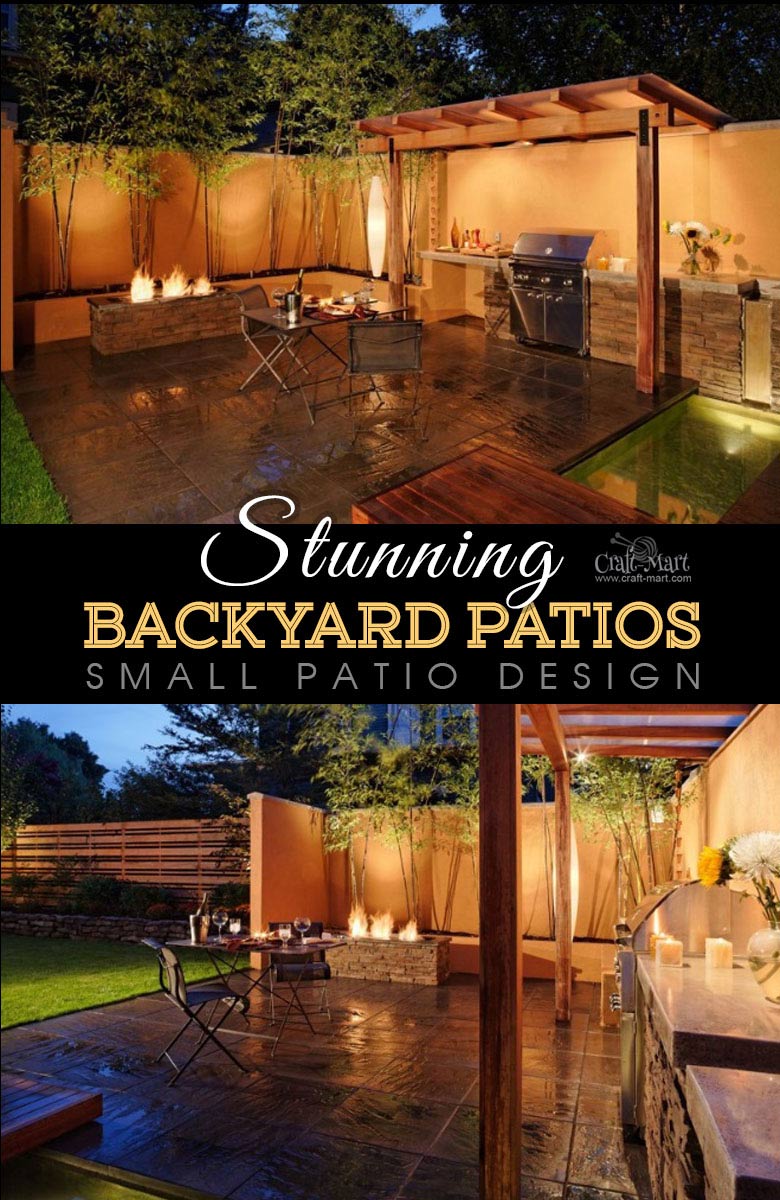 ---
Backyard furniture is an important element of creating a functional and inviting patio with lights – you can build it yourself or take advantage of sales that usually take place at the end of the season. There are tons of DIY backyard furniture ideas that will let you enjoy outdoors in style and won't break the bank.
4. Wall-mounted backyard patio lights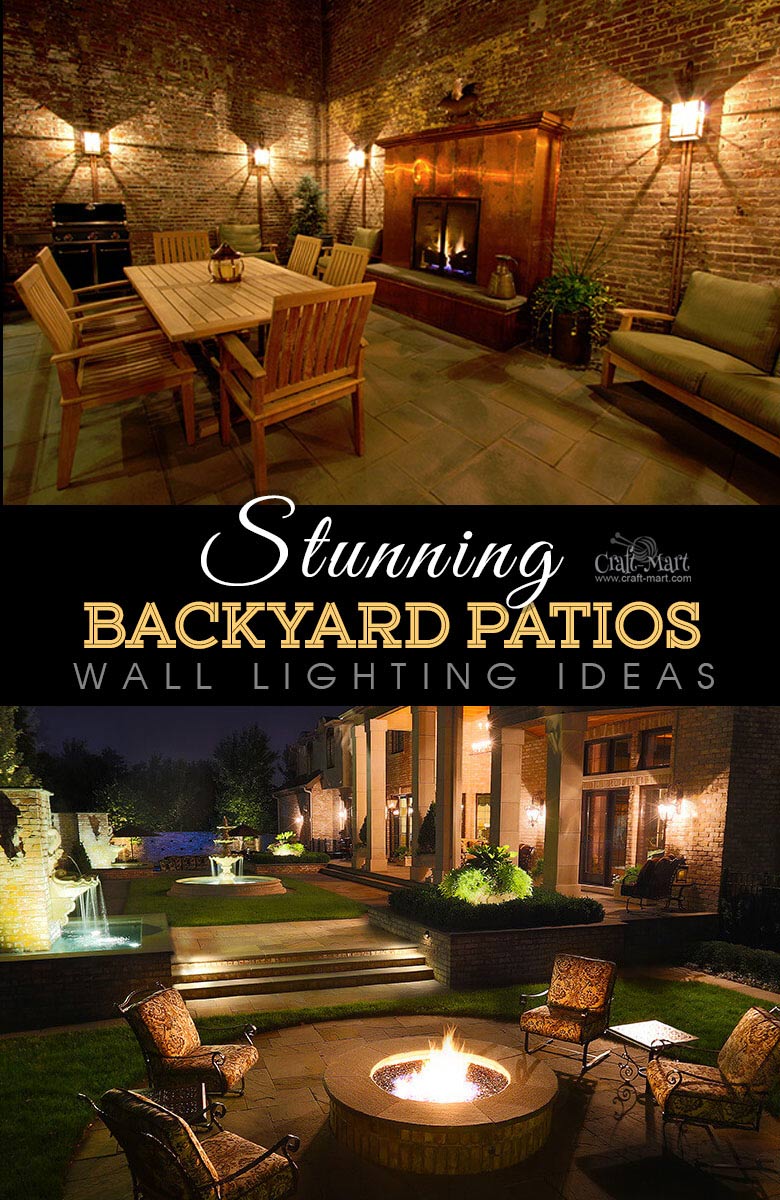 ---
5. A small and rustic patio lighting ideas
The strings of twinkling vintage-inspired Edison lights became very popular lately and for a good reason. Anyone can easily string them across the patio or backyard and turn them on when needed or use timers to turn them on automatically at dusk. They bring so much light and fun to the backyard by allowing you to use outdoors more even when days become shorter and nights become longer.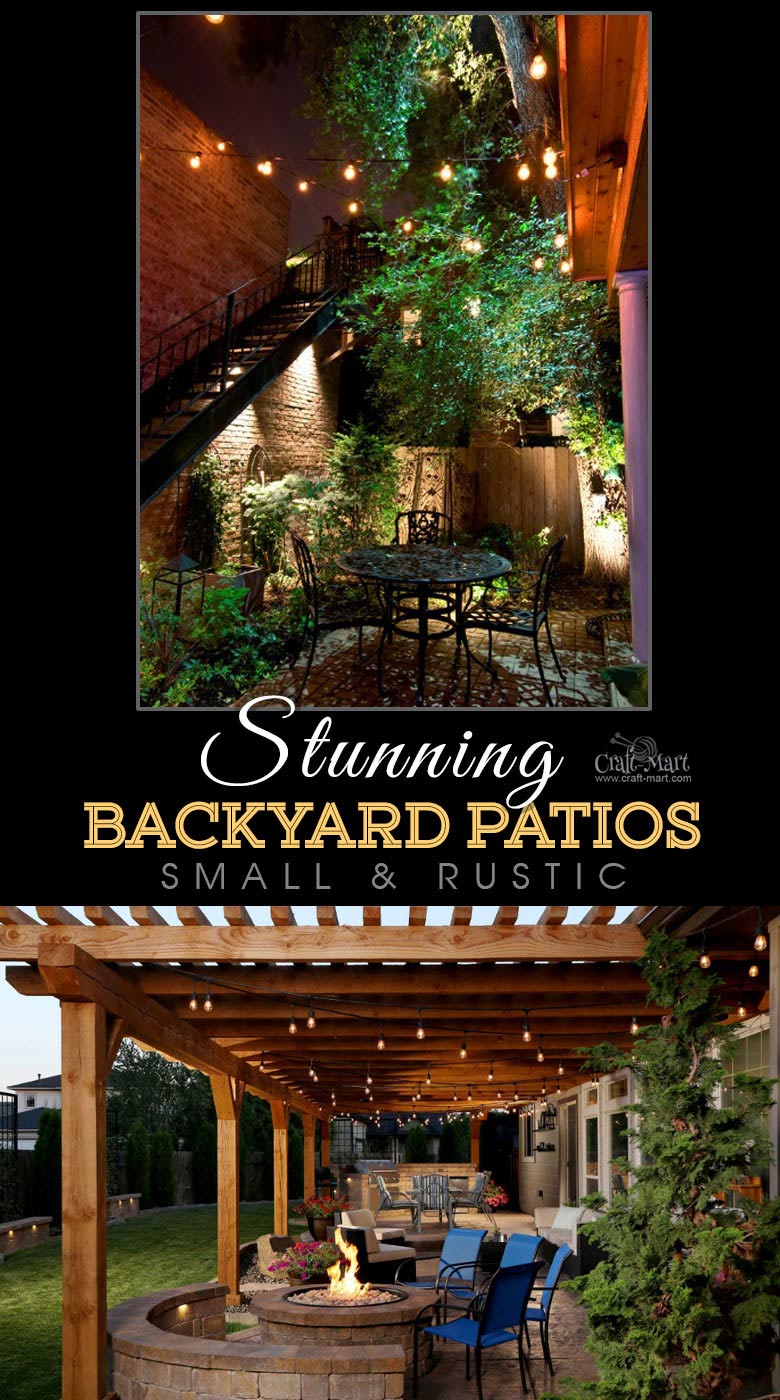 ---
6. A secret garden patio with simple string lights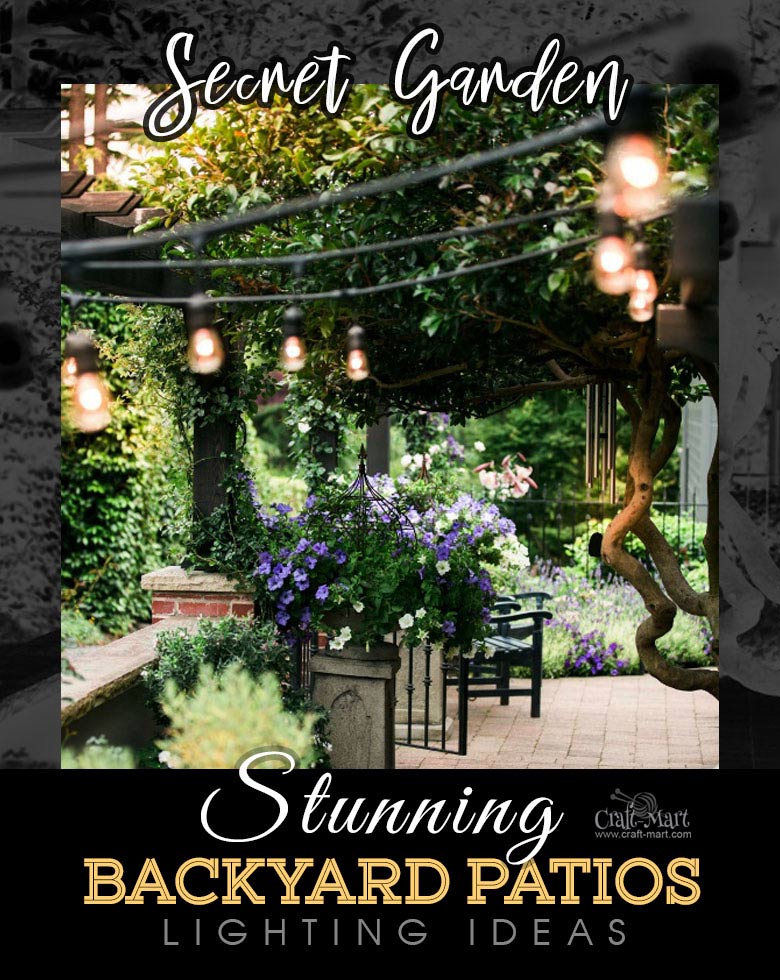 ---
7. Paved patios with string lights over the outdoor kitchen
If taking care of the grass is not 'your cup of tea' a paved backyard space is a great solution. Adding an outdoor kitchen with plenty of counter space, fireplace, and a designated sitting area will turn it into a family retreat and a great entertaining space. Don't forget to string some outdoor lights ao you can enjoy the great outdoors at night.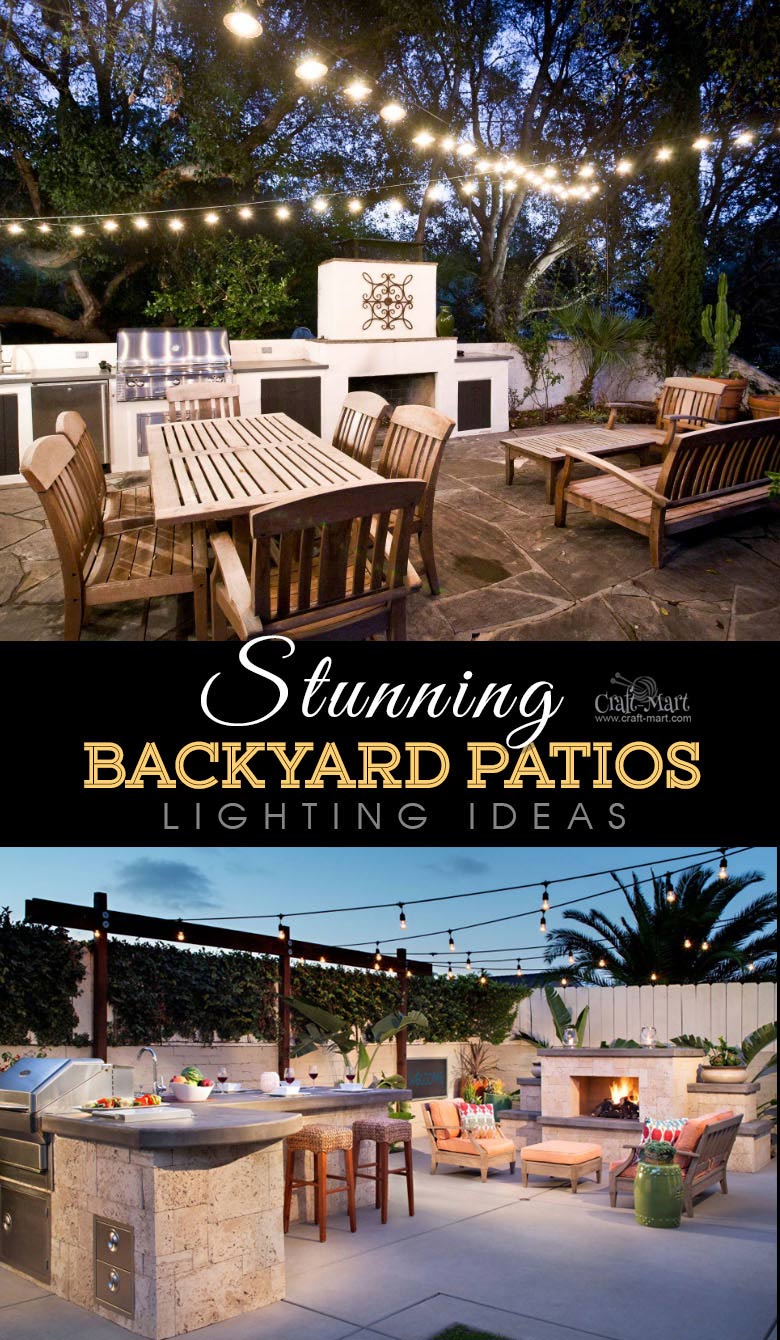 ---
8. Functional small patio lighting ideas using ceiling lights
This small patio is very functional as the living room doors can open combining indoors and outdoors into one big space. Ceiling patio lights and modern gas-powered firepit give enough light to enjoy this great space.
The bright solar-powered motion-activated lights could be handy if you go outside occasionally and just need light for a few minutes (to pick up herbs for dinner or let Sparky out before bedtime). You can mount them on the ceiling or the walls. It is a wise safety feature that will keep burglars away from your home and backyard even if you are on vacation – the light shines brightly if anyone passes by that may be enough to scare away unwanted trespassers.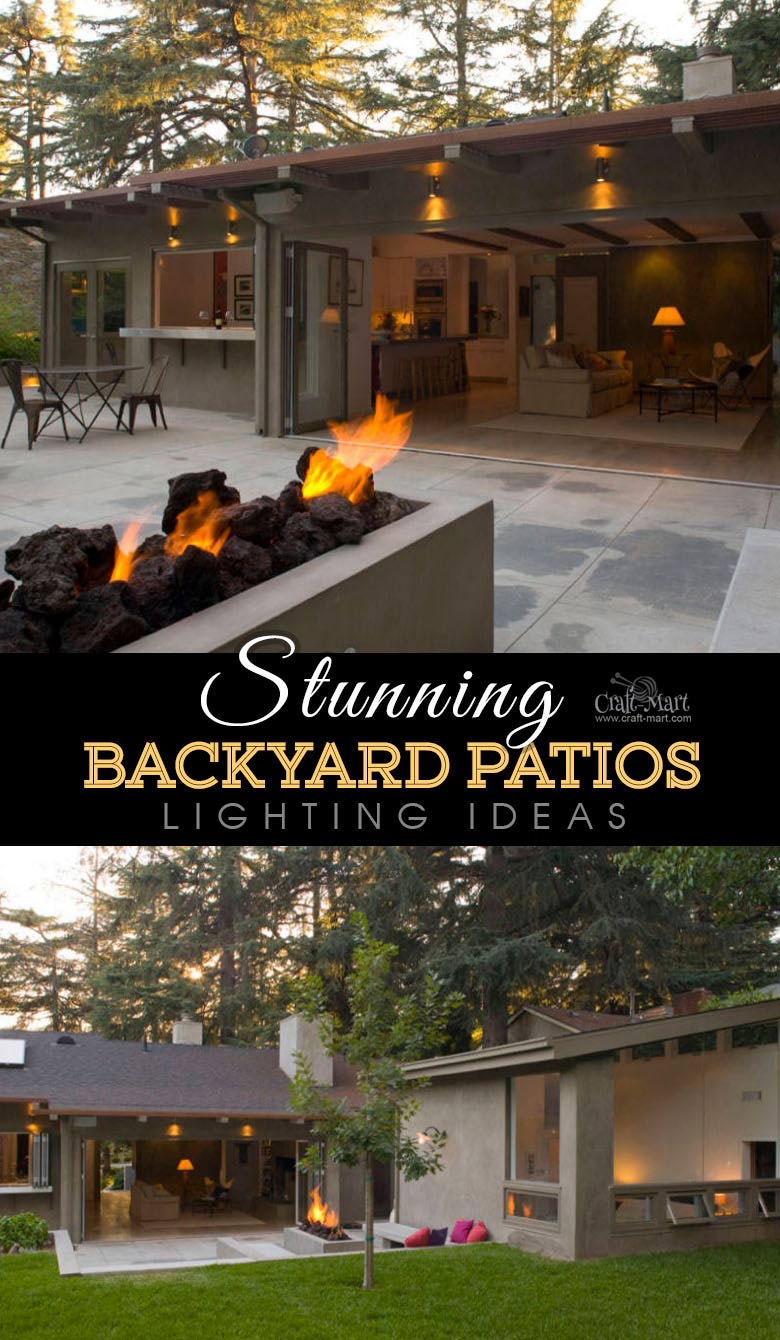 ---
9. Accent landscape lighting creates a magical garden to enjoy
Outdoor landscape lighting can be very innovative. Working with backyard patios with lights can be like creating a beautiful landscape painting: you can use directional lights to accent big trees creating a moonlight effect. It will look stunning in the fall when the leaves are changing colors. A small pond with a fountain adds more character to this magical yard surrounded by mature trees. Oversized outdoor furniture grouped around the fireplace makes it a comfortable place to relax at the end of the day.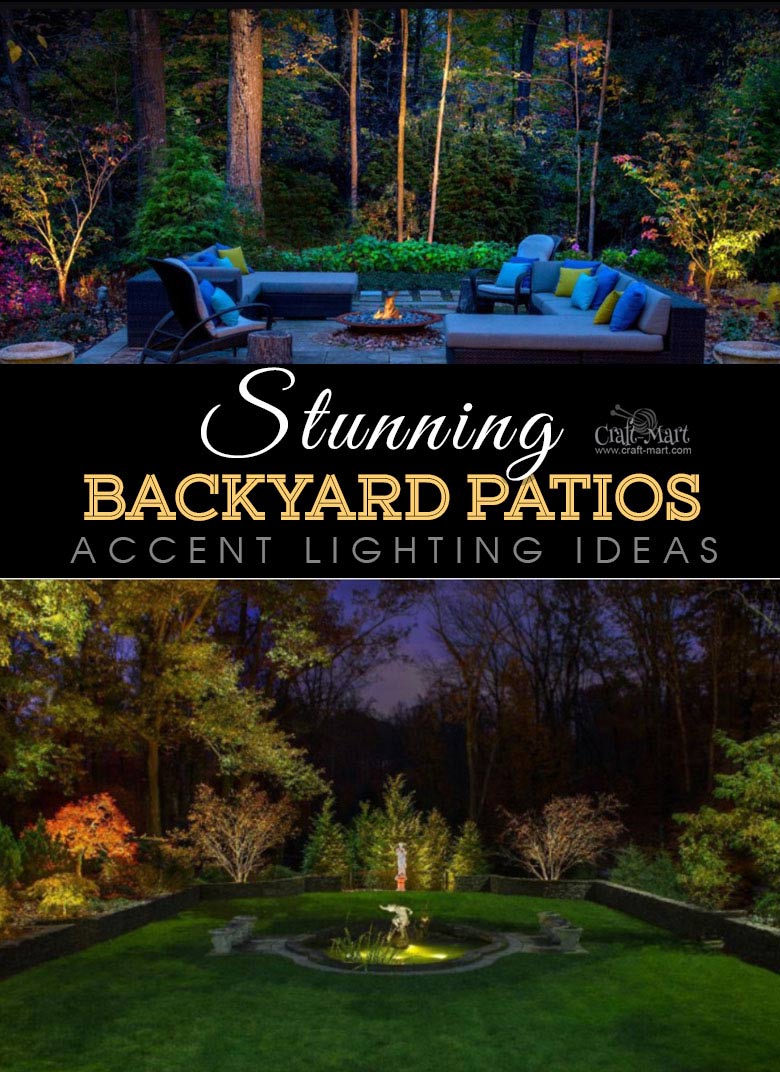 ---
10. outdoor patio lighting ideas for small spaces
Your backyard doesn't have to be big for you to enjoy the outdoors. There are plenty of small backyard patio lighting ideas and townhouse patio solutions that will let you make the best use of tall narrow spaces with string lights and lanterns. Edison lights, designer globe lights, or lanterns can be strung across, wrapped around the umbrella, or mounted on the wooden surfaces to make it as bright or romantic as you desire.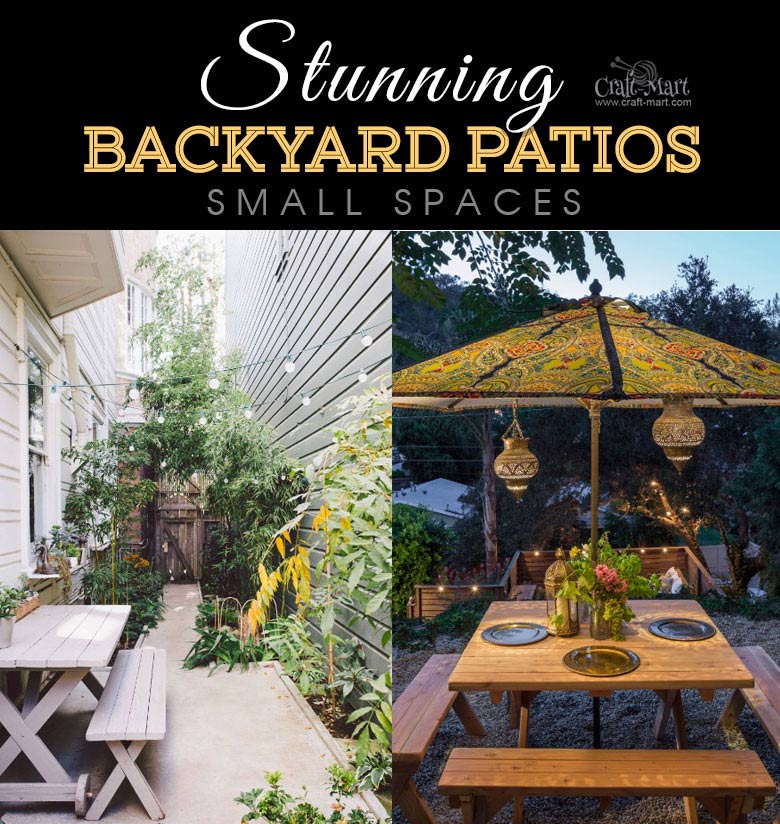 ---
11. Charming small outdoor patio lighting ideas
Pergolas and privacy trellises can become essential elements of any backyard patios with lights design. They could provide you much-needed shade during the day and a place to enjoy a lighted outdoor patio at night. These rustic and charming patio lighting ideas are great examples of making even a small space functional and enjoyable, even on a tight budget.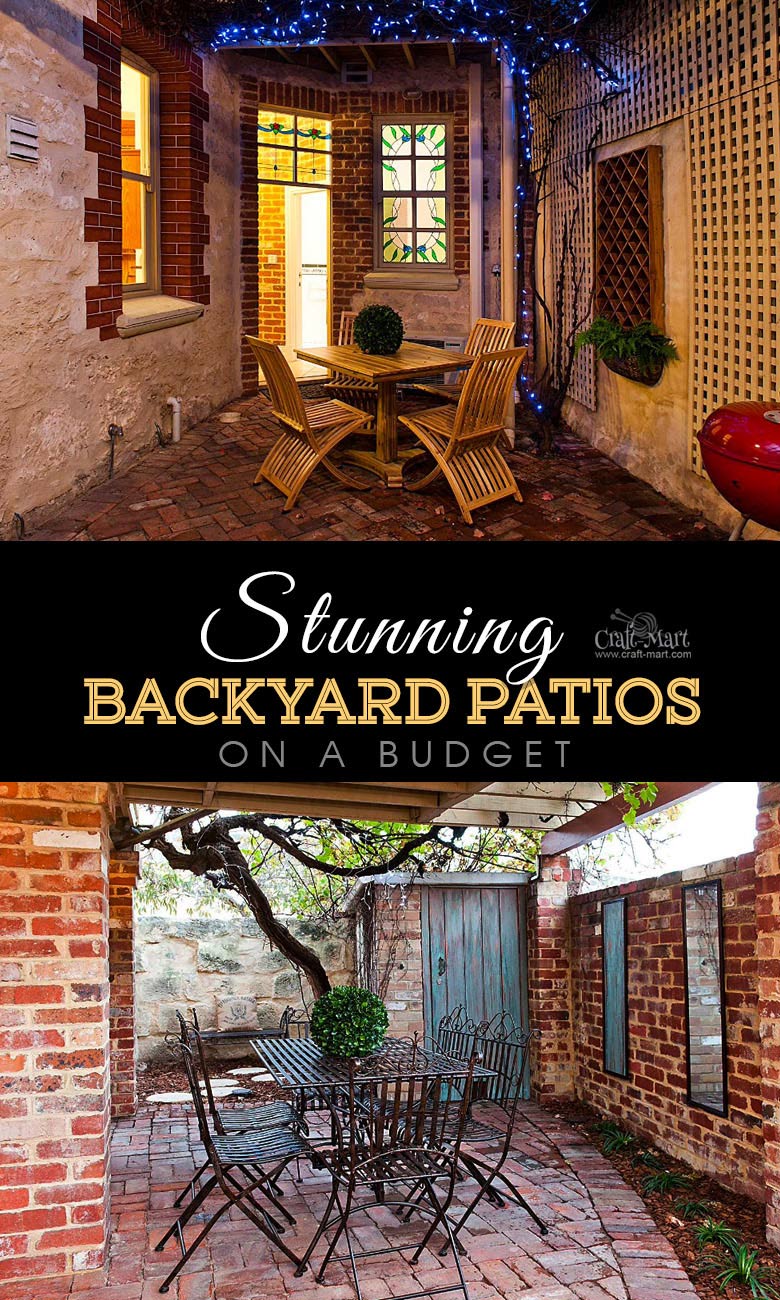 ---
12. Traditional and vibrant backyard design of patios with lights
If you have a pool or water feature, shimmering lights reflecting in the water can create a stunning lighting effect for your outdoor space. Take advantage of perimeter lights or solar-powered light fixtures to add extra ambiance and create a relaxing atmosphere that will let you enjoy your pool or spa even at night.
In addition to professionally done patio lighting design, you may be tempted to add some occasional table lights or spotlights to create a special atmosphere
This can be a great DIY project for adults and kids alike. For example, the DIY solar-powered bottle lights kits (available here) are an easy project that you can assemble and place on the table or hang from the trees. They will create a 'firefly effect' and a romantic atmosphere for a garden wedding celebration or a festive gathering.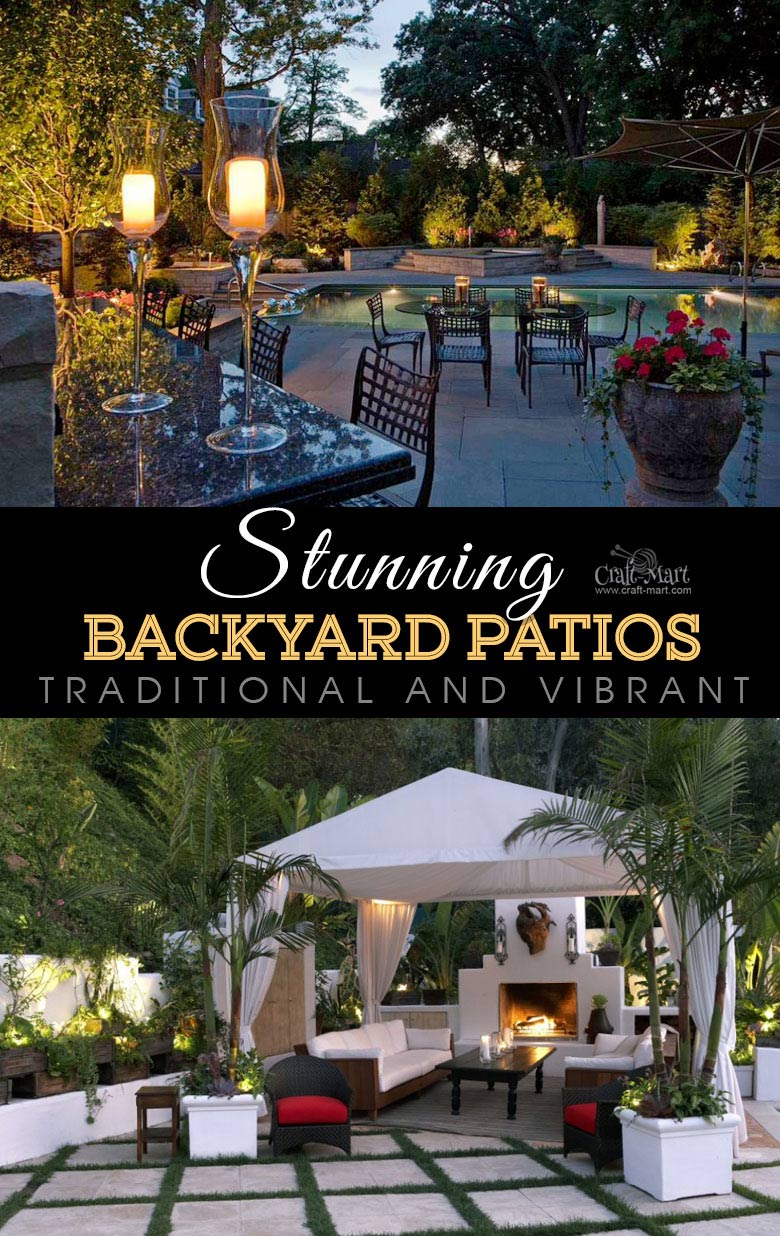 ---
Mason Jars solar kits (available here) are also a great DIY outdoor project that will teach kids about energy and can be your budget-friendly patio lighting solution with a stunning effect. (Note that Mason jars are not included with the kit) but it is a great way to repurpose and upcycle your pantry jars and give them a new life outdoors.
13. Vibrant eclectic hideaway patio lighting solution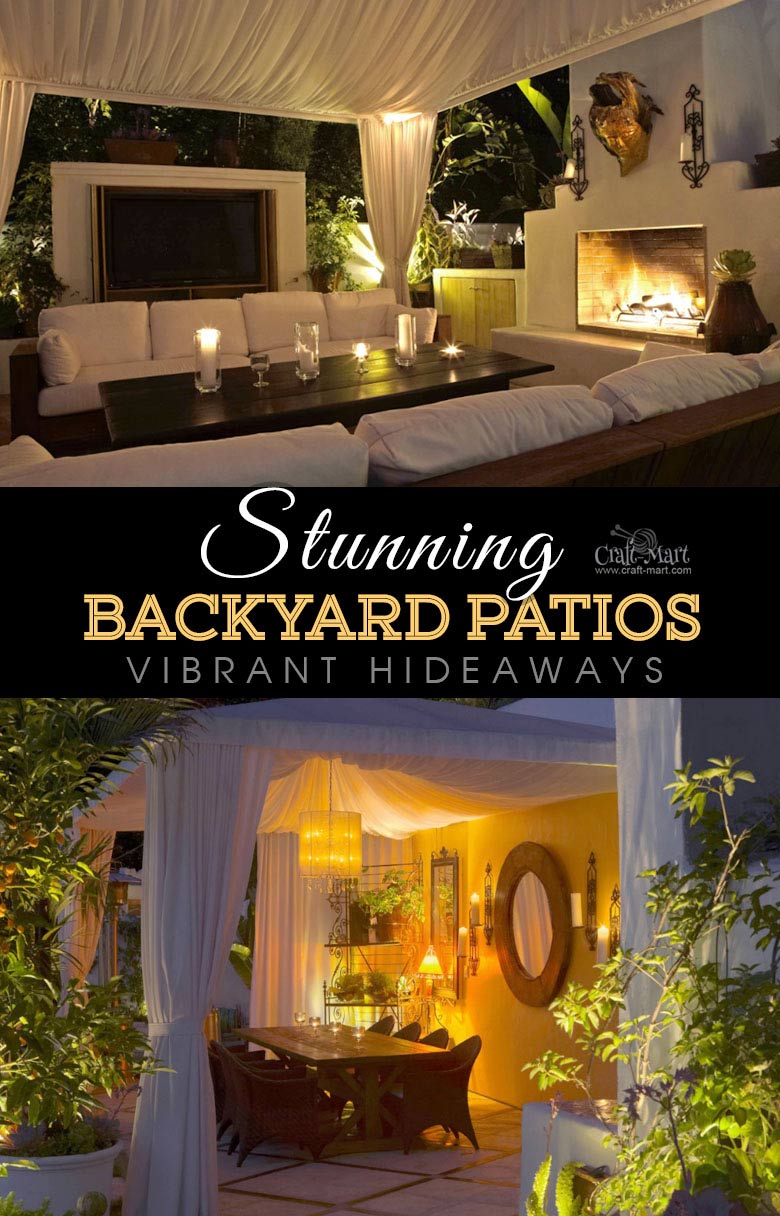 ---
14. Contemporary low-budget deck and patio lighting ideas
A budget-friendly solution is to opt for a row of solar-powered lights lined up along your wooden fence as a small backyard lighting idea on a budget. These lights even come with remote control and can change colors (from blue to red, green, and white) which means these patio lights can become your DIY Christmas lights as well! Genious time-saver, right? Put it once, use it throughout the year.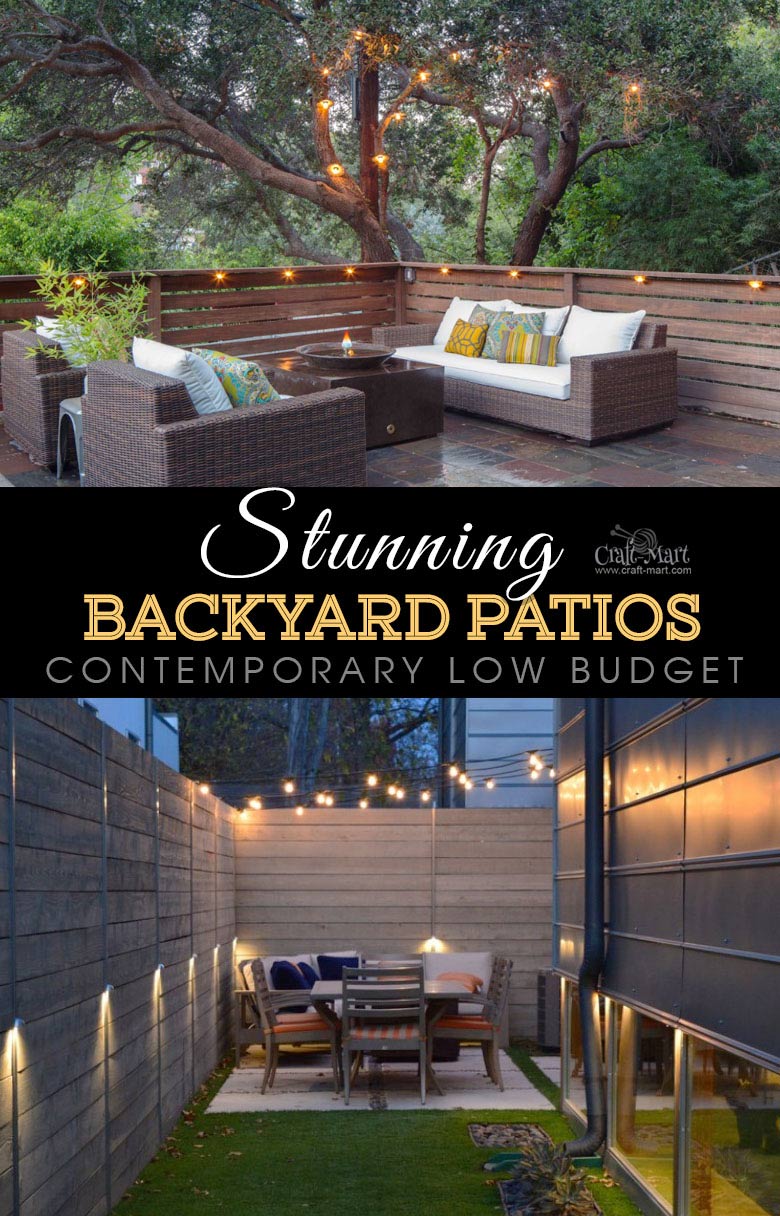 ---
15. Traditional patio with lights over a pergola and outdoor fireplace
In the fall, you can still enjoy the backyard, even when the nights are a little chilly. A great backyard fireplace (tabletop, gas-powered or old-fashioned wood-burning) can become a focal point of your space and bring family and friends together for some hot chocolate and s'mores. Don't forget a hand-crafted blanket for some extra coziness!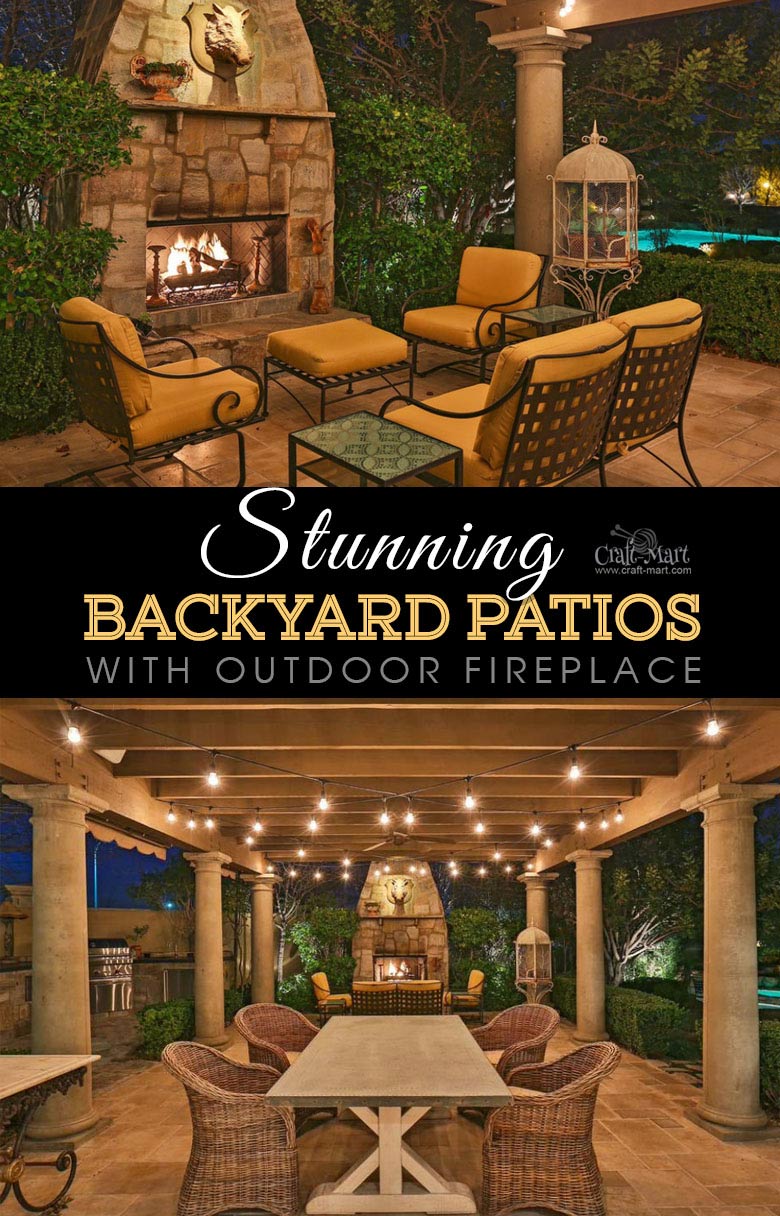 ---
16. Inviting backyard patio lighting ideas with cozy outdoor fireplace sitting area
Don't forget to use patio lights for walkways and steps if your backyard is uneven and has some steps. It will not only add atmosphere to your outdoor space but also may prevent some injuries and possible claims against your home insurance. This is one of the easiest DIY outdoor projects imaginable – just order solar-powered deck lights and mount them to your deck, patio stairs, or fences. If the weather is sunny, the solar batteries will charge and turn on LED lights automatically at dusk.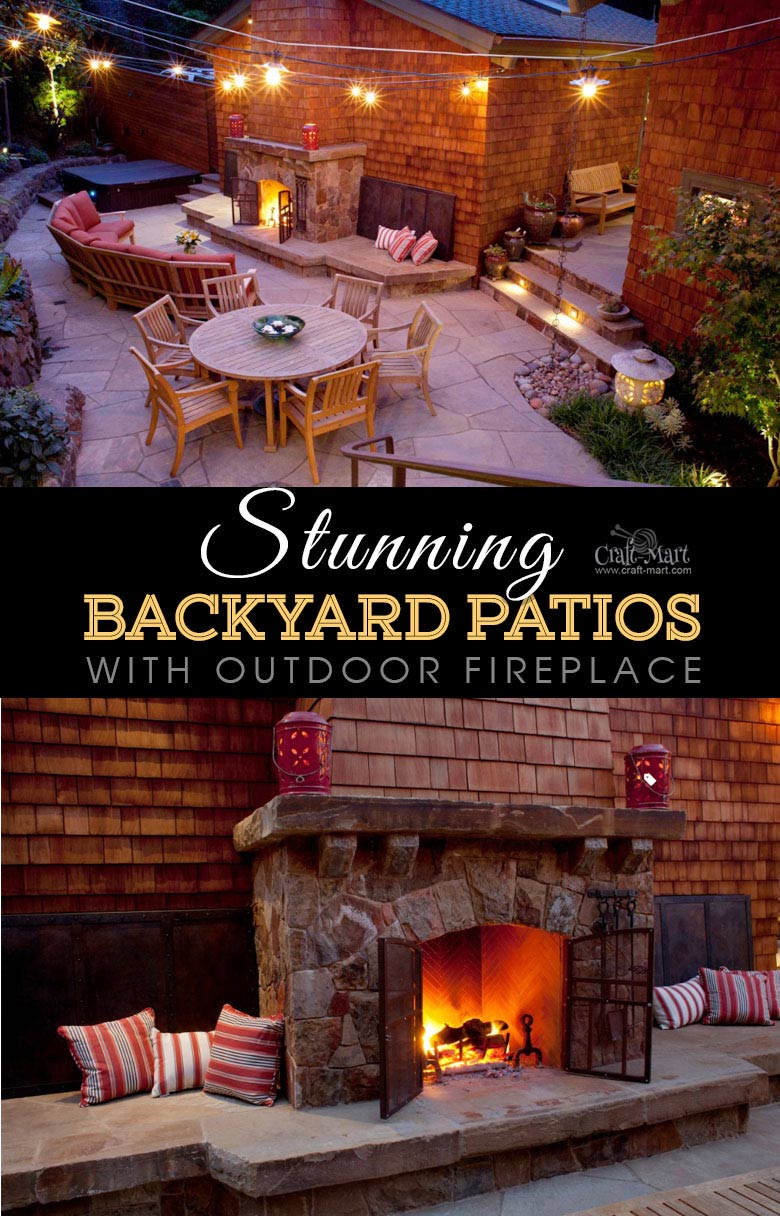 ---
17. Tuscan and rustic backyard patios with lights
Besides outdoor-appropriate chandeliers and ceiling patio lights, you can use weather-proof lanterns to add ambiance to your outdoor lighting. Combined with traditional wood-burning fireplace and simple garden flowers it will add ambiance and unique character to your outdoor space.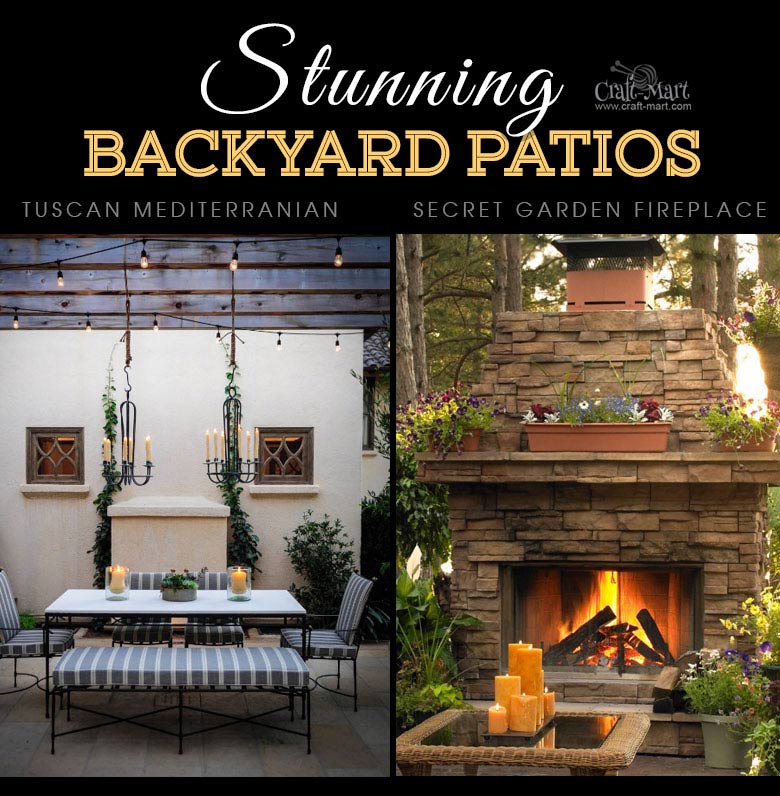 ---
18. Private Backyard Paradise with Lanterns and String Lights
Pergolas and sail-shaped shades (that you can easily hang just for the summer) can be essential parts of your backyard privacy solutions. Combine them with string lights and you have a budget-friendly solution for day and night. Easily transform even a small patio into a backyard paradise with some pavers, small deck, and perimeter landscaping.
Vintage decorative lanterns and solar-powered DIY mason jars lights are the easiest and most attractive ways to bring your patio and garden to life. You can group them, decorate and light up the trees, or space them on the perimeter walls for some added ambiance. You can use outdoor LED candles that mimic the flickering light of real candles for safety by putting them inside the big lanterns to protect them from the elements.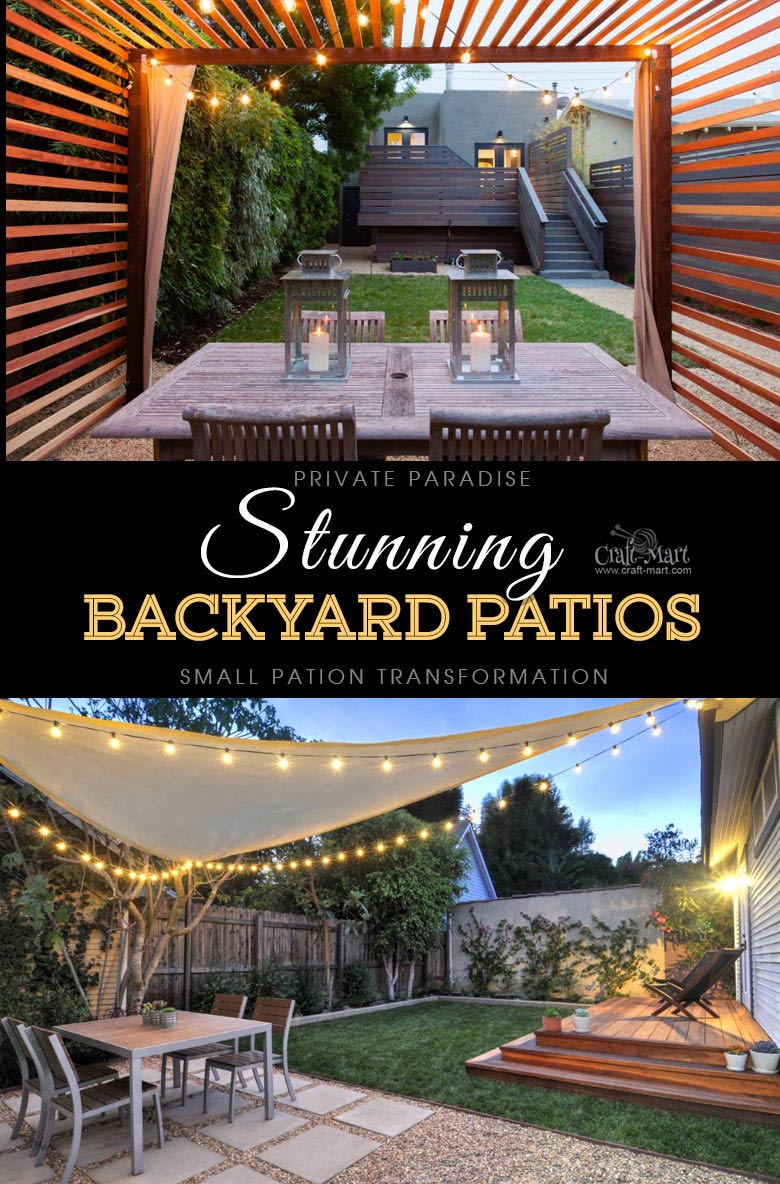 ---
19. Nostalgic paradise and private rustic retreat
This nostalgic backyard is a great example of a functional space. An old oak tree with whimsical lanterns, a swing, and a hammock is a great place for kids to hang out while adults can have a conversation around the fire on the deck by the pool.
Separating the backyard by activities is a great way to maximize its potential. The rustic patio with alfresco dining option and outdoor firepit still leaves enough green space to enjoy outdoor activities while simple string lights keep it well-lit for some evening family fun. What a great way to finish the day with a good game of ring toss or a crowd-pleasing bean bag toss!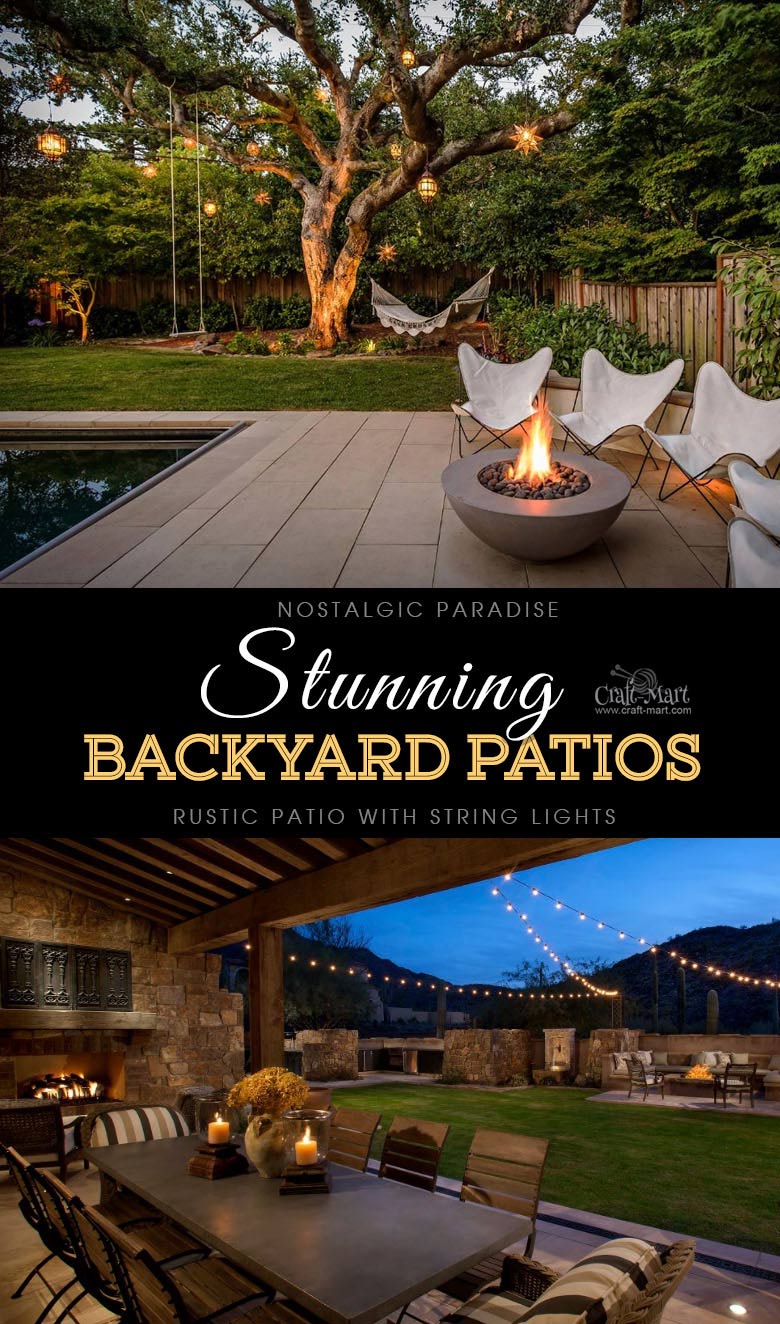 ---
20. Traditional backyard lighting solution with wall-mounted and perimeter lights
Following traditional backyard patio lighting ideas may be a good thing but before starting a project, always ask yourself what is the end result you are trying to achieve by addition illumination to your yard. You may have some steps leading from the patio to the garden that you want to accentuate. There may be a garden path worth lighting if you use it at night and a water feature which will look great at night with shimmering lights around it. It is your blank canvas and you can paint it any way you want to create magic.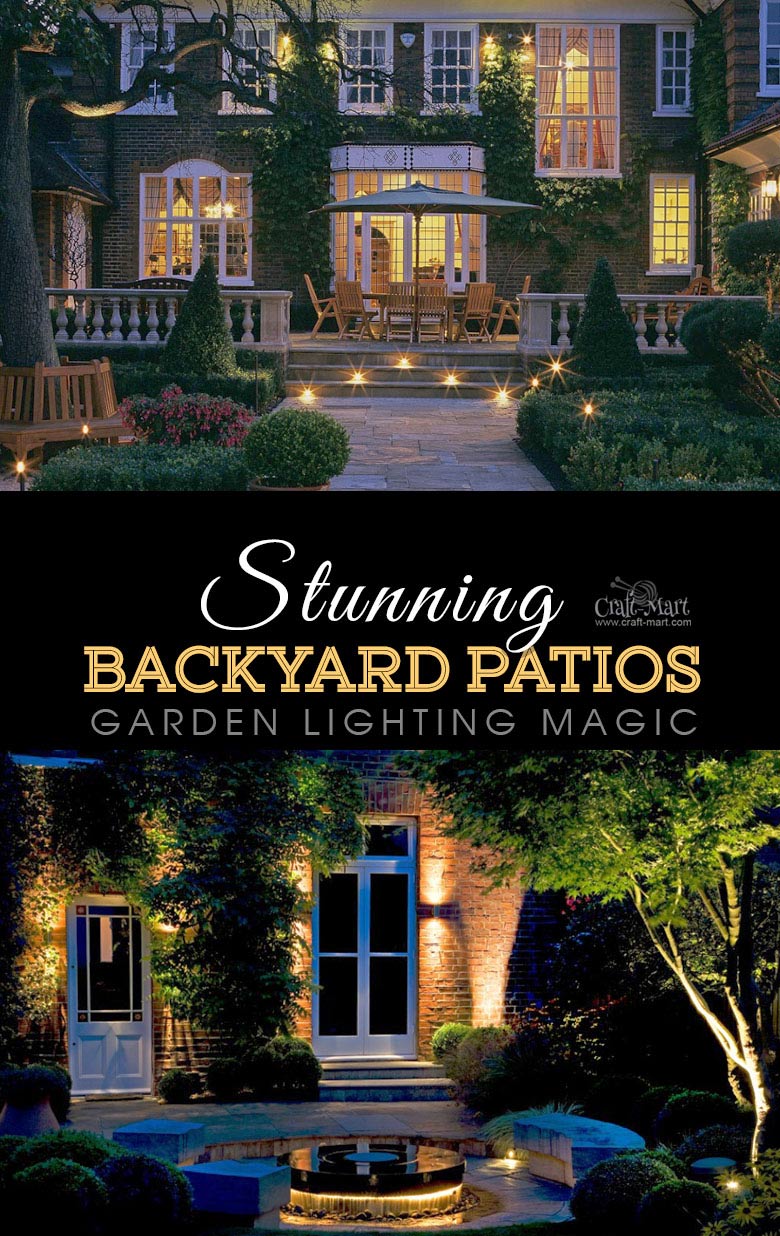 ---
21. Ceiling lights for modern deck or patio
If you have a great deck or modern patio, sometimes, the solution can be as easy as just string lights together to lit up space. Quick and simple!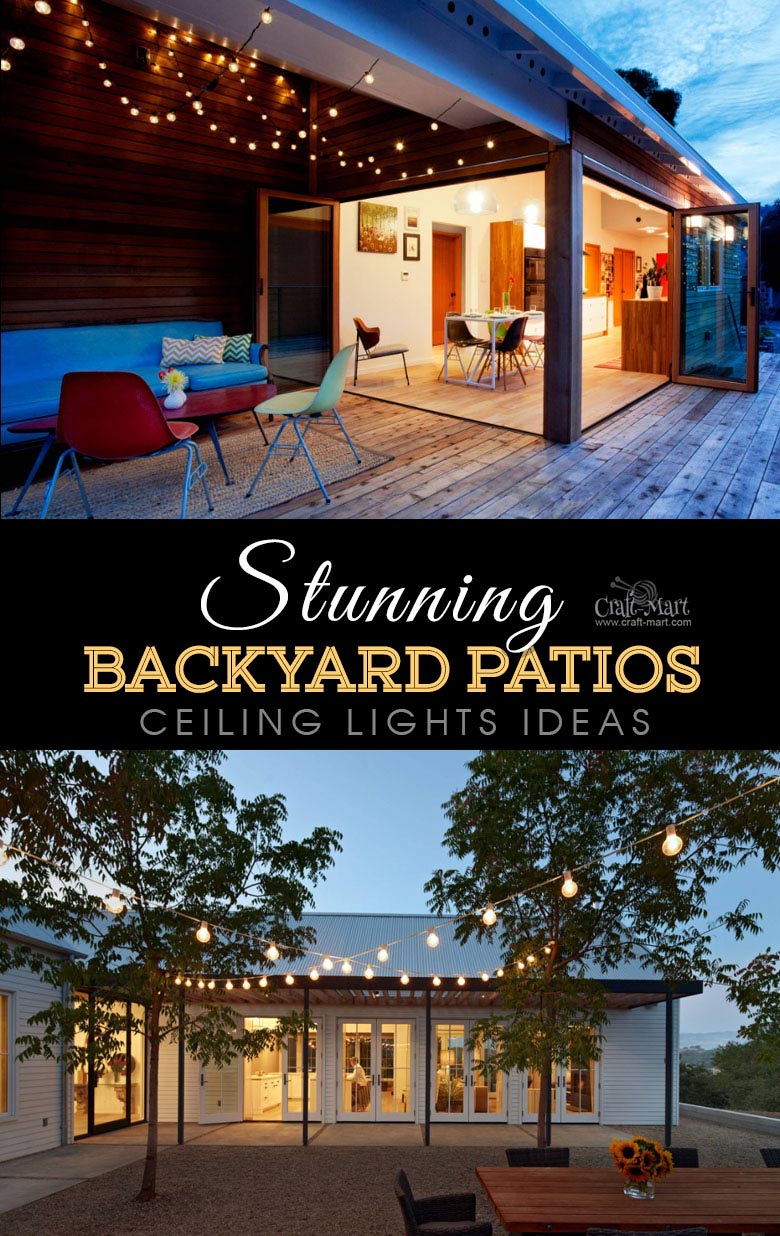 ---
22. Patio with Lights for a Rustic Modern Farmhouse Retreat
You don't have to light up the whole backyard – just the spaces you plan on using at night, to keep those electricity bills low.
This rustic modern farmhouse retreat gives a perfect example of the minimalistic approach to backyard lighting solution while providing the well-lit space the whole family can enjoy. A couple of wall-mounted lights and 1-2 strings of garden lights will transform your backyard.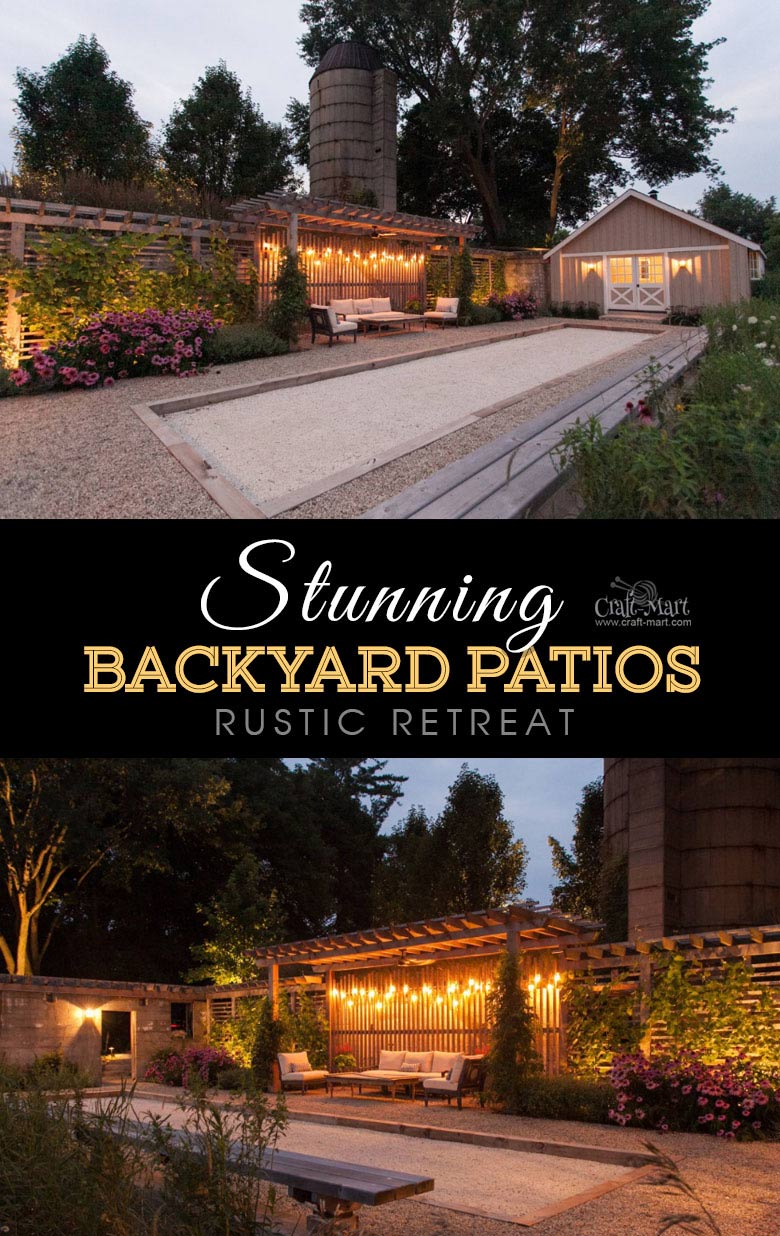 ---
23. Lighted patios for al fresco dining and entertaining
Outdoor ceiling lights can turn your patio into French countryside backyard paradise or romantic Mediterranean patio by providing enough light to have an 'al fresco' dinner under the stars. A DIY or store-bought chandelier can create an elegant and festive atmosphere for your dinner party or date night. Just imagine a romantic candlelight setting for two with shimmering lights above that will let you relax and forget the worries of a busy workday…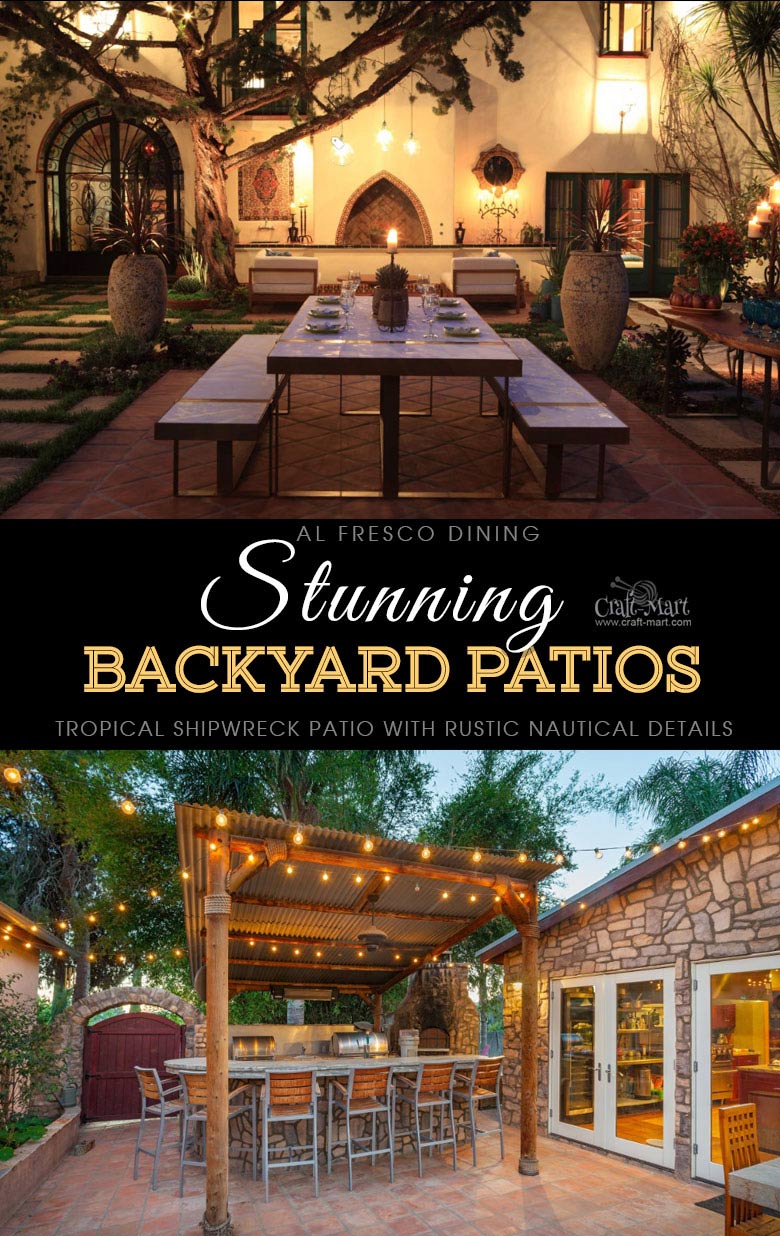 ---
24. Using tiki torches for a back patio lighting ideas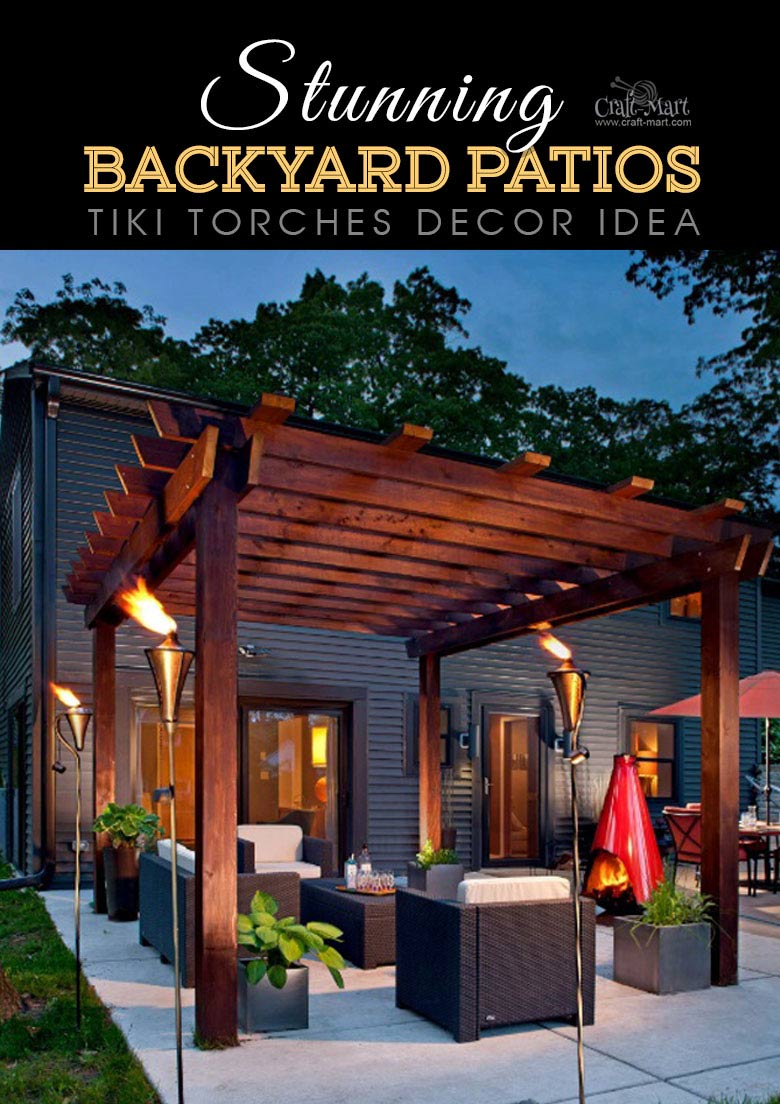 ---
Our collection of outdoor landscape lighting solutions and budget-friendly patio decorating ideas will help you create a private paradise – the most stunning backyard patio that you and your family can enjoy throughout the year.