In essence, the kitchen is the heart of the home. Likewise, whether you are remodeling your home or building a new one, these modern farmhouse kitchen ideas will be an inspiration for your project.
First of all, every single example reveals a professionally-designed space where every detail is meant to improve your cooking experience. Second, these kitchens reveal a mix of rustic elements, modern features, and industrial accents. Therefore, all these are just perfect for modern farmhouse kitchen space.
Modern Farmhouse Kitchen Design Elements
Most importantly, which are the main features of a modern farmhouse kitchen? Certainly, every homeowner will have his/her own preferences. In fact, there are several well-established design elements for a modern farmhouse style.
As an illustration, let's name a few of 'must-haves':
a mixture of white, black, and natural wood tones
bold light fixtures
barn doors
kitchen islands
deep farmhouse sink
open shelving
white subway tile
vaulted ceilings
dark accent beams
black chalkboard board wall accents
two-tome cabinets.
Here are 10 examples of modern farmhouse kitchens that put function above all yet demonstrate a tasteful mix of antique and modern accessories.
1. White Modern Farmhouse Kitchen
This kitchen features recessed panels, farmhouse sink, two-tone cabinetry, quartz countertops, large island with storage, and modern light fixtures. The bar stools with black metal legs and wooden seats complete the look.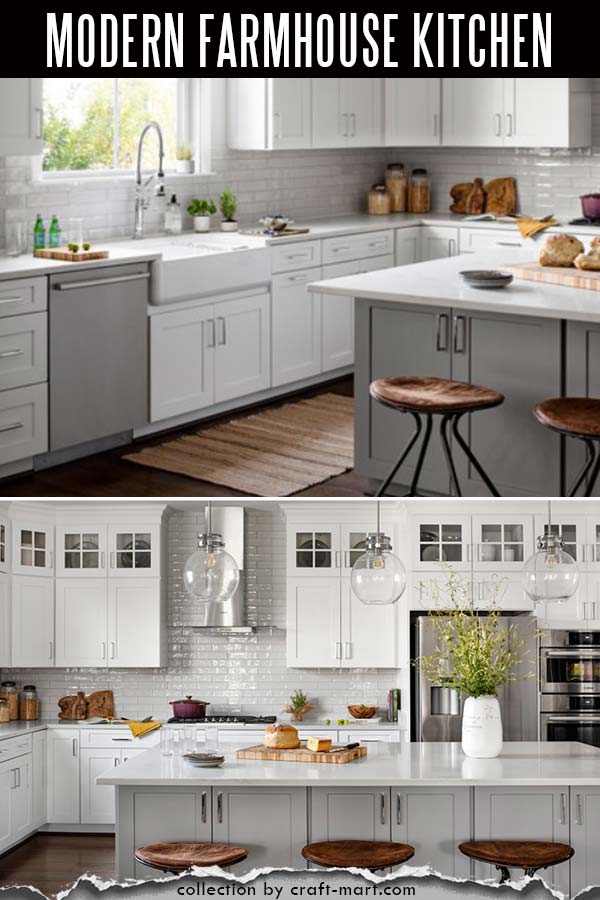 Source: Julie Coppa Designs, Inc.
2. Modern Black and White Kitchen with Rustic Ceiling
The design of this spacious kitchen is light and airy. To emphasize, dark appliances, black trim and accents, and the black island create a perfect contrast that gives a kitchen its modern look.
At the same time, wooden floors and the ceiling panel soften the overall design with a natural touch.
3. Modern Kitchen with Bronze Light Fixtures
You would fall in love with some exquisite details of this modern kitchen design! For instance, a cozy reading nook surrounded by built-in bookshelves is so inviting.
Notably, an array of metal light fixtures is in perfect harmony with the warm wood of the sit-in large kitchen isle. For that reason, large islands are so popular in a modern farmhouse kitchen as they do double duty as a kitchen table.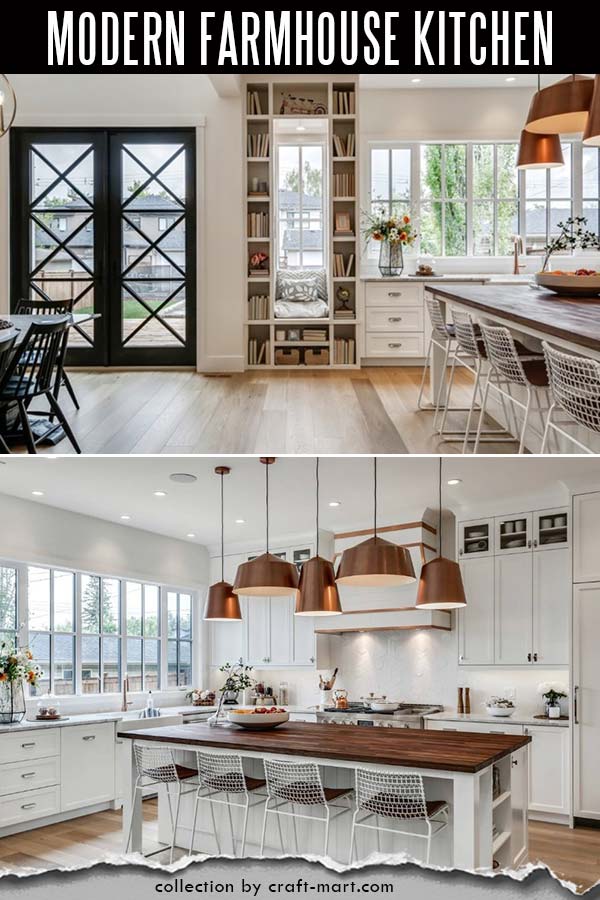 Source: Modern Farmhouse Kitchen in Calgary, Canada
4. Rustic Kitchen with Two Islands
This unique kitchen design boasts not one but two kitchen islands. While both islands add meal prep surface, the second one doubles as an eat-in kitchen table. Restoration hardware barstools complement rustic wooden ceiling with open beams.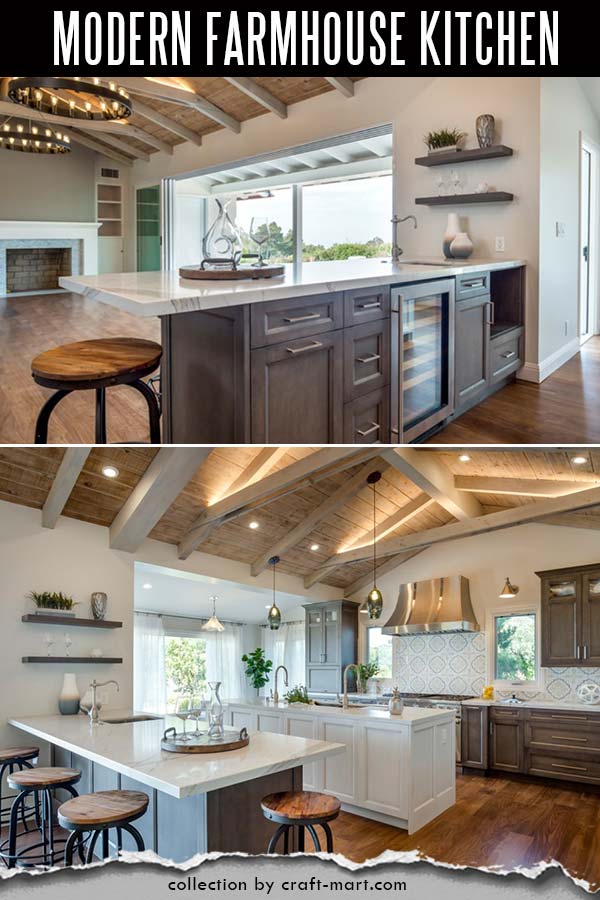 Source: Open Kitchen Concept in Los Angeles, CA
5. Rustic Kitchen with Open Shelves
It is rare to see a kitchen without upper cabinets. Generally speaking, everyone prefers lots of storage in the meal prep area.
As an illustration, you won't miss upper cabinetry with a clever-designed enormous center island. Altogether, it has tons of storage, deep farmhouse sink, butcher block, and meal prep counter. A black exhaust hood, black beams, and wooden open shelving contrast with a white painted brick wall.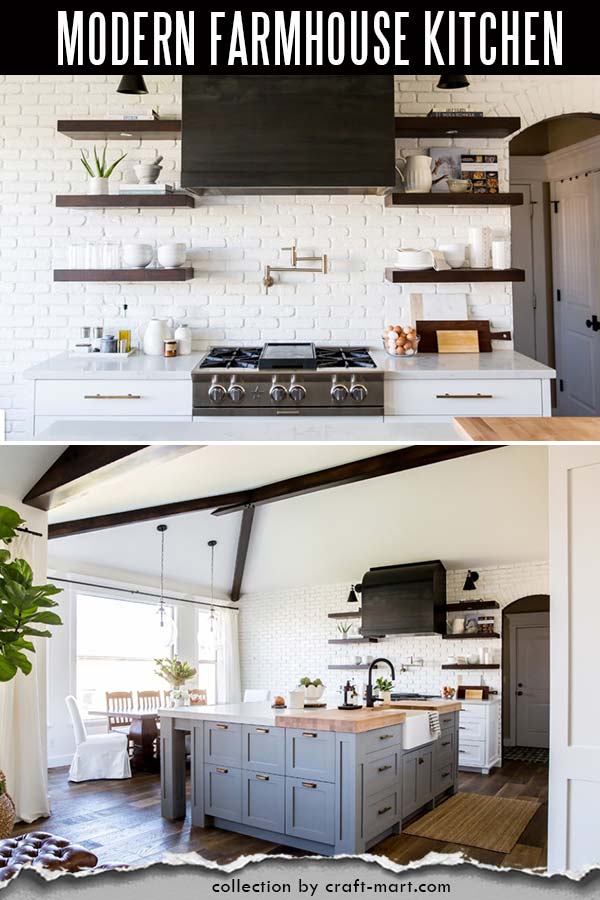 Source: House of Jade Interiors, Salt Lake City
6. White and Bright Farmhouse Kitchen
Get inspired by this kitchen remodel that creates a large functional space. As an illustration, some of the unique design features include a large cooktop accentuated by a black hood, wooden beams, and chalkboard message center.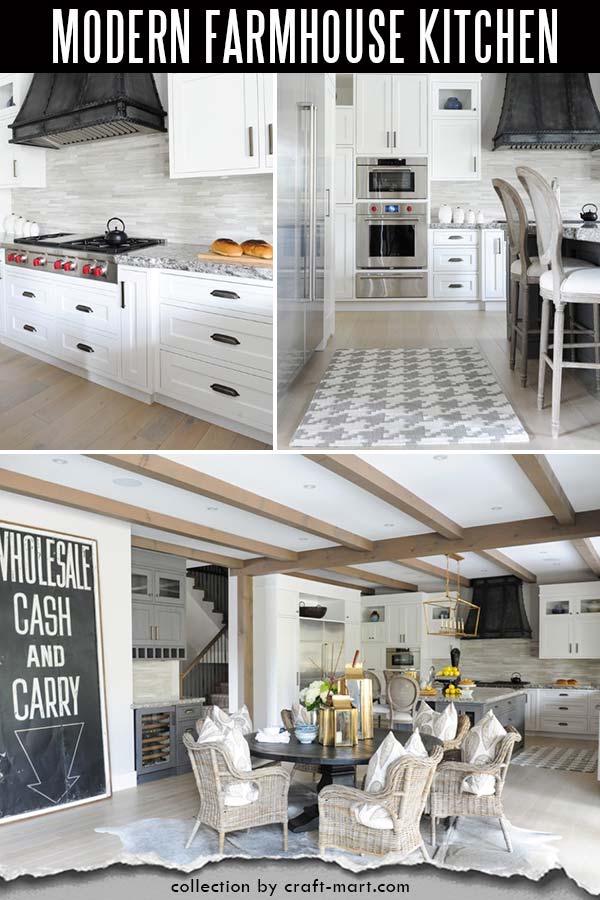 Source: Modern Farmhouse Kitchen in Vancouver
7. Large L-shaped Farmhouse Kitchen with Unique Island
Not a single detail is spared in this large kitchen! A unique center island with rustic X-shaped wood structure and bold color, as well as wooden shelves and beams, give this kitchen its distinctive look.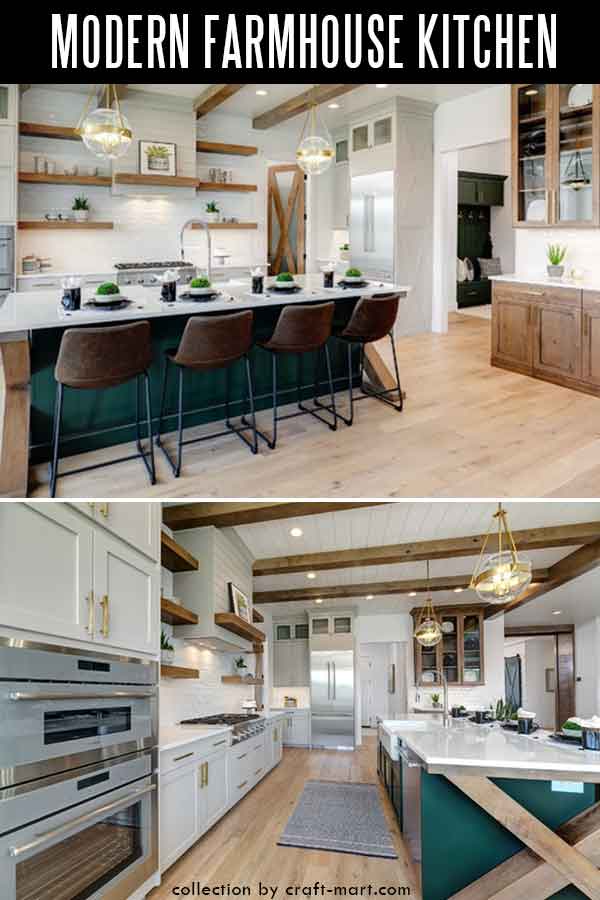 Source: Modern Farmhouse Kitchen by Solitude Homes
8. Classic Small Farmhouse Kitchen
This classic small farmhouse kitchen is a dream! In essence, all elements come together in harmony including warm-toned wooden floor and butcher block top of the central island.

Source: Small Farmhouse Kitchen in Richmond, VA
9. Antique Kitchen Remodel in Boston, MA
This unique kitchen reveals a perfect combination of old and new. As an illustration, the stove was styled to look like an antique piece with a custom hood adorned with rivets and metal trim. Reclaimed wood evokes the nostalgia of vintage appeal.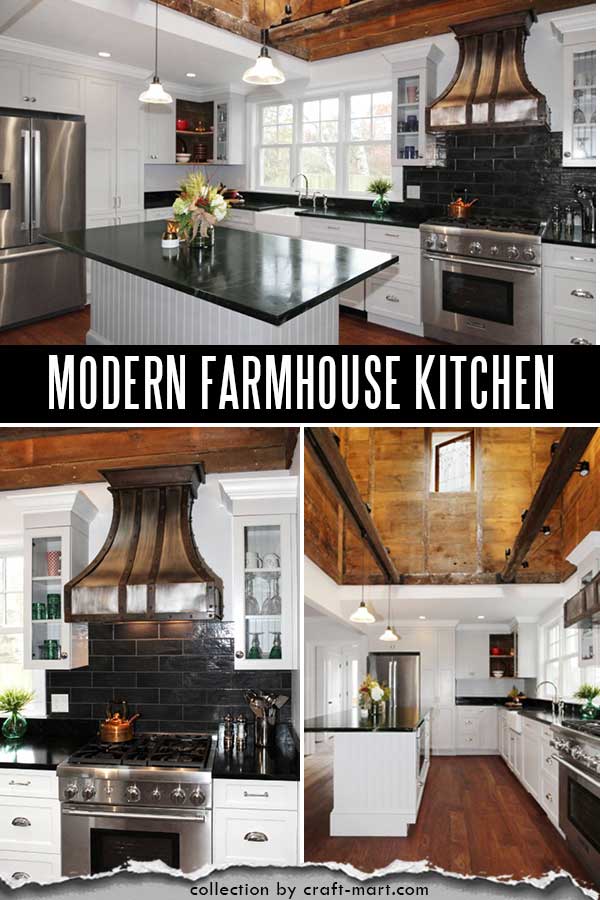 Source: Antique kitchen remodel by Renovisions
10. Modern Farmhouse Kitchen in Gig Harbor
This modern kitchen space creates a perfect open area concept with a light and airy dining area. In summary, its unique features include light fixtures, upgraded stove, black trim, and farmhouse-style open shelving.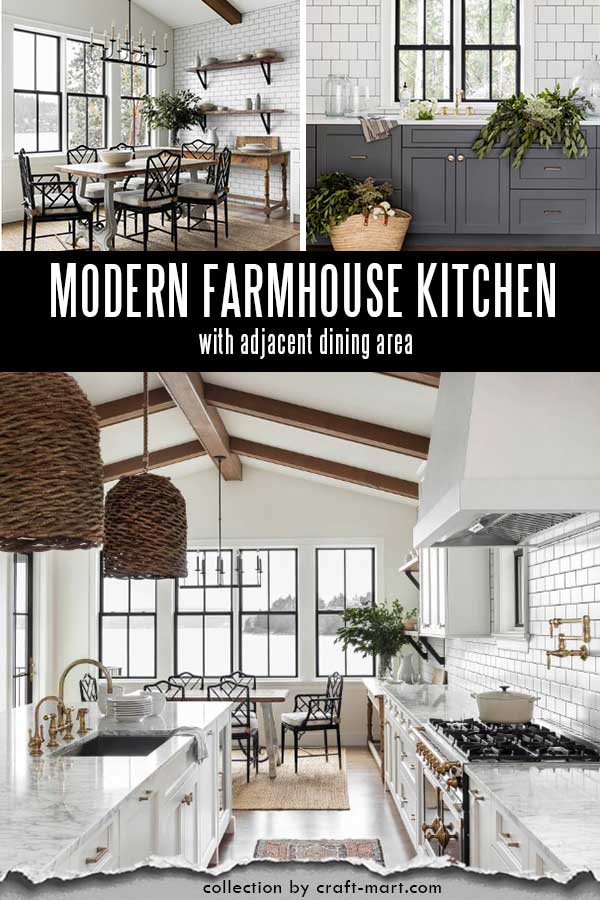 Source: Modern farmhouse kitchen in Seattle, WA
Did these projects inspire you? Please share your modern farmhouse kitchen renovations and tell your story.