Looking for crochet beach cover-up patterns? Whether you are searching for a quick crochet project or want to learn something new, we have a collection of easy, breezy free patterns for your crochet library.
In reality, crochet and knitting gain popularity during the coldest months of the year. Crafters enjoy making chunky blankets and cozy throws to stay warm. Easy Crochet baby blankets are also high on the list.
On the contrary, light and breezy accessories are in high demand during spring and summer. Check out our collection of spring and summer projects that are perfect for the warmer season:
Furthermore, this collection of crochet beach cover-up patterns provides you with an array of projects for summer. Not only you could learn how to crochet a trendy accessory for the beach, but you'll save money by doing it yourself instead of rushing to the mall.
With a pool and beach season rapidly approaching, there is no better time to get creative and dress up your swimwear with a gorgeous crochet cover-up. In fact, our collection of 17 free patterns makes it so easy.
1. Breath of Summer Crochet Cover-Up Dress by Garnstudio
This lovely round yoke sleeveless tunic is crocheted in the round from the top down. It comes with a full written pattern for sizes S – M – L – XL – XXL, a diagram, and video tutorials.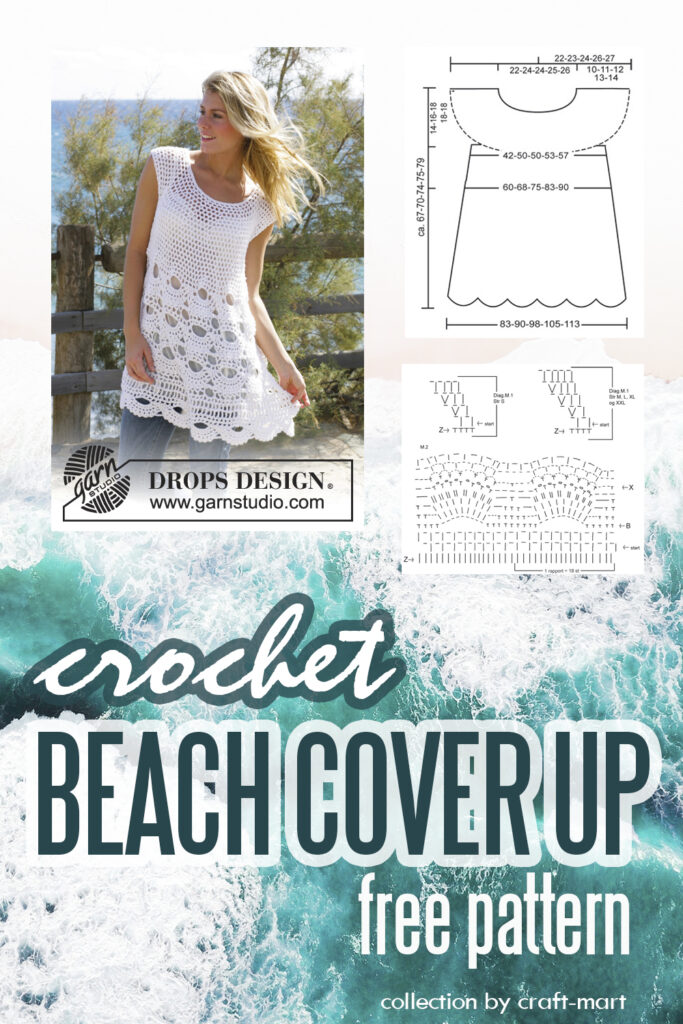 2. Easy Beach Cover-Up – Free Pattern and Video Tutorial
Learn to crochet this mesh cover-up for the summer! You will combine easy and simple crochet stitches to make this modern and comfortable beachwear.
You can wear it to the beach or throw it over a swimsuit. As a result, you'll have a relaxed lacy garment that is full of summer vibes.
Most importantly, a free pattern comes with a very detailed video tutorial that gives you all the instructions you need. Check out this lovely modern pattern if you are looking for a crochet beach cover-up pattern that is suitable for beginners.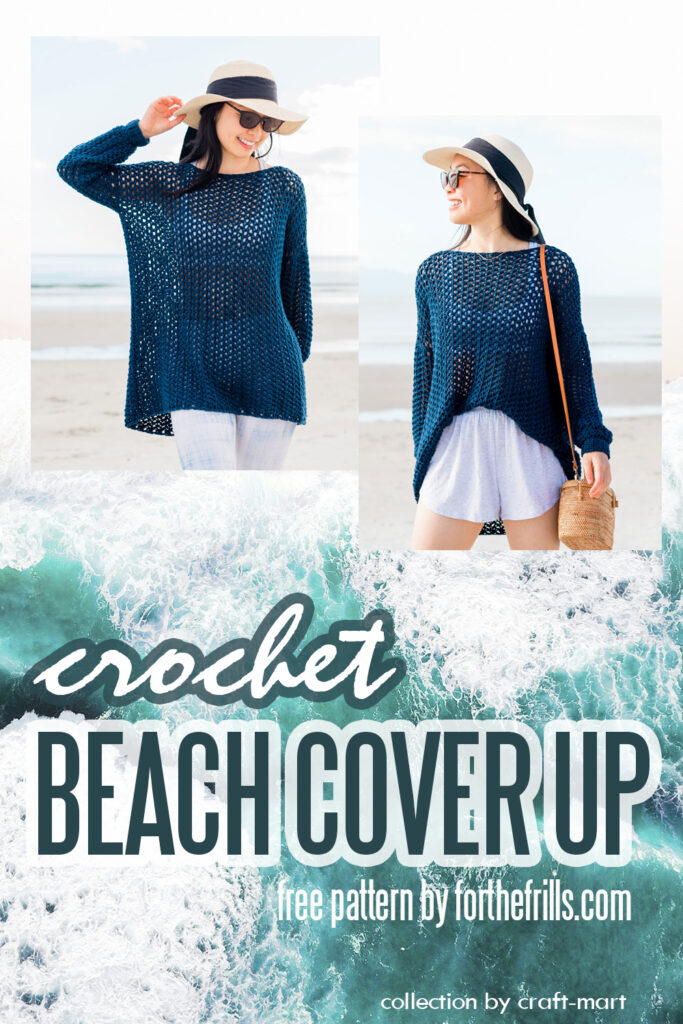 3. Easy, Breezy Swim Cover
In fact, there is nothing like a warm summer day spent at the beach, especially if you have the right beach cover-up to protect you from the sun. On the positive side, this elegant easy-breezy swim cover designed by Megan Shaimes is a perfect project even for beginners.
In summary, you'll be creating one big rectangle with a big h in the middle – no increases or decreases. To clarify, this coverup is very forgiving. It comes in different sizes (s/m, l/xl, and plus size) and you can make it a bit oversized.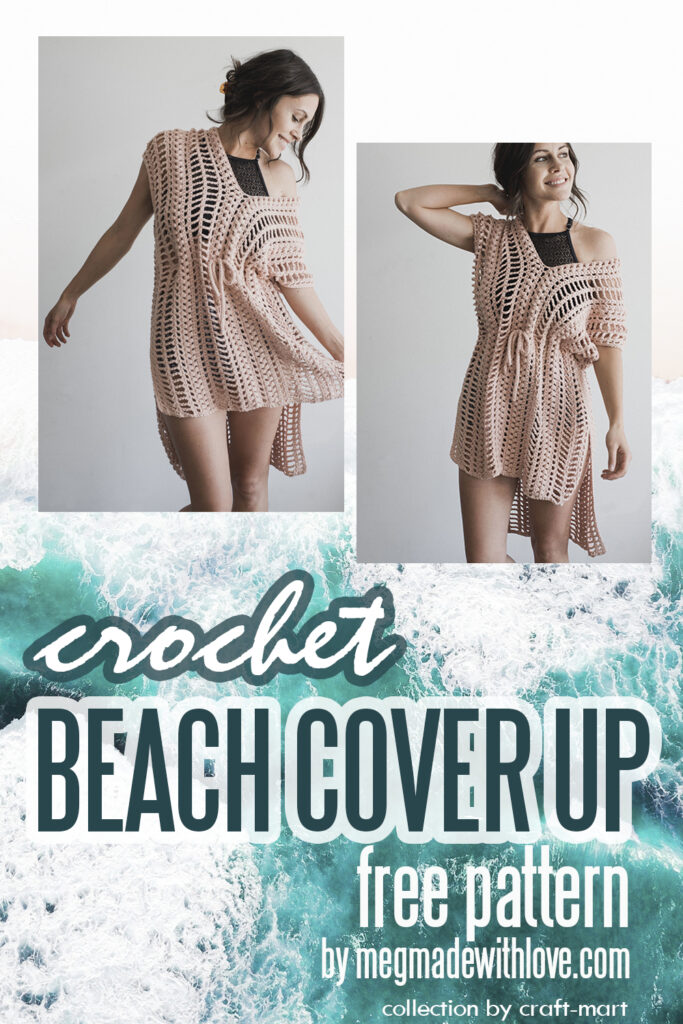 4. 'Sunshine' Crochet Beach Cover-Up – free pattern
Ready to head for the beach? In that case, don't forget to crochet an appropriate beach cover-up to make your time in the sun pleasant.
As an illustration, 'Sunshine' is the easiest crochet cover-up that comes with a free pattern and a video tutorial. In fact, it is a breeze even for beginners. So, grab your cotton yarn and get creative.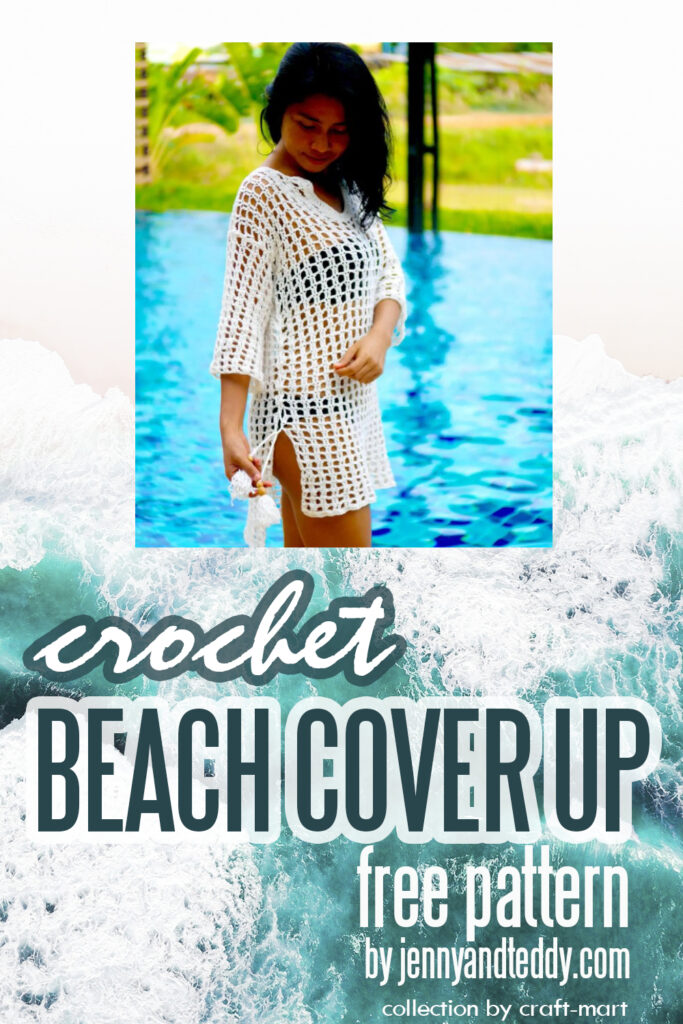 5. Beach Cardi Cover-Up
Get ready for the summer season with a quick crochet handmade fashion project. In summary, this quick cardi designed by Wilmade for beginners can be used as a light cardigan or a beach cover-up.
In fact, it is even big enough to wrap around like a blanket if you are cold after a swim. This simple cummer cardigan for beginners has a simple construction: it's made out of 3 rectangles which are crocheted separately and then sewn together.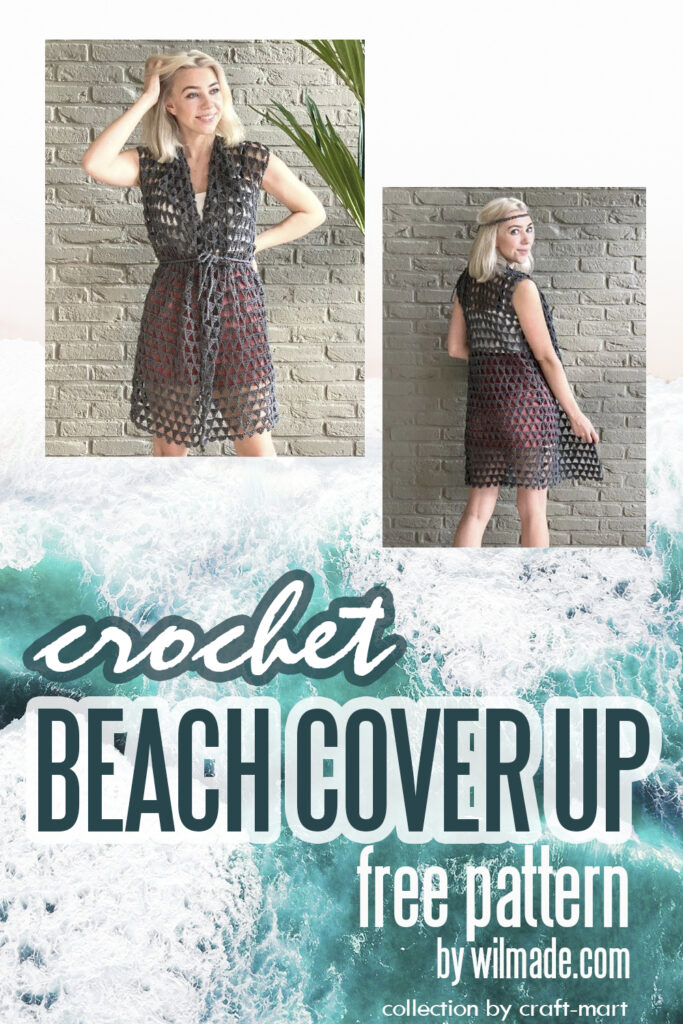 6. 'Sarasota' Beach Dress
As can be seen, this gorgeous beach dress is crocheted in three colors (cornflower blue, sky blue, and white) to represent the ocean, sky, and clouds. In addition, two blocks feature a different stitch, making this piece both fun to crochet and to wear.
This dress is worked in the round from the bottom up and is designed for an 'intermediate' skill level. Furthermore, an elegant lacy edging gives the dress a finished look.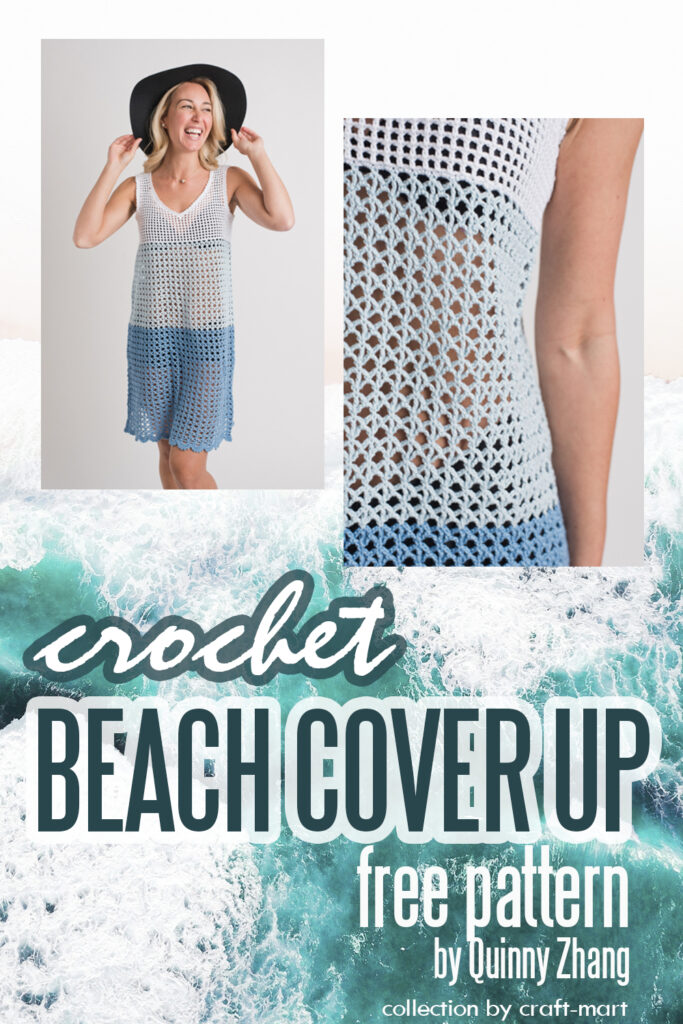 7. 'Clearwater' Cover-Up by Adinda Hening
This light and breezy cover-up piece is perfect for a stroll on the beach, a light lunch at the seaside cafe, or a picnic at the pool. As an illustration, the simple design makes it easy to crochet.
The garment is worked flat in one piece starting from the bottom front and split for the neck opening. Most importantly, with a skill level 'easy' and only chain and double crochet stitches, it is a perfect project for beginners.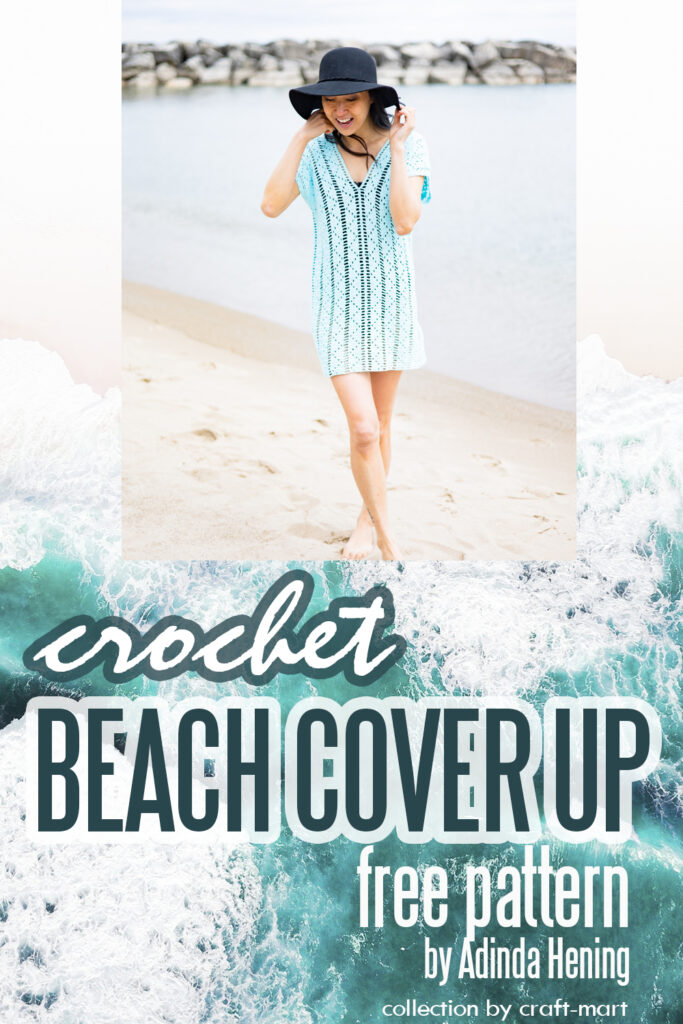 Source: Clearwater Cover-Up by Adinda Hening
8. Airy Tunic by Mary Beth Temple
As a part of the 'Coastal Cool Crochet Collection', this airy tunic is perfect for layering anything from a tank top to a swimsuit. As an intermediate skill level project, it features a slightly more complicated stitch.
You'll change hook sizes to achieve shaping for this lacy cover-up, so check your crochet hook collection. On the bright side, you will use only basic crochet stitches for this project.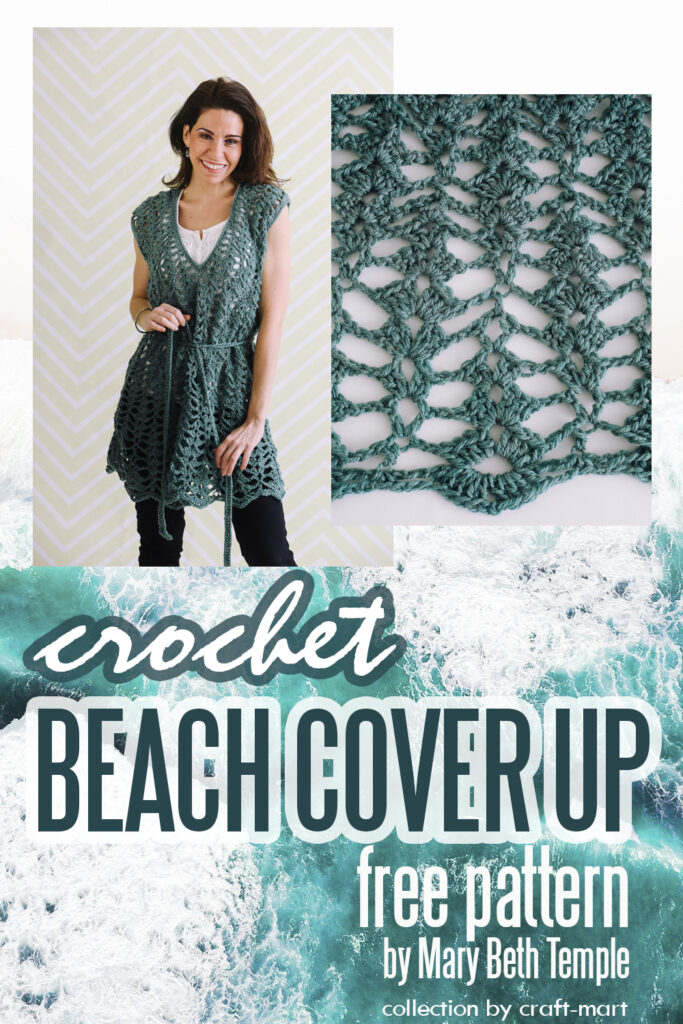 Source: Airy Openwork Tunic by Mary Beth Temple
9. Simple Day Trip Cover-Up
You can crochet this cover-up using any color of Caron Simply Soft Yarn. You would need 2 skeins of yarn for the whole project. To make it more lightweight, you can pick a cotton yarn for this cover-up.
You'll work the garment from the bottom up and add the straps later. One of the special stitches for this project is the cluster stitch.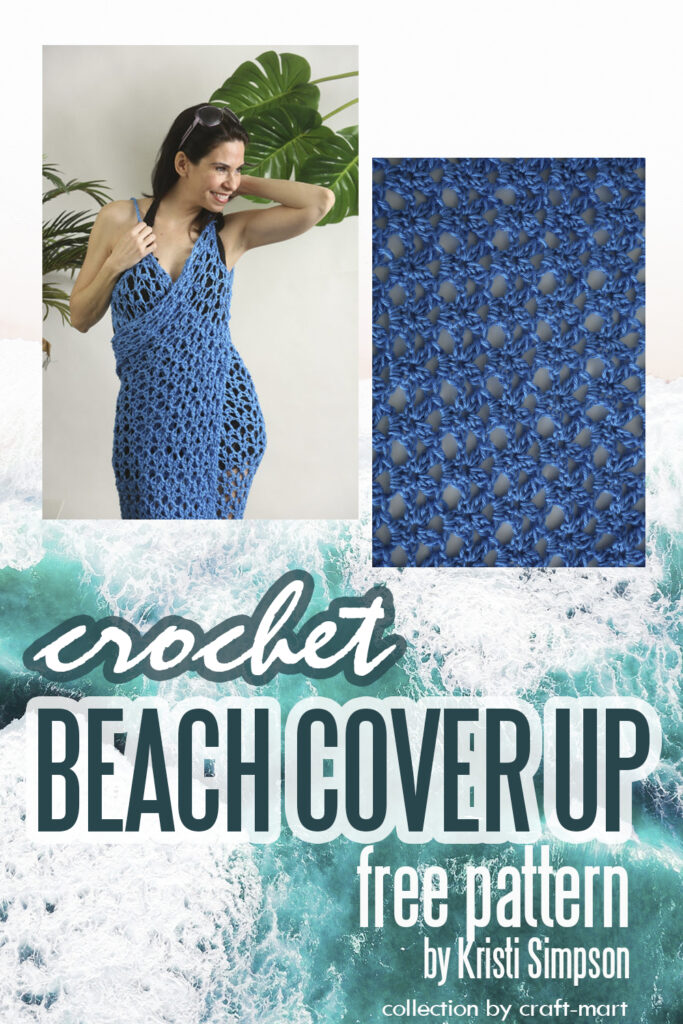 Source: Simple Day Trip Cover-Up by Kristi Simpson
10. Boho Mini Dress with a Free Pattern
Most importantly, this white mini dress comes with very detailed instructions and a video tutorial. In short, it is cute, easy, and fun to crochet.
It is made out of 4 simple rectangles and uses a simple lacy stitch. As a matter of fact, you can make a mini dress or a long one, if you wish. The basic crochet stitches in this project are slip stitch, double crochet, single crochet, and chain.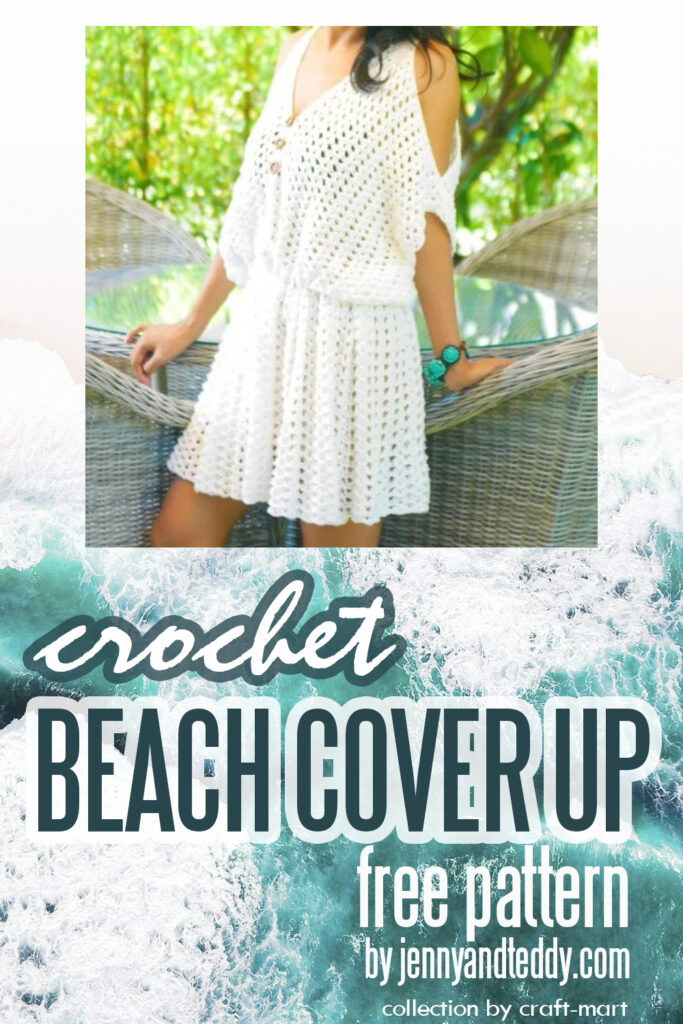 11. Tranquility Ruana: Free Crochet Beach Cover-Up Pattern
In essence, a simple and stylish crochet ruana is a staple of summer crochet projects. It is made with simple rectangles and a beginner-friendly stitch.
Overall, you'll love this pattern to create just the thing your summer wardrobe needs. In that case, you can use 3/DK Weight Yarn and Size J/6 mm crochet hook to crochet this cover-up.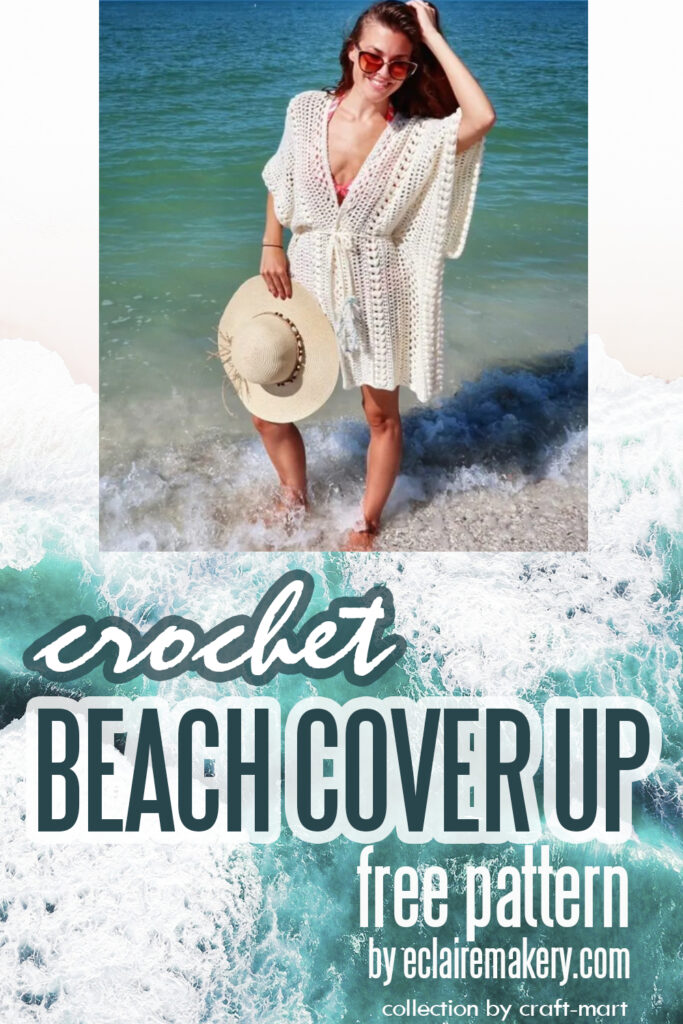 Source: Tranquility Ruana: Free Crochet Beach Cover Up Pattern
12. 'Shore Thing' Beach Dress
Are you looking for laid-back summer wardrobe clothes you can crochet? You can wear this elegant summer dress as a beach cover-up or as a night-out outfit with a slip underneath.
The construction of the dress is easy with two identical rectangular pieces. Each rectangle is worked from the lower edge upwards beginning with a lacy shell pattern. After an even section of the shell pattern is complete, you start to decrease along one edge to form a sloped top edge.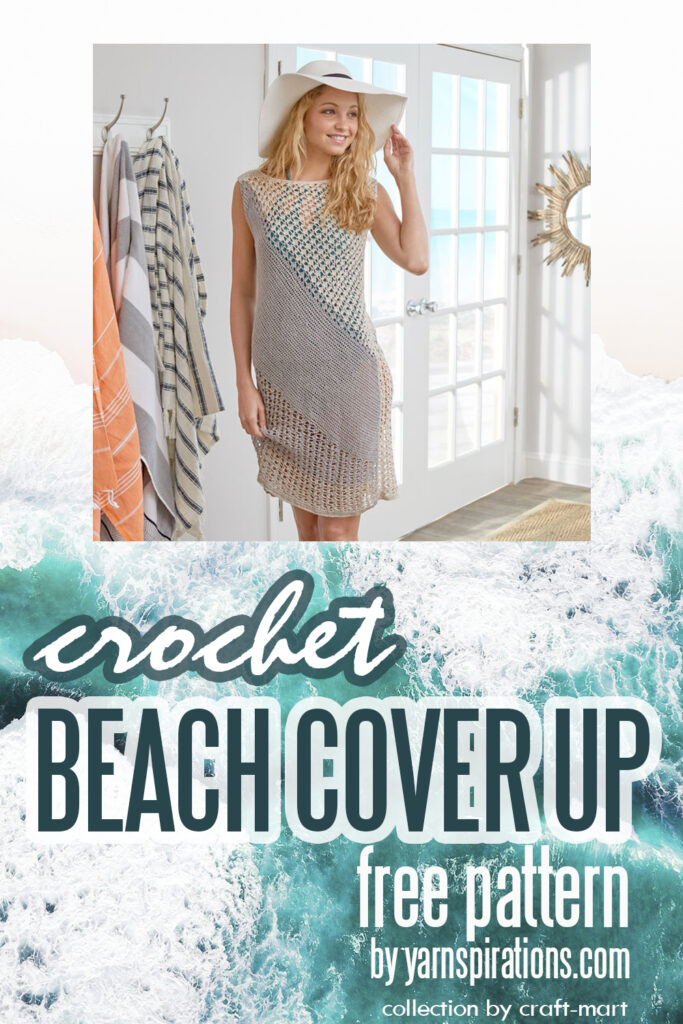 Source: 'Shore Thing' Beach Dress
13. 'Beach Time' Cotton Cover-Up
This cute cover-up is just the thing for a day at the beach! Furthermore, you can pair it with shorts and a tank top for a fun everyday look.
Most importantly, you can buy this as a kit on the Yarnspirations website though the pattern is available for free as a PDF download. The pattern has two options for the length of the cover-up (35″ or 40″).
You will create two long panels and then seam them together to create a cover-up.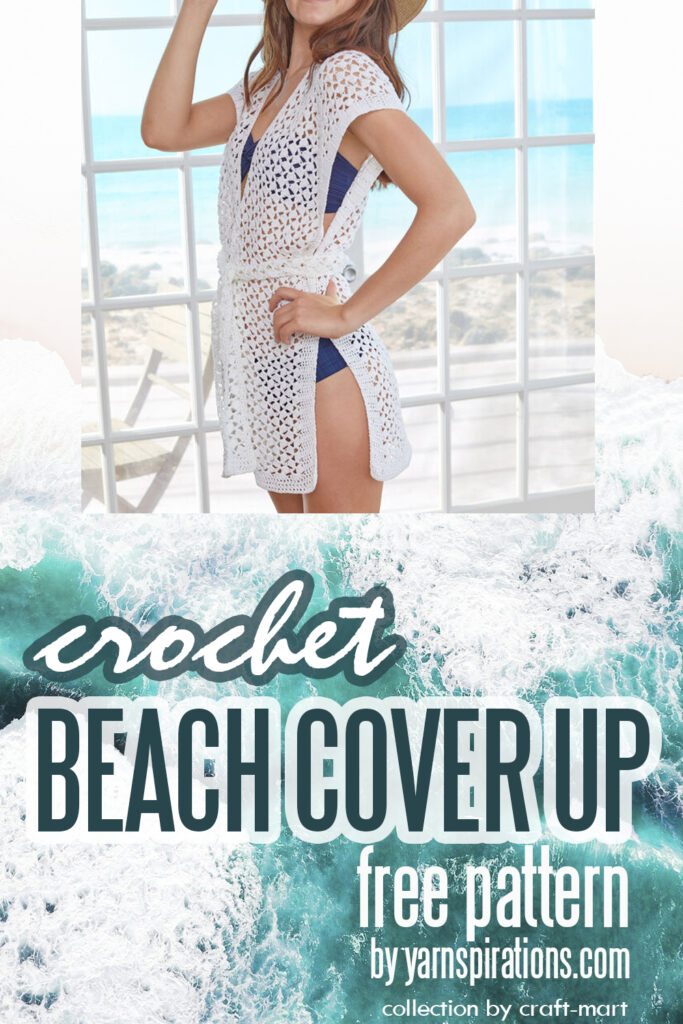 14. Crochet Cover-Up Pattern "Infinite Ways" Sarong
Sarong cover-up pattern is very versatile. What you'd love about this pattern is that you can wear it in so many ways: as a cover-up dress, wrap, or a beach skirt.
Most importantly, the diamond mesh stitch pattern using cotton yarn is easy enough for beginners. So, crochet it and add it to your beach essentials for this season.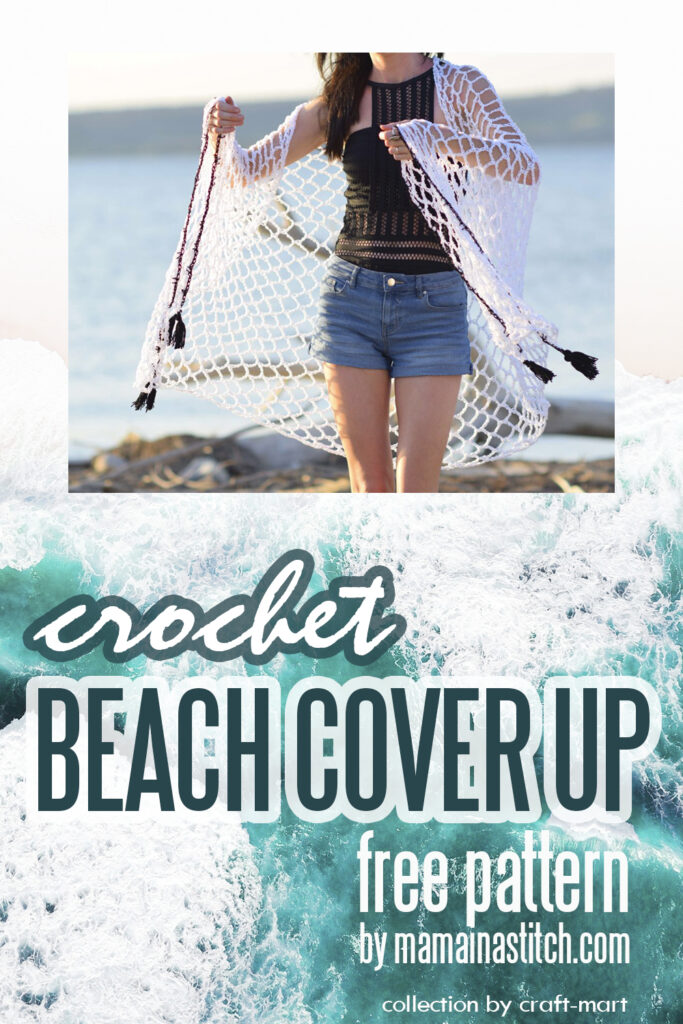 15. Porto Cotton Tunic – Free Crochet Pattern
'Porto' cotton tunic by Stitch and Hustle is a lovely summer pattern made with Lion Brand 24/7 cotton yarn. Most importantly, you can just follow a free pattern or get a kit that includes everything you need.
In fact, you can easily customize the pattern to make it your own. BY adding a few extra rows, you can turn it into a longer beach cover-up.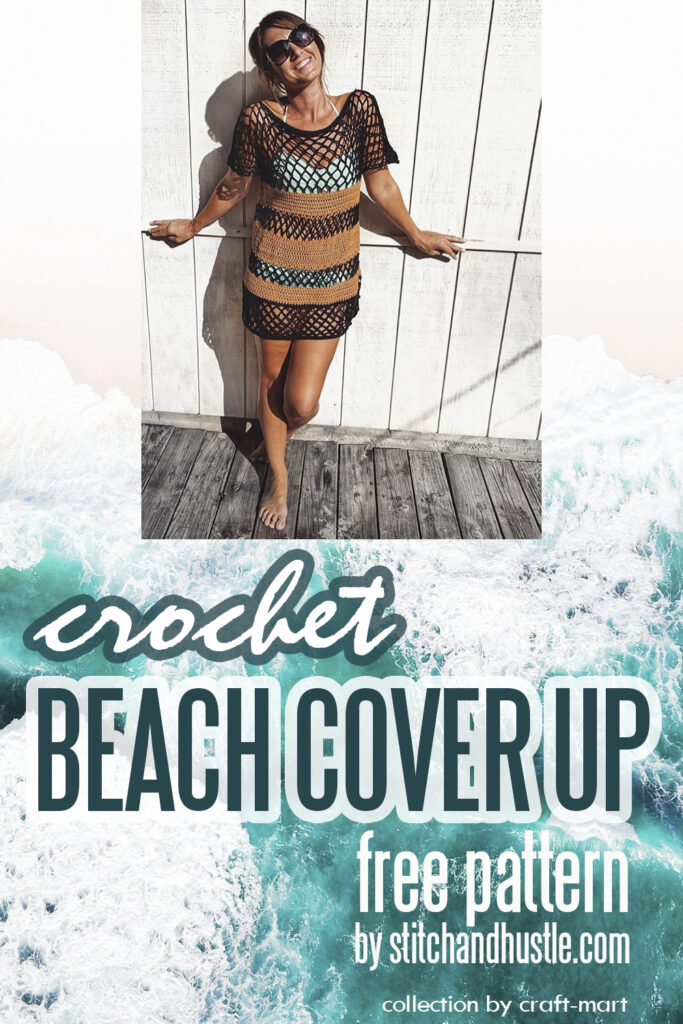 16. 'Beachy Keen' Cover-Up
You'd love this fast and easy crochet project to create a cover-up. As a beginner-friendly project, it is constructed from 2 rectangular panels.
You will be alternating single crochet rows and treble crochet rows creating a simple modern fillet pattern. If you haven't mastered a treble crochet stitch, this is a perfect project to do so.
In fact, download this free printable PDF pattern and start practicing. As a result, you'll have a gorgeous modern beach cover-up.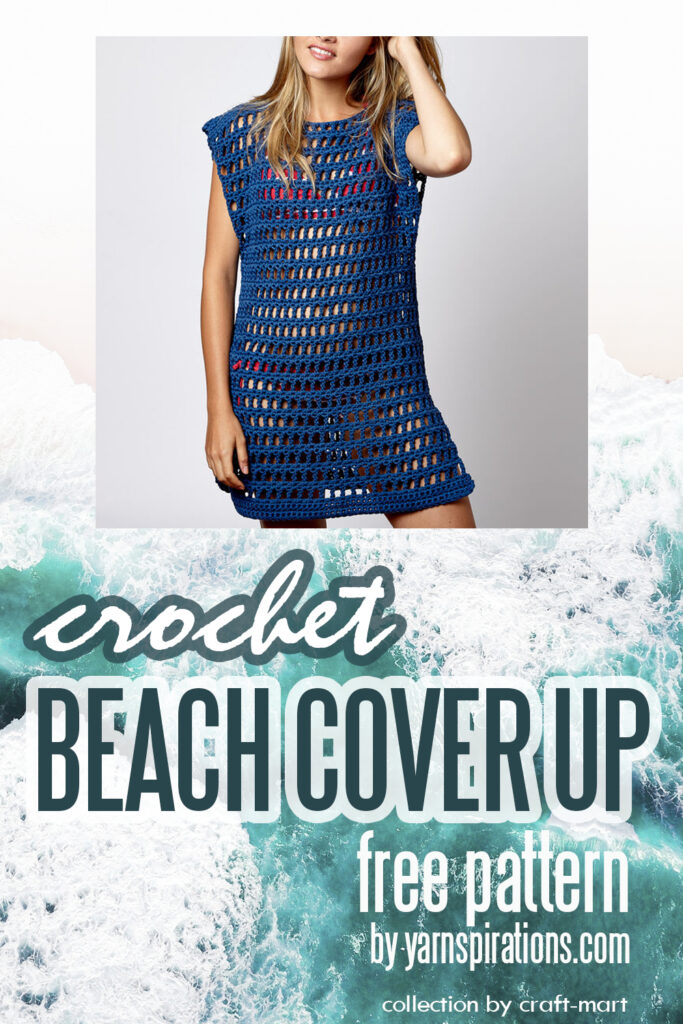 Source: 'Beechy Keen' Cover-Up
17. Easy Crochet Cover Up Pattern
Looking for a perfect piece to take on your next beach vacation? As a matter of fact, this garment will work as a beach cover-up or a stylish summer cardi paired with skinny jeans.
All you will need is 4-5 skeins of cotton blend yarn and the knowledge of basic crochet stitches. So, if you are familiar with the chain, single crochet, and half double crochet stitches, you'll be able to finish this project.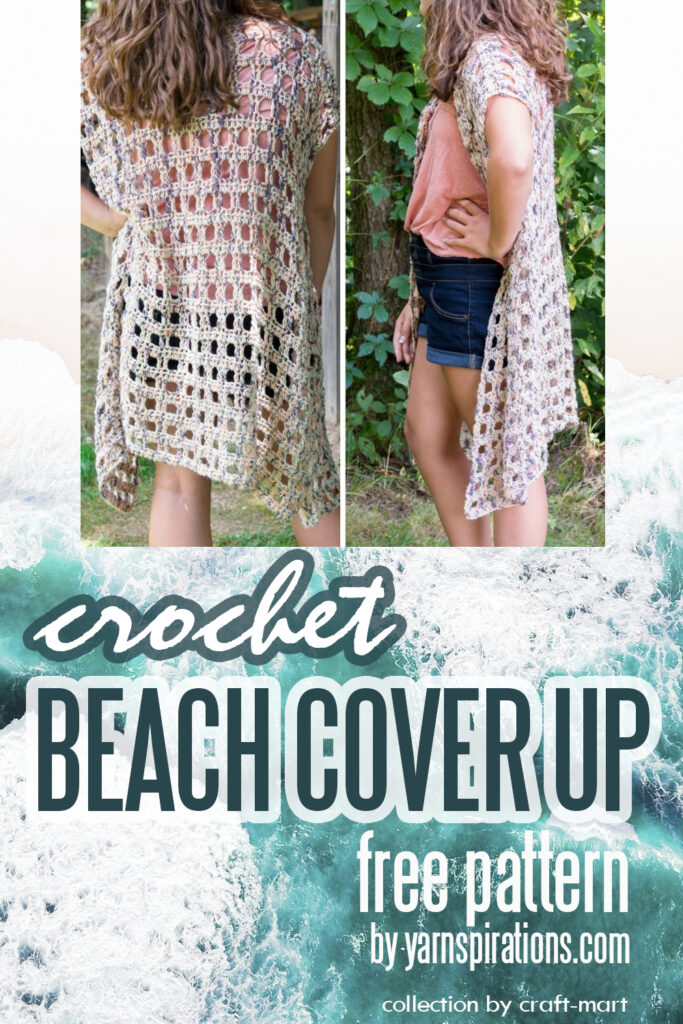 Source: Easy Crochet Cover Up Pattern
With so many great cover-up patterns to choose from, you can pick the one that will work for you. As a result, you'll have a one-of-a-kind handmade piece that will be the talk of the town this summer.