Is downsizing for you?
As a matter of fact, well-designed modern house plans under 1000 sq ft are not easy to find. The popular Tiny House trend took care of 400 sq ft homes. However, a growing number of families consider them to be way too small and are looking for at least 750 or 1000 sq ft house plans.
Obviously, since you're reading this post, you have already decided that 1000 square feet house plans would be a good option worth investigating. In many cases, families simply have to downsize due to a number of reasons.
Downsizing your home and living small is a very personal decision that weighs a large number of factors. In fact, we list a few of them at the end of this post.
Moreover, for the younger generation, buying a 1000 sq ft house often is the only option in many overpriced areas.
We often review small and tiny house plans and kits in our posts. For some of them, we give our improvements suggestions.
At the same time, these ten house plans under 1000 square feet below can be adjusted to your special needs. As a matter of fact, you may easily check dozens of 5-star reviews on Trustpilot. The author of these plans, architect Ignas always does a superb job.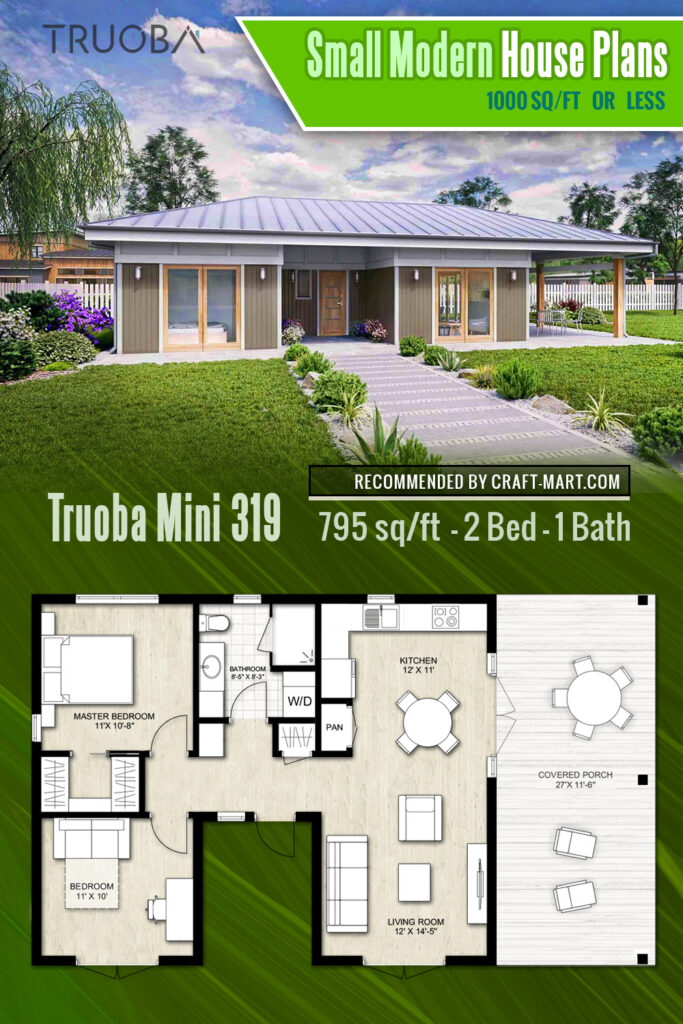 795 sq/ft

2 Bed

1 Bath
$1000 – 44′-6″ X 26′-10″
What is the first this you notice about this plan? Probably, a rather visible separation between the sleeping area and the living-kitchen-covered porch area.
Meanwhile, a very deep covered entrance that is not leading directly into the living room suggests that this plan would work better for an elderly couple. Likewise, the second bedroom can be used as an office or a craft room.
Get this floorplan here. To get a 10% exclusive discount use this code: 5XW3IBKKEM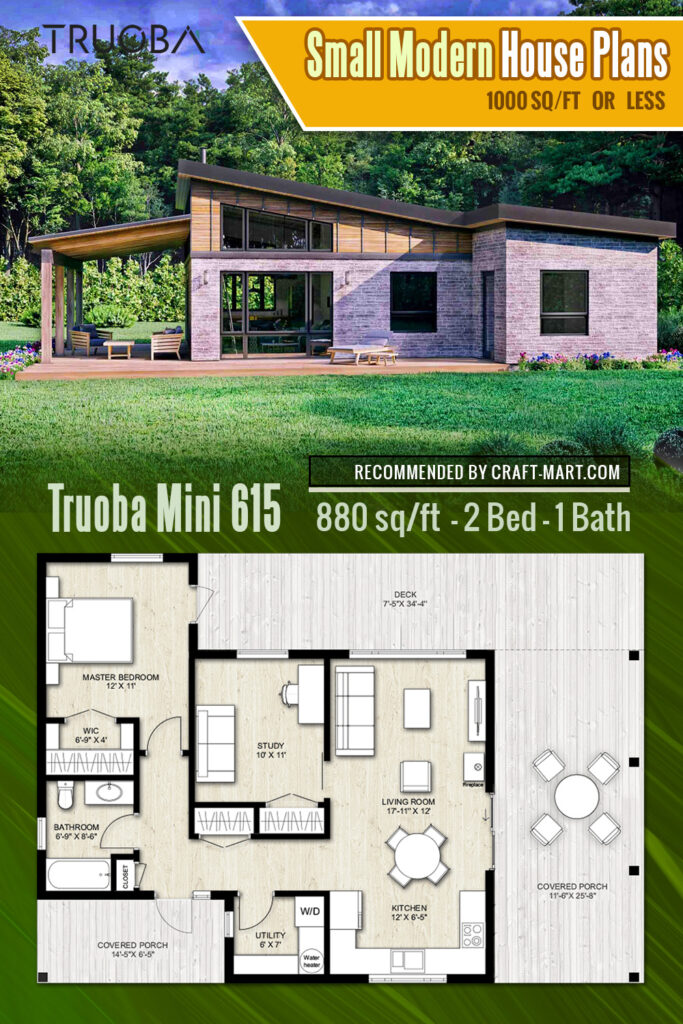 880 sq/ft

2 Bed

1 Bath
$1300 – 46′-2″ X 33′
This is an almost true 1000-square-foot house plan and it is beautiful! To clarify, this plan is not for a family with children but for grandparents or a young creative couple working from home. Get this floor plan here.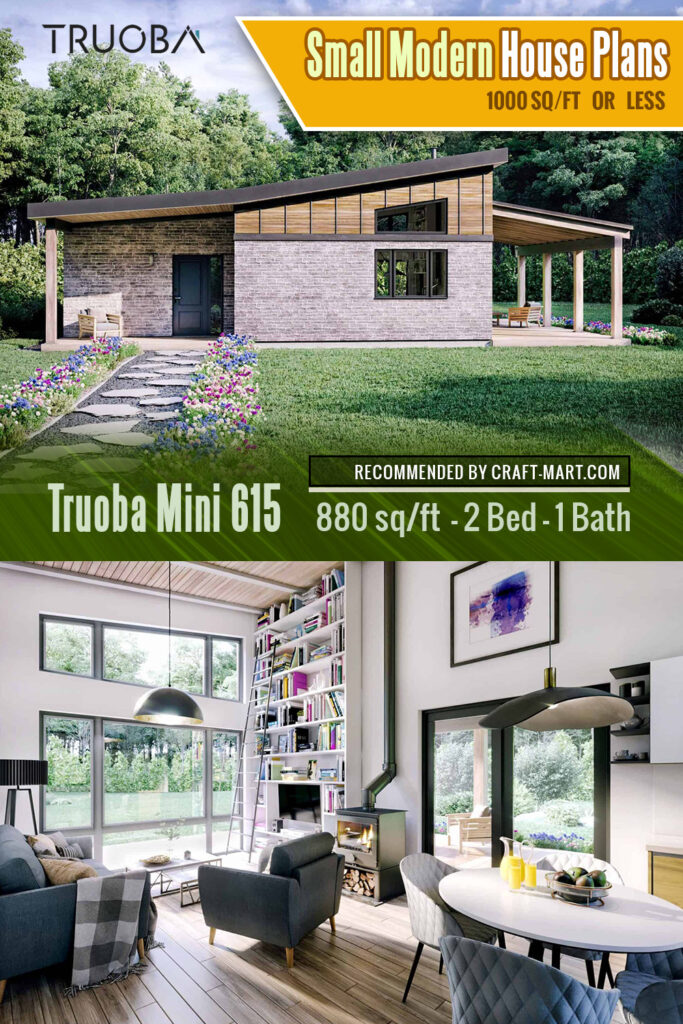 Most importantly, with so much natural light you'll have more energy and a better mood!
Get this floorplan here. To get a 10% exclusive discount use this code: 5XW3IBKKEM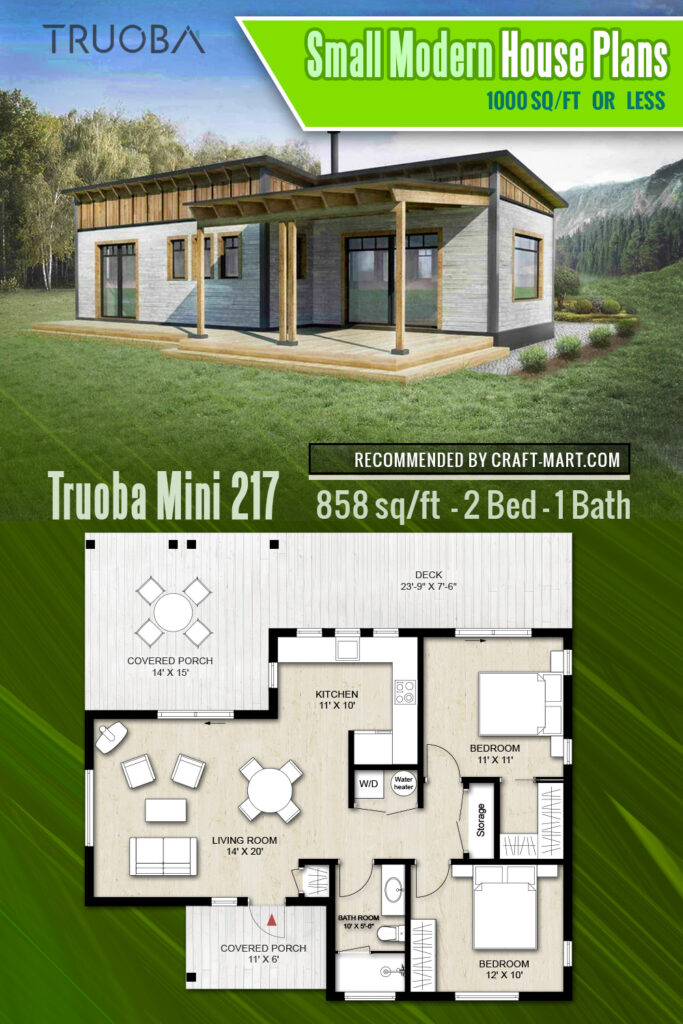 585 sq/ft

2 Bed

1 Bath
$1100 – 38′-2″ X 36
As an illustration, if you compare this 858 sq ft house plan with a 650 sq ft Mini 221 model, you'll clearly see these 200 extra square feet. Plus, two covered porches and a sizable deck – more than enough space for a family of 3.
Get this floorplan here. To get a 10% exclusive discount use this code: 5XW3IBKKEM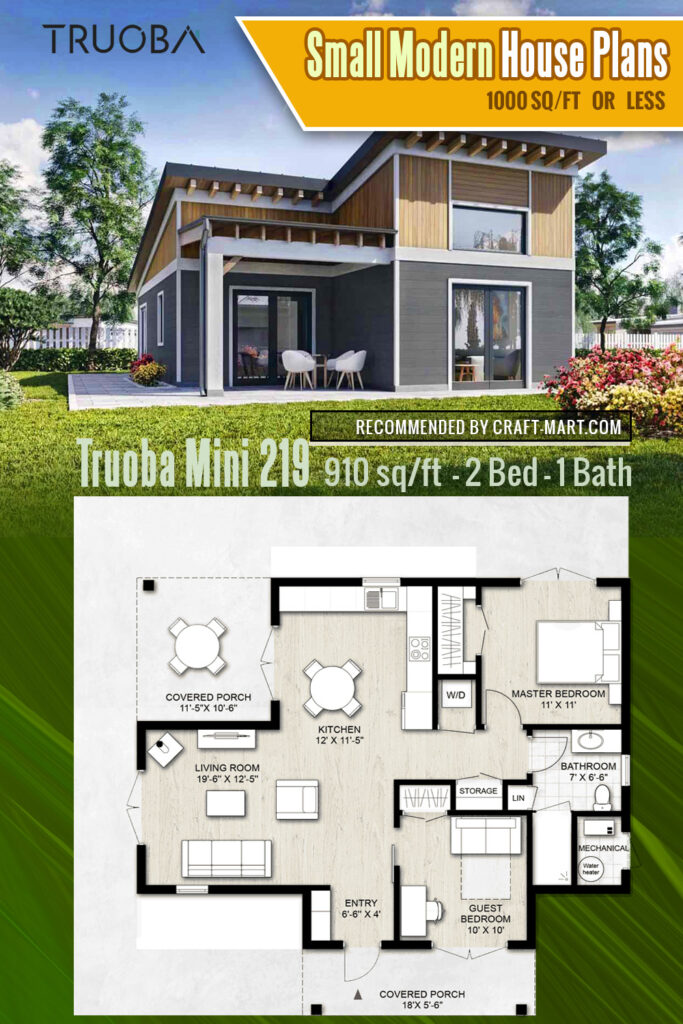 910 sq/ft

2 Bed

1 Bath
$1200 – 38′-8″ X 34′-10″
This single slope roof design for an almost 1000 sq ft house is quite unusual. It is certainly unique. The living room sports a rather high ceiling, a wide French glass door, and a window above it – all for creating a positive airy atmosphere. In general, this is a perfect plan for a retired couple with occasional guests.
Get this floorplan here. To get a 10% exclusive discount use this code: 5XW3IBKKEM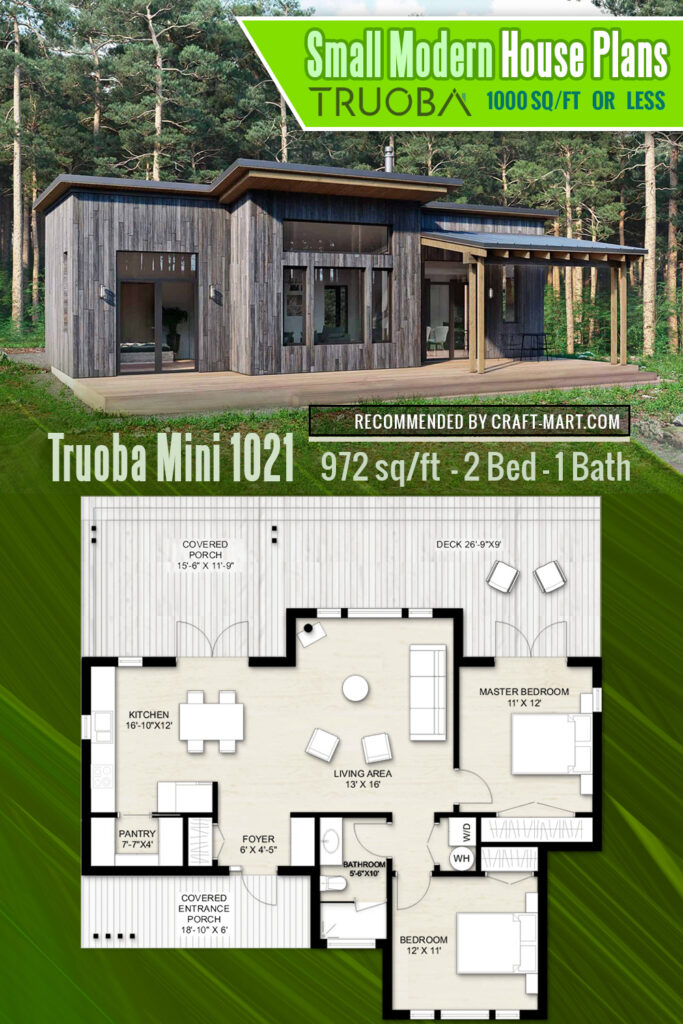 972 sq/ft

2 Bed

1 Bath
$1300 – 42′-7″ X 40′-5″
Certainly, this 1000 sq ft house would be perfect for a small family of 3 or even 4 but only if a master bedroom had its own bathroom. Don't you agree that it looks a little awkward when your master bedroom can be accessed only through the living room? Perhaps, pushing the master bedroom out to the deck can free up some space for the bathroom.
Get this floorplan here. To get a 10% exclusive discount use this code: 5XW3IBKKEM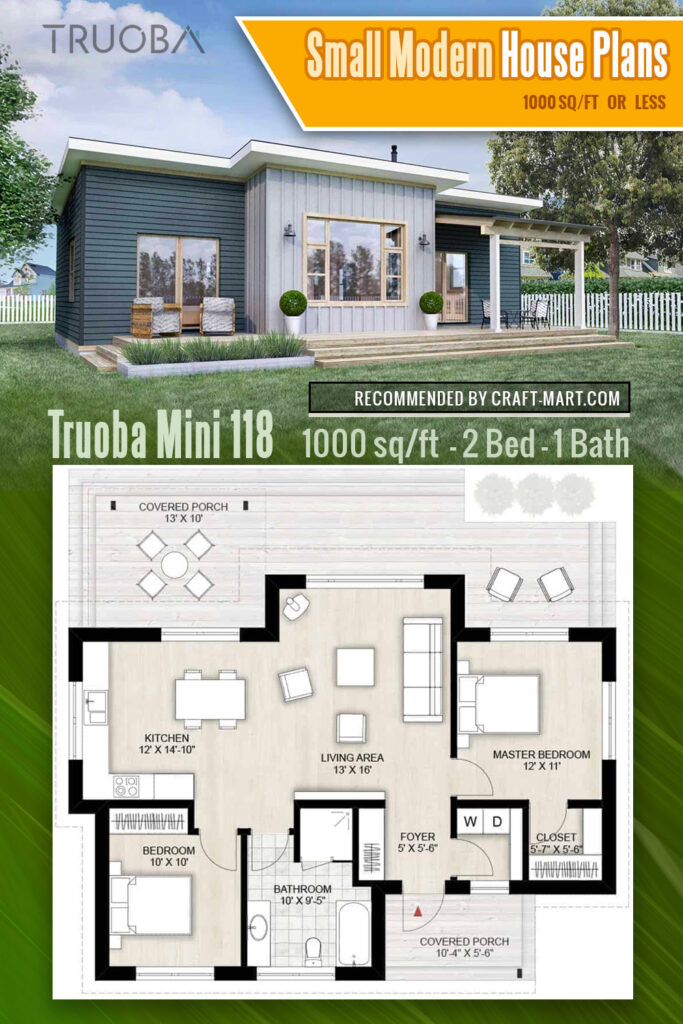 1000 sq/ft

2 Bed

1 Bath
$1200 – 36′-7″ X 41′-3″
As you may notice, this floorplan is a slight variation of the "Mini 1021" model. The architect moved the second bedroom to the left side and increased the size of the bathroom making it almost equal to the bedroom.
Yes, it's nice to have both: the shower and a bathtub but all these nice facilities are pretty far from the master bedroom.
In this case, how about increasing the size of the second bedroom and making it the master one? Moreover, you can make the second bathroom (with just a toilet and a sink) into the walk-in closet.
Get this floorplan here. To get a 10% exclusive discount use this code: 5XW3IBKKEM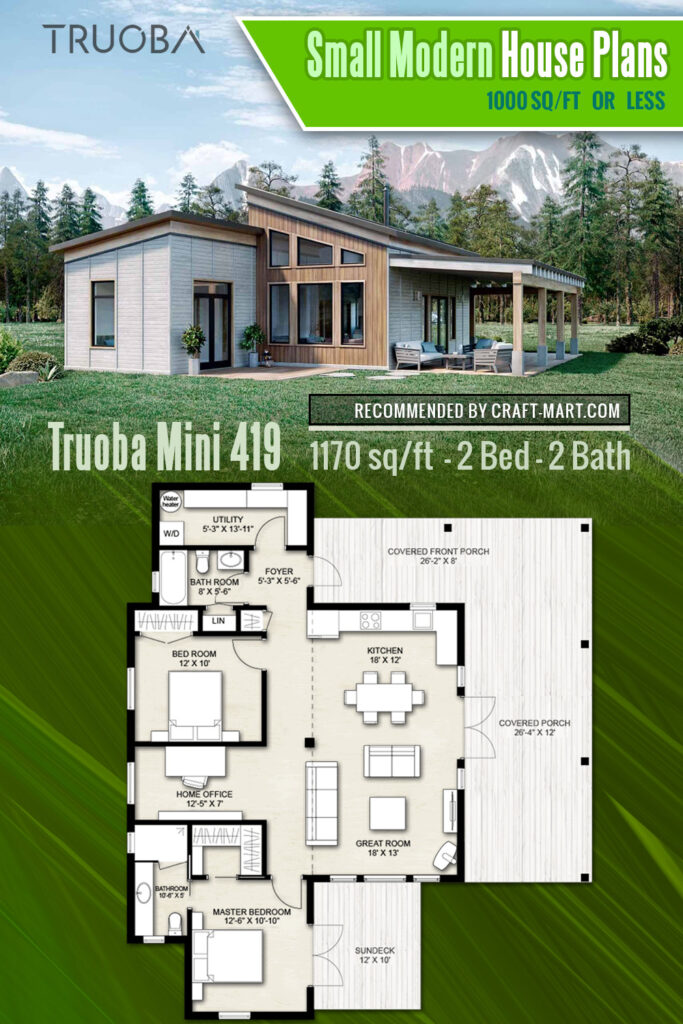 1170 sq/ft

2 Bed

2 Bath
$1600 – 43′-5″ X 50′-7″
This slightly more than 1000 square feet house plan is truly the shining star of Truoba's small home plans collection. In fact, it has everything for a family of four to live in the comfort of a perfectly designed habitat.
The covered outside porch almost doubles the total square footage. As a result, large windows let plenty of natural light in and connect the living room with the yard.
Get this floorplan here. To get a 10% exclusive discount use this code: 5XW3IBKKEM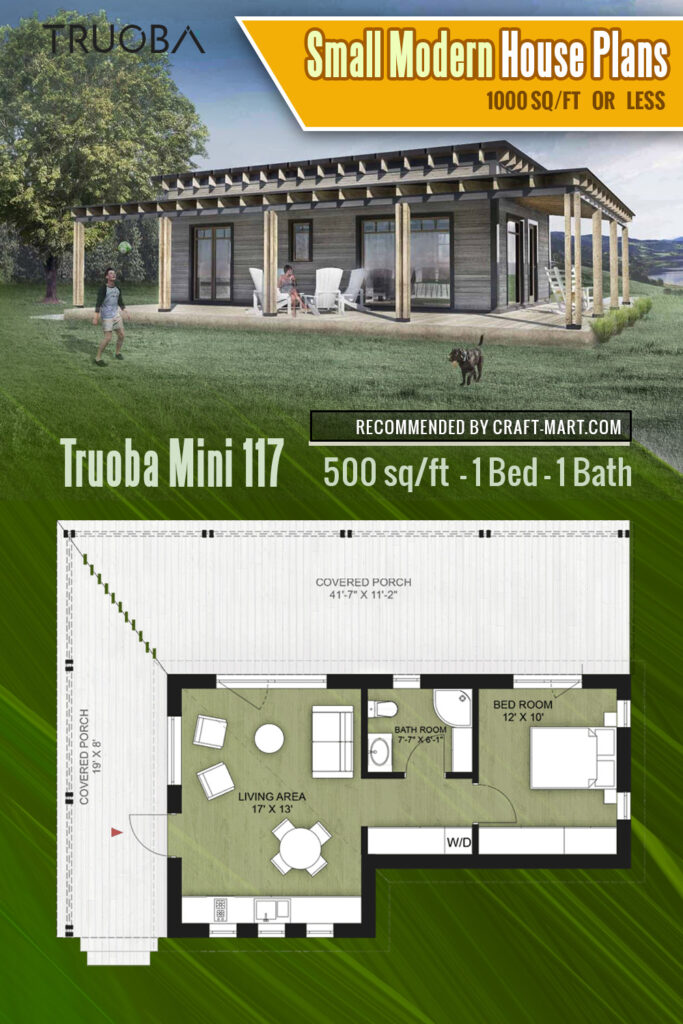 500 sq/ft

1 Bed

1 Bath
$800 – 29′-2″ X 40′-9″
All in all, this 500 sq ft floor plan is definitely for nature-loving people. A huge covered porch is the main feature of this design.
It is actually larger than the inside area, so for a warm climate with lots of mosquitoes consider saving some additional funds for screens. Obviously, you'll need a lot of them.
Get this plan here To get a 10% exclusive discount use this code: 5XW3IBKKEM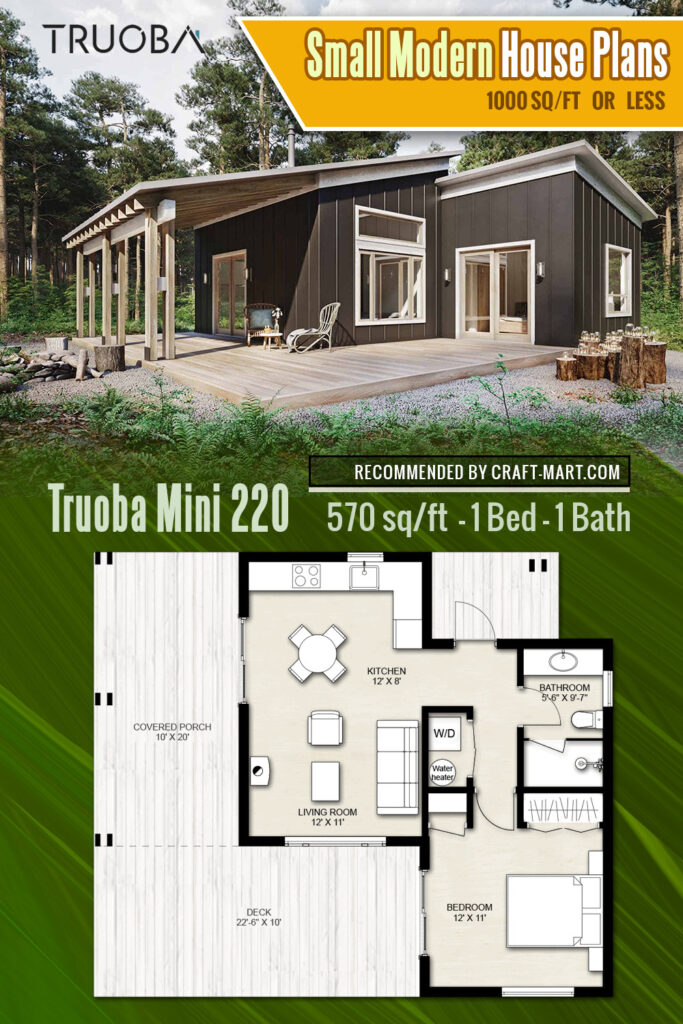 570 sq/ft

1 Bed

1 Bath
$800 – 35′-9″ X 30′-9″
This cabin plan suggests you build it somewhere so picturesque that no TV will be needed in any room. Get this floorplan here. To get a 10% exclusive discount use this code: 5XW3IBKKEM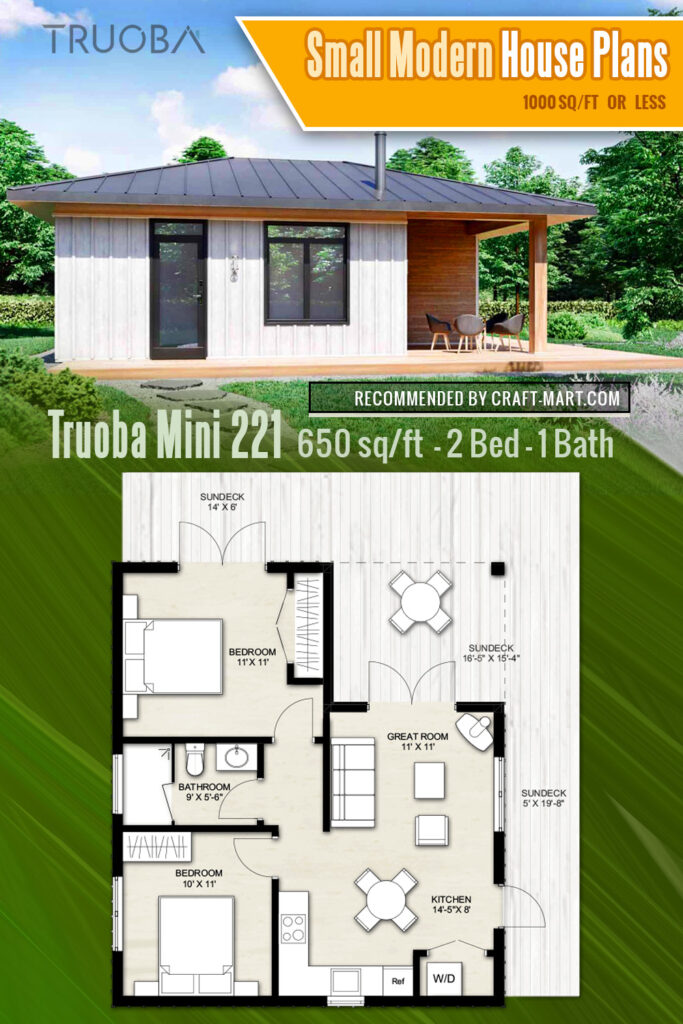 650 sq/ft

2 Bed

1 Bath
$700 – 26′-2″ X 29′-8″
While a 650 sq ft house by US standards may seem to be barely enough to accommodate an old lady with a cat, this home plan tells another story. To clarify, with its two bedrooms, covered porch, and two decks it will easily provide a comfortable living space for a family of three with a cat, of course.
Get this floorplan here. To get a 10% exclusive discount use this code: 5XW3IBKKEM
Why is a small house better than a big house?
Smaller homes cost less. Naturally, smaller homes are less expensive to purchase. According to the latest estimates, the median price for each square foot of a home in the United States is $123. As a result, for a 1000 sq ft house you'd pay $123,000 while for a 2000 sq ft home it will be $246,000.
They are less expensive to keep. Think of property taxes, insurance, heating, cooling, electricity, etc.
Smaller homes are easier to maintain. A 1000 or 800 sq ft house will not require the same upkeep and maintenance as a larger home. It may leave spare time for doing things that you actually enjoy.
It means less time and effort to clean, fewer things to fix, and less time for decluttering!
Does downsizing help you to manage your budget?
Living small means you go into less debt. Why would you want to pay extra tens of thousands of dollars for a large house that you don't fully use? The larger your mortgage, the more time you have to spend working for paying off the interest. Certainly, you'll be saving both your precious time and money every day by choosing 1000 sq. ft. home plans.
Smaller homes are better for the environment. They require fewer resources to build and maintain. For example, a home that is smaller than 1000 square feet also will be using less energy for heating and cooling.
They require less furniture and home decor. In other words, why would you want to spend thousands on furniture for extra rooms that get used only once or twice a year?
Smaller homes are selling faster. On average, large houses are selling slower than the more affordable smaller ones. A 1000 sq. ft. house with 2 or 3 bedrooms is perfect for young couples that often are not qualified for large mortgages. Retired seniors on fixed incomes frequently prefer selling their large homes and getting something smaller for the reasons we have just listed.
Small and tiny houses force you to spend more time outside. As an illustration, 1000 sq. ft. house plans with 2 or 3 bedrooms may not have enough space for a number of activities, so you'll be forced to do them outside. Getting fresh air and some sunlight may definitely be a positive thing for our health.
Testimonials from real customers
This plan fit my parcel perfectly. Ingas was great to work with and responded to several modifications in a timely manner. Super helpful as we were bumping up against some deadlines. Money well spent. Thank you, Truoba.

Victoria M.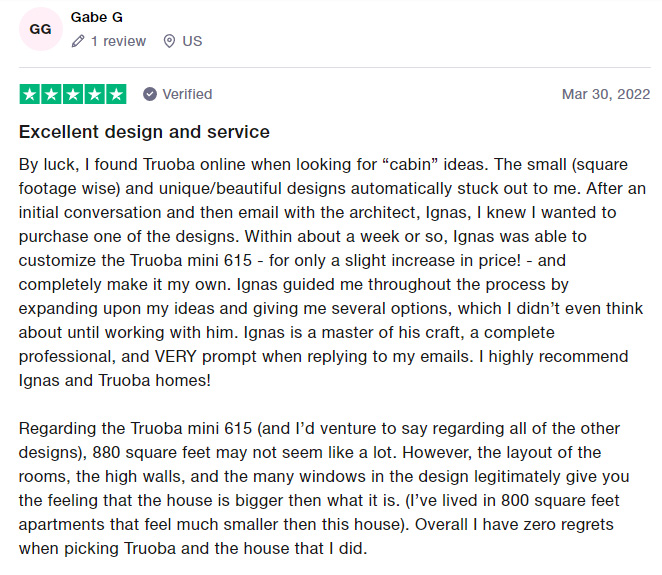 We have been in our home for 7 months and we love it. The open concept and large windows are our favorite features.. There is so much light!!! Also the oversized back porch (we live on our porch) We get so many questions and compliments on it. The way the house sits, unless you come inside or around back, you can't see the massive window and we love the look on people's faces once they do. We both love modern architecture but didn't want it to feel like a museum where you can't touch anything which is why we went with the cedar shiplap siding and the modern, industrial farmhouse decor. Truoba did a great job at customizing the design. We are so happy with our home!!

Brad – Alabama, USA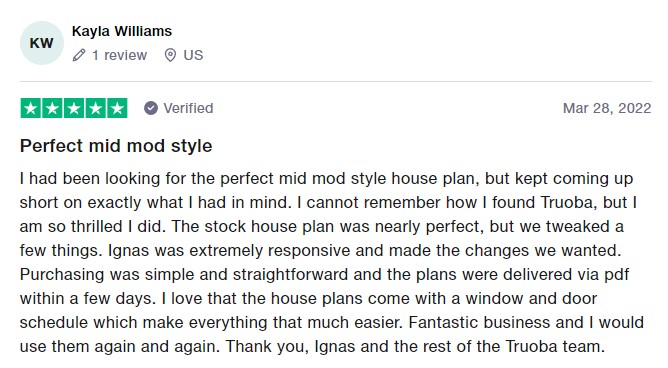 I worked with them for around 3 months. They were very professional, timely, and easy to work with. I didn't change much because it was such a great layout. They did a great job working through details of the placement on the lot for the homeowners as well!!!! I worked on a remodel for a different project and dealing with local architects was much more expensive and difficult!! Can't say enough good things about them.

Kelly M.

We liked the way it looked and we liked the kitchen being open to the living room space and we liked that it had a home office. Also, liked that the roof sloped one way. This house design is very different from anything in our area. Everyone mentions how unique it is.

Max G.