When choosing between the two popular needlecrafts, people often ask what the differences are between knitting vs. crochet. People often ask, is knitting easier than crochet or crochet easier than knitting?
What is easier – crochet or knitting?
As a matter of fact, crochet is a little bit easier to learn and handle for beginners than knitting. First, crochet only uses only one hook versus two needles for knitting. Second, it doesn't involve transferring stitches between the needles.
Lastly, crochet doesn't unravel easily if you take a break. All you need is just make a big loop when you put your work away.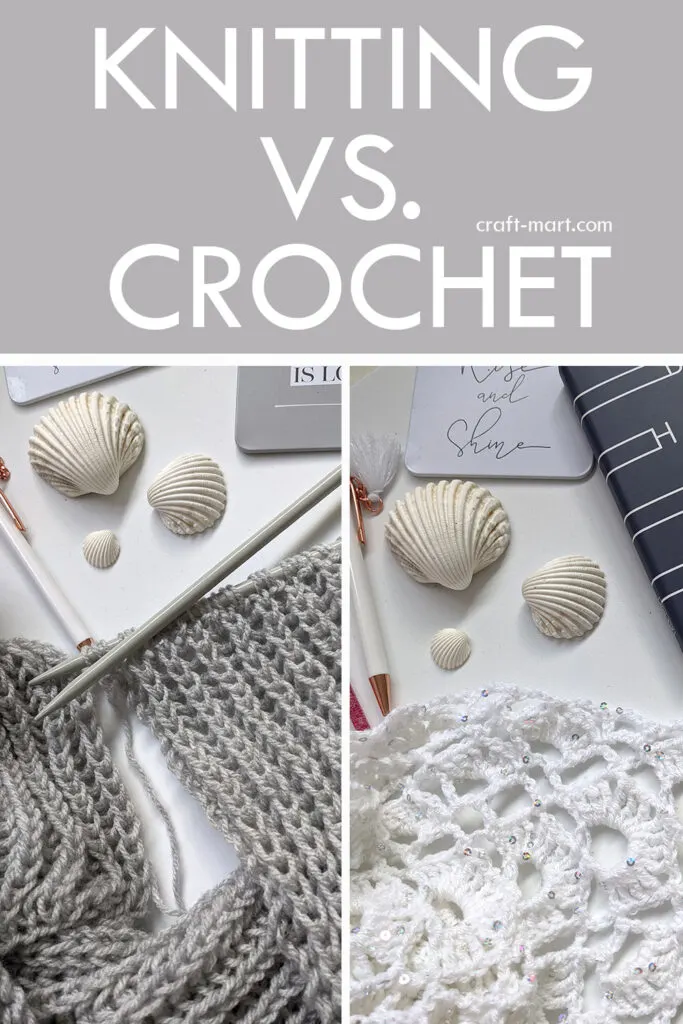 Should I learn to knit or crochet first?
First, try learning a few basic crochet stitches (chain, single crochet, double crochet) and creating a simple crochet project, such as a dishcloth or scarf. When your hand and eye coordination improves, try learning knitting.
Of course, it is beneficial to learn both needlecrafts – knitting and crochet. Though you can create similar projects using either crafting technique, the texture and look of the fabric will be different.
Furthermore, there is nothing to compare with a classic knit texture. When you need soft and drapey fabric, knitting is the best.
How long does it take to learn to crochet?
Generally speaking, you can get pretty good at crocheting after just a few months of practice. Most importantly, after mastering basic crochet stitches, you'll be able to crochet a scarf and even a blanket.
Furthermore, in a year you'll get comfortable with crocheting and your stitches will start looking just perfect. As you reach an intermediate skill level, you can proceed with more difficult crochet projects.
Here are a few quick crochet projects that use basic crochet stitches:
Knitting vs Crocheting
When choosing between the two popular needlecrafts, people often ask what are the differences between knitting vs. crochet. The projects sometimes look so similar that it is often difficult to tell the difference between the two for an untrained eye.
The two crafts are similar in that they both work with needles/hooks and yarn to create a fabric, but the processes and tools required are quite different.
What exactly are crochet and knitting?
Crochet is a form of needlework in which yarn or thread is made into a series of loops and knots that are then joined together with stitches, usually using one crochet hook.
Knitting is the process of using two needles to create interlocking loops of yarn, called stitches.
Pros and cons of knitting and crochet
Let's compare both crafts in a single chart to make your choice easier. As you'll see right away, knitting is clearly more economical than crochet in terms of yarn needed for the same project.
However, if you are simply looking for a hobby then the cost of materials becomes less important than other comparison parameters. On the other hand, if you are looking for a craft to add supplemental income, then costs are imperative.
---
Knitting
Get a starter set of knitting needles for $8.99 -$12.99 and a kit is $16.99 – $34.99 (yarn and tools).
Crochet
$10.99 for a set of crochet hooks and $18.99 – $34.99 for a crochet starter kit (yarn and crochet tools).
---
Knitting
Knitting requires much more tools but at the same time uses 30% less yarn for the same size project compared with crochet.
Crochet
Crocheting doesn't require only a crochet hook and yarn but uses more yarn.
---
Amount of yarn needed to finish a project
Knitting
In knitting, each stitch is a loop so ~ 30% less yarn is needed compared with crocheting the same size project.
Crochet
Crocheting uses 30% more yarn than knitting because each crochet stitch is a combination of one or more knots.
---
Knitting
Many intermediate projects require seaming and you can achieve an exact fitting of a knitted garment.
Crochet
Most crochet projects are done in a round so they are seamless or require minimal stitching of parts.
---
Kind of fabric it can create with the most popular stitches
Knitting
When you need to create a delicate, stretchy, drapey, and soft fabric you'll use knitting.
Crochet
Crochet fabric is usually lacy, sometimes rigid, textured, and intricate.
---
Certain elements are easier in knitting or crochet
Knitting
Socks, cables, fair isle colorwork, and hand-knitted chunky blankets.
Crochet
Amigurumi, slippers, baby booties, crochet toys, flowers, and granny squares.
---
Projects that are more difficult for beginners
Knitting
Socks and fair isle colorwork sweaters.
Crochet
You'll need intermediate skills for intricate colorwork, amigurumi, slippers, and lacy shawls.
---
Projects that are more difficult in one craft than the other
Knitting
Knitting toys is possible but only when they are not miniature.
Crochet
Colorwork is possible but is less intricate than knitted fair isle work.
---
Amount of patterns available
Knitting
There is a very large library of (free) patterns on blogs and websites of creators, books, journals, and magazines. There are also inexpensive paid patterns on Etsy and Ravelry.
Crochet
There is a slightly smaller library of (free) patterns on blogs and websites of creators, in books, journals, and magazines. There are also inexpensive paid patterns on Etsy and Ravelry. You can still find millions of patterns and never run out of crochet projects to try.
---
The qualities of fabric created
Knitting
Very flexible and drapey is a result of knitting techniques which is perfect for wearable garments.
Crochet
Most crochet projects create thicker fabric with less drape. Crochet is perfect for lacy shawls and scarves.
---
Speed to finish a similar project
Knitting
When you become skillful in knitting, it can be as fast as crochet but require a few more rows as knitting stitches are usually smaller than crochet ones. Hand-knitting with chunky yarn is very fast and can be done in one evening.
Crochet
Crochet is a bit faster to finish a project as basic crochet such as half double crochet and double crochet stitches are tall. As a result, you may have fewer rows in crochet.
---
How easy it is to fix mistakes
Knitting
It is more complicated to fix mistakes in knitting as it requires undoing multiple rows below and then putting all loops back on the needle which may be tricky for intricate patterns. Knitting also requires special tools or procedures to prevent your work from unraveling when you pause.
Crochet
Super simple to fix basic mistakes though may also require ripping a few rows if you notice your mistake late. It is very easy to stop and continue a crochet project.
---
Symbols and abbreviations
Knitting
There are special knitting abbreviations used by pattern designers and publishers that are common. It is important to realize that they are different from crochet abbreviations. Symbols in knitting charts are also specific to knitting.
Crochet
The master list of crochet abbreviations is unique to crochet as well as the list of symbols used for crochet charts. Thanks to these symbols crochet charts don't need translation to different languages and can be understood by anyone familiar with the basics.
---
For a complete master list of crochet abbreviations, go to the Craft Yarn Council website. Obviously, the list of crochet symbols is very helpful in reading crochet charts.
Craft Yarn Council also maintains a complete list of knitting abbreviations with are helpful in reading and writing patterns. You can also find a list of unique knitting symbols that will help you to understand knitting charts in written patterns.
Why are knitting and crochet so popular?
First of all, needlecrafts are portable, meaning you can easily take them with you when you travel. All you need is yarn, a hook or needles, and your hands.
Second, they are relatively low-cost hobbies that anyone can enjoy. For an average $3 cost of a skein of yarn, you can have hours of crocheting or knitting fun.
Lastly, as a result, you'll create unique wearable clothes or items for the home (such as blankets, pillows, and baskets) that are practical and enjoyable.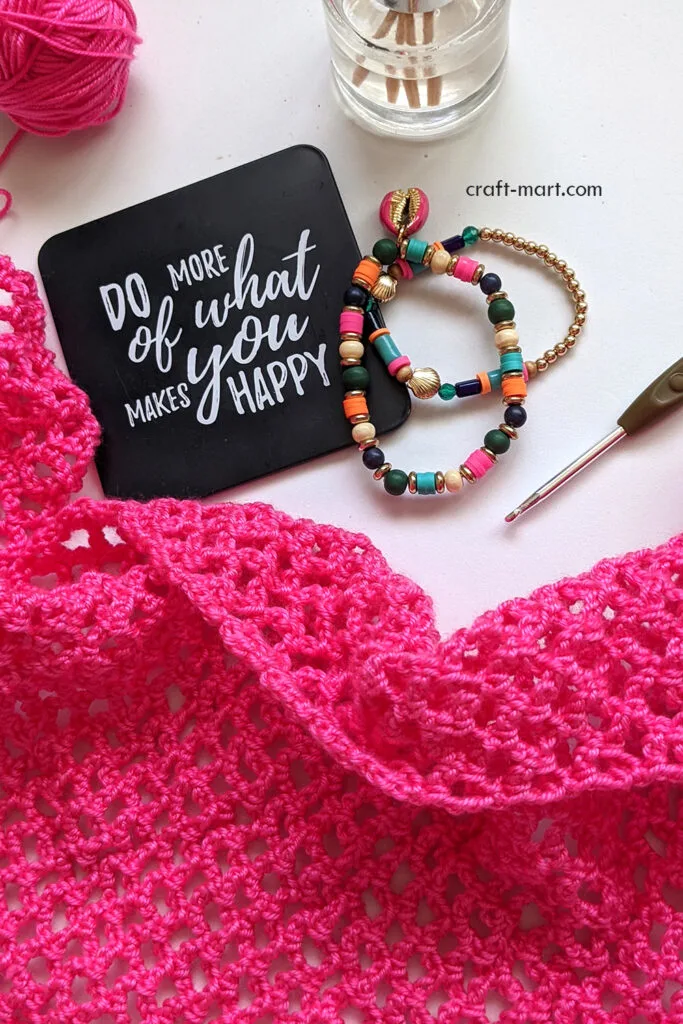 The main difference between crochet and knitting
When you are crocheting, you go from right to left by creating new stitches with your hook. As a result, a new row is created by inserting your hook into the previous row and pulling yarn through to create new stitches.
When you are knitting, your loops are on the left knitting needle and the process of creating a new row is moving these stitches from the left needle to the right by creating new loops.
Knitting Tools
Obviously, when you are knitting, you'll be using a pair of metal or bamboo needles to create your projects. Important to understand that there are different types of knitting needles: straight (can be single-pointed or double-pointed), circular, and cable needles.
While you'll use circular needles for hats and sweaters working in the round, you can also use double-pointed needles to work on smaller projects in the round, like socks. Circular needles are also used for large blankets when you need to keep lots of stitches on the needle.
In reality, circular needle sets are also convenient for many knitting projects. In fact, you can use the same cables with different size needles instead of buying separately each side of the circular needle.
While stopping in the middle of the row in knitting is tricky and you risk dropping loops, there are certain knitting tools that make it easier, such as needle stoppers. Lifehack: if you are not ready to buy more knitting tools, you can use cork or old erasers as your needle stoppers.
Speaking of knitting tools, there are certain knitting machines that can do wonders. You can learn how to operate one and create the whole sweater in one evening. However, crocheting can be only done by hand – there are no crochet machines.
Crochet Tools
In contrast, for crochet projects, you just need a crochet hook. Obviously, they come in different shapes and sizes as well as materials. Crochet hooks can be metal or wooden, or a combination of both.
Metal crochet hooks with soft plastic handles are especially comfortable for large projects. In a regular set, you'll have different hook sizes ranging from 2 mm to 8 mm. Furthermore, you can find a 1 mm crochet hook that is used for delicate lace and a 35 mm hook used for chunky blankets.
Based on the weight of your yarn, it is important to pick the right crochet hook, Check out our crochet hook conversion chart to help you in your decision.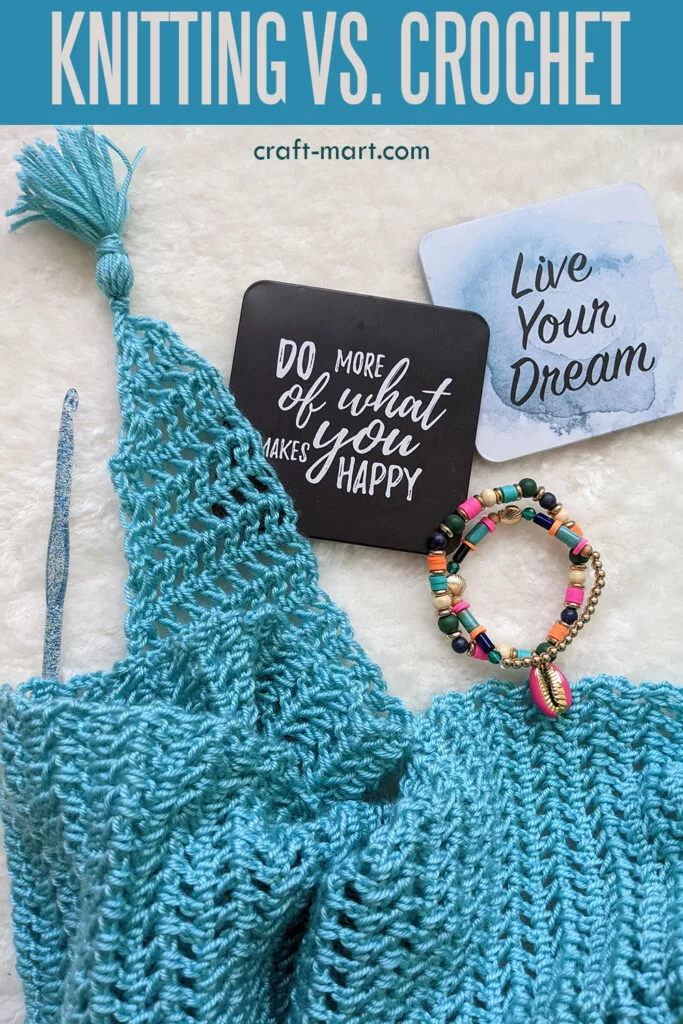 My Personal Take on Pros and Cons of Knitting vs. Crocheting
The whole rivalry of knitting vs crochet is a bit overblown. As a matter of fact, many crafters are good at both and equally enjoy knitting and crocheting.
But to get serious and factual, there are several obvious pros to both. Let's name a few.
Pros of knitting
Overall, knitted fabrics are denser and have fewer holes.
There are fewer basic knitting stitches to learn.
As knitting is an older craft, there are more written knitting patterns to choose from.
Knitted fabric is soft and drapes easier.
There are specific unique knitting techniques (such as fair isle) that are only specific to knitting.
Pros of Crochet
You only need one hook (vs 2 double-pointed needles, circular needles, and end tips to secure your work)
In fact, crochet is more versatile when you need to create odd forms (flowers, amigurumi toys)
Overall, crochet is quicker than knitting as crochet stitches are taller and each round will take you closer to the end of the project.
Crochet is easier than knitting.
Crochet mistakes are easier to fix – just unravel your fabric to the point of error and then continue from the spot.
Cons of knitting
It is more difficult to fix mistakes as you have to unravel your knitting and then put all the stitches back on the needles before you can continue. It can be complicated for some of the stitches, especially for beginners.
Knitting requires more tools than crocheting so it is a slightly bigger initial investment into the craft.
Knitting is slower than crochet.
It is trickier to pause your work as you need to secure the loops so they don't escape from the needles.
Knitting requires both hands.
Cons of Crochet
The fabric is usually bulkier than knitted due to the nature of crochet.
Crochet projects require more yarn than similar knitted ones.
The texture of the fabric will have more holes have less density.
Overall, crochet is less suitable for intricate colorwork (such as fair isle).
Pros of both knitting and crochet
You can create something useful for yourself such as scarves, hats, socks, and blankets.
Both needlecrafts have numerous health benefits.
You can earn money by selling your craft projects and patterns.
Both crafts help you be creative and keep your brain busy (which may delay aging, as experts say).
You help preserve and advance crafts for future generations.
So, if you are deciding on knitting vs. crochet, try crochet first. With traditional crochet, there is only one yarn loop that is in play and it is easier to keep an eye on.
If you drop a loop in knitting, the whole vertical column may unravel and you would need to undo numerous rows of work to fix one error. As you become more skillful, you'll eventually learn both and enjoy the benefits of knitting and crocheting.
Crochet and knitting projects are a great way to keep yourself busy. They are also a great way to create something beautiful for your loved ones, friends, or even yourself.
Knitting and crocheting projects can be as simple or complicated as you want them to be. You can choose something easy like a scarf or fingerless gloves, or you can go all out with an afghan or baby blanket project.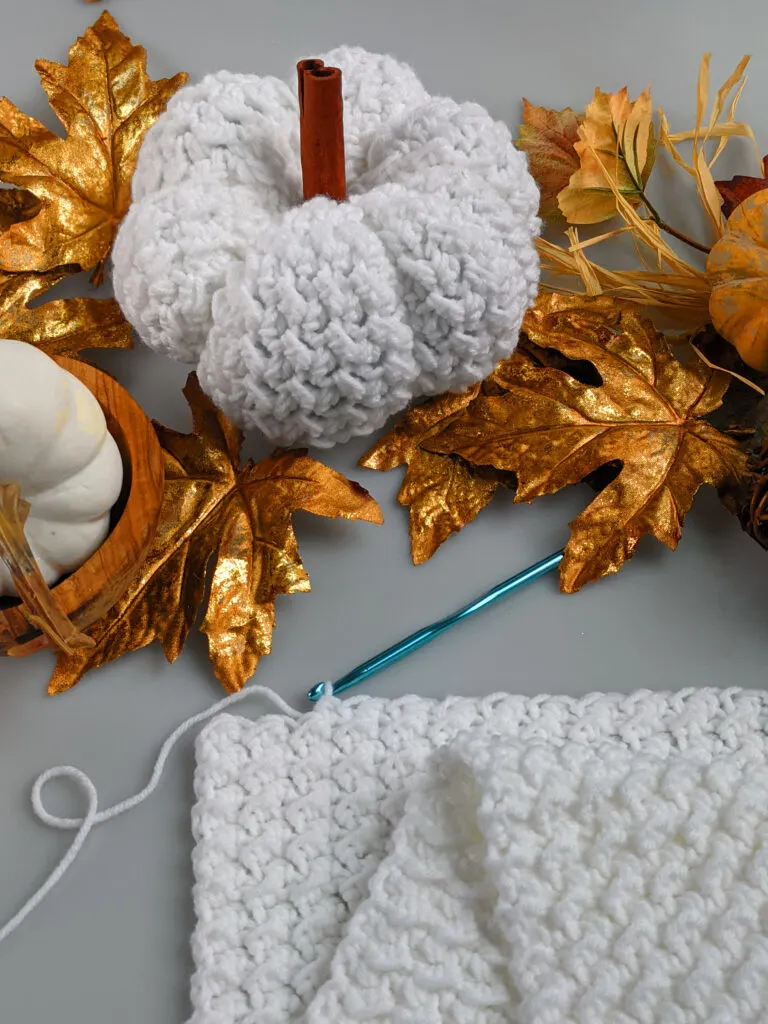 Is it easier to knit or crochet?
If you are still on the fence about crochet vs knit, consider the ease of learning. Though knitting has only two basic stitches (knit and purl) vs crochet's five (chain, slip stitch, single crochet, half double crochet, double crochet), crocheting is considered easier than knitting by many who tried both.
Many beginners complain that it is almost impossible to keep the same tension in their knitting projects. As a result, they will look messy and unprofessional.
On the positive side, crochet is quite forgiving for beginners. As a matter of fact, you still need to practice your stitches to make them all look uniform. Though slight variations will not ruin your project.
In fact, crochet is not hard at all. The proof is millions of people around the globe of all backgrounds, education levels, and ages who thought themselves to crochet and are enjoying the craft.
Many people learn to crochet from their grandparents at the age of 6-7. In essence, it is the story of my life-long love of needlecraft.
Is crocheting easy or hard?
For the most part, don't be afraid to start a new craft. Some people say that it is easy as 1,2,3,4,5. If you can count, you can crochet.
Once you learn your first basic stitches (even just chain and single crochet) you can make your first project. Try our beginner-friendly 'Woodlands Baby Blanket' – it uses only these basic crochet stitches.
It is absolutely true – if you have basic crochet stitches in your toolbox you can crochet! In fact, you can make a baby blanket, dishcloth, scarf, and even a cardigan.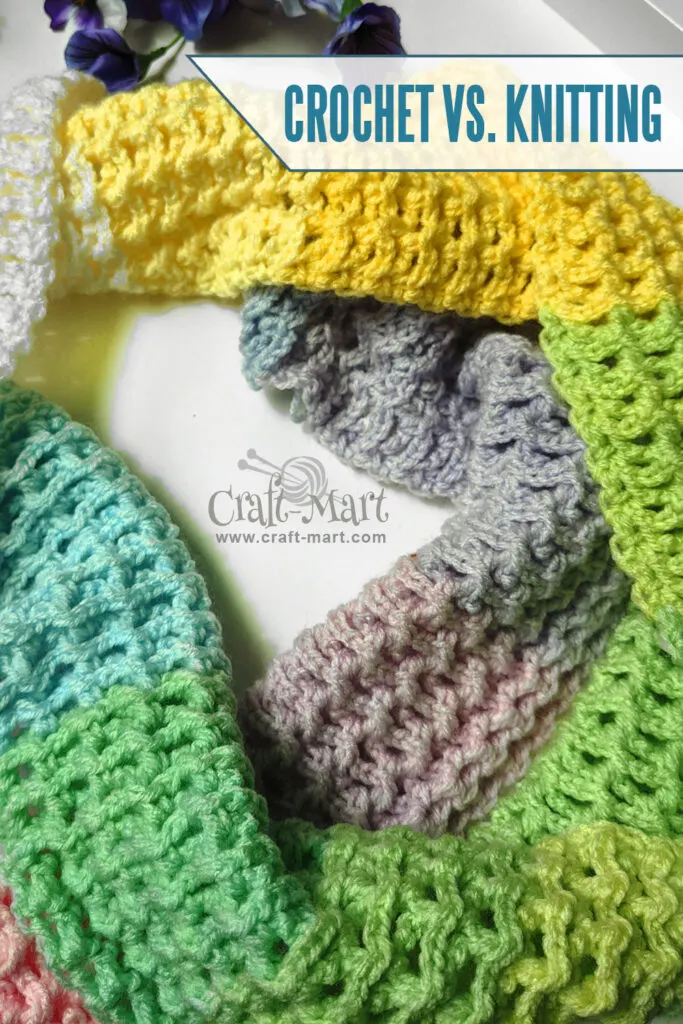 What is right for you – knitting or crocheting?
Though we suggest starting with crocheting and eventually mastering both, some people are passionate about either knitting or crocheting. How do you make a decision?
First, look up online some crochet and knitting projects. Second, pick up ten of your favorite ones. Are they knitted or crocheted? If the majority is one or another, it may be your craft of choice.
While you are picking a craft, consider a few common questions. The answers may help you make your informed decision.
Which is harder to learn?
Overall, crochet is easier to learn than knitting. It also requires fewer tools and less space, especially if you live in a tiny house.
Crochet uses only one hook and yarn and doesn't require movement of hands to move your work from one needle to another as in knitting. It is also easier to take with you when you travel and is less likely to unravel.
Is knitting or crocheting easier for beginners?
In essence, if crochet is easier to learn then obviously crochet will be easier for beginners. Most importantly, crochet will not slip off your needles (as knitting does) and unravel by mistake.
Also in knitting, you would need first to cast on stitches which means that the size of your project has to be determined correctly in the beginning. As a result, most people find crochet easier for beginners after they learn the basics.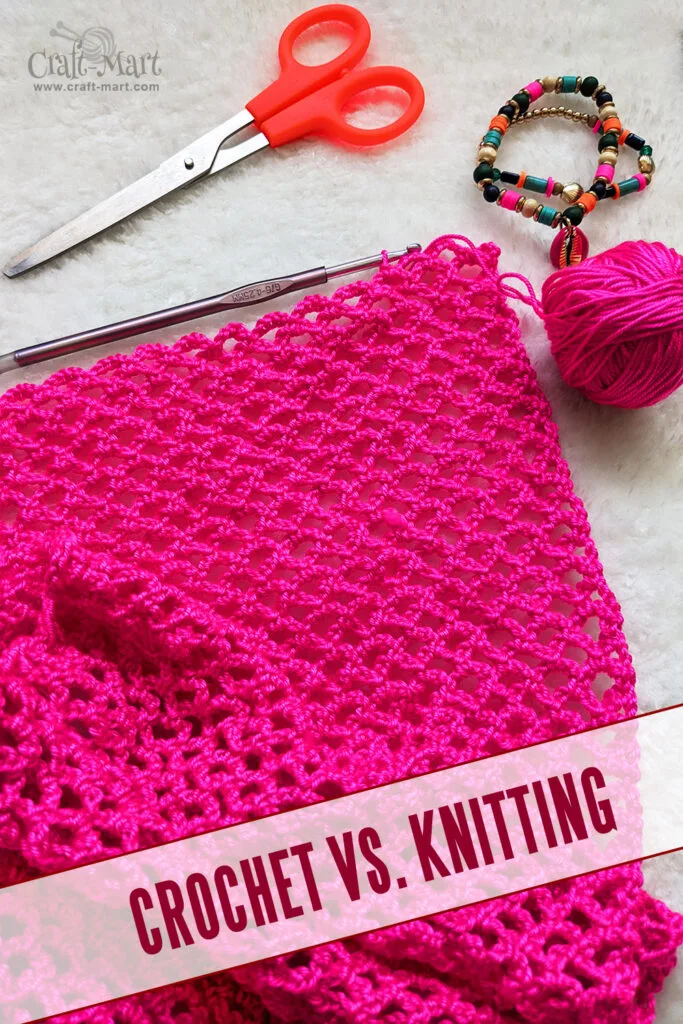 Is knitting easier if you know how to crochet?
All that brings an obvious question if it is easier to learn to knit if you know crocheting. When you learn the basics of crocheting and master your skills, it improves your hand-eye coordination and basic motor skills.
There are numerous video tutorials teaching you how to knit for beginners. First, you'll be learning how to cast on stitches in knitting and a couple of basic knitting stitches.
Second, it will be time to master circular knitting, decreases and increases, and cables. When you know how to knit, you can knit a hat, scarf, or blanket. Soon you'll be ready to take on more advanced projects, such as knitting socks.
Overall, it makes learning a second needlecraft easier. It is hard to solve the knitting vs. crochet dilemma if you haven't tried both. Instead, search for knitting for beginners' free videos and tutorials.
When did crochet first start?
"Knitted textiles survive from as early as the 11th century CE, but the first substantive evidence of crocheted fabric emerges in Europe during the 19th century. Earlier work identified as crochet was commonly made by nålebinding, a different looped yarn technique. The first known published instructions for crochet explicitly using that term to describe the craft in its present sense appeared in the Dutch magazine Penélopé in 1823."
Most compelling evidence, the art of crochet was a lifesaver for the people of Ireland. Furthermore, it pulled them out of poverty caused by the potato famine of 1945-1850.
As a matter of fact, families who relied on the money saved from their crochet crafts were able to immigrate to the United States and survive. On the positive side, they took their crochet skills with them and taught their new neighbors how to crochet.
Surprisingly, Queen Victoria also gave crochet her royal nod by buying crocheted lace made by struggling Irish women trying to provide for their families. In fact, Queen Victoria herself learned to crochet and made eight scarves for the veterans of war.
What came first – knitting or crochet?
Though historians are still researching the subject, we have hard proof that knitted textiles dating as early as the eleventh century survived the perils of time. The earliest crocheted items started to appear in Europe during the 19th century.
The art of crochet got a tremendous boost in the 19th century thanks to Mademoiselle Riego de la Branchardiere, who wrote the first crochet pattern. Furthermore, she wrote and published the first crochet and knitting books.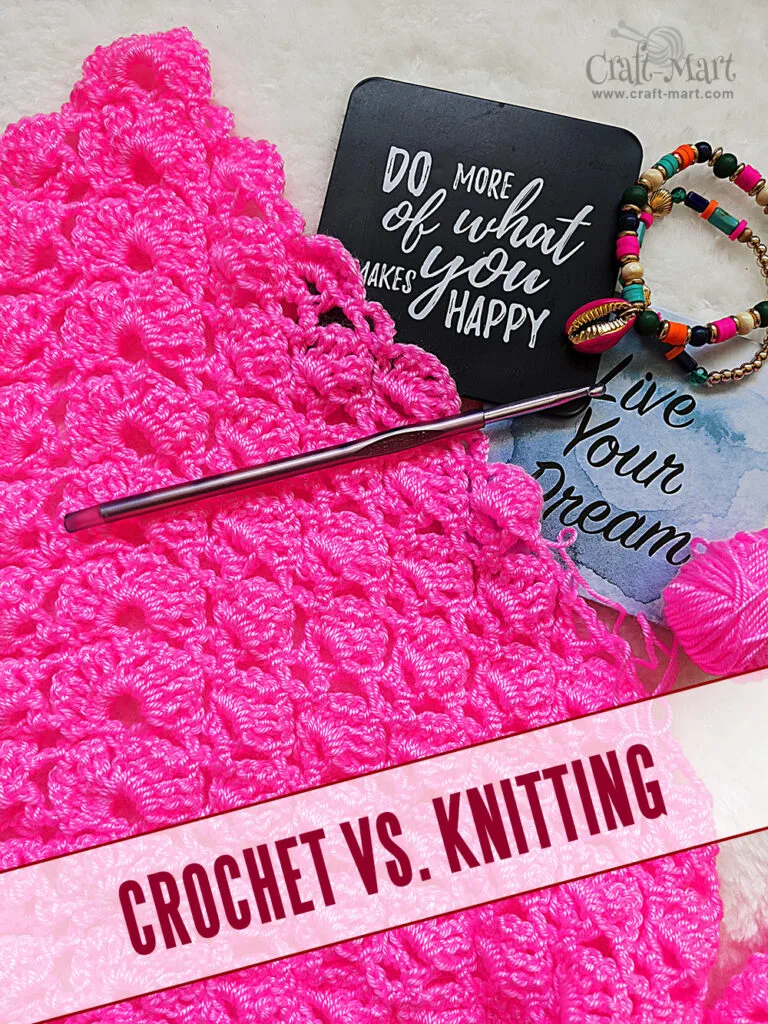 My knitting and crochet journey
My grandmother was amazing at both knitting and crocheting. She taught me the basics of both when I was very young. There was never a dilemma of knitting vs crochet as I was trying to master both at the same time.
I even kept a notebook of her patterns and stitches to help me along the way. My biggest regret is that I lost that precious collection.
Though I remember how some of the stitches should look, I can't find a description of them anywhere. If only we had the internet and blogging at that time! On the positive side, all the patterns that appear on the cloud now will be preserved for all generations forever.
I knitted a lot while in middle and high school and even continued to create my own clothes while in college. I found it to be quite rewarding and calming.
Then I put both knitting and crochet on the back burner while working, raising kids, and living life as a young adult. Consequently, I picked it back up when I was about to become a grandma.
Craft-Mart story
As a first knitting project after a long break, I knitted a blanket for my first grandchild and it brought happy memories of my childhood and crafting with my grandma on the porch on warm summer nights.
Also, I was so thankful to my grandmother who knitted me socks in all sizes that lasted me my whole life. What a blessing to pass the love and warmth from one generation to the other! I had a new pair of socks whenever I needed them.
At the same time, I was able to teach myself a lot more about crochet. Thanks to numerous video tutorials and written patterns, you can basically learn any stitch or technique you desire.
Most importantly, this craft helped us survive hard times as a family. When my husband got ill and I had to quit my job to take care of him, this blog kept us afloat.
Are you ready to explore the difference between crochet and knitting?
Check out our crochet patterns and video tutorials to help you crochet:
Here are some tutorials explaining how to knit for beginners: