Do you want to learn how to make a half double crochet blanket?
This half double crochet blanket pattern is for you if you want a simple pattern without elaborate instructions. Whether you are new to this wonderful yarn craft of crochet or just don't want to count stitches and rows, you'll love this super-easy pattern.
Most importantly, you will have a soft, squishy, warm blanket to warm up and welcome someone special into the world.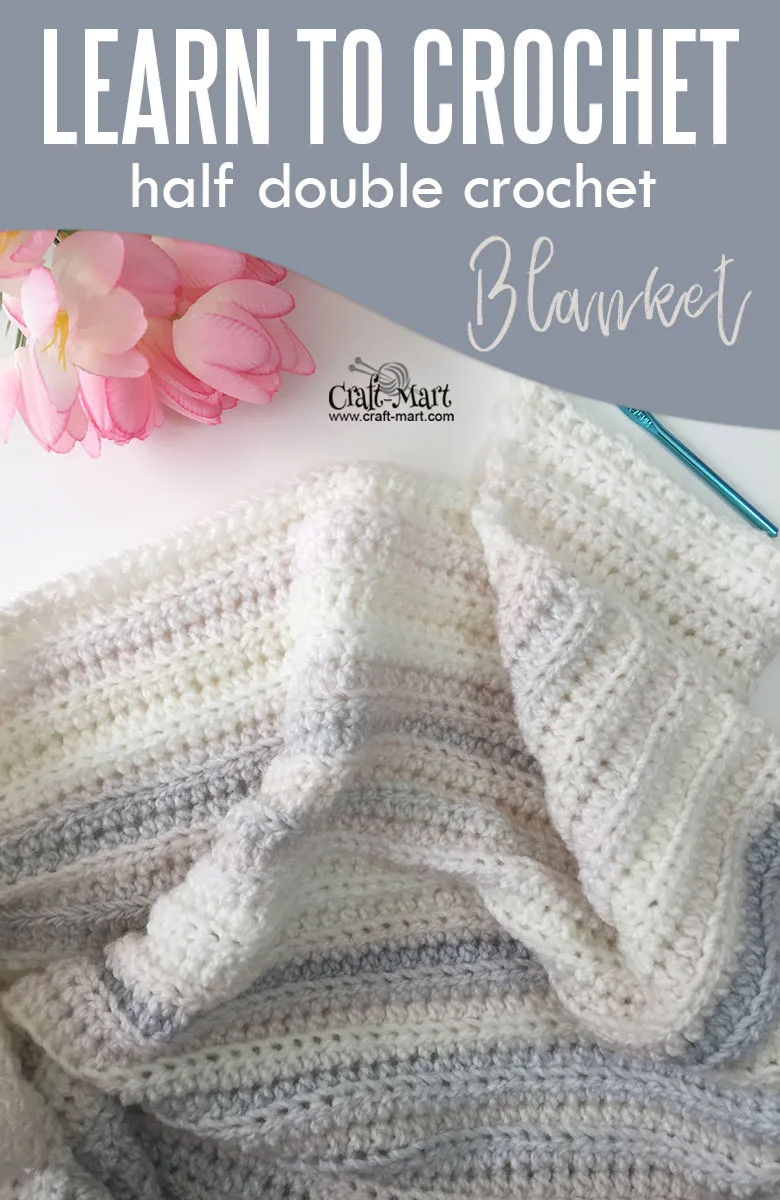 The pattern for this crochet blanket for beginners uses one stitch only – half double crochet (not to count chaining a foundation row). There is a little twist on this classic stitch: instead of inserting the hook under the V loop that the top chain consists of, you would crochet into back loops only.
As a result, this creates a wonderful ribbed texture for your crochet baby blanket.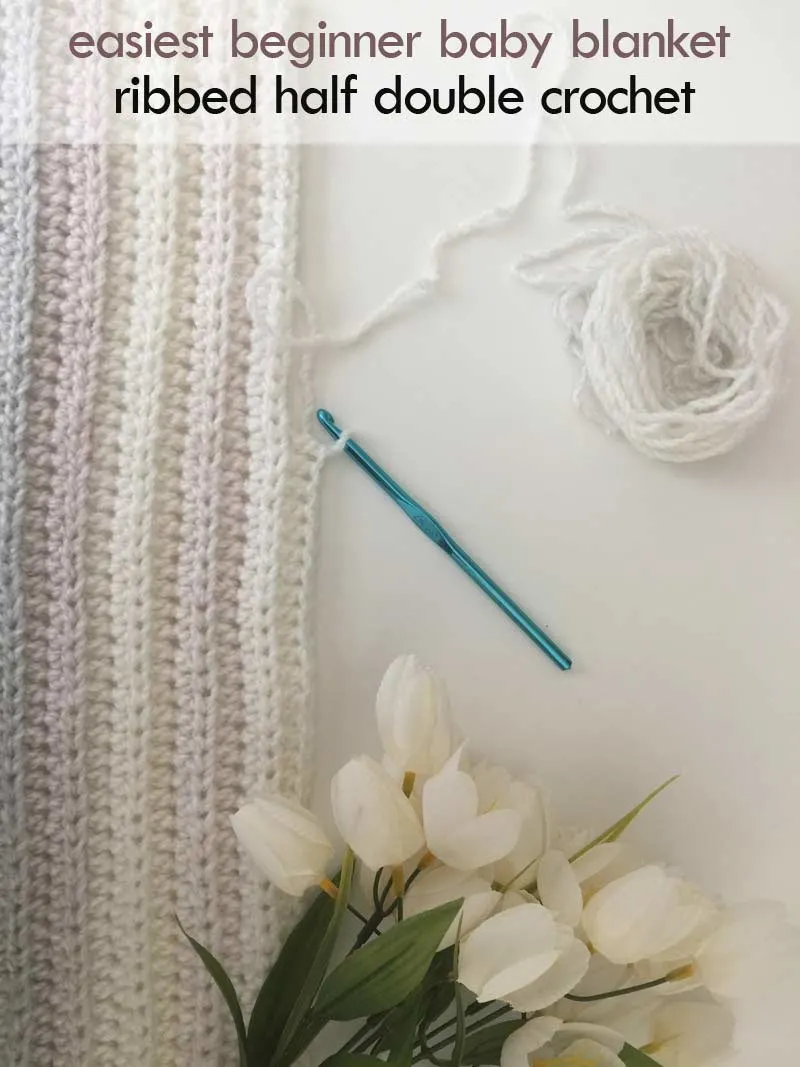 Needless to say, it will look both modern and sophisticated, due to its rich texture. But this half double crochet blanket is so easy to crochet that it will become your go-to pattern when you need to whip up something very quickly for an upcoming baby shower!
Do you need to finish your project fairly quickly? We suggest picking soft squishy yarn and a larger hook for a quicker project.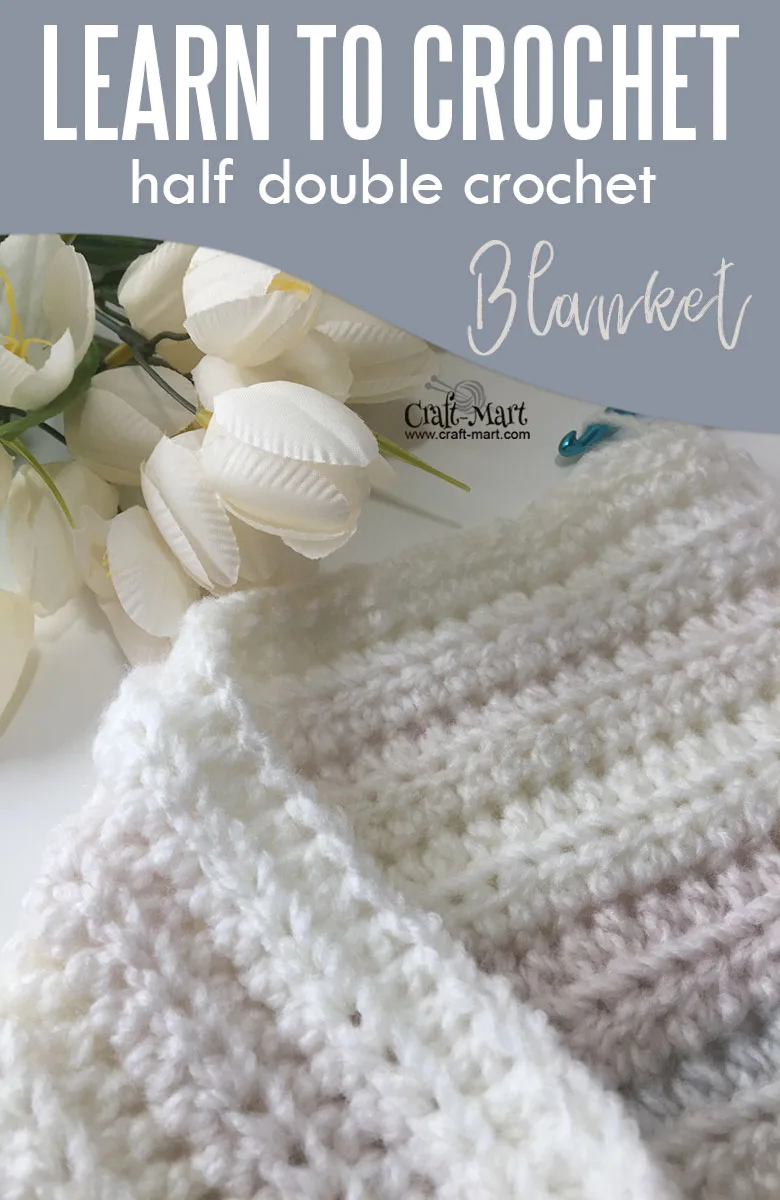 Let's get started with our half double crochet blanket tutorial. First, you would make a classic chain.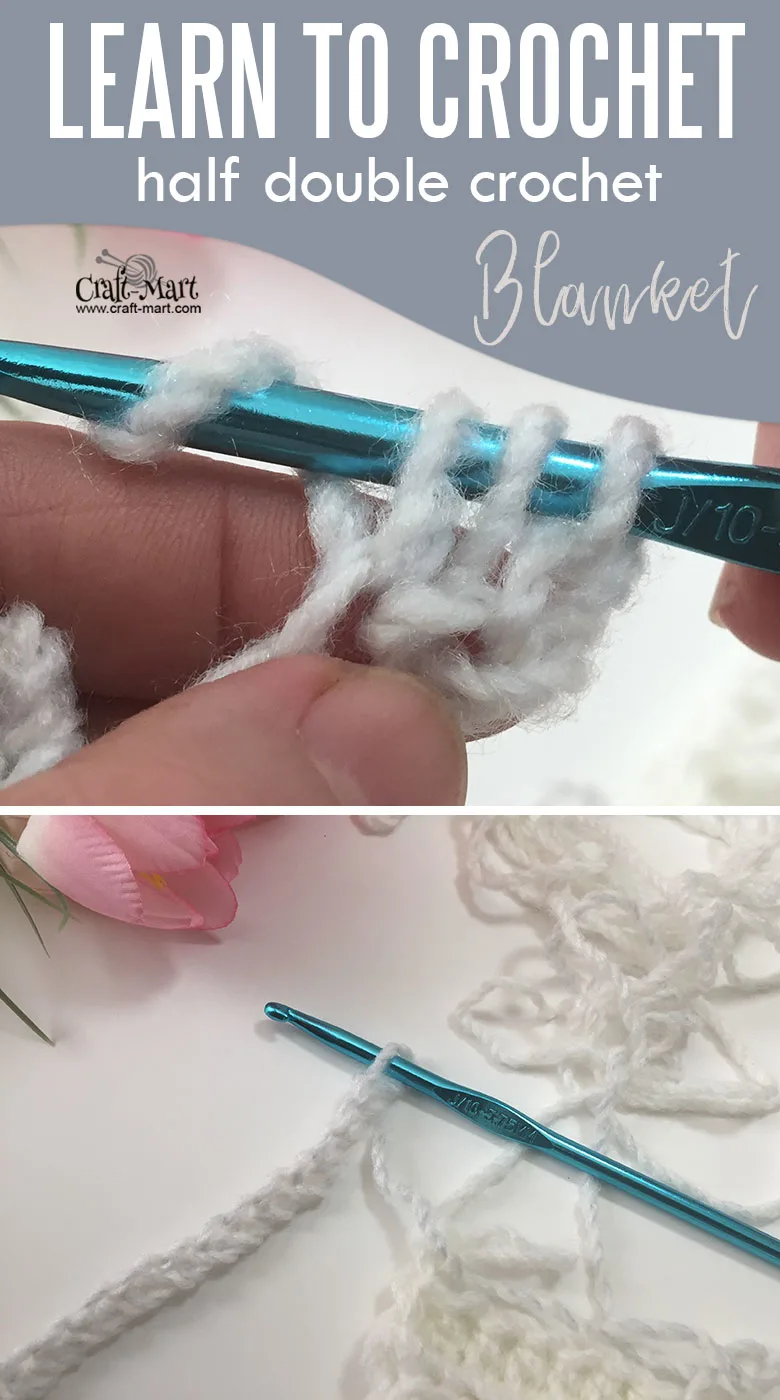 What is half double crochet (abbreviation: HDC or hdc)?
Exactly as its name suggests, half double crochet stitch falls somewhere in between single crochet and double crochet (in US terms). You, basically, skip one step in your normal double crochet routine and pull the yarn through 3 loops on the hook at once thus creating a stitch that is half the height of double crochet.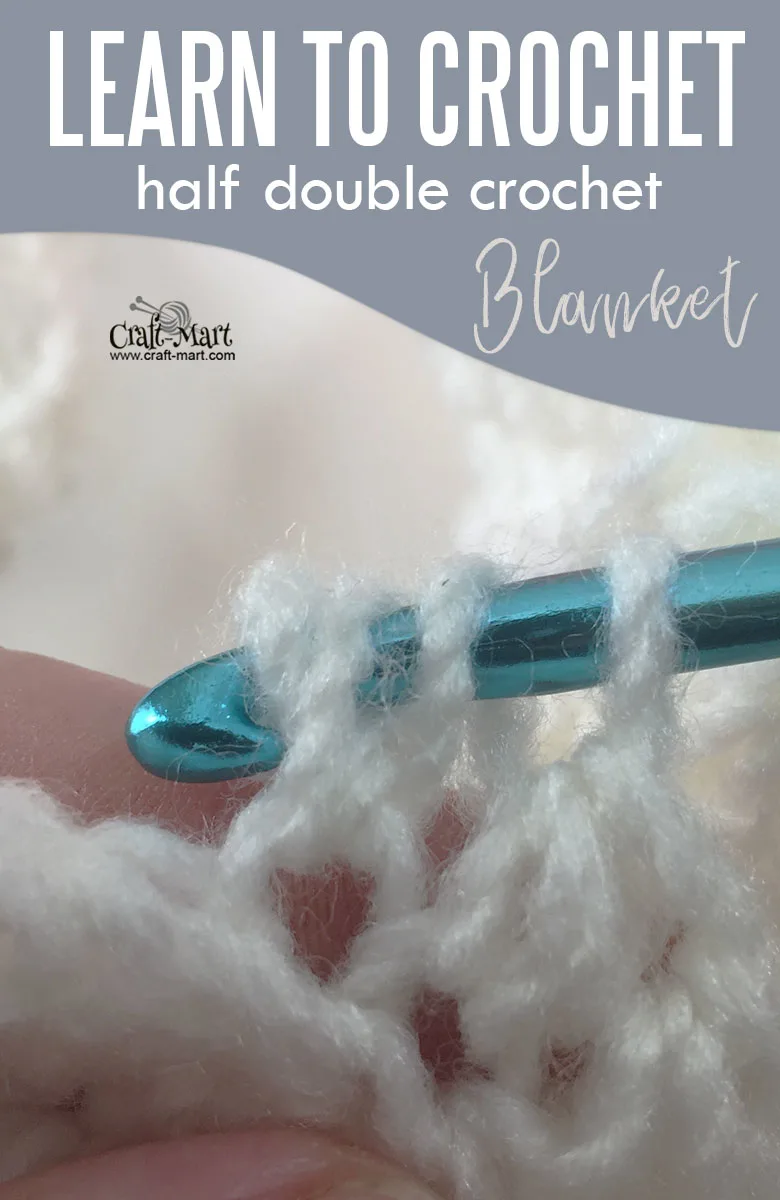 Are you slightly confused? No worries – our step-by-step tutorial makes this stitch easy to master.
As mentioned above, this simple pattern is done by crocheting only in the back loops, so there is an easy modification twist on a classic stitch. We call it Ribbed Half Double Crochet Stitch.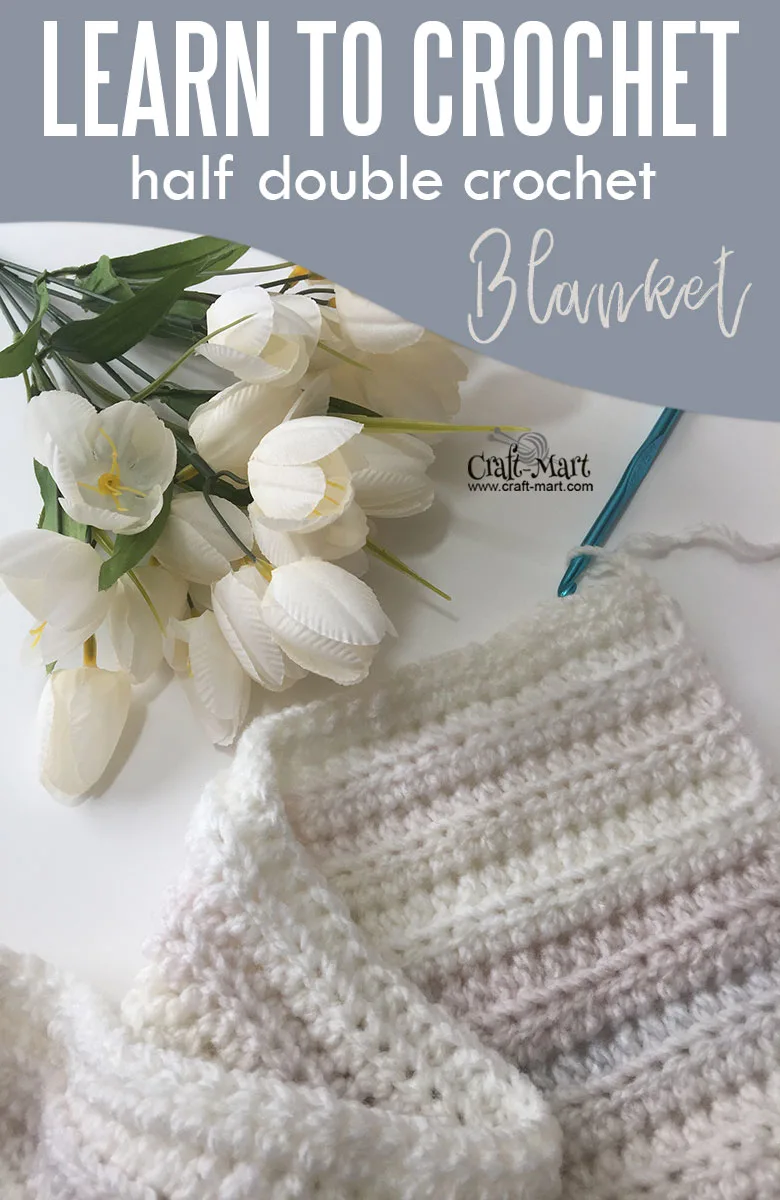 A step-by-step tutorial for the foundation row of half double crochet.
The foundation row is done the same way as for a classic half double crochet stitch:
Chain any number of stitches for a practice swatch (it can be odd or even, it doesn't matter).
Yarn over.
Insert the hook into the third chain from the hook.
Yarn over & pull the yarn through – 3 loops on the hook.
Yarn over.
Pull the yarn through all three loops.
One loop on the hook.
Yarn over & repeat half double crochet stitch across – into each and every chain.
At the end of this row and every row, chain 2 to turn.
Watch this video tutorial to learn this stitch:

Ribbed Half Double Crochet (2nd row and all other rows)
You just chained 2 to turn.
Yarn over.
Insert hook in the back loop of the third chain from the hook. For this pattern of ribbed half double crochet, you are going to crochet into back loops only. That will create amazing textured rows characteristic to this pattern.
Pull yarn through the back loop of the chain: you now have 3 loops on the hook.
Yarn over.
Pull yarn through all three loops on the hook.
At the end of the row only, put your hook through both loops (to add extra strength to the edge).
Pull yarn through all three loops, like you were doing for all other stitches – that's how your edge will look.

How to crochet a baby blanket using a ribbed half-double crochet stitch
For this sample pattern, we used Barcelona Yarn by Loops & Threads in color 'Arctic' which is a soft, bulky yarn (5) with a self-striping delicate palette of soft whites, pinks, blues, and lavender. Looks just beautiful!
Unfortunately, it has been discontinued & is hard to find, but you can substitute it with any bulky (weight 5) yarn in white, pink, or lavender.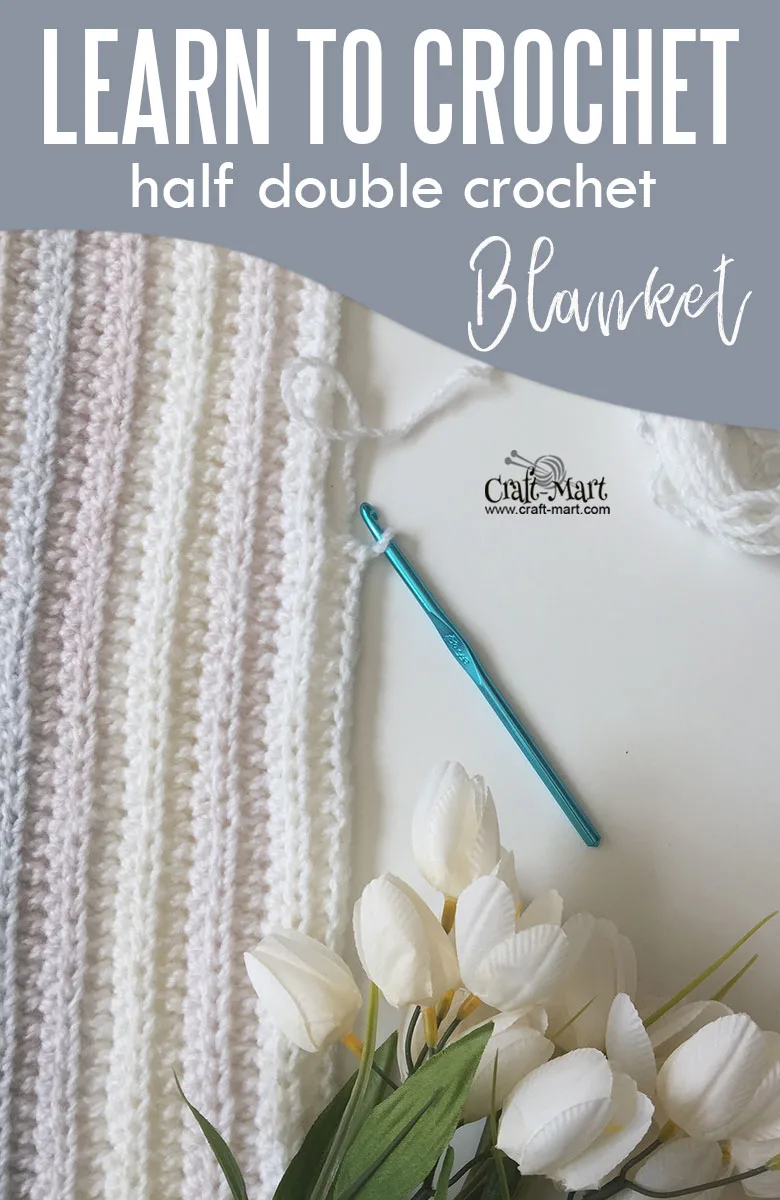 Charisma™ Yarn by Loops & Threads® in white is available at Michaels stores and online and will work fine for his pattern (~ 5 skeins) for 32″ x 32″ baby blanket. There are 35 colors available, but for a modern DIY crochet baby blanket, it would be practical to use soft sold colors.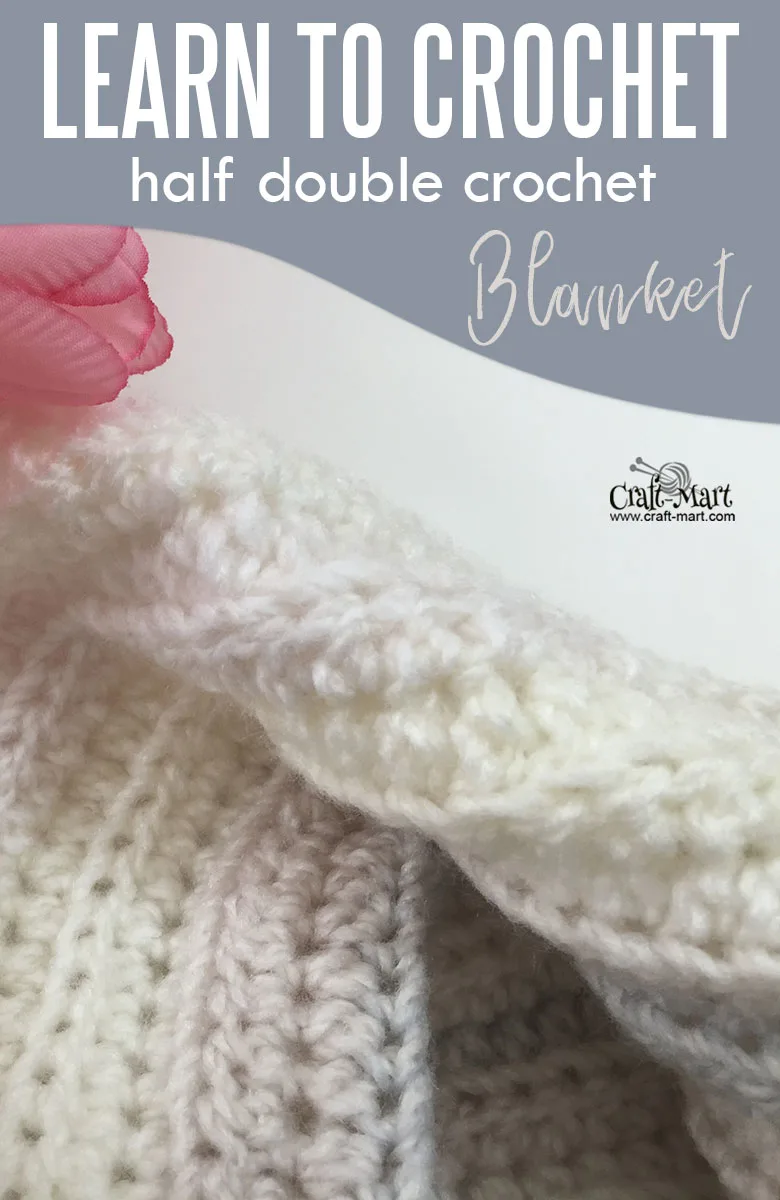 Materials
Soft bulky yarn (5)
Crochet hook US J (10) or 6 mm
Tapestry needle (to weave in the ends)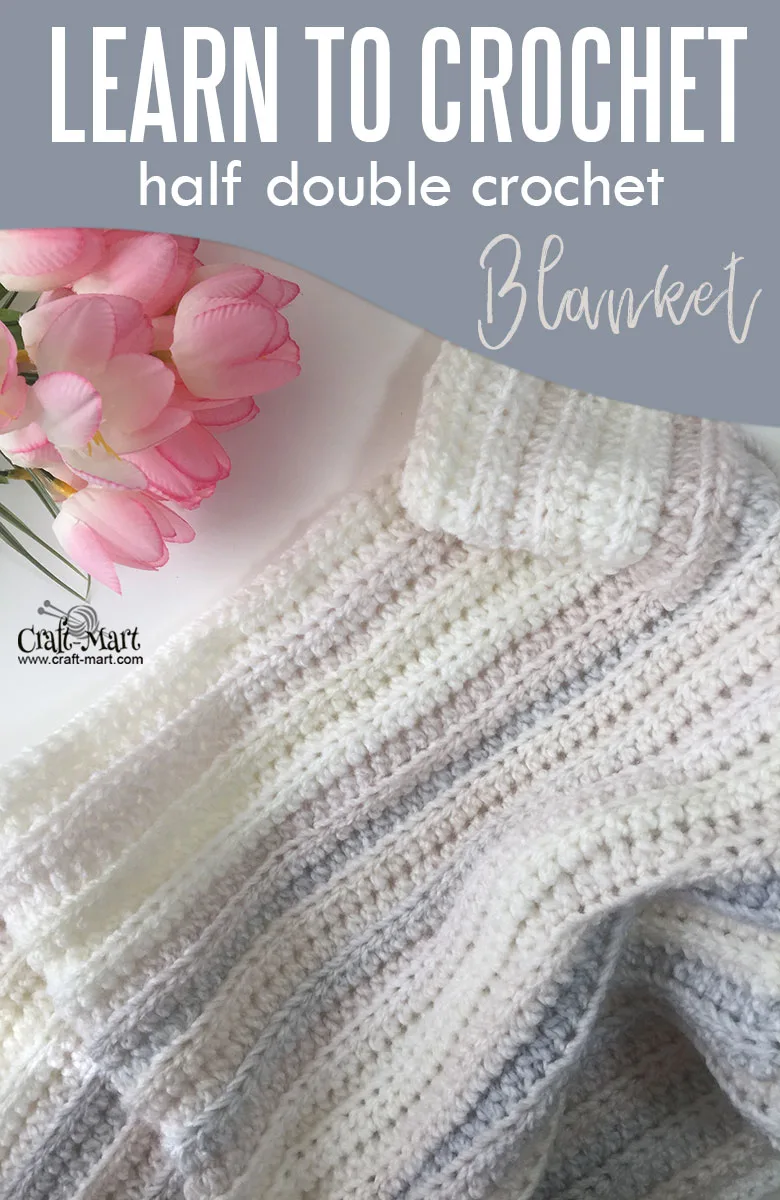 Instructions.
Chain 120 (or any number to reach the desired width of your blanket – it can be odd or even).
Row 1: Half double crochet (HDC) into 3rd chain from the hook and across (repeat HDC stitch into every chain). Chain 2 at the end of this (& every) row – to turn.
Row 2: Half double crochet into 3rd stitch from the hook – back loop only (refer to our Ribbed HDC tutorial above) – and every stitch across.
Repeat Row 2 until your blanket reaches the desired size.
Weave in the ends using a tapestry needle.
Continue to crochet until your blanket reaches the necessary length.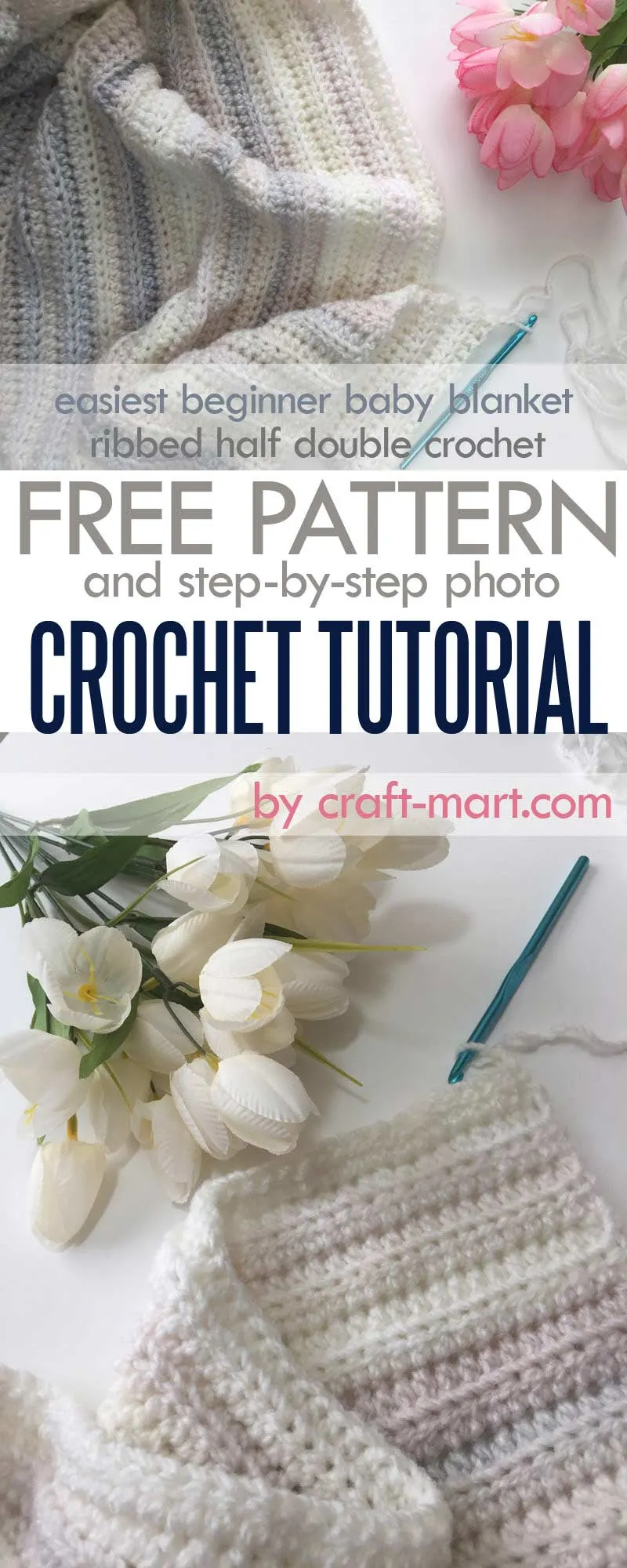 Don't forget to pin it for later – we guarantee that you'll love this free beginner crochet baby blanket pattern when you try it!
You will be so pleased with this easiest, quickest, though wonderfully-textured crochet DIY baby blanket (this pattern is suitable for absolute beginners) that doesn't require following complicated instructions, counting stitches, and keeping track of rows – just a pure bliss of crocheting and repeating the same stitch and the same row over and over until your project reaches the desired size.
This crochet pattern for blankets is perfect for catching on a favorite show or audiobook so your mind could be free but your hands would be busy creating this beautiful work of love.
Ribbed half double crochet stitch is also perfect for infinity scarves.
If you liked this tutorial and would like to learn other ways how to crochet a baby blanket, take a look at Easy-to-Crochet Baby Blanket Pattern using Moss Stitch.