Are you looking for a cluster crochet stitch pattern? If you are familiar with three basic crochet stitches, you would have no trouble with this crochet blanket pattern – so easy!
What is a cluster crochet stitch?
What are crochet clusters? As a matter of fact, a crochet cluster is a combination of stitches. They are linked together to form a pattern. As an illustration, it can be a single crochet cluster, a double crochet cluster, or a combination of any crochet stitches.
In brief, what makes this crochet pattern easy? The clusters in this pattern have 3 basic crochet stitches: single crochet (sc), half double crochet (hdc), and double crochet (dc).
Most importantly, you'll repeat the same row over and over again. For that reason, it is hard to make a mistake.
Even a beginner would not have any trouble crocheting this crochet cluster stitch and easy crochet blanket. As a result, you'll have a chunky handmade creation to warm you up during colder months.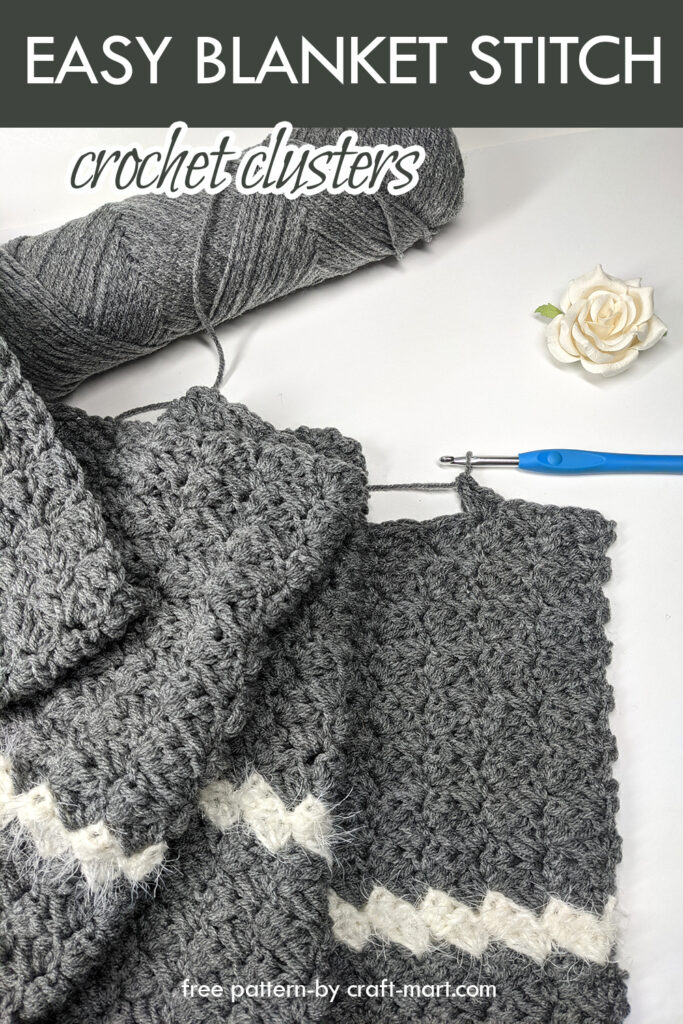 Crochet blanket yarn
What yarn should you use for this quick blanket pattern? We recommend Red Heart Super Saver Yarn in Grey Heather in combination with Caron Latte Cake Yarn (you can use a small ball of leftovers).
As a matter of fact, Red Heart Yarn has been used by crocheters and knitters for over 30 years. It is a versatile worsted weight yarn (4) that comes in 110 beautiful colors. Moreover, it will withstand wear and tear and multiple washes.
Of course, there are many free Red Heart Yarn patterns. This is our contribution to the collection of free Red Heart crochet patterns.
In that case, combining Red Heart Yarn with soft Caron Latte Cake Yarn creates a sharp contrast in texture. It makes this free Red Heart Yarn pattern unique.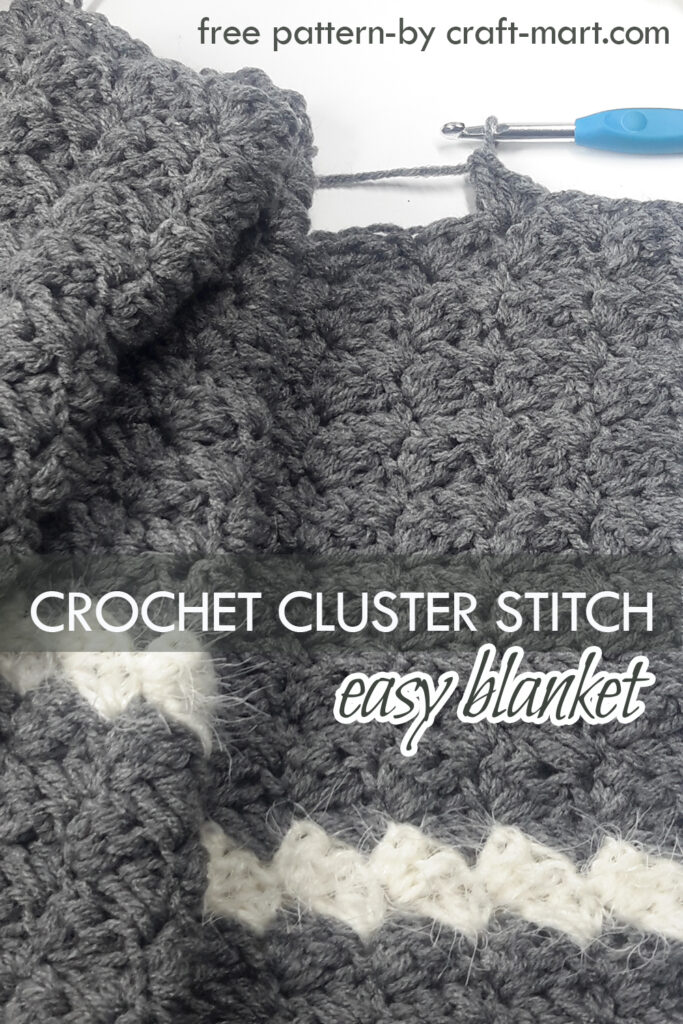 How to crochet a cluster stitch?
First, we start with half double crochet foundation chain for this pattern. To start, you would need a multiple of 3+1.
Second, chain 1 to start the first row. Third, crochet single crochet, half double crochet, and double crochet stitches in the same first stitch.
This easy combination forms our cluster crochet stitch: sc, hdc, dc. From now on you will be repeating this combination over and over again.
Next, to crochet a second cluster, skip the next 2 stitches. Crochet cluster crochet stitch (sc, hdc, dc) into the next stitch.
Like pieces of the interlocking puzzle, these crochet clusters form the texture of the blanket. It is an easy and fast stitch that lets you complete your project very quickly.
In addition, we have a short video tutorial to help you start this blanket and master crochet cluster stitch:
In brief, this is the heart of this Red Heart Yarn crochet pattern. You will find helpful our blanket size chart so you can adjust the size of your creation.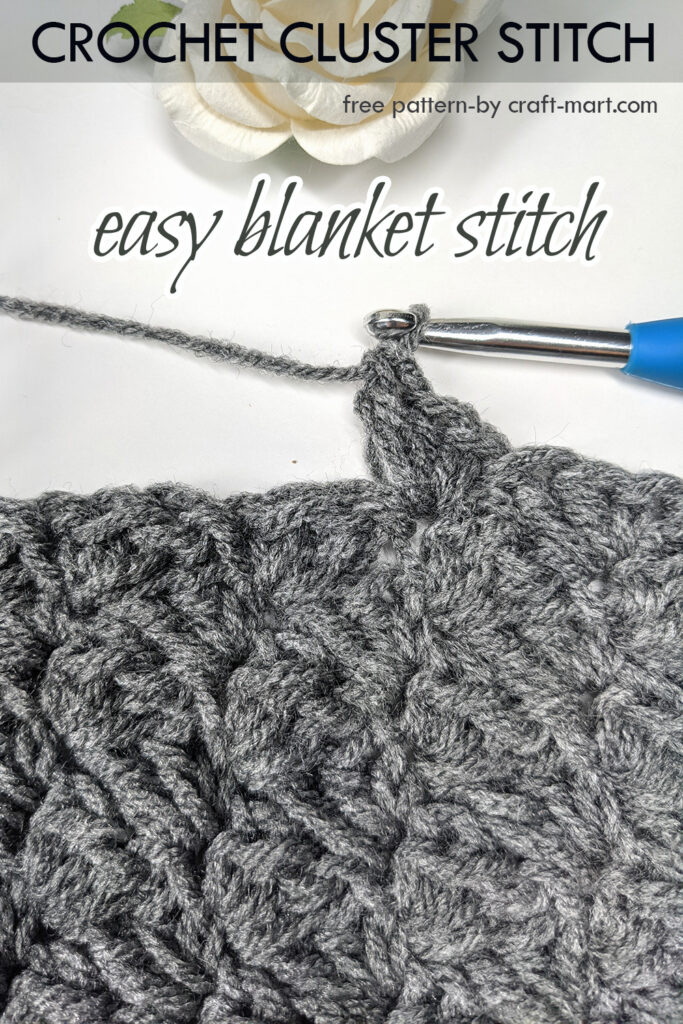 Cluster Crochet Stitch Blanket Pattern
Materials
On the negative side, at the time of writing, I couldn't find Caron Latte Cake Yarn in Cream color anywhere, so Earl Grey or Coconut Cream colors seem like a suitable substitute.
Alternatively, you can experiment with any contrast color yarn with a different texture. As an example, it can be Bernat Velvet yarn or mohair yarn leftovers that you have in your stash.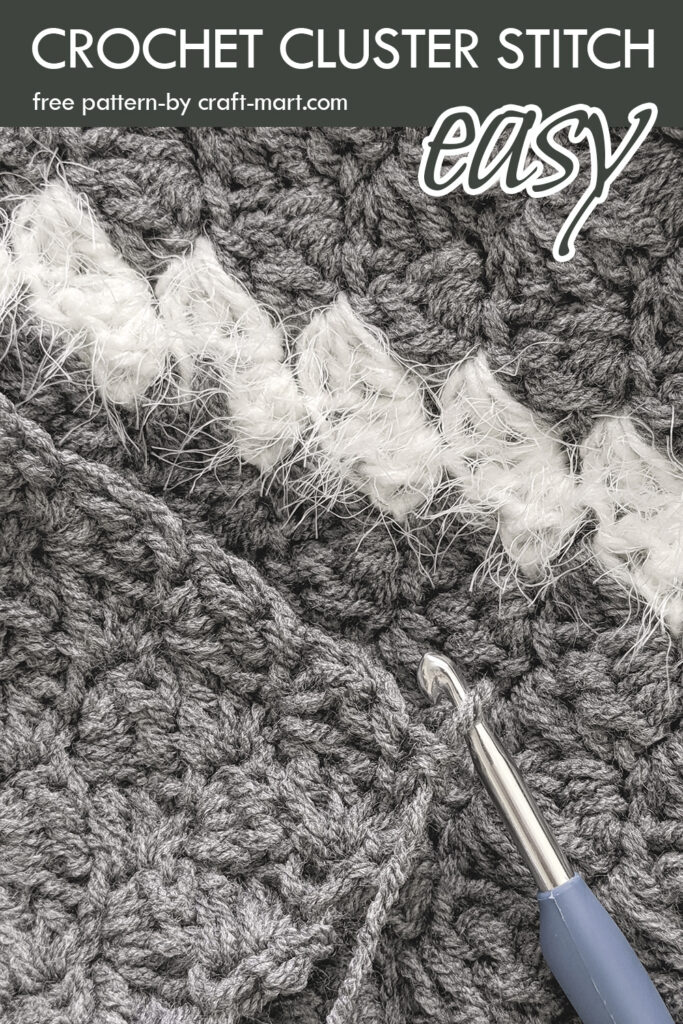 Abbreviations
fhdc – foundation half double crochet
sc – single crochet
hdc – half double crochet
dc – double crochet
sk – skip
st – stitch
ch – chain
Pattern
Make fhdc with 133 stitches – 132 (multiple of 3) +1.
Row 1
Ch 1, *sc, hdc, dc into the first st; sk 2*, continue between * * to the end of the row; sc into the last stitch. Ch 1, turn.
Repeat row 1 until you use the whole ball of Red Heart yarn. Your first block will be approximately 18″.
At the end of the row, pull through with a new color (Caron Latte Cakes yarn in a light color). Now repeat the same row two times with this color. At the end of the row, pull through with a new skein of Red Heart yarn. Cut the light yarn leaving approximately 10-12″.
Continue in the same manner until your blanket/throw is 72″ long. Secure the last stitch, cut the yarn and weave in all the tail ends.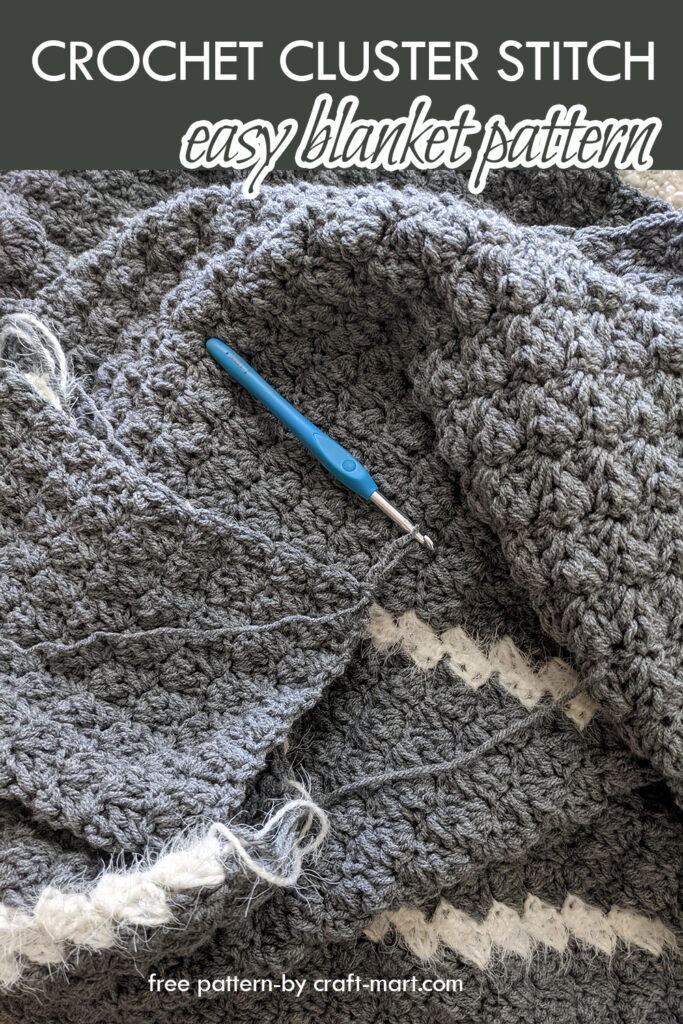 Are you looking for more unique crochet blanket patterns?
Check out our collection of unique, free, and easy crochet blanket patterns: