You would love this velvet yarn crochet pattern for a modern color block blanket. While Bernat velvet yarn is not the easiest to work with, it is soft and luxurious.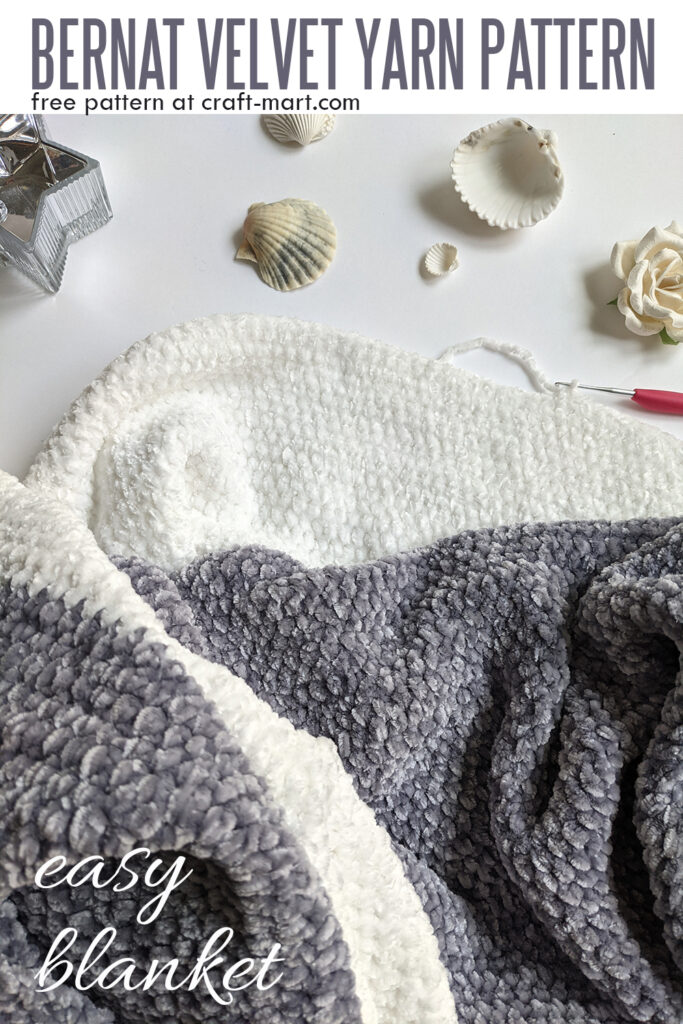 If you are ready to give Bernat Velvet yarn a try, check out another free velvet yarn crochet pattern:
Bernat Velvet Yarn Pattern: Textured Baby Blanket
What are the challenges of velvet yarn?
First, consider its texture: it is composed of a myriad of tiny little bristles attached to one strand in the middle. Because of that, it looks thicker than it really is.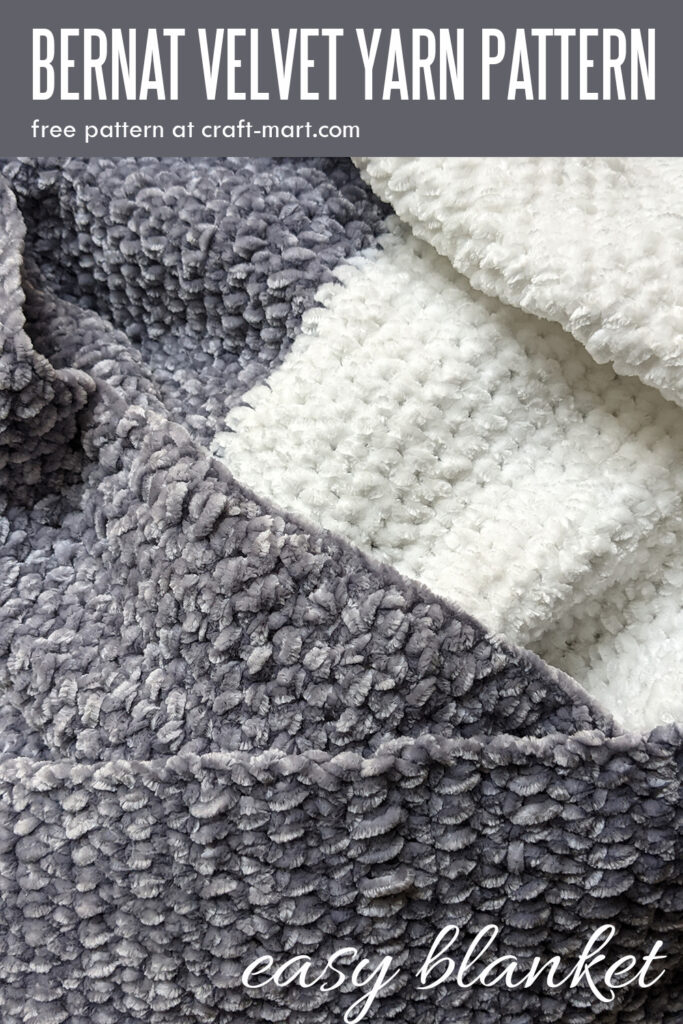 To avoid having loose strands of yarn sticking out of your blanket, pick up a crochet hook that is a couple of sizes down from what is recommended. In general, it will solve the problem for most velvet yarn crochet patterns.
The second challenge is its slippery nature. For this reason, you can achieve consistency working with velvet yarn by working slightly tighter than you normally would.
In fact, it is a wise practice to start with a practice swatch. In that case, you'll see if the crochet hook size is right for this velvet yarn crochet pattern.
Furthermore, you can practice your tension and see if it works with velvet yarn. For example, you can crochet a little tighter if you see any loose strands in your work.
Moreover, it is hard to read and count rows in Bernat velvet yarn patterns. With this in mind, pick up simple patterns such as one-row repeat stitches. In that case, you won't have to worry about it.
Important to realize, that you should hand wash velvet yarn to keep it looking like new. Also, to avoid any twists, the manufacturer recommends working each skein from the outside instead of pulling the strand from the middle.
Furthermore, I've had a hard time working with velvet yarn towards the end of the skein. To avoid this challenge, work the skein into a ball of yarn before starting the pattern.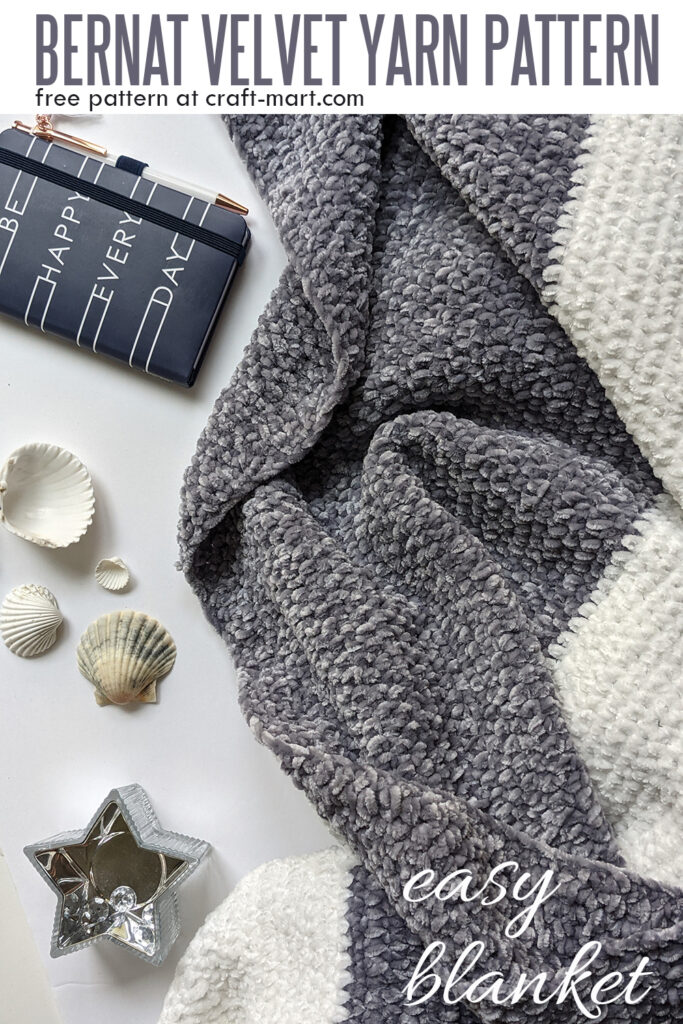 Bernat Velvet Yarn Colors
For this modern color block pattern, I've picked neutral grey and white colors. On the positive side, Bernat Velvet yarn comes in many beautiful colors.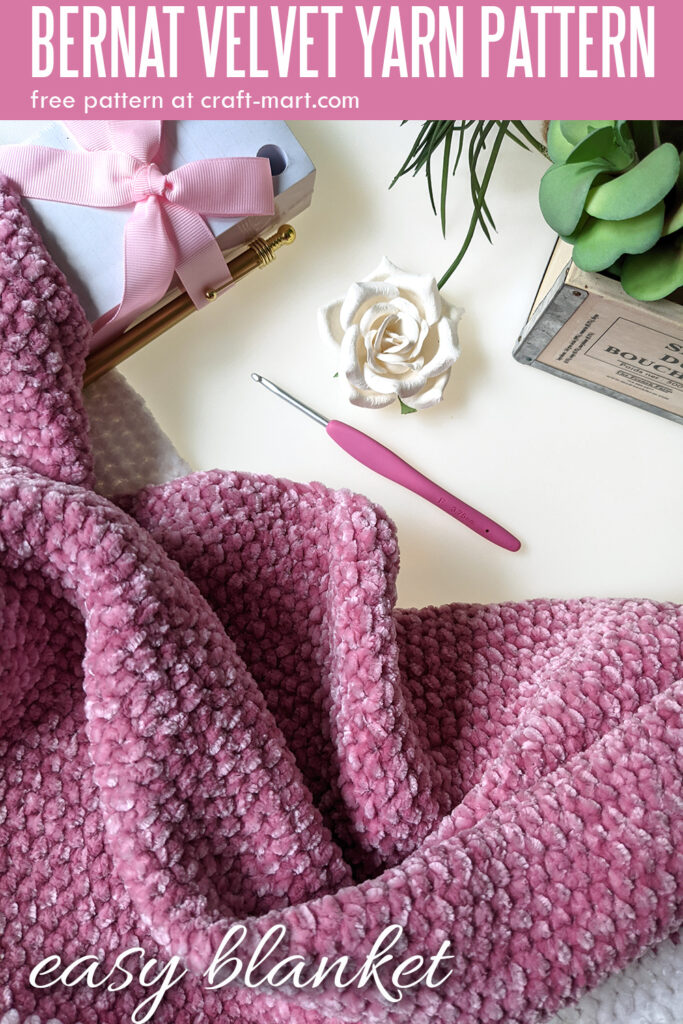 As an illustration, this is the same pattern crocheted with a different contrast velvet yarn. As can be seen, Bernat velvet yarn gives you a lot of possibilities.
You can pick any bright or pastel color combination to match your home or nursery decor. Featuring a beautiful shine and a classic range of shades, velvet yarn is a popular choice for blankets, throws, and pillow projects.
To emphasize, the velvet yarn is so soft, that it is a pleasure to work with and luxurious to enjoy as a finished blanket. No matter what velvet yarn pattern you'll use, you'll fall in love with your soft creation.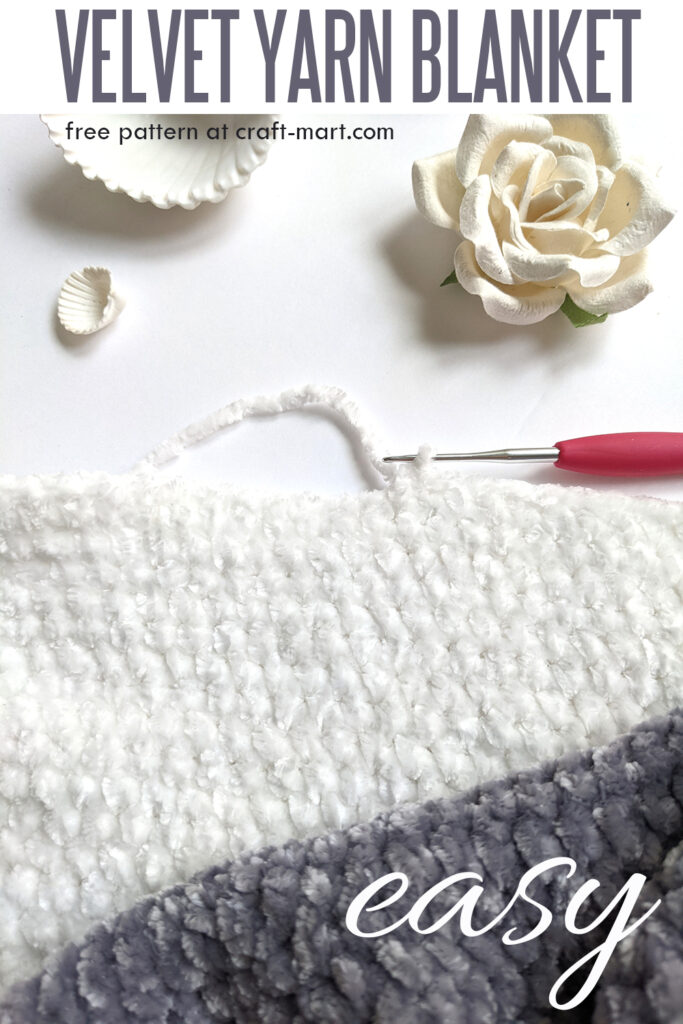 Bernat Velvet Yarn Crochet Pattern for a Blanket
Materials
Finished Size
Approximately 60″ x 72″
If you need to adjust this Bernat Velvet Yarn Pattern, crochet a sample swatch and use our calculator and blanket size chart. You can make a stroller blanket, a baby blanket, or a small throw instead.
Abbreviations
ch – chain
hdc – half double crochet
st – stitch
sk – skip
With color A: ch 140 (any number of stitches, odd or even). The pattern is using only one basic stitch, so it doesn't matter how many chains is your foundation.
Row 1: Crochet hdc into 3rd ch from the hook and every ch to the end of the row; ch 2, turn.
Row 2: hdc between the 1st and 2nd posts of hdc stitches below, continue to make hdc stitches between the posts to the end of the row; ch 2, turn.
Row 3 and all the rows until you use the whole skein of yarn: repeat row 2. On the last stitch, pull through with color B. ch 2, turn.
Continue repeating row 2 until you use the whole skein of yarn (second color). On the last stitch, pull through with color A. ch 2, turn.
Check out a video tutorial to master this stitch:
Alternate colors 2 more times until you have 4 color blocks. Secure the last stitch and weave in all tail ends.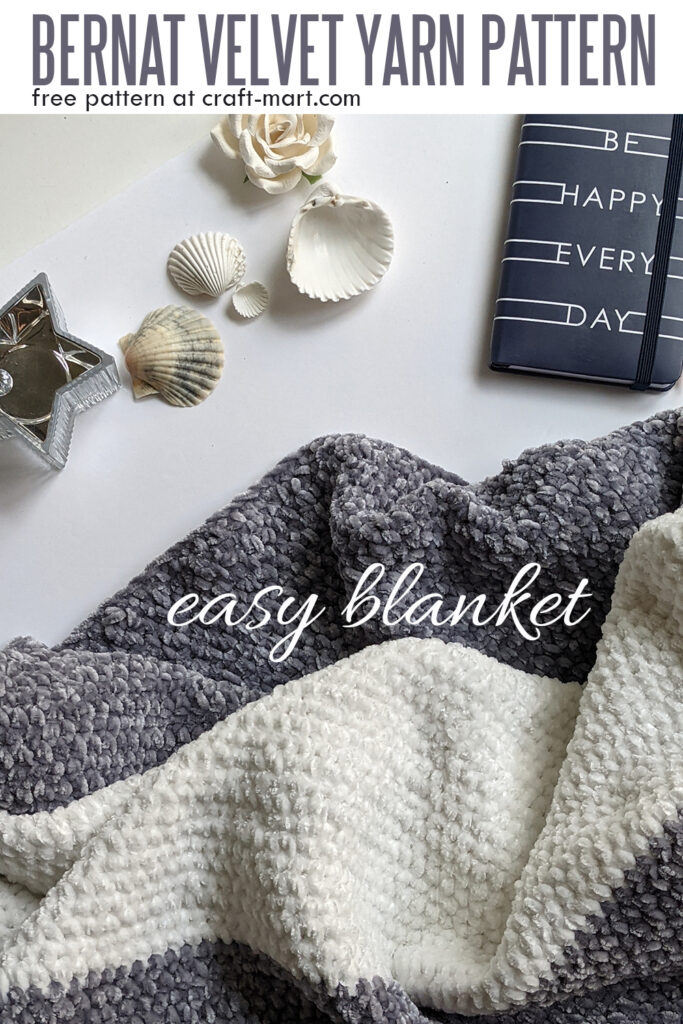 Your beautiful Bernat velvet yarn blanket pattern is done! Now you can enjoy the handmade softness and luxurious feel of your new blanket! This of the easiest Bernat baby velvet yarn patterns.
Are you looking for more FREE CROCHET PATTERNS? Check out our most popular unique patterns: