Unexpectedly, barrel sauna kits are making their way into North America. For a long time, they were disregarded as rather primitive sweat lodges but in time more and more people started to investigate the difference between heavily promoted infrared saunas and traditional outdoor saunas.
*Exclusive Sauna Kits Discounts for Craft-Mart visitors
Due to a very high interest in sauna kits for sale, Craft-Mart just worked out an exclusive deal with one of the leading EU log cabin and sauna manufacturers "BZB Cabins and Outdoors" for Craft-Mart.com visitors only. To get these discounts simply order go to BZB's website and enter the discount code during checkout.
For cabins and saunas provide $75 OFF discount code – CRAFTMART
This coupon has no expiration

*If you have any questions you may also contact "BZB Cabins and Outdoors" directly through this form and mention these codes to reserve your discount.
**Please, note that Craft-Mart.com does NOT sell these cabins. All inquiries should be sent to the manufacturer "BZB Cabins and Outdoors".
$12,690.00
43 Sq. Ft. Changing Room,
43 Sq. Ft. Hot Room,
Combined Sq. Ft.: 103
Overall Dimensions: 11″ x 18'2″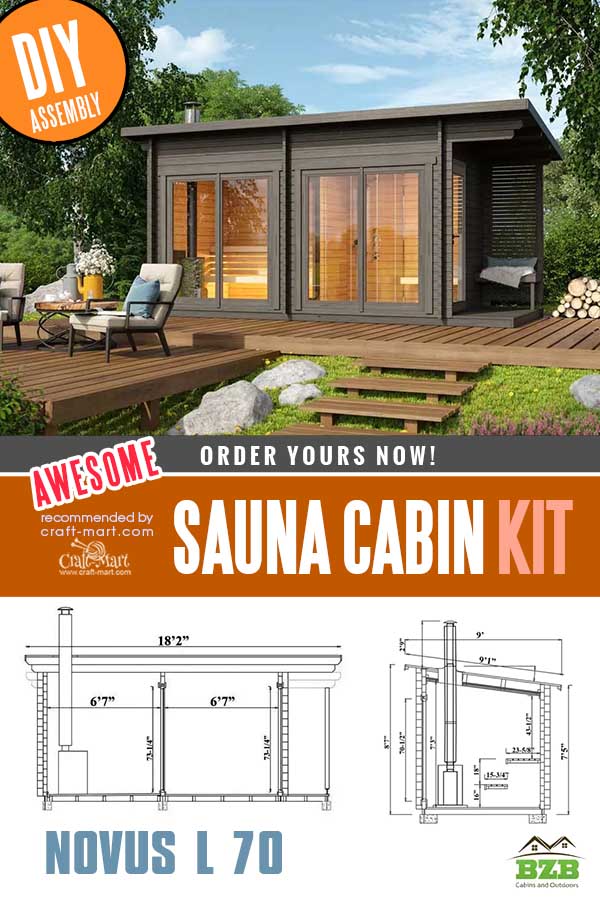 Out of many outdoor sauna cabin kits, Novus L stands out as a modern, elegantly designed for virtually any backyard or garden setting. The sauna plans show two separate rooms similar in size and a small terrace with a bench for cooling down after a sauna session.
A nice thing about this particular DIY sauna kit is that you also may use it as a home office in case you are not a huge fan of sweat lodges. Another use would be a small art and crafts studio where you can work in peace.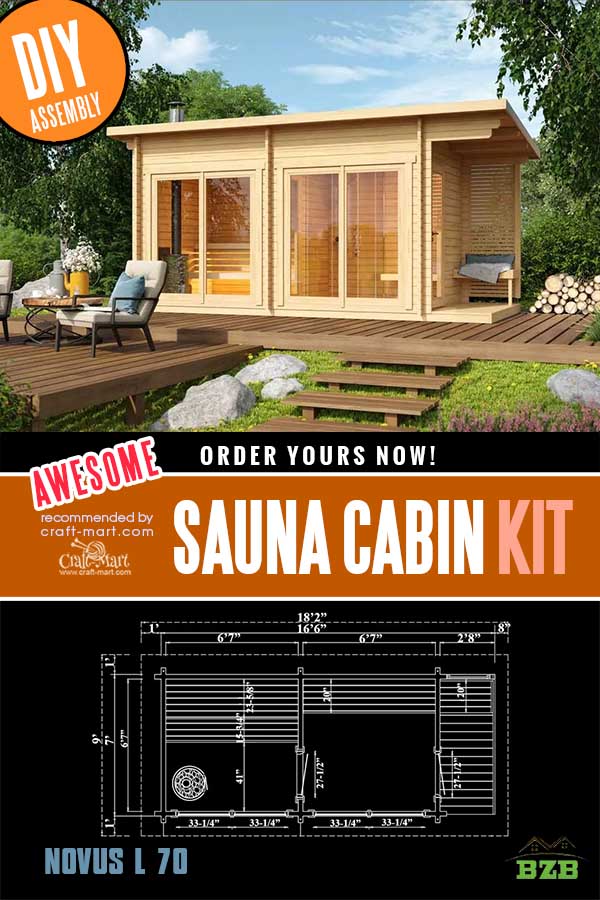 These DIY sauna kits are designed for quick assembly that can on average be completed by two adults in a couple of days depending on the size of the model. For non-DIYers, BZB Cabins and Outdoors is offering a complete assembly service. No matter what option you will choose you'll have outstanding support that BZB Cabins and Outdoors provides to all of its customers.
Order this beautiful sauna here (use CRAFTMART discount code)
$6,650.00
Inside Dimensions: 6'10" Deep x 7'2″ Wide x 6'8″ High
Outside Dimensions: 9'2″ Deep x 7'4″ Wide x 7'8″ High
The population of the Nordic EU Countries has known for centuries that saunas are extremely beneficial for health and well-being. The traditional saunas have been proven as an excellent way to relax and increase the oxygen flow in our blood. With this barrel sauna kit, you can get all these benefits without going to the gym or a pricey spa.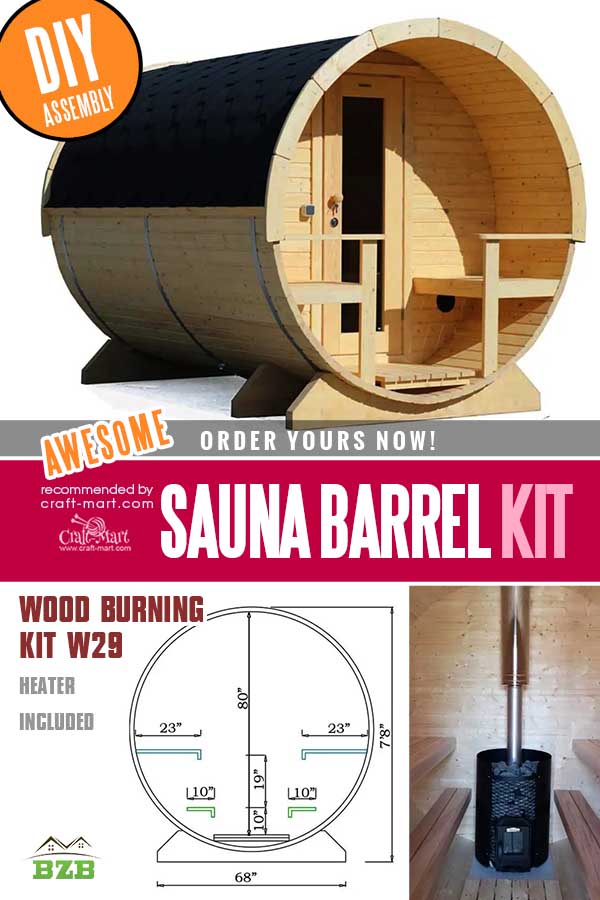 This DIY sauna kit comes with everything you need to get your outdoor sauna up and running in no time. Two benches in the steam room are 6'10" long in case you'd like to stretch out and relax. At the time of writing, BZB has a special offer for a free upgrade to a wood door in case you'd like to add a more rustic look to your outdoor barrel sauna kit.
As you can see in the pictures above, even one person is capable of putting together this W29 barrel sauna kit. It comes with a nice wood-burning Harvia 3 heater kit which includes a Schiedeli chimney. The sauna comes unfinished, so you will have to choose a perfect stain or varnish for its exterior.
Get this nice barrel sauna kit here and don't forget to mention a special discount code "CRAFTMART"
$8,650.00
Capacity: 8 Persons
Inside Dimensions: 4'4″ Long x 7'2″ Wide x 6'10" High Changing Room, 6'10" Long x 7'2″ Wide x 6'10" High Sauna Room
Outside Dimensions: 13′ Long x 7'6″ Wide x 7'6″ High
This outdoor sauna Igloo Kit 40 is a truly luxurious way to relax in a traditional sauna in your own backyard. in comparison with barrel sauna kits, this two-room sauna can hold as many as eight adults due to a wider space in the bottom part of the sauna.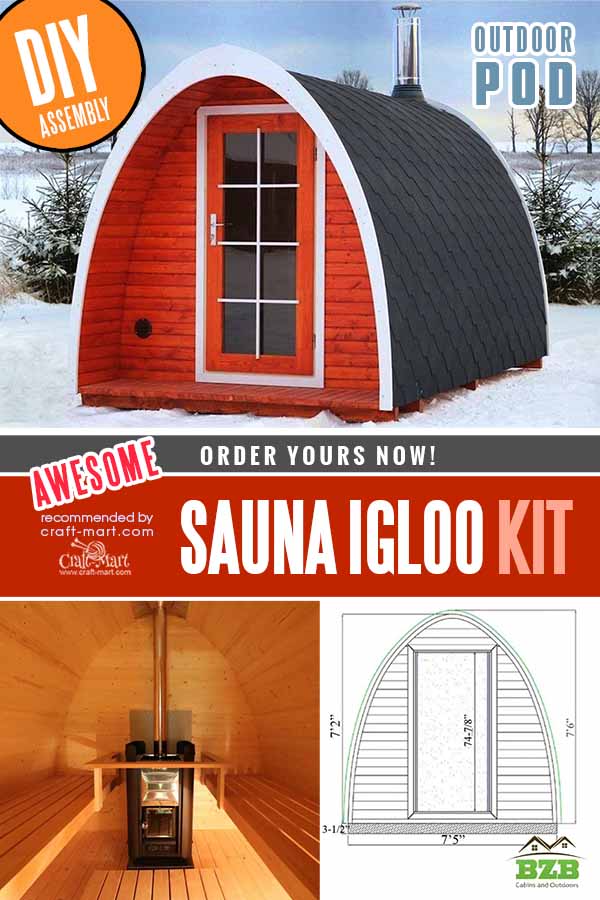 The two benches are located a bit more apart, as you may see in the picture. Beautiful Nordic Spruce is used for outdoor saunas comes unfinished, so it's up to you to choose the stain. You also have a choice of a Harvia FLB-60 Electric heater or a Harvia M3 wood-burning heater.
The terrace is covered, so you may want to think about adding a couple of benches on both sides for cooling down after a hot sauna. The entrance door can be upgraded for the solid wood one – just ask about it during the ordering process.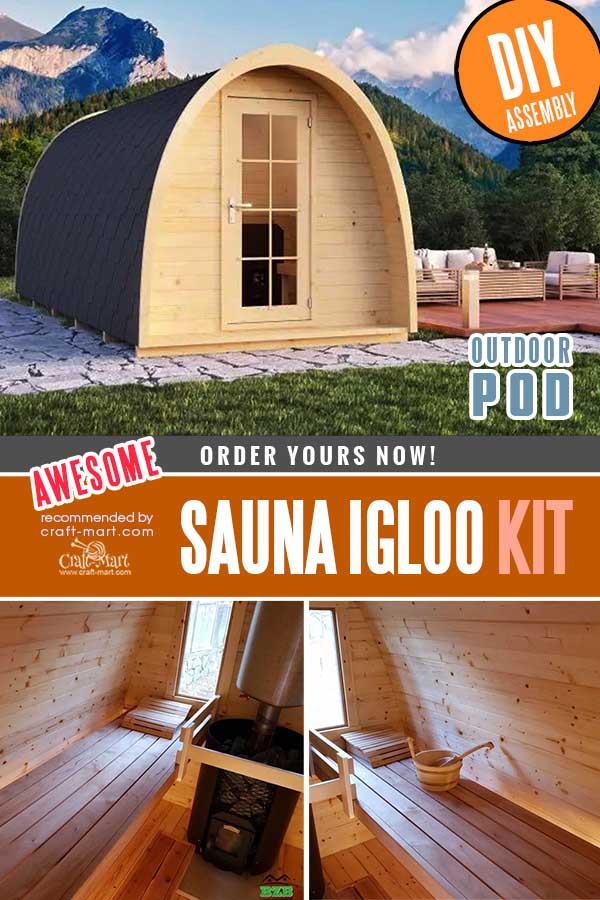 Two tall windows visually connect your outdoor sauna to the surrounding nature. All roofing shingles and foundation materials are included in this sauna kit. Having your own luxurious outdoor is easier than you think.
Don't forget about our exclusive $75 discount – order it now!
$8,890.00
Capacity: 4-5 Persons
Inside Dimensions: 6'2″ x 6'7″ Hot Room, 6'2″ x6'7″ Changing Room
Outside Dimensions: 13'2″ Wide x 7'11" Deep x 6'11" High
The oval shape of this barrel sauna kit provides more space and headroom. As you may see, 4-5 adults can easily sit in the steam room. In case you'd like to lie down, 2 benches can accommodate 2 people – perfect for everyday relaxation after hard work.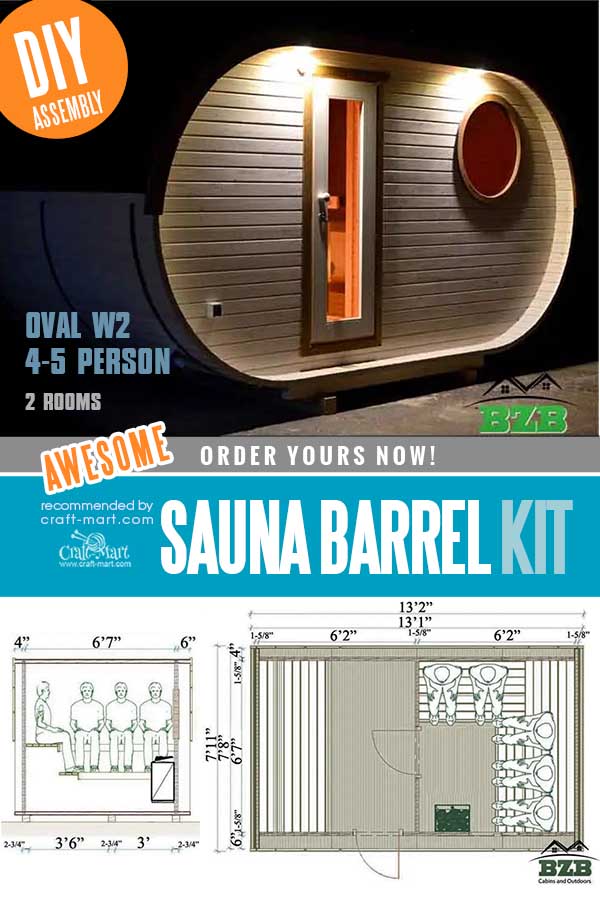 Additionally, this particular outdoor sauna model offers 2 temperature levels for everyone's comfort – choose the lower level seating for lower temperature or second level seating for higher temperature. Each sauna kit comes fully equipped with seats, doors, windows, and top-quality electric or wood-fired heating systems.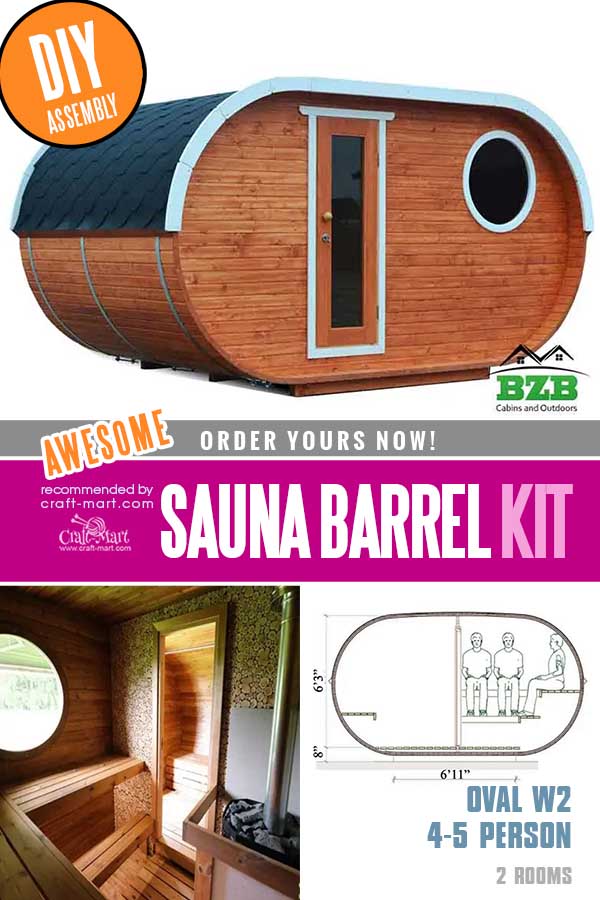 The oval barrel sauna kit is designed for an easy DIY assembly that can on average be completed by two adults in a couple of days two depending on the size of the model. However, for non-DIYers, BZB is offering a complete assembly service that normally can be completed in one day.
Get your oval barrel sauna kit here
$7,490.00
Capacity: 6-8 Persons
Inside Dimensions: 6'8′ x 6'3″ Sauna Room, 6'8″ x 2'9″ Changing Room
Outside Dimensions: 11'2″ Long x 7'5″ Wide x 7'9″ High
This two-room barrel sauna kit has a large steam room that allows up to eight people and a small changing room. It is made of long grown and tense Nordic Spruce.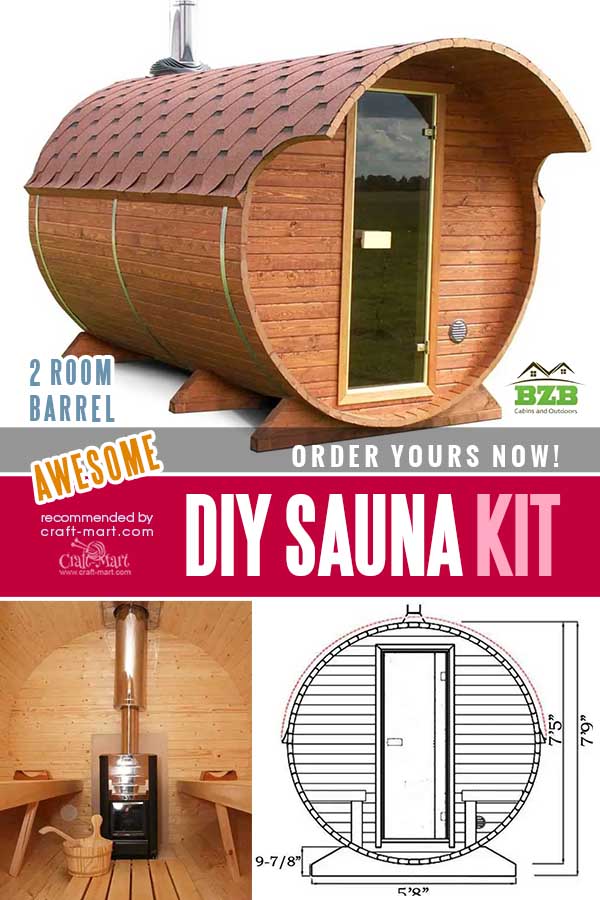 As always, this DIY sauna kit comes with everything you need to assemble it quickly and easily. The only thing you should add to it would be some kind of an entry porch.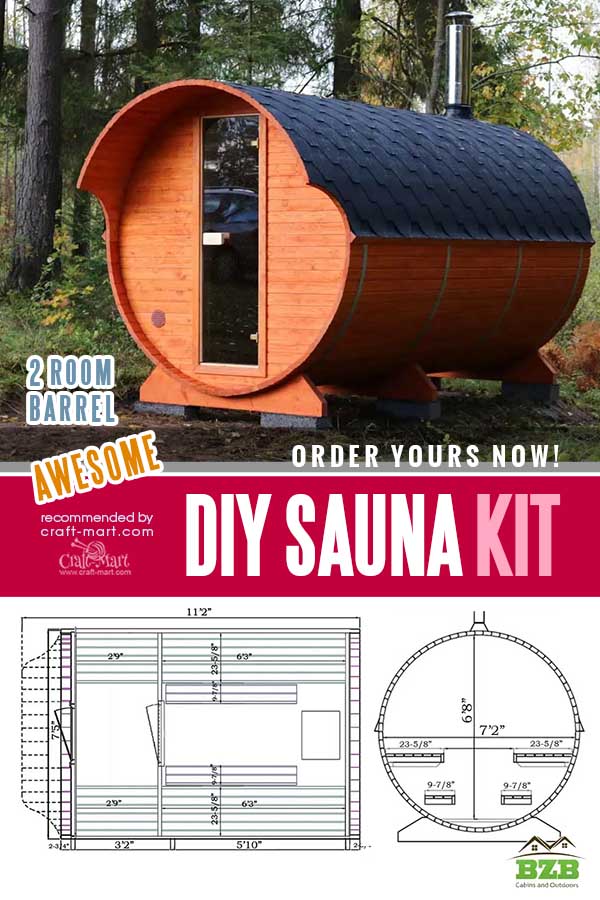 The sauna kit comes equipped with a Harvia M3 wood-burning heater. Beautifully shaped shingles and a curved entrance cover create a nice unique appearance. Your job would be selecting the right color of wood stain for your perfect outdoor sauna.
Order it here using CRAFTMART discount code
If you're still not sure if these outdoor sauna kits are beneficial for you look at the sauna below. Scandinavians take their sauna business very seriously!
This cute fairytale-looking DIY sauna crafted by Bjarne Johansen is just one of several unique creations of this experienced Danish master-thatcher. It is a rare craft of building a roof with dry vegetation. Building a sauna 120 miles northwest of Copenhagen sounds like a smart idea though not a completely unique one for the Danish climate. What's unique about this particular project is everything else, starting with the choice of building materials, shape, and automation.
Johansen has been a thatcher and a craftsman for over 35 years. Besides working on ordinary thatching jobs and quirkier projects, he helped thatch part of a set for a play at Copenhagen's Østre Gasværk theater. More recently, he helped thatch the public art installation Rapture, by Danish artist Thomas Poulsen.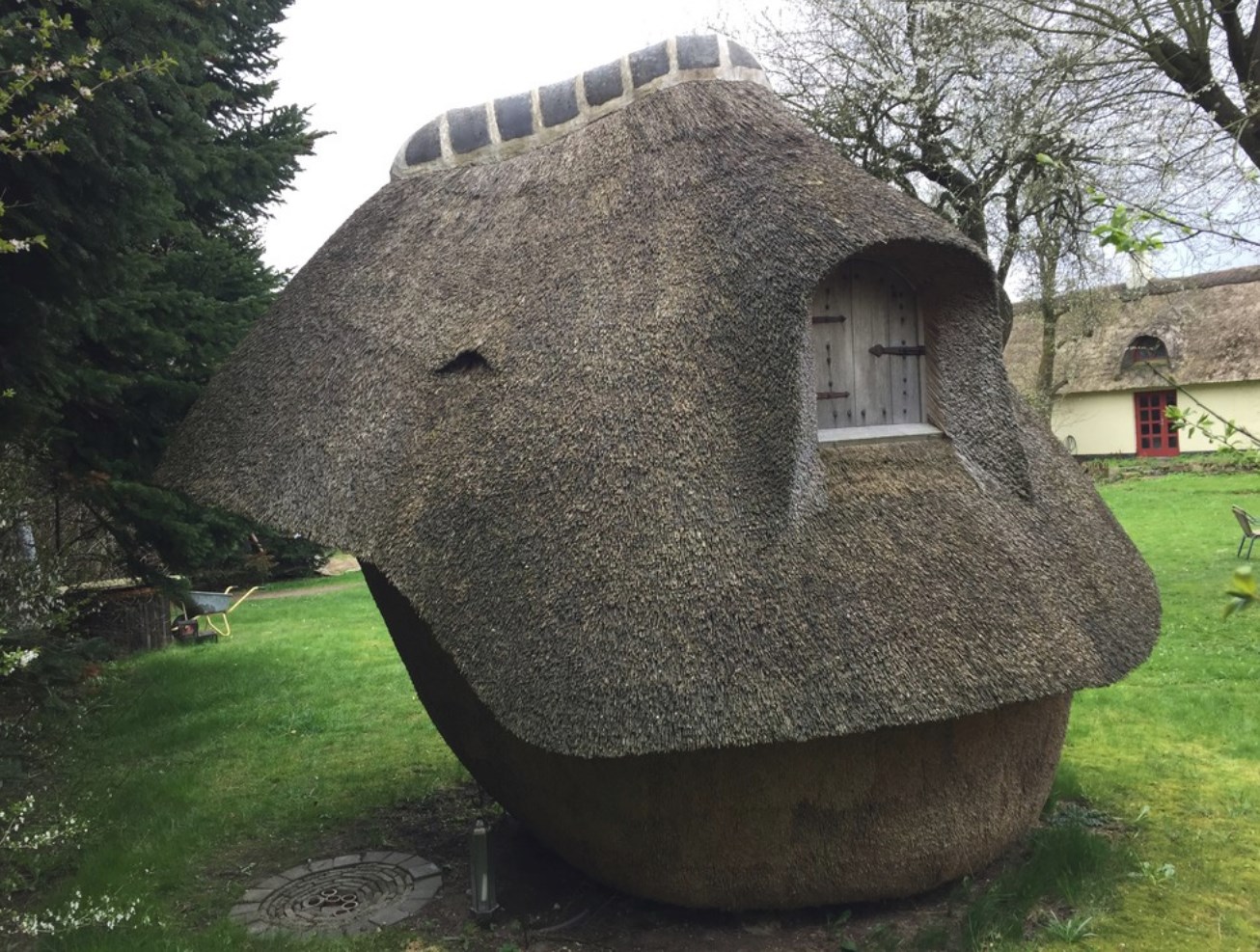 For many people in Northern America, the idea of building an outdoor sauna seems rather opposite to what they dream of – having their own swimming pool. For many, scientifically designed infrared sauna from Amazon is somewhat exotic. Constructing DIY sauna would be like building an Indian sweat lodge, though many homeowners in Alaska have a sauna in their backyard.
For example, after work, most people will enjoy:
In the U.S.: warm shower, a quick dip in a swimming pool, a glass of water with ice afterward.
Northern European way: hot sauna session, cold shower, hot tea afterward.
Why these Northern folks like their saunas so much? They simply know about sauna health benefits and have been enjoying them for centuries, as their ancestors did.
A few of sauna health benefits
Detoxing
Some studies show heavy metals like lead, cadmium, arsenic, and mercury can be excreted through the skin as well or even better than in urine.
Improving circulation and oxygenation
A study in Finland shows that frequent use of sauna reduces the risk of developing dementia or Alzheimer's by 65%.
Helping with weight loss
Far infrared sauna session of 30 minutes burns more than 600 calories.
Building an outdoor sauna was one of the most fun projects for Johansen on his own property. Before sauna, he constructed a triangular cool-looking greenhouse with a partially thatched roof, as you might guess. However, working on this DIY sauna presented him with more challenges than anything else before.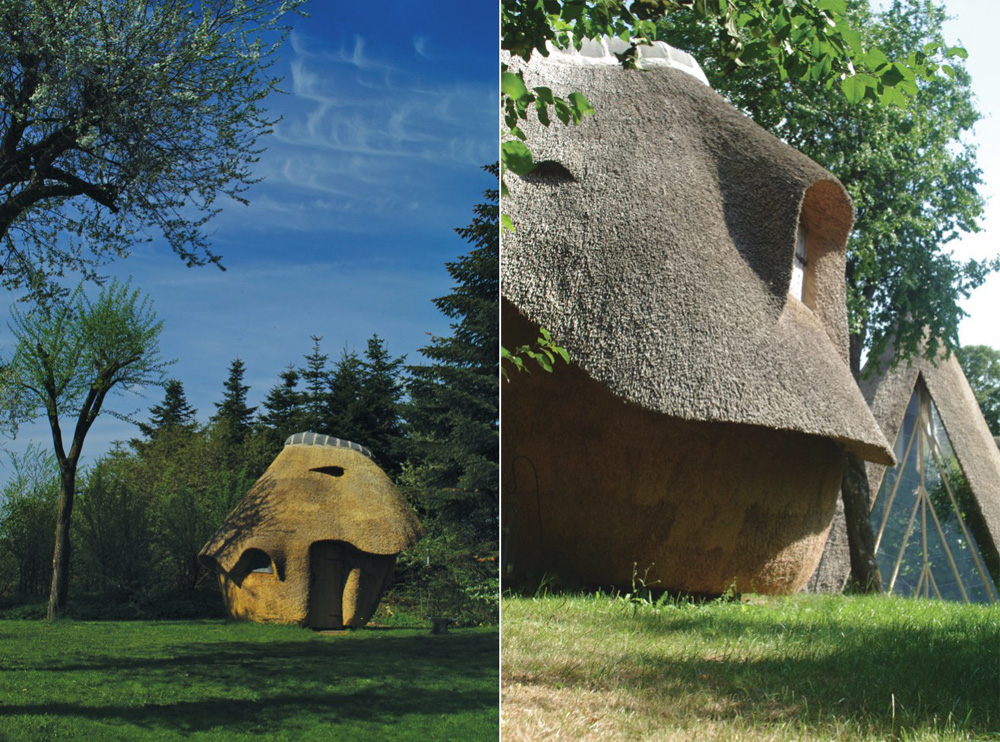 The garden is the thatcher's playroom. If I can't sleep at night, I come up with new ideas, which I then go out and test the next morning. The sauna was one of them.
The idea for building a DIY sauna arose from a discussion with some of Johansen's thatching students at a craft school in Haderslev, Denmark.
We were discussing what could and couldn't be done. I claimed that it is possible to produce unusual designs. I have worked on thatched roofs in Holland for several years, and in Holland, they do a lot more with thatched roofs than we do in Denmark. So I knew it would be possible to make this sauna.
Building a sauna poses some difficulties because the humidity and changing temperature make it tricky to construct a stable substrate for the thatch. The round shape also complicates the thatch's placement. Being the type of person who doesn't make carefully calculated drawings before starting, Johansen had to adjust constructing plans on the go. That's why the sauna reflects the influences and materials he found in his local environment – the forest. This whimsically crafted sauna really looks like a hobbit house!
When I ran into challenges … I went into my forest and looked at what was there. For example, I might find some skewed piece of wood that might inspire new ideas. Obviously, certain things, such as ventilation, lighting, and the outdoor shower, had to be included. But when I started, I was not aware of what the final result would be.
The materials determined the final design. The sauna's frame consists of six crooked pieces of oak that Johansen found lying in his garden. That's why the sauna has such an asymmetrical, organic shape.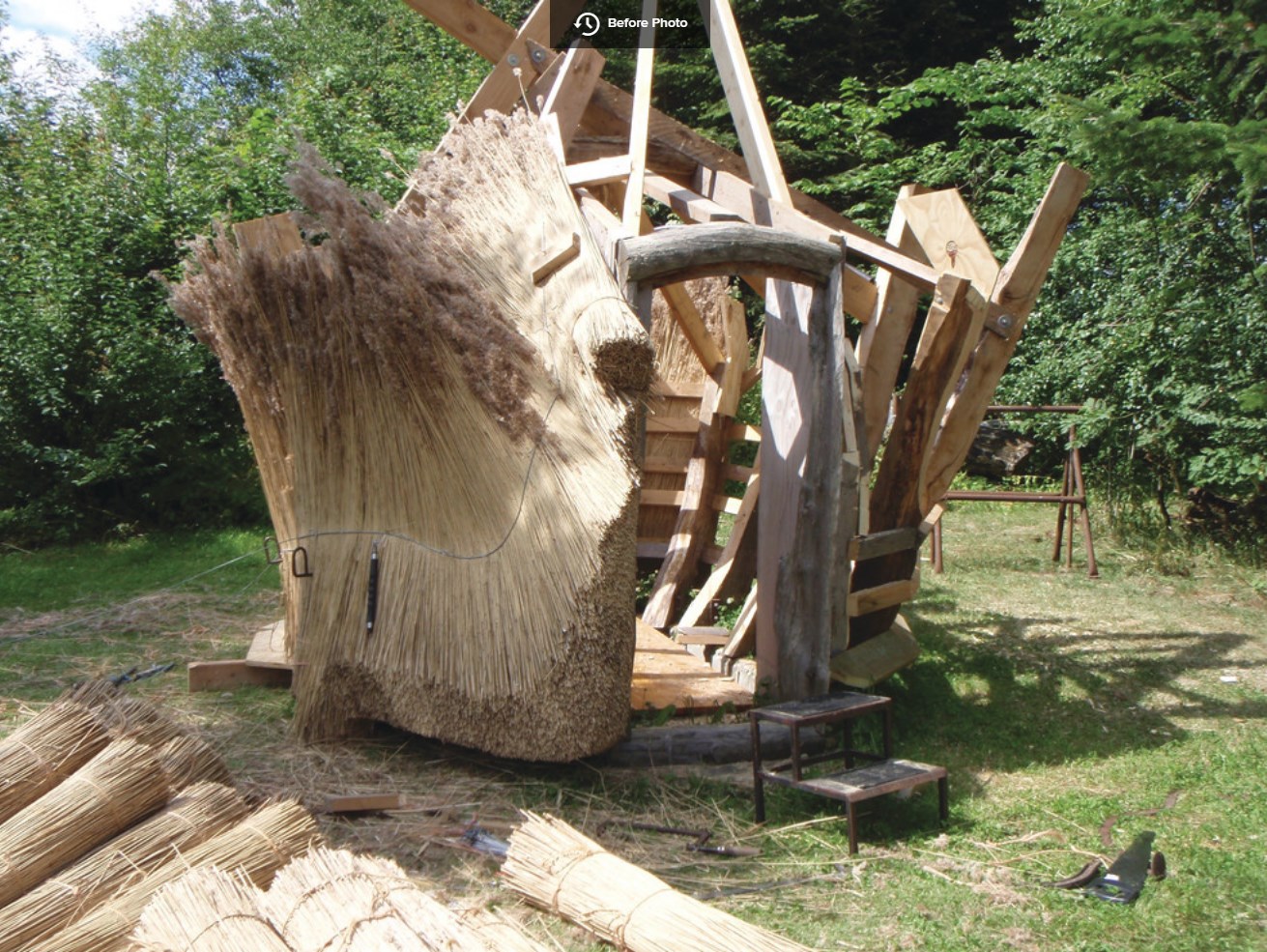 Amazingly, the sauna took only two weeks to make including all-important cold-water shower for rinsing off after a steam session.
On the inside, the sauna is paneled with willow and plastered with a mortar containing horsehair.
I spoke to both Finns and Canadians about plastering the inside of a sauna with mortar, and none of them had ever heard of doing it that way, so it was a bit of a gamble. I will never forget the first time I fired up the sauna and just expected everything to collapse onto my head. But it actually held. What's fun about the interior willow boarding is that when the temperature reaches 176 degrees, there is such a lovely scent of willow in there.
The sauna's position in the garden makes it look almost like a work of art, but Johansen doesn't describe his work that way.
I give myself artistic freedom, but everything I create comes with a craftsman's guarantee. I like to make things that will endure. The sauna will last for at least 40 to 50 years — which means I will have a maintenance-free sauna for the rest of my life.
You wouldn't expect DIY sauna to be controlled from a cell phone, would you? Of course, Johansen's sauna has this feature which makes it really the 21st-century sauna craftsmanship masterpiece. Very cool (we mean, hot)!
When I climb down from a roof 20 miles from home, soaked and cold from the rain, I take out my phone and send a message home to turn the sauna on. This way, I can crawl directly into a 176-degree sauna. It is so cool.
* Original pictures & story source: www.houzz.com

Get Craft-Mart Exclusive Discount on BZB products by submitting this form!
Craft-Mart worked out this exclusive deal with "BZB Cabins and Outdoors" for Craft-Mart.com visitors only!
To receive an exclusive discount of $75, please, either mention "CRAFTMART" discount code to "BZB Cabins and Outdoors" representative or submit the form below.
*Your email address will NOT be used for spamming.
---