Unexpectedly, barrel sauna kits are making their way into North America. For a long time, they were disregarded as rather primitive sweat lodges but in time more and more people started to investigate the difference between heavily promoted infrared saunas and traditional outdoor saunas.
*Exclusive Sauna Kits Discounts for Craft-Mart visitors
Due to a very high interest in sauna kits for sale, Craft-Mart just worked out an exclusive deal with one of the leading EU log cabin and sauna manufacturers "BZB Cabins and Outdoors" for Craft-Mart.com visitors only. To get these discounts simply order go to BZB's website and enter the discount code during checkout.
For cabins and saunas provide $75 OFF discount code – CRAFTMART
This coupon has no expiration

*If you have any questions you may also contact "BZB Cabins and Outdoors" directly through this form and mention these codes to reserve your discount.
**Please, note that Craft-Mart.com does NOT sell these cabins. All inquiries should be sent to the manufacturer "BZB Cabins and Outdoors".
$12,690.00
43 Sq. Ft. Changing Room,
43 Sq. Ft. Hot Room,
Combined Sq. Ft.: 103
Overall Dimensions: 11″ x 18'2″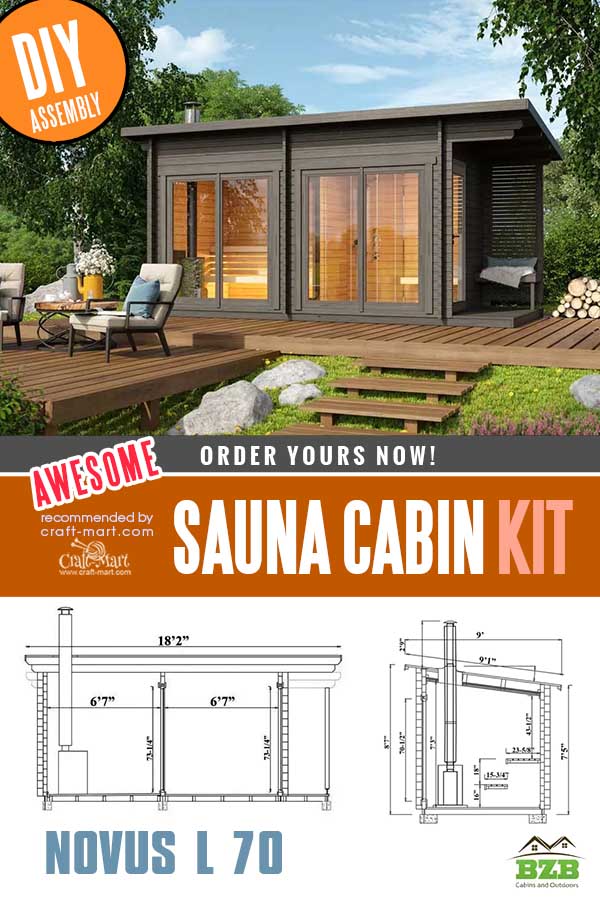 Out of many outdoor sauna cabin kits, Novus L stands out as a modern, elegantly designed for virtually any backyard or garden setting. The sauna plans show two separate rooms similar in size and a small terrace with a bench for cooling down after a sauna session.
A nice thing about this particular DIY sauna kit is that you also may use it as a home office in case you are not a huge fan of sweat lodges. Another use would be a small art and crafts studio where you can work in peace.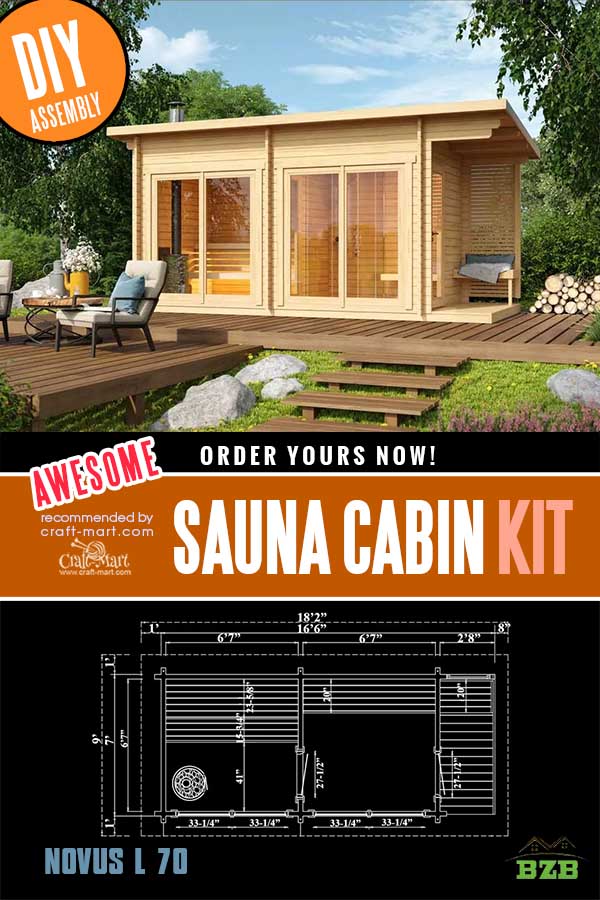 These DIY sauna kits are designed for quick assembly that can on average be completed by two adults in a couple of days depending on the size of the model. For non-DIYers, BZB Cabins and Outdoors is offering a complete assembly service. No matter what option you will choose you'll have outstanding support that BZB Cabins and Outdoors provides to all of its customers.
Order this beautiful sauna here (use CRAFTMART discount code)
$6,650.00
Inside Dimensions: 6'10" Deep x 7'2″ Wide x 6'8″ High
Outside Dimensions: 9'2″ Deep x 7'4″ Wide x 7'8″ High
The population of the Nordic EU Countries has known for centuries that saunas are extremely beneficial for health and well-being. The traditional saunas have been proven as an excellent way to relax and increase the oxygen flow in our blood. With this barrel sauna kit, you can get all these benefits without going to the gym or a pricey spa.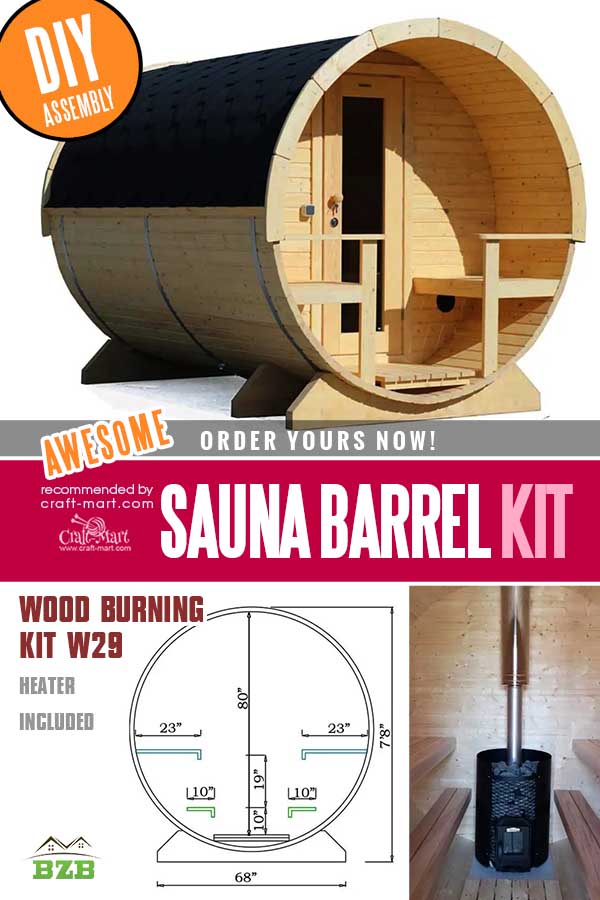 This DIY sauna kit comes with everything you need to get your outdoor sauna up and running in no time. Two benches in the steam room are 6'10" long in case you'd like to stretch out and relax. At the time of writing, BZB has a special offer for a free upgrade to a wood door in case you'd like to add a more rustic look to your outdoor barrel sauna kit.
As you can see in the pictures above, even one person is capable of putting together this W29 barrel sauna kit. It comes with a nice wood-burning Harvia 3 heater kit which includes a Schiedeli chimney. The sauna comes unfinished, so you will have to choose a perfect stain or varnish for its exterior.
Get this nice barrel sauna kit here and don't forget to mention a special discount code "CRAFTMART"
$8,650.00
Capacity: 8 Persons
Inside Dimensions: 4'4″ Long x 7'2″ Wide x 6'10" High Changing Room, 6'10" Long x 7'2″ Wide x 6'10" High Sauna Room
Outside Dimensions: 13′ Long x 7'6″ Wide x 7'6″ High
This outdoor sauna Igloo Kit 40 is a truly luxurious way to relax in a traditional sauna in your own backyard. in comparison with barrel sauna kits, this two-room sauna can hold as many as eight adults due to a wider space in the bottom part of the sauna.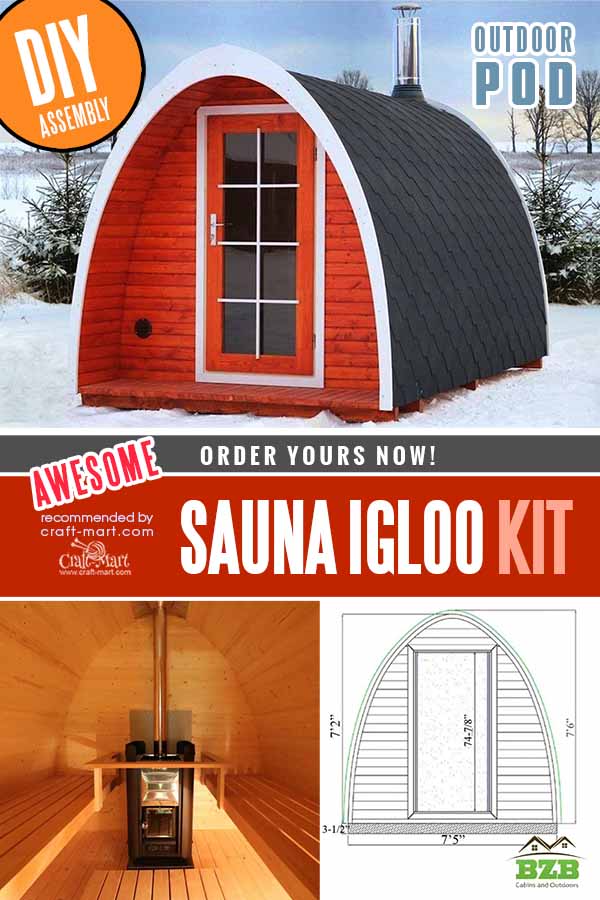 The two benches are located a bit more apart, as you may see in the picture. Beautiful Nordic Spruce is used for outdoor saunas comes unfinished, so it's up to you to choose the stain. You also have a choice of a Harvia FLB-60 Electric heater or a Harvia M3 wood-burning heater.
The terrace is covered, so you may want to think about adding a couple of benches on both sides for cooling down after a hot sauna. The entrance door can be upgraded for the solid wood one – just ask about it during the ordering process.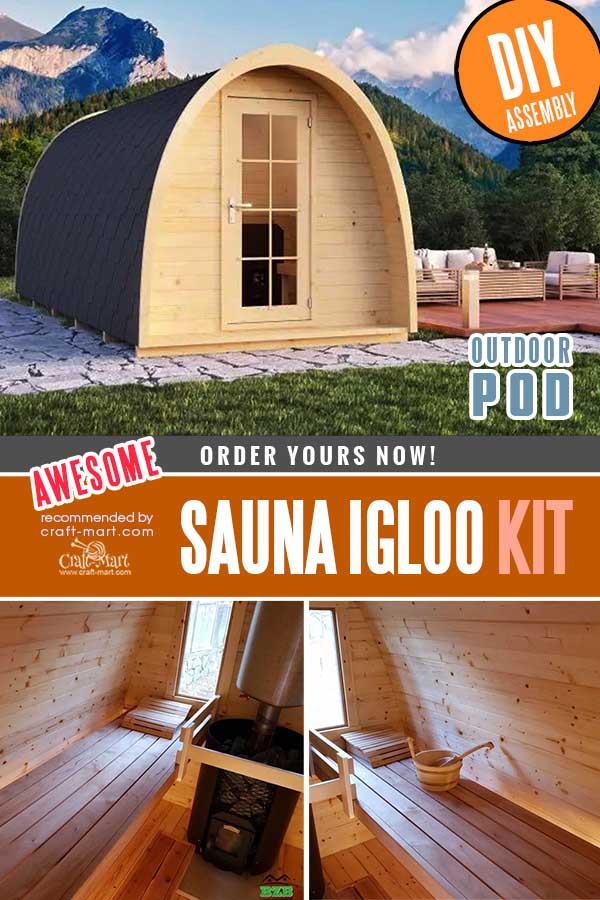 Two tall windows visually connect your outdoor sauna to the surrounding nature. All roofing shingles and foundation materials are included in this sauna kit. Having your own luxurious outdoor is easier than you think.
Don't forget about our exclusive $75 discount – order it now!
$8,890.00
Capacity: 4-5 Persons
Inside Dimensions: 6'2″ x 6'7″ Hot Room, 6'2″ x6'7″ Changing Room
Outside Dimensions: 13'2″ Wide x 7'11" Deep x 6'11" High
The oval shape of this barrel sauna kit provides more space and headroom. As you may see, 4-5 adults can easily sit in the steam room. In case you'd like to lie down, 2 benches can accommodate 2 people – perfect for everyday relaxation after hard work.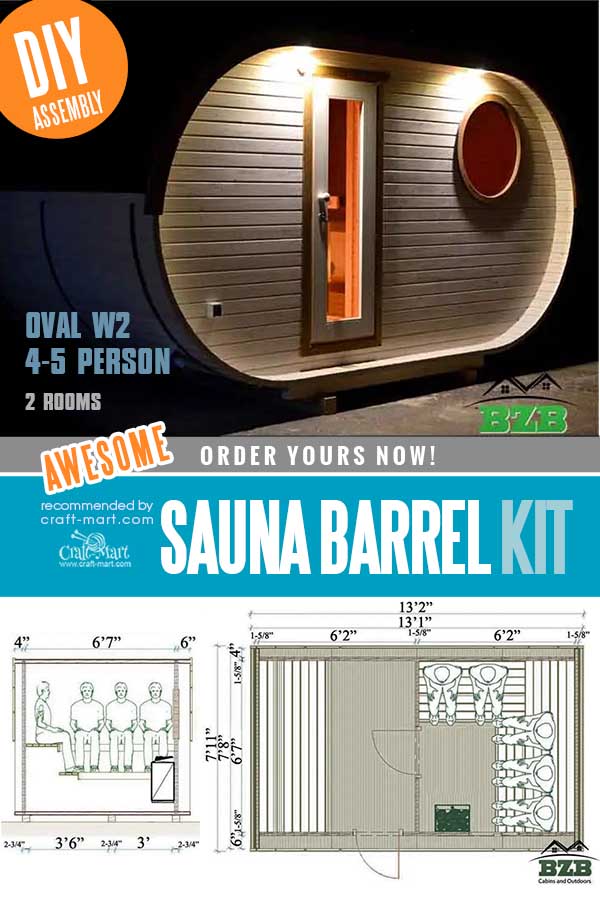 Additionally, this particular outdoor sauna model offers 2 temperature levels for everyone's comfort – choose the lower level seating for lower temperature or second level seating for higher temperature. Each sauna kit comes fully equipped with seats, doors, windows, and top-quality electric or wood-fired heating systems.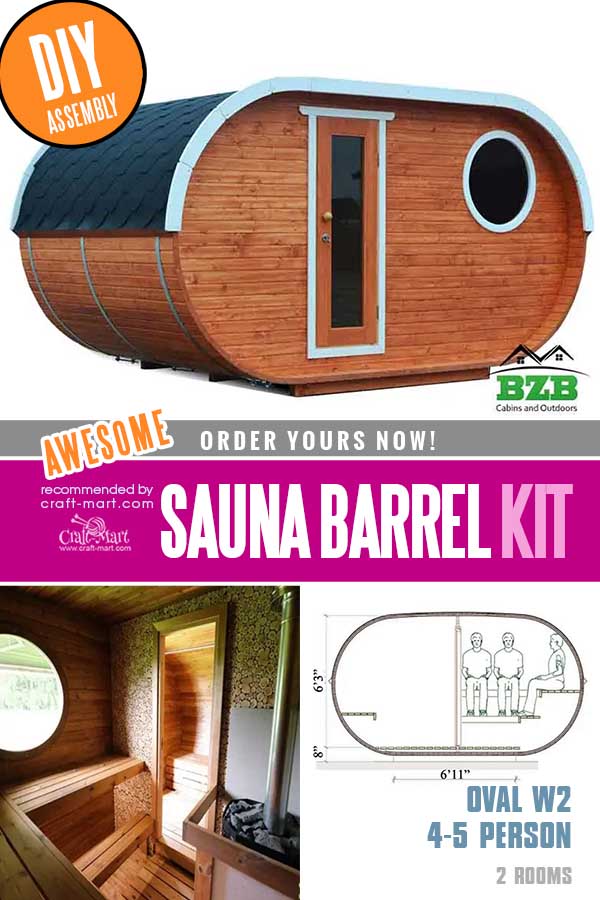 The oval barrel sauna kit is designed for an easy DIY assembly that can on average be completed by two adults in a couple of days two depending on the size of the model. However, for non-DIYers, BZB is offering a complete assembly service that normally can be completed in one day.
Get your oval barrel sauna kit here
$7,490.00
Capacity: 6-8 Persons
Inside Dimensions: 6'8′ x 6'3″ Sauna Room, 6'8″ x 2'9″ Changing Room
Outside Dimensions: 11'2″ Long x 7'5″ Wide x 7'9″ High
This two-room barrel sauna kit has a large steam room that allows up to eight people and a small changing room. It is made of long grown and tense Nordic Spruce.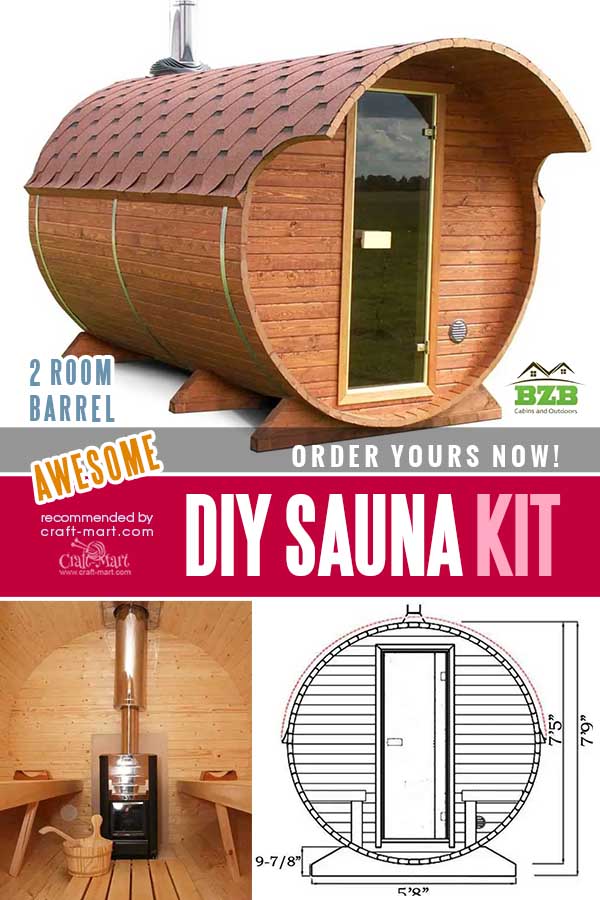 As always, this DIY sauna kit comes with everything you need to assemble it quickly and easily. The only thing you should add to it would be some kind of an entry porch.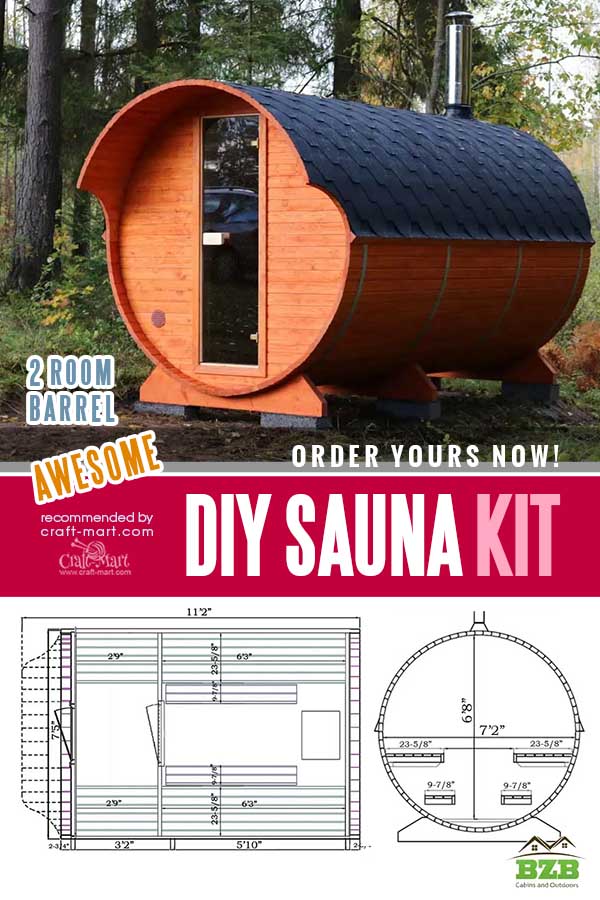 The sauna kit comes equipped with a Harvia M3 wood-burning heater. Beautifully shaped shingles and a curved entrance cover create a nice unique appearance. Your job would be selecting the right color of wood stain for your perfect outdoor sauna.