An increasing number of people are looking for prefab small cabin kits and DIY cottages for sale in hopes to save money on assembly and do something fulfilling with their own hands. Projects like these are also excellent teaching opportunities for a younger generation so they can learn to do something with their own hands.
Recent hard times are giving us a warning – we need to pass at least some basic skills to the next generation. Assembling small or tiny cabin kits is a good start. Finishing the cabin and turning it into something livable or functional would be a perfect experience for the whole family.
The small cabin kits we have collected here are all made in Vermont, USA.
All of them are highly customizable and can be matched with other buildings on your property;
Affordable wood cabin kits come with step-by-step color-coded instructions and are easy to assemble;
Financing options are available;
Lowest Prices Guaranteed plus…
…Free Shipping* for kits in the Continental United States and parts of Canada!
Out of many cute cottages for sale, this charming little structure offers tons of opportunities in a variety of sizes virtually for any budget. Rugged post and beam techniques create just a bit of a challenge for DIY tiny cabin kits enthusiasts. All prefab cabin kits like Cross Gable Cottage are built of the finest Vermont lumber and handcrafted for long life and durability.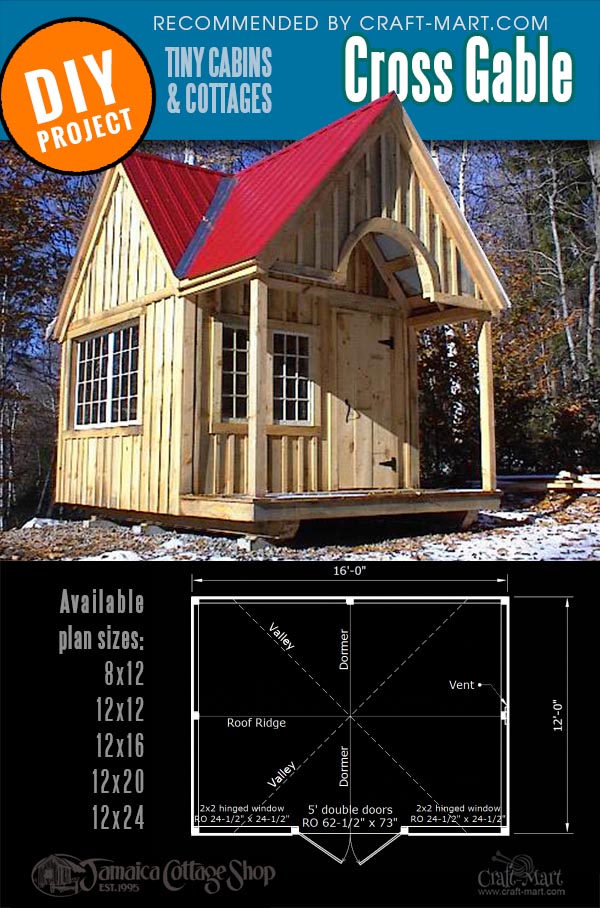 The stylish cross gable roof provides plenty of headroom in any of the 5 offered small cabin kits. Naturally, this design could have any number of uses from housing a hot tub to a home office or an art studio.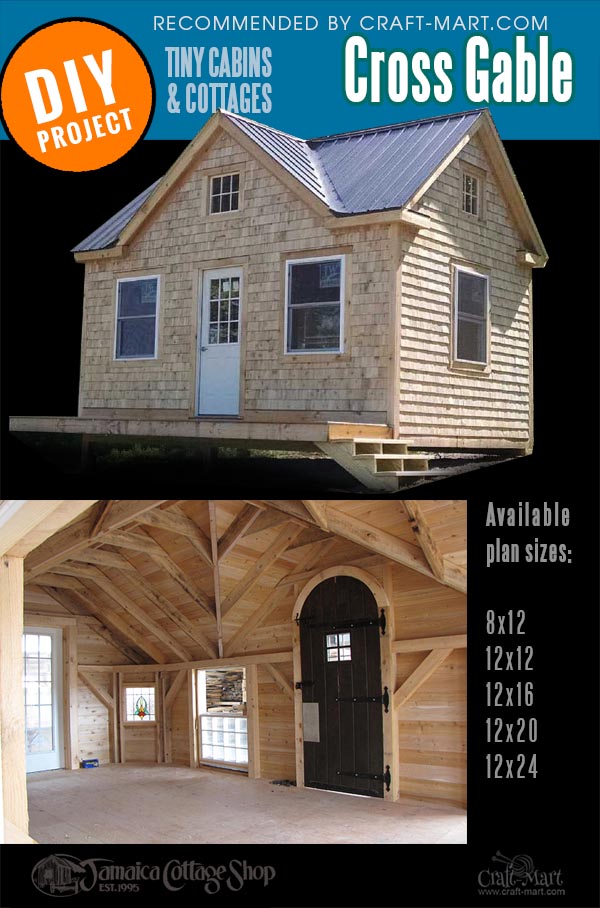 Can this cottage be used for a living? Without a doubt, cabin kits of 12 ft x 20 ft and up can be converted to tiny homes with a bathroom and kitchenette for a comfortable living.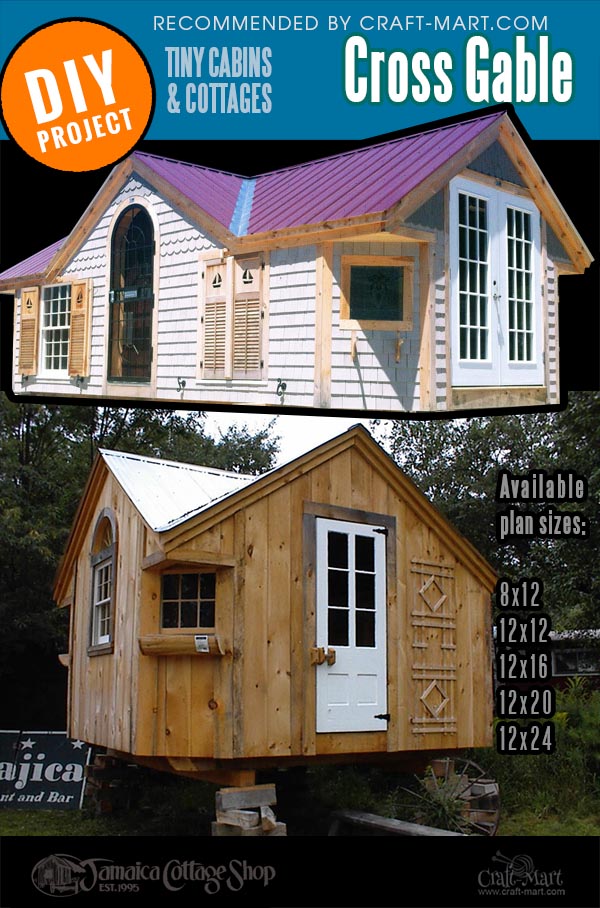 The Cross Gable small cabin kits are available in many flavors:
DIY Tiny Cabin Plans;
Complete precut DIY cabin kits where all materials are color-coded, part numbered and stacked in order;
A fully assembled project (FA). FA projects ship in the northeast USA;
Pre-Cut small cabin kits ship FREE to the continental USA and Eastern Canada;
Cross Gable cabin kits prices vary from ~ $4K+ for the 8'x12′ version to $12K+ for the 12'x24′ version.
Get more details about all available Cross Gable cabin kits here!
It can be as rustic as you'd like or cozy and elegant – your choice! This little cottage has 3 size options from a tiny 12'x14′ version to a pretty serious 24'x36′ not-so-tiny house. The estimated assembly time for the smallest model for two people is around 34 hours.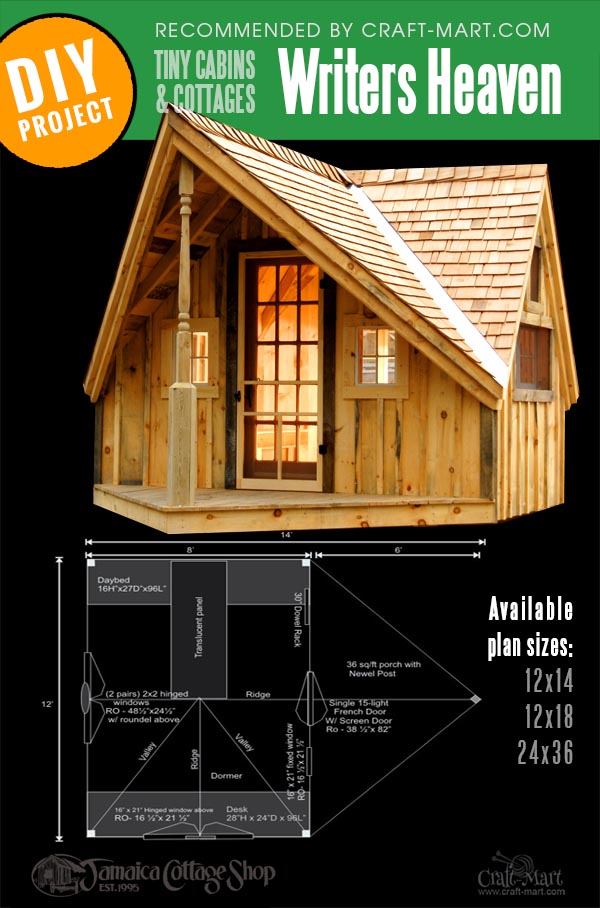 A unique triangular porch makes the facade stand out from other traditional designs. In case you're itching to build everything yourself without ordering a prefab cabin kit, there is a free list of materials that can be downloaded from the manufacturer's website for comparison if you are purchasing all the materials locally.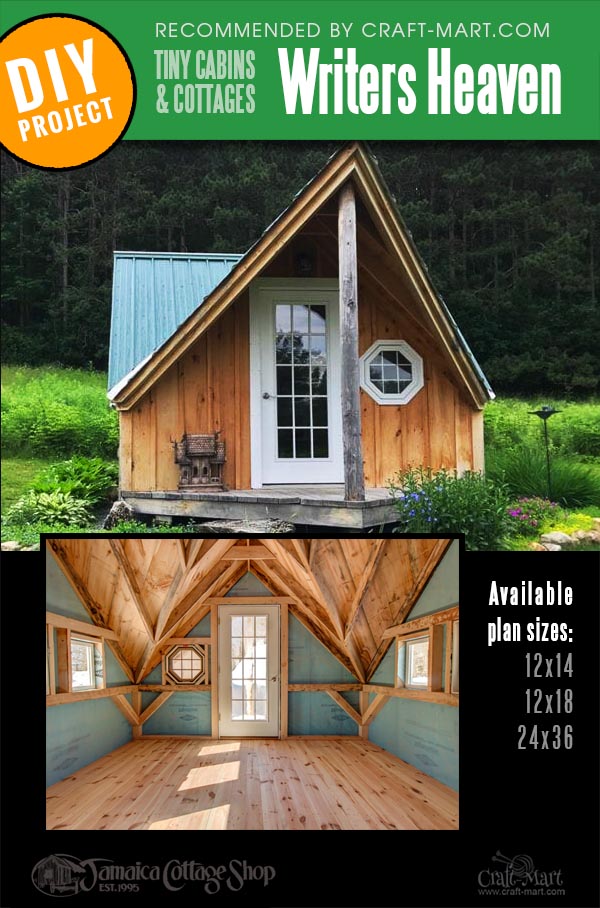 Writers heaven prefab cabin kits come with built-in daybed and desk. The cabin has plenty of windows for activities that require natural light. Besides obvious riding and writing, you can do just about anything including taking naps, crocheting, or assembling puzzles. If you are not a fan of any of these activities you can use it as a storage shed.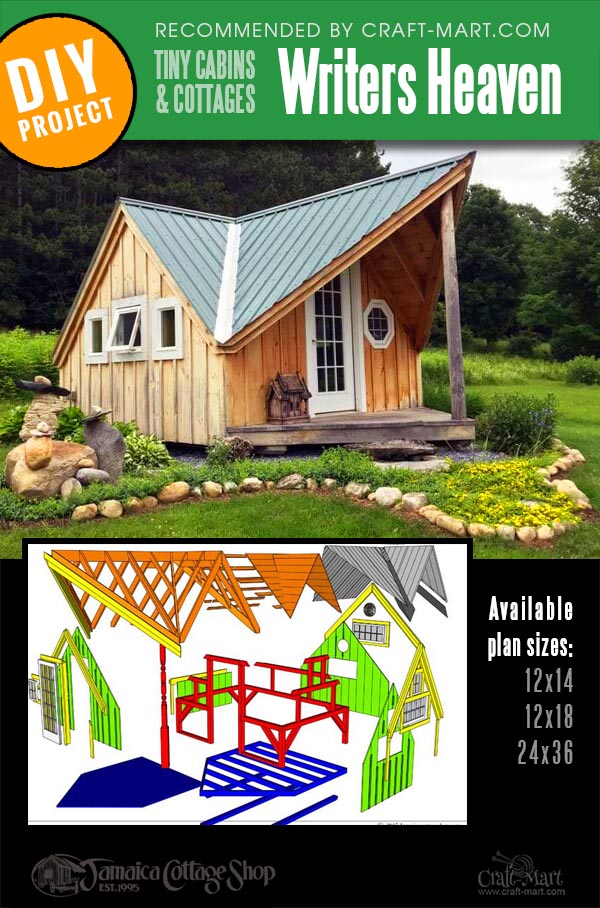 You can get the smallest version of these small cabin kits for approximately $4K+. For the largest size of 24'x36,' the price jumps to over $32K+ but remember, it's not a shed anymore – it's a house.
Get your own Writers Heaven tiny cottage here!
This thing is square and simple but also romantic. Easy to assemble, the Love Nest cabin is one of the best tiny cabins for two with a lovely integrated porch.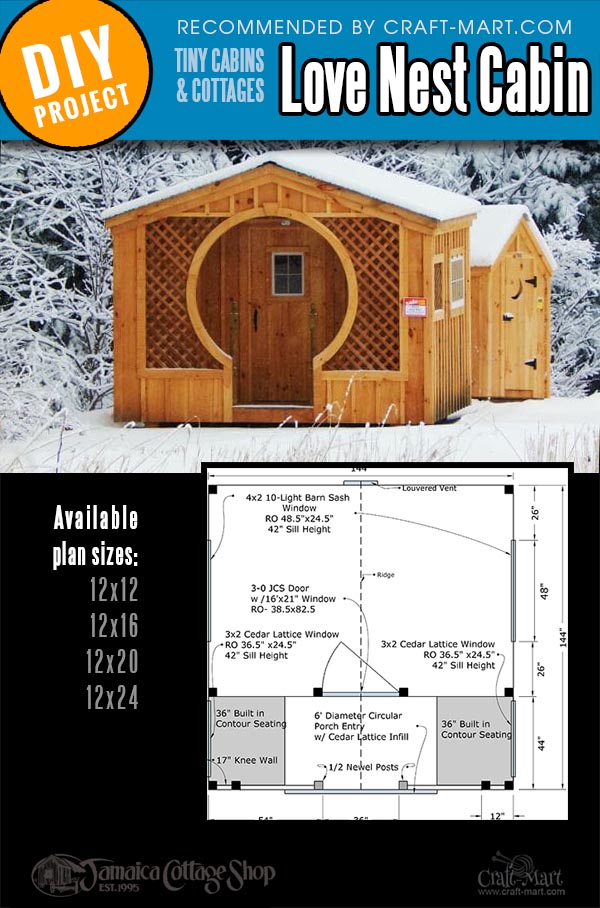 The main design feature is a porch with a keyhole-style entrance and two comfy built-in benches. Note that each bench is wide enough for a couple to sit side by side. For singles, we'd recommend another option – make a small table on the side to hold your coffee and tablet.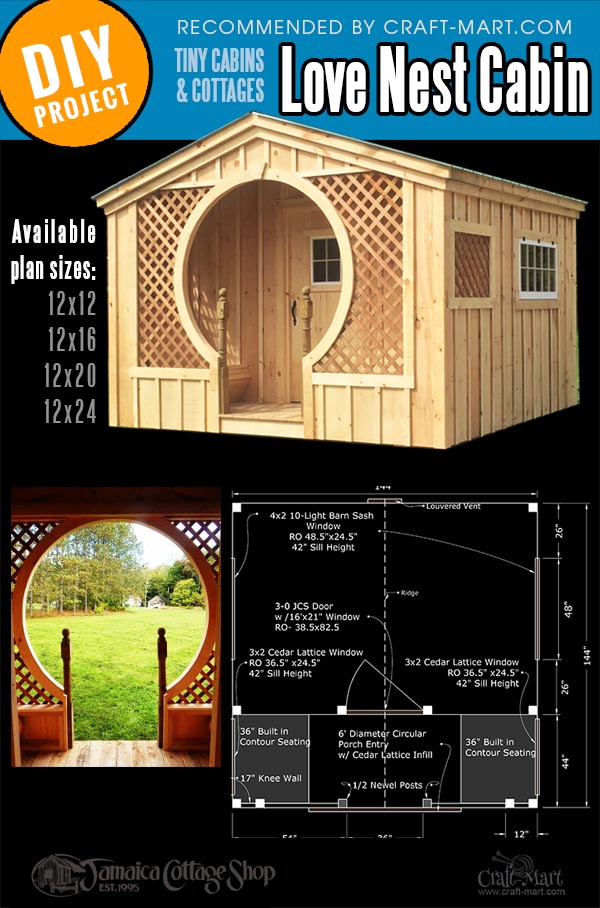 Can you imagine using this cabin as she shed or a pond house? Fragrant Jasmin flowers around the lattice, birds chirping…? You'll love it so much that you'll move there permanently. Install the woodstove, small sink, and toilet – what else would you need?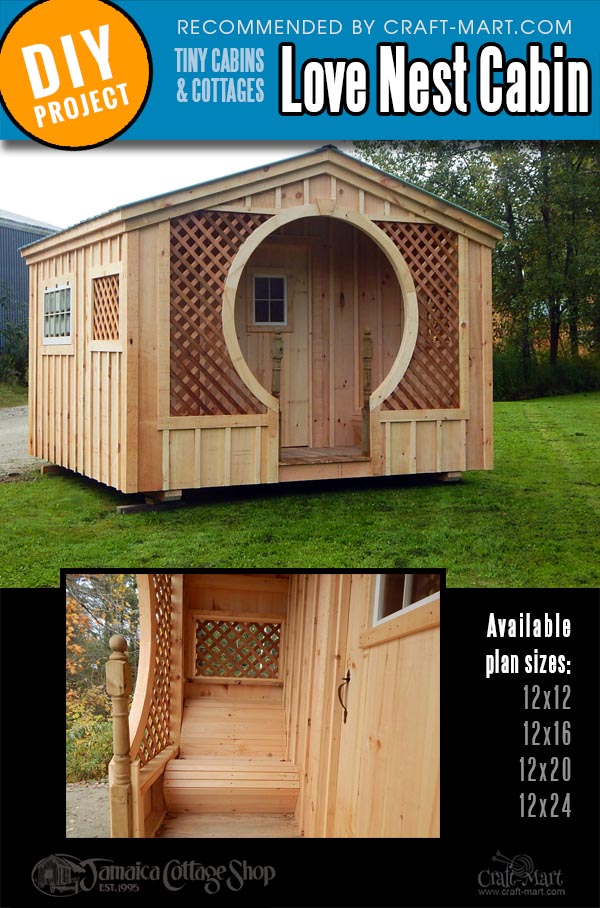 The estimated assembly time for Love Nest DIY cabin kits for two people is around 32 hours.
Get your very own Love Nest here!
The Vermont Cottage Series consists of 3 different basic building layouts and 3 different sizes. Vermont Cottage A is one of the simplest but elegant cottages for sale on the market. In 40 hours or so, the two-men crew can assemble this wooden cabin kit.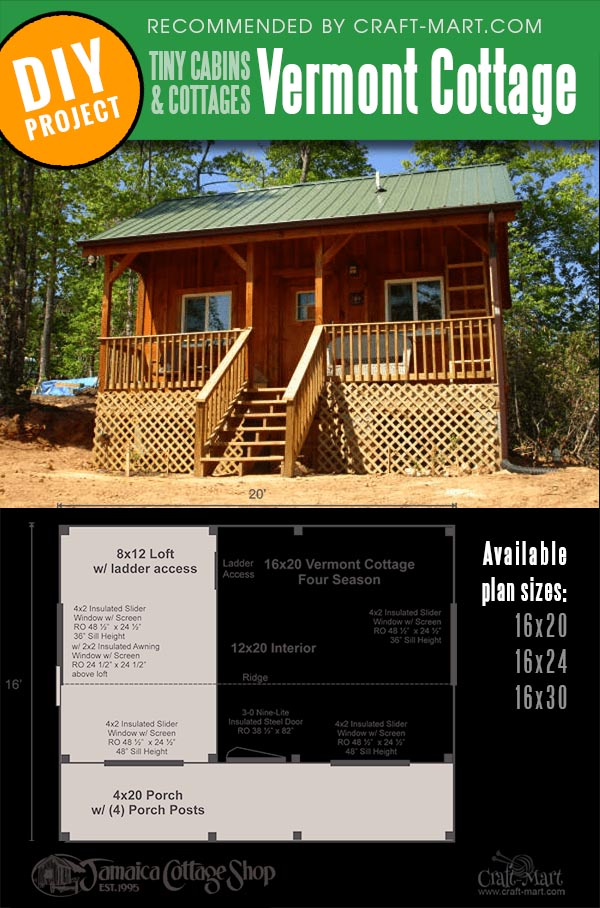 A long front facade porch and the loft – the two most sought-after small cabin features are included with this model. This charming little cottage also features an open floor plan and high ceilings.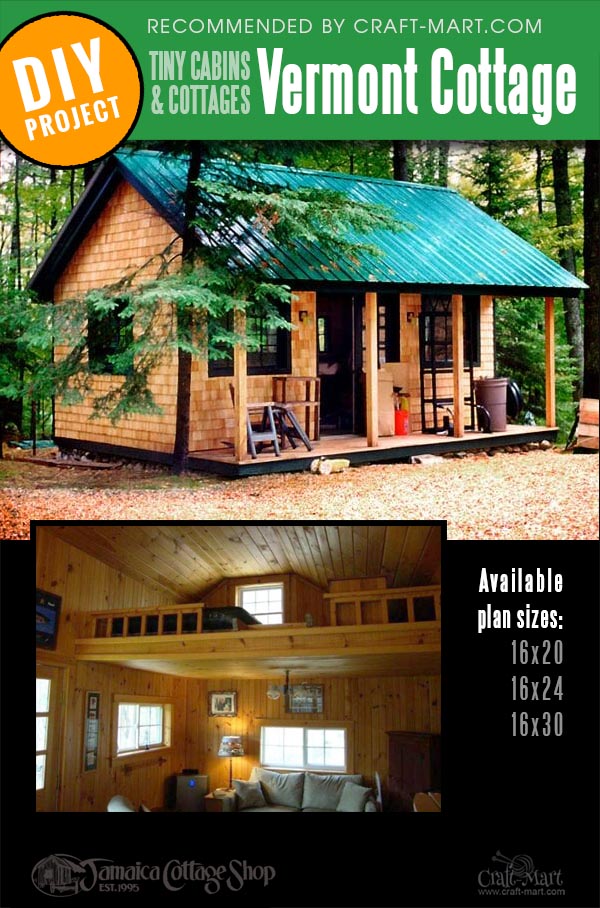 While a smaller 16 ft x 20 ft floorplan may not provide enough space for a decent bathroom and a kitchenette, the biggest 16 ft x 30 ft one can easily fit both without sacrificing the living space.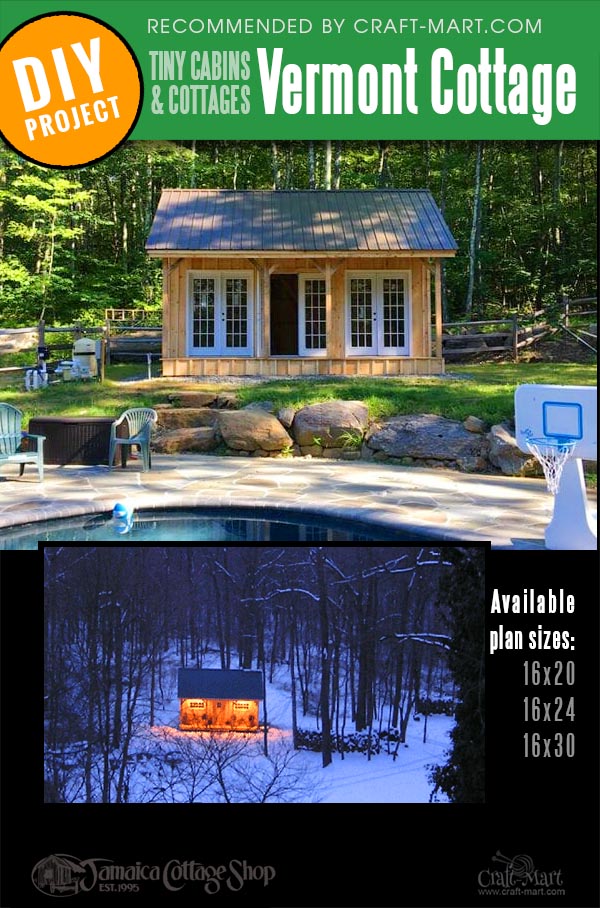 On the pictures above you can see how elegant and cozy this prefab cabin kit may look in different settings.
Get Vermont cabin A series here!
Are you a fan of Tiny Houses?
The Tiny House On Wheels or T.H.O.W. models come either as DIY cabin kits or completed units depending on your budget and DIY spirit.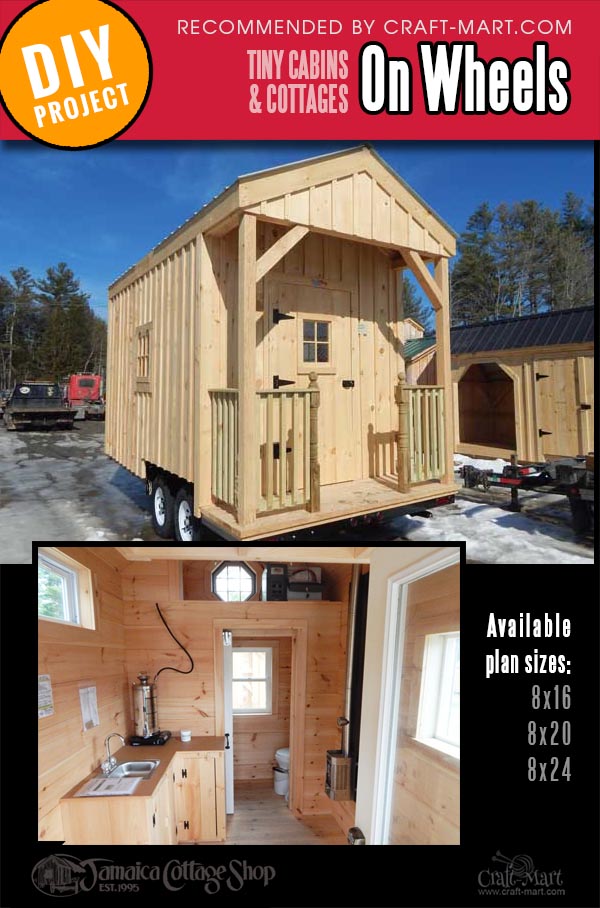 The 3-Season tiny house on wheels is built with most of the required features and is perfect for someone intending to finish insulating their tiny home on their own in the future.
The 4-Season Turn-Key tiny house trailer design comes ready for home decoration and fine-tuning of the living space.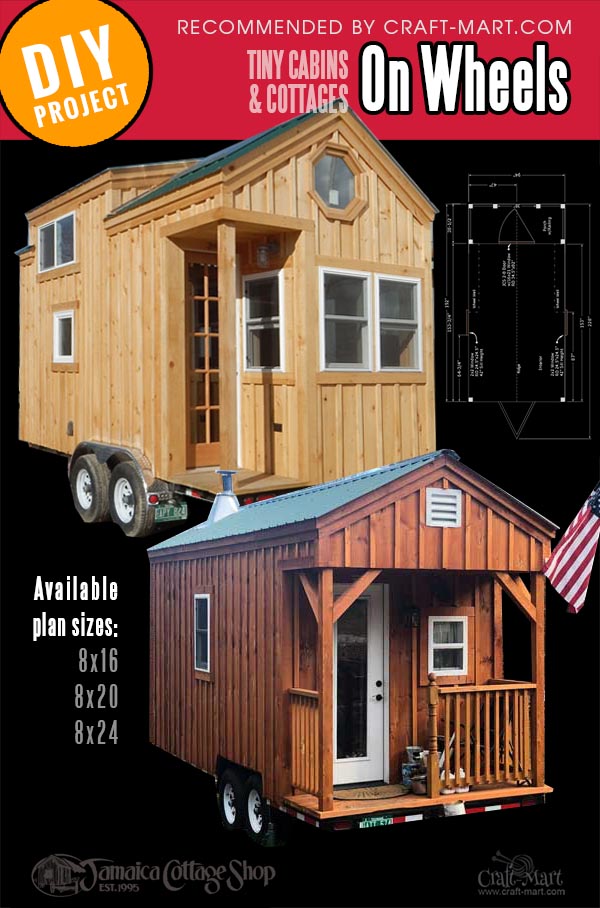 Even if you are not a DIYer, you can still customize many of the aspects of your future tiny home. You could add a loft, dormer, built-in daybed, customize roofing options, or add roof flashing or a wall thimble for a wood stove. You could design "off the grid" system for your tiny house by adding a plumbing, electrical, or even a solar package.
Ready-to-go tiny homes on wheels can be picked up by the customers or shipped to almost any destination! Get yours here!
Out of Vermont small cabin kits series, the Vermont Cottage B is the most spacious one. Without a porch, the interior space can be 16'×20′, 16'×24′ or 16'×30′ with an 8×16 sleeping or storage loft accessible via a ladder.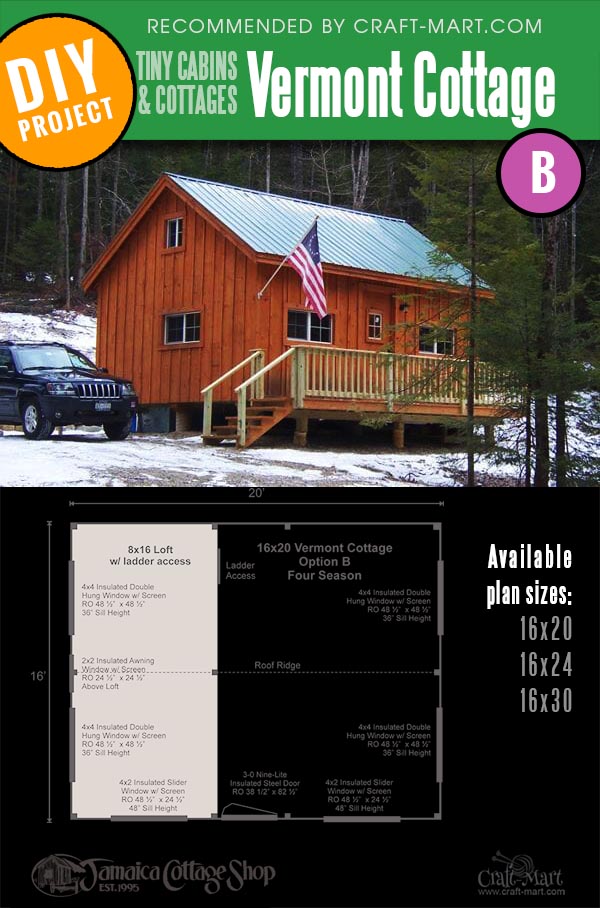 For anyone who'd be interested in learning basic post and beam framing techniques, this simple 4×4 post and beam hemlock wall frame would be easy to master. While there are plenty of windows in the initial design, their sizes could be a bit larger, especially if you're planning to build this little cottage in a warmer climate.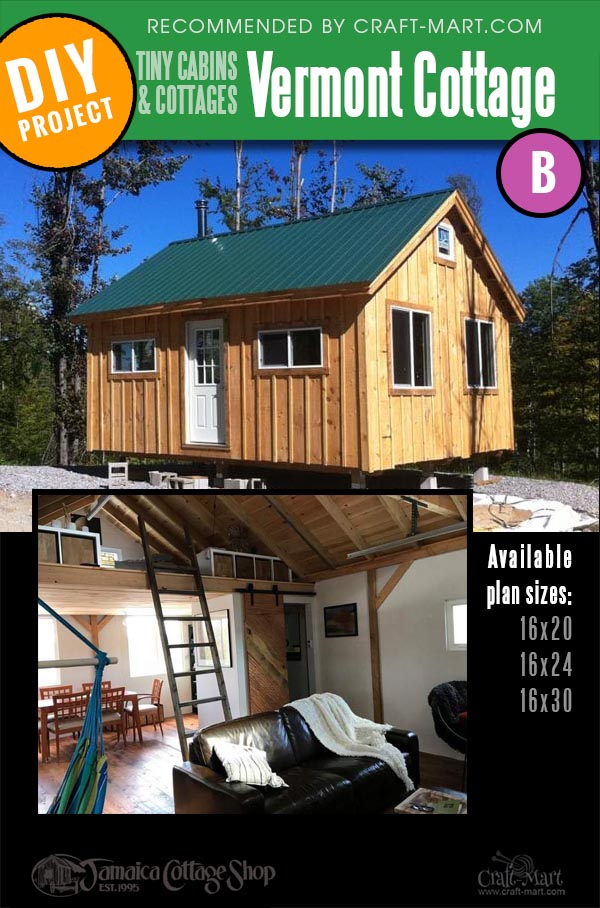 Four-season prefab cabin kits include floor, wall and roof insulation, insulated double pane windows, and an insulated door. You can install a wood stove, composting toilet and solar package for "off-grid" living, or go with modern electrical, plumbing, and heating options. Other upgrades such as shingle roofing, different siding choices, flower boxes, etc. are very popular among the clients.
Get more information about this Vermont (B series) cottage for sale here!
Out of most cabin kits for sale, Smithheaven kit stands out with its huge windows. It's almost a perfect structure for a workshop of any kind!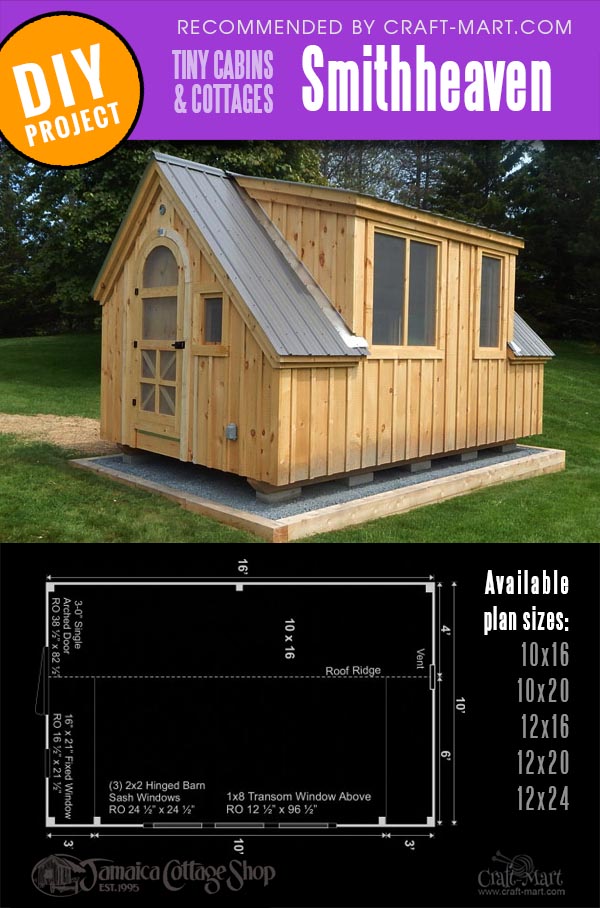 Besides bringing in plenty of light, this small cabin kit is offered for sale in 5 different sizes accommodating virtually any budget.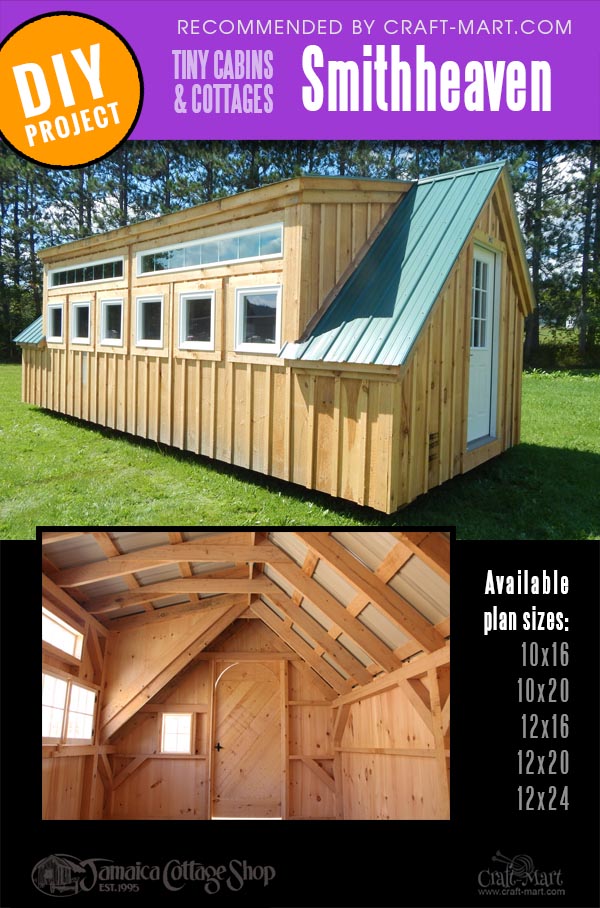 The wooden arched door and the asymmetrical roof give this prefab tiny cabin tons of charm and character, making it one of our most favorite designs.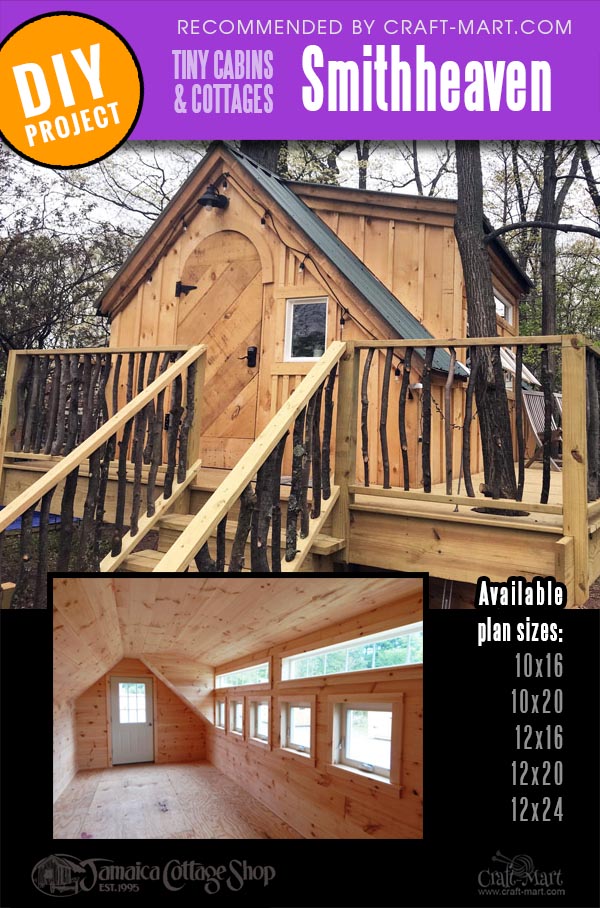 Get Smitheaven cabin kit here!
If you are planning to build a she-shed or a man-cave, check out this prefab kit.
Just like the Writers Heaven, this tiny cabin kit has an elegant flying "v" porch and a dramatic roof structure. The ceiling height in the back corners jets up to an impressive 10 ft giving this adorable tiny cottage a bit of a fairy tale appearance.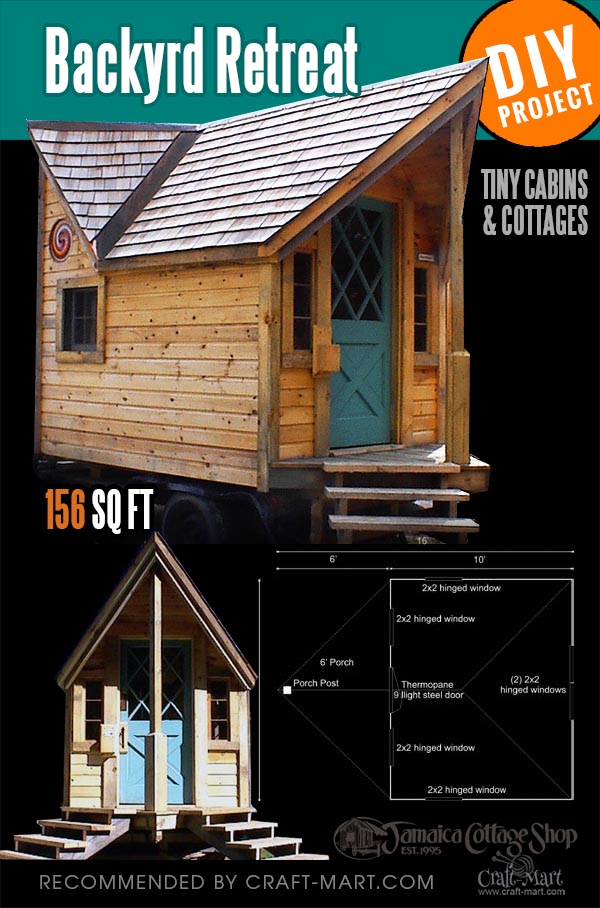 Among other small cabin kits, this one is really tiny. 156 sq ft would be enough for a storage shed, a corner garden office, she-shed, or a playhouse. For art or crafts studio, it needs at least one large window or even a skylight. Luckily, the manufacturer is very accommodating!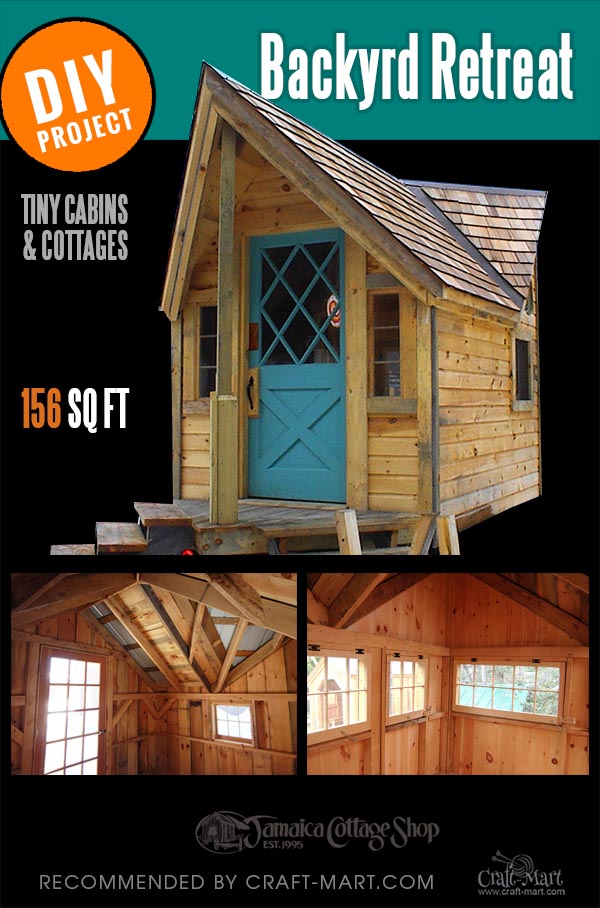 Get more information about this Backyard Retreat DIY cottage for sale here!
With the help of a beautiful customized railing of the front porch, this tiny wood cabin is a charmer! "Pond House" DIY cabin kits are offered in 5 sizes.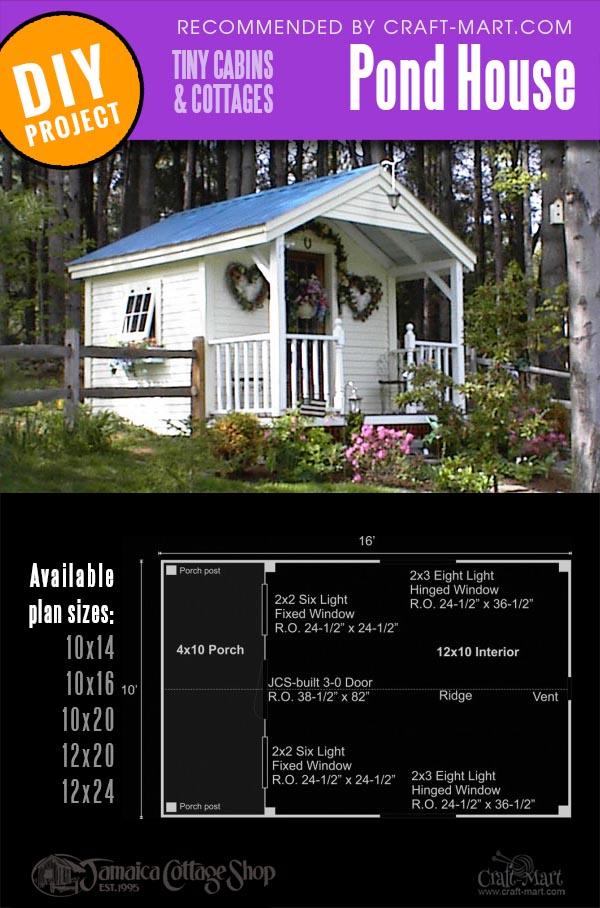 The simplicity of assembly and affordable prices make this design one of the most popular prefab cabin kits for sale.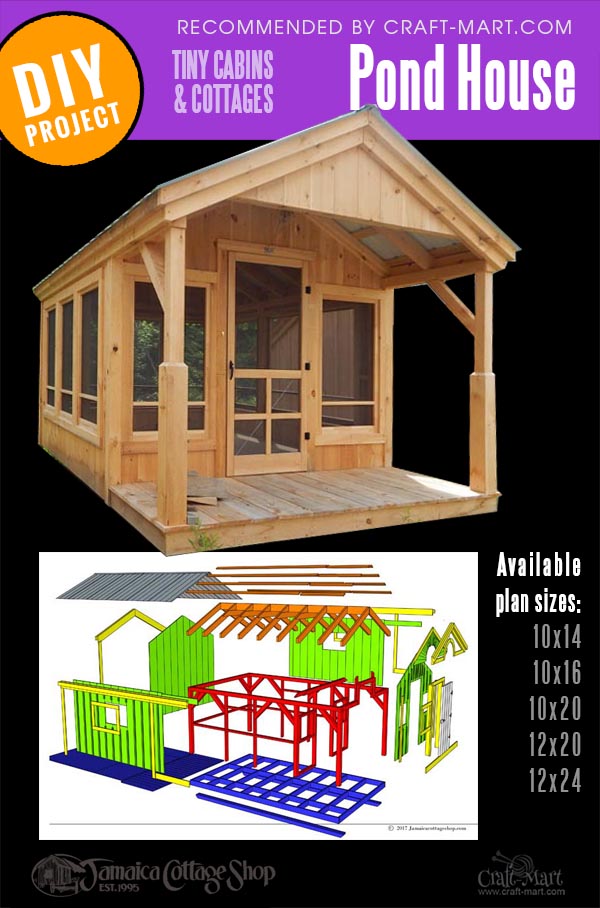 Even if you don't have a pond, how can you pass the opportunity of having such a cute little cottage in your garden? How about a potting shed or a winter garden where you can sit on the porch and enjoy the sunset after hard garden work?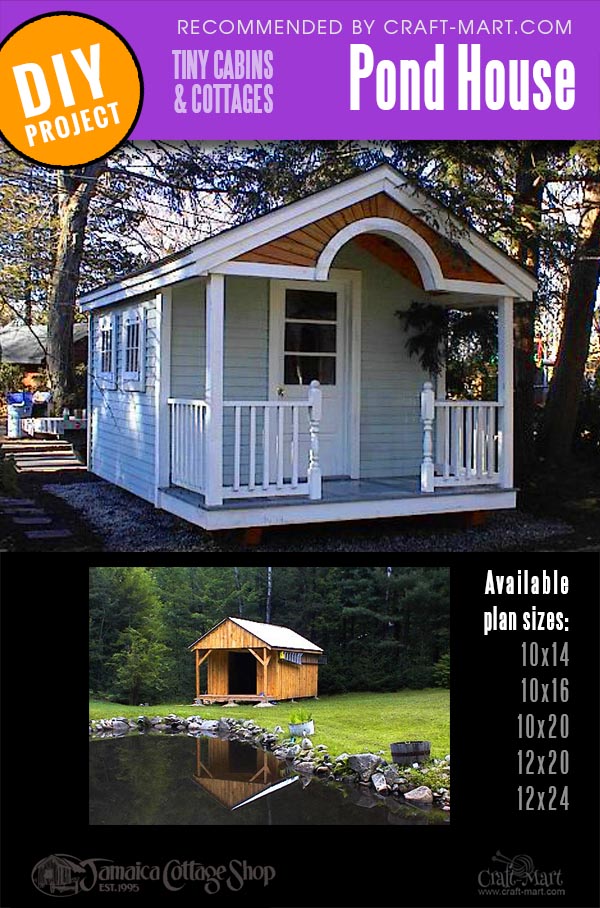 As you can see, Pond House doesn't have to look like one of the standard prefab cabin kits. Decorate your heart away! For example, the sunburst on the picture above was created with cedar clapboards.
Get this charming tiny Pond House kit here!
If it looks like a tiny house then it can be a tiny house! With so many size options, the largest of this small cabin kit can be used as a tiny home. The elegant country charm comes from the large barn sash windows and rustic board and batten siding.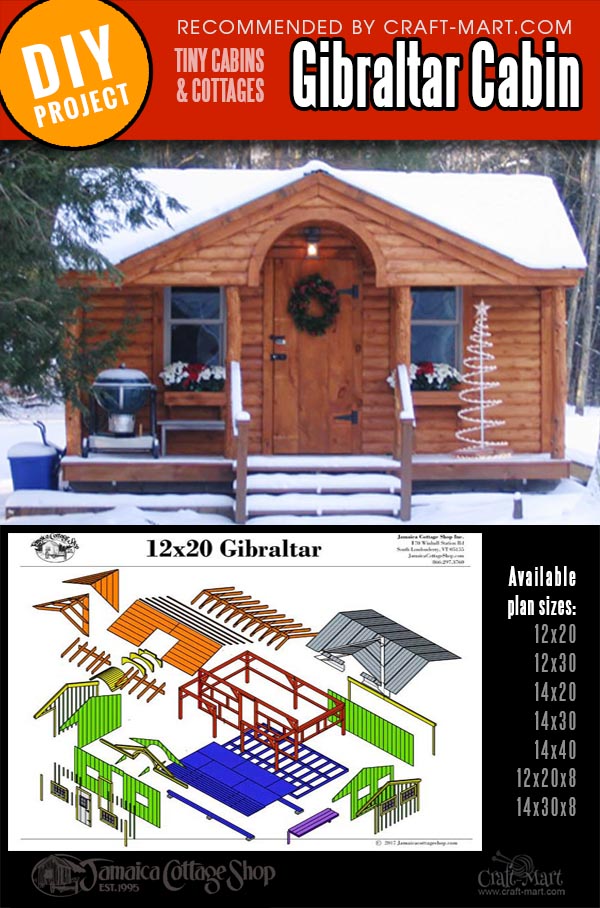 The post and beam frame also makes this wooden cabin an excellent choice for a tiny house.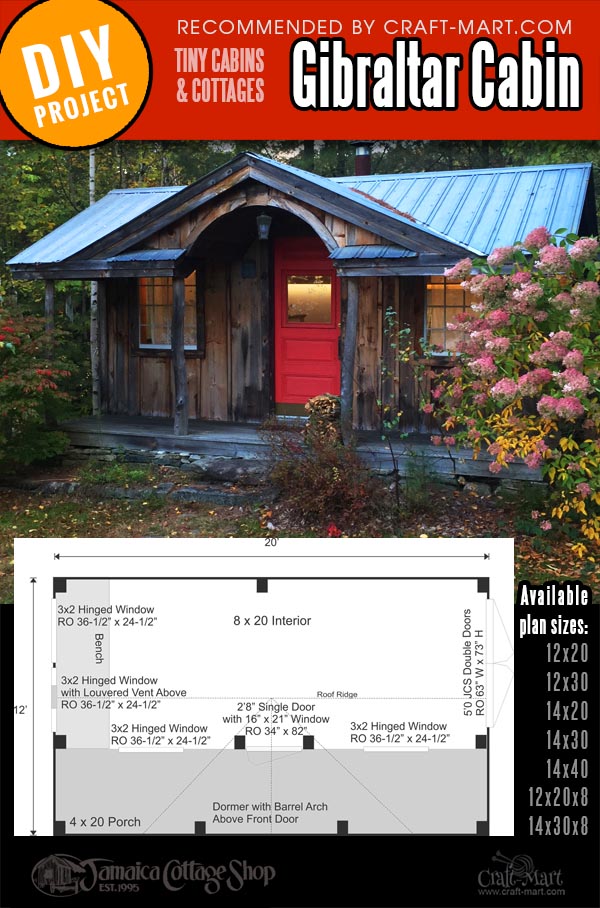 The Gibraltar small cabin kits include a porch and a lovely barrel arch above the entrance. An additional five-foot-wide double door on the gable end provides a way to enjoy nature right from the middle of your tiny home.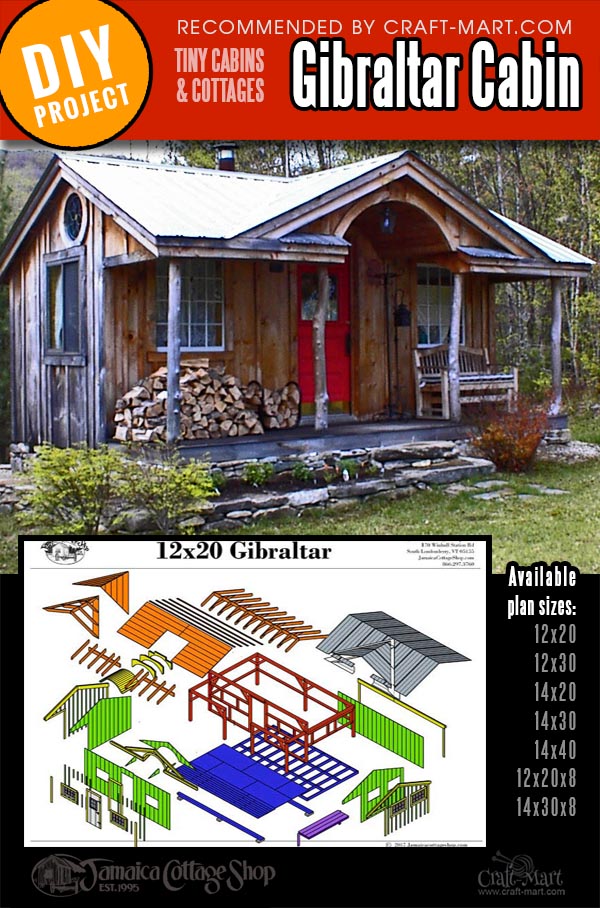 A green corrugated metal roof shown on the pictures ensures long-lasting protection in comparison with cheaper shingles.
Get Gibraltar tiny cabin kit here!
Wait a minute! This little cottage suspiciously looks like the Pond House… Well, it is but it's also smaller with the base width of only 8 ft. What does it mean? Nook Cabin can be put on wheels and become a tiny house trailer!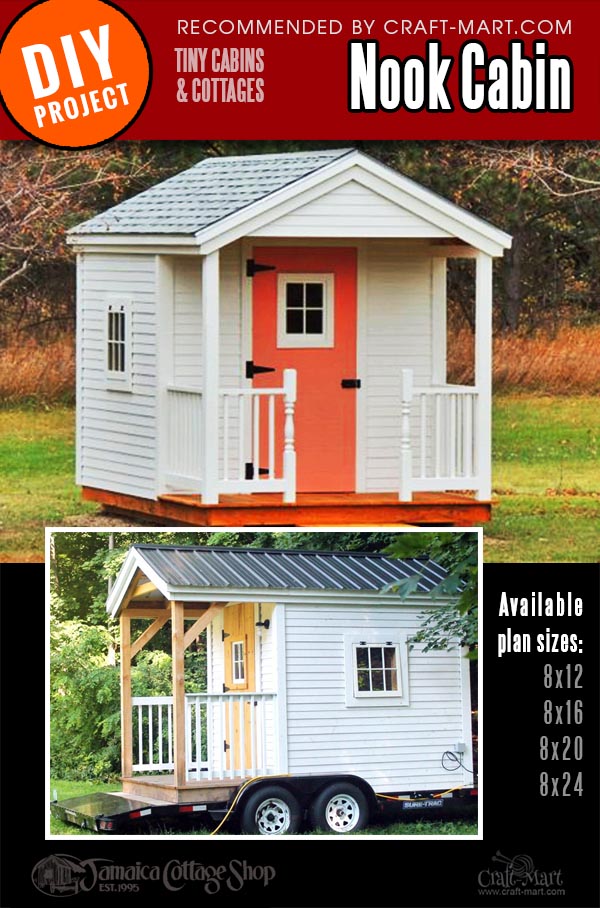 Just look at this Victorian-style tiny cabin with a small sitting area on the porch. Yes, it's cheaper than the Pond House and virtually anyone can afford it!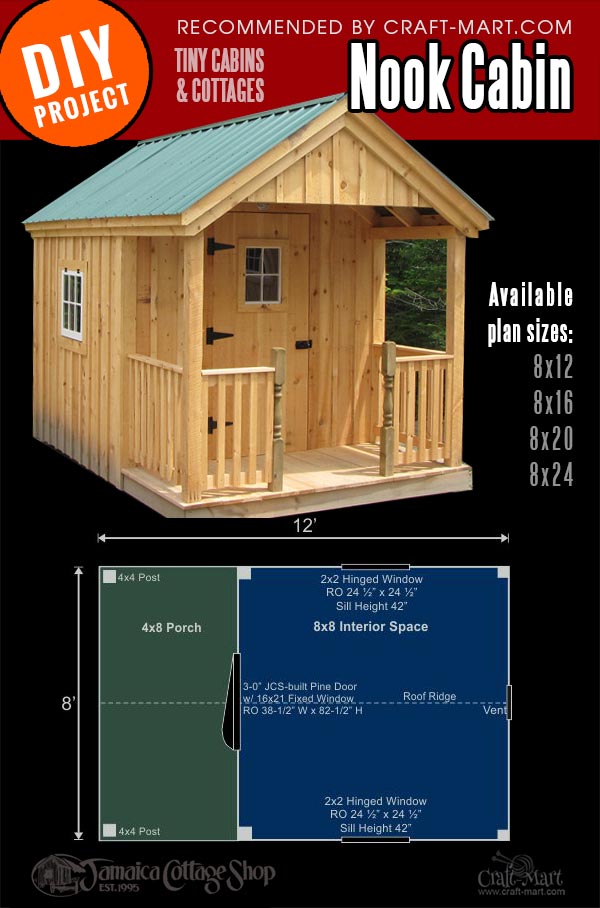 Get more information about this tiny Nook cabin kit options here!
While there are countless types of greenhouses for sale everywhere, don't you want something more permanent for your precious green?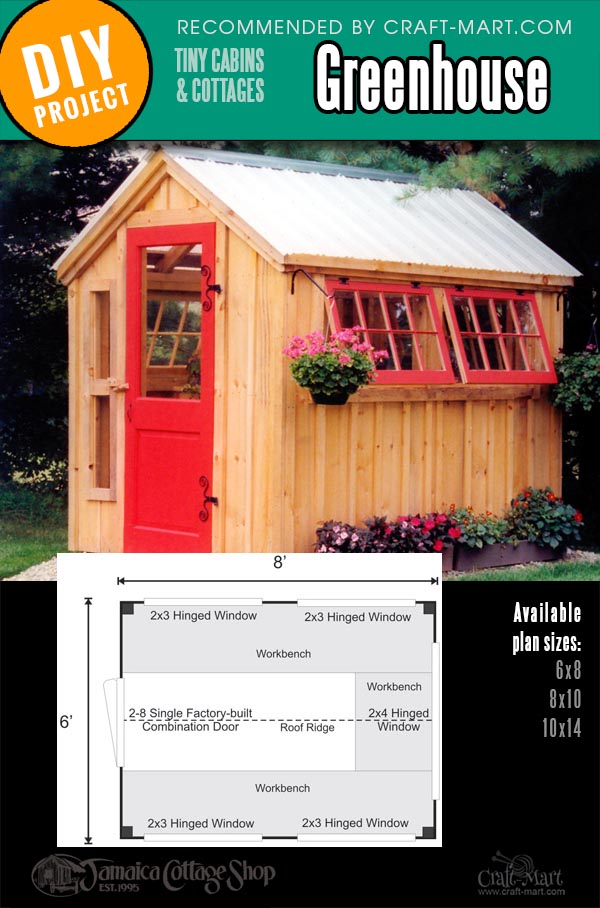 The sizable barn sash windows hinged to open out, and the built-in workbench makes potting a pleasure. This design features five six-light barn sash windows and an additional window in the gable end, allowing extra light and enhancing the charm of this little greenhouse.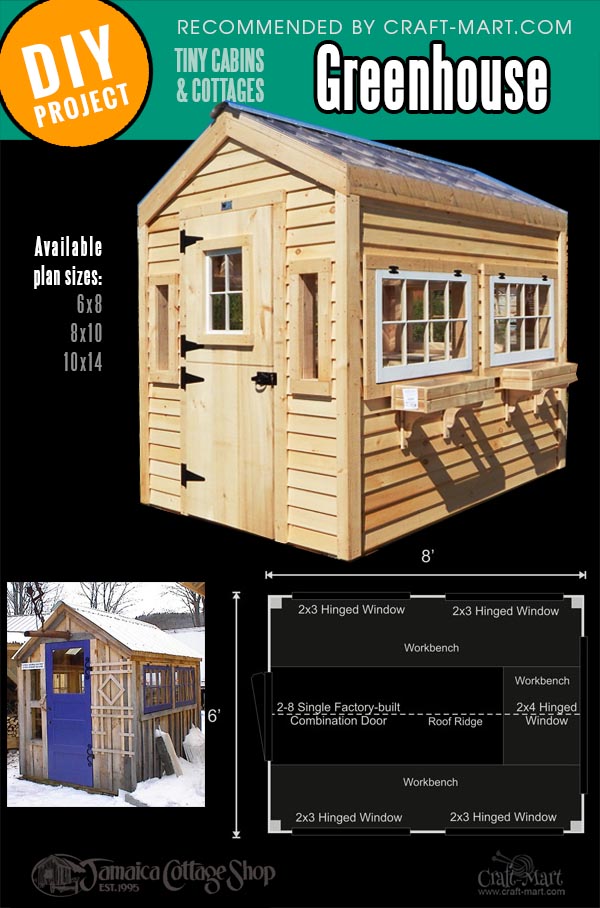 The roof is covered with corrugated translucent fiberglass. This allows the light to go through but not to overheat everything inside with direct sunlight.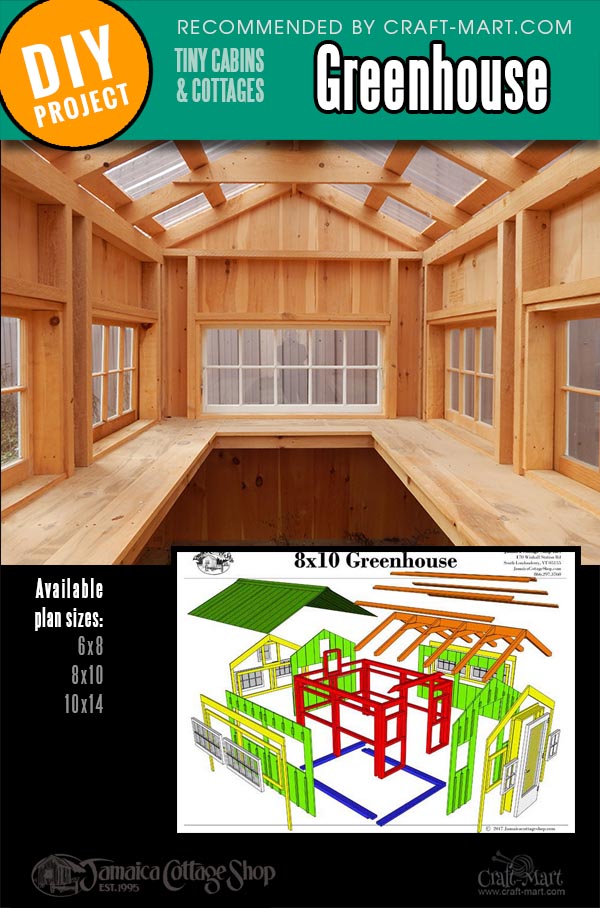 The greenhouse sits on a foundation made of a layer of treated lumber. Naturally, it would be wise to place it on a layer of brick, stone, or gravel instead of the ground to avoid rotting. There is no floor, so no worries about it rotting away but in some areas bugs and small pests can be a big problem without some kind of insulation.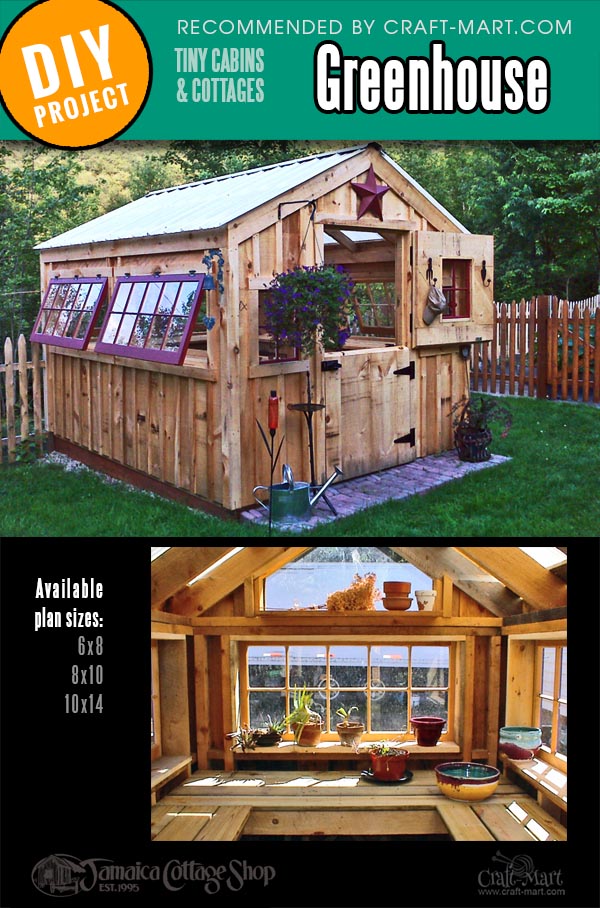 Get more information about Greenhouse kits here!
If you are lucky to have a piece of land and even luckier to have it surrounded by nature then Florida Room could be just what you need. It doesn't have to be a stand-alone structure as you could see in the picture below.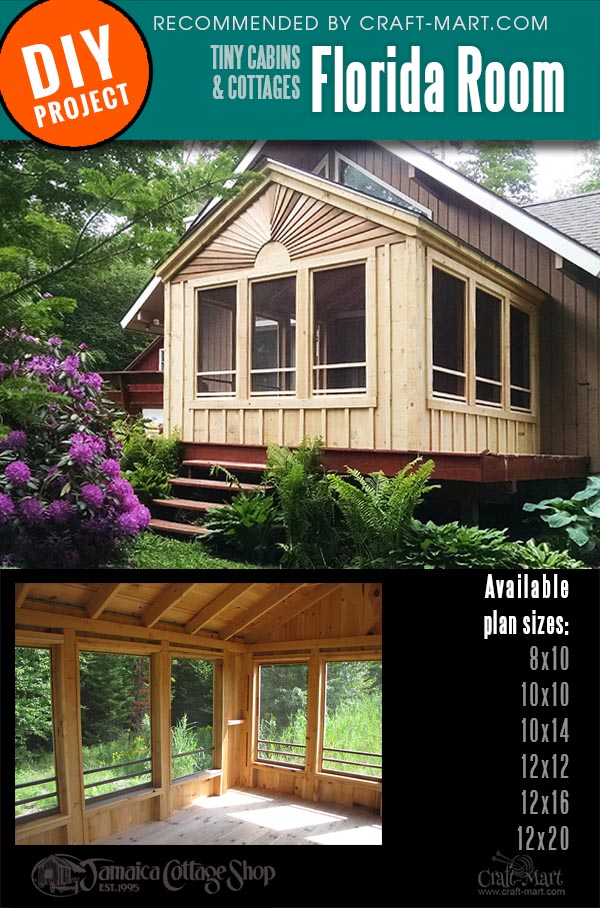 Some places are fortunate not to have mosquitoes. However, residents of Alaska or Texas, for example, are constantly under attack from these annoying creatures. Florida Room is a natural way to be safe from the biting insects.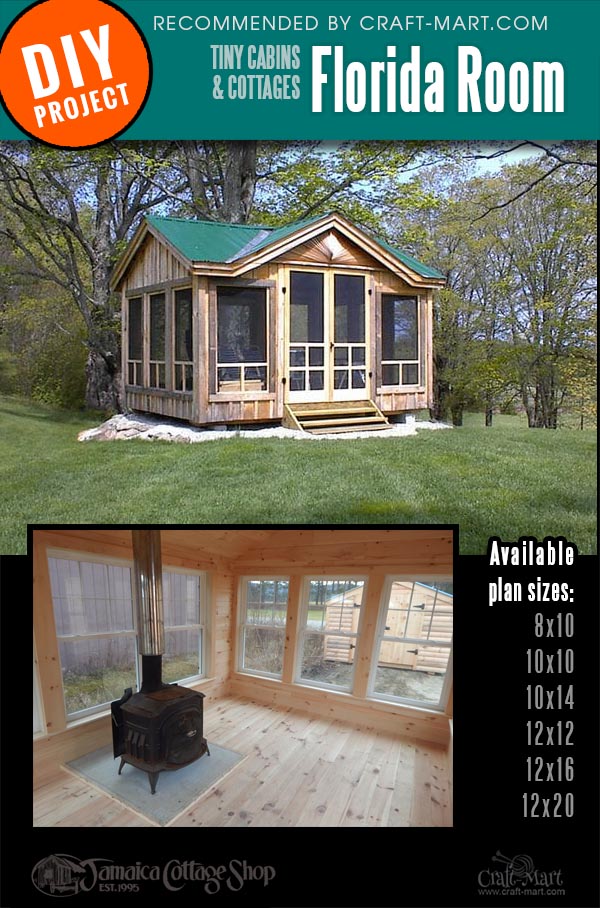 With six size options and affordable prices, this pre-cut kit is one of the simplest and most economical ways to expand your house or build a beautiful garden pavilion for your hobbies that require plenty of light.
More Florida Room information and ordering options.
Vermont C Cottage is offered for sale as several types of pre-cut cabin kits or step-by-step plans. It can be ordered in 3 different sizes with the same 16 ft width.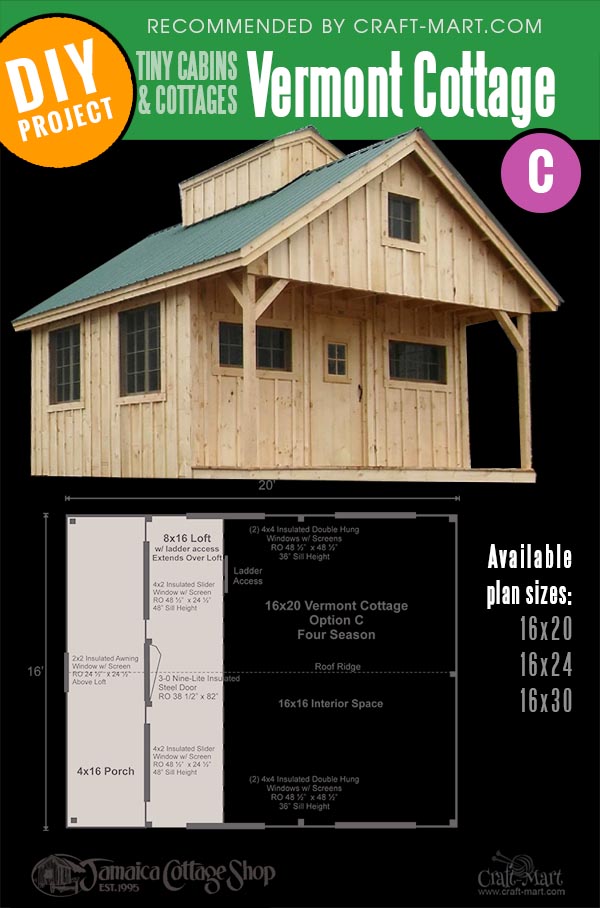 The porch is on the gable side as well as the loft that is stretching over the porch. Any size version of this cabin is large enough for converting it into a tiny house with all the conveniences.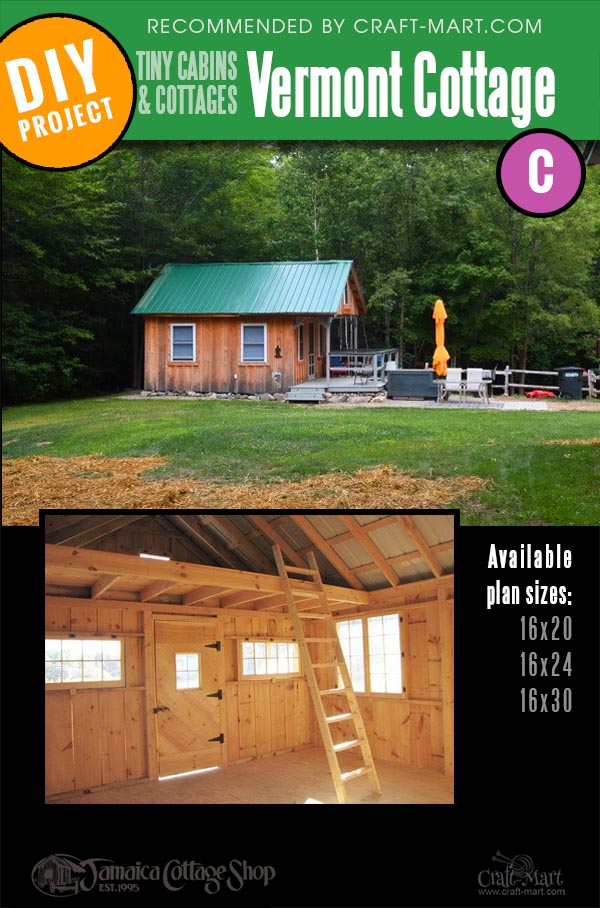 If not a tiny house then, perhaps, a multi-purpose cabin for woodworking, crafts, pottery, etc…?
Order your own Vermont C cottage!
Chances are that you know somebody with a Greek name but not Xylia. It means in English "From the woods" – a nice meaningful name one may pick for a daughter or a cabin, in our case.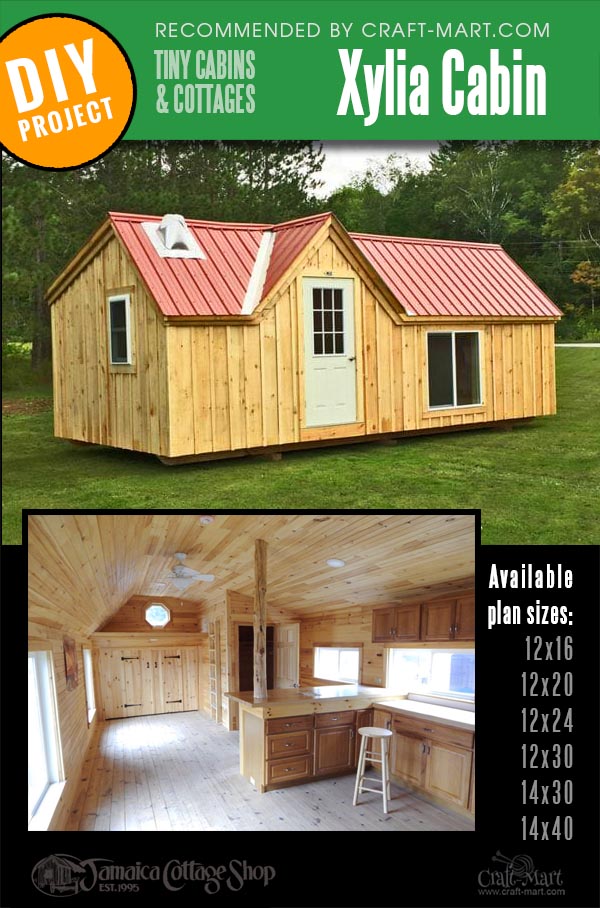 From the smallest to the longest one, all 6 versions of this cabin make a pretty good candidate for a workshop. Yes, you can finally build a long canoe in 14'x40′ Xylia or a sophisticated step stool in 12'x16′ version. But first, you'll need to assemble this cabin.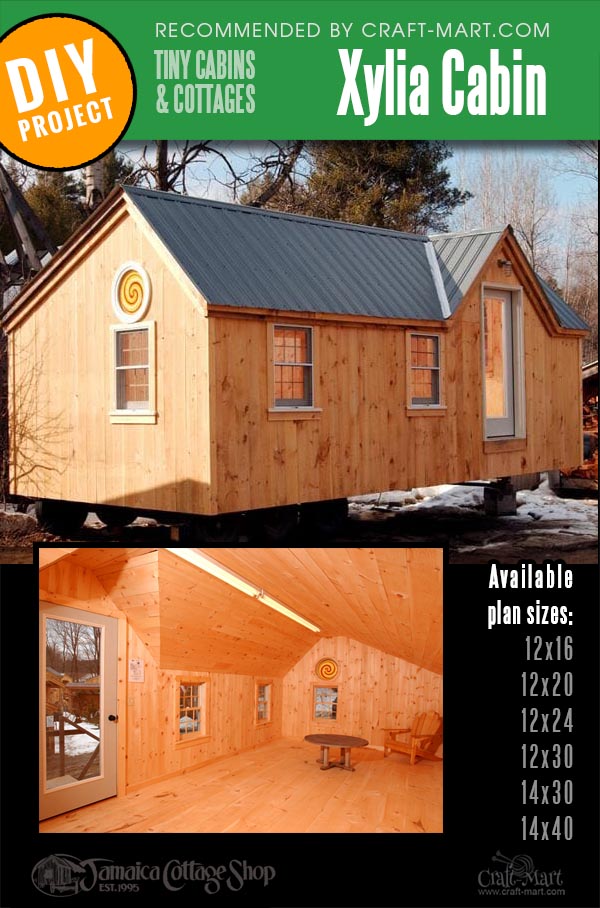 The manufacturer estimates 24+ hours of assembly time of the main structure for a crew of two people.
Get more information here.
Get more information about TINY HOMES and CABINS: