Online jobs for college students often provide the best opportunities to earn money working part-time or just a few hours a month. At the resent time, many of these online jobs offer a flexible schedule and room for growth.
In fact, some are geared toward more entrepreneurial individuals and some simply pay for the tasks providing steady and predictable income.
Meanwhile, we are going to take a detailed look at 12+ legit online jobs for college students to earn money without investing a lot of money. Why 12+? Read this post first and you will find out why…
1. Tutoring Online Jobs for Students to Earn Money
What you may earn: $14-$22+ per hour
To begin with, teaching online can be done in many different ways from person-to-person sessions to pre-recorded video lessons.
Obviously, college students learn better from each other rather than from confusing study books. Most importantly, your ability to explain things clearly can be a huge time-saver for other students that would gladly pay for it.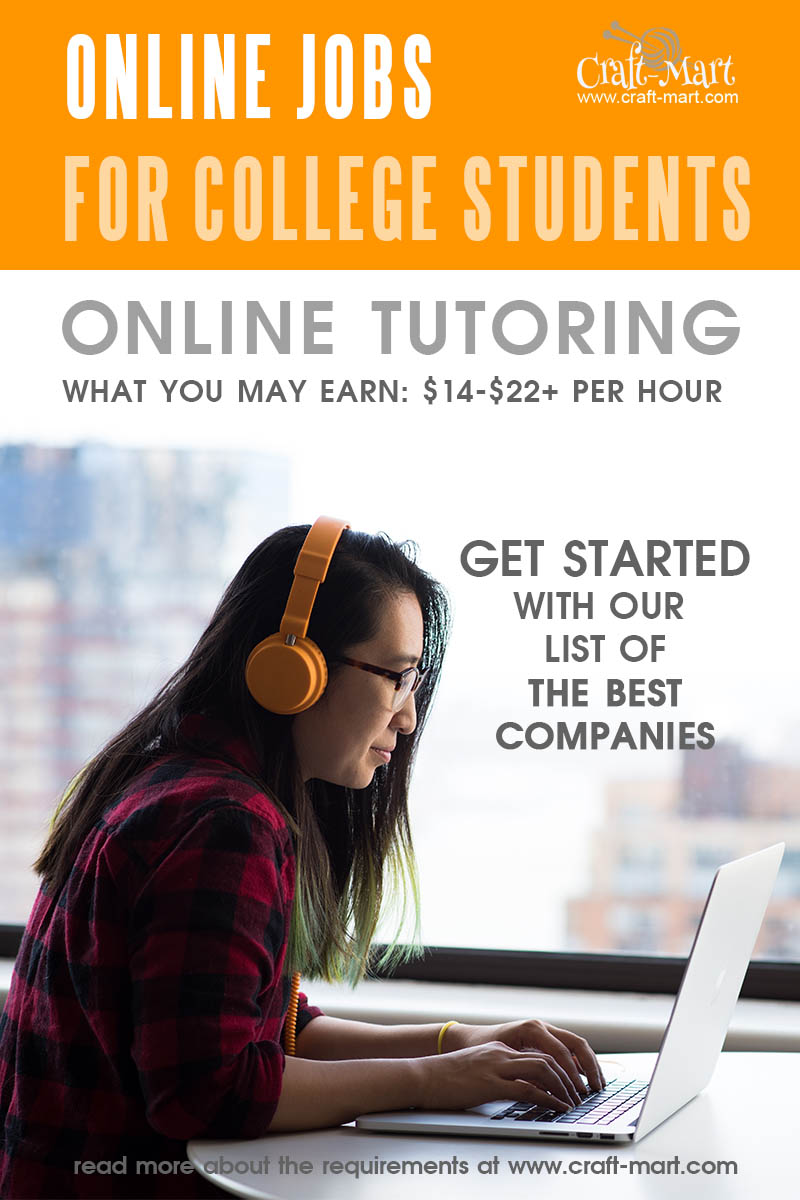 For instance, if you are also good at something else besides your school subjects, it can be even better since everybody needs a break from 24/7 studies. That is to say, cooking, drawing, sewing, and crocheting are always popular among different age groups.
How to Get Started
Below are some of the best places for offering your tutoring services online:
Tutor.com
Here is an example of the requirements for applicants:
1. Currently, reside in the U.S.
2. Have a valid Social Security Number
3. Are eligible to work in the U.S.
4. Are available to tutor at least five hours per week
5. Are an expert in your subject (Not sure? Check our concept list!)
6. Possess strong oral and written communication skills with fluency in the English language
7. Are a college sophomore or higher, or have a degree from an accredited U.S. or Canadian University. (You must have a college degree to tutor Accounting, Economics, Finance, College Essay Writing and College Statistics
with our list of!)
Magic Ears
In order to become a tutor with Magic Ears, teachers are required to:
1. Have a Bachelor Degree (or above)
2. Be a native speaker from the USA/Canada.
3. Have some kind of teaching experience
VIPKID (only available to graduate students since you need a bachelor's degree; pay is $14-$22 per hour)
Wyzant (tutors set their own rates) In order for your application to be considered, you must be at least 18 years old, reside in the United States, and possess a valid Social Security Number.
Chegg (tutors start at $20 per hour)
Chegg requires that all tutors have tutoring, instructing, or teaching experience and they must be enrolled or have graduated from a 4-year university. A Facebook account is required to verify your identity
2. Proofreader Online Jobs
What you may earn: $10-$45 per hour
In general, even the smartest and the most educated professionals can't type without mistakes. Spell checking software often fails. Consequently, proofreading online jobs for college students are always in demand.
Notably, you don't have to rephrase or rewrite content. To summarize, checking for spelling, grammatical, and punctuation errors would be the main scope of your proofreading tasks.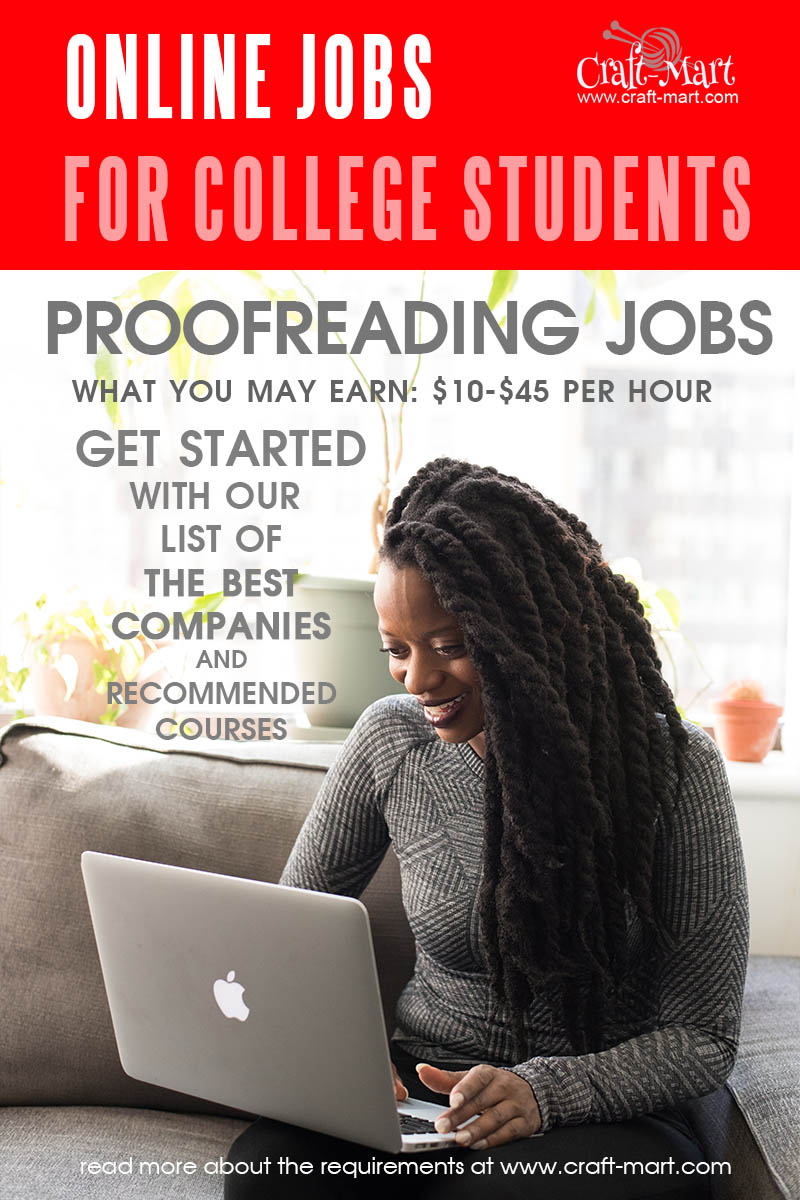 How to Get Started
For example, take a look at this free proofreading workshop created by Caitlin Pyle who started her own online proofreading business in 2007. While studying her course, start setting up your profiles at Fiverr, Upwork, and Freelancer.
On the positive side, if you are not sure about your proofreading skills, try using extensions like Grammarly that can help you with catching close to 90% of the errors.
3. Freelance Writing
What you may earn: $50-$500+ per article
Overall, there is a shortage of good quality freelance writers. Many employers are not happy with the extremely low quality of freelance writers that they hire through websites like iWrite or Fiverr.
If you can research and produce quality content fast then writing can be your serious opportunity for earning money. Among the best online jobs for college students to earn money, writing offers more potential than just tutoring or proofreading.
Most importantly, once you develop a good reputation and portfolio, finding high-paying clients will become easy. In case you'll decide to write your own eBooks or guides and offer them for sale it may become a steady stream of passive income.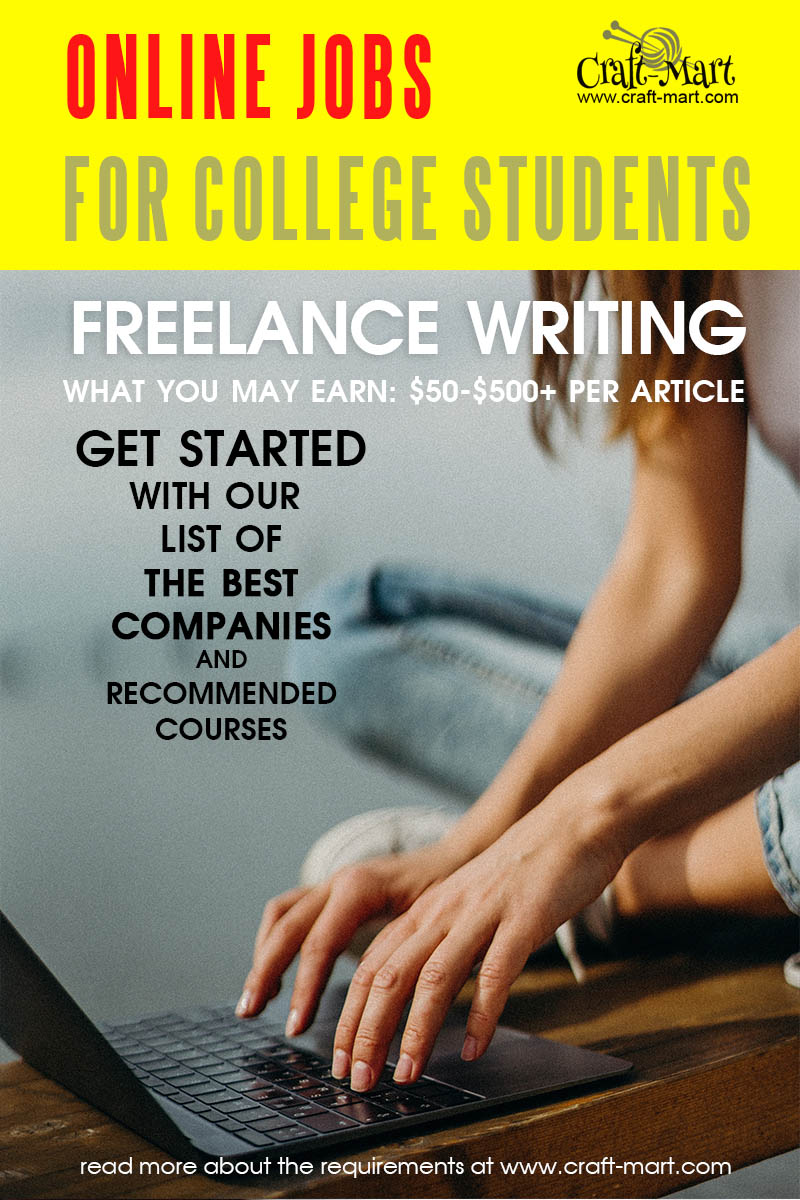 How to Get Started
First of all, set up your own blog with at least 25-30 quality posts on different subjects that will serve also as your portfolio. Then register with a few article-writing services to find clients.
Some of the most popular writing agencies are:
To make things easier, take a look at these writing courses created by Holly Johnson.
I'm a professional blogger and columnist who makes over $225,000 a year through freelance writing alone.
She writes for websites like The Simple Dollar and Wise Bread and publications like The Wall Street Journal, The Huffington Post, U.S. News and World Report Travel or Frugal Travel Guy.
You can do it too!
4. Social Media Manager
What you may earn: $15-$40 per hour
This is one of the easiest online jobs for students to earn money with activities that most of them are doing already. Consequently, converting it into a job can be easy and fun.
Almost every modern business uses social media. A point often overlooked, there are plenty of small companies that have no idea how to use social platforms for driving traffic, promotions, customer relationships, etc.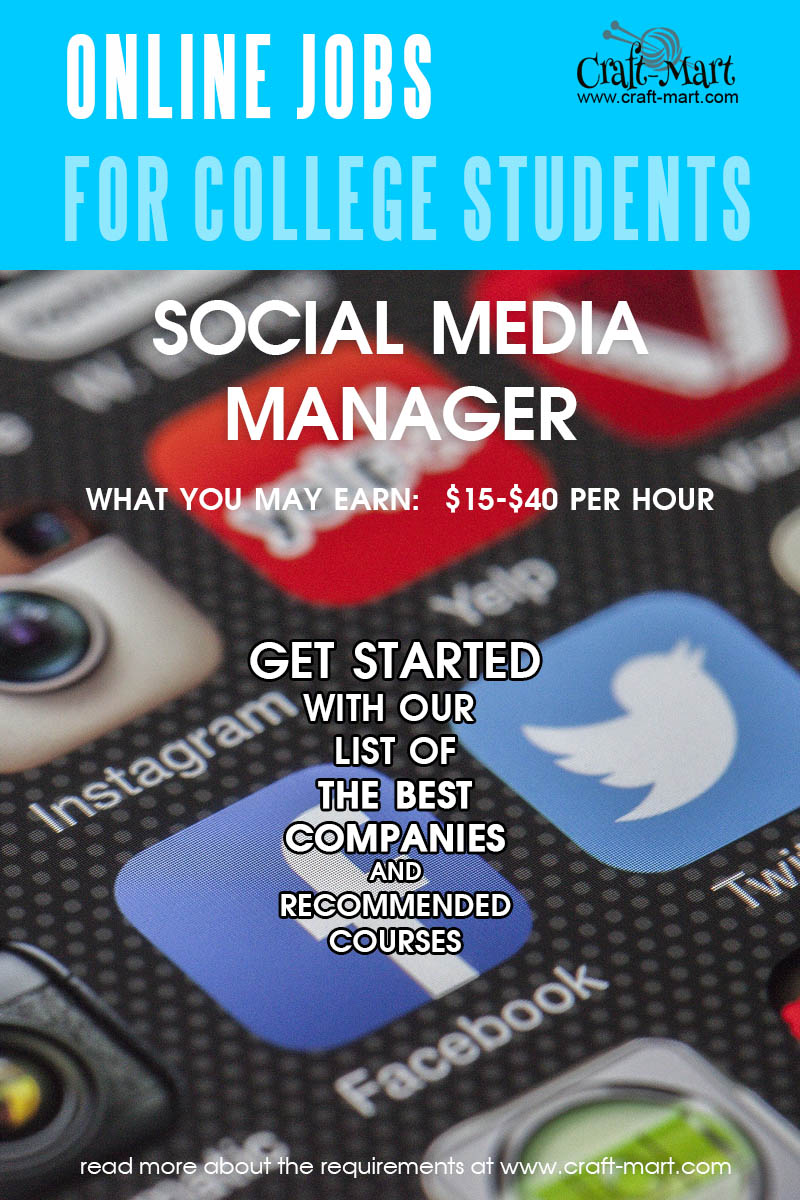 If you know how to use FB, Pinterest, and Instagram you may start approaching local businesses and telling them how you can help them.
With this in mind, make sure to read some guides on how different social platforms work for business. Having your own personal account can be a bit different from managing a business one.
How to Get Started
Fiverr would be the best place to start offering your social media services. Other websites like Freelancer or Upwork and are good as well.
5. Virtual Assistant
What you may earn: $15-$40+ per hour
Virtual assistant services are needed in almost every industry. The chances are that whatever you can do on your computer is in demand from someone that has no time for this exact task.
So, if you are good at creating copies for email marketing, updating a WordPress blog, handling social media, talking to people, etc. then you have a shot at becoming a VA for one or even several employers.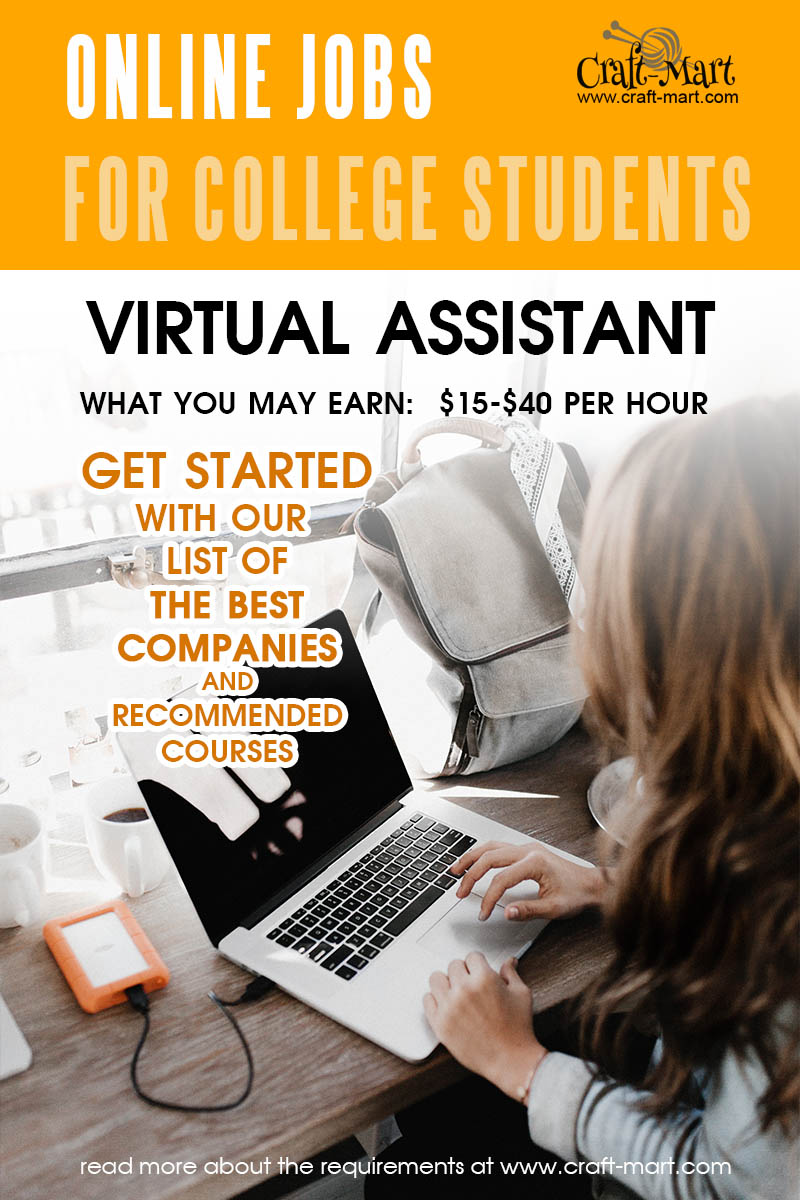 For example. VA could be working as an assistant to a high-profile blogger or a real estate agent. Many professionals are too busy and can easily overlook small tasks that you can do in bulk for them.
By hiring you as a freelance virtual assistant, they can avoid paying employee taxes.
Don't try to become a "Jack of all trades" VA. Find one or two things that you can do the best and really fast and get multiple clients.
This way you'll be able to some things in bulk and even automate a few tasks using scheduling services such as Tailwind. To emphasize, working for one client doing dozens of different tasks can be exhausting and risky.
How to Get Started
There are a few excellent courses on how to become a Virtual Assitant if you'd like to speed things up in this direction.
6. Blogging
What you may earn: varies (some bloggers make $100,000+ per month)
Yes, it looks pretty unbelievable and the majority of bloggers do not earn a $100K a month. However, tens of thousands of them do earn $5,000 to $15,000 a month after only two or three years of blogging.
In that case, if you know how to research different topics and present your findings in a clear way then people will appreciate the time you have saved for them. It is called "creating value" or "valuable content".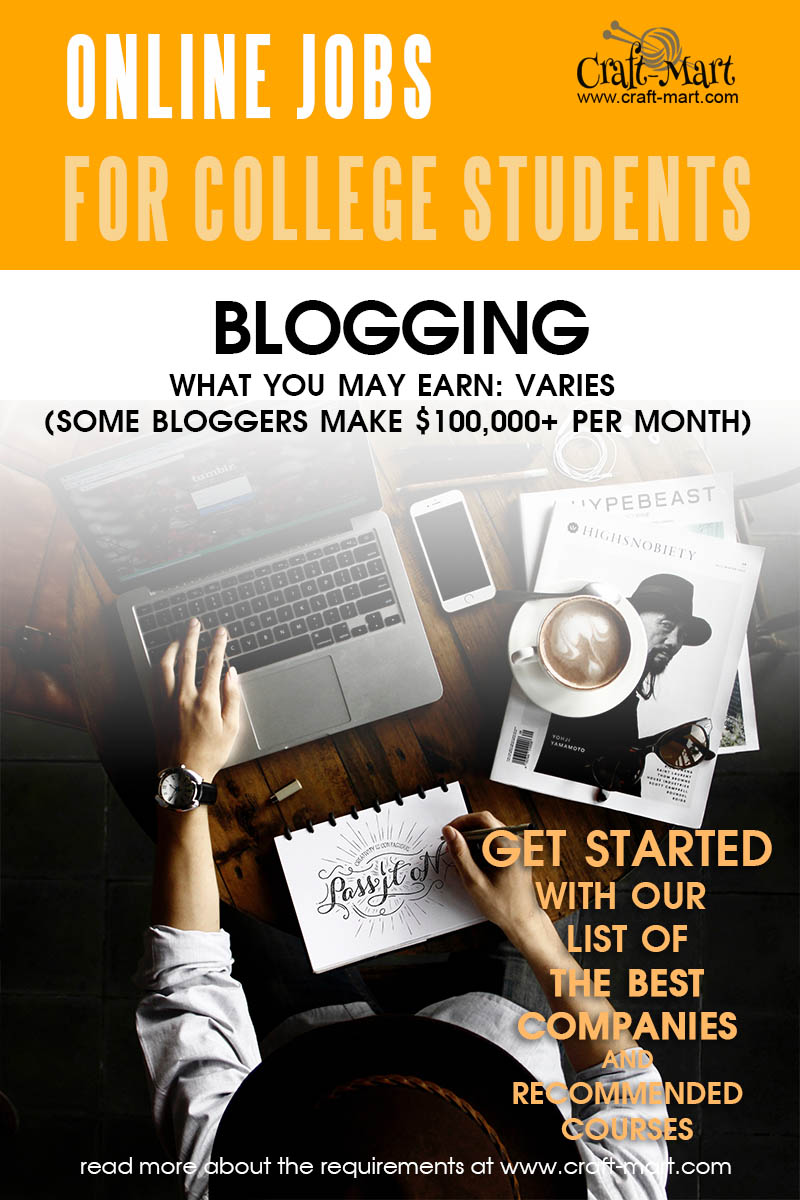 Creating value for your readers can be done in a few different ways:
infographics,
text analysis,
comparison tables,
video guides, etc.
Therefore, teaching other people can be really rewarding. Sharing your knowledge in an understandable way may boost your blog traffic and income really fast. This is one of a few online jobs for students to earn money for basically explaining what they are studying or are interested in at the moment. Pretty cool, right?
When you reach 10,000+ visitors a month, you may apply for the Ezoic ads network. With 25,000 visitors a month you may qualify for Mediavine.
Either of these networks would be ~ 3-4 times better than Google Adsense and may bring you from $15 to $25+ per 1,000 ad impressions (RPM, or Revenue per mille). So, with 100,000 visitors a month your income can be from $2,000 to $3,000, depending on the season.
With this kind of traffic, you may also earn a few thousand dollars a month from the affiliate product sales – a passive income that requires almost no additional effort.
Best of all, once you set everything up you may work only a few hours a week and still get the same income! To be honest, we consider Blogging to be one of the very best online jobs for college students and stay-at-home moms.
How to Get Started
To start, choose your area of interest and expertise and write at least 20-25 posts with pictures and /or videos and post them on your blog.
If you don't have a blog yet, don't use any of the free platforms. You need to register your own domain name and create a hosting account that will allow you full control for placing future ads, scripts, and installing plugins.
For hosting your blog start with checking out the most reliable and affordable hosting companies like Siteground or Bluehost
7. Graphic Design
What you may earn: $25-$50 per hour
With plenty of easy online tools like PixTeller or Canva Flyer Maker, for example, and online image libraries, graphic design jobs for college students should be actually fun and easy. If you really like designing flyers, posters, business cards, and banners but have doubts about your skills, take a free course at Canva.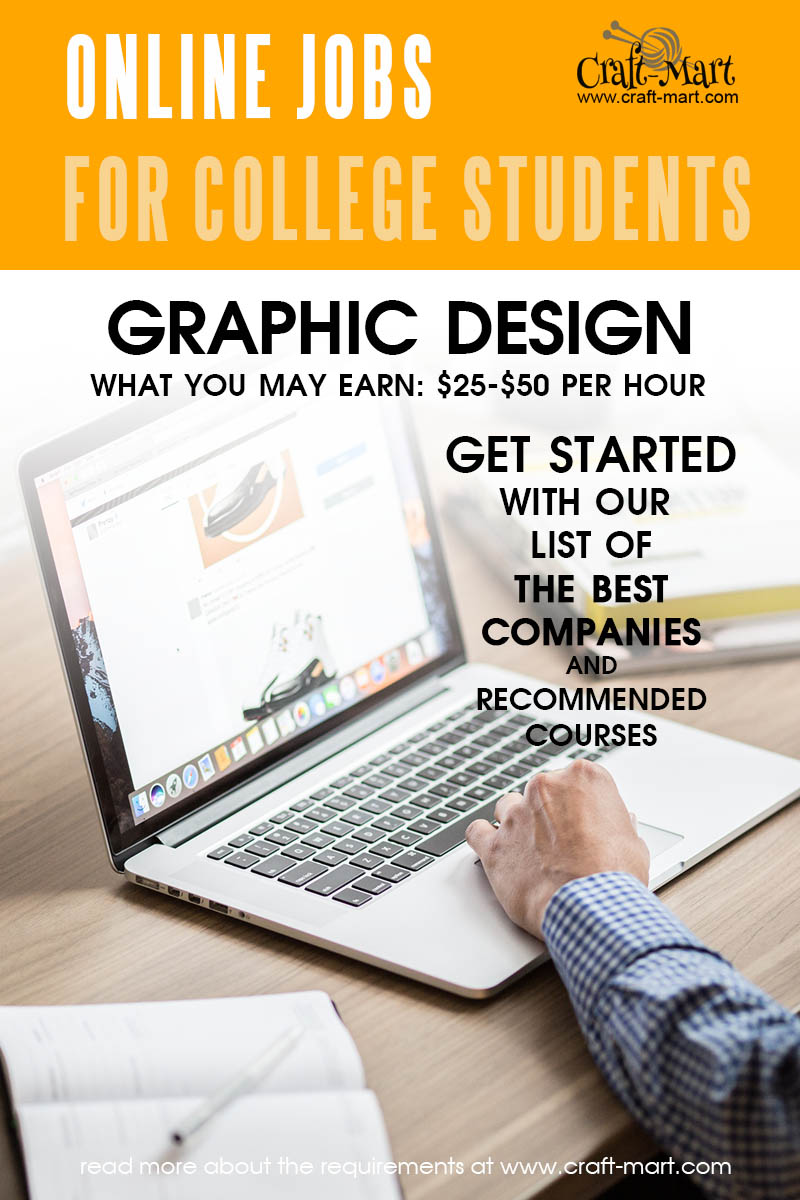 Besides the Flyer Maker, Canva features a number of very useful tools for making professionally-looking marketing materials using professionally-designed templates.
These include:
How to Get Started
After taking a graphic design course, work on creating your portfolio. Many beginners start with uploading sample products to online services like Zazzle, for example. There are dozens and dozens of working from home graphic artists on Zazzle that make full income by designing wedding invitations, "thank you" postcards, business cards, etc.
Zazzle and similar companies offer perfect online jobs for college students and stay-at-home moms. All you have to do is upload your designs to the Zazzle marketplace and describe them for potential customers so they will be able to find them.
Most importantly, you don't have to pay any money up front to do that. The trick to success on Zazzle is to have at least a hundred or more different designs and constantly add the new ones.
In addition to online marketplaces, try to reach out to small businesses in your neighborhood. Show them your portfolio with a couple of printed samples and explain to them how you can help these businesses with marketing and sales.
8. Search Engine Evaluator (tester)
What you may earn: $15+ per hour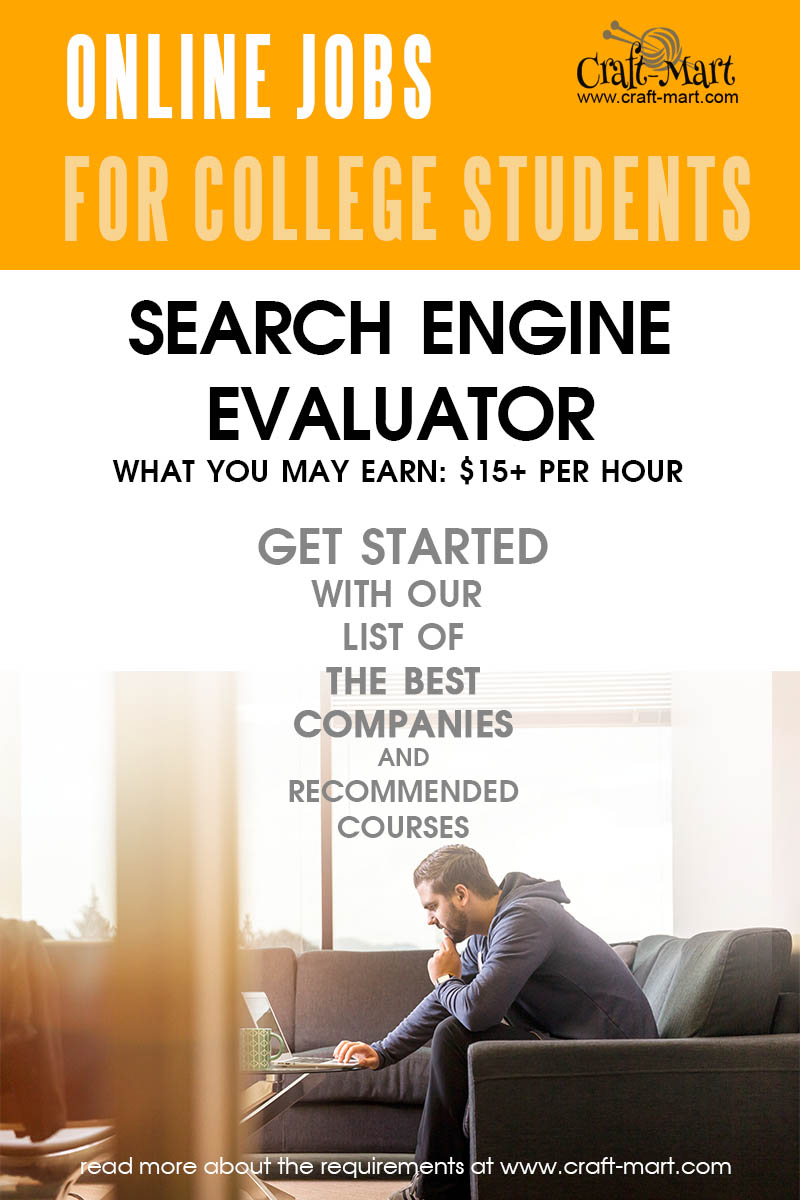 Not everyone has been wired as an entrepreneur and sometimes even the smartest of us need a simple mechanical job. Testing search engines and reporting wrong results and errors is one of the most popular online jobs for students to earn money.
With freelance online jobs, you may have a rather long period before starting to get some money. On the contrary, working as a tester you'll be paid from the very first day. Don't be discouraged by the initial low hourly pay. Here is the SE Evaluator's average salary reported by ZipRecruter in Louisiana and the US: $50K a year sounds not too bad at all while you are still in college.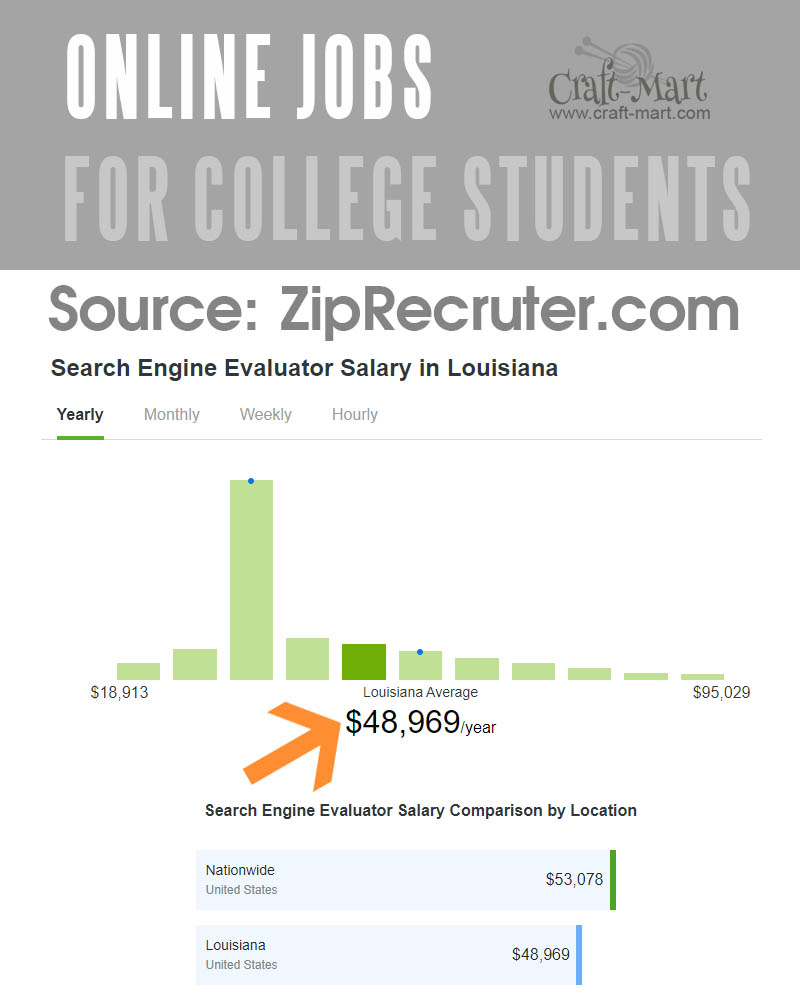 How to Get Started
Many online jobs for college students with no experience similar to "search engine evaluator" are posted on websites like these:
Lionbridge states:
We recruit for work-from-home and telecommute positions that often require candidates to be bilingual, and have a strong interest in internet culture.

We offer part-time, work-from-home roles where individuals work all around the globe as Independent Contractors. The positions are related to IT and non-IT projects and business processes.
9. Fiverr Micro-Freelancer
What you may earn: $5-$100 per gig
The chances are that you have heard about the $5 gigs website – Fiverr. Generally speaking, while there are some $5 gigs still there, the majority of them are well above $25 or even $50.
It all depends on how you package your skills. Simple tasks that can be automated and batch-processed can be done for cheap but custom jobs can be priced up to $100 a job or even more.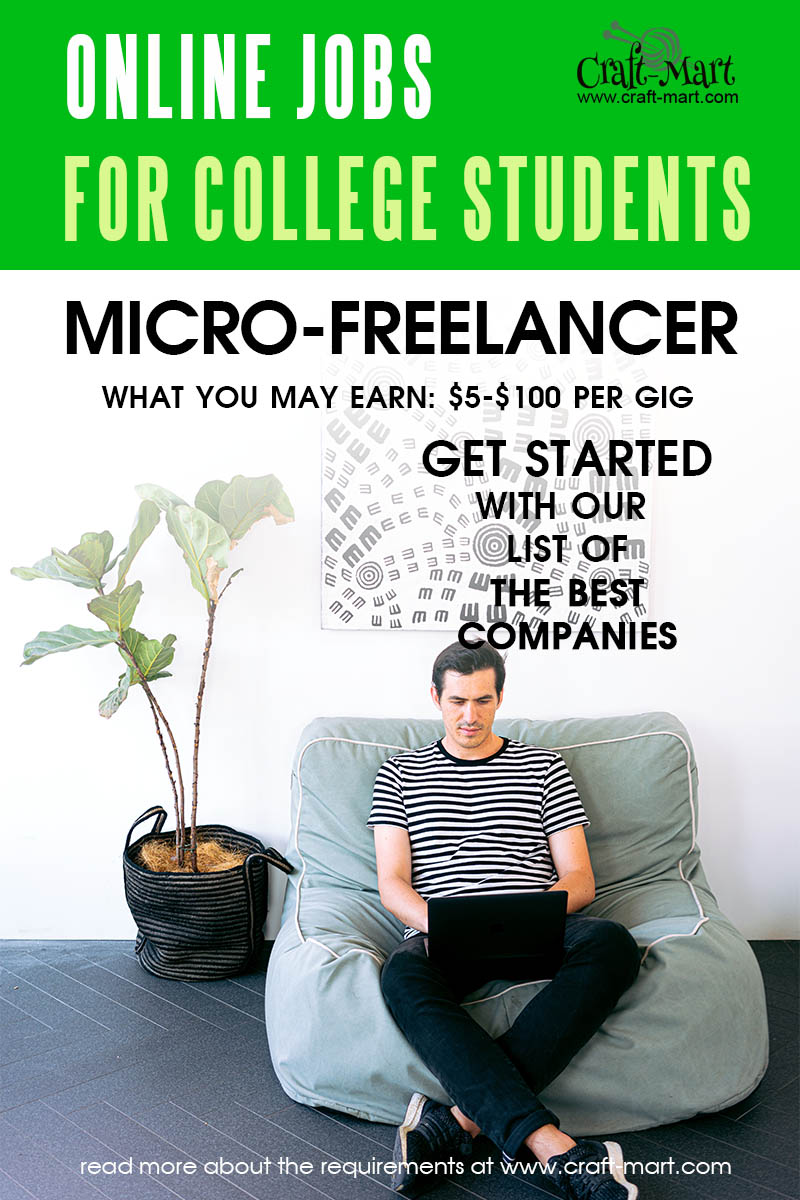 Although you may notice a number of really weird or funny gigs there, shoot for the ones that are in high demand. A good example would be a gig for crowdfunding websites. Learn how the promotional pieces of the best and the most successful crowdfunding campaigns were designed and create your own templates for them.
How to Get Started
To get inspired, listen to this podcast where Kendell Rizzo explains how she made over $100,000 in profit in 18 months part-time selling services, workbooks, and other downloadable products on Fiverr.
10. Resume Writer Online Jobs for Students to Earn Money
What you may earn: $50-$75 per resume/$10-$25 per hour
Unless you are about to inherit a business empire, you would be wise to start working on your resume while you are still at school. You don't have to make it a full-time business – it can be a side hustle in addition to other online jobs that you are doing.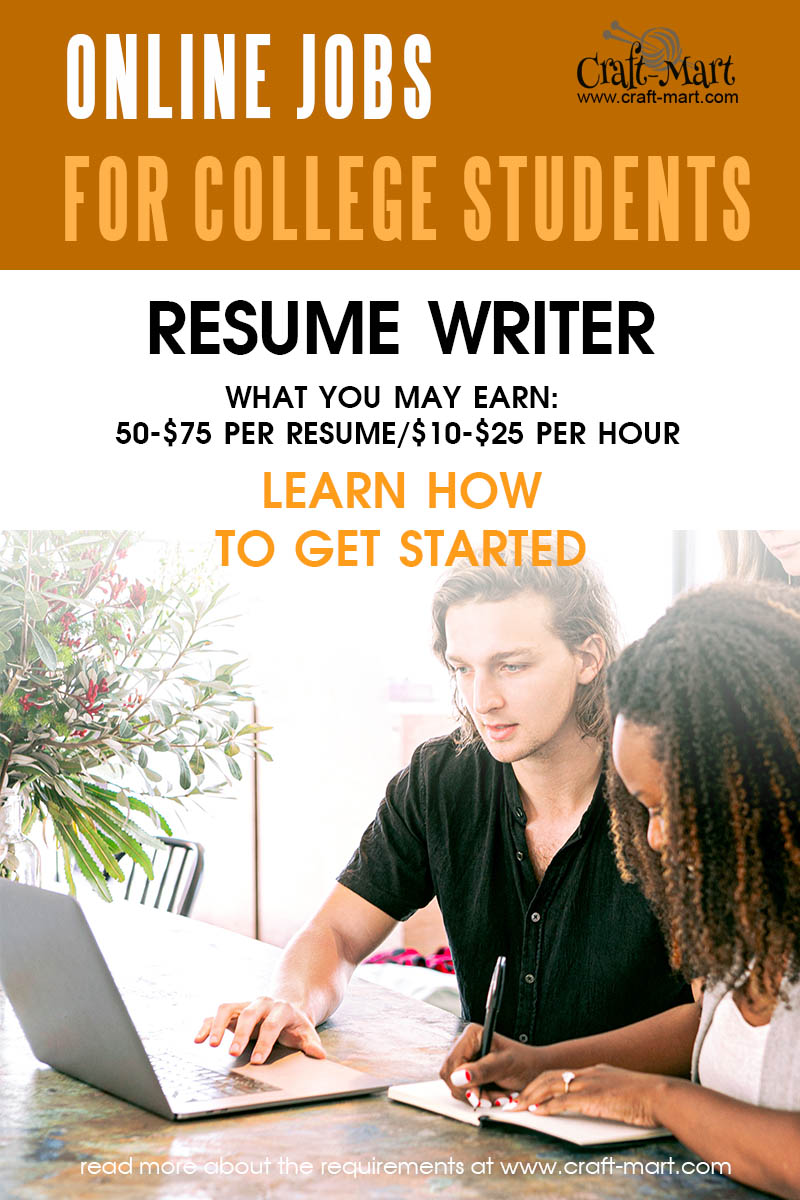 How to Get Started
First, Find a few free online tutorials on writing resumes – Resume Writing Academy resources page would be a good starting point. SkillShare also has a few courses as well.
Secondly, write your own resume and then a few for your friends. Now you have a portfolio!
Lastly, Go to Freelancer, Fiverr or Upwork and start marketing your services featuring portfolio you have just created.
11. Web Developer
What you may earn: $25-$75 per hour
If you never dealt with programming, web developing sounds overwhelming. In short, there are many things that one should learn in order to become a professional coder.
However, the majority of the blogs nowadays are run on WordPress platform and you'd be wise to learn things that are in the high demand.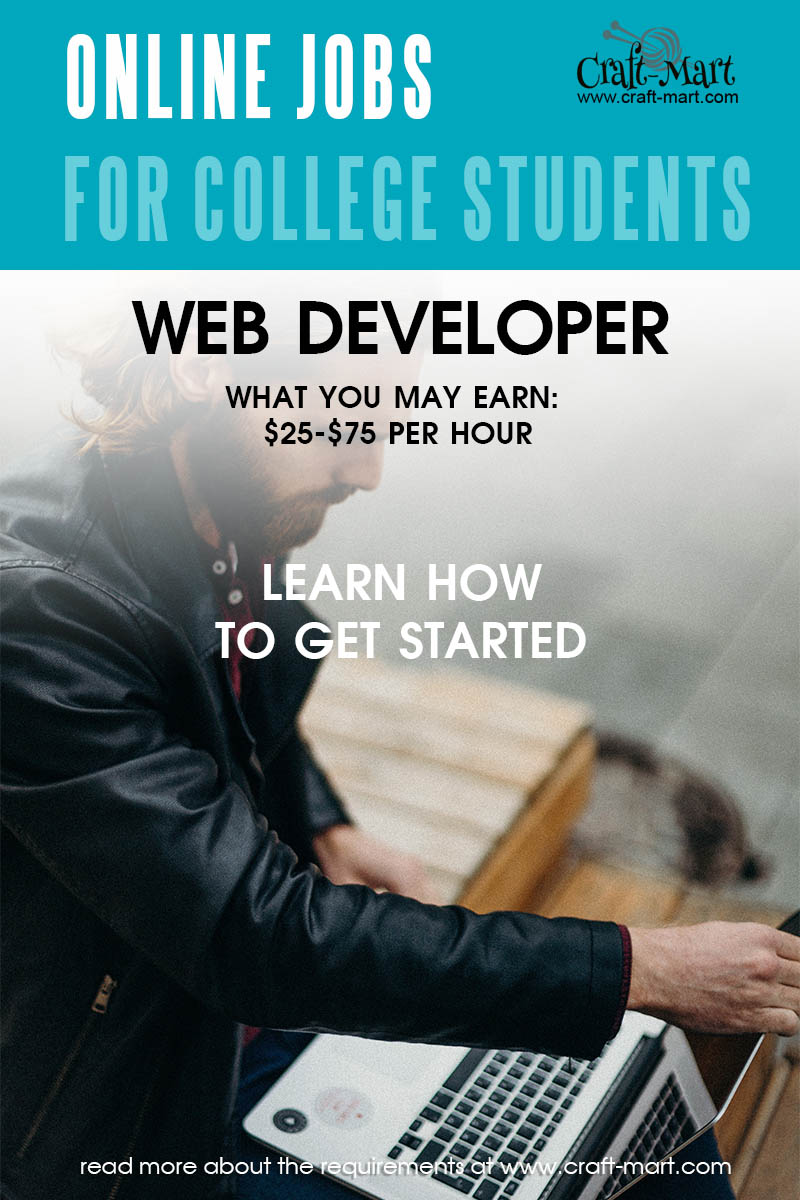 How to Get Started
On the contrary to what many other bloggers suggest, don't take one of the courses (like this one) that will try to teach you each and every aspect of modern web development. In short, knowing tiny bits of everything will not make a professional web programmer out of you.
Instead, start with this "Learning JavaScript for free" course and see if this is something that you want. Usually, with JavaScript being in high demand everywhere, you will be able to work with virtually any popular JS framework.
In short, if you spend less time on learning, you would have more chances to find high-paying jobs at Freelancer, Fiverr or Upwork.
12. Online Surveys
What you may earn: $2-$20 per survey
Although it may be not one of the most exciting and profitable online jobs for college students with no experience, taking surveys can be the easiest way to use short chunks of spare time that otherwise would be lost. For instance, instead of wasting time on FB or texting, you can make some cash.
For example, imagine yourself riding a train, taking a subway, or waiting for a bus. These 30-45 minutes a day can easily add up to many hours each month when you can actually earn a few hundred dollars.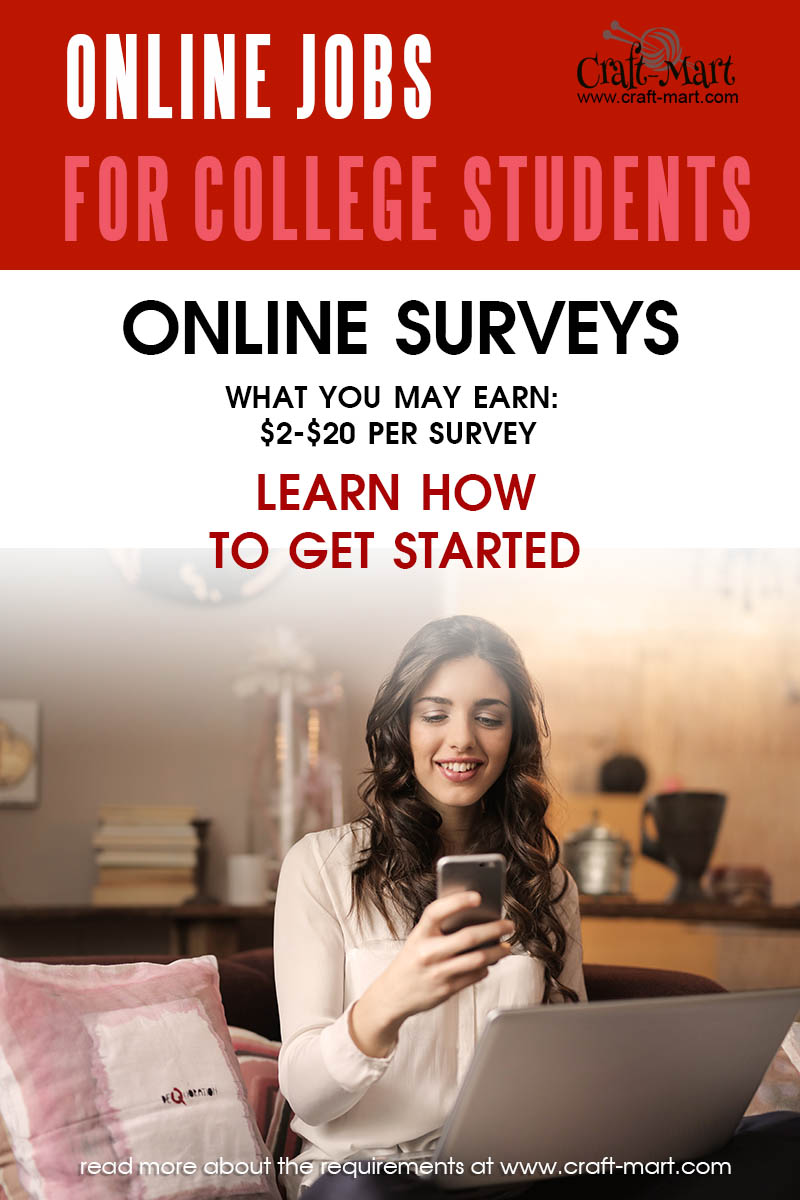 How to Get Started
First, sign up for Points2Shop – one of the coolest free online cash rewards programs. Subsequently, you will be able to earn cash or virtual points by simply playing games, watching videos, shopping online, completing surveys, etc. Moreover, with Points2Shop's mobile apps anybody can use any spare time to earn money.
Inbox Dollars is another alternative to earn cash online. In short, create your profile, watch a couple of video tutorials, and get $5 added to your account just for doing that! Get your free $5 – sign up now!
Springboard America pays cash rewards for sharing your opinions. Notably, Springboard America has higher payouts than most survey sites and its interface is very user-friendly.
In addition, you get $2 for each referral of your college "friends" who are also looking for online jobs for college students with no experience. Join Springboard Today!
13. Online Data Entry Jobs
What you may earn: $2-$12 per hour
Finally, we had to mention these Data Entry jobs in our post because they are frequently mentioned as a nice and easy opportunity to earn some money without any special skills.
Can you really earn money doing them? Yes.
What kind of hourly pay can you expect? Unfortunately, on average only $2 per hour 🙁
To begin with, read the article in The Atlantic "The Internet Is Enabling a New Kind of Poorly Paid Hell"
For example, the article mentions the following:
A research paper published in December that analyzed 3.8 million tasks on Mechanical Turk, performed by 2,676 workers, found that those workers earned a median hourly wage of about $2 an hour.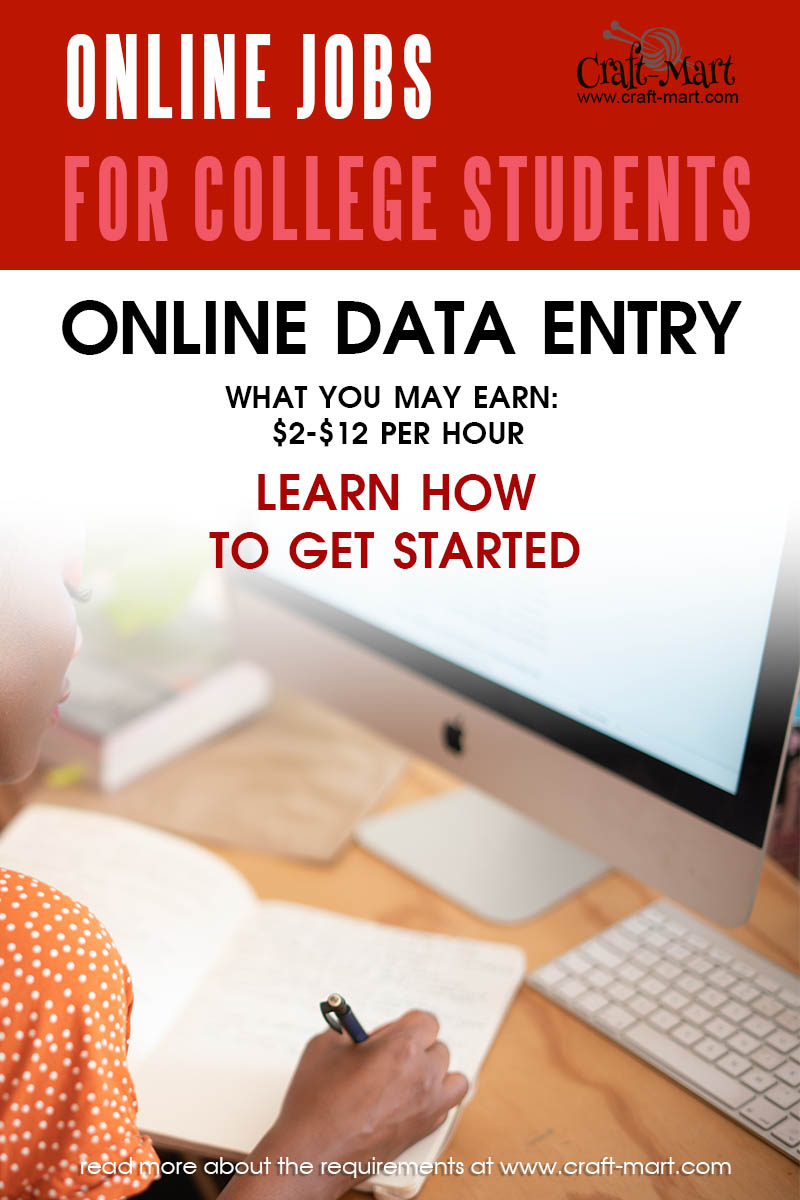 First of all, if you are really desperate, check out these websites:
In the meantime, we sincerely hope that you'll not resort to the data-entry options and would rather try other online jobs for college students mentioned above. Certainly, there is no coincidence that online data entry is featured in this post under the "Unlucky" number 13:)