Before listing all these smart passive income ideas with no money (or just a tiny investment), let's first define the term.
What is passive income?
Wikipedia defines it as:
Passive income is income resulting from cash flow received on a regular basis, requiring minimal to no effort by the recipient to maintain it.
Below are several common ways to earn passive income:
By getting paid for activities you do anyway (5 activities);
By upfront time investment (43 activities);
By financial investment (review of cons and pros);
By renting out things or real estate you own (review of cons and pros);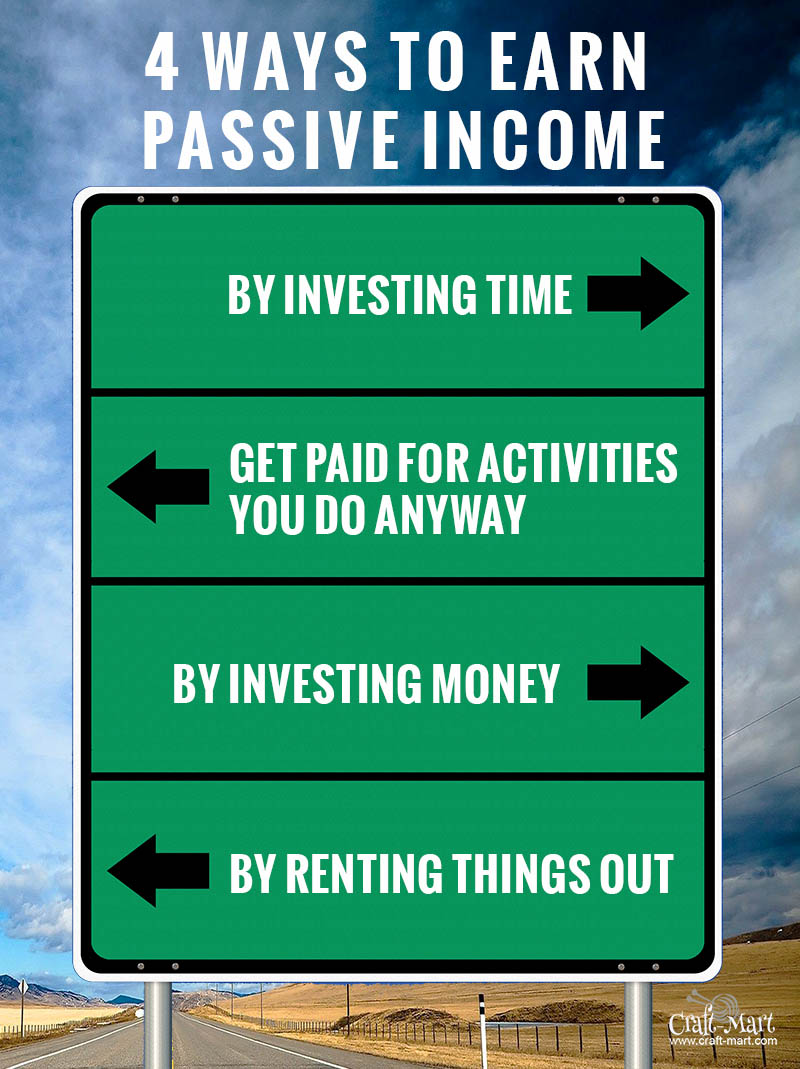 We will look in detail into the first two ways of creating passive income with little or no money since this blog is geared toward creative and crafty visitors.
If it happened that you have piles of cash or a spare house to rent, then investing money or renting out your house(s) would be the easiest passive income opportunity for you. For the rest of us, the upfront time investment is the only type of serious idea for passive income with no money investment that would be worth looking into.
---
Five "Get paid for activities you do anyway" Ideas for "Passive Income Online"
Is it "a passive" way?
It can be considered passive income if you earn it while doing strictly the same activities that you were doing before. Plus, these easy ideas for passive income are by far the easiest you can start with no investment almost instantly. Does it sound exciting? Easy passive income with NO money and in no time!
Is there a catch?
No, not really. You can indeed earn some money this way but not a full income.
So, what exactly are these smart passive income ideas online?
1. Get paid to walk
If you'll install an app called Sweatcoin, then every time you walk outside (not inside), Sweatcoin will count how many outdoor steps you take and will reward you 0.95 "Sweatcoins" for every 1,000 steps.
A free subscription level allows you to earn up to 5 "Sweatcoins" per day or up to 150 "Sweatcoins" per month.
You'll not get rich by walking but if you'll be inviting new people to join it will help accumulate "Sweatcoins" much faster. When you'll accumulate 2,000 Sweatcoinsyou'll be able to request a $100 cash transfer via Paypal.
Check out Sweatcoin now and start getting paid to walk!
2. Get paid to get gas with GetUpside
GetUpside is a free app that gives you cashback for receipts from the participating gas stations!
Also, if you sign up through our link, you get a 20¢ per gallon bonus the first time you fill up! If you drive a lot (or even if you don't), this can add up to a decent chunk of change!
Click here to download GetUpside and get a 20¢ per gallon bonus for using our link!
3. Get paid to watch TV
Yes, it sounds unrealistic but there is a company out there that will pay you to watch TV. This company is called Swagbucks, and you can get a $5 sign-up bonus if you sign up through my Swagbucks $5 bonus link!
Swagbucks ($10 sign-up bonus) is a great app to use to make money whenever you have some downtime, say while you're in line at the store or while watching some mindless TV program.
There are a variety of ways to make money with the Swagbucks app, including:
Taking surveys
Playing games on your phone
Watching videos
Using the Swagbucks search
Getting cashback on online purchases
Using coupons
Click here to download Swagbucks and get a $10 bonus for using our link!
4. Get paid to go to the stores
If you'll install an app called ShopKick you'll be earning points called "kicks" simply by walking into participating stores!
How else can you earn points with ShopKick?
Scanning items in the store
Scanning receipts where you've purchased select items
Buying items with a linked card
Referring a friend to ShopKick
Watching videos in the app
Visiting online shops
Linking a card to the app
Click here to download ShopKick and start getting paid just for walking into stores!
5. Get paid to play video games
Are you spending countless hours playing video games? If so, then Video Game Tester job would be a perfect fit for you. To see if this kind of work is for you, try registering with Paidwork.
What Does a Video Game Tester Do?
Video game testers play through a new video game as a user and provide feedback to the designers and developers involved in the game's production. Sounds easy enough, right?
What about the video game tester's salary?
Well, ZipRecruiter shows plenty of job listings with the national average of $47K/year while the $18K -to $24K per year range is the most common one. If you will fail to find a tester job position with one of the companies, don't despair! Getting a company job would not be considered to be a passive income anyway…
There is another way to be paid for playing games – a passive one!
Dozens of experienced gamers record their game sessions and post these videos on Youtube for beginners to watch. I personally know a family where a teenage boy in 2 years began earning more money from Youtube ads than both of his parents did at their corporate jobs. All he did was exactly as described above – posting the videos of his game sessions. Nothing else.
---
Upfront Time and Skills Investment
So, let's start exploring how to create passive income with no money by simply investing your time and skills. Below is the list of all the Best Smart Passive Income Ideas Online that require you to invest some initial time.
All these ideas for passive income can be divided into the following categories:
Virtual products
Affiliate marketing
Advertising
Services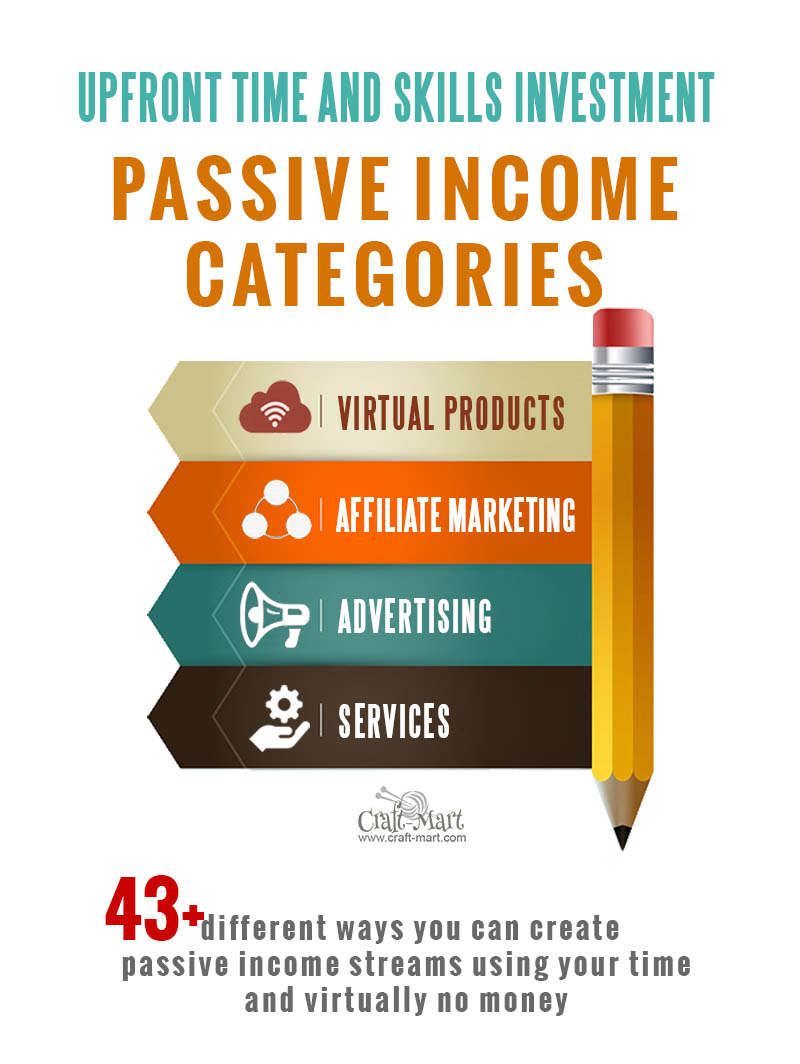 Let's talk about 43 different ways you can create passive income streams using your time and almost no money!
Creating and selling virtual products for passive income
Here are the biggest benefits of creating and selling your own virtual products:
You may sell an unlimited number of copies – no need to spend any money, time, or effort on manufacturing.
Easy logistics – no manufacturing, storing, packaging, shipping, and dealing with returned merchandise – all the processes can be automated.
Super low upfront costs – you just need to spend time on creating the product and setting up your e-commerce store which can be done for free or very inexpensively.
The most important question is – what digital products can generate passive income streams?
Graphic Design ideas for passive income online
Passive Income for Graphic Designers – hundreds of thousands of people over the world earn passive income this way. The most amazing thing is that you don't have to be a professional graphic artist to be successful! It doesn't take any special talent to design a board game for kids or build plans for a chicken coop or a funny T-shirt – with so many pre-made free templates out there it will take only a couple of hours (or less) for each product to be posted for sale!
5. Print On Demand (POD)
Upload your designs to marketplaces like Zazzle, for example.
They also have all the design tools needed. Your designs can be applied to hundreds of different products like clothing, stationery, electronics, etc.
Pros: This is a super-easy way to start earning some passive income online with no money. Many designers actually earn a full-time income on POD platforms like Zazzle.
Cons: You'll need at least 100 -200+ designs uploaded until you'll see regular sales.
There is always a chance that Zazzle or other POD companies may go down or change policies and destroy your business this way.
At the same time, making money on Zazzle is by far the easiest way to start making passive income for beginners of any financial investment.
6. Passive Income from Printables
Finding high-resolution public domain images or creating your own can be a profitable passive income idea. From calendars and kitchen wall art to organizational binders and bullet journals – the range of products is really wide.
7. Infographics
Even if you are not artistically inclined, creating original infographics is easier than you think. Dozens of online services like Canva offer free templates and tools for compiling professionally-looking images. Large websites are always on a lookout for new infographic images that are reflecting current or historical statistical data in many areas.
8. Your Original Fonts
For calligraphy lovers designing your own fonts is also easy with these services. Make your own fonts using free tools like BirdFont or FontForge. Keep in mind that there could be a need for very specific fonts with non-standard symbols like crochet stitches, for example. Finding such a niche with high demand can produce a nice online passive income for graphic designers.
Sell your fonts here: FontSpring, FontShop, Monotype.
9. Digital Art and Clip Art
If you can draw and paint then creating your own art products and selling them through POD companies like RedBubble, Zazzle.com or FineArtAmerica.com is the most natural way many people follow. Passive income for artists is not limited to selling digitally reproduced copies of their original art. Paid video tutorials and guide books often can provide steady passive income online for artists as well.
For those without artistic abilities, 3D rendering programs may be a nice option for creating stunning digital art. Free 3D modeling and rendering programs like 3D Crafter, Blender or beautiful landscape generator software Bryce Pro (under $18) are great tools you can try.
10. 3D Models and Renderings
With 3D printers quickly going mainstream, there is a tremendous need for all sorts of 3D models. Free programs like Googe's SketchUp or DAZ Studio will allow you easily enter into this fast-growing world of virtual 3D products. Create anything from simple furniture models to complex gadgets and sell through websites like TurboSquid, HighEnd3D, or DAZ 3D marketplace.
Below is an example of a rendering in Bryce created by Estevez in the Estevez Gallery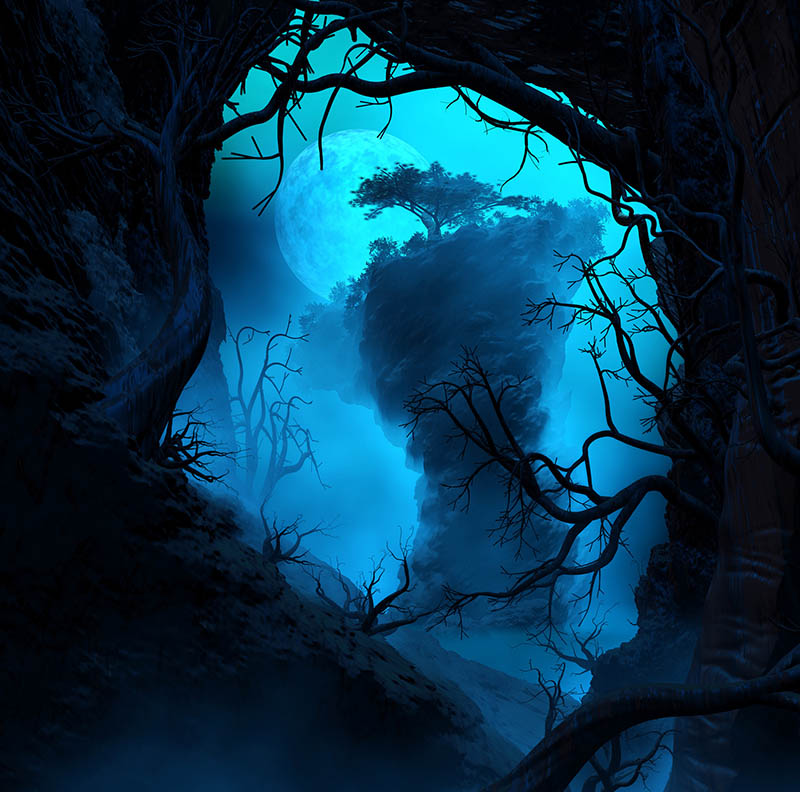 11. Coloring pages and books
Yes, you'll need some drawing skills for this one, but you don't have to become Leonardo. Kids love coloring. Start by creating a few simple drawings offering them for free and see which ones are the most popular. Once you are done with your market research you may publish the actual coloring books on Amazon creating streams of passive income.
For totally lazy people there are a few programs that can help with generating symmetrical lines and color patterns but most of them will cost money. Repper Pro is the easiest one and only around $40. Get it, generate 50 line patterns, and create a coloring book on the Amazon platform.
12. Building Plans
For people who know how to build stuff, creating sets of building plans shouldn't be a problem. A lot of beginners will gladly pay for step-by-step instructions with drawings instead of spending hours researching the subject.
13. Passive Income for Architects
For practicing or retired architects and designers compiling a collection of their architectural plans can be a perfect business or retirement plan. You don't have to spend months on designing 10,000 SQ FT mansions – the hottest commodities here are mostly small and tiny home plans or even garden sheds.
In addition to selling pre-made architectural plans, passive income for architects can be generated from the affiliate sales of the products related to interior design, appliances, furniture, wall art, etc.
14. Boardgame printouts
If are you still into playing board games then here is your chance to shine. Create your very own games with layouts to sell as downloads. Most importantly, it can actually be fun!
Crafts and Arts ideas for passive income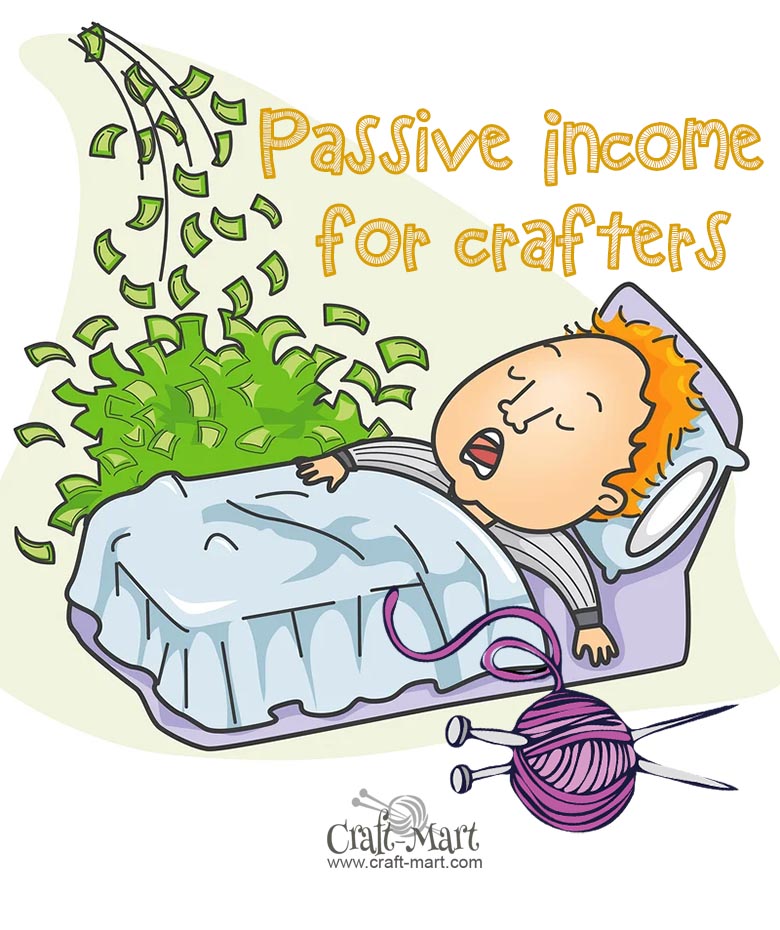 15. Selling Knitting or Crochet Patterns
This is one of the best smart passive income ideas for mother/daughter or grandma/granddaughter teams where, of course, younger team members are helping with beautifying digital products and uploading them while the older members are working on the original pattern drafts and corresponding products.
The best thing about patterns is that they almost never will get outdated and there are hundreds of millions of knitters and crochet lovers all over the world. A few good places to sell patterns are Etsy and Ravelry.
16. Sewing patterns
These are also very popular and can bring you a constant stream of passive income. One of the common jobs online for stay-at-home moms and great as an option for beginner passive income.
17. Painting tutorials (passive income for artists)
A great number of people are interested in super-easy painting tutorials for all different kinds of purposes including school classes and home projects. Make your Youtube lessons very clear, easy to follow, and include step-by-step instructions in the description. More videos you'll create, more followers, and passive income you'll get.
18. Drawing lessons
Teaching drawing basics to kids and beginners can be not only a full-time job but also an excellent passive income opportunity for those of us who can draw. The ads from your blog or youtube can bring a nice income if you'll manage to get decent traffic.
19. Woodworking instructions
You can start by recording step-by-step tutorials or doing furniture building plans. Just look at what is already on the web and try making these things better.
Writing ideas
20. Online Teaching Courses
A set of instructional videos on Udemy, for example, with or without typed manuals on the subjects listed above can bring more passive income than all these videos running separately on Youtube.
21. eBooks
For many people eager to learn a skill, watching videos is not enough, so you'll have to create written instructions and publish them as eBooks.
22. Kindle Books
If you have enough teaching materials for an eBook then learn how to convert it to Kindle format. This way your chances for passive income success will be much better since the Amazon marketplace has enormous traffic.
Software and Apps ideas
23. Business Document Templates
These can be anything from invoice templates to real estate fliers. Just select whatever you are good at and create an impressive collection. Sell them combined into sets of 10 or more to create value.
24. Apps
If you are frustrated with some of the existing apps or have a new idea, find a developer on upwork.com or freelancer.com and ask for a quote. If the price is astronomical try using one of the Free mobile app builders like mobiroller.com or appypie.com – who knows, maybe you'll make something really cool…
25. Selling Digital Photos
With billions of digital pictures being uploaded online every year, there is still a strong demand for certain photos in a few niches. Shutterstock would be a nice place to start.
26. Selling LightRoom Pre-sets
For Lightroom digital photography enthusiasts, it's a nice and easy passive income opportunity. Start offering your presets for free and later combine the most popular ones into downloadable sets for a reasonable price.
27. 3-D models
With plenty of affordable and free 3D modeling software like Google Sketchup, you can easily start creating and selling all sorts of models from custom furniture and toys to jewelry and wall art pieces. Turbosquid and Shapeways are the largest marketplaces for 3D models. The market is growing really fast – don't miss this chance for building a passive income.
28. Worksheets (educational curriculum ideas)
These are always in demand and easy to do for young people who just went or are going through school – perfect online jobs for college students!
Wellness and Health ideas for passive income
29. Nutrition plans
High competition in this niche means that there is plenty of potential passive income here.
30. Meal-prep plans
You'll need a blog for a niche like this and if you'll combine it with nutrition plans then you have a real chance of creating a very profitable passive income engine. As one of the online jobs for stay-at-home moms meals prepping works perfectly for a great number of bloggers.
31. Workout plans
On your blog create a multi-step questionnaire and generate downloadable workout plans customized for each individual. People love personal attention – give it to them but automate the whole process like other successful passive income websites.
32. Custom beauty/style/skincare
If you are into this kind of stuff, create videos for Youtube
33. Custom vacation/travel planning
For frequent travelers, this is actually a fun thing to do. Earn money on selling affiliate travel accessories, hotel bookings, etc.
Affiliate Marketing ideas
34. Shopping Referral Programs for Physical Products
Create review pages of the best products in different categories and get money from affiliate sales.
35. Affiliate Networks
Many service companies have referral programs on different networks. Review these services and get commissions for new customers that signed up with these service companies through your links.
36. Virtual Products and Courses
Create your very own digital courses or products and then sell them through your own referral program – it's like hiring 100s of salespeople and paying them commissions for the sold products only.
Advertising ideas for passive income with no money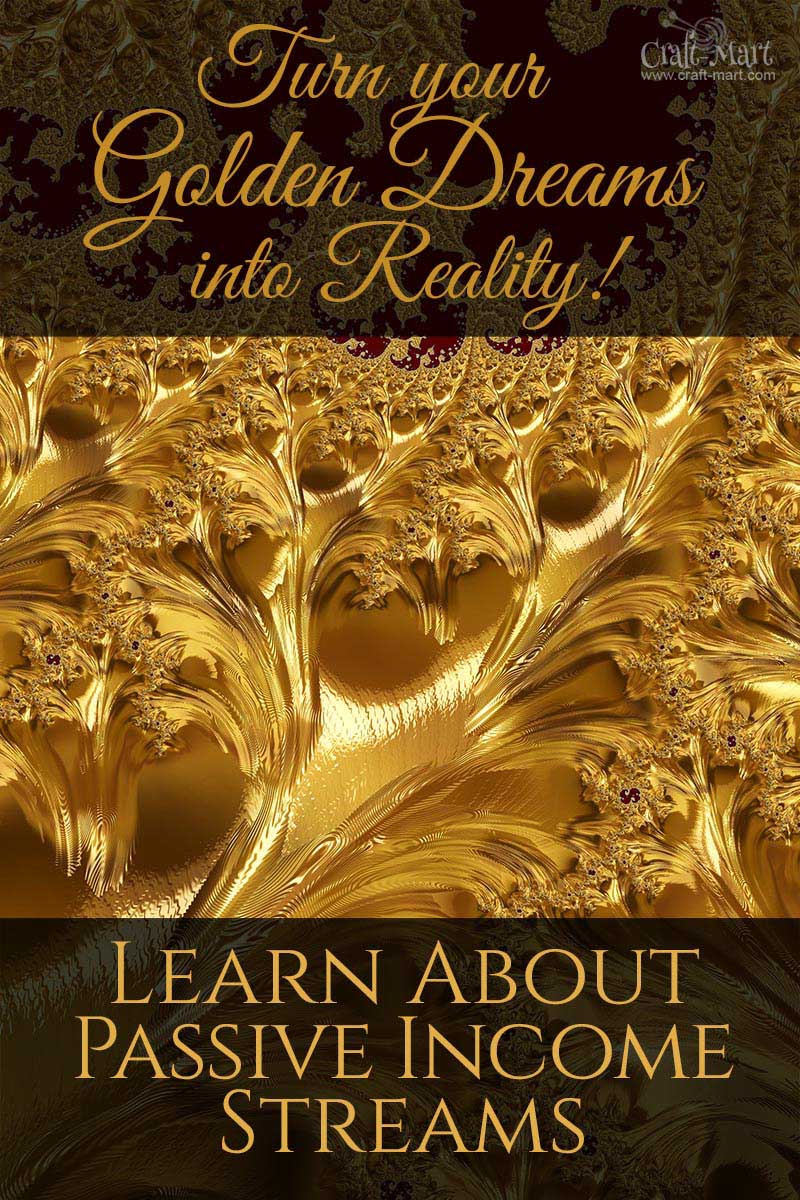 37. Ads from networks
Do you have close to 10K monthly visits on your blog? Sign up with ad management companies like Ezoic and get paid for clicks month after month – this is one of the best smart passive income ideas for crafty people like crocheters, for example, that don't like to deal with sales of any kind.
38. Ads from Individual Companies
You can also approach big companies showing you high-traffic stats for certain keywords and make a deal with them.
39. Youtube Cartoons
Many cartoons on youtube have simply a crazy number of views – some even hundreds of millions. Here is your chance to shine if you are good with computer graphics and interested in animation.
40. Youtube Audiobooks
You don't have to be an author of the book – your task is just to read it with some video illustrating the content or just showing the book's pages.
41. YouTube Foreign language lessons
To be successful as a YouTube foreign language teacher, make your topics fun and useful. As an example, solve possible problems that are common with tourists and your videos will become a hit bringing you passive income from ads.
42. YouTube Popular children's songs
It seems that every other person we meet is a passionate guitar player who is dreaming about quitting his/her office job. Well, record a few popular children's songs, post them on YouTube, and see if you can actually earn money this way.
43. YouTube Fixing house, car, etc. tutorials
We know a lot of stuff and we think that other people know the same things as well – but we are wrong! Most of them don't! Show them how it's done and become a new YouTube star.
Services ideas
44. Reselling Web Hosting
This one sounds easy and hands-off but it's not. Only if you have tons of IT experience in this area it's worth trying.
45. Local Directories
All your local small businesses are dreaming of being on the top of Google searches but they are not and probably will never be. The only option for them would be a local web directory that can climb up the search results ladder because they are SEO-optimized. Show them that your blog is on the 1st page for their topic and they would be happy to pay you monthly for their listing. Passive income? Yes!
46. Job Boards
They only make sense if your website has enough traffic. If you are writing about photography, for example, then photo jobs would be of interest to your visitors. You can monetize with ads or charge a small fee for job postings.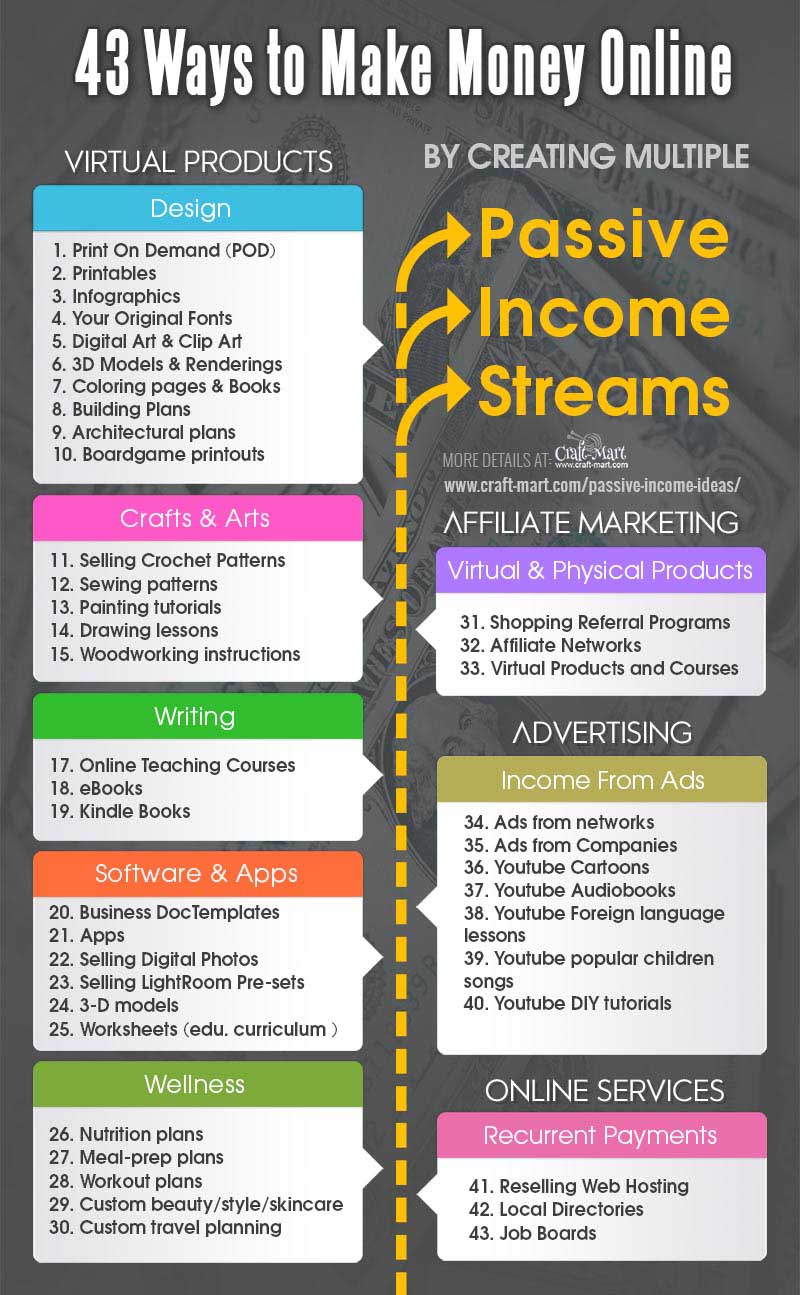 Renting Out Real Estate or Things You Own for Passive Income
Let's talk about the negative things first.
Perhaps you've already noticed that a great number of money gurus suggest the same boilerplate ideas for passive income like opening a high-interest bank savings account or purchasing real estate and renting it to tenants. They don't mention a few annoying things that you will have to deal with such as tenants not paying in time, appliances that have pretty nasty habits breaking, plumbing problems, mold, termites, ants, etc.
These are the notorious three Ts of being a landlord: Tenants (who are not paying rent), Toilets (that always need unclogging), and Termites (that physically eat your property). If you add the fourth T – Taxes (Property Taxes that have a tendency to always go up) then the picture of easy rental income is not so rosy anymore.
Is this a passive income?
Not at all unless you'll hire a property management company to deal with all these problems. Guess what? All your profit may very well be spent on this management company and your only hope will be that your properties will appreciate over time.
Is there a way to create a passive income stream at all by renting out things or real estate you own?
Yes, there is but it's not what other money gurus are suggesting.
47. Free Tiny House rental Program – earn passive income in a smart way
If it happens that you own a piece of land near or within one of the 50 largest metropolitan areas in the US then you may qualify for a FREE TINY HOUSE rental program. For a small deposit, this tiny house trailer can be installed on your property, and then you'll be getting ~ 40% of the revenue coming from renting out this tiny trailer.
All the advertising and the management will be provided by the manufacturer of the tiny house trailer ESCAPE. How cool is this! The passive income it is!
48. Turn your idle car into passive income with HyreCar
Would you like to make $12,000 a year passively? Then list your idle car with HyreCar which will rent your car to Uber drivers who are in need of a vehicle.
This is also known as car sharing. HyreCar connects owners like you with people who don't own or don't want to use their own vehicle when becoming a Lyft or Uber driver or would like to work and deliver for DoorDash and Instacart.
You'll get paid fast! HyreCar features a secure payment system, so you're always paid on time. You start earning as soon as you approve of a renter's application.
---
These are only two examples of the companies and deals in this category that can provide you with truly passive income!
Investing tens of thousands of dollars and getting constant maintenance or management problems with no cash flow is not what the majority of people have in mind. Most of the searches for passive income are done by individuals with little or no money.
Financial Investment Passive Income Ideas
Passive income ideas are usually associated with getting a percentage from sizable money investments into stocks and real estate. This type of income is also known as "portfolio income" and requires not only a large initial investment but also knowledge of the markets, constant research, and often time to wait out markets' downturns.
Since the majority of people in the US are in debt and have little or no money, hence the first "financial investment" option is simply not going to produce any sizable passive income upon investing a few hundred dollars.
49. Private Real Estate Deals (Real Estate Crowd Investing)
Is it a solid passive income idea?
This is true that with only $500 you'll be able to invest in multiple real estate developments across the country. You'll have a diversified Fundrise real estate which is a portfolio similar to a mutual fund. The main difference between these two is liquidity. Your Fundrise real estate investment trusts, or REITs, don't trade on a public exchange. Selling them quickly will not be possible and if the market will take a dive you may not find buyers for your shares at all.
During an upside market trend like in 2017, your annual return may be around 11% or $55. What about the downturns? Suddenly, passive income from your illiquid Fundrise REIT evaporates living you with tied-up capital that you might need to survive these tough times.
50. High-Yield Savings Accounts
It is such a common and popular passive income idea among virtually all financial bloggers that it has become a staple. Let's say you are too lazy to develop your own virtual product and you'd like to get a passive income from your savings.
CNBC website has an article "Here's how much money Americans have saved at every age"
It starts like this:
A new study finds the median American household has $4,830 in a savings account.
Let's say your savings are more sizable than this figure and you have $10,000 to put into the high yield savings account.
Below is what you'd get after one year of investing your $10,000 – $175 of a pure passive income!
| Type of savings account | Interest rate | Balance after one year (based on monthly compounding) |
| --- | --- | --- |
| High-yield savings account | 1.75% | $10,175 |
| Traditional savings account | .01% | $10,001 |
But it's not the whole picture – have you heard of the rate of inflation? Read the news:
The US annual inflation rate rose to 2.1 percent in November 2019 from 1.8 percent in the previous month and above market consensus of 2.0 percent.
After adjusting your passive income for the current inflation rate your awesome $175 passive income turns out to be just enough to partially offset your losses from the inflation. Can you really call this an Income..?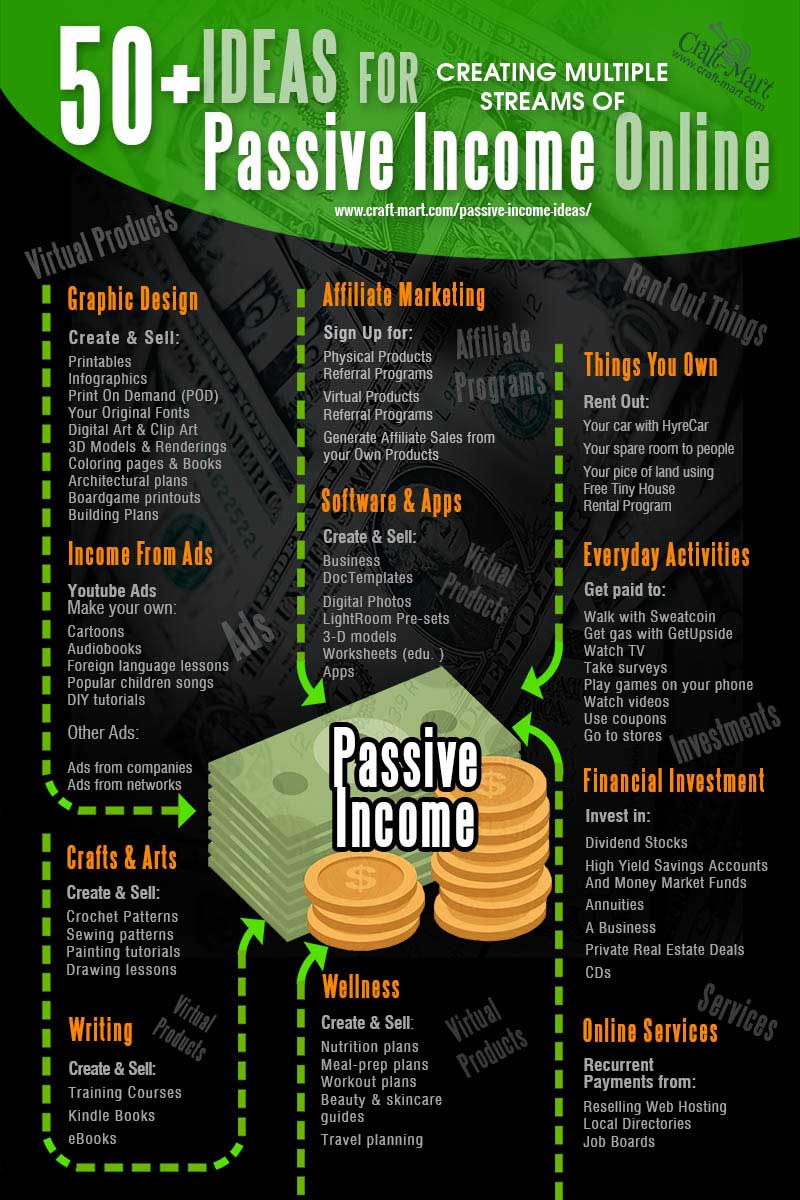 So, what if you don't have enough money for investing in real estate or stocks to live comfortably from the interest?
In this case, you'll have to invest your time and skills into a few passive income ideas. Consequently, you may invest the money earned from these passive income streams into stocks or real estate.
How to create passive income with no money
The short answer to this dilemma is "diversification." You don't want to rely on a single online source of passive income or on any single type of income. For example, having an income from your YouTube channel only puts you in a vulnerable position.
Of course, it's impossible to start diversifying your passive income right away especially when you barely have enough funds and time for one niche. However, once you get your first type of passive income stream established, invest time and a part of that income into additional niches.
How to diversify your passive income streams?
For example, if you created a hundred or so graphic designs for your online store and people start buying products with them, make a short course for beginners on how to create designs and start selling them. In addition to this, you will need to make a YouTube video about your course and designs to attract buyers.
Anything you successfully accomplish in one section like Graphic Design, you can easily expand to other sections like Writing/Teaching Courses and so on.
After this diversification within a few online passive income niches, you may try other ideas for passive income that require some financial investment.
Why should you care so much about all this diversification stuff?
Let's say you have built a very successful Print-on-Demand store based on the Zazzle platform. In addition to this, you promote your Zazzle store on your blog along with the course "How to make money from home on Zazzle". What will happen if one day Zazzle will decide to change its business model or a large competitor acquires it just to get the list of Zazzle's buyers?
Your whole business model was built from the ground up around somebody else's business and was not under your control. If this company is out of business then you are out of business as well. You can see that making money on Zazzle only without having your very own website is not a wise passive income strategy.
So, what is the smart way to build your passive income streams?
Do NOT build your whole passive income stream around one platform like YouTube, Zazzle, etc.
Use POD platforms for testing your designs only;
Build and promote your own e-commerce website;
Use several social media platforms for driving traffic to your website, not for direct sales of your products or services;
Make an opt-in email collection form in your blog and build your email list;
Invest a part of your online passive income into real estate and stocks;
Print on Demand, or POD as many people know it, is a different way of selling products where printing is done in smaller quantities on a per order basis. Unlike other ways to sell where you usually have to buy in bulk, prepay and hope for the best (if you don't sell anything suddenly you have a massive inventory of products in your house), print on demand sites are totally based on customer needs.
Some of the most popular print on demand products are mugs, books, mobile cases, home decorations, and clothes like pants, t-shirts, hoodies, caps, canvas, bags, etc
Best Print On Demand Websites/Companies
These are the most popular POD companies with millions of visitors every month. You don't need to use all of them at once. The best strategy would be selecting just one platform that you are the most comfortable with and creating a store there. Don't expect orders right away – you need to upload dozens and dozens of designs plus promote your store before seeing any sales.
Some final thoughts about Passive Income Ideas Online
Every day hundreds of people search for how to make money online without paying anything. We all know that not paying anything means that you'll have to work for someone else who invested time and money creating these different workplaces online.
Basically, it means that you'll get an online job and will be paid for completing certain tasks. For 90% of the public, it sounds absolutely perfect and a bit later we'll write a few posts describing the best "zero-investment" online jobs.
However, this post is about the best ideas for passive income that require a least some upfront investment. The cool thing is that you can start making money online without paying anything first and invest earned money into building your passive income business.
A lot of people have done exactly the same and so can you!
What is the most popular and ideal online passive income business model?
It's easy – building your own website that sells downloadable digital products or services without involving you in the process of processing orders, shipping, and dealing with the re-stocking of returned products. Although it may sound way too complicated for beginners, this is the most desirable and fast path for creating a self-running passive income engine.
What about thousands of handy hobbyists selling their stuff on eBay, Shopify, or Etsy? Wouldn't it be enough for smashing success?
In some rare cases, yes but here is what many beginners don't take into account – these popular marketplaces do not belong to any of the sellers. Your store there will be actually not yours – the same way a hotel room that you get for a few nights doesn't belong to you.
If you have your own website with your own traffic and customers then this is 100% your business that you'll be able to sell the same way you sell your house or your car. Can you sell your eBay account? What will happen to your store if Shopify decides to impose some weird restrictions on your niche? You can't seriously start building your business in somebody else's backyard…