Do you want to learn how to crochet crossed double crochet stitch but all tutorials seem so complicated? We've created a simple step-by-step photo tutorial so you can learn it with ease.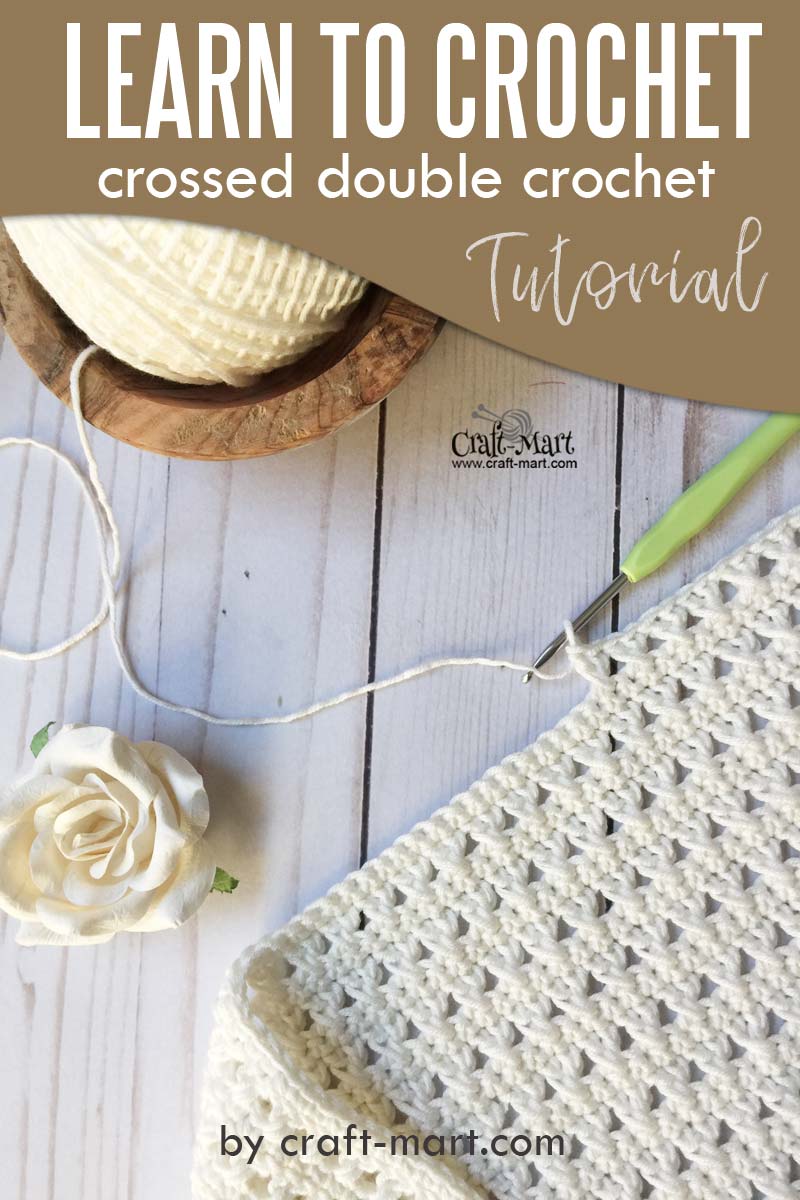 Whether you just want to learn to crochet or are ready to expand your knowledge of crochet stitches, this simple stitch is a wonderful addition to your toolbox. Crossed Double Crochet Stitch (also called criss-cross stitch) is a product of a small modification to a basic double crochet stitch.
Why should you learn to crochet Crossed Double Crochet Stitch
It is a very easy crochet stitch to learn;
Crossed Double crochet stitch only uses 2 basic crochet stitches;
With an easy repeat of 2 rows, it is fast to learn and master;
It is truly reversible;
Its lacy texture makes it great for summer crochet tops and dresses, especially with cotton yarn.
Most importantly, if you learned to crochet double crochet stitch, you can use it for many of your crochet creations such as blankets, cardigans, and scarves. As a matter of fact, with our step-by-step clear tutorial, you'll find the process effortless.
To learn this beautiful yet simple crochet stitch, you can use any leftover yarn. For this tutorial, we picked pure cotton yarn which is a delight to work with.
Furthermore, it is a great stitch to learn so you can crochet a cotton white dress or a breezy summer top. It is lacy enough for a summer top but not too bulky.
Keep in mind, that you can always add a few single crochet rows on the top if you wish the fabric to be less see-through.
Are you interested in learning to crochet other stitches?
Check out these tutorials:
Half Double Crochet Stitch Tutorial and the Easiest Crochet Baby Blanket Pattern
Easy-to-Crochet Baby Blanket Pattern (Moss Stitch)
Bobble Stitch (easy step-by-step tutorial)
Learn to Crochet V-Stitch Blanket
Ribbed Single Crochet Stitch Tutorial and FREE pattern
Materials
100% Cotton yarn (used for this tutorial)
Crochet hook
Instructions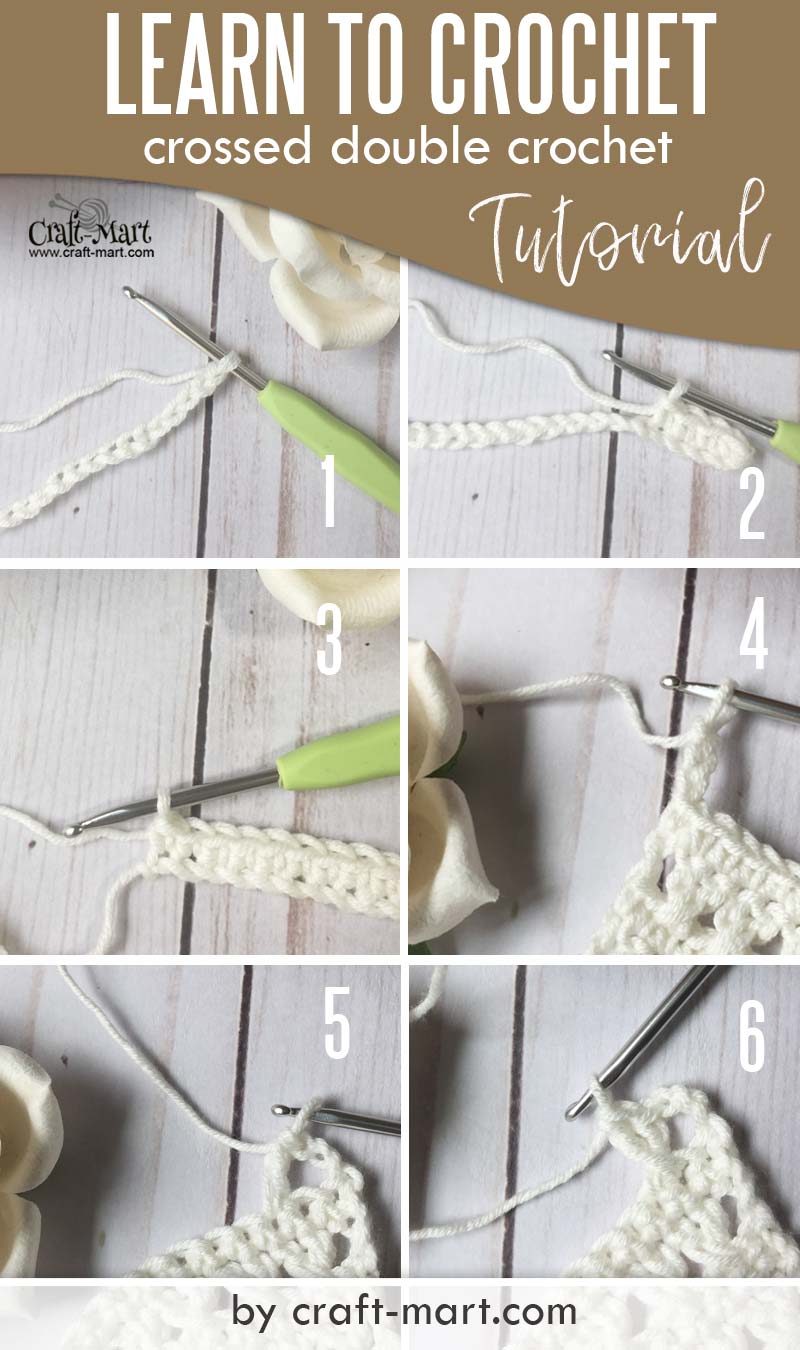 1. Foundation chain – ch20 (any even number)
Start with chaining an even number of stitches for your foundation chain, for example, 20. It is always a good idea to start with a small swatch so you can practice and learn to crochet the easy way.
If you make a mistake it is easy to go back and fix it. Furthermore, with smaller swatches, you can learn to crochet faster as your rows will be shorter. Consequently, you can concentrate on alternating rows and learning the technique.
2. Row 1 – sc
After completing the foundation chain, single crochet into 2nd chain from the hook and every chain afterward. If you are familiar with basic crochet stitches, this row will be a breeze.
3. SC into the last ch (step 3 in the diagram).
4. Ch3, turn (step 4 in the diagram).
5. Row 2 – crossed double crochet
Chain 3 (turning chain) counts as the first double crochet. With crossed double crochet, you will be skipping one stitch and then going back to put double crochet in the skipped stitch.
This will create characteristic crosses that are the calling card of this textured lacy pattern. Pretty easy!
First, skip one stitch. DC into the next stitch (step 5 in the diagram).
Second, we are going to make DC into the skipped stitch. Yarn over, insert your hook into the skipped stitch, and loop yarn again (3 loops on the hook). Finish the double crochet as you would normally do: yarn over, pull through the first two loops, yarn over, and pull through the last two loops (step 6 in the diagram).
6. You have completed your fist crossed double crochet!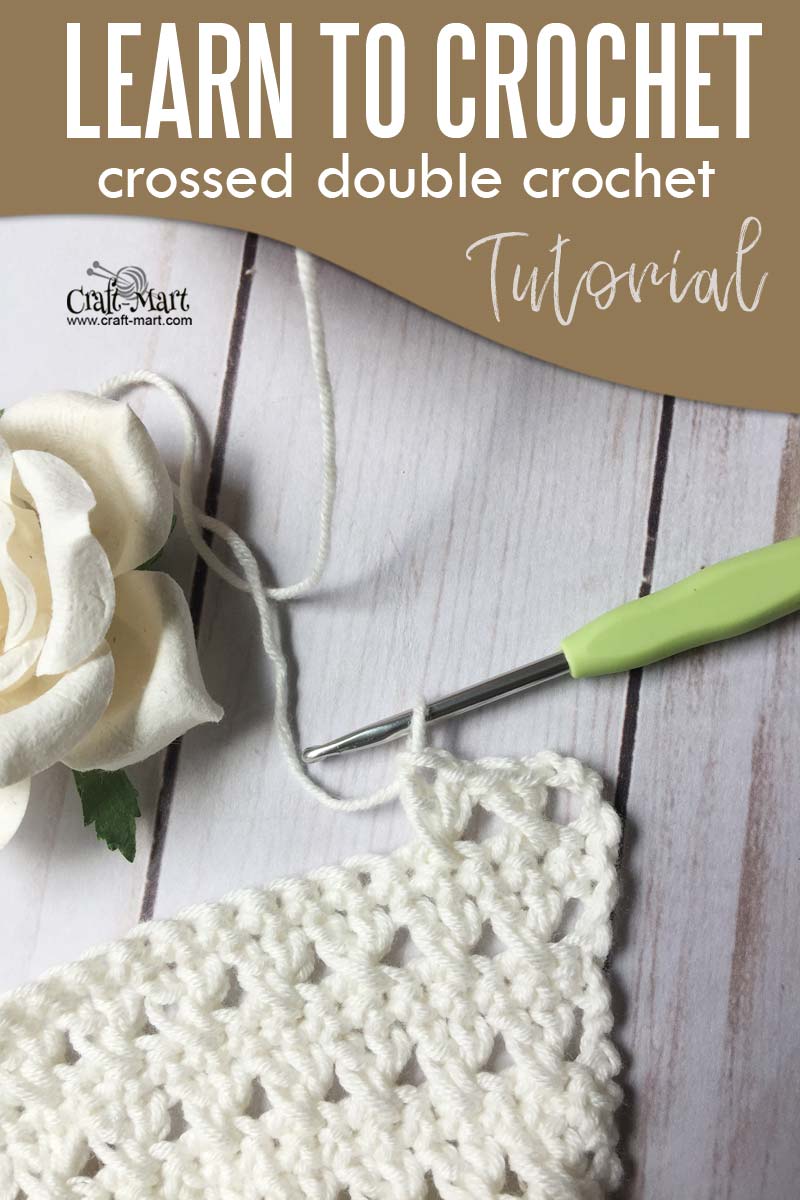 Note of caution: make sure you don't add chain 1 after the cross though sometimes it is tempting to do so. This will mess up your stitch count.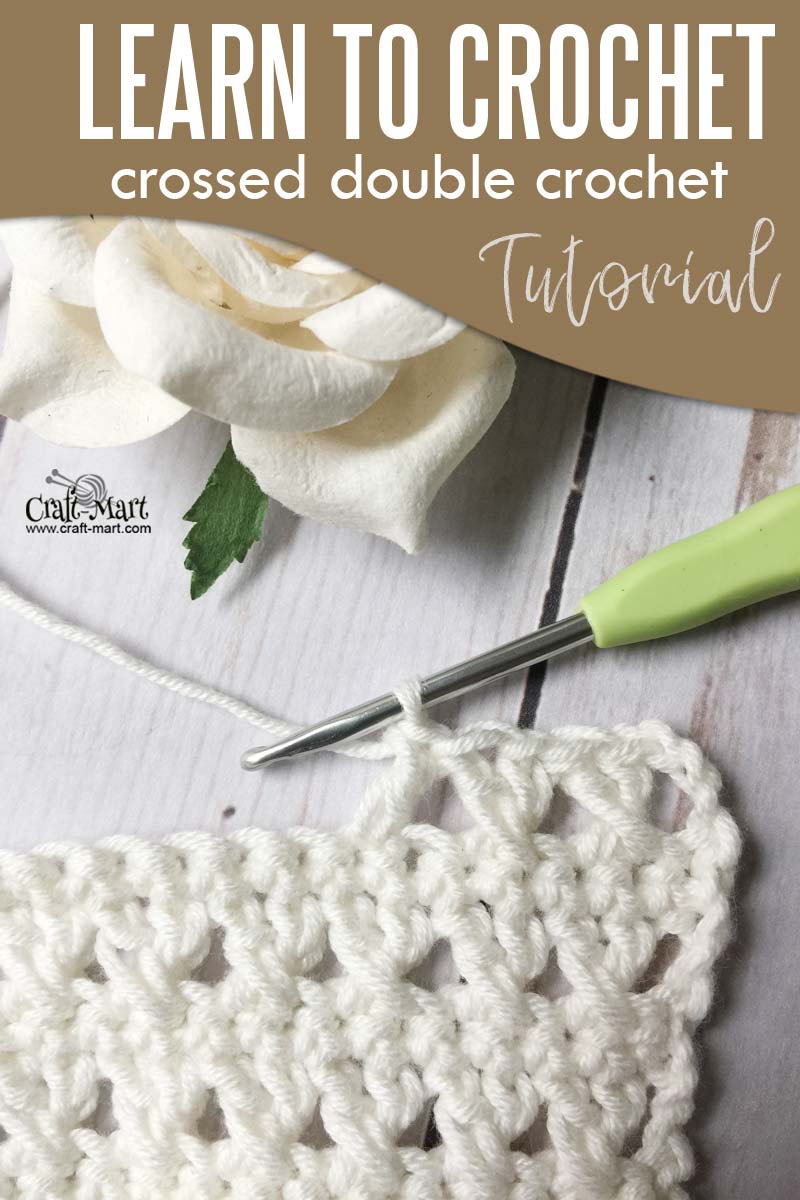 It is always wise to stop after a few stitches and check your work, especially when you are just learning to crochet a new stitch.
Continue with criss-cross double crochet to the end of the row. DC into the last stitch. Ch 1, turn.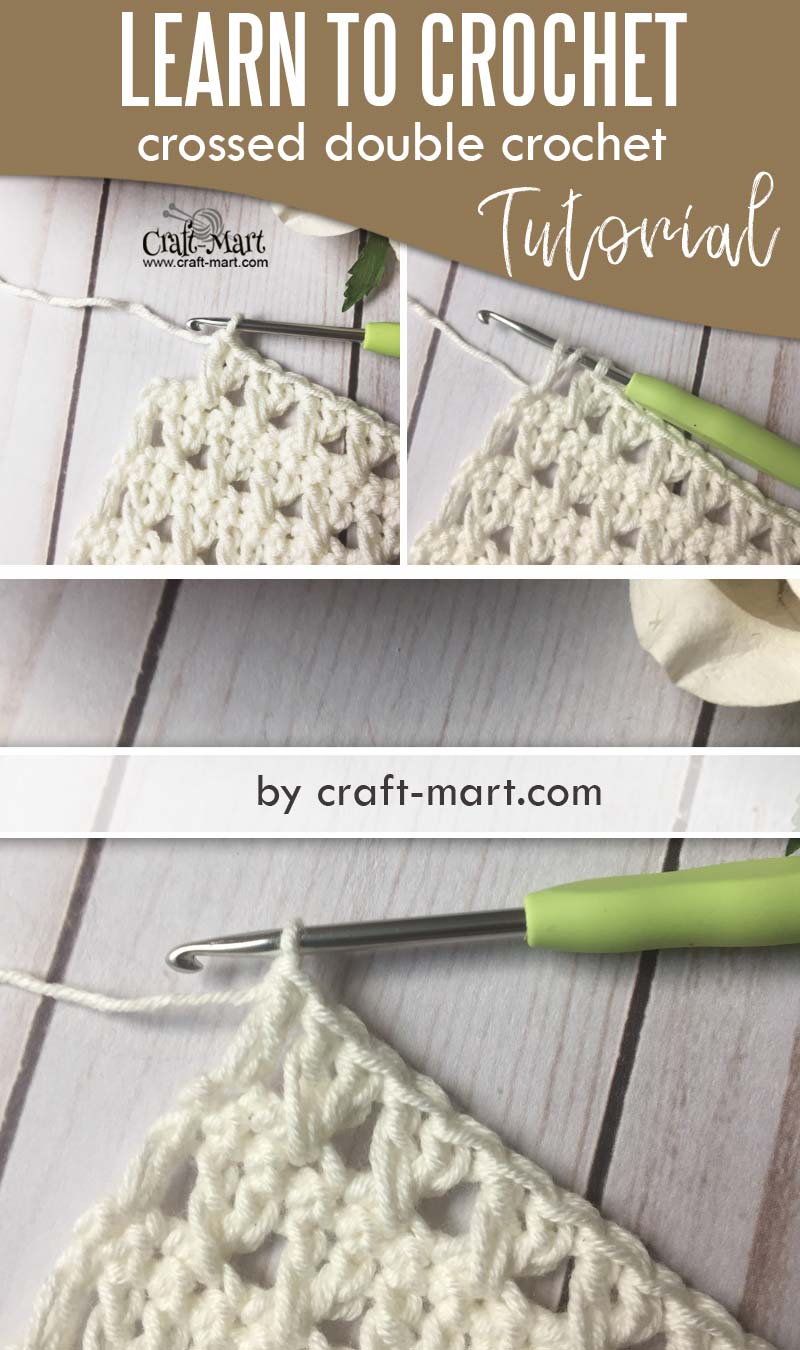 7. Repeat row 1 – sc
The only tricky part here is that your first single crochet stitch will be into the top of the CH3 turning chain (as it counts as the first DC stitch of that row).
Also, pay attention when you are doing the second SC stitch – it goes right into the next stitch, and sometimes it is easy to miss it. Learn to crochet it correctly: check out our step-by-step tutorial.
SC to the end of the row. The last SC stitch goes into the top of underlying chain 3 of the previous row.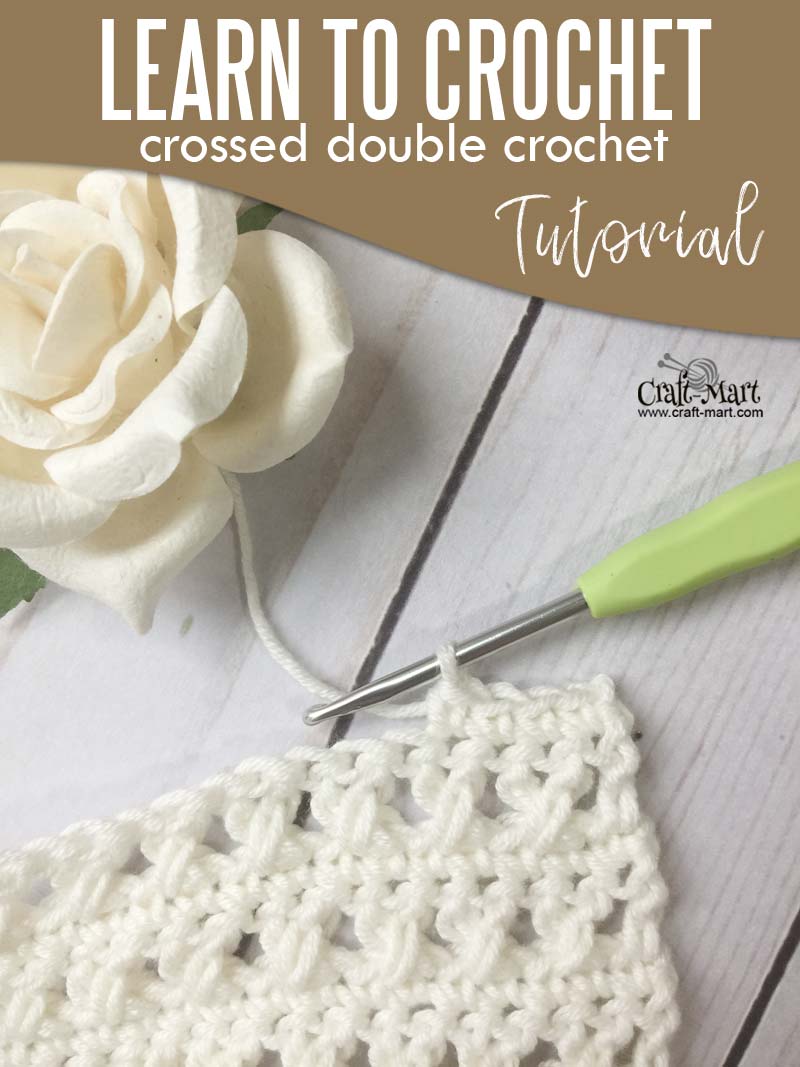 8. Repeat row 1 and row 2
Keep alternating single crochet row and crossed double crochet row until your fabric reaches the desired size. Single crochet rows will let you rest and just crochet.
While leaning this stitch, you would only have to pay attention when you are on criss-cross rows.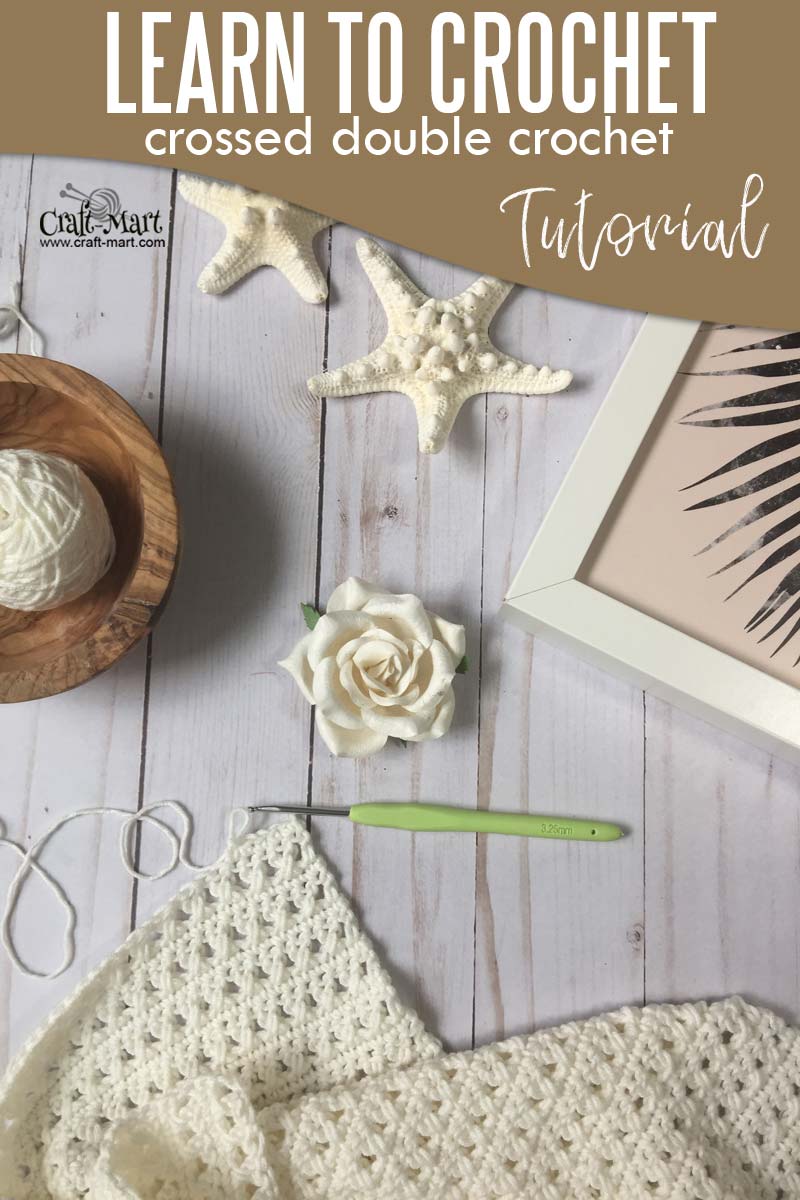 9. Troubleshooting
As mentioned above, it is tempting to chain 1 in between crossed double crochet, so avoid that. The other common mistake is not skipping the stitch for your criss-cross and placing double crochet into the same stitch.
No worries! It is common to make mistakes while you learn to crochet a new stitch. Just undo your stitches, fix the mistake, and continue with your crochet!
We have a short video tutorial to help you master easy Crossed Double Crochet Stitch: