Are you a fan of "Fixer Upper" and have been dreaming of a trip to rustic decor ideas capital Waco, TX to visit Magnolia Market Silos? You are not alone!
You will be surprised to learn that there is even a hashtag #milestomagnoliamarket. A metal frame at the Magnolia Market Silos with this hashtag provides a perfect frame background for your social media brag shot.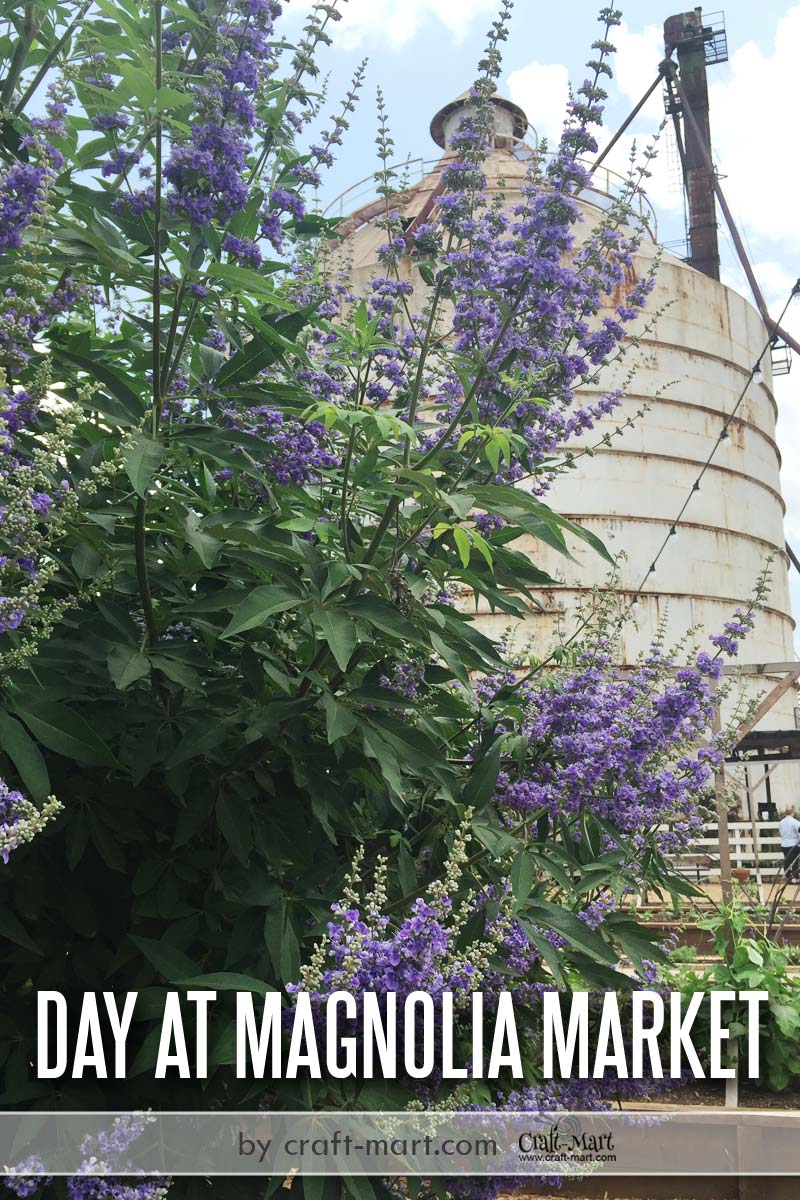 Plan your Trip to Magnolia Market Silos
First of all, to make your trip to Magnolia Market Silos enjoyable and fruitful, make sure that you put enough time and effort into planning. Whether you are flying in or taking a car trip, it would be wise to check Magnolia Market Tips first for the best experience.
Furthermore, Magnolia Market & Silos website has a plethora of useful information, tips, maps, and a calendar of seasonal events that are essential for planning. Consequently, you can find out:
Hours of operation for Magnolia Market (9 am – 6 pm) and Silos Bakery (7:30 am – 6 pm), and special Holiday Hours
Make a note of a free Parking at the Silos – we were always able to find a spot
Learn about free Silos District Trolley to get around downtown (it runs every 15-20 minutes, Monday through Saturday, 9:00 a.m. to 6:30 p.m.)
Check out Magnolia Market Tips for enjoying your visit.

Plan your Trip to Waco, TX
Most noteworthy, as more and more people from around the world are flocking to the little town of Waco, TX to visit Magnolia Market and the Silos, it is easy to get swept by the crowds. First and foremost, decide:
how are you going to get there (drive, take a tour bus, fly and rent a car, etc);
where are you going to stay (Magnolia Farms Bed and Breakfast (plan to book way in advance) or one of the hotels in town);
where are you going to eat (Magnolia Table is open for breakfast and lunch plus there are lots of options from the food trucks at the Magnolia Market Silos);
when to shop at Magnolia Market to avoid big crowds;
which local attractions to visit.
Craft-Mart Tips for Visiting Magnolia Market Silos
We are always looking for inspiration. With this in mind, Craft-mart team just took a trip to Waco and has visited Magnolia Market and the grounds to get inspired by rustic decor ideas in person.
Consequently, here are our tips and suggestions to get the most out of your visit and enjoy it.
1. Most importantly, choose the right season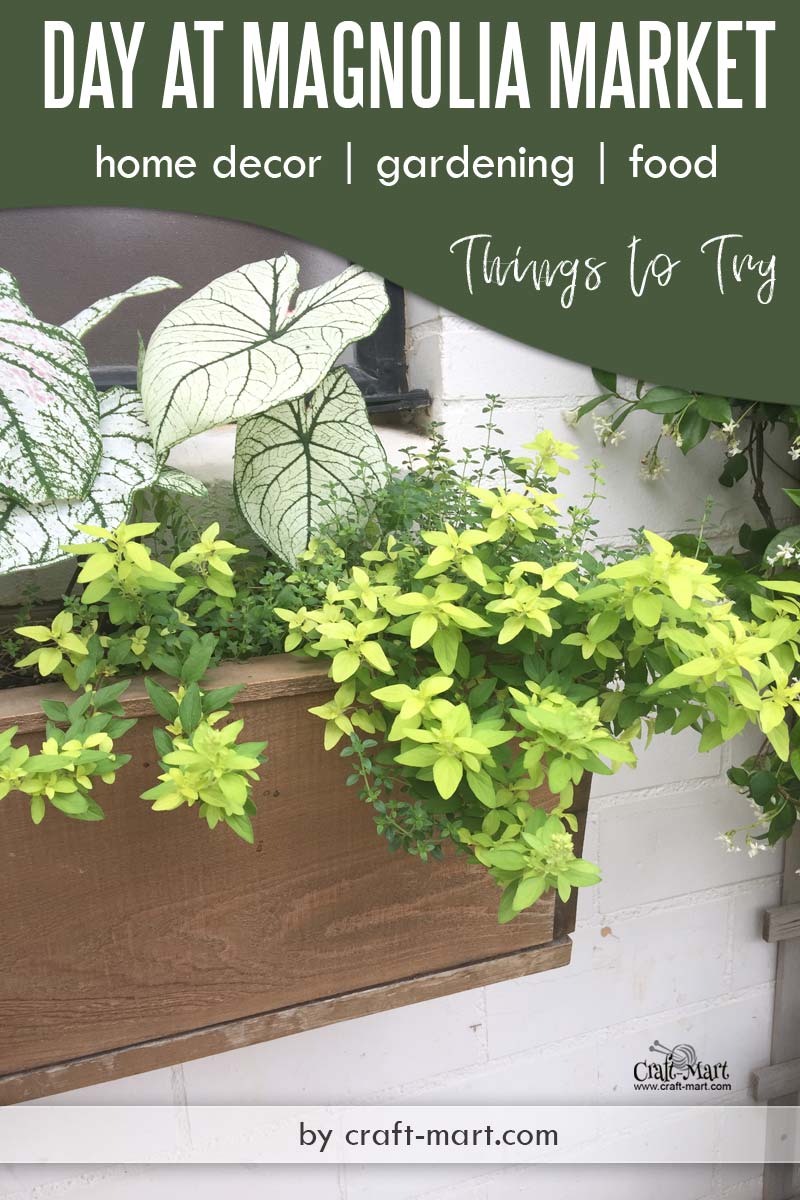 Because Waco is located in Central Texas, the yearly temperatures fluctuate from the coldest month of January (58° / 34° F) to the hottest month of July (95° / 74° F). Consequently, spring would be a great time to visit (77° / 54° F) and enjoy the colorful display of Texas wildflowers by the road on your way to Magnolia Market Silos.
2. Give yourself enough time to enjoy the grounds at Magnolia Market Silos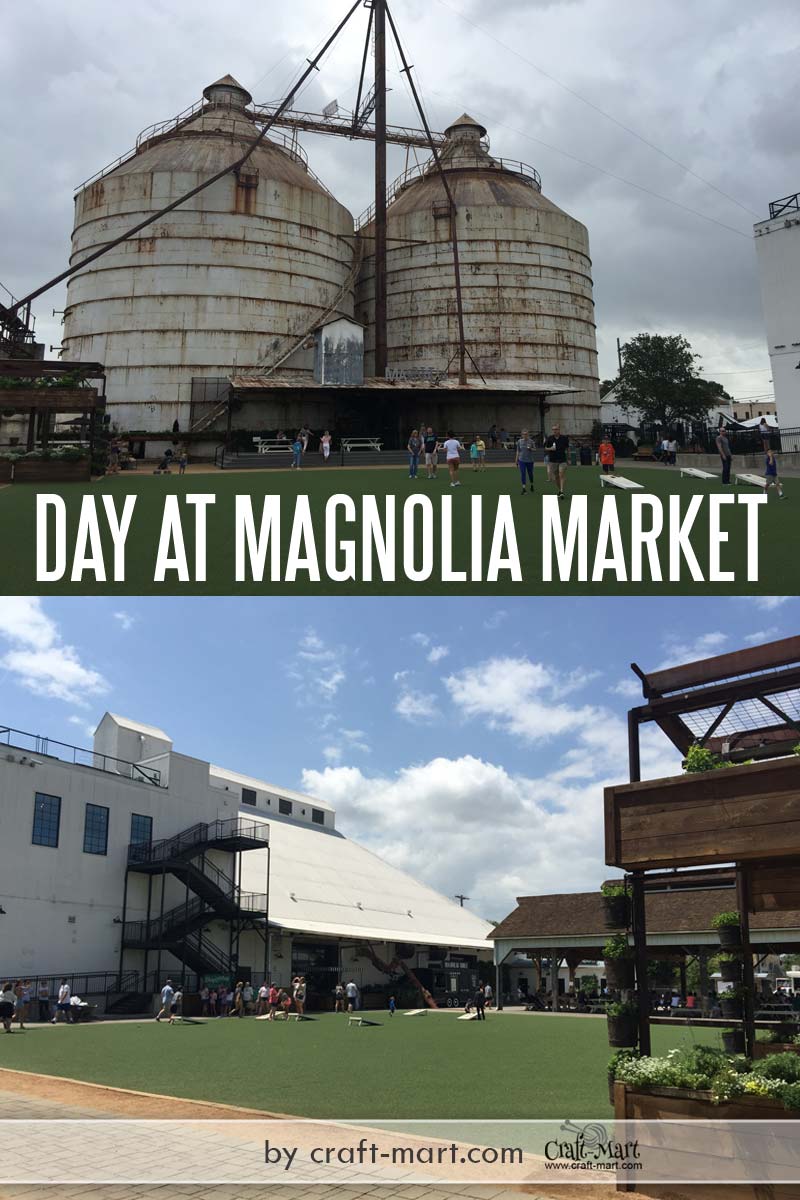 Though the whole Magnolia Market Silos complex maybe not very big in comparison, there are a lot of things to see, experience, try and enjoy. Give yourself enough time to 'stay and play' so you are not rushed.
While moms shop, kids and dads and can relax on the lawn, run, and play a few games.
3. You can come early and enjoy breakfast at Magnolia Market Silos Bakery.
Rather than fighting the crowds, you can come as early as 7:30 am. As you get an early start, enjoy a cup of coffee with one of Silos Bakery's iconic breakfast creations before the busy Magnolia Market opens at 9 am.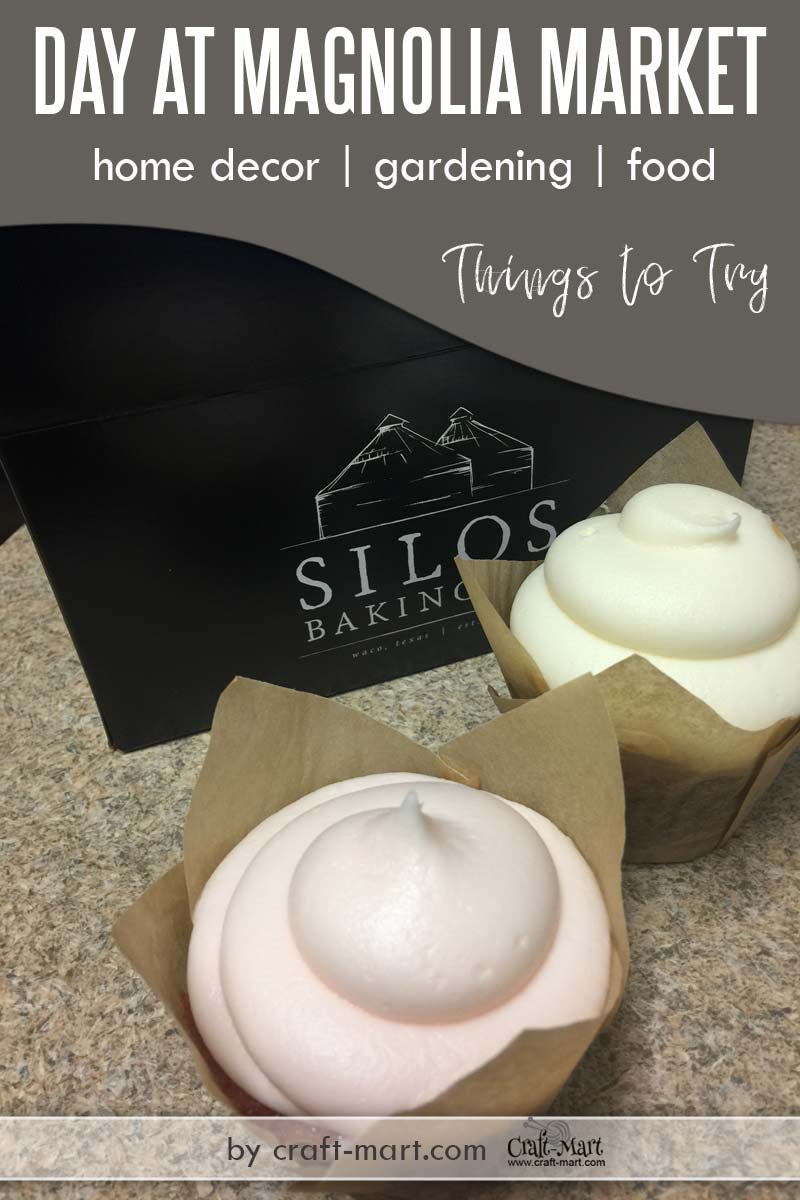 It was amazing to see how efficient and organized is the bakery. Though on an average day they sell close to 5,000 baked goods and the line can be comparable to an amusement park queue, the whole ordering process works like a well-oiled machine.
We hardly waited for a few minutes to get beautifully-packed Silos Bakery goodies that you can safely transport home.
4. Come to Magnolia Market Silos and bring your dog too!
Magnolia Market Silos complex is dog-friendly and dogs are allowed everywhere (including Magnolia Market), accept the green lawn. We saw lots of friendly well-behaving doggies: on a leash, in backpacks, relaxing under the table in the shade while the whole party enjoys an al-fresco lunch and iced tea.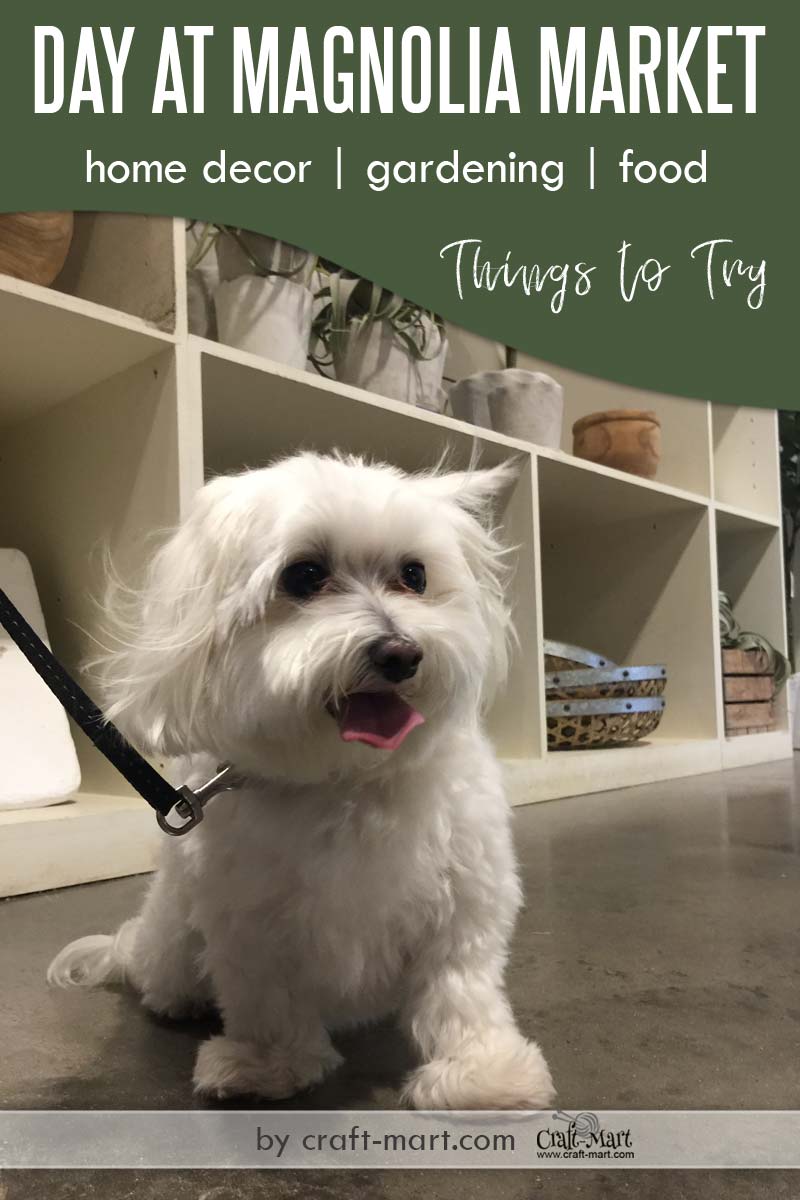 Our doggie enjoyed the trip very much – you can see his ears flying in the wind from all new exciting rustic decor ideas and fans blowing in the warehouse!
5. Get some inspiration for a DIY outdoor project.
From hanging baskets lined with burlap to family size outdoor swing benches, you can get enough rustic decor ideas for your next DIY project.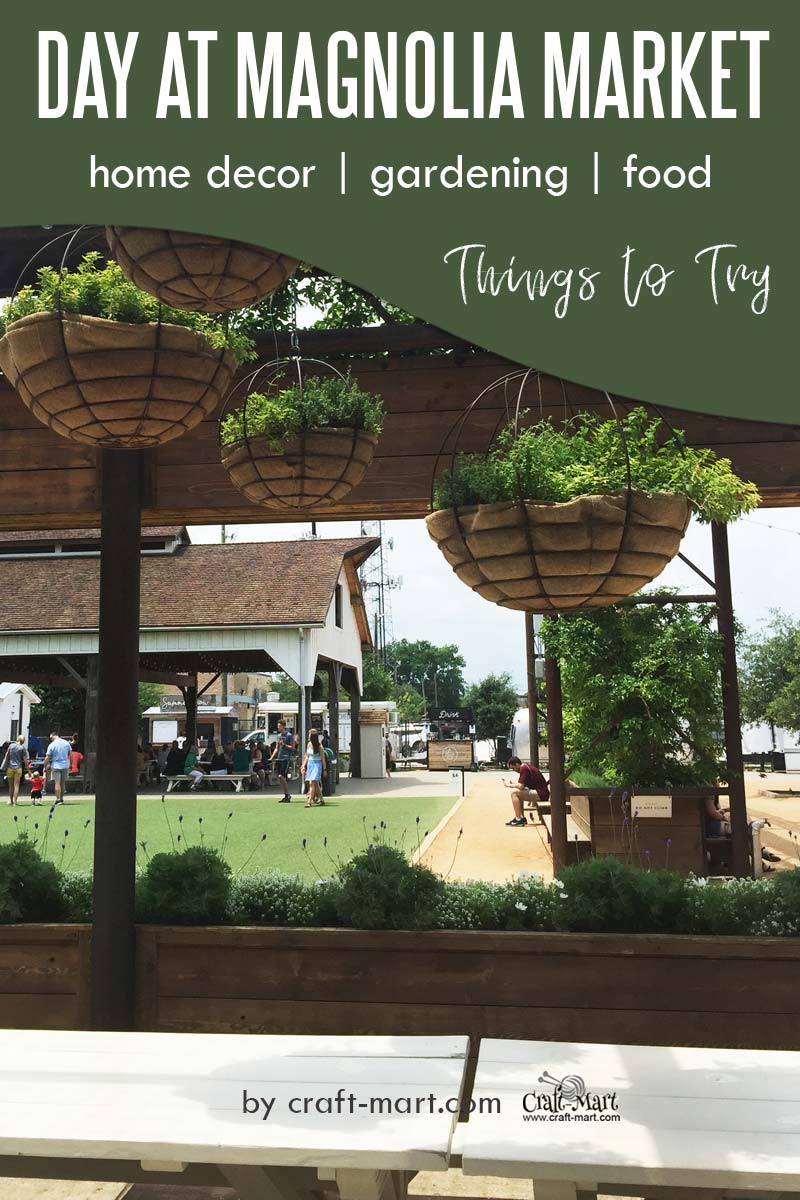 Take time to relax in the shade and enjoy the grounds while surrounded by carefully chosen fragrant fern lavender plants and greenery!
6. Check out the garden and Seed and Supply store.
Tucked away in the corner of the property, the garden offers an oasis of tranquility and a great place for kids to be kids and play. It is full of whimsical structures that are fun to explore.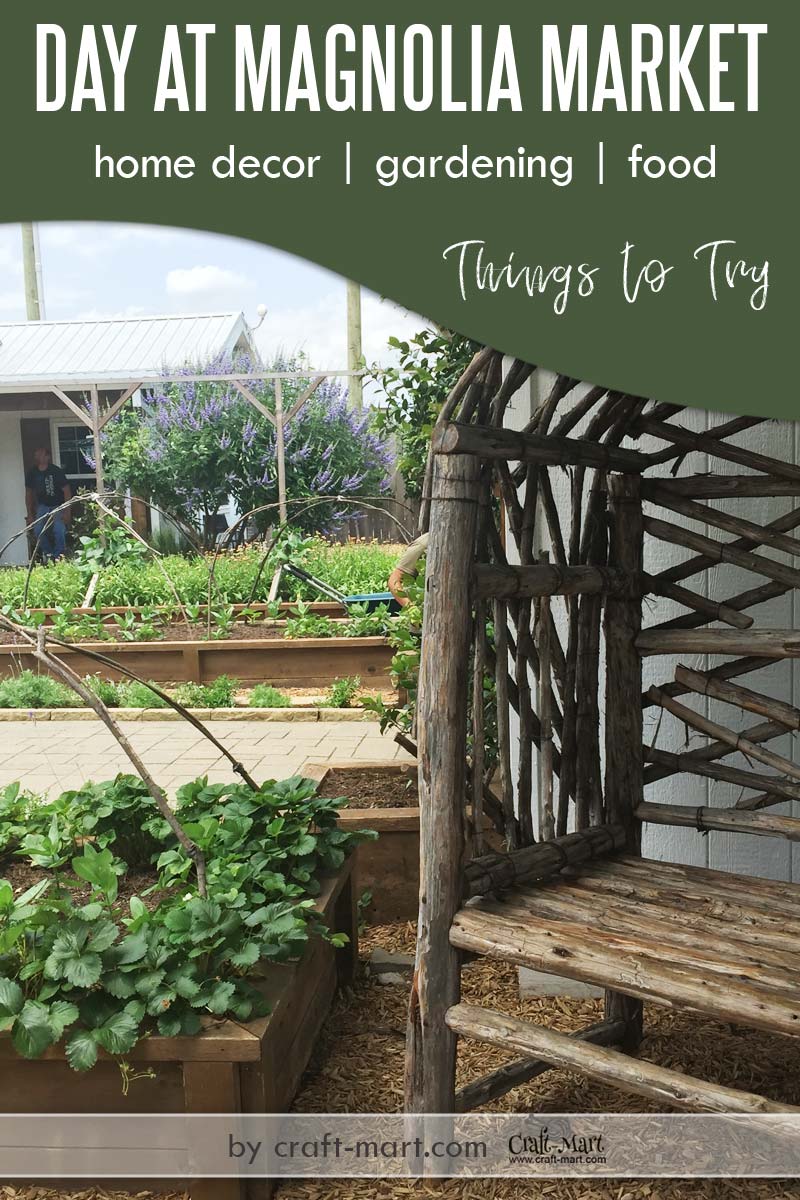 Though the store is small, any garden lover can find seeds, tools, and plants to take home. We found a blooming air plant that just looks marvelous in stone and glass container. The clever 'eggling' planter made in Japan was a great souvenir for kids and a way to introduce them to gardening in a fun way.
7. Stop to smell the roses.
From lavender fern plants to marvelous roses, the garden a paradise to relax and enjoy your visit. If you live in Texas or similar USD zone, you can get some ideas on which plants are worth your time and effort.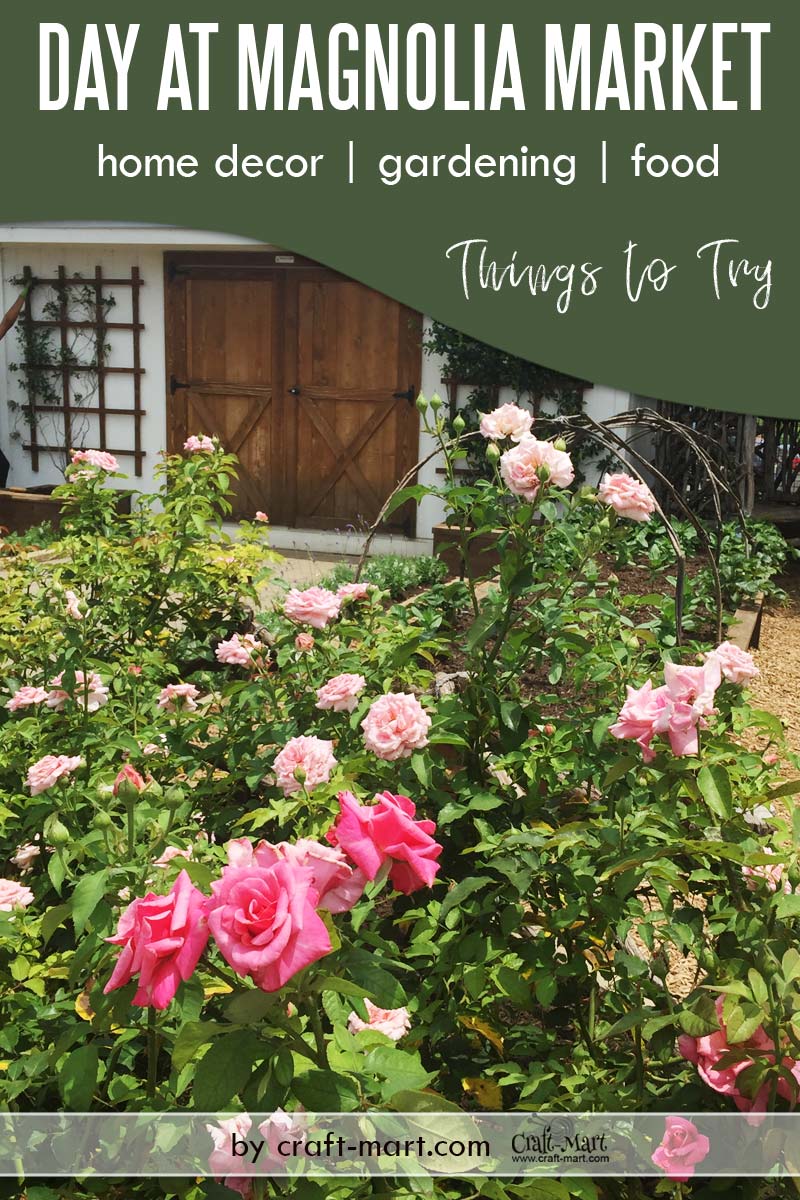 8. Learn something new.
Tucked away near the greenhouse, is a great example of creative gardening. The trained apple tree is a great visual example of how to prune and train this fruit tree to produce more.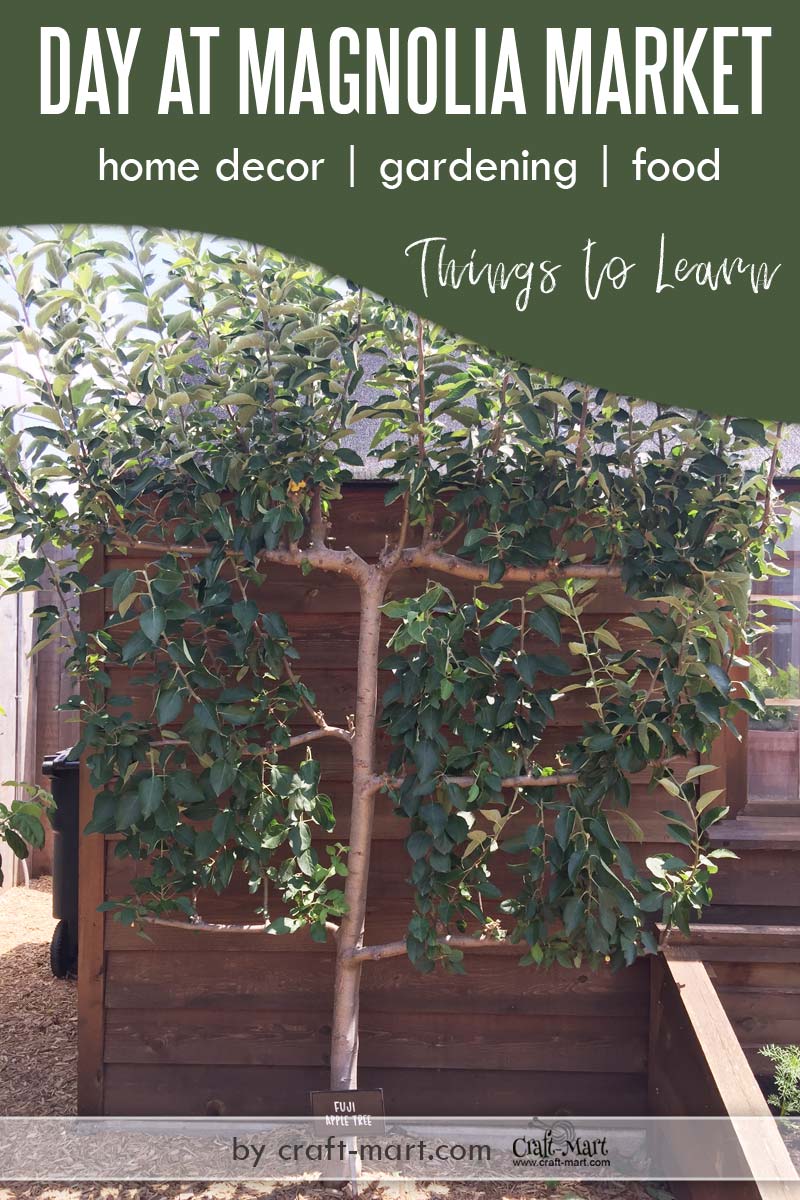 It is interesting that right before the trip we were doing our research on that matter and started training our apple trees in the garden. Noteworthy, with this method, not only can you grow fruit in small spaces and utilize every inch of your garden, but you also will get sweeter apples and more fruit. We'll definitely share the results.
9. Get a 'seat at the table' without leaving Magnolia Market Silos.
Furthermore, when you get hungry, there are plenty of choices for lunch. You can even sample the menu from Magnolia Table truck without leaving the grounds. Most importantly, there is plenty of space in the shade and a watering station for doggies.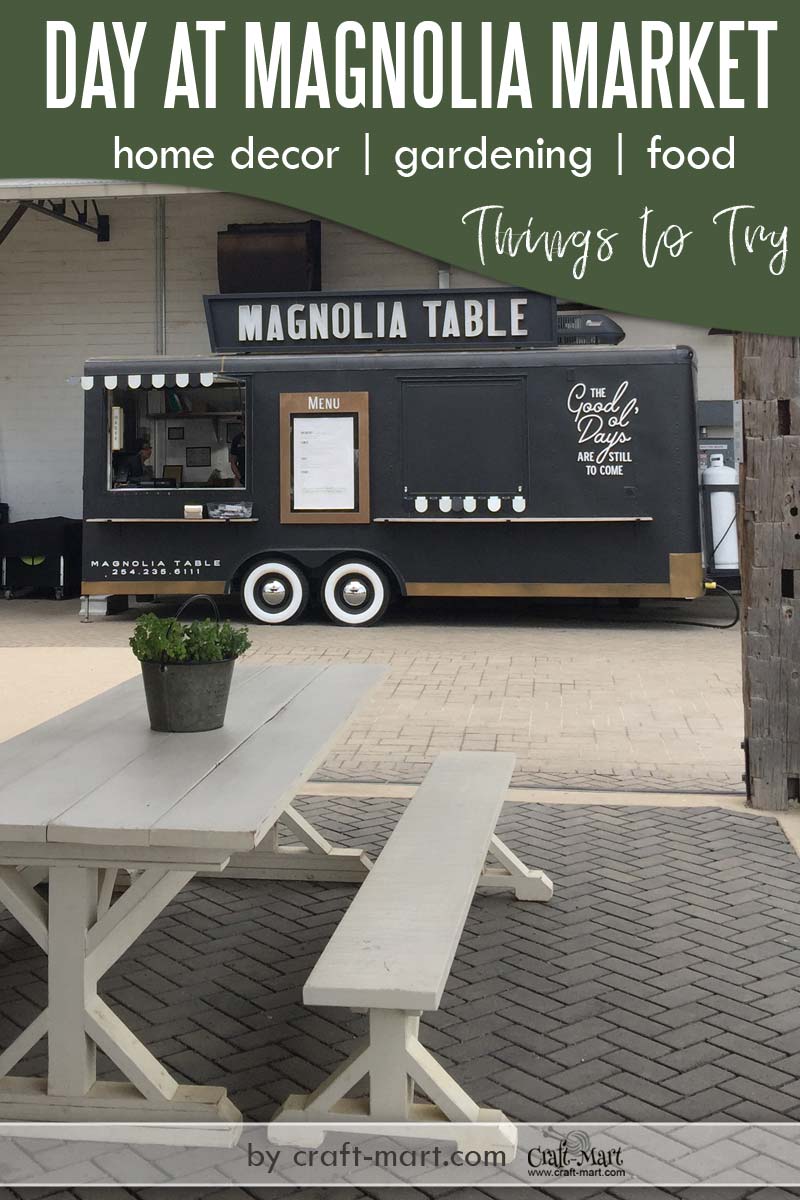 Of course, it is a limited menu but the farmer's salad with beautiful watermelon radishes from Magnolia garden and Joe's chicken salad sandwich were excellent. Quench your thirst with lavender lemonade or Alabama sweet tea (comes with refillable mason jar cup and reusable straw).
10. Stay and play
For example, let kids play on the lawn a few outdoor games that are available right there, by the Magnolia Warehouse. Bean bag toss and Genga were most popular with players. Meanwhile, adults can relax on the lawn chairs and savor some of Chip's popcorn flavors sold from the table nearby.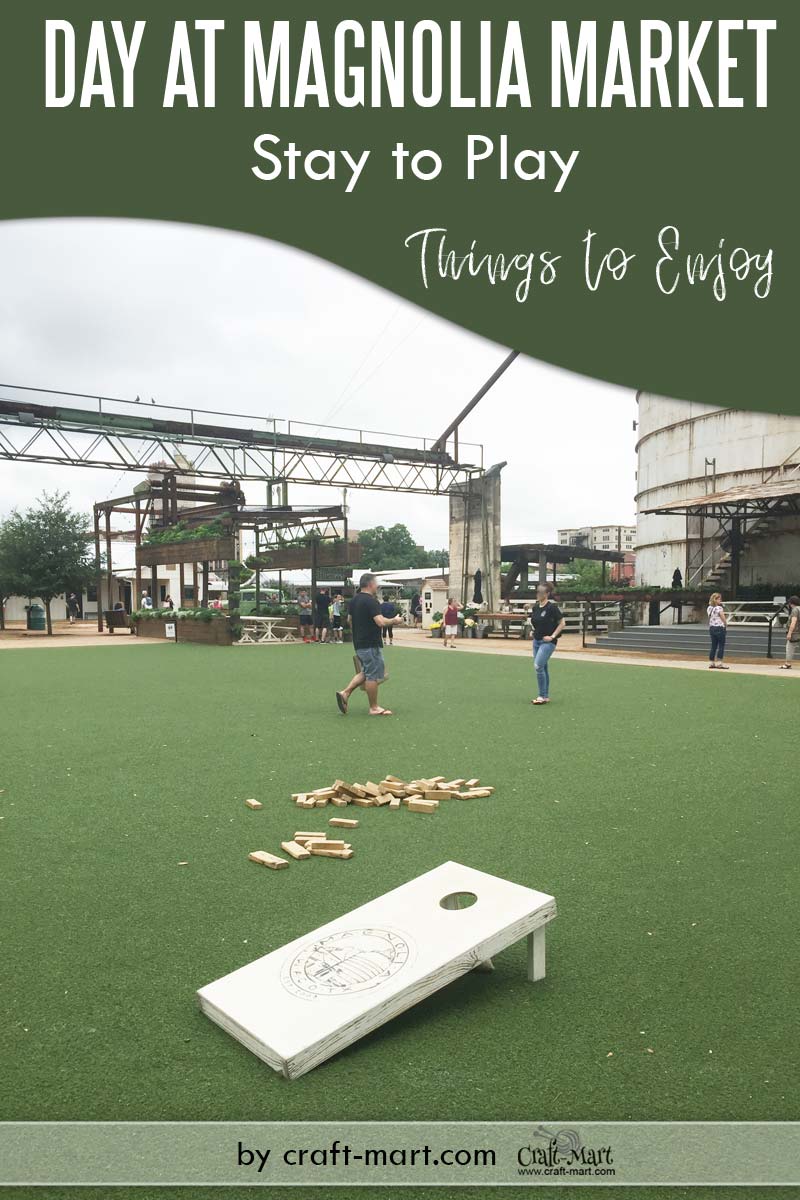 11. Take lots of pictures
Certainly, there are plenty of photo opportunities throughout the Magnolia Market and Silos ground. Indeed, you can always spot someone taking a selfie (and posting it with the hashtag #milestomagnoliamarket)!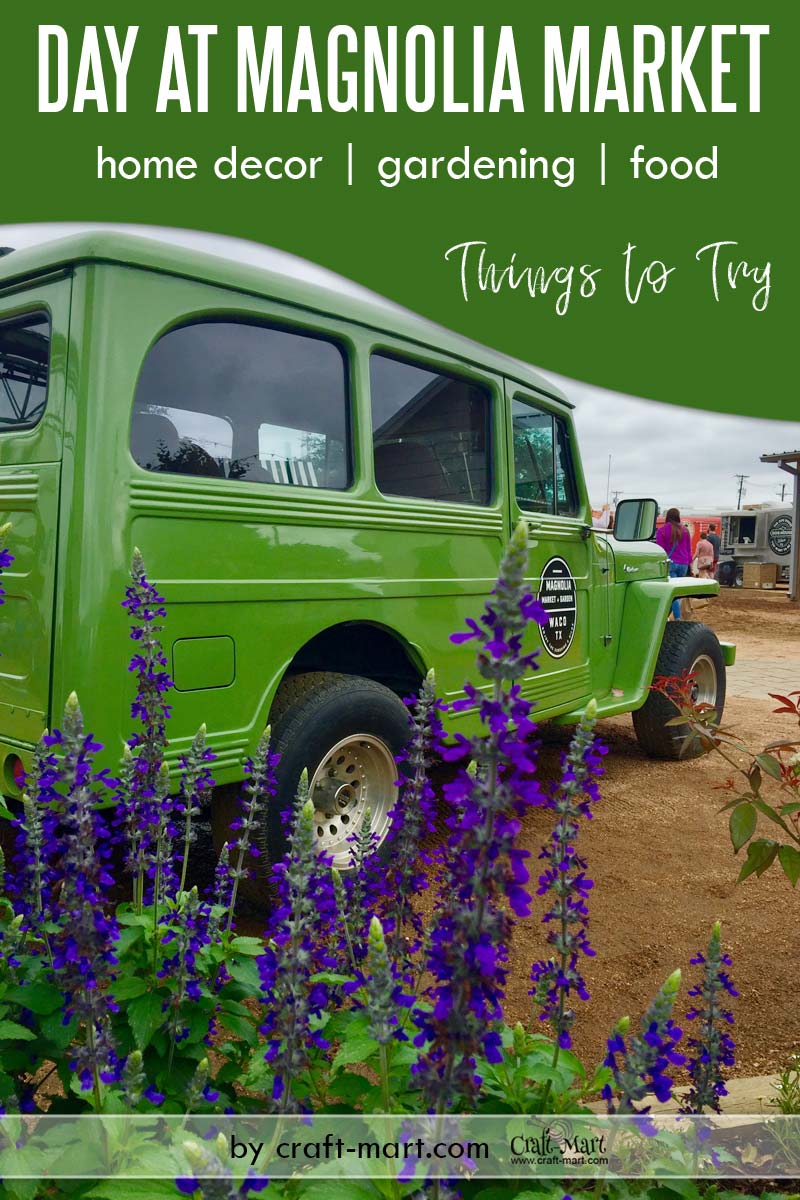 In conclusion, it was amazing to see how the vision of two creative talented people put Waco on a global map. Consequently, modern farmhouse decor became a popular trend for interior designers, home decorators, and DIY enthusiasts.
Obviously, the whole city benefits from that wave of interest as well. As a result of its growing popularity, Magnolia Market Silos employ a lot of friendly enthusiastic young people who are ready to help you, answer your questions, and make the visit as enjoyable as possible.
Definity worth a trip!