Easy crochet baby blanket patterns are easy to find on the web but some of them don't come with free patterns. Most importantly, even free patterns come with complicated instructions that you will never finish your project on time.
So, we searched for the best modern, easy, and free crochet baby blanket patterns to give you plenty of choices for a project that you can easily crochet in a weekend.
Whether you are a seasoned crochet aficionado or just a beginner, these free crochet baby blanket patterns will give you plenty of guidelines for a quick and easy project. Just pick your favorite TV show, yarn, and hook – these easy crochet projects basically crochet themselves, as they are so easy to follow.
What makes these heirloom crochet baby blanket patterns so easy that you can finish them in a weekend?
They use basic baby blanket crochet stitches that are so easy for beginners;
These crochet patterns may use chunky yarn and bigger hook sizes so you can crochet a baby blanket very fast;
These easy baby blanket crochet patterns are mostly a repeat of the same crochet stitch;
They are so easy to crochet as you mostly repeat the same row throughout your crochet project;
You don't have to worry about crocheting a baby blanket border (or it is an easy one);
All these free crochet baby blanket patterns come with step-by-step instructions that are easy to follow;
You can quickly learn how to crochet a baby blanket (even if it is your first one!) with photo & video tutorials.
Pattern #1: Moss Stitch Woodland Easy Crochet Baby Blanket
This easy crochet pattern uses a moss stitch and is an easy repeat of the same stitch and same row throughout the whole project. Crochet moss stitch is so easy for beginners!
As a matter of fact, you alternate single crochet and chain stitches and crochet into chain spaces – super easy!
Check out our video tutorial on how to crochet a baby blanket using moss stitch:
It is a great free pattern to match modern farmhouse decor or woodland-style nursery. You can modify it by using a big skein of yarn in the same color if you don't want to deal with changing colors or weaving in the tail ends, though this stitch accentuates the colors creating beautiful woven fabric.
Quick and easy free crochet baby blanket pattern!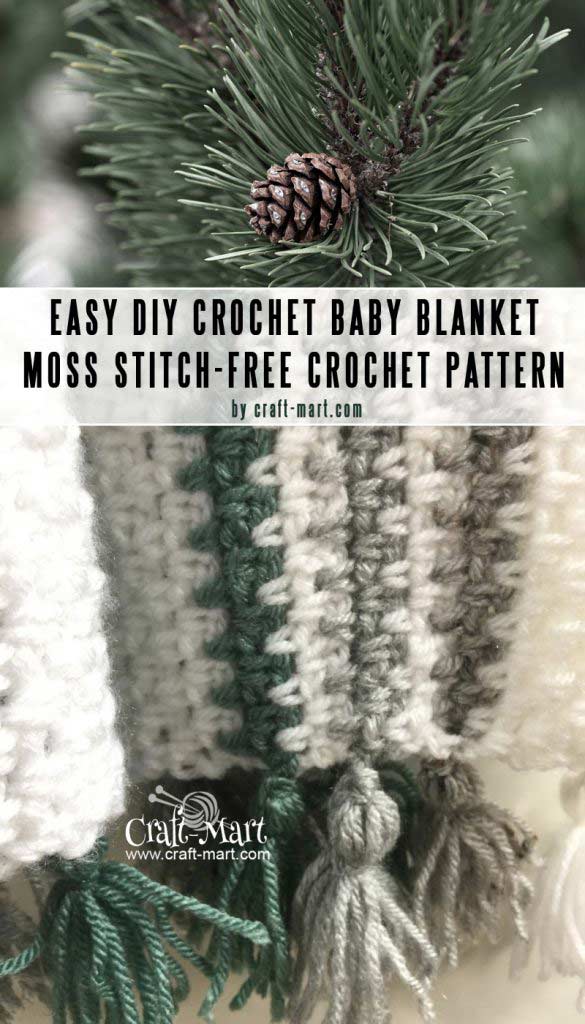 Pattern #2: Simple Crocheted Blanket
This easy baby blanket crochet pattern by MamaInAStitch uses blanket stitch – how appropriate! When you try it, you'll not be surprised by the name – it truly reflects the essence of the stitch.
While creating a dense fabric, the blanket stitch is a quick and easy repeat of the basic crochet stitches. Beyond that, it allows you to relax and crochet in peace while multitasking (and watching a good movie, for example).
For a small Baby Blanket (size 30″ x 30″) you would use 4 skeins of Lion Brand Wool-Ease Chunky yarn in Silver Grey (140 g/skein) or comparable chunky yarn if wool is not your cup of coffee (this free crochet baby blanket pattern uses ~ 557 grams).
What is great about this pattern is that it gives you directions for a throw as well if you just want to crochet something other than a DIY baby blanket. With a short video tutorial and simple step-by-step instructions, this crochet baby blanket pattern for beginners is a breeze of fresh air!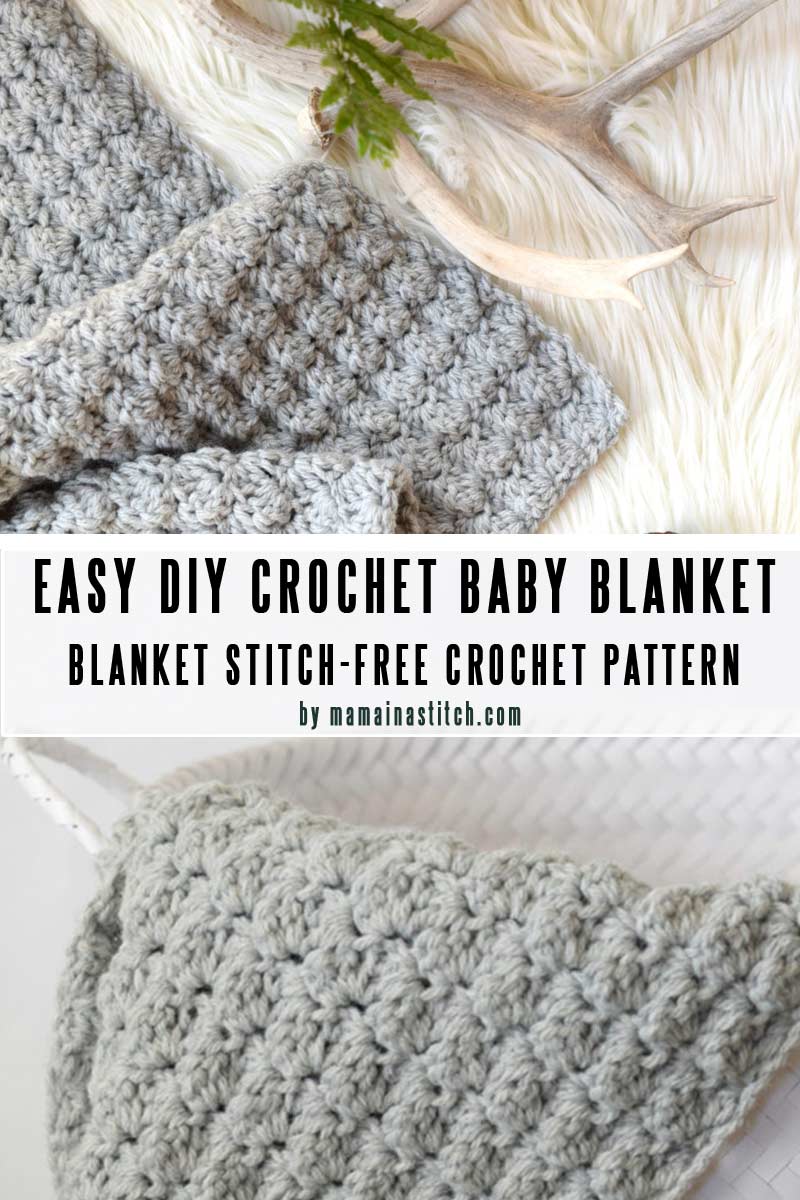 Pattern #3: Crochet Blanket Done-In-A-Day
You'll be amazed how quickly you can finish this blanket – the title says it all. As long as you can chain and double crochet, this DIY crochet pattern is for you, especially if you are in a hurry to finish your baby blanket in time for the baby to arrive or as a special gift for the next baby shower.
We love the freshness and bold contrast of the colors used in the original pattern created by Jamey, a self-described creative adventurer behind dabblesandbabbles.com but you can always customize this pattern to match your nursery decor and color palette.
According to the notes, it takes only 24 hours, size 5 bulky weight yarn and a U.S. L/8.00mm hook to whip up this gorgeous 32″ x 32″ crochet baby blanket that will be cherished for years to come.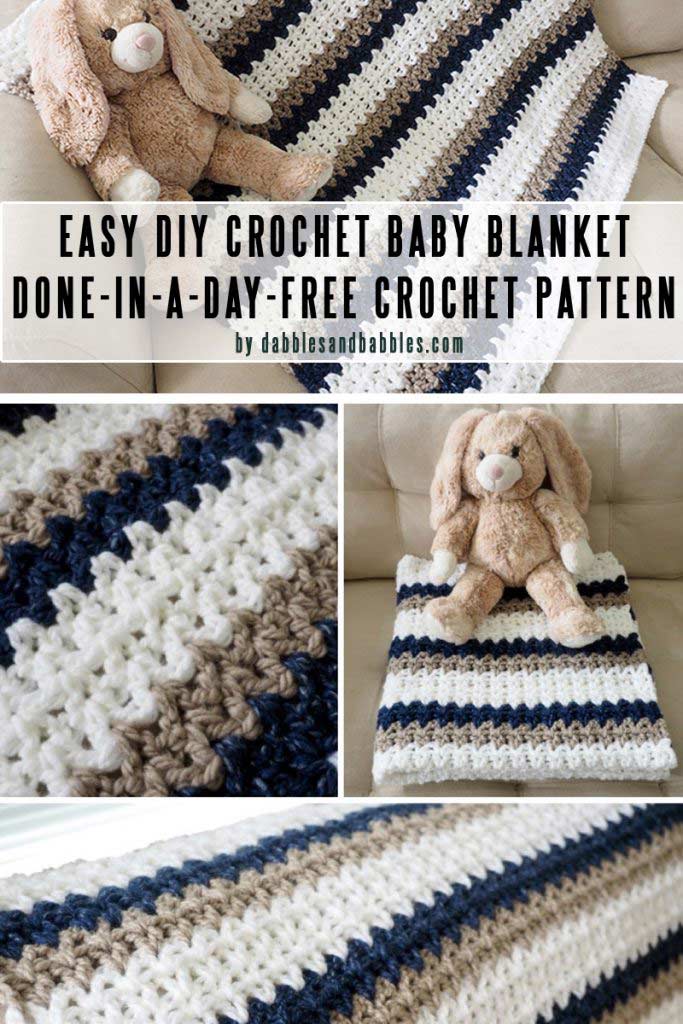 Pattern #4: Easiest Baby Blanket EVER!
We had so much fun crocheting this blanket – it turned out to be the softest, cuddliest, DIY crochet blanket ever made. Unfortunately, the yarn used for the project has been discontinued but you can easily substitute this yarn for any bulky weight yarn (5) and use the same pattern, even if you are an absolute beginner in crochet and this is your very first project.
What makes this baby blanket so easy to make? There is no counting, no complicated pattern to follow: just chain the necessary amount of stitches and then repeat the same stitch over and over again until your blanket reaches the desired length.
Check out our video tutorial for this easiest crochet baby blanket:
Super easy and fun! Follow our step-by-step crochet tutorial to master a very easy ribbed half double crochet stitch (we promise, it sounds more complicated than it is!) and crochet the easiest baby blanket ever!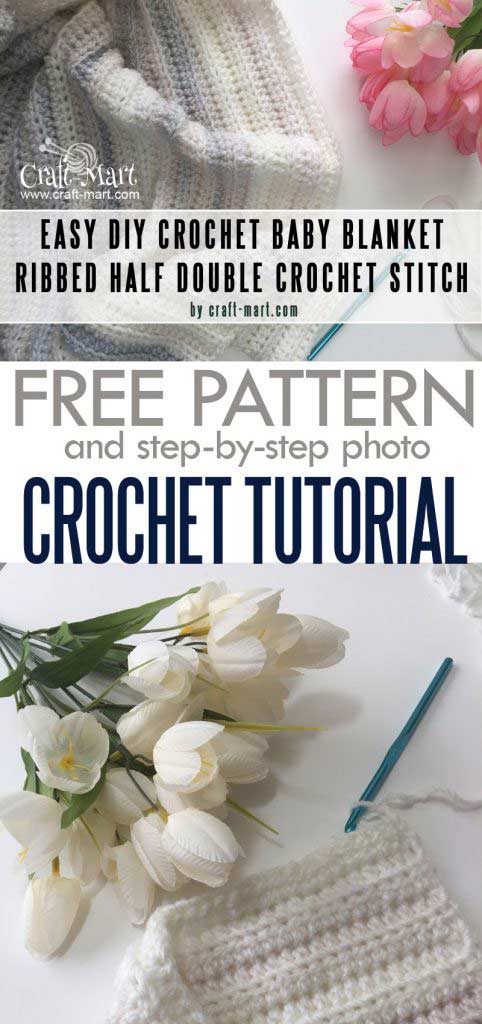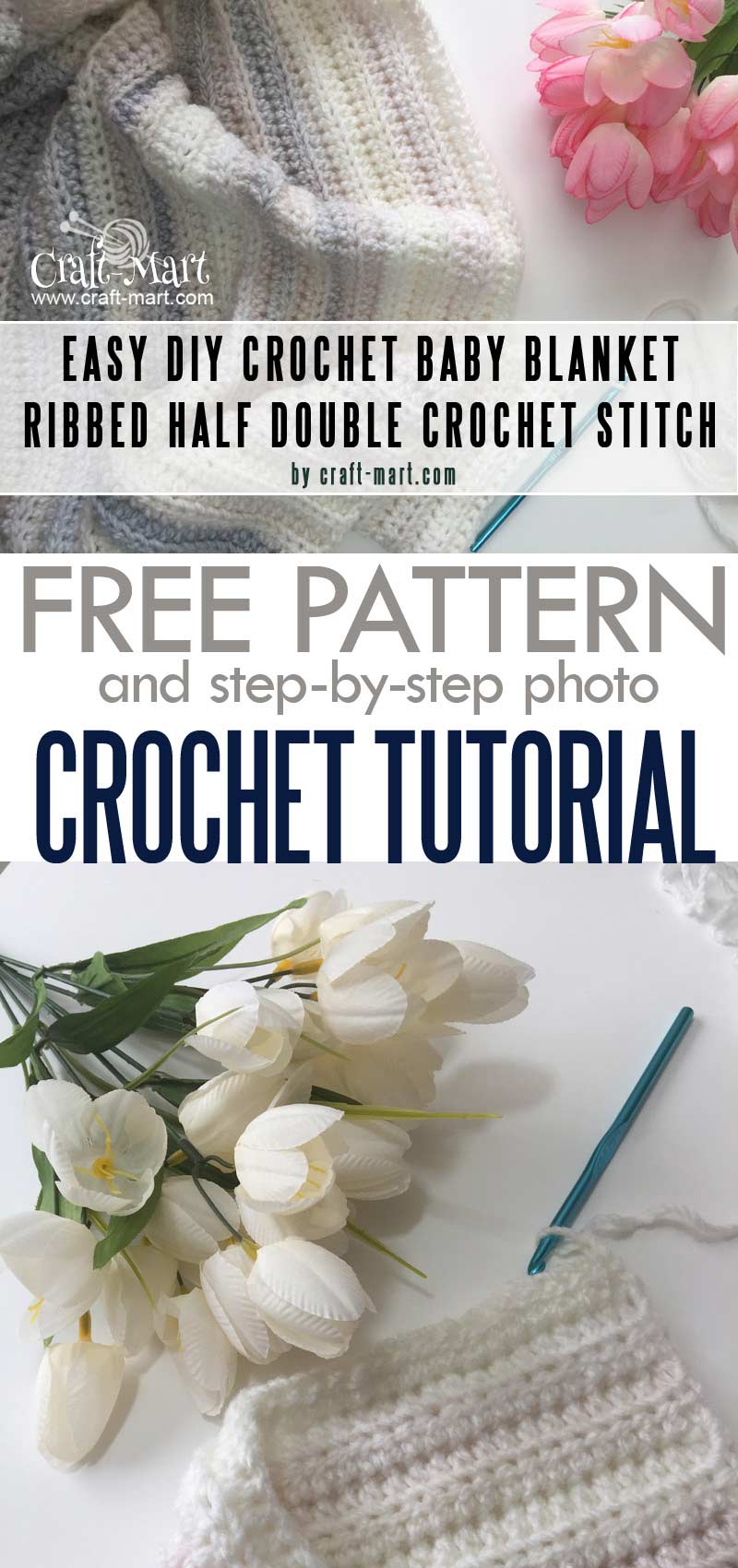 Source: Easiest Crochet Baby Blanket by craft-mart.com
Pattern #5: Modern Double Crochet V-Stitch Blanket
What a lovely blanket made with double crochet V stitch which is a beginner-friendly crochet stitch, once you've mastered the basics. The colors look so fresh and modern, while white brings out all other colors and makes this crochet baby blanket festive yet neutral.
There is a free pattern by DaisyFarmCrafts with notes and easy-to-follow instructions. This crochet blanket is made with the yarn that is readily available in many stores and is not likely to be discontinued: you would need 4 skeins total for this crochet project in Caron Simply Soft (2 skeins in White, 1 skein in Light Country Blue, and 1 skein in Gray Heather) to crochet 34 in. x 38 in. baby blanket.
Of course, you can always pick your own colors to match your nursery decor.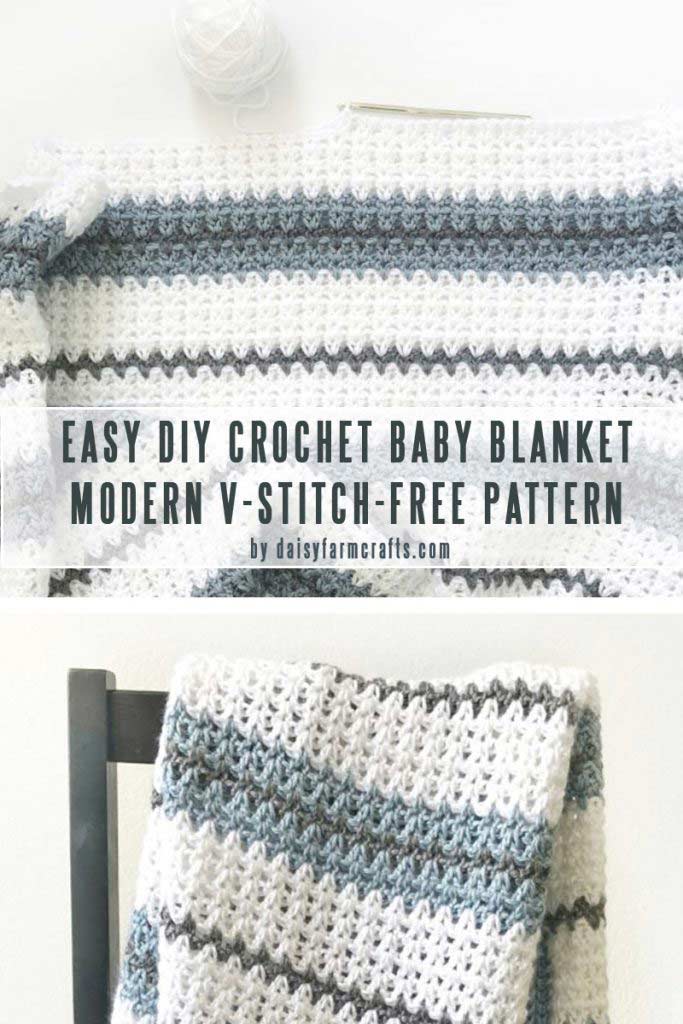 Easy Crochet Blanket Pattern #6: The Alpine Baby Blanket Pattern
This beautiful pattern was inspired by the tranquility which comes after spending time in the woods. So, with those factors in mind, the Alpine Crochet Baby Blanket was born. This beginner blanket stitch looks more difficult than it actually is but after watching a great video tutorial you can easily master Front Post Double Crochet stitch. Love the clarity of that tutorial!
Per the designer, the pattern will look great no matter what yarn you'll use, so you can experiment with your favorite crochet yarns to create this lovely baby blanket. There are several photos on the website from people who tried the pattern in different colors.
The size can be also easily adjusted – just chain multiples of seven. Enjoy!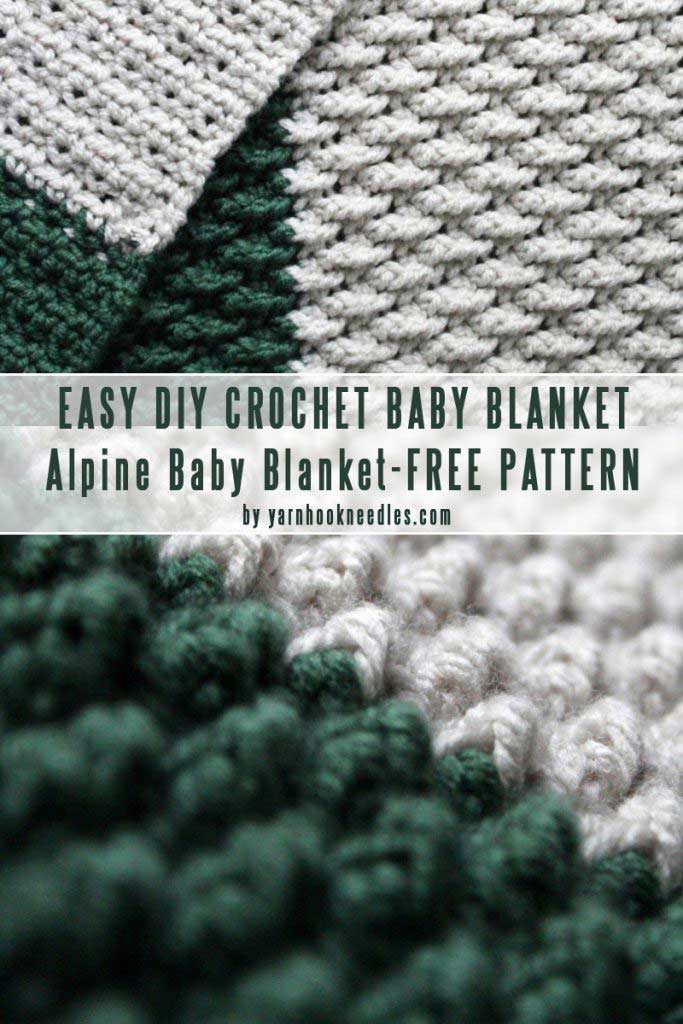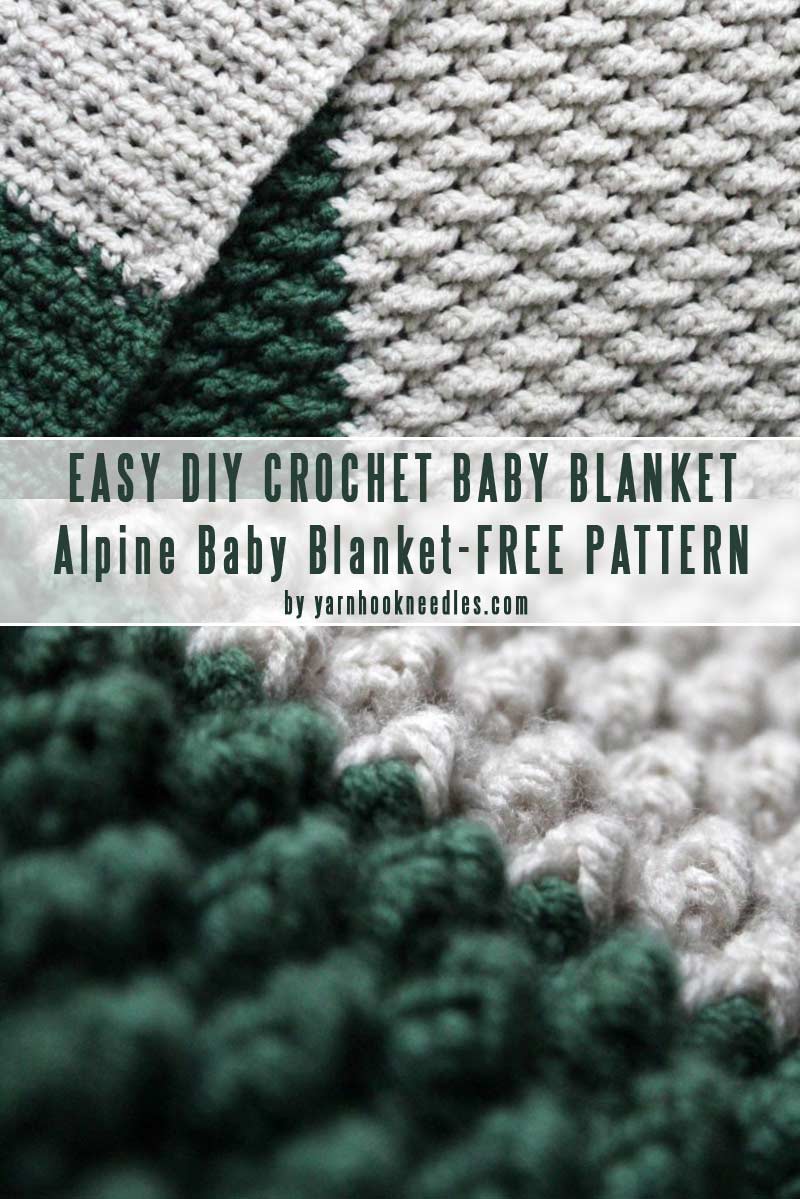 Pattern #7: Fast and Easy Crochet Blanket
It is crocheted with a super-easy stitch;
Working with thicker yarn is quick and forgiving, even if you make mistakes;
You don't have to worry about changing colors, cutting yarn, or weaving in the ends (favorite thing for all crochet lovers, right), as you carry the yarn over on the side;
It has a great tutorial which makes it very clear to understand and follow directions;
If you can chain, double crochet, and repeat you can easily make it: the pattern uses clusters – a grouping of 2 or 3 double crochet stitches.
The yarn used for this quick and easy DIY crochet blanket is Lion Brand Baby Soft Boucle and Mandala Baby yarn (you crochet with 2 strings). They both come in so many amazing colors, so you can really make any version of your crochet baby blanket: for a girl, a boy, or gender-neutral.
Sometimes, parents decide to be surprised about the gender of the baby, but you need to get started on that baby blanket before the bundle of joy arrives!)
Are you looking for a fantastic baby shower gift that will be cherished for years? No doubt, DIY crochet baby blanket!
What do we love about this free crochet pattern?
The sharp contrast of white and color makes it look fresh, yet self-striping Mandala yarn gives it a nice ombre effect (without changing colors, may we remind!) White Baby Soft Boucle makes it so soft & cuddly – enjoy crocheting this goodness!
Pattern #8: Ripple Waves Crochet Blanket
This soft blanket will surely earn you waves of compliments, featuring the popular feather and fan stitch, in a shimmery finish. You would need Bernat Baby Coordinates yarn in baby blue, white, and soft grey (1 ball of each) and a size U.S. G/6 (4 mm) crochet hook.
It is a quick and easy free pattern by Yarnspirations with a free PDF download, so you can print it out and easily crochet in a weekend. The approximate finished size of this crochet blanket is 30″ x 38″ but it will really depend on your personal style of crochet, so do a practice swatch to check your gauge.
It is nice to know that Bernat Baby Coordinates yarn is OEKO-TEX Standard 100 certified, so you know it's always safe for your baby.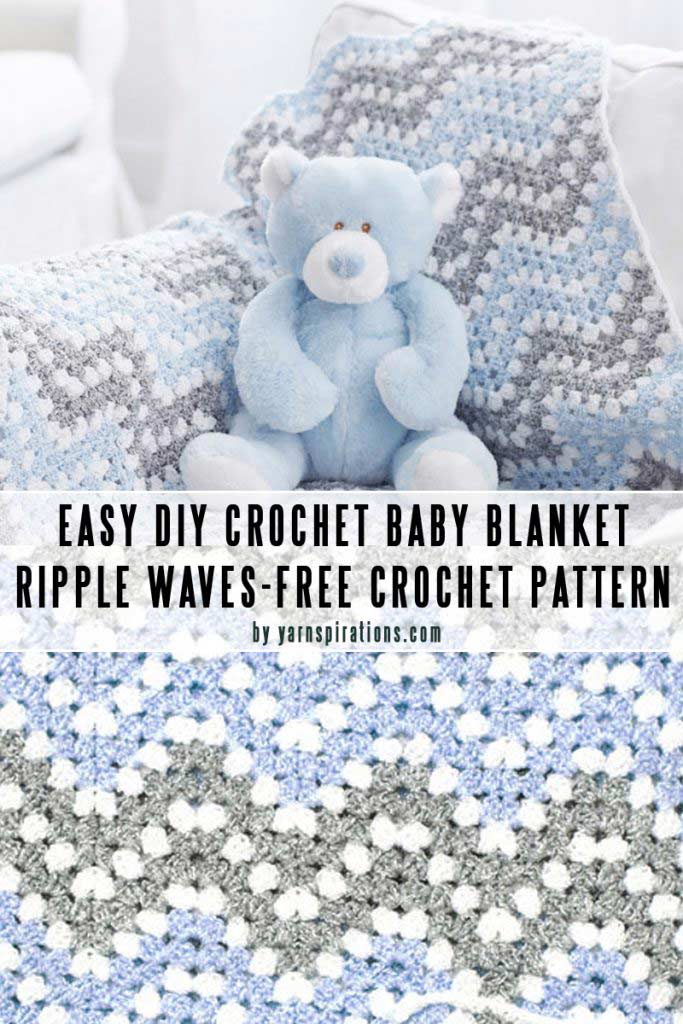 Pattern #9: Chunky Pom-Pom Blanket
With 6 skeins of Bernat Blanket yarn (antique white for the sample), you can create this chunky goodness to match any nursery or home decor. With only two stitches in this free crochet pattern by DaisyFarmCrafts, you will get a nice braid look across your blanket fabric.
Half double crochet, back loop only, slip stitch is a mouthful but after watching a great (and short) video tutorial you will easily master this stitch, even if you are a beginner. It is a great basic crochet stitch to have in your toolbox.
With 6 skeins of Bernat Blanket yarn and a size M hook, you can crochet a nice size blanket. The finished size of 60″ x 40″ makes a toddler blanket (or a nice living room throw for a quick afternoon nap).
That's why we love antique white color as it is so neutral that it will go nicely with any type of decor. Furthermore, it is perfect for rustic modern farmhouse or French Country interior design.
Did we mention fun pom poms? Fast and easy, this DIY crochet blanket is a delight to create with thick and forgiving Bernat Blanket yarn that is soft, chunky, and doesn't shed.
Though pop poms will require a good shaking after you shape them. Love it!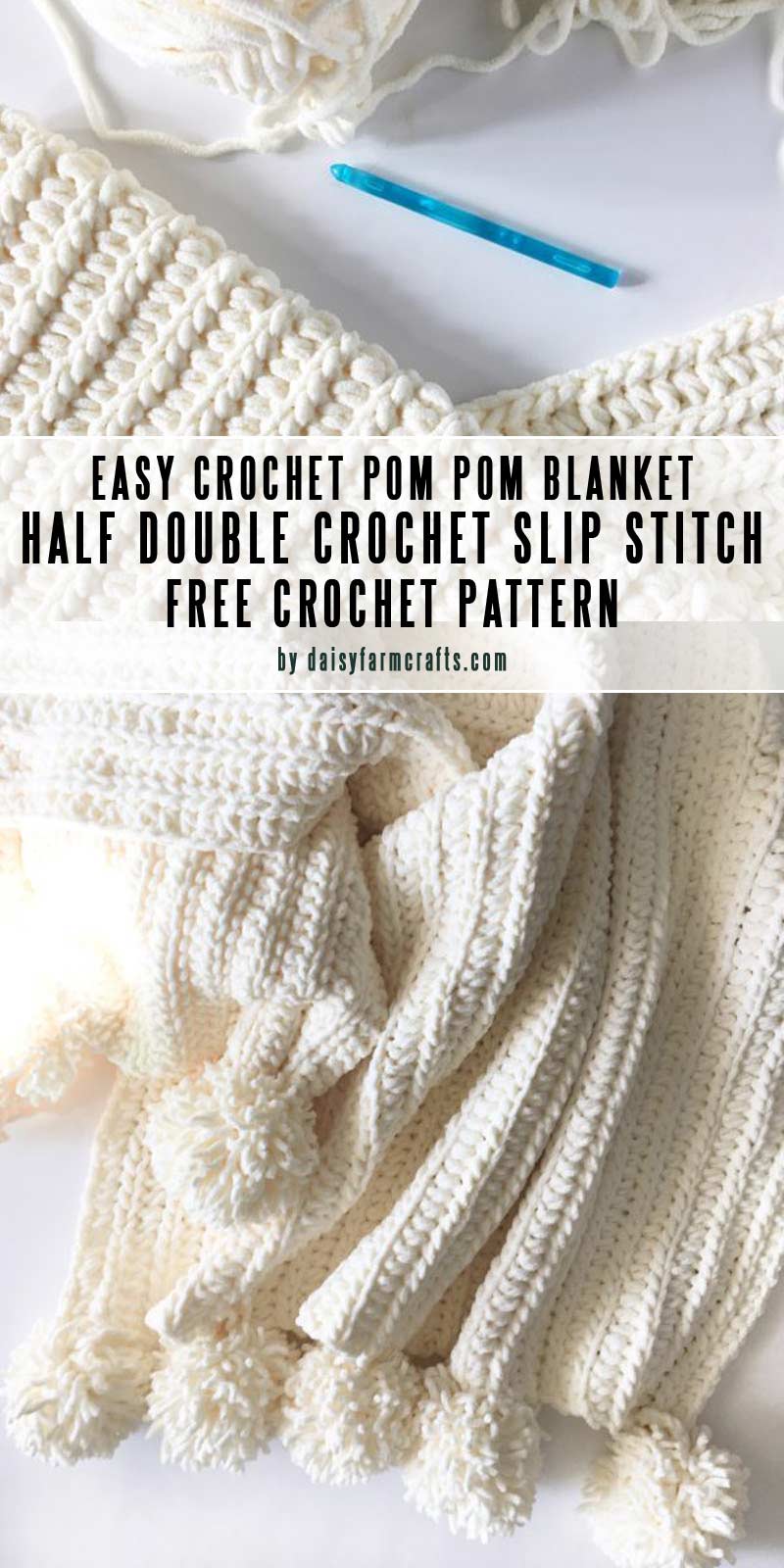 Pattern #10: Soft Clouds 3-hour blanket
If you want to learn how to crochet a baby blanket, look no further. This DIY baby blanket pattern is so easy, that an absolute crochet beginner can whip it up in a few hours.
Bernat Baby Mix yarn is delightfully chunky and easy to work with.
Most importantly, our clear step-by-step tutorial makes this easy crochet pattern one of the easiest in this collection. With a simple repeat of just 2 basic crochet stitches, you can have a beautiful blanket for gift-giving in just a few hours.
Perfect for a baby shower or a new family member as a thoughtful hand-made gift!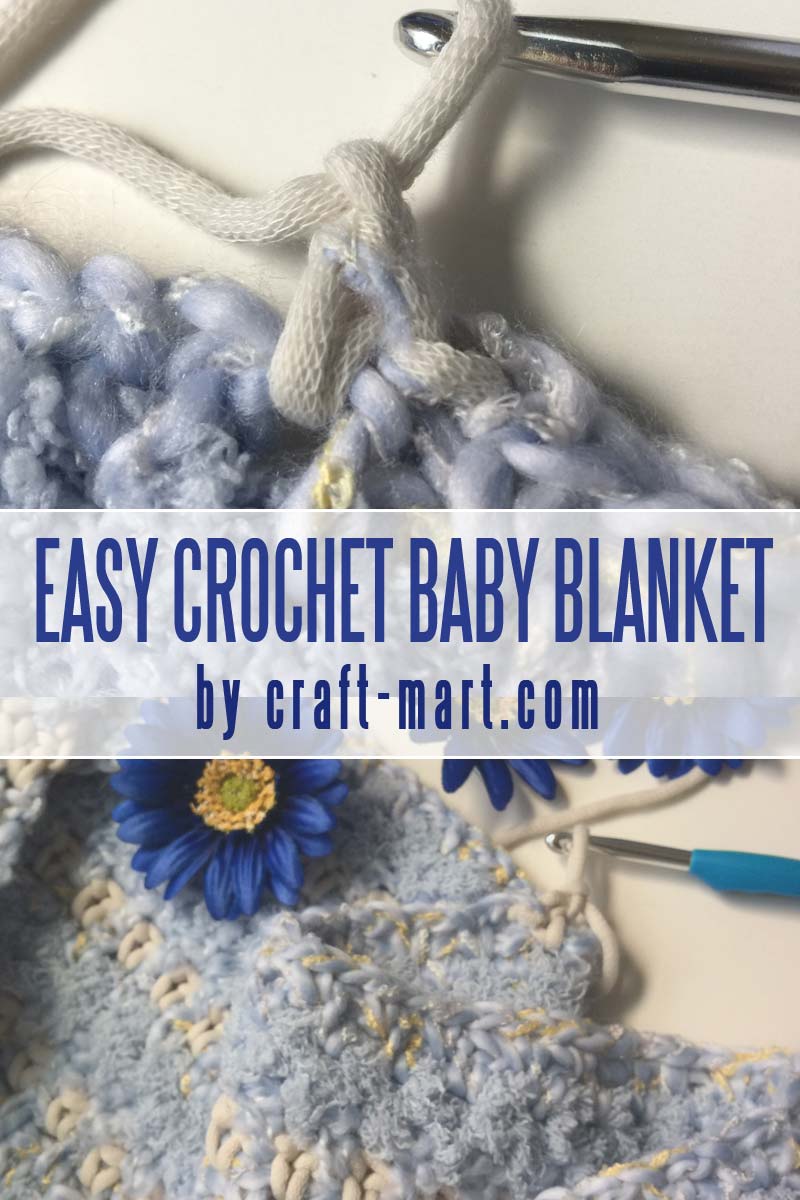 Looking for more free crochet patterns?
Check out 10 BEST CROCHET BABY BLANKETS FOR BEGINNERS – you'll find a plethora of timeless heirloom crochet baby blanket patterns you would want to try!
Here are some more easy crochet patterns for you to try:
Easy Crochet Projects for Spring and Summer
Learn to Crochet: Fast Treble Crochet Scarf
Learn to Crochet: crossed double crochet tutorial
How to Crochet V-Stitch Blanket
Caroline Crochet Baby Blanket (easy crochet blanket tutorial)
Capri Summer Crochet Triangle Scarf – FREE CROCHET PATTERN