With more and more tiny home designs coming out in recent years and especially A-frame house plans, there is still a shortage of floorplans available for purchase for people who'd prefer a DIY approach instead of getting a prefab cabin kit from a local construction company.
Luckily, there is a new cool company called Den Outdoors that recently started producing outstanding and affordable floorplans for small homes, cabins, and even tiny cabin kits that are getting super popular in the US.
Naturally, the cost to build a cabin is one of the most important questions everyone is asking before considering the DIY route. With so many variables involved, it is almost impossible to give a precise estimate, especially when lumber prices went up 170% in some regions in a matter of weeks.
However, we may try to establish an average construction cost that can give a general idea that buying a floor plan and building a small cabin is going to save you money.
So, what's the average cost to build a cabin?
Currently, the national average is close to $153 per square foot. So, for a 400 SQ FT cabin, it gives you $61,200 (labor included). Doing some work on your own can reduce the cost a bit but there are a few things that may help even more than putting your sweat equity into the project.
One of them would be using the standard building components like doors, windows, cabinetry, etc. which can save a lot of money instead of ordering more expensive custom ones. In addition to that, all standard cabinet sizes are either 24″, 30″, or 36″ wide. The reserved spaces for appliances are also of standard sizes.
Keep in mind that the cost of the land, furniture, appliances, and fixtures are normally excluded from the average cost per SQ FT.
What is included in Den's small cabin plans packages?
Each floorplan comes with a comprehensive list of materials to save you time and effort in figuring out what you'll need to buy to build your small house or cabin.
All plans contain at least 12 pages of very detailed drawings that should make the building process as easy as it can be for the DIY assembly.
Most of the floorplans include
foundation plan,
roof framing plan,
building elevations,
build section(s),
construction details (like specific flashing installation),
window and door schedules,
interior elevations and details (like cabinetry installation),
fastener schedules,
code-compliant electrical plan + HVAC.
What exactly are the types of floorplans that Den Outdoors currently offers to the customers?
A-frame house plans of different sizes from 415 SQ FT up to 2146 SQ FT;
Small cabin plans that can be used for building a granny flat house or a tiny vacation place;
Barnhouse plans featuring popular modern barndominium designs;
The sauna and washroom plans;
196 sq ft. (14′ length x 14′ width)
$25,704 Cost to build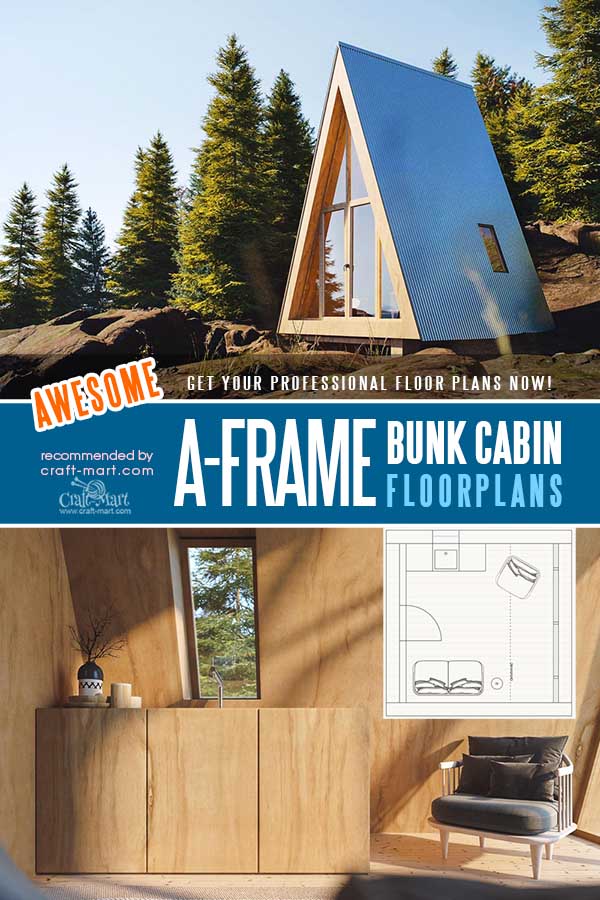 We start reviewing Den Outdoors' cabin and house floorplans with the basic A-frame design that is also one of the most popular among DIY enthusiasts. Sporting a huge floor-to-ceiling front facade window with french doors, these A-frame cabin plans are super easy to understand and implement for any DIY beginner.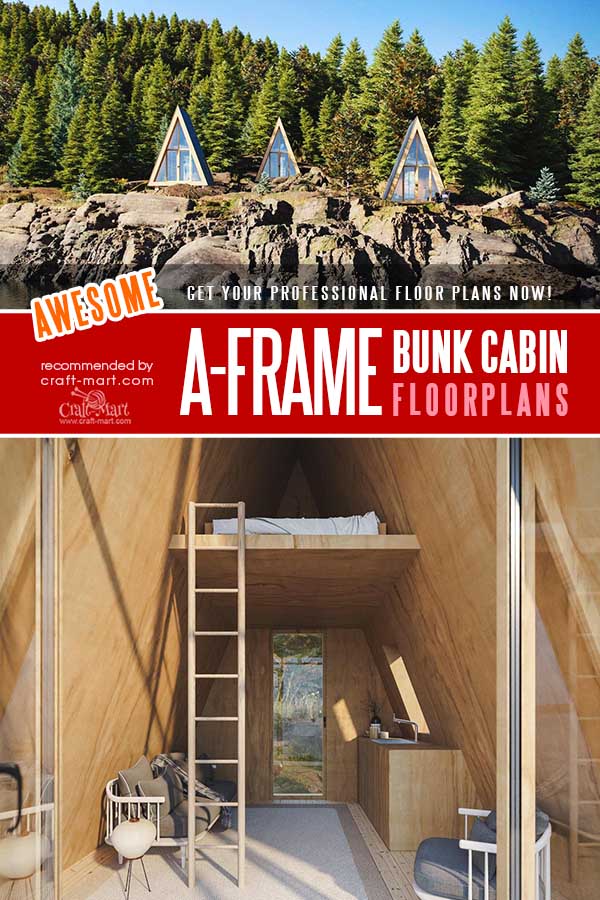 A small sleeping loft has enough room for 2 people while the ground level provides plenty of space for daily activities. An optional kitchenette can be added on the back as well as a tiny bathroom (not shown). Can this A-frame cabin be assembled somewhere and then transported on a trailer to the final destination? Unfortunately, the maximum allowed width of a trailer is 8.5 feet and this cabin has a 14′ x 14′ footprint.
Well, you'll be wise to find a piece of land first, get all the permits, and then purchase these plans like dozens of other DIYers did!
270 sq ft. (18′ length x 14′ width)
$41,310 Cost to build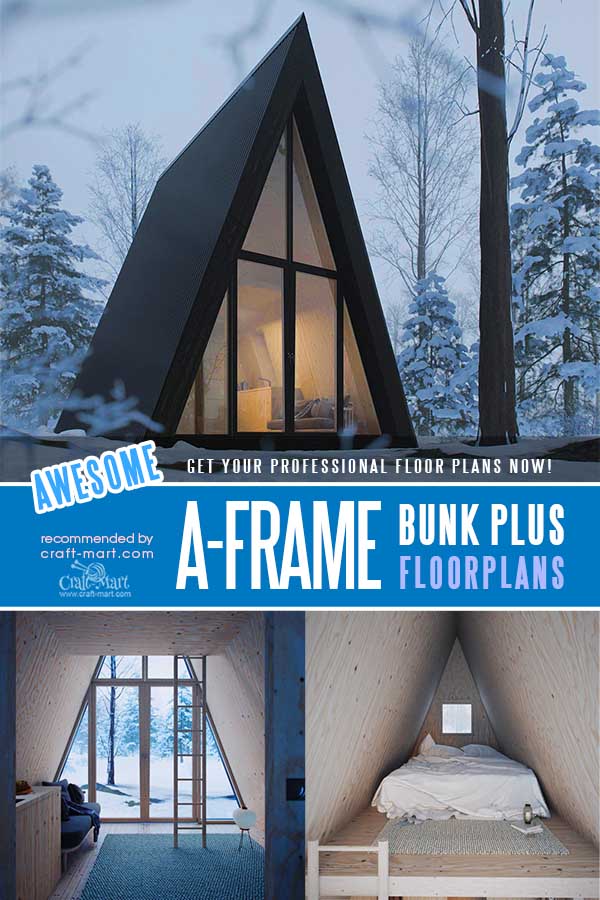 Virtually similar to the previous A-frame design, this cabin has one important addition – the bathroom! Many will be happy with a composting toilet and a sink but a number of people would want a shower as well.
If you can figure out how to get water to your cabin, there is definitely enough room for a small shower on the opposite side of the bathroom.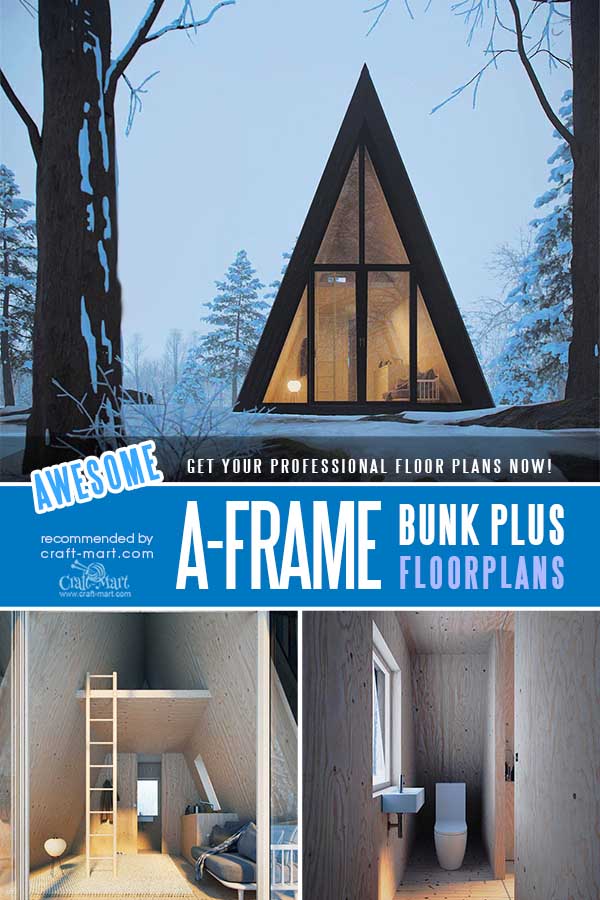 The loft also got an extension above the bathroom, so the extra space can be used for storage. Also, you can simply move it towards the back and enjoy your high-ceiling living room during the day.
With this bathroom addition, your cabin can easily fit 4 people. Is it a worthy upgrade from the previous Bunk cabin model? We say definitely yes!
Get your Bunk Plus plans and start building your perfect vacation A-frame cabin!
415 sq ft. (28′ length x 14′ width)
$63,495 Cost to build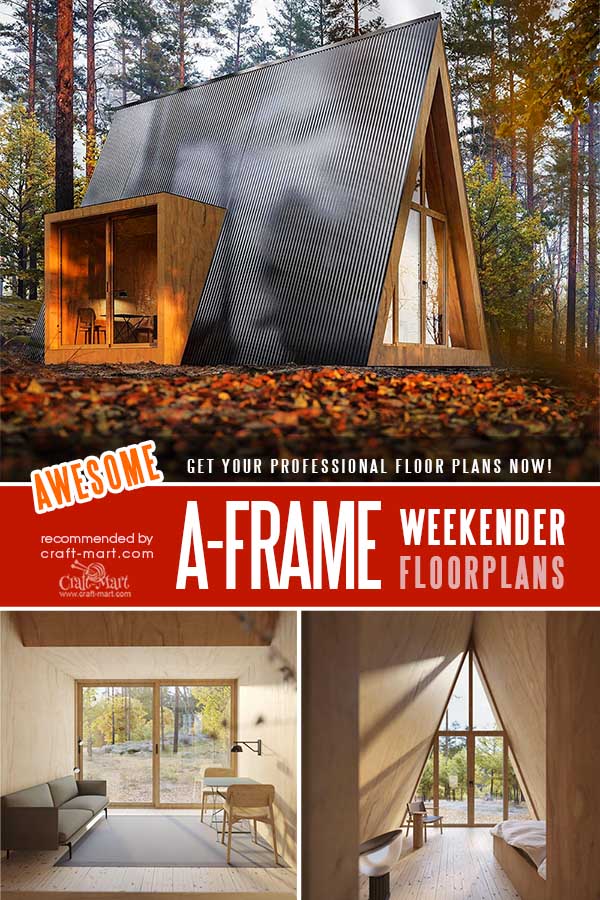 What will happen if you add 10 more feet to the length of the Bunk Plus cabin? You'll have enough space not only for a small kitchen but also for a master bedroom downstairs.
Consequently, your tiny A-frame cabin suddenly became a small house where you and your friends can feel comfortable spending a few days enjoying nature.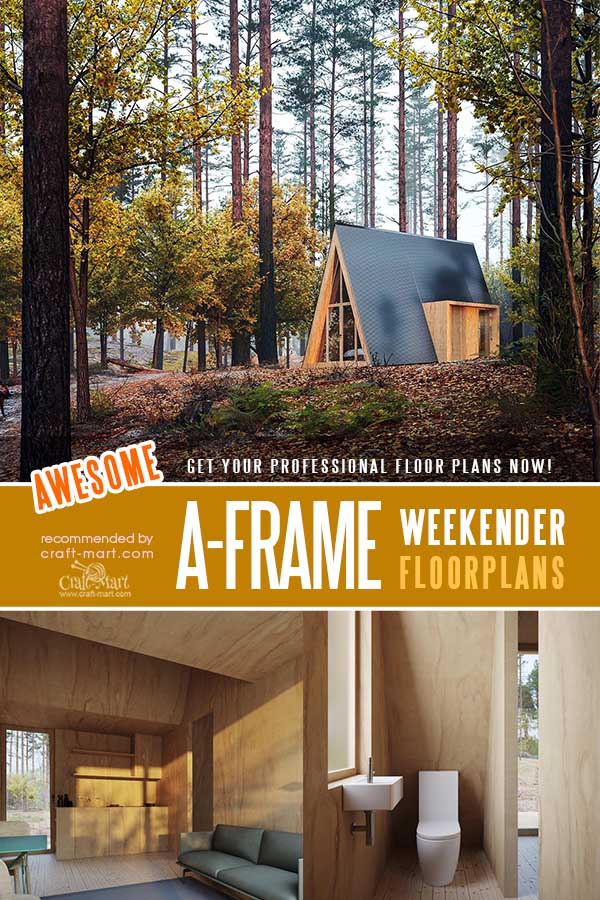 This A-frame design is a bit too big for some of the DIY beginners, so be ready to hire professional help.
Can your cost to build be reduced in this case? Your best bet would be to substitute more expensive building materials for cheaper alternatives. You can also search for less expensive standard appliances and fixtures.
Remember, the estimated cost to build is not true for many regions where you may still find much cheaper lumber and affordable construction labor.
Keep in mind, this cabin can be used as a granny pod as well. It is a single-level dwelling that is perfect for elderly parents.
Get your Weekender A-frame cabin plans here!
800 sq ft. (28′ length x 24′ width)
$122,400 Cost to build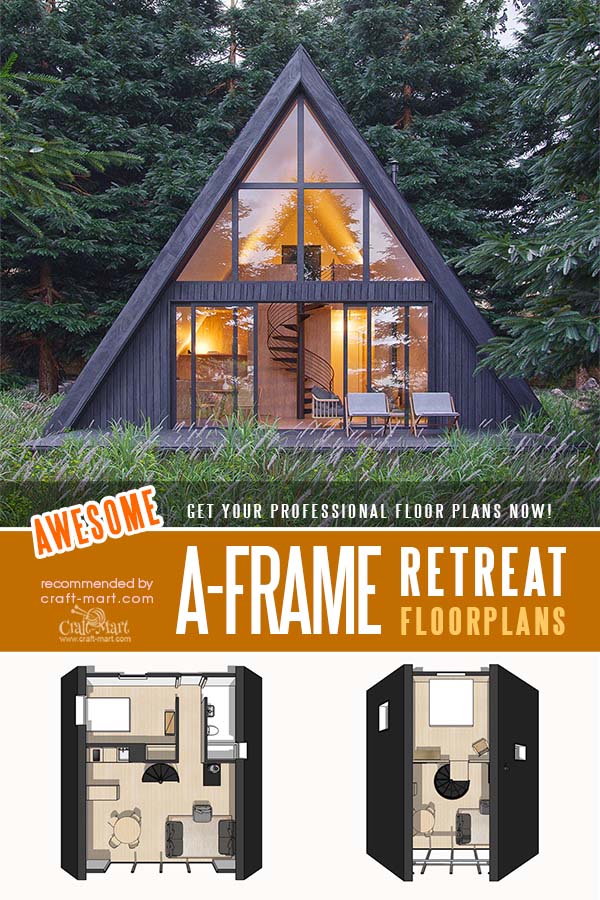 This is actually a really nice house where a family of 3 or 4 can comfortably live all year around. With a sizable living/kitchen area, this A-frame even offers a large deck to connect indoors and outdoors.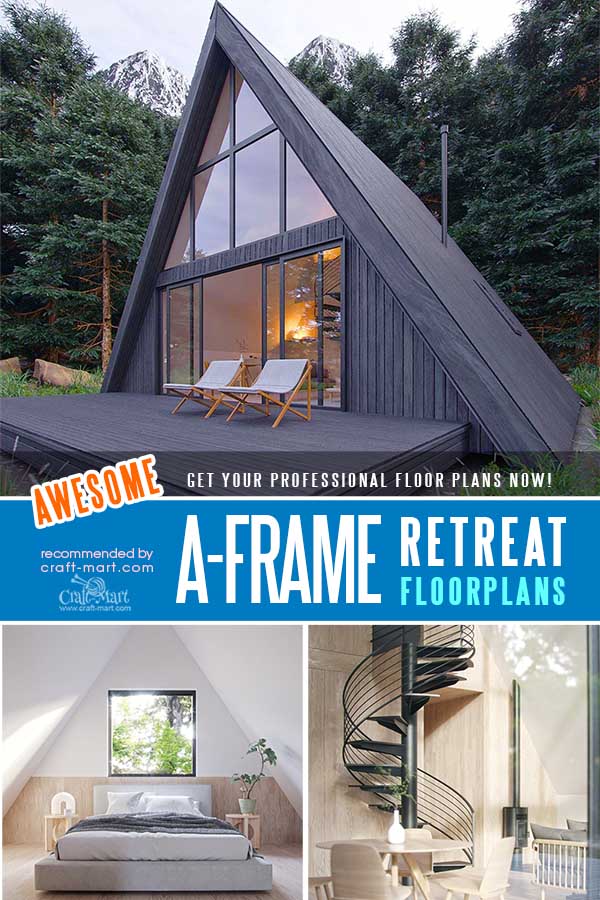 A beautiful modern spiral staircase is definitely an eye-catching feature. We think that it would be worth its price. The bedroom on the loft is large and has plenty of light and headroom.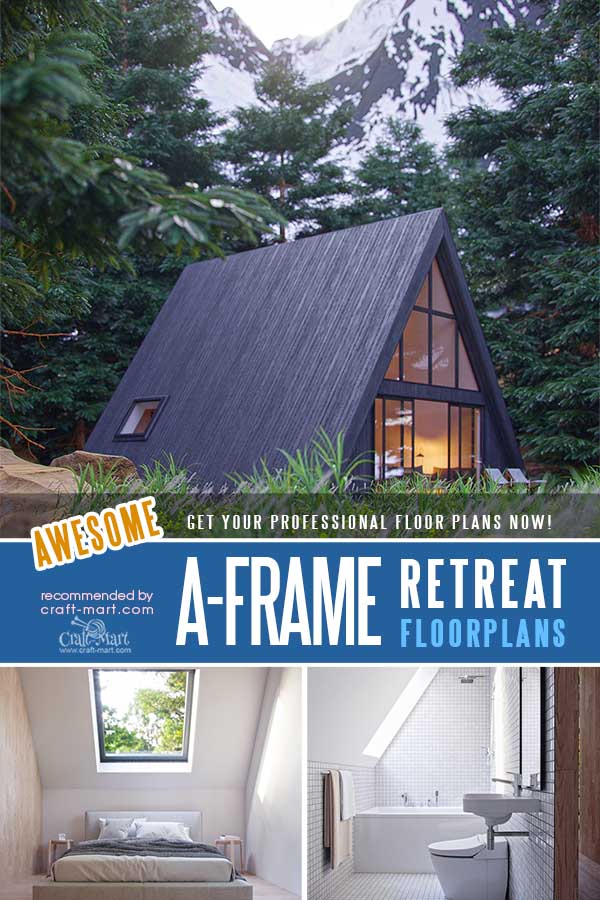 Imagine taking a bath while looking at a beautiful sunset. You'll have your own retreat to unwind and it will look awesome.
Get these A-frame house plans here.
1000 sq ft. (28′ length x 32′ width)
$153,000 Cost to build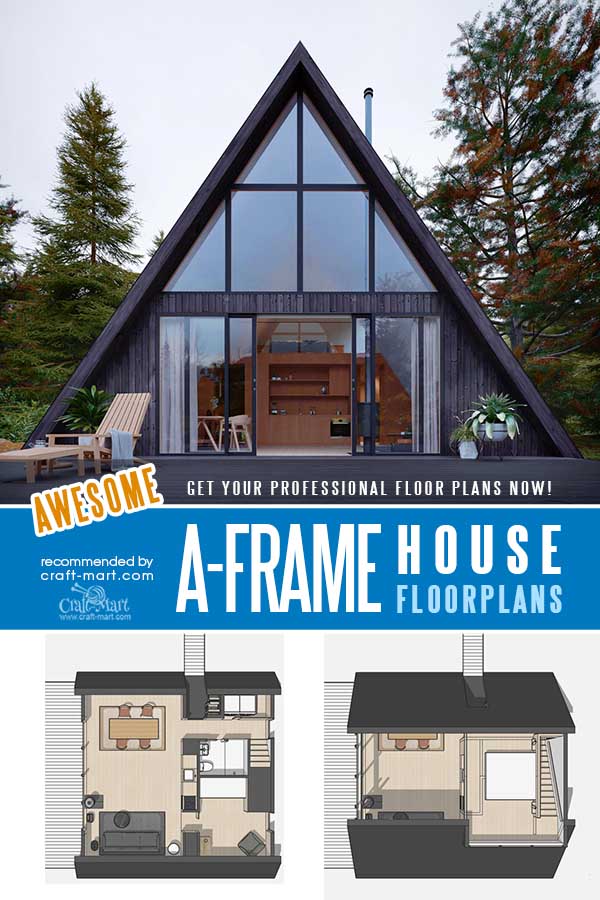 If you had any doubts about fitting a family of 4 into an 800 SQ FT house, here is a larger version that is designed to accommodate 4 people plus 1-2 occasional guests. The master bedroom upstairs is super-spacious which is unusual for a typical A-frame house.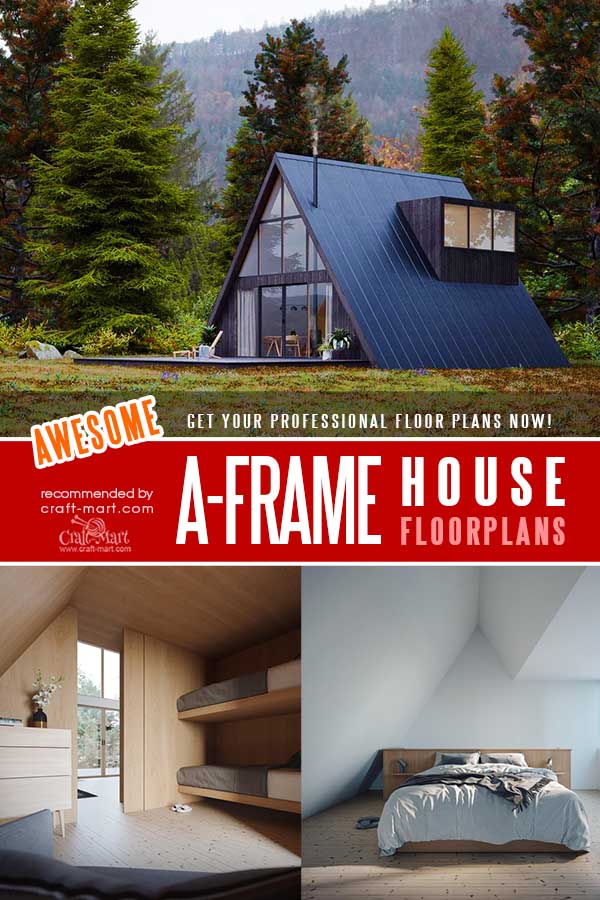 The bunk bedroom on the main floor has 2 beds for kids. There is a full kitchen, spa bathroom, and even a convertible space perfect for a laundry nook.
Similar to the previous model, the front deck extends the living space providing plenty of room for parties and other activities.