With more and more tiny home designs coming out in recent years and especially A-frame house plans, there is still a shortage of floorplans available for purchase for people who'd prefer a DIY approach instead of getting a prefab cabin kit from a local construction company.
Luckily, there is a new cool company called Den Outdoors that recently started producing outstanding and affordable floorplans for small homes, cabins, and even tiny cabin kits that are getting super popular in the US.
Naturally, the cost to build a cabin is one of the most important questions everyone is asking before considering the DIY route. With so many variables involved, it is almost impossible to give a precise estimate, especially when lumber prices went up 170% in some regions in a matter of weeks.
However, we may try to establish an average construction cost that can give a general idea that buying a floor plan and building a small cabin is going to save you money.
So, what's the average cost to build a cabin?
Currently, the national average is close to $153 per square foot. So, for a 400 SQ FT cabin, it gives you $61,200 (labor included). Doing some work on your own can reduce the cost a bit but there are a few things that may help even more than putting your sweat equity into the project.
One of them would be using the standard building components like doors, windows, cabinetry, etc. which can save a lot of money instead of ordering more expensive custom ones. In addition to that, all standard cabinet sizes are either 24″, 30″, or 36″ wide. The reserved spaces for appliances are also of standard sizes.
Keep in mind that the cost of the land, furniture, appliances, and fixtures are normally excluded from the average cost per SQ FT.
What is included in Den's small cabin plans packages?
Each floorplan comes with a comprehensive list of materials to save you time and effort in figuring out what you'll need to buy to build your small house or cabin.
All plans contain at least 12 pages of very detailed drawings that should make the building process as easy as it can be for the DIY assembly.
Most of the floorplans include
foundation plan,
roof framing plan,
building elevations,
build section(s),
construction details (like specific flashing installation),
window and door schedules,
interior elevations and details (like cabinetry installation),
fastener schedules,
code-compliant electrical plan + HVAC.
What exactly are the types of floorplans that Den Outdoors currently offers to the customers?
A-frame house plans of different sizes from 415 SQ FT up to 2146 SQ FT;
Small cabin plans that can be used for building a granny flat house or a tiny vacation place;
Barnhouse plans featuring popular modern barndominium designs;
The sauna and washroom plans;
196 sq ft. (14′ length x 14′ width)
$25,704 Cost to build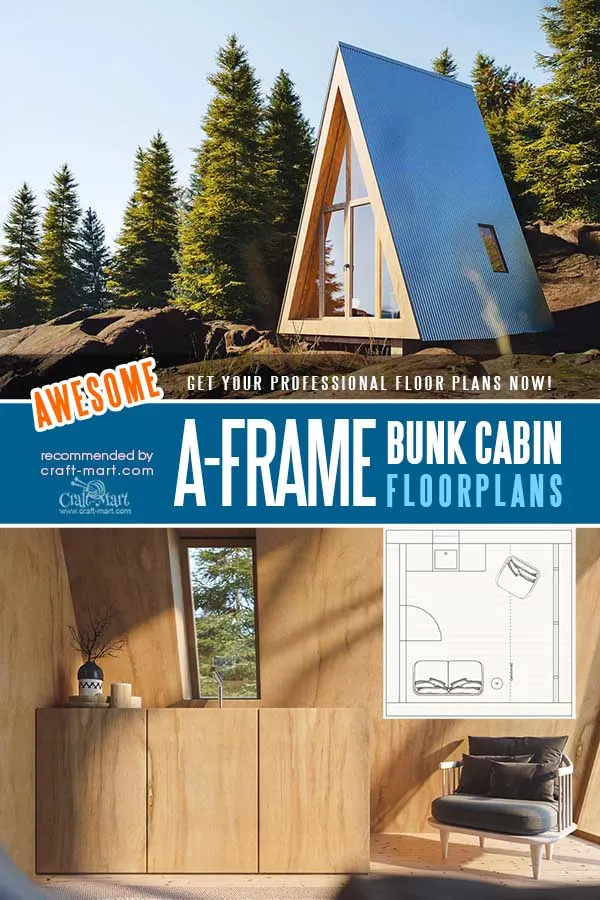 We start reviewing Den Outdoors' cabin and house floorplans with the basic A-frame design that is also one of the most popular among DIY enthusiasts. Sporting a huge floor-to-ceiling front facade window with french doors, these A-frame cabin plans are super easy to understand and implement for any DIY beginner.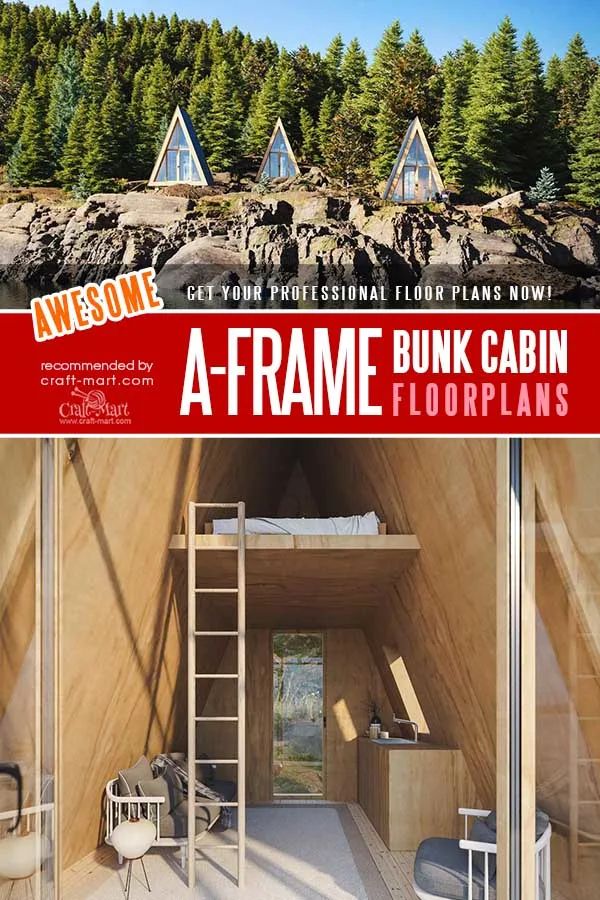 A small sleeping loft has enough room for 2 people while the ground level provides plenty of space for daily activities. An optional kitchenette can be added on the back as well as a tiny bathroom (not shown). Can this A-frame cabin be assembled somewhere and then transported on a trailer to the final destination? Unfortunately, the maximum allowed width of a trailer is 8.5 feet and this cabin has a 14′ x 14′ footprint.
Well, you'll be wise to find a piece of land first, get all the permits, and then purchase these plans like dozens of other DIYers did!
270 sq ft. (18′ length x 14′ width)
$41,310 Cost to build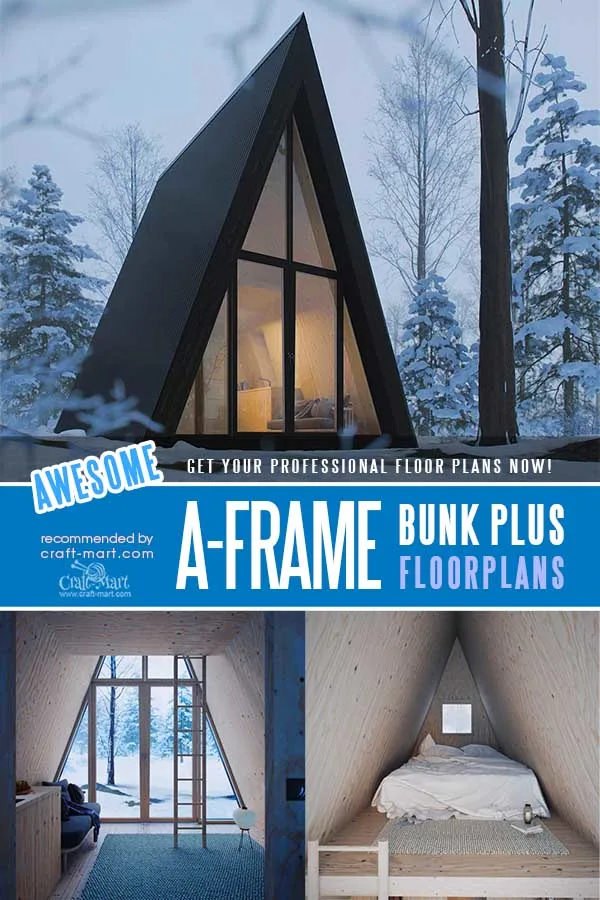 Virtually similar to the previous A-frame design, this cabin has one important addition – the bathroom! Many will be happy with a composting toilet and a sink but a number of people would want a shower as well.
If you can figure out how to get water to your cabin, there is definitely enough room for a small shower on the opposite side of the bathroom.
The loft also got an extension above the bathroom, so the extra space can be used for storage. Also, you can simply move it towards the back and enjoy your high-ceiling living room during the day.
With this bathroom addition, your cabin can easily fit 4 people. Is it a worthy upgrade from the previous Bunk cabin model? We say definitely yes!
Get your Bunk Plus plans and start building your perfect vacation A-frame cabin!
415 sq ft. (28′ length x 14′ width)
$63,495 Cost to build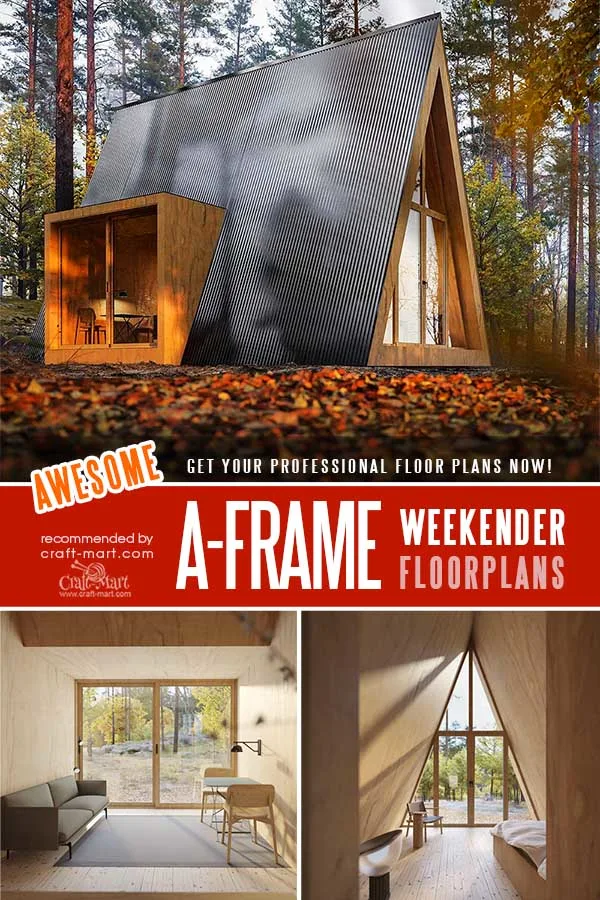 What will happen if you add 10 more feet to the length of the Bunk Plus cabin? You'll have enough space not only for a small kitchen but also for a master bedroom downstairs.
Consequently, your tiny A-frame cabin suddenly became a small house where you and your friends can feel comfortable spending a few days enjoying nature.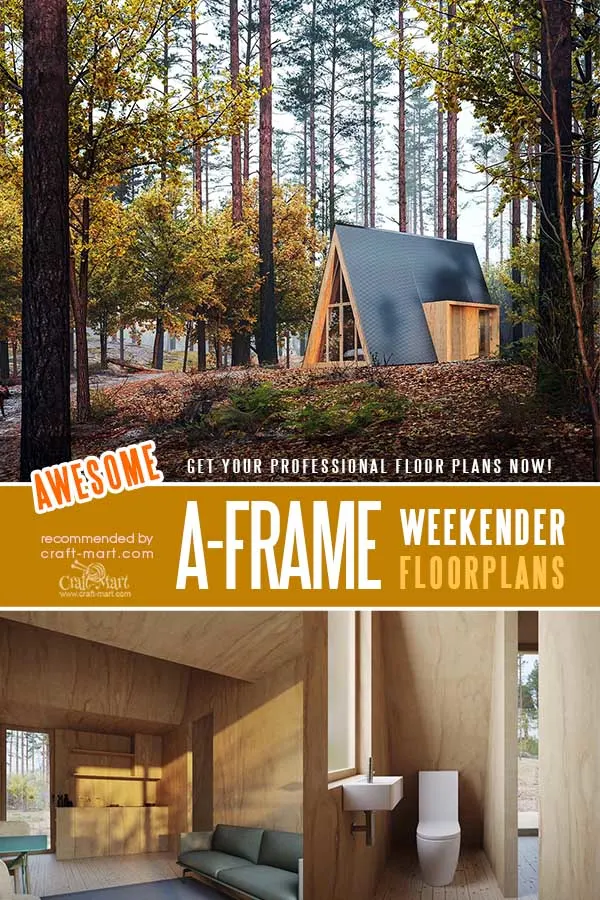 This A-frame design is a bit too big for some of the DIY beginners, so be ready to hire professional help.
Can your cost to build be reduced in this case? Your best bet would be to substitute more expensive building materials for cheaper alternatives. You can also search for less expensive standard appliances and fixtures.
Remember, the estimated cost to build is not true for many regions where you may still find much cheaper lumber and affordable construction labor.
Keep in mind, this cabin can be used as a granny pod as well. It is a single-level dwelling that is perfect for elderly parents.
Get your Weekender A-frame cabin plans here!
800 sq ft. (28′ length x 24′ width)
$122,400 Cost to build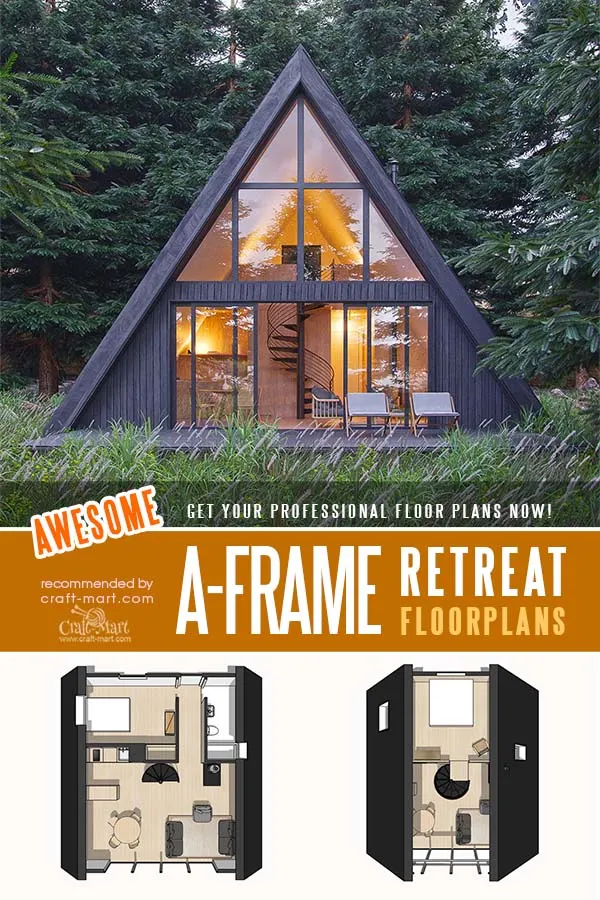 This is actually a really nice house where a family of 3 or 4 can comfortably live all year around. With a sizable living/kitchen area, this A-frame even offers a large deck to connect indoors and outdoors.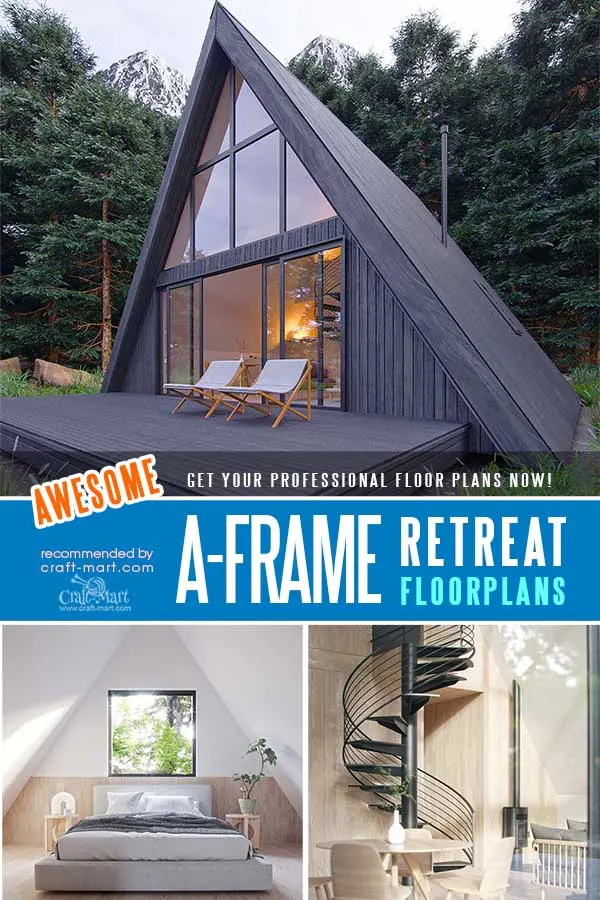 A beautiful modern spiral staircase is definitely an eye-catching feature. We think that it would be worth its price. The bedroom on the loft is large and has plenty of light and headroom.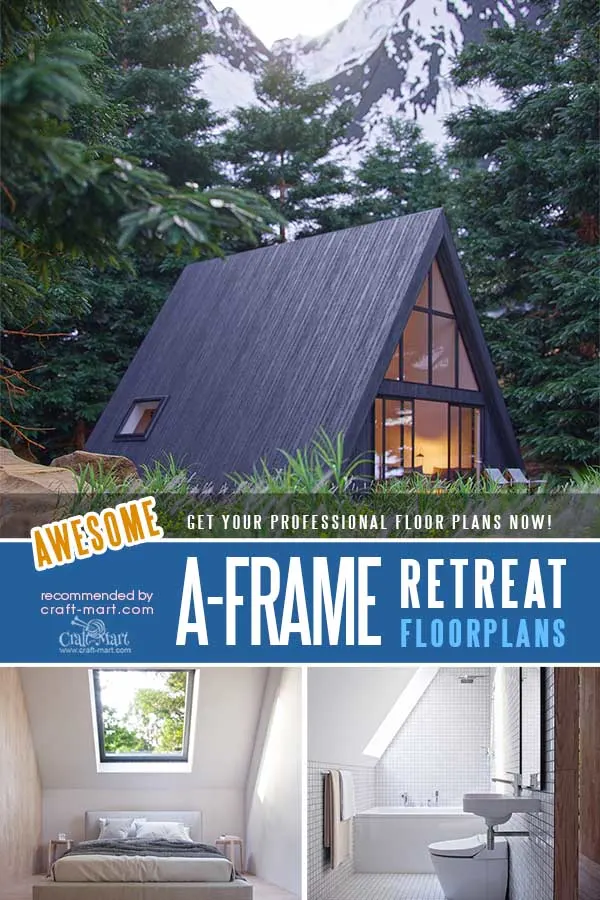 Imagine taking a bath while looking at a beautiful sunset. You'll have your own retreat to unwind and it will look awesome.
Get these A-frame house plans here.
1000 sq ft. (28′ length x 32′ width)
$153,000 Cost to build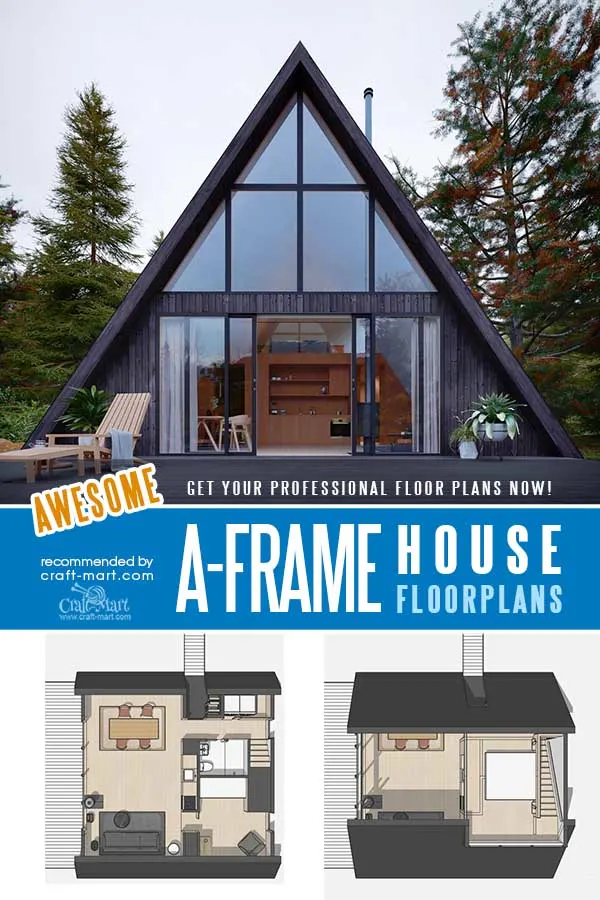 If you had any doubts about fitting a family of 4 into an 800 SQ FT house, here is a larger version that is designed to accommodate 4 people plus 1-2 occasional guests. The master bedroom upstairs is super-spacious which is unusual for a typical A-frame house.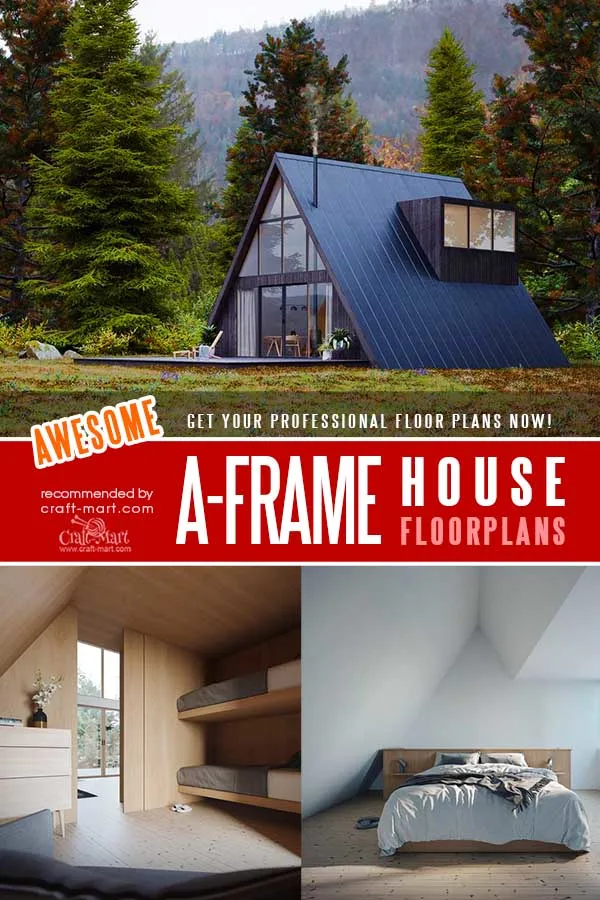 The bunk bedroom on the main floor has 2 beds for kids. There is a full kitchen, spa bathroom, and even a convertible space perfect for a laundry nook.
Similar to the previous model, the front deck extends the living space providing plenty of room for parties and other activities.
Get these nice A-frame house plans here
2146 sq ft. (56′ length x 26′ width)
$328,338 Cost to build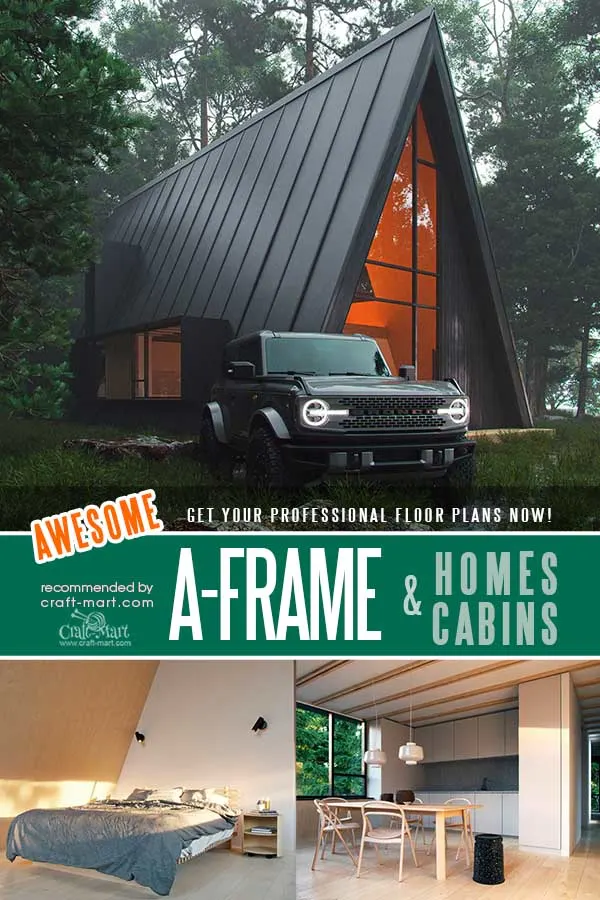 Yes, the estimated cost is pretty high for this A-frame house, but this is a real 3-bedroom house with 2 bathrooms. With plenty of natural light coming through huge windows and glass doors, your family will feel really comfortable and happy living there.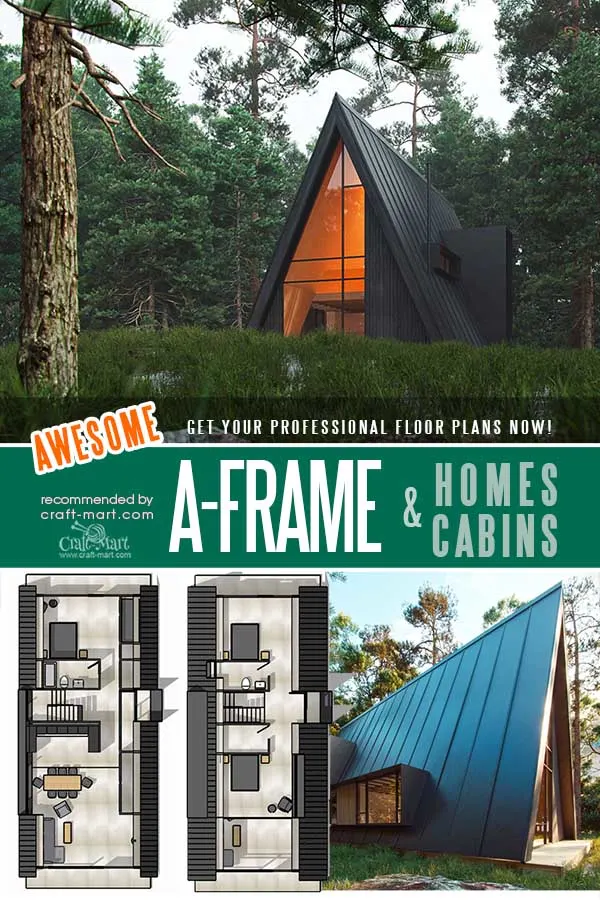 All 3 bedrooms are very spacious. The stairs leading to the 2nd level are easy to use. The whole design of the house is modern and elegant.
Considering the highly affordable cost of these A-frame house plans (2 times cheaper than any plan with similar square footage), we highly recommend going with it.
As an added benefit, a steep metal roof is easy to maintain to keep your house dry, especially if it rains a lot in your area.
Get your house plans for this stylish A-frame here
144 sq ft. (16′ length x 9′ width)
$22,032 Cost to build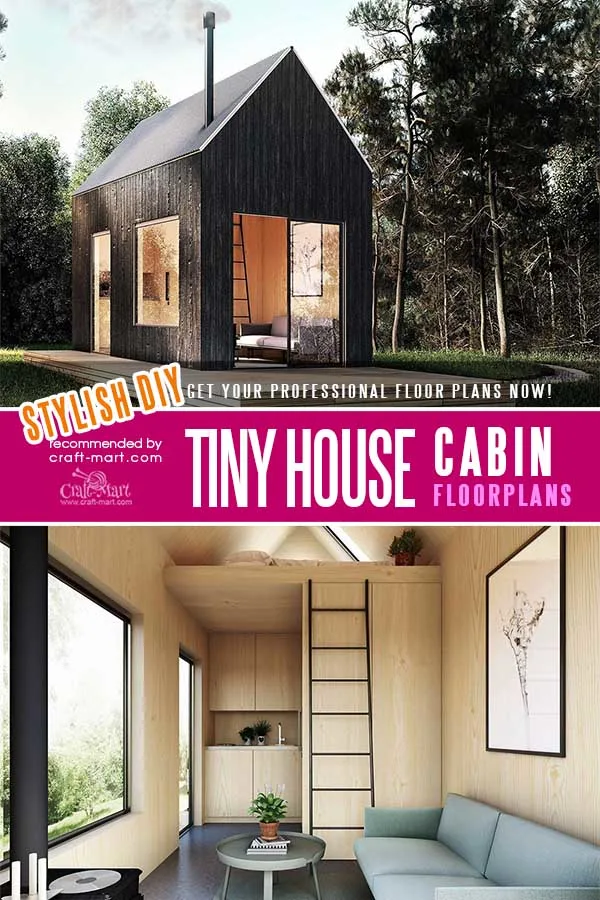 This is a perfect example of a clean and modern design that Den is becoming famous for. This model has a very distinct and pleasing gabled style roof almost 14′ high that provides a nice headroom space on the sleeping loft.
The clean modern lines of this cabin are both esthetical and energy-efficient for modern green living.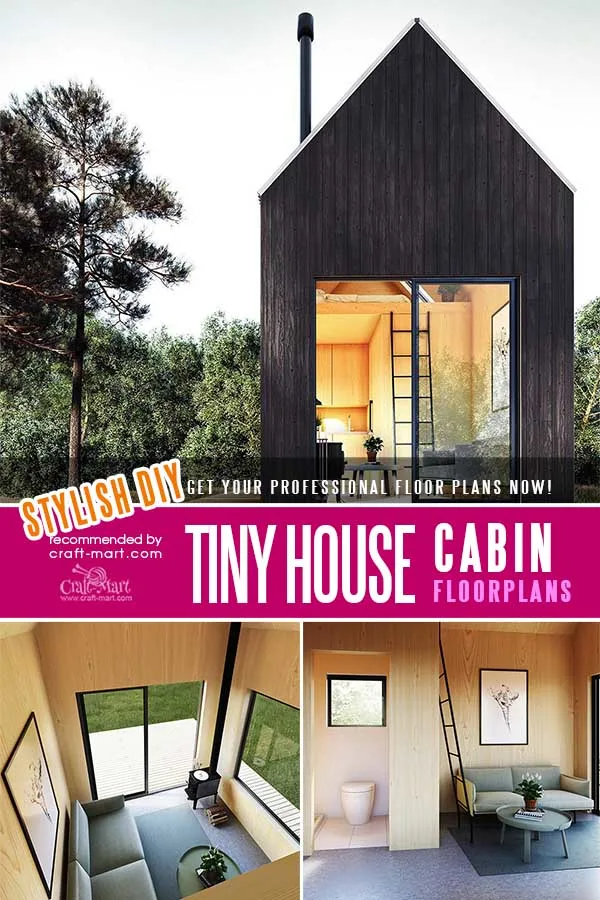 The living space is economically designed to accommodate a full bathroom, wood-burning stove, and a tiny kitchenette. Overall, this is one of the simplest designs with large windows for creating an impression of a spacious interior.
Get these tiny house cabin plans here
240 sq ft. (20′ length x 12′ width)
$36,720 Cost to build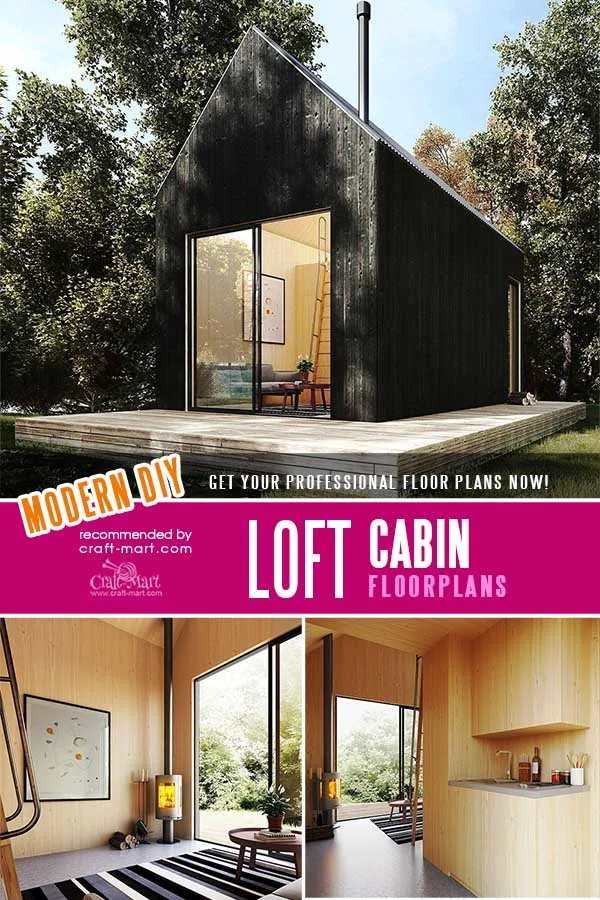 Not everyone is a fan of A-frame design. Some of us just want something simple and economical.
This cabin design delivers just that. The outside wood finish looks like Shou Sugi Ban – the ancient Japanese wood-charring technique for preserving it in a natural environmentally-friendly way.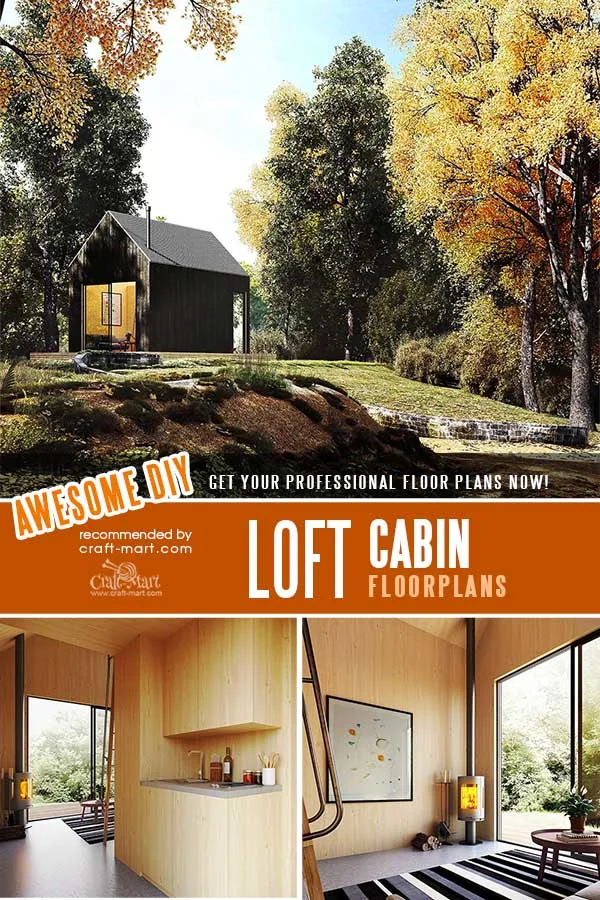 The floor plan offers a large living room, a small kitchenette, a bedroom loft, and a classic full bathroom with a tub, plus a wood-burning stove. The floor plan is super-affordable and easy to build.
448 sq ft. (13′ length x 24′ width)
$68,544 Cost to build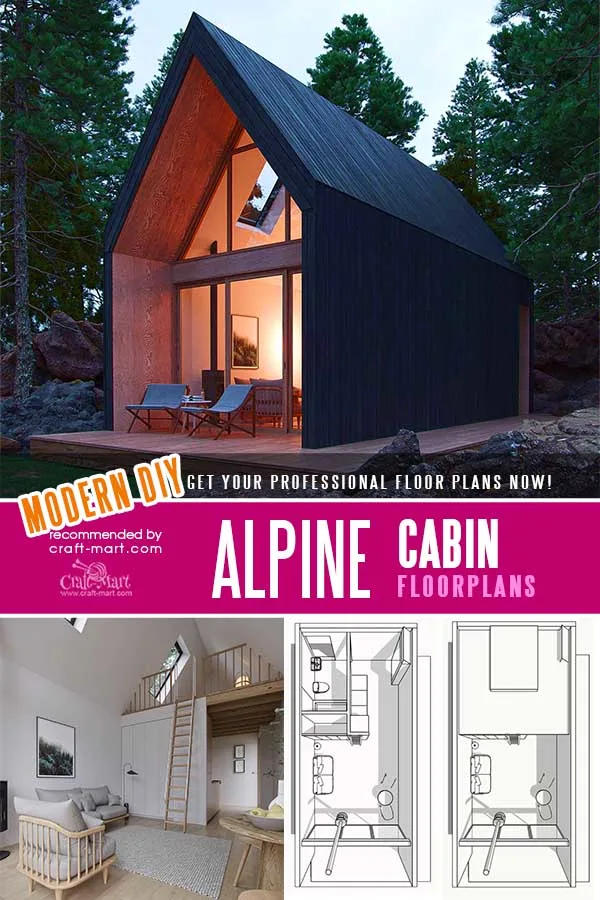 If you love natural light, you'll be a fan of these plans! 2 large skylights will brighten the whole interior in addition to the floor-to-ceiling frontal glass facade. A galley kitchen can be extended to the walkaround deck providing more space for cooking and socializing.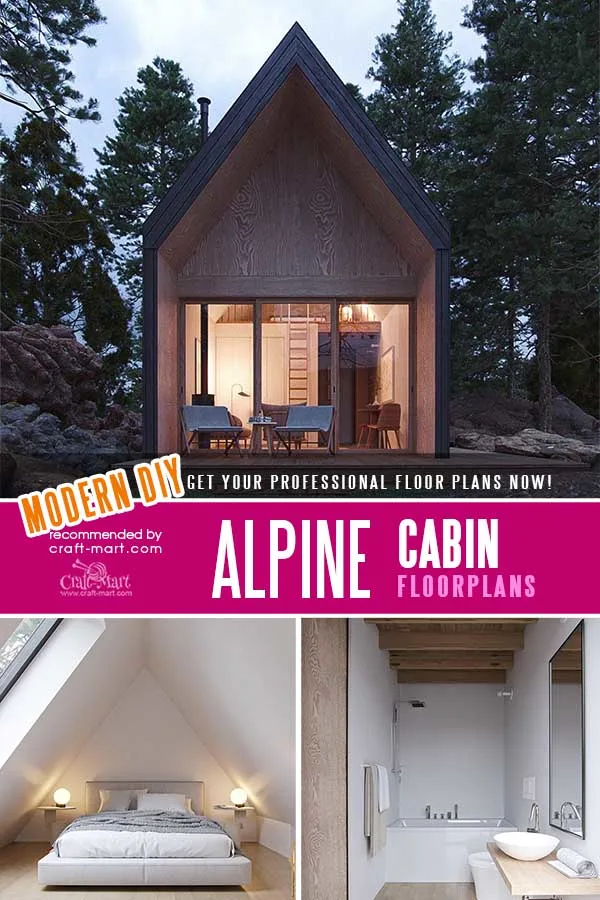 In this set of plans, Den Outdoors is offering customers two options for how to approach the gabled end. All glass for an expansive view of the outdoors is obviously a more expensive one while the glass doors only on the bottom part will definitely save you some money.
Go for this plan and get it here!
920 sq ft. (36′ length x 18′ width)
$140,760 Cost to build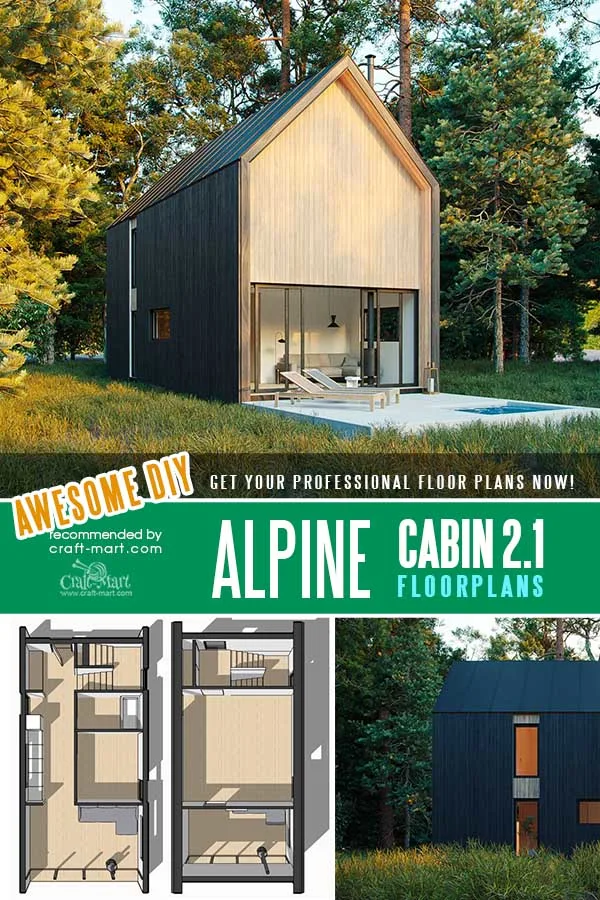 At 920 square feet, this cabin has a highly efficient layout and 24-foot tall ceilings also give a sense of expansive space while inside. This cabin is also a perfect candidate for being used as a granny flat house.
With two bedrooms and a large living room, your granny will have plenty of space for her hobbies and daily activities. It also features a galley kitchen and a full bathroom with a soaking tub – what else could you wish for?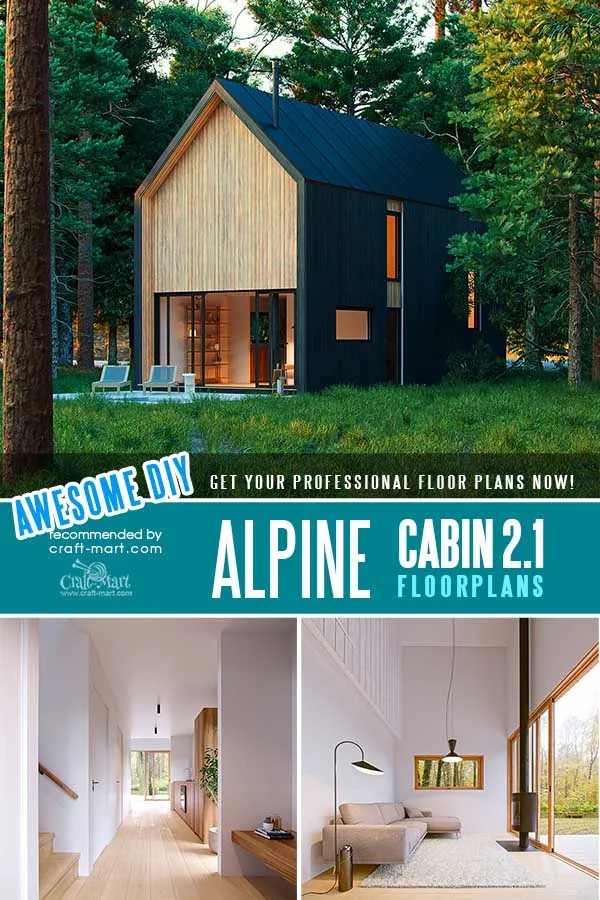 As with a previous Alpine cabin, the siding can be charred (instead of painting or staining) using that Japanese technique (Shou Sugi Ban). It may not only save you some money on paint but will last much longer as well.
Get these awesome cabin plans here
600 sq ft. (28′ length x 16′ width)
$91,800 Cost to build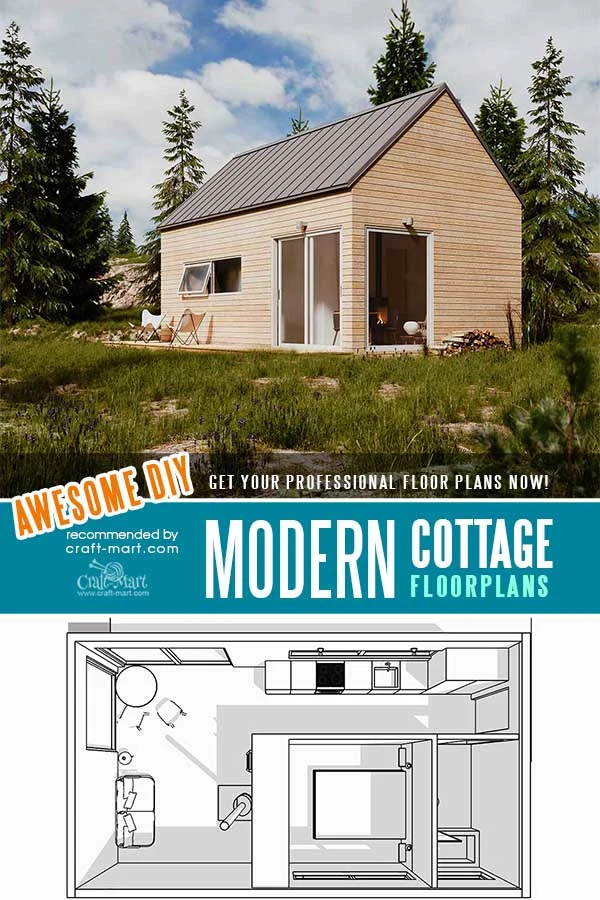 To call it a barndominium is a bit of a stretch but if you're looking for an affordable housing option, this model will not disappoint.
Are you learning about this new growing trend? Check out our collection of small and medium Barndominium floor plans.
The interior looks bright and spacious. 600 SQ FT will provide a comfortable space for 2 people who are fond of minimalism and simplicity and can even accommodate 2 additional guests downstairs.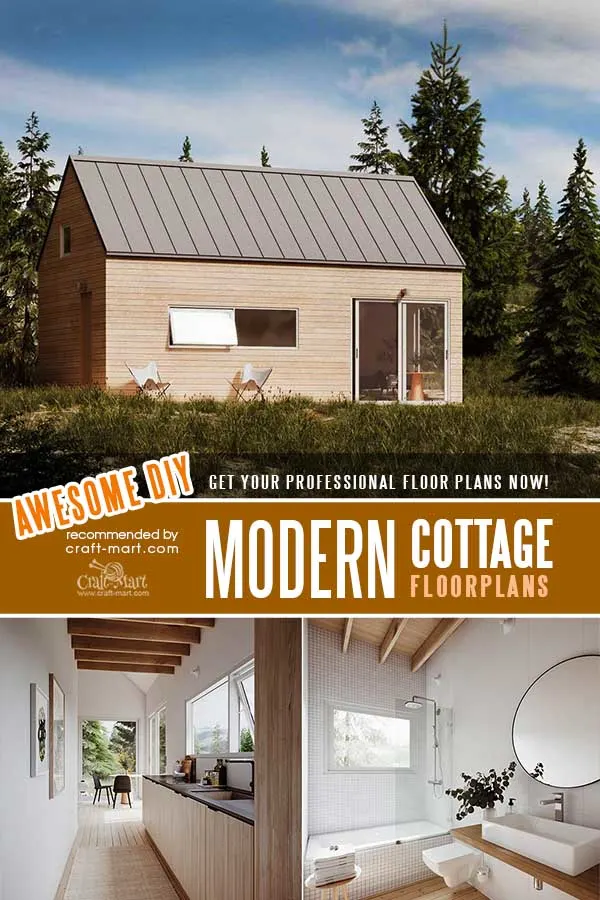 A queen-sized master bedroom, a large galley kitchen, a full bathroom with a deep soaking tub, and ample storage space make this small barndominium ready for pleasant long stays.
Get these small Barnhouse floorplans here
880 sq ft. (44′ length x 20′ width)
$134,640 Cost to build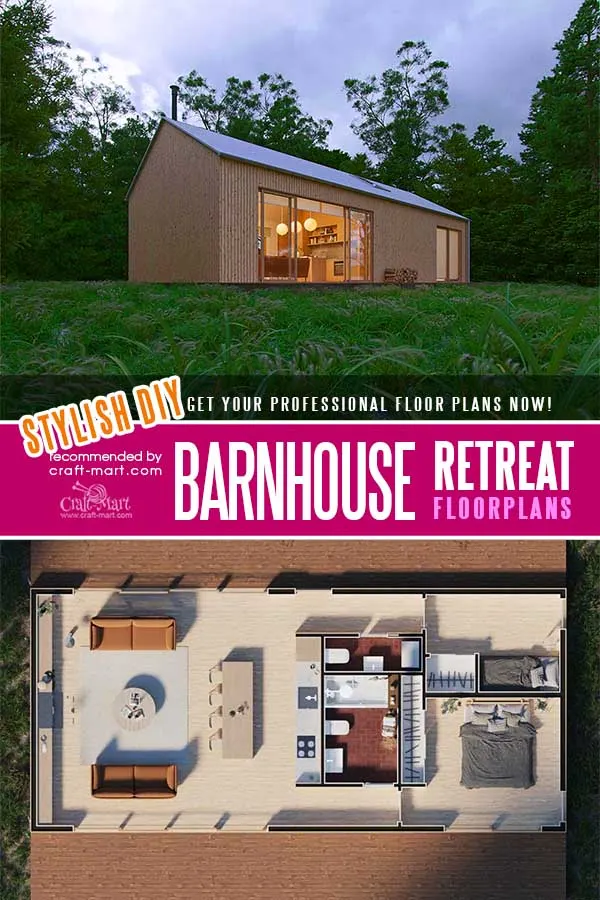 This is definitely a stylish barndominium! The Barnhouse Retreat has an incredibly simple but efficient floor plan and design.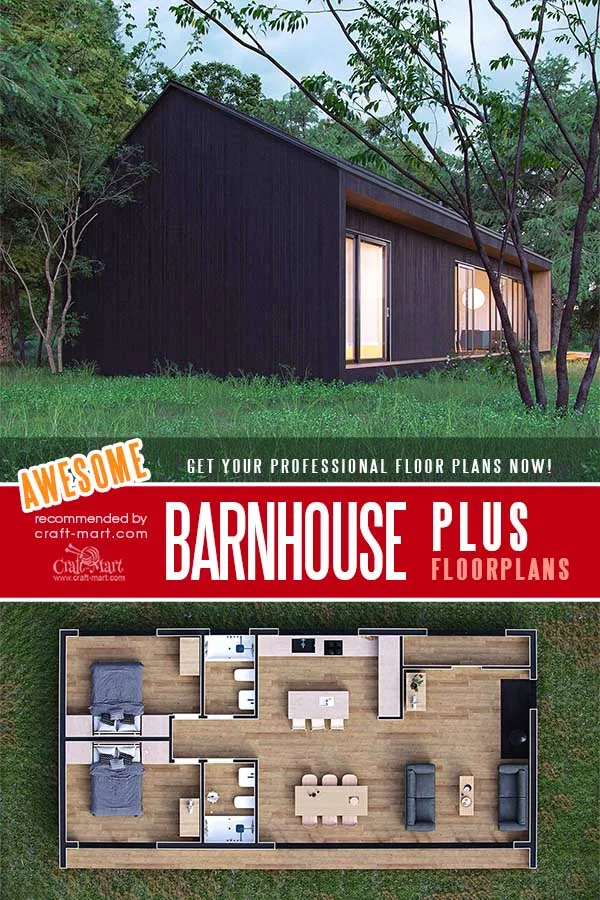 The master bedroom features a queen bed and sliding glass doors leading to the wrap-around deck. A second bedroom features a single or bunk XL twin beds, perfect for kids, other family members, or friends.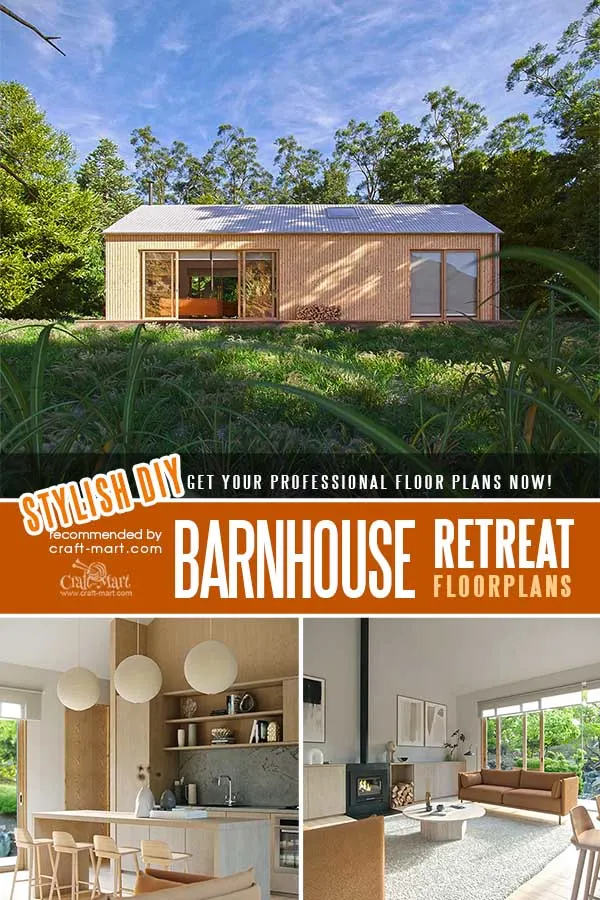 The spa-like bathroom features a full tub and a huge portal skylight window. The living room is occupying half of the interior providing much space for dinner parties and social activities.
Get these Barnhouse plans here
1152 sq ft. (48′ length x 24′ width)
$176,256 Cost to build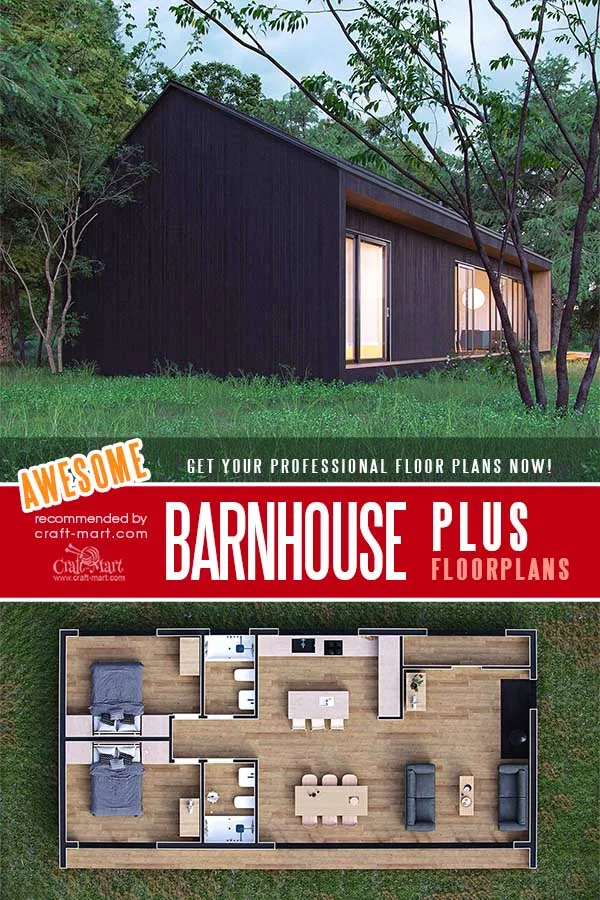 Modern floorplans are often overcomplicated but this particular floorplan is a perfect example of elegant simplicity. Its open floorplan provides an uninterrupted flow between the kitchen, dining, and living areas.
Two full-size bathrooms and almost identical bedrooms will make living in this house pleasant and comfortable for a small family of 3 or 4 if you can keep clutter under control.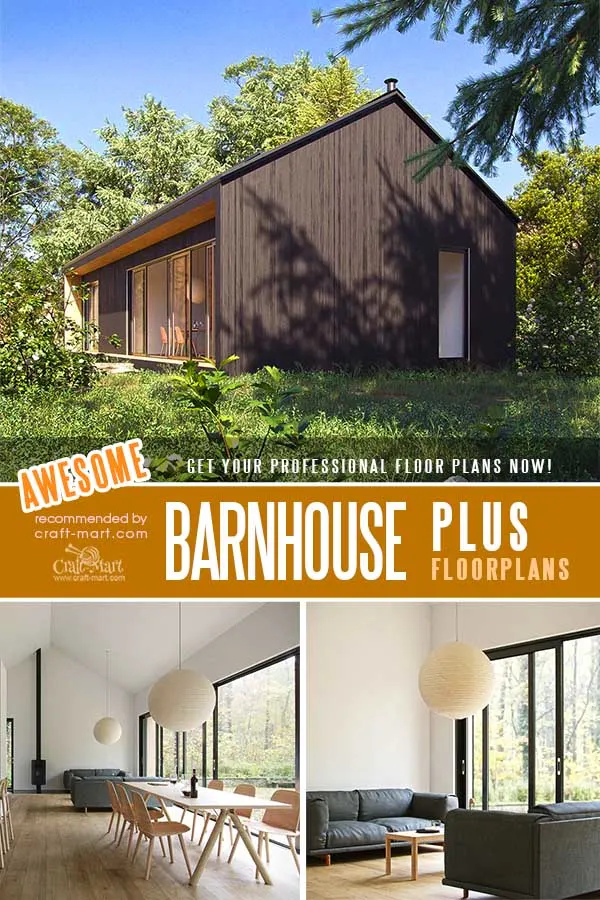 One bedroom has a sliding glass door that leads directly onto the narrow porch. Perhaps, this one can be called a master bedroom.
Get the plans for this Barnhouse here
140 sq ft. (11′ length x 12'8″ width)
$21,420 Cost to build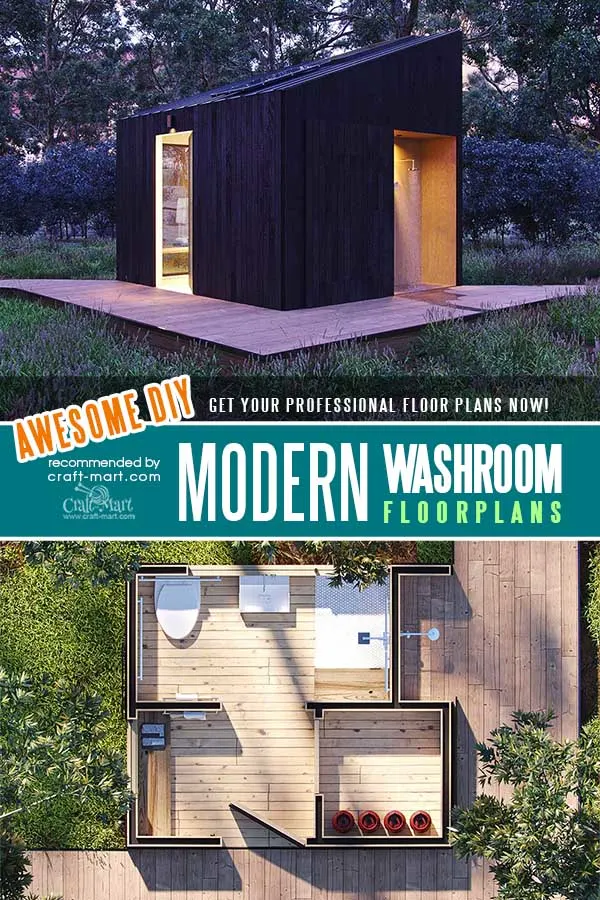 Why would one need this washroom? Do you remember that A-frame Bunk Cabin on our list? It didn't have a bathroom, so this washroom can be a pretty good building companion for it.
How about using it for washing up after mowing the lawn? Or providing an outdoor shower for a cold plunge after using a sauna?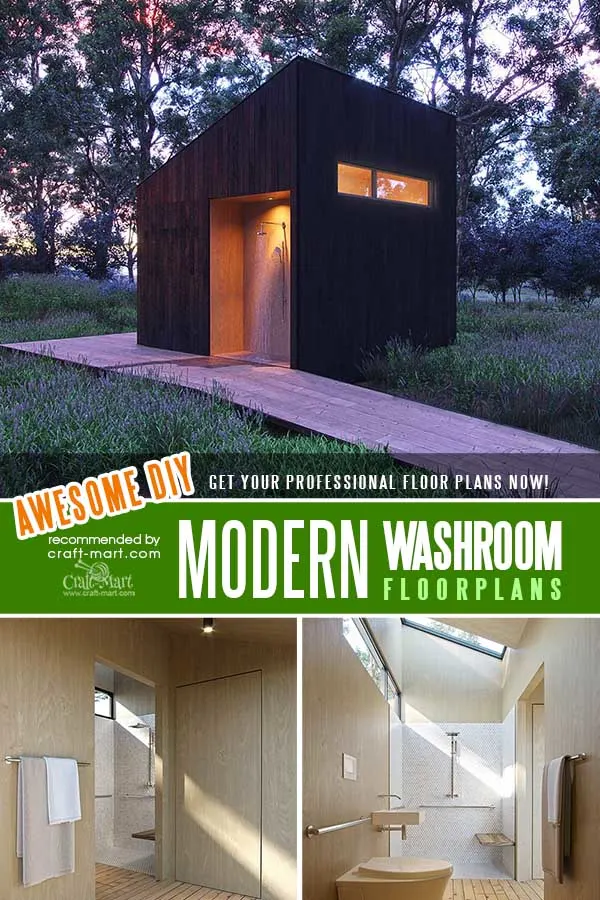 You can also combine it with a toolshed turning it into a perfect man-cave or hobby room. In any case, it looks very cool and definitely worth considering for your yard or vacation property with that A-frame bunk cabin.
Get the plans for this washroom here
102 sq ft. (12′ length x 8'6″ width)
$7,500 Cost to build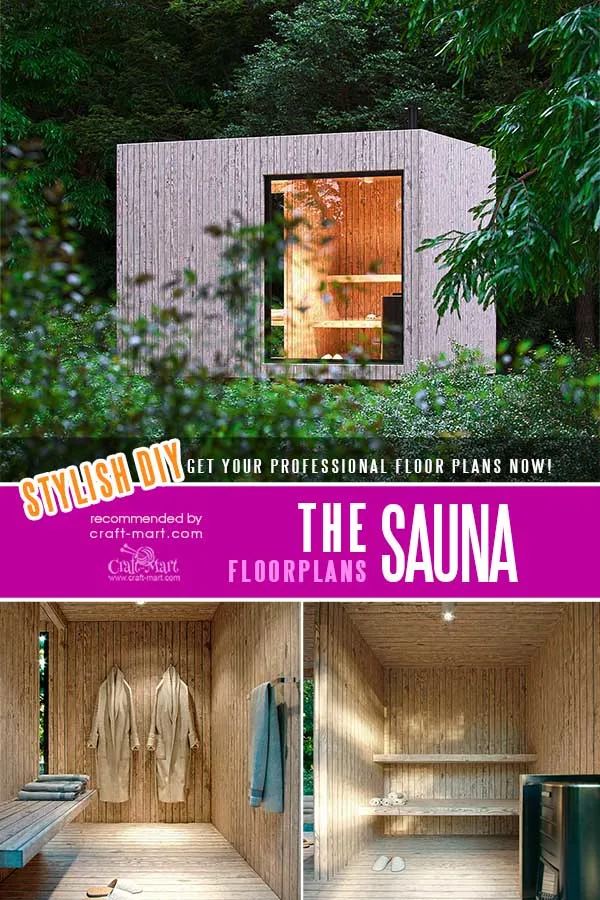 Extremely popular in Nordic countries and not so in N. America, saunas are just starting to get some attention. The Den Sauna is a beautiful example of a modern outdoor sauna.
An unusually large window creates an unforgettable experience bringing up nature inside the ultra-modern sauna interior.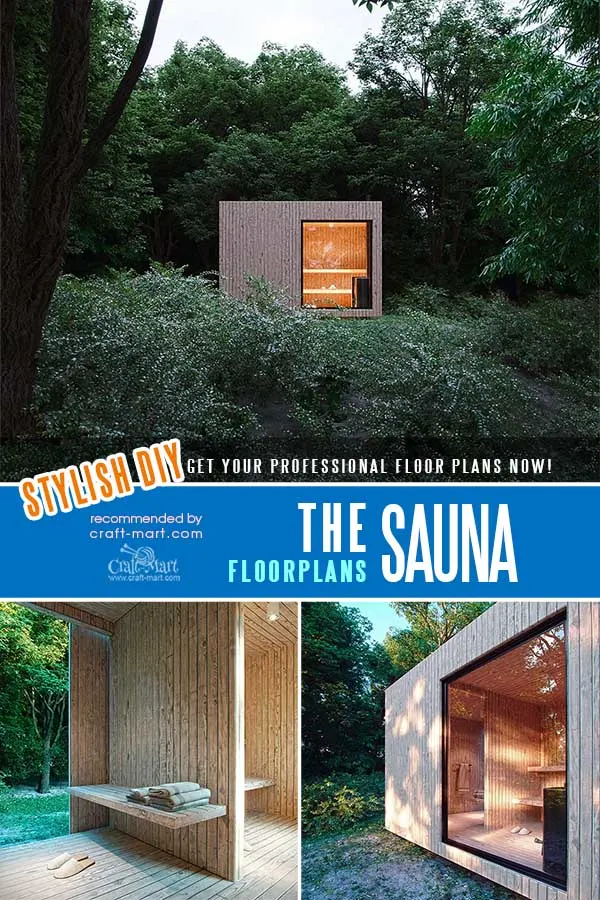 The sauna can easily accommodate up to 4 seated adults. You may use either a wood-fired or electric stove to provide the heat and steam. Read more about the health benefits of sauna.
Perhaps, you'll understand why each Finnish family has one and so should you!