Are you choosing between DIY and High-Tech Prefab Tiny House? Read that post first if you want to DIY or continue for Modern High-Tech…
The tiny real estate has been gaining popularity in recent years and is not going anywhere. With skyrocketing housing costs and steady growth of high-tech jobs that over location independence, a multi-generational crowd of modern tiny houses enthusiasts is always on the lookout for the latest and greatest hacks that will allow you:
to move someplace beautiful which you won't be able to afford otherwise with traditional housing model and 30-year mortgage;
DIY mindset is a catalyst of modern tiny house movement as you can build really quickly a custom dwelling which travels with you anywhere your life journey takes you;
ingenuity and small space hacks in modern tiny homes put an idea of green living to a new level allowing you to have almost zero impact on the environment with hi-tech water filtration systems, unlimited solar energy resources, satellite connection to the world, and modern waste composting systems;
How about using these tiny homes as "Granny Pods" to have your seniors close to you instead of putting them into assisted living?
What can you learn from the latest developments in prefab tiny houses that you can use to simplify your life and have more freedom?

These futuristic tiny homes will be 3D printed near the city of Eindhoven by a Dutch construction company called Van Wijnen.
Should you consider getting a prefabricated modern tiny house, go the DIY route or order a custom tiny house from one of the tiny home builders?
Today 54% of the world's population of 7.5 billion people live in major cities and while we urbanites work hard, some are dreaming of their own space while they are forced to rent. The majority of us can't afford to buy a second home or vacation home. The tiny house real estate movement could help make this a reality — without renovation costs, annual maintenance, and hefty down payments so you can fulfill your dream.
These premade tiny houses are designed by leading architects specializing in efficient spaces and experts in automation, water consumption, and solar power. To ensure that you get a beautiful, fully reliable, and self-powered piece of a tiny real estate, you can now pick your model online, customize it, choose your favorite materials, furnishings, and leave the 'bones' of the tiny dwelling to experts.
Looks good but too expensive?
In case you are looking for the cheapest solution like building a modern tiny house on wheels on a very limited budget here is the collection of the best 17 tiny house trailers some people managed to build for $12K – $25K including appliances.
1. 3D-Printed Home Can Be Constructed For Under $4,000

Source: iconbuild.com
Who would have thought that you can 3-D print a tiny house! But it is already the reality in our world of fast-moving technology. This custom tiny home was unveiled in March 2018 in Austin, TX, and was built using a prototype of the mobile 3-D printer.
How much is this 3-D printed tiny house?
The production version of the printer will have the ability to print a single story, 600-800 square foot home in under 24 hours for less than $4,000. That's absolutely amazing! That's what we would call affordable housing. It is obvious that you would have to re-evaluate our priorities and seriously de-clutter in order to fit your life into 800 square feet – so, check our blog post which lists the pros and cons of tiny living.
As a part of this effort, the manufacturer has developed cutting-edge materials tested for safety, comfort, and resiliency. It is mind-boggling that this modern tiny house is designed to function with nearly zero waste production methods and work under unpredictable conditions (limited water, power, and labor infrastructure) to tackle housing shortages in case of natural disaster or emergency.
2. This Ready Made Tiny Home (Ruzanna) Can be Shipped to any Destination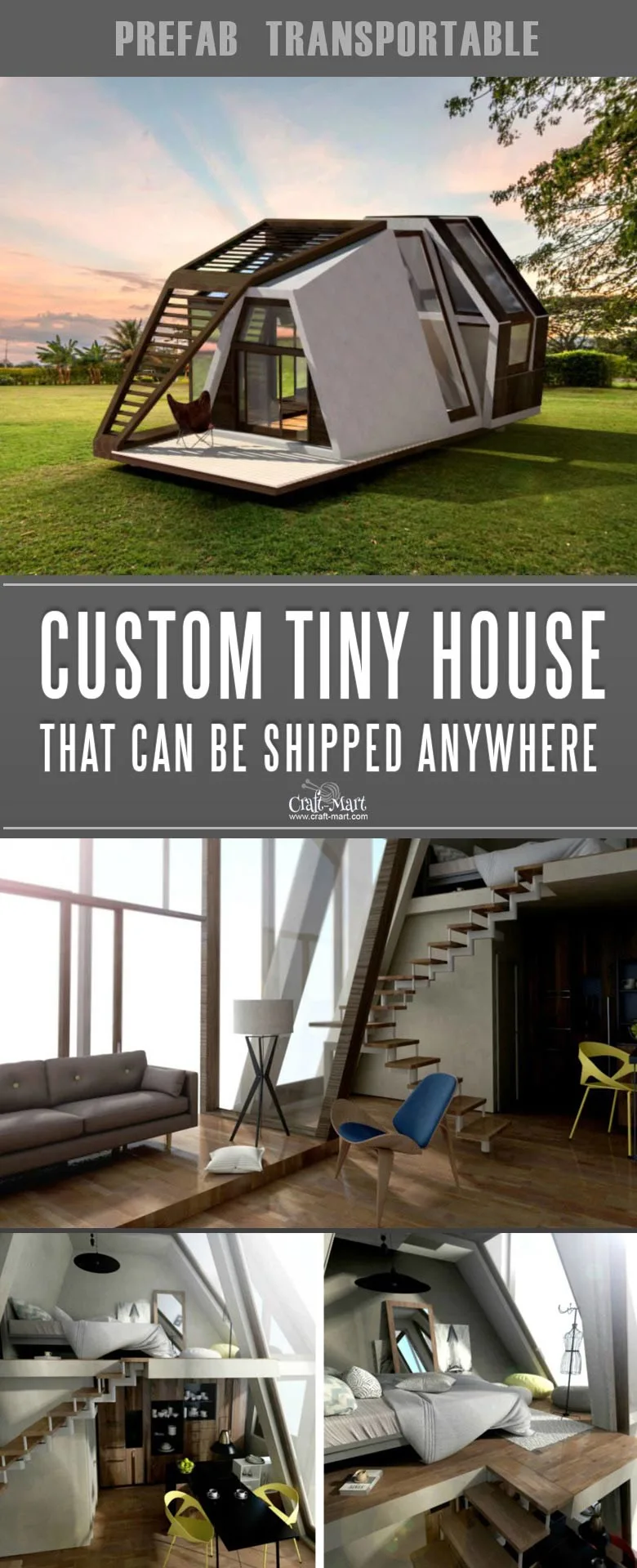 Source: yankodesign.com
This Mobile Tiny Home is a prefab modular construction that is wide enough to fit on a freight-liner truck bed, making its delivery across the globe just a breeze. Though the home is ultra-compact, approximately 100 square feet in total, it looks very spacious and feels very spacious and comes with all of the basic necessities, except furnishings.
The home has an unusual shape and is almost completely covered with glass panels. One large wall is over-looking an open-air deck that visually enlarges the space. Love that bright and airy space that comes with a large skylight right above your bed so you can fall asleep gazing at the stars and rise with the first rays of the early morning sun. It just makes you wish you could buy it right away…
For those looking to go off-grid while striving for hassle-free living, this modern tiny house is a perfect solution: just order it to be delivered to your desired location. You can put your DIY touches to decorate the space and add color accents with a compact, multi-functional furniture.
3. The "invisible" prefab tiny house disappears in its surroundings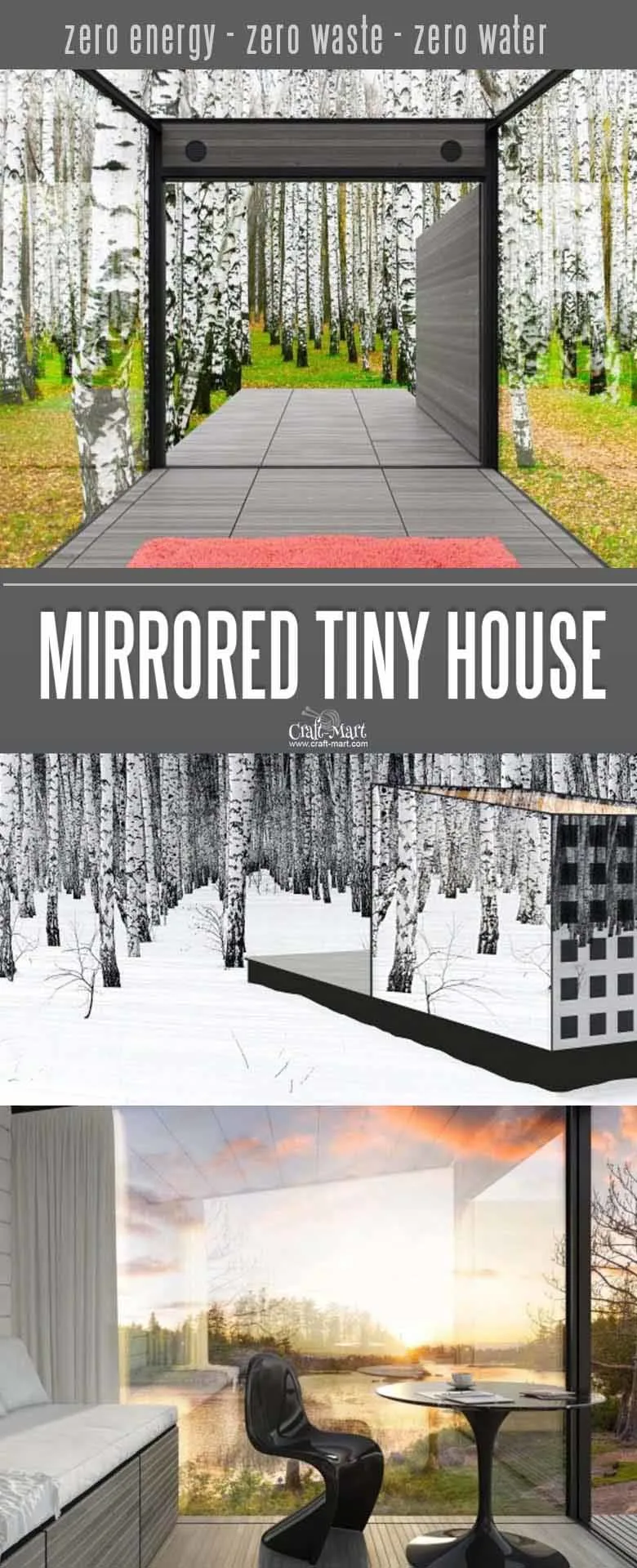 Source: coulson.co
Imagine, it is minus 25°F on a winter morning, yet no heating is required for your high-tech tiny house. That means not only substantial savings, but nearly zero energy, zero waste, and zero water (what's known as a triple-zero living). The green-living crown would rejoice to hear about a non-existing carbon footprint for this hi-tech tiny dwelling. Built to the Passive House Standards, the 83-square-foot home (that's really tiny!) needs no active heating or cooling systems, even in extreme weather conditions.
Minimal boxy form and open floor plan design make this prefab tiny home suitable for a myriad of uses from scientific research in remote forests to suburban backyard sauna. Mirrored glass walls protect your privacy and offer full-height views. while triple-pane insulation would bring energy consumption to a minimum. The walls also have a UV-reflective coating to protect against bird and animal collisions—how thoughtful!
This Tiny Custom Retreat has three models with identical exteriors and alternative interior layouts. The Bed + Bath model has built-in sofa/bed with storage underneath, toilet, sink, shower, refrigerator, and induction cooktop. The Basic model features a flexible open floor plan perfect as an art studio, music room, meditation space, office, or general living space adaptable to any future needs. The Sauna model has built-in wood benches and a sauna heater.
The transportable design fits on a standard trailer and will have a minimal impact on the land.
4. Amazing Big Goes Small with an Off-grid Tiny House
Sources: big.dk & liveklein.com
Inspired by the traditional A-frame cabin, the A45 prefab tiny home model takes on an angular form perfect for a collection of rain run-off and natural snow removal. The 180-square-foot timber cabin has a completely customizable interior and can be a quick DIY project in any location.
The triangular floor-to-ceiling windows and the soaring 13-foot-tall ceiling help create a sense of spaciousness. The cabin is slightly elevated on four concrete piers in order to minimize land impact and give homeowners the freedom to place the tiny home even in remote areas without heavy machinery.
Interior space reflects a minimal Nordic style perfect for 'hygge' comfort and lifestyle. The natural palette, from the exposed timber frame to the Douglas Fir floor planks, and the insulation of natural cork walls, provides further emphasizes the traditional Scandinavian aesthetics.
180 sq. ft. is not a lot of space, so don't call your real estate agent and list your old house before actually seeing one of the tiny prefabs under 200 sq. ft.
5. Land Ark RV Prefab Tiny House Trailer
Source: landarkrv.com
With the first glance on this super-modern tiny house on wheels, you can see that the Land Ark RV is definitely inspired by the idea of an ark that can withstand any tough environment. Though it looks like a tiny house on wheels, it is a modern stylish RV (from a legal standpoint) that are geared toward adventurers who prefer to travel in luxury.
Not only does the exterior design include a contemporary and sophisticated all-black corrugated metal exterior, but the interior features efficiently-designed and well-lit living space (with 16 windows!), complete with all of the comforts of home.
Its sleek design is both minimalistic and efficient in its modern frugality through the white-washed wooden finishes and hi-end appliances, including washer and dryer, make it feel like home. The kitchen and living room are perfectly integrated, sharing a long shelf that pulls double duty as a dining area and office desk. A large sleeping loft, accessible by a ladder, feels very open and airy – no claustrophobic thoughts here.
Every detail and hardware got full attention. Love the sliding barn door – an homage to modern farmhouse design. For some extra space on the ground floor, an additional "flex room" can fit a queen size bed or serve as an office which is an extra bonus of this tiny home on wheels that can sleep six people at its full capacity.
6. Slovak architects design self-sustaining tiny trailer home – Ecocaplsule
Source: https://www.ecocapsule.sk/
This futuristic-looking Ecocapsule® is a smart micro-home which efficiently utilizes solar and wind energy. It allows you to stay in remote places without any infrastructure, though enjoying all the luxuries of a modern hotel room. Ecocapsule® is an innovative take by progressive designers on the concept of independent off-grid sustainable living.
This super-modern tiny house-capsule can serve as a cottage, pop-up hotel, caravan, mobile office, research station, digital nomad's tiny trailer or anything you want it to be. It has been engineered to be as self-sufficient, practical, and functional.
Interesting to note, that water is collected, filtered and becomes available for your consumption. The Ecocapsule® bathroom works like any other bathroom and is equipped with a water-saving faucet and showerhead. The water storage tank has high capacity and you can refill it with water from any source – collected rainwater or water from an external source (stream, lake, etc.).
It is cleaned via a series of filters including a reverse osmosis filter. The system safely filters out 99,998% of dirt, so you are left with clean water. Drinking water is also provided by filters installed on the faucets.
If you were on the fence about trying tiny living, this modern tiny home of the future can turn you into a convert, just for the thrill of a new adventure.
The Ecocapsule® body is made from high-capacity insulated fiberglass shells overlaid on an aluminum framework.
Basic Specifications
Exterior length: 4.67m/15.32ft
Exterior width: 2.20m/7.22ft
Exterior height: 2.50m/8.20ft
Height with the wind turbine pole extended: 4.50m/14.76ft
Dry Weight: 1350kg/2976lb
Weight with full water tanks: 1650kg/3638lb
Weight with trailer and full water tanks: 2000kg/4409lb
Gross floor area: 8.2m2
Gross internal area: 6.3m2
Sleeping capacity: 1-2 persons
Installed power output: wind 750W, solar 880W peak
Battery capacity: 10 kWh (default option)
7. Solar Powered POD Idladla is a Tiny Prefab Flat Pack Home with Amazing Small House Design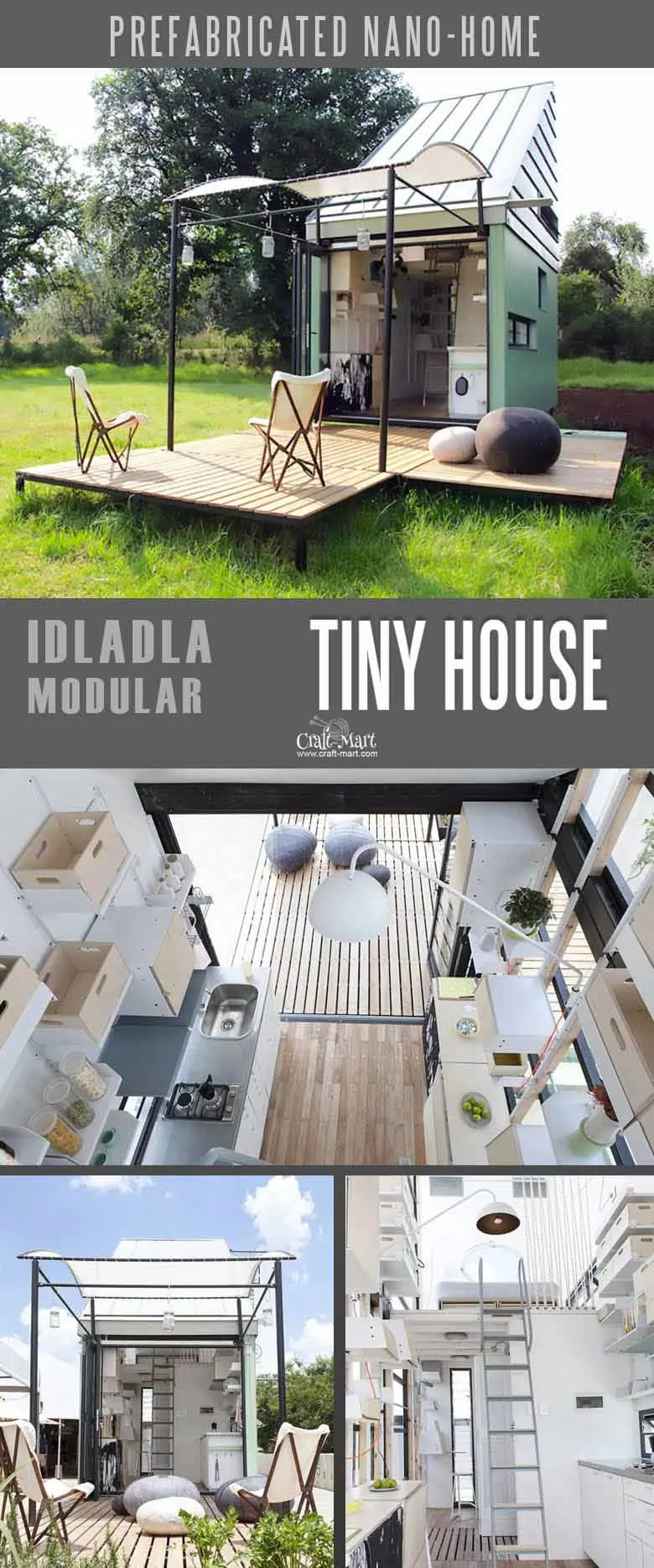 Source: www.pod-idladla.com
If simple living means living happier, you'll find it in this 186-square-foot POD-Idladla, a compact customizable prefab home for two that can move almost anywhere you wish. South Africa-based architect Clara da Cruz Almeida collaborated with a local design firm to create the modular home, which is powered by solar energy and can be customized off-site to the client's specifications. The minimal and charming mobile pod ships flat anywhere in the world and are assembled onsite in a snap.
The white and mint green-painted facade reflect the sun to keep the interior cool, while the multiple openings and doors provide natural ventilation. This energy-efficient prefab tiny house is topped with a pitched roof that maximizes the potential for solar panels.
For a hot climate where natural ventilation is not enough, consider adding a ductless mini-split air conditioning unit. With large real estate dominant in the US and Canada builders are pushing expensive whole-house AC systems.
Less expensive and more effective silent mini-split air conditioners/heaters also have a number of advantages over ugly and noisy "window" units. Watch the video below on how to install a mini-split ac unit in a tiny house trailer.
Storage compartments line up the walls and folding furniture maximizes the use of space.
The interior, mostly painted white, is accentuated by pops of color and wooden textures, featuring tall ceilings and an upper loft level accessible via a ladder. The kitchen, office, bathroom, and dining/living area are located on the first floor, while the bed is placed out of the way to the loft.
This tiny prefab home is extendable: two pods placed together can accommodate four people.
8. HOUS.me ( passiveDom ) self-sustainable tiny smart house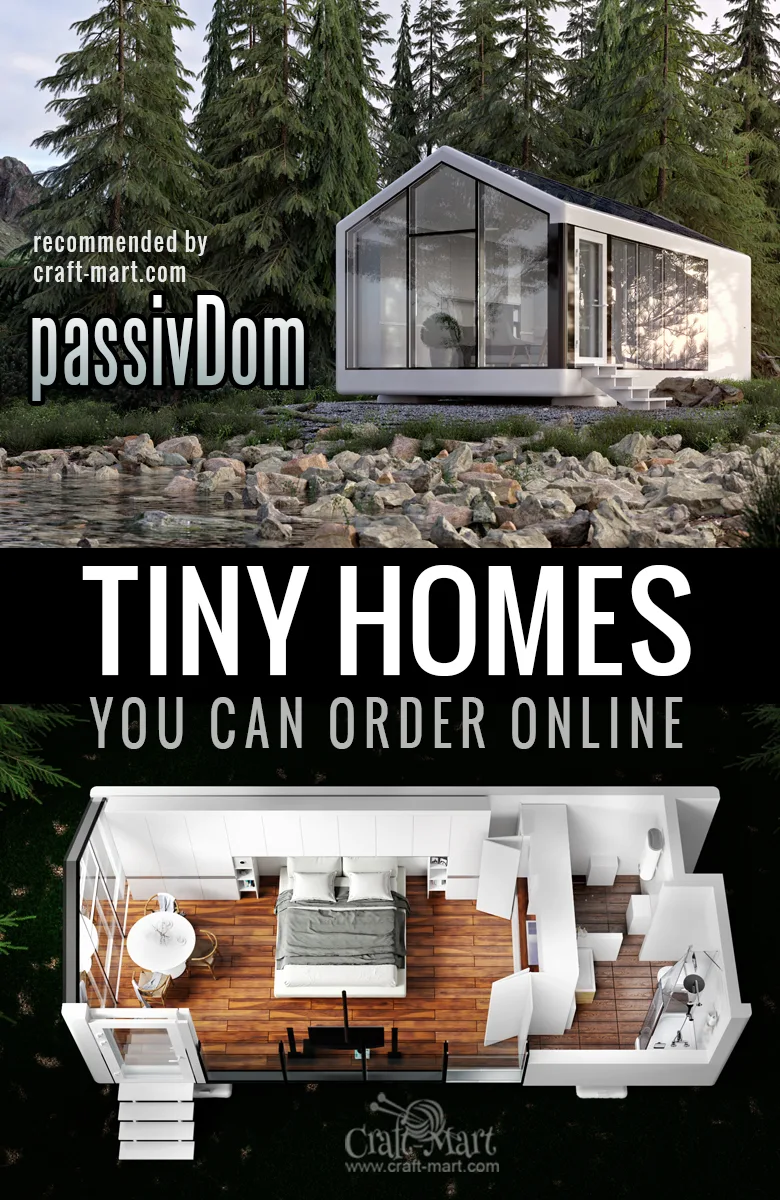 The traditional ways of building a house can be time-consuming and expensive. Automating the construction process improves the speed as well as reduces the cost. The initial technology investment pays off pretty quick considering a lightning-fast turnaround and an avalanche of orders for these high-tech modern tiny homes.
Can you use them as granny pods? Of course, you can!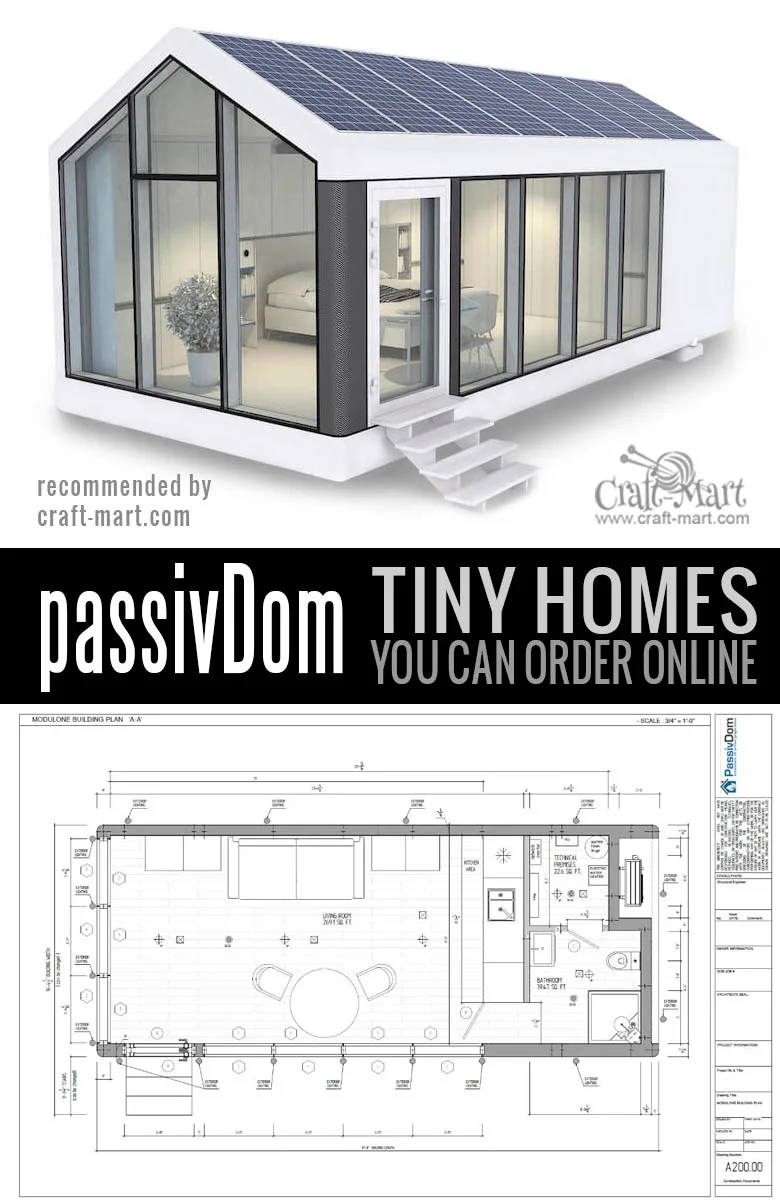 In spite of a harsh economic downturn, one Ukrainian homebuilding startup called PassivDom (now haus.me) found the way to realize their idea of high tech modern tiny homes structures being completely 3D-printed. The robot can print the walls, roof, and floor of the 400-square-foot model in about eight hours. Naturally, the windows, doors, plumbing, and electrical systems have to be added by human workers.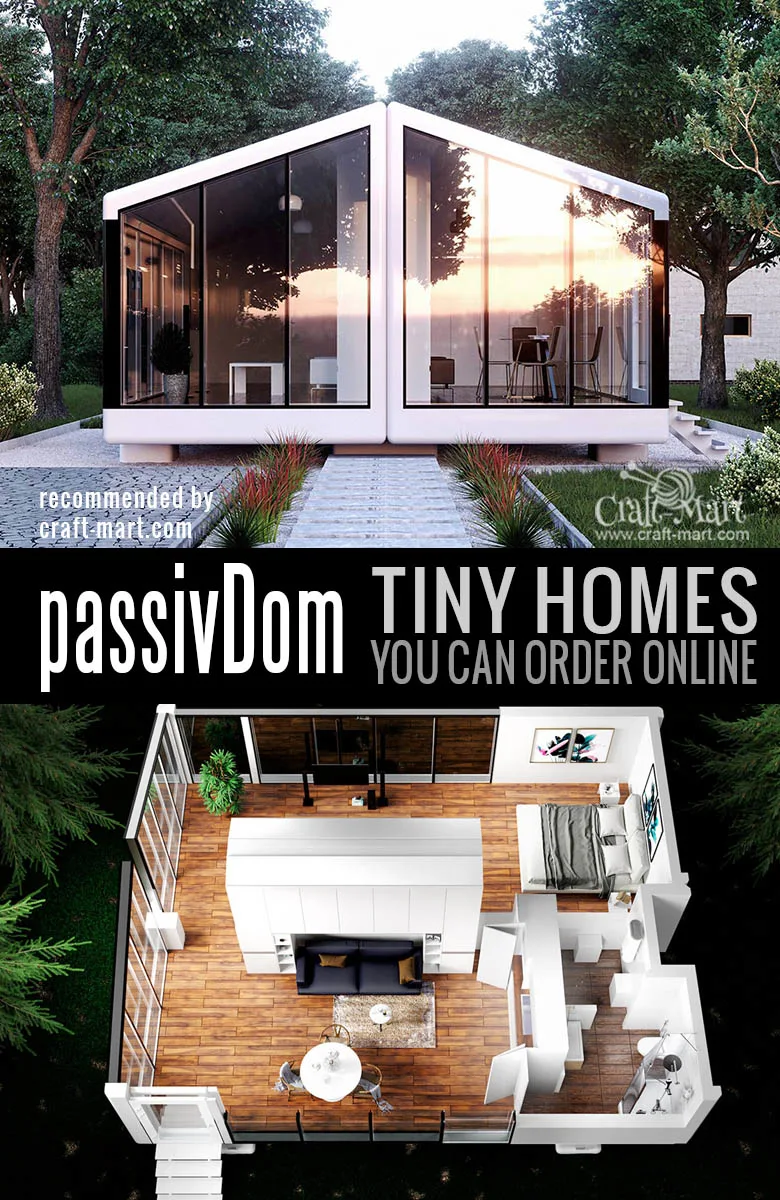 The resulting products are modular homes that are autonomous and mobile. They don't need to be connected to any external electrical and plumbing systems. The roof has built-in solar panels and the produced solar energy is stored in aa array of batteries. Most of the water needs are solved by extracting water from humidity in the air. The water tank can also be filled manually if necessary. All home models feature independent sewage systems.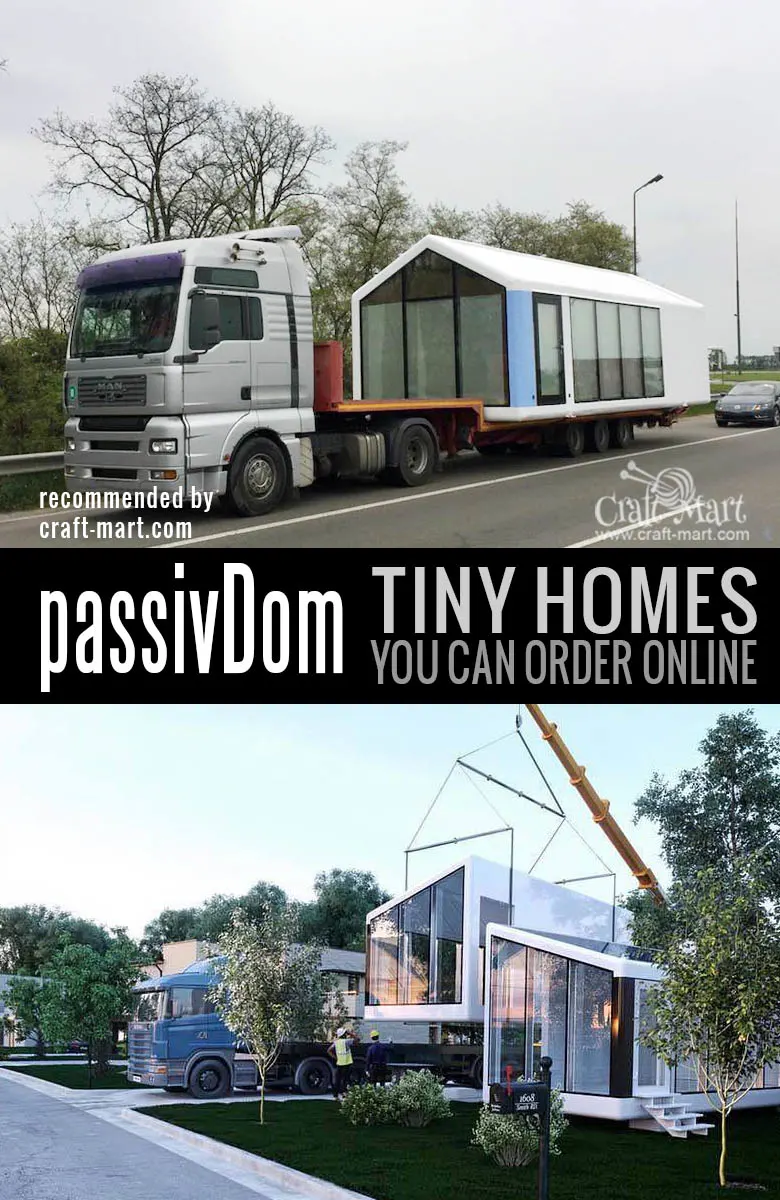 If you are located in the US or Canada then your house will be printed at haus.me's factory in Reno, NV. You can see that it can be easily delivered by the truck (hopefully still operated by a human driver). The couple of things that you must do before ordering your unit would be buying a piece of land and checking your local municipal laws.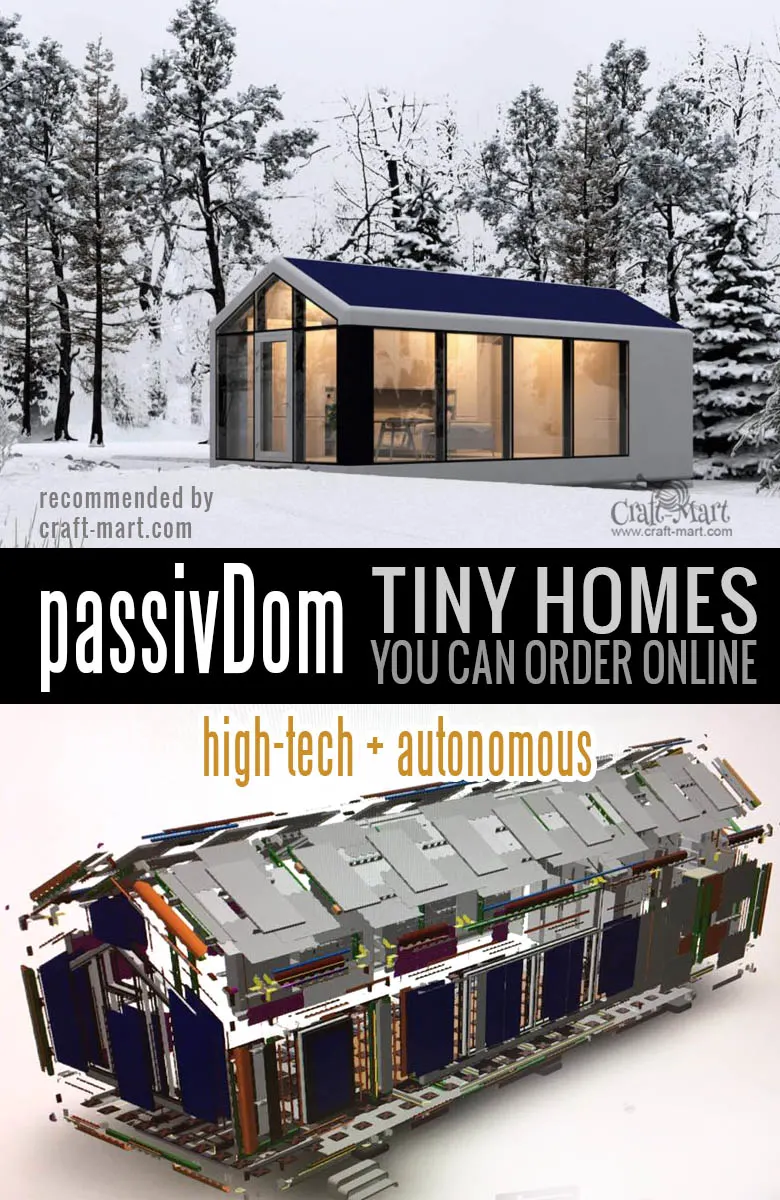 Starting price for 400 sq ft tiny house is around $90,000. Yes, not that cheap comparing with some other high tech homes. If you live in Texas it may not make sense to get one but for California's crazy real estate market prices this modern tiny home would be a really good option.
9. HyperCube – Expandable Futuristic Tiny House 107 SQ FT to 200+ SQ FT in Bari, Italy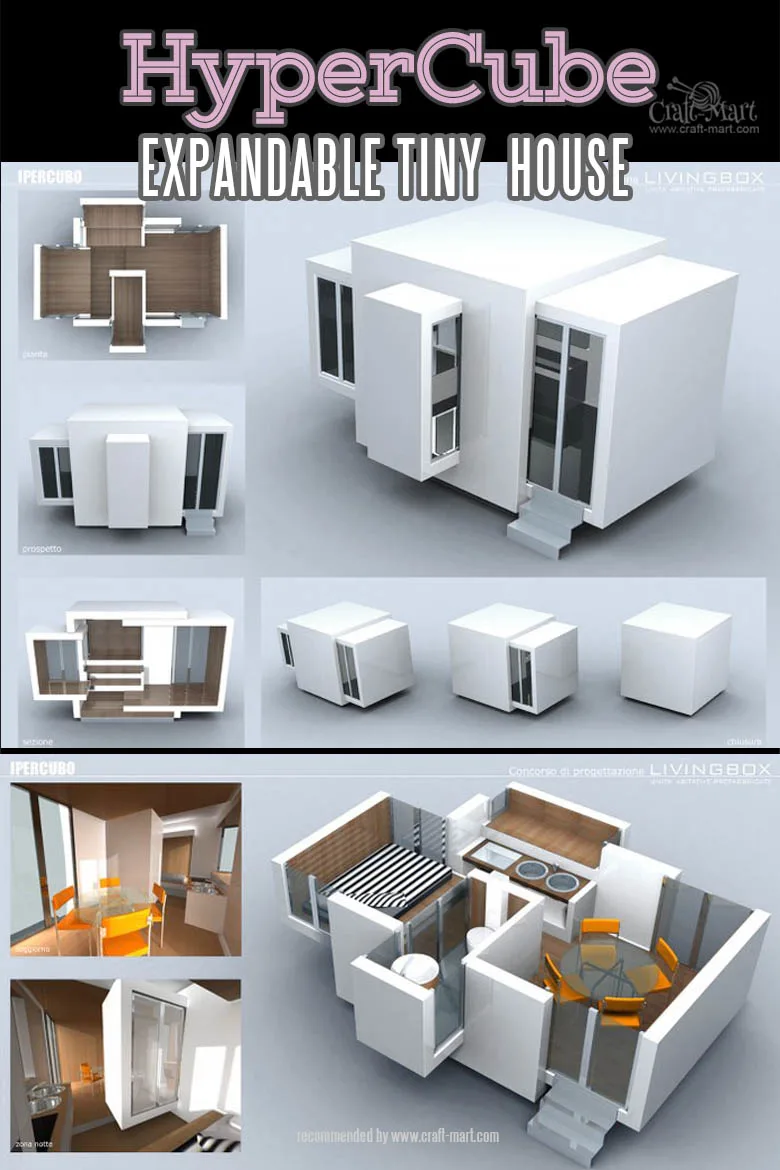 A talented Italian architect and designer Giuseppe Mecca created this amazing cube-shaped tiny house module that measures 10.8 FT x 10.8 FT x 10.8 FT folded. Once transported to the final destination the cube can be expanded in all 4 horizontal directions creating a functional living space.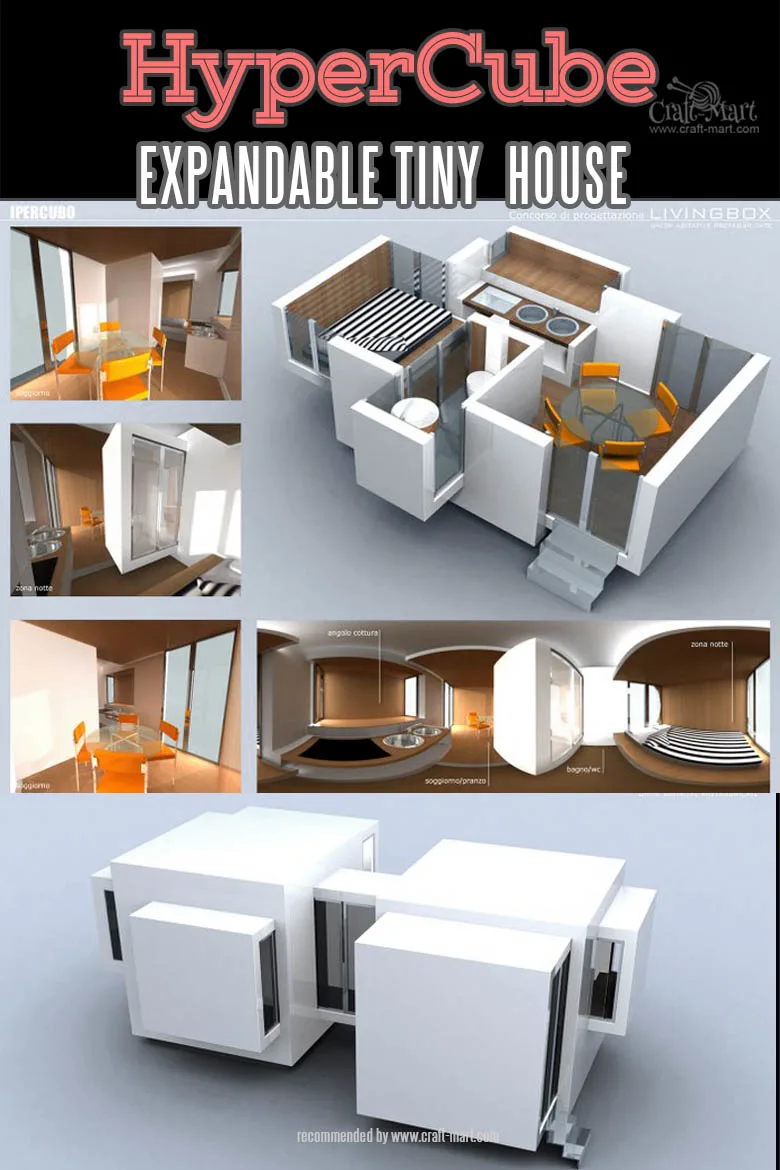 Of course, most of the elements used in this tiny home project can be made from recycled materials. The prefabricated structural elements are made of laminated wood beams and soft bituminized panels consisted of recycled wood fibers. The floorplan includes the living/dining area, a kitchenette, a bathroom with a sink, shower, and toilet, plus a compact sleeping area.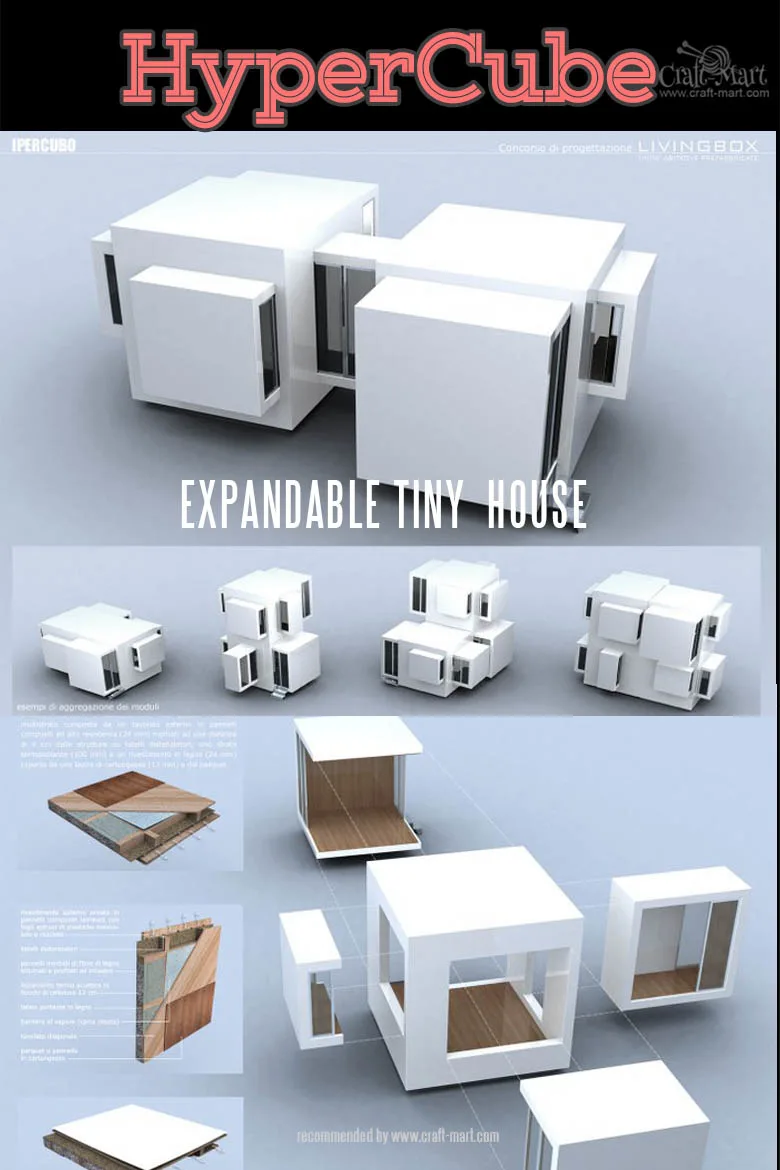 Several of these standalone modules can be easily connected vertically or/and horizontally, creating larger units. The ventilated outer shell is made of composite wood panels and recycled plastic. The inner lining that serves as a vapor barrier is made of pressed paper. The average wall thickness of about 8 inches.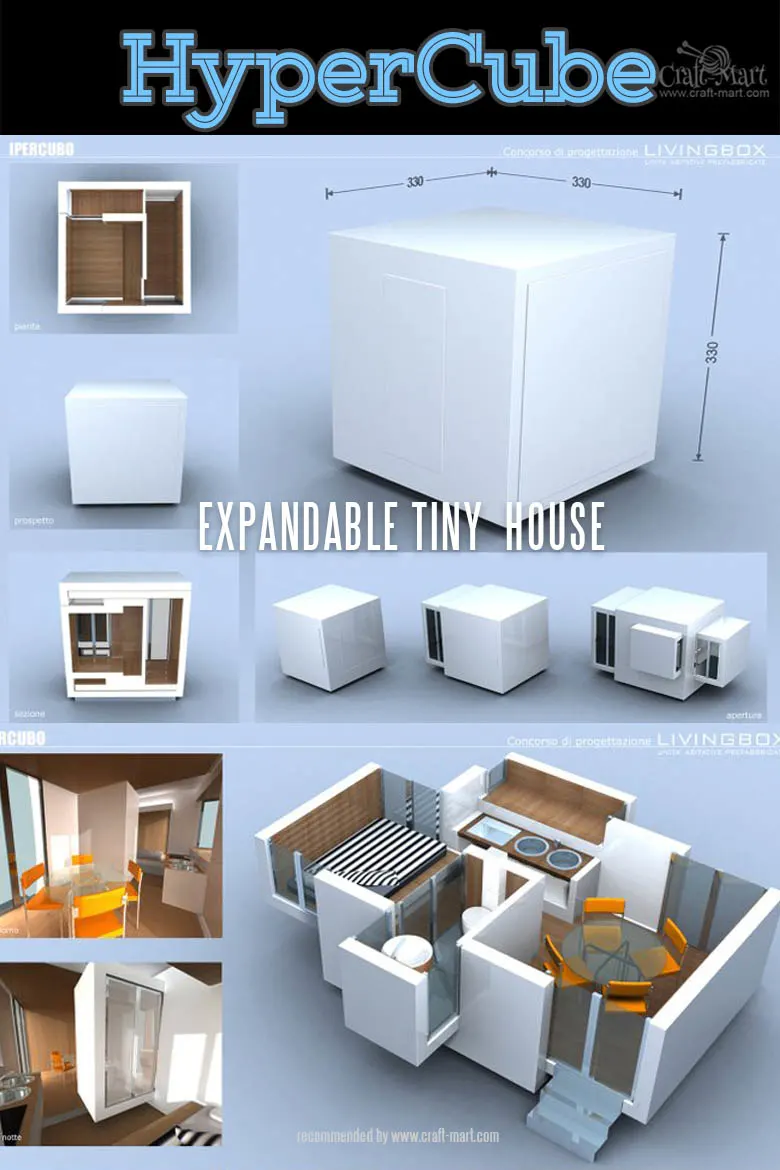 At the time of writing, there were no clear plans for manufacturing these units. However, we all know that demand creates production. If you really want to see these units offered for sale, send Giuseppe Mecca a message here.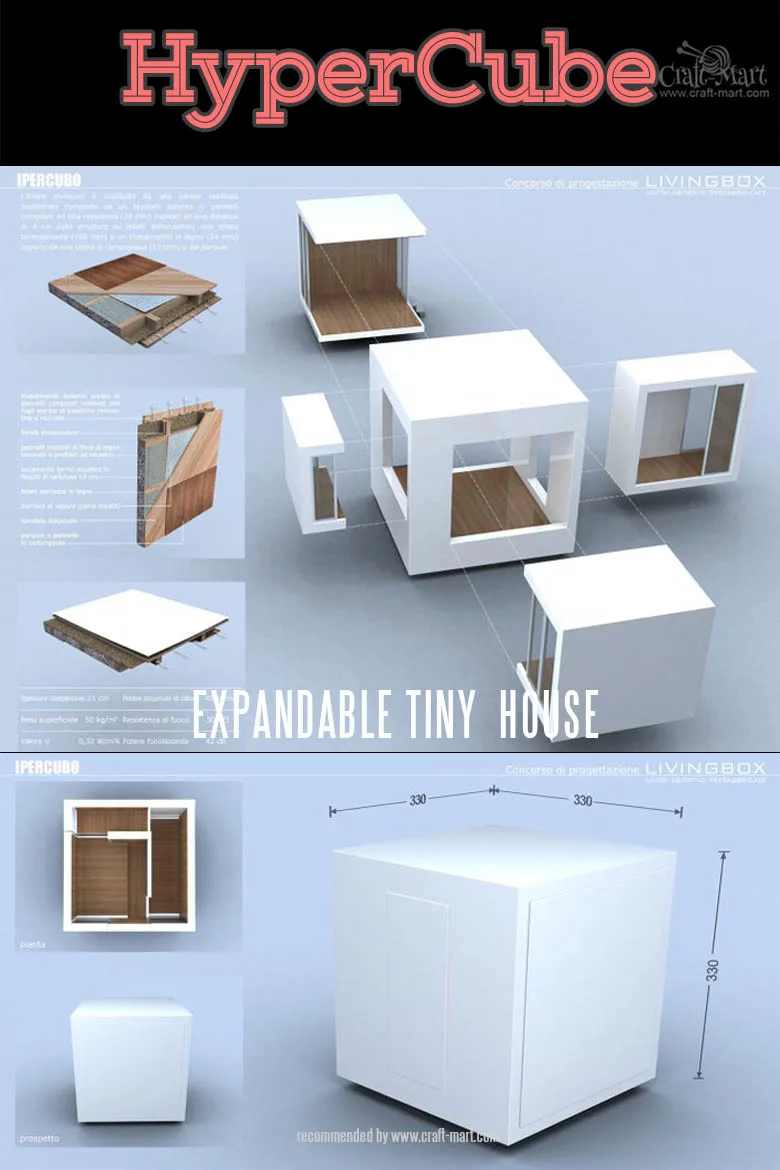 10. Alpine Shelter – modern 269 SQ FT A-Frame cabin for 12 people (Belluno, Italy)
For ski enthusiasts or people that simply have a piece of land on an icy mountain slope and have no idea what to do with it here is the solution from Giuseppe Mecca. His marvelous Alpine Shelter, an energy self-sufficient A-Frame cabin was designed exactly for steep snowy slopes.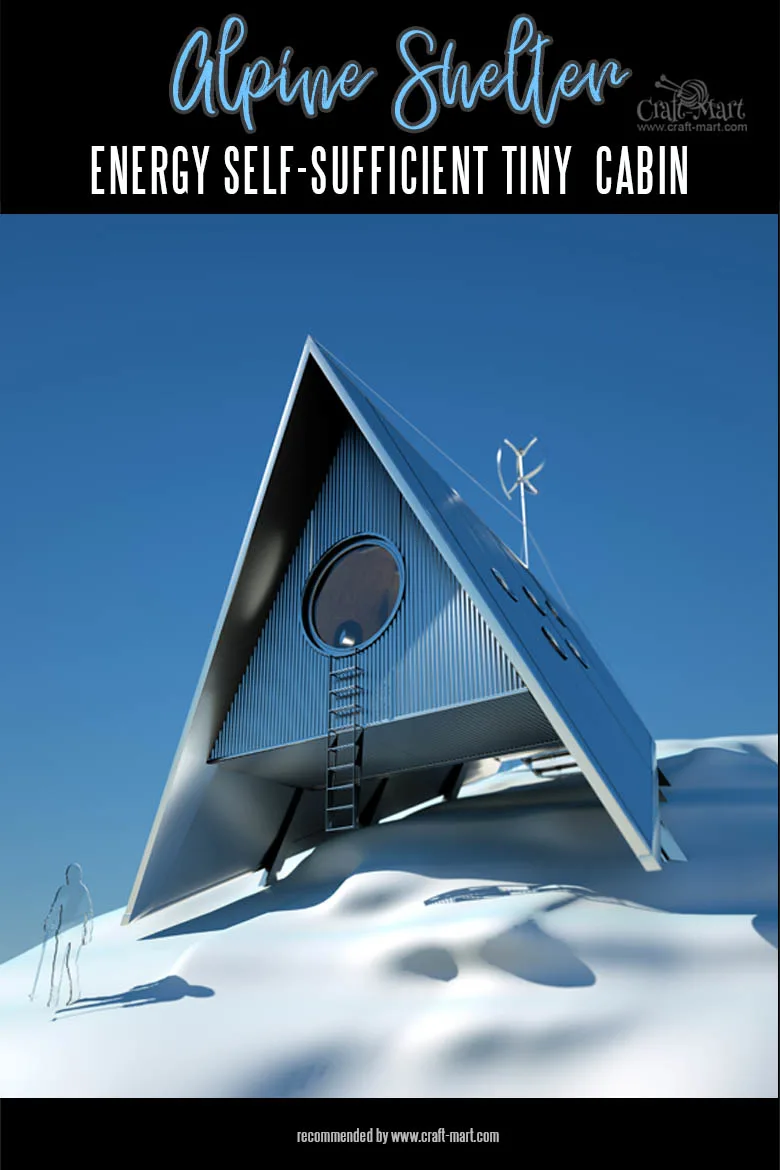 All the renderings show this sharply-designed cabin masterfully blended into the white mountain landscape. You may notice the wind and solar power generators on the roof.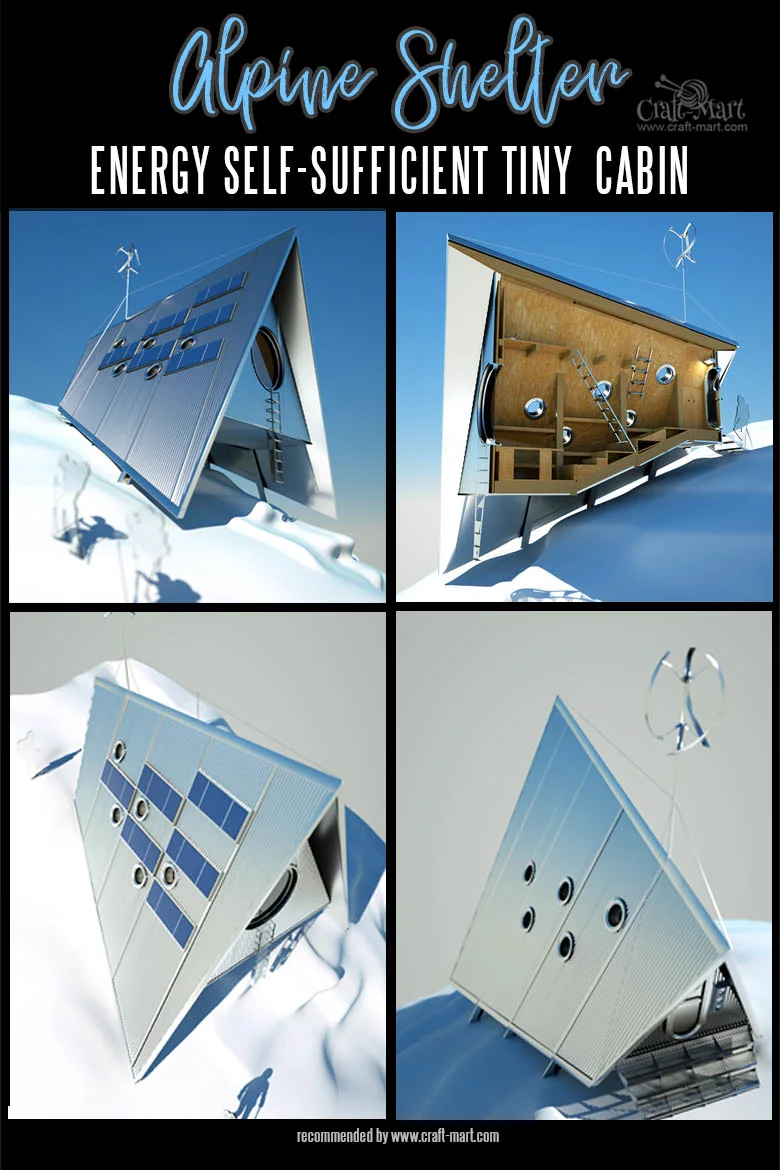 The set of four units can accommodate up to 12 people. The main room is equipped with 10 bunks and the loft has 2 additional beds.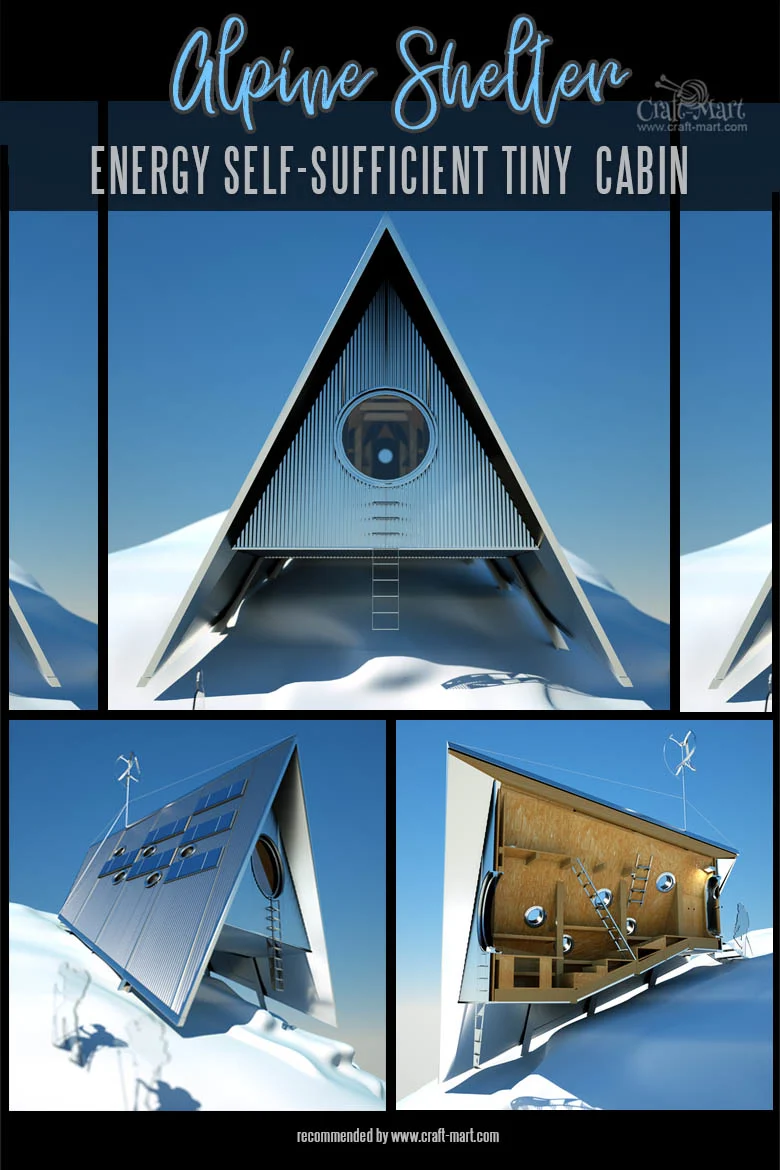 Tiny House Trailer – A/C Mini-Split Installation Demo
*You don't have to order your ductless mini-split AC unit through Lowes or other local hardware stores. Affordable high-quality ductless mini-split air conditioners are also available through Amazon, eBay, and other distributors.
[easyazon_infoblock align="none" identifier="B01DVW6G42″ locale="US" tag="craft-mart-20″]