22. "Sonoma" – Writer's Dream Retreat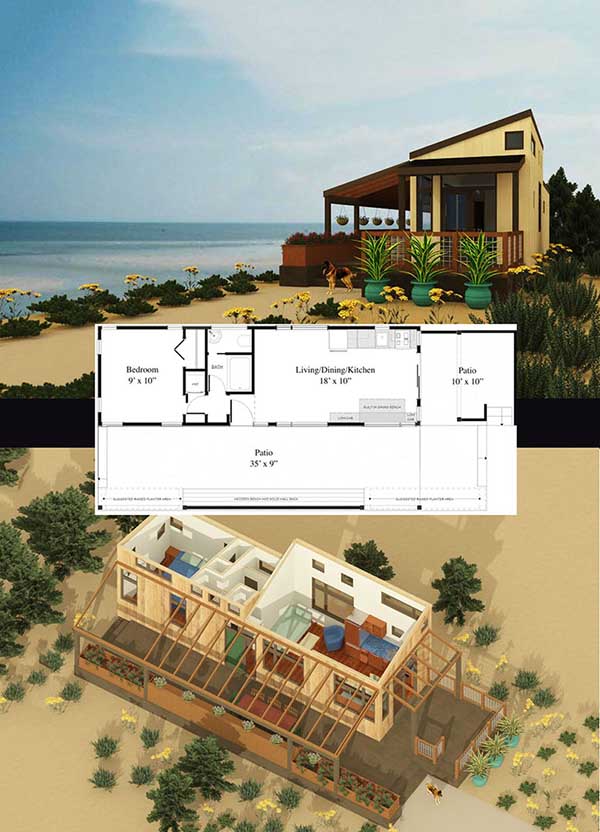 Get Floor Plans to Build This Tiny House
The Sonoma is a little 500-square-foot house designed by The Homestead Partners for California or other states with a warm climate. You may dream about building this tiny place on the beach but it would be a lot more economical to find a small lot near the lake instead.
For much hotter inland regions, an air conditioner is a must. Don't even think about large traditional AC units or noisy window boxes. All Southern Europe uses silent and effective mini-splits that can be controlled and programmed by a remote or mobile phone.
The Sonoma micro home plan is not that tiny. It's large enough for a small family.
23. Really Tiny Rustic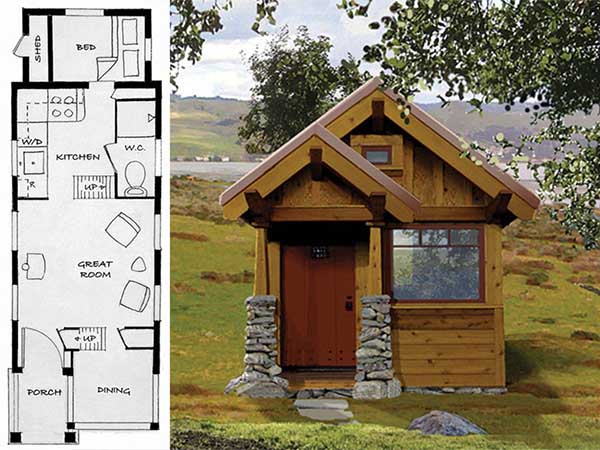 Source
With less than 300 sqft, this cabin plan has it all for a young couple: one bedroom, one bathroom, a nice kitchen, a living room, and even a separate dining area! There is no garage though, but who cares? We all know that scooters are much cooler than clunky cars. If all Italians can fit a family of 5 on one scooter than for a young couple it will be more than enough! 2 bikes will do just fine, too!
If you can imagine yourself buying and riding Vespa then just grab this tiny house plan and be done with it!
24. Forester Tiny Cabin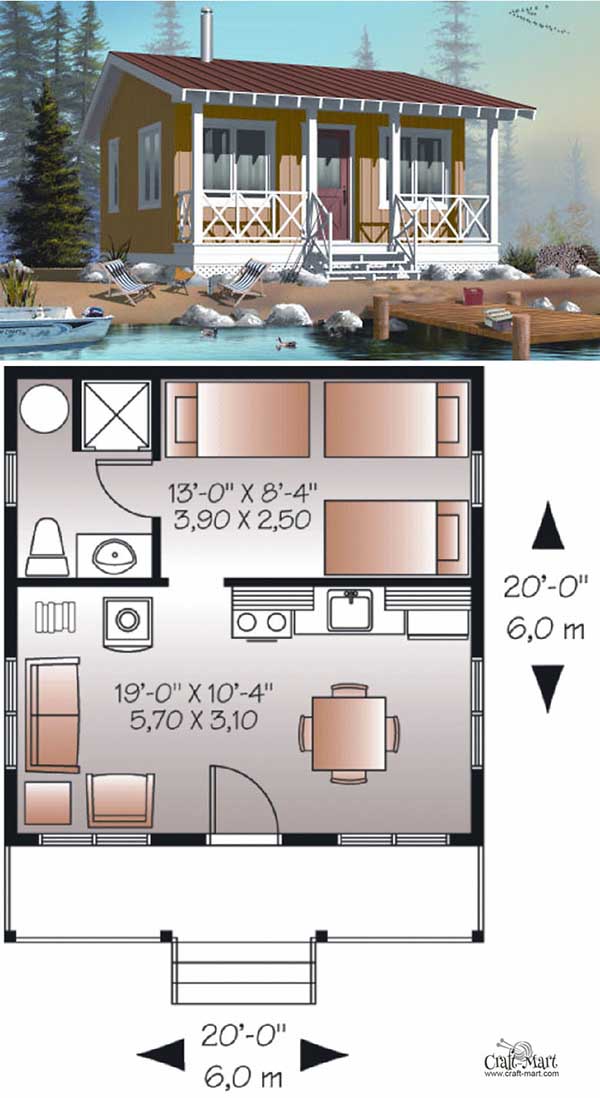 Get Floor Plans to Build This Tiny House
If you want simplicity and functionality under one roof then go with this 400 sqft cabin.
This plan is one large 20 ft x 20 ft square, so converting it into the trailer will not, probably, work. On the other hand, look at this huge porch! This house needs to be far away from highways and city noises for you to enjoy nature sitting in a rocking chair on the deck.
25. "Garden Cutie" Tiny House Plan with an Alcove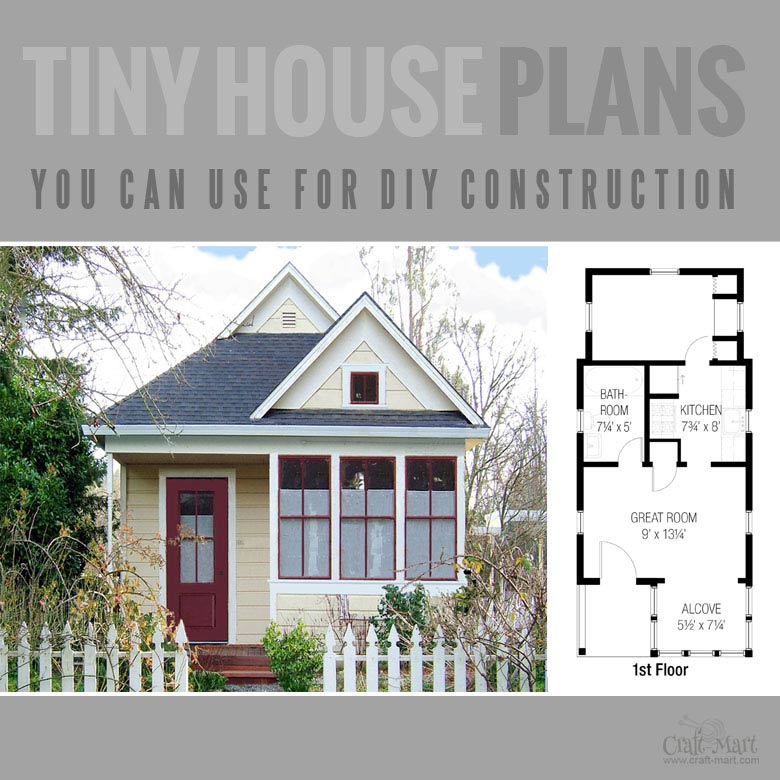 See those three windows on the right part of the facade? This is an alcove area large enough to fit a queen-size bed. Here is your American dream for a fraction of the price! This tiny home is calling your name …
Life is too short: stop spending most of it paying off huge mortgages and property taxes!
26. Tiny "Moderna"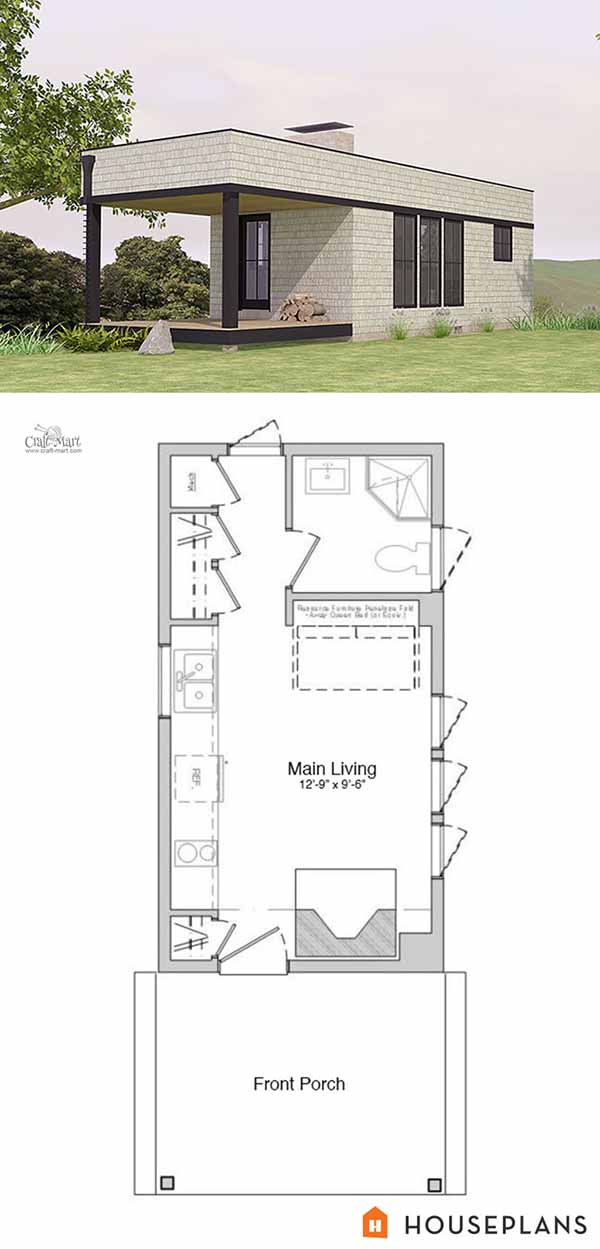 Get Floor Plans to Build This Tiny House
Living in a minimalistic place like this house of 312 sq/ft will require some major decluttering. Basically, you will live in your kitchen and there is no space for the second person. The fireplace is nice but a flat roof is underused.
How about making a sun deck there or a partially covered terrace with stairs outside? You can put a few planters with herbs or flowers there as well. Another crazy idea would be making a part of the roof a hot tub or at least a reservoir for collecting rainwater for a garden and flushing a toilet.
27. Sago Plan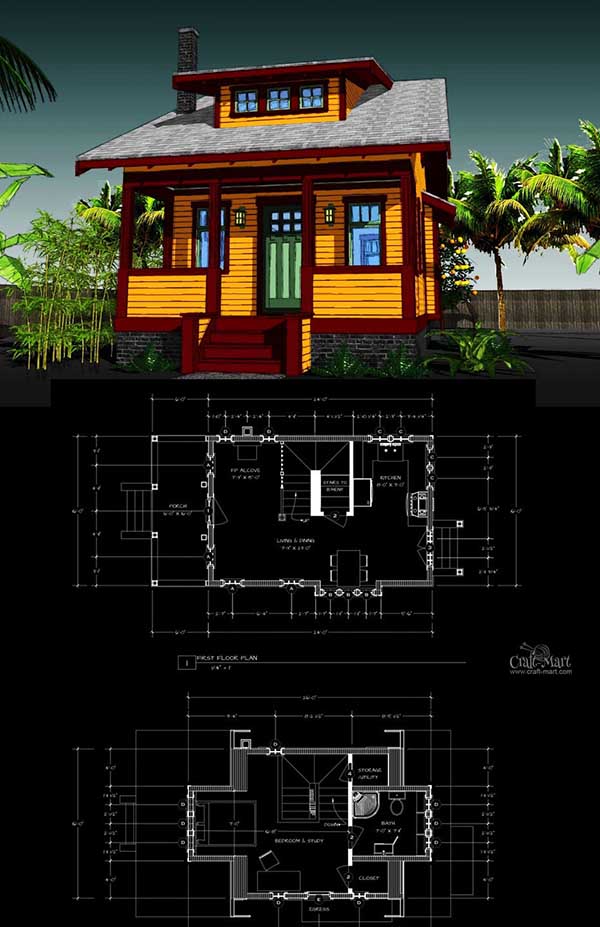 Get Floor Plans to Build This Tiny House
Sago model is one of the larger tiny traditional homes but still falls into the affordable starter house category. The plan is designed to accommodate a family of 2 since there is only one bedroom on the 2nd floor. For many families renting apartments with the same square footage (670 sqft), this tiny house will be just fine.
---
Free Tiny Home Plans
If you really want to get free detailed plans that can actually be used for building a tiny house there are only a few options available.
The first one would be a Quartz Tiny House by Ana White – your best bet;
Another is overly popular Tiny House Design free plans that great to get you started but lack a few important details;
Some free tiny house plans can also be downloaded from tinyqualityhomes.org but they do not look complete and probably can be used only as ideas for general layouts.
Final thoughts
Useful detailed plans cost time and require skills to produce and support;
Free plans will not save you money if you don't know what you are doing;
You need to have a clear picture of what is involved in construction and what kind of plans, materials, and tools will be required;
Get enrolled in one of the tiny house construction workshops or at least buy a book with clear step-by-step instructions;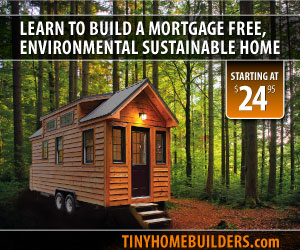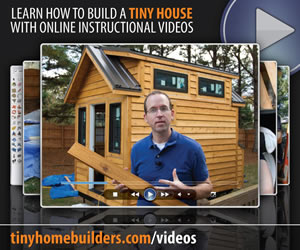 ---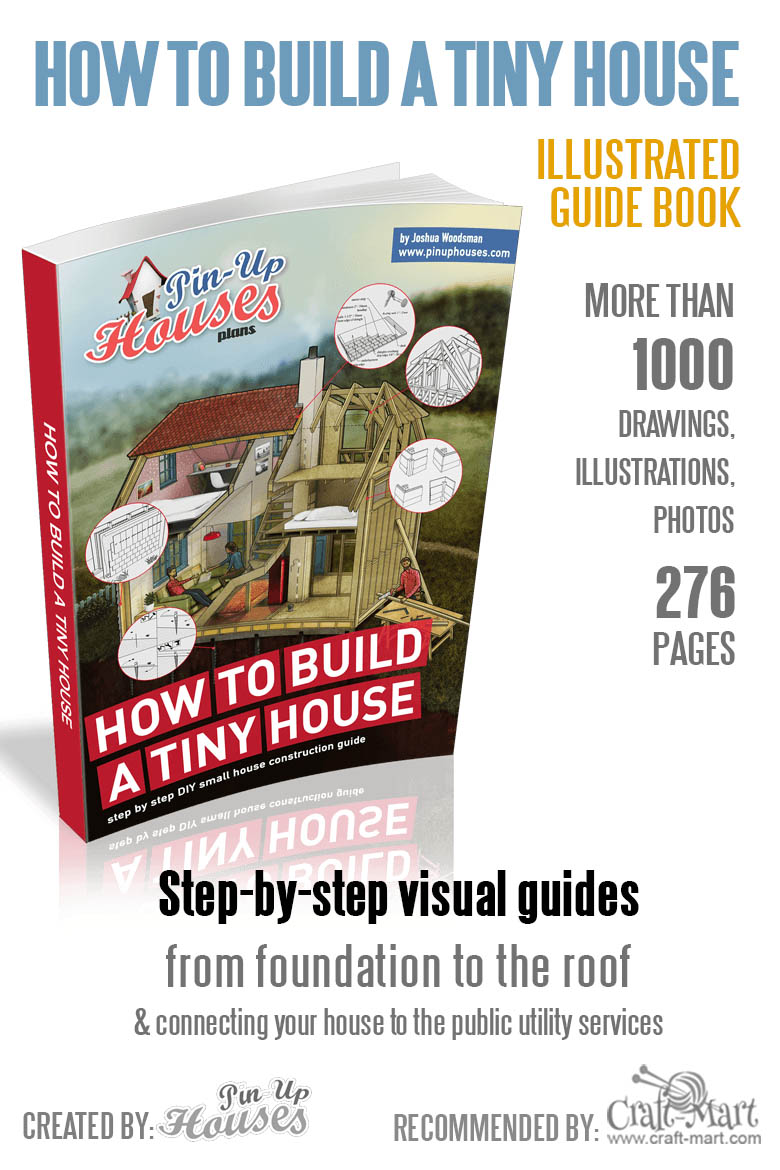 Don't be discouraged if these floor plans for a tiny house of your dreams are not what you are looking for. Besides US-made small homes, there are a few options to order inexpensive quality tiny home kits from the EU that are very easy to assemble. Take a look here at a few amazing tiny home plans from Italy and Estonia!
Check out our new tiny home builders directory with more than 100 listings of tiny house builders around the World!
Do you need more tiny or small house floor plans?
Check out our new collections of building plans for sheds, cabins, and tiny homes below!
Have you heard of Yurts?
Find out why so many people in the US are getting yurts and why yurts are more economical than tiny homes.
Interested in small rustic home plans?