10. Cute and Tiny Cottage "Summer Spot"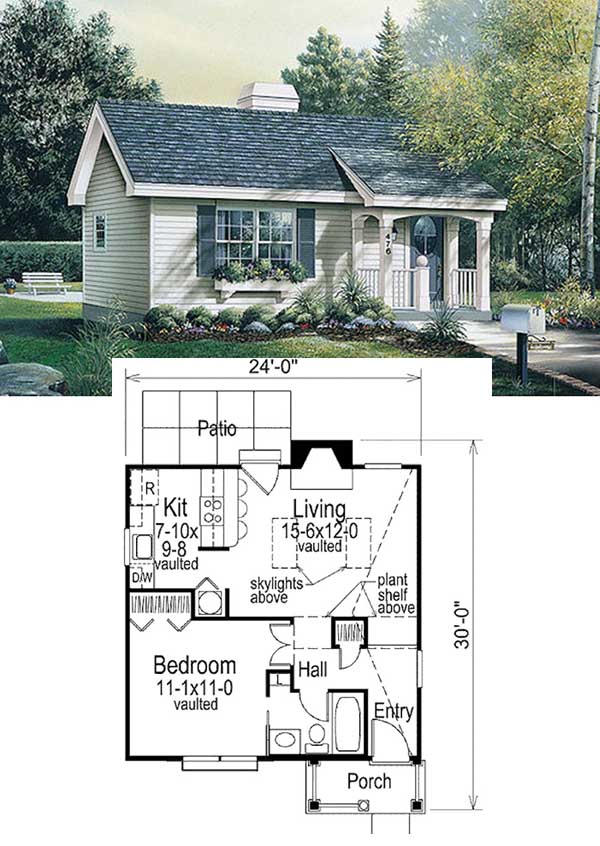 Get Floor Plans to Build This Tiny House
Look how adorable this little gem is! This 576 sq/ft cottage is calling your name!
The open concept kitchen has plenty of space and light. You can go out to have your breakfast on a deck, use a bar stool, or eat at the dining table in the living room. Simply a small personal space paradise! Trees in full bloom, flowers galore, and birds chirping – what else would you want? Just get these tiny house plans and start building!
11. Little Cottage "Aspen"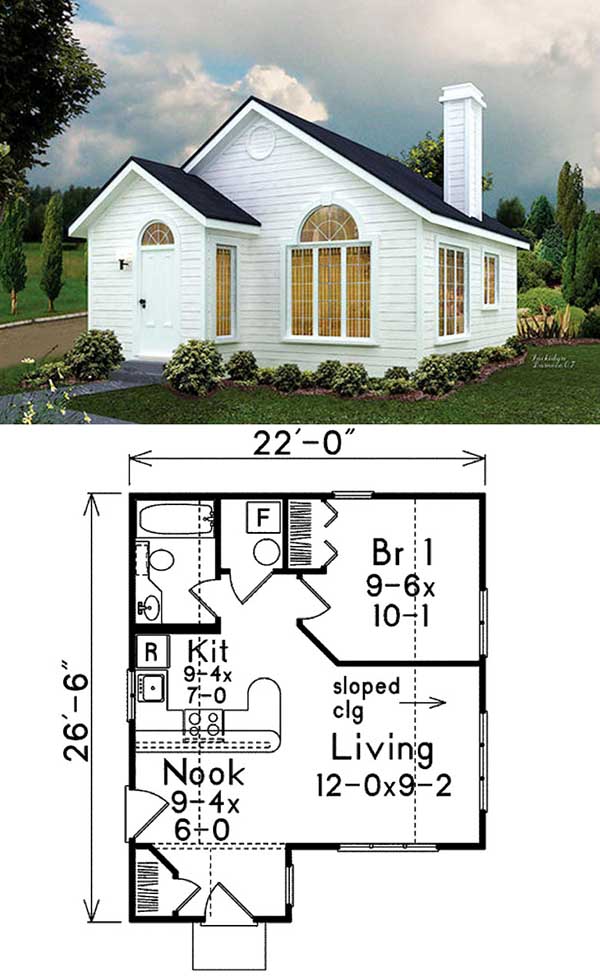 Get Floor Plans to Build This Tiny House
Super cozy and spacious 527 sq/ft cottage can be a starter or retirement home for singles or couples. It also makes a perfect vacation home or get-away retreat you were dreaming to build for a while. It has two closets and an open concept kitchen with a spacious living area and breakfast/dining nook.
12. Small and Simple House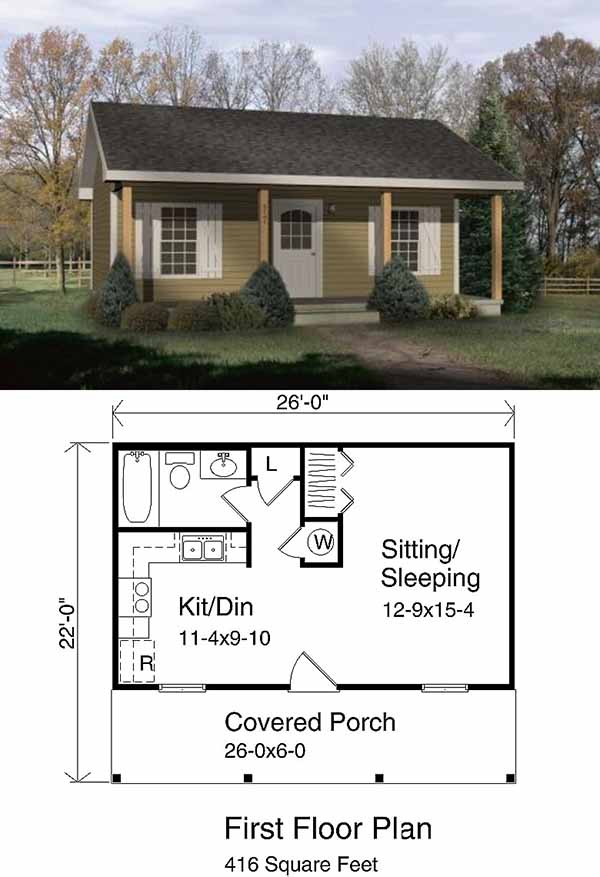 How to Build This Tiny House
This is one of the most simple tiny plans around. Great for saving money on things that a single person doesn't really need. A simple 416 sq/ft plan for simple living can be your perfect first step towards a minimalistic lifestyle.
13. Tiny Holland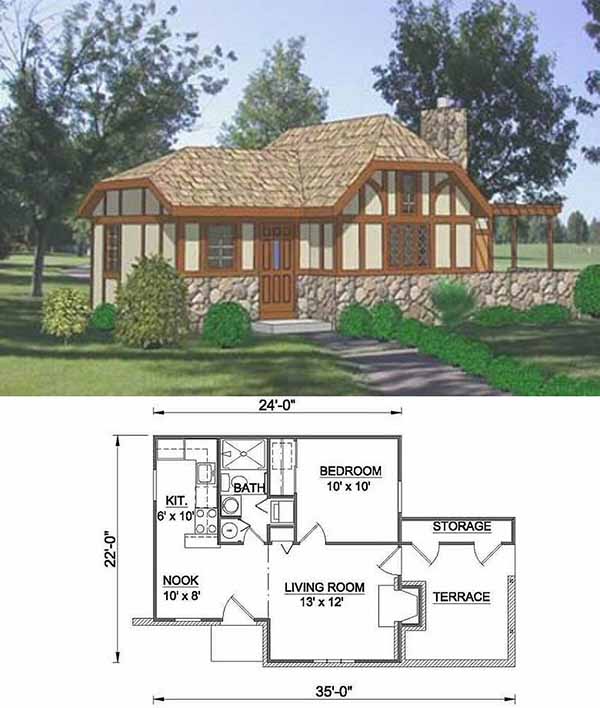 Get Floor Plans to Build This Tiny House
How can one blame you if you want to live in style? Here is your chance to build a perfect architectural masterpiece for a fraction of what your neighbors would pay for their 4,000 sq/ft mansions. With 484 sq/ft of total area, you have 9 times less space to clean and repair! And that not to mention property taxes…
For cold months it has a fireplace and for hot summertime, you can add an affordable silent mini-split air conditioner with remote control.
14. Rancho Mirage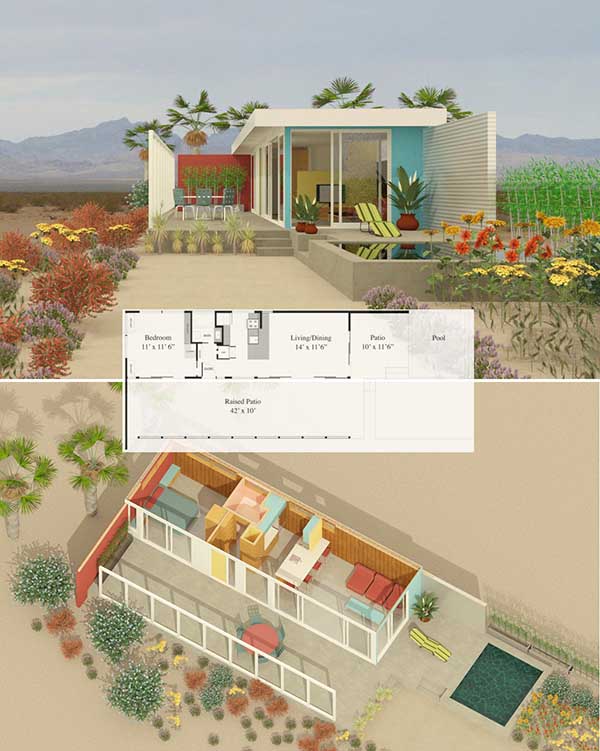 How to Build This Tiny House
Are you dreaming about a perfect desert get-away? For warm California or Arizona climates, this tiny house plan is simply perfect. Designed to reflect the architectural aesthetics of the 1930s and based on projects for rich and famous, this house is almost a work of art.
Each house has a separate bedroom with space for at a queen-size bed, a full kitchen and bathroom, kitchen/living/dining area that opens to an outdoor dining patio.
15. The Bohemian Mobile Tiny House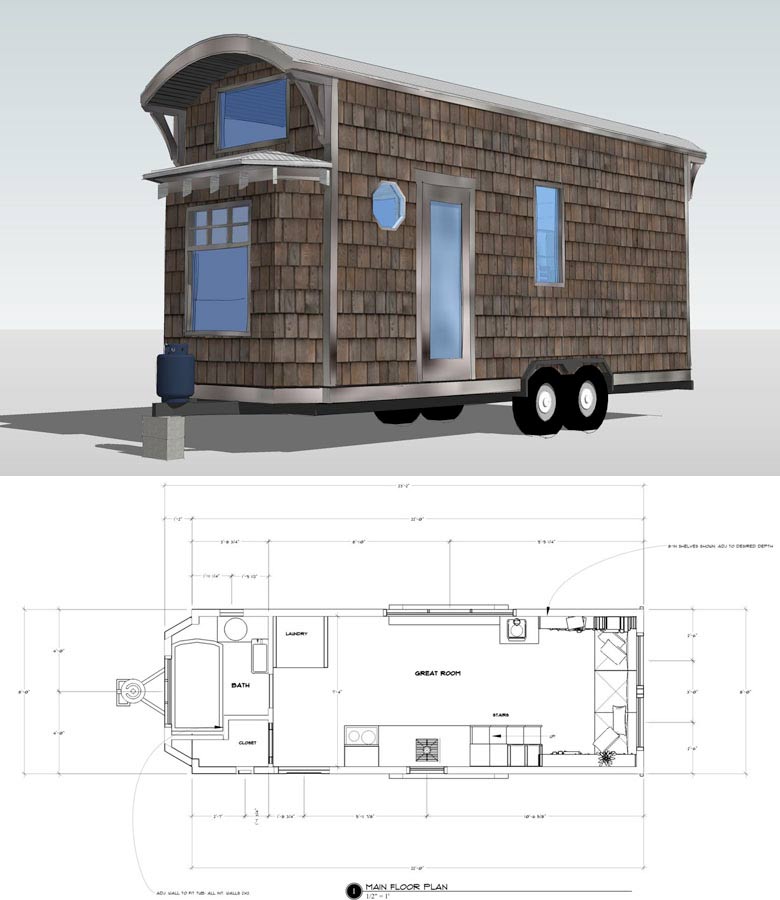 How to Build This Tiny House
Get Floorplans
If mobility and shingles are what you are after, then The Bohemian trailer house plan deserves your attention. This mobile tiny home was originally designed to fulfill the specific needs of one client but a lot of people loved it as well for some reason (perhaps, shingles?)
Anyway, where else would you get a 200 sq/ft tiny house on wheels for $15,000? Don't forget to ask for that BOHO octagonal window by the entrance door and a loft. Perfect for crafty people that go from town to town selling their stuff at fairgrounds or anybody who wants to move around frequently.