5. Tiny House "American Gothic"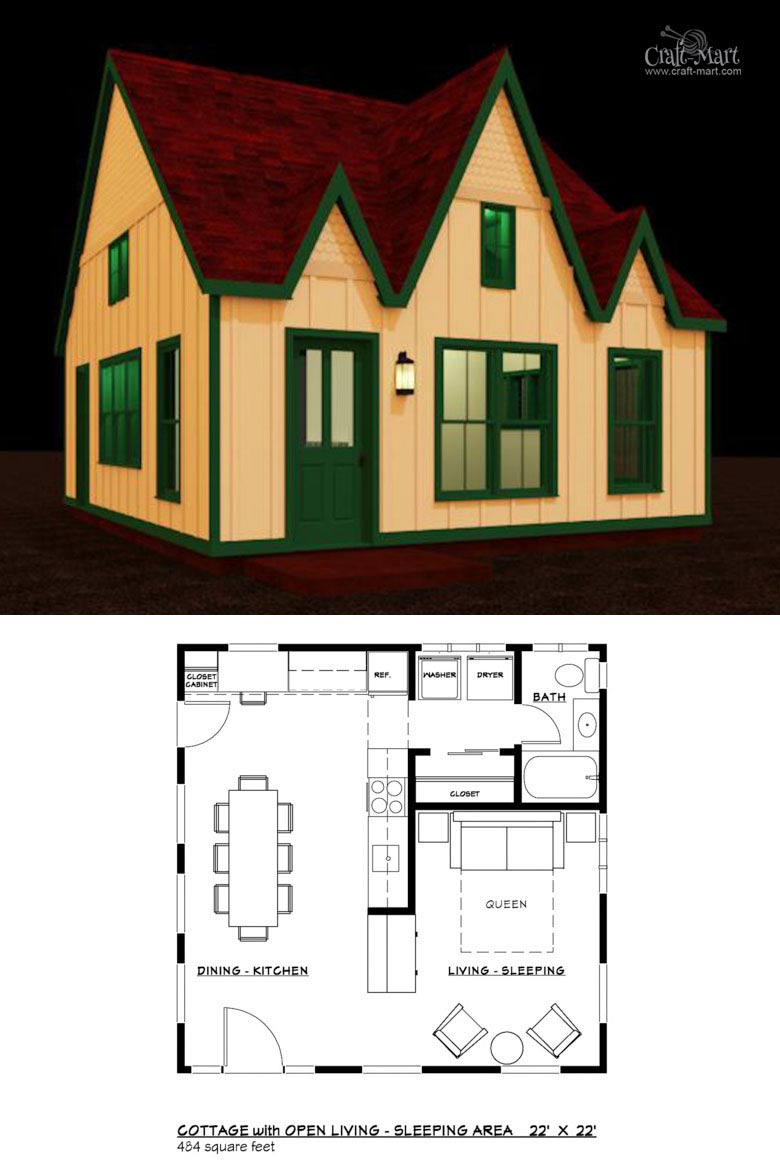 Get Floor Plans to Build This Tiny House
This little American Gothic Revival house is not only for those of you who are crazy about Holloween. The biggest advantage of building a Gothic tiny house would be standing out from all other "generic" small homes. Imagine how easy it will be to give directions to friends or a delivery person. They will never miss it and even if they did, your neighbors will know for sure how to guide them in the right direction.
This small house plan is simple and logical. Spacious 484 sq ft cottage is just a tad larger than a classic 400 sqft average tiny home but this extra footage will allow you to host 8-person dinners in that space with ease.
6. Classic and Elegant Santa Cruz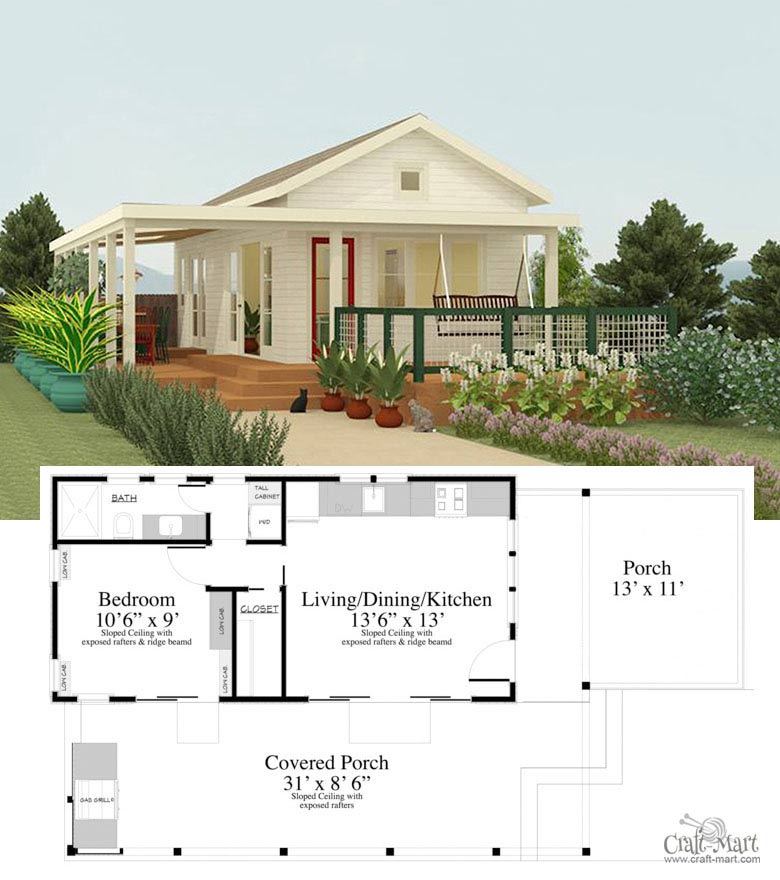 Get Floor Plans to Build This Cute Micro House
Santa Cruz is another gorgeous example of a little 440-square-foot house that is classy and functional. All rooms have exits to spacious covered porches to enjoy warm Southern nights.
All you need is a 1,000 sq/ft piece of land to build this beauty. It can be a perfect guest house, a get-away retreat, or a she-shed.
7. Tiny House "Garden Dream"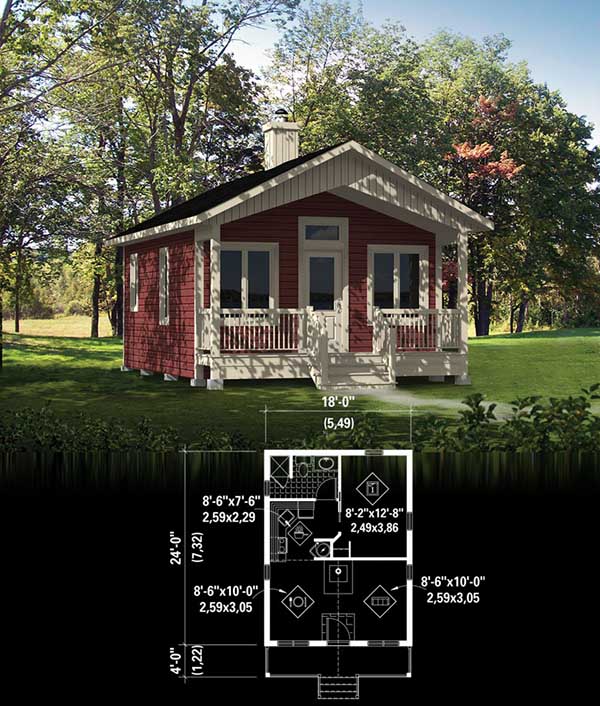 Get Floor Plans to Build This Tiny House
One more plan for those who are seeking a simpler life with less stress and obligations. It is just a bit larger than 400 sq/ft to be really comfortable for one or even two people who are tired of the rat race lifestyle.
Everything in this house plan and design is logical and proportional. If you need more storage room then consider putting up a shed or look for a bigger plan with built-in closets and a loft.
8. Extendable "Starter" Micro Home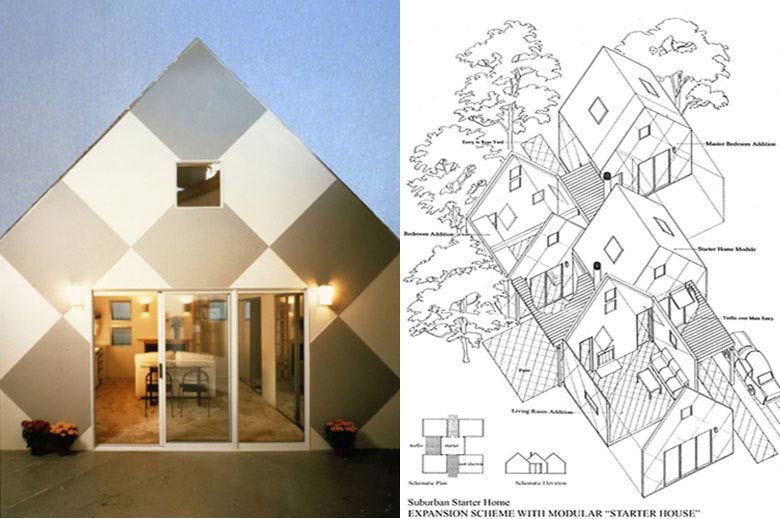 Get Floor Plans to Build This Tiny House
What a great idea for a growing family! Here is a really nice and flexible concept of urban modular homes that can be grouped together into clusters. Perfect for a younger crowd that wants to be close to city life.
The Starter Home floorplan is only 238 sq/ft and can be yours for a mere $20,000+ (without land). Despite its tiny size, it feels larger due to some special architectural features like skylights in the living room, a number of large mirrors, and a 16′-high ceiling.
Young couples can easily add or buy more adjacent units as their family grows.
9. Tiny Bungalow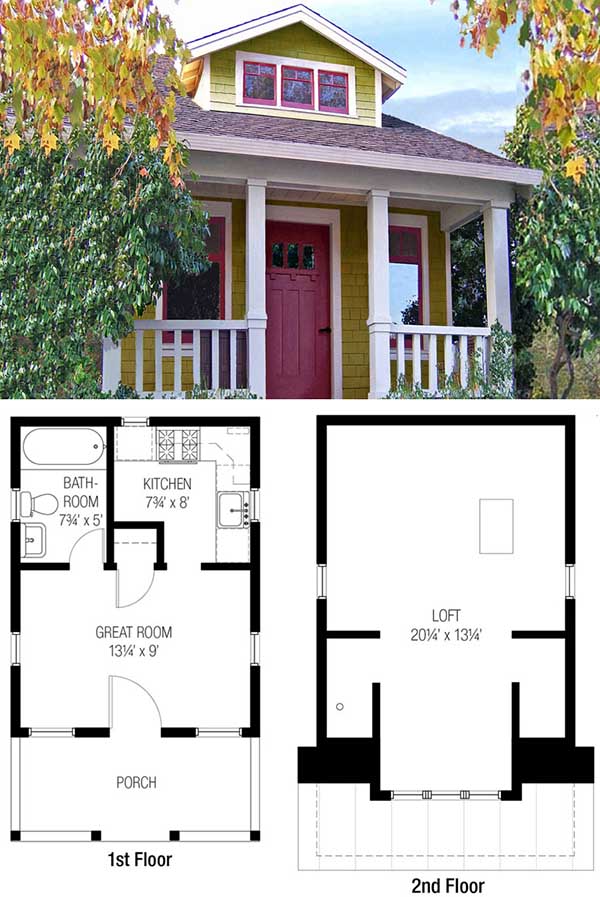 Get Floor Plans to Build This Tiny House
If you simply need something simple for suburbia, go with this plan for a small bungalow with a loft. If a loft is not what you want, a high cathedral ceiling is an option.
This home has an abundance of light and all conveniences of modern life such as a dishwasher, microwave, and full-size range with oven. For a hot climate, you can easily add a modern silent mini-split air conditioner with remote control. It also can serve as a heater for colder months.
This house is not designed to be portable. If you wish to spend some extra money, you can dig a basement and put this house over it. To do so, you may need to work with an architect or engineer licensed in your state to get approval from the building department. Make sure to check all the legal aspects for tiny house dwellings in your state.