Sheds, small cabins, and tiny tiny houses with lofts are the projects that a growing number of people are attempting to build with their own hands. It is obvious that our kids and grandkids are growing increasingly helpless addicted to mobile phones.
A practical DIY project that you can do as a family would not only help to break that trend but also teach them some valuable life skills.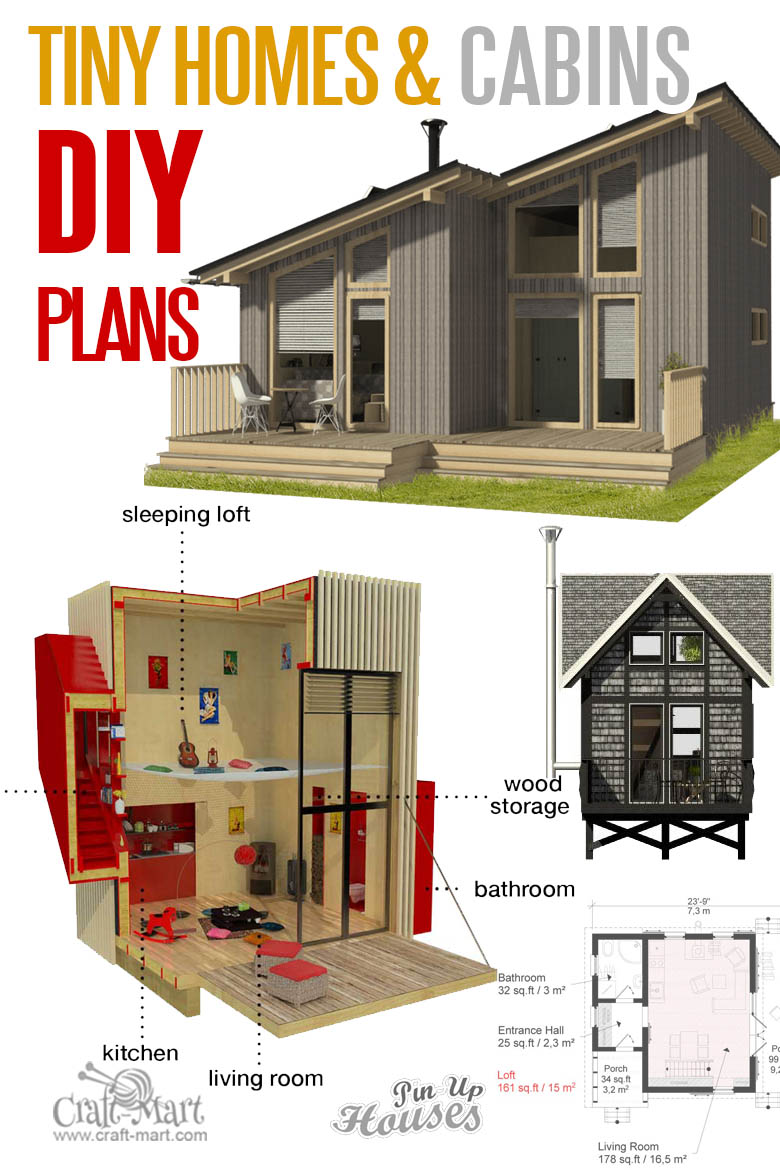 Even if you have a sizable budget to hire a professional crew, step back and think: "What if one of the projects below can change your kid's life?" This could be an eye-opening experience for them that may give a completely new perspective on their life goals and values.
In this list of a few clerestory cabins, cottages, and tiny homes you may find something that the whole family can do for fun. A group of professional architects and designers from "Pin-Up House" located in Prague created all the plans below.
*All construction estimates are based on the actual building costs but may vary from state to state.
DIY cabin building cost $21,200
Total floor area 396 sq. ft. (1st. floor 269 sq.ft + loft 161 sq.ft.)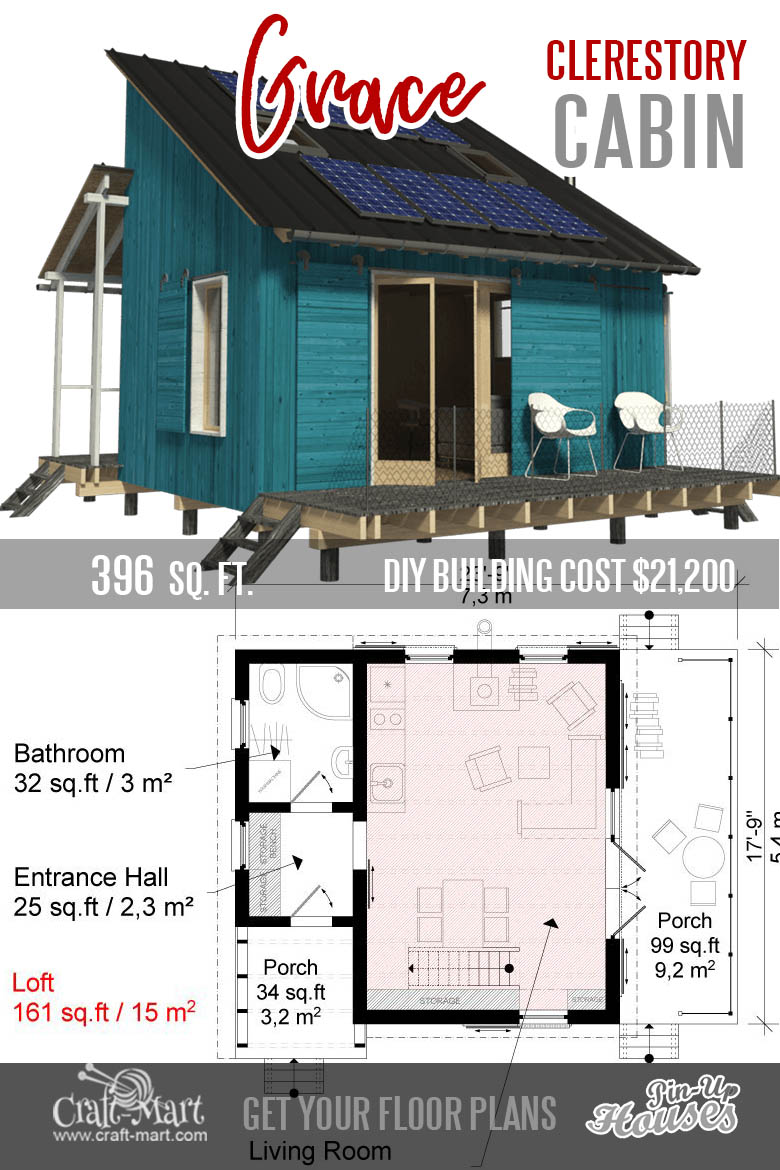 What is Grace? It is a small clerestory cabin painted with bold blue color and outfitted with solar panels. This tiny house plan with the loft is definitely designed with simplicity and self-sufficiency in mind. But what exactly the definition of clerestory?
A clerestory is an interior wall built above part of the roof with high windows to let in light. A clerestory can be easily created using the Roof Cuts Wall at Bottom setting in the Wall Specification. – Definition from ChiefArchitect.com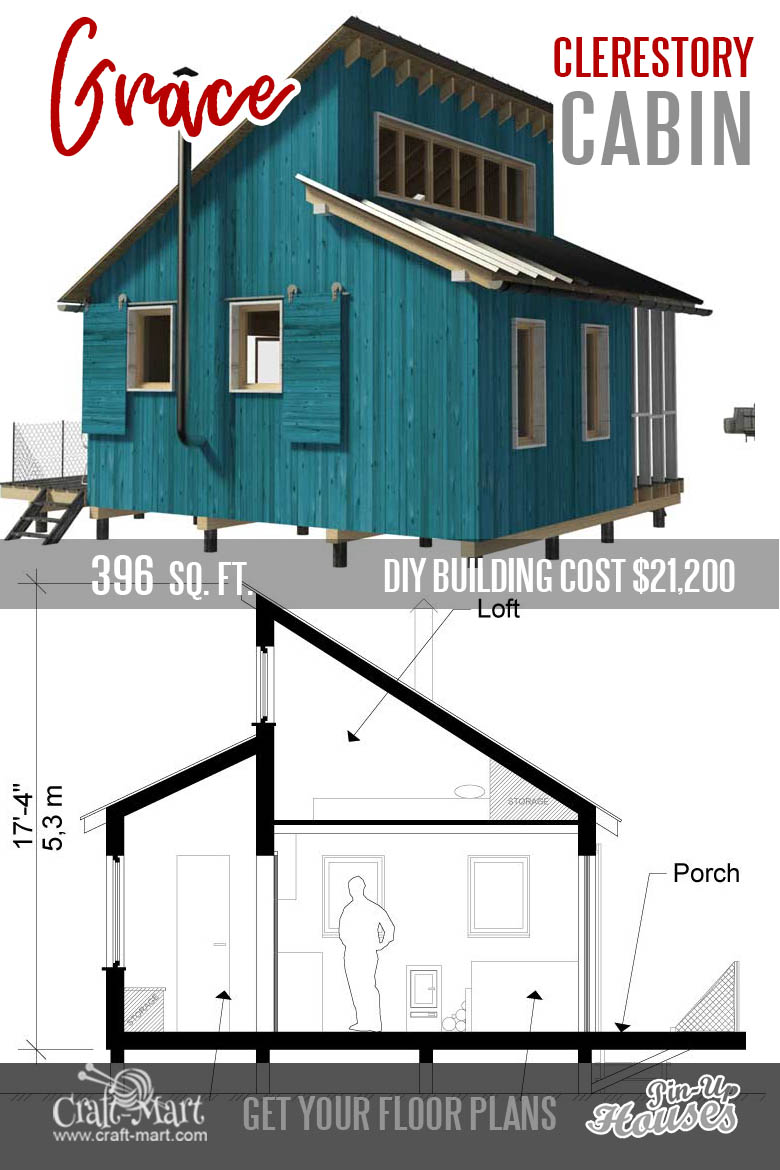 Throughout history architects widely used clerestory roofs and clerestory windows in virtually all types of buildings from churches and factories to private homes. Clerestory sheds and cabins are still popular in some regions. Sadly, with the dominance of prefab sheds and cabins on the market, clerestory cabin plans for sale are not common nowadays.
This tiny house is designed to be elevated above the ground for protecting your home against humidity and mold. During long periods of cold or hot weather, it also helps to save energy.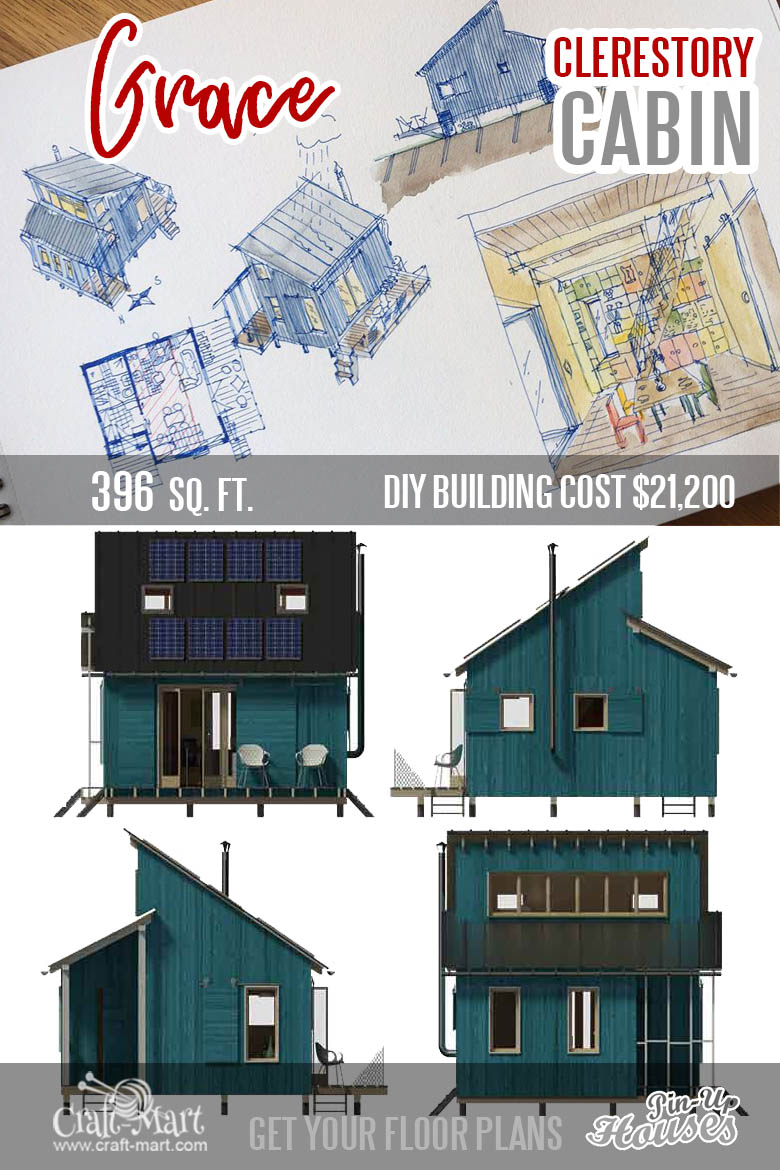 Although the described elevated design can be efficient for the mild climate zones, many of us live in sub-tropical and tropical regions. Consider the amount of heat that will be coming via clerestory windows. Without Air Conditioning it's hard to imagine surviving scorching humid summer months unless it is designed as a beach cabin.
Consider getting a mini-split silent AC unit like this one – it works wonders and is widely used everywhere besides the US. The reason is simple – the whole house AC system is 5-10 times more expensive and profitable for AC companies to install.
Get these tiny house plans here
2. "Anita" – Small Cabin Plans with Clerestory Windows
DIY building cost $7, 300
Total Floor Area 173 sq. ft.
Porch 80 sq.ft.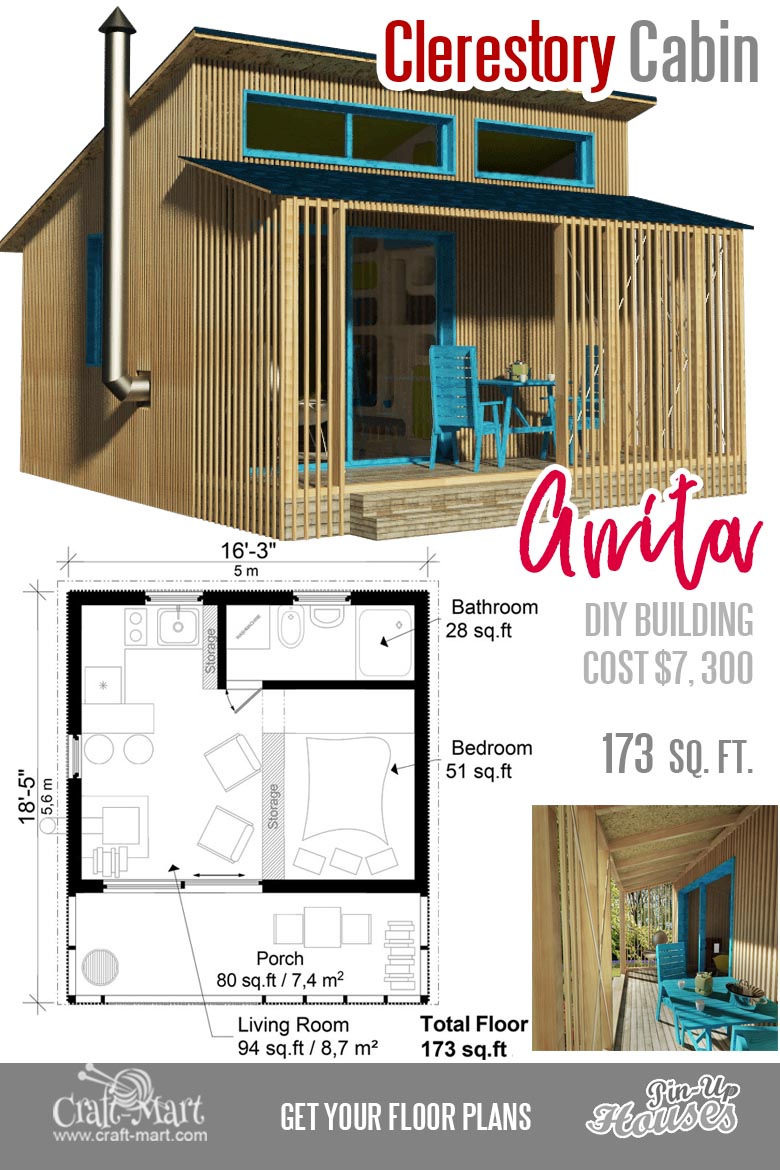 This small cabin whispers: "I'm so affordable! Build me!" But why would you choose this tiny clerestory cabin over other ones?
The answer is obvious – if you are too lazy or too old to climb to the loft or the second-floor using steep ladders of stairs.
Clerestory windows make the interior more spacious and fill it with light. Anita small cabin plans with a clerestory roof would be a good choice for a vacation home or a small get-away cabin to build on vacant land. You can't go wrong with a roof over your head for $7,300.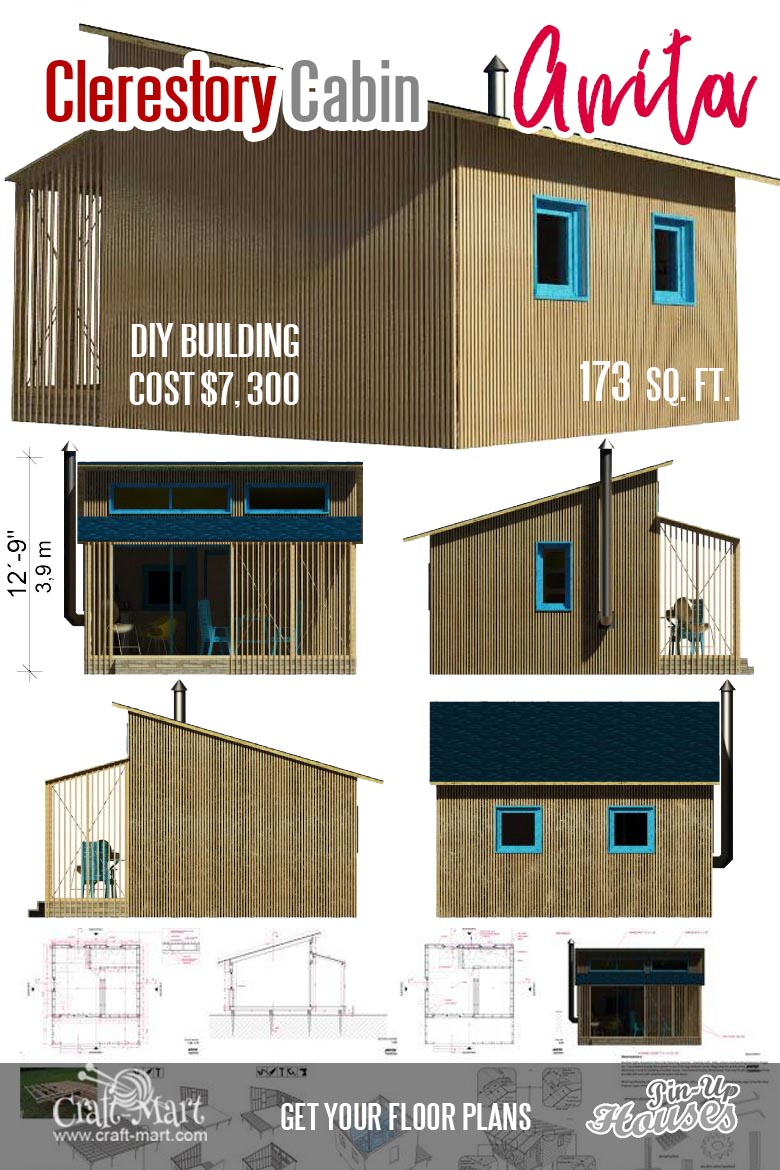 Building a nice clerestory cabin Anita on your own land is very realistic. All you need is a clear step-by-step guide plus materials. Outsourcing the construction process should not be that expensive either if you are not a DIY-er at heart.
Get Anita clerestory cabin plans
3. Tiny Cabin with a Loft – "Frances"
DIY cabin building cost $9,700
Total Floor Area 183 sq. ft. + Porch 42 sq.ft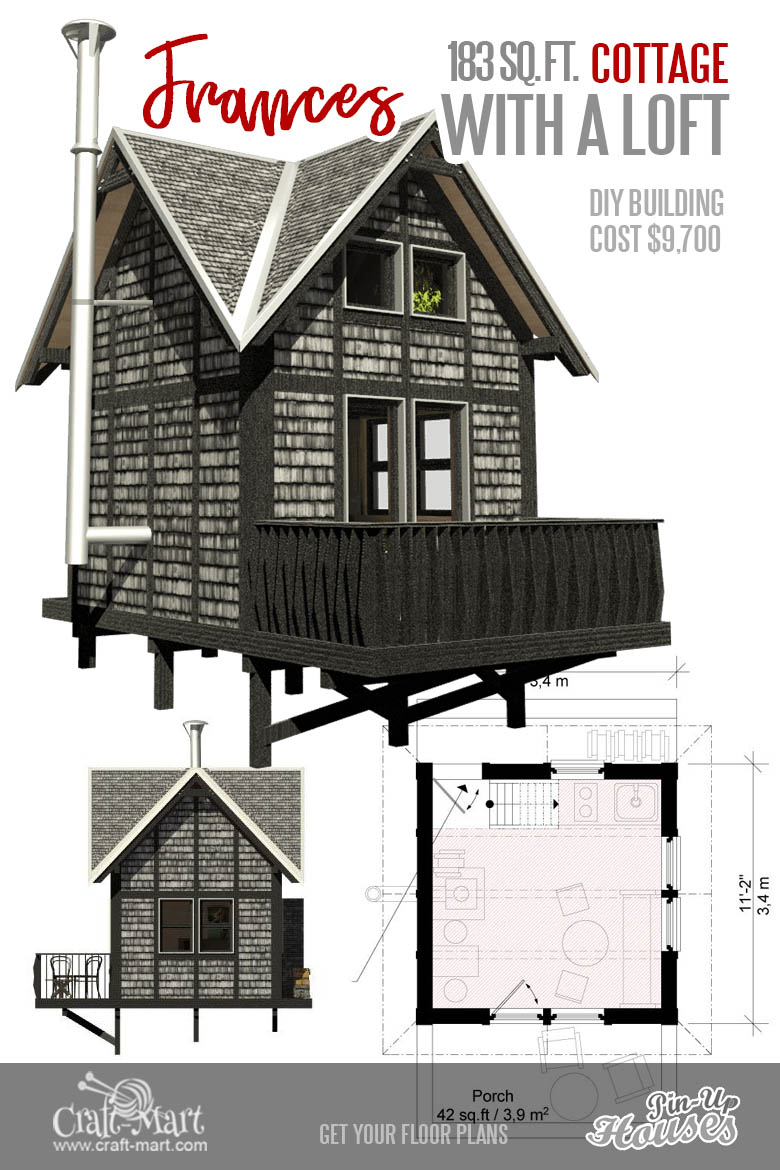 Don't you have a strange feeling that the name of this tiny cottage is somehow related to France…? Actually, this micro-tiny home with loft is the cutest thing we've seen since our trip to a small village of Èze near Nice, France.
If you've never been there you should definitely go. Climb the steep streets of this magic village to the end of the cliff and marvel at the breathtaking Mediterranean sea. Don't forget to stop at the World-famous Fragonard perfume shop by the village gate on the way back. You'll not miss it – the fragrance is divine!
Ohhh, now back to the house plan…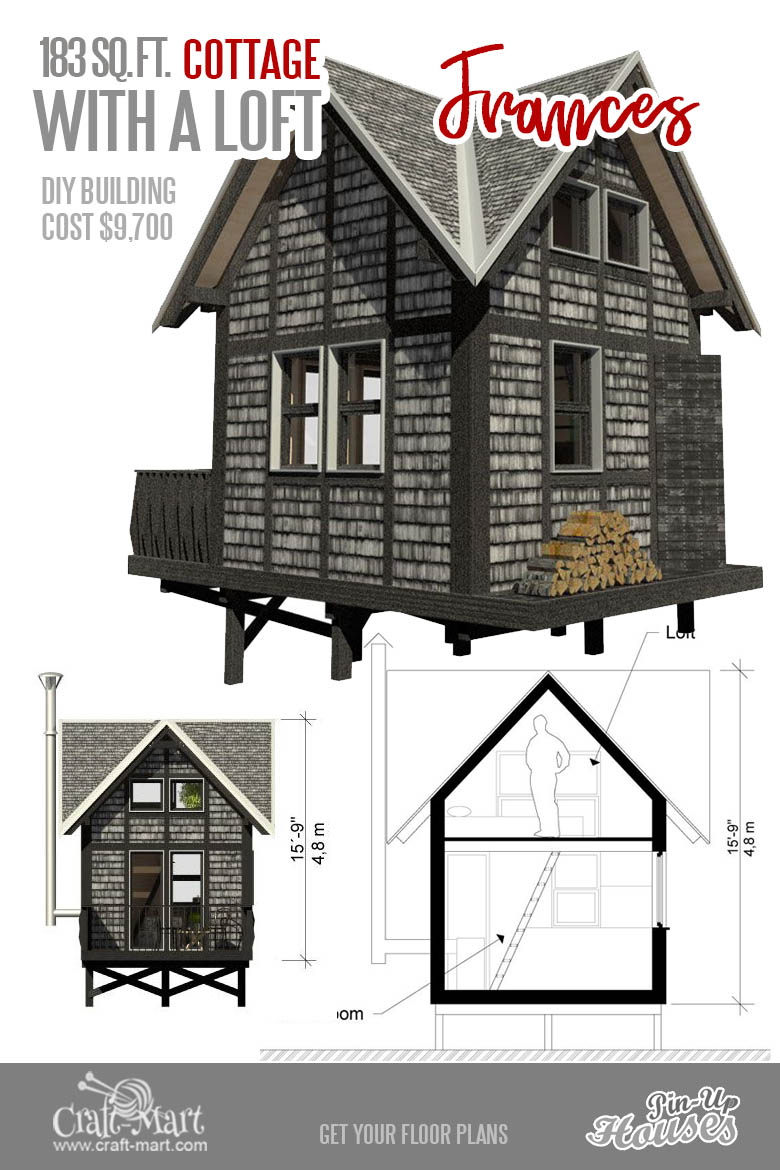 This cozy plan is super-simple – sleep on the loft and do everything else downstairs. Since climbing up a steep ladder can be a challenge for older people, don't plan on convincing your in-laws to move into this mini house.
Like all tiny home plans with loft, Frances is designed mainly for short-term living. The floor and the walls are insulated well enough to withstand even harsh winters. A unique flooring construction is designed for minimum heat loss and maximum energy saving.
Just a perfect floor plan for a cute cabin in the woods or a tiny house for a student!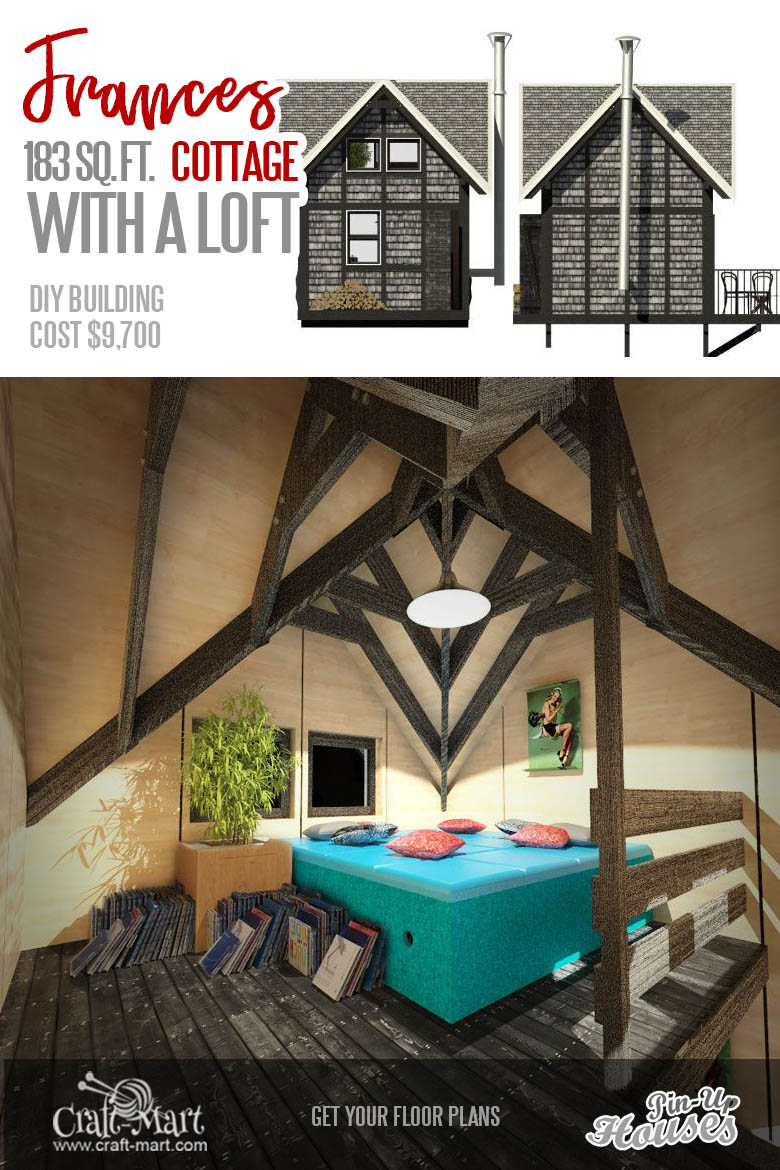 If Frances is not what you had in mind for your dream country cottage or cabin, we have plenty of other options to offer.
Get these cute small cabin plans here
---
DIY building cost $2,100
Candy specs: 206 sq. ft. small 1 bedroom cabin with 53 sq. ft. porch and 75 sq. ft. loft. It is a one-room timber structure elevated on pillars with front porch and loft.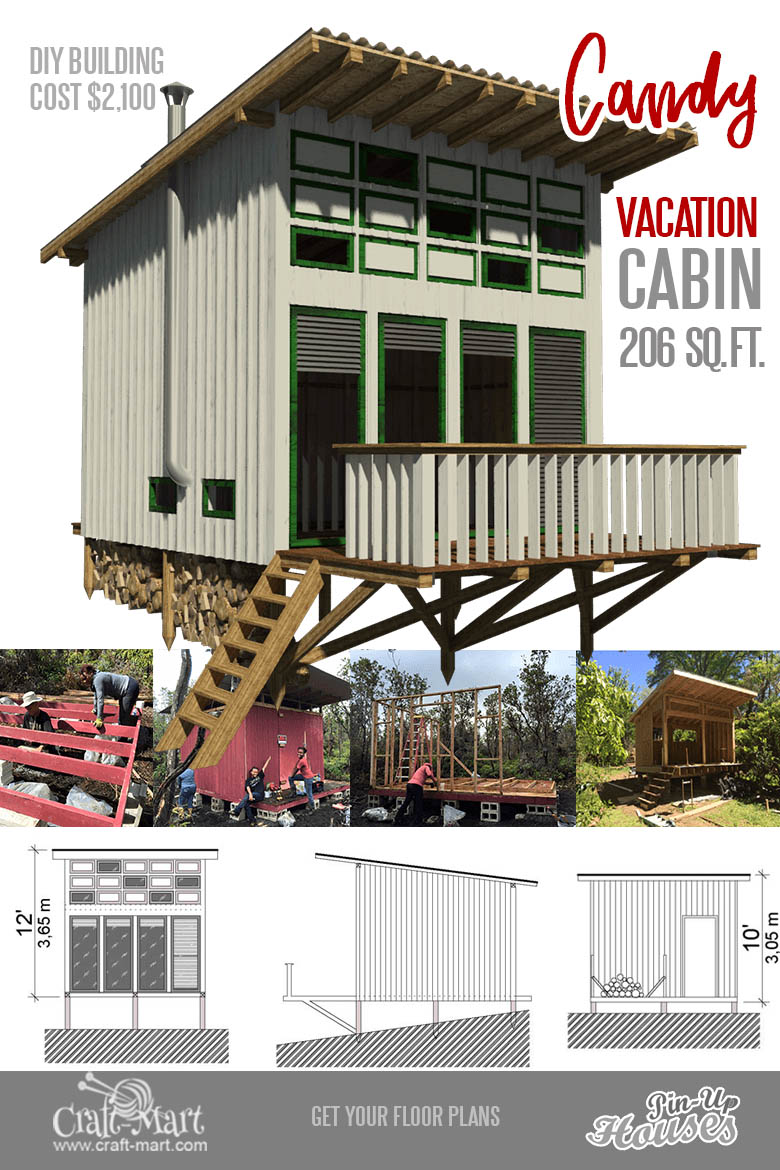 Candy is a charming cabin with an extended front porch and a loft. The loft can be used for sleeping or serve as storage space if you are OK to sleep on the couch downstairs.
It can also serve as a perfect garden house – a.k.a. man-cave or she-shed. So get your tools out and make this low-cost DIY small cabin your next weekend project.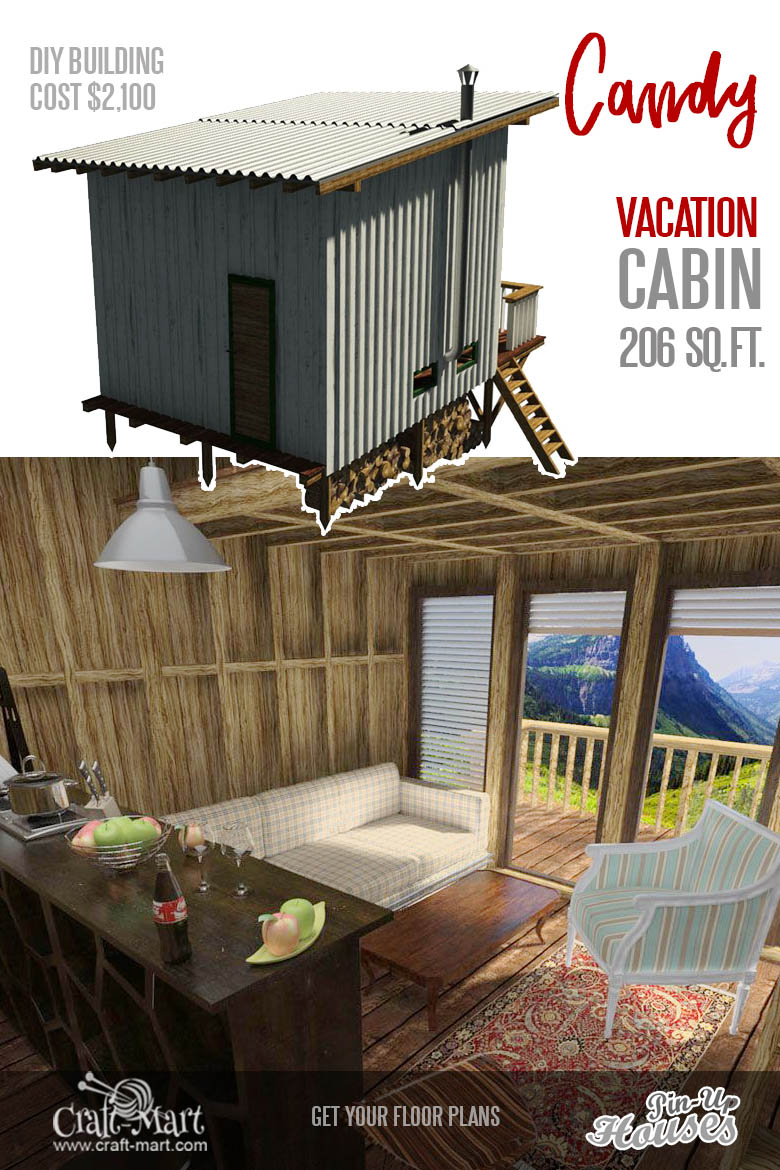 Since there is not enough room for the bathroom inside, you may think of some kind of an attached solution by the back door. Of course, installing a composting toilet can easily double the price but you'll have a piece of mind.
The raised platform will protect you from flooding during the rainy season. Make some plans for a small opening window on the back wall for creating a natural airflow during hot summer days.
Get these small cabin plans here
---
5. Modern Garden Shed Plans – "Suzy"
DIY shed building cost $450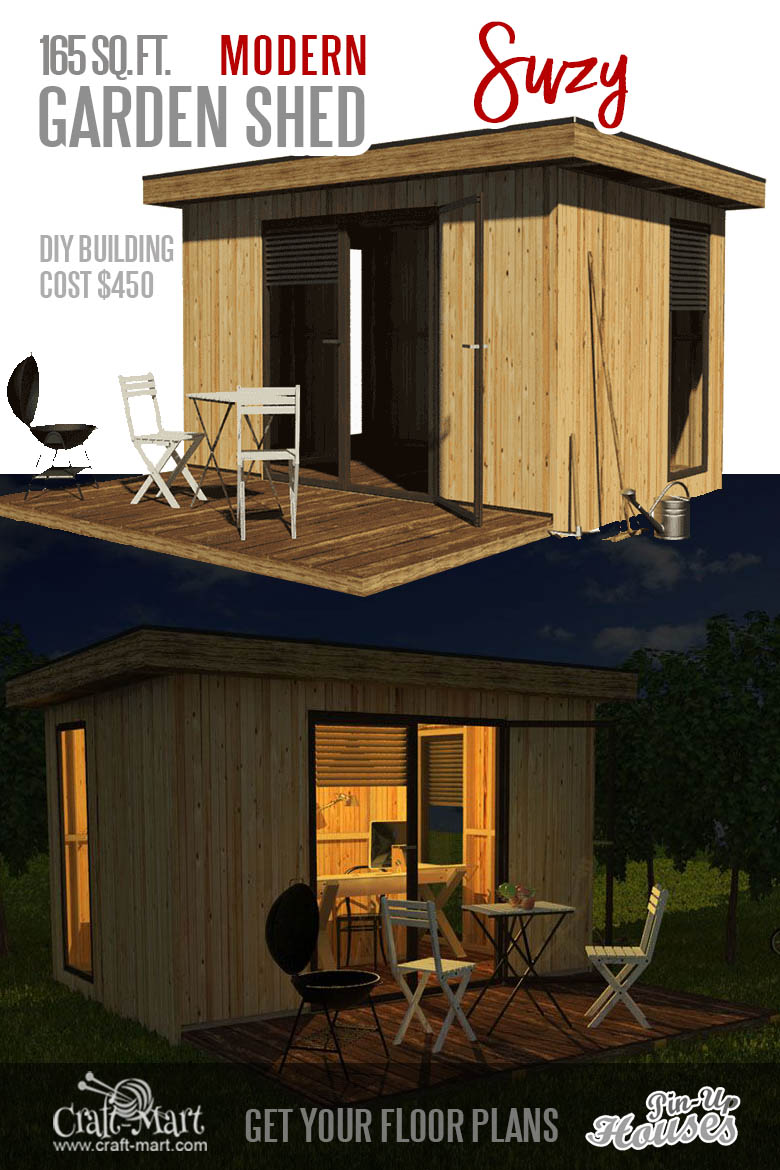 Who doesn't need a garden shed? Suzy is one natural, modern, and elegant wooden shed that you can modify as you wish after building it. Don't fall for the toxic plastic shed from your local hardware store! This DIY woodworking project is easy enough for beginners.
This cute wooden shed has a minimalistic look – one rectangular room with a flat roof, full-height windows on two sides, and a big full-height double-wing door on the front. You can enjoy the sunlight while doing some projects on the cozy patio.
From the rendering, you may notice that it can also be used as a small studio for crafts, writing, painting, etc. We all need a quiet space and with all these open house plans there is often no peaceful place at home.
---
DIY building cost $58,200
686 sq.ft. (loft 108 sq. ft.)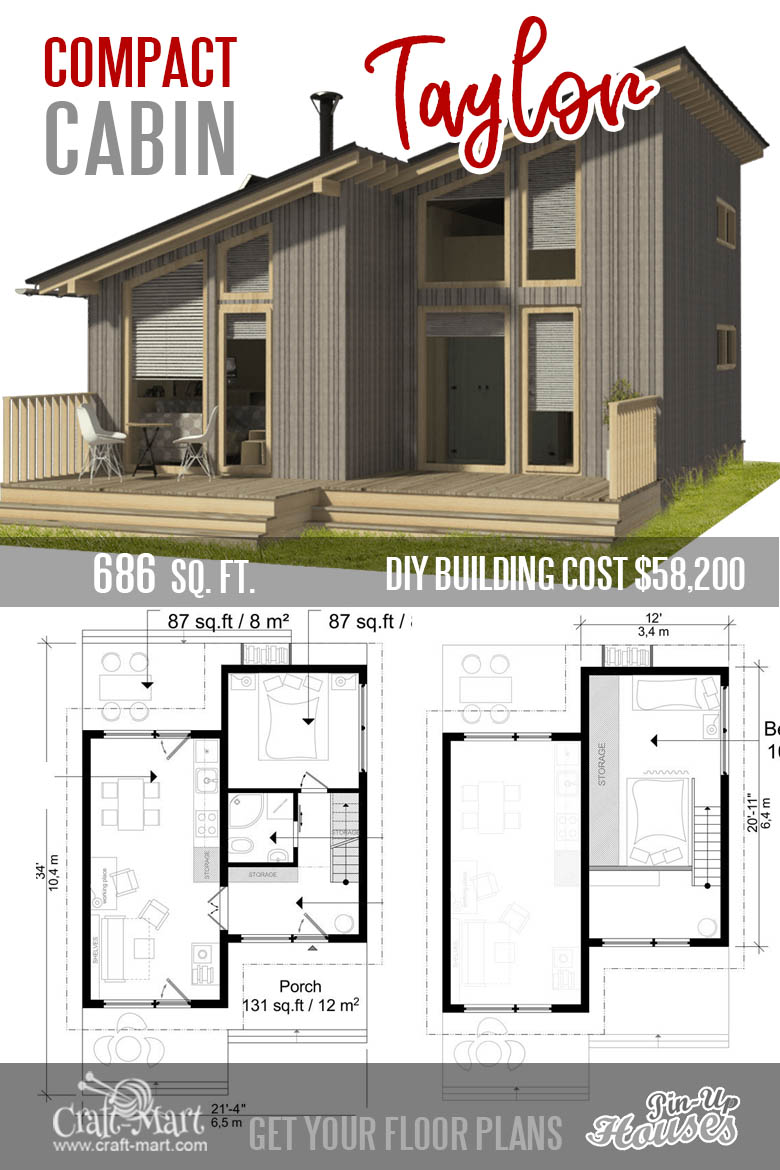 This clean-line small house with a loft has everything for a young couple on a tight budget besides a double-car garage. Well, you can always get a scooter! We like this plan's simplicity, large windows, and glass doors.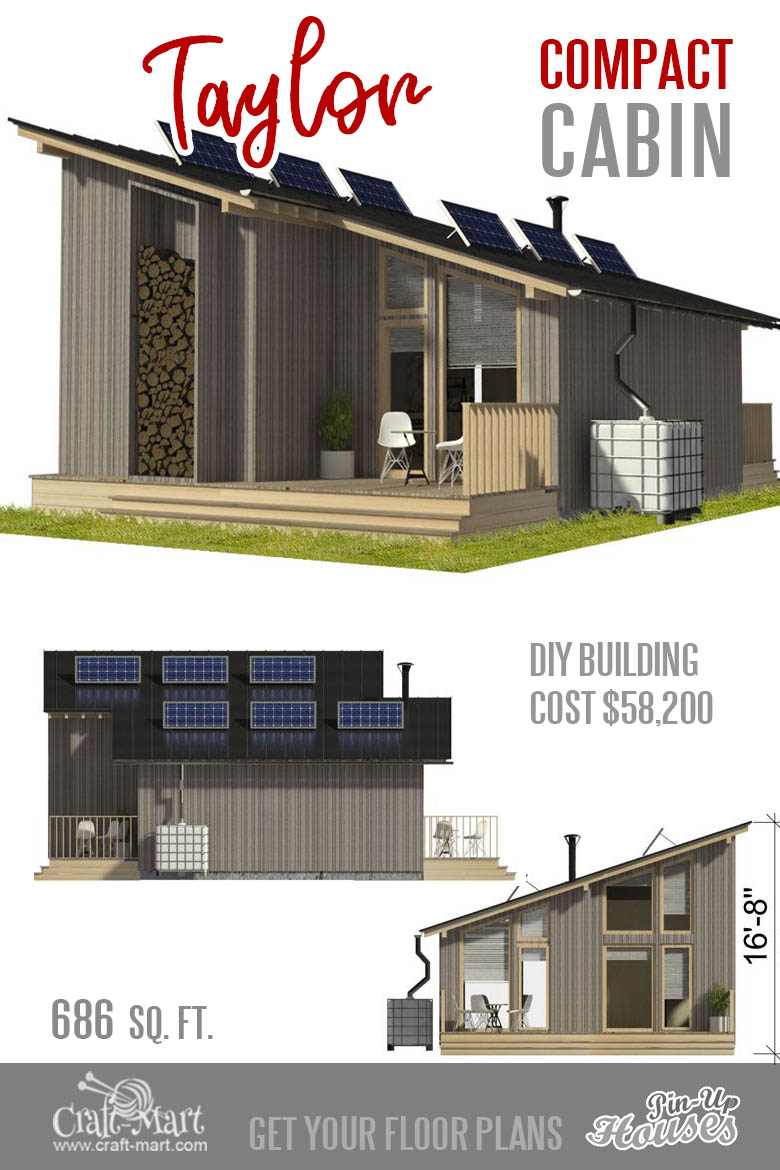 Make sure to get a rain barrel that you can open and clean inside with a power washer. In time, algae may start growing inside the barrel. You'll have to drain it and clean the whole barrel with bleach.
Solar panels on the roof may add to the initial construction cost, so consider having a solar heat collector panels instead. You can easily assemble them by yourself. This tiny house is not going to consume a lot of electricity anyway.
Get these small house plans here
---
DIY building cost $15, 400
Total Floor Area 261 sq. ft. (loft 129 sq.ft.)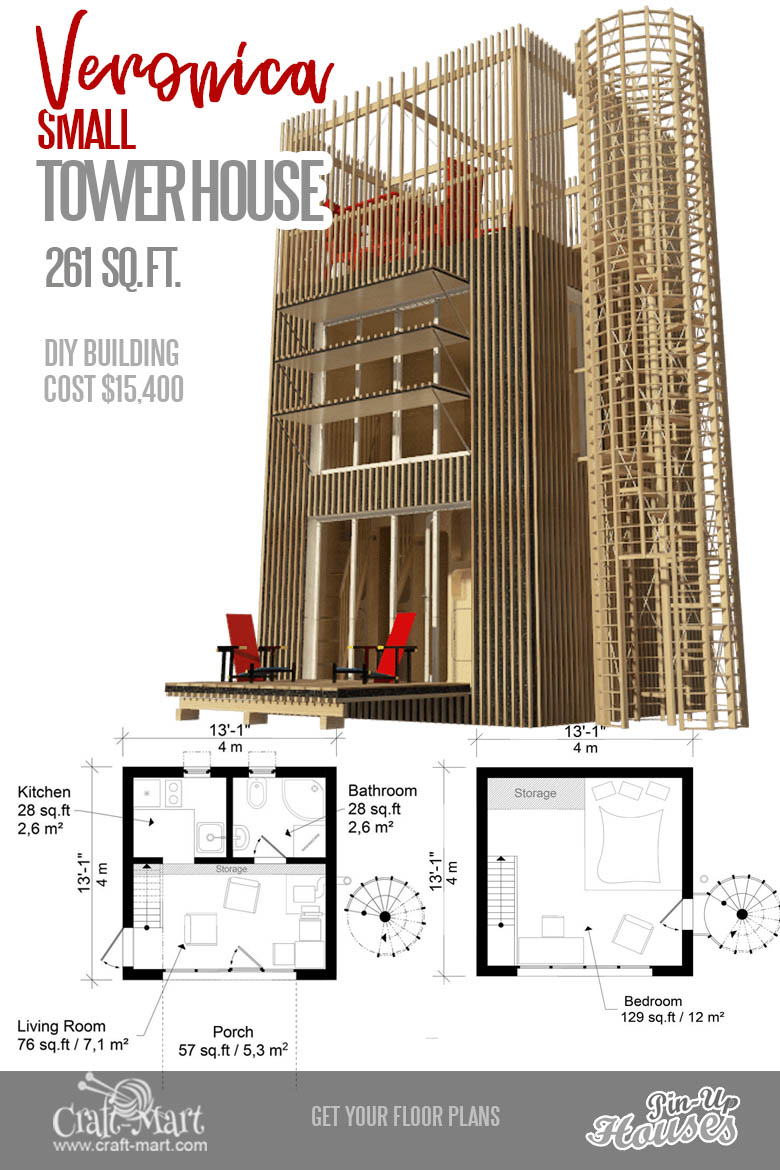 Veronica is your own mini sky-scraper with the patio on the roof. How great is that!
While the spiral staircase looks very cool as a design feature, an idea to carry furniture or breakfast up and down using tiny spiral steps is a bit adventurous. How about building a regular staircase going around the building? Another idea would be just extending the internal stairs to the terrace from the second floor. Then you can use the tower with a pole inside to slide down as firemen do.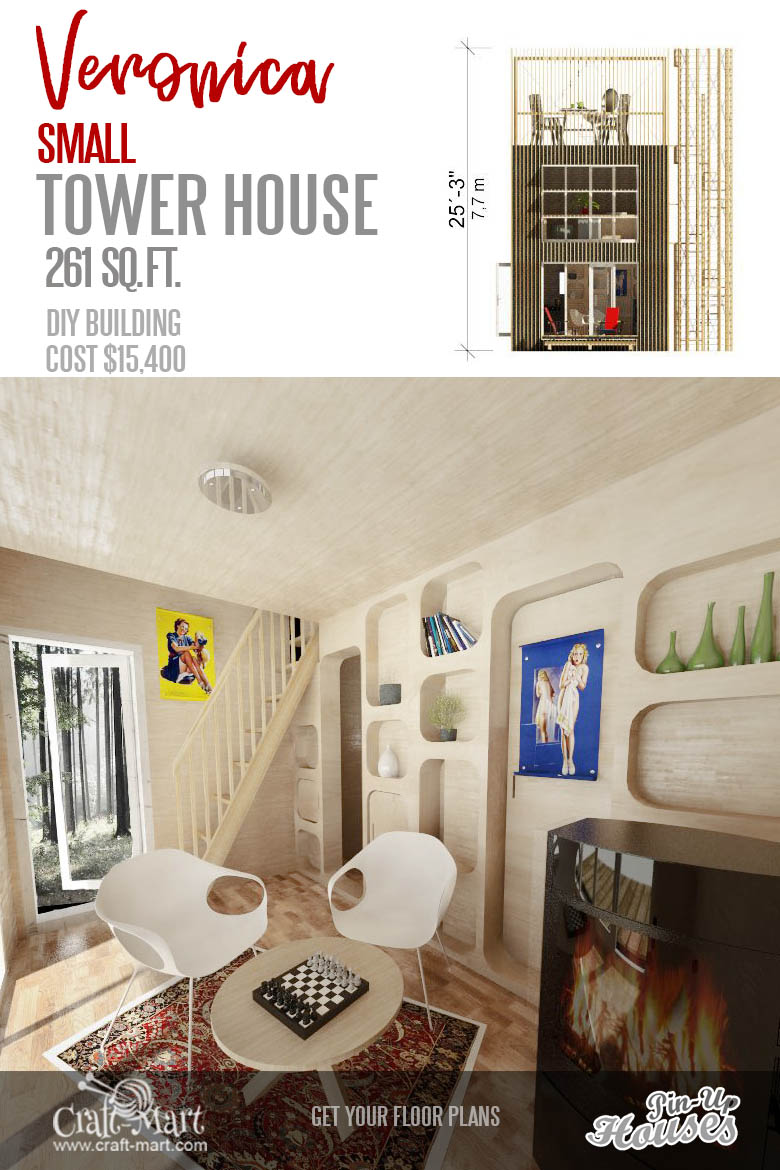 Downstairs also can be reorganized a bit with opening up the kitchen and installing trendy open shelves inside for ample storage.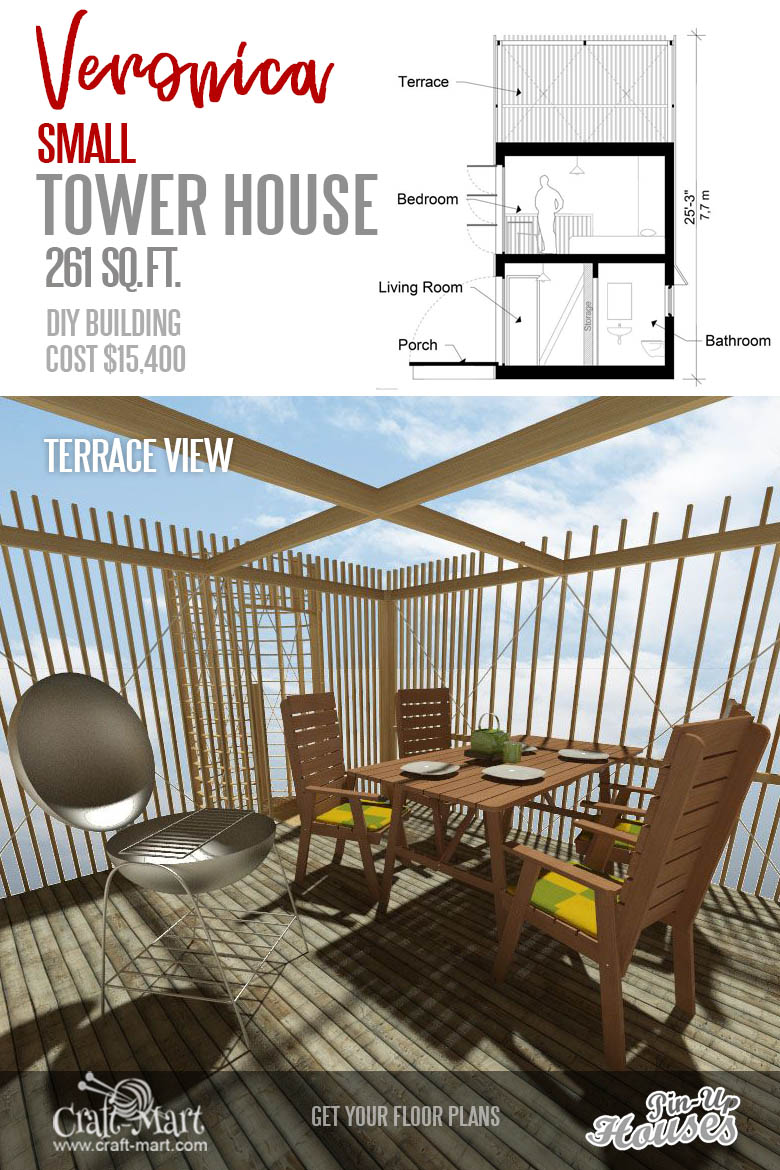 With some tweaking, this daring concept of a vertical micro-housing can be practical if you have a small piece of land. Before diving into this project, we'd suggest building a spiral staircase with 10-12 steps to see if you can climb it up and down with the plate of cheese and crackers and a cup of coffee in both hands.
Get these tiny home plans here
---
8. Tiny House Plans for a Family – "Barbara"
DIY building cost $19,300
430 sq. ft. timber frame two-story tiny house.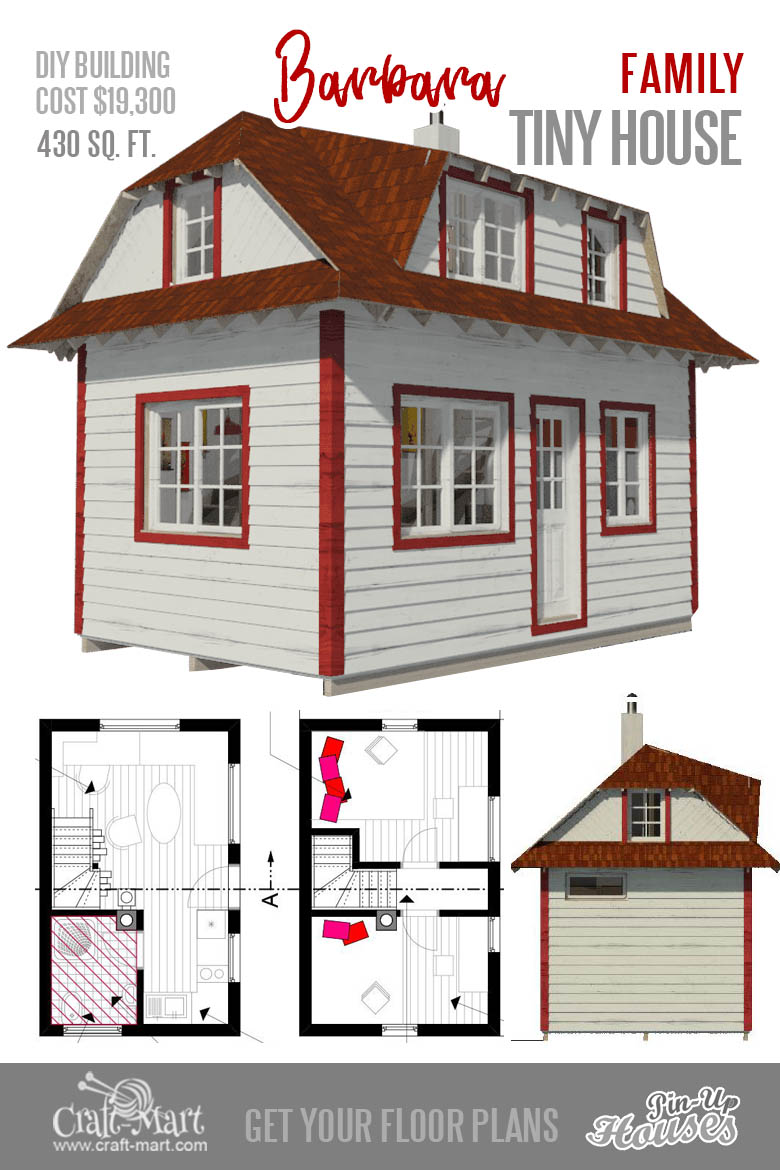 This tiny home plan has 3 sleeping areas throughout the house. The total square footage (430 sqft) seems to be tight for a family of four but in some countries, like the Netherlands, people are lining up for a chance to live in similar historical compact houses. Take a trip to one of the typical windmill communities and search online for the waiting list to become a tenant of one of the windmills – it is 30 years long!
The ground floor layout holds all the facilities for family functions. A nice 3-D rendering explains how all 3 sleeping areas can be accessed from the stairs.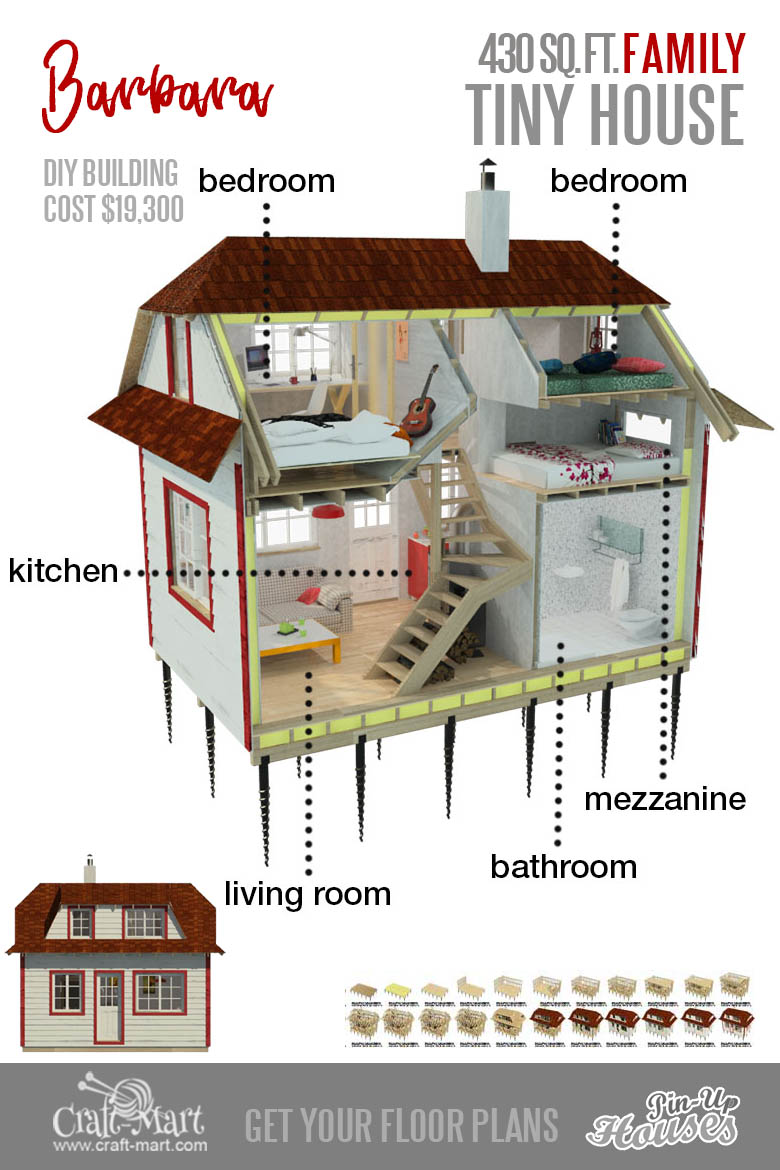 Both bedrooms have two windows and can fit in a bed and a table with some free space remaining. The ceiling height is enough for you to be able to stand up. The sleeping space on the top of the bathroom has enough height for children to sit. This tiny home offers a very practical solution for having privacy with limited interior space.
Get these tiny home plans here
---
DIY building cost $15,680
Total floor area 366 sq. ft. (1st. floor 158 sq. ft. + loft 133 sq. ft.)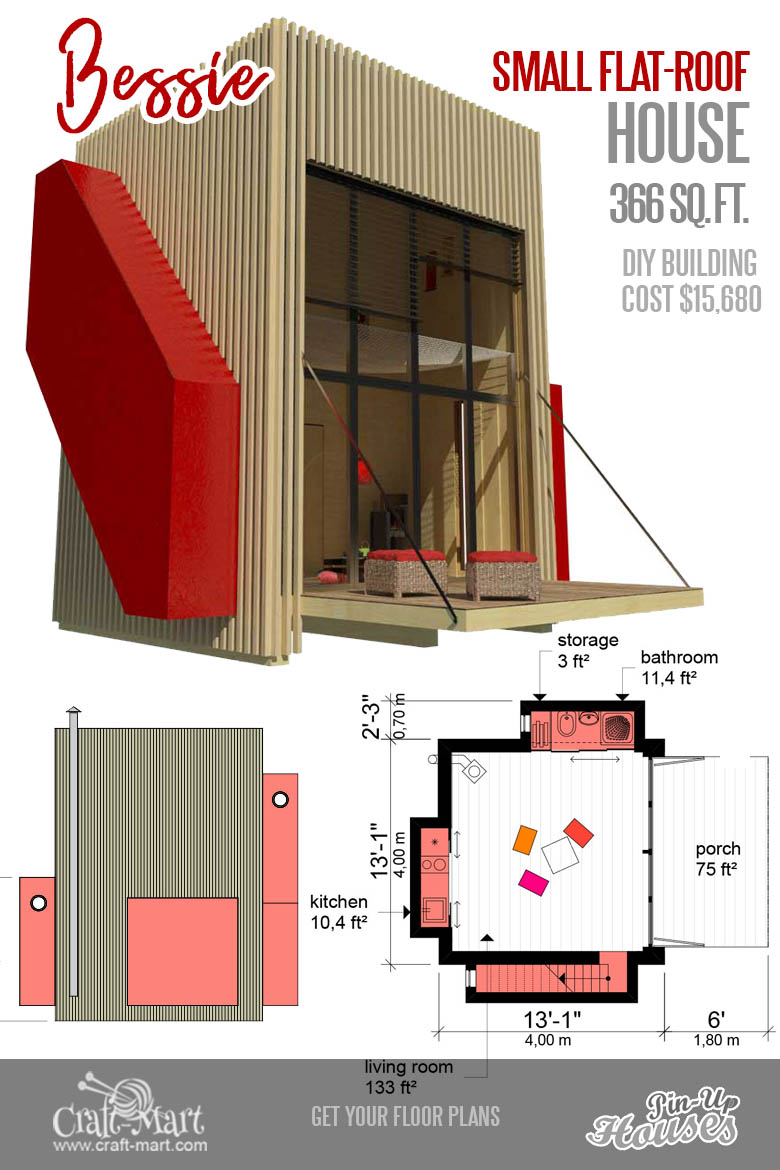 Bessie is a mini house that is continuing the concept of a clean-form interior tried on a greater scale by Renzo Piano, the architect of the Centre Pompidou in Paris, France. As with its French prototype, all major appliances such as kitchenette, bathroom with shower, stairs leading to a loft, and storage spaces were moved outside the interior walls.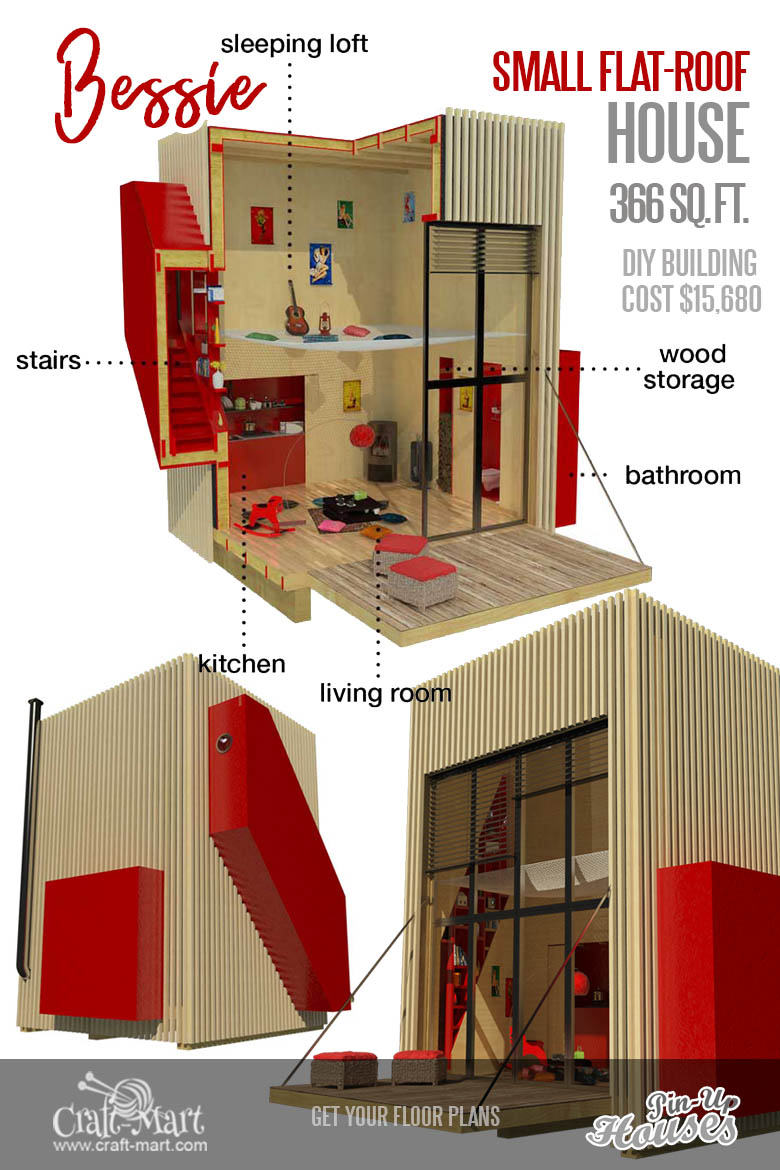 The second experimental feature of this tiny house plan is the loft. The proposed design shows a tightly stretched net instead of the traditional beam with a wooden floor solution. The idea behind it was maximizing a continuous space not only outwards to the porch area but upwards as well.
How practical is this net solution in real life? Naturally, it depends on who is going to live in this house. As a concept, this idea is fine. At the same time, probably 95% of potential owners of this mini tower would vote for the traditional wooden loft. You can also make the second level floor visually "lighter" by using something like this metal Garage Overhead Rack, for example.
Get these tiny house plans here
---
10. Beach or Garden Shed Plans – "Mae"
DIY building cost $650
Floor area 102 sq. ft.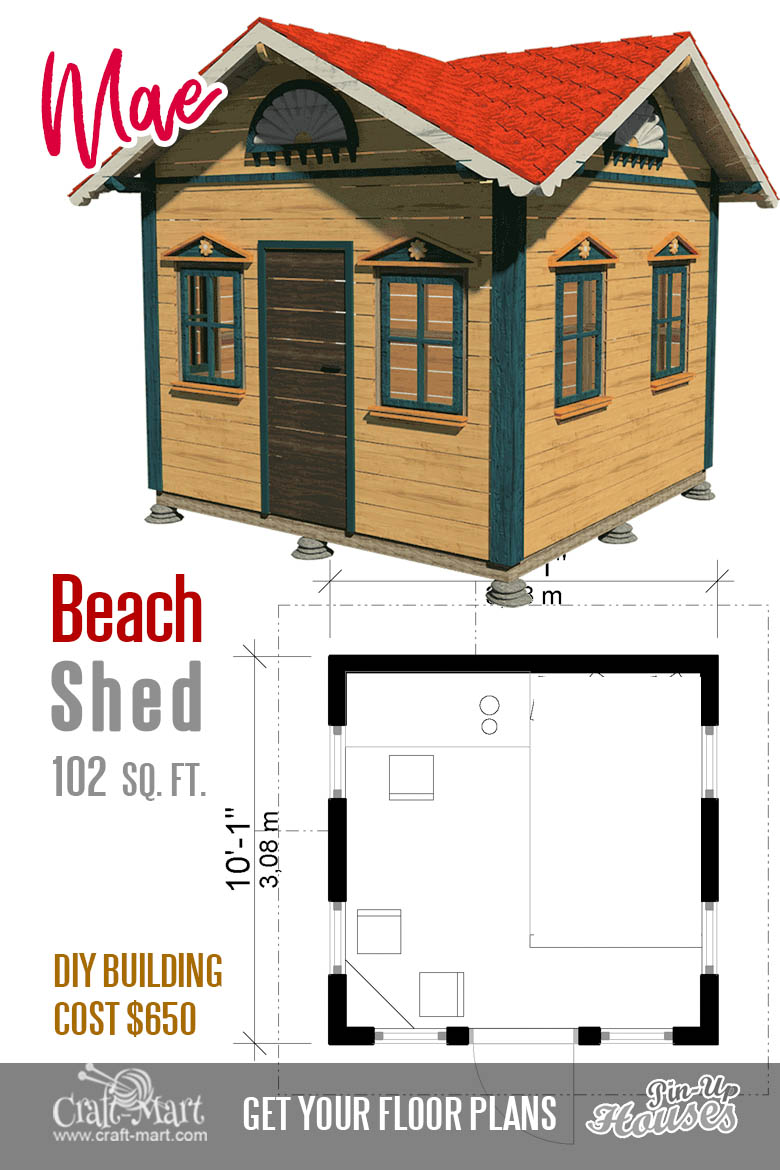 What a fun-looking and easy to build shed for your garden or private beach! Well, perhaps not for the beach but for your kids it also may work as a playhouse.
With a pretty spacious layout, you can easily fit in a futon sofa, a small desk with an armchair and a minibar. Now all is set up for you to write a book or at least to work on your bullet journal – whatever seems more appropriate at the moment…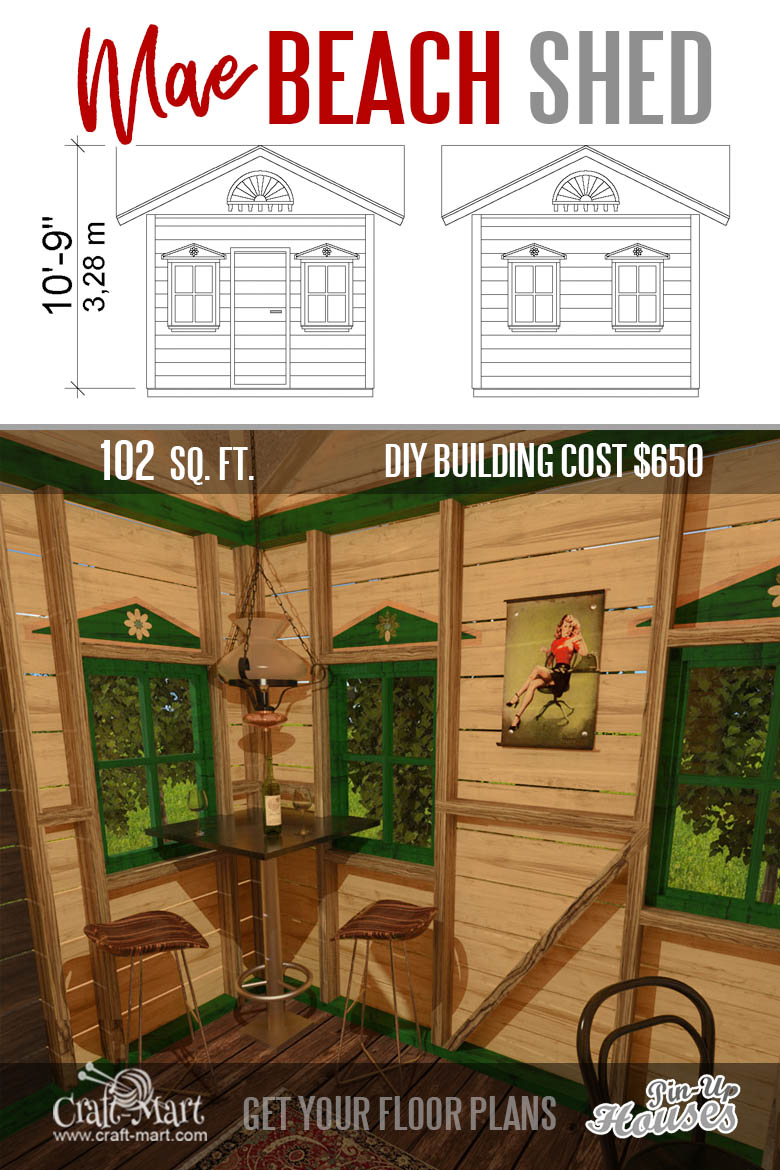 This masterfully designed architectural space can be perfect as an art studio for an aspiring artist or craft room with plenty of storage for all your supplies.
---
Find more interesting tiny and small house plans on these pages:
This guide will help the beginner to get the grasp of the main tasks related to the process of building your own small house or cabin.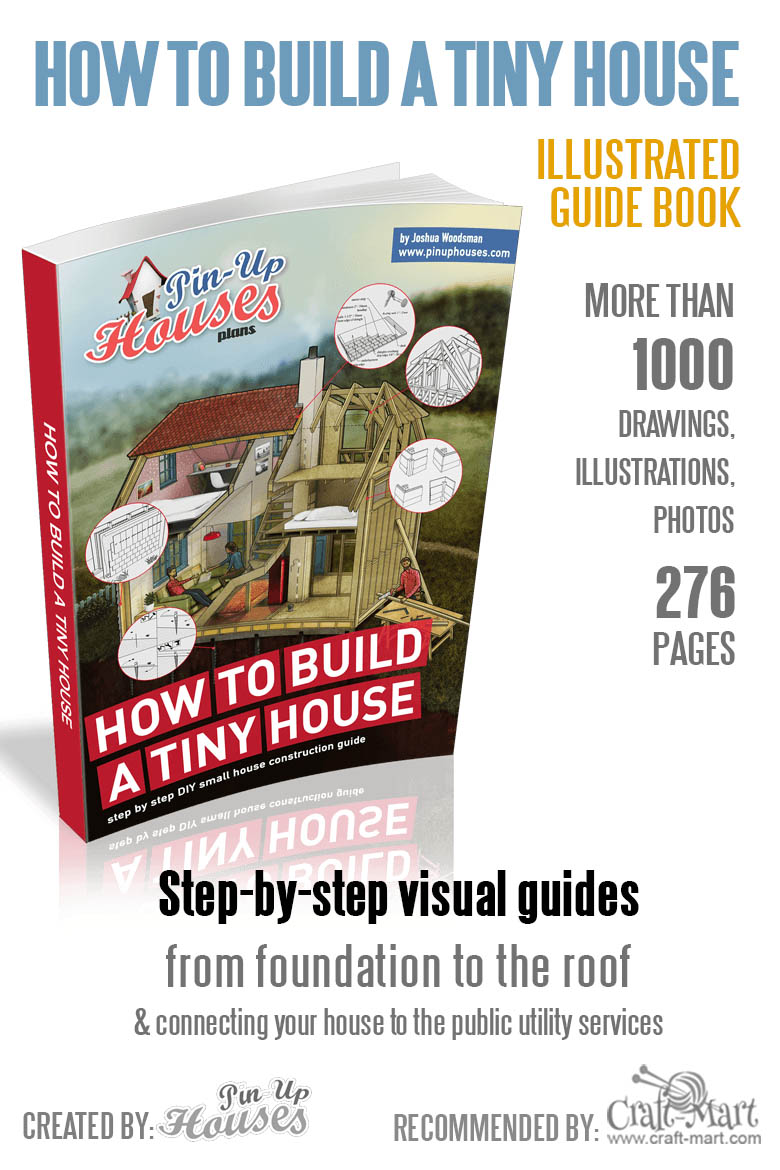 Find more interesting tiny and small house plans on these pages: