Basic Art Supplies You Need to Get Started With Acrylic Pour Painting
Art supplies are not cheap and pour painting supplies are not an exception. If you need a really affordable solution for trying out this exciting Acrylic pour painting technique then get one of our pre-selected fluid art kits for beginners from Amazon.
Keep in mind that getting all the pour painting supplies will not automatically guarantee a smashing success for all of your future fluid arts masterpieces. You'll have to understand the nature of acrylic paints and why they behave differently with various liquid additives.
If you'd like to know more about the materials needed for creating amazing abstract acrylic paintings using pouring techniques keep reading the entire post. If you don't have the time or patience then simply read the short version below.
*Acrylic pouring can also be used as a supplemental technique for painting florals, landscapes, and a great number of other subjects.
Here is a short version of Acrylic pour painting theory
Swirly Patterns.
The distinct acrylic pouring "swirly" patterns are created because the paint is liquid enough to flow freely on the canvas and the paint's viscosity is high enough to prevent colors from fusing or intermixing after they have been poured onto the canvas. Adding too much water can reduce the paint's viscosity and surface tension resulting in all colors blending together. This is why Floetrol or similar pouring mediums are used in conjunction with the small amount of water to achieve the optimal viscosity of the paint.
Acrylic Pouring Cells.
Water and oil do not mix together. Oil is lighter than water and if you will mix it with acrylic paint it will be lighter than a paint layer without oil. Eventually (or after using the "swipe" technique) some of the oil-containing paints will float up to the surface through the heavier paints. The distinctive pattern with random cells is formed and your acrylic pour painting artwork is born with just a little help from you.
For those enthusiasts who'd like to dive in without reading boring instructions and figure out all particulars on the go, we compiled a basic acrylic pouring starter set.
Before you start shopping for pour painting supplies
Note that Acrylic Pour Painting is amazingly easy and becomes addictive! If you had any other hobbies, like coloring books, drawing Zentangles, or crochet, then acrylic pouring may become your most satisfying new passion right from the beginning!
If you would get all the right pouring supplies and set up your art studio, be ready for almost instant success. You'll be surprised how quickly you'll learn the basics and how quickly you will run out of your initial pouring art supplies.
To help you get started, we compiled some acrylic pouring starter kits.
With just one button click you will be able to place all items from each acrylic pouring kit listed below in the Amazon shopping cart. Of course, you will have an option to delete the ones that you don't need or add other products.
"Fluid Art Starter #1" the Basic Acrylic Pouring Set
(Order it from Amazon)
"Fluid Art Starter #1 – the very bare minimum of the "classic" pouring ingredients that you need:
Handy Art 8 Color-8 Ounce Primary Acrylic Paint Set
1 Qt of Floetrol® pouring medium, 20x 10-oz Plastic Cups for Mixing Paint, 20x 6-inch Wood Mixing Sticks
Spot On 100% Silicone Oil
Arteza Painting Canvas Panels, 8×8, Pack of 14
"Fluid Art Starter #2" Acrylic pouring set
(Order it from Amazon)
"Fluid Art Starter #2 – some extra accessories in addition to the "#1" set:
Handy Art 8 Color-8 Ounce Primary Acrylic Paint Set
Floetrol® pouring medium (1 Quart)
Spot On 100% Silicone
Liquitex BASICS Gesso Surface Prep Medium Tube, 16oz
TashiBox Disposable Plastic Party Cups, 100 Count, 9 oz, Crystal Clear
Loew-Cornell Simply Art Wood Craft Sticks 1000 ct.
Pre Stretched Canvas for Painting – 8×10 Inch / 10 Pack
Disposable Latex Gloves, Powder Free Size Large, 100 gloves per box
Premier 9′ x 12′ 1 MIL Clear Plastic Drop Cloth Rolled, 3 Pack
"Fluid Art Advanced #3" Acrylic pouring set
(Order it from Amazon)
"Fluid Art #3" has 2 different acrylic paint sets, art silicone oil, glossy varnish medium, and a brush set:
Sax True Flow Heavy Body Acrylic Paint – Pint – Set of 12
Golden High Flow Acrylic, Assorted 10 Color Set
Floetrol® pouring medium (1 Quart)
Ideal Silicone Oil for Art Applications
Sargent Art 22-8808 16-Ounce Acrylic Gloss and Varnish
Liquitex BASICS Gesso Surface Prep Medium Tube, 16oz
Paint Brushes Set 12 Pieces ( artist acrylic paints brushes)
TashiBox Disposable Plastic Party Cups, 100 Count, 9 oz, Crystal Clear
Loew-Cornell Simply Art Wood Craft Sticks 1000 ct.
Pre Stretched Canvas for Painting – 8×10 Inch / 10 Pack
Disposable Latex Gloves, Powder Free Size Large, 100 gloves per box
Premier 9′ x 12′ 1 MIL Clear Plastic Drop Cloth Rolled, 3 Pack
Some of you would want to get acrylic pour painting supplies locally. Here is what you need to know before driving to your local Art & Crafts Supplies store
What kind of paints do you need for acrylic pour painting?
For beginners, it makes sense to get some basic understanding of what kind of paints you would need to get for successful acrylic pouring and why.
As you'll be practicing pour painting techniques, your paints should be liquid (high flow). If you are not able to pour your paint out of the container easily then it is the wrong type of paint!
If you are buying tube sets make sure that these are not extra thick paints for the impasto technique. Such paints are formulated to preserve brush strokes and may not produce consistent results if diluted with too much water!
Don't spend too much money on buying each and every color!
Get just a few primary colors in larger containers instead. You can mix almost any color you need using these primary colors. Use saved money to buy more canvasses and pouring a medium to practice your new skills.
What exactly is this acrylic paint?
Acrylic paint is simply is a mixture of acrylic polymer emulsion called "the binder" or "the medium" and a pigment that gives the paint a particular color.
Acrylic paints and mediums dry through the evaporation of water and liquid solvents. Completely dry paint, while retaining flexibility, becomes water-resistant.
Besides polymer emulsion and pigments, acrylic paints almost always contain various amounts of "fillers" that help with thickening the paint's film and creating more opaque layers.
Student grade acrylics – are these good enough for pour painting?
Less expensive "student" grade acrylics usually are made with cheaper artificial pigments that have much smaller particle sizes than more expensive natural pigments. More fillers are added to these "student" grade paints to achieve better coverage.
Should you get acrylic paints without these fillers? Are these fillers bad?
No, without fillers, these paints would have been performing like transparent inks. Even expensive professional acrylics must have a certain percentage of fillers.
Note that professional grade paints are rarely used for acrylic pouring due to much higher prices and limited availability in liquid form.
Where can I buy acrylic paint and pouring medium?
Besides your local art and craft stores, there are a few places online where you can get fluid acrylics at reasonable prices. Below are just a few examples of what is available.
Some beginners think that they can just open the bottle and start pouring immediately. Even the most expensive paints need pre-mixing before using them.
Always mix paints before using and add small amounts of water if they are too thick.
Below are the acrylic pouring sets from Arteza that do not require any additives besides silicone oil. They work perfectly right from the bottle.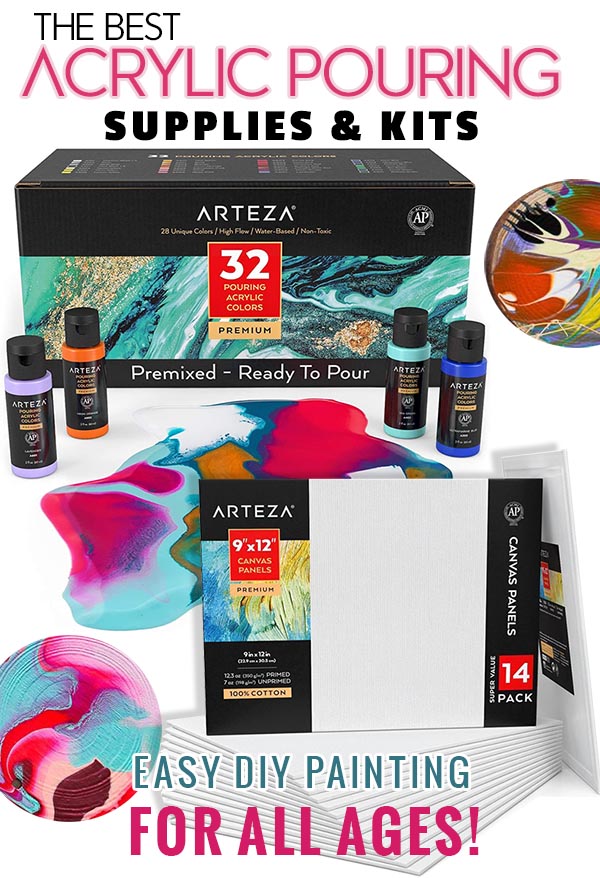 Handy Art 8 Color-8 Ounce Primary Acrylic Paint Set
For beginners on a tight budget, this 8 primary acrylic paint set is a good choice.
Mixing the right colors is what real fine artists do. Fluid artists have easier tasks yet they still need to learn color mixing theory for pouring well-balanced color mixes.
Once you know that yellow and blue will make green and red and yellow will produce orange, the rest is easy.
Sax True Flow Heavy Body Acrylic Paint – Set of 12 (pint bottles)
12-color acrylic paint set is also a popular choice for paint-pouring enthusiasts. You'll have enough paint to experiment and practice different fluid painting techniques.
Just keep in mind that this is not a professional-grade paint suitable for fine brush painting. So, if you will decide to take an art class you'll need to buy acrylics in tubes specially formulated for brush application.
Golden High Flow Acrylic, Assorted 10 Color Set (1oz bottles)
This color set seems to be very expensive compared to the big-bottled ones. But when it comes to pour-painting applications, Golden High Flow delivers superb results. It has an extremely high pigment content, minimum fillers, and just the right consistency to be mixed with Floetrol® for a perfect acrylic pouring recipe.
Golden Acrylic High Flow inks provide unstoppable color that can go from brush to marker or from fountain pen to airbrush, and beyond.

Perfect for Acrylic Artists that want fine line detail, staining effects and leveling colors, as well as Calligraphers, Mixed Media Artists, and Airbrush artists. High Flow Acrylics work great in refillable tools and are incredibly flexible.
What is Floetrol® and why do you need it for acrylic pouring?
Floetrol® is basically a transparent liquid resin that can be mixed with many types of water-based paints like flat or semi-gloss latex, enamel paints, Acrylic, or Vinyls. Floetrol® helps these water-based paints become more liquid without losing gloss which happens if you will add water instead of Floetrol®.
Using just water (in large volumes) for making paints more liquid will reduce surface tension which will make colors blend without a distinctive border. Combining water and Floetrol® will prevent colors from excessive blending while making paints more fluid.
Recently paint manufacturers increased the selection of low viscosity paints that are more suitable for fluid arts. But even these high-flow paints often need further dilution in order to create certain pouring effects.
Pouring paint means that you are actually able to pour acrylic paints on the canvas. Keep in mind that most of acrylic paints are usually sold in a low-fluid state. Many artists prefer these thicker paint for the "impasto" technique when paints are not diluted with anything in order to preserve 3-D brush strokes.
Try to avoid buying thick acrylic paints if you want to master acrylic pouring.
Acrylic Pour Painting Using a DIY Pouring Medium
What are the Benefits of Floetrol®?
Floetrol® will help to make paints as fluid as a cream which is exactly what's needed for perfect acrylic pouring patterns where colors are flowing without too much intermixing. Floetrol® makes water-based paints easier to work with, especially in hot and dry weather conditions.
This is especially important when you are working on a large-size artwork using multi-step techniques that may take a long time. Floetrol® can help with slower paint drying when a high temperature is causing your water-based paint to dry too fast.
How to use Floetrol®
Floetrol's manufacturer recommends mixing up to 8 ounces of Floetrol® per gallon (1oz of Floetrol® per 16oz of paint). This is the recommended amount to start with and then you can gradually increase the amount as needed. Once the paint is flowing well, you can stop adding Floetrol®.
Mix Floetrol® with acrylic paints really well checking for lumps and testing liquidity on a piece of cardboard.
What happens if you add much Floetrol®?
Using too much Floetrol® can result in the low opacity of the paint layer after drying. Acrylic colors have different opacity indexes because some pigments have smaller particles and some have larger ones. Even if you are using a new white canvas you want your paints to be pretty opaque.
Why should you care about paint opacity?
After drying, translucent colors will look darker or even muddier because of the visible texture of a canvas. You can also see that canvas plays an important role not only in acrylic pouring but also in any fine art painting.
Floetrol® alternatives and where to buy Floetrol®?
Naturally, you'd think that Art and Crafts Supplies stores would carry Floetrol but, sadly, they do not. Instead, you may find a few Floetrol® fine art alternatives such as Liquitex pouring mediums or Golden that are marketed as "specially formulated" for use with high-flow acrylic paints. Of course, Amazon has it.
If your local stores do not carry Floetrol® try to find its alternative called Thin-x. Different name but pretty close results.
Should you get these professional pouring mediums for 2-3 times the price of Floetrol®?
Not according to the below side-by-side tests. With a couple of the basic acrylic painting techniques, Floetrol® performed as well as a professional Liquitex pouring medium.
What's even more surprising, after drying Liquitex finish had clearly visible pinholes and some other minor imperfections while Floetrol's painting had an almost perfect surface.
Liquitex Pouring Medium vs Floetrol Test
Second comparison test video – Liquitex pouring medium vs Floetrol®
Therefore, if you trust these paint pouring art tests, the correct conclusion would be buying Floetrol® since it's considerably cheaper. Locally, you may find Floetrol® at many hardware stores such as Home Depot or Lowes. Lowes Floetrol® comes in gallon containers while Ace hardware may have it in quart bottles. Walmart and Amazon sell Floetrol online if you live too far from Lowes or Home Depot.
A Recipe and a Guide for Acrylic Pouring with Floetrol®
The manufacturer of Floetrol has the following directions for creating your first acrylic pouring canvas:
Helping you create your next masterpiece

The acrylic pouring technique has created some truly awesome pieces of art. Between the vibrant, complex color combinations and the dreamy, flowing patterns, artwork created through acrylic pouring can look absolutely stunning.

Though these pieces seem intense and challenging, they're actually easy to create in the comfort of your own home. The materials are simple, as long as you have Flood Floetrol® in the mix. Try your hand at acrylic pouring with our step-by-step guide below – you might be better at it than you think.

Materials List (*see our "Fluid Art Starter #2 set)

1 Qt. of Floetrol®
Liquid silicone
Bottles of acrylic paint, colors of your choice
A canvas or a primed board of any size
Clear plastic cups
Stirring sticks
Gloves
Plastic or drop cloth to keep the underlying surface clean

Step-by-Step Guide

Each paint color needs to be mixed in separate cups. This is to keep the paints from mixing together and to properly mix the right amounts of Floetrol® with the paint.

*(CM) Don't just use the basic colors straight from the bottles. Create some combinations in each cup and then add silicone.

1. Mix 1 part Floetrol with 2 parts acrylic paint
2. Stir the mixture thoroughly
3. Add in 2-4 drops of liquid silicone
4. Stir the mixture thoroughly
5. Repeat steps 1-4 for each paint color, using a separate container for each color
6. Now, pour the colors you want in the painting layer by layer in one plastic cup

7. Take the canvas (or another object) you're about to paint on, flip it upside down and place it canvas-side down over the plastic cup. Keep the cup against the flat canvas surface, and flip them both at once so that the cup is facing down and the surface is facing up.

8. When ready, lift the plastic cup filled with paint and it should all flow outward.
9. Change the direction and outcome of the painting by tilting the surface, using a paintbrush to move colors, or using air sprayers to direct the paint.
10. Let dry for 24 hours, ideally on an elevated surface so air can ventilate the bottom of the canvas as well.
Recommended Books
by Rick Cheadle
This book provides everything you will need to become a paint pouring or fluid artist.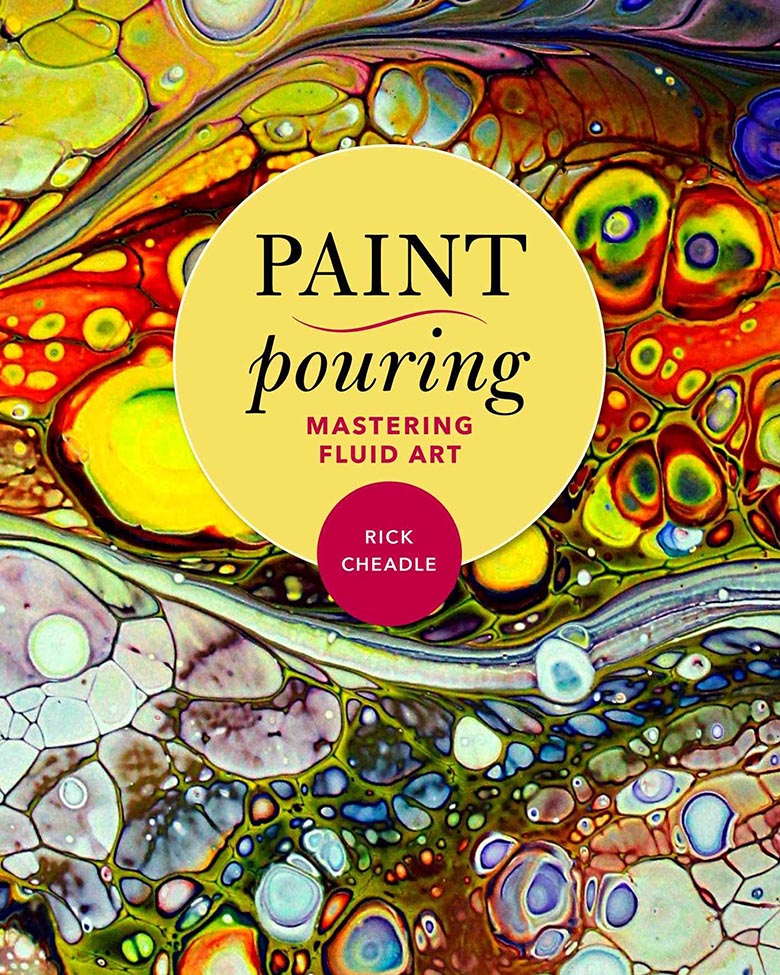 Learn to:
Get the best art supplies
Set up your paint pouring studio on a budget
Discover different pour paint of techniques
Establish appropriate color to additives mixing ratios
Achieve correct paint density
And many other tricks of this exciting craft