For many artists, the hardest part is not how to do canvas painting but get actual ideas on what to paint on canvas. So, how do you find these canvas painting ideas?
Canvas easy painting for beginners usually starts with the least complicated subject and step-by-step instructions – the same way as many other crafts.
Why do we call painting on canvas a craft?
Because while beginners are learning how they can technically execute their painting ideas on canvas by using different tools and techniques they actually are learning the craft side of this trade.
Why not call yourself an artist right away? Well, many people do so but imagine doing the same thing in the music field. If you are just starting to play the piano and learning notes would you call yourself a performing musician?
What is the best way for beginners to learn about painting on canvas?
Besides art supplies and tools, you will need to learn a variety of painting techniques and go through guided tutorials. Without copying the best artworks with a deep understanding of how exactly it was accomplished it will be very hard to start creating your own masterpieces.
1. Painting colorful trees on canvas is always a good choice for beginners
One of the first oil or acrylic easy canvas painting ideas for beginners on canvas would be painting Colorful Landscape or trees using acrylic paints. Painting images of nature don't require great drawing skills and can be one of the fast and fun things you can do with a blank canvas. How can you try to achieve the same effect? Pick a canvas, a set of basic acrylic paints, a wide brush (or palette knife), and voila – you'll create your own beautiful landscape painting.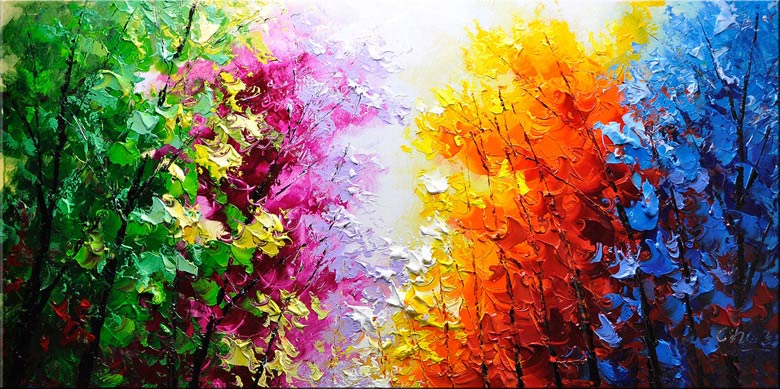 Source: etsy.com
2. Abstract Acrylic Pour Painting on Canvas is easy to master
Abstract paintings also allow beginners to create wall art without much artistic experience. If you simply can't come up with any ideas on what to paint on canvas then Fluid Art such as Acrylic Pour painting would be a good choice for you!
For abstract easy canvas painting ideas, like the one below, look at this blog post describing multiple ways to enter the exciting world of Acrylic pouring. Still, there is much to learn about how acrylic paints behave on canvas.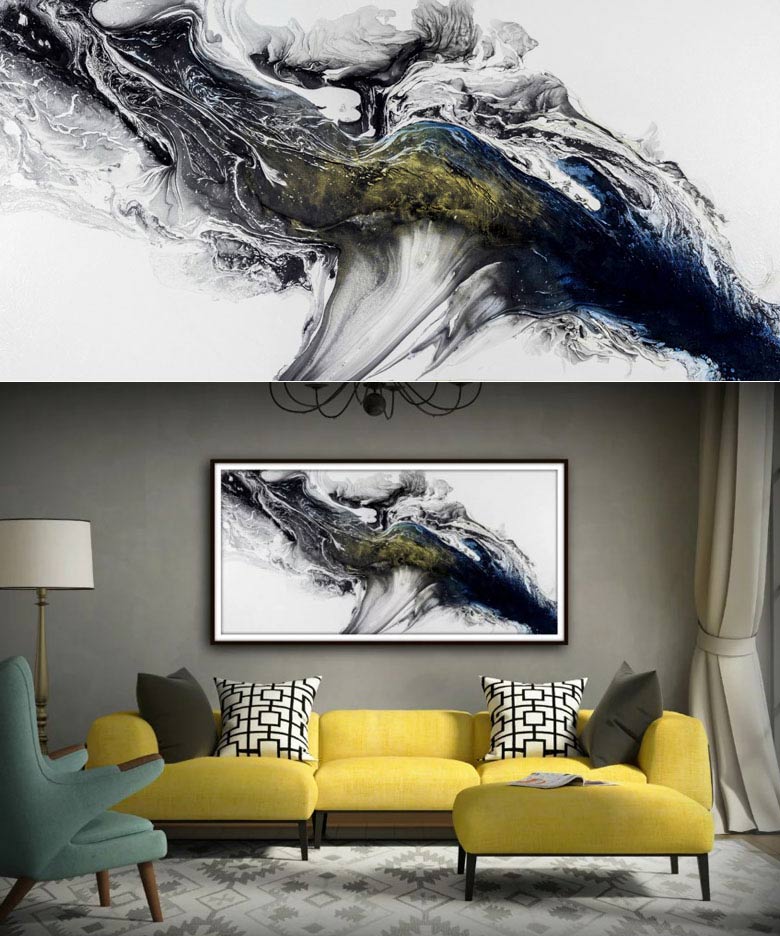 Source: etsy.com
3. Try Abstract Painting on canvas with traditional brushes
For beginners, easy painting ideas on canvas often include wide brush and just a few colors to get their artistic feet wet without extra headaches related to mixing a lot of different hues.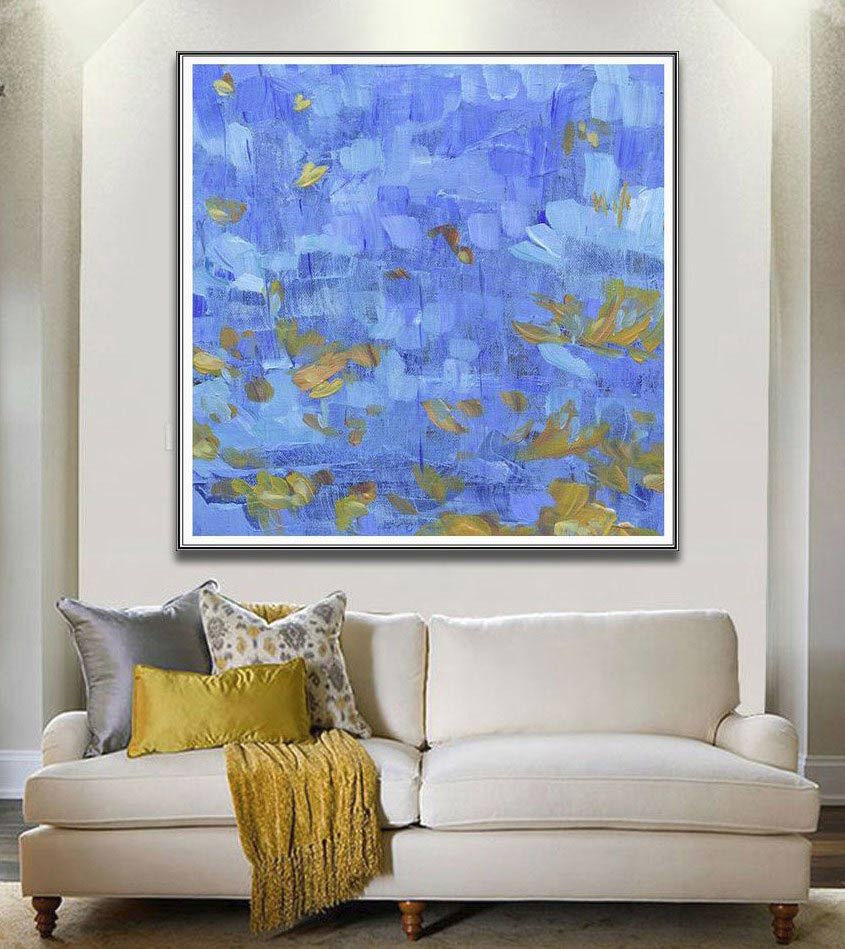 Source: etsy.com
4. Take a more graphical approach to painting landscapes
What a great idea for a modern-vibe landscape! You can duplicate the trend by creating distinct patterns and coloring them flat. Painting on canvas too many details can be too challenging for beginners, so it would a good idea to simplify the whole composition. Just squit your eyes and all these extra details will disappear! Now you can paint!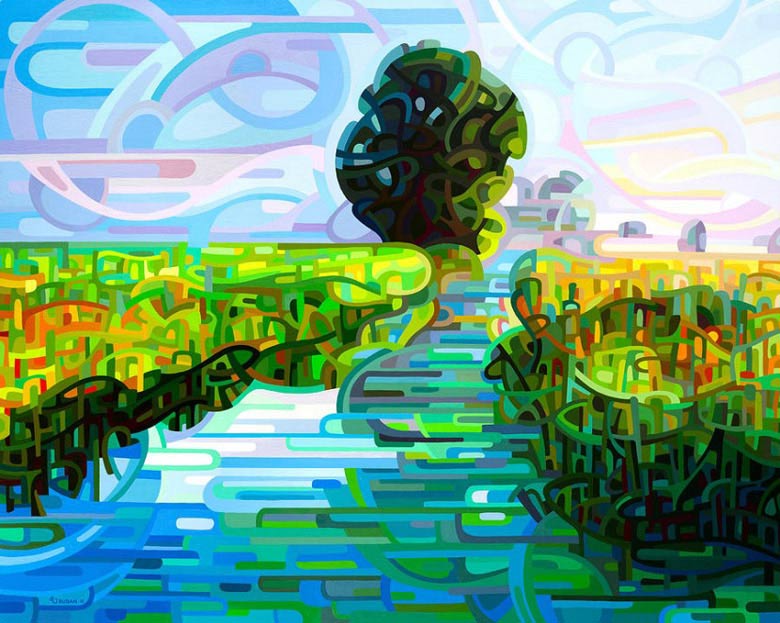 Source: fineartamerica.com
5. Try Acrylic Pouring using white, yellow ochre, and black to give a modern look to your Abstract Painting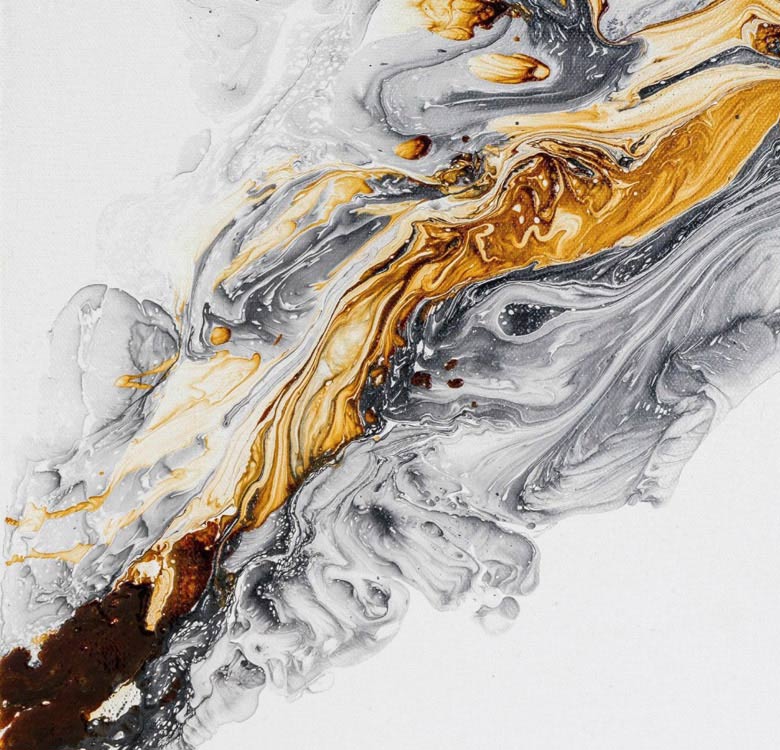 Source: etsy.com
6. Take coloring pages approach to painting – the idea here is to transfer a drawing onto canvas and then color it with acrylic paints
It looks challenging but learning to read and write was challenging as well, right? In reality, this idea to paint over a drawing is not much harder than to color pages with markers. Controlling the brush is only tricky in the beginning.
This example shows The Edge of Paradise painting which won first place in the Art for Trees National Art Contest. It depicts the wildlife of Costa Rica which is currently under the threat of deforestation. A rare and majestic jaguar, along with her cubs, a Howler Monkey, and a hummingbird, watch as man encroaches upon their land.

Source: fineartamerica.com
7. Use watercolor techniques on canvas even if you are painting with acrylic paints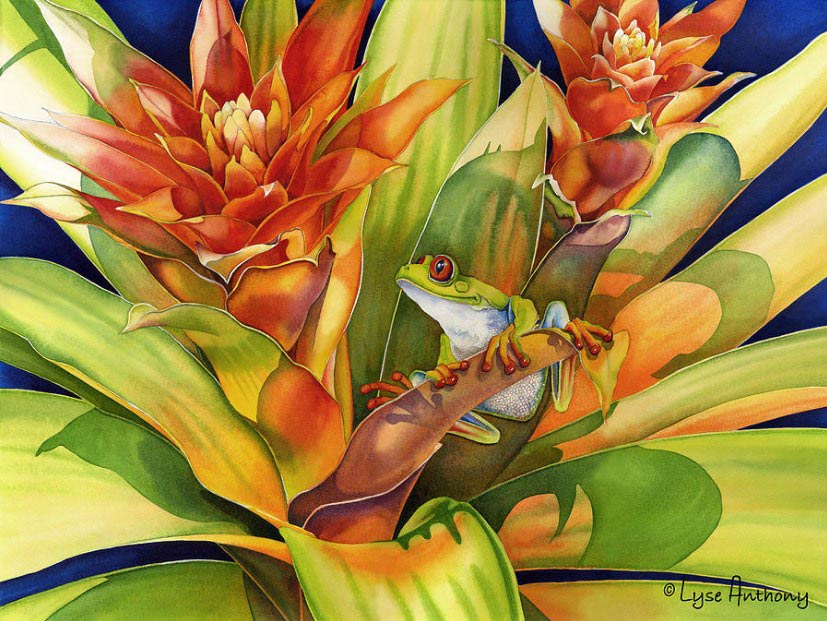 Source: fineartamerica.com
Well, these particular painting ideas on canvas are not for pure beginners, they can be simplified and executed with pretty good results.
8. Experiment with mixed painting techniques and styles – sketch and then partially paint canvas creating a lively work-in-progress effect
Northwest Artist, Jennifer Lommers created this beautiful piece depicting a goldfinch perched high above under the canopy of a ponderosa pine tree. This art piece is part of a series of India Ink & Acrylic paintings created from the nature drawings.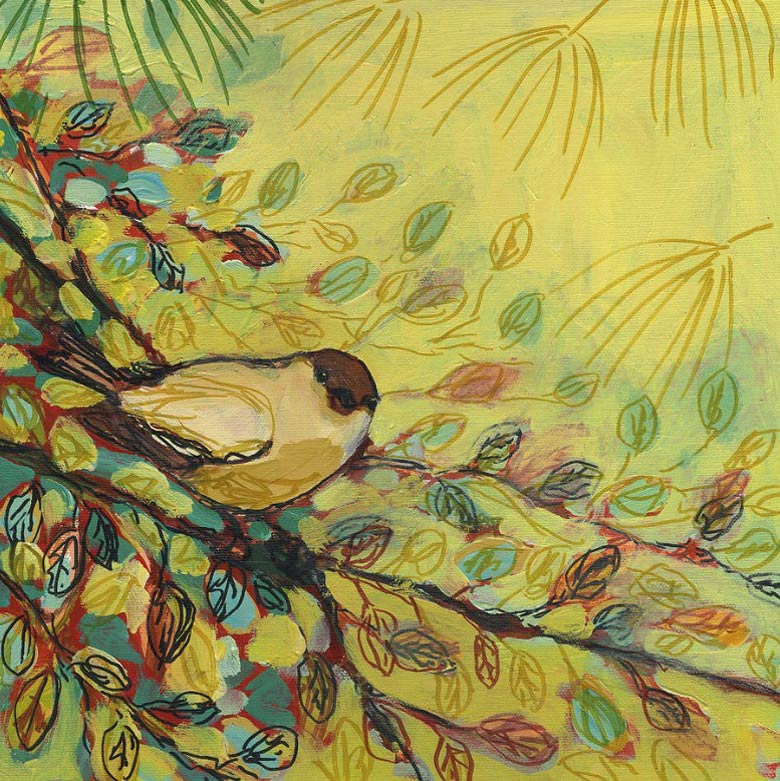 Source: fineartamerica.com
9. Painting aspen tree trunks with autumn foliage are one of the most popular and easy canvas painting ideas for beginners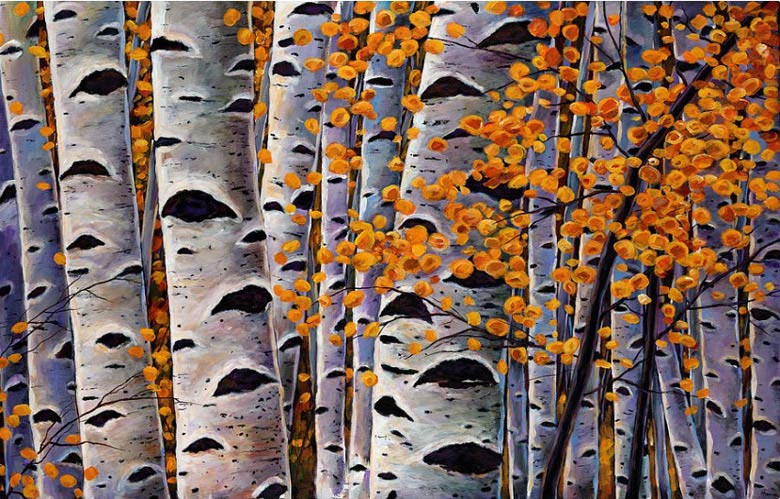 Source: fineartamerica.com
10. Painting Tuscan pines with picturesque rolling hills is always a winning choice for both beginners and experienced artists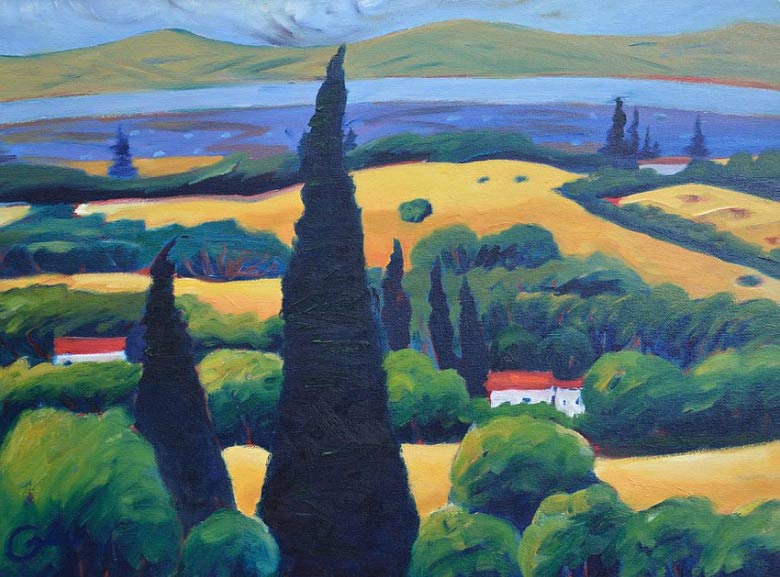 Source: fineartamerica.com
11. Sunflowers glowing with joyful summer light frequently are among the most popular easy painting ideas on canvas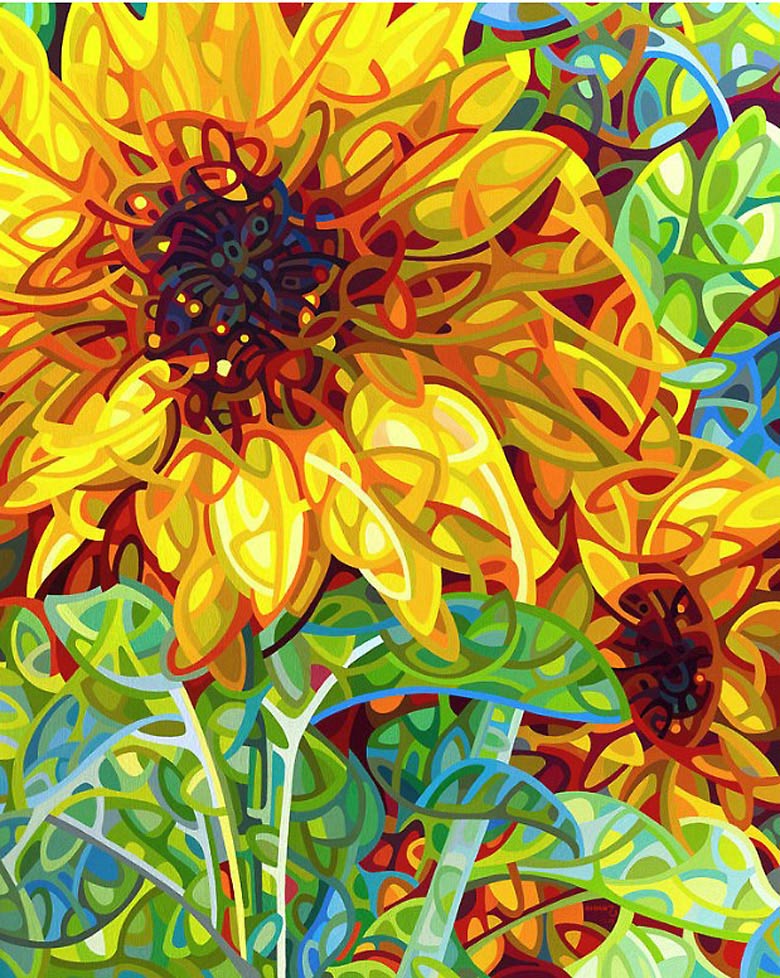 Source: fineartamerica.com
12. Take a designer-style approach to an acrylic canvas with one dominant color and a single object.
This sample is a great way to decorate an entryway with a fast and easy big wall art decor project. For your kitchen, it can be graphic pictures of a popular triad of fork-spoon-knife or a simple coffee cup. No matter what the subject is, just make the background looking like an old painted wall to give the finished painting a vintage flavor.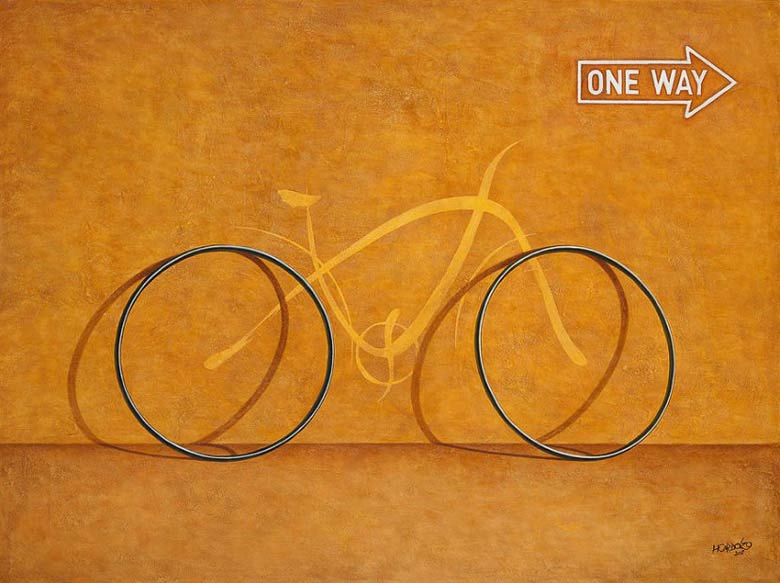 Source: fineartamerica.com
13. Make your canvas more interesting by attempting to paint in a surrealistic style combining common objects in unusual ways.
On this painting, you see a fantasy landscape with a combination of Fargesia Victualia, which is a family of bamboos found in alpine conifer forests of East Asia, in combination with slices of citrus fruit.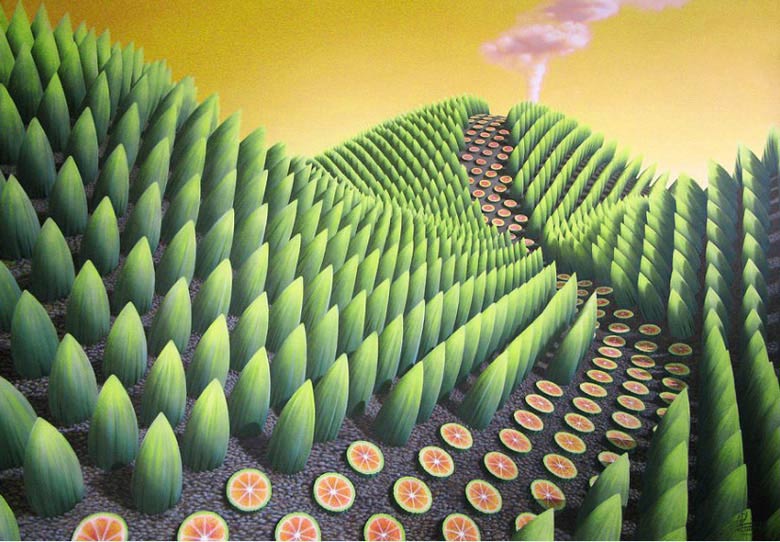 Source: fineartamerica.com
14. Follow the steps of great artists like Eyvind Earle.
His painting style will work perfectly for those who are still obsessed with coloring pages. Do the same thing but color with paints instead of markers or pencils. The result will be rewarding – creating an incredible wall art piece!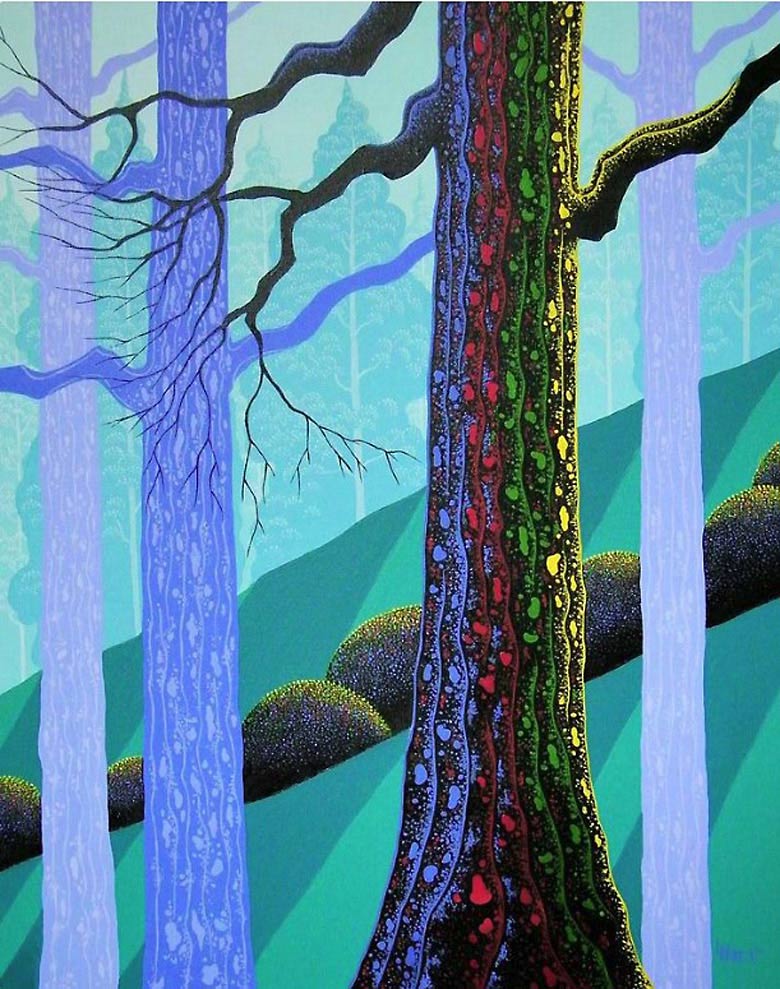 Source: fineartamerica.com
15. Autumn trees with bright colors are just perfect for a quick and easy painting on canvas when you don't have a lot of time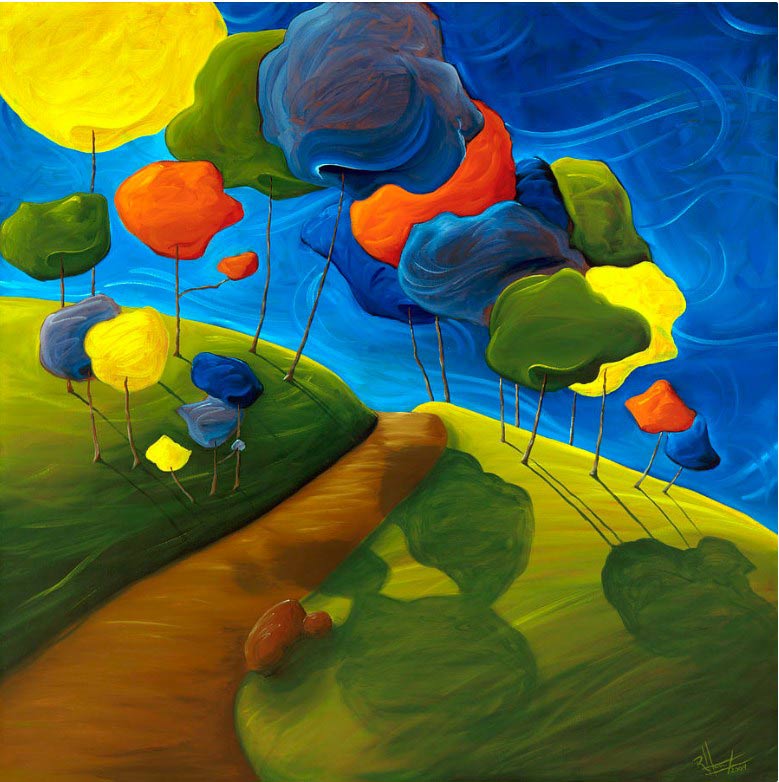 Source: fineartamerica.com
16. Painting more realistic trees with one color accent will require a bit more skills but will make your canvas look more sophisticated
17. Multi-panel wall art becomes more and more popular and the birds are a very popular subject. It's a winning combination for beginner artists.
18. Paint with a palette knife creating a mosaic of colors and textures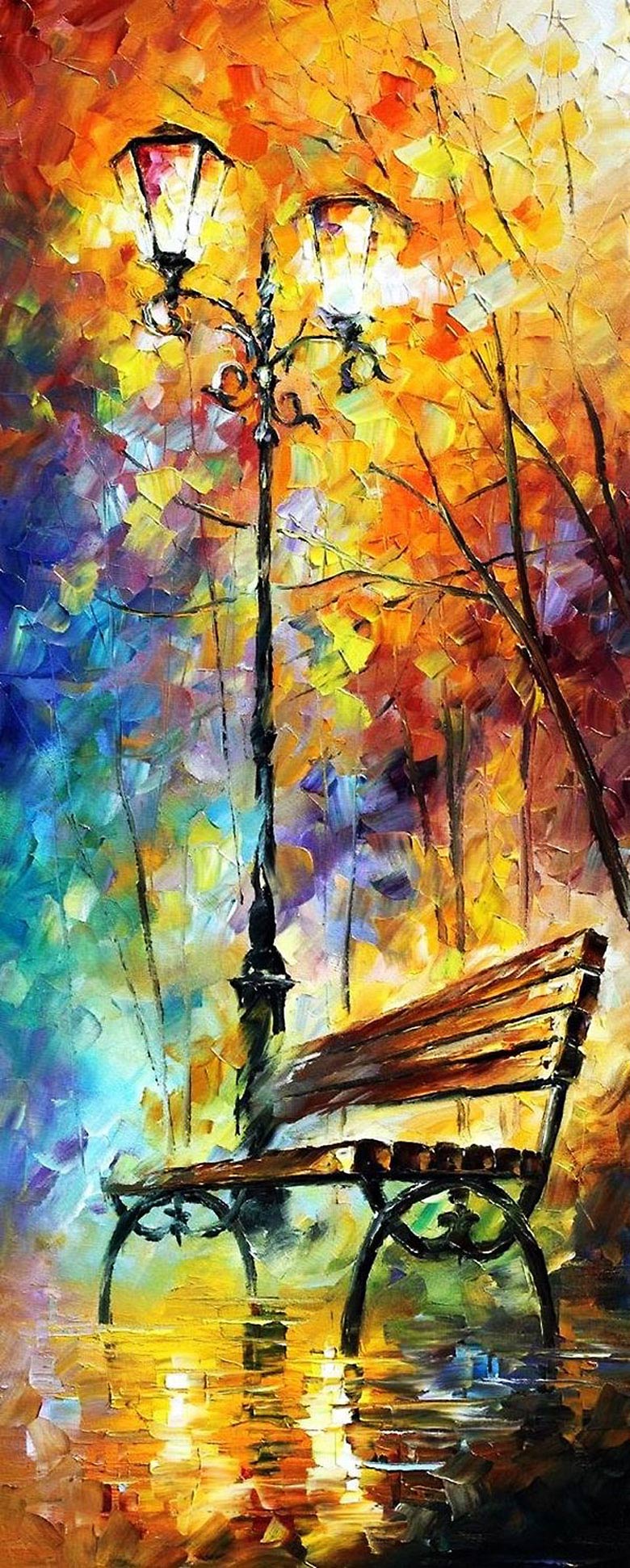 Source
19. Design symmetrical 2-piece canvas wall art using simple objects like trees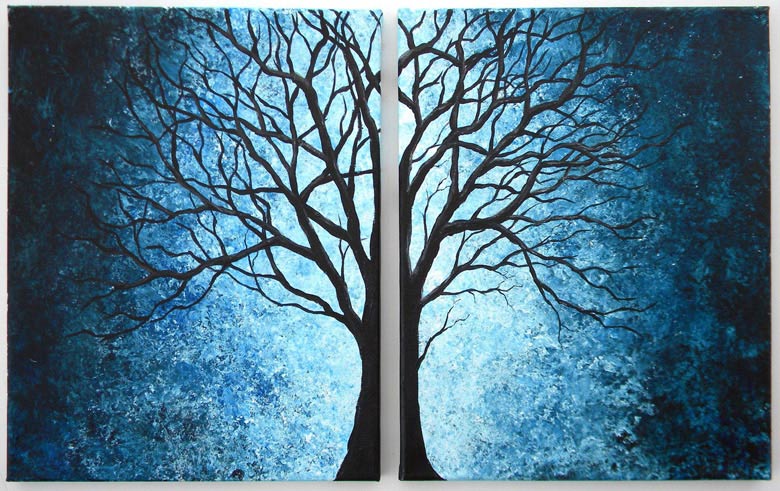 Source
20. Give yourself a bit of challenge by painting a figurative art piece
Choose an angle to avoid painting a face and it will be easy enough even for a beginner.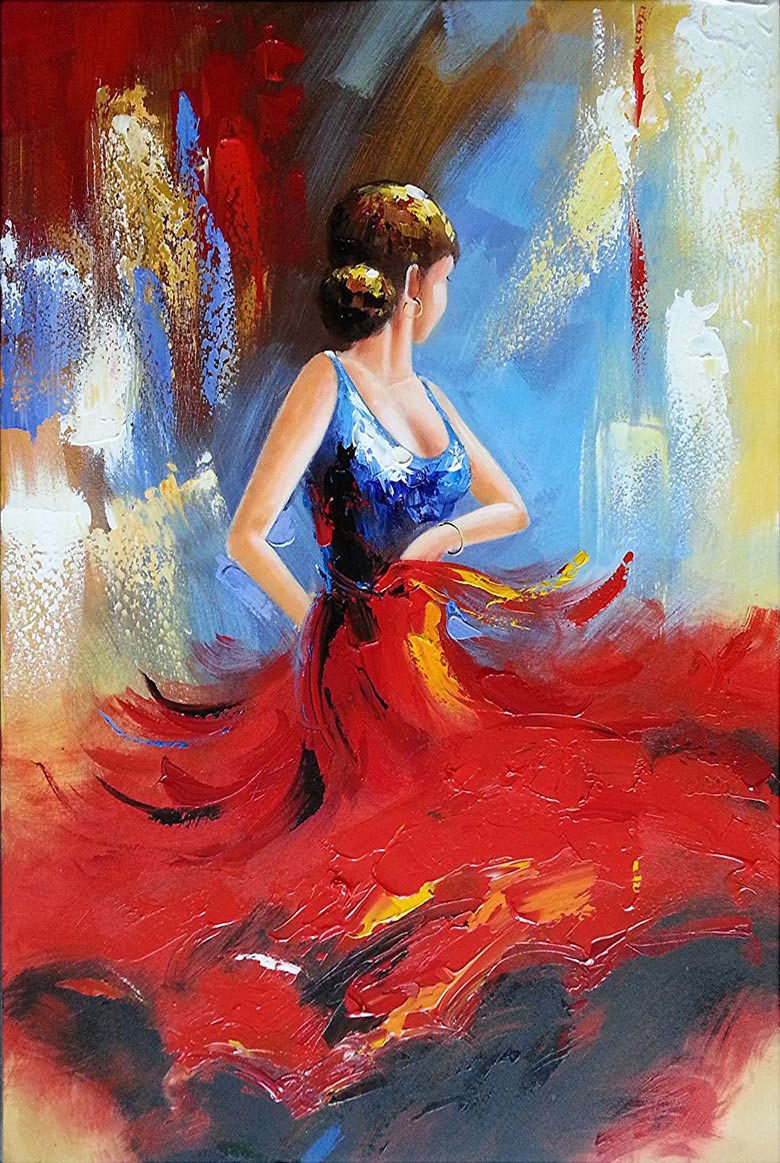 Source
21. A path in a forest with glowing foliage is simply enchanting!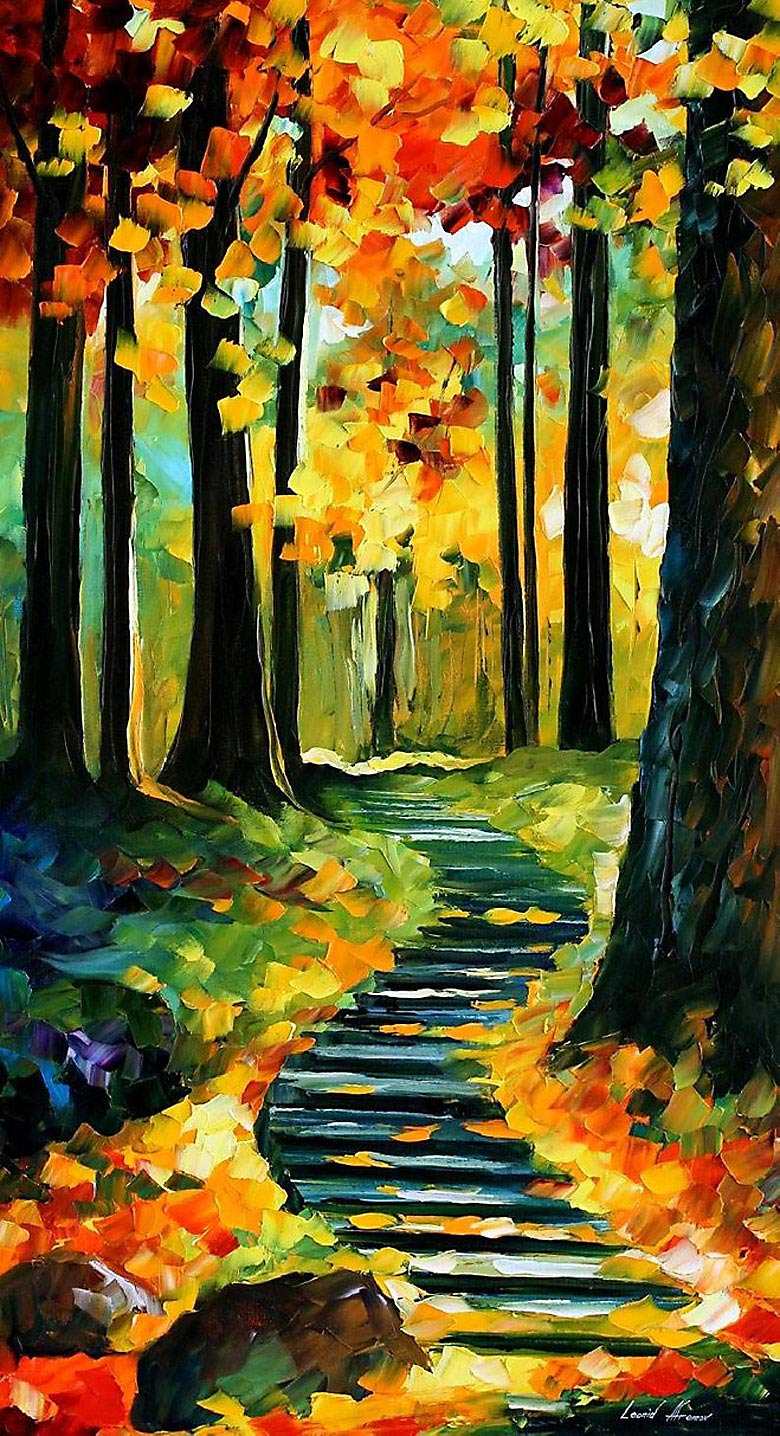 Source
22. Large-scale abstract canvasses are always very impressive
It can be done easily after practicing acrylic pouring techniques on a smaller canvas sizes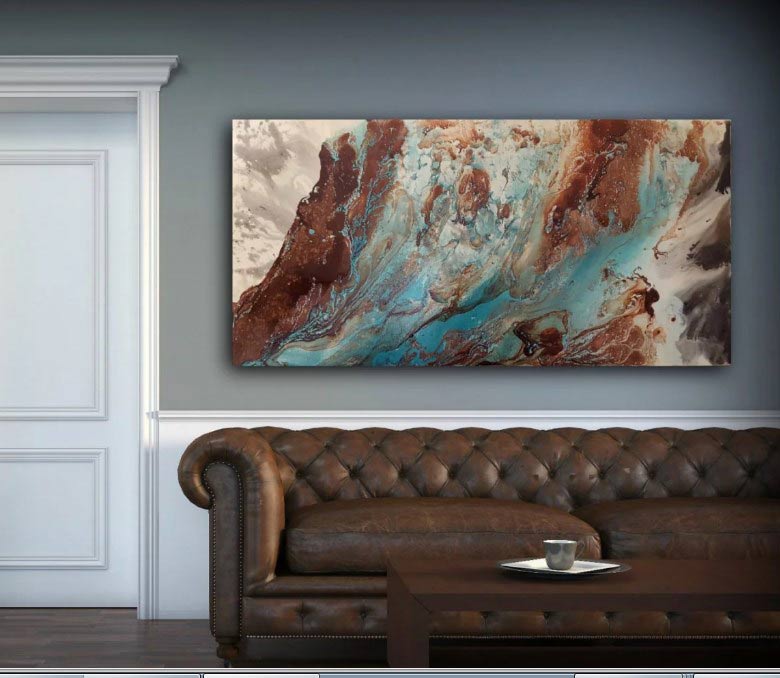 Source
23. For kids' room try multi-panel wall art with easy-to-draw animals like whales or dolphins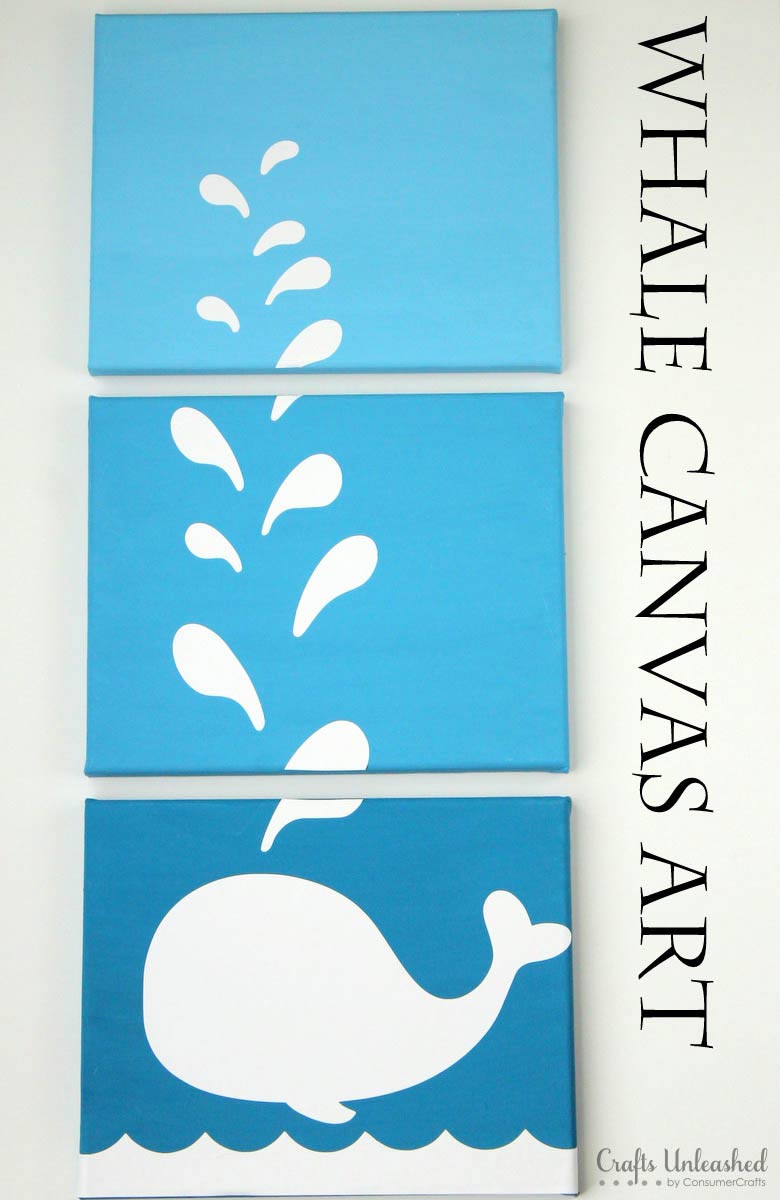 24. Birch bark has a lovely pattern which is not hard to paint
Apply gold leaf or copper leaf accent and you have a nice art piece for yourself or a hand-made gift for your loved ones!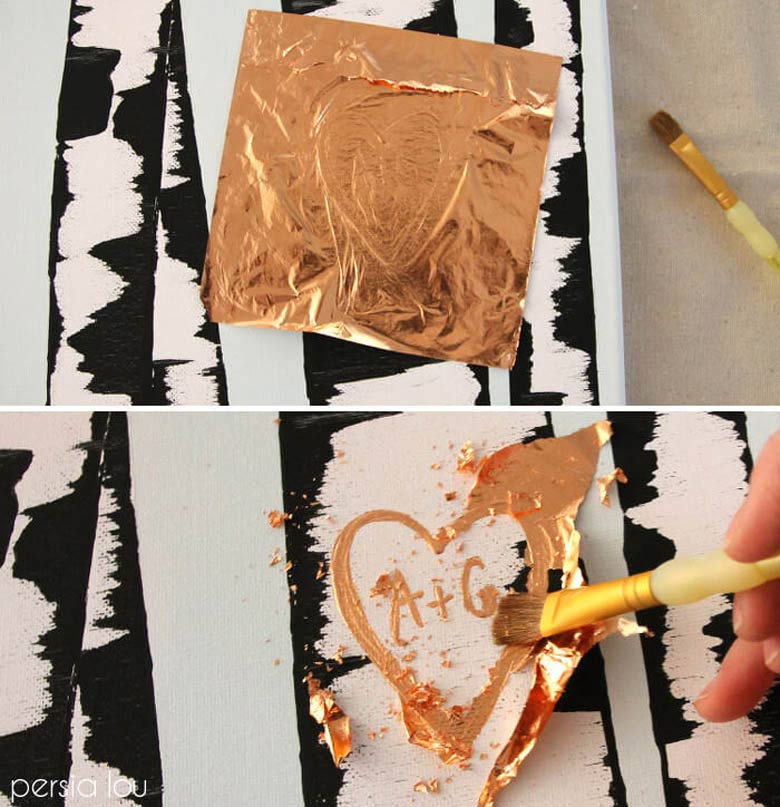 25. Advanced but easy to paint portraits