Clever storage ideas for small kitchens will help you organize your space so it is both functional and beautiful, especially if you have a small house. Most importantly, you would need solutions for storage cabinets, pantry organization hacks, and functional storage space that can perform double duty.
Some of the clever storage ideas for a modern kitchen are:
well-organized specialized drawers;
hidden storage for bulky kitchen appliances;
pantry organization with storage counters;
see-through cabinets to maximize storage and light
a separate well-organized pantry;
easy-access pull-out drawers;
vertical storage solutions;
custom pullouts;
seating bench storage;
bulky items pullouts;
clutter-free solutions for problem areas;
coffee island organization and storage;
unusual storage solutions;
open shelves for small kitchens.
Therefore, here is a collection of clever storage ideas for small kitchens that will help you transform your space into a paradise of beauty and function.
1. Well-organized drawers with space for everything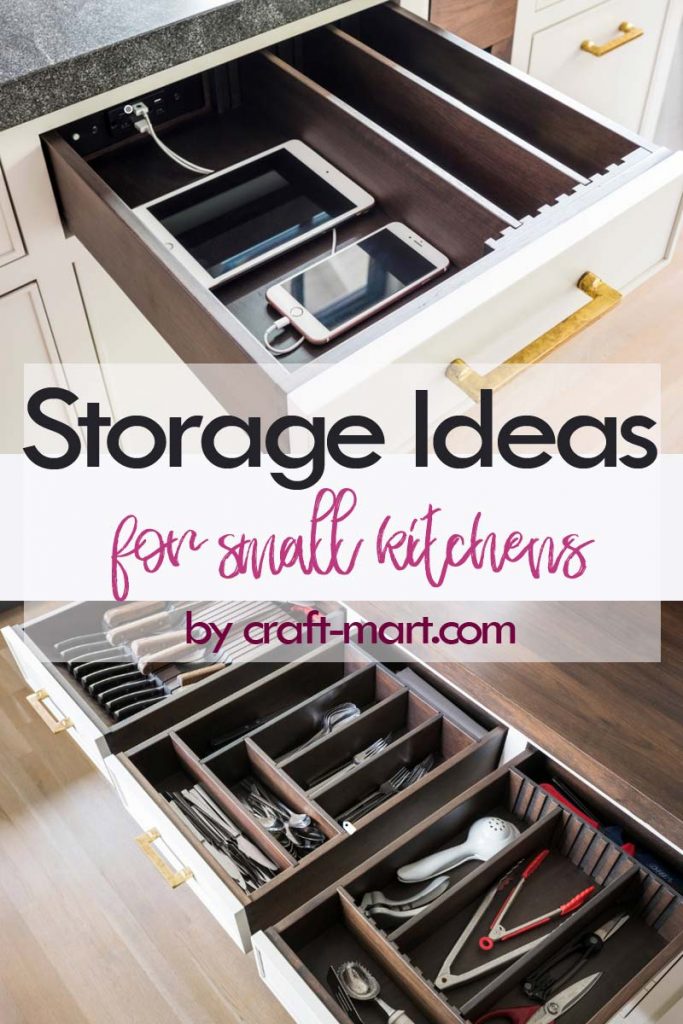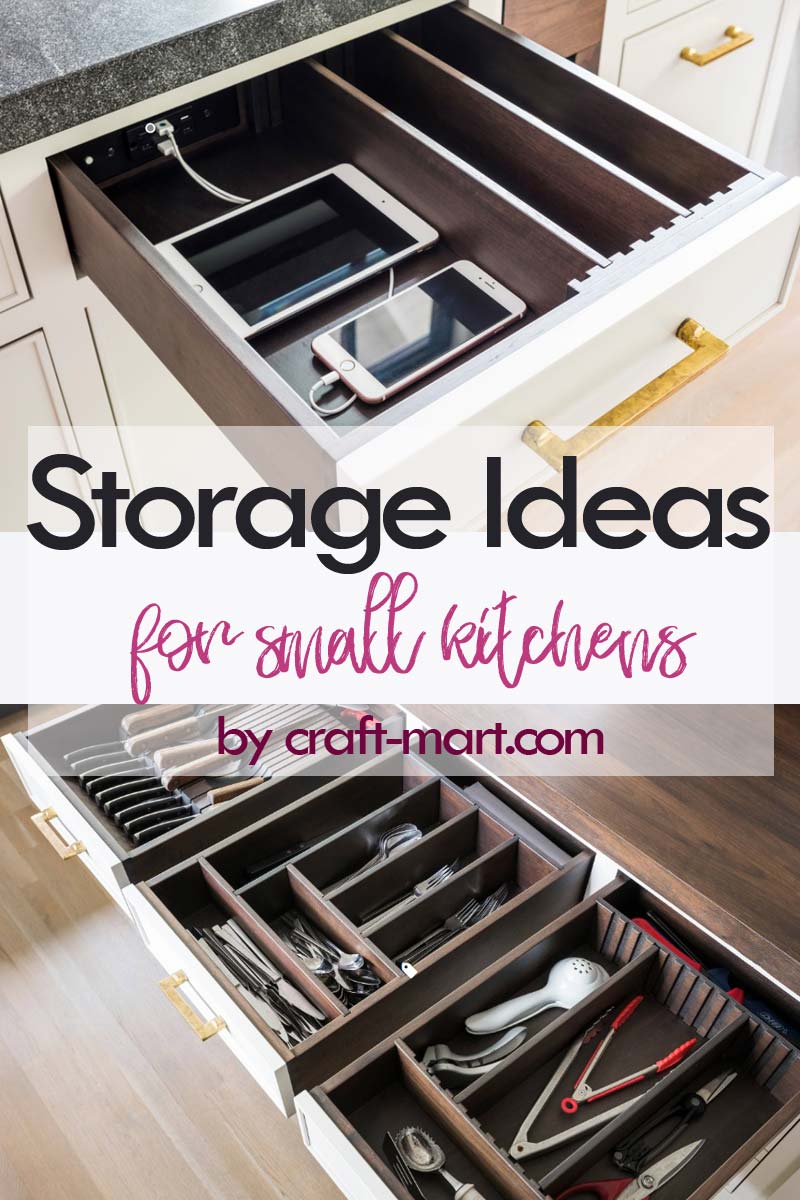 Source: Modern Farmhouse Kitchen
First of all, organize your kitchen drawers. One of the most crucial steps in creating enough storage space in a small kitchen is to have space for everything and be able to find it quickly.
Even if you have limited space, drawer dividers can work miracles by creating an assigned space for every tool in your kitchen – from small utensils to a charging station for electronic devices.
2. Hidden Small Appliances Storage and Pull-Out Drawer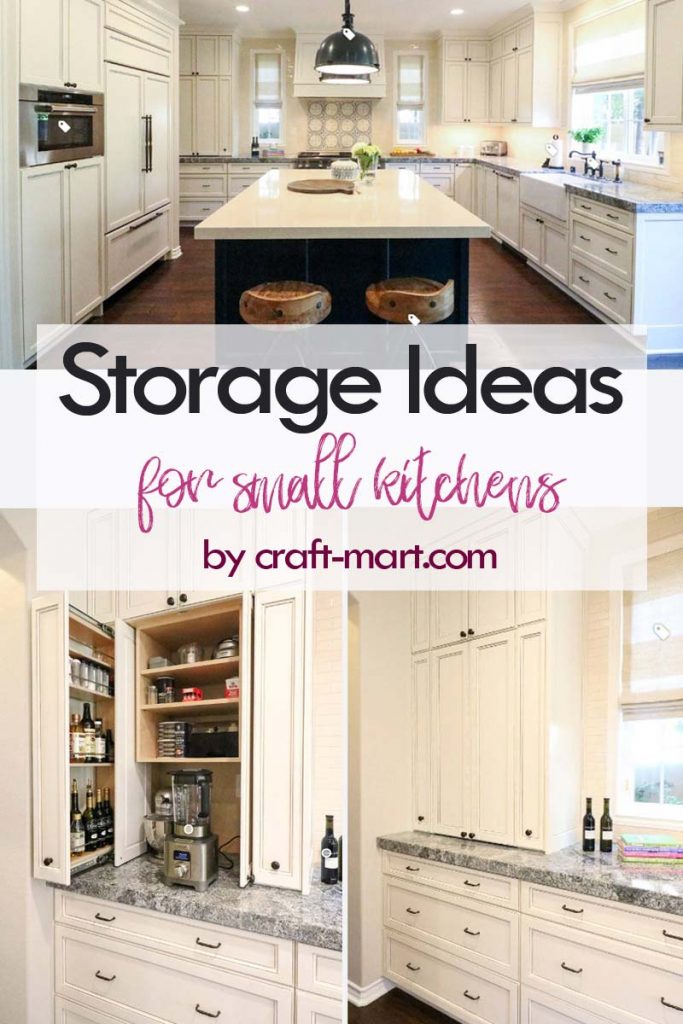 Source: Traditional Kitchen Design by Pacific Coast Builders
Most importantly, clever storage ideas for small kitchens will keep counter space free of clutter. You can easily achieve that by creating pull-out drawers and hidden storage for small appliances.
In fact, they can be easily accessed when you need them and after that tucked away in a designated space to free-up counter space so needed for meal prep. Genius!
2. Pantry with Storage Counter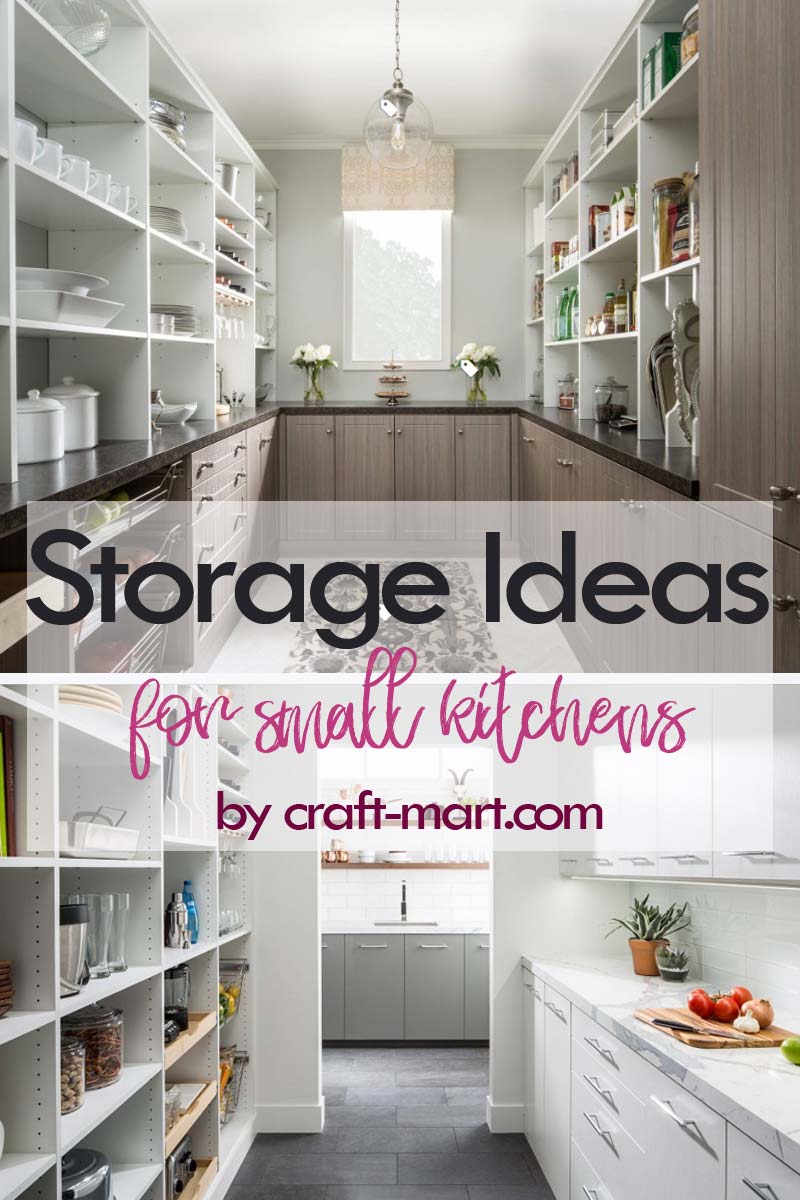 Source: Modern Farmhouse Pantry
Even if your kitchen is small, you can have a well-appointed pantry with room for everything. One of the trends for a modern kitchen is to have storage counters in the pantry that can be used for storing small appliances or seasonal kitchen decor.
4. See-through Kitchen Cabinets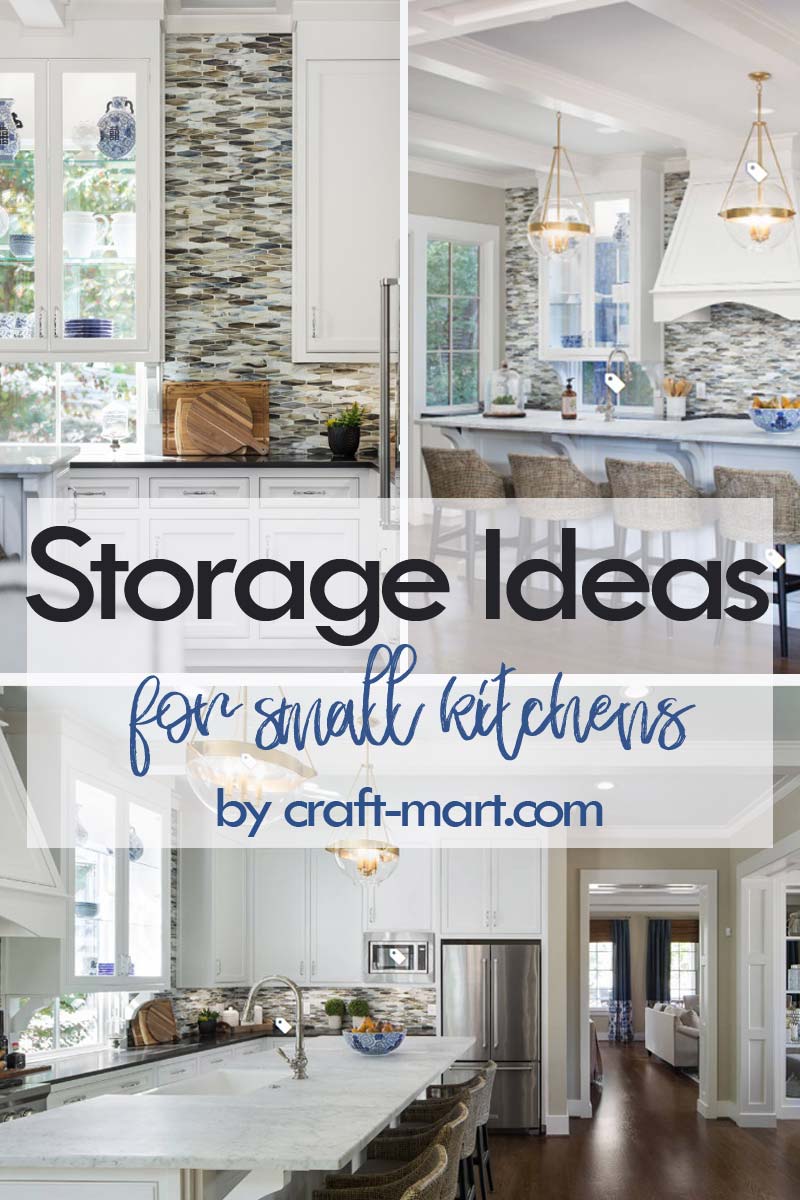 Source: Cabinets in Transitional Kitchen by Kay Green Design
It is obvious that a small kitchen may lack wall space for all the kitchen cabinets that you may need. One of the clever storage ideas for small kitchens, in that case, would be see-through cabinets that are mounted over the windows.
With the glass doors, they will let the light through while giving your kitchen decor items a center-stage space. Consequently, this storage idea hack is not only functional but beautiful.
5. Well-organized Pantry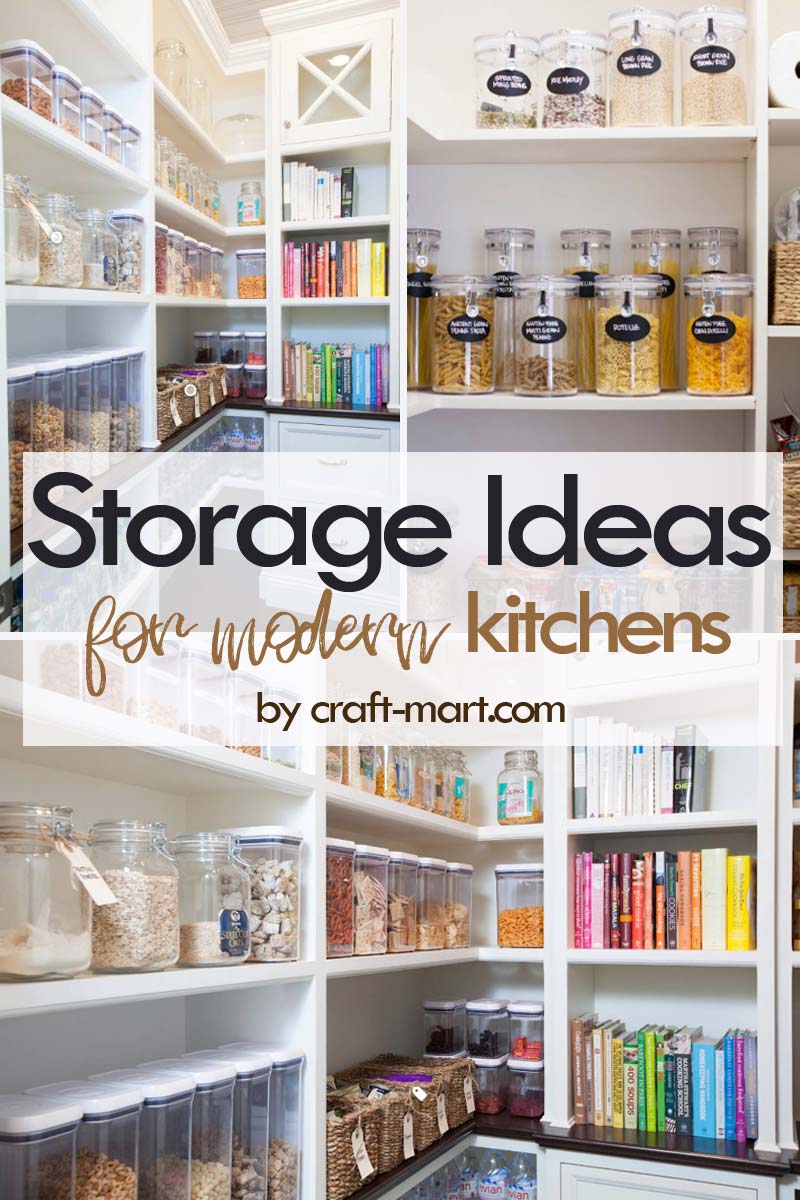 Source: Neat Method Kitchen Organization
Noteworthy, there cannot be a well-organized kitchen without a well-organized pantry. Even if you don't have enough space for everything in your small kitchen, dedicate a separate space in your home for a well-organized pantry.
As a matter of fact, you can store all bulk items as well as recipe books and rarely-used kitchenware and appliances.
6. A Command Center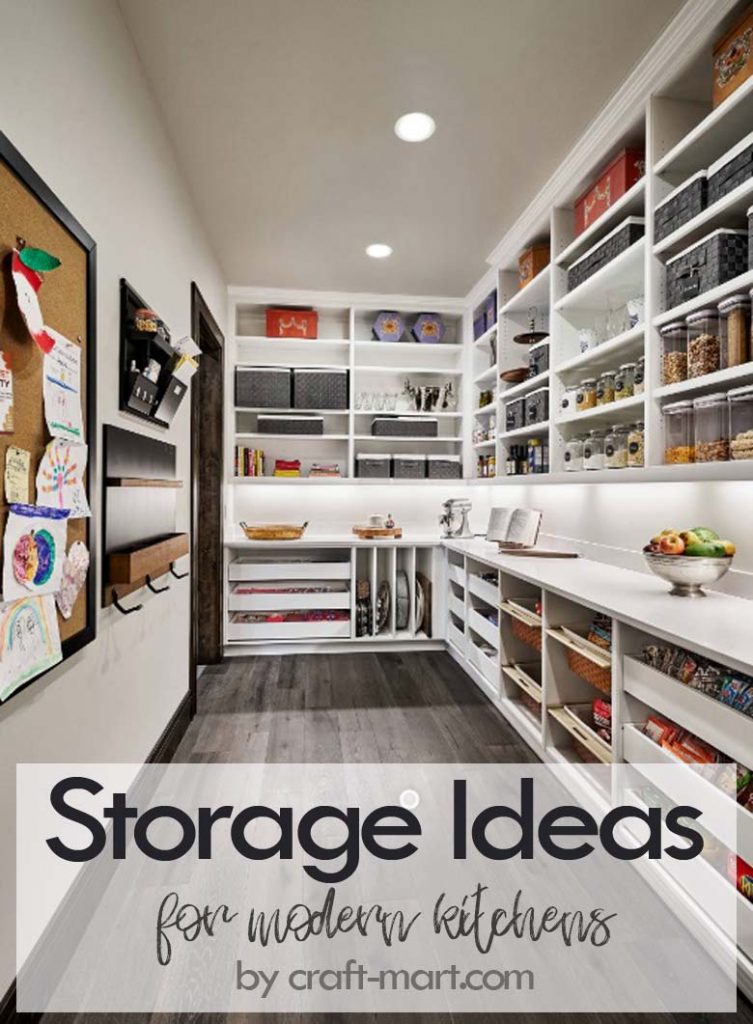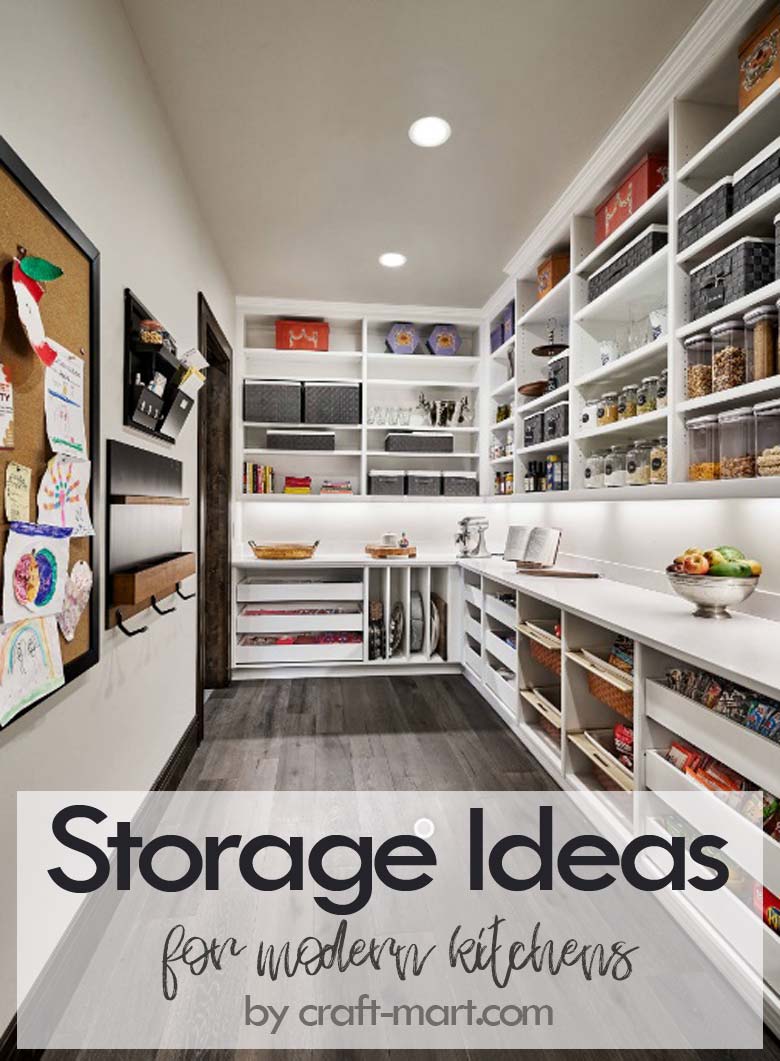 Source: Farmhouse Pantry by Garrison Hullinger Interior Design Inc.
Let's admit, that every home needs a command center and more often it's logical to put it in the kitchen or pantry. This modern farmhouse pantry has everything in order.
Furthermore, it provides easy access to all the items with well-designed pull-out drawers.
7. Go Vertical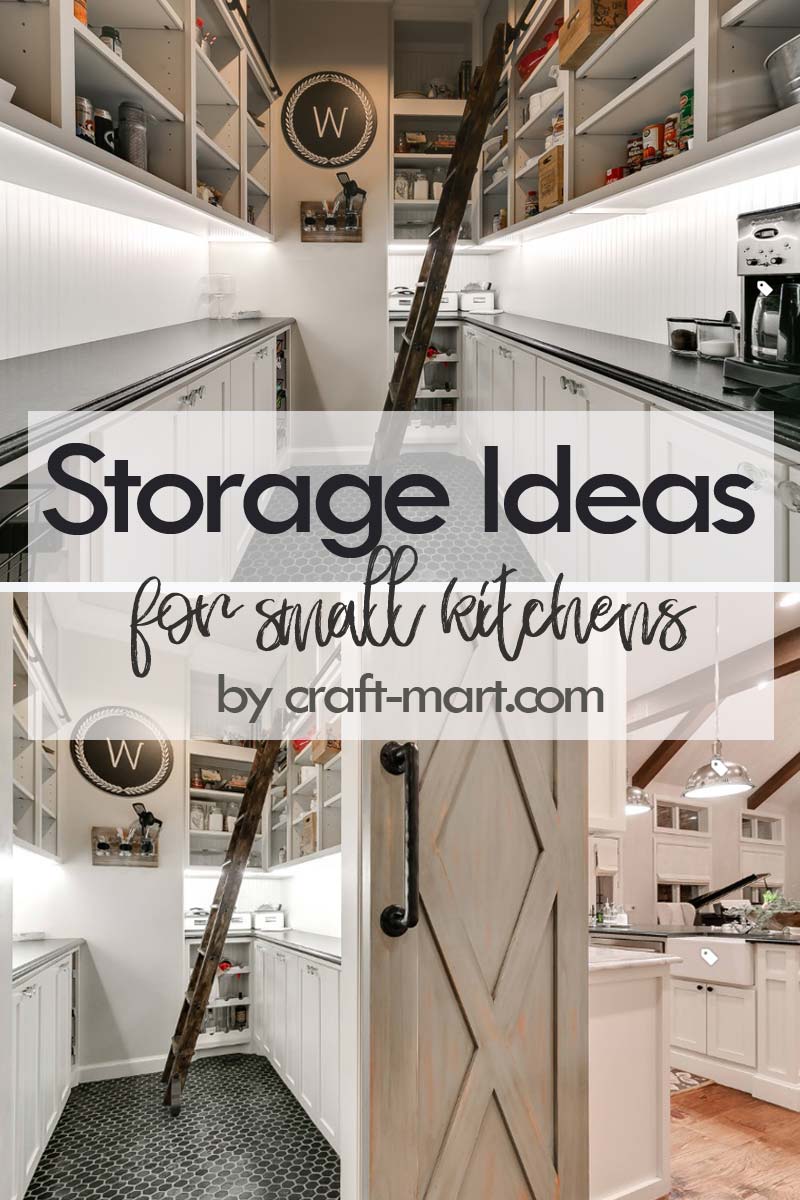 Source: Modern Farmhouse Pantry by Chad Hemphill Construction
Certainly, if your space is narrow, it is only obvious to go vertical and build an easy-access ladder to reach additional storage areas. Due to a lack of space, this rustic farmhouse pantry utilizes every inch of vertical space for clever storage.
8. Narrow and Custom Pullout Cabinets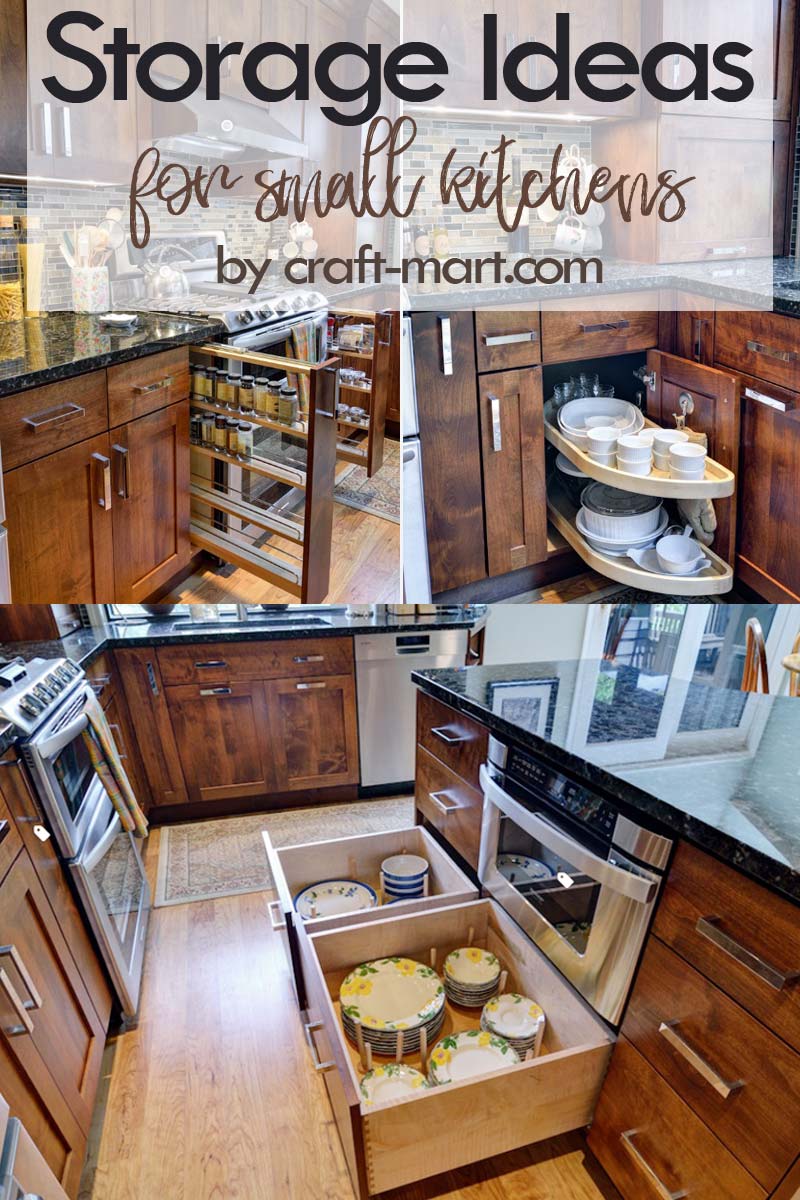 Source: Custom Pullouts by Weidmann Remodeling
Likewise, if your kitchen lacks space for an abundance of upper kitchen cabinets, it is only obvious to utilize even odd spaces with custom pullout drawers. Consequently, you'll gain additional storage space by using every inch of the kitchen's real estate.
9. Breakfast Nook Storage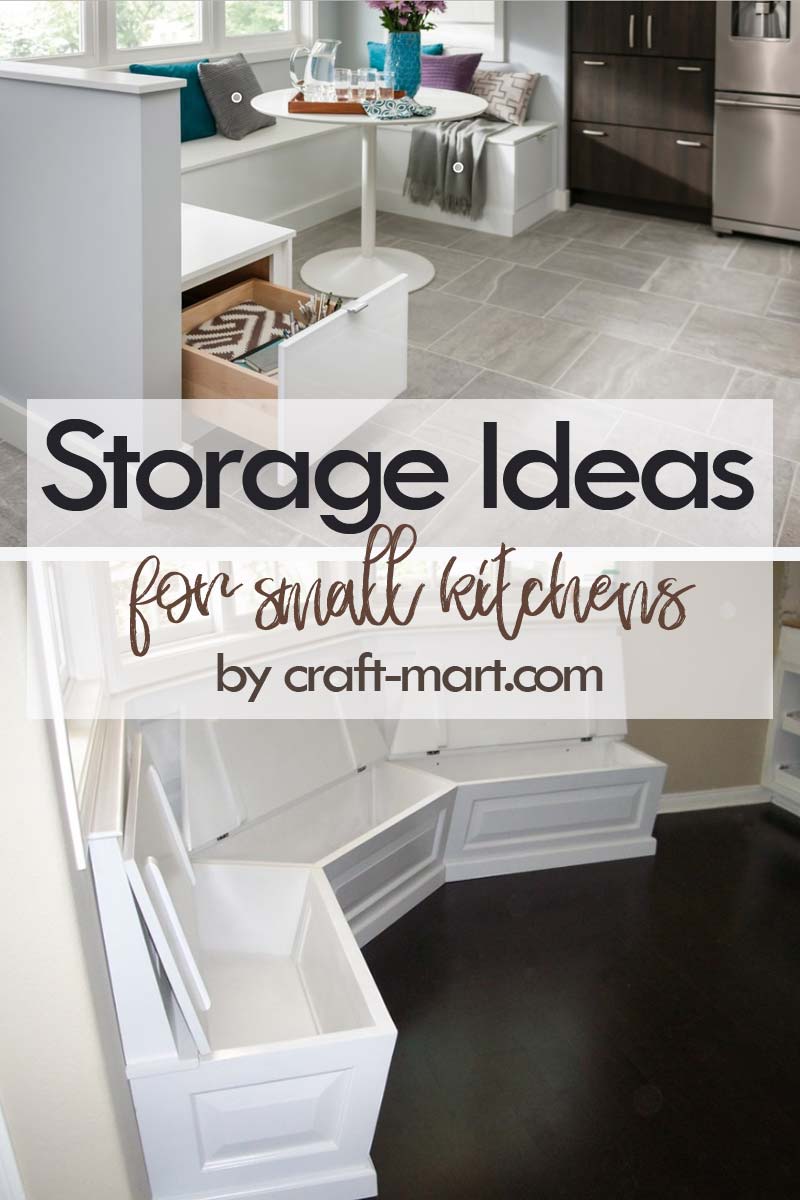 Source: Breakfast nook storage and bench storage
Equally important, the seating area storage can give you extra space to store some pillows, holiday decor, or party-hosting items. Not to mention easy access, these items will be out of sight but very accessible.
Breakfast nook areas and seating benches are excellent examples of clever DIY storage solutions for small kitchens. Provided that you have some woodworking skills, you can create ample storage space for all your needs.
10. Pullout Cabinets for Bulky Items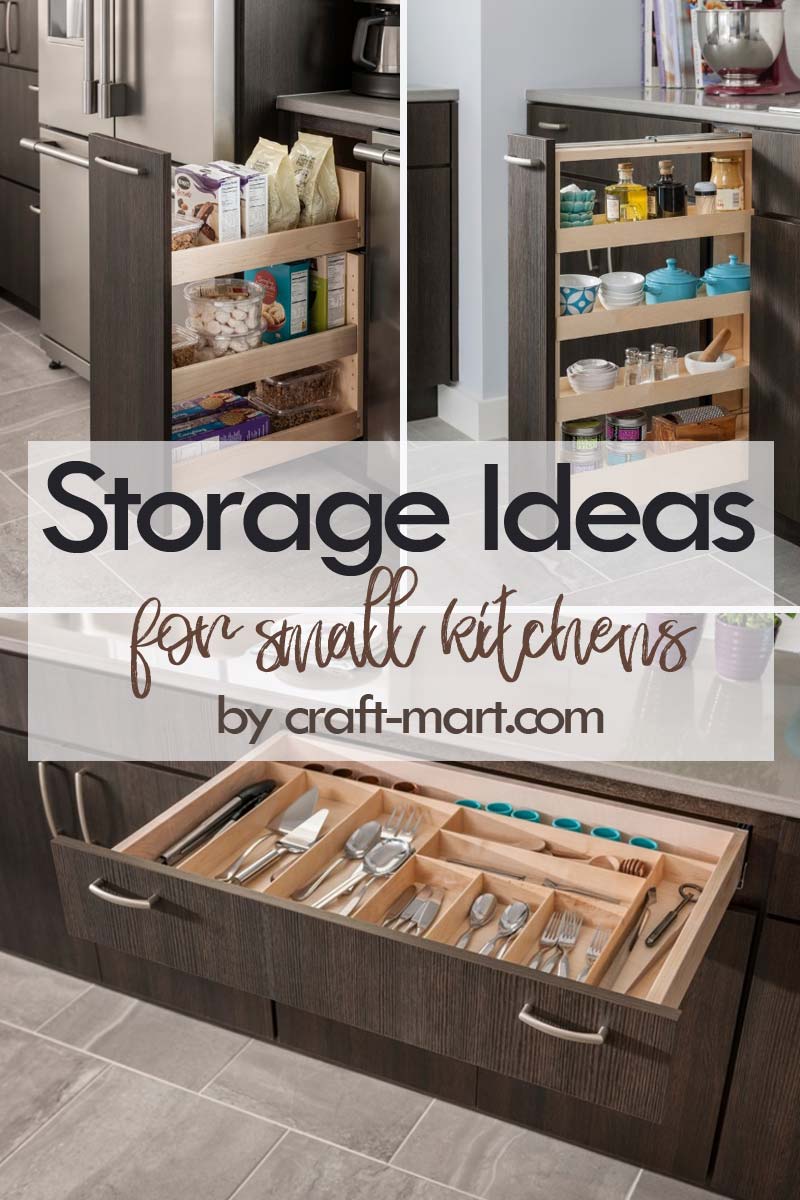 Source: Pullouts by Schuler Cabinetry
Since it is not easy to organize bulky items in a small kitchen, these clever pullouts dedicated to bulky items make total sense. As cereal boxes and bags of chips can turn an organized pantry into messy chaos, dedicated pullout storage will save the day.
11. Under the Sink and Baking Pans Storage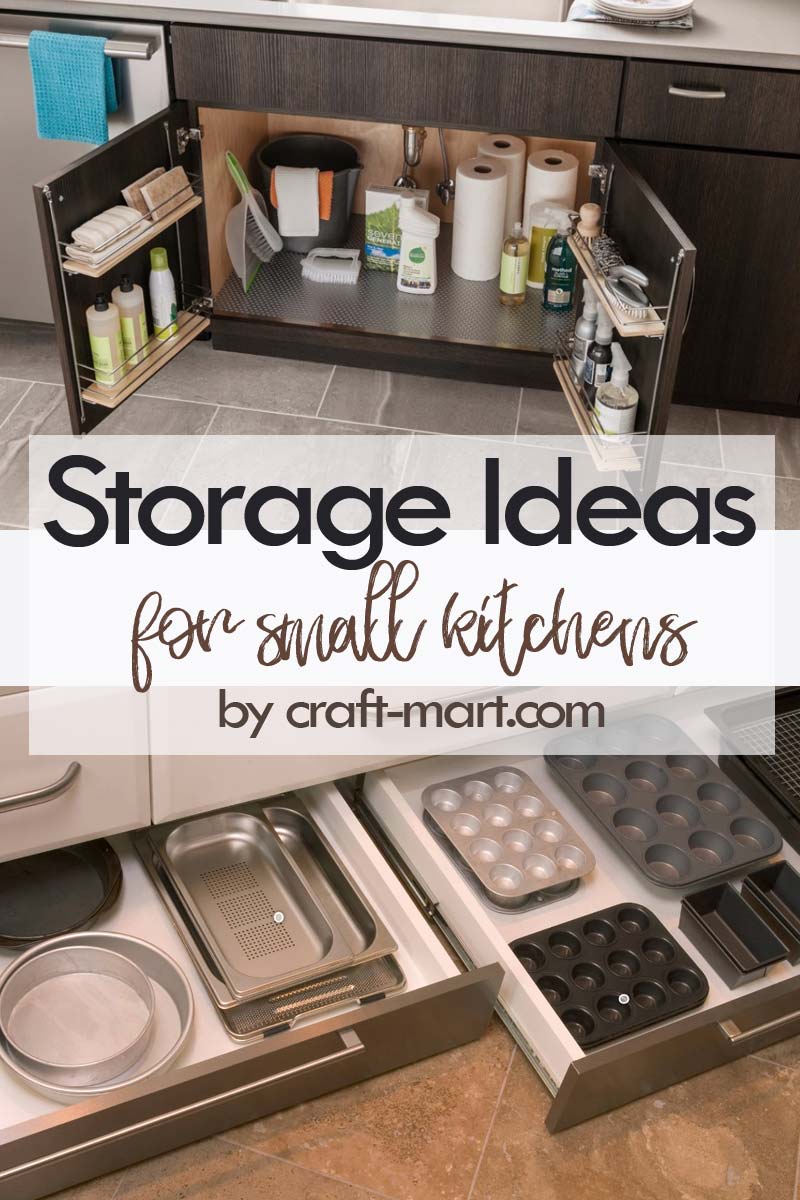 Source: under the sink and baking pans storage
In particular, the storage areas that often get out of control are under the sink cabinets and pots and pans storage. For this reason, you can't create a functional kitchen without special attention to these problematic areas.
The clever open shelves mounted over the doors and shallow pullout drawers take care of these hard-to-organize areas. In this case, these organization solutions provide easy access and smart clutter-free storage.
12. Coffee cups, plates, and tableware storage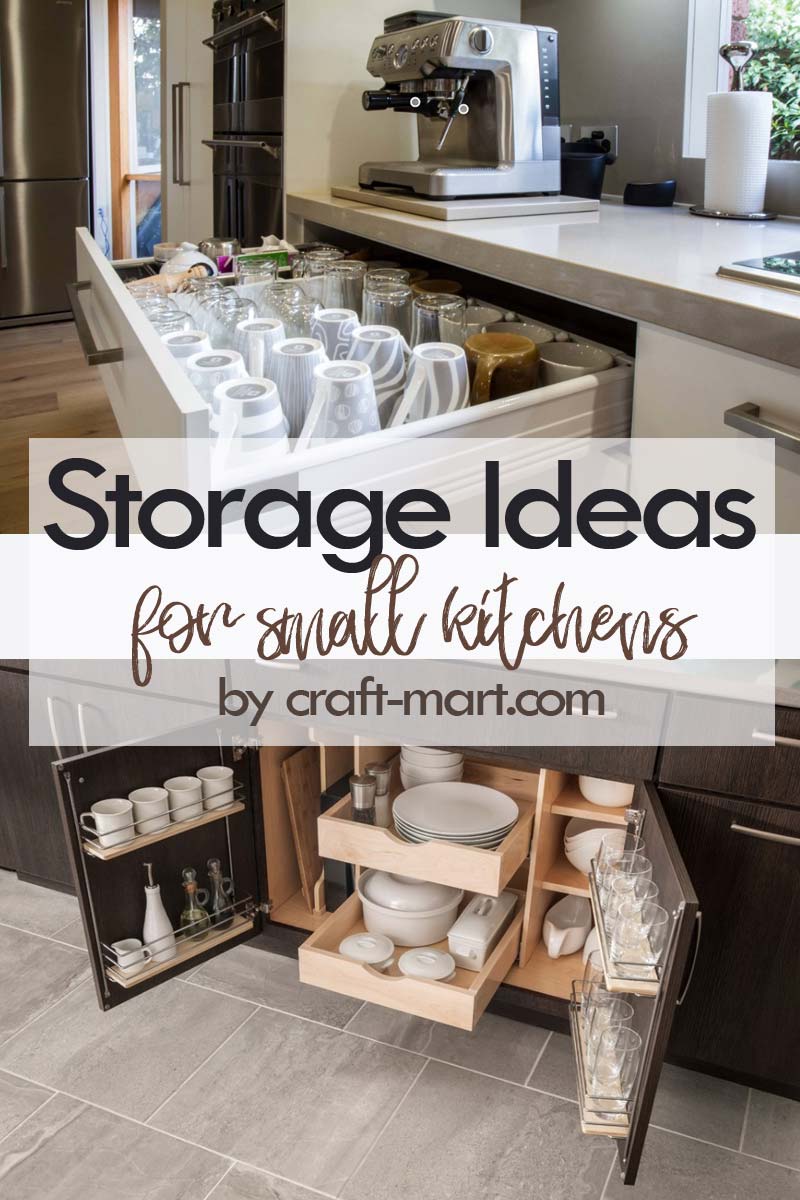 Source: Coffee Nook Organization and Plates Storage
The other kitchen items that can present a challenge for kitchen organization are cups and other tableware. Surprisingly, a well-organized coffee station not only spells out a neat kitchen but saves you time during the most rushed time of the day – a busy morning.
13. Unusual Storage Places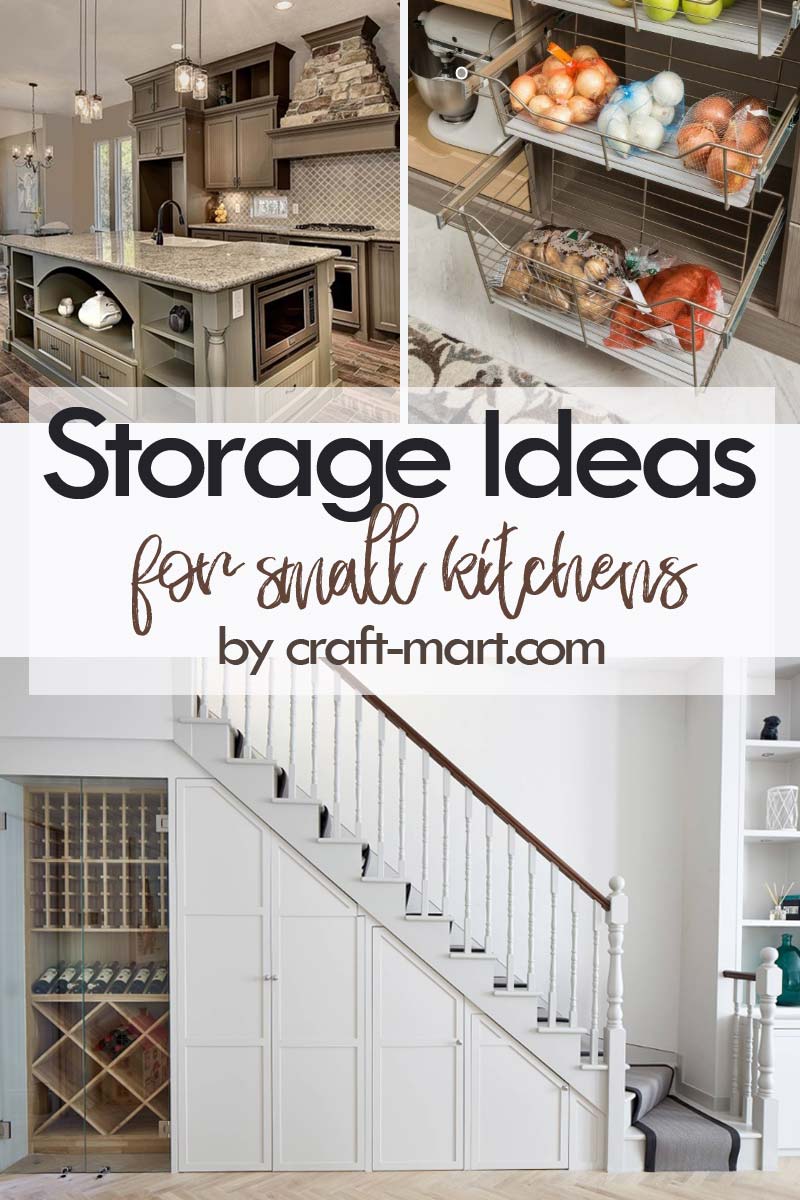 Source: Island Storage and Wine Storage
Sometimes, the kitchen space is soo small that you have to look for some unusual storage solutions. To illustrate, these clever small kitchen organization ideas utilize kitchen island storage, pullout baskets for vegetables, and under-the-stairs space for a spacious wine rack.
14. Tiny Kitchen with Open Shelves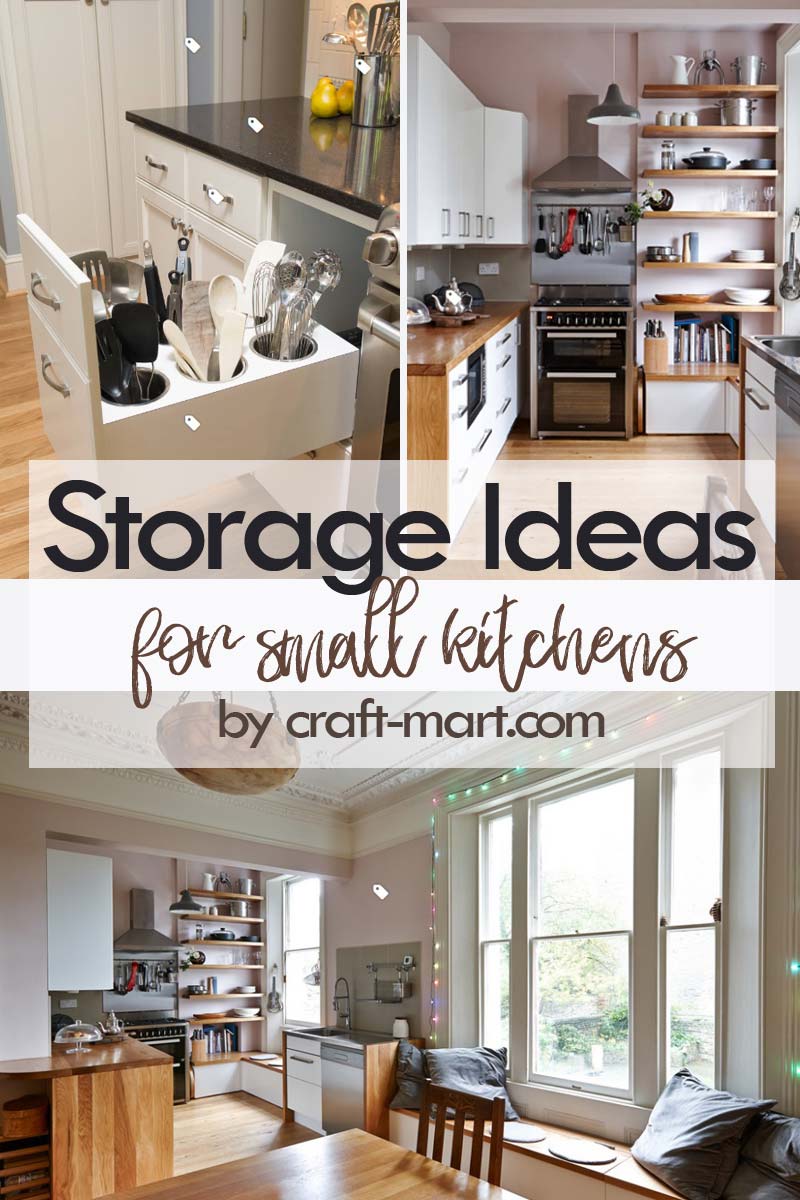 Source: Tiny Kitchen Organization
This tiny kitchen with a cozy reading nook illustrates the point that you don't need a huge space to have an organized beautiful kitchen. To demonstrate this point, open shelving in the kitchen provides an aesthetically-pleasing solution to an eternal problem of home organization.
In conclusion, you can see that a small space should not constrain your efforts for creating a beautiful and organized space. With plenty of clever storage ideas for a small kitchen, you can have a gorgeous space to bake your cake and eat it too.
Are you looking for more kitchen and home decor ideas? Check out these posts: